Archive for April 9th, 2015
The more Yemen infrastructure collapses, the more the US ship weapons to the Saudi Emirs
Saudi Arabia most obscurantist monarchy is losing control over Yemen political and social fabrics.  More jet planes are needed to bomb this hapless country
Saudi Arabia launched a military campaign in Yemen while a number of rival figures and groups are vying for power as years of sporadic conflict spiraled out of control.
The U.S. has "expedited weapons deliveries" and "increased intelligence" to Saudi Arabia, U.S. Deputy Sec. of State Antony Blinken said April 7.
The weapons include existing orders and "some new requirements" said the Pentagon.
Blinken also warned of the consequences of "unintended civilian casualties." (How funny)
U.S. to Expedite Munition Deliveries for Yemen Fight
U.S. expedites arms shipments to coalition bombing Yemen
US steps up shipments to back Yemen raids
[Children] are being killed, maimed and forced to flee their homes, their health threatened and their education interrupted. – Julien Harneis
UN agency for children, UNICEF
OUR SOURCES
560 dead amid fears of humanitarian collapse in Yemen
U.S. expedites arms shipments to coalition bombing Yemen
UN News – As chaos deepens in Yemen, UN expert warns of 'worst case scenario' displacement
Saudi Arabia launched military operations including airstrikes against the Houthis and their allies in Yemen on March 25.
It deployed 100 fighter jets, 150,000 troops and navy units. Yemeni officials requested foreign military support days earlier. More than ten countries pledged support for the operations.
Close
The first shipments of emergency medical aid reached the southern port city of Aden, Yemen, on April 8, as Houthi forces and local militias battled.
OUR SOURCE
Yemen's Houthis battle in central Aden, first medical aid arrives
Close
Riyadh, Saudi Arabia
March 26, 2015
Yemeni President Mansour Hadi,(whose term has expired and refuses another election) and whom witnesses saw leaving the presidential palace in Aden on March 23, fled to Saudi Arabia, Saudi state TV reported.
Hadi resigned as president in January, but rescinded in February after escaping from the capital. Houthi forces advanced on Aden and seized a base used by the U.S. military before he left.
Close
The conflict in Aden appeared to be part of a struggle between Hadi and ex-president Ali Abdullah Saleh.
Hadi was the VP of Saleh, who was ousted in a 2011 uprising.
An initiative by Gulf countries guaranteed Saleh's exit and set up elections in which Hadi was the sole candidate, but the country continued to struggle.
Added Jun 17, 2014 at 4:08 pm
OUR SOURCES
Yemen troops surround Al Saleh mosque amid fears of coup | The National
Presidential Guards continue siege of Saleh Mosque
Yemeni forces seek to wrest Sanaa mosque from ousted president
Close
Copyright 2015 Reuters
A previous standoff between Hadi and Saleh occurred in June 2014 when Hadi's presidential guards and riot police surrounded Saleh's mosque complex in Sana'a.
Forces loyal to Hadi were concerned Saleh could use it as a base to launch attacks. The standoff came amid protests in the capital.
Added Jun 17, 2014 at 4:02 pm
OUR SOURCES
Yemen troops surround Al Saleh mosque amid fears of coup | The National
Presidential Guards continue siege of Saleh Mosque
Close
It is becoming increasingly apparent that the Saudi Arabian-led coalition is turning a blind eye to civilian deaths and suffering caused by its military intervention. – Said Boumedouha
Amnesty International
Close
Gulf of Aden
April 8, 2015
Iran deployed warships to the Gulf of Aden to protect cargo ships and oil tankers against pirates, the state-run Fars News Agency said.
An Iranian navy commander said they were not deployed to get involved in the conflict in Yemen, but as part of regular patrols in international waters.
Saudi Arabia launched a military campaign in Yemen while a number of rival figures and groups are vying for power as years of sporadic conflict spiraled out of control.
How would you spot a Terrorist? TSA's Secret Behavior Checklist
"Since its introduction in 2007, the SPOT program has attracted controversy for the lack of science supporting it.
In 2013, the Government Accountability Office found that there was no evidence to back up the idea that "behavioral indicators … can be used to identify persons who may pose a risk to aviation security."

Fidgeting, whistling, sweaty palms. These are just a few of the suspicious signs that the Transportation Security Administration directs its officers to…
Fidgeting, whistling, sweaty palms. Add one point each.
Arrogance, a cold penetrating stare, and rigid posture, two points.
These are just a few of the suspicious signs that the Transportation Security Administration directs its officers to look out for — and score — in airport travelers, according to a confidential TSA document obtained exclusively byThe Intercept.
The checklist is part of TSA's controversial program to identify potential terrorists based on behaviors that it thinks indicate stress or deception — known as the Screening of Passengers by Observation Techniques, or SPOT.
The program employs specially trained officers, known as Behavior Detection Officers, to watch and interact with passengers going through screening.
The document listing the criteria, known as the "Spot Referral Report," is not classified, but it has been closely held by TSA and has not been previously released. 
A copy was provided to The Intercept by a source concerned about the quality of the program.
The checklist ranges from the mind-numbingly obvious, like "appears to be in disguise," which is worth three points, to the downright dubious, like a bobbing Adam's apple.
Many indicators, like "trembling" and "arriving late for flight," appear to confirm allegations that the program picks out signs and emotions that are common to many people who fly.
A TSA spokesperson declined to comment on the criteria obtained by The Intercept.
"Behavior detection, which is just one element of the Transportation Security Administration's (TSA) efforts to mitigate threats against the traveling public, is vital to TSA's layered approach to deter, detect and disrupt individuals who pose a threat to aviation," a spokesperson said in an emailed statement.
Since its introduction in 2007, the SPOT program has attracted controversy for the lack of science supporting it.
In 2013, the Government Accountability Office found that there was no evidence to back up the idea that "behavioral indicators … can be used to identify persons who may pose a risk to aviation security." After analyzing hundreds of scientific studies, the GAO concluded that "the human ability to accurately identify deceptive behavior based on behavioral indicators is the same as or slightly better than chance." (The question is: how much better than chance probability?)
The inspector general of the Department of Homeland Security found in 2013 that TSA had failed to evaluate SPOT, and "cannot ensure that passengers at United States airports are screened objectively, show that the program is cost-effective, or reasonably justify the program's expansion."
Despite those concerns, TSA has trained and deployed thousands of Behavior Detection Officers, and the program has cost more than $900 million since it began in 2007, according to the GAO.
The 92-point checklist listed in the "Spot Referral Report" is divided into various categories with a point score for each. Those categories include a preliminary "observation and behavior analysis," and then those passengers pulled over for additional inspection are scored based on two more categories: whether they have "unusual items," like almanacs and "numerous prepaid calling cards or cell phones," and a final category for "signs of deception," which include "covers mouth with hand when speaking" and "fast eye blink rate.
Points can also be deducted from someone's score based on observations about the traveler that make him or her less likely, in TSA's eyes, to be a terrorist. For example, "apparent" married couples, if both people are over 55, have two points deducted off their score. Women over the age of 55 have one pointed deducted; for men, the point deduction doesn't come until they reach 65.
Last week, the ACLU sued TSA to obtain records related to its behavior detection programs, alleging that they lead to racial profiling. The lawsuit is based on a Freedom of Information Act request the ACLU filed last November asking for numerous documents related to the program, including the scientific justification for the program, changes to the list of behavior indicators, materials used to train officers and screen passengers, and what happens to the information collected on travelers.
"The TSA has insisted on keeping documents about SPOT secret, but the agency can't hide the fact that there's no evidence the program works," said Hugh Handeyside, staff attorney with the ACLU National Security Project, in a statement announcing the lawsuit.
Being on the lookout for suspicious behavior is a "common sense approach" that is used by law enforcement, according to TSA. "No single behavior alone will cause a traveler to be referred to additional screening or will result in a call to a law enforcement officer (LEO)," the agency said in its emailed statement. "Officers are trained and audited to ensure referrals for additional screening are based only on observable behaviors and not race or ethnicity."
One former Behavior Detection Officer manager, who asked not to be identified, said that SPOT indicators are used by law enforcement to justify pulling aside anyone officers find suspicious, rather than acting as an actual checklist for specific indicators. "The SPOT sheet was designed in such a way that virtually every passenger will exhibit multiple 'behaviors' that can be assigned a SPOT sheet value," the former manager said.
The signs of deception and fear "are ridiculous," the source continued. "These are just 'catch all' behaviors to justify BDO interaction with a passenger. A license to harass."
The observations of a TSA screener or a Behavior Detection Officer shouldn't be the basis for referring someone to law enforcement.
"The program is flawed and unnecessarily delays and harasses travelers. Taxpayer dollars would be better spent funding real police at TSA checkpoints," the former manager said.
A second former Behavior Detection Officer manager, who also asked not to be identified, told The Intercept that the program suffers from lack of science and simple inconsistency, with every airport training its officers differently. "The SPOT program is bullshit," the manager told The Intercept. "Complete bullshit."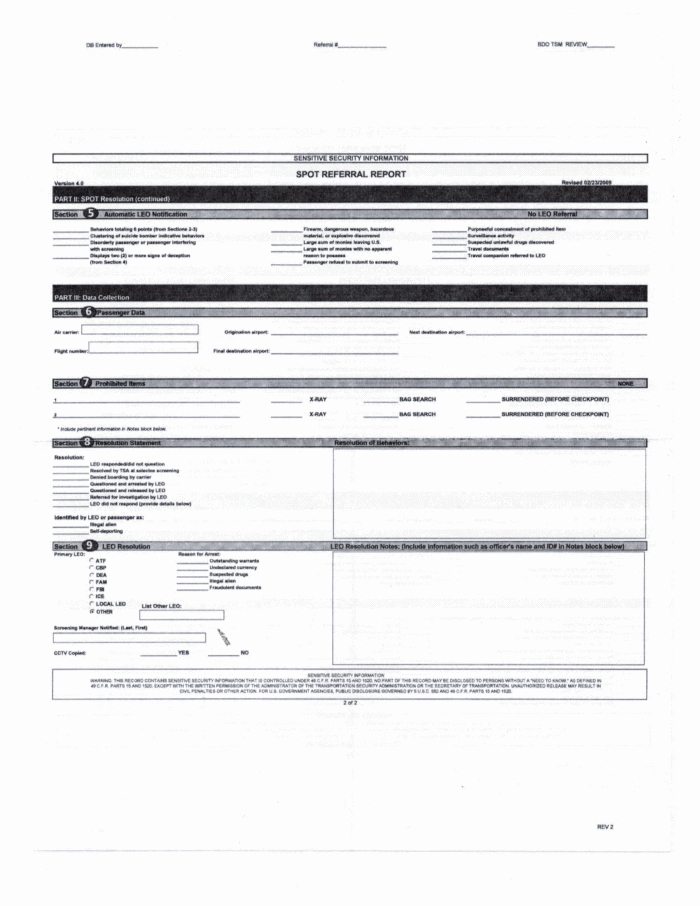 Photo: Mark Lennihan/AP
 Are you listening to colors?
I was born with a rare visual condition called achromatopsia, which is total color blindness.
I've never seen color, and I don't know what color looks like, because I come from a grayscale world.
To me, the sky is always gray, flowers are always gray, and television is still in black and white.
0:32 But, since the age of 21, instead of seeing color, I can hear color.
In 2003, I started a project with computer scientist Adam Montandon, and the result, with further collaborations with Peter Kese from Slovenia and Matias Lizana from Barcelona, is this electronic eye.
It's a color sensor that detects the color frequency in front of me — (Frequency sounds) — and sends this frequency to a chip installed at the back of my head, and I hear the color in front of me through the bone, through bone conduction.
 For example, if I have, like — This is the sound of purple. (Frequency sounds) For example, this is the sound of grass. (Frequency sounds) This is red, like TED. (Frequency sounds) This is the sound of a dirty sock. (Laughter) Which is like yellow, this one.
1:35 So I've been hearing color all the time for 8  years, since 2004.
I find it completely normal now to hear color all the time. At the start, though, I had to memorize the names you give for each color, so I had to memorize the notes, but after some time, all this information became a perception. I didn't have to think about the notes. And after some time, this perception became a feeling. I started to have favorite colors, and I started to dream in colors.
2:03 I started to dream in color is when I felt that the software and my brain had united, because in my dreams, it was my brain creating electronic sounds. It wasn't the software, so that's when I started to feel like a cyborg. It's when I started to feel that the cybernetic device was no longer a device. It had become a part of my body, an extension of my senses, and after some time, it even became a part of my official image.
2:35 This is my passport from 2004.
You're not allowed to appear on U.K. passports with electronic equipment, but I insisted to the passport office that what they were seeing was actually a new part of my body, an extension of my brain, and they finally accepted me to appear with the passport photo.
2:54 So, life has changed dramatically since I hear color, because color is almost everywhere, so the biggest change for example is going to an art gallery.
I can listen to a Picasso, for example. So it's like I'm going to a concert hall, because I can listen to the paintings. And supermarkets, I find this is very shocking, it's very, very attractive to walk along a supermarket. It's like going to a nightclub. It's full of different melodies. (Laughter) Yeah. Especially the aisle with cleaning products. It's just fabulous. (Laughter)
3:29 Also, the way I dress has changed. Before, I used to dress in a way that it looked good. Now I dress in a way that it sounds good. (Laughter)
3:43 So today I'm dressed in C major, so it's quite a happy chord. If I had to go to a funeral, though, I would dress in B minor, which would be turquoise, purple and orange. 
4:02 The way I look at food has changed, because now I can display the food on a plate, so I can eat my favorite song. (Laughter)
So depending on how I display it, I can hear and I can compose music with food.
So imagine a restaurant where we can have, like, Lady Gaga salads as starters. (Laughter) I mean, this would get teenagers to eat their vegetables, probably. And also, some Rachmaninov piano concertos as main dishes, and some Bjork or Madonna desserts, that would be a very exciting restaurant where you can actually eat songs.
4:38 The way I perceive beauty has changed, because when I look at someone, I hear their face, so someone might look very beautiful but sound terrible. (Laughter)
And it might happen the opposite, the other way around. So I really enjoy creating, like, sound portraits of people.
Instead of drawing someone's face, like drawing the shape, I point at them with the eye and I write down the different notes I hear, and then I create sound portraits. Here's some faces.
5:09 (Musical chords)
5:27 Some people, I would never relate, but they sound similar. Prince Charles has some similarities with Nicole Kidman. They have similar sound of eyes.
5:35 So you relate people that you wouldn't relate, and you can actually also create concerts by looking at the audience faces.
So I connect the eye, and then I play the audience's faces. The good thing about this is, if the concert doesn't sound good, it's their fault. It's not my fault, because — (Laughter)
5:53 And so another thing that happens is that I started having this secondary effect that normal sounds started to become color.
I heard a telephone tone, and it felt green because it sounded just like the color green. The BBC beeps, they sound turquoise, and listening to Mozart became a yellow experience,
6:16 so I started to paint music and paint people's voices, because people's voices have frequencies that I relate to color.
6:24 And here's some music translated into color. For example, Mozart, "Queen of the Night," looks like this. (Music) Very yellow and very colorful, because there's many different frequencies. (Music) And this is a completely different song. (Music) It's Justin Bieber's "Baby." (Laughter) (Music) It is very pink and very yellow.
6:54 So, also voices, I can transform speeches into color, for example, these are two very well-known speeches. One of them is Martin Luther King's "I Have A Dream," and the other one is Hitler. And I like to exhibit these paintings in the exhibition halls without labels, and then I ask people, "Which one do you prefer?" And most people change their preference when I tell them that the one on the left is Hitler and the one on the right is Martin Luther King.
7:26  I got to a point when I was able to perceive 360 colors, just like human vision. I was able to differentiate all the degrees of the color wheel. But then, I just thought that this human vision wasn't good enough. There's many, many more colors around us that we cannot perceive, but that electronic eyes can perceive.
So I decided to continue extending my color senses, and I added infrared and I added ultraviolet to the color-to-sound scale, so now I can hear colors that the human eye cannot perceive.
8:02 For example, perceiving infrared is good because you can actually detect if there's movement detectors in a room. I can hear if someone points at me with a remote control.
And the good thing about perceiving ultraviolet is that you can hear if it's a good day or a bad day to sunbathe, because ultraviolet is a dangerous color, a color that can actually kill us, so I think we should all have this wish to perceive things that we cannot perceive.
8:30 That's why, two years ago, I created the Cyborg Foundation, which is a foundation that tries to help people become a cyborg, tries to encourage people to extend their senses by using technology as part of the body.
8:43 We should all think that knowledge comes from our senses, so if we extend our senses, we will consequently extend our knowledge.
I think life will be much more exciting when we stop creating applications for mobile phones and we start creating applications for our own body.
I think this will be a big, big change that we will see during this century.
9:05 So I do encourage you all to think about which senses you'd like to extend. I would encourage you to become a cyborg. You won't be alone. Thank you. 
Artist Neil Harbisson was born completely color blind, but these days a device attached to his head turns color into audible frequencies. Instead of seeing a world in grayscale, Harbisson can hear a symphony of color — and yes, even listen to…
ted.com
|
By Neil Harbisson