Archive for April 2nd, 2016
Secret aid worker: Why do expats earn more than the rest of us?
Is it hypocritical for an aid agency to come to a developing country looking to improve local lives, yet economically discriminate against local staff within their organisation?
Or is there a line that separates extremely poor citizens targeted as beneficiaries from the average working citizen?
Are their needs, such as equal treatment in the workplace, irrelevant?
March 29, 2016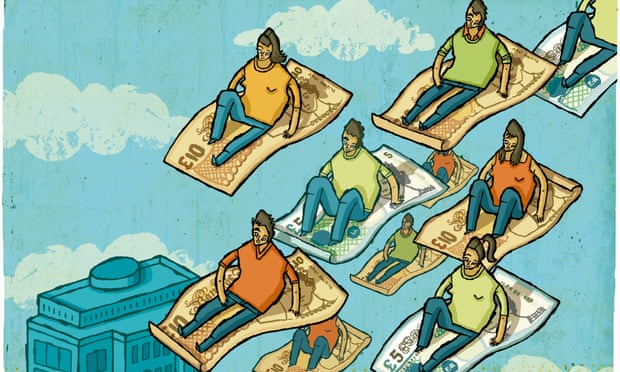 Aid agencies are all about empowering the communities they serve, but overlook equal treatment of staff in their own organisations. Photograph: Alamy
Perhaps local staff are seen more as tools to implement aid programmes without the expertise to make the big decisions.
But local staff have knowledge that cannot be learned at any institution and many are highly educated with years of experience in their field, so why don't they have the salary to match?
I am a local aid worker at an international humanitarian NGO in an east African country. Given my foreign qualifications, I negotiated hard for my salary of over $1,500 (£1,000) a month, making me one of the highest paid local staff.
On average, a local employee receives a third of that, (if they are lucky) as my organisation reminds me on those times I dare to raise my head above the parapet.
On the other hand, expatriate staff receive between $3,000 and $8,000 a month.
This is not uncommon in the international NGO (INGO) world.
In most companies, if two people who did the same role and had the same amount of experience got paid vastly different salaries, there would be uproar. Not so in the NGO world.
I recently asked around my aid worker friends for their own stories of inequality in the workplace. One told me how when an expat programme director left their country office, a national staff member was hired. She was paid half his salary despite having both superior academic qualifications and experience.
Despite earning salaries that are several times higher than local staff, expats receive even more goodies from INGOs in their benefit packages.
A beautiful house in the safest, most privileged part of the city; a smooth 4-wheel drive, fuel for work trips paid for; and some organisations also pay for school fees up to college.
Do I, as a local, not deserve the same standard of living?
I pay my own rent, in the cramped, cheaper outskirts of the city. I would love to have a car that allows me to explore my country and visit its famous sights that expat workers enjoy but I only dream about.
I wake up extremely early to board the cramped public minibuses to get to work on time, paying with my own money. A personal vehicle would be a great privilege.
While the children of expat colleagues go to the country's top schools, I struggle to pay the fees for my kids attending schools of a standard I can afford. I guess this economic imbalance will perpetuate into the next generation.
Do expat colleagues deserve these privileges more than I do? Must I accept unequal treatment because they are bringing in goods and services that are otherwise unavailable?
I am not advocating that every NGO worker should receive mansions and cars, a pure wastage of funds that should be channelled into the community. Rather, none should get such royal treatment.
Even more double standards can be pointed out regarding per diems, rest and recuperation (R&R), and consultants.
When a foreign employee travels here, they are given per diem double what we are given when we travel within the country. This usually results in a separation of groups at mealtimes – with expats fine dining and citizens grabbing something from the local joint.
In challenging locations, foreign employees are given high hardship allowances and extra monthly leave days to visit home, travel expenses paid. Usually, local employees do not receive R&R.
International consultants live on another planet entirely. Usually the upper limit is $800 a day, but I have encountered short-term consultants being paid up to $3,000 a day.
The discrepancies in compensation and benefits reflect the difference in value assigned not only to needs, but to the capabilities of local versus expat staff.
Foreign "experts" are assumed to know more about how to improve local lives than the locals themselves. This means that the highest positions in INGOs are almost all held by foreigners from the country in which the INGO is headquartered.
With foreigners holding the power and the money, the neo-colonialist legacy continues. We locals, who are lucky enough to be employed by INGOs bite our tongues and accept our relative privilege over fellow citizens, not daring to risk questioning the inequality within the workplace lest we lose our jobs.
Do you have a secret aid worker story you'd like to tell?
You can contact us confidentially at globaldevpros@theguardian.com – please put "Secret aid worker" in the subject line.
If you'd like to encrypt your email to us, here are instructions on how to set up a PGP mail client and our public PGP key.
Note: What we need are stories from aid workers. Accumulating Statistics on facts that everyone know about is Not going to change the behaviors of the colonial powers. What is of urgent importance to shed a powerful light on the deep reasons why expats get fantastic privileges for the same skills.
I guess the main factor is Not to create a special class of indigenous workers who will behave as a much higher individual than who they are serving and starting to embezzle money… Kind of colonial powers fooling themselves that the indigenous people don't know the crooked ways the western institutions act and exploit.
 Objects Refugees Carry on Their Journey to Europe
Standing at a refugee stop in the Austrian town of Nickelsdorf, near the Hungarian border, 17-year-old Ahmad explains that he no longer owns much of anything.
After fleeing their home in Deir ez-Zor, Syria, Ahmad and his family hope to end up "in Germany, Finland, Sweden" — whichever country will take them in.
As Ahmad recounts how his family had to abandon all of their belongings — carrying only small packs of clothing with them — he unwraps a chocolate wafer handed out by Austrian volunteers. And though he has next to nothing, Ahmad breaks the chocolate in two and politely offers me half.
What do you bring with you to begin life anew?
This small, but remarkable act of sharing was something photographer James Mollison and I would come to witness over and over as we interviewed refugees on a recent trip to Austria. Though everyone we met had an urgent need — for a hot meal, for a working phone signal, for information — many were more than willing to share what little they did have, whether it was their time or their stories.
One by one, refugees agreed to stop and have their portraits taken by James, in a makeshift studio he had assembled in a tent, alongside discarded wool blankets and ruined articles of clothing.
We heard story after story of smugglers shepherding desperate refugees into tiny, ramshackle dinghies and then forcing them to throw their only bags overboard, in order to prevent the boats from sinking. "We did it to save our lives," says Marie, a 32-year-old woman who had traveled from the Democratic Republic of Congo.
As a result, many were left without papers or passports. Yet, amazingly, many people were willing to hand over, for a few instants, their last remaining possessions — a beloved watch; vials of insulin — so that James could photograph them.
Some people we met were even eager to show us what they carried: cell phones or digital cameras with photos of loved ones who they had been separated from during the journey. These devices, and the photos on them, held their greatest hopes of being reunited with a missing mother, a lost son or a wife, two-months pregnant and nowhere to be found.
Of course, there were also several people who were initially mystified by our assignment.
Why did James want photographs of old clothing or an ordinary phone charger? But once he explained that we wanted to capture what they thought was worth holding on to throughout the grueling and often dangerous route into Europe, people got it and recounted in even greater detail the stories behind their objects.
And even if they still didn't quite understand our interest, many refugees would still hand over their bags with a smile, before they went on their way, onto the next leg of their journey.
James Mollison is a commercial and documentary photographer based in Venice, Italy.
Caroline Smith, who edited this photo essay, is a special projects editor at TIME.
Megan Gibson is a writer for TIME based in London. Follow her on Twitter @MeganJGibson.
In their new book, The Slow Professor: Challenging the Culture of Speed in the Academy – fittingly, with a snail on the cover – Maggie Berg and Barbara Seeber apply the principles of the "slow" movement to academia.
Proudly proclaiming themselves "slow professors," the authors offer insights on how to manage teaching, research and collegiality in an era when more professors feel "beleaguered, managed, frantic, stressed and demoralized" as they juggle the increasingly complex expectations of students, the administration, colleagues – and themselves.
"Distractedness and fragmentation characterize contemporary academic life," they write. Today's professors, they argue, need to slow down, devote more time to "doing nothing," and enjoy more pleasure in their research and teaching.
It's time, they say, "to take back the intellectual life of the university." They recently spoke with writer Moira Farr for University Affairs about the book.
The authors of a new book challenge what they call the "frantic pace" of contemporary university life.
University Affairs: How did you come to write this book together?
Maggie Berg: Over the years, Barbara and I were regularly calling one another, in need of support, as we coped with the demands of our jobs. I would be feeling guilty about not answering an email fast enough, or ashamed to admit that I find it stressful switching to a new learning management system, or regretting how I handled a situation in the classroom.
We're always so rushed. We had each done some independent reading on the "slow" movement, books such as Carl Honoré's In Praise of Slow. We were talking to each other about how we could change our sense of time, and bring more pleasure to our academic lives.
We were starting to ask Not "What is wrong with us?" but rather "What is wrong with the system?" At some point in one of our conversations, I think I said, "We should write this down," and Barbara said, "We should write this down."
Barbara Seeber: I was graduate program director in the English department at Brock from 2008 to 2010. As part of that program, I taught a course on research and professional development.
Part of my preparation for teaching that course was reading books on higher education as well as the corporatization of the university, and that reading was part of what brought me to write the book with Maggie.
It got me reflecting on what the assumptions are about being an academic.
Today, the role of the professor is constantly being effaced. We're no longer at the centre of the university. We wanted to encourage people to counter the damaging effects of that. We both felt we couldn't do this alone. It's tough to go against the grain, or to try to shift people's thinking.
We knew that by writing this together, we would be able to remind each other of our goal and purpose, and support each other along the way.
UA: Why did you change the name of the book from The Slow Campus to The Slow Professor?
Barbara Seeber: We changed it because we thought that focusing on the "campus" would make the subject seem too big, too impersonal. The title is important to our theme – we're talking about individual agency.
Maggie Berg: We don't do a detailed analysis of the corporatization of the university. That has been done. We do cover the dramatic increase in job-related stresses reported by academics. We wanted to give individual teachers ideas for changing that.
UA: Put simply, how did it happen that academics are now so stressed and losing a sense of value in the work they do?
Maggie Berg: A number of factors. Over the last two decades, we've seen increases in class sizes, the casualization of academic labour, administrative bloating, the shift toward quantification of our time and our output.
Pressures to publish, new technology, the downloading of tasks and the confusion it creates – these all have led to a situation where we spend less time talking face-to-face with each other and more time multitasking. There seems to be less sense of community and collegiality.
Barbara Seeber: A lot has been written about how all of this has affected the humanities, but we tried to avoid special pleading by highlighting the fact that this is happening across disciplines.
One of the main pronouncements of the Slow Science movement is "we need time to think." (Or to absorb?)
Maggie Berg: Based on research and testimony we've looked at, we can say that a lot of academics feel a sense of isolation, even loneliness, and a loss of purpose in what they do.
There is an emotional aspect to what we do as professors, and constantly pushing back against a corporatized system can take a toll on us. We've heard from many academics who say they are quite demoralized.
Barbara Seeber: Students, too, are hungry for connection with their professors. I recently posted information about counselling support services available on the campus, and two students came up after class just to acknowledge that they appreciated that.
I put up an announcement for a production of the play by Ann-Marie MacDonald, Goodnight Desdemona, (Good Morning Juliet). It's not on the course, it's not graded, but it's a reminder that there are other activities on campus that are worth exploring.
I often get overly stressed and forget that when the students see you as real, it makes a huge difference in the classroom.
Maggie Berg: Just yesterday in a class on theory, I spontaneously talked about how a particular author who writes in a poetic way affected me emotionally, and was surprised to see the number of heads nodding.
Barbara Seeber: There are a number of peer-reviewed studies now that challenge the idea that young people, or "digital natives," want more online learning and less classroom time with live professors. That is simply not true.
UA: You call the book a "manifesto" and "call to action." Why so?
Barbara Seeber: We're trying to create some kind of counter-discourse to remind ourselves of why we went into teaching, and what it is we love about scholarship.
We're starting a conversation. I had been reading the literature on the corporatization of higher education, and there are some incredibly useful, insightful analyses that place the issue in its larger context.
Martha Nussbaum (Not for Profit: Why Democracy Needs the Humanities, 2010) and Benjamin Ginsberg (The Fall of the Faculty: The Rise of the All-Administrative University and Why It Matters, 2011) have written brilliant books. But many of us do not take the time to read them.
We didn't want our book to be a big tome you lug around, yet another burden to make you feel guilty.
Maggie Berg: One of our favourite authors is Stefan Collini (English Pasts: Essays in History and Culture, 1999), who is very funny as well as analyti-cal. We thought we would love to write a book like that.
UA: You write that you are more optimistic than other commentators about current trends in university management. Why?
Barbara Seeber: Both Maggie and I have thought that it's one of the ironies of books on the corporatization of the academy that they invoke the discourse of crisis, and that can make people feel overwhelmed.
The crisis model isn't really that helpful. Yes, we do need to respond to the pressures we face, but the language of crisis only sets up more pressure. We wanted to offer something more hopeful than "it's over." If we thought is was over, we wouldn't have written the book!
Maggie Berg: We agree with the analysis of Bill Readings (The University in Ruins, 1996), but it can induce feelings of helplessness. Like the early feminists, who talked about "strategic optimism," we see that there are pockets of resistance among people who want to work in a humane environment, and we want to support that.
Barbara Seeber: People want to protect the idea of open-ended inquiry in scholarship.
UA: Can you tell us what advice you give to professors who want to improve their working lives, and what you are doing yourselves?
Maggie Berg: Part of my coping strategy has been talking to Barbara on the phone. We try to cut through the "ed speak" – recently I received a memo about "diversifying our revenue generation."
This is new language we want to avoid. I'm also finding ways to enjoy my classes more, because of course, when we enjoy a class, that's when it goes well.
I believe in the theory put forward by Teresa Brennan (The Transmission of Affect, 2004) that students can think better in a positive atmosphere. Of course, it's sometimes hard to be authentic and positive at the same time. But if you're feeling anxious or something isn't working, it's probably better to say, "I'm sorry, I'm tired today," than to pretend you're not struggling.
I don't blame myself when a class doesn't gel. Also, I've been fortunate to work in an office with friendly colleagues. We regularly meet for lunch. It's good to create community, to spend live time with colleagues, instead of just Skyping and emailing. In my research, I'm better now at knowing when it's time to stop working, to say, "Okay, you've done enough."
Barbara Seeber: We all have our ways of making a difference. We really wanted to avoid prescriptive advice. Individual professors need to decide where to put their energies.
Pushing back against a system that wants to quantify everything we do will look different to different people. There are a number of ways to respond.
Getting offline more often, making time to do "nothing," not rushing your research, fighting against the pressure to submit work before it's ready. Talking to Maggie always reminds me to walk the talk. Being a "slow professor" is about making considered choices about what we do, not simply doing less. I have come to question the idea that more is better. There may be fewer lines on my CV now – but I'm okay with that.
This interview was condensed and edited for clarity.

The Slow Professor: Challenging the Culture of Speed in the Academy, by Maggie Berg and Barbara K. Seeber, is published by University of Toronto Press.
It was released in March. Dr. Berg is a professor of English literature at Queen's University and Dr. Seeber is a professor of English literature at Brock University.