Archive for March 7th, 2017
A car bomb explodes in Beirut:
And Why I spent several minutes hiding on the floor of my apartment…
Shannon Gormley,
When the explosions shattered the June night, my first thought was that maybe I shouldn't have come to Beirut.
My second thought was that my boyfriend needed to move away from the bedroom window.
Now. I screamed at him to get down, and he dropped to the ground like a brick.
Before I ever hid under a duvet cover in a Lebanese apartment building, I lived in Vancouver for several years during and after my MA, followed by a brief sojourn in Toronto. I studied democratic education and wanted to work in Afghanistan.
Instead, I worked in Vancouver and a good friend from my undergraduate days took a development job in Kabul. We both pretended that I'd made the better life choice.
I would brag about Vancouver's ocean spray, he would complain about Kabul's high concentration of airborne fecal matter particles.
The view from my apartment in Beirut earlier this summer
"Is Vancouver still glorious?" he'd ask wryly. "Why doesn't the rest of the world just move there?"
A joke, but also a good question.
Vancouver has everything: sea, rainforest, mountains, organic granola. Still, my friend would never have lived there for the same reason that I'd eventually move away: it's too far from where the things that matter happen.
After Vancouver, my first move was to Toronto, a city that at least pretends to be the centre of the universe. There, I reported on how to make digital photos look like they're from the 1970s and on whether gift cards are awesome, or really awesome.
Canada has problems of its own, but the world probably won't need to understand the core of them in 25 years.
That will not be true of the problems in the Middle East. To whom is that a compliment or an insult? Who knows.
Either way, with that thought in mind—and two suitcases full of long dresses that would soon look pitifully prudish in Beirut's parade of designer minis—I finally boarded a plane to Lebanon.
When I arrived, the flames of Syria's civil war were licking at the border; refugees were setting the country's tolerance levels ablaze, rockets were being fired into Beirut's suburbs in protest of Hezbollah's support for Assad. For my family and friends, that was reason for me to turn around; for me, it was reason to stay.
Robert Fisk, the indomitable journalist who brought Lebanon to the world during the nation's civil war, said that being a journalist is like peering into a smoking volcano without choking on ash or being swept away by lava.
Being an aid worker like my friend means that you have to crawl right in the crater: he'd been brought to Afghanistan, he said, to put out fires. "I'm endeavoring not to get terribly burned myself," he'd added.
I'm not the type to play with fire, however. I've been called many things, but reckless isn't one of them; neither is badass or tough. I wear floral-print cardigans, not combat boots. I weep with abandon at Tim Hortons commercials.
I'm afraid of spiders, heights, hot sauce that's labeled three chili peppers or more, failure, men with aggression issues and—yes, YTV—the dark. Star Trek is the closest thing to violent television that I've ever liked, and even then, I prefer the holodeck episodes and any time that Data plays with his cat.
More to the point, I've made peace with my inner coward. I don't want to be a reckless badass; I want to be alive. And yet, I'm living here. Not in spite of the fact that "something could happen," but because it may.
For if you are one of the many of us—I suspect there are many of us—while friends and family hope that nothing will happen, and while the better, not-psychotic part of you hopes that nothing will happen, a secret but insistent part of you—a part that also doesn't want anything to happen—very badly hopes that you're around to bear witness to it if it does happen.
That part of you is exactly why you are where you are, if where you are is a conflict zone and why you are who you are, if who you are is a journalist.
Not because you like danger.
Not because you like thrills.
Not because you have something to prove. But because you have something important to understand and—once it's understood well enough that you have graduated from extremely ignorant to moderately ignorant—something to tell.
Two years after my friend had moved to Afghanistan, I was still in Vancouver. I told him that raising chickens in your backyard was becoming all the rage.
"People raise chickens in their backyards here too," he said. "Because of crushing poverty." (My brother-in law is such a bother that he is raising 100 fowl in my backyard against my will, though I never saw him eating an egg or slaughtering a fowl for his family or mine).
But my friend's greatest scorn was wisely reserved for many westerners in conflict zones. After two years of living in a war—or, more accurately, as he frequently reminded me in response my frightened emails, much like those my friends now send me, a compound—he was entitled to deride 24-year-old development workers who take selfies in front of tanks, who, he said, were in the Middle East "for the experience."
I remember that warning often. If you're a writer, you go everywhere for the experience. The trick is to look for the experiences that matter, and to share them in a way that honours their significance.
Usually, the only thing experienced in Lebanon is life. The greatest dangers that most expats face are Beiruti drivers' collective aversion to traffic lights and Beiruti bartenders' alarmingly generous shots of gin.
But once in a while, you catch a whiff of smoke. Sometimes, it doesn't signal fire, but burning embers that can alight in a moment. When I visited Tripoli in July, gunshots were fired across the street. An aid worker politely ignored my mad dash for the door. "Don't worry, it's a bunch of middle school kids. They're just celebrating the end of exams."
Other times, the fire seems more serious. My boyfriend and I were travelling through Europe while the world talked about invading Syria, and Lebanon was talking about what that meant. The conversation was over by the time we returned to Beirut. Here, we ran into a talented journalist friend, also from Canada, who told us that it had been scary for a while. That things almost happened before they didn't.
"We left at the wrong time," I said.
She nodded, but paused before replying. "Or the right time." We all shrugged.
In the moment of fear, every human being wants to feel safe. But for some, before the moment strikes and after it passes, the feelings are more complicated. Because if you're not afraid, then you're probably not standing on top of an active volcano. You're just on a mountain, and you may as well be in Vancouver.
Maybe that's why my boyfriend and I peeled ourselves off the hardwood floor while the sky exploded above our heads like a bag of burnt popcorn; why we remembered that we hadn't come to Beirut to hide under the bed; and why our massive relief was tempered by more than just embarrassment when we finally caught sight of the threat: fireworks.
Hungarian border guards 'taking selfies with beaten migrants'
Crackdown against refugees intensifies
Border fence being built as new law considered to strengthen powers against asylum seekers
"When they beat us, they were laughing with each other. The policemen, when they beat us, they are taking selfies with us." This account given by Shahid Khan, a Pakistani asylum seeker, is among countless reports of abuse by police guarding Hungary's heavily reinforced borders. He said he was attacked before being photographed and then chased away using police dogs, adding:
"They treat us like animals, and we are humans." Humanitarian organisations say the treatment has become a feature of Hungary's policy on refugees, with warnings from the United Nations falling on deaf ears in the country's right-wing government.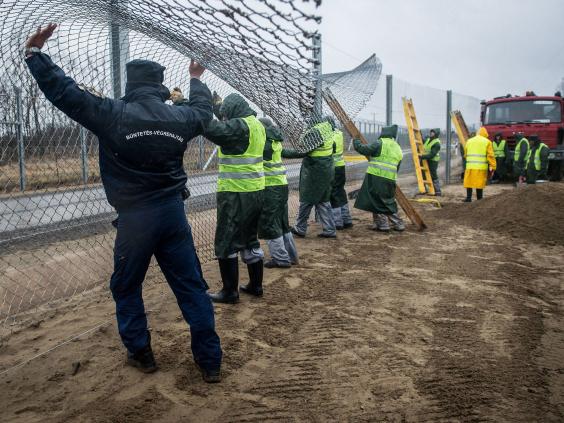 Farhad, a 34-year-old man from Iran, described how he was among around 30 refugees including women and children who crossed Hungary's border fence before being surrounded by dozens of police.
Uniformed men ordered them to sit on the ground with their hands on their heads – then a two-hour attack began.
"I haven't even seen such beating in the movies," Farhad said. "Five or six soldiers took us one by one to beat us. They tied our hands with plastic handcuffs on our backs.
"They beat us with everything, with fists, kicks and batons. They deliberately gave us bad injuries. We asked why they are beating us but they just said: 'Go back to Serbia'."
He also reported officers taking selfies on their mobile phones and laughing during the assault, when asylum seekers were sprayed with tear gas. Ehsan, a 28-year-old from Iran who was also part of the group, said they were eventually ordered to crawl through a hole made in Hungary's barbed wire fence border.
"I was the last in line to cross the fence back to Serbia – they let the dogs on me," he added.
"I fell to the ground trying to grab his collar and a police officer struck a blow to my face from the side." Human Rights Watch (HRW) obtained a photograph showing Ehsan bleeding from an injury next to his eye, with his face covered in bruising that lasted more than a fortnight.
Lydia Gall, the group's Balkans and Eastern Europe researcher, said it has received numerous reports of police taking selfies with abused migrants and filming them, compounding the beatings with humiliation.
After a new law was implemented in July to allow refugees caught within five miles of the Hungarian border to be forced back into Serbia, she said a policy was introduced for police to film the operations.
"They made people stand in front of a camera holding up a piece of paper listing that they had irregularly crossed into Hungary," Ms Gall added. "Part of that statement on film would say police officers have behaved nicely and appropriately.
"Once they stopped filming, a lot of migrants said the beatings would ensue so there would be no marking on the official video." She said the "staged" filming was allowing the Hungarian government to refuse to properly investigate the allegations, adding: "The the fact nothing is being done to stop it is completely unacceptable."
As extreme cold swept Europe at the start of 2017 and temperatures in Hungary plummeted to -20C, a new form of torment was reported. Refugees said border police would take their drinking water and pour it over them before abandoning them in the snow, sometimes taking coats, clothes and shoes.
Intolerable conversations
« Depuis que je le connais, la présence des autres m'est devenue plus intolérable encore, leur conversation surtout !
Oh ! comme elle m'angoisse et comme elle m' exaspère, et leur attitude, et leur façon d'être, et tout !
Les gens de mon monde, mes tristes pareils, comme tout ce qui vient d'eux m'irrite, m'attriste et m'oppresse, leur vide et bruyant bavardage, leur perpétuelle et monstrueuse vanité, leur effarant et plus monstrueux égoïsme, leurs propos de club !
le ressassage des opinions toutes faites et des jugements appris, le vomissement automatique des articles lus, le matin, dans les feuilles et qu'on reconnaît au passage, leur désespérant désert d'idées, et là-dessus l'éternel plat du jour des clichés trop connus sur les écuries de courses et les alcôves des filles et les loges des petites femmes !
Les petites femmes, autre loque de langage, la sale usure de ce terme avachi !
Ô mes contemporains, mes chers contemporains,  leur idiot contentement d'eux-mêmes, leur suffisance épanouie et grasse, le stupide étalage de leurs bonnes fortunes, les vingt-cinq et cinquante louis sonnant de leurs prouesses tarifées toujours aux mêmes chiffres, leurs gloussements de poules et leurs grognements de porcs, quand ils prononcent le nom de certaines femmes, l'obésité de leurs cerveaux, l'obscénité de leurs yeux et la veulerie de leur rire !
Beaux pantins d'amour en vérité, avec l'affaissement esquinté de leurs gestes et le démantibulé de leur chic (le chic, un mot hideux qui sied comme un gant neuf à leur allure, affalée, de croque-morts, épanouie, de Falstaff)…
Ô mes contemporains, les ceusses de mon cercle, pour parler leur argot ignoble, depuis le banquier juif qui les a eues toutes et racole cyniquement pour l'Affaire, jusqu'au gras journaliste qui a son couvert, lui aussi, chez toutes, mais à de moindres taux, et parle tout haut ses articles, comme je les hais, comme je les exècre, comme j'aimerais leur manger et le foie et le fiel et comme je comprends les bombes de l'Anarchie ! »
Jean Lorrain – Monsieur de Phocas