Crackdown against refugees intensifies: Hungarian border guards 'taking selfies with beaten migrants'
Posted by: adonis49 on: March 7, 2017
Hungarian border guards 'taking selfies with beaten migrants'
Crackdown against refugees intensifies
Border fence being built as new law considered to strengthen powers against asylum seekers
"When they beat us, they were laughing with each other. The policemen, when they beat us, they are taking selfies with us." This account given by Shahid Khan, a Pakistani asylum seeker, is among countless reports of abuse by police guarding Hungary's heavily reinforced borders. He said he was attacked before being photographed and then chased away using police dogs, adding:
"They treat us like animals, and we are humans." Humanitarian organisations say the treatment has become a feature of Hungary's policy on refugees, with warnings from the United Nations falling on deaf ears in the country's right-wing government.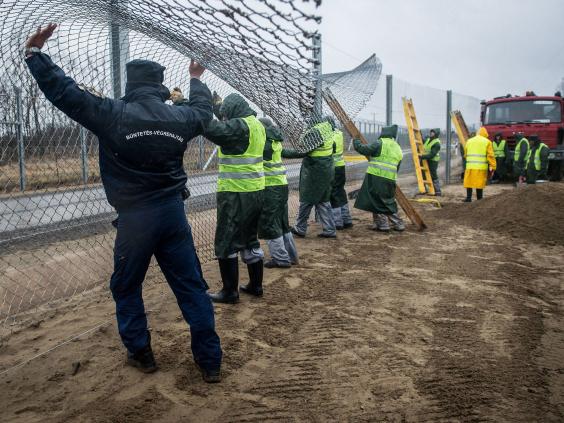 Farhad, a 34-year-old man from Iran, described how he was among around 30 refugees including women and children who crossed Hungary's border fence before being surrounded by dozens of police.
Uniformed men ordered them to sit on the ground with their hands on their heads – then a two-hour attack began.
"I haven't even seen such beating in the movies," Farhad said. "Five or six soldiers took us one by one to beat us. They tied our hands with plastic handcuffs on our backs.
"They beat us with everything, with fists, kicks and batons. They deliberately gave us bad injuries. We asked why they are beating us but they just said: 'Go back to Serbia'."
He also reported officers taking selfies on their mobile phones and laughing during the assault, when asylum seekers were sprayed with tear gas. Ehsan, a 28-year-old from Iran who was also part of the group, said they were eventually ordered to crawl through a hole made in Hungary's barbed wire fence border.
"I was the last in line to cross the fence back to Serbia – they let the dogs on me," he added.
"I fell to the ground trying to grab his collar and a police officer struck a blow to my face from the side." Human Rights Watch (HRW) obtained a photograph showing Ehsan bleeding from an injury next to his eye, with his face covered in bruising that lasted more than a fortnight.
Lydia Gall, the group's Balkans and Eastern Europe researcher, said it has received numerous reports of police taking selfies with abused migrants and filming them, compounding the beatings with humiliation.
After a new law was implemented in July to allow refugees caught within five miles of the Hungarian border to be forced back into Serbia, she said a policy was introduced for police to film the operations.
"They made people stand in front of a camera holding up a piece of paper listing that they had irregularly crossed into Hungary," Ms Gall added. "Part of that statement on film would say police officers have behaved nicely and appropriately.
"Once they stopped filming, a lot of migrants said the beatings would ensue so there would be no marking on the official video." She said the "staged" filming was allowing the Hungarian government to refuse to properly investigate the allegations, adding: "The the fact nothing is being done to stop it is completely unacceptable."
As extreme cold swept Europe at the start of 2017 and temperatures in Hungary plummeted to -20C, a new form of torment was reported. Refugees said border police would take their drinking water and pour it over them before abandoning them in the snow, sometimes taking coats, clothes and shoes.