Archive for July 18th, 2018
Ken Blanchard and Mark Miller capture, "The Secret," of leadership in five letters, SERVE. The beauty of SERVE is inescapable simplicity and actionable clarity.
By Dan Rockwell
Serve and learn to wear the delegator's hat,
See the future: envision and communicate a compelling picture of a preferred future.
What do I want to be true of the future?
Why should anyone care?
How will progress be measured?
sErve
Engage and develop others: recruit and align people for the right job. Create environments where people bring vision to life.
What invited my engagement in the past?
Which of these factors are missing in those I lead?
How can I help teams and individuals grow?
seRve
Reinvent continuously: continuously focus on improvement.
How do I need to change?
Where do I want different outcomes?
What organizational changes will accelerate progress?
serVe
Value results and relationships: generate measurable results and cultivate great relationships.
Which is my personal bias as a leader – results or relationships?
How can I compensate for the area that's not my personal strength?
What happens if I don't broaden my definition of success?
servE
Embody values: live fully aligned with stated values.
What values do I want to drive behaviors in my organization?
How can I communicate these values?
What are my actions communicating?
The ultimate question
"Am I a serving leader or a self-serving leader?"
Application
Apart from the ultimate question, the question that most hits me this morning is, "How do I need to change?"
It's easy to see where they need improvement. It's fun to "help" them. This morning, I'm the one who needs changing. I shouldn't say, "This morning." It's every morning.
Organizations grow when their leaders grow.
"The Secret" won't take long to read but it takes a lifetime to live.
Which question in this post is most relevant for you, today?
How Hammers Become Screw Drivers
Little Mary just knocked a glass of milk on the floor. That's what two year old's do.
There's a group of five leaders at the table.
Bob waves the waiter over and says, "Could someone clean this up?"
Mindy says, "That happened because the milk was too close to the edge."
Joe says, "Don't worry, I'll buy another one."
Mark says, "Its ok little Mary, don't feel bad."
Betty says, "I'll take little Mary to the restroom. Phil, will you get the waiter. Bob, I noticed another booster seat near the door, would you get that, please?"
Everyone employs default responses.
Explain
Comfort
Teach
Fix
Organize
Do
Delegate
Expand leadership potential by imagining new responses.
Put on the delegator's hat, if you tend to fix or comfort, for example. Become an organizer – in your imagination – if you're a doer.
Become a screw driver:
Hammers see every problem as a nail. Expand your potential by becoming a screw driver.
Identify default responses.
Imagine new responses. Ask yourself, "How does Mary handle this type of situation?"
Test new language.
Invite feedback.
Continue practicing your screw driver skills.
Leaders become ineffective – one string banjos – unless they imagine themselves in new ways.
Imagine you're a screw driver. You can't do what you can't imagine. When default responses aren't getting you where you want to go, imagine yourself with new ones.
What is your default response to challenges, problems, or opportunities?
What new response can you imagine that might take you further?

Emma Ruby-Sachs – Avaaz
Unsubscribe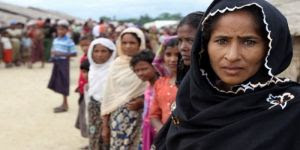 In a few days India plans to delete up to 7 million Muslims from its list of citizens and later throw them in prison camps. This is how genocides begin.
But nearly nobody knows about it! If enough of us raise the alarm now we can get the United Nations and key countries to weigh in and stop it. Join now:
In a few days, India will delete as many as 7 million Muslims in Assam State from its master list of "citizens" because they speak the wrong language and worship the wrong God.Husbands, wives, and children could be torn apart and left to rot in prison camps.

This is how genocides begin – how the nightmare of the Rohingya began.
But it's all unfolding quietly — if we raise a massive alarm calling for the UN Secretary-General and key governments to intervene – we can stop this horror before it starts:
The Assam government has already begun quietly building another new prison camp and deploying troops. 
Like the Burmese regime that attacked the Rohingya, the government claims they're acting against illegal immigrants from Bangladesh.
But the vast majority of the people targeted are just poor, illiterate Muslim citizens without "proper" documentation. They've never needed it before!
António Guterres, the Secretary General of the UN, has pledged to fight on behalf of those who can't: "I will raise my voice. I will take action. I will use my rights to stand up for your rights." We need to hold him to those words because right now the Bengali Muslims in India have no one to speak for them on the global stage — except us. Sign the petition below and together we can stop a road to genocide in Assam:
The rise of virulent Hindu nationalism in India is behind this aggressive move to render millions of Muslims stateless and vulnerable. History teaches us that these movements know no limits except the ones citizens set for them.
Let's draw a line in Assam, and send a message to governments everywhere – we're watching.
With hope and determination,
Emma, Nate, Ricken, Antonia, Flora, Alice, Wissam, Danny and the entire Avaaz team
More information:
More than 7 million people, including 2.9 million married women, asked to prove citizenship as part of massive exercise (Al Jazeera)
https://www.aljazeera.com/indepth/features/assam-counts-citizens-muslims-fear-left-180530080633948.html
Stateless in Assam (The Indian Express)
https://indianexpress.com/article/opinion/national-register-of-citizens-5030603/
Assam CM: No fundamental rights for those failing NRC tests (Times of India)
https://timesofindia.indiatimes.com/india/assam-cm-no-fundamental-rights-for-those-failing-nrc-test/articleshow/62344296.cms?from=mdr
The dark side of humanity and legality: A glimpse inside Assam's detention centres for 'foreigners' (Scroll.in)
https://scroll.in/article/883936/assam-citizens-register-detention-centres-for-foreigners-offer-a-glimpse-of-the-looming-tragedy
With final NRC draft to be released in 20 days, Assam witnessing rise in suicides (NewsClick)
https://newsclick.in/final-nrc-draft-be-released-20-days-assam-witnessing-rise-suicides
Assam seeks 150 companies of central forces ahead of next NRC publication (The Economic Times)
https://economictimes.indiatimes.com/news/politics-and-nation/assam-seeks-150-companies-of-central-forces-ahead-of-next-nrc-publication/articleshow/64394147.cms