Archive for August 2nd, 2020
Most hospitals are in crisis: Lebanon hospitals are No exception in this 4th wave of Covid-19
By SARAH EL DEEB
July 22, 2020
BEIRUT (AP) — Lebanon's hospitals, long considered among the best in the Middle East, are cracking under the country's financial crisis: Struggling to pay staff, keep equipment running or even stay open amid a surge in coronavirus cases.
Private hospitals, the supposedly engine of the health system in Lebanon (because the governments refused to invest in public hospitals and public schools and universities), warn they may have to shut down.
Chronically underfunded public hospitals, which have led the fight against the virus, fear they will be overrun.
Across the country, hospitals and doctors are reporting shortages in vital medical supplies such as anesthesia drugs and sutures.
With power cuts (electricity) that run through most of the day, they pour money into fuel for generators, and many are turning away non-critical cases to conserve resources.
(The government import fuel at 3,500 Lira the $, and the mafia stock it and sell it at over 8,000 Lira the $)
"The situation is really catastrophic, and we expect a total collapse if the government doesn't come up with a rescue plan," said Selim Abi Saleh, the head of the Physicians Union in northern Lebanon, one of the country's poorest and most populated regions.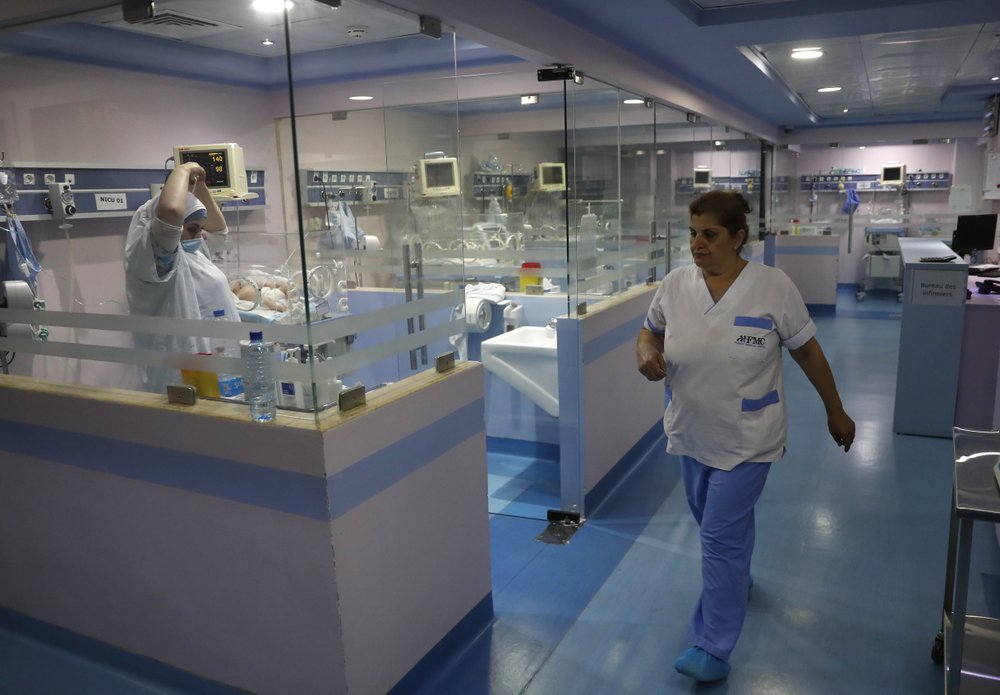 One of the country's oldest and most prestigious university hospitals, the American University Medical Center, laid off 650 of its staff last week citing the "disastrous" state of the economy and causing uproar and concern.
Medical facilities have let go of nurses and reduced salaries, their finances running dry in part because they can't collect millions owed to them by the state.
Nearly a third of Lebanon's 15,000 physicians aim to migrate or already have, a doctors' union official said, based on the number who have sought union documents they can use abroad to prove their credentials.
So far Lebanon has kept a handle on its pandemic outbreak, through strong lockdowns, aggressive testing and a quick response, largely by public hospitals.
(This was true during the first wave of the pandemics, and now the Lebanese are no longer ready for strict confinement or obeying government rules and regulations)
The country has reported fewer than 3,000 infections and 41 deaths.
But with cases rising, many in the field fear the health sector can't hold up under a surge and a financial crisis worsening every day.
Lebanon's liquidity crunch has crippled the government's ability to provide fuel, electricity and basic services.
The shortage of dollars is gutting imports, including medical supplies and drugs. (The Central Bank in cohort with the militia/mafia "leaders" drained the dollars from its reserves and transferred it overseas)
The government is sending the strong message to the banks that it should shoulder the expenses of the public services monthly wages.
That would be a valid request on the ground that the banks enjoyed 18% interest for many years on loans extended to successive bankrupt governments, and them knowing full well that these loans are within a Ponzi scheme for many years.
That would be a valid request from the citizens too if the governments invested the banks loans in the productivity of our internal market.
This request from the banks could even be feasible if banks repatriated its stacked wealth overseas, along with the militia/mafia "leaders" vast transfer of the loots.
Prices have spiraled, unemployment is above 30% (given that the third of the working population are "civil servants" hired in the public institutions) and nearly half the population of 5 million now live in poverty.
Private hospitals, which make up around 85% of the country's facilities, emerged dominant after the country's brutal 15-year civil war to become the pride of Lebanon's system, drawing patients from around the region with specialized services and advanced surgeries. (Again, where the finances came from? What patients paid for these expensive private hospitals?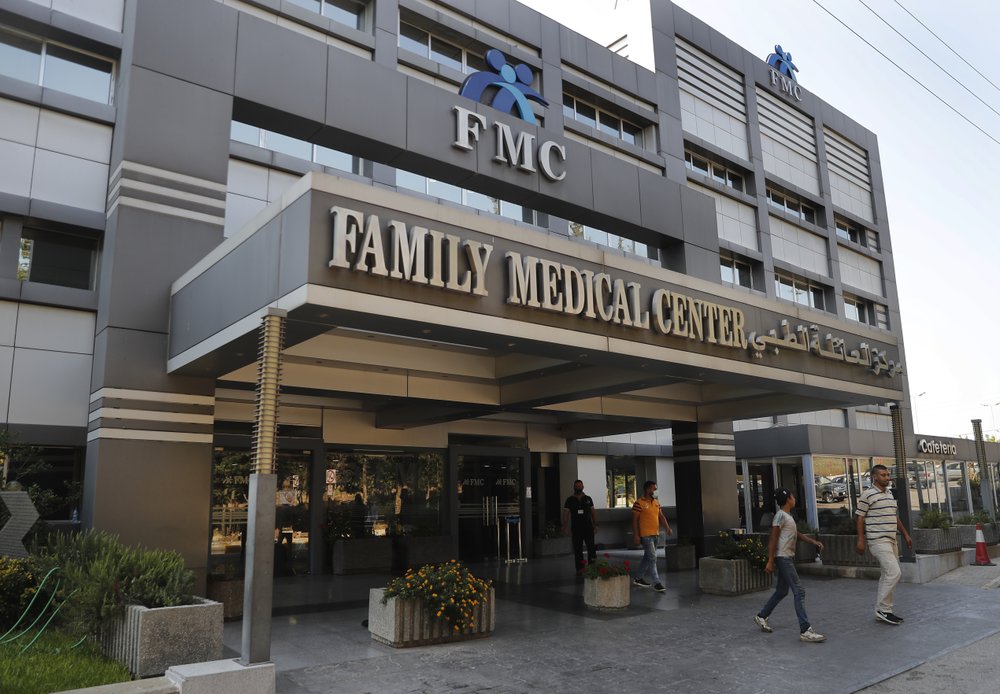 But the entire health sector, like much of the country, has also run on political jockeying and patronage in Lebanon's sectarian system.
Medical practitioners say politics determine how much payment from the state private hospitals receive while public facilities remain understaffed.
The insurance system, with multiple health funds, is chaotic, making collection difficult and coverage patchy.
For years, state insurance funds failed to reimburse hospitals. Private hospitals say they are owed $1.3 billion, some of it dating back to 2011. (Actually, private hospital administrators way over elevated their expenses to the health ministries)
"We can't fight COVID and at the same time keep looking behind our backs to see whether I have enough financial and material resources," said Firas Abiad, director general of Rafik Hariri University Hospital, the public hospital leading the coronavirus fight.
Abiad, who has won praise for his transparency in handling the pandemic, is getting by with stop-gap measures. When he raised alarm this month that the hospital was running out of fuel, a rush of private donations flowed in. The government pledged to provide fuel for public facilities.
"I doubt anybody has any long-term strategy," Abiad said. "We are doing it one fight at a time, and we are surviving one day at a time."
Financing must be priority, he said. "Generators can't run on empty, without fuel. Hospitals can't run without financing."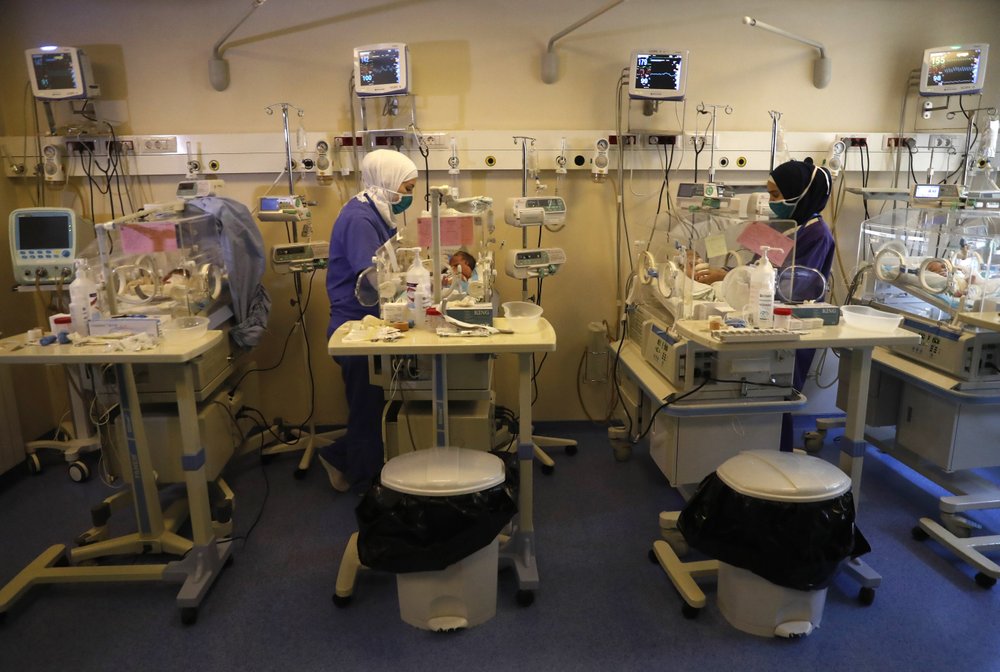 Minister of Health Hamad Hassan told The Associated Press Monday he was counting on government support to keep hospitals as a "red line." But he urged hospitals to do their part to push through the crisis.
"Hospitals have invested in this sector for 40 years. Whoever has invested that long should have the courage to invest for six months or a year to help his people and not give up on them," he said.
Private hospitals' struggles are compounded by a banking sector crisis that has locked down foreign currency accounts and complicated imports and the issuing of letters of credit.
In the northern village of Majdalaiya, the state-of-the art, 100-bed Family Medical Center hospital stood nearly empty last week. Its owner, oncologist Kayssar Mawad, said he had to shut down one of the five floors to save costs.
Mawad has had to refuse patients with state insurance. The government already owes him millions of dollars, he said.
"It has to be a life or death situation," Mawad said. "This is not sustainable."
He said in recent weeks, he admitted 20 patients at most, while treating others as outpatients to save costs. His facility is prepared to deal with COVID-19 patients but he said it won't because it is too expensive.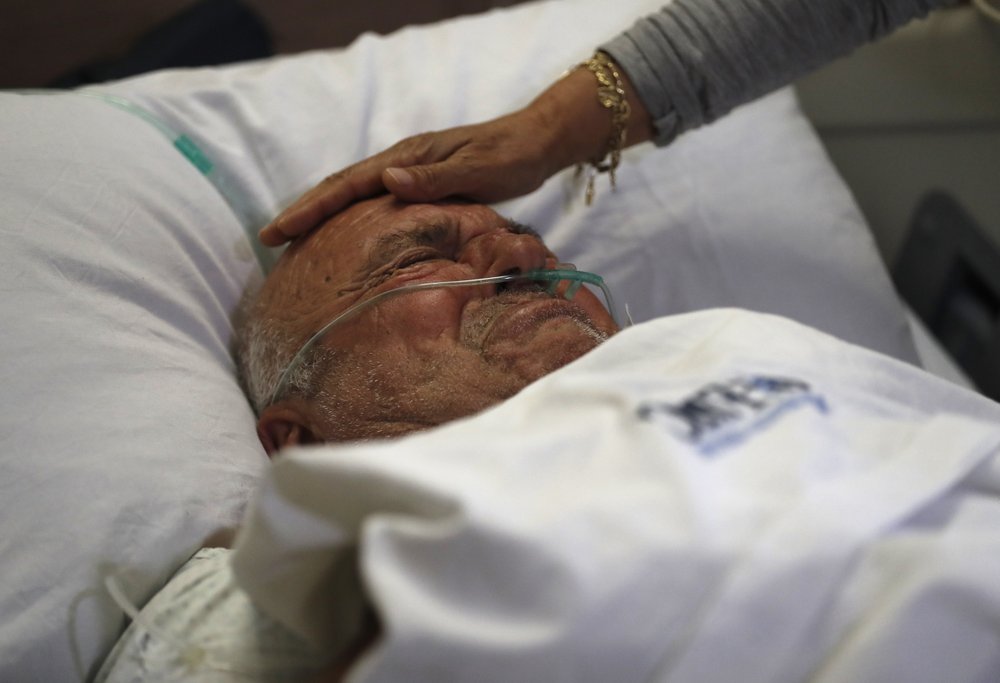 "We don't want to get to a Venezuela-scenario where we diagnose the patient but ask them to bring their own medicine, food, and sheets," he said. "I hope we don't get there."
There was only one baby in the hospital's 13-bed neonatal unit. On the adults' floor, there were three patients.
One of them, an 83-year-old man recovering from arterial surgery, had to pay out of pocket because his private insurance won't cover the room or the stent. If a brother hadn't come from Germany to cover the costs, "he would have died," said his daughter, Mayada Qaddour.
The 32 public hospitals won't be able to fill the place of private hospitals threatened with closure, said Ahmad Moghrabi, chairman of Orange Nassau, Lebanon's only government-run maternity hospital. (Actually, it is becoming hard to maintain the hospital equipment and providing the necessary medicine)
Moghrabi, now in his 70s, rebuilt the hospital in the northern city of Tripoli from scratch since he took it over in 2003, almost totally through foreign donations. Still, it relies on state funds and insurance payments — both minimal — so it has never been able to operate at full capacity of 5,000 births a year.
Now desperately short of funds and fuel, the hospital has to juggle priorities. It suspended its neonatal unit to keep life-saving dialysis running.
"In 2020, (a hospital) can't do without a neonatal unit," Moghrabi said. "With the current circumstances in Lebanon, we are going back to the 1960s, even further."
This Stranger in the coffin
"The Stranger". Poem by late Palestinian Mahmoud Darwish
This person was a stranger to me
I had no idea what she could have done before
I saw a coffin, people in mourning
I walked with her, (the masses of mourners?)
Her head low, in an important respect attitude
She was walking ahead of me.
I found no opportunity to ask her my well-composed questions
"Who is in the coffin? How this late person died? How it lived?"
Of the many ways people died from,
I can vouch for one that I experienced
"Living badly"
Note: The mourners have been strangers in Palestine since 1948, the establishment of colonial implant of Israel
What this blog is About?
Updated "About" (August 2 /2020)
I started this blog on September 17, 2008.
This blog is about: "Who I was, what I did, what did I think, how did I grew…"
This blog is about: "Who I am, what I am doing, how I think, what are my positions, politically, economically, fairness and equitability in political systems"
I dabbed in all kinds of jobs, you name it, from the "lowest" in order to pay my fees and lodging for studies in universities, to the higher kinds of jobs. Apparently, none of the jobs gave me this feeling that "This is what I want to do for the rest of my life": I could Not discover any kind of retaining passions to last in any professional job.
The total number of articles published so far has reached 9,300 posts and the total number of hits has crossed two million views and the average daily hits is over 600 per day. The number of steady followers increased to 550
You have choices among 45 categories to navigate around, included my autobiography and edited as new facts and memories surge.  I added the sub-category "Travel/Excursion"
I got a new life of publishing what I had  expressed in years of writing for myself.  I now have to consider my target audience of readers who patronize my blog:  There is a dividing line between writing and publishing, because responsibility to others comes in publishing.
Recently, I added a new category "Daydream Projects":  Just imagine this gigantic brainstorm networking sessions if a small fraction of mankind decides to publish their daydreaming projects with plenty of details. Wouldn't daydreaming be considered a very productive endeavors?
I also added the categories "Time for Outrage" and Pets
I post on average of 10 articles per week (articles of mine, links from various social platforms after editing and adding my comments). I figured out that every new post generates around 100 hits within a year, and keeps increasing fast.
You may enjoy the category poems (poems of mine, and translated poems from Arabic and French into English). I had posted my autobiography, two novels, short stories, and plenty of detailed book reviews.
I feel blessed confronted with many obstacles:  I was for a long time penniless but  kept publishing, and was associated with the most abject financial condition I have experienced… I am graced of feeling the same zest in publishing almost everyday.
I do read and write every day in three languages English, French, and Arabic.  I read books, small and large, old and current, classical and common, biased and "balanced". And spend 3 hours per day reading and taking notes in Libraries
I read dailies and their editorials. I read magazines, serious ones and tabloids. I used to keep up to date with the weekly French "Courrier International", bi-weekly, and monthly issues, including  the French monthly "Le Monde Diplomatique", "Science et Vie"…when they were available.
I uncover nuggets in almost all my readings and then report my notes and comments after elaboration, analysis, and exercising my individual reflection.
Lately, I have been publishing my notes and comments on Facebook and Twitter under the title Tidbits.
The category "Diary" contains the articles I wrote before I got into blogging in 2008.
Recently a few friends decided to post their memories on FB and I shared them on my blog under the title "Mon cher Ado"
My posts are No cut and paste gimmicks, and they lack pictures unless provided by a link, images and videos: I don't have the tools for recommended visual inputs, and I have no patience for navigating the net.
Whatever I receive, I edit it, comment on it and highlight the main points.
I understand that the task of publishing carries responsibility to the general public and I have to do my due diligence in reading a lot, reflecting, and exposing various views and perspectives before extending my current convictions.
I have been writing for my own pleasure for years, such as short poems, diaries, and got into introspection in order to get in touch with my emotions and my models on life, universe, and a sustainable earth within my history growth context.  WordPress.com made it easy to taking the drastic plunge into communicating with the public.
It is a daily communion that starts by receiving comments before offering opinions, and do reply to developed opinions and comments.
I am reminded that life exercises its cyclical rights and I wish your ebbing period would not last longer than necessary, and that it would not affect your optimism.
I wish that you have a support system to remind you that life is wonderful, it is beautiful, and it is exciting.  There is a tomorrow but surely not better than today, since you are still alive!
I realized that publishing electronically is not considered by many political institutions as serious matter, since many do not navigate fast communication mediums on a wide scale yet; as if people still read hard copy manuscripts or dailies!
If you are interested in reading biographies of people "Not famous" or "Not glamorous", then you may also enjoy reading my auto-biography titled "Introspection of a confused man".
Anyway, most of my categories that are Not related to politics, history, religions, sciences, engineering, health, or book reviews are about myself.
It appears that my Book Reviews category is the most favored so far; closely trailed by political articles, social articles, sex/seduction categories, and religious topics.
I earned a PhD degree in Industrial/Human Factors/ system design engineering. That was in 1990 from the USA  and a couple of Masters in Physics and Operation Research, but I refused to practice until recently when I decided to teach in universities and had this lovely opportunity to write over 50 engineering articles published in the category "Professional articles", "Human Factors in Engineering" and lately in the category "Engineering/research".
I realized that I love best to read and disseminate what I write, and wordpress.com was the ideal platform to initiate people to publishing and expressing their opinions without any kinds of censorship.
I wish the publishers of articles and bloggers to keep in mind the dividing line between writing for comprehending and reflecting on their own positions and feelings, and just publishing.
I read and write daily, a lot, and hit libraries and follow up on news and editorials and feel serious on disseminating what I read.  I even summarize controversial books and offer my opinions ; yes, I love to be controversial, otherwise I might just rot.
A sample of a translated poem:
Your blue sea eyes
On the deck of your blue eyes is raining
Audible vibrating lights.
On the port of your blue eyes,
From a tiny open window,
A view of faraway birds swarming,
Searching for yet undiscovered islands.
On the deck of your blue eyes
Summer snow is falling.
I am a kid jumping over rocks
Deeply inhaling the sea wind
And then returns like a weary bird.
On the port of your blue eyes
I dream of oceans and navigation.
If I were a seafarer
If anyone lent me a boat
I would surely ease up my boat closer
To your blue sea eyes
Every sundown.
Note 1: This poem is an abridged free translation from Arabic of the famous late Syrian poet Nizar Kabbani.
Note 2: You may reach me on adonisbouh@gmail.com