Archive for August 25th, 2020
Integral Partner in the looting of Lebanese depositors: Central Bank Chief Riad Salami
Investigation finds that Lebanon's Governor moved millions abroad, including into Bristol.
In the wake of the devastating blast in Beirut and as Lebanese people rally against government corruption, Riad Salami, the governor of the bank of Lebanon, has been blamed by many for his handling of the country's financial crisis.
Now an investigation by the Organised Crime and Corruption Reporting Project (OCCRP) and its Lebanese partner Daraj.com has revealed that offshore companies owned by the governor invested in overseas assets worth over £75.5 million, including a large office building in Bristol, home to Boeing Defence UK.
630 Bristol Business Park in Stoke Gifford was bought in 2013 for £10.5 million by Fulwood Invest, a company registered in the tax haven of Luxembourg.
Until recently, company documents only showed that the son of the Governor, Nady Salami, and his nephew, Marwan Issa El Khoury, directed the company.
But in 2019, the list of beneficial owners of Luxembourg companies was released to comply with EU transparency regulations. With the shroud of secrecy lifted, Fulwood Invest and several other investment companies are now known to be owned by Riad Salami.
While the wealthy governor of the cash-strapped country encouraged others to invest in Lebanon, he had lavishly invested abroad.
In July 2020, the governor was formally accused by a group of Lebanese lawyers of embezzling central bank assets and mismanaging public funds.
A judge ordered a protective freeze on Salame's assets, including his properties, ahead of a hearing this October.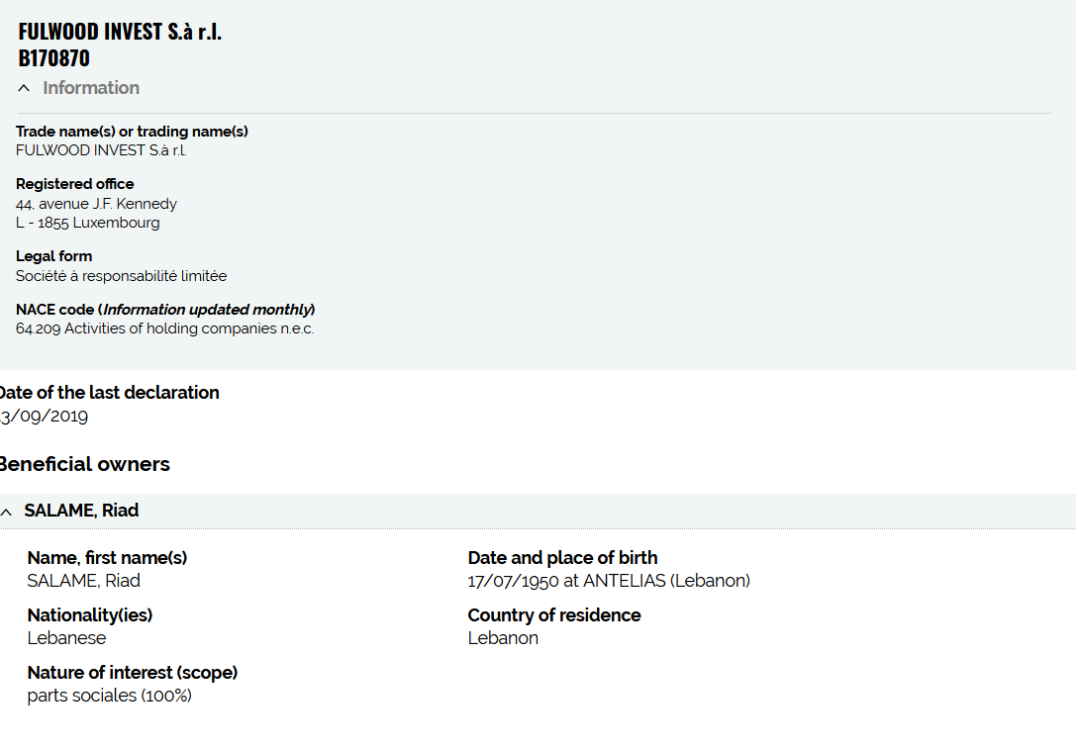 Bristol Offshore
Far from just plush London townhouses and offices being scooped up by offshore companies, residential and commercial properties across the UK have also been bought, as previously reported by the Cable.
A total of 721 properties are owned by overseas companies in Bristol.
Many, but not all, of these are registered to secretive jurisdictions and tax havens. As well as being a vehicle for tax avoidance and washing dirty money, the influx of investment in property from overseas companies can also inflate local property markets.
And although registered offshore, the owners of these properties can be UK-based.
These jurisdictions often offer clients secrecy and schemes that allow income and profits to be rerouted from one place to another for tax avoidance purposes.
Salami 33,000 sq. ft office in north Bristol is leased to aerospace and weapons manufacturer, Thales, and under-let to Boeing Defence UK which engineers military aircrafts.
Over recent years, the governor's son and nephew invested more than £30.8 million in UK commercial property through Fulwood Invest, the OCCRP found. They bought Fulwood House, an office building in central London for £5.9 million, a 7-story commercial property in Leeds for just over £10 million, and an office block in Birmingham for £5.45 million.
Steve Goodrich, senior research manager at Transparency International, told the Cable: "The UK is a hot destination for dirty money, with suspect wealth invested in high-end real estate from Surrey to the South West and Scotland."
"Turning a blind eye to illicit investments is to allow corruption onto your doorstep. The UK must increase its efforts to clamp down on corrupt wealth," he added.
"Opaque legal entities enable corrupt individuals to steal millions, sometimes billions, of public funds with relative impunity – money that should be spent on healthcare, education and other essential services. Ending corporate secrecy is crucial to tackling abuses of power and major barriers to global development."
Riad Salami told the OCCRP he had broken no laws and amassed "significant private wealth" before he joined the central bank in 1993, and that "nothing prevents me from investing it".
Note: Official looters of the citizens hide and take advantage of laws tailor-made for the "Elite Classes"
Restructuring engineering curriculums to respond to end users demands, safety and health
In 1987, Alphonse Chapanis, a renowned Human Factors professional, urged that published Human Factors research papers target the practical design need of the various engineering disciplines so that the research data be readily used by engineers.
Dr. Chapanis was trying to send a clear message that Human Factors main discipline was to design interfaces between systems and end users and thus, research papers have to include sections directing the engineers as to the applicability of the results of the paper to design purposes.
In return, it is appropriate to send the message that all engineering disciplines should include sections in their research papers orienting the engineering practitioners to the applicability of the results of the papers to the end users and how Human Factors professionals can judiciously use the data in their interface designs.
As it was difficult for the Human Factors professional to send the right message to the engineering practitioners, and still has enormous difficulty disseminating the proper purpose and goals, it would be a steep road for the engineers to send the right message that what they design is actually targeting the needs and new trends of the end users.
As long as the engineering curriculums fail to include the Human Factors field as an integral part in their structures it would not be realistic to contemplate any shift in their designs toward the end users.
Systems would become even more complex and testing and evaluation more expensive in order to make end users accept any system and patronize it.
So why not design anything right from the first time by being initiated and exposed to human capabilities and limitations, their safety and health?
Instead of recognizing from the early phases in the design process that reducing human errors and risks to the safety and health of end users are the best marketing criteria for encouraging end users to adopt and apply a system, we see systems are still being designed by different engineers who cannot relate to the end users because their training is not explicitly directed toward them.
What is so incongruous with the engineering curriculums to include courses that target end users?
Why would not these curriculums include courses in occupational safety and health, consumer product liability, engineers as expert witnesses, the capabilities and limitations of human, marketing, psychophysics and experimental design?
Are the needs and desires of end users beneath the objectives of designing systems?
If that was true, why systems are constantly being redesigned, evaluated and tested in order to match the market demands?
Why do companies have to incur heavy expenses in order to rediscover the wheel that the basis of any successful design ultimately relies on the usefulness, acceptability and agreement with the end users desires and dreams?
Why not start from the foundation that any engineering design is meant for human and that designed objects or systems are meant to fit the human behavior and not vice versa?
What seem to be the main problems for implementing changes in the philosophy of engineering curriculums?
Is it the lack to find enough Human Factors, ergonomics and industrial psychologist professionals to teach these courses?
Is it the need to allow the thousands of psychologists, marketing and business graduates to find outlet "debouches" in the marketplace for estimating users' needs, desires, demands and retesting and re-evaluating systems after the damages were done?
May be because the Human factors professionals failed so far to make any significant impact to pressure government to be part and parcel of the engineering practices?
Note: I am Not sure if this discipline Human Factors/Ergonomics is still a separate field in Engineering or has been integrated in all engineering disciplines.
From my experience in teaching a few courses at universities, I propose that courses in Experimental Design be an integral course in all engineering disciplines: students graduate without having a serious idea how to run "sophisticated" experiments or know how to discriminate among the independent variables, the dependent variables, the control variable…and how to interpret complex graphs.