Archive for January 13th, 2021
Guess what my job is: Human Factors in Engineering?
Posted on June 25, 2009 (Written in November 13, 2005)
"Guess what my job is"
It would be interesting to have a talk with the freshly enrolled engineering students from all fields as to the objectives and meaning of designing products, projects and services.
This talk should be intended to orient engineers for a procedure that might provide their design projects the necessary substance for becoming marketable and effective in reducing the pitfalls in having to redesign for failing to consider the health and safety of what they produced and conceived.
This design behavior should start right at the freshman level while taking formal courses so that prospective engineers will naturally apply this acquired behavior in their engineering career.
In the talk, the students will have to guess what the Human Factors discipline is from the case studies, exercises and problems that will be discussed.
The engineers will try to answer a few of the questions that might be implicit, but never formally explicitly explained or learned in engineering curriculums, because the necessary courses are generally offered outside their traditional discipline field.
A sample of the questions might be as follows:
1. What is the primary job of an engineer?
2. What does design means? How do you perceive designing to look like?
3. To whom are you designing? What category of people?
4. Who are your target users? Engineer, consumers, support personnel, operators?
5. What are your primary criteria in designing? Error free application product?
6. Who commit errors? Can a machine do errors?
7. How can we categorize errors? Any exposure to an error taxonomy?
8. Can you foresee errors, near accidents, accidents? Take a range oven for example, expose the foreseeable errors and accidents in the design and specifically the display and control idiosyncrasy.
9. Who is at fault when an error is committed or an accident occurs?
10. Can we practically account for errors without specific task taxonomy?
11. Do you view yourself as responsible for designing interfaces to your design projects depending on the target users?
12. Would you relinquish your responsibilities for being in the team assigned to design an interface for your design project?
13. What kinds of interfaces are needed for your design to be used efficiently?
14. How engineers solve problems? Searching for the applicable formulas? Can you figure out the magnitude of the answer? Have you memorized the allowable range for your answers from the given data and restriction imposed in the problem after solving so many exercises?
15. What are the factors or independent variables that may affect your design project?
16. How can we account for the interactions among the factors?
17. Have you memorize the dimensions of your design problem?
18. Have you been exposed to reading research papers? Can you understand, analyze and interpret the research paper data? Can you have an opinion as to the validity of an experiment?
19. Would you accept the results of any peer-reviewed article as facts that may be readily applied to your design projects? Can you figure out if the paper is Not biased or extending confounding results?
20. Do you expect to be in charge of designing any new product or program or procedures in your career?
21. Do you view most of your job career as a series of supporting responsibilities; like just applying already designed programs and procedures?
22. Are you ready to take elective courses in psychology, sociology, marketing, and business targeted to learn how to design experiments and know more about the capabilities, limitations and behavioral trends of target users?
23. Are you planning to go for graduate studies? Do you know what elective courses might suit you better in your career?
Le temps retrouvé. Recovering our lost time.
OLJ / Par Georges BOUSTANY, le 09 janvier 2021
Lorsque Samer est né quelques petites années après cette photo, il était déjà trop tard : ce décor avait déjà été détruit, et toute la vieille ville de Beyrouth avec.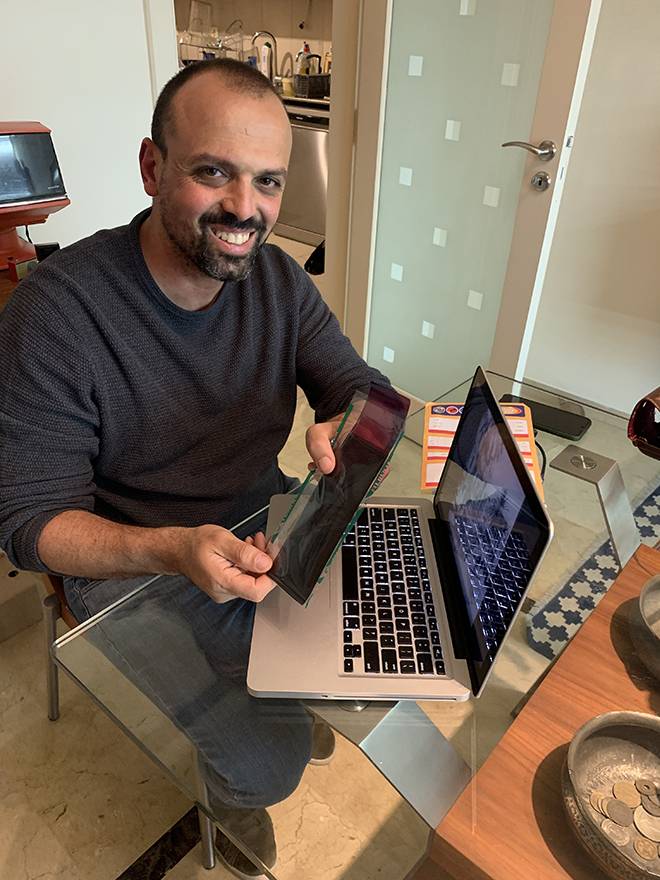 Samer Halwany montrant le négatif rougi par le temps. Collection Samer Halwany
En 2006, il découvre sa première caméra dans un marché du Luxembourg et tombe amoureux de l'esthétique surannée, mais surtout de la mécanique.
Alors que le monde est déjà entré de plain-pied dans l'ère de la photographie numérique, Samer effectue un parcours à l'envers et part à la collecte de ces vieux objets obsolètes qu'il apprend à manier sur YouTube avant de suivre des cours de haut niveau.
En un peu moins de quinze ans, il va récolter 700 objets, et cela va du gigantesque appareil de studio pour plaques de collodion aux petits briquets dissimulant des caméras minuscules utilisées par les espions durant la guerre froide.
L'appartement de Samer est devenu un véritable musée de la photographie : ce n'est pas lui qui a investi cet univers, c'est cet univers qui l'a absorbé corps et biens, et Samer est aujourd'hui un photographe professionnel expérimenté qui forme ses propres étudiants.
Regardez bien cette photographie : elle n'aurait jamais dû exister. Regardez ces personnages saisis sur le vif : n'était la passion d'un jeune collectionneur de caméras vintage nommé Samer Halwany, ils auraient disparu sans laisser de traces, comme tant d'anonymes, balayés par ce qu'on appelle pudiquement les événements.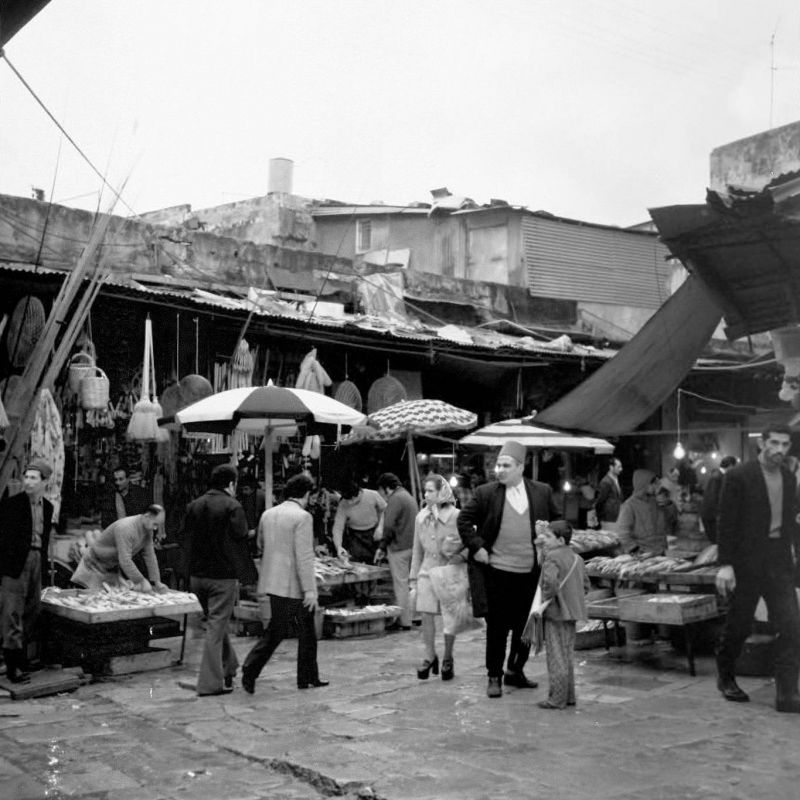 Souk el-Nourieh, hiver 1974-75. Collection Samer Halwany
Tout collectionneur a des anecdotes à raconter, et celle-ci vaut le détour :
Un jour, Samer achète une Rolleiflex T, une des meilleures caméras de son époque, réservée à une élite de professionnels et de connaisseurs. Il remarque que le compteur indique 12 poses. Bingo, il y a un film exposé, mais non développé à l'intérieur !
Ce n'est pas la première fois que cela arrive, mais jamais Samer n'a pu récupérer des images exploitables. Cette fois-ci, il obtient un rouleau négatif comportant douze poses. Un miracle ! Samer croit reconnaître Beyrouth, et en effet, une fois annulée la couleur rouge due à la mauvaise conservation, les photos apparaissent très nettes en noir et blanc.
Elles ont été prises à la place des Martyrs et dans les souks environnants. Le ciel est gris, il fait froid, humide, le sol est encore détrempé de pluie. L'odeur traditionnelle des souks, habituellement composée de poussière, de sueur, de vieux bois et d'objets hétéroclites, est ici rendue encore plus prégnante par l'humidité omniprésente, sur les vieilles pierres, les tissus des tentures, des rideaux, des parasols et sur les vêtements mouillés.
C'est cela Beyrouth : ici se retrouve un peuple bigarré venu des quatre coins du pays.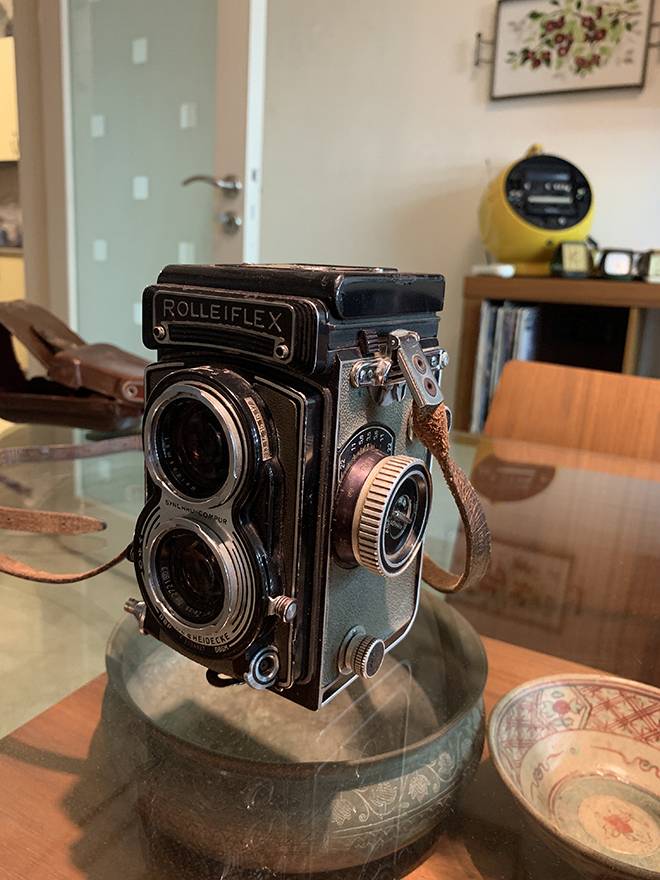 La Rolleiflex dans laquelle le film a été retrouvé. Collection Samer Halwany
Dernier hiver avant le cataclysme
Le photographe inconnu, dont Samer ignore pratiquement tout sinon que la caméra a été vendue par une dame âgée, se tient à une intersection dans les souks.
Nous sommes probablement à Souk el-Nourieh, non loin de la place des Martyrs : ici, l'on vend les traditionnels objets domestiques allant des balais et gants de toilette aux paniers en bambou en passant par les accessoires de cuisine.
Mais aussi du poisson, présenté sur des étals sans échoppe. Les passants sont chaudement habillés, et ces vêtements, on va les retrouver dans les photos des civils sous la mitraille durant la guerre des deux ans (1975-76).
Et pour cause : nous sommes à la veille du cataclysme. Voici, grâce à Samer Halwany, l'ultime hiver du centre-ville de Beyrouth avant quinze ans de guerre : pantalons pattes d'eph, talons hauts pour les hommes, chaussures massives pour les femmes, moustaches latino, favoris interminables, ce sont les derniers moments de normalité avant l'infernal printemps de la bosta qui va, semble-t-il, balayer jusqu'au propriétaire de cette caméra puisque le film ne sera jamais développé.
La luminosité est au diapason de cette ambiance crépusculaire : le ciel est délavé, les ampoules illuminées percent une pénombre sinistre, les regards paraissent inquiets, l'ombre du drame à venir semble déjà s'étendre sur la scène.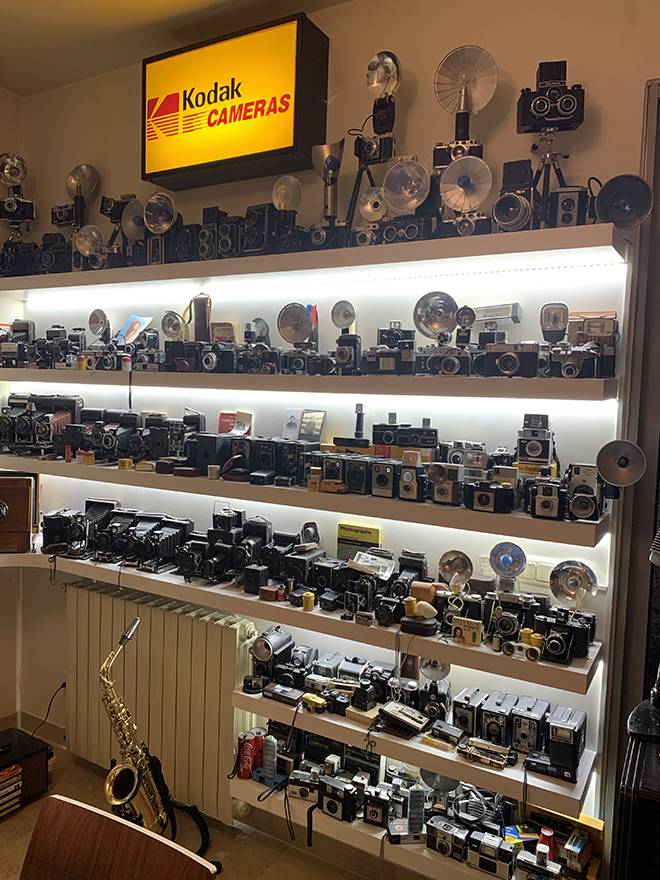 Une partie de la collection de Samer Halwany. Collection Samer Halwany
Qu'a voulu montrer le photographe ?
Une ambiance exotique, peut-être, mais le sujet principal de la photo est probablement le tarbouche.
En 1975, il en restait quelques-uns et celui-ci est curieusement porté par un homme relativement jeune ; le reste de sa mise indiquant une origine rurale. Une dame avec un fichu passe à l'arrière : c'est la seule.
Le reste des acteurs de cette scène d'outre-tombe ne sont que des hommes : ici, le marchand de poissons arrange la présentation de sa marchandise, là se négocie la pêche du jour. Et puis quelque chose a attiré l'attention de quelques-uns, quelque événement se produit à la gauche de la scène, mais nous ne saurons jamais de quoi il s'agit. Peut-être une altercation, ou plus simplement une belle qui passe ?
Dans la même rubrique La filature aux quarante roues
Le reste du décor est un spicilège de décrépitude : les murs sont, au mieux, détériorés, branlants au pire. Les toitures sont faites de la même tôle ondulée que les bidonvilles de banlieue, tout est pauvre, vieillot et décati.
L'on comprend aisément que le projet était de déménager ce souk dans un local moderne sous la place des Martyrs, et pourquoi les combats vont finalement ne faire qu'une bouchée de ce boyau.
Lorsque je lui demande ce qu'elle lui inspire, Samer observe la photo dans un silence réservé. Puis les adjectifs viennent ; ce sont d'abord quelques gouttes et puis une ondée de grêle :
« C'est une ville que je n'ai pas connue. Une ville qui avait une culture et des traditions que nous aurions pu préserver ; il y avait de la vie, il y avait un style de vie, un mélange des peuples. Aujourd'hui, Beyrouth semble aller en marche arrière, tout est désert, tout est devenu superficiel. »
Qu'un jeune homme qui n'a jamais connu cette époque-là en conçoive de la nostalgie, que ce soit lui qui sauve, préserve et diffuse cette photo vouée à disparaître, cela suscite tout de même un certain espoir.
Comme dans les grandes familles déchues, il reste chez nos enfants une petite lumière qu'ils transportent où qu'ils aillent, et qui leur permettra un jour de construire le pays dont nous avons rêvé.