Archive for January 15th, 2021
Israel is an 'apartheid' regime
By JOSEPH KRAUSS January 12, 2021
A leading Israeli human rights group has begun describing both Israel and its control of the Palestinian territories as a single "apartheid" regime, using an explosive term that the country's leaders and their supporters vehemently reject.
In a report released Tuesday, B'Tselem says that while Palestinians live under different forms of Israeli control in the occupied West Bank, blockaded Gaza, annexed east Jerusalem and within Israel itself, they have fewer rights than Jews in the entire area between the Mediterranean Sea and the Jordan River.
"One of the key points in our analysis is that this is a single geopolitical area ruled by one government," said B'Tselem director Hagai El-Ad.
"This is Not democracy plus occupation. This is apartheid between the river and the sea."
That a respected Israeli organization is adopting a term long seen as taboo even by many critics of Israel points to a broader shift in the debate as its half-century occupation of war-won lands drags on and hopes for a two-state solution fade.
Peter Beinart, a prominent Jewish-American critic of Israel, caused a similar stir last year when he came out in favor of a single binational state with equal rights for Jews and Palestinians. B'Tselem does not take a position on whether there should be one state or two. (And why Not taking a position?)
Israel has long presented itself as a thriving democracy in which Palestinian citizens, who make up about 20% of its population of 9.2 million, have equal rights.
Israel seized East Jerusalem, the West Bank and the Gaza Strip in the 1967 war — lands that are home to nearly 5 million Palestinians and which the Palestinians want for a future state. (Gaza is 80% of it transferred Palestinians since 1948)
Israel withdrew troops and settlers from Gaza in 2005 but imposed a blockade after the militant Hamas group seized power there two years later. (Not after Hamas took control, but because it was no longer a tenable occupation).
This apartheid regime of Israel considers the West Bank "disputed" territory whose fate should be determined in peace talks. (Israel flaunted all "peace negotiations" with the Palestinians, even in the Oslo Accords. Israel just want "security" management deals)
Israel annexed East Jerusalem in 1967 in a move not recognized internationally and considers the entire city its unified capital. Most (you mean a few?) Palestinians in east Jerusalem are Israeli "residents," but not citizens with voting rights.
B'Tselem argues that by dividing up the territories and using different means of control (about 250 checkpoints), Israel masks the underlying reality — that roughly 7 million Jews and 7 million Palestinians live under a single system with vastly unequal rights. (Palestinian youths are detained administratively , with no charges, every night)
"We are not saying that the degree of discrimination that a Palestinian has to endure is the same if one is a citizen of the state of Israel or if one is besieged in Gaza," El-Ad said. "The point is that there isn't a single square inch between the river and the sea in which a Palestinian and a Jew are equal."
Israel's harshest critics have used the term "apartheid" for decades, evoking the system of white rule and racial segregation in South Africa that was brought to an end in 1994. (What about the White racial divide in the US, which is still being demonstrated today?)
The International Criminal Court defines apartheid as an "institutionalized regime of systematic oppression and domination by one racial group." (Actually, there is No racial reasons, just a colonial rule to rob the Palestinians of their wealth and lands)
"There is no country in the world that is clearer in its apartheid policies than Israel," said Nabil Shaath, a senior adviser to Palestinian President Mahmoud Abbas.
"It is a state based on racist decisions aimed at confiscating land, expelling indigenous people, demolishing homes and entire towns to establishing settlements."
In recent years, as Israel has further entrenched its rule over the West Bank, Israeli writers, disillusioned former generals and politicians opposed to its right-wing government have increasingly adopted the term.
But until now B'Tselem, which was established in 1989, had only used it in specific contexts.
Israel adamantly rejects the term, saying the restrictions it imposes in Gaza and the West Bank are temporary measures needed for security.
Most Palestinians in the West Bank live in areas governed by the Palestinian Authority, but those areas are surrounded by Israeli checkpoints and Israeli soldiers can enter at any time. Israel has full control over 60% of the West Bank.
Itay Milner, a spokesman for Israel's consulate general in New York, dismissed the B'Tselem report as "another tool for them to promote their political agenda, based on a distorted ideological view." He pointed out that "Arab" citizens of Israel are represented across the government, including the diplomatic corps.
Eugene Kontorovich, director of international law at the Jerusalem-based Kohelet Policy Forum, says the fact that the Palestinians have their own government makes any talk of apartheid "inapplicable," calling the B'Tselem report "shockingly weak, dishonest and misleading."
Kontorovich said the use of the word "apartheid" was instead aimed at demonizing Israel in a way that "resonates with racial sensitivities and debates in America and the West."
Alon Pinkas, a former Israeli consul general in New York, rejects the term. "Occupation, yes. Apartheid, absolutely not."
But he acknowledged that critics of Israel who had refrained from using the term, or who had used it and been attacked, "will now conveniently say, 'Hey, you know, Israelis are saying it themselves.'"
Rabbi Rick Jacobs, head of the Union for Reform Judaism, which estimates its reach at more than 1.5 million people in 850 congregations across North America, says the situation in the West Bank and Gaza is a "moral blight" and an "occupation but Not apartheid, which is an existential critique")
El-Ad points to two recent developments that altered B'Tselem's thinking.
The first development was a contentious law passed in 2018 that defines Israel as the "nation-state of the Jewish people." Critics say it downgraded Israel's Palestinian minority to second-class citizenship and formalized the widespread discrimination they have faced since Israel's founding in 1948. Supporters say it merely recognized Israel's Jewish character and that similar laws can be found in many Western countries.
The second development was Israel's announcement in 2019 of its intention to annex up to a third of the occupied West Bank, including all of its Jewish settlements, which are home to nearly 500,000 Israelis. Those plans were put on hold as part a normalization agreement reached with the United Arab Emirates last year, but Israel has said the pause is only temporary.
B'Tselem and other rights groups argue that the boundaries separating Israel and the West Bank vanished long ago — at least for Israeli settlers, who can freely travel back and forth, while their Palestinian neighbors require permits to enter Israel.
There have been no substantive peace talks in more than a decade. The occupation, which critics have long warned is unsustainable, has endured for 53 years.
"Fifty years plus, that's not enough to understand the permanence of Israeli control of the occupied territories?" El-Ad said. "We think that people need to wake up to reality, and stop talking in future terms about something that has already happened."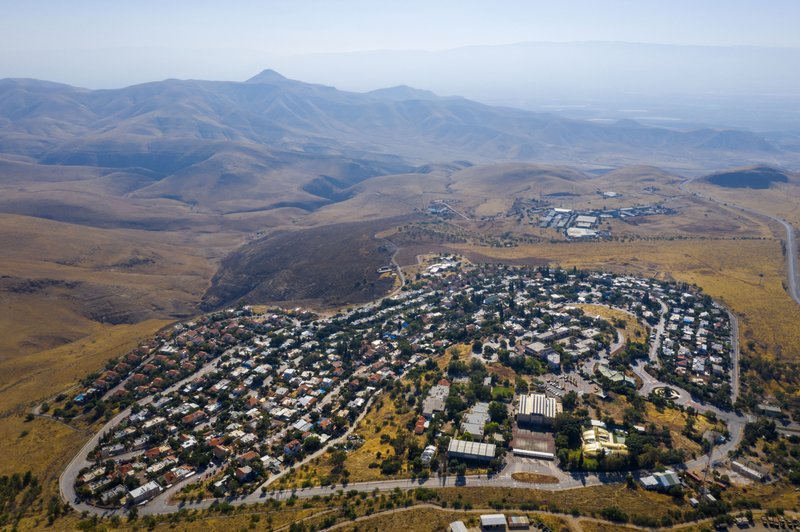 1 of 7 FILE – In this Tuesday, June 30, 2020, file photo, a view of the West Bank Jewish settlement of Ma'ale Efrayim in the Jordan Valley. Israel's premi
Wild Goose Chase (fiction novel). Conclusion
Posted on November 30, 2008
The presumed impotent Artax the Monarch, who had gotten the throne by usurpation, long before the usurping "Khosro the Magnificent" reigned, suddenly contracted malaria and regained partial consciousness six days later.
Artax tried to walk and visit his favorite garden in order to recover from his ill health but was carried back to bed after each outing. 
His close assistants were worried to death about his health status and many army officers hurried to his side expecting some rewards in his death testament.
Artax was in no shape to think clearly about the future of his kingdom or his successors.
He stated on many previous circumstances to his close friends that succession should be for the most deserving leader who invested time, effort and good will to better his intellectual potentials, his moral values and learn to be tolerant of diversity in religion and customs.
He used to insist that the best leader of people is the one who listened carefully to the news of change and worked on finding consensus before any decision, that war was the last recourse for intelligent leaders who should reach his objectives through all diplomatic and political channels before committing to the path of destructive wars.
Artax died within nine days without designating a successor.
Note:  This end the draft of the general structure of the fiction story. If you appreciated the story, please contribute your opinions, ideas, additions, and possible alterations to the sequence and cohesion of the novel that I would like to publish with your generous aid. 
Surely, any publishing houses that are interested in finishing the novel are welcomed to come forward and contact me.
What Mortal Sins Did the Syrian Regime Commit?
Posted on October 24, 2008 and written n March 9, 2005
Mind you that this article/report was written in 2005
At this phase of the struggle, the "million Lebanese citizens" who gathered in Riad Solh Square to thank Syria for the peace and stability that Lebanon enjoyed for 15 years are No different than the thousands who demonstrated for weeks in the Martyrs' Square demanding freedom, self determination and independence from Syria.  
They all waved the Lebanese Flag!
Syria should have gotten the clear message all the way, but it seems that a one party regime is not flexible or trained enough to recognize the deep feelings that the Lebanese are expressing.
Apparently, the Syrian regime is pressured into such a tight corner that it is happy to hold on rhetoric at the tip of the iceberg and fool itself into going back to doing business as usual.  
Not only President Lahoud is rejecting the opposition demands for the resignation of the heads of all security and intelligence services, but he is trying to mindlessly force a prime minister into our throats who resigned under the "pressure" of the people.  
If the opposition is not willing to desist on its demands and throw away its legitimate victory by the people, why would the President commit the worst sin a serious politician shouldn't attempt to do?
Does the President want to sacrifice himself for Lebanon by being ejected in a grand way in order for Lebanon to demonstrate its self determination by acting in a grand way as a proof of its legitimate and rightful stubbornness?
If the President declares his recognition of the dangerous path he is taking, then Lebanon would thank him immeasurably and anoint him as the most heroic and patriotic president so far.
Unfortunately, I lean toward the notion that the President is taking a petty stand that would inevitably destroy whatever achievement he might have claimed.
And Lahoud achieved a lot in forcing Israel to withdraw, without conditions, from the southern territories it occupied for 23 years. and he restrained late Rafic Hariri PM from privatizing most public institutions at very low prices, especially public utility and communication.
Across the border there is a one party regime that has been "enslaving" 17 million Syrians for over 50 years under slight variations. Such a dinosaur is not expected to change behavior in a peaceful process.  
The damaging mistake the Syrian regime committed is to try governing a people across the other border that experienced extreme freedom, an understanding of freedom that goes as far as committing the worst crimes and slaughters in the name of the "freedom to kill a fellow citizen" on the basis of his identity card for sectarian reasons.  
Please, don't give me any slacks and try offering lame excuses that the 200 thousands Lebanese were killed by foreign elements during our civil war! No, they were assassinated and transferred by local sectarian militias.
Instead of acting vigorously to implement all the articles in the Taif agreement, the Syrian regime was sitting comfortably in Lebanon and waiting for the USA to remove its cover over its tutelage in Lebanon before reacting accordingly.  
Obviously, a democratic state that value human rights and freedom of expression would have come to reason, long before the international community reminds it to its responsibilities.
There are no doubt that dozen of humongous rodents in Lebanon and Syria, current opposition leaders and allies to Syria, in tandem, and forming efficient and ruthless mafias were happily nibbling viciously at our public funds.  
There is no doubt that these easy and uncontrolled machinations for grand thefts were a major factor for this lengthy stay in Lebanon and our humiliating situation.
The old guards of the one party regime got lost in our Ali Baba cave and didn't listen to storms and changing political climate forming outside.
Yes, the Lebanese citizens paid twice for every service they received with extreme difficulty: we paid twice for electricity, for water and for communication facilities.
We overpaid for everything we purchased that was controlled by the government.
Lebanon is the costliest country, not only among the surrounding Arab States but in the world.  
All the $45 billion debt (at the time of writing the article) that financial institutions (local and foreign) were glad to lend our governments would require more than two generation to wipe out.  (From 2005 to 2020, this debt reached $200 bn), in this State that import almost everything and has nothing much to export)
What did Lebanon receive in return for a debt that would have reconstructed Germany after the war?
A "Reconstructed Downtown" was paid for by the Lebanese themselves and who cannot use it anyhow, but to stroll in its street:  no working Lebanese can purchase anything from our high class Downtown shops, rent a small apartment or even park his car.
What about the $10 billion "invested" on the electrical facilities with generators that keep shutting down and fueled by the wrong/corrupted fuel and that keep us in the dark for days forcing us to rely on local generator providers?
What about "top of the line" hospitals waiting for years to be staffed because the rodents have not yet agreed among themselves for the rightful share in the deal?
What about the Lebanese University, facilities and manpower, still not fully operational that has been losing ground to 30 private universities most of them not properly certified to operate?  
What about our fixed telephone lines that most of us cannot afford to connect to ($500 was required and even Not refundable)?
What about our cellular communication services that is twice as expensive as the costliest in the world?
What about the $5 billion spent on relocating the Lebanese families into their original towns, a sum that could have relocated Taiwan into China, and still they did not care to return?  
What about the billion allocated to the Southern villages after the withdrawal of Israel in the year 2000 and all we can see are the released Lebanese prisoners from the Israeli jails still demonstrating to get any relief?
Yes, Syria was allowed to rebuild the old Lebanese army and secure peace in Lebanon for 15 years; the million thanks are appropriate in this case.
Yes, the weakling Lebanon was demanding too much and too soon from a crippled regime barely able to reconcile with itself and its future.
Yes, Syria was all the time afraid from waves of liberty and freedom of expression to cross its insulated population, but it should have tried to experience something that would have done it a great deal of good.
We should banish hatred for the kind and patient Syrian people and learn to shunt chauvinism, an inkling we are prone to do, and our institutions are a million light year away to attack this behavior of ours.  
The Syrian workers have demonstrated that they are the hardest and most diligent workers. Lebanon was mostly rebuilt by the Syrian workforce (And is still is by the 1.5 million Syrian refugees during Syria forced civil war since 2011).
A million thanks for our brothers, friends and best allies in Syria.
It is time that our slogans for freedom, self determination and independence become more specific of what these notions means to us before the Syrian troops redeploy behind our borders.  
The Syrians are withdrawing their troops and will complete this task shortly.  The demonstrators should start naming names of these fat rodents, demand their detention, putting them to trial, punished seriously and the money returned to the Lebanese citizens.  (Nothing of that happened and in 2021 Not a single civil war mafia/leader was put on trial)
The demonstrators should use their gatherings to discuss seriously what Lebanon they dream about and what their expectations are.
Note: I do confirm that the mistake of a lifetime of Bashar Assad of Syria was to completely withdraw all his troops from Lebanon after the assassination Rafic Hariri.
If he maintained a small detachment in the Bekaa Valley for a few months, Lebanon would Not have experienced this mass looting of his wealth by the alignment of all the civil war militia leaders. At least, Bashar should have make sure that General Aoun returned from exile and a proportional election law is enacted.