Archive for January 2021
Is it true that Islam claims that Jerusalem and Palestine belong to the sons of Israel?
Note: I don't personally give a hoot about all religions and their violent mythological stories. More so because their stories have no sense of humor, but rankle the reflective mind of humans. What can I do if I feel submerged with mounds of craps from all these thousands of religious sects "heretical" pronouncement of the other sects.
I have occasionally to react and comments in order to liberate my suffocating body and breath some fresh air of freedom of rational and reflective opinions.
I will post many footnotes at the end of the article.
Now, in content and context, the author Muhammad Mazoughi, wrote that (current) Koran distributed around the Islamic world is basically edited and transformed by (learned Jews who pretended to convert to Islam at the beginning of the earliest caliphs).
It is evident from his research that the (current) Koran can be read as basically a Jewish Bible since all its stories are copied from the Jewish book/Talmud and pleases the Jewish messages.
In many verses, if you change Koran by the "Jewish Bible" you' ll be reading a carbon copy sentences.
The author is faced with two choices: Either the Koran is trying to correct the "heretical Jews" who became Hellenistic in their culture, or the Koran is trying to "educate" the bedouin "Arabs" to the Jewish messages.
The author sides with the first option since Muhammad was a member of a "Christian-Jewish" sect labeled "heretical" by the Byzantine empire.
The current Koran has but despise and harsh pejorative qualifications for the "Arabs" and regards the Jewish Prophets as his guiding rod, especially Moses who vanquished the Egyptians.
The Koran never mentioned a single prominent "Arab", poet, scholar…Just eyes and admiration for countless mythological Jewish characters
Jesus, his message, Not a single parable stories of Christ (the best teaching method in the Syrian culture), his life, his miracles… are Not included in the Koran.
The only character that the Koran admire is the "Virgin" Mary. Kind of adopting the tradition that mothers are the only source for Jewishness and Jewish identity.
The author says that the Muslims have two choices:
Either drop the current versions of the Koran and re-edited it according to researched studies that accommodate to the bedouin customs and traditions in the Arabian Peninsula at the period of the Prophet, or
Just idiotly take the easy way out by being subjugated to the Zionist/Israeli dictat and religious ideology.
(Although Muhammad lead many caravans to Damascus and must have been impregnated by the customs and traditions of the people in the Syrian Land, the Koran never mentioned the Palestinians or any other civilization of the period)
سالني احد متابعي في الفيسبوك
لماذا القرآن يتكلم عن اعطاء الأرض المقدسة لبني إسرائيل؟
وكان جوابي: مؤلف القرآن حاخام يهودي ويتجاهل تماما سكان تلك المنطقة الأصليين
وقد تكلمت عن هذا الموضوع مع صديقي محمد المزوغي، أستاذ الفلسفة في روما ومؤلف عدد من الكتب قدمت بعضها في الحوار المتمدن
فتكرم بإرسال النص التالي مقتبس من كتاب له سوف يصدرا لاحقا، انقله لكم بكل أمانة بعد اذنه، دون الهوامش
عنوان نصه
يهودية الإسلام ووعوده الإسرائيلية
———————-
يهودية الإسلام
ووعوده الإسرائيلية
تماهى كاتب القرآن مع اليهود إلى درجة أنه اعتبر نفسه مِنهم وأن رسالته جاءت خصّيصا إليهم، والقولة الغريبة التي سنستشهد بها لاحقا قادرة أن تَقْطَع نهائيا شكوك مُرَتّلي القرآن المُصابين بأفيون الإيمان، وأن تَفتح أعينهم على حقيقة صادمة لكنها مُحرّرة،
وهي أن كاتب القرآن يهودي وحامل رسالة إصلاح يهودية. ولقد تفطّن بعض المؤرخين واللاهوتيّين اليهود، منذ وقت بعيد إلى هذا الأمر، ولم يُخفوا حتى امْتنانهم لما فعله نبيّ الإسلام في سبيل نشر التوحيد اليهودي وبَثّه في أرجاء العالم.
فهذا المؤرخ الألماني هاينريش غرايتس (Graetz) في كتابه تاريخ اليهود (Geschichte der Juden)، يقول إن الدعوة اليهودية التي حصلت بين القبائل العربية قد كَسبت لِصفّها رجلا كان تأثيره عميقا على مسار تاريخ الشعوب، ويستمر في التأثير إلى يومنا هذا على العديد من الأمم.
ثم يضيف «إن التعاليم الأولى لمحمد تحمل الصّبغة اليهودية بالكامل (ganz und gar eine jüdische Färbung) … لقد وضع كقاعدة لدِينِه المبدأ الأساسي لليهودية: "لا إله إلا الله" … أن يصرّح شخص كما فعل محمد بأن الاله الذي يُبشّر به ليس له شريك (ضد عقيدة التثليث "Antitrinität")، وأنه لا يريد أن يُعبَد على أي صورة مادية …
ثم الاعتراف بأن هذه التعاليم ليست جديدة لكنها تنتمي إلى ديانة إبراهيم القديمة، فهذا يعني التأكيد العَلَنِي لانتصار اليهودية وتحقيق هذه النبوءة "سيأتي اليوم الذي تَنْثَني فيه كل رُكْبة أمام الله الواحد، وكل فم سيشهد له" …
إن أفضل جزء من القرآن هو ذاك المنقول عن التوراة والتلمود".
هذا ما فهمه اليهود من الإسلام، وما أدركوه من مهمّة رسول الإسلام، وهم مُحقّون في ذلك لأن كل المعطيات المُتَوَفِّرة، وكل الخطابات المتضمَّنة في هذا الدين وفي كتابه نابعة من ذهنية يهودية، متشبّعة بالتلمود ومُعادية للمسيحية بشراسة.
ماذا تقولون في شخص يُصرّح لكم بهذه الجملة التّقريريّة: (إنّ هذا "الكتاب" يَقُصّ على بني إسرائيل أكثر الذي هم فيه يختلفون)؟ أوّلُ ما
يتبادر إلى الذّهن هو أن هذا الكلام مُوجّه إلى مجموعة خاصة (بني اسرائيل)، وأنه يقصد من ورائه فضّ مشاكل عقائدية تتعلّق بهذه المجموعة المضيّقة دون غيرها (فيه مختلفون).
الآن ضعوا مكان كلمة "كتاب" في الجملة أعلاه، كلمة "القرآن" فستُصْدَمون حينما تعلمون أنكم أمام جملة تقريرية من سورة النمل: (إنّ هذا القرآن يَقصّ على بني إسرائيل أكثر الذي هم فيه يختلفون).
السؤال: أين هم العرب من هذه الرسالة؟ إلى من بُعِث هذا الرجل تحديدا؟ ومَن قائل هذا الكلام وإلى أي مِلّة ينتمي؟
ولماذا حصر مُهمّته في هذه المجموعة بالذات؟
أسئلة عديدة ومُحْرجة، لن تجدوا أجوبتها في تواريخ السيرة التي كتبها المسلمون، ثم قاموا بتنقيحها وفسخ ارتباطاته باليهود، لكنها تجد الأجوبة الشافية الحقيقية من خلال القرآن والقرآن فقط.
قلت إن مرجعه الأكبر والمفضّل حتى على صدق نُبوّته لم يجده إلا عند اليهود، وبالتالي فالمسألة تدور بين يهود/يهود، ومن هنا نفهم هذه القولة المُربكة جدا والتي مغزاها أن ما يقوله مُستمدّ من كتب اليهود بشهادة يهودي: (وشهد شاهد من بني إسرائيل على مثله).
فالرّجل مفتون بشخصيات التوراة ويرى أنهم النموذج الأمثل الذي يجب الالتحاق به والسّيْر على هديه. فهو لا يعرف سواهم من الرجال، وكأن الشعوب العربيّة عاقر لم تلد أي قائد كبير مثل حنبعل، أو ملكة عظيمة مثل زنوبيا، أو شاعر كبير مثل امرئ القيْس؛
العرب لا وجود لهم في ذاكرة محمد ولا ذكر لهم في قِصَصه، بل هم محلّ كراهية وازدراء: يسمّيهم الأعراب ويصفهم بصفات مشينة: (أشد كفرا ونفاقا … الخ)،
ويسخر منهم ومن معالمهم الدينية، ويتهجّم على آلهتهم: (ولا تذرنّ ودّاً ولا سواعاً ولا يغوث ويعوق ونسرا)، لكن وَيْحَهم لو شكّوا في وجود إلوهيم التوراة أو استهانوا بتعاليم التلمود.
وعلى العكس من ذلك فهو يُغدِق المدائح لبني إسرائيل، ويَجْزل التقدير والاجلال لأحبار اليهود والحاخامات وصولا إلى الكَتَبة وهي أدنى مرتبة في المدراش. ثمة فقط في ذهنه إسرائيل وأنبياء إسرائيل وشعب إسرائيل، فهم القدوة والصّروح الكبرى والرموز العليا التي يجب أن يَلتَحق بها هو وأتباعه.
فكاتب القرآن لا يعرف إلاّ بني اسرائيل ولا يبجّل إلاّ العائلة المقدسة، إبراهيم وبَنِيه، وليس لديه من قِبْلَة مُقدّسة غير أورشليم التي لا يذكرها بالاسم لأنها واضحة بذاتها لمُستمعيه، يكتفي بتسميتها "البيت" كما يسميها اليهود.
ولكن لا يقل افتتانا بموسى وإنجازاته الأسطورية لصالح بني إسرائيل، وأعماله العدوانية ضد المصريين، وللاطلاع على ذلك فما عليكم إلاّ أن تقرؤوا سورة البقرة، فهي تروي بالتفصيل، مع تلوينات تلمودية، قصة موسى، والملفت أنه انضم إلى اليهود، وابتلع عداءهم الدائم للمصريّين، وصادَقَ على سحق الفلسطينيين.
ما لنا وما لإبراهيم؟ مَن هو إسحاق ومن هو يعقوب؟ ما لنا وما لهذا القوم؟ ما دخْلنا بهم؟ من سَمعَ بهم؟ من يعرفهم؟ ثم مَن أنت الذي تُحدّثنا عن هذه الأصنام؟
ربما هذا هو رد المُخاطَبين في عصره، ثمة ما يؤيده في القرآن نفسه. لكننا هنا أمام سّر غامض: من هو المتكلّم؟ ومَع مَن يتحدّث؟
حلّان لا ثالث لهما: إمّا أنه يهودي يخاطب يهودا، ضَعُف إيمانهم وتخلّوا عن يهوديتهم وأصبحوا هيلينستيّين مُلحدين، أو أنه يهودي يخاطب عرباً ويحاول أن يُلقّنهم تاريخ اليهود المقدس، يريد أن يحوّلهم إلى اليهودية ويبث فيهم مآثرها وتعاليمها المقدسة.
لهذيْن الخيارين ثمة مؤيّدات في القرآن ذاته،
لكن أحيانا الأولى تتغلب على الثانية، ودليلنا هو أنه من عظماء العرب لم يذكر اسما واحدا، ولا أشار إليهم ولا حتى فكّر فيهم، همّه مُرَكّز فقط على مآثر أنبياء بني إسرائيل. أمّا صِلَتُه بالعرب فهي تتلخص في شيء واحد: اللّغة (نسبيّا وباحتراز لأنه لا يُتقنها جيدا، اسْتنجد بمُترجم هو نفسه لا يُتقنها فسقط في أخطاء فظيعة)؛
وما عدا ذلك فهو يحتقرهم، يسمّيهم الأعراب، ويقول إنهم كفار ومنافقين. لماذا إذن يَتمزّى عليهم باللغة؟ ما الشيء الذي يَطلبُه منهم؟ مَطلبه العاجل هو تجْنيد مرتزقة لغزو فلسطين والاستحواذ على القدس، وإعادة بناء الهيكل.
(تماماً كما تُجنّد اسرائيل الآن مرتزقة لمحاربة سوريا ومصر).
وإذا كنتم في ريب من يهودية كاتب القرآن ويهودية دعوته فإليكم هذه المعطيات الدامغة من صلب القرآن ذاته. لقد بلغ به التمجيد لقومه الإسرائيليين مَبلغا لا نَجِدُه إلاّ في الأدبيات التّلمودية المعاصرة له: فهو يرى أن بني إسرائيل يملكون إرثا تاريخيا عظيما، لا يملكه أي شعب آخر في العالم، ذلك أن الله جازاهم عن صبرهم بتوريثهم أرض الشرق الأوسط كلّها، بل وأبعد منها. وهذه شهادة ملكيّة أصليّة ومَجانيّة نازلة عليهم من إله القرآن نفسه: "وأورثنا القوم الذين كانوا يُستضعفون مشرق الأرض ومغربها التي باركنا فيها وتمّت كلمة ربّك الحُسنى على بني إسرائيل بما صبروا".
لاحظوا كيف يزوّر التاريخ ويستعطف القلوب متحدّثا عن استضعافهم وعن صبرهم دون أن يذكر ما فعله بنو إسرائيل في الكنعانيين، ويصمت على المجازر التي اقترفوها ضد الفلسطينيين.
إذن إيلوهيم التوراة ـ القرآن وَرّثَ اليهود أراضٍ شاسعة، ليس من النّيل إلى الفرات كما يُقال، وإنما أوسع من ذلك بحيث أصبحت تقريبا تمتدّ من جنوب إيران إلى شمال إفريقيا كلها، وهذه الرقعة تنطبق بالضبط على خريطة توسّعات الفتوحات الإسلامية التي لم تفعل سوى تحقيق هذا الحلم اليهودي.
لقد كان إله القرآن سخيّا للغاية مع هذا الشعب الغازي، ولكنه نسي السكان الأصليين، ولم يتفوّه في حق الفلسطينيين، أصحاب الأرض، ولو بكلمة واحدة أو إشارة من قريب أو بعيد: الفلسطينيون، بالنسبة إليه، غير موجودين بتاتا، فهو يترفّع عليهم ترفّعاً، ولا يرى أيّ دافع لأن يُلطّخ فاه حتى بتسميتهم.
لكن مع الإسرائيليين فالأمر مختلف: إن اهتمامات إله القرآن وخَيْراته كلها سَكَبها على شعب بني إسرائيل، وقد فكّر حتى في تظليله لحمايته من حرارة الشمس، ثم توفير المياه الصالحة للشراب بتفجير العيون لأجله ومضاعفة الخيرات وملذّات الأكل بما لا يتصوّره العقل: "وظلّلنا عليهم الغَمام وأنزلنا عليهم المنّ والسلوى كلوا من طيّبات ما رزقكم".

أكلٌ وشربٌ ورَغدُ عيشٍ وتوريثُ أرض شاسعة جدّا، يعني إشباعا تاما للجانب المادي من الحياة الحاضرة، بقيت الوعود المستقبلية، وحتى في هذا الشأن فهو لم يبخل عليهم بكَرَمه. لقد وعدهم إله القرآن وعدا صادقا بإرجاعهم إلى فلسطين، الأرض المقدسة، وبناء الهيكل من جديد.
أرجوكم تمعّنوا في هذه الجملة: "فإذا جاء وعد الأَخَرَة [يعني الوعد الثاني] ليَسوؤوا وجوهكم ولِيَدخلوا المسجد كما دخلوه أوّل مرة". لاحظوا أنّ كَلِمة "أخَرَة" التي استعملها كاتب القرآن هي كلمة عِبْرية وتعني الثاني في الترتيب، ولها مدلول لاهوتي معروف في الأدبيات المِسْيانية اليهودية.
إن هذا الكلام يستحق وقفة تأمل جدّية من طرف المسلمين قاطبة، فهو كلام خطير للغاية على الواقع الراهن لأنه يقتلع من الجذور القضية الفلسطينية ويُضفي مشروعية على دعاوى الصهاينة الاسرائيليين والانجيليّين الأمريكان من ضرورة بناء الهيكل الثاني في انتظار قدوم المُخلّص.
لم تُثر مثل هذه الأفكار الصهيونية في المسلمين أي تساؤل، لم يَتعمّقوا فيها ولا حدسوا استتباعاتها، ولا حتى أدركوا مدى تغلغل الروح الصهيونية في مَن دوّنها وروّج لها في كتابه. لكن كل من له دراية باللاهوت التوراتي والتاريخ الصهيوني يستطيع بيُسْرٍ أن يضع هذا الخطاب في إطاره المناسب.
نصيحتي للمسلمين: إذا أردتم أن تتحدثوا عن القضية الفلسطينية فتَخَلّوا عن هذا القرآن، اخرجوا من هذا الإسلام، اكفروا بهذا الدين لأنه سبب نَكْبتكم وعلّة بلاءكم.
وإن أبَيْتم إلاّ المكوث فيه فاستسلموا لتعاليمه، وقدّموا مفاتيح بلدانكم الواحدة تلو الأخرى لبني إسرائيل وقولوا لهم كما قال القرآن: "يا قوم ادخلوا الأرض المقدسة التي كتب الله لكم".
د. محمد المزوغي
أستاذ الفلسفة. روما
——–
مدير مركز القانون العربي والإسلامي http://www.sami-aldeeb.com
طبعتي العربية وترجمتي الفرنسية والإنكليزية والإيطالية للقرآن بالتسلسل التاريخي وكتابي الأخطاء اللغوية في القرآن وكتبي الأخرى: https://www.sami-aldeeb.com/livres-books
Note 1: The initial parchemins discovered of the Quran had No punctuations whatsoever and none of the zillion accents and embellishment later used to write the Koran. In that case, the Koran was opened to all kinds of interpretation, except if it is compared to the meaning of the Bible.
Note 2: The Quran was edited several times, and especially during the third Caliph Uthman Bin Affan, and many verses and parchemens were discarded and burned to satisfy the new purpose of aggrandizing, expanding the empire. and reaping all the available taxes. My conjecture, it is in that period that a few "learned Jews" who had "converted" to Islam were in charge of collecting, categorizing and editing the verses
Note 3: Aicha, the youngest wife of the Prophet was the most educated and versed in the message. Actually, she could be practically considered the First Imam, since people flocked to listen to her versions of the many falsehoods spreading like wildfire. Aicha responded to questions and rectified the opinions related to women rights that paternalistic leaders were trying to usurp.
Note 4: Abolishing pictures, icons and music in Islam is a reaction to the "heretical" adoption of the central version of Christianity by the the Byzantine empire. Actually, reading the Quran you feel that No abstract concepts are accepted such as the Virginity of Marie, the trinity gods of God/Jesus/ Holy Spirit…. You think that the Quran was meaning to grab the pragmatic mentality of the bedouin tribes so that they can assimilate the New Message (a copycat of the Jewish conservative Bible).
It is this absolute abstract concept of "One God and only God" that was the reason for so many internal wars to subjugate the tribes. The bedouin was used to discard and destroy one of the idols when the idol failed to satisfies his wishes and desires.
Note 5: The Jews in the town of Yathreb, later becoming Al Madina or the first City-State of the Muslims, were very apprehensive of this new sect. Muhammad was lenient in their first defeat as they rallied with the tribes of Mecca, the Quraich clans. He allowed them to leave with all their wealth: a long column of camels and caravans vacated several hundred miles away. The second time around, Muhammad was cruel: he decapitated scores of the fighting Jews and captured all their wealth and properties. In the same time, Muhammad opted to re-direct the paying target toward Mecca instead of Jerusalem. For some reason, Muhammad ordered Ali and a second son-of-law to participate in the decapitation. Currently, the Jews regard Ali as a Demon and the sects that follow Ali as nemesis. Apparently, the Wahhabi sect in the Arabian Peninsula are the Jews who converted to Islam with latent hatred.
Note 6: The Egyptian Ibrahim Pasha conducted a protracted war on the Wahhabi in the 19th century and managed to erase their city headquarter around 1825. The British supported later the Wahhabis with money and weapons with the purpose of destabilized the Ottoman empire in Iraq with successive razzias on Basora and on Damascus too.
Note 7: The Muslims refugees were welcomed by the tribes in Yathrib and they were fed and they distributed lands for them to cultivate. These tribes were called Al Nusra, or the supporters of Islam. The women of these tribes didn't wear the veil: they were working hard their land. The women refugees wore the veil, as a discriminating aristocratic act in their new environment. Unfortunately, all the successive Califs were from Mecca, and even from their arch enemies of the tribe of Quraish. They felt discriminated against for Not sharing in the power and loots of conquered empires.
Question: How do you connect the Muslim extremists in Idlib labeled Al Nusra and politically/ideologically linked to Al Qaeda with the Al Nusra in Yathrib?
How George Washington filled a few loopholes in the initial Constitution…
Posted on January 8, 2014
In the previous post on how George Washington was elected first President 
https://adonis49.wordpress.com/2014/01/05/how-george-washington-was-elected-in-his-first-executive-functions-part-3/ 
I wrote:
"The ceremony of investiture is done in the Federal Hall at the angle of Wall Street and Broad street.
At noon, Robert Livingston, the chancellor of New York administers the Presidential oath.
This ceremony institutes two precedents that were not covered by the Constitution:
1. Washington swore with the right hand on the Bible
2. And concludes "May God assists me"
George Washington had to create the Presidential functions from scratch. He was allocated a limited budget of 16% of the $639,000 spared for the executive branch that was newly provided for in the Constitution.
Washington is supported by a dozen assistants, about 1,000 tax collectors, and 700 military personnel.
He nominated Alexander Hamilton (his right hand during the revolution) for the Treasury, Henry Knox for the department of war, Thomas Jefferson for foreign affairs, Samuel Osgood as Post Master, and Edmund Randolph as Attorney General.
The Constitution didn't provide for a cabinet of ministers and the heads of department barely met.
Philadelphia was the temporary Capital for the Confederated colonies, and on July 1790, Congress decided for a permanent Capital to the new Federal Constitution.
Maryland and Virginia ceded a portion of their lands to erect the Capital from the ground up, which was later named Washington DC. The essential building in that Capital will be operational to host the President a decade later.
In August 1789, the Senate refused to provide recommendations concerning a treaty with the Indians in the North-West and Washington decided since then to bypass Congress during the negotiation phase of any treaty.
On June 1790, Washington, bypassing Congress, dispatched 3 incursions against the Indians, 240 km inside Ohio, without declaring war, in order to tame the Indian resistance and he opened up the North-West territories for colonization on August 1794.
Alexander Hamilton created a national bank in 1791.
In 1791, Washington traveled for 2 months in the southern States, accompanied by journalists. Washington relied on James Madison to manage the executive function, initiated prepared ceremonies, and organized bi-weekly meetings with ordinary citizens to impress his position.
Internal conflicts between Hamilton and Jefferson took Washington and Congress by surprise, and the Constitution had no provisions for such instances among heads of departments.
Jefferson issued the daily National Gazette and formed the Republican-Democrat political group in order to oppose the Federalists of Hamilton.
Because of worsening foreign wars in Europe, Washington decided to run for another term of 4 years and in 1793, he obtained 132 out of 136 votes of the Grand Electors.
The Constitution didn't discuss the number of terms a President can seek. Since Washington and Jefferson refused to run for a third term, it became a custom for Presidents not to try for a third term.
Only Franklin Roosevelt (1933-45) ran for 4 terms before the Constitution was amended for only 2 terms.
In April 1793, Washington accepted the letter of credential of the French ambassador "citizen Genet" without consulting Congress, which was Not in session.
On April 22, he proclaimed the neutrality of America in the French/English conflict, a decision that cancelled the treaty of alliance of 1778 with the French, and the legislative branch had to approve this "proclamation" a posteriori.
Madison replied to Hamilton under the pseudo-name of Helvidius that grabbing the double power of deciding on and leading wars by the executive is the beginning of tyranny.
Under Washington, the effective of the military was multiplied by 7.
In 1796, Washington created a first by refusing to divulge to Congress secret documents relative to the Jay treaty with England on the ground of "State security interests"…
What were so secret in that treaty?
Thomas Jefferson resigned as head of foreign affairs department in 1794 on the ground that only France can play a counter power to England. He was proven right since British troops invaded the US and burned the new capital Washington DC in order to pressure the US government to renew the monopoly for printing US money by the Rothschild family of England…
The anti-federalists accuse Washington and Hamilton for their close ties with England, and the opposition press suggest that Washington has black blood and may have been an agent to England during the war of independence…
By Sept. 19, 1796, Washington let know that he will not seek a third term. He returned to Mount Vernon on March 4, 1797 and dies on Dec. 14, 1799.
Mason Weems published in 1800 a biography of George Washington, which was re-edited 20 times within 2 decades.
Note: How the-rothschild-family-Controlled the printing-of-the-dollars/https://adonis49.wordpress.com/2012/06/10/privately-owned-federal-reserve-bank-how-the-rothschild-family-controlled-the-printing-of-the-dollars/
Le Deep State français. Saturday 16 janvier 2021
Note: there are plenty of evidence of a close network of global multinationals that are interconnected with vast ramifications in economy, finance and political meddling around the world. The pharmaceutical and chemical industries are no exceptions. It is no brainer to accept the conjecture that they are linked to a Central Body for planning and executing policies that affect the global consequences. Most billionaires have shares in all these multinationals and control many aspect of world conditions
"Pour savoir qui vous dirige vraiment, il suffit de regarder ceux que vous ne pouvez pas critiquer." Voltaire
On avait parlé du président des riches à propos de Nicolas Sarkozy.
Maintenant avec Emmanuel Macron, on a le président du CAC 40, dont l'unique préoccupation est la protection des intérêts financiers de ses maîtres comme en témoignent les nombreuses cajoleries (pensons au 900 millions offerts l'année dernière), mais aussi de veiller à la réalisation du plan Illuminati en obéissant aux directives de Bruxelles.

Les Français ont du mal à s'en apercevoir, mais la France est l'otage de l'aristocratie financière européenne (instrument du Deep State Européen).

La mise en scène lors de son intronisation au Louvre n'en est que la preuve flagrante : la France est sous le contrôle du Nouvel Ordre Mondial Illuminati.
Contrairement à ce qu'il serine à longueur de journée, le président français ne s'est pas fait tout seul. Derrière lui, dans l'ombre, se tient une élite qui l'a programmé, et ce dès son enfance.
La nuit du 4 août 1789 est d'actualité !
Les nouvelles fusent comme une traînée de poudre : ce n'est plus un secret pour personne.
Où sont les canons ? Le peuple !
Veillons à l'abolition des privilèges.
Tout le monde le sait : la caste financière préserve ses privilèges et englobe le monde politique.
Vous le savez, l'esprit français est d'essence monarchique.
Contrairement à ce qu'il serine à longueur de journée, le président français ne s'est pas fait tout seul. Derrière lui, dans l'ombre, se tient une élite qui l'a programmé, et ce dès son enfance.
Mû par son désir d'être roi, il a couru les colloques, les réseaux, les connivences, les complicités en profitant du système des très riches.
Fils spirituel du baron français Rothschild à qui il a voué allégeance et servilité, 24ème degré maçon et 2ème degré Illuminati, il poursuit la politique attendue par la banque Atlantiste et Mondialiste.
Derrière Macron se lève une cohorte de personnes du même cercle :
–  Le comte Henry de La Croix de Castries (mondialiste, président du Comité de direction du réputé groupe Bilderberg, président du très influent think tank ultra libéral Institut Montaigne, et ancien PDG du premier assureur mondial AXA de 2000 à 2016, sponsor d'une étude mondiale centrée sur « la culture inclusive pour les collaborateurs LGBT »).

–  Invité au Groupe Bilderberg qui se tient à Copenhague (29 mai – 1er juin 2014), dont le comte est le président, il voit en lui un homme capable de contrer les syndicats et d'infléchir la politique économique et industrielle de la France afin de servir les intérêts mondialistes du Deep State Européen.

Emmanuel Macron est recruté puis propulsé dans les arcanes du pouvoir jupitérien : dans un premier temps, on le nomme conseiller économique de l'Élysée, puis dans un deuxième temps, on lui octroie le portefeuille du ministère de l'Économie, de l'Industrie et du Numérique en août 2014, en remplacement d'Arnaud Montebourg, jugé « trop français ».

Afin qu'il puisse servir au mieux la cause de la Cabale, il est décidé le 21 mars 2016, à Francfort, de l'épauler au mieux dans sa course présidentielle.  Le soutiennent: le comte de Castries, Alain Minc, Pierre Gattaz, Mario Draghi, Vincent Bolloré, Patrick Drahi, Pierre Bergé, et d'autres.
–  
Alain Minc, homme de l'ombre et « visiteur du soir » de l'Elysée, responsable de plusieurs think tank libéraux qui veille au grain.
– Pierre Gattaz (président du MEDEF défendant les intérêts du grand patronat français).
– Mario Draghi (président de la BCE qui inflige une politique de rigueur libérale à l'ensemble des pays européens).
– Patricia Barbizet qui dirige le portefeuille de la famille Pinault et présidente du club Le Siècle, membre de Bilderberg et de la Commission Trilatérale.
– Laurent Bigorgne qui hébergea à son domicile le mouvement En Marche à son lancement et également membre de Bilderberg.
– Bertrand Collomb, ancien PDG de Lafarge et membre de Bilderberg et de la Commission Trilatérale.
– Anne Lauvergeon, ancienne présidente d'Areva et de la Commission Trilatérale.
– Michel Pébereau, ancien PDG de BNP Paribas et ancien du think tank Institut Aspen France.
– Jean-Pierre Jouyet, des Bernardins, centre d'influence et de pouvoir, où se retrouve la célèbre promotion Voltaire où étaient élèves à l'ENA aussi bien François Hollande, Ségolène Royale, Michel Sapin, Dominique de Villepin, etc.
C'est lui qui fait entrer Macron à l'Elysée via Jacques Attali.
– Henry Hermand, ancien directeur du Trésor Public et directeur de la banque Barclays, qui finança la deuxième gauche sociale-libérale pendant des décennies.
Son épouse n'est autre que la richissme héritière de la famille Taittinger qui siège au conseil d'administration de Suez, de HSBC France, de Fnac-Darty et du Centre Pompidou.
On compte aussi son ami, Xavier Niel, 10ème fortune du pays, 159ème fortune mondiale (propriétaire de Le Monde, Télérama, Courrier International, La Vie, Le Monde diplomatique, le Huffington Post, l'Obs), qui lui offre une visibilité médiatique parfaite avec 64 unes de Paris Match pour le mettre en avant comme jeune, talentueux et glamour.
Cette publicité mensongère n'a qu'une finalité : un paravent prétendu démocratique et légal pour le compte des intérêts de la finance internationale.
On lui apporte tous les soutiens financiers nécessaires pour créer un rassemblement qui deviendra par la suite un parti politique.
Le 6 avril 2016 La République en marche est crée, la course à la présidentielle est lancée.
Soutenu par le gratin financier et les patrons de presse, les élites dirigeantes, Emmanuel Macron finit par devenir Président et lancer toute une politique au service des ultra-riches.
En France, les liens entre finance, pouvoir et médias sont intimement liés et forment le petit Paris, aux manettes d'une Démocratie usurpée.
La compagne de Xavier Niel, Delphine Arnault (fille de Bernard Arnault), directrice générale adjointe de Louis Vuitton, conseillère de la première dame, sa copine, qui pour ses tenues lui fournit des robes à 15000 €.
Son ami, Bernard Arnault, chez qui les Macron dînent « presque toutes les semaines », qui avec ses 73 milliards d'euros est l'homme le plus riche de France, 4ème fortune mondiale, un super riche, propriétaire de LVMH, propriétaire du Parisien, des Echos, principal actionnaire de Carrefour, financeur de L'Opinion, et de l'Institut de sondage Odoxa.
J'ai peut-être pas été assez clair : 73 milliards d'euros ! En comparaison, même le 500ème homme le plus riche de France avec ses 140 millions d'euros est 521 fois plus pauvre que l'homme le plus riche de France avec ses 73 milliards d'euros.
Imaginez vous, même si vous aviez un patrimoine de 250 000 euros vous êtes 521 fois plus pauvre que le 500ème homme riche de France.
Alors imaginez en comparaison d'un smicard…Le contraste est saisissant…
N'oublions pas, Madame Macron.
Elle-même héritière de la famille Trogneux, qui a formaté l'esprit du jeune Emmanuel à l'exercice du pouvoir dès son adolescence, pour l'introduire dans la haute sphère des puissants. Son conditionnement relève des techniques MK de la branche anglaise.
Brigitte Macron, en sa qualité de prêtresse initiée (membre de la section française de la secte sataniste de la »Golden Dawn » fondée au 20ème siècle par Samuel Liddel MacGregor Mathers (qui a fait un travail de synthèse de tous les ésotérismes méditerranéens et occidentaux).
Tous les mouvements ésotériques depuis 1880 lui doivent une paternité (sauf la lignée Austin Osman Spare – Andrew Chumbley qui sont des initiés de sorcellerie traditionnelle).
Le grand prêtre satanist Aleister Crowley, disait de Spare que c'était son « frère noir » (il l'a éjecté des Argentum Astrum son ordre magique restreint).
Crowley a généré un néo-satanisme en remplaçant le monothéisme solaire de la Golden Dawn par une inversion égotique en satanisme solaire de la bête 666 : un complexe de gamin richissime martyrisé par le puritanisme de ses parents). 
Brigitte, l'éminence grise, la « sorcière », guide Emmanuel dans toutes ses prises de position. Il est intéressant de noter qu'Emmanuel Macron déclarera qu'il n'est rien sans elle.
Que de beau monde dans son entourage !
Ce « petit Paris » compte les 7 familles les plus riches de France qui possèdent à elles seules 66% du patrimoine des 100 plus riches !
Ajoutons :
– Vincent Bolloré, a la tête de tout un empire médiatique (détenteur de Canal+, C8, Cstar, Cnews, Marianne, et des journaux gratuits Direct Matin et Direct Soir, et la direction des instituts de sondage CSA). Lui-même deuxième soutien d'Emmanuel, après la famille Rothschild.
– Martin Bouygues, propriétaire de TF1 et LCI. Rappelons qu'avec le sacrifice d'Alstom à General Electric, une véritable catastrophe industrielle pour la France, Bouygues a pu engranger 1,6 milliard d'euros.
Quel cadeau ! Encore une gâterie.
– Pascal Houzelot, entremetteur du PAF et ancien bras droit d'Étienne Mougeotte à TF1 (une chaîne du câble gay-friendly avec TF1, M6, Canal+ et Lagardère comme actionnaires).
– Arnaud Lagardère, grand héritier, et au cœur de tous les conseils d'administration de tous les médias, mais aussi propriétaire d'Europe 1, Paris Match, Elle, Le Journal du Dimanche.
– Patrick Drahi, propriétaire de BFM, RMC, L'Express, Libération, qui façonne lui aussi la pensée des Français jour après jour, pour le bien d'Israël.
En somme, 10 milliardaires qui se partagent 90 % des quotidiens, 55 % des chaînes de télévision et de radio.
De quoi influencer l'opinion générale.
Toute la noblesse d'État était là pour adopter et coopter Macron sur les marches du pouvoir.
Parrainé de toute part et lié aux hautes sphères du pouvoir financier, bardé d'or de chez Rothschild, l'Élysée lui est tombé dessus comme un hochet.
Dans ce petit monde d'intimes, Emmanuel Macron dispose entre ses mains d'une quinte royale. Il est le jockey des super riches, qui eux possèdent les écuries.
Plus que ça, il n'est qu'une marionnette dont les fils sont agités par l'aristocratie financière.
Ce petit cercle des intimes a produit et propulsé notre cher cameloquet au service de sa caste pour démolir les derniers remparts de la République française fondé sur la Liberté, l'Égalité et la Fraternité.
Ainsi s'est mis en place sous nos yeux la fin de nos principes fondamentaux d'une Démocratie au service du peuple, pour le peuple et par le peuple.
En 1789, la révolution française considérée comme une Révolution bourgeoisie, à opéré le passage du pouvoir politique détenu par la Monarchie au pouvoir économique c'est à dire la bourgeoisie florissante.
Que manquait-il aujourd'hui à l'oligarchie financière ? La République.
Qu'elle a obtenu aux grands renforts de manipulations médiatiques, ce qui s'apparente à un coup d'État.
Sous la présidence Sarkozy, déjà nommé le président des riches, toute la sphère millionnaire du spectacle et des médias à obtenu gain de cause. Il a réussi a gagner la confiance des plus riches artistes (par sa mesure clef, le bouclier fiscal, pour obtenir la confiance des plus fortunés de France).
Il a initié le mouvement de gouvernement pour les riches et non pour le peuple.
Sous la présidence Hollande, prétendue socialiste, le mouvement n'a fait que s'amplifier pour servir au mieux la cause du CAC 40 (mesures fiscales inégalitaires, scandales du crédit CICE et de la taxe TICPE, loi travail El Khomri et autres mesures en faveur des très riches) qui a mis les Français dans la rue, en raison de la trahison d'un électorat de gauche.

A cette époque Emmanuel Macron était déjà l'argentier du pouvoir Hollande.
Avec Emmanuel Macron, le mouvement touche à son apogée puisque l'oligarchie financière aux commandes achève son œuvre de destruction de la démocratie.
En supprimant l'ISF, alors que ce n'était pas annoncé dans sa campagne (évidemment, ça lui aurait fait perdre l'élection), Macron donne sa couronne de lauriers aux riches.
Il n'y a plus de contre pouvoir : plus de syndicat (seul 7% de la population active est syndiqué), plus de parti politique d'opposition (seuls restent les extrêmes), plus de médias contestataires (les médias à la botte du pouvoir). Et même plus le droit de rigoler des excès de la Macronie en témoigne la fin des Guignols de l'info.
La finance a gagné son pari. Et la moindre révolte est vouée à l'échec (même les Gilets Jaunes par manque de structure politique ne parviennent pas à s'imposer comme une alternative politique crédible).
La situation actuelle ouvre un boulevard à l'opposition démocratique, mais il n'y a pas d'opposants.
La finance peut s'engraisser librement, elle ne connaît aucune menace à sa main mise sur le pouvoir.
Dans notre pays, règne une crise majeure des institutions, dont le fossoyeur n'est autre que le président Macron.

La révolte du peuple précipitera sa chute avec le soutien de ces mêmes institutions.
Par mégalomanie, et même en ayant de son côté les membres les plus influents du pouvoir français, Emmanuel Macron a raté le 'plan' qui lui était attribué.

En l'appliquant brutalement en un an au lieu de le faire en 5 ans comme prévu par ses maîtres, il a manqué à sa mission et à la place il a provoqué une révolte populaire qui a embrasé le pays. Cela lui sera fatal.
Depuis la fin de l'année 2018, les uns après les autres le quittent et créent une béance du pouvoir. Sa déstabilisation se lit sur son visage inquiet.
Il est conscient malgré lui que sa chute est programmée par ceux-là même qui l'ont placé au pouvoir.
Dans la poursuite du plan Illuminati de délitement de la France consistant à détruire la classe moyenne : il est temps de changer de marionnette.

La classe moyenne représente le socle des valeurs républicaines et gardienne des valeurs françaises et patriotes assurant la sauvegarde des valeurs morales et laïques que le pouvoir réel des élites veut abolir.

Comment ? Par le dévoiement et la subversion de toute culture nationale, par le délitement des liens familiaux, par la criminalisation des français et des immigrés de culture musulmane, ainsi que par toute tentative de submersion des forces étrangères, introduisant racket et paupérisation de la classe moyenne et dénonciation des pauvres et des chômeurs, bafoués de leurs droits.

Avec la paupérisation de la société française, avec la désindustrialisation de l'économie française, avec l'anomie de la moralité et l'instillation de la décadence, avec la mise en index de l'intelligence, tout est mis en œuvre pour accueillir le Nouvel Ordre Mondial de ces élites lucifériennes.
Il est temps pour eux d'installer un nouveau soldat à leurs bottes pour la sauvegarde de leur plan maléfique.

Et cela de toute urgence.
En témoignent :
« Les secrets d'enfance d'Emmanuel Macron et Najat Vallaud-Belkacem » par Claude Askolovitch (Vanity Fair, février 2017)
« Au lycée Henri-IV, les infortunes du jeune Macron » par Vanessa Schneider (Le Monde, 2 mars 2018)
« Emmanuel Macron, un intellectuel en politique ? » par Nicolas Truong (Le Monde, 1er septembre 2016)
« Henry Hermand – Emmanuel Macron, le vieil homme et le futur président » par Vanessa Schneider (Le Monde, 9 novembre 2018)
« Bernard Mourad, le banquier qui n'épargne rien à Emmanuel Macron » par Sophie Des Déserts (Vanity Fair, décembre 2018)
« Les années Rothschild d'Emmanuel Macron » par Isabelle Chaperon (Le Monde, 10 mai 2017)
« La conquête de Paris d'Emmanuel Macron » par Pascale Neville (Le Monde, 2 juin 2017) « Emmanuel Macron, itinéraire d'un enfant gâté » par Cédric Pietralunga et David Revault d'Allonnes (Le Monde, 31 août 2016)
« Le président des ultra-riches » de Michel Pinçon et Monique Pinçon-Charlot (La découverte, 2019)
« L'ambigu Monsieur Macron » de Marc Endeweld (Flammarion, 2015)
« Emmanuel Macron, le banquier qui voulait être roi » de François-Xavier Bourmaud (L'archipel, 2016)
« La caste » de Laurent Mauduit (La découverte, 2018)
« Ce pays que tu ne connais pas » de François Ruffin (Les Arènes, Paris 2019)
« Macron et son crépuscule » par Juan Branco (Mars 2019, mais l'ouvrage téléchargeable en français en ligne : http://branco.blog.lemonde.fr/files/2019/01/Macron-et-son-Crepuscule.pdf, et en anglais pour le diffuser : https://archive.org/download/MacronAndHisTwilightV1.02EN)
« Contre Macron' par Juan Branco (Divergences)
http://clearlook.unblog.fr/2019/03/29/le-deep-state-francais/
The pseudo-citizen motto: " I don't give a damn of politics anymore, just leave me alone"
Lebanon has over a 70,000 "strong" army that is mainly playing the role of internal security tasks. If we measure this army by its density on a square mile, the army of Lebanon is the largest army in the world, of current and ancient empires.
And its weapon is to be desired: this courageous army barely managed to quell an Islamic extremist faction revolt in a Palestinian camp of Nahr Bared, after 6 months of siege.
And the Internal security institution, which is as large as the army in "human" effectifs? What is its function?
This institution has been transformed into a "security guard" for the totally useless people in this pseudo-state.
This institution is meant to extend "guards" to the deputy and extended family members of the deputies and the extended families of the ex, ex-deputies since the independence of Lebanon, even those that "passed away" long, long time ago.
Not just guarding the safety of these useless people, but also accompanying the household members to carry their shopping bags…
And these ex-deputies and their family members receive monthly checks for "services rendered", even after they had died, long, long time ago
This institution provide guards to the ministers and their extended family members, and the ex, ex-ministers families since independence
This institution is to offer guards to the clergies of the 19 officially recognized religious sects, and secure their travels and trips with motor cars, to clear the Path, in the ever congested traffics.
Religious institutions that don't pay taxes on anything, and even on important products. Religious institutions that own 50% of Lebanon lands and manage the individual personal status of its members, from birth to death
The internal security institution is asked to guard the members of all the embassies in the pseudo-state of Lebanon, whose main job is to "collect intelligence pieces" for everyone ready to pay for their services.
And what is this pseudo-State in reality?
Lebanon is divided into two "autonomous" States. The State of Hezbollah that stretches to half the territory of tiny Lebanon (the southern districts, the Bekaa and half of Beirut…) Lebanon is about 10,000 square km in total.
And the other Lebanon, recognized by the UN, to be an independent State since 1943, but has never been that independent by any stretch of the imagination, and Not even enjoying any sort of valuable autonomy.
Not only Hezbollah has its territory that it controls much better than this pseudo-state, but it also is represented in the "legislative, executive and justice" branches of the official State of Lebanon.
The pseudo-citizen enjoy being issued an identity card to vote and a puny passport that only half a dozen countries do Not require an expensive visa to visit.
This "je m'en fou" pseudo citizen is very flexible and doesn't care an iota if there is a budget and how the government wasted the people wealth with no infrastructure to show, or public education or public health. facilities
"You don't want to provide us with 24/24 public electricity?" No sweat. We will manage to get power from private providers and steal from government electrified lignes, even if we are to pay 3 times the expenses. "Just stay clear from governing us, administer and try to control us"
"You don't want to provide us with quality potable water at home?" No sweat, we'll manage to acquire "potable water" from third private company parties at 4 times the standard cost. "Just stay clear from governing us and try to control us"
And the list of infamies grow, at nauseam. And the civil war mafia leaders are still in control of the people, chattel succumbing to these sectarian/feudal looters and legally owning all the economic monopolies
And finally, the State is totally bankrupt at all levels: State, Central Bank and private banks.
And it does Not stop there: Trump/Israel disintegrated Beirut maritime port with an electrictro magnetic pulse bomb. Heavily dense districts were blown away in 2 miles radius.
Over 6,000 serious injuries, 200 dead and 50,000 people taking refuge outside their homes, waiting for some repairs to be done.
And it does Not stop there: 60% of the population are already under poverty line and the year 2021 is going to be worse, with Covid contamination surpassing 10,000 per day, the highest density in the entire world.
Keystone XL pipeline halted as Biden revokes permit
ROB GILLIES, Associated Press Jan. 20, 2021
TORONTO (AP) — Construction on the long disputed Keystone XL oil pipeline halted Wednesday as incoming U.S. President Joe Biden revoked its permit on his first day in office.
The 1,700-mile (2,735-kilometer) pipeline was planned to carry roughly 800,000 barrels of oil a day from Alberta to the Texas Gulf Coast, passing through Montana, South Dakota, Nebraska, Kansas and Oklahoma.
https://c0b9aa9f1fa81078b47fd1744557b182.safeframe.googlesyndication.com/safeframe/1-0-37/html/container.html
"The Permit is hereby revoked," Biden's executive order says. "Leaving the Keystone XL pipeline permit in place would not be consistent with my Administration's economic and climate imperatives."
Keystone XL President Richard Pryor said over 1,000 jobs, the majority unionized, will be eliminated in the coming weeks. "We will begin a safe and orderly shutdown of construction," he said.
First proposed in 2008, the pipeline has become emblematic of the tensions between economic development and curbing the fossil fuel emissions that are causing climate change.
The Obama administration rejected it, but President Donald Trump revived it and has been a strong supporter.
The premier of the oil-rich Canadian province of Alberta called Biden's decision an "insult" and said the federal Canadian government should impose trade sanctions if it is not reversed. Canadian Prime Minister Justin Trudeau took a conciliatory tone.
"We are disappointed but acknowledge the President's decision to fulfil his election campaign promise on Keystone XL," Trudeau said in a statement.
White House press secretary Jen Psaki said Biden will call Trudeau on Friday, the first call with a foreign leader after Biden took the oath of office. Psaki said the pipeline will be discussed.
Trudeau raised Keystone XL as a top priority when he spoke with Biden in a phone call in November.
The project is meant to expand critical oil exports for Canada, which has the third-largest oil reserves in the world and is America's number one source of foreign oil.
Trudeau and Biden are politically aligned and there are expectations for a return to normal relations after four years of Trump, but the pipeline is an early irritant as Biden has long said he would cancel it.
"Despite President Biden's decision on the project, we would like to welcome other executive orders made today, including the decisions to rejoin the Paris Agreement and the World Health Organization, to place a temporary moratorium on all oil and natural gas leasing activities in the Arctic National Wildlife Refuge, and to reverse the travel ban on several Muslim-majority countries," Trudeau said in his statement.
Alberta Premier Jason Kenney said Biden's decision is a gut punch for his province, which has a stake in the project.
"It is a insult directed at the United States most important ally and trading partner on day one of a new administration," Kenney said.
"The leader of our closest ally retroactively vetoed approval for a pipeline that exists and which is co-owned by Canadian government, directly attacking by far the largest part of the Canada U.S. trade relationship, which is our energy industry and exports."
Critics of the Alberta oil sands say the growing operations increase greenhouse gas emissions and threaten Alberta's rivers and forests.
But Marty Durbin, president of the U.S. Chamber of Commerce's Global Energy Institute, said Biden's decision is not grounded in science and will put thousands of Americans out of work,
"The pipeline — the most studied infrastructure project in American history — is already under construction and has cleared countless legal and environmental hurdles,"
Durbin said in a statement. "Halting construction will also impede the safe and efficient transport of oil, and unfairly single out production from one of our closest and most important allies."
Environmental groups applauded Biden's move.
"Killing the Keystone XL pipeline once and for all is a clear indication that climate action is a priority for the White House," said Dale Marshall, national climate program manager for Canada's Environmental Defence.
Debunking the myths
Jerome Slater's new "Mythologies Without End" is an indispensable, compelling guide to the truths behind the myths in Israel, Palestine and the Mideast.
BY JAMES NORTH.
MYTHOLOGIES WITHOUT END
The U.S., Israel, and the Arab-Israeli Conflict
By Jerome Slater
495 pp. Oxford University Press. $29.95
Professor Jerry Slater is 85 years old, has taught truths about Israel and Palestine for 50 years, and set himself a monumental task in this book.
He does not just cover the Israel-Palestine conflict, but takes on myths about Israel's relations with the surrounding Arab states, and the role of the United States. The result is a masterpiece, the successful work of a lifetime.
Slater presents his own personal and intellectual odyssey, in a brief but compelling Prologue: 
Like almost all Jews of my generation, coming of age in America in the 1940s, immediately after the Holocaust and with Anti-Semitism still alive in this country I thought of myself as a passionate Zionist and rejoiced over the establishment of the state of Israel and its 1948 and 1967 victories over its Arab enemies.
He started changing his mind after the 1967 Six-Day War.
And now he has made an extraordinary contribution to the global movement for justice in Israel, Palestine, and the Mideast generally, a readable and encyclopedic work that will be invaluable for years to come.
Slater chose the perfect title, "Mythologies Without End."
First he outlines the received wisdom about an element or feature of the region's history. Then he coolly looks at the record, and punctures the myths. He points out:
. . . among both Israelis and Americans there has been no other conflict that has been so badly understood, so impervious to the ever-growing and overwhelming historical evidence, and in which the mythology has had such devastating consequences.
Nothing is too farfetched for Slater to calmly examine. He even goes back 2000 years, to start with the prevalent Israeli "Myth of Original Homeland, Exile and Expulsion."
He notes that after the Jewish rebellion against Rome in 66-70 CE, "Zionist mythology holds that 'the Romans may have laid the entire nation waste between AD 70 and 135, slaughtering as many as 600,000 Jews, and carrying off half that number in bondage.'" He notes dryly, "This myth is no longer taken seriously by informed historians," and clearly provides the evidence that refutes the claim.
Then, 1948.
The story goes that a fragile Israel declared independence — and then the four neighboring Arab states invaded.
Slater writes: "In the Israeli mythology, the Arab attack was huge, closely coordinated, and because it was motivated by pure anti-Semitism, there was no chance the war could have been avoided."
Once again, he looks meticulously at the actual record, and relying on, among others, Israel's New Historians, points out that "the Arab invasion was small, uncoordinated, riven with conflicting aims, and in all probability could have been avoided if the Israeli leaders were willing to negotiate fair compromises."
Even those of us with familiarity with the myths may be surprised at some of Slater's findings.
It turns out that the "every major Zionist leaders" from Theodore Herzl onward openly supported "transfer" — a euphemism for expelling the original Palestinian Arab inhabitants.
In short, the Nakba, when 700,000 Palestinians fled or were driven away during the 1948 war and were not allowed to return, was not partly the accidental by-product of the conflict, but had been the intention all along of David Ben-Gurion and Israel's other founders. 
This exhaustive debunking of historical myths continues. Slater covers it all: the 1956 British/French/Israel invasion of Egypt to seize the Suez Canal; the Six-Day War in 1967; the 1973 Israeli-Egyptian War. At every stage, he shows that the world has been given distorted versions of the events or outright falsehoods. 
His account is particularly important when he reaches the 1993 Oslo Accords and developments since then, because he presents what is probably so far the most comprehensive account of this recent period.
He warns that the Accords were not truly a breakthrough for peace, that in fact they "did more to preserve the Israeli occupation [of Palestine] than to end it." He explains that Israel's leaders undermined the weak agreement right from the start, partly because they knew Israeli voters would punish them otherwise. And the number of Israeli "settlers" continued to jump:
At the outset of the Clinton presidency, there were 3,000 Israeli settlers in Gaza and 117,000 in the West Bank; when he left office at the end of 2000 there were 6,700 settlers in Gaza and 200,000 in the West Bank.
Then, Slater analyzes the 2000 Camp David talks, hosted by Bill Clinton.
He presents the myth: Israeli Prime Minister Ehud Barak offered Yasser Arafat and the Palestine Liberation Organization a generous peace agreement, but the Palestinians ". . . refused to make compromises of their own, made no counteroffers to the Israeli proposals, and then launched a new violent and often terrorist intifada, demonstrating that they had no interest in peace but rather still sought to destroy Israel and take over all of historic Palestine."
Slater responds, "As with the many other mythologies in the Arab-Israeli conflict, this bears little resemblance to reality. . ."
That false explanation for the failure at Camp David was only another instance of a central dishonesty over many decades: the Israeli/Zionist claim that "the Arabs" will not negotiate, a false view captured in the famous 1973 statement by the Israeli foreign minister, Abba Eban: "The Arabs never miss an opportunity to miss an opportunity."
Such a view does not survive Jerry Slater's wrecking ball:
The historical record proves that this myth has it backward: it is Israel, far more than its Arab adversaries, that has been primarily responsible for the many lost opportunities, from 1947 through the present, to end the Arab-Israeli and Israeli-Palestinian conflicts.

At one time or another, all the important Arab states and the most important Palestinian leaders — including Yasser Arafat — have been ready to agree to attainable and fair compromise settlements of all the central issues: Israeli security, its legitimate territory and borders, the creation of a Palestinian state, the status of Jerusalem, and the Palestinian refugee issue.
In lesser hands, this 495-page debunking might have bogged down, but Jerry Slater is such a skilled wordsmith that your interest does not flag. Instead, the cumulative power of his de-mythologizing increases as the book moves smartly along.
Slater has moral and intellectual courage, rigorous research standards — and a clear writing style that keeps you engaged with this long, thorough book.
He brings "Mythologies Without End" completely up to date, with a sharp look at how Benjamin Netanyahu has no interest in an agreement with the Palestinians and with a refutation of the 2020 Trump "peace plan." But he points out that Israel's occupation of Palestine has marched on, and that Netanyahu couldn't settle with the Palestinians even if he wanted to.
He says that if Netanyahu
had been willing to order a withdrawal of the settlers and military forces from the occupied territories and agree to a viable Palestinian state, with sovereignty over East Jerusalem, he would have faced a revolt, quite possibly a violent revolt, from the settlers and their supporters.

Indeed, a number of Israeli analysts feared that even the armed forces, in which settlers and right-wing religious forces were becoming increasingly strong, would refuse to obey such orders.
You won't read anything that brutally realistic and honest in the mainstream U.S. press — or in funding appeals from liberal Zionist organizations.
You finish this long work with a tremendous sense of admiration for its author, and for his successful life's work. Let us give him the last word.
Here's the book's final sentence:
If there is ever to be an at least minimally just solution to the Israeli-Palestinian conflict, whether it takes the form of some kind of two-state settlement or a binational democratic single state, the most important prerequisite, indeed the sine qua non, must be an Israeli recognition that their historical narrative of the conflict is largely mythological and that they have incurred an overwhelming moral obligation and an enlightened national self-interest to reach a peace settlement with the Palestinian people.
With no roadmap for peace, Israel risks being compared to the old South Africa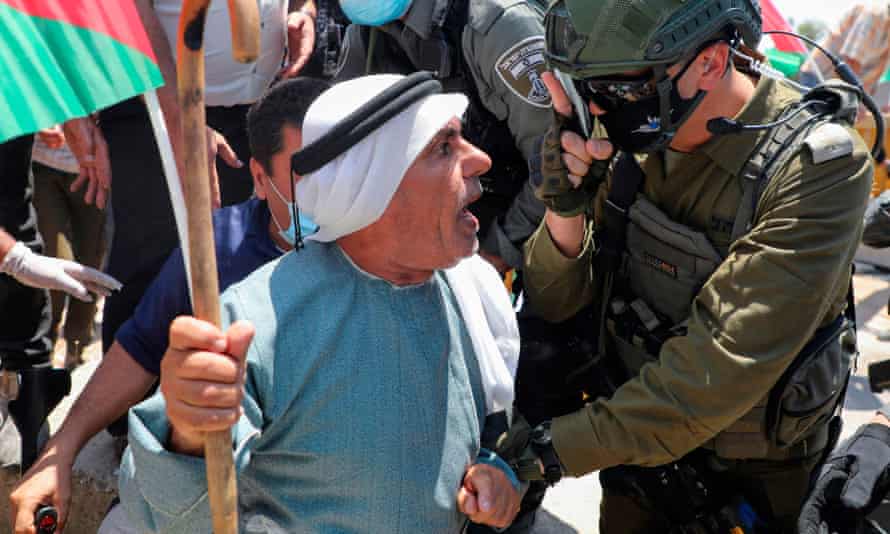 'There is a serious argument about injustices to be had.' An Israeli border guard gestures at a Palestinian protester in July 2020. Photograph: Jaafar Ashtiyeh/AFP/Getty Images
It was a deliberate provocation by B'Tselem, Israel's largest human rights group, to describe the Palestinians in the Holy Land as living under an apartheid regime.
Many Israelis detest the idea that their country, one they see as a "democracy" (that excludes the occupied people from voting and restricted rights) that rose from a genocidal pyre, could be compared to the old racist Afrikaner regime.
Yet figures such as Desmond Tutu and Jimmy Carter have done so. (And thousands other political figures and organizations)
There is a serious argument about injustices to be had. Palestinians – unlike Israeli Jews – live under a fragmented mosaic of laws, often discriminatory, and public authorities which seem indifferent to their plight.
Apartheid is a crime against humanity.
It is a charge that should Not be lightly made, for else it can be shrugged off. Some might agree with the use of such incendiary language, but many will recoil.
The crime of apartheid has been defined as "inhumane acts committed in the context of a regime of systematic oppression and domination by one racial group over any other racial group or groups with the intention of maintaining that regime". (Definition that applies entirely to how Israel laws treats Palestinians)
There are nearly 5 million Palestinians in the West Bank and Gaza, all without Israeli citizenship.
In the West Bank, Palestinians are bereft of civil rights, while Israelis in the occupied territory enjoy the full support of the state.
Hamas won Gaza's election in 2006, but the blockade that Israel imposes means it is in charge.
Egypt has sealed its border, but nothing and nobody can get in or out without Israeli permission.
Meeting the needs of Gaza's growing population, say relief agencies, is at the whim of Israel. About 300,000 Palestinians in the areas formally annexed in 1967 – East Jerusalem and surrounding villages – do not have full citizenship and equal rights.
Last year, the Israeli NGO Yesh Din found that Israeli officials were culpable of the crime of apartheid in the West Bank. Such a finding can only be a tragedy for all, including this newspaper, who wish the state of Israel well.
B'Tselem argues that Palestinians are afforded various levels of rights depending on where they live, but always below Jewish people. The group says it is becoming impossible to insulate Israel from its prolonged occupation project, leading it to run an apartheid regime not just outside its sovereign territory but inside it.
There are about 2 million Palestinian citizens of Israel, a minority under pressure not to antagonise the Jewish majority. Within Israel, discriminatory policies are not difficult to find.
National security is invoked to justify often racist citizenship laws. Jewish-only communities have admission committees that can legally reject Palestinians on the grounds of "cultural incompatibility". A web of land and planning laws squeeze Palestinians into a shrinking space. There are Israeli Arabs whose prominence in society belies the poverty of the majority.
Israel has a problem of historic discrimination. But under Benjamin Netanyahu's government there has been the enactment of the nation state law that constitutionally enshrines Jewish supremacy and a plan to formally annex parts of the West Bank.
Some prominent Jewish intellectuals, such as the writer Peter Beinart, have given up on the idea of a Jewish state. No government formed after the forthcoming election will support genuine Palestinian statehood or have a viable peace plan.
This begs B'Tselem heretical question: what if there is only, in reality, one regime between the Jordan River and the Mediterranean Sea, rather than one political power that controls the territory in which there are distinct regimes? (What is the difference in an apartheid regime and extremist right wing political reality?)
A system of separate and unequal law and systemic discrimination against Palestinians has been justified because it was meant to be temporary.
But decades have passed and the situation worsens. If this is a twilight for democracy and equality in the Holy Land, one can only hope that the night will be short.
Israel Self-defense excuses are paralyzing the livelihood and security of Palestinians
Maureen Clare Murphy Rights and Accountability 8 January 2021
The Israeli military cleared itself of wrongdoing in the shooting and grave injury of a Palestinian man in the southern West Bank last week, claiming soldiers acted in self-defense.
The "perfunctory investigation" that closed less than a week later exemplifies the culture of impunity long decried by human rights organizations seeking war crimes investigations at the International Criminal Court.
The military claimed that the man who was shot, Harun Abu Aram, was "hit by a stray bullet fired when a Palestinian tried to seize a commander's weapon," as the Tel Aviv daily Haaretz reported.
Abu Aram, 24, is paralyzed from the neck down as a result of his injury.
He was shot while he and others were trying to take back a generator that soldiers had confiscated from a family living in an area declared a military firing zone by Israel.
Palestinians residing in that area, a collection of rural hamlets known as Masafer Yatta, are forbidden from building or improving their dwellings.
The incident in Masafer Yatta was recorded on video:
https://platform.twitter.com/embed/index.html?dnt=false&embedId=twitter-widget-0&frame=false&hideCard=false&hideThread=false&id=1345745628660428803&lang=en&origin=https%3A%2F%2Felectronicintifada.net%2Fblogs%2Fmaureen-clare-murphy%2Fisrael-claims-self-defense-after-paralyzing-palestinian&siteScreenName=intifada&siteUserId=6721522&theme=light&widgetsVersion=ed20a2b%3A1601588405575&width=550px
Language
The Israeli military described unarmed Palestinians defending the Masafer Yatta residence raided by heavily armed soldiers as "a violent riot … where [Israeli] forces were attacked."
The language used to justify Abu Aram's shooting at close range echoes that used by Israel regarding the use of live fire against protesters in Gaza.
More than 200 Palestinians were killed during regular mass protests dubbed the Great March of Return beginning in March 2018 until their suspension at the end of 2019.
Thousands more were injured by Israeli sniper fire, many of them permanently. The snipers got later orders to refrain from killing and instead to target legs in order that the Palestinians refrain from joining the marches. Many children and youths were on purpose targeted.
Only one soldier has been indicted over the use of lethal force against protesters.
The military repeatedly referred to Palestinian protesters as "rioters" in its argument to the Israeli high court regarding its "rules of engagement."
Such language is intended to obscure the fact that Palestinians had mobilized to call for specific demands.
In the case of the Great March of Return, Palestinians were demanding to exercise their right to return to the lands from which their families were expelled in 1948. (Mind you that 80% of Palestinians in Gaza are transferred Palestinians from the West Bank).
Context of oppression
The "law and order" language (the language used by Nixon and the dictators) is used to obscure decades of injustice in the West Bank as well.
The Israeli military refers to Abu Aram as a "rioter" to avoid addressing the context in which the young man was permanently injured.
Abu Aram and the other "rioters" with him belong to a community that has been subjected to forcible transfer, multiple home demolitions and continuous harassment by soldiers and settlers. (I have already posted an article on the harassment that Palestinians in Yatta are subjected to)
This broader context of oppression is not helpful to Israel's reputation.
And so Israel says that Abu Aram and those with him "sought to obstruct [Israeli military] enforcement activity" – never mind that this "enforcement activity" is part of a coercive environment created by Israel to push Palestinians off of their land.
As the United Nations has made clear, "individual or mass forcible transfer or deportation" of the population of an occupied territory, like the West Bank, is a grave breach of the Geneva Convention "and is also considered a war crime."
The imposition of a coercive environment, like that endured by Palestinians in Masafer Yatta, is a form of forcible transfer.
While Israel may use the language of "law and order," characterizing its military's behavior as "enforcement activity," occupation forces are, in fact, carrying out violations of international law.
System of oppression
Whether it's forcible transfer or the use of lethal force against Gaza protesters, Israel's high court rubber-stamps these policies intended to pacify all Palestinian resistance to the occupation.
In Masafer Yatta, that resistance was about retaining an electricity generator used by a family who are not allowed the basic infrastructure provided to Israelis living in nearby settlements built in violation of international law.
It is not surprising that Israel's system of oppression and injustice would clear itself of wrongdoing in the shooting of Abu Aram.
As human rights groups stated this week, Israelis responsible for war crimes against Palestinians "have not been subject to any independent legal investigation in Israel."
The Israeli military's self-investigation system "is empirically and conclusively evidenced to be unwilling or unable to genuinely carry out investigations and prosecutions," the Palestinian groups added.
The four groups – Al-Haq, Al Mezan, Al-Dameer and the Palestinian Center for Human Rights – noted Israeli courts' complicity in the legitimization of war crimes and crimes against humanity.
"It is beyond time for a formal investigation" by the International Criminal Court, the groups said.
In late 2019, the court's chief prosecutor concluded a five-year preliminary examination, stating that requirements to launch a full investigation into suspected war crimes in the West Bank and Gaza had been met.
More than a year later, an investigation has yet to be opened.
The absence of accountability, the Palestinian human rights groups observe, has only allowed for the "consolidated, ongoing and internationalized assault on the right of the Palestinian people to dignity and to self-determination."
Dreaming has a Memory of its own
Posted on March 2, 2009
I dream a lot. And when I make an effort I can sometimes recall the feeling and emotions of the reel of the night awkward story.  
I realized that dreaming has a memory of its own. Very often, as a dream unfolds, I have the impression that a section in the story has been shown before. It is as if the administrator of the dream part of memory has a library of DVDs, a department specifically reserved of what have been dreamt of.
As I dream, I know right away that I have seen and felt that story and there is nothing I can do to stop it or ask the librarian to change it to another DVD.  
The only time that I might pre-empt the movie is when I reach the part that affect my survival, such as a very dangerous moment. Then, frequently I force myself to wake up and put an end to the nightmarish DVD.
There are DVDs where I am running around in search of a toilet, but find none that are clean; it is so disgusting that I learned to put an end to the malevolent reel and get up and go piss. I am so repulsed that I don't dare go back to sleep right away.
I wonder if those in coma are subjected to the same set of DVDs and that when their eyelids flutter or they have jerky movements, then they are trying to react to a very nasty section of their dreams.
The worst part would be if the dream part of memory has been partially damaged and the comatose patient has to suffer a limited choice of lousy and frightening DVDs that keep being loaded ad infinitum.
I would not mind to be shown lovely DVDs in my dream that I like to see as often as possible.
The problem is that the memory library for dreams is awfully biased toward horror movies, mostly very disgusting.
May be the best way to shelve off, for a long time, a bad recurring dream is to write it down. It would be a nice experiment to edit the bad sections, in the written exercise, and add sections that you would like the administrator of dream memory to edit for you and have a more enjoyable version.
(I have posted many of my dream memories since 2009, and in the minute details in order to erase it in my night memory archive and sleep easier)
There must be an interface section between the "real" memory and the dream memory.  The dream memory needs refresher impressions of sensorial feedback in order to edit versions of stored DVDs.  
I guess rational knowledge is also transmitted.  
For example, I had this piece of intelligence in my dream that fish have no complex memory; that for survival purposes they have a dual switch of ON/OFF like Eat, Do not eat.
If this binary memory is malfunctioning and is stuck to one setting then the fish will keep eating till it blow or starve to death. Now, I would like to know if what my dream has offered as a hypothesis is true scientifically.
I also would like to know if dream memory organizes in the same manner as real memory. If it is true, then scientists have an alternative method for taking advantage of the dream memory to uncover the mystery of memory saving and retrieval.
Tidbirts #92
Men have far more difficulties to convince themselves that they are a value-added member for humanity. If a man does Not receive an award or a badge of honor, he would be hard pressed to have any confidence in his value. Women have a ready potential to materialy know that they added value once they give birth, as long as no one of their children dies: Otherwise, a woman would have to overcome the barrier of figuring out what alternative is meant to add values to humanity.
"This is Not democracy plus occupation. This is apartheid between the river and the sea." Israel Human rights group
You have got this tiny bird Colibri: it can fly in all directions, backtracking and even flying still (du sur place) to suck the nectar from red flowers. Do you think nature red flowers would have been eradicated without the colibri?"
"After the facts": Many universities cancelled the "honorary degrees" they bestowed on Donald Trump. If the insurrection prevailed, they would Not even had to consider their decisions.
Funny. The UK-China trade bill could include a genocide amendment. Lawmakers vote on a measure that would give UK courts the power to determine if a genocide is underway in China's Xinjiang province—and allow parliament to reject a trade deal with Beijing based on such a determination. The question remains: How much should the UK pay in reparation for destroying China economy and social structure on during centuries of Opium trade?
The latest Trump insurrection into the Capitol might slow down the wildefire of nationalist racism spreading around the world.
You voted for a candidate who turned to be dishonest and incompetent. You didn't vote on Election Day, mainly for laziness and "neutral politically" of the "Silent Majority". Which citizen is more responsible for the State of Affairs?
Israel is an implanted colonial State by the colonial powers (including Russia), and inherited all the colonial laws and practices. Worse, Israel intends on destroying all the vestiges of civilizations in the Middle-East because they had no civilization to show to the world. It has been carrying out the erasing all vestiges since its inception and ordered ISIS (Daesh) to systematically do this job.
Martin Luther King told NBC's Sander Vanocur in 1967: "I think the biggest problem now is we got our gains over the last 12 years at bargain rates. Now, we're confronting issues that cannot be solved without costing the nation billions of dollars… this is where we're getting our greatest resistance."
Professor Philip Salem said, as you lose the sense of smell, take Dexamethasone (A cortisone designed for the lungs infection of non-bacterial inflammation) and Coumadin (instead of aspirin) to thin the blood since most the dead end up in heart blood blockage. Then, go get tested and rest in your confined quarter.
I don't believe in luck but good fortune isn't always an accident. How well prepared we are to catch and grab an opportunity, which we are passionate about, is a lucky fortunate accident that life always dangle to the well prepared people, and more than once.
For instance in matter of believing in Luck:
Napoleon believed that some generals were just Not lucky persons. If the failure is a successive trend with the general, then luck has nothing to do in this case
Jay Elliot met Steve Jobs in the waiting area of a restaurant after leaving Intel for a job at a startup. The start-up failed. And Jay had no job. Andy Grove, Intel's president and Jay's former boss, gave Jay this parting message, "You're making a big mistake – Apple isn't going anywhere."
Jay became a V.P. at Apple and Jobs' right hand man. Steve was twenty-five. It was just months before Apple went public.