Archive for May 2021
Book review of Francoise Giroud
Posted on August 30, 2016
Une histoire de femme libre
Loise, Loita, Lou Salome (1861-1937). She was compared to George Sand, half a century ago, for a free lifestyle, though Sand had a richer gamut of emotions and engagement.
She could lead this kind of life because she received a monthly stipend from the Russian government due to her officer of a father.
Lou got close relationships with Nietzsche, Rainer Maria Rilke, Freud, Paul Ree, Heinrich Gillot, Zemek (Friedrich Pineless, a Danish neurologist who was 7 years younger)…
Before the age of 35, Lou never engaged in love making: She was anorexic, flat chested, and had probably bad experiences in physical contacts with her brothers and father (incest?).
After the age of 35, she got totally in sexual activities, mostly with younger men.
Zemek was the first man she shared sexual intercourse with and she confined to Ernst Pfeiffer at a late age: (Zemek) was the man she feels most ashamed of (the muddy routes of sensuality?)
She decided to marry Andreas, a professor of Oriental and Central languages at the university of Gottingen where she settle down till her death.
Each Spring, Lou would travel around Europe, tackled by Zemek, until he was sick and tired of carrying around her luggage while she had sweet eyes to the young boys.
She wrote: Natural love is based on the principle of infidelity (like many animals?)
Lou could Not dissociate love from spirituality: Sexual Love must be short and fugitive: Must be regenerated at each amorous fiesta.
She never had the courage to put in this world a human being: We had to be more than ourselves, a course of living that requires immense focus.
At the age of 50, she gets initiated to psycho-analysis around 1912.
She landed in Vienna in August 1912 in order to attend the Wednesday sessions of Freud disciples
Freud mentioned that that her stay in Vienna may have been the most exciting and fruitful period in her destiny.
Lou and Freud had frequent and lengthy correspondence for many years. They started the trend of exchanging portraits.
She disagreed with Freud on the subject of narcissism.
She practiced psycho-analysis during and after the WWI in Russia and invested many hours treating soldiers of their trauma.
She adopted Marienchen, an illegitimate girl of her husband, and made her heritiere.
Her abundant correspondence and articles were Not translated from German.
Such as "Anal und sexual, 1916", "Creation of God", My life, Love of narcissism, Eros.
Fenitchka and Rodinka were translated.
Lou might have destroyed many lives (men committing suicide, like Victor Tausk, Paul Ree…) and laid waste to many marriages, but her company was stimulating.
Men felt larger in her presence and she delivered them from their strong personality, though she was never delivered herself from her personality
British and Zionist terror tactics in Palestine in years in the 1930's
Posted on November 4, 2011
In the 1920's, under British mandated power, the Palestinians delivered countless petition to the British administration to conduct democratic elections for municipal and the Parliament, as did the French mandated power in Syria and Lebanon.
The Zionist Jews, in Palestine and their lobbies in England and the USA, blocked any election process, on the ground that since they are in the minority (one Jew to 10 Palestinians), the election would be at their disadvantage.
As England refused to institute democratic laws and representation in Palestine, the Palestinians realized that the mandated power is intent on establishing a Zionist State in part of Palestine.
In Nov. 1935, sheikh Al Qassam and four of his followers moved to the forest of Jenine and started training and preparing for civil resistance.  The British assassinated all of them.
And the "Great Revolt", as labeled by the British, lasted 3 years. 
The British engaged 100,000 troops to quell the civil insurrection by all means of cruelty and brutality.
A British physician on the field, Tom Segev, wrote in his diary: "The brute tactics used by the British forces and the methods of humiliation could be efficiently adopted by Nazi Hitler. Nazi Germany could learn and assimilate the British terror tactics on smooth running of concentration camps..."
The British initiated and trained Jewish colons to participate in the taming of the Palestinian civil disobedience.
David Niv, the official historian of the terrorist Zionist organization, the Irgun, wrote in "The campaign of the National Military Organization 1931-37":
"The violent attacks of the Irgun are not done in reaction of those who perpetrated acts of violence against Jews, and the random violence were not conducted in localities where violent acts were done.  
The principal criteria were:
First, the targets must be accessible, and
Second, the terror attacks must kill the maximum of civilian Palestinians…"
In their National Bulletin, the Irgun displayed their satisfaction of the 3-week-long terror attacks on Palestinians, throwing bombs in crowded markets, Mosques, hand grenades in buses, machine-gunning passing trains…
The 3 weeks spree of random violence killed over 140 Palestinians, a number far greater that the Palestinian resistance movement killed in 18 months…
The leader of the Irgun, the Polish Zionist Vladimir Jabotinsky, wrote in 1923:
"We must develop the colonies behind a "Wall of Steel", backed by a protective force that could not be broken. The Palestinians (labelled Arabs) will never accept any Jewish colony as long as they conserve a slight hope of dislodging it. A voluntary agreement is not thinkable. We have to resume the colonization process without taking into consideration the humors of the indigenous population..."
David Ben Gurion, leader of the Zionist Haganah organization, rallied to that strategy, though he publicly condemned Jabotinsky fascist methods (Jabotinsky was a staunch admirer of Italian dictator Benito Mussolini)
The terrorist Zionist Stern organization, lead by Menahem Begin and Yitzak Shamir, (both later to be elected Prime Ministers in the 80's), merged with the Irgun as Ben Gurion proclaimed unilaterally the establishment of Israel in 1948.
The Stern and Irgun and Haganah conducted terror attacks and genocides in many Palestinian towns and villages, forcing the Palestinians to flee: The Palestinians believed the leave will be of short-term duration, as the UN will negotiate their return…
Actually, the Zionist organizations started collecting intelligence pieces on the villages and towns they planned to transfer by terror tactics since 1939.  
They waited for a war to start to give the green light for the execution of detailed plans in 1947, the year England decided to relinquish its mandated power over Palestine.
Note 1 : Article inspired from a chapter in "A history of Lebanon, 1860-2009" by the British journalist David Hirst. Hirst was the correspondent of the British daily The Guardian in the Middle-East for 43 years. He was kidnapped twice during Lebanon civil war.
Note 2: The British secret services trained French assassins since 1942 during WW2
Note 3: You may read this link on doctoring reports of random violence by Israel establishment http://www.stoptorture.org.il/files/Doctoring%20the%20Evidence%20Ab
The Cold rational concept of Irrational behaviors.
Posted on October 4, 2014
Why most of our decisions and reactions seem to be pretty much irrational?
A Cold attempt was undertaken to remind ourselves of a few facts and realities to be taken into consideration:
1. Thinking is not a "pure process".
2. Thinking is prone to error and this realization affects everyone
3. Highly intelligent people fall prey to the same cognitive traps as common people
4. And errors are Not randomly distributed.
5. Mankind systematically err in the same direction
6. Our mistakes are mostly predictable and can be repaired and avoided in slight degrees
7. Most of our organs function predictably, but our brain keep experiencing lapse after lapse
8. Thinking is a biological phenomenon: It does not follow an abstract mathematical logic.
9. We are still a hunter-gatherer species, but living in a totally different environment
10. Our new environment is getting increasingly complex, interdependent, and man-made functions and facilities are exacerbating the frequency of faulty behaviors
11. Evolution has stopped optimizing the behavior of this hunter-gatherer species in this new environment.
12. Our brain is designed to reproduce (persuade) rather than search for the "truth"
13. We tend to construct a reason for our compulsive decisions (intuitive reaction). a justification for a predetermined conclusion.
What is to be done?
1. When in your "circle of competence", let your intuition lead your decisions and reactions. You had invested more than 10,000 hours on your talents and skills and you can now rely of your bodily reactions.
2. Otherwise, do your due diligence to apply the hard, slow and high energy consuming process of the rational thinking on your projects and serious decisions.
Think clear and go through the long list of behavioral biases, fallacies, illusions, myths.. and start eliminating one error after another from the list of prone error tendencies.
Rational thinking might Not give you a correct resolution, but again, you have been vaunting the superiority of mankind brain over other species who actually have far better abilities and capabilities than us in many domains.
Repeat the rational thinking process as you invested in acquiring your talents.
Note 1: Read "The Art of Thinking Clear"
Note 2: I have realized that I prefer to extend only one opinion on an issue, the best of my opinions and never give choices. Why?
1. If the opinion is found correct by the reader, the better off he is. And the reader was not disturbed and confused by contradicting alternatives and could assimilate the single opinion.
2. If the opinion is "proved" flawed, it is a marvelous opportunity for the reader to reflect deeper on the topic, reach a proper alternative and incorporate it in his unique worldview model
US investigates second suspected case of mystery 'syndrome' near White House
By Katie Bo Williams, Jeremy Herb and Natasha Bertrand, CNN
Updated May 17, 2021
(CNN)Two White House officials were struck by a mysterious illness late last year — including one who was passing through a gate onto the property — newly revealed details that come as investigators are still struggling to determine who or what is behind these strange incidents.
Multiple sources tell CNN that the episodes affected two officials on the National Security Council in November 2020, one the day after the presidential election and one several weeks later.
The cases are consistent with an inexplicable constellation of sensory experiences and physical symptoms that have sickened more than 100 US diplomats, spies and troops around the globe and have come to be known as "Havana Syndrome."
The intelligence community still isn't sure who is causing the strange array of nervous system symptoms, or if they can be definitively termed "attacks."
Even the technology that might cause such an inconsistent set of symptoms is a matter of debate
The first incident, previously reported by CNN, occurred after the 2020 election as the NSC official was attempting to pass through an unstaffed gate near the Ellipse, according to a source with direct knowledge of the incident. That person suffered only mild symptoms after the encounter, including headaches and sleeplessness, all of which went away after a week.
The second official, whose case has not been previously reported, was struck weeks later near an entrance to the White House grounds, two sources familiar with the matter told CNN.
The second official suffered more serious symptoms and was ill enough to seek immediate medical treatment.
The twin incidents in downtown Washington, along with a previous suspected case in northern Virginia in 2019, have raised concerns that the wave of episodes first seen only among Americans overseas is now occurring in rising numbers on US soil — and maybe even at the President's front door.
Click button to enter email to sign up for CNN's Meanwhile in America newsletter."close Email Capture Inline Zone"
This story is based on interviews with over a dozen current and former officials with knowledge of the US efforts to respond to these mysterious incidents.
For five years now, investigators have struggled to explain the strange experiences reported by US diplomats and other government workers in Cuba, Russia, China and elsewhere — episodes that in some cases have led to chronic headaches and brain injuries.
Victims have reported experiencing sudden vertigo, headaches and head pressure, sometimes accompanying by a "piercing directional noise."
Some reported being able to escape the symptoms simply by moving to another room — and step back into them by returning to their original position.
The number of suspected cases worldwide is increasing, according to a recent statement from the leaders of the Senate Intelligence Committee. There have been more than 130 cases worldwide over the past five years, according to the New York Times, which reported at least one episode taking place overseas in the last two weeks.
There have also been suspected cases in Europe, CNN previously reported, and additional suspected cases are being investigated domestically, according to sources with knowledge of the matter.
'Anomalous health incidents'
Under pressure from lawmakers and victims, the Biden administration has dramatically ramped up its efforts to "identify the cause of these incidents, determine attribution, increase collection efforts, and prevent" what the intelligence community now terms "anomalous health incidents," a spokesman for the Office of the Director of National Intelligence said in a statement on Tuesday.
CIA Director Bill Burns has begun to receive daily briefings on the matter, including some from victims of these strange encounters, according to two sources familiar with the matter.
But even a definitive diagnosis proving any one case is, in fact, "Havana Syndrome," has proven frustratingly difficult, officials say.
Victims suffer a myriad of different symptoms both initially and over time, and scientists, engineers and medical experts are divided over whether all of the cases under investigation can be attributed to a single cause.
The government has successfully identified and fielded a blood test that can point to some markers that may indicate exposure, according to two US officials with direct knowledge of the matter.
That test was among the diagnostic tools used in recent cases of intelligence officers who reported symptoms consistent with Havana Syndrome, and in the case of at least one of the White House victims, according to sources familiar with the matter.
But the test alone is not enough to offer a clear diagnosis.
Multiple agencies are also trying to create or repurpose a type of sensor that could be used to detect anomalous activity and, theoretically, help establish that personnel are being hit, according to two current US officials and one former US official — although sources cautioned such a tool would only be able to detect the activity, not protect from it.
"How do you counter something you don't know is coming?" said one intelligence official.
A March report from the National Academy of Sciences found that "directed, pulsed radiofrequency energy" was the most likely cause of the strange set of symptoms — so-called microwave energy — but officials caution that even that isn't known for sure, and some academics have publicly dismissed the theory as unsupported.
"The whole 'microwave' theory is not because someone has any intelligence to suggest it, or someone saw it happen," said one source familiar with the intelligence on the matter. "This is what's been so maddening. It's based purely on symptoms."
"We have no hard leads — just all circumstantial evidence. And it's circumstantial evidence that could also be something completely different."
A National Security Agency memo made public in 2014 revealed that the agency had intelligence from as recently as 2012 pointing to the possible existence of "a high-powered microwave system weapon … designed to bathe a target's living quarters in microwaves, causing numerous physical effects, including a damaged nervous system."
But the memo did not definitively confirm the existence of such a weapon, or which country may have developed it.
And some officials have questioned how such a weapon might be discreetly powered — especially in crowded downtown Washington — and focused so precisely that it would only cause injury to the target's brain and not the rest of the body.
Equally murky is who might be behind these incidents, if they are indeed attacks.
Some evidence points to Russia as a likely culprit, officials say, but it is largely circumstantial: Russia is one of only a few countries that has dedicated research and development to what some experts believe could be the kind of weapon that could cause symptoms consistent with Havana Syndrome.
Some officials tracking Havana Syndrome suggest that, if a foreign adversary is using some kind of directed energy weapon, the intent may not be to harass or maim US personnel, but rather to collect information from their cell phones.
"I don't know if they stumbled across a collection mechanism that allows it to be used as a weapon system or if they are just trying to collect (data from cell phones) and it (causes) adverse side effects," said one person with direct knowledge of the incidents. "From what I read that the jury's still out on what exactly people thought it was."
'We don't have the smoking gun'
The new incidents, including those in Washington, have sparked growing frustration among lawmakers on Capitol Hill, who say the intelligence community has failed to provide Congress with enough information on what it knows and how it's responding — and has not properly taken care of the victims.
"I'm appalled that many of these individuals who were injured in the line of duty have had to fight to get adequate medical care, to have their injuries even recognize and acknowledge and to receive financial compensation," said Sen. Susan Collins, a Maine Republican on the Senate Intelligence Committee.
Lawmakers on the House and Senate Intelligence and Armed Services committees have been demanding additional details and have urged intelligence officials to declassify information about the attacks.
Lawmakers have praised Burns' stated commitment to the issue, but a recent closed-door Senate Intelligence Committee briefing on the subject was one of the committee's most contentious in recent memory, according to two sources familiar with the briefing.
Congress has also expressed concern that the government has failed to sufficiently coordinate efforts out of multiple agencies — including the Pentagon, intelligence community and State Department — to address the problem.
"There are lots of entities in the government looking at this. We need to have it better coordinated," said Senate Intelligence Chairman Mark Warner. "I think there's a level of seriousness given to this now that frankly was not there until Director Burns came and made this a priority."
The Virginia Democrat said it was frustrating that after five years since these apparent attacks began occurring, there's still difficulty in everything from taking care of those who have been injured to determining who is responsible and even what tools or weapons were used.For some victims of these strange incidents — some of whom are suffering from debilitating ongoing health problems — the government's response has been equally frustrating.
Current and former officials say that during the Trump administration, individuals who reported experiencing these symptoms weren't always believed."
It took awhile for certain people to take it very serious," said one official with direct knowledge of the incidents
Even now, officials who report these symptoms are closely screened to confirm whether their symptoms are physical or psychosomatic."
The problem with the handful (of episodes) that I know have happened here in this country (is) the smoking gun," said the official. "We don't have the smoking gun."
Israel Authorizes Organ Harvesting, Weapons-Testing on Palestinian Prisoners: Report IMEMC
Posted on March 24, 2019
"Palestinian spaces are laboratories," Professor Nadera Shalhoub-Kevorkian said in a lecture at Columbia University.
Authorities of the Israeli occupation have permitted large pharmaceutical firms to carry out tests on Palestinian prisoners and has been testing weapons on Palestinian children, a professor with the Israeli Hebrew University said.
RELATED:
Israeli Troops Kill 15-year-old Boy During Gaza Protests
Professor Nadera Shalhoub-Kevorkian, a Palestinian feminist activist and the Lawrence D. Biele Chair in Law, said she collected data while working on a research project for the university.
"Palestinian spaces are laboratories," she said in her lecture titled, 'Disturbing Spaces – Violent Technologies in Palestinian Jerusalem' at Columbia University in New York City.
"The invention of products and services of state-sponsored security corporations are fueled by long-term curfews and Palestinian oppression by the Israeli army."
The Hebrew University of Jerusalem distanced itself from her claims that Israel has been experimenting on Palestinian children with new weapons systems in order to boost the sale of international weapons.
Just weeks ago, Israeli authorities refused to hand over the body of prisoner Fares Baroud, who died in Israeli custody after suffering several illnesses including glaucoma and liver disease.
There are concern and speculation from family and activist site, Palestine Libre, that Baroud was a test subject.
In 2015, the Palestinian ambassador to the United Nations Riyad Mansour accused Israeli security forces of harvesting organs from the bodies of Palestinians killed.
"After returning the seized bodies of Palestinians killed by the occupying forces through October, and following medical examinations, it has been reported that the bodies were returned with missing corneas and other organs," Mansour said
The Israeli ambassador to the United Nations Danny Danon responded by rejecting the allegations, saying that the charges were anti-Semitic.
Danon wrote to the then Secretary-General Ban Ki-moon. "I call on you to repudiate this sinister accusation and to condemn the ongoing incitement by Palestinian leaders."
As far back as 1997, the Israeli newspaper Yedioth Ahronoth reported on the comments of Dalia Itzik, chairwoman of a parliamentary committee, who acknowledged that the Israeli Ministry of Health granted permits to pharmaceutical companies to test their new drugs on prisoners, and noted that 5,000 tests had been carried out, IMEMC reported.
A fourth round of genocide committed on Gaza civilians
Mnd you this article was Posted on August 17, 2014 (and written on July 25, 2014)
Israel/Gaza conflict: Questions and Answers
Smoke rises after an Israeli airstrike in Al Shejaiya (Shuja3iya) neighbourhood in eastern Gaza City during a military operation in eastern Gaza City, 22 July 2014. © EPA1.
What does Amnesty International think of the resolution passed by the UN Human Rights Council on 23 July? What should happen next?
Amnesty International welcomes resolution S-21/1 to establish a commission of inquiry and notes that the wording allows the commission to investigate violations of international law by all parties to the current conflict.
The commission of inquiry represents an important opportunity to break the cycle of persistent impunity for crimes under international law in Israel and the Occupied Palestinian Territories (OPT).
In order to be effective the commission of inquiry must be thorough, independent and impartial, and look into violations by any party to the conflict.
It must be adequately resourced and have unrestricted access to all relevant areas.
Amnesty International urges all states – including all EU member states, who abstained on the resolution – to cooperate with the commission as required.
2. What are the key obligations of the parties to the conflict during the hostilities under international humanitarian law?
During an armed conflict, all parties – whether state or non-state armed forces – must respect international humanitarian law, which aims to protect civilians by regulating the conduct of all sides in hostilities.
States also continue to have an obligation to respect international human rights law during a conflict.
Under international humanitarian law, all sides in an armed conflict must distinguish between military targets and civilians and civilian structures, and direct attacks only at the former.
Deliberate attacks on civilians or civilian objects – such as homes, medical facilities, schools, governmental buildings – that are not being used for military purposes are prohibited and are war crimes.
Indiscriminate and disproportionate attacks (where the likely number of civilian casualties or damage to civilian property outweighs the anticipated military advantage to be gained) are also prohibited.
(Netanyahu told Biden a week ago that he is Not concerned about Palestinian civilians. Hundreds of Palestinians died and were injured for this indiscriminate attacks of Israel planes)
All sides must take necessary precautions in attack to minimize harm to civilians and civilian objects. This includes giving civilians effective warnings ahead of attacks, and cancelling or suspending an attack if it becomes apparent that the target is civilian or that the attack would be disproportionate.
They also must take all feasible precautions to protect civilians under their control from the effects of attacks.
For example, warring parties should avoid endangering civilians by storing ammunition in, and launching attacks from, populated civilian areas.
3. What are the different patterns of violations by Israeli forces in the Gaza Strip that Amnesty International has identified since Israel launched Operation "Protective Edge" on 8 July 2014?
Israeli forces have carried out attacks that have killed hundreds of civilians, using precision weaponry such as drone-fired missiles, as well as munitions such as artillery, which cannot be precisely targeted, on very densely populated residential areas, such as Shuja'iyyeh.
They have also directly attacked thousands of homes. Israel appears to consider the homes of people associated with Hamas to be legitimate military targets, a stance that does not conform to international humanitarian law.
Several medical facilities and non-military governmental buildings across the Gaza Strip have also been destroyed or damaged.
(In this current round, Israel bombed all the roads that lead to the 2 hospitals in Gaza City and north of Gaza. European States funds all the hospitals in Gaza. 35,000 took refuge in the 43 UNRWA schools)
The UN has reported that one of its schools sheltering displaced people in the al-Maghazi refugee camp in central Gaza was shelled by Israeli forces on at least two occasions.
Another such school sheltering displaced families in Beit Hanoun in northern Gaza was struck on 24 July, killing at least 15 civilians and injuring many others, and the UN has called for an immediate investigation.
Although the Israeli authorities claim to be warning civilians in Gaza, a consistent pattern has emerged that their actions do not constitute an "effective warning" under international humanitarian law.
Israeli attacks have also caused mass displacement of Palestinian civilians within the Gaza Strip.
4. What is Amnesty International's position on the firing of indiscriminate rockets and mortars from the Gaza Strip by Palestinian armed groups?
Do other actions of Palestinian armed groups in Gaza since 8 July 2014 violate international humanitarian law?
According to the Israeli army, Hamas' military wing and other Palestinian armed groups fired over 1,700 rockets into Israel from 8 to 18 July, and scores of rockets continue to be fired every day.
(Mind you that in 2014 the rockets were puny and Not precise. Still, Israel attacked by land and totally destroyed Gaza infrastructures)
(Three civilians in Israel have been killed, a few civilian properties in Israel have been damaged, compared to over 1,500 Palestinians killed and 3 fold injured).
International humanitarian law prohibits the use of weapons that are by nature indiscriminate. The rockets fired from Gaza into Israel cannot be aimed exactly at their objective and their use violates international humanitarian law.
The firing of indiscriminate rockets and mortars also endangers Palestinian civilians inside the Gaza Strip and in the West Bank ?.
Statements by some leaders of Palestinian armed groups also indicate that they have no qualms about launching attacks against civilians and that they in fact carry out such attacks intending to kill and injure Israeli civilians.
Attacks that directly target civilians and indiscriminate attacks that kill or injure civilians constitute war crimes.
5. When the Israeli military has warned residents of a specific area in the Gaza Strip to evacuate the area, does that fulfil its obligations to protect civilians under international humanitarian law?
Effective advance warning to civilians is only one of the prescribed precautions in attack aimed at minimizing harm to civilians.
When Israeli forces have given warning in many cases key elements of effective warning have been missing, including timeliness, informing civilians where it is safe to flee, and providing safe passage and sufficient time to flee before an attack.
There also have been reports of lethal strikes launched too soon after a warning to spare civilians.
In any event, issuing a warning does not absolve an attacking force of its obligations to spare civilians, including by taking all other necessary precautions to minimize civilian casualties and damage to civilian structures.
Israel's continuing military blockade on the Gaza Strip and the closure of the Rafah crossing by the Egyptian authorities since the hostilities began mean that civilians in Gaza cannot flee to neighbouring countries.
6. The Israeli authorities claim that Hamas and Palestinian armed groups use Palestinian civilians in Gaza as "human shields". Does Amnesty International have any evidence that this has occurred during the current hostilities?
Amnesty International is monitoring and investigating such reports, but does not have evidence at this point that Palestinian civilians have been intentionally used by Hamas or Palestinian armed groups during the current hostilities to "shield" specific locations or military personnel or equipment from Israeli attacks.
In previous conflicts Amnesty International has documented that Palestinian armed groups have stored munitions in and fired indiscriminate rockets from residential areas in the Gaza Strip in violation of international humanitarian law. Reports have also emerged during the current conflict of Hamas urging residents to ignore Israeli warnings to evacuate.
However, these calls may have been motivated by a desire to minimize panic and displacement, in any case, such statements are not the same as directing specific civilians to remain in their homes as "human shields" for fighters, munitions, or military equipment.
Under international humanitarian law even if "human shields" are being used Israel's obligations to protect these civilians would still apply. (Human shields is what Israel practice at a wide scale)
7. There are reports that Israeli forces have used flechettes in the current military operation in the Gaza Strip. What is Amnesty International's position on the use of flechettes? Has the Israeli military used flechettes in Gaza before?
Flechettes are 3.5cm-long steel darts, sharply pointed at the front, with four fins at the rear. Between 5,000 and 8,000 of these darts are packed into shells which are generally fired from tanks. The shells explode in the air and scatter the flechettes in a conical pattern over an area about 300m by 100m.
Flechettes are designed to be used against massed infantry attacks or squads of troops in the open, and obviously pose a very high risk to civilians when fired in densely populated residential areas.
Local human rights groups have reported cases in which civilians in Gaza have been killed and injured by flechette shells. Amnesty International has not yet been able to verify particular cases during the current hostilities, but has previously documented Israeli forces' use of flechette rounds, for example during Operation "Cast Lead", resulting in the killing of civilians, including children.
Flechettes are not specifically prohibited by international humanitarian law per se, however, they should never be used in densely populated areas.
8. What is Amnesty International calling on the international community to do at this point?
All states (particularly key suppliers, for example USA for Israel) must suspend all transfers of weapons, munitions and other military equipment and technology to all sides until there is no longer a substantial risk that such items will be used for serious violations of international humanitarian law or serious human rights abuses.
The suspension should include all indirect exports via other countries, the transfer of military components and technologies and any brokering, financial or logistical activities that would facilitate such transfers.
States should use the 2009 report of the UN Fact-Finding Mission on the Gaza Conflict and the upcoming report of the commission of inquiry mandated this week by the Human Rights Council as a basis to exercise universal jurisdiction to investigate and prosecute crimes under international law before their national courts.
For regaining confidence in Capitalism and sustainable growth: What is "Gold-paper currencies"?
Posted on December 1, 2008
I have this gut feeling that, if one major superpower does not adopt for a period gold currency, then confidence in paper money or investment gimmicks is No longer going to fly.
In these uncertain financial crisis and economical deflation, I suggest a psychological incentive for people to recover some sense of value to their currencies.
My idea is to issue hard currencies that are an alloy containing the quantity of gold commensurate to the large denominations. This currency would be almost as thinner than paper money and more durable, and could not be forged, unless the amount of gold is Not the same as the officially issued currencies.
This project should be feasible: Gold can be made as thin as needed, and if we find a cheap metal or plastic that can add resistance and flexibility to the currency to be folded, and handled as paper money then everybody would be satisfied.
At first, the gold paper-like money could be distributed at a rate of say 1% higher over its real value to recover the upfront expenses, in addition to the increase in market value of gold, averaged once a week.
These extra expenses would not discourage the use of paper money for those who could not afford the extra cost of gold currencies.
The higher denomination currencies would be larger in order to keep the same thickness as the other smaller denominations. As the value of gold would certainly keep increasing, the government would, at interval, retrieve the older currencies from the market and replace them with smaller size currencies containing the market value of the amount of gold in the alloy.
This idea is logical because the gold-paper currencies would require less gold as its value increases.
Travelers could then exchange their State own gold-paper money abroad and register them at any bank for Interpol investigations in case of thefts and get exactly the same money value of the respective States.
Obviously, all governments that signed in to this system would have to submit to international control when issuing gold-paper money for credibility and quality reasons.
I believe that with real gold-paper money then the businesses of currency speculations and rate of exchanges should wane and quickly disappear.
What might remain is currency trade or the accumulation of gold in rich sovereign funds.
The governments would quickly learn to issue enough gold-paper currency to satisfy internal commerce.
The superpowers and regional powers would exercise political and military "incentives" on weaker and unstable States to issue more gold-paper currency than needed for inner commerce, but then they would have to deliver real gold and good value products to retrieve the surpluses.
The US Administrations do not have real value money or real value economy to hoard gold and will not be able to do so for many decades to come. Only China, India and the rich oil-producing States with small populations would be the major players in currency trade of gold-paper money.
There are several policies that governments would revisit to manage this new system.
Governments might issues a composite weight of the amount of gold-paper and regular paper money that should satisfy internal commerce. 
Either the gold-paper money would concentrate in the hands of the rich and thus reducing commerce to regular money, with industries specialized in high quality and luxury products for the rich and industries focusing on lower quality and basic products for the masses.
Or the little people would not desist from the gold-paper and use them as personal saving account in their homes and thus deflation would hit the economy due to the lack of currency circulation.
Consequently, governments would have choices to either limit the amount of gold-paper in circulation to encourage circulation of money or eliminate regular paper currencies to force the masses into liberating their hoarded gold-paper.
The same pitfalls and recurrences of the present monetary system would be exhibited, but the remedies would be more straightforward to comprehend by the common people.
An interesting phenomenon will emerge: cultures where mostly little people horde the gold-papers and cultures where gold-papers are concentrated in the class of the rich.
Well, if there is civilization clashes then this division between the two types of cultures would set the foundations for a new sociology science where the manipulation of hard money is the first principle.
This system would require many fine tuning but the advantages must far exceed the disadvantages for smaller and weaker States.
Countries with real value-added economies would not be affected by any mischievous financial embezzlement schemes in destabilizing their financial status because the middle classes would have re-learned the value of hard money and desist from speculative schemes for some times.
This re-learning process of the value of real hard money is the fundamental benefit of the new system so that financial history would repeat its cycle of development for the century.
In any case a genuine International Monetary Control and Management Fund would be instituted to focus on the circulation of money within and among States and help in the synchronization of real commerce.
The crux of this gold-paper currency system is to stabilize growth to a sustainable level for human kind.
Since gold is limited on Earth and its production has reached a limit, wild GNP rate of increases would slow down; redundant and irrelevant consumer products would make room for basic products essentials for the survival of mankind.
The new economical strategies would focus on cutting cost, cutting waste, re-cycling and vigorously researching for substitute renewable energies for the benefit of all States.
Flechette shells spraying out thousands of tiny lethal darts.
Posted on January 6, 2018
Israel using flechette shells in Gaza
Palestinian human rights group accuses Israel military of using shells that spray out thousands of tiny and potentially lethal darts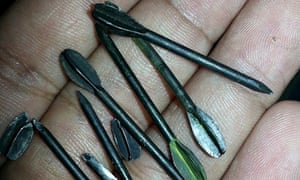 Harriet Sherwood in Jerusalem @harrietsherwood. Sun 20 Jul '14
The Israeli military is using flechette shells, which spray out thousands of tiny and potentially lethal metal darts, in its military operation in Gaza.
Six flechette shells were fired towards the village of Khuza, east of Khan Younis, on 17 July, according to the Palestinian Centre for Human Rights.
Nahla Khalil Najjar, 37, suffered injuries to her chest, it said. PCHR provided a picture of flechettes taken by a fieldworker last week.
The Israel Defence Forces (IDF) did nNot deny using the shells in the conflict.
"As a rule, the IDF only employs weapons that have been determined lawful under international law, and in a manner which fully conforms with the laws of armed conflict," a spokesperson said in response to a request for specific comment on the deployment of flechettes. (Are cluster bombs and phosphorous weapons lawful too?)
B'Tselem, an Israeli human rights organisation, describes a flechette shell as "an anti-personnel weapon that is generally fired from a tank. 
The shell explodes in the air and releases thousands of metal darts 37.5mm in length, which disperse in a conical arch 300 metres long and about 90 metres wide".
The munitions are Not prohibited under international humanitarian law, but according to B'Tselem, "other rules of humanitarian law render their use in the Gaza Strip illegal. One of the most fundamental principles is the obligation to distinguish between those who are involved and those who are not involved in the fighting, and to avoid to the extent possible injury to those who are not involved.
Deriving from this principle is the prohibition of the use of an imprecise weapon which is likely to result in civilian injuries."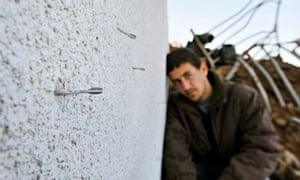 The legality of flechette munitions was upheld by the Israeli supreme court in 2002, and according to an Israeli military source, they are particularly effective against enemy fighters operating in areas covered by vegetation.
The source said a number of armies around the world deploy flechette shells, and that they were intended solely for use against legitimate military targets in accordance with international law.
The IDF has deployed flechette shells in Gaza and Lebanon before. B'Tselem has documented the deaths of nine Palestinians in Gaza from flechettes in 2001 and 2002.
Flechettes have also killed and wounded dozens of civilians, including women and children, in conflicts between Israel and Hezbollah in Lebanon.
The Israeli military deployed artillery shells containing white phosphorous in densely populated areas of Gaza during Operation Cast Lead in 2008 and 2009, causing scores of deaths and extensive burns.
It initially issued a categorical denial of reports of the use of white phosphorous, but later admitted it, saying the weapon was only used to create smokescreens.
Human Rights Watch said its use of the munitions in Operation Cast Lead was indiscriminate and evidence of war crimes.
In response to a legal challenge, the IDF said last year it would "avoid the use in built-up areas of artillery shells containing white phosphorus, with two narrow exceptions." The exceptions were not disclosed.
The Ex-Obama White House chief of staff Rahm Emanuel case: Father Specialized in Bus Bombings of civilians in Palestine
Posted on January 7, 2016
Wayne Madsen Special to Salem-News.com
Wikipedia deleted the page about Rahm Emanuel's father in 2008. Makes you wonder.

Irgun, the army of Rahm Emanuel's father, is short for Irgun Zvai Leumi– "National Military Organization" in Hebrew, was a terrorist Zionist group that operated in Palestine, killing innocent Palestinians and British soldiers; blowing up buildings.
(WASHINGTON D.C.) – Note from Publisher: In an effort to assist our government in keeping information "transparent", we are publishing this important article by Wayne Madsen, on the father of Rahm Emanuel.
You won't find his bio on wikipedia, or any where else easily accessed. It has been deleted.
Former White House Chief of Staff Rahm Emanuel held a top position in our country's leadership and his example of ethics and integrity is of the highest importance.
This is not diminished regardless of his aspirations to leave the national spotlight and become the mayor of Chicago.
But, it seems, some secrets must just be harder to share. This revealing article will leave you with a better understanding of why no one wants to talk about Benjamin Emanuel. And why they should.
– Bonnie King
A
well-placed British source informed WMR that Rahm Emanuel's father, Benjamin Emanuel, specialized in the terrorist bombings of buses carrying British troops and policemen during the British Mandate in Palestine.
British MI-6 files contain information on the elder Emanuel's participation in the terrorist activities of Irgun Zvai Leumi, a Jewish terrorist organization that targeted British forces, UN officials, and Palestinian Arabs in the lead up to Israeli independence in 1948.
Emanuel's father Benjamin was part of
the Israeli assassin team that murdered
Sweden's Count [Folke] Bernadotte in '48.
Bernadotte was the UN envoy in Palestine
who sought to find a solution to the UN
Partition Plan that gave Palestinian land
to Jews from "beyond the pale."
Benjamin Emanuel, a Jew from Russia whose real name was Ezekiel Auerbach, was arrested by British police for terrorist activities in the months prior to Israeli independence.
Many of the British policemen killed by Emanuel and his Irgun colleagues between 1947 and 1948 had been transferred to Palestine upon Indian and Pakistani independence in 1947. Irgun saw the increase of British policemen from the Indian subcontinent as a major threat.
The Jewish terrorist murders of British troops and policemen resulted in massive anti-Jewish riots in London, Liverpool, Glasgow, Manchester, and Cardiff in 1947.
In 1946, Emanuel's Irgun bombed the King David Hotel in Jerusalem, killing 91 people, including 28 British soldiers and policemen.
British intelligence also believed that Benjamin Emanuel may have been related to Vladimir Jabotinsky, a Russian Jew from Odessa who founded Irgun.
Jabotinksy, who was an admirer of Benito Mussolini and who secretly negotiated for the expatriation of Jews to Palestine with the Nazi government in Germany and Admiral Miklos Horthy's pro-Nazi regime in Hungary, died of a heart attack in New York in 1940.
Wikipedia deleted Benjamin Emanuel's entry in 2008*, shortly after Rahm Emanuel was designated as President Obama's chief of staff.
Wikipedia is a favorite device for the perception management goals of Dr. Cass Sunstein, Obama's director of the White House Office of Regulatory Affairs.
With a record of terrorist acts contained in his MI-6 files, Benjamin Emanuel was permitted by U.S. authorities to emigrate to Chicago from Israel in the 1950s, becoming a citizen. Rahm Emanuel was born in 1959.
*See the original (now deleted) Wikipedia page on Benjamin Emanuel, CLICK HERE.
(Previously published in the Wayne Madsen Report. May 13, 2010)
Most powerful USA/Israel bombs raining on Gaza
I am writing to you from Palestine with a broken heart. Children are being killed. 
I just watched one of them being brought to the hospital. His name is Hamza Nassar. He was just 11 years old.
This vicious spiral of oppression and violence must end.
Our strategy must be to make the economic cost of this conflict too high to bear. It worked to end apartheid in South Africa, and it can end Israeli apartheid in Palestine. Join the call for sanctions on Israel — stand up for freedom and justice.
For many of us reading, Hamza will become a statistic. A number that passes in the news cycle.
(No coverage of colonial powers media on the murder and suffering of the "Palestinian" kids in Gaza and the West Bank)

But Hamza is not a number, he is someone's son. A brother. A grandchild. A classmate. He was a beautiful dream of a brighter future. And now he is gone, forever. 

This spiral of oppression and violence must end. The only way to stop Israel forcing Palestinians from their lands, the collective punishment of innocent families, Israel bombing Gaza is to make the economic cost of this conflict too high to bear.

This strategy was key to ending Apartheid in South Africa, and it will be key to finally achieving peace in the Middle East. But it won't succeed unless there's a massive global movement behind it — and that's where every one of our voices counts.

When this is huge, we'll take it directly to members of the UN Security Council demanding sanctions on Israel until it puts an end to the military occupation.

Add your name now, and let's make sure Hamza's death is not in vain and no more dreams are vanished.
End the spiral of violence: Sanction Israel Now.

Currently, the Israeli government and extremist settlers make BILLIONS of dollars from the oppression of Palestinians. The settlers stealing the homes of Palestinians are often funded and supported by the Israeli government and USA taxpayers, which allows them to live a subsidized life on land they steal.

The Israeli government steals water and other natural resources from the Palestinian territories it occupies, while many Palestinians are forced to become cheap labour.

Before selling weapons and surveillance technologies to violent regimes, such as the military in Myanmar and dictatorship in Saudi Arabia, Israel often experiments with them on Palestinian communities.

To make freedom and peace viable, we need to shift this broken system that makes crimes against humanity a for-profit endeavor. 

Israel currently occupies, colonises, bombs, raids, and controls the water, trade and the borders of Palestine — a legally free nation that has been recognised by the United Nations.

In Gaza, Israel has created the largest open-air prison in the world, and then blockaded it. Now as bombs fall, the families have no way to escape.

These are war crimes and we wouldn't accept them anywhere else.

The Israeli government, occupying settlers AND extremists and corrupt leaders benefit from the status quo, and for too long the international community has ignored Palestinian suffering.

To bring peace to the Middle East, that must change. And now is the moment to change it. This must end. 

Israel's power and wealth dwarfs that of Palestine, and if it refuses to end its illegal occupation, the world must act to make the cost unbearable.

Calling for sanctions on Israel is the most potent non-violent strategy to ensure sustainable peace for Israelis and achieve Palestinian freedom and justice. 


With hope and determination,

Fadi, Marie, Christoph, Mo, Nax, John, Risalat, and the entire Avaaz team.
For more information:
.

Human Rights Watch Report: Israel committing crime of apartheid

Israel's actions in East Jerusalem are a human rights test for Biden (Vox)

Israeli police storm al-Aqsa mosque ahead of Jerusalem Day march (The Guardian)

What is happening in occupied East Jerusalem's Sheikh Jarrah? (Al Jazeera English)

Hamas fires rockets into Israel after clash at Al-Aqsa Mosque; 20 reported dead in Gaza from Israeli airstrikes (Associated Press)