Archive for May 15th, 2021
Flechette shells spraying out thousands of tiny lethal darts.
Posted on January 6, 2018
Israel using flechette shells in Gaza
Palestinian human rights group accuses Israel military of using shells that spray out thousands of tiny and potentially lethal darts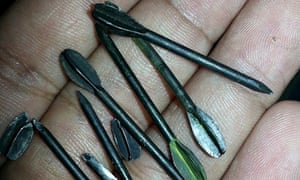 Harriet Sherwood in Jerusalem @harrietsherwood. Sun 20 Jul '14
The Israeli military is using flechette shells, which spray out thousands of tiny and potentially lethal metal darts, in its military operation in Gaza.
Six flechette shells were fired towards the village of Khuza, east of Khan Younis, on 17 July, according to the Palestinian Centre for Human Rights.
Nahla Khalil Najjar, 37, suffered injuries to her chest, it said. PCHR provided a picture of flechettes taken by a fieldworker last week.
The Israel Defence Forces (IDF) did nNot deny using the shells in the conflict.
"As a rule, the IDF only employs weapons that have been determined lawful under international law, and in a manner which fully conforms with the laws of armed conflict," a spokesperson said in response to a request for specific comment on the deployment of flechettes. (Are cluster bombs and phosphorous weapons lawful too?)
B'Tselem, an Israeli human rights organisation, describes a flechette shell as "an anti-personnel weapon that is generally fired from a tank. 
The shell explodes in the air and releases thousands of metal darts 37.5mm in length, which disperse in a conical arch 300 metres long and about 90 metres wide".
The munitions are Not prohibited under international humanitarian law, but according to B'Tselem, "other rules of humanitarian law render their use in the Gaza Strip illegal. One of the most fundamental principles is the obligation to distinguish between those who are involved and those who are not involved in the fighting, and to avoid to the extent possible injury to those who are not involved.
Deriving from this principle is the prohibition of the use of an imprecise weapon which is likely to result in civilian injuries."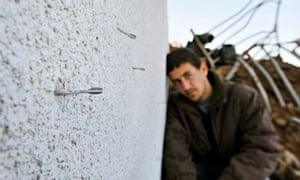 The legality of flechette munitions was upheld by the Israeli supreme court in 2002, and according to an Israeli military source, they are particularly effective against enemy fighters operating in areas covered by vegetation.
The source said a number of armies around the world deploy flechette shells, and that they were intended solely for use against legitimate military targets in accordance with international law.
The IDF has deployed flechette shells in Gaza and Lebanon before. B'Tselem has documented the deaths of nine Palestinians in Gaza from flechettes in 2001 and 2002.
Flechettes have also killed and wounded dozens of civilians, including women and children, in conflicts between Israel and Hezbollah in Lebanon.
The Israeli military deployed artillery shells containing white phosphorous in densely populated areas of Gaza during Operation Cast Lead in 2008 and 2009, causing scores of deaths and extensive burns.
It initially issued a categorical denial of reports of the use of white phosphorous, but later admitted it, saying the weapon was only used to create smokescreens.
Human Rights Watch said its use of the munitions in Operation Cast Lead was indiscriminate and evidence of war crimes.
In response to a legal challenge, the IDF said last year it would "avoid the use in built-up areas of artillery shells containing white phosphorus, with two narrow exceptions." The exceptions were not disclosed.
The Ex-Obama White House chief of staff Rahm Emanuel case: Father Specialized in Bus Bombings of civilians in Palestine
Posted on January 7, 2016
Wayne Madsen Special to Salem-News.com
Wikipedia deleted the page about Rahm Emanuel's father in 2008. Makes you wonder.

Irgun, the army of Rahm Emanuel's father, is short for Irgun Zvai Leumi– "National Military Organization" in Hebrew, was a terrorist Zionist group that operated in Palestine, killing innocent Palestinians and British soldiers; blowing up buildings.
(WASHINGTON D.C.) – Note from Publisher: In an effort to assist our government in keeping information "transparent", we are publishing this important article by Wayne Madsen, on the father of Rahm Emanuel.
You won't find his bio on wikipedia, or any where else easily accessed. It has been deleted.
Former White House Chief of Staff Rahm Emanuel held a top position in our country's leadership and his example of ethics and integrity is of the highest importance.
This is not diminished regardless of his aspirations to leave the national spotlight and become the mayor of Chicago.
But, it seems, some secrets must just be harder to share. This revealing article will leave you with a better understanding of why no one wants to talk about Benjamin Emanuel. And why they should.
– Bonnie King
A
well-placed British source informed WMR that Rahm Emanuel's father, Benjamin Emanuel, specialized in the terrorist bombings of buses carrying British troops and policemen during the British Mandate in Palestine.
British MI-6 files contain information on the elder Emanuel's participation in the terrorist activities of Irgun Zvai Leumi, a Jewish terrorist organization that targeted British forces, UN officials, and Palestinian Arabs in the lead up to Israeli independence in 1948.
Emanuel's father Benjamin was part of
the Israeli assassin team that murdered
Sweden's Count [Folke] Bernadotte in '48.
Bernadotte was the UN envoy in Palestine
who sought to find a solution to the UN
Partition Plan that gave Palestinian land
to Jews from "beyond the pale."
Benjamin Emanuel, a Jew from Russia whose real name was Ezekiel Auerbach, was arrested by British police for terrorist activities in the months prior to Israeli independence.
Many of the British policemen killed by Emanuel and his Irgun colleagues between 1947 and 1948 had been transferred to Palestine upon Indian and Pakistani independence in 1947. Irgun saw the increase of British policemen from the Indian subcontinent as a major threat.
The Jewish terrorist murders of British troops and policemen resulted in massive anti-Jewish riots in London, Liverpool, Glasgow, Manchester, and Cardiff in 1947.
In 1946, Emanuel's Irgun bombed the King David Hotel in Jerusalem, killing 91 people, including 28 British soldiers and policemen.
British intelligence also believed that Benjamin Emanuel may have been related to Vladimir Jabotinsky, a Russian Jew from Odessa who founded Irgun.
Jabotinksy, who was an admirer of Benito Mussolini and who secretly negotiated for the expatriation of Jews to Palestine with the Nazi government in Germany and Admiral Miklos Horthy's pro-Nazi regime in Hungary, died of a heart attack in New York in 1940.
Wikipedia deleted Benjamin Emanuel's entry in 2008*, shortly after Rahm Emanuel was designated as President Obama's chief of staff.
Wikipedia is a favorite device for the perception management goals of Dr. Cass Sunstein, Obama's director of the White House Office of Regulatory Affairs.
With a record of terrorist acts contained in his MI-6 files, Benjamin Emanuel was permitted by U.S. authorities to emigrate to Chicago from Israel in the 1950s, becoming a citizen. Rahm Emanuel was born in 1959.
*See the original (now deleted) Wikipedia page on Benjamin Emanuel, CLICK HERE.
(Previously published in the Wayne Madsen Report. May 13, 2010)