Archive for October 16th, 2021
Note: I rode 1,000 km by bus from Izmir to Adana 2 years ago, with a touring company. Is it possible to try these feats again? Anywhere? I encountered thousands upon thousands of Chinese, Japanese and Kazakhstan… tourists, all in buses and on time.
Istanbul~ a 7 day Journey by ~mimo~

Windows to the soul~

Pandemic days
~


Through glass window

Waking up in the second morning here in Istanbul to the sound of the call to prayer, a stark reminder of where I am, traveling again, exploring the amazing quirkiness of another culture and the inner worlds of other people. (Including the 4 eastern European States to join EU?)

What first met me in Istanbul on this trip was incredibly unrelenting traffic jams, impossibly busy streets, strange smells and sounds, enchanting architecture and local color, but most importantly, HUMANITY.

It's a great reminder of why I love to travel and why I do what I do. It's the people.

The common thread that binds us all together, we are born here on this planet and find ourselves in this strange, difficult at times and yet irresistible journey of life, finding hope around every corner.

It took coming to a place like this to reignite my wish to write and share these impressions…
From a hotel room overlooking the ferry station in Kadikoy, it's 6 am, still dark and I can hear and see the rain washing this bustling city.

Note: I wish I can in the future tour Iran, a vast and more historical and beautiful country. The problem is that Iran is still Not ready to welcome tourists and show them their beautiful girls…

L'Orient Today /
By Nour BRAIDY, 12 October 2021
Nobel Prize laureate Ardem Patapoutian's story begins with an Armenian family living in the heart of Beirut, eight years before the outbreak of the 1975–90 Civil War.
It reached another pinnacle this past week with the announcement of the winners of the Nobel Prize in Physiology or Medicine in Stockholm.
Born in Beirut in 1967, Patapoutian is the son of an accountant and a school principal. He left Lebanon for the United States during the Civil War.
Although Patapoutian says he was an average student as a boy before discovering his passion, he has now received the most prestigious of scientific awards — much to his great surprise.
At 54, the biologist of Lebanese-Armenian origins and his colleague, David Julius, were awarded the 2021 Nobel Prize in Physiology or Medicine.
A neuroscience professor at the Scripps Research Institute in La Jolla, California, and a scientific investigator at the Howard Hughes Medical Institute, Patapoutian was awarded for his 12-year research that made it possible to discover biological receptors for temperatures and touch.
Contacted by L'Orient-Le Jour after the announcement of the list of winners, Patapoutian said things were still "crazy and surreal" to him.
"You hear a lot of people saying, 'Oh, I think you are going to win the Nobel Prize,' but you put those thoughts away because there are so many people who deserve it and I have always said that wanting to win or expecting to win is not good for your soul. It's not the point of science," he says.
Ardem Patapoutian on a swing as a child with his father in West Beirut. (Photo courtesy of Ardem Patapoutian)
An unexpected career path
During his years in Lebanon, it never occurred to Patapoutian that he could embark on such a career path.
"I was 8 years old when the Civil War started. So unfortunately a lot of my childhood was tainted by that experience. But at the same time, I had wonderful years in Lebanon," recalls the biologist, who is the youngest of three siblings.
Patapoutian vividly remembers his basketball team, the scouts, "the warmth of everyone," "the good meals," "the picnics we used to take by the mountains" and "putting the watermelon in the creek to cool it down."
Patapoutian went to Armenian schools in Beirut, first to Demirjian and then Hovagimian-Manougian. By his 10th year of school, only five students were in his class.
"I was ranked third out of five, so average student," the biologist says, adding that his "Arabic was never that good."
A self-described "late bloomer," Patapoutian excelled as a student when he joined the Raouda School and the American University of Beirut. He studied chemistry at AUB from 1985 to 1986 before deciding to leave the country for the US.
His decision to pack his bags and leave came after a particularly disturbing event. One morning, he was captured by "armed militants," who held him for a few hours.
"When I got home, I said to myself, 'That's it. I'm out of here,'" Patapoutian recalls.
Leaving Lebanon and his friends was "very difficult."
"I couldn't go to college in the first year in America. We weren't really well off," he says.
He took on several jobs. He was editor in chief of the English section at an Armenian newspaper, where he was asked to write horoscopes. In the evening, he was a pizza delivery guy.
"Lebanon taught me to be tough, and that really helped me in America, both in life and in science," Patapoutian says.
A year after arriving in the US, he was admitted to the University of California, Los Angeles (UCLA) for cell and developmental biology studies.
At first, he thought he might pursue medical studies, so he joined a laboratory to make a good impression and obtain a letter of recommendation.
"But there, I fell in love with research, and it changed the course of my career," he says.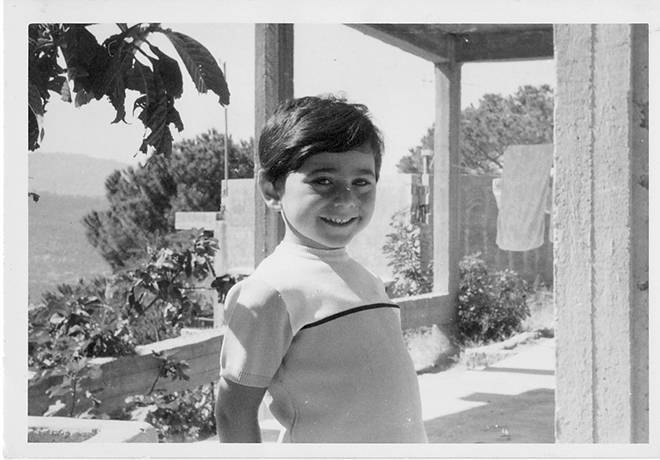 Ardem Patapoutian as a child in Broumana (a resort town in Lebanon). (Photo courtesy of Ardem Patapoutian)
'Breakthrough discoveries'
After earning his bachelor's degree, Patapoutian obtained a PhD in biology from the California Institute of Technology in 1996. He then became a postdoctoral researcher at the University of California, San Francisco.
In 2000, he joined the Scripps Research Institute as an assistant professor. He then went on to win the prestigious Kavli Prize in Neuroscience along with Julius, and then joined the American Academy of Arts and Sciences and the National Academy of Sciences.
Above all, his research was motivated by his curiosity about touch receptors.
"We have learned a lot about sight, taste and smell over the decades, but we didn't know much about the fifth sense," he explains.
In his research, Patapoutian used pressure-sensitive cells to discover a novel class of sensors that respond to mechanical stimuli in the skin and internal organs.
The Nobel Assembly described Patapoutian and Julius' research as "breakthrough discoveries" that made it possible to understand "how our nervous system senses heat, cold, and mechanical stimuli," which is "essential for our adaptation to the constantly changing surroundings."
This knowledge is used to "develop treatments for a wide range of disease conditions, including chronic pain."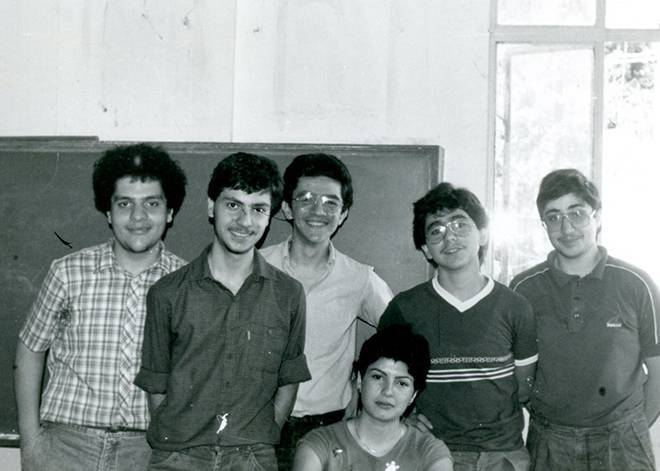 Ardem Patapoutian (second from right) with his teacher and his classmates at school. (Photo courtesy of Ardem Patapoutian)
'I think you won the Nobel Prize'
The thought of winning the Nobel Prize was so far away for Patapoutian that he had his phone on Do Not Disturb mode on the evening the winners were announced.
After several failed attempts to reach him, Thomas Perlmann, the Nobel committee's secretary, finally got ahold of Patapoutian's father to tell him the good news.
But it was almost 2 a.m. in Los Angeles, and the nighttime phone call did not seem to delight Sarkis Patapoutian, 94.
"I was told he sounded upset at first. I think he was excited but a bit panicked," the researcher recounts. "He then told me, 'I think you won the Nobel Prize.'"
Patapoutian, who is married and has a son, Luca, 17, was overwhelmed by the reactions of Lebanese and Armenians, as well as his relatives.
"It was really wonderful," he said.
"I don't want to change my lifestyle or get special treatment. I just want to keep going to the lab and continue doing what I do," Patapoutian said.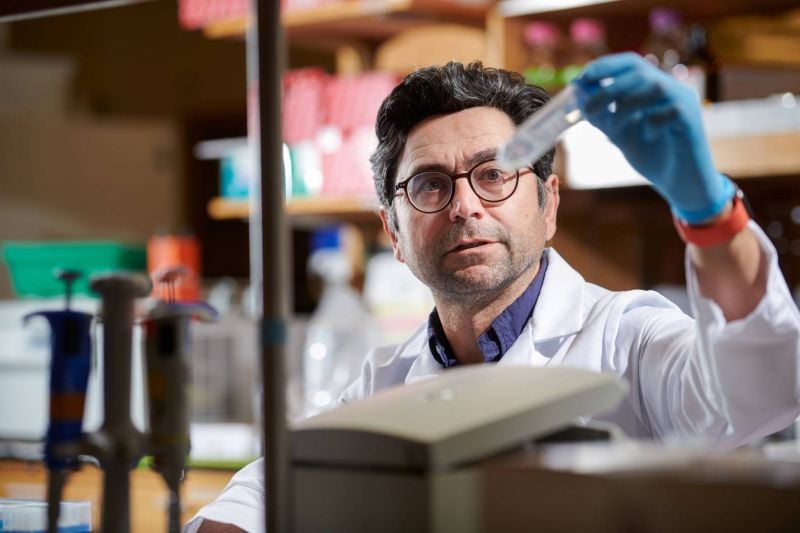 Ardem Patapoutian, a co-recipient of the 2021 Nobel Prize in Physiology or Medicine. (Credit: Scripps Research/Handout via Reuters)