Archive for the 'Africa/Agriculture' Category
Sustainable agriculture in the Middle East: Environmental emergency and food security challenge
Fabienne Durand , Political scientist consultant on sustainable development and global warming.
The Covid crisis has highlighted the need to relocate what is essential, such as food and drug production.
In the Middle East, it is clear that the supply of basic foodstuffs depends heavily, and increasingly so, on international markets, as arable land and water resources are becoming increasingly scarce.
Policies support the production and consumption of cereals, with the result that these water-demanding products, especially wheat, which is a major component of the calorie intake, take up 65% of the cultivated area.
Food consumption is projected to grow in the region, with a gradual shift in diet towards animal products.
And when we talk about animals, we are talking about livestock farming, and therefore about agricultural areas dedicated to food production to feed farm animals, which are voracious for water.
Water use is expected to remain at unsustainable levels and dependence on global markets is expected to increase, if nothing changes.
A sustainable turnaround is needed more than ever in the world, and even more so in this environmentally fragile and geopolitically unstable part of the world.
As one of the world's largest importers of food products, the Middle East faces many uncertainties on both the supply and demand sides.
Uncertainty regarding the supply side is particularly linked to the limits and sustainability of the spaces that lend themselves to production.
On the demand side, the uncertainties are the result of the repercussions of conflicts on the geopolitical level and the instability of the world markets for hydrocarbons, which constitute the first of the region's sources of economic wealth, which are not sustainable.
This poses increasing food and nutritional problems. A major concern is that the region's supply of key food products is highly, and increasingly, dependent on international markets.
This situation has led to the adoption of measures that seem inappropriate in view of the resources available in the region. For example, the region is among the poorest in terms of water and arable land in the world, but water prices are among the lowest in the world and the region heavily subsidised water consumption up to about 2% of its GDP.
Regenerating the soil is a real problem, as the region's crop rotation is difficult to reconcile with the scarcity of water. For example, water-hungry cereals still account for 60% of the harvested area, even though most countries in the region have a comparative advantage in the export of fruit and vegetables.
One of the main reasons for the apparent inconsistency between policy and water scarcity is a vision of food security that aims to reduce dependence on imports, especially of cereals. Yet many countries subsidise the consumption of staple foods and this policy, combined with rising incomes, encourages excessive consumption of starchy foods and sugars, leading to nutritional and health problems such as obesity and diabetes, according to the latest FAO reports.
Food security is affected by conflicts and agricultural choices in this fragile region. It affects 30 million people, particularly in Yemen, Syria, Iraq and Sudan. This food security is more than ever a challenge. The support of public authorities is not enough. We need to put in place strategies and a more virtuous agriculture as in the time of the physiocrats.
The Middle East is a difficult environment for agriculture. Water and soil resources are scarce and land, both irrigated and non-irrigated, is constantly suffering degradation caused by wind and water erosion and unsustainable agricultural practices.
In most countries in the region, farms are quite small and their owners therefore face the same difficulties as small-scale producers around the world.
Climate change in the region is resulting in a warmer and drier climate and increasing water stress.
In addition to the lack of arable land, the cultivated soils are severely degraded, to the extent that they have lost 30-35% of their potential productivity.
Ploughing depletes the soil, causing harmful effects such as a decrease in water and organic matter content, making the soil more vulnerable to wind and water erosion.
Land productivity is low in the region.
It is also very uneven and can only aggravate tensions between states, but also generate problems of political stability in the region.
Let us not forget that the drought in Syria caused a massive rural exodus of the population to Damascus, which contributed to the destabilisation of the regime in 2011.
And Egypt, with its rich soils, irrigated cereal production and almost no grazing land, is clearing more than $6,000 per hectare from its agricultural land, while Bahrain, which is content to grow horticultural and livestock crops, is clearing more than $4,000 per hectare.
Similarly, in Jordan, Lebanon, the Palestinian territories, the United Arab Emirates and Kuwait, the value of production per hectare amounts to more than $1,000, with a very small area under cereals.
Finally, water is a real issue in the Middle East, beyond conflicts.
The problem stems from the scarcity of the resource, but also from the unsustainable use of surface and underground water, which is causing the depletion of the aquifers on which the Middle East is highly dependent. The unsustainable use of water is encouraged by the policies pursued and by poor governance of the resource, irresponsible as in Iran.
Water prices in the region are, of course, the lowest in the world, as water consumption is subsidised (around 2% of GDP). However, the majority of countries in the region are below the generally acceptable "water scarcity threshold" of 1,000 m3 per capita per year of renewable water resources.
Agriculture is the sector that uses the most water in each country. In addition, improved water management in the agricultural sector is essential to halt land degradation and enable adaptation to climate change.
What would be the medium-term solutions for the agricultural, fisheries and aquaculture sectors? Awareness of environmental problems is fundamental.
This will require the use of the media to enlighten and influence public opinion. Education and training in sustainable problems and solutions are also essential to reverse the trend.
We know that regenerative agriculture is the main way to contribute to the reduction of temperatures by capturing CO2. It is important to better manage water resources and to save and regenerate the soil, through no tillage (ploughing) or minimal tillage, and to ban the use of plant protection products.
The roots remaining from the previous crop stabilise the soil, protecting it from erosion, and the organic matter on the surface improves the fertility and water-holding capacity of the soil.
Seed drills (machines) can be used to insert seeds and fertilisers directly into the soil without ploughing. Admittedly, seed drills are expensive (about $30,000) and the majority of smallholders cannot afford to buy one.
For example, the International Centre for Agricultural Research in the Dry Areas and the Australian government have encouraged the collaboration of local farmers and artisans to produce and sell at an affordable cost nearly 200 seed drills that are now being used in Syria, Iraq, Lebanon and Jordan.
Moreover, the size of farms in the Middle East is one of the most unequal in the world.
In some countries in the region (Egypt, Yemen, Jordan, Lebanon and Iran), the majority of farms are smaller than one hectare.
At the other end of the spectrum are a relatively small number of large farms owned by a small number of landowners or the state. Because of their size, small farms do not qualify for public support or bank loans.
Sectoral 'modernisation' measures have largely excluded small farms from public support: as a result, they are not expanding, are technologically backward and remain poor. There is an urgent need to subsidise these small farms to start the transition.
Soil data are important for farmers and decision-makers. Faced with the outdated soil maps available in the countries of the region, the Institute of Digital Soil Mapping in Amman serves as a regional platform for a global consortium of scientists and researchers.
Thus, on GlobalSoilMap.net you will find data from several sources for all audiences. The data can indicate soil pH, volume of water stored, electrical conductivity and carbon content. They are obtained by remote sensing, near and mid-infrared spectroscopy and field sampling.
The Global Soil Partnership system of the International Network of Soil Information Institutes can also be used.
On this topic as on others, whether it is the urban or rural universe, which says "sustainable" says "green" and "smart".
It is too often forgotten that the sustainable future depends on this and on the development of another cognitive matrix.
* Political scientist consultant on sustainable development and global warming.
France's nuclear colonial legacy in Algeria
Malia Bouattia Feb. 12, 2021
President Emmanuel Macron's recent statement that a "memories and truth" commission will be established to look into the history of the French colonisation of Algeria, has led to much public discussion over this bloody legacy.
And in this context, the absence of apologies or offers of reparations by the French state has not gone unnoticed. 
One area of particular contention in this process is the ongoing and detrimental effects of France's nuclear testing in Algeria, (open air testings) conducted throughout the 1960s. 
France conducted its first nuclear test known as the "Gerboise Bleue" in February 1960 in the Sahara Desert – an atomic bomb that was 4 times the strength of Hiroshima. 
A total of 17 tests were carried out, four of them atmospheric detonations, and 13 underground.
Mustapha Khiati, president of the National Foundation for Health Progress and Research Development (FOREM) in Algeria, states that France had actually conducted 57 nuclear tests. In addition to the 17 tests, which are often mentioned, another 35 took place in Hammoudia in the Reganne region of the Sahara, and five nuclear experiments in In Ecker.

Nuclear testing continued in the region until 1966, four years after the independence of Algeria from French colonial rule, due to a clause in the Evian Accords which were signed by the Provisional Government of the Algerian Republic (GPRA).
The accords established the parameters for Algerian independence. The defeated colonial power demanded to be able to continue to destroy Algeria's environment and poison its people. 
At the time of the tests, around 40,000 people lived in the affected area, and the tests had a horrific effect on these communities. Many were impacted directly, while others were poisoned over time due to the radiation. In fact, 60 years after Gerboise Bleue, babies are still being born with illnesses and malformations. 
The destruction caused to the land and animal species in the Sahara is also often overlooked. The radiation has caused a reduction in livestock and biodiversity as well as the vanishing of certain migratory birds and reptiles. The tests even led to the movement of sand dunes.
| | | | | |
| --- | --- | --- | --- | --- |
| | | Algeria is still waiting to be told where the toxic waste was buried | | |
"These nuclear tests need to be seen in the context of a cruel and inhuman colonial experience that was synonymous with expropriation, genocide, racism and pauperisation," explains Hamza Hamouchene, co-founder of Algeria Solidarity Campaign and Environmental Justice North Africa.
Nuclear waste remains in the region with the French state refusing to take action to – literally – clean up its (radioactive) mess.
The International Campaign to Abolish Nuclear Weapons (ICAN) called on the French government to take responsibility for the long-term damage that it has caused.

In a report last year, the Nobel Peace Prize winning group highlighted that, "The majority of the waste is in the open air, without any security, and accessible by the population, creating a high level of sanitary and environmental insecurity".
In addition to all of this, Algeria is still waiting to be told where the toxic waste was buried, a demand that ICAN also stressed.
Jean-Claude Hervieux, a French electrician who worked on the nuclear testing efforts in Algeria told DW, "When we left Algeria, we dug large holes and we buried everything".

Furthermore, doubt continues to shroud all the facts related to these and other colonial crimes committed by the French state as they scrambled to maintain power over Algeria, and later refused to even acknowledge the chapter in the country's history.
Important archives pertaining to the 132 years of occupation are yet to be returned or made public, for example. 

The list of colonial horrors linked to these tests includes rounding up Algerians from internment camps and prisons and tying them to pillars to analyse the impact of nuclear explosions on their skin.
The victims of France's nuclear tests were not limited to Algerians (then and now).
The French government also faced backlash from former soldiers and settlers involved in the nuclear tests that were being conducted in Algeria. Veterans from the French colonisation of Polynesia have similarly since suffered the consequences of participating in these operations with little to no protection.

The French nuclear test veterans' association Aven, forced the state to recognise the suffering caused to some 150,000 military personnel.
Despite decades of denying that the tests led to their infertility and illnesses, the government introduced a bill that would compensate these victims.
Algerians, however, are yet to even receive a basic recognition for the consequences of these events. Just one Algerian among hundreds has reportedly been compensated so far.
This all adds further clarity as to why Macron decided not to apologise or pay reparations for the colonial crimes committed by his Republic: Not only would the reparations be considerable, but they would involve generations of Algerians who continue to be plagued by the consequences of France's desperate attempt to be recognised as a leading world power in the second half of the 20th century.
| | | | | |
| --- | --- | --- | --- | --- |
| | | He offers symbolic but broadly irrelevant gestures, and makes sure to avoid anything that could impact France's economic and political grip | | |
As Hamouchene aptly stated, it's not enough simply "denouncing these colonial and neo-colonial legacies, and raising awareness for the people whose health, bodies, land and livelihoods have been sacrificed in order to accumulate wealth and concentrate power […] we need to address these issues through a justice lens and through democratic and reparative ways (moral and material reparations)".
Given Macron has chosen "truth" as a key theme within the commission on French colonisation of Algeria, whether he will completely avoid recognition of this dark chapter – among many others – is yet to be seen.
Nevertheless, let's not hold our breath. Macron has been tactical in how he has approached the "reconciliation" that he has supposedly committed to with the Algerian state.

Returning the skulls of those Algerians barbarically killed for resisting French colonisation is meaningless in the face of the continued suffering and death of the earth, people and species in the Sahara desert at the hands of the same barbarians.
The French left no trace of their "civilising mission", despite their claims. Only death and destruction. Without recognition and reparation, that legacy will continue to live on. 
Note 1: No matter how loud are the current outcries, the activities of the administration of a "past" colonial power expresses its "pride" of having colonized other people. The administration reflects the "pride" of its people, of "past power" and its urge to rekindle that power in other forms and shapes.
Note 2: There is No logic in "political economics": this Europe that experienced successive famine periods, still colonized people who had learned to decently survive under their acquired customs and traditions. Political economics is a fancy term for wicked Greed.

Malia Bouattia is an activist, a former president of the National Union of Students, and co-founder of the Students not Suspects/Educators not Informants Network.

Follow her on Twitter: @MaliaBouattia

Have questions or comments? Email us at: editorial-english@alaraby.co.uk

Opinions expressed here are the author's own, and do not necessarily reflect those of her employer, or of The New Arab and its editorial board or staff.
Read more: How France's refusal to right historical wrongs marred a reconciliation project with Algeria
It is confirmed, until further notice: "Mankind is one of the Chimps tribes, and all immigrated from Africa 60,000 years ago…"
Posted on July 27, 2012
Note: In 2021, I watched a documentary for the discovery of several human bipeded in Asia, several thousands years before the One/Ones found in Africa. The question is: How to reconcile this variety of "human species" to converge into identical DNA, with slight differences in adaptation to environments and certain diseases.
I watched a documentary on the cable ARTE. All biologists, archeologist, gene scientists…pronounced the following "evidences":
1. Current mankind, the Cro-magnon, is one of the chimpanzee tribes.  We are not descended from chimp: We are chimps.
2. All mankind immigrated from Africa and reached all continents, travelling along sea and ocean shores…
3. This immigration aptitude and flexibility to varied climates and environmental conditions allowed mankind to reach America through the icy Bering Sea in Alaska (40,000 years ago) and needed 20,000 years more to land on the southern tip of Latin America. Consequently, the original inhabitant of Latin America are the freshest new comers, inhabiting this continent just in the last 20,000 years…
4. As the dark-skinned Cro-magnon landed in Europe, they discovered another mankind, the red-headed and lighter skinned Neandertal specie who was intelligent, had fabricated tools, and was more robust and bearded, with a lot of hair on the body…
5. The two species co-habited Europe for 10,000 years before the Neandertal disappeared for reasons still unknown…
6. About 12,000 years, mankind was mostly hunter/gatherer and only 200,000 of them roamed the earth…
7. A thousand-year after undertaking the cultivation of the land (as early as 12,000 years ago) mankind population increased one thousand fold…
8. When the Spanish Conquistador invaded Latin America, they believed that these hairless, elongated and tanned people must have a soul, but to a "lower level than their soul"…
9. The black specie in Africa were considered as the intermediary between chimps and mankind…Thus, Blacks had barely a soul and were used as slaves in any way conceivable…
10. Between the 5th and 15th century, the city of Angora (Cambodia) was vaster than New York City and had one million inhabitant. At the time, London was barely 50,000 strong… Many ancient cities were far larger than 100,000.
I have serious trouble with this consensus story:
1. How a population far less than 200,000 could inhabit every corner of earth 20,000 years ago?
2. I can admit that mankind is a branch of chimps tribes, but why it should be generated in a single continent? If the climatic and environmental conditions enabled the emergence of mankind, why it should be impossible that the same conditions generate mankind in every other continent?
3. If the DNA of chimps match mankind's at 99%, and this DNA is much closer to mankind than to gorillas, why mankind was originated solely in Africa? If this chimps tribe lived in equatorial or tropical dense forests by rivers and lakes, I think every continent enjoys the same conditions…
4. If mankind was barely able to start cultivation 12,000 years ago, how was he able to navigate seas and oceans and reach Australia, and cross straits (Bering, Gibraltar…) 40,000 years ago?
5. Isn't this philosophical concept of the One, One God, One single Big Bang for the creation of the Universe, One specie roaming the earth…that is blinding scientists from pondering on the alternative of the many origines?
6. Just the existence of the Neandertal specie in Europe before the Cro-magnon stepped on this continent should have flagged the scientists to explain this phenomenon…But they didn't even ask the question!
7. Mankind is this Chimps tribe that learned to fish and swim and walk in the water…
the Buoyancy of water in rivers and lakes lightened the weight and permitted mankind to walk longer distances while fishing, and strengthen the muscles of his back and abdomen… 
Gradually, mankind was capable of walking on his two hind legs for greater distances inland…
You may read how mankind managed to walk inland for long distance https://adonis49.wordpress.com/2012/03/24/two-species-of-mankind-sorted-out-not-long-ago/
"No Comments": Gracious kids in war-torn countries (Congo)
Posted on May 24, 2012
I loved many pictures of kids in war-torn countries such as Cambodia, the Congo, China, Somalia… who exhibit the spirit of joy and hope in Mimo's blog: 365 from the archive donotreply@wordpress.com and decided to share them with you.
I selected pictures of kids:
1. From Cambodia, a country that experienced three years of internal genocide by the radical Marxist Khmer Rouge power, 2 million and countless injured and handicapped people
2. From the vast Congo that experienced over 20 years of civil wars and fighting against neighboring countries, and had to deal with million of refugees flocking for "safety" in the genocide perpetrated in Rwanda and Uganda…
The first set of pictures are kids from the Congo, in refugee camps.
till we meet again
boys at work~ Goma
human eyes? (girl in Cambodia, just a preview for the next set of pictures)
a tougher life than most
adapting to a new life, refugee from the genocide in Rwanda
Looking ahead
girl in Goma refugee campdepth
boys at work~ Goma
Child Labor heavily abused in vegetable oil production
By ROBIN McDOWELL and MARGIE MASON
They are two young girls from two very different worlds, linked by a global industry that exploits an army of children.
Olivia Chaffin, a Girl Scout in rural Tennessee, was a top cookie seller in her troop when she first heard rainforests were being destroyed to make way for ever-expanding palm oil plantations.
Olivia, who earned a badge for selling more than 600 boxes of cookies, had spotted palm oil as an ingredient on the back of one of her packages but was relieved to see a green tree logo next to the words "certified sustainable." She assumed that meant her Thin Mints and Tagalongs weren't harming rainforests, orangutans or those harvesting the orange-red palm fruit.
But later, the whip-smart 11-year-old saw the word "mixed" in all caps on the label and turned to the internet, quickly learning that it meant exactly what she feared: Sustainable palm oil had been blended with oil from unsustainable sources. To her, that meant the cookies she was peddling were tainted.
On one of those plantations a continent away, 10-year-old Ima helped harvest the fruit that makes its way into a dizzying array of products sold by leading Western food and cosmetics brands.
Ima is among the estimated tens of thousands of children working alongside their parents in Indonesia and Malaysia, which supply 85% of the world's most consumed vegetable oil.
An Associated Press investigation found most earn little or no pay and are routinely exposed to toxic chemicals and other dangerous conditions.
Some never go to school or learn to read and write. Others are smuggled across borders and left vulnerable to trafficking or sexual abuse. Many live in limbo with no citizenship and fear being swept up in police raids and thrown into detention.
The AP used U.S. Customs records and the most recently published data from producers, traders and buyers to trace the fruits of their labor from the processing mills where palm kernels were crushed to the supply chains of many popular kids' cereals, candies and ice creams sold by Nestle, Unilever, Kellogg's, PepsiCo and many other leading food companies, including Ferrero – one of the two makers of Girl Scout cookies.
Ima, a girl who works informally to help her parents in a palm oil plantation, poses for a portrait in Sumatra, Indonesia. (AP Photo/Binsar Bakkara) Olivia Chaffin, 14, stands for a portrait with her Girl Scout sash in Jonesborough, Tenn. (AP Photo/Mark Humphrey)
Thousands of miles away in Indonesia, Ima led her class in math and dreamed of becoming a doctor. Then one day her father made her quit school because he needed help meeting the high company targets on the palm oil plantation where she was born. Instead of attending fourth grade, she squatted in the unrelenting heat, snatching up the loose kernels littering the ground and knowing if she missed even one, her family's pay would be cut.
She sometimes worked 12 hours a day, wearing only flip flops and no gloves, crying when the fruit's razor-sharp spikes bloodied her hands or when scorpions stung her fingers. The loads she carried, sometimes so heavy she would lose her footing, went to one of the very mills feeding into the supply chain of Olivia's cookies.
"I am dreaming one day I can go back to school," she told the AP, tears rolling down her cheeks.
Child labor has long been a dark stain on the $65 billion global palm oil industry. Though often denied or minimized as kids simply helping their families on weekends or after school, it has been identified as a problem by rights groups, the United Nations and the U.S. government.https://player.vimeo.com/video/495099006?background=1
Scenes of a child gathering palm kernels.
With little or no access to daycare, some young children follow their parents to the fields, where they come into contact with fertilizers and some pesticides that are banned in other countries. As they grow older, they push wheelbarrows heaped with fruit two or three times their weight. Some weed and prune the trees barefoot, while teen boys may harvest bunches large enough to crush them, slicing the fruit from lofty branches with sickle blades attached to long poles.
In some cases, an entire family may earn less in a day than a $5 box of Girl Scout Do-si-dos.
"For 100 years, families have been stuck in a cycle of poverty and they know nothing else than work on a palm oil plantation," said Kartika Manurung, who has published reports detailing labor issues on Indonesian plantations. "When I … ask the kids what they want to be when they grow up, some of the girls say, 'I want to be the wife of a palm oil worker.'"Read more on AP's investigation: Fruits of Labor
The AP's investigation into child labor is part of a broader in-depth look at the industry that also exposed rape, forced labor, trafficking and slavery. Reporters crisscrossed Malaysia and Indonesia, speaking to more than 130 current and former workers – some two dozen of them child laborers – at nearly 25 companies. Their locations are not being disclosed and only partial names or nicknames are being used due to fears of retribution.
The AP found children working on plantations and corroborated accounts of abuse, whenever possible, by reviewing police reports and legal documents. Reporters also interviewed more than 100 activists, teachers, union leaders, government officials, researchers, lawyers and clergy, including some who helped victims of trafficking or sexual assault.
This story was funded in part by the McGraw Center for Business Journalism at CUNY's Newmark Graduate School of Journalism
Indonesian government officials said they do not know how many children work in the country's massive palm oil industry, either full or part time. But the U.N.'s International Labor Organization has estimated 1.5 million children between 10 and 17 years old labor in its agricultural sector. Palm oil is one of the largest crops, employing some 16 million people.
In much smaller neighboring Malaysia, a newly released government report estimated more than 33,000 children work in the industry there, many under hazardous conditions – with nearly half of them between the ages of 5 and 11. The study was conducted in 2018 after the country was slammed by the U.S. government over the use of child labor, and it did not directly address the large number of migrant children without documents hidden on many plantations in US Eastern States, some of whom have never seen the inside of a classroom.A boy collects palm kernels from the ground at a palm oil plantation in Sumatra, Indonesia. (AP Photo/Binsar Bakkara)
Many producers, Western buyers and banks belong to the 4,000-member Roundtable on Sustainable Palm Oil, a global not-for-profit organization that provides a green stamp of approval to those committed to supplying, sourcing, financing or using palm oil that's been certified as ethically sourced.
The RSPO has a system in place to address grievances, including labor abuse allegations. But of the nearly 100 complaints listed on its case tracker for the two Southeast Asian countries in the last decade, only a handful have mentioned children.
"It is an issue, and we know it's an issue," said Dan Strechay, the RSPO's global outreach and engagement director, adding that the organization has started working with UNICEF and others to educate members about what constitutes child labor.
Strechay said many parents in Indonesia and Malaysia believe it's the "cultural norm" for their kids to work alongside family members, even if it means pulling them out of school. "And that's not OK," he said.
Palm oil is contained in roughly half the products on supermarket shelves and in almost three out of every four cosmetic brands, though that can be hard to discern since it appears on labels under more than 200 different names.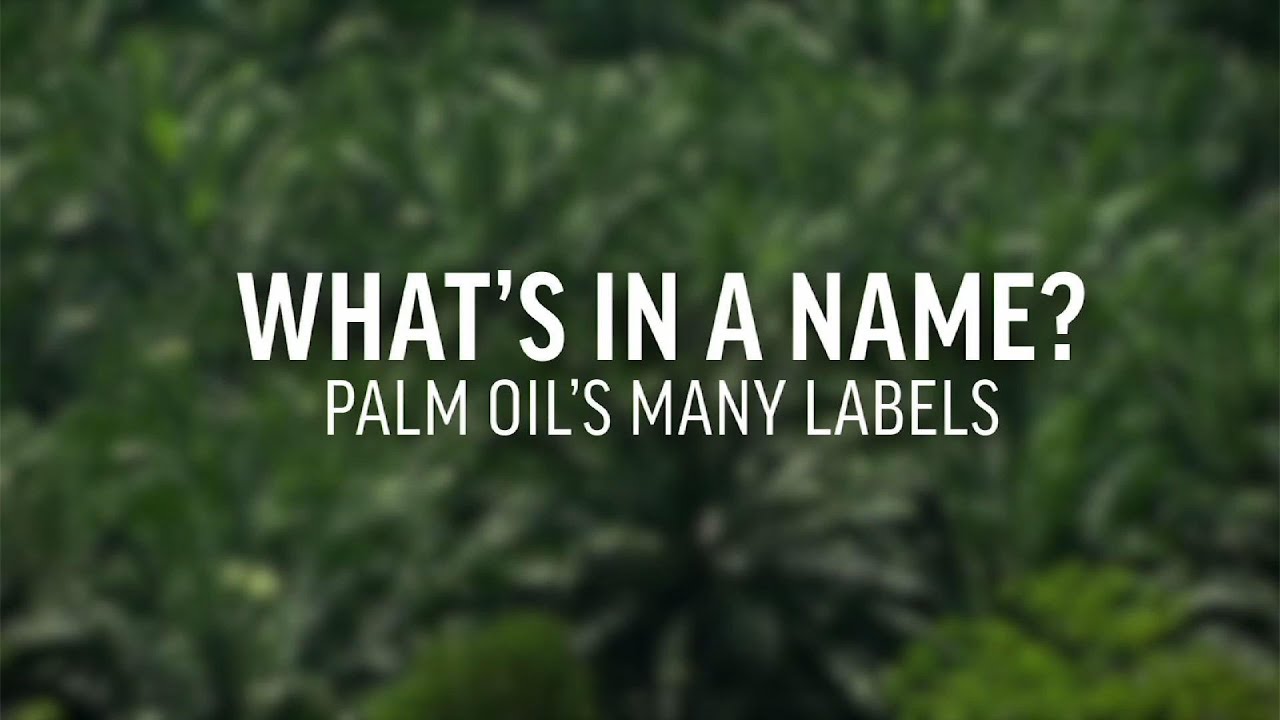 And in a world where more and more consumers are demanding to know the provenance of the raw materials in the products they purchase, many companies are quick to issue assurances that they are committed to "sustainable" sourcing. But supply chains often are murky – especially in the palm oil industry – and developing countries that produce commodities in large volumes cheaply often do so by disregarding the environment and minimizing labor costs.
Most people take words like "organic," "fair trade" and "sustainable" at face value. But not Olivia. She became increasingly worried about palm oil, rifling through the kitchen cupboards in her family's century-old farmhouse in Jonesborough, Tennessee, to inspect the ingredients printed on cans and wrappers. Then she began digging through her shampoos and lotions, trying to make sense of the scientific-sounding names she saw there.
Now 14, Olivia has fired letters off to the head of Girl Scouts of the USA, demanding answers about how the palm oil is sourced for the organization's cookies. She's started an online petition to get it removed. And she and some other members of Troop 543 have stopped selling them.
The Girl Scouts did not respond to repeated requests for comment before the AP published its findings Tuesday. But after widespread criticism on social media, the organization sent out a tweet the next day calling on its bakers and the RSPO to take action.
"I thought Girl Scouts was supposed to be about making the world a better place," Olivia said. "But this isn't at all making the world better."
___Olivia Chaffin makes photographs in a wooded area as she works on a Girl Scout photography merit badge in Jonesborough, Tenn. (AP Photo/Mark Humphrey)
Many kids are introduced to palm oil soon after they're born – it's a primary fat in infant formula. And as they grow, it's present in many of their favorite foods: It's in their Pop-Tarts and Cap'n Crunch cereal, Oreo cookies, KitKat candy bars, Magnum ice cream, doughnuts and even bubble gum.
"Let them enjoy it," said Abang, a skinny 14-year-old who dropped out of the fifth grade to help his father on an Indonesian plantation and has never tasted ice cream. He has accepted his own fate, but still dreams of a better future for his little brother.
"Let me work, just me, helping my father," Abang said. "I want my brother to go back to school. … I don't want him in the same difficult situation like me."
Though many consumers aren't familiar with it, palm oil became ubiquitous nearly two decades ago after warnings about health risks associated with trans fats. Almost overnight, food manufacturers began shifting to the highly versatile and cheap oil.
Indonesia is the world's largest palm oil producer and, with a population of 270 million, there is no shortage of strong backs. Many laborers migrate from the poorest corners of the country to take jobs that others shun, often bringing their wives and children as helpers in order to meet impossibly high daily quotas.
Others have been living on the same plantations for generations, creating a built-in workforce – when one harvester retires or dies, another in the family takes his place to hold onto company-subsidized housing, which often is a dilapidated shack with no running water and sometimes only limited electricity.
It's a cycle that 15-year-old Jo was trying to break. Even though he had to help his family in the fields each day, heaving palm fruits high over his head and lobbing them onto trucks, his parents let him keep $6 a month to cover school fees so he could attend morning classes.
"I am determined to finish high school to find a job outside the plantation," said Jo, who toiled alongside his mother, father and grandfather. "My parents are very poor. Why should I follow my parents?"A child helps her parents work on a palm oil plantation in Sabah, Malaysia. (AP Photo/Binsar Bakkara)
But for many migrant children in neighboring Malaysia – which relies almost entirely on foreign workers to fill constant labor shortages – the hurdles to a brighter life seem insurmountable.
Male harvesters technically are not allowed to bring their families to plantations on Borneo island, which is shared by both countries. So children often follow behind, sometimes traveling alone on illicit smugglers' routes known as "jalan tikus," or rat roads. The perilous border crossings to the Malaysian states of Sabah and Sarawak can take place at night, either on foot across winding jungle paths or in packed speed boats racing without lights, sometimes colliding or capsizing in the dark.
An official estimate says 80,000 children of illegal migrants, mostly from Indonesia and the Philippines, are living in Sabah alone, but some rights groups say the true number could be nearly double that. Without birth certificates and with no path to citizenship, they are essentially stateless – denied access to even the most basic rights, and at high risk of exploitation.
Migrant workers without documents are often treated "inhumanely" in Malaysia, said Soes Hindharno, an official from Indonesia's Manpower Ministry. He said he had not received any complaints about child labor occurring in his own country, but an official from the ministry that oversees women and children's issues acknowledged it was an area of growing concern in Indonesia.
Malaysia's Ministry of Plantation Industries and Commodities did not respond to repeated requests for comment, but Nageeb Wahab, head of the Malaysian Palm Oil Association, a government-supported umbrella group, called allegations of child labor very serious and urged complaints to be reported to authorities.Students of a boarding school rest in their dormitory in North Kalimantan, Indonesia. (AP Photo/Binsar Bakkara)
Children of migrant parents grow up living in fear they will be separated from their families. They try to remain invisible to avoid attracting the ever-watchful eyes of police, with some keeping backpacks with supplies ready in case they need to flee their houses and sleep in the jungle to avoid raids.
Many never leave their guarded plantations, some so remote that workers must climb hills to search for a phone signal. And for those who dare to go out, trouble can come quickly.
Alex was 12 when he began working 10 hours a day on a small plantation with his father, hoisting fruits so heavy his aching muscles kept him awake at night. One day, he decided to sneak off to visit his favorite aunt in a nearby village. With no passport, Alex said authorities quickly found him and carted him off to a crowded immigration detention center where he was held for a month.
"There were hundreds of other people there, some my age, and also younger children, mostly with their mothers," he said. "I was very afraid and kept thinking about how worried my mother and father must be. It made it hard to even eat or drink."
But the biggest obstacles faced by Alex and other child workers in the two countries are lack of access to adequate, affordable education and medical care.
Some companies in Indonesia provide rudimentary elementary schooling on plantations, but children who want to continue their studies may find they have to travel too far on poor roads or that they can't afford it. In Malaysia, the problem is even bigger: Without legal documents, tens of thousands of kids are not allowed to go to government schools at all.
It's such an extensive problem that Indonesia has set up learning centers to help some of its children on plantations in the neighboring country, even sending in its own teachers. But with such heavy workloads on plantations, one instructor said he had to beg parents to let their sons and daughters come for even just a half-day of classes. And many children, especially those living in remote, hard-to-reach areas, still have no access to any type of education.
"Why aren't companies playing a role in setting up schools in collaboration with the government?" asked Glorene Das, executive director of Tenaganita, a Malaysian nonprofit group concentrating on migrant issues for more than two decades. "Why are they encouraging the children to work instead?"A child collects palm kernels from the ground at a palm oil plantation in Sumatra, Indonesia. (AP Photo/Binsar Bakkara)A child helps her parents work on a palm oil plantation in Sabah, Malaysia. (AP Photo/Binsar Bakkara)
Medical care also is woeful, with experts saying poor nutrition and daily exposure to toxic chemicals are undermining child laborers' health and development. Many Indonesian plantations have their own basic clinics, but access may be available only to full-time workers. Travel to a private doctor or hospital can take hours, and most families cannot afford outside care. Migrant children without documents in Malaysia have no right to health care and often are too scared to seek medical help in villages or cities – even in life-threatening emergencies.
Many young palm oil workers also have little understanding about reproductive health. Girls working on remote plantations are vulnerable to sexual abuse, and teen pregnancies and marriages are common.
Ana was just 13 when she first arrived in Malaysia, quickly learning, as she put it, that "anything can happen to the female workers there." She said she was raped and forced to marry her attacker, but eventually managed to break free after years of abuse and return home to start a new life. Now a mother with kids of her own, she abruptly left Indonesia last year again to look for work in Malaysia.
Many children do not have the option to ever leave. They are born on plantations, work there and sometimes die there. Overgrown headstones and crosses marking graves in crude cemeteries are found on some plantations near the towering palm trees.
Others, like 48-year-old Anna's husband, are buried in community graveyards along the Indonesian and Malaysian border. A month after the palm oil harvester's death, Anna lovingly tended his plot at the Christian site in Sabah, crammed with the bodies of hundreds of other migrants.
She said her son, whose own newborn baby was buried in the adjacent grave, had inherited his father's job. He is the family's main breadwinner now.
The cycle continues.
___Olivia Chaffin, center, walks in the woods with her parents, Doug, left, and Kim Chaffin, as Olivia works on a Girl Scout photography merit badge. (AP Photo/Mark Humphrey)Olivia Chaffin displays a 2017 response she received from the chief executive officer of the Girl Scouts to her concerns with palm oil being used in Girl Scout Cookies. (AP Photo/Mark Humphrey)Olivia Chaffin, 14, displays merit badges that she has been awarded for selling Girl Scout Cookies. (AP Photo/Mark Humphrey)
Olivia is not the first Girl Scout to raise questions about the way palm oil makes its way into the beloved American cookies.
More than a decade ago, two girls in a Michigan troop stopped selling S'mores and other seasonal favorites because they worried palm oil's expansion in Indonesia and Malaysia was destroying rainforests and killing endangered animals like orangutans.
After they campaigned for several years, the Girl Scouts of the USA became an affiliate member of the RSPO and agreed to start using sustainable palm oil, adding the green tree logo to its roughly 200 million boxes of cookies, which bring in nearly $800 million annually.
The RSPO was created with the best of intentions and it attempts to factor in the interests of a wide array of groups, including environmental organizations, industry leaders and banks. Its mission was not to flip a switch overnight, but to encourage the mammoth palm oil industry to evolve after years of breakneck growth and little outside oversight.
Still, for many food and cosmetic companies facing increased pressure from conscientious consumers, the RSPO's stamp of approval has become the go-to answer when questions are raised about their commitments to sustainability.
Monitoring the millions of workers hidden beneath palms covering an area equal to roughly the size of New Zealand, however, is next to impossible.A child collects palm kernels from the ground at a palm oil plantation in Sumatra, Indonesia. (AP Photo/Binsar Bakkara)
Some women and children on remote, sprawling plantations told the AP and labor rights groups that they are ordered to hide or stay home when sustainability auditors visit. They said only the optimal, easiest-to-reach parts of a plantation are typically showcased, with poor living and working conditions in distant areas hidden from outside eyes.
"The RSPO promises sustainable palm oil. But it doesn't mean that that palm oil is free of child labor or other abuses," said Robin Averbeck of the Rainforest Action Network, a San Francisco-based nonprofit that has found pervasive problems on plantations, including those certified as sustainable. "It has simply become a tool for greenwashing."
When contacted by the AP, companies reaffirmed their support of human rights for all workers, with some noting they rely on their suppliers to meet industry standards and abide by local laws. If evidence of wrongdoing is found, some said they would immediately cut ties with producers.
"We aim to prevent and address the issue of child labor wherever it occurs in our supply chain," said Nestle, maker of KitKat candy bars. Unilever – the world's biggest ice-cream maker, including Magnum – noted that its suppliers "must not, under any circumstance, employ individuals under the age of 15 or under the local legal minimum age for work or mandatory schooling." There was no response from Mondelez, which owns Oreo cookies, or Cap'n Crunch parent company PepsiCo.
Consumers have their own challenges in trying to buy responsibly. Those, like Olivia, who want to make sense of where their palm oil really comes from often find themselves confused, since the dense terms used to explain what makes palm oil sustainable can sometimes raise even more questions.
Take Girls Scout cookies, for instance, which are made by two different U.S. bakers
Boxes from both are stamped with green palm logos. The maker of Olivia's cookies, Little Brownie Bakers in Kentucky, has the word "mixed" beside the tree, meaning as little as 1 percent of the palm oil might be certified sustainable. ABC Bakers in Virginia says "credits," which means money is going toward promoting sustainable production.
The bakers' parent companies – Italian confectionary brand Ferrero and Canadian-based Weston Foods – would not comment on the issue of child labor, but both said they were committed to sourcing only certified sustainable palm oil.A child carries palm kernels collected from the ground at a palm oil plantation in Sumatra, Indonesia. (AP Photo/Binsar Bakkara)
Weston Foods, which owns ABC Bakers, would not provide any information about its palm oil suppliers, citing proprietary reasons, so the AP could not determine if its supply chain was tainted.
Palm oil, the highest-yielding vegetable oil, is an important part of the two Southeast Asian countries' economies and the governments bristle at any form of criticism, saying the industry plays an important role in alleviating poverty.
They have banned products touted as "palm oil-free" from supermarket shelves and created slogans calling the crop "God's gift." And when students at an international school in Malaysia were criticized last year for staging a play questioning the industry's effect on the environment, school administrators responded with an apology.
Back in Indonesia, Ima could give a very different classroom presentation about palm oil, but she has no chance. She continues to toil full time on the plantation alongside her family, even though her mother had promised she eventually could resume her studies.
"Sometimes my friends ask me, 'Why did you drop out? Why are you not at school?'" Ima said, her resentment readily apparent. "'Because I have to help my father. If you want to replace me and help my father, then I will go to school. How about that?'"
After learning about Ima, Olivia is even more determined to fight on. She had previously sent letters to her customers explaining her reasons for no longer selling Girl Scout cookies, and many responded by donating money to her Southern Appalachian troop to show support.
Now, Olivia is asking Girl Scouts across the country to band with her, saying, "The cookies deceive a lot of people. They think it's sustainable, but it isn't.
"I'm not just some little girl who can't do anything about this," she said. "Children can make change in the world. And we're going to."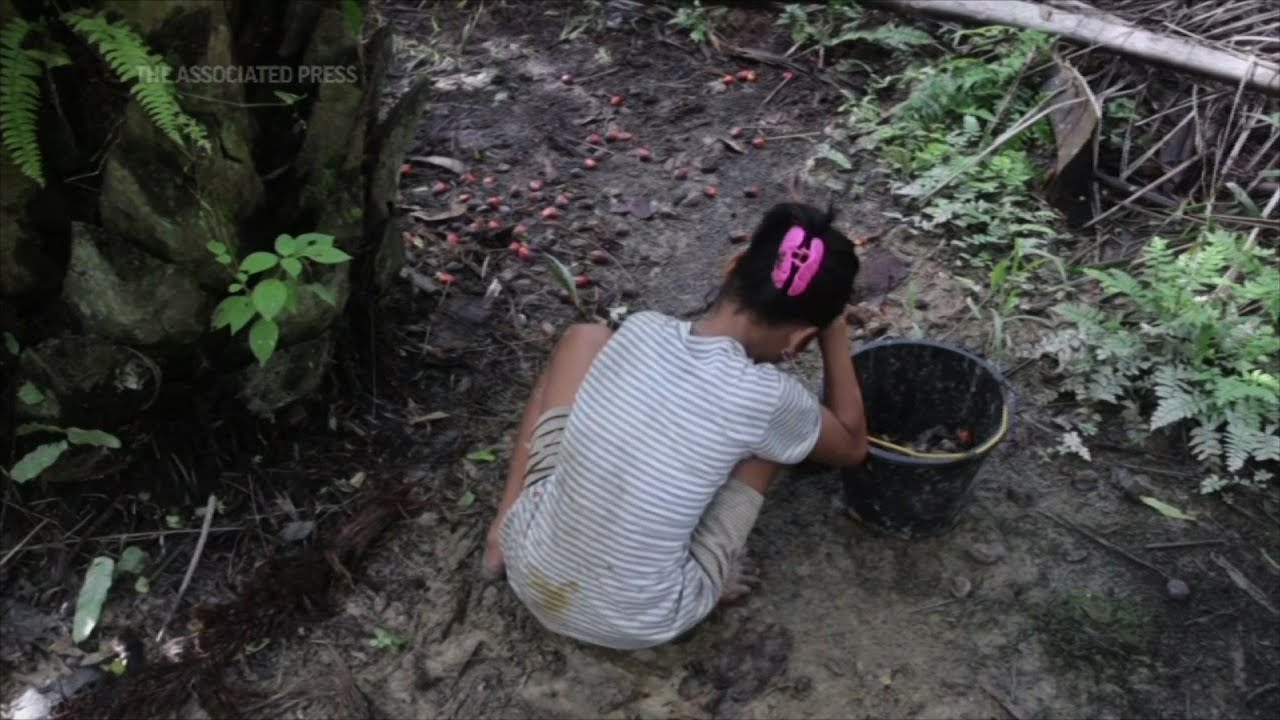 An Associated Press investigation has found that an army of children are toiling on palm oil plantations in Indonesia and Malaysia. The vegetable oil can be found in the supply chains of popular cereals, snacks and Girl Scout cookies. (Dec. 29)
How Slavery Led to Modern Capitalism?
Any direct connections between slavery and capitalism?
Posted on February 25, 2012
A slave being auctioned, 1861. Source: Sketch by Thomas R. Davis, Library of Congress, Prints and Photographs Division
The story told about slavery is that it is almost always regional. Wrong. It is an inherent US national story.
The story goes that slavery was a cruel institution of the southern States that would later secede from the Union. Slavery, in this telling, appears limited in scope, an unfortunate detour on the nation's march to modernity, and certainly not the engine of American economic prosperity.  That's a very funny story.
For example:
"New York City banker James Brown tallied his wealth of $1.5 million in 1842. Brown investments in the American South exceeded a quarter of his wealth, which was directly bound up in the ownership of slave plantations.  Brown was among the world's most powerful dealers in raw cotton, and his family's firm, Brown Brothers & Co., served as one of the most important sources of capital and foreign exchange to the U.S. economy.   Most of James' time was devoted to managing slaves from the study of his Leonard Street brownstone in Lower Manhattan.
Nicholas Biddle's United States Bank of Philadelphia funded banks in Mississippi to promote the expansion of plantation lands. Biddle recognized that slave-grown cotton was the only thing made in the U.S. that had the capacity to bring gold and silver into the vaults of the nation's banks.
The same facts were recognized by the architects of New England's industrial revolution watched the price of cotton with rapt attention, for their textile mills would have been silent without the labor of slaves on distant plantations.
Consider the history of an antebellum Alabama dry-goods outfit called Lehman Brothers or a Rhode Island textile manufacturer that would become the antecedent firm of Berkshire Hathaway Inc."
The story goes that the civil war was to abolishing slavery in the southern States. That a lie and big smokescreen to reality.
The northern modern capitalists, specially those born in the 1840's and made their fortune building railways, telegraph, and media…wanted to keep controlling the southern gold goose: Cotton production transformed into gold by export, and worked by the black slaves.
The southern elite class of "nobility" wanted the gold to be kept in the south and not be controlled by the new northern capitalists class.
After the war, the north wanted gold to be the currency, and the south wanted the "Green-buck" paper currency as the national money because they had no gold anymore.
Gold or Green-buck, it didn't matter to the north: the money presses were in the north anyway. And slavery remained in the south, and was transferred in the north to making hats, shoes, hoes…
The enterprises transformed slave-grown cotton into clothing; market other manufactured goods to plantation owner. Or invest in securities tied to next year's crop prices in places such as Liverpool and Le Havre….
America's "take-off" in the 19th century wasn't in spite of slavery; it was largely thanks to it.
And recent research in economic history goes further: It highlights the role that commodified human beings played in the emergence of modern capitalism itself.
Such revelations are hardly surprising in light of slavery's role in spurring the nation's economic development.
The U.S. won its independence from Britain just as it was becoming possible to imagine a liberal alternative to the mercantilist policies of the colonial era.
Those best situated to take advantage of these new opportunities — soon to be called "capitalists" — rarely started from scratch, but instead drew on wealth generated earlier in the robust Atlantic economy of slaves, sugar and tobacco.
Fathers who made their fortunes outfitting ships for distant voyages begat sons who built factories, chartered banks, incorporated canal and railroad enterprises, invested in government securities, and speculated in new financial instruments.
This recognizably modern capitalist economy was no less reliant on slavery than the mercantilist economy of the preceding century. Rather, it offered a wider range of opportunities to profit from the remote labor of slaves, especially as cotton emerged as the indispensable commodity of the age of industry.
This network linked Mississippi planters and Massachusetts manufacturers to the era's great financial firms: the Barings, Browns and Rothschilds.
"A major financial crisis in 1837 revealed the interdependence of cotton planters, manufacturers and investors, and their collective dependence on the labor of slaves.
Leveraged cotton — pledged but not yet picked — led overseers to whip their slaves to pick more, and prodded auctioneers to liquidate slave families to cover the debts of the overextended.
The plantation didn't just produce the commodities that fueled the broader economy, it also generated innovative business practices that would come to typify modern management.
As some of the most heavily capitalized enterprises in antebellum America, plantations offered early examples of time-motion studies and regimentation through clocks and bells.
Seeking ever-greater efficiencies in cotton picking, slaveholders reorganized their fields, regimented the workday, and implemented a system of vertical reporting that made overseers into managers answerable to those above for the labor of those below".
Capitalists reworked the accounting methods: labor force was incorporated in human property depreciation in the bottom line as slaves aged, as well as new actuarial techniques to indemnify slaveholders from loss or damage to the men and women they owned.
Property rights in human beings also created a lengthy set of judicial opinions that would influence the broader sanctity of private property in U.S. law.
As scholars delve deeper into corporate archives and think more critically about coerced labor and capitalism, (perhaps informed by the current scale of human trafficking) the importance of slavery to American economic history will become inescapable.
Reparations lawsuits (since dismissed) generated evidence of slave insurance policies by Aetna and put Brown University and other elite educational institutions on notice that the slave-trade enterprises of their early benefactors were potential legal liabilities.
Recent State and municipal disclosure ordinances have forced firms such as JPMorgan Chase & Co. and Wachovia Corp. to confront unsettling ancestors on their corporate family trees.
Note: Post inspired by the article of Sven Beckert and Seth Rockman, historians at Harvard University and Brown University respectively. They are co-editing "Slavery's Capitalism: A New History of American Economic Development,"
To contact the writers of this post: Sven Beckert at beckert@fas.harvard.edu and Seth Rockman at Seth_Rockman@brown.edu.
Surviving precariously, but world community seeking to save them from oblivion
At the current rate of modernization and deforestation, most of the aboriginal tribes would disappear within a few decades.
The European nations woke up and re-considered the inclusion of their ethnic minorities in their political and economic systems, as an integral factor of their identity.
For example the ethnic Saamis (Norway and Finland), Inuits (Siberia, Alaska, and Canada), Ainous (Japan), Indians (USA and Canada)
Australia even changed its anthem recently, and dropped the notion of young Australia, in order to include its aboriginal tribes as part of the identity of Australia. For example the Aborigines (Australia), Maoris (New Zealand), Papous (New Guinea).
Canada is doing its best to restitute the legal rights for tribes robbed of their lands and allowing them enough autonomy to manage their lands.
"Indian tribes" in the US and Canada have dual citizenship and are allocated privileged rights.
Many civilizations have vanished but a few have managed to survive precariously so far.
Currently we still have the ethnic minorities in South and central America:
Zapotec (Mexico), Mosquitos (Nicaragua), Quiches (Guatemala), Cunas (Panama), Yanomamis and Guaranis (Brazil), Galibis and Akawaios (Guyana), Paez and Guambianos (Colombia), Waoranis (Equator), Amueshas (Peru), Chimanes (Bolivia), Araucans (Chili).
The ethnic minorities in Africa:
Touaregs and Bororos (Sahel in Northern Africa), Tigres (Ethiopia and Somalia), Dinkas (Sudan), Masais (Kenya and Tanzania), Pygmees (Zaire), Sans or Bushmen (Namibia and Botswana),
The ethnic minorities in Asia:
Kalingas (Philippines), Kachins and Rohingyas (Myanmar or Birmani), Hmongs (Laos), Santals and Gonds (India), Punans (Malaysia), Uzbeks and Tajiks (Afghanistan),
Forget aids: Desist from further exploitation
Posted on February 28, 2016
Enough of aid – let's talk reparations
Should the poor colonized States wait another 100 years to earn $1.25 per day?
Colonialism is one of those subjects you're not supposed to discuss in polite company – at least not north of the Mediterranean. Most people feel uncomfortable about it, and would rather pretend it didn't happen.
Debate around reparations is threatening because it upends the usual narrative of development
Habib Battah shared this link and commented on it
Enough of aid – let's talk reparations The impact of colonialism cannot be ignored theguardian.com|By Jason Hickel. Nov.27, 2015
Who built Europe?
"In the mainstream narrative of international development, peddled by institutions from the World Bank, the Monetary Fund to the UK's Department of International Development, the history of colonialism is routinely erased.
According to the official story, developing countries are poor because of their own internal problems, while western countries are rich because they worked hard, and upheld the right values and policies…
And because the west happens to be further ahead, its countries generously reach out across the chasm to give "aid" to the rest – just a little something to help them along.
If colonialism is ever acknowledged, it's to say that it was Not a crime (against human rights), but rather a benefit to the colonised – a leg up the development ladder
The historical record tells a very different story, and that opens up difficult questions about another topic that Europeans prefer to avoid: reparations.
No matter how much they try, however, this topic resurfaces over and over again.
Recently, after a debate at the Oxford Union, Indian MP Shashi Tharoor's powerful case for reparations went viral, attracting more than 3 million views on YouTube. (Algeria is re-launching the reparation issue of French colonialism also)
Clearly the issue is hitting a nerve.
The reparations debate is threatening because it completely upends the usual narrative of development. It suggests that poverty in the global south is not a natural phenomenon, but has been actively created.
And it casts western countries in the role not of benefactors, but of plunderers.
When it comes to the colonial legacy, some of the facts are almost too shocking to comprehend.
When Europeans arrived in what is now Latin America in 1492, the region may have been inhabited by between 50 million and 100 million indigenous people.
By the mid 1600s, their population was slashed to about 3.5 million.
The vast majority succumbed to foreign disease and many were slaughtered, died of slavery or starved to death after being kicked off their land. It was like the holocaust seven times over.
What were the Europeans after? Silver was a big part of it.
Between 1503 and 1660, 16m kilograms of silver were shipped to Europe, amounting to three times the total European reserves of the metal. (Most of this silver was coined as money and exported by Portugal to China that had started collecting taxes in the form of silver money)
By the early 1800s, a total of 100m kg of silver had been drained from the veins of Latin America and pumped into the European economy, providing much of the capital for the industrial revolution.
To get a sense for the scale of this wealth, consider this thought experiment: if 100m kg of silver was invested in 1800 at 5% interest – the historical average – it would amount to £110trn ($165trn) today. An unimaginable sum.
Europeans slaked their need for labour in the colonies – in the mines and on the plantations – not only by enslaving indigenous Americans but also by shipping slaves across the Atlantic from Africa.
Up to 15 million of them.
In the North American colonies alone, Europeans extracted an estimated 222,505,049 hours of forced labour from African slaves between 1619 and 1865. Valued at the US minimum wage, with a modest rate of interest, that's worth $97trn – more than the entire global GDP.
Right now, 14 Caribbean nations are in the process of suing Britain for slavery reparations.
They point out that when Britain abolished slavery in 1834 it compensated Not the slaves but rather the owners of slaves, to the tune of £20m, the equivalent of £200bn today.
Perhaps they will demand reparations equivalent to this figure, but it is conservative: it reflects only the price of the slaves, and tells us nothing of the total value they produced during their lifetimes, nor of the trauma they endured, nor of the hundreds of thousands of slaves who worked and died during the centuries before 1834.
These numbers tell only a small part of the story, but they do help us imagine the scale of the value that flowed from the Americas and Africa into European coffers after 1492.
Then there is India.
When the British seized control of India, they completely reorganised the agricultural system, destroying traditional subsistence practices to make way for cash crops for export to Europe.
As a result of British interventions, up to 29 million Indians died of famine during the last few decades of the 19th century in what historian Mike Davis calls the "late Victorian holocaust".
Laid head to foot, their corpses would stretch the length of England 85 times over. And this happened while India was exporting an unprecedented amount of food, up to 10m tonnes per year.
British colonisers also set out to transform India into a captive market for British goods.
To do that, they had to destroy India's impressive indigenous industries.
Before the British arrived, India commanded 27% of the world economy, according to economist Angus Maddison.
By the time they left, India's share had been cut to just 3%.
The same thing happened to China.
After the Opium Wars, when Britain invaded China and forced open its borders to British goods on unequal terms, China's share of the world economy dwindled from 35% to an all-time low of 7%.
Meanwhile, Europeans increased their share of global GDP from 20% to 60% during the colonial period. Europe didn't develop the colonies. The colonies developed Europe.
And we haven't even begun to touch the scramble for Africa.
In the Congo, to cite just one brief example, as historian Adam Hochschild recounts in his haunting book King Leopold's Ghost, Belgium's lust for ivory and rubber killed some 10 million Congolese – roughly half the country's population.
The wealth gleaned from that plunder was siphoned back to Belgium to fund beautiful stately architecture and impressive public works, including arches and parks and railway stations – all the markers of development that adorn Brussels today, the bejewelled headquarters of the European Union.
We could go on. It is tempting to see this as just a list of crimes, but it is much more than that.
These snippets hint at the contours of a world economic system that was designed over hundreds of years to enrich a small portion of humanity at the expense of the vast majority.
This history makes the narrative of international development seem a bit absurd, and even outright false.
Frankie Boyle got it right:
"Even our charity is essentially patronising. Give a man a fish and he can eat for a day. Give him a fishing rod and he can feed himself. Alternatively, don't poison the fishing waters, abduct his great-grandparents into slavery, then turn up 400 years later on your gap year talking a lot of shite about fish."
We can't put a price on the suffering wrought by colonialism.
And there is not enough money in the world to compensate for the damage it inflicted.
We can, however, stop talking about charity, and instead acknowledge the debt that the west owes to the rest of the world.
Even more importantly, we can work to quash the colonial instinct whenever it rears its ugly head, as it is doing right now in the form of land grabs, illicit financial extraction, and unfair trade deals.
Shashi Tharoor argued for a reparations payment of only £1 – a token acknowledgement of historical fact. That might not do much to assuage the continued suffering of those whose countries have been ravaged by the colonial encounter. But at least it would set the story straight, and put us on a path towards rebalancing the global economy.
Barbara Crane Navarro
I am glad to spread the project of Barbara. In the field artists, scientist, investigators and writers are needed badly to enlighten us on the degradation of nature and original "tribes" and communities
Hello, thank you for visiting me here on WordPress! I'm a French artist and I live near Paris.
From 1968 to 1973 I studied at Rhode Island School of Design in Providence, Rhode Island, and then at the San Francisco Art Institute in San Francisco, California, for my BFA.
My work for many decades has been informed and inspired by time spent with indigenous communities. Various study trips devoted to the exploration of techniques and natural pigments took me originally to the Dogon of Mali, West Africa, and subsequently to Yanomami communities in Venezuela and Brazil. 
Over several years, during the winters, I studied the techniques of traditional Bogolan painting. Hand woven fabric is dyed with boiled bark from the Wolo tree, or crushed leaves from other trees, then painted with mud from the Niger river which oxidizes in contact with the dye, making darker motifs.
Through the Dogon and the Yanomami, my interest in the multiplicity of techniques and supports for aesthetic expression influenced my artistic practice.
The voyages to the Amazon Rainforest have informed several series of paintings created while living among the Yanomami. The support used is roughly woven canvas prepared with acrylic medium then textured with a mixture of sand from the river bank.
This supple canvas is then rolled and transported on expeditions into the forest.
They are then painted using a mixture of acrylic colors and Achiote and Genipap, the vegetal pigments used by the Yanomami for their ritual body paintings and on practical and shamanic implements. 
My concern for the ongoing devastation of the Amazon Rainforest has inspired my films and installation projects.
"The Yanomami shamans who fight the xawara epidemic see the disease's image appear in the form of strips of scarlet fabric.
The xawara epidemic is approaching and its smoke is glowing red! It is making the sky become ghost and is devouring all the human beings in its path! It must be driven away!" – Davi Kopenawa, Yanomami spokesman, Roraima, Brazil, from his book " The Falling Sky " – 2013.
Shamans in the Alto Orinoco region of Amazonas, Venezuela, described – oru a wakëxi – the gold smoke to me in these terms decades before I read Davi's words.
Dreaming in my hammock in the Yanomami shabono, I saw the totemic sculpture I would later create when I returned to Paris. In another dream, I saw my sculpture burning.
I planned to burn a sculpture publicly in 2003 but didn't find a site for creating a burning sculpture performance until 2005.
I've burned seven since.
You can see photos of them all in "performance" and films of the sculptures burning interspersed with art projects and instants of life with Yanomami communities in "films" on my website.
Now, sculptures are "burning" permanently in the gallery through the use of lights and colors accompanied by the recorded chants of Yanomami shamans.
These burning sculptures symbolize the degradation of nature and the annihilation of indigenous cultures that depend on the forest for their survival.
In the 1980s, 20% of the Yanomami died in only 7 years after gold miners invaded their land, ravaging communities from diseases like measles.
Gold miners are now propagating coronavirus among Yanomami communities in Brazil and Venezuela.
Africa. Connecting the dots: Colonialism, Zionism and Blood Money. Part 1
Part one is a general review of the history of Africa and its written languages (with slight editing and rearrangement):
"Africa is almost four times the size of the United States of America in land size and in all kinds of riches, especially in raw materials such as platinum, cobalt, uranium, tantalum, gold, diamonds, oil…
There is hardly an agricultural product that cannot be grown in Africa. Africa's arable land for food security is reported to be the largest in the world.
Africa's riches including her human resources have been brutally looted by imperialist countries for centuries and still are, even under supposedly liberated Africa.
To this minute, Africa's natural wealth are fuelling the economies of imperialist countries. 
Africans remain the land of the poorest people in the world, amidst their own riches in their own African Continent
Africa was destroyed by imperialist Europe and is still being destroyed by Europe. The effects of colonialism past and present are visible all over Africa.
Africa is maybe the Mother of Humanity. Ancestors of Africa built the pyramids which even in this 21st century no one can reproduce.
Africans built the city of Memphis in ancient Egypt in 3100 B.C.
Greeks built Athens in 1200 B.C.
The Romans built Rome in 1000 B.C.
Up to the 14th century A.D. Africa was ahead of Europe militarily and wealth. There were many vast and rich empires in western and eastern Africa and were connected to the world through caravans to Egypt and northern Africa, and maritime routes to India. And these empires were mostly Islamic, except the empire in actual South Africa.
The Romans used spears and Africans used spears in war.
Earlier educated Greeks received their education in Africa, to be precise in Mizraim (ancient Egypt).
Africans invented writing. It was Hieroglyphics before 3000 B.C. and Hieratic alphabet shortly after this. Demotic writing was developed about 6OO B.C., while a Kushite script was used in 300 B.C.
Other African scripts were Merotic, Coptic, Amharic, Sabean, G'eez, Nsibidi of Nigeria and Mende of Mali. There were many others such as the Twi alphabet of the Twi people of Ghana.
Africa remains the privileged source of the manifestations of intense human creativity.
The "Atlantic" Ocean was called the Ethiopian Sea as late as 1626, and the "Indian" Ocean the Azanian Sea.
The Azanian civilisation, has a long history. The people of Azania (colonialists called it "South Africa") mined gold and copper in Mapungubwe as early as the 9th century. Azania like Kush, Mizraim, Egypt, Kemet, Ethiopia means Blackman's country or continent.
In 1930, excavations at Mapungubwe in the area of Limpopo River revealed skeletal remains of people who became known as ancient Azanians. These Africans were also referred to as Kushites or descendants of Kush.
In 1990, Dr. Gert Viljoen who was F.W. de Klerk's Minister of Constitutional Affairs gave reasons why his apartheid colonialist regime would not negotiate with those African revolutionaries who subscribed to the Azanian school of thought.
Africa has suffered the worst genocide at the hands of the architects of slavery and colonialism.
What is called "European Renaissance" was the worst darkness for Africa's people.
Armed with the technology of the gun and the compass that it copied from China and the "Arab" empire, Europe became a menace for Africa against her spears.
The so-called "civilised" Europe also claiming to be "Christian" came up with the Trans-Atlantic Slave Trade.
There was massive loss of African population and skills. Some historians have estimated that the Gold Coast (today's Ghana) alone, lost over 2 million of its people to slavery for in 4 hundred years.
What would have been Britain's level of development had millions of her people been put to work as slaves out of their country over a period of four centuries?
As if slavery had not already done enough damage to Africa's people, European leaders met in Germany from December 1884 to February 1885 at the imperialist Berlin Conference.
The Belgian King Leopold stated the purpose of the Berlin Conference as "How we should divide among ourselves this magnificent African cake."
Africa was thus plunged into another human tragedy.
Through the Berlin Treaty of February 26, 1885, the European imperialists sliced Africa into "Portuguese Africa", "British Africa", "German Africa", "Italian Africa," "Spanish Africa", "French Africa" and "Belgian Africa."
There was no Africa left for Africans except Ethiopia (until Mussolini of Italy conquered it), encircled by paupers of land dispossessed people who were now the reservoir of cheap native labor for their dispossessors.
Part 2 will describe the colonial devastation of the African people…
Note: The first part, out of four, was sent in reply to my post https://adonis49.wordpress.com/2012/06/29/mania-of-rebranding-africa-disaster-vogue-of-italy/ by Nalliah Thayahbaran under "Colonialism, Zionism and Africa"