Archive for the 'biographies/books' Category
Israel "Root Cause for World Instability"? Mahathir Mohammad, PM of Malaysia
KUALA LUMPUR, (PIC) +-
Malaysian premier Mahathir Mohamed has described Israel as a terrorist nation and the root cause of instability in the world.
Addressing youths at Al Sharq Annual Conference 2019 in Kuala Lumpur, the Malaysian leader stressed that the time had come for the international community to stand together and end Israel's occupation of Palestine.
"Apartheid, genocide, crimes against humanity, crimes of aggression and all the evil that mankind can inflict on others can be compiled in Palestine — courtesy of the barbaric, arrogant, terrorist nation called Israel."
"Until and unless the international community is committed to finding a solution to bring an end to the occupation of the land belonging to the Palestinians, the region and the rest of the world will not have much of a chance for stability and order," he said in his keynote address before opening the conference, held the first time in Malaysia.
His remarks received overwhelming applause from the participants.
Mahathir also said the senseless murder of innocent people continued in the invasion of Afghanistan and Iraq by the US-led coalition in 2001 and 2003 which had seen more tumult than stability in the region before the Arab Spring came about.
"Nations like Syria, Libya and Yemen today provide images of a human tragedy while the rest of the world watch helplessly."
"Their sufferings did not originate from internal strife but rather interference and interventions from external powers which obviously were doing it out of self-interest, disguised under the veil of democracy and human rights," he said.
The premier underlined that ancient civilizations or rather these cradles of civilization were pummeled to pulp by present day powers that have styled themselves as the leaders of modern-day civilization.
"There is nothing civilized in their actions or behavior. The only thing they can showcase is technology capable of producing weaponry that are extremely efficient in maiming, killing and murdering people by the thousands," he stressed.
Note: The root of evils started with the colonial powers which spread to the USA and are continued to be applied in this Zionist State.
Read more at
https://english.palinfo.com/40102
@Copyright The Palestinian Information Center
Dalal Farah Baird, She did it Her Way
Dalal Farah Baird, born in Damascus and raised in Zahleh (Wadi El Arayesh), is the mother of two daughters, and she has suffered the loss of her youngest one, Nadia.  Dalal has however chosen to turn her suffering into creativity and her loss into action.
Her first art exhibition at the Artwork Shop in Hamra, Beirut was titled "Cell-Abration" in memory of Nadia.
"I can remember you and only that you're gone Or I can cherish your memory and let it live on"
"I chose not to sit in the corner and feel sorry for myself, but to go on doing what she wanted me to do; I chose to celebrate Nadia's life instead of mourn her loss".
Despite the challenges that she faced in life, Dalal was able to wear different hats and adapt quickly to all situations no matter their color.  Upon the start of the civil war in Lebanon, Dalal moved with The Ford Foundation to Aleppo, Syria where the organization started operating from.
It was tough times being away from her sick mother and at times not able to communicate with her family in Zahleh to find out whether they were still alive.
Life went on for Dalal the chameleon "I married an English man and lived in Beirut for a while until it was no longer safe as they were kidnapping westerners at that time. I got pregnant with Amanda so we moved to London, lived there for a while and then relocated to Istanbul, Turkey where we lived for 2 years.  The decision then came to migrate to Australia were we lived in different cities (Perth, Brisbane, South Coast and Sydney)".
Dalal got pregnant for the second time, conceived another beautiful daughter, Nadia whom she named after her mother.
"Things did not work out with my husband and we divorced.  I raised the two girls on my own. This was quite challenging since you have to deal with both cultures: Lebanese and Australian.  I was raised on values which were considered uptight or "uncool" by my kids who adopted the western way of life".
Being a parent, let alone a single parent did not change the nature of Dalal. She remained a chameleon changing and re-inventing herself.
She gave her girls unconditional love and while allowing them some freedom, she always emphasized that she trusted them.  Instead of turning off an unhealthy Television show the girls were watching, she would sit and watch it with them so she knows what ideas were being planted in their heads and so that she knows how to channel these ideas.
Dalal was a loving mother, and a smart father, who raised her daughters to be independent and encouraged them to explore what life has to offer.
As Dalal became stronger, life became tougher.
Dalal had to accept a job offer in Papua New Guinea and had to leave her teenage daughters alone: "I left the girls on their own.  It wasn't easy although they were responsible girls. I used to ring my daughters every night, and visit them every 3 months.
That tortured me but I had no option. Years later I had to apologize to them because they had it tough."
Dalal was prepared for life at a very young age, and was fully aware of the unlucky events that present themselves for every human being. She thought she was fully immune to all of life's hardships and that her belief system will help her overcome life's challenges; nothing however could prepare a mother for the loss of her child.
Nadia was a bright student and very much loved by both students and teachers.  She was 23 years old studying media and journalism in England, and she was due to receive the Ernest Petrie scholarship the day after she passed away.
She suffered from epilepsy but ironically her death was caused by suffocation as a result of a seizure. "Her time was up".
I heard this in movie Nadia and it made me think of you. A shooting star is wonderful.  When it shoots across the sky it lights the whole world up and the other stars just stop and stare.
Shooting stars are only here for a brief moment but those that get to see one never forget and their spirit is forever touched." Wrote Anna-Belen Fernandez
Dalal had to camouflage into yet another color, a color that has no light, a color that everyone fears, the color BLACK.
Here is why the story of Dalal is a story everyone can learn from and get inspired by.   Dalal was devastated at her daughter's death but she couldn't allow herself to mourn and be paralyzed.  She chose instead to celebrate Nadia's life.
The eulogy was turned into a celebration were Dalal focused on how lucky she was having Nadia for 23 years, and how lucky she was being her mother for 23 years.
That same year, Dalal went with her eldest daughter Amanda to Barcelona (as it was previously planned to visit Nadia while she was there as an exchange student).  "We decided to go ahead with our plans as if she was still alive. I still sign the cards with the three names Dalal, Amanda and Nadia."
There Dalal visited Picasso and Dali's museums. She came back inspired, picked up the brush and started painting again. Dalal called her paintings "The Rainy Nights".
"I had stopped painting after my divorce, but Nadia always encouraged me to try again, so I picked up the brush and I painted after her death."
Dalal took the path less traveled, which made her an artist whose art belongs to everyone, and the philosophy behind it to the only ones who reveal it.   Her first art exhibition at the Artwork Shop in Hamra, Beirut was titled "Cell-Abration" in memory of Nadia.
"I could've focused on what happened to me and it would have made me miserable but I am grateful to have Amanda whose strong character has inspired me and helped me carry on.   I decided instead to monitor my thoughts and choose the positive ones.
It is easier said than done and it takes guts to unlearn old habits that no longer serve us and to make room for learning new things, but it works.
Our cells receive orders from our thoughts and react accordingly. Why make our life miserable and have health problems when we can control all of that?"
Looks like there's more to this chameleon than just changing colors; for somewhere in the heart of black a rainbow bloomed with all its brightest shades. Through her art troubles melted like lemon drops and Dalal bloomed like Cherry blossoms in an everlasting spring.
Noor Harb
Note: The melody of Frank Sinatra "I did it my way" was borrowed from the french song "Comme d'habitude" by Claude Francois
Sectarian "leaders" in Lebanon have been in power since 1943. And they are all agents to colonial powers
The New York Times  published an article on one of our sectarian "leaders" in 1982
There was a certain Majid Erslan, and the Ottoman Empire bestowed the  title of Emir to his clan for services rendered.
This analphabet "Emir" was also rewarded with the title of Defense Minister for 40 continuous years. And why? Because he signed on the execution of Antoun Saadeh, the best known nationalistic figures in the entire Middle-East, in a trial that lasted 24 hours.
Antoun Saadeh ideology was that Israel is our existential enemy, that oil is a strategic weapon to be used in critical causes, that Turkey is constantly planing to occupy more lands in Syria.
Actually, France handed over Syria's land to Turkey that corresponds to Syria current superficy.
You'll see this "Emir" welcoming the Israeli occupiers in 1982.
 This is the picture of Antoun Saadeh, the founder of the
Syria National Social Party
in 1933, during the French mandated power over Lebanon and Syria
من صحيفة نيويورك تايمز 1982
على شرفة قصره في ضواحي بيروت الثرية الغنية ، محاطًا بالخدم الذين هم دائماً في متناول أيديه لإشعال سجائره ، تحدث الأمير مجيد أرسلان ، الزعيم الدرزي المحافظة الأكثر إعتدالاً بين اللبنانيين ، في وجهة نظره عن الاسرائيليين.
وقال الامير الذي ارتدى بذلة زرقاء شاحبة فوق قميص وردي لامع "لا يوجد حل اخر." عندما سئل عن وجهه نظره بشأن المستقبل ، أجاب: "علينا أن ننتظر. نأمل أن لا يفعل الإسرائيليون نفس الشيء مثل الجيوش الأخرى التي جاءت لتمنحنا الأمل في السلام.
وقال إنه "بعد أن يخرج الإسرائيليون آخر الفلسطينيين والسوريين من كل لبنان ، يجب أن تمنح السلطة إلى جيش لبناني قوي تحت قيادة رئيس قوي".
وقال الأمير : "إذا خرج جميع الغرباء من لبنان ، في أقل من يوم ، خلال ساعتين ، فإن اللبنانيين سيديرون أنفسهم". "الغرباء هم مرض لبنان".
الضباط الإسرائيليون الذين شاركوا في المناقشات "الهادئة" التي شارك فيها أعضاء من مختلف الفصائل اللبنانية اليمينية ظلوا يبتسمون. لكن الأمير ومستشاريه قالوا إنهم لا يعرفون كم يجب أن تبقى القوات الإسرائيلية لضمان الاستقرار. "هذا يعتمد ،" قال.
وردا على سؤال عن السبب في أن اللبنانيين الذين أرادوا طرد الفلسطينيين والسوريين من بلدهم كانوا يعتمدون على الجيش الإسرائيلي للقيام بهذا العمل؟ تجاهل الأمير السؤال.
لكن القس جوزيف تواميس ، وهو عضو بارز في الكنيسة المارونية ، أكبر جماعة مسيحية في لبنان ، رد عليه بشدة ، "لأن الفلسطينيين سلبوا جيشنا كرامته".
وأضاف الكاهن الملتحي ، الذي يدرس الأنثروبولوجيا في الجامعة المارونية في الكسليك ، "لا يمكنك تخيل عارنا أن يفرض علينا هذا السرطان العربي".
يميز العديد من المفكرين المسيحيين بين اللبنانيين والمسلمين والمسيحيين والعرب.
لا أحد يفعل ذلك بحماسة أكثر من مجموعة يقودها شاعران معروفان وشاعرين على نطاق واسع هما سعيد عقل وماي المر ، اللذين يعتبرون أبناء لبنان من نسل الفينيقيين القدماء.
حركتهم لديها فصيل مسلح يعرف باسم حراس الارز. وقال السيد عقل ، قائد القوة ، إنه كان لديه 4000 مقاتل تحت إمرته.
اكتشف الحرس مؤخراً حس القرابة مع إسرائيل. أجريت المقابلة مع السيدة مر هذا الصباح قبل مغادرتها إلى إسرائيل.
في أول زيارة لها لإسرائيل الأسبوع الماضي ، التقت برئيس الوزراء مناحيم بيغن لمدة 45 دقيقة. وقال مصدر إسرائيلي مطلع إن حكومة بيغن ستقوم برعاية جولة في أوروبا من قبل السيدة المر ستشرح خلالها وجهات نظرها.
وقال الشاعر (52 عاما) الذي يدرّس التاريخ في الجامعة اللبنانية والاكاديمية العسكرية اللبنانية "اسرائيل ولبنان هما توأمين حضارة يدين العالم تقريبا بكل حضارتها." "عملية الخلاص"
وقالت إنها أخبرت طلابها المتدربين أن مجيء الجيش الإسرائيلي لم يكن غزوا وإنما "عملية إنقاذ".
يقول السيد عقل ، وهو شاعر كتب عنه الكثير من الكتب على أنه العدد الكبير الذي نشره بنفسه: "نحن سعداء بأن الجيش الإسرائيلي قد جاء للقيام بهذا العمل البطولي". كانوا "ينظفون لبنان من التراب الفلسطيني".
"هناك مكان للفلسطينيين ، ليس على أرضنا ولكن تحت تربتنا" ، هذا ما أعلنه الشاعر البالغ من العمر 70 عاماً. "أنا أقتله لأنه يجب أن أعيش." وقال سوف يقتل كل فلسطيني حتى لا يبقى أي أحد منهم".
وقال كولونيل إسرائيلي شارك في النقاش مع مدفع رشاش في حضنه ، لاحقا إنه شعر بمرض شديد كان يريد أن يغادره.
___________________________________
بطل الاستقلال المجيد في صورة تذكارية مع جنود الاحتلال اليهودي…!
كان وزير دفاع آنذاك ..
هو الذي وقع على إعدام سعاده_زعيم الحزب السوري القومي الاجتماعي
#ذكروهم_كي_لا_ينسوا
How Lebanon-base Syria National Social party was uncovered to France mandated power in 1936
In 1932, Antoun Saadeh applied to teach German at AUB. He mastered several languages and he needed to meet with university students to spread his ideas for founding the Syria National Social party.
Many students and fresh graduates from prominent families became secret members. By the time the French mandated power unveiled the existence of this political party in 1936, the members were by the hundreds.
During trial Saadeh said: I am here to demand for our rights and Not to contest the colonial laws of occupation…
The article describes the three stages of this trial
ذكرى تأسيس الحزب بمحطاته الثلاث
المحطة الاولى:خلال العام 1932 ،وبتاريخ غير معروف يومه وشهره،بدأ سعاده الخطوة التأسيسية الأولى في لبنان بعد أن تعذر التأسيس في الشام خلال العام 1931.ولكي يغطي تحركه داخل الجامعة الاميركية،طلب من رئيسها بايار ضودج السماح له باعطاء دروس خصوصية باللغة الالمانية لمن يرغب من طلابها.ولما كان والده صديقا لضودج،فقد وافق على الطلب.
اتبع سعاده نهج الاعتماد على عنصر الشباب وفي طليعتهم الطلاب، لكي يتسنى له صقلهم عقديا ومناقبيا بما يتناسب مع ورشة النهوض العميق الشامل، غير المقتصر على الشعارات والهتافات الوطنية التقليدية من مثل:(بدنا الوحدة السورية اسلام ومسيحية)،وللحيلولة دون صيرورتهم ازلاما للاقطاع السياسي والمالي والديني.
وخلال ثلاث سنين وعدة أشهر من العمل السري،صار عدد أعضاء الحزب بضع مئات.ولما أصبح عدد الاعضاء من طلاب الجامعة غير قليل، ونشاطهم شبه علني،فقد لاحظ ذلك استاذ الكيمياء نيكولي،الذي اخبر رئيسه ضودج.ولما كانت "صوفة" الجامعة حمراء لدى المحتل الفرنسي،فقد رفع ضودج تقريرا حول النشاط الحزبي الجنين الى المفوض "السامي".فسارعت المفوضية الى زرع مخبر ذكي لها في الحزب،سرعان ما اصبح مسؤولا عسكريا لأنه كان رقيبا في سلك فرقة الاطفاء.
وعندما توفر للمحتل الادلة الكافية،شنت في 16 تشرين الثاني 1935 حملة اعتقالات واسعة شملت سعاده وكبار معاونيه.ومن أطرف ما حصل،ان عميد الاذاعة المحامي عبدالله قبرصي كان حدد 17 ت2 موعدا لعرسه،وان سعاده وافقه ان يكون الاشبين.
المحطة الثانية:كان سعاده الوحيد بين المعتقلين المسؤولين
الذي رأى في كشف سرية الحزب أمرا متوقعا وايجابيا ايضا. وقد عبر عن ذلك فيما بعد بقوله أنه لم يؤسس الحزب ليبقى سريا مدى الحياة،وان السرية كانت ضرورية لترسيخ بنيان الحزب الفتي.وكان الوحيد خلال الايام الاولى للاعتقال،متماسكا ومتين الاعصاب.وعندما تجرأ بعضهم وبخاصة عميد الحربية زكي النقاش على انتقاده ولومه على عدم أخذ الاحتياط الكافي لتجنب الانكشاف والاعتقال،جلس بعيدا عنهم داخل القاووش،ما حدا بنعمة تابت ان توجه اليه واعتذر منه.
وكان سعاده صلبا خلال التحقيقات،ما نقل الصلابة الى معظم
معاونيه.ولكن "قطوع"انكشاف السرية،بسبب غموض حجم الاحكام،لم ينته فصولا.
المحطة الثالثة والأخيرة:بعد 66 يوما،بدأت المحاكمات.وكان اول المحاكمين،زعيم الحزب الذي كان مغمورا بالمقارنة مع معظم معاونيه امثال صلاح لبكي ابن رئيس مجلس النواب نعوم لبكي ،ونعمة تابت ابن قسطنطين تابت مراسل الاسوشيتد برس من عموم الشرق الادنى،ومأمون أياس ابن ابرز العائلات السنية في بيروت ،والأمير أسعد الأيوبي قائد الشرطة في بيروت ،وعبد الله قبرصي المحامي الفرنكوفوني الذي تخرج من جامعة اليسوعية،وقد هددت نقابة المحامين باعلان الاضراب في حال استمرار اعتقاله ،فرضخت المفوضية العليا لرغبة النقابة،وحين بدأت المحاكمة،حضرها أبو صباح من خارج المعتقل.
كان دفاع سعاده في باكورة الجلسات بتاريخ 24 كانون الثاني1936 هجوميا وعالي المستوى ،حتى من الناحية التقنية الحقوقية بالمقارنة مع دفاع محامييه الشهيرين حميد فرنجية وحبيب أبو شهلا.واصر على الدفاع عن نفسه باللغة العربية رغم المامه بالفرنسية.وعندما اتهمته المحكمة التي يراسها فرنسي، بالتامر على وطنه،رد تهمة التامر الى وطن القاضي والمدعي العام،كما تؤكد الصحف البيروتية والشامية والفلسطينيةوجريدة (الهدى) النيويوركية المعادية.وفي نهاية محاكمة معاونيه ،طلب رئيس المحكمة من كل متهم كلمته الأخيرة قبل صدور الحكم،
فتولى سعاده الاجابة عن الجميع حيث قال:اطلب من المحكمة ان تحكم باسم الحقوق،لا القانون،لان الحقوق اسمى ما ابدعته الحضارة البشرية.
وجاءت الاحكام انطلاقا من الحقوق والقانون معا،فحكمت على سعاده بالسجن ستة أشهر،وعلى بعض المتهمين لمدد تتراوح بالسجن اسبوعين أو اسبوع مع وقف التنفيذ ،وعلى البعض الباقي بالبراءة. وهكذا،دخل سعاده المحكمةسياسيا مغمورا ،وخرج منها زعيما مشهورا،ما حقق لحزبه الحياة والانتشار.
لذلك،كان تاريخ تاسيس الحزب متميزا عن باقي تاريخ تأسيس الاحزاب في كل العصور والامم،فكان شاملا ولادته في العام 1932وانكشاف سريته في 16تشرين الثاني 1935الذي شمل بدوره تأمين صموده ونموه في محاكمة زعيمه في24 كانون الثاني 1936.
ACTIVIST AND HERO HARRY LESLIE SMITH PASSES
Veteran Labour activist Harry Leslie Smith has died aged 95.
Harry, who served in the Second World War and wrote movingly of the suffering and death of loved ones, friends and neighbours before the foundation of the NHS, campaigned not only for the protection of our health service but stood with refugees and against all the predations of Tory government on our vulnerable citizens.
Harry showed an energy that people half his age would have been proud of. He was in Canada when he died, after being hospitalised following a fall.
News of Harry's illness sparked a worldwide surge of sympathy, solidarity and interest, with leading figures from many nations expressing hope for his recovery under the hashtag #IStandWithHarry.
Harry met his German wife Friede in the devastation of post-war Hamburg and his book about her and their experiences, Love Among the Ruins received huge acclaim.
Their son described her as '[Harry's] true homeland'.
Episodes of his 'Harry's Last Stand' podcast can be downloaded from iTunes, SoundCloud and other services.
The SKWAWKBOX sends sympathy and solidarity to his family. RIP.
Why this petition to release of Carlos Ghosn?
It has been five days since our compatriot Carlos Ghosn (of Lebanon origin, and studied in Lebanon, with dual Brazil citizenship) was sequestered and sentenced before being tried. (Is Japan emulating colonial Britain and apartheid Israel administrative detention?)
The Japanese judiciary, which probably has its own laws prohibiting the accused from having his lawyers with him during his interrogation, has gone very far in his act of vandalism.
Should we wait for Lebanese citizen Carlos Ghosn to be lynched before Lebanon reacts and officially asks Japan for his release?
The Lebanese ambassador to Japan sent by our minister of the EA, could not meet him, and any contact with the outside is forbidden. (The same process that Saudi Kingdom exercised on our PM Saad Hariri?)
He is imprisoned in a 5m cell, a prison that includes detainees, criminals and terrorists.
We request that a high-level official delegation travel to Japan as soon as possible to learn about the conditions of detention of a Lebanese citizen emigrant, surplus, brilliant businessman, known for his great qualities.
Note: This petition is Not a call Not to put Ghosn on trial, but to respect the international due process in legal matters. Apparently Japan has more than one interest in degrading the image of Ghosn:
Japan wants to appoint the  Japanese right-hand to be chief of Nissan after Ghosn helped her out from imminent bankruptcy,
It wants to satisfy USA diktat of punishing anyone who tries to circumvent its treacherous and unfounded sanctions on Iran and Russia
Israel dropped Carlos to the waste bin after he disengaged himself from resuming doing business with Israel
President Macron of France contributed in aligning himself with USA/Israel policies to circumvent the serious internal difficulties in raising gas prices and forgetting to support decentralization activities in his campaign promises, alienating the medical profession, especially the nurses, and generally supporting the elite classes at the detriment of the working citizens
You may read my lengthy biography on Carlos Ghosn on my blog adonis49.wordpress.com
DISPARITION – Le légendaire artiste franco-arménien s'est éteint à l'âge de 94 ans. Avec des chansons telles que Emmenez-moi, Je m'voyais déjà ou La Bohème, l'éternel Charles Aznavour a traversé les époques, les générations et les frontières.
«Chanteur de variété le plus important du XXe siècle».
C'est le titre attribué en 1988 à Charles Aznavour par la chaîne américaine CNN et le Times.
Plus de 1200 chansons dans sept langues différentes, des spectacles dans 94 pays et plus de 100 millions de disques vendus dans le monde entier.
Mais aussi plus de 60 participations à des longs-métrages.
Très discret sur sa vie privée, le chanteur – décédé dans la nuit de dimanche à lundi à l'âge de 94 ans – a été marié trois fois et a eu six enfants dont trois avec sa dernière femme Ulla avec qui il était marié depuis plus de 50 ans.
Icône de la chanson française, Charles Aznavour était une star mondiale, au point d'avoir son étoile sur le «Walk of Fame» à Hollywood en 2017.
70 ans de carrière en haut de l'affiche pour cette légende de la chanson française. Il revenait ces derniers jours d'une tournée au Japon, après avoir été contraint d'annuler des concerts cet été en raison d'une fracture du bras après une chute.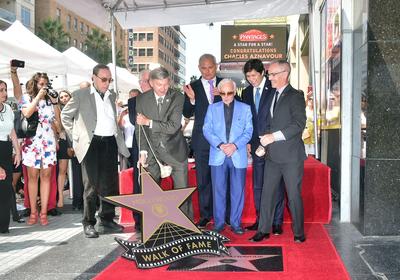 Ses premières années débutent comme un roman. Ses parents, Misha et Knar Aznavourian, viennent de Salonique, en Grèce. Son père est le fils d'un ancien cuisinier du tsar Nicolas II, sa mère appartient à une famille de commerçants arméniens de Turquie qui avaient fui le génocide de 1915.
Aznavour, à l'époque Varenagh Aznavourian, naît en France, le 22 mai 1924. Ses parents attendent à Paris un visa pour les États-Unis. Finalement, la France sera leur terre d'accueil. Son père mène une carrière de restaurateur et de patron de café laborieuse,  il préfère chanter.
» LIRE AUSSI – En direct: les réactions après l'annonce de la mort de Charles Aznavour
Encouragé également par sa mère, actrice, le jeune homme joue du violon dans les rues, entre à 9 ans à l'École du spectacle et se donne comme nom de scène «Aznavour».
Rapidement, la chanson devient une évidence. Un certain Charles Trenet, devient son idole. À 17 ans, en pleine guerre, il rencontre un jeune compositeur fou de jazz, Pierre Roche. Le duo «Roche et Aznavour» commence à courir les cabarets. De cette collaboration naîtra notamment J'aime Paris au mois de mai.
Le «petit génie con» de Piaf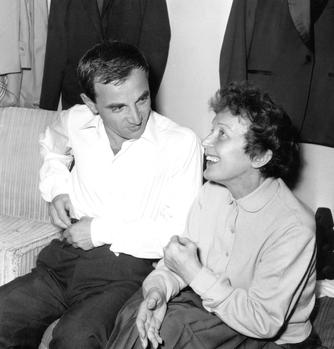 1945, période creuse pour les deux artistes, malgré un contrat d'enregistrement signé avec Jacques Canetti chez Polydor.
L'année d'après, la rencontre avec Edith Piaf les relance. Elle les invite à la suivre pendant une tournée de deux ans en France et aux États-Unis. La chanson swing du duo ne s'impose pas vraiment en France, mais a du succès au Canada… Et Pierre Roche finit par s'y marier. La carrière solo d'Aznavour débute… difficilement.
Pendant huit ans, l'artiste travaille dans l'ombre de la chanteuse. «Le petit génie con» devient l'homme à tout faire de l'icône, alors au sommet de sa carrière.
Il conduit la voiture, répond au téléphone, s'occupe des éclairages et du son pendant les tournées… De temps à autre, il lui présente une chanson qu'il a écrite, sans grand succès. Piaf lui répète qu'il ne percera jamais comme chanteur.
Mais Aznavour persévère, s'accroche et écrit plusieurs chansons pour Gilbert Bécaud, Juliette Gréco, Patachou... Piaf elle-même fait un succès avec Jezebel.
En 1955, ses fossettes et son regard profond font leur première apparition à la télévision. Les mains dans les poches, l'air décontracté, presque désinvolte, Charles Aznavour entonne Le Palais de nos chimères:
1960 et la naissance de la star française et internationale
Aznavour est sur la voie du succès: la critique a beau ne pas croire en lui, le public commence à s'attacher. Sur ma vie, Parce que, Sa jeunesse, Au creux de mon épaule sont ses premiers succès.
Un début de carrière qui aurait pu se terminer tragiquement.
À l'été 1955, le chanteur est victime d'un violent accident de voiture sur la route de Saint-Tropez. Hôpital, convalescence: plusieurs mois éloigné du métier, il doit tout reconstruire.
L'année suivante, Charles Aznavour fait sa première à l'Olympia. Mais les critiques sont toujours virulentes sur la voix et le physique du chanteur. Des propos qui le blessent profondément et pourtant, les propositions de contrats s'enchaînent.
La légende Aznavour est née un soir de décembre 1960. À l'Alhambra, le grand music-hall près de la place de la République, à Paris, sa carrière se joue en une soirée.
Après six chansons interprétées dans une atmosphère glaciale, l'artiste sort sa dernière carte: Je m'voyais déjà. L'histoire d'un artiste dont la carrière ne décolle pas. Charles Aznavour entonne le dernier couplet: «On ne m'a jamais accordé ma chance, D'autres ont réussi avec un peu de voix mais beaucoup d'argent, Moi j'étais trop pur ou trop en avance, Mais un jour viendra je leur montrerai que j'ai du talent.» C'est l'ovation. Un succès énorme et définitif: Aznavour ne quittera plus le haut de l'affiche, il a 36 ans.
La Bohème, La Mamma, Sa jeunesse, Toi et moi, Mes emmerdes, Non je n'ai rien oublié, Désormais, Les Comédiens, Emmenez-moi, Tu t'laisses aller…
Charles Aznavour enchaîne les tubes et, en 1963, entame une carrière aux États-Unis. Il séduit les Américains, qui se pressent pour assister à sa représentation au Carnegie Hall de New-York. Près de 400 New-Yorkais sont présents dans la salle. Le chanteur alterne les chansons en anglais et en français. Une soirée qui marque le véritable point de départ de sa carrière internationale.
À VOIR AUSSI – Mort de Charles Aznavour: «Aux États-Unis, il était très aimé»
Aznavour au grand écran
En France, Aznavour devient une référence. Et quand, en 1989, il fait appel aux artistes français pour venir au secours de l'Arménie, son pays d'origine, qui vient d'être ravagé par un tremblement de terre, ils sont quatre-vingt-dix chanteurs et comédiens à se presser derrière le micro pour chanter Pour toi Arménie – le single sera vendu à un million d'exemplaires. En 1997, il est nommé officier de la Légion d'honneur.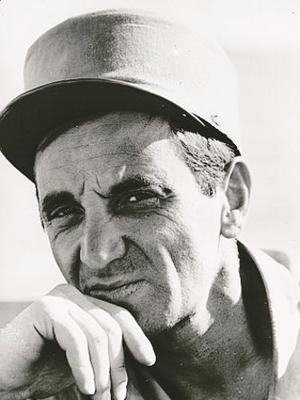 Chanteur reconnu, Charles Aznavour aura aussi une carrière dans le cinéma avec 63 films au  compteur. Si beaucoup ont été des nanars, il joue ses plus beaux rôles dans les années 1960: Tirez sur le pianistede Truffaut, Le Testament d'Orphée de Cocteau, Un taxi pour Tobrouk de La Patellière, Paris au mois d'août de Granier-Deferre…
En 1968, la star internationale tourne son premier film en anglais: Candyde Christian Marquand avec Marlon Brando, Richard Burton et James Coburn. Il joue également en allemand, dans Le Tambour (1979) de Volker Schlöndorff qui obtient l'Oscar du meilleur film étranger.
Héros dramatique, il tourne sous la direction de Claude Chabrol en 1982, Les Fantômes du chapelier dans le rôle d'un homme écrasé et réservé.
Aznavour compose de nombreuses musiques pour ses films, écrit le scénario de la comédie de Paul Boujenah, Yiddish Connection. Dans les années 1990, il se fait plus discret au cinéma, tournant principalement des téléfilms.
Aznavour, toujours et «Encores»
Huit kilos, c'est le poids de l'intégrale de l'œuvre d'Aznavour, sorti en 1996. Un imposant coffret de 33 CD en forme de colonne Morris qui donne toute la dimension de la carrière du chanteur.
Aznavour entre dans le XXIe siècle. Chaque tournée est alors présentée comme la dernière.
En 2000, il annonce ses adieux, puis finalement fête ses 80 ans en 2004 au Palais des congrès, son port d'attache. L'année d'après, il entame une tournée d'adieu nord-américaine et poursuit ensuite cette dernière à l'international, en chantant en Asie, en Europe, en Océanie et en Amérique du Sud.
Sa «dernière rentrée» était prévue en 2007. Mais chaque année, Aznavour savoure l'ivresse d'être en haut de l'affiche. 2009 est un nouveau marathon nord-américain.
» LIRE AUSSI – La dernière interview de Charles Aznavour au Figaro: «Chanteurs, soyez intellos, mais fermez vos gueules»
Un an plus tard, Charles Aznavour n'est toujours pas rassasié. Il sort Aznavour toujours, son 50ème album et enchaîne directement avec la tournée européenne Charles Aznavour en toute intimité.
En 2013, on se souvient de son duo avec Johnny Hallyday sur le titre «Sur ma vie» à l'occasion des 70 ans de l'idole des jeunes.
En mai 2015, il sort Encores, son 51e album, mais son 46e original.
Auteur de nombreux volumes autobiographiques, le chanteur était passionné de littérature et confiait en 2017, dans les colonnes du Figaro: «Je m'instruis, parce que j'en ai besoin pour mon travail, pas pour briller en société. Mon nom brille pour moi, c'est déjà assez emmerdant.»
En 2018, Charles Aznavour repartait à 93 ans sur la route des concerts. Après sept ans d'absence, il s'était produit dans six villes en France en janvier.
Celui qui voulait chanter jusqu'à l'âge de 100 ans, devait effectuer une tournée en novembre à travers le monde.
● Duo avec Johnny Hallyday sur le titre «Sur ma vie» à l'occasion des 70 ans de l'idole des jeunes.