Archive for the 'Book Review' Category
How a steady, sustained resistance kicked Israel out of Lebanon (1982-2000)
Journalist British correspondent Robert Fisk wrote a book "Affliction of Nation" and I have been summarizing chapters of the Arabic version.
Fisk covered the civil war in Lebanon for 9 years and investigated on the ground.   Fisk wrote:
"As the invasion of Israel to Lebanon in June 1982 progressed, fear and apprehension of Israel military vanished.
Israel might was not in its soldiers, but its destructive fire power and air superiority. In this invasion, Israel emptied its last shot at scaring its neighboring States:  Israeli soldiers were hunkering down in their bunkers.
An Israeli war analysts wrote: "Illusion was the basis of this preemptive war and its motivation was concealed. This war was doomed to end in catastrophe"
I met the Israeli reservist soldier Dany (18 of age) on the Awwali River Bridge on Aug. 16, 1984.  Dany was born in Washington and is currently living in the kibbutz Ain Smorian. He was to serve for 9 months and resume his education in political sciences. Dany pointed to a Lebanese peasant in Saida and said: "He sees everything around him.  Soon, they will ambush us again. I understand their reactions: our antagonistic activities are not to be peaceful.  They have the right to hate us.  I wish I could speak Arabic and say: "Please, I am sorry…" All that I was taught of Arabic is "Do that, Go there, Hurry up…"
A beautiful girl waved to an Israeli soldier at a check-point in the town of Kfarfalous on Aug. 17, 1984.  The soldier said "Hi". The girl smiled and cursed in Arabic: "Are you still alive? Curse of God on your people…"
Apparently, Israel failed to spread anything civilized in this region, much less democracy: Israel has succumbed to the mentality and customs of the Near-East.
Note: The Lebanese resistance started as Israel troops entered Beirut. Many Kamikaze suicide attacks on Israel headquarters, center of commands and gathering of soldiers increased between in 1983-1986, until Syria gave Hezbollah the exclusive "resistance right" against Israel occupation that lasted till May 24, 2000
Ten Myths on Israel being a Democratic State
No, Israel Is Not a Democracy
By lan Pappe
From Ten Myths About Israel, out now from Verso Books.
June 12, 2018 "Information Clearing House" – Israel is not the only democracy in the Middle East. In fact, it's not a democracy at all.
In the eyes of many Israelis and their supporters worldwide — even those who might criticize some of its policies — Israel is, at the end of the day, a benign democratic state, seeking peace with its neighbors, and guaranteeing equality to all its citizens.
Those who do criticize Israel assume that, if anything went wrong in this democracy, then it was due to the 1967 war.
Subjugation of Minorities in Israel Is Not Democratic
The litmus test of any democracy is the level of tolerance it is willing to extend towards the minorities living in it. In this respect, Israel falls far short of being a true democracy.
For example, after the new territorial gains several laws were passed ensuring a superior position for the majority: the laws governing citizenship, the laws concerning land ownership, and most important of all, the law of return.
The latter grants automatic citizenship to every Jew in the world, wherever he or she was born. This law in particular is a flagrantly undemocratic one, for it was accompanied by a total rejection of the Palestinian right of return — recognized internationally by the UN General Assembly Resolution 194 of 1948. This rejection refuses to allow the Palestinian citizens of Israel to unite with their immediate families or with those who were expelled in 1948.
Denying people the right of return to their homeland, and at the same time offering this right to others who have no connection to the land, is a model of undemocratic practice.
Added to this was a further layering of denial of the rights of the Palestinian people. Almost every discrimination against the Palestinian citizens of Israel is justified by the fact that they do not serve in the army.
The association between democratic rights and military duties is better understood if we revisit the formative years in which Israeli policy makers were trying to make up their minds about how to treat one-fifth of the population.
Their assumption was that Palestinian citizens did not want to join the army anyway, and that assumed refusal, in turn, justified the discriminatory policy against them. This was put to the test in 1954 when the Israeli ministry of defense decided to call up those Palestinian citizens eligible for conscription to serve in the army. The secret service assured the government that there would be a widespread rejection of the call-up.
To their great surprise, all those summoned went to the recruiting office, with the blessing of the Communist Party, the biggest and most important political force in the community at the time. The secret service later explained that the main reason was the teenagers' boredom with life in the countryside and their desire for some action and adventure.
Notwithstanding this episode, the ministry of defense continued to peddle a narrative that depicted the Palestinian community as unwilling to serve in the military.
Inevitably, in time, the Palestinians did indeed turn against the Israeli army, who had become their perpetual oppressors, but the government's exploitation of this as a pretext for discrimination casts huge doubt on the state's pretense to being a democracy.
If you are a Palestinian citizen and you did not serve in the army, your rights to government assistance as a worker, student, parent, or as part of a couple, are severely restricted. This affects housing in particular, as well as employment — where 70 percent of all Israeli industry is considered to be security-sensitive and therefore closed to these citizens as a place to find work.
The underlying assumption of the ministry of defense was not only that Palestinians do not wish to serve but that they are potentially an enemy within who cannot be trusted. The problem with this argument is that in all the major wars between Israel and the Arab world the Palestinian minority did not behave as expected. They did not form a fifth column or rise up against the regime.
This, however, did not help them: to this day they are seen as a "demographic" problem that has to be solved. The only consolation is that still today most Israeli politicians do not believe that the way to solve "the problem" is by the transfer or expulsion of the Palestinians (at least not in peacetime).
Gift of Doubt? And why are we persecuted for our legitimate doubts?
Note: Re-edit of "Gift of Doubt and Power of Failure. July 12, 2013"
Albert O. Hirschman, Malcolm Gladwell…
In the mid-nineteenth century, work began on a crucial section of the railway line connecting Boston to the Hudson River.
The addition would run from Greenfield, Massachusetts, to Troy, New York, and it required tunneling through Hoosac Mountain, a nearly five-mile thick impediment, that blocked passage between the Deerfield Valley and a tributary of the Hudson.
James Hayward, one of New England's leading railroad engineers, estimated that penetrating the Hoosac would cost, at most, a very manageable $2 million.
The president of Amherst College, an accomplished geologist, said that the mountain was composed of soft rock and that tunneling would be fairly easy once the engineers had breached the surface.
"The Hoosac . . . is believed to be the only barrier between Boston and the Pacific," the project's promoter, Alvah Crocker, declared.
Malcolm Gladwell published in The New Yorker this June 24, 2013:
Everyone was wrong. Digging through the Hoosac turned out to be a nightmare. The project cost more than ten times the budgeted estimate.
If the people involved had known the true nature of the challenges they faced, they would never have funded the Troy-Greenfield railroad. But, had they not, the factories of northwestern Massachusetts wouldn't have been able to ship their goods so easily to the expanding West, the cost of freight would have remained stubbornly high, and the State of Massachusetts would have been immeasurably poorer. So is ignorance an impediment to progress or a precondition for it?
The economist Albert O. Hirschman, who died last December, loved paradoxes like this. He was a "planner," the kind of economist who conceives of grand infrastructure projects and bold schemes. But his eye was drawn to the many ways in which plans did not turn out the way they were supposed to—to unintended consequences and perverse outcomes and the puzzling fact that the shortest line between two points is often a dead end.
Hirschman was a planner who saw virtue in the fact that nothing went as planned. Illustration by Ricardo Martinez.
"The Principle of the Hiding Hand," one of Hirschman's many memorable essays, drew on an account of the Troy-Greenfield "folly," and then presented an even more elaborate series of paradoxes. Hirschman had studied the enormous Karnaphuli Paper Mills, in what was then East Pakistan.
The mill was built to exploit the vast bamboo forests of the Chittagong Hill Tracts. But not long after the mill came online, the bamboo unexpectedly flowered and then died, a phenomenon now known to recur every 50 years or so. Dead bamboo was useless for pulping; it fell apart as it was floated down the river.
Because of ignorance and bad planning, a new, multimillion-dollar industrial plant was suddenly without the raw material it needed to function.
But what impressed Hirschman was the response to the crisis.
The mill's operators quickly found ways to bring in bamboo from villages throughout East Pakistan, building a new supply chain using the country's many waterways. They started a research program to find faster-growing species of bamboo to replace the dead forests, and planted an experimental tract. They found other kinds of lumber that worked just as well. The result was that the plant was blessed with a far more diversified base of raw materials than had ever been imagined.
If bad planning hadn't led to the crisis at the Karnaphuli plant, the mill's operators would never have been forced to be creative. And the plant would not have been nearly as valuable as it became.
"We may be dealing here with a general principle of action," Hirschman wrote:
Creativity always comes as a surprise to us; therefore we can never count on it and we dare not believe in it until it has happened. We would not consciously engage upon tasks whose success clearly requires that creativity be forthcoming.
Hence, the only way in which we can bring our creative resources fully into play is by misjudging the nature of the task, by presenting it to ourselves as more routine, simple, undemanding of genuine creativity than it will turn out to be.
And from there Hirschman's analysis took flight. People don't seek out challenges "They are "apt to take on and plunge into new tasks because of the erroneously presumed absence of a challenge—because the task looks easier and more manageable than it will turn out to be."
This was the Hiding Hand principle—a play on Adam Smith's Invisible Hand. The entrepreneur takes risks but does not see himself as a risk-taker, because he operates under the useful delusion that what he's attempting is not risky. Then, trapped in mid-mountain, people discover the truth—and, because it is too late to turn back, they're forced to finish the job.
"We have ended up here with an economic argument strikingly paralleling Christianity's oft expressed preference for the repentant sinner over the righteous man who never strays from the path," Hirschman wrote in this essay from 1967. Success grew from failure:
And essentially the same idea, even though formulated, as one might expect, in a vastly different spirit, is found in Nietzsche's famous maxim, "That which does not destroy me, makes me stronger." This sentence admirably epitomizes several of the histories of economic development projects in recent decades.
As was nearly always the case with Hirschman's writing, he made his argument without mathematical formulas or complex models. His subject was economics, but his spirit was literary. He drew on Brecht, Kafka, Freud, Flaubert, La Rochefoucauld, Montesquieu, Montaigne, and Machiavelli, not to mention Homer—he had committed huge sections of the Odyssey to memory.
The pleasure of reading Hirschman comes not only from the originality of his conclusions but also from the delightfully idiosyncratic path he took to them. Consider this, from the same essay (and, remember, this is an economist who's writing):
"While we are rather willing and even eager and relieved to agree with a historian's finding that we stumbled into the more shameful events of history, such as war, we are correspondingly unwilling to concede—in fact we find it intolerable to imagine—that our more lofty achievements, such as economic, social or political progress, could have come about by stumbling rather than through careful planning. . . . Language itself conspires toward this sort of asymmetry: we fall into error, but do not usually speak of falling into truth.
"Worldly Philosopher: The Odyssey of Albert O. Hirschman" (Princeton), by the Princeton historian Jeremy Adelman, is a biography worthy of the man. Adelman brilliantly and beautifully brings Hirschman to life, giving us an unforgettable portrait of one of the twentieth century's most extraordinary intellectuals.
Hirschman was born in Berlin in 1915, into a prosperous family of Jewish origin. His father was a surgeon, and the family lived in the embassy district, near the Tiergarten. Hirschman was slender and handsome, in the mold of Albert Camus. He dressed elegantly, danced skillfully, spoke half a dozen languages, and had a special affection for palindromes.
He was absent-minded and distracted. While lecturing, Adelman writes, "He rambled. He mumbled. Mid-sentence, he would pause, his right hand supporting his chin, his eyes drifting upward to fasten on a spot on the ceiling." He would call his wife upon taking his car somewhere because—as he once said—"I do not know how to put it among two other cars on the sidewalk." "When you spoke to him," a friend said, "it was sometimes five or ten seconds before he would show any sign of having heard you." He was also deeply charming when he put his mind to it.
The great influence on Hirschman's life was his brother-in-law, the Italian intellectual Eugenio Colorni. Colorni and Hirschman were as close as siblings, and when Colorni was killed by Fascist thugs in Rome, during the Second World War, Hirschman was inconsolable. Adelman writes:
"Colorni believed that doubt was creative because it allowed for alternative ways to see the world, and seeing alternatives could steer people out of intractable circles and self-feeding despondency. Doubt, in fact, could motivate: freedom from ideological constraints opened up political strategies, and accepting the limits of what one could know liberated agents from their dependence on the belief that one had to know everything before acting, that conviction was a precondition for action.
The phrase that Hirschman and Colorni would repeat to each other was that they hoped to "prove Hamlet wrong." Hamlet shouldn't have been frozen by his doubts; he should have been freed by them. Hamlet took himself too seriously. He thought he needed to be perfect. Colorni and Hirschman didn't. Courage, Colorni wrote, required the willingness "to always be on guard against oneself."
Doubt didn't mean disengagement.
In the summer of 1936, Hirschman volunteered to fight in Spain on the side of the Loyalists, against General Franco's German-backed Fascists. He was twenty-one and living in Paris, having just got back from studying at the London School of Economics. He was among the first wave of German and Italian volunteers to take the train to Barcelona. "When I heard that there was even a possibility to do something," Hirschman said, "I went."
Hirschman rarely spoke about what happened in Spain. Decades later, Adelman recounts, Albert and his wife, Sarah, went to see a film about the Spanish Civil War. Afterward, Sarah asked Albert, "Was it like that?" His response was a deft non-response: "Yeah, that was a pretty good film." On this subject, as on a few others, Sarah felt a certain reticence in her husband. Still, as Adelman remarks, "the scars on his neck and leg made it impossible for her to forget."
Adelman interprets Hirschman's silence as disenchantment: "The endless debate rehearsed in Berlin and Paris over left-wing tactics was more than a farce, it was a tragedy of epic proportions."
Hirschman saw the Communists move in and, in his mind, the spirit of the cause became contaminated. It broke his heart. But Hirschman would come to recognize that action fueled by doubt allows for failures to be left behind. Spain was a tragedy, but it was also, for him, an experiment, and experiments go awry.
Hirschman liked to say that he had "a propensity to self-subversion." He even gave one of his books that title. He qualified and questioned and hedged as a matter of habit. He never trusted himself enough to indulge in grand theorizing. He pursued the "petite idée," the attempt, as he said, "to come to an understanding of reality in portions, admitting that the angle may be subjective."
Once, when a World Bank director sent him a paper that referred to the "Hirschman Doctrine," Hirschman replied, "Unfortunately (or, I rather tend to think, fortunately), there is no Hirschman school of economic development and I cannot point to a large pool of disciples where one might fish out someone to work with you along those lines."
Hirschman spent his career in constant motion.
After doing graduate training in London and Italy, fighting in Spain, and spending the first part of the war in France, he left for the United States, by which point he had begun to lose track of his own movements. "This makes my fourth—or is it fifth?—emigration," he wrote to his mother. He accepted a fellowship at Berkeley (where he met the woman he would marry, Sarah Chapiro, another émigré), did a tour of duty for the O.S.S. in North Africa and Europe, and, with the war concluded, served a stint at the Federal Reserve Board, where he grew so unhappy that he would return home to his wife and two daughters in Chevy Chase, shut the door to his study, and bury himself in Kafka.
He worked for the Marshall Plan in Washington, providing, Adelman says, "the thinking behind the thinking," only to be turned down for a transfer to Paris because of a failed national-security review. He was in his mid-thirties. On a whim, he packed up the family and moved to Bogotá, Colombia, where he worked on a project for the World Bank.
He crisscrossed Colombia with, Adelman writes, "pen in hand and paper handy, examining irrigation projects, talking to local bankers about their farm loans, and scribbling calculations about the costs of road building."
Writing to her parents about the family's decision to move to Colombia, which was then in the midst of a civil war, Sarah explained, "We both realize that you should think of the future—make plans for the children etc. But I think we both somehow feel that it is impossible to know what is best and that the present is so much more important—because if the present is solid and good it will be a surer basis for a good future than any plans that you can make."
Most people would not have left a home in Chevy Chase and the security of a job in Washington to go to a Third World country where armed gangsters roamed the streets, because they would feel certain that Colombia was a mistake. Hirschman believed, as a matter of principle, that it was impossible to know whether Colombia would be a mistake.
As it happened, the 4 years the family spent in Bogotá were among its happiest. Hirschman returned to Latin America again and again during his career, and what he learned there provided the raw material for his most brilliant work. His doubt was a gift, not a curse.
Hirschman published his first important book, "The Strategy of Economic Development," in 1958. He had returned from Colombia by then and was at Yale, and the book was an attempt to make sense of his experience of watching a country try to lift itself out of poverty.
At the time, he was reading deeply in the literature of psychology and psychoanalysis, and he became fascinated with the functional uses of negative emotions: frustration, aggression, and, in particular, anxiety. Obstacles led to frustration, and frustration to anxiety. No one wanted to be anxious. But wasn't anxiety the most powerful motivator—the emotion capable of driving even the most reluctant party toward some kind of solution?
In the field of developmental economics, this was heretical. When people from organizations like the World Bank descended on Third World countries, they always tried to remove obstacles to development, to reduce economic anxiety and uncertainty. They wanted to build bridges and roads and airports and dams to insure that businesses and entrepreneurs encountered as few impediments as possible to growth. But, as Hirschman thought about case studies like the Karnaphuli Paper Mills and the Troy-Greenfield folly, he became convinced that his profession had it backward. His profession ought to embrace anxiety, and not seek to remove it.
As he wrote in a follow-up essay to "The Strategy of Economic Development":
"Law and order and the absence of civil strife seem to be obvious preconditions for the gradual and patient accumulation of skills, capital and investors' confidence that must be the foundation for economic progress. We are now told, however, that the presence of war-like Indians in North America and the permanent conflict between them and the Anglo-Saxon settlers was a great advantage, because it made necessary methodical, well-planned, and gradual advances toward an interior which always remained in close logistic and cultural contact with the established communities to the East.
In Brazil, on the contrary, the back-lands were open and virtually uncontested; the result was that once an excessively vast area had been occupied in an incredibly brief time span the pioneers became isolated and regressed economically and culturally.
The impulse of the developmental economist in those days would have been to remove the "impediments" to growth—to swoop in and have some powerful third party deal with the "war-like Indians." But that would have turned North America into Brazil, and the pioneers would never have been forced to develop methodical, well-planned advances in logistical contact with the East.
Developing countries required more than capital.
They needed practice in making difficult economic decisions. Economic progress was the product of successful habits—and there is no better teacher, Hirschman felt, than a little adversity.
Hirschman would rather encourage settlers and entrepreneurs at the grass-roots level—and make them learn how to cope with those impediments themselves—than run the risk that aid might infantilize its recipient. He loved to tell the story of how, at a dinner party in a Latin American country, he struggled to track down the telephone number of a fellow-academic: "I asked whether there might be a chance that X would be listed in the telephone directory; this suggestion was shrugged off with the remark that the directory makes a point of listing only people who have either emigrated or died. . . .
The economist said that X must be both much in demand and hard to reach, as several people had inquired about how to get in touch with him within the past few days. The subject was dropped as hopeless, and everybody spent a pleasant evening."
Back in his hotel room, Hirschman looked in the phone book, found his friend's number, and got him on the line immediately.
A few years after publishing "The Strategy of Economic Development," Hirschman was invited by the World Bank to conduct a survey of some of its projects. He drew up his own itinerary, which, typically, involved almost an entire circuit of the globe:
a power plant in El Salvador, roads in Ecuador, an irrigation project in Peru, pasture improvement in Uruguay, telecommunication in Ethiopia, power transmission in Uganda, an irrigation project in Sudan, railway modernization in Nigeria, the Damodar Valley Corporation in India, the Karnaphuli Paper Mills, an irrigation project in Thailand and another in the south of Italy.
Adelman is struck by the tone of optimism in Hirschman's notes on his journey. The economist was interested in all the ways in which projects managed to succeed, both in spite of and because of the difficulties:
Instead of asking: what benefits [has] this project yielded, it would almost be more pertinent to ask: how many conflicts has it brought in its wake? How many crises has it occasioned and passed through? And these conflicts and crises should appear both on the benefit and the cost side, or sometimes on one—sometimes on the other, depending on the outcome (which cannot be known with precision for a long time, if ever).
Only Hirschman would circle the globe and be content to conclude that he couldn't reach a conclusion—for a long time, if ever. He was a planner who really didn't believe in planning. He wanted to remind other economists that a lot of the problems they tried to fix were either better off not being fixed or weren't problems to begin with.
Late in life, Hirschman underwent surgery in Germany. When he emerged from anesthesia, he asked his surgeon, "Why are bananas bent?" The doctor shrugged. Hirschman, even then, could not resist a poke at his fellow economic planners: "Because nobody went to the jungle to adjust it and make it straight."
While fighting for France during the Second World War, Hirschman persuaded his commander to give him false French papers and he became Albert Hermant. After the country fell to the Germans, Hirschman ended up in Marseilles, along with thousands of other refugees.
There he learned that an American named Varian Fry was coming to France as part of the Emergency Rescue Committee—an American group that sought to get as many Jewish refugees out of France as possible. Hirschman met Fry at the train station and took him back to the Hotel Splendide. They hit it off instantly.
Fry had access to U.S. visas. But he needed Hirschman's help in figuring out escape routes into Spain, procuring false passports and identity papers, and smuggling in money to fund the operation. Hirschman was invaluable. He spoke Italian like an Italian and German like a German and French like a Frenchman, and had so many fake documents—including a card attesting to membership in the "Club for People Without Clubs"—that Fry joked he was "like a criminal who has too many alibis."
Fry nicknamed Hirschman Beamish, on account of his irrepressible charm. Beginning in 1940, the Emergency Rescue Committee helped save thousands of people from the clutches of Fascism, among them Hannah Arendt, André Breton, Marc Chagall, Marcel Duchamp, Max Ernst, and Alma Mahler.
Hirschman was as reluctant to talk about his time in Marseilles as he was to talk about the battles he fought in the Spanish Civil War. As a fellow at Berkeley, in the early forties, he was placed in the International House, and the other graduate students urged him to speak about what had happened to him in Europe. "The newcomer sat there," Adelman writes, "with his handkerchief twisted in his fingers, nervously waiting for the calls to pass." Hirschman moved out of the International House as soon as he could. "I couldn't stand being considered as sort of a wonder of the world or something like that," he later recalled. "I just wanted to be myself."
The closest Hirschman ever came to explaining his motives was in his most famous work, "Exit, Voice, and Loyalty," and even then it was only by implication. Hirschman was interested in contrasting the two strategies that people have for dealing with badly performing organizations and institutions. "Exit" is voting with your feet, expressing your displeasure by taking your business elsewhere. "Voice" is staying put and speaking up, choosing to fight for reform from within. There is no denying where his heart lay.
Early in the book, Hirschman quoted the conservative economist Milton Friedman, who argued that school vouchers should replace the current public-school system. "Parents could express their views about schools directly, by withdrawing their children from one school and sending them to another, to a much greater extent than is now possible,"
Friedman wrote. "In general they can now take this step only by changing their place of residence. For the rest, they can express their views only through cumbrous political channels."
This was, Hirschman wrote, a "near perfect example of the economist's bias in favor of exit and against voice":
In the first place, Friedman considers withdrawal or exit as the "direct" way of expressing one's unfavorable views of an organization. A person less well trained in economics might naively suggest that the direct way of expressing views is to express them! Secondly, the decision to voice one's views and efforts to make them prevail are contemptuously referred to by Friedman as a resort to "cumbrous political channels." But what else is the political, and indeed the democratic, process than the digging, the use, and hopefully the slow improvement of these very channels?
Hirschman pointed out the ways in which "exit" failed to send a useful message to underperformers. Weren't there cases where monopolists were relieved when their critics left? "Those who hold power in the lazy monopoly may actually have an interest in creating some limited opportunities for exit on the part of those whose voice might be uncomfortable," he wrote.
The worst thing that ever happened to incompetent public-school districts was the growth of private schools: they siphoned off the kind of parents who would otherwise have agitated more strongly for reform.
Beneath Hirschman's elegant sentences, you can hear a deeper argument. Exit is passive. It is silent protest. And silent protest, for him, is too easy. "Proving Hamlet wrong" was about the importance of acting in the face of doubt—but also of acting in the face of fear. Voice was courage. He went to fight Fascism in Spain. It ended in failure. When the Nazis came hunting for the Jews, he tried again. "Expanding the operation meant, increasingly, that Beamish's work was in the streets, bars, and brothels of Marseilles, expanding the tentacles of the operation," Adelman writes. "If the operation had a fixer, it was Beamish. It was a role he relished."
Beamish screened the refugees, weeding out potential informers. He cajoled first the Czech, then the Polish, and, finally, the Lithuanian consuls into providing fake passports. He made deals with Marseilles mobsters and a shadowy Russian émigré to get money into France. He held secret meetings in brothels. Several times, he was nearly caught, but he charmed his way out of trouble.
When the authorities finally caught onto Hirschman, he escaped across the Pyrenees to Spain on foot, equipped with false Lithuanian papers. On the ship to America, he played Ping-Pong and chess, and romanced a young Czech woman.
As Adelman's magnificent biography makes plain, it was hard not to fall for Albert Hirschman. A colleague from his Marseilles days remembered him, years later, as "a handsome fellow with rather soulful eyes . . . taking everything in, his head cocked slightly to one side. One of those German intellectuals, I thought, always trying to figure everything out." ♦
The story of Ammonium Nitrate: Before the flattering of Beirut
وقائع وخلفيات انفجار بيروت (الجزء 2 من 3)
✍️ د. ميلاد السبعلي
3- نيترات الأمونيوم
يصنف نيترات الامونيوم كسماد زراعي،
لكن نسبة احتوائه على النايتروجين والآزوت يجعل منه مادة متفجرة، خاصة اذا تم مزجه بمشتقات نفطية او مواد سريعة الاحتراق.
وقد تم استخدامه في تفجيرات عالمية ضخمة، مثل تفجير اوكلاهوما في اميركا عام 1995، وتفجير السفارتين الاميركيتين في تنزانيا وكينيا عام 1998. كما أدى انفجار مخازن نيترات الأمونيوم الى دمار كبير في الكثير من المدن حول العالم، مثل انفجار تولوز في فرنسا عام 2001، وانفجار تيانجين في الصين عام 2015، الذي اودى بحياة 165 شخصاً، إضافة الى آلاف الجرحى.

كما قامت الجماعات المتطرفة في العراق والشام، على أنواعها، باستخدام نيترات الامونيوم لتفخيخ الانفاق واستهداف الأحياء والتجمعات العسكرية والمعسكرات في العديد من المناطق.

ويقول جون غودباستر Goodpaster، خبير وباحث في المتفجرات في جامعة Purdue الأميركية، بأن قنبلة تزن 20 طناً يمكن أن يصل تأثيرها لأكثر من كيلومتر مربع. وأن سرعة العصف من مركز الانفجار الى الأطراف تصل الى 300 متر في الثانية، مما يؤدي الى الكثير من الخراب.

بالمقابل، فإن سعر الطن الواحد من نيترات الأمونيوم هو حوالي 550 دولار أميركي حالياً. أي أن ثمن حمولة السفينة Rhosus البالغة 2,750 طن لا يتجاوز 1.5 مليون دولار أميركي. وهو بالتالي منخفض السعر، ولا يشكل عاملاً جاذباً من عوامل الفساد المستشري، نسبة لحجم وكمية وقيمة ومخاطر وصعوبة تخزين هذه المادة.
وهذا يقودنا الى استنتاج أن سبب الإهمال أو غض النظر عن إبقاء هذه المواد المصادرة، لم يكن المغريات المادية بشكل أساسي على الأرجح، بل أن من قرر إيصالها الى مرفأ بيروت، وإبقائها هناك، كان له أسباب أخرى. علماً أن بيعه بالمفرق لجماعات مسلحة في ظروف حربية يمكن أن يكون مرتفع السعر نسبياً.

4– الحقبة الزمنية التي صودرت فيها الحمولة

وحتى نفهم ما حصل وقتها، لا بد من استعادة بعض التطورات المحلية والإقليمية التي قد تؤشر الى اتجاهات محددة. فقد كانت الأزمة السورية في سنتها الثانية، والمجموعات المتطرفة بدأت تنتشر وتسيطر على مساحات ومدن أكثر. فيما الفريق المعادي للنظام السوري في لبنان يجاهر بتعاطفه مع هذه المجموعات ومساندتها بأية طريقة ممكنة بهدف اسقاط النظام. وقد خاض البعض مراهنات مالية كالحريري وإعلامية كجنبلاط (الدفاع عن النصرة)، الخ. وكذلك كان موقف دول الخليج المتعددة، وتركيا، وتجمع أصدقاء سورية الذي جمعه الغرب من أكثر من مئة دولة في العالم.
وبدأت المساعدات في الرجال والعتاد تصل الى هذه المجموعات عبر البلدان المحيطة، أي تركيا، لبنان، الأردن، والعراق. وعند مراجعة ملفات أرشيف معهد الاحصاء التركي Turkish Statistical Institute (TUIK)، حول صادرات نيترات الامونيوم من تركيا الى سوريا، نجد أنه صُدّر مرتين فقط قبل الحرب في عامي 2003 و2008، مع أن سورية دولة زراعية كبيرة. بينما ارتفعت الأرقام بعد الحرب الى 1,195 طن عام 2013، و9,542 طن عام 2014، و2,576 طن عام 2015.
ومن البديهي أن استخدام هذه الكميات لم يكن فقط في الزراعة. بل بدأت نتائجه تظهر من خلال مئات التفجيرات الضخمة التي استهدفت الاحياء والتجمعات والمعسكرات التي يسيطر عليها الجيش السوري. وكان من أول وأشهر هذه التفجيرات، هو تفجير حمص في 1 آب 2013، (الفيديو المرفق)، إضافة الى تفجيرات ضخمة كثيرة في معظم المدن الكبيرة التي سيطرت التنظيمات المسلحة عليها او على أجزاء منها، من حلب الى ادلب الى جبل الزاوية الى حماه الى دمشق وغيرها. وقد كان كل من هذه التفجيرات يستهلك حوالي 50-100 طن من نيترات الامونيوم.
وقد أصدرت تركيا لاحقاً في 2016 توجيهات تحدد معايير لتصدير نيترات الأمونيوم الى سورية، بعد التدخل الروسي، لكن تطبيقها لم يكن جدياً ولا صارماً، بحسب الجنرال تولغا بوراك ايكينلي، Maj. Tolga Burak Ekinli، المسؤول عن قسم مكافحة تهريب المواد المتفجرة، الذي اتهم المكاتب المحلية لوزارة الزراعة، المخولة بتنظيم تصدير هذه المواد، بالتراخي والتواطؤ.
كما نشرت صحيفة نيويورك تايمز الأميركية مقالاً في أيار 2014 فضحت فيه عمليات تهريب نيترات الأمونيوم من تركيا الى المناطق التي تسيطر عليها الفصائل المعارضة السورية. مما حدا بالسيناتور بوب كايسي Bob Casey والسيناتور شيلدون وايت هاوسSheldon Whitehouse ، بتوجيه رسالة بتاريخ 3 حزيران 2015، الى وزير الدفاع الأميركي اشتون كارتر Ashton Carter، لاتخاذ إجراءات صارمة لمنع تسرب مواد كيميائية متفجرة مثل نيترات الامونيوم من دول مثل تركيا الى الداخل السوري، لأنها تستخدم لإنتاج قنابل قاتلة تستخدم من قبل داعش والتنظيمات الإرهابية ضد المدنيين والجيوش في العراق وسورية.
ويبدو أنه بعد نجاح أولى هذه التفجيرات، ارتفع الطلب على آلاف الاطنان كما رأينا من أرقام معهد الإحصاء التركي. وكانت الفصائل المعارضة تريد إيصال كميات من هذه المواد عن غير طريق تركيا، لتخدم الجبهات الجنوبية والغربية، حيث أن تركيا قادرة على رفد الشمال والوسط. وربما الأردن قادر على رفد الجنوب. يبقى المناطق الغربية وبعض المناطق الوسطى التي لا بد من رفدها من لبنان. وكانت جبهة النصرة ولاحقاً الدولة الإسلامية وغيرها من التنظيمات قد بدأت بتأسيس أرضية قوية لها في الجرود الشرقية في لبنان، خاصة في ظل تعاطف معظم قوى 14 اذار معها. فتمددت الى عرسال وجرودها، وصولاً الى السيطرة على مساحات أوسع، والتواصل مع مقاتليها في مناطق القلمون والزبداني وريف دمشق وريف حمص.
كل المعطيات أعلاه، من الخدعة التي أتت بها السفينة الى بيروت، الى التخبط في سبب مصادرة محتوياتها، الى سياق الحرب السورية واستخدام نيترات الأمونيوم بشكل واسع في مناطق الشمال والوسط وبعض الجنوب، والحاجة اليه في الغرب والوسط، كل ذلك يشي بأن قرار مصادرة حمولة السفينة وتخزينها في العنبر 12 في مرفأ بيروت، في تموز 2014، كان الهدف منه إيجاد مخزون استراتيجي لتغذية المناطق المحاذية للبنان داخل سورية، وإكمال اسقاط المناطق وربطها ببعضها. وكانت حكومة ميقاتي المستقيلة وقتها وبعدها حكومة تمام سلام ترفعان شعار النأي بالنفس، فيما قوى 14 اذار تجاهر بالدعم العلني لمعظم تنظيمات المعارضة السورية المسلحة. فاعتقد المخططون أن طريق إيصال هذه الحمولة، ولو بالتقسيط حسب الحاجة العسكرية للتفجيرات الكبيرة، هي مسألة سهلة ومقدور عليها بوجود داعمين ومتعاطفين، وبوجود هذه الفصائل في جرود بعلبك، وتمددها الى مناطق تعتبرها مساندة لها في البقاع والشمال.
غير أن ما حصل في سورية خلال فترة السنوات القليلة التي تلت، من التدخل الروسي ودعم ايران وحزب الله، أدى الى خسارة تدريجية للمجموعات المسلحة، في كافة المناطق الغربية ومناطق الريف والجنوب. ومع الوقت، لم يعد هناك من يستلم ويستخدم هذه المواد. لكن ثمة أحداً لم يرد التخلص منها، مراهنا على عودة الفصائل المسلحة مجدداً. فبرغم الرسائل المتعددة الى القضاء والسلطة السياسية المتعاقبة حول خطورة هذه المواد وضرورة نقلها او بيعها او اتلافها، لم يتم اتخاذ أي اجراء بها أو بالباخرة. فإن كان ذلك ناتج عن عجز وعطالة الإدارة والأمن والقضاء وكافة أجهزة الدولة اللبنانية، أو بفعل فساد محلي او مركزي، مع أن قيمة المواد المصادرة لا تذكر، فهذه مصيبة كبيرة. وإذا كان هناك تواطؤ لإيصال الدعم الى التنظيمات المسلحة في سورية، فالمصيبة اعظم.
ولا بد من الإشارة هنا الى أن لبنان مرّ بخمس مراحل من تاريخ وصول السفينة الى بيروت وحتى اليوم:
المرحلة الأولى من تشرين الأول 2013 الى شباط 2014، كانت مرحلة تصريف أعمال لحكومة ميقاتي، والرئيس المكلف تمام سلام يحاول تشكيل حكومة جديدة، وكان وزير النقل يومها غازي العريضي، ووزير الداخلية مروان شربل، ووزير العدل شكيب قرطباوي، ووزير الدفاع فايز غصن، بوجود رئيس الجمهورية ميشال سليمان.
المرحلة الثانية من شباط 2014 الى 2 أيار 2014 تاريخ انتهاء عهد الرئيس ميشال سليمان، حيث كانت حكومة تمام سلام تمارس عملها المعتاد، وفيها وزير النقل غازي زعيتر، ووزير الداخلية نهاد المشنوق، ووزير العدل أشرف ريفي، ووزير الدفاع سمير مقبل.
المرحلة الثالثة من أيار 2014 حتى تشرين الثاني 2016 تاريخ انتخاب العماد عون رئيساً للجمهورية، كانت حكومة سلام تقوم بكامل مهام السلطة التنفيذية بدون رئيس جمهورية.
المرحلة الرابعة من كانون الثاني 2016 حتى شباط 2020، حكومة الوحدة الوطنية والتسوية الرئاسية، حيث كانت الحكومة برئاسة الحريري، وفيها وزير النقل يوسف فنيانوس، ووزير الداخلية ريا الحسن، ووزير العدل البير سرحان، ووزير الدفاع الياس بو صعب.
المرحلة الخامسة من شباط 2020 الى آب 2020، حكومة الرئيس حسان دياب، حيث وزير النقل ميشال نجار، وزير الداخلية محمد فهمي، وزير العدل ماري كلود نجم، ووزير الدفاع زينة عكر.
وقد كان قائد الجيش من تشرين الأول 2013 حتى آذار 2017 هو العماد جان قهوجي، تلاه العماد جوزف عون من آذار 2017 حتى اليوم.
– يتبع –
Denying the Demonic
By Edward Curtin / April 20th, 2021
In March of last year as the coronavirus panic was starting, I wrote a somewhat flippant article saying that the obsession with buying and hoarding toilet paper was the people's vaccine.
My point was simple: excrement and death have long been associated in cultural history and in the Western imagination with the evil devil, Satan, the Lord of the underworld, the Trickster, the Grand Master who rules the pit of smelly death, the place below where bodies go.
The psychoanalytic literature is full of examples of death anxiety revealed in anal dreams of shit-filled overflowing toilets and people pissing in their pants. 
Ernest Becker put it simply in The Denial of Death:
No mistake – the turd is mankind's real threat because it reminds people of death.
The theological literature is also full of warnings about the devil's wiles.
So too the Western classics from Aeschylus to Melville.
The demonic has an ancient pedigree and has various names. Rational people tend to dismiss all this as superstitious nonsense. This is hubris.
The Furies always exact their revenge when their existence is denied. For they are part of ourselves, not alien beings, as the tragedy of human history has shown us time and again.
Since excremental visions and the fear of death haunt humans – the skull at the banquet as William James put it – the perfect symbol of protection is toilet paper that will keep you safe and clean and free of any reminder of the fear of death running through a panicked world.
It's a magic trick, of course, an unconscious way of thinking you are protecting yourself; a form of self-hypnosis.
One year later, magical thinking has taken a different form and my earlier flippancy has turned darker. You can't hoard today's toilet paper but you can get them: RNA inoculations, misnamed vaccines.
People are lined up for them now as they are being told incessantly to "get your shot."
They are worse than toilet paper. At least toilet paper serves a practical function. Real vaccines, as the word's etymology – Latin, vaccinus, from cows, the cowpox virus vaccine first used by British physician Edward Jenner in 1800 to prevent smallpox – involve the use of a small amount of a virus.
The RNA inoculations are not vaccines. To say they are is bullshit and has nothing to do with cows. To call them vaccines is linguistic mind control.
These experimental inoculations do not prevent the vaccinated from getting infected with the "virus" nor do they prevent transmission of the alleged virus.
When they were approved recently by the FDA that was made clear. The FDA issued Emergency Use Authorizations (EUAs) for these inoculations only under the proviso that they may make an infection less severe. Yet millions have obediently taken a shot that doesn't do what they think it does. What does that tell us?
Hundreds of millions of people have taken an injection that allows a bio-reactive "gene-therapy" molecule to be injected into their bodies because of fear, ignorance, and a refusal to consider that the people who are promoting this are evil and have ulterior motives.
Not that they mean well, but that they are evil and have evil intentions. Does this sound too extreme? Radically evil? Come on!
So what drives the refusal to consider that demonic forces are at work with the corona crisis?
Why do the same people who get vaccinated believe that a PCR test that can't, according to its inventor Kary Mullis, test for this so-called virus, believe in the fake numbers of positive "cases"? Do these people even know if the virus has ever been isolated?
Such credulity is an act of faith, not science or confirmed fact.
Is it just the fear of death that drives such thinking?
Or is it something deeper than ignorance and propaganda that drives this incredulous belief?
If you want facts, I will not provide them here. Despite the good intentions of people who still think facts matter, I don't think most people are persuaded by facts anymore. But such facts are readily available from excellent alternative media publications.
Global Research's Michel Chossudovsky has released, free of charge, his comprehensive E-Book: The 2020-21 Worldwide Corona Crisis: Destroying Civil Society, Engineered Economic Depression, Global Coup D'Etat, and the "Great Reset."
It's a good place to start if facts and analysis are what you are after.
Or go to Robert Kennedy, Jr. Childrens Health Defense, Off-Guardian, Dissident Voice, Global Research, among numerous others.
Perhaps you think these sites are right-wing propaganda because many articles they publish can also be read or heard at some conservative media. If so, you need to start thinking rather than reacting.
The entire mainstream political/media spectrum is right-wing, if you wish to use useless terms such as Left/Right. I have spent my entire life being accused of being a left-wing nut, but now I am being told I am a right-wing nut even though my writing appears in many leftist publications.
Perhaps my accusers don't know which way the screw turns or the nut loosens. Being uptight and frightened doesn't help.
I am interested in asking why so many people can't accept that radical evil is real. Is that a right-wing question? Of course not. It's a human question that has been asked down through the ages.
I do think we are today in the grip of radical evil, demonic forces.
The refusal to see and accept this is not new. As the eminent theologian, David Ray Griffin, has argued, the American Empire, with its quest for world domination and its long and ongoing slaughters at home and abroad, is clearly demonic; it is driven by the forces of death symbolized by Satan.
I have spent many years trying to understand why so many good people have refused to see and accept this and have needed to ply a middle course over many decades. The safe path. Believing in the benevolence of their rulers.  
When I say radical evil, I mean it in the deepest spiritual sense.  A religious sense, if you prefer.  But by religious I don't mean institutional religions since so many of the institutional religions are complicit in the evil.
It has long been easy for Americans to accept the demonic nature of foreign leaders such as Hitler, Stalin, or Mao. Easy, also, to accept the government's attribution of such names as the "new Hitler" to any foreign leader it wishes to kill and overthrow. But to consider their own political leaders as demonic is near impossible.
So let me begin with a few reminders.
The U.S. destruction of Iraq and the mass killings of Iraqis under George W. Bush beginning in 2003. Many will say it was illegal, unjust, carried out under false pretenses, etc. But who will say it was pure evil?
Who will say that Barack Obama's annihilation of Libya was radical evil?
Who will say the atomic destruction of Hiroshima and Nagasaki and the firebombing of Tokyo and so many Japanese cities that killed hundreds of thousands of innocent civilians was radical evil?
Who will say the U.S. war against Syria is demonic evil?
Who will say the killing of millions of Vietnamese was radical evil?
Who will say the insider attacks of September 11, 2001 were demonic evil?
Who will say slavery, the genocide of native people, the secret medical experiments on the vulnerable, the CIA mind control experiments, the coups engineered throughout the world resulting in the mass murder of millions – who will say these are evil in the deepest sense?
Who will say the U.S. security state's assassinations of JFK, Malcolm X, MLK, Jr., Robert Kennedy, Fred Hampton, et al. were radical evil?
Who will say the trillions spent on nuclear weapons and the willingness to use them to annihilate the human race is not the ultimate in radical evil?
This list could extend down the page endlessly. Only someone devoid of all historical sense could conclude that the U.S. has not been in the grip of demonic forces for a long time.
If you can do addition, you will find the totals staggering. They are overwhelming in their implications.
But to accept this history as radically evil in intent and not just in its consequences are two different things.
I think so many find it so hard to admit that their leaders have intentionally done and do demonic deeds for two reasons.
First, to do so implicates those who have supported these people or have not opposed them. It means they have accepted such radical evil and bear responsibility. It elicits feelings of guilt.
Secondly, to believe that one's own leaders are evil is next to impossible for many to accept because it suggests that the rational façade of society is a cover for sinister forces and that they live in a society of lies so vast the best option is to make believe it just isn't so.
Even when one can accept that evil deeds were committed in the past, even some perhaps intentionally, the tendency is to say "that was then, but things are different now."
Grasping the present when you are in it is not only difficult but often disturbing for it involves us.
So if I am correct and most Americans cannot accept that their leaders have intentionally done radically evil things, then it follows that to even consider questioning the intentions of the authorities regarding the current corona crisis needs to be self-censored.
Additionally, as we all know, the authorities have undertaken a vast censorship operation so people cannot hear dissenting voices of those who have now been officially branded as domestic terrorists. The self-censorship and the official work in tandem.
There is so much information available that shows that the authorities at the World Health Organization, the CDC, The World Economic Forum, Big Pharma, governments throughout the world, etc. have gamed this crisis beforehand, have manipulated the numbers, lied, have conducted a massive fear propaganda campaign via their media mouthpieces, have imposed cruel lockdowns that have further enriched the wealthiest and economically and psychologically devastated vast numbers, etc. Little research is needed to see this, to understand that Big Pharma is, as Dr. Peter Gøtzsche documented eight years ago in Deadly Medicines and Organized Crime: How Big Pharma Has Corrupted Healthcare, a world-wide criminal enterprise. It takes but a few minutes to see that the pharmaceutical companies who have been given emergency authorization for these untested experimental non-vaccine "vaccines" have paid out billions of dollars to settle criminal and civil allegations.
It is an open secret that the WHO, the Gates Foundation, the WEF led by Klaus Schwab, and an interlocking international group of conspirators have plans for what they call The Great Reset, a strategy to use the COVID-19 crisis to push their agenda to create a world of cyborgs living in cyberspace where artificial intelligence replaces people and human biology is wedded to technology under the control of the elites. They have made it very clear that there are too many people on this planet and billions must die. Details are readily available of this open conspiracy to create a transhuman world.
Is this not radical evil? Demonic?
Let me end with an analogy. There is another organized crime outfit that can only be called demonic – The Central Intelligence Agency. One of its legendary officers was James Jesus Angleton, chief of Counterintelligence from 1954 until 1975. He was a close associate of Allen Dulles, the longest serving director of the CIA. Both men were deeply involved in many evil deeds, including bringing Nazi doctors and scientists into the U.S. to do the CIA's dirty work, including mind control, bioweapons research, etc. The stuff they did for Hitler. As reported by David Talbot in The Devil's Chessboard: Allen Dulles, the CIA, and the Rise of America's Secret Government, when the staunch Catholic Angleton was on his deathbed, he gave an interviews to visiting journalists, including Joseph Trento. He confessed:
He had not been serving God, after all, when he followed Allen Dulles. He had been on a satanic quest….'Fundamentally, the founding fathers of U.S. intelligence were liars,' he told Trento in an emotionless voice. 'The better you lied and the more you betrayed, the more likely you would be promoted…. Outside this duplicity, the only thing they had in common was a desire for absolute power. I did things that, looking back on my life, I regret. But I was part of it and loved being in it.' He invoked the names of the high eminences who had run the CIA in his day – Dulles, Helms, Wisner. These men were 'the grand masters,' he said. 'If you were in a room with them, you were in a room full of people that you had to believe would deservedly end up in hell.' Angleton took another slow sip from his steaming cup. 'I guess I will see them there soon.'
Until we recognize the demonic nature of the hell we are now in, we too will be lost. We are fighting for our lives and the spiritual salvation of the world. Do not succumb to the siren songs of these fathers of lies.
Resist.
Edward Curtin writes and his work appears widely. He is the author of Seeking Truth in a Country of Lies. Read other articles by Edward, or visit Edward's website.
Amid the waning of the humanities, Edward Said turned out to be one of the last literary scholars with a public presence.
Udi Greenberg @udi_greenberg. One of Said's students
Teaches at Dartmouth College and is the author of The Weimar Century: German Émigrés and the Ideological Foundations of the Cold War (2015).
Note: wordpress is Not opening new texts on my Samsung Chrome in the last month. Maybe I need a better laptop. Untill then, minimal editing on the saved drafts.
Exiles often have conflicting feelings about their adoptive society, and Edward Said was no exception.
As a Palestinian in the United States, he recognized the country's pervasive racism and violence, but he also knew its educational system made his career as a renowned and prosperous thinker possible.
His life was indeed filled with paradoxes and contradictions. He was one of the twentieth century's most influential anti-colonial writers, who mostly studied his colonizers' literature; a proponent of Palestinian liberation who wrote in English and mostly for English-speaking audiences.
Few statements capture his embrace of such tensions more than his surprising claim in an interview with the Israeli newspaper Ha'aretz that he was now the only heir to the Jewish tradition of radical criticism.
"I'm the last Jewish intellectual," he exclaimed. "You don't know anyone else. All your other Jewish intellectuals are now suburban squires.… I'm the last one."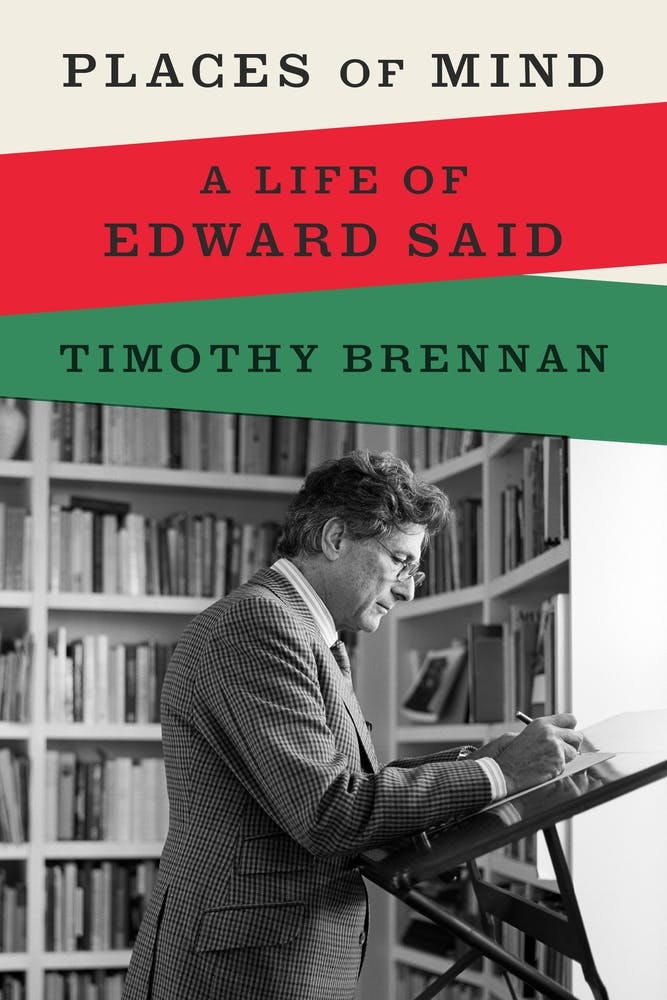 As comical as this statement can seem, Timothy Brennan's new biography, Places of Mind: A Life of Edward Said, suggests it captures Said's unique place in public life: a Middle Eastern exile who provided an original explanation for American imperialism, powerfully condemned it, and successfully reached mass audiences.
By telling Said's life, from his childhood in British-ruled Palestine to his death in New York in 2003, Places of Mind seeks to explain his unique ability to blend intellectual production and public activism.
Impressively researched and powerfully written, it charts Said's many triumphs: his revolutionary scholarly writings, which became classics and are taught decades after their publication; his rise as a media celebrity (an unusual fate for an academic); and his role in making the Palestinian national movement a source of international fascination.
For Brennan, who was Said's student and is an accomplished literary scholar in his own right, his teacher was everything a humanist should be.
By embracing his status as an "outsider"—an exile, a Palestinian, an "Arab"—he successfully infused America's mainstream with new ideas and political visions.
Yet by claiming to be a "Jewish" intellectual, Said was doing more than placing himself in the company of giants like Franz Kafka or Theodor Adorno.
What he recognized, and what Places of Mind sometimes misses, was the tragedy of his career: how by his life's end, the causes for which he fought were ultimately defeated.
The Palestinian liberation movement, whose cause animated so much of Said's writing, was headed toward ruin (a reality that he was among the very few to realize).
(Fateh, the signatory to the Oslo treaty, was displaced by more radical movements in Gaza, and currently a new wave of reactions from every mixed towns and villages in the West Bank)
And the humanities, whose flourishing made his career possible, were entering a downward spiral from which they show no sign of recovery. Reflecting on Said's life is not only a chance to celebrate groundbreaking achievements: It is also an invitation to recognize, soberly, some of our era's heartbreaking misfortunes.
---
Colonialism is a brutal business, and this was certainly true of British rule in the Middle East and mandated France in Syria and Lebanon. Whenever locals protested the empire's authority, as Palestinians did during the so-called "Great Revolt" of 1936 to 1939, British troops responded by demolishing entire neighborhoods, imprisoning thousands of civilians in concentration camps, and putting hundreds to the gallows.
(The British had to dispatch 100,000 troops to squash this civil disobedience movement that had a source the refusal of the British to have municipal elections on the ground that the Jews constituted only 20%)
Like many other colonialists, however, the British also sustained their rule in the region by offering alluring opportunities to some of their subjects. Those willing to cooperate could gain access to British markets, find jobs in the colonial bureaucracy, and send their children to European-run schools. These were the carrots that Europe's "civilizing mission" dangled in front of its subjects' noses: Submit to us, colonialists promised, embrace our language and culture, and maybe, one day, some of you would control your own fate.
This was the duality that made the young Said. Born in British-ruled Jerusalem in 1935, much of his childhood took place in the shadow of the Palestinian national trauma. While his parents, Hilda and Wadie, rarely talked politics at home, other relatives often protested their people's fate. The price of political oppression was even more apparent once British troops were replaced by the armed forces of the Jewish Yishuv, which decimated the Palestinian national movement.
In 1947, Said's parents fled to Cairo, which rapidly became home to many hungry and dispossessed Palestinian refugees. At the same time, colonialism helped cushion the Saids from some of this brutality. Not only were they affluent merchants, but they also benefited from being Anglican, a tiny minority that enjoyed preferential treatment by British authorities. Said's father supplied office materials to the British (which ran the formally independent Egypt), and Said was sent to study in the elite schools of British missionaries.
Nothing demonstrated colonialism's contradictory imprint on his family more than his regal first name, Edward, which his mother chose because she admired the Prince of Wales—a fact that Said bemoaned his entire life. 
When Said's parents sent him to the U.S. at age 15, he would find a similar pattern of simultaneous subjugation and inclusion. In his years as a student, first at an elite prep school in New England and then at Princeton, Said was alienated by the other students' oppressive self-absorption. Almost all white, they were confident in the superiority of their Anglo-Saxon heritage and considered Arab culture primitive.
As he put it in a note uncovered by Brennan, "to be a Levantine" in the U.S. meant "not to be able to create but only to imitate." At the same time, the postwar U.S. system of higher education provided remarkable opportunities. After Princeton, Said enrolled in Harvard's graduate program in European literature, and in 1963, he was hired as a professor at Columbia. Ivy League prestige, as it often does, opened many doors, and Said quickly learned how to prosper in the world of U.S. letters.
He published a book on Joseph Conrad, built ties to the New York literary world, and began contributing essays to magazines like The Nation. For all the whiteness and Euro-centrist ethos of American academia, Said cherished his success in it. To his parents' dismay, he preferred to spend most of his summers in New York, feverishly churning out academic writings.    
These paradoxes of imperial power do not get much attention in Places of Mind, and its first chapters say frustratingly little about the colonial Middle East or the Cold War U.S. This is a missed opportunity, as the similarities between the two systems would later become crucial to Said's intellectual and political agenda. Most important, both the British and Americans elevated certain minorities (Christians in the Middle East, Jews in the U.S.) to justify their subjugation of others (Muslims under British rule, Black people and other people of color under white U.S. hegemony).
The two cultures also similarly viewed their elites' culture as universal, a sacred trust they had to bestow upon humanity. Both British and American elites were therefore eager to demonstrate that "outsiders" like Said, who appreciated the brilliance of Western culture, could join their club, as long as they fully assimilated and "overcame" their non-Western origins. It is likely that these parallels informed Said's later insistence that the U.S. emulated European empires.
And it is clear that his effective navigation in both inspired his later claim that colonialism was not just oppressive but also creative, that hegemonic cultures could possess a certain allure even for their victims.       
---
Said's career up to the mid-1960s was headed in a predictable direction. Groomed by and for WASP institutions, he was on the path to become a footnote in their history, yet another scholar who studied the European canon and reproduced elites in his teaching.
But the convergence of two revolutions, one intellectual and one political, soon upended this trajectory. Harnessing their energies, Said went on to produce one of the twentieth century's most important intellectual events. Be the most
informed person you know:
3 months for $5Subscribe
In its most impressive chapters, Places of Mind reconstructs Said's participation in these two revolutions. The first was post-structuralism. Under the influence of philosopher Jacques Derrida, a group of French scholars launched blistering attacks on Europe's intellectual traditions. Even after the Enlightenment, they claimed, Europe remained obsessed with enshrining hierarchies and binaries (between men and women, "primitive" and "civilized"); the most urgent task was to dismantle those.
While Said is not always associated with this school today, he was among the first to embrace it in the English-speaking world.
He took part in the early conferences on post-structuralism in the U.S. and was one of the first to utilize its concepts in his writings. He borrowed especially from Michel Foucault and his provocative depiction of the link between knowledge and power. Artists and thinkers, Foucault claimed, were rarely individuals who challenged authority. Most of the time, they reproduced and reinforced their society's structures of authority, making them seem natural and even benevolent.
The second project that Said joined, and for which he became especially famous, was the Palestinians' renewed struggle for self-determination. After the shock of the 1967 war, which initiated Israel's military rule over large Palestinian territories, Palestinian activists and leaders sought to make their cause the center of international attention. They appealed to international institutions and launched multiple violent attacks on Israel to keep their struggle in the headlines.
While Said had little personal interest in returning to Palestine (by that point he considered his exile a permanent condition), he joined this campaign and quickly became its most prominent international figure.
He published fiery essays that compared the Palestinian struggle to other anti-colonial struggles in Asia and Africa and helped launch organizations that called for an end to the West's support for Israel. His eloquence and rare status as a Palestinian at the center of U.S. letters made him into an icon. Palestinian politicians and leaders, some of whom he met in person during a prolonged academic stay in Beirut, sought his advice; in 1974, he helped edit and translate Yasser Arafat's historic address to the United Nations, the first by any Palestinian leader in that forum. Three years later, Said became a member of the Palestinian National Council, the coordinating organization of the Palestinian national movement.
Bringing these two projects together was hardly an obvious undertaking. Post-structuralism's philosophical musings, with its notoriously impenetrable jargon, seemed worlds apart from the blood and sweat of daily Palestinian resistance.
Yet in his monumental Orientalism (1978), Said fused these two projects to provide a new understanding of Western attitudes toward the Middle East. Drawing on his own experiences as a beneficiary and victim of colonialism, Said claimed that Europe's colonial domination in the Middle East did not rely merely on military or political might. Rather, it was a vast intellectual project, in which countless scholars and novelists voluntarily rushed to explore, interpret, and explain why Europe had to dominate the "Orient." Said further argued that the Orientalist project was in fact foundational to Europe's own self-understanding. As Europeans sought to define themselves as rational, industrious, and self-controlling, they simultaneously identified the Orient's people as emotional, lazy, and pathologically obsessed with sex.Said, in short, exposed how knowledge and art worked in the service of oppressive power.
This claim about colonialism's centrality to Europe's identity would have been enough to make Orientalism an intellectual bombshell. But Said went even further, using his literary study to explain the aggression of modern American diplomacy. Said argued that the collapse of formal European empires after World War II did little to diminish the orientalist mindset. Rather, orientalism continued to flourish in the U.S., where journalists, artists, and scholars conflated their country with a "civilization" that they contrasted with the Middle East's alleged primitivism and fanaticism.
Indeed, Said maintained that U.S. diplomacy in the region, and especially its unwavering support for Israel, reproduced Europe's earlier racism, arrogance, and myopia. U.S. diplomats and their Israeli allies inherited the view of Arabs as inhuman and thus dismissed their political demands as emotional and even animalistic outbursts. Said's most scorching invective was directed at Middle East specialists like Princeton scholar Bernard Lewis, whom he acidly described as the intellectual foot soldiers of U.S. imperialism. Their writings about the Arabs' supposed fanaticism, he wrote in a related essay, provided "not history, not scholarship, but direct political violence."  
Said, in short, exposed how knowledge and art worked in the service of oppressive power. And in so doing, he forever transformed the meaning of the word orientalist: Rather than a term for a scholar of the Middle East, it now became an adjective describing a racist and paternalist worldview.
---
Orientalism's sweeping claims could hardly leave readers indifferent, and Brennan masterfully traces both the admiration for and backlash to Said's masterwork. Conservative commentators predictably dismissed Said as an ignorant trespasser who failed to understand the West's greatness as he downplayed the orient's failings.
In a lengthy review, Lewis lambasted the book as "insouciant," "outrageous," and "reckless," inaugurating a rhetorical dual with Said that would continue for decades. Even more sympathetic readers highlighted the book's limitations. Scholars like the French historian Maxime Rodinson noted that Orientalism was far too sweeping in approach. The study of the Orient, he noted, was a diverse field, and many of its proponents hated empire.
Other supportive readers questioned the book's focus on ideology and representation. Wasn't colonialism ultimately driven by economic exploitation? The critique that stung the most came from Arab and Pakistani Marxists, who lamented that Said unintentionally strengthened Muslim conservatives. The Syrian philosopher and activist Sadiq Al Azm, for example, argued that by depicting European knowledge as hopelessly tainted, the book "poured cold water" on the effort to popularize Marxist ideas in the Middle East and bolstered lazy anti-Western sentiments. 
These misgivings, however, did little to diminish Orientalism's impact on the international republic of letters. Appearing in 30 languages, it was widely celebrated as a fresh and sophisticated assault on Western arrogance, one equal to anti-colonial classics like Frantz Fanon's Wretched of the Earth (1961). "Here for the first time," Palestinian historian Tarif Khalidi wrote, "was a book by one of us telling the empire basically to go f— itself." In a world reeling from the manifold disasters perpetrated by the U.S. in Vietnam, understanding the connections between Western self-righteousness and violence seemed more urgent than ever.
Said helped inspire the work of countless literary scholars, philosophers, historians, and political scientists who mapped colonialism's intellectual legacies in the present. He was the founding figure of what in the 1980s became known as "postcolonial studies." The impact of this intellectual project spilled beyond academic circles. After Orientalism, theater programs, museum catalogs, and Hollywood films began to adopt less Western-focused perspectives.
According to Brennan, Said in fact infused the humanities with renewed significance. Works like Orientalism and Culture and Imperialism (1993), which expanded its insight to more novels, demonstrated the centrality of literature and art to political discourse. Said turned the traditional Marxist view of culture on its head. He claimed that novels and images were not mere expression of social domination but their very heart; they informed how journalists covered world affairs, how citizens thought about politics, and how politicians enacted policies. Countless students and scholars came to view the study of stories, movies, and representation as political action, and journalists the world over courted Said, endlessly asking for his take on political matters.
Places of Mind's last chapters trace Said's rising prominence to the position of celebrity. As a testament to his triumph, they catalog the mind-numbingly abundant prizes and honors he received, describe his never-ending stream of interviews on radio and TV, and depict his collaborations with many famous artists, such as the conductor Daniel Barenboim. Yet along with the rapid ascent came frustration. Said's publications may have made a splash, but they were unable to materially advance the Palestinian national cause, which suffered defeat after defeat.
---
For Said, stories were essential to the struggle for Palestinian self-determination. If Americans so enthusiastically lavished Israel with weapons and supported its cruel occupation, he claimed, it was not out of some hard-nosed calculation, but because they bought into a particular narrative, one in which persecuted Jews had heroically defeated their evil Arab neighbors.
According to Said, this story was sustained not only by relentlessly pro-Israel politicians, magazines, and TV shows but by the fact that Americans were rarely exposed to Palestinian perspectives. Said noted that this was true even for those who were deeply critical of Israel's actions. Noam Chomsky's Fateful Triangle (1983), for example, condemned U.S. diplomats and Israeli politicians for enabling the horrific massacres of Palestinians in Lebanon, but it, too, relied on Western sources and did not include Palestinian testimonies.
Alongside his campaign against the orientalist tradition, Said therefore launched an effort to open new spaces for Palestinians in the Western imagination. As he wrote in the essay "Permission to Narrate" (1983), the task was to forge "a socially acceptable narrative" that would allow people to empathize with Palestinians and view them as fellow humans. Venturing beyond European literature, Said sought to integrate Arab perspectives into the Western literary canon.
While most of his academic work remained focused on English and French authors, he also began studying Palestinian writers like Mahmoud Darwish and helped facilitate their translation into Western languages. And he collaborated with photographer Jean Mohr on After the Last Sky: Palestinian Lives (1986), a collection of images and short texts that depicted Palestinian people in everyday activities.If Said's words still resonate today, it is because the evils he helped expose are as powerful as ever.
Yet readers largely ignored After the Last Sky and similar projects, and most certainly did not lavish it with the prizes and honors that were showered on Orientalism. They were mostly interested in the analysis of the West's colonialism; oppression's victims were an afterthought. Said was painfully aware that this part of his work had limited impact, and during the 1980s and 1990s he became progressively despairing about the prospects of Palestinian liberation. "The road forward is blocked," he ruefully wrote, "the instruments of the present are insufficient, [and] we can't get back to the past." His gloom only grew after the Palestinian leadership signed a tentative peace agreement with Israel in 1993 (the so-called Oslo Accords), which Said predicted would not lead to statehood but to deepening occupation. By the end of his life, he was politically isolated; his books were even banned in the Palestinian Authority over his criticism of Yasser Arafat's authoritarianism.
Said's high hopes for literary studies—that they would lead the expansion of the world's political options—also proved fleeting. Said's career, in fact, was not only a rare exception but also a product of broad intellectual sources. It emerged from the 1970s and 1980s, when debates about the literary canon roiled institutions of higher learning and figures like Paul de Man and Alan Bloom were famous.
But by the early twenty-first century, the humanities began to decline. Students were beginning to abandon them, a trickle that would soon become a flood. In such a world, Said was quickly becoming a monument for a passing era. He was one of the last literary scholars to gain the public's attention; when he lamented being the "last Jewish intellectual," he in part recognized he was not likely to be followed by others. His increasing alienation from his adoptive country was reflected in the location of his grave. At his request, it stands not in New York, where he spent most of his career, but in Beirut, where he was only an occasional visitor. 
---
If Said's words still resonate today, it is because the evils he helped expose are as powerful as ever. In the two decades since the 2001 attacks, orientalist sentiments have only intensified: Western politicians still treat Muslims and Arabs as fanatical terrorists, and Western media still perpetuate those narratives. As historian Maha Nassar recently noted*, of the thousands of pieces run by The New York Times and The Washington Post on the Israel-Palestinian conflict, barely 1 percent were written by Palestinians.
The grip of orientalism on U.S. knowledge production has in fact only tightened since Said's passing. In 2002, the historian Daniel Pipes, who began his career with a campaign against Orientalism, founded the organization Campus Watch, which has targeted scholars who express sympathy with Palestinians. The case of Fresno State University in California was probably the most on-the-nose expression of Said's lasting relevance. In 2016, the university's leadership posted a job ad for its newly created Edward Said chair in Middle Eastern studies, only to abruptly call off the search by summer of 2017.
Just like his life, Said's legacy is a paradox. His ideas are relevant exactly because their political impact was limited: The vast campaign he launched in scholarship, the media, and political activism could not dislodge orientalist bigotry. Similarly, Said looms so large in the humanities because a career like his is now hard to imagine. Rather than blazing a path for other literary scholars to become influential political commentators, he turned out to be among the last humanists with a public presence. Those who share in his quest for a more equal and humane world still face the question that always vexed him: If one has a humanist story to tell, how to make others listen? 
Steven Toh. Saturday, January 2, 2021
An Interview with Oriana
Note: I have posted several book reviews of Oriana Fallaci, as well as her biography. And now this imaginary interview related to History
That day Oriana came out of her room wearing a violet pantsuit, greeted me and sat on a chair in front of a window, resting one of her foot over the thigh of the other.
In her right hand she held a Virginia Slims cigarette and smoked continuously. Although she is tiny, perhaps five feet one and around 90 pounds, her posture gave the impression of a confident, self-assured, and assertive woman.
Her interviews with famous leaders of the world confirmed it all. This is the woman who dares to ask political leaders "brutal questions" in her interviews.
⁹This is the woman who dared to remove her veil while interviewing Khomeini, dared to ask Nguyen Van Thieu "How corrupt are you?", and dared to accuse to Yasir Arafat "You don't at all want the peace that everyone is hoping for." 
Her most popular book "Interview with History" compiled interviews with 14 political leaders, with a cover inserting Rolling Stone magazine quotation "the greatest political interviewer of modern times."
During my student time I read a few of her interviews that made her famous, with Henry Kissinger, Khomeini, Yasir Arafat and I was fascinated.
Only recently I found this book and was even more fascinated by interviews with the less popular Shah Iran, King Hussein, General Giap and even a rather "not well known" Alexandros Panagoulis.
Before reading them, I had no idea how interesting the interviews were, they gave fresh views and opened up windows to the personality of these politicians. 
So, I came to her apartment in Florence through the famous Ponte Vecchio and sat with this vivacious woman to talk about this book. She answered the questions with a husky voice, Italian accented, and with a lot of arm movements. Despite her temperamental reputation she seemed to me a caring and sweet person.
Then I shot the first question:
"Generally speaking, journalism emphasizes on objectivity in the writings in order to portray issues and events in a neutral and unbiased manner, regardless of the journalist opinion or personal beliefs.
While you are internationally renowned for your impassioned, confrontational approach. You became a celebrity because of your interrogative interviews, the imposing questions that made Shah Iran shared his religious view, made General Giap to disclose his military game plan for defeating the Americans in Vietnam, and made Nguyen Van Thieu sometimes had tears in his eyes. "
Oriana:
"I do not feel myself to be, nor will I ever succeed in feeling like, a cold recorder of what I see and hear. On every professional experience I leave shreds of my heart and soul: and I participate in what I see or hear as though the matter concerned me personally and were one on in which I ought to take a stand.
So I did not go to these fourteen people with the detachment of the anatomist or the imperturbable reporter.
⁹ū I went with a thousand feelings of rage, a thousand questions that assailing them were assailing me, and with the hope of understanding in what way, by being in power or opposing it, those people determine our destiny."
I said:
"In your interview with Shah Iran you indeed assailed him, it was like boxing, you threw punches to him, he defended himself and even threw uppercuts to you. "
Oriana:
"He is a character in which most paradoxical conflicts merge to reward you for your pains with an enigma. He believes in prophetic dreams, in visions, in a childish mysticism, and then goes on to discuss oil like an expert, which he is.
He governs like an absolute monarch, and then refers to his people in the tone of one who believes in them and loves them, by leading a White Revolution that would seem to be making effort to combat illiteracy and the feudal system. He considers women as simply graceful ornaments incapable of thinking like a man, and then strives to give them complete equality of rights and duties. Indeed, in a society where women still wear the veil, he even orders girls to perform military service."
I said:
"Did you ask him whether he is a dictator?"
Oriana:
"He said he wouldn't deny it, because in a certain sense he is. Then: 'But look, to carry through reforms, one can't help but be authoritarian. Especially when the reforms take place in a country like Iran, where only twenty-five percent of the inhabitants know how to read and write. You mustn't forget the illiteracy is drastic here- it'll take at least ten years to eliminate it.
Believe me when three-quarter of a nation doesn't know how to read or write, you can provide reforms only by the strictest authoritarianism – otherwise you get nowhere.
If I hadn't be harsh, I wouldn't even been able to carry out agrarian reform, it would have been stalemated. Once that had happened, the extreme left would have liquidated the extreme right within a few hours, and it's not only the White Revolution that would have been finished. I had to do what I did. For instance, order my troops to open fire on anyone opposing the distribution of land."
I said:
"You said in the book that he was cold during the interview, stiff, his lips were as sealed as a locked door, his eyes as icy as a winter wind, stared at you rigidly and remote. Yet he was so different when he talked about oil. He lighted up, vibrated, focused, he become another man."
Oriana:
"He thought he knows everything there is to know about oil, everything.  He said: 'It's really my speciality. And I tell you as a specialist that the price of oil will have to go up. There's no other solution. But it's a solution you Westerners have brought on yourselves. Or, if you like, a solution brought on by your overcivilized industrial society.
You've increased the price of wheat by three hundred percent, and the same for sugar and cement. You've sent the price of petrochemicals skyrocketing. You buy crude oil from us and then sell it back to us, refined into petrochemicals, at a hundred times what you paid for it.
You make us pay more for everything, scandalously more, and it's only fair that from now on you should pay more for oil. Let's say…. ten times more.' 
I will never forget him curtly raising his forefinger, while his eyes glared with hatred, to impress on me that the price of oil would go up, up, up ten-fold. I felt nauseated before the gaze and that finger…."
I said:
"Many of the political leaders you interviewed in this book had socialism view, Golda Meir, Willy Brandt, Indira Gandhi, Pietro Nenni to Helder Camara. But their socialism has many different colors, from mild to liberal. Are you a socialist Oriana?"
Oriana:
"No, I am not. Socialism as it's been applied until now hasn't worked. Capitalism doesn't work too. I better quote what Indira Gandhi said in the interview:
'I don't see the world as something divided between right and left. Even though we use them, even though I use them myself, these expressions have lost all meanings. I'm not interested in one label or the other— I'm only interested in solving certain problems, in getting where I want to go. I have certain objectives. They are the same objectives that my father had: to give people a higher standard of living, to do away with cancer of poverty, to eliminate the consequences of economic backwardness. I want to succeed. And I want to succeed in the best way possible, without caring whether people call my actions leftist or rightist.
It's the same story as when we nationalized the banks. I'm not for nationalization because of the rhetoric of nationalization, or because I see in nationalization the cure-all for every injustice.
⁹I'm for nationalization in cases where it's necessary.  We realized that the banks had not done any good, the money still ended up in the hands of rich industrialists or friends of the bankers. And we did nationalize the banks, without considering it a socialist gesture or an antisocialist gesture, just a necessary one. Anyone who nationalizes only so as to be considered on the left to me is a fool. 
The word socialism now has so many meanings and interpretations. The Russians call themselves socialists, the Swedes call themselves socialists. And let's not forget that in Germany there was also a national socialism.
Socialism to me means justice. It means trying to work in a more egalitarian society."
I said:
"One of your remarkable interviews is with General Giap, the North Vietnam General during the Vietnam war. He was famous for his cruelty, the French had fallen into his traps full of poisonous bees, his pits full of snakes, or they were blown-up by booby traps hidden corpses abandoned by the wayside, and in 1954 he defeated French at Dien Bien Phu. He was also feared by the Americans, for his courage Ho Chi Minh used to call him Kui or Devil.
When you met him, did you find him to be a frightening person?
Oriana:
"I was astonished first of all at how short he was, less than 5 feet, and his body was fat. His face was swollen and covered with little blue veins that made him look purple. No, it was not an extremely likable face. Perhaps of the purple color, perhaps because of those uncertain outlines, it cost you some effort to keep looking at him, where the things you found were scarcely interesting. The huge mouth full of tiny teeth, the flattened nose enlarged by two huge nostrils, the forehead that stopped at the middle of his skull in a mop of black hair…. "
I said:
"Did he boast about his fighting strategy?"
Oriana:
"He said that the Americans underestimated the spirit of the people that knows how to fight for a just cause, to save its homeland from the invader. The war in Vietnam is not a question of numbers and well-equipped soldiers, that all doesn't solve the problem. When a whole people rebels, there's nothing you can do, and there's no wealth in the world that can liquidate it.
8Their enemies aren't good soldiers, because they don't believe in what they're doing and therefore they lack any combat spirit. 
Oh, this isn't a war that you resolve in a few years. In a war against the United States, you need time, time…..
The Americans will be defeated in time, by getting tired. And in order to tire them, we have to go on, to last…. For a long time: ten, fifteen, twenty, fifty years. Until we achieve total victory, as our president, Ho Chi Minh, said. Yes! Even twenty even fifty years! We're not in a hurry, we're not afraid."
I said:
"Your interview with General Giap caught Henry Kissinger's attention, thus he invited you for an interview. Very rarely does he grant personal interviews, he speaks only at press conferences arranged by the administration. What did he say about the Giap's interview?"
Oriana:
"He didn't speak about General Giap, instead he asked me about Giap, Thieu and other Vietnamese generals. He even asked me: 'What do I think will happen in Vietnam with the cease-fire?' On Vietnam he could not tell me anything much, and I am amazed that he said: that whether the war to end or go on did not depend only on him, and he could not allow himself the luxury of compromising everything by an unnecessary word.
He said: 'Don't ask me that. I have to keep to what I said publicly ten days ago… I cannot, I must not consider an hypothesis that I do not think will happen, an hypothesis that should not happen. I can only tell you that we are determined to have this peace, and that in any case we will have it, in the shortest time possible after my next meeting with Le Duc Tho."
I said:
"Did Henry Kissinger say whether the Vietnam war was a useless war?"
Oriana:
"He said he agreed: 'But let's not forget that the reason why we entered this war was to keep the South from being gobbled up by the North, it was to permit the South to remain the South. Of course, by that I don't mean that this was our only objective…. It was also something more…. But today I am not in the position to judge whether the war in Vietnam has been just or not, whether our getting into it was useful or useless.
After all, my role, our role, has been to reduce more and more the degree to which America was involved in the war, so as then to the end the war. And it must be ended in accordance with some principle.
In the final analysis, history will say who did more: those who operated by criticizing and nothing else, or we who tried to reduce the war and then ended it. Yes, the verdict is up to history."
I said:
"Now, the last part of your book is an interview with Alexandros Panagoulis, a Greek politician and poet, who actively participated against the Greek military junta, also known as the Regime of the Colonels. He became famous for his attempt to assassinate dictator Georgios Papadopoulos on 13 August 1968, but also for the torture to which he was subjected during his detention.
Reading this interview, the readers couldn't help but to notice that you highly admired him, even an amorous way."
Oriana:
"That day and night in Athens, just two days after a general political amnesty had resurrected Alexandros Panagoulis from prison, I met him for this interview and fell in love with him. "
I said:
"Panagoulis was the real thing: A hero who had been condemned to death for attempting to assassinate a dictator. He only regretted having failed. Do you see him as a hero?"
Oriana:
"He said:' I'm not a hero and I don't feel like a symbol . . . I'm so afraid of disappointing all of you who see so many things in me! Oh, if only you could succeed in seeing in me only a man!'
I said:
"And you asked him: 'Alekos, what does it mean to be a man?"
Oriana:
"He said: 'It means to have courage, to have dignity. It means to love without allowing love to become an anchor. It means to struggle and to win. . . . And for you, what is a man?'
I answered him: 'I would say that a man is what you are, Alekos."
And so did the interview end. Arrivederci Oriana….
THE END
Book review of Francoise Giroud
Posted on August 30, 2016
Une histoire de femme libre
Loise, Loita, Lou Salome (1861-1937). She was compared to George Sand, half a century ago, for a free lifestyle, though Sand had a richer gamut of emotions and engagement.
She could lead this kind of life because she received a monthly stipend from the Russian government due to her officer of a father.
Lou got close relationships with Nietzsche, Rainer Maria Rilke, Freud, Paul Ree, Heinrich Gillot, Zemek (Friedrich Pineless, a Danish neurologist who was 7 years younger)…
Before the age of 35, Lou never engaged in love making: She was anorexic, flat chested, and had probably bad experiences in physical contacts with her brothers and father (incest?).
After the age of 35, she got totally in sexual activities, mostly with younger men.
Zemek was the first man she shared sexual intercourse with and she confined to Ernst Pfeiffer at a late age: (Zemek) was the man she feels most ashamed of (the muddy routes of sensuality?)
She decided to marry Andreas, a professor of Oriental and Central languages at the university of Gottingen where she settle down till her death.
Each Spring, Lou would travel around Europe, tackled by Zemek, until he was sick and tired of carrying around her luggage while she had sweet eyes to the young boys.
She wrote: Natural love is based on the principle of infidelity (like many animals?)
Lou could Not dissociate love from spirituality: Sexual Love must be short and fugitive: Must be regenerated at each amorous fiesta.
She never had the courage to put in this world a human being: We had to be more than ourselves, a course of living that requires immense focus.
At the age of 50, she gets initiated to psycho-analysis around 1912.
She landed in Vienna in August 1912 in order to attend the Wednesday sessions of Freud disciples
Freud mentioned that that her stay in Vienna may have been the most exciting and fruitful period in her destiny.
Lou and Freud had frequent and lengthy correspondence for many years. They started the trend of exchanging portraits.
She disagreed with Freud on the subject of narcissism.
She practiced psycho-analysis during and after the WWI in Russia and invested many hours treating soldiers of their trauma.
She adopted Marienchen, an illegitimate girl of her husband, and made her heritiere.
Her abundant correspondence and articles were Not translated from German.
Such as "Anal und sexual, 1916", "Creation of God", My life, Love of narcissism, Eros.
Fenitchka and Rodinka were translated.
Lou might have destroyed many lives (men committing suicide, like Victor Tausk, Paul Ree…) and laid waste to many marriages, but her company was stimulating.
Men felt larger in her presence and she delivered them from their strong personality, though she was never delivered herself from her personality
List of Book reviews in 2008
Posted on September 23, 2008
Many of the books that I have reviewed were written prior to 2008, before I discovered wordpress.com, and they might be categorized as controversial.  
At the time, I got the habit of writing my diary, on a computer that my nephew William assembled from scratch the parts from IBM. I used diskettes, Not many of them since most of my pieces were in words. Actually, I was using the software "Word". I displaced the diskettes: In any case, my diary sounded like announcing the weather in Los Angeles "Will get back for an update next month"
It is not my job to fall into that trap of judging what is fine to read.  
I simply reviews,  summarizes, and add my comments of what I have read that express deep feeling and personal reflections.  
I always give my "expert" opinions anyway: It is your right to express your opinion.
There are books that I had to publish several posts on particular chapters, simply because topics are interesting and need further development.
1) "Life after Life" by Dr. Raymond Moody, (written in June 7, 2004)
2) "A Priest among "Les Loubards"" by Guy Gilbert, (written in July 22, 2004)
3) "We the Living" by Ayn Rand, (written in July, 24, 2004)
4) "Prophesies of End of Time" by Paco Rabanne, (November 15, 2004)
5) "Alexander the Great", (November 20, 2004)
6) "The Lexus and the Olive Tree" by Thomas Friedman (July 28, 2006)
7) "Season of Migration to the North" by Tayeb Saleh, (August 10, 2006)
8) "The Princes of the Crazy Years" by Gilbert Gilleminault and Philippe Bernert.
9) "Carlos Ghosn: Citoyen du Monde" by Philippe Ries, (Septembre 27, 2006)
10) "Abbo"by Nabil Al Milhem, (November 23, 2006)
11) "Human Types; Essence and the Enneagram" by Suzan Zannos, (December 6, 2006)
12) "One hundred fallacies on the Middle East (ME)" by Fred Haliday, (March 2, 2007)
13) "Origins" by Amin Maaluf, February 15, 2007
14) "Imagined Masculinity" edited by Mai Ghoussoub and Emma Sinclair-Webb
15) "Post-modernism: the Arabs in a video snapshot" by Mai Ghoussoub,( March 4, 2007)
16) "The Joke" by Milan Kundera, (March 22, 2007)
17) "Fahrenheit 451" by Ray Bradbury, March 28, 2007
18) "Biography" of In3am Ra3d, April 7, 2007
19) "Al-Walid Bin Talal", April 4, 2007
20) "The Gardens of Light" by Amin Maaluf, April 19, 2007
21) "Two old women" by Velma Wallis, May 1, 2007
22) "I heard the owl call my name" by Margaret Craven, May 3, 2007
23) "A woman of independent means" by Elizabeth Forsythe Hailey, May 6, 2007
24) "The Gospel according to Pilate" by Eric-Emmanuel Schmitt, May 9, 2007
25) "Les innovations du XXI siecle qui vont changer notre vie" by Eric de Riedmatten.
26) "Tuesdays with Morrie" by Mitch Albom, July 3, 2007
27) "Liban: le salut par la culture" by Phares Zoghbi, August 19, 2007
28) "Finding Joy" by Charlote Davis Kasl, August 22, 2007
29) "Tadjoura" by Jean Francois Deniau, Septembre 6, 2007
30) "How to dance forever" by Daniel Nagrin, September 8, 2007
31. "The Second sex" by Simone de Beauvoir, (September 21, 2007)
32. "A short history of nearly everything" by Bill Bryson, (September 25, 2007)
33. "The God of mirrors" by Robert Reilly, (October 1st, 2007)
34. "The tipping point" by Malcom Gladwell, (October 9, 2007)
35. "The social structure of Lebanon: democracy or servitude?" by Safia Saadeh
October 15, 2007
36. "Fallaci interviews Fallaci and Apocalypse", by Oriana Falaci (November 8, 2007)
37. "Aicha la bien-aime du Prophet" by Genevieve Chauvel (November 19, 2007)
38.  "Tess of the D'Urberville" Thomas Hardy, (December 19, 2007)
39. "Le livre des saviors" edited by Constantin von Barloewen (December 22, 2007)
40. Gandhi's non-violent resistance guidelines (February 21, 2008)
41. "The Da Vinci Code" by Dan Brown (March 12, 2008)
42. "La reine de Palmyre" by Denise Brahimi (March 26, 2007)
43. "Culture et resistance" by Edward W. Said (April 18, 2008)
44. "L'Avorton de Dieu; une vie de Saint Paul" by Alain Decaux (April 23, 2008)
45. "Down and out in Paris and London" by George Orwell (July 14, 2008)
46. "Why the Arab World is not free?" by Moustapha Safouan (July 21, 2008)
47. "Igino Giordani" by Jean-Marie Wallet and Tommaso Sorgi (August 5, 2008)
48. "Building a durable World" in "Science et Vie" magazine special issue of June 2008 (August 10, 2008)
"Orientalism" with a twist
Posted on December 13, 2012
Note: Currently, Lebanon is bankrupt: State, Banks , Central Bank and public institutions. The port of Beirut was blown down by an electromagnetic pulse missiles that only the superpower own.
For much of its contemporary history, Beirut has been characterized as the Paris of the Middle East, a cosmopolitan metropolis that misfortune has placed in the middle of a region hostile to the civilized pleasures of material excess, free-flowing alcohol and exposed female skin.
(Kind of the adjacent States, including Israel, refuse to agree for Lebanon to be like a neutral Switzerland!)
Beirut's Parisian charm has tended to become less apparent during periods of mass sectarian slaughter during the 13 years of civil war that displaced mixed religious people in towns into cantons of similar religious sects.
In the introduction to his Orientalism, the late US/Palestinian author Edward Said notes repercussions of civil conflict in Lebanon on the European consciousness:
"On a visit to Beirut during the terrible civil war of 1975-1976 a French journalist wrote regretfully of the gutted downtown area that 'it had once seemed to belong to the Orient of Chateaubriand and Nerval [18th- and 19th-century French Romantic writers] '.

This journalist was right about the place, especially so far as a European was concerned. The Orient was almost a European invention, and had been since antiquity a place of romance, exotic beings, haunting memories and landscapes, remarkable experiences." (See link in note 2)
Belen Fernandez published in AlJazeera on Nov. 6, 2012 "Orientalism with a surgical twist: Beirut"

The 'New York Times' advertised Beirut as number 1 out of 44 ideal travel destinations in 2009 [Reuters]Can the representation of Beirut as a "Middle Eastern Paris brimming with wealth" function on behalf of imperialism?
"The civil war may indeed have upset a regional landscape constructed over time by European scholars, poets, travelers and other self-appointed authorities, who, as late Edward Said argues, helped institutionalize Eurocentric prejudice, deny agency to the actual inhabitants of the romanticized exotic lands and thus facilitate imperial and colonial conquest.

The civil war did not, however, halt Orientalist traditions – made quite clear in manuscripts like From Beirut to Jerusalem, unleashed to wide acclaim in 1989 by former New York Times Beirut bureau chief Thomas Friedman.

According to Friedman's account, civil war-era Lebanon was populated by "buxom, Cleopatra-eyed Lebanese girls", whose presence threw invading Israeli soldiers for a loop:"

This was not the Sinai, filled with cross-eyed Bedouins and shoeless Egyptian soldiers".

That such caricatures were permitted to pass as insight, exposes the delusional nature of Friedman's subsequent complaint that "a toxic political correctness infected the academic field of Middle Eastern studies".

Paris revisited In recent years, Beirut has reclaimed its image as the Paris of the Middle East, outfitted with expanded shopping opportunities and a spiffy new downtown erected on the former dividing line between the Muslim and Christian halves of the city.

A spate of Times articles about Beirut's various amenities offers such trivia as that "In a city of many faiths – Christian, Sunni, Shia, Druze – at least one religion is universally practiced: sun worship".

The New York Times has dutifully taken on the role of PR firm for the resurgent Lebanese capital, advertising it as number 1 out of 44 ideal travel destinations in 2009.

Given that the specified temples of worship are high-end beach clubs where "hordes of heliophiles absorb ultraviolet rays and cultivate their bronzed exteriors", it would seem that said religion is Not so universal after all– either from an economic perspective or one that recognises the incompatibility of certain prominent faiths with public bronzed exterior cultivation.

On the new Zaitunay Bay waterfront promenade, a "luxury playground" where "tablecloths gleam white and bottles of wine sweat in silver coolers", the Times observes that the boardwalk planks, "a nod to maritime authenticity, present a design flaw perhaps foreseeable in this city:

Women with Louis Vuitton handbags are forever extracting their spike heels from the cracks".

Additional sights at Zaitunay Bay, itself described as "Lebanon's latest effort to recapture the prewar 1960s – when Brigitte Bardot was a regular and Beirut was a fashionable port of call", include an Iraqi immigrant in "leather miniskirt, thigh-high boots and a fur vest and whose fire-engine-red lipstick and long yellow hair" would have appeared out-of-place in her native land but "were right at home in Beirut".

In other Beirut-centric dispatches, the Times raves about gay nightlife and restaurants offering beef and duck flown in from France.

The point of taking issue with such idealised odes to money and fashion is Not to deny the affluence that exists in the city or the comparatively liberal nature of its society.

However, the marketing of a Beirut brand of "joie de vivre", so blatantly equated with material wealth becomes morally problematic when we acknowledge the glaring economic disparity in the country, visible in the capital itself.

Consider, for example, the aesthetic differences between the refurbished downtown and the overcrowded and neglected Palestinian refugee camps and primarily Shia southern suburbs.

In these areas, recent infrastructure projects have included the rampant flattening of apartment blocks by the Israeli air force in 2006.

Needless to say, less sanitary aspects of life in Lebanon – such as the enslaved status of many migrants employed in the domestic help sector – have no place in the portrait of Beirut as a paradise of wealth, where tantalising opportunities await foreign visitors and their pocketbooks.

Cleopatra on Botox Three decades after Thomas Friedman discovered buxom Cleopatra in Lebanon, another Western voyager by the name of David J Constable has confirmed that the women still "look like Cleopatra", and that they have acquired new methods for enhancing their appearances – becoming in the process veritable ambulatory showcases for "tucks, lifts, firming, lipo, implants, grafting, tightening, otoplasty, mammoplasty, rhinoplasty and many other physical manipulations".

A member of the Royal Geographical Society, Constable approaches his anthropological subjects with Orientalist vigour, compiling his findings in a Huffington Post report entitled "Boobs, Botox, and the Babes of Beirut".

Constable dispatch begins with the curious hypothesis:"For a largely "Arab "country it's a bizarre thing that in Lebanon (Beirut specifically), women care more about their appearance than men. Males lead a rather sullied existence, priming their closely cut mini-beards and, from my own observations, eating rather a lot.

The formula in Lebanon's capital for women is fashion-forward, from their choice of cloth to the decisions they make surgically."

Non-experts on Arab grooming habits might of course be surprised to deduce that men usually spend hours preening in front of the mirror while women mope about in filth.

Undeterred, Constable rumbles on: "Muslim, Christian and Druze women in Beirut dress surprisingly skimpy. There are vests and silks and bikinis and cashmere and come-hither off-the-shoulder numbers.

Constable warns of occasional inauspicious outcomes among operated females: "Some look as if a drunken Picasso has drawn a face on to a balloon".

In the very least, Picasso's inebriated doodles attest to the European role in literally shaping the Orient.

Indeed, in 2006, the Israelis were presumably just as pleased as they'd been in 1982:  They discovered that not all Arabs were cross-eyed Bedouins, and Lebanon is still inhabited by bikini-clad plastic surgery recipients (and their slovenly overeating menfolk).

Field notes The Orient's existence as a spectacle for the Westerner to behold and interpret is meanwhile made especially clear during Constable's expedition to a nightclub "to witness the dolls and their dates myself".

A power outage interrupts the exotic display but is fortunately resolved:"The lights slowly raise and the permafixed smiles return.

The waxed, toned limbs of party women begin to pop and gyrate again.They're back on show, electrified so their surgical enhancements, botoxed-brows and designer names can bounce off my eyes, competing in a variety of silk-cut blouses, Louboutin heels and over-night handbags.

At another rooftop bar, Constable surmises that "there are benefits to marrying/dating/having sex with a plastic surgeon, since surely No one can afford to spend that much of their own cash on reconstructive surgery and blow-me-up operations". Case closed.

As with the New York Times' fixation with Beirut glamour, the effect of essays like Constable's is to reduce the Lebanese to a superficial existence in which personal concerns are limited to inflating one's lips and breasts and not getting one's designer heels stuck in boardwalk planks.

Never mind that many Lebanese are faced with more pressing preoccupations, such as a southern neighbour with a penchant for massacring civilians, upending infrastructure and saturating portions of the country with unexploded cluster bombs to serve as post-conflict population control.

Some may argue that the Times Constable approach is less detrimental than other reductionist portrayals of the country, such as Lebanon equals terrorist den.

These reductionist statements helps propagate an ethnic stereotype that has been exploited to justify more than one imperial project in the Arab/Muslim world.

The representation of Beirut as a Middle Eastern Paris brimming with wealth and cleavage – a place the West can relate to on account of its fervent materialism – can also function on behalf of imperialism, eliminating as it does all context legitimizing other aspects of Lebanon's identity, like resistance to Israeli regional designs.

Note 1: Belen Fernandez is the author of The Imperial Messenger: Thomas Friedman at Work, released by Verso in 2011.She is a member of the Jacobin Magazine editorial board, and her articles have appeared in the London Review of Books blog, Al Akhbar English and many other publications.The views expressed in this article are the author's own and do not necessarily reflect Al Jazeera's editorial policy.

Note 2: https://adonis49.wordpress.com/2008/10/12/culture-and-resistance-by-edward-w-said/

Note 3: I think Miss Lebanon of 2012 is the one on the far left, the tall blonde one?