Archive for the 'cities/geography' Category
Striking for their first substantial raise in decades. Palestinian workers at the Yamit factory Nitzanei Shalom in a West Bank settlement near the city of Tulkarm
Danny Zaken Jan 14, 2021
The story of Israeli factories in the legally ambiguous West Bank industrial zones is one of economics and politics, and the coronavirus crisis has thrown its dynamics into stark relief as Palestinian laborers fight for the same salaries as their Israeli counterparts.
Israel Supreme Court ruled in 2007 that Israeli law applies to Palestinian laborers employed in Israel and in West Bank settlements.
Nine judges decided unanimously that the nationality of the workers could not be used as an excuse for employers to offer them working conditions that differ from those afforded to their Israeli counterparts.
The ruling applies to all Palestinian laborers working in Israel and in the settlements. Excepting:
It does not apply to the Nitzanei Shalom industrial park, built in the 1990s, soon after the signing of the Oslo Accords, near the Palestinian city of Tulkarm and along the separation fence.
The Yamit plant, which manufactures water filters for agriculture and home use, is located in this industrial zone and therefore not subject to the ruling or Israeli law in general.
Some 80,000 Palestinian workers enter Israel every day.
According to data provided by the Israeli Civil Administration, a branch of the Ministry of Defense that serves as a liaison between the Palestinians and the Israeli authorities, the workers earn an average of 6,000 shekels a month ($1,800).
While this amount is roughly the minimum wage for Israeli workers, it is about four times the average wage in the Palestinian territories.
Another 30,000 Palestinians work in the West Bank, mainly in industrial zones adjacent to Israeli settlements. A few more thousand work in construction.
According to the Civil Administration, the salaries of these working in West Bank settlements are only slightly lower than those of Palestinians working in Israel proper, averaging about 5,500 shekels ($1,750) per month. They are also eligible for the conditions and benefits provided by Israeli law such as pensions, sick pay and paid vacation time.
 Palestinian workers wearing masks against COVID-19 line up for a security check at the entrance to Israel's Mishor Adumim industrial zone near the Maale Adumim settlement in the West Bank east of Jerusalem, on July 1, 2020. Photo by MENAHEM KAHANA/AFP via Getty Images.
A senior Civil Administration official told Al-Monitor that the income of these 120,000 workers amounts to more than a quarter of the total income in the West Bank in 2019.
That figure is even higher this year because of the pandemic, which has devastated the Palestinian economy. As Israel relies heavily on Palestinian laborers, particularly at construction sites, even at the height of infection waves, workers who would otherwise be in lockdown were allowed to enter Israel.
Never miss another story
The factory employs 80 Palestinians who earn between 5,000 and 6,000 shekels ($1,600 and $1,900) per month. Some of those workers have been at the factory for two decades or more and now that they have considerable professional experience, they want raises. They even organized as a union with the Israeli labor organization Maan.
Negotiations with the factory began last year, but they dragged on for months because of the coronavirus. Finally, the factory's owner Ofer Talmi informed them that he could not meet their demands because of the economic crisis resulting from COVID-19. But the workers refused to concede.
On Dec. 31, 2020, they declared a strike. Surprised, Talmi sent an angry email to the head of Maan, Assaf Adiv, saying that he meets all the legal obligations to his workers. Then he added, "The Land of Israel belongs to the Jewish people. As a result, I am unwilling to have Palestinian workers with any connection to the state of Israel whatsoever."
Furious about his response, the striking workers released the email to the Palestinian and Israeli media.
Halil Shihab, one of the striking workers, said, "We've been working for years for minimum wage. We are professionals and we get minimum wage. Now he says that he doesn't want to give his employees basic conditions because they are Arabs — not because he can't afford it."
Realizing the magnitude of his mistake, Talmi released a letter in Arabic apologizing to his workers and warning that if the strike continues, he will be forced to close the factory. He promised them 1,000 shekels ($320) each if they returned to work and said that he would renew negotiations over pay.
"I want to apologize and take back what I wrote in my previous email about the right to the Land of Israel. It was written in a moment of extreme duress. … It is very hard for me to see the gates of our factory closed, since this could have serious implications on all of our livelihoods. We are in a difficult period and the strike hurts all of us. It threatens our very existence."
According to the factory's management, Adiv shared the first letter with anti-Israel organizations like the Boycott, Divestment and Sanctions movement, which has used it to attack Israel.
His motives, they say, were entirely political. Meanwhile, the factory's owner told Al-Monitor, "Yamit has employed Palestinian workers for over 35 years now. It operates according to the law and grants them all sorts of rights and benefits, including better pay, pensions, sick pay and worker's compensation.
Assaf Adiv of Maan is making cynical use of this difficult time, knowing that Yamit is contending with enormous difficulties because of the coronavirus, like so many other factories and industries in Israel and around the world. This attempt to interfere, supposedly on behalf of some ideology or other, causes enormous damage to the otherwise healthy working relations and genuine coexistence that has been a hallmark of this factory for years. "
Adiv denied the accusation. In a conversation with Al-Monitor he said that all he wanted was to obtain better working conditions for experienced professionals.
If Talmi had just declared his willingness to raise their salaries once the crisis was over, the whole situation would have been resolved. Adiv also claimed that by never contributing to the workers' pension fund, Talmi has saved millions over the years.
Ali, another worker at the factory, spoke to Al-Monitor about the conflict. Asking that his full name not be used, he said, "I am willing to forgive Ofer Talmi, but he needs to realize that we deserve more. If he really supports coexistence, let him show us that he is prepared for it. We would then help him get the factory through this crisis."
If that happens, the industrial zone model could survive. If not, it may be in serious danger.
Read more: https://www.al-monitor.com/pulse/originals/2021/01/israel-palestinians-west-bank-nitzanei-shalom-oslo-accords.html#ixzz6jplOHHcN
Colonial powers assignment for the "Arab" States leaders? And the people pay the price
Posted on June 3, 2010
During the "Cold War" period, the US administrations would select the main dish to cook and prepare the ingredients; Russia would then set the fire under the pan; Europe would cool off  the plate; Israel would eat the main course.  
The "Arab" States had the role of washing the dishes for the next feast of horrors and defeats.
During US global hegemony after the Fall of the Berlin Wall, all these haphazard "Independent States" sprouted in the continents to become markets for the US-based international conglomerates in transferring/shuffling "financial" paper money, with multiple financial crisis.
Two decades after after the Fall of the Berlin Wall, it is China selecting the strategic regions to exploit; then it is the turn of the US to bring in the matches; the European Union reaps the problems and extends grants to developing States and sends in the Blue Helmets to keep the peace.
India, Brazil, Russia , and Turkey waited to capture the investments of surplus money.
This time around, Israel is teaming up with "Moderate Arab States" to wash the dishes.  
Iran refuses to wash dishes: it contributes soap and detergents to whom is willing to scrap, wash and clean the mess.
After WW2, the US was master of seas and oceans; it nuked Japan twice to accelerate Japan's surrender: Stalin of the Soviet Union had already entered Manchuria and was progressing to conquer all of Korea.
The US got hold of Japan and South Korea; Russia got North Korea.
In 1949, Mao of China conquered Tibet (source of all major rivers in India, China, and South-East Asia); the US failed to obstruct China's expansion and Stalin got upset of US alignment with China. Stalin decided to capture all of Korea.  The US resisted and paid the tab in soldiers, weapons, and money for many years to save South Korea.  Finally, China is controlling North Korea via figure heads.
After WW2, the US launched many pre-emptive wars around the globe under the pretext of "containing the spread of communism" and grabbed all the European colonies.
The Soviet Union backed "national resistance" to imperialism with inexpensive weapons.  
The "underdeveloped" third world States got independence and Russia won their hearts and mind, but not their stomachs:  Russia was unable to extend finances to these famished new independent States.
The US made it a policy to destabilize all these new States with military coups and braking any economic and social development.
During the reign of the Soviet Union, there were many "progressist" movements siding with either Russia, China, or other communist systems against the common enemy "emperialist capitalist America".
The US and Russia divided the spoil of the world after burning the lands, forests, and people of the third world States.
After the fall of Berlin Wall, China is masterfully juggling with capitalism, socialism, and communism ideologies as tools for economic hegemony.
The US is impotent in regulating and controlling the havoc resulting from the unruly multinational financial institutions.  
The EU is paying the tabs as usual.  
India, Brazil, Russia, and Turkey are enjoying the roles of mediators, negotiators, and recipients in the G20 group.  All other states are paid minimum wages for cleaning up this global mess.
Note: After US Bush Jr. invasion of Iraq in 2003 and the upheaval of a few people in the "Arab" States like Tunisia, Egypt and Libya… world geopolitical conditions changed, but the "Arab" States got worse, politically, economically and socially.
Mind you that major wars are conducted on weaker nation Lands. It is the people that have to endure the calamities.
Israel is an 'apartheid' regime
By JOSEPH KRAUSS January 12, 2021
A leading Israeli human rights group has begun describing both Israel and its control of the Palestinian territories as a single "apartheid" regime, using an explosive term that the country's leaders and their supporters vehemently reject.
In a report released Tuesday, B'Tselem says that while Palestinians live under different forms of Israeli control in the occupied West Bank, blockaded Gaza, annexed east Jerusalem and within Israel itself, they have fewer rights than Jews in the entire area between the Mediterranean Sea and the Jordan River.
"One of the key points in our analysis is that this is a single geopolitical area ruled by one government," said B'Tselem director Hagai El-Ad.
"This is Not democracy plus occupation. This is apartheid between the river and the sea."
That a respected Israeli organization is adopting a term long seen as taboo even by many critics of Israel points to a broader shift in the debate as its half-century occupation of war-won lands drags on and hopes for a two-state solution fade.
Peter Beinart, a prominent Jewish-American critic of Israel, caused a similar stir last year when he came out in favor of a single binational state with equal rights for Jews and Palestinians. B'Tselem does not take a position on whether there should be one state or two. (And why Not taking a position?)
Israel has long presented itself as a thriving democracy in which Palestinian citizens, who make up about 20% of its population of 9.2 million, have equal rights.
Israel seized East Jerusalem, the West Bank and the Gaza Strip in the 1967 war — lands that are home to nearly 5 million Palestinians and which the Palestinians want for a future state. (Gaza is 80% of it transferred Palestinians since 1948)
Israel withdrew troops and settlers from Gaza in 2005 but imposed a blockade after the militant Hamas group seized power there two years later. (Not after Hamas took control, but because it was no longer a tenable occupation).
This apartheid regime of Israel considers the West Bank "disputed" territory whose fate should be determined in peace talks. (Israel flaunted all "peace negotiations" with the Palestinians, even in the Oslo Accords. Israel just want "security" management deals)
Israel annexed East Jerusalem in 1967 in a move not recognized internationally and considers the entire city its unified capital. Most (you mean a few?) Palestinians in east Jerusalem are Israeli "residents," but not citizens with voting rights.
B'Tselem argues that by dividing up the territories and using different means of control (about 250 checkpoints), Israel masks the underlying reality — that roughly 7 million Jews and 7 million Palestinians live under a single system with vastly unequal rights. (Palestinian youths are detained administratively , with no charges, every night)
"We are not saying that the degree of discrimination that a Palestinian has to endure is the same if one is a citizen of the state of Israel or if one is besieged in Gaza," El-Ad said. "The point is that there isn't a single square inch between the river and the sea in which a Palestinian and a Jew are equal."
Israel's harshest critics have used the term "apartheid" for decades, evoking the system of white rule and racial segregation in South Africa that was brought to an end in 1994. (What about the White racial divide in the US, which is still being demonstrated today?)
The International Criminal Court defines apartheid as an "institutionalized regime of systematic oppression and domination by one racial group." (Actually, there is No racial reasons, just a colonial rule to rob the Palestinians of their wealth and lands)
"There is no country in the world that is clearer in its apartheid policies than Israel," said Nabil Shaath, a senior adviser to Palestinian President Mahmoud Abbas.
"It is a state based on racist decisions aimed at confiscating land, expelling indigenous people, demolishing homes and entire towns to establishing settlements."
In recent years, as Israel has further entrenched its rule over the West Bank, Israeli writers, disillusioned former generals and politicians opposed to its right-wing government have increasingly adopted the term.
But until now B'Tselem, which was established in 1989, had only used it in specific contexts.
Israel adamantly rejects the term, saying the restrictions it imposes in Gaza and the West Bank are temporary measures needed for security.
Most Palestinians in the West Bank live in areas governed by the Palestinian Authority, but those areas are surrounded by Israeli checkpoints and Israeli soldiers can enter at any time. Israel has full control over 60% of the West Bank.
Itay Milner, a spokesman for Israel's consulate general in New York, dismissed the B'Tselem report as "another tool for them to promote their political agenda, based on a distorted ideological view." He pointed out that "Arab" citizens of Israel are represented across the government, including the diplomatic corps.
Eugene Kontorovich, director of international law at the Jerusalem-based Kohelet Policy Forum, says the fact that the Palestinians have their own government makes any talk of apartheid "inapplicable," calling the B'Tselem report "shockingly weak, dishonest and misleading."
Kontorovich said the use of the word "apartheid" was instead aimed at demonizing Israel in a way that "resonates with racial sensitivities and debates in America and the West."
Alon Pinkas, a former Israeli consul general in New York, rejects the term. "Occupation, yes. Apartheid, absolutely not."
But he acknowledged that critics of Israel who had refrained from using the term, or who had used it and been attacked, "will now conveniently say, 'Hey, you know, Israelis are saying it themselves.'"
Rabbi Rick Jacobs, head of the Union for Reform Judaism, which estimates its reach at more than 1.5 million people in 850 congregations across North America, says the situation in the West Bank and Gaza is a "moral blight" and an "occupation but Not apartheid, which is an existential critique")
El-Ad points to two recent developments that altered B'Tselem's thinking.
The first development was a contentious law passed in 2018 that defines Israel as the "nation-state of the Jewish people." Critics say it downgraded Israel's Palestinian minority to second-class citizenship and formalized the widespread discrimination they have faced since Israel's founding in 1948. Supporters say it merely recognized Israel's Jewish character and that similar laws can be found in many Western countries.
The second development was Israel's announcement in 2019 of its intention to annex up to a third of the occupied West Bank, including all of its Jewish settlements, which are home to nearly 500,000 Israelis. Those plans were put on hold as part a normalization agreement reached with the United Arab Emirates last year, but Israel has said the pause is only temporary.
B'Tselem and other rights groups argue that the boundaries separating Israel and the West Bank vanished long ago — at least for Israeli settlers, who can freely travel back and forth, while their Palestinian neighbors require permits to enter Israel.
There have been no substantive peace talks in more than a decade. The occupation, which critics have long warned is unsustainable, has endured for 53 years.
"Fifty years plus, that's not enough to understand the permanence of Israeli control of the occupied territories?" El-Ad said. "We think that people need to wake up to reality, and stop talking in future terms about something that has already happened."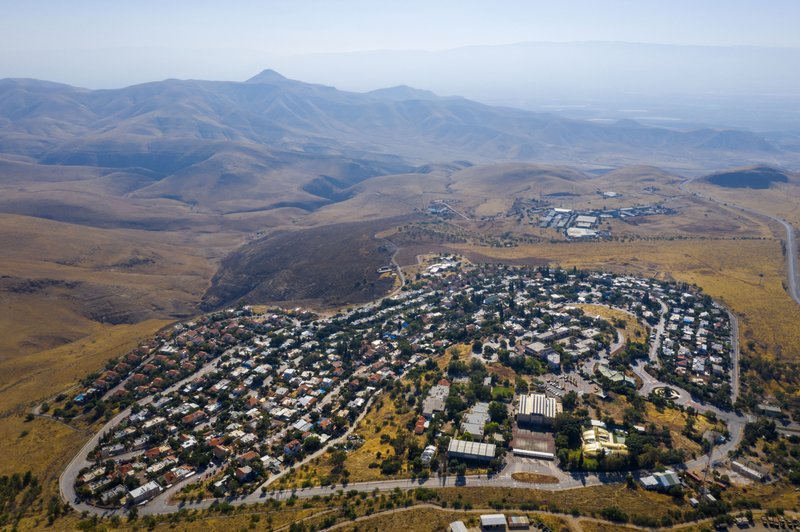 1 of 7 FILE – In this Tuesday, June 30, 2020, file photo, a view of the West Bank Jewish settlement of Ma'ale Efrayim in the Jordan Valley. Israel's premi
Le temps retrouvé. Recovering our lost time.
OLJ / Par Georges BOUSTANY, le 09 janvier 2021
Lorsque Samer est né quelques petites années après cette photo, il était déjà trop tard : ce décor avait déjà été détruit, et toute la vieille ville de Beyrouth avec.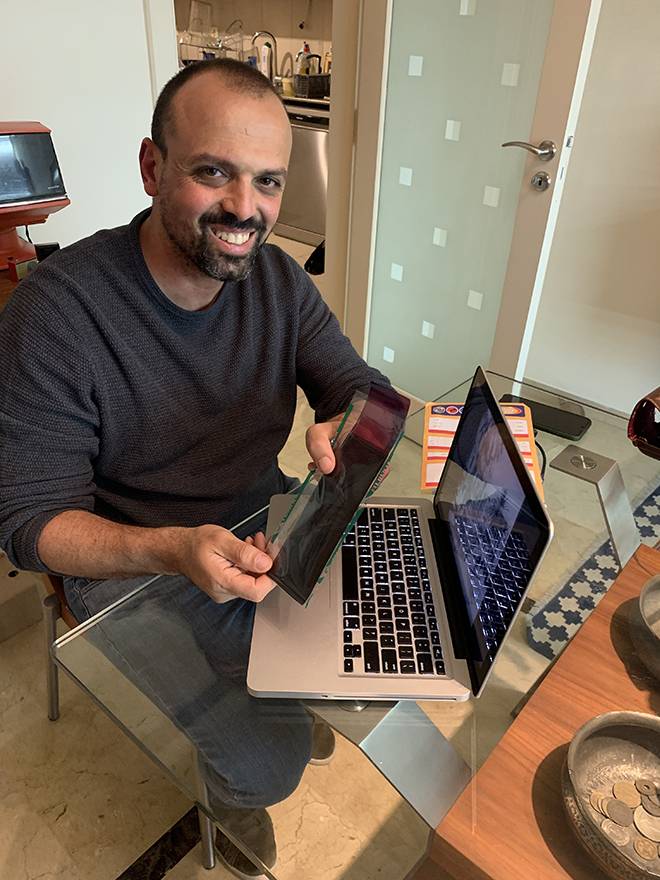 Samer Halwany montrant le négatif rougi par le temps. Collection Samer Halwany
En 2006, il découvre sa première caméra dans un marché du Luxembourg et tombe amoureux de l'esthétique surannée, mais surtout de la mécanique.
Alors que le monde est déjà entré de plain-pied dans l'ère de la photographie numérique, Samer effectue un parcours à l'envers et part à la collecte de ces vieux objets obsolètes qu'il apprend à manier sur YouTube avant de suivre des cours de haut niveau.
En un peu moins de quinze ans, il va récolter 700 objets, et cela va du gigantesque appareil de studio pour plaques de collodion aux petits briquets dissimulant des caméras minuscules utilisées par les espions durant la guerre froide.
L'appartement de Samer est devenu un véritable musée de la photographie : ce n'est pas lui qui a investi cet univers, c'est cet univers qui l'a absorbé corps et biens, et Samer est aujourd'hui un photographe professionnel expérimenté qui forme ses propres étudiants.
Regardez bien cette photographie : elle n'aurait jamais dû exister. Regardez ces personnages saisis sur le vif : n'était la passion d'un jeune collectionneur de caméras vintage nommé Samer Halwany, ils auraient disparu sans laisser de traces, comme tant d'anonymes, balayés par ce qu'on appelle pudiquement les événements.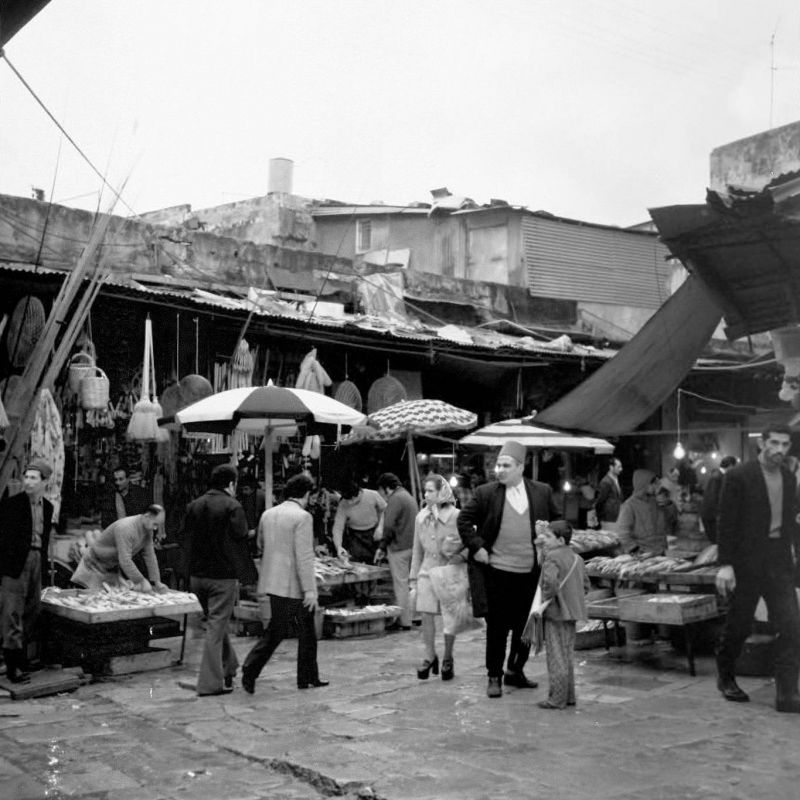 Souk el-Nourieh, hiver 1974-75. Collection Samer Halwany
Tout collectionneur a des anecdotes à raconter, et celle-ci vaut le détour :
Un jour, Samer achète une Rolleiflex T, une des meilleures caméras de son époque, réservée à une élite de professionnels et de connaisseurs. Il remarque que le compteur indique 12 poses. Bingo, il y a un film exposé, mais non développé à l'intérieur !
Ce n'est pas la première fois que cela arrive, mais jamais Samer n'a pu récupérer des images exploitables. Cette fois-ci, il obtient un rouleau négatif comportant douze poses. Un miracle ! Samer croit reconnaître Beyrouth, et en effet, une fois annulée la couleur rouge due à la mauvaise conservation, les photos apparaissent très nettes en noir et blanc.
Elles ont été prises à la place des Martyrs et dans les souks environnants. Le ciel est gris, il fait froid, humide, le sol est encore détrempé de pluie. L'odeur traditionnelle des souks, habituellement composée de poussière, de sueur, de vieux bois et d'objets hétéroclites, est ici rendue encore plus prégnante par l'humidité omniprésente, sur les vieilles pierres, les tissus des tentures, des rideaux, des parasols et sur les vêtements mouillés.
C'est cela Beyrouth : ici se retrouve un peuple bigarré venu des quatre coins du pays.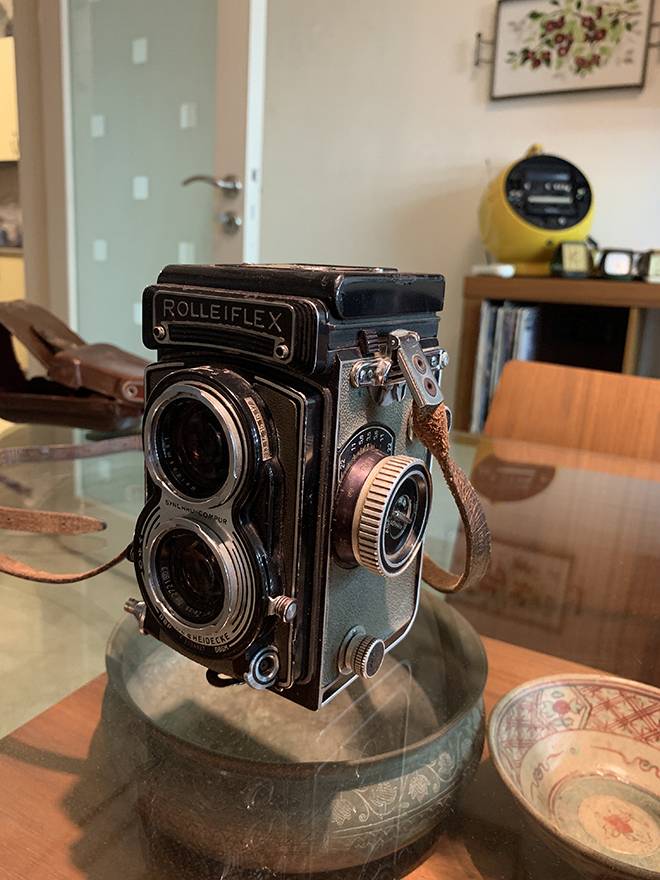 La Rolleiflex dans laquelle le film a été retrouvé. Collection Samer Halwany
Dernier hiver avant le cataclysme
Le photographe inconnu, dont Samer ignore pratiquement tout sinon que la caméra a été vendue par une dame âgée, se tient à une intersection dans les souks.
Nous sommes probablement à Souk el-Nourieh, non loin de la place des Martyrs : ici, l'on vend les traditionnels objets domestiques allant des balais et gants de toilette aux paniers en bambou en passant par les accessoires de cuisine.
Mais aussi du poisson, présenté sur des étals sans échoppe. Les passants sont chaudement habillés, et ces vêtements, on va les retrouver dans les photos des civils sous la mitraille durant la guerre des deux ans (1975-76).
Et pour cause : nous sommes à la veille du cataclysme. Voici, grâce à Samer Halwany, l'ultime hiver du centre-ville de Beyrouth avant quinze ans de guerre : pantalons pattes d'eph, talons hauts pour les hommes, chaussures massives pour les femmes, moustaches latino, favoris interminables, ce sont les derniers moments de normalité avant l'infernal printemps de la bosta qui va, semble-t-il, balayer jusqu'au propriétaire de cette caméra puisque le film ne sera jamais développé.
La luminosité est au diapason de cette ambiance crépusculaire : le ciel est délavé, les ampoules illuminées percent une pénombre sinistre, les regards paraissent inquiets, l'ombre du drame à venir semble déjà s'étendre sur la scène.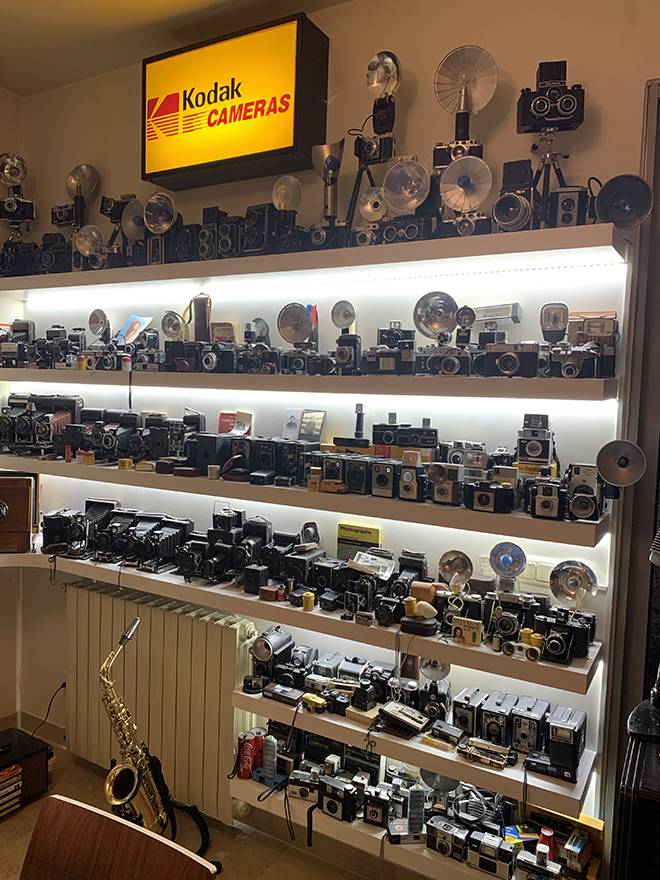 Une partie de la collection de Samer Halwany. Collection Samer Halwany
Qu'a voulu montrer le photographe ?
Une ambiance exotique, peut-être, mais le sujet principal de la photo est probablement le tarbouche.
En 1975, il en restait quelques-uns et celui-ci est curieusement porté par un homme relativement jeune ; le reste de sa mise indiquant une origine rurale. Une dame avec un fichu passe à l'arrière : c'est la seule.
Le reste des acteurs de cette scène d'outre-tombe ne sont que des hommes : ici, le marchand de poissons arrange la présentation de sa marchandise, là se négocie la pêche du jour. Et puis quelque chose a attiré l'attention de quelques-uns, quelque événement se produit à la gauche de la scène, mais nous ne saurons jamais de quoi il s'agit. Peut-être une altercation, ou plus simplement une belle qui passe ?
Dans la même rubrique La filature aux quarante roues
Le reste du décor est un spicilège de décrépitude : les murs sont, au mieux, détériorés, branlants au pire. Les toitures sont faites de la même tôle ondulée que les bidonvilles de banlieue, tout est pauvre, vieillot et décati.
L'on comprend aisément que le projet était de déménager ce souk dans un local moderne sous la place des Martyrs, et pourquoi les combats vont finalement ne faire qu'une bouchée de ce boyau.
Lorsque je lui demande ce qu'elle lui inspire, Samer observe la photo dans un silence réservé. Puis les adjectifs viennent ; ce sont d'abord quelques gouttes et puis une ondée de grêle :
« C'est une ville que je n'ai pas connue. Une ville qui avait une culture et des traditions que nous aurions pu préserver ; il y avait de la vie, il y avait un style de vie, un mélange des peuples. Aujourd'hui, Beyrouth semble aller en marche arrière, tout est désert, tout est devenu superficiel. »
Qu'un jeune homme qui n'a jamais connu cette époque-là en conçoive de la nostalgie, que ce soit lui qui sauve, préserve et diffuse cette photo vouée à disparaître, cela suscite tout de même un certain espoir.
Comme dans les grandes familles déchues, il reste chez nos enfants une petite lumière qu'ils transportent où qu'ils aillent, et qui leur permettra un jour de construire le pays dont nous avons rêvé.
Stand By Me: Nepal
Posted on May 15, 2015
Claire and I came to Nepal on vacation.
Actually, April 25th was the start of her two-month sabbatical!
We certainly didn't have the experience we expected, but we're both grateful that we had this time here, and that we were able to contribute in some small way.
Claire Davidson and I will be leaving Nepal tomorrow after three weeks here that we will never forget. Talk about bittersweet.
We arrived on the afternoon of April 24th.
The next day, as we were exploring the ancient capital of Bakhtapur with Ajay Uprety, the earthquake hit.
We were almost crushed by a falling building, and spent the rest of that day sprinting through Bakhtapur's narrow streets, running from square to square through the destroyed 800-year-old city, to escape the recurring terror of the aftershocks.
We walked for several hours and eventually made our way back to our hotel, which had partially collapsed, and set up camp.
We immediately started mobilizing International Medical Corps' response with the help of a handful of strangers-come-friends who shared our campsite and who wanted to help.
Over the days that followed, more staff and volunteers arrived, and our response scaled up.
We chartered helicopters to reach the most remote villages, and we worked to bring safe water and sanitation facilities to displaced persons living in camps in Kathmandu and in destroyed villages around the epicentre.
Our team and our reach grew before our eyes as the global community generously contributed to our efforts.
On May 12th, we experienced yet another earthquake.
I was in Gorkha District with Ivy Caballes Registered Nurse, Remi Drozd, Lara Phillips and our team running a mobile medical unit when the building we were in partially collapsed and the hills around us started sliding away.
We flew back to Kathmandu with Tara Yip-Bannicq and linked up with Claire and other colleagues to immediately start assessments – going first to Bakhtapur, where Claire, Ajay and I were the day of the first earthquake.
We worked late into that evening, setting up a field post-op unit close to one of the hospitals we are supporting in Kathmandu.
We're leaving Nepal with heavy hearts, as there is still an enormous amount of work to be done.
But we're leaving our work in good hands, and we will continue to stand by Nepal from afar. We look forward to coming back under better circumstances, and to once again experiencing the beauty and kindness of this country.
Tracy Chapman: "Stand By Me" – David Letterman Tracy performs the classic Ben E. King song.
2020 worst for homeless Palestinians in Israel
Tamara Nassar Rights and Accountability 5 January 2021
While people around the world were told to stay home due to the pandemic, Israel made more Palestinians homeless in 2020 than it has in years.
Israel demolished and confiscated more than 850 Palestinian structures throughout the year, displacing 1,000 people. More than half of those displaced were children.
Israel targeted almost any kind of structure Palestinians need for sustainable life, including homes, agricultural buildings, infrastructure and water sanitation facilities.
The number of demolitions last year was also the highest annual total since United Nations monitoring group OCHA began keeping records in 2009 – with the exception of 2016.
These figures do not include some 5,000 Palestinians whose livelihood was affected by demolitions and seizures throughout the year without being displaced.
Israeli forces demolish a Palestinian home east of Yatta, near the West Bank city of Hebron, on 29 December. Mosab Shawer APA images
In 2020, the number of Palestinians who had to demolish their own homes in occupied East Jerusalem under Israeli orders also increased. The irony s that Palestinians are coerced to do this to avoid having to pay for Israeli wrecking crews.
Area C
The vast majority of demolitions and seizures took place in occupied East Jerusalem and Area C, the 60% of the occupied West Bank that remains under complete Israeli military rule.
Most of Area C was supposed to be gradually transferred to Palestinian Authority control following the signing of the Oslo accords in the 1990s. But that never happened.
Israel controls all planning and construction in the area under an openly discriminatory regime.
Palestinians are subjected to Israeli military orders that regulate every aspect of their lives, while Israeli settlers living in Jewish-only colonies built illegally in occupied territory are subject to Israeli civil law.
Israel forbids virtually all Palestinian construction in Area C.
"Palestinians are allowed to build in less than 1% of Area C and in only about 15% of East Jerusalem," OCHA recently stated.
This forces Palestinians to build on their own land without Israeli permits and live in constant fear that Israeli occupation forces may seize or destroy their property.
"This system works primarily to demolish structures," Israeli human rights group B'Tselem stated, and is part of Israel's long-term efforts to change the demographics in the area and ensure a Jewish majority in preparation for annexation.
Palestinians are also denied access to basic infrastructure, such as water and electricity, in those areas. Many rely on donor-funded solar panels for electricity and water storage.
But even donated structures are not safe from Israeli destruction.
In 2020, Israel demolished or confiscated about $350,000 worth of donor-funded structures, many provided by the European Union.
Apart from muted statements and photo opportunities at sites threatened with demolition, the EU has done nothing to hold Israel accountable for destroying tens of millions of dollars of projects funded by European taxpayers over the years.
Largest demolition in years
In November alone, Israeli forces demolished and confiscated more Palestinian structures in a single month on record since 2009, according to OCHA.
November also witnessed the largest single demolition in occupied territory in years, when Israel leveled most of the occupied West Bank community of Khirbet Humsa.
Israeli forces arrived in Khirbet Humsa on 3 November and demolished 76 structures. More than 70 Palestinians were made homeless, including 41 children – totaling 11 families.
Minnesota Congresswoman Ilhan Omar called the demolition "a grave crime" at the time and asserted that "the United States of America should not be bankrolling ethnic cleansing.
In the first week of 2021, Israel has already demolished 12 structures and displaced three Palestinians.
Note: The first Palestinian Intifada (civil disobedience/resistance) was done in 1936-39 because the mandated British power refused to hold municipal elections on account that the Jews represented only 20% of the population.
Lions and lionesses ancient Empires
Posted on September 19, 2008
Mind you to pay close attention to the footnotes.
 Major civilizations built empires and cities along major rivers such as the Nile, Euphrates, Tiger, Indus (Pakistan), Ganges (India), and the Yellow River in China.
The best approach to explaining the succession of civilizations and Empires in the Fertile Crescent (Greater Syria) that raided and conquered the Near East civilizations such as in Lebanon, Palestine and Syria (Phoenicia, Canaan, Aram) is the analogy of survival among the lions and lionesses.
Young lions that attained two years, after being chased out of the clan, prowl the region for lionesses to mate and establish clans of their own.
Old lions are attacked and displaced and the cubs are eaten and slaughtered by the new King in order to quickly attract the lioness in heat and then new progenitors are formed. 
The lioness fights valiantly to preserve her cubs, but ends up giving up. 
Since a lion lives on average to be 10 year-old, while the lioness can outlive him by 7 years and manages to diffuse many progenitors of her owns, then the survival of these mammal carnivores is mainly due to the survival of the lionesses.  The lionesses chase and bring meat to the Lion, the clan and care for the cubs.
Almost all the ancient civilizations in the Middle East, the Nile River of Egypt excluded, were established along the Fertile Crescent longing the main Rivers of Litany, Al Assi, Euphrates and the Tiger (for example, the people inhabiting Lebanon, Syria, the southern part of Turkey, the Western part of Iran and Iraq).
The warrior Empires were Sumer, Akkad, Babylon, Assyria, Persia, Pharaonic Egypt, Hittite, Greek, Seleucia, Roman, and later Byzantium, Sassanid, Arab (Umayyad, Abbasid, Fatimid), Seljuk, Crusaders, Mamelukes, and Ottomans.
The young male lions from emerging warrior Empires, during their conquests and expansion, reclaimed the civilized glory and achievements of the Near East people as their own proper. 
The Near East people were constantly behaving like the lionesses: they first fight the good fight for their cubs, and when they inevitably fail against the young lions, then they mate with the conquerors after the invaders had tried to kill all their progenitors.
A few citizens of City-States like Sidon and Tyre, and much later Carthage, burned down their cities and then set fire on themselves to avoid servitude and surrender.
While the young occupying lions were strutting and showing off in the regions, and adapting to the new civilizations, it was the constant duty of the lionesses to chase and bring the meat to the table and care for the household.
The Near East people were bringing the food to the tables of the invaders and caring for the glamour and wants of the occupation forces, whose sole job was to make war and killing on their war paths.
I read chapters from an Arabic book by Georges Masroua.  Masrou3a asked an archeologist about the Achmoun Temple in Sidon "Saida", built around 550 BC.  The foreign archeolog replied that it was a Persian design from King Kourosh I period. Masroua then asked the archeologist why he claimed that it is Persian, and the latter said because that is what the archeology archives claim to be.
Fact is, Persia had no such Temple at Kourosh time. Even if the Persian King paid for the monuments and palaces at the expense of the invaded people, that should not be a basis to claim achievements of other civilizations.
This is the same repeated story with the temples in Baalbek.  The archeologists would claim that it was the work of the Romans since 200 BC, but if this monument was of Roman style and glory, then why the Romans failed to build something close to it in Rome or in Italy?
We have the same contentions for the impressive horse track and humongous amphitheater in Tyre (500 by 200 meters) that was built before 500 BC according to Herodotus. If this amphitheater was the work and style of the Romans, then why did the Roman wait another three centuries to build their Coliseum?
The same goes to the Jerusalem Temple even though the architects, builders and foramen and craftsmen and master workers were from Tyre during King Hiram or "Ahiram".
Euclid, Zeno, Plotin, Tales, Homer, Pythagoras and scores of great thinkers were born and lived in our coastal City-States stretching from Palestine to Turkey such as Akka, Tyr, Sidon (called the eldest son of Canaan in the Bible), Beirut, Byblos, Ugarit, Antakya, and so on and yet they were labeled as Greeks.
Is it simply because we were under Greek dominion that our famous thinkers should be Greeks, simply because they learned the Greek language, even if they didn't enjoy the privileges of Greek Athens citizens? Scores of our famous people were labeled Romans simply because we were under Roman hegemony.
For example, the eminent legal masters during the third century Papinian and Olympian lived in Beirut (Beryt); Olympian is indeed the martyr of jurists because he adamantly refused to offer a legal opinion in favor of Emperor Caracalla for killing of his brother Jetta. 
If this is the case, then why Jesus is to be simply a Jew and not Roman?  And yet Jesus and his family were legally attached to the district of Tyr (current Lebanon) in the Seleucid empire. St. Paul was actually a Roman citizen, a title inherited from his father and great father and yet, Paul is said to be simply a Jew.
There is undoubtedly a systematic disinformation concerning the cultural heritage of the Near Eastern civilizations.
The Europeans, even before the Renaissance period, purposely have chosen to start their civilization from Ancient Greek in 600 BC because they claimed to be democratic nations and had to emulate the democratic system in Greek City-State Athens. 
Democracy was developed in the City-States of Byblos, Sidon, Tyr, Ugarit and Mary several centuries before Athens existed.  These City-States had democracy within their city limits as Athens and Rome emulated later on.
Why within city-State limits?  Because communication and transport were limited and the administration of such a complex democratic system was not feasible at a larger magnitude at the time. Thus, democracy was not translated to the colonies as Greek Athens also failed to do.
Theaters and plays, via their verbal communications, were the main medium for spreading democracy and the clashing of ideas of various opposition groups: plays created a citizen consciousness that is different from immediate civic consciousness of oratorical speeches. 
The Near Eastern civilizations were ahead of Athens several centuries in theater plays. Athens got the attention because a few of its written literatures were preserved and translated.  For example, Aeschylus wrote over 90 works but only 7 of his tragedies remained to prove the dynamics of Athens' democratic system.
Although these City-States developed commercial empires, they never built theocratic warrior Empires because their citizens focused on civilized endeavors and opted in armed struggles to just defend their central Cities.
Athens managed to defend its civilization outside its City limits and even asked the cooperation of other Greek City-States like Sparta and the famous Thebes that the Phoenicians had built centuries before Athens existed, and which Alexander erased completely before launching his Asian campaign.
 We can confirm that the Near East region was the bedrock of all civilizations of the Mediterranean Sea in religion, philosophy, sciences, literature and arts.
Regardless of genetic sources, which are an amalgamation of many nations and which is not that important for the purpose of this article, anyone from current States in the Near East should take pride in their ancient civilizations and their original identity as the forefathers of contemporary modern democratic civilizations in Europe and the Greater Mediterranean Sea regions.
Note 1: Many USA and Western diplomats have described Lebanon during its civil war (1975-1991) as a special quarantine area, sustained by the super powers to retaining the quarantine, in order to prevent the spread of the Middle East social and political diseases of feudalism, sectarianism, tribalism, caste systems, and extremist ideologies in the Arabic and Islamic States to the surrounding and eventually the Western nations.
These diplomats failed to add the disease of apartheid which is the trademark of the colonial implant of the State of Israel. This quarantine lasted for more than 17 years and in the meanwhile the USA administrations in the 80's and 90's created, financed and trained a potent disease in Afghanistan.
Note 2: Every stated rescue mission to Lebanon was not meant for the stability and security of the Lebanese people, but for the purpose of larger strategic geopolitical interests in the Middle East with the land of Lebanon as a staging base.  It is the Lebanese who encouraged the other nations to look at them, not as a Nation, but as anonymous people of "pseudo-citizens", living on a piece of land that the UN admitted among the "independent" States.
This is so because all the successive Lebanese governments never behaved as administering a Nation, but as fief hoods for sectarian leaders who rule over modern serfs. 
Even after an unimaginably lengthy and terrible civil war, which lasted 17 years, every single monster of war-lord was pardoned by a decree from the Parliament and the ferocious sectarian leaders were inducted into the successive governments and Parliaments to rule, control and govern the people.
Note 3: Arnold Toynbee said that for certain people, history necessarily repeat itself because they are lazy students. Most probably, it seems that history repeats itself because philosophical concepts or paradigms on life, death, the nature of Gods, free will, predestination keep repeating themselves.
The Lebanese certainly are not very hot on archiving their history and even less on reading and revisiting their past: we have the tendency to say that what is past is past and we don't care but for the present, and how to live a good life.
This saying is true for the public consumption because, on the individual level, family feuds never vanish or are forgotten, or forgiven:  Grandchildren still hate the grandchildren of another family simply because they overheard that their grand-grand parents were in feud.
Lebanon and Palestine have suffered the same calamities of past history again and again.
These two States might never had a chance for lasting peace and stability.
The State of Syria could have fallen in the same trap because it was seriously targeted by the superpowers if this dictatorship in Syria didn't manage to re-read its history and learn from past adversities at the expense of democracy.
Syria never managed to bed with theocratic systems, except the city of Damascus that generally rallied to central authorities.
In ancient history, the City-States in  "inland Syria" barely put up a fight to a powerful invader, and it learned to normally change skins and share in the dominion of the new Empire that displaced the former, as if Syria believed it was actually the new invader.
Natural borders: what for? (November 21, 2008)
This short essay is sort of a detailed argument of the previous essay titled "A Nation, a State, or a redundant community?"
Most thinkers and sociologists would like to consider natural borders as one of the essential main factors for the establishment of a Nation or a national identity. I used to take this argument as a given until very recently.
My position is that the topology of the interior of a country is far more important to providing stability from military incursions for the duration, and consequently to forming a "homogeneous" society than mere "natural borders" can offer.
Obviously, natural borders are excellent arguments in litigations in the UN or international borders disputes, but not that essential on their own merit to constituting a Nation without topography that discourages invasions and long term settlement of invading troops.
Before I substantiate my hypothesis it might be necessary to emphasize two more ingredients for the formation of a nation.
First, a nation should manage to enforce a central official language to the majority of its citizens, regardless of the various slang and other different languages spoken or written in various regions in the nation. 
For example, at the beginning of the 20th century, France was still unable to enforce the official Parisian language in all its territory and had to resort to intensive investment and incentives in education, appropriate laws and concentrated efforts to achieve the universal application, if Not acceptance, of the official French language.
Second, a nation should manage to incite the majority of its citizens to acknowledge a civil religion, for example official recognition in the civil registers, regardless of their personal faith or other affiliations.  Saying that there is separation between the State and religion in functions and responsibilities is a State matter, but does not relate to the constitution of a nation in the long run.
I will consider a few Nations in the "Greater Middle East" and Northern Africa regions dating back from Antiquity and then from the European Medieval Age.
Of all the multitude of Empires that dominated the Old World at certain periods , only Iran (Persia) can be classified without ambiguity as a Nation.  Since the European Medieval Age we experienced the emergence of two other nations, Turkey and Morocco (it ruled Spain for over 5 centuries).
Before I resume my argumentation let me state that I consider Egypt as a recent nation that satisfies most of the criteria, but did Not in history. 
The fundamental question is: why the Empires of Babylon, Assyria, Akkad, Egypt, Greece, and Rome were unable to maintain the structure and cohesiveness of a nation, even after many centuries of dominion?
I will refrain of analyzing the cases of Greece and Rome because that would divert the focus of this short essay.
Why the Empires that originated in present Iraq, Syria and Egypt failed to survive as a nation to our modern time? 
These Empires dominated the Old World for many centuries and had centralized power structures and centralized official languages and managed to impose their brand of religion or close variations to their entire Empires. 
What was lacking then?
The topology in the interior of Iraq, Syria and Egypt could not offer any substantial hardship to huge invading troops.
Once the invading troops crossed a natural barrier the entire county was opened for easy progress. 
For example, "Greater Syria" (composed theoretically and according to natural borders of the current States of Syria, Lebanon, Palestine and Jordan) had definite natural borders of high mountain chains north and north-east, desert in the south and south-east, and east, and the Mediterranean Sea in the west. 
If we extended "Greater Syria" to include Iraq, then the Arab/Persian Gulf would be the border in the east.  It seems that natural borders are not of major consequences if the interior is an open country.
The invading war-like Empires just needed to satisfy their curiosity of what is beyond the natural barriers to come in. The Persians, Egyptians, Turks, Greeks, Romans, and Arab/Muslim troops entered and conquered the land from all sides with no major resistance.
It seemed that "Greater Syria" was unable to unite and constitute a national army or a central government, even though the population was mostly cohesive in language, religion, culture and customs… and that thanks to its open interior for easy trade and exchange.
What this region managed to form were hundreds of City-States, structurally centralized and well organized, but unable to come to a unified "need" for a Nation. 
It seems that through history, these people recognized that they would never be able to stop the advance of war-like empires; it was much cheaper to open the City-States gates and then assimilate the commercial demands and wants of the invading Empires.
This policy permitted the civilization of "Greater Syria" to transform and change the cultures of the invading Empires in all domains. (Review my essay "Lions and Lionesses in the Fertile crescent"). 
What is striking is, although Syria could never institute a political nation for any substantive duration, the populations in these States are more homogeneous culturally and linguistically than any currently established nation.
What is true to Syria is compatible to Egypt. Egypt had natural borders of deserts and seas but we cannot claim that it constituted a nation until recently due to demographic explosion, vast land, a majority of a religious sect, and common slang "Arabic" language.
The difference historically between Egypt and Syria is that the invading Empires were not interested in all of Egypt; suffice to secure transit commerce between the Red Sea and the Mediterranean Sea and the crops of the Nile River, mainly wheat. 
Syria was all interesting because of its rich City-States, skilled artisans, education, schools, commerce, and fertile lands;.
Syria was for the keep because of its hard working value-adding population!
That is why it was impossible for Syria to form a political entity because the war-like Empires wanted Syria at any cost.
Is the Muslim World ripe of any kinds of popular vote? (Dec. 30, 2005)
Posted on September 30, 2008 and written in Dec. 30, 2005
Mind you that this article was written in 2005, way before most of Bush Jr. troops withdrew from Iraq, before the "Arab Spring" upheavals, before ISIS (Daesh) was created, before the global war on Syria…Before mass transfer of mercenaries to Syria, Libya, Azerbaijan, Somalia, Yemen…
Under the threatening banner of fighting terrorism in the Greater Middle East (GME) region and installing "democracy and freedom of speech" instead of extremist Islamic salafist religious' dogmas the USA and its allies are encouraging civil wars among the people and splintering the region into smaller and smaller self governing state-nations.
Every killing civilian attempts, perpetrated every where in the World, are labeled a terrorist act and the perpetrators heaped on the Al Qaeda group which was supposed to have been wiped out in Afghanistan or in most instances blamed on other Islamic extremist offshoots.
Meanwhile, the Western Nations are enacting laws restricting freedom of speech in Media and publications, extracting war executive orders to detaining of suspects without due legal recourse, spying on their own citizens and listening on communication calls against the rules of law in the name of fighting terrorists' plans and their organizational and financial resources and capabilities. 
The political atmosphere in the USA and many European countries is heading toward applying Martial Laws and these restrictive and restraining climates against Liberty and Freedom could be viewed as training sessions for the coming open war.
What is this GME policy? 
The USA was feeling comfortable after World War II as to its global strategic military superiority and its naval and land military bases throughout the five oceans. and continents 
The absolute monarchies, oligarchic and dictatorial regimes in the "Arab World" were facilitating the USA policy of dominion, and Israel was its local heavy stick whenever any regime ventured to resist it by simply recovering lands captured by Israel or to exhibit independent tendencies with the support of the Soviet Union.
The advent of Worldwide organized "terrorist attacks" and the inability to contain that movement with classical military interventions, mainly after the failure of the USA to maintain peace and stability in Iraq, led to a smoke screen change in the tactical approach for preserving hegemony in the Arabic Islamic World.
The code name is to divert the attention of the Islamic masses by offering minimal political representations within the oligarchic regimes which might satisfy the disposition of the people to a first step democratic level of governance and more leeway for freedom of speech and publication.
It is interesting to study the small changes that the USA means to bring to the region through the electoral systems in Egypt and Saudi Arabia. At this pace these two countries might require a century before any meaningful democracy is established: For starter the female gender has still to be permitted to drive officially in Saudi Arabia. 
It is also interesting to hear the howl of despair coming from the US administration every time the extremist Muslim political organizations are about to win any election.
For example, Hamas in Palestine is to be forbidden to participate in the Parliamentary election if any election is to take place, and the Muslim Brotherhoods in Egypt are detained and fraudulent election admitted as legitimate.
The election results in Iraq need more than 3 weeks to be officially declared while the wide sweeping victory of the Islamists in Algeria was militarily canceled and savagely contained a decade ago.
Not that the people in this region care to have Islamic salafist doctrinal political systems installed, but a reaction to the complete failure of the US and colonial powers to regard the people but merely modern slaves in an area flush in oil. 
For more than 80 years, the people in every Arabic country have been trying to experiment with democratic systems and these attempts have been aborted by the tacit support of the US to monarchic, oligarchic and one party regime.
The war strategy is not concerned with the governments, already subjugated and controlled for decades, but targeting the Muslim people in Afghanistan, Iran, Turkey, Iraq, Syria, Lebanon, Jordan, Palestine, Egypt, Sudan, Libya, Tunisia, Algeria, Morocco, Mauritania, Saudi Arabia, Yemen, Oman, Bahrain and the Arab Emirates. 
The Muslim countries that are Not socially or culturally closely related to Arabic or Persian influence or having large Muslim minorities will be drastically contained through strict financial and economic constraints such as Pakistan, India, Indonesia and Malaysia in Asia, and Nigeria and the Northern non Arabic African people in Chad, Niger, Mali, Ivory Coast, Senegal and Guinea.
What is being offered is basically a psychological "feeling good" attitude toward the prospect of fair representation without any substantial variations in the system of governance that suit grandly the interests of the US/colonial powers imperialists.
The policy of the GME striving for mega Media propaganda of "feeling good" attitude of forthwith democratic change is a sick chimerical gamble hoping that the average masses will be tamed into moderation or the regimes would have an opportunity to win a majority that would permit them to repress the extremist elements.
The Arabic people and Muslims in general have digested the smoke screen tactics of the US and Western World and their god fatherly dialogues that make their blood curl, and they cannot be fooled for long.
In the meanwhile, precious time is burned away mindlessly with no serious alternatives to genuine solutions.
So far, Iran has grasped the extent of that visible danger and has been feverishly acquiring military deterrence power, economic self sufficiency and utilizing the mass Medias to enlighten the Muslim World to the coming calamities. 
The Iranian regime is diffusing the message of unity and integrity among the Muslim masses and projecting the image of confident defiance: it is steadfast on its Uranium enrichment program on its proper soil for nuclear deterrence, saving its oil production, negotiating with Russia, China and India for economic cooperation and openly casting Israel as a spearhead colony of the US in the region. 
Iran is not about to relinquish its influence in Iraq or in Lebanon, through the powerful political party of Hezbollah or in Western Afghanistan where its Foreign minister is currently spending a few days there to keep strong links with its citizens. 
Iran is heading to become the catalyst of the next world calamity with the tacit economic and military support of China and Russia.
The alternative to prevent this dangerous trend and revert to a rational and peaceful coexistence is a secular, democratic and national Arabic force to take control of its destiny.
Unfortunately, what is required is inexistent, not even in its embryo, because of the perennial foolish US policy in this region of squashing the spirit of secular and democratic nationalism for short term benefits.
The US cannot win the looming war in the long term in the Greater Middle East, unless the purpose is indeed to set this region ablaze and its populations impotent for centuries to come, because the masses consider the US policies as the master evil in the world in planning and execution.
The reaction of the Muslims, in face of the sustained heavy handed and total disrespect of the US policies to support our claims for human rights and fair representations, and abusing the United Nations to squeeze our survival capabilities through economic and financial embargoes and sanctions, is toward fundamentalism.
This process is typified by the successes of Hamas in Palestine and the Muslim Brotherhood in Egypt in the Parliamentary and municipality elections and the strong inroads of the Islamic Jihad political parties in Algeria, Jordan, Syria, Lebanon and Sudan in the societies' fabrics.
It seems that the Muslims are reverting to staunch dogmatic principles reminiscent of a coming war with the infidel Crusaders and with valid rhetorical and logical reasoning.
There are a few baffling signs that this GME policy might not survive or a more viable alternative supercede the current policy of alienating the Arabs and Moslems.
For example the pressures on the Bush Jr. administration to rescind the restraining laws on private freedom and telephone and internet communication and acknowledging the flimsy basis for conquering Iraq and a popular waves of demonstrations against the all encompassing powers that the administration has snatched from Congress and concentrated in the executive branch under the prerogatives of war on terrorism.
I am leaning toward the option that by coining the term "terrorists" to connote Islamists and acknowledging that terrorism is stronger and far reaching than contemplated that the momentum for carrying the GME policy is becoming a bipartisan policy throughout the USA and the Western World.
The quagmires that the international forces are experiencing in Iraq are driving them out. Though it appears a tactical maneuver to regroup and figure out a strategy to crank the vise on the GME people and let them succumb under a wretched life of lack of freedom, democracy and poor economic and social development.
The European Union is about to give up on the application of human rights in the GME and is ready to adopt shortcuts to our difficulties and may temporary let us die slowly and vanish in the night.
Let us not fool ourselves.
Every time discrimination on the basis of religion or color or gender or nationality or custom is condoned inside or outside the boundaries of a nation, whenever human rights are baffled, people detained on flimsy charges and without due normal legal recourse, prisoners tortured to extract confessions and killed in their detention centers… then the spirit of extremism has indeed taken roots and the dictatorship system is deeply entrenched regardless of how developed a nation is or how loud they claim to have democracy and the rule of law and order among its citizens.
If we had to rely solely on the United Nations to temper the drive of the most powerful Nations, nations that have the tendency of bypassing genuine diplomatic procedures into direct military interventions toward the weaker nations, then we should be pessimistic about the coming war. 
There are a few realities that might prevent outright declaration of war by the Western World to the Islamic Arabic and Persian World:
First, the European Union is a complex assembly of Nations that could not be easily ruled solely by France, Germany and Britain in matters of participating in wars with multiple interactions with other bordering Nations;
Second, the Latin American countries are leaning toward socialism and are verbally antagonistic to USA imperialism;
Thirdly, the Far East with a heavy concentration of Muslims is not about to endanger its economic cooperation by internal political struggles that do not enhance their survival as a viable economic and financial block; and
Fourthly, Russia is too aware of the importance of the stability of its former Islamic Nations bordering Iran, Turkey and Pakistan to gamble on a fruitless policy of discrimination against the Muslim people. (The decision of Russia of intervening strongly in Syria changed the done, Not only in Syria but also in Russia strategy in the entire region)
However, if war is declared and any powerful nation sides with the Islamic masses and support it militarily, then we might witness the prophetic vision of George Orwell for future social and political organizations based on Communist blueprints as he described in his book entitled "1984".
An era of constant low level wars among three super blocks of nations.
One other thing, if another world war is declared against the "Muslims" our puppet regimes would collapse and, win or lose, Israel will cease to exist before an armistice is reached.
If the attack on the Twin Towers occurred during the invasion of Iraq, then the US would have declared war plainly and simply and the Muslim and Arabic people would have not vacillated for so long and remained manipulated, extorted and abused by the reactionary Arabic regimes holding on for dear life.
That would be far better than this tactics of low-level wars, targeted assassinations of key resistance leaders, massive economic and financial sanctions… that are reducing the people to a chaotic views of the long-term objectives of the colonial powers and a rapid descent to Underdeveloped States, totally reliant of colonial powers rescue missions.
Jesus Christ was born, raised and preached his paradigmatic message in the Levant Land of Palestine, Lebanon, Jordan and Syria
Written by Mahmoud Youssef Hammoud in 1948, engaged author and poet

لقد اعتادت القلوب والألسنة والأقلام والآذان، أن تؤمن وتقول وتَكتُب وتَسمع، أن آيات الرُسل الخالدين ومُعجزاتِهم وانتصاراتهم، ما كانت غيرَ وحيٍ يوحى ومشيئةٍ تُملى ونصرٍ يُحقَّق من عند الله…
فاستقرّ هذا المُعتقد في أفئدة الناس وأدمغتهم إيمانًا عميقًا مُطَمْئنًا، يجرّد «الرسول» من عبقريّته الذاتيّة وإرادته الشخصيّة وأعماله البطوليّة، حتى باتت لكلّ رسولٍٍ عبارةٌ مطبوعةٌ في الخواطر معناها أنّه إنسانٌ عاديٌّ مُرسلٌ من لَدُنِ العناية الإلهيّة، يردِّدُ ما تُلَقِّنه إيّاه ويُنَفِّذ ما تأمره به، وأنّه لولا ذلك التّلقين وتلك الأوامر لما كان العبقريّ البطل العظيم!
والمعقول، أن الوحيَ العالي ليس سوى الإلهام الكونيّ، وأن الرُسلَ الهداةَ المتفوّقين ليسوا سوى عُظماء الكون وقادة الإنسان، وأنّه إذا كان لله فضلُ الإيحاء للنبيّين، فإن لهؤلاء فضلَ إثباتِ وجوده تعالى للبشر وإقناعهم بالإيمان بالمجهول… فالرسول إذًا ليس ذلك المُستوحي المُنفِّذ فحسب، بل هو الإنسان المتفوّق والزعيم المُصلح والقائد الباسل أيضًا.
وعلى هذا الضوء من حقيقة الرسول الإنسان نقول: إننا إذا تمثّلنا عُلماء الأرض قاطبةً قممًا بارزة في سلسلة جبال التاريخ، نرى ذروتين عاليتين في أجواء الروح والمجد، في سماء الدين وآفاق الدنيا، لا تُدانيهما ذروةٌ ولا يعلوهما علوٌّ، ألا وهما المنارتان المُشعّتان: عيسى المسيح والمُصطفى محمّد!
والذروة التي يقف العالم اليوم عند سَفحِها مُتطلِّعًا إليها ذاكرًا ميلادها ونشوءها وتساميها وخلودها، هي المسيحيّة رجلاً ودينًا وامتدادًا. وإذا كان لإنسان من بني الدنيا حقّ الوقوف والتطلع والذكرى، فلإنسانِ بلادِنا هذا الحقّ قبل سواه، بل له حقّ الصعودِ من السفحِ إلى الذروة، والاستواء هناك، على سِدْرَةِ السماء وشأوِ الكون، فخورًا معتدًّا، بأن هذه الذروة إنّما ارتفعت من أرضِنا، وتسامت في سمائنا، وبأن هذه المنارة إنّما أشعّت من مشرقِنا، بأضواء شمسِنا وسنا شطوطِنا وروعة رُبانا وجلال رحابنا…
وإذا كان على دنيا من الدُنى واجبُ الالتفات بالذّاكرة إلى يوم ميلاد المسيح، يوم الإيمان والوعي والتحرّر والانطلاق والحياة، فعلى دُنيانا المَشرقيّة أوّلاً، هذا الواجب… على القدس وعمّان وبيروت ودمشق وبغداد، قبل روما وباريس ولندن وواشنطن وموسكو واجب تقديس هذا اليوم وتخليدِه يومًا مشرقيًّا وعيدًا قوميًّا!
وهل أَدعى لتيهِنا واعتدادِنا من هذا الميلاد الذي هو ميلادُنا وهذا الرسول الذي هو رسولنا؟ وهل هناك اعتزازٌ يفوق اعتزازَ مشرِقِنا بكونه مكوِّن السيد المسيح وباعثه ومُطعِمه وكاسيه وموطنه ومُلهمه وناصره؟ أوليس من حقّ بلادِنا أن تشرئبَّ تعاليًا وتباهيًا على الدنيا كلّها، ونصف بني الدنيا اليوم، وفي كل صباح مساء، يتوجّهون بقلوبهم وأنظارهم خاضعين خاشعين مستسلمين لرسالة ابن بلادنا، إحدى رسالات الكنعانيّين والآراميّين والحثيّين الألى علّموا الإنسان بحرف ووحّدوا الكون بزورق، وعمّروا الأرض بإبداع؟!
أوليس من حقّنا القومي نحن بني المشرق أن نفاخر الشرق والغرب والشمال والجنوب ببيت لحم القرية الصغيرة، بل بمذود بقرة فيها، تَسجُد له عواصم الإمبراطوريّات والممالك والجمهوريّات والولايات والإمارات في المعمور، كما سَجَدَت العوالم من قبل لكهفٍ في أرواد وجبيل وصور، وحجرٍ في دمشق وبابل ونينوى وسواها من منائر العلم والعمل والتوحيد؟ ليس بدعًا إنْ عَبَدَ البشرُ روحَ الله في إنسانٍ منّا، فقديمًا عبدوا الله في حجرٍ من بلادِنا!
أيّها المشارقة المؤمنون!
إن السيدَ المسيح الذي تلقّينا عنه أقصى مبادئ التسامح والعفو والرحمة والوداعة والهِداية، وحفظناها وعلمنا بها وحدنا في ديارنا، قد أرادنا أيضًا أُباةً أعزّةً وأبطالاً صراعيّين، نمتشقُ القوّةَ سلاحًا ونصارعُ الباطلَ كفاحًا… لا، لا تقولوا أني أشتطّ وأبتدع، فمسيحُنا كان رسولَ المبادئ الإصلاحيّة ومعلّمَ الدروس الاجتماعيّة وزعيمَ النّهضة المشرقيّة وقائدَ الحملة البطوليّة في مكافحة الفساد والفوضى والشرور والآثام، أوبئة بني إسرائيل الفاسدين الشرّيرين الآثمين، التي كادت تمتدّ في أنحاء المشرق وتصيب المشارقة أجمعين… فانتصرَ هذا البطلُ البطل على تلك الأوبئة انتصارَ اللاهوت في السماء والناسوت على الأرض، بعد أن غضب على "بني إسرائيل" وشتّتهم ولعَنهم، فتشرّدوا عبيدًا يُساقون وتيهًا يتساقطون!
أجل أيّها المشارقة المؤمنون!
لقد كان مسيحنا بطلاً في إيمانه، وبطلاً في أقواله، وبطلاً في أفعاله… يصمد أمام الأعداء والمكابرين، تارةً بالعنف وطَورًا باللين، لتكوين المجتمع الأفضل والإنسان الأمثل في بلادنا!
فيا مسيحنا!
في قلوبنا منك وداعة الحَمَل، وفي أيدينا منك قوّة البطل… وأنت على جفوننا وفي خواطرنا رسولٌ إنسانيٌّ مشرقيٌّ عقائديٌّ وبطلٌ اجتماعيٌّ صراعيٌّ… وسيرتك كلّها، في ضمائرنا، منذ أن قلت كلمتك الأولى فوطِئتَ الأشواك صابرًا، إلى أن قلت كلمتك الأخيرة فحملت الإكليل ظافرًا… و"شعب إسرائيل" الذي كافحتَ أوبئته وقضيتَ على امتدادها باللعنة والتشتيت والعبوديّة والتيه، قد عاد اليوم إلى بلادك، ليعيث فيها فسادًا… بل لقد أعاده الذين يدّعون الإيمان بمسيحيّتك ويصلّون لوجهك!
فعُد إلينا يا مسيحنا، للقضاء على الفاسدين الفوضويّين الشريرّين الآثمين، ولطرد الكتبة والفريسيّين من بيتك الذي شئته أنت بيتًا للصلاة، وجعله نصارى الغرب مغارةً للّصوص!
* كتب هذا المقال في كانون الأول 1948.
** شاعر واديب لبناني كبير دعي بشاعر الأناشيد.
م/ح