Archive for the 'Essays' Category
Soft skills? Broad learning skills: Bye bye STEM skills?
Google finds STEM skills aren't the most important skills



Lou Glazer is President and co-founder of Michigan Future, Inc., a non-partisan, non-profit organization. Michigan Future's mission is to be a source of new ideas on how Michigan can succeed as a world class community in a knowledge-driven economy. Its work is funded by Michigan foundations.
A Washington Post column on research done by Google on the skills that matter most to its 
employees success. Big surprise: it wasn't STEM. The Post writes:
Sergey Brin and Larry Page, both brilliant computer scientists, founded their company on the conviction that only technologists can understand technology.

Google originally set its hiring algorithms to sort for computer science students with top grades from elite science universities.

In 2013, Google decided to test its hiring hypothesis by crunching every bit and byte of hiring, firing, and promotion data accumulated since the company's incorporation in 1998.

Project Oxygen shocked everyone by concluding that, among the 8 most important qualities of Google's top employees, STEM expertise comes in dead last.

The 7 top characteristics of success at Google are all soft skills:

Like being a good coach; communicating and listening well; possessing insights into others (including others different values and points of view); having empathy toward and being supportive of one's colleagues; being a good critical thinker and problem solver; and being able to make connections across complex ideas.

Those traits sound more like what one gains as an English or theater major than as a programmer.

Could it be that top Google employees were succeeding despite their technical training, not because of it?

After bringing in anthropologists and ethnographers to dive even deeper into the data, the company enlarged its previous hiring practices to include humanities majors, artists, and even the MBAs that, initially, Brin and Page viewed with disdain.
This is consistent with the findings of the employer-led Partnership for 21st Century Learning who describe the foundation skills for worker success as the 4Cs: collaboration, communication, critical thinking and creativity.
And the book Becoming Brilliant which adds to those four content and confidence for the 6Cs.
And consistent with the work on the value of a liberal arts degree of journalist George Anders laid out in his book You Can Do Anything and in a Forbes article entitled That Useless Liberal Arts Degree Has Become Tech's Hottest Ticket.
It's far past time that Michigan policymakers and business leaders stop telling our kids if they don't get a STEM related degree they are better off not getting a four-year degree. It simply is not accurate.
(Not to mention that many of their kids are getting non-STEM related four-year degrees.)
And instead begin to tell all kids what is accurate that the foundation skills––as Google found out––are Not narrow occupation-specific skills, but rather are broad skills related to the ability to work with others, think critically and be a lifelong learner.
The kind of skills that are best built with a broad liberal arts education.
The Post concludes:
No student should be prevented from majoring in an area they love based on a false idea of what they need to succeed.

Broad learning skills are the key to long-term, satisfying, productive careers.

What helps you thrive in a changing world isn't rocket science. It may just well be social science, and, yes, even the humanities and the arts that contribute to making you not just workforce ready but world ready.

Note: About time students takes seriously the importance of general knowledge in everything they undertake. Most important of all is to learn designing experiments, developing the experimental mind that does Not come naturally, but with training.
Short attention span and serving silver bullet solutions that cure diseases? Who should we blame?
Is It  the culture that pushes for readily packaged success stories?
Mirvat El-Sibai posted on FB. August 28, 2016 
When i was doing my PhD i used to start my day in lab around 10 a.m. and on many days stay till 3 or 4 in the morning with a couple of hours break during the day..
i routinely sat on the microscope 8 hours straight throughout the night till I developed a permanent slouch.. and still couldn't wait to go home to analyze the data..
If I came home early it was to catch up on some papers or to prepare a presentation write a paper or my thesis etc..
We used to work weekend, holidays, and we were always in the business of learning and never questioned our advisors and were happy to pay our dues..
Our students today ask for more grades even if they don't deserve it and i find that lack of self worth very troubling..
it is a sweep under the rug mentality that aims for cheap lazy results…
Students today learn a technique and produce a figure and start asking about publications..
They teach a lab and start asking about a permanent position..
They read a paper and start questioning models..
Ambition is great but humility and patience are paramount to actual learning, particularly in science..
I don't blame it all on our students though..
It is the culture that pushes for readily packaged success stories and quick short attention span, serving silver bullet solutions that cure diseases..
It is also social media…
Note 1: For reasons, Not all of them fully justifiable, the medical students undergo harsh schedule and procedure that punish the students more than other fields of study. For example, focusing on a microscope for hours on would turn me blind. And this habit of waking up earlier than birds, as if everyone of them is going to opt to become a surgeon.
Note 2: I suffered immensely during my PhD program, particularly how to pay the tuition and trying to circumvent a few rules by auditing courses.
You may read my uneasiness in my Autobiography category "Not of a famous person".
In my teaching experience in Lebanon I was very disappointed: I had to invent and change my teaching methods, even during a semester, to excite and give incentives for university students to study, read and do meaningful research. You may discover my methods in my Human Factors in Engineering category on wordpress.com
Note 3: Social platforms may contribute to laziness in students Not motivated in the first place. But these platforms are wonderful resources for reflective minds. This trend of copy/pasting "research papers" that are Not even peer-reviewed, pressured me to demand that all submitted homework be handwritten. Kind at least they had to read something.
Evolution theory was known long time before Darwin.
Darwin collected data before coming forward with his knowledge.
The same case with Euler who had Not a shadow of doubt that planet trajectories were elliptical. He still plugged in for years to gather the necessary data to come forward with his proof.
Many scientists start with an intuition and end up retaining the data that match their hypothesis. The common people have to wait for other kinds of scientists to analyse all the data and start a paradigm shift that discard the traditional knowledge.
Un érudit musulman a eu l'idée de l'évolution 1000 ans avant Darwin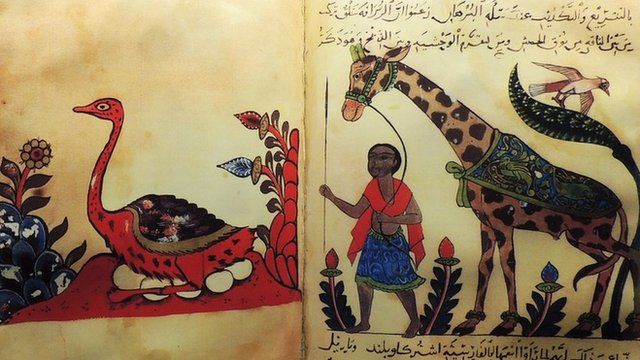 Charles Darwin est le père de la théorie de l'évolution, mais avez-vous entendu parler du scientifique irakien Al-Jahiz ?
L'histoire de la théorie de l'évolution remonte loin dans le monde musulman.
La théorie de l'évolution du scientifique britannique Charles Darwin est l'une des pierres angulaires de la science moderne.
L'idée que les espèces changent progressivement au fil du temps grâce à un mécanisme appelé sélection naturelle (adapting to the environment) a révolutionné notre compréhension du monde vivant.
Dans son livre de 1859, De l'origine des espèces, Darwin définit l'évolution comme une "descente avec modification", démontrant comment différentes espèces émergent d'un ancêtre commun.
Mais il semble que la théorie de l'évolution elle-même ait aussi un ancêtre dans le monde islamique.
La sélection naturelle
Environ 1000 ans avant que Charles Darwin n'écrive un livre sur la façon dont les animaux changent par un processus qu'il appelait "sélection naturelle", un philosophe musulman vivant en Irak, qui s'appelait Al-Jahiz l'avait déjà précédé.
De son vrai nom Abu Usman Amr Bahr Bahr Alkanani al-Basri, l'histoire se souvient de lui par son surnom, Al-Jahiz, qui signifie quelqu'un dont les yeux semblent sortir de leur orbite.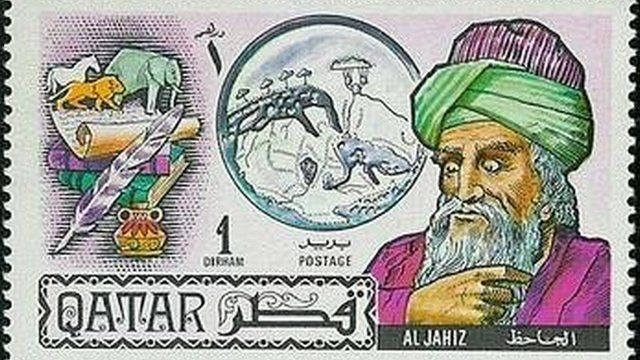 Ce n'est pas la façon la plus gentille d'appeler quelqu'un, mais la renommée d'Al-Jahiz perdure grâce à son livre fondateur, Kitab al-Hayawan (Le Livre des animaux).
Il est né en 776 après J.-C. dans la ville de Bassorah, au sud de l'Irak, à l'époque où le mouvement Mutazilah, (Mo3tazalat) une école de pensée théologique qui prônait l'exercice de la raison humaine, gagnait du terrain dans la région.
C'était le sommet de la domination abbasside.
Des travaux de savants ont été traduits du grec à l'arabe et de puissants débats sur la religion, la science et la philosophie ont eu lieu à Bassorah, façonnant l'esprit d'Al-Jahiz et l'aidant à formuler ses idées.
Le papier a été introduit en Irak par des commerçants chinois, ce qui a stimulé la diffusion des idées et le jeune Al-Jahiz a commencé à écrire sur une variété de sujets.
Ses intérêts couvraient de nombreux domaines académiques, y compris la science, la géographie, la philosophie, la grammaire arabe et la littérature.
On pense qu'il a produit 200 livres au cours de sa vie, mais seulement un tiers d'entre eux ont survécu jusqu'à notre époque.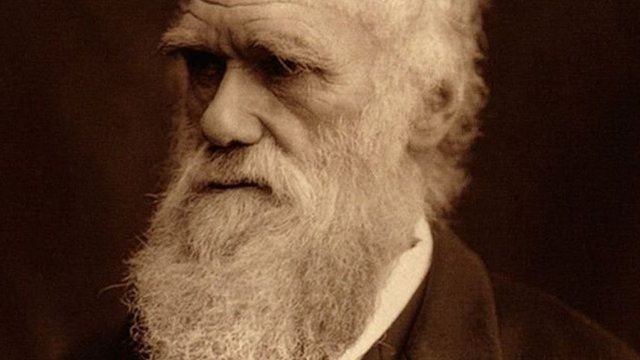 Le Livre des Animaux
Son œuvre la plus célèbre, The Book of Animals, est conçue comme une encyclopédie présentant 350 animaux, dans laquelle Al-Jahiz présente des idées qui ont une ressemblance frappante avec la théorie de Darwin sur l'évolution.
"Les animaux s'engagent dans une lutte pour l'existence et pour les ressources, pour éviter d'être mangés et pour se reproduire", écrit Al-Jahiz, "les facteurs environnementaux influencent les organismes à développer de nouvelles caractéristiques pour assurer leur survie, les transformant ainsi en de nouvelles espèces".
Il ajoute : "Les animaux qui survivent pour se reproduire peuvent transmettre leurs caractéristiques à leur progéniture."
Il était clair pour Al-Jahiz que le monde vivant était en lutte constante pour sa survie et qu'une espèce était toujours plus forte qu'une autre.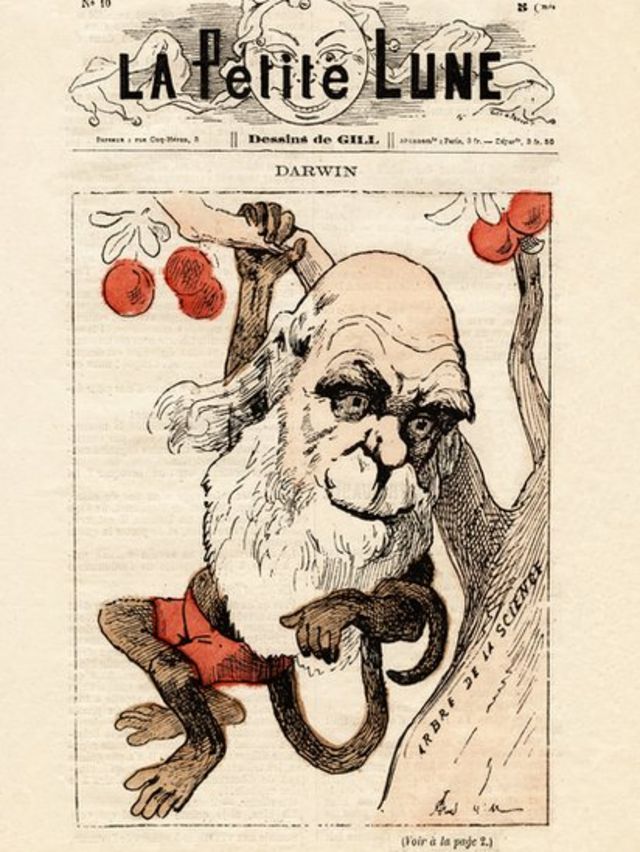 Pour survivre, les animaux devaient avoir des caractéristiques compétitives pour trouver de la nourriture, éviter de devenir eux-mêmes la nourriture de quelqu'un d'autre et se reproduire.
Cela les a forcés à changer de génération en génération.
Les idées d'Al-Jahiz ont influencé d'autres penseurs musulmans qui lui ont emboîté le pas.
Son travail a été lu par des gens comme Al-Farabi, Al-Arabi, Al-Biruni et Ibn Khaldoun.
Le "Père spirituel" du Pakistan, Muhammad Iqbal, également connu sous le nom d'Allama Iqbal, observe l'importance d'Al-Jahiz dans son recueil de conférences publié en 1930, écrivant que "c'est Al-Jahiz qui a souligné les changements dans la vie des animaux à cause des migrations et des changements environnementaux".
Théorie mahométane (Muslim theory)
La contribution du monde musulman à l'idée d'évolution n'était pas un secret pour l'intellectuel du XIXe siècle en Europe.
En effet, un contemporain de Charles Darwin, le scientifique William Draper, parlait en 1878 de la "théorie mahométane de l'évolution".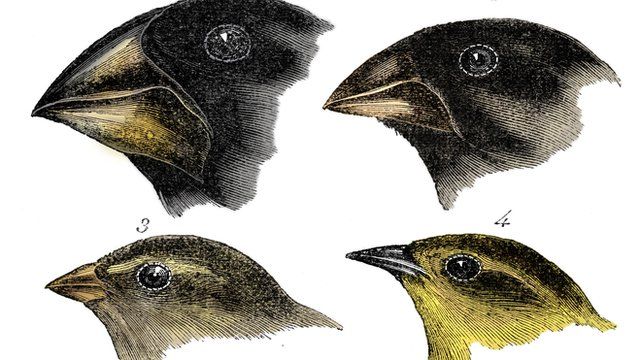 Le naturaliste britannique mérite à juste titre sa réputation de scientifique qui a passé des années à voyager et à observer le monde naturel, et qui a fondé sa théorie avec une précision et une clarté sans précédent pour transformer notre façon de voir le monde.
Mais le journaliste scientifique Ehsan Masood, qui a réalisé une série de documentaires pour la BBC intitulée "Islam et Science", dit qu'il est important de se souvenir de ceux qui ont contribué à l'histoire de la pensée évolutionnaire.
Créationnisme
Il note également que le créationnisme ne semble pas exister en tant que mouvement significatif pendant le IXe siècle en Irak, lorsque Bagdad et Bassora étaient les principaux centres d'enseignement supérieur de la civilisation islamique.
"Les scientifiques n'ont pas passé des heures à examiner des passages de la révélation pour voir s'ils se comparent aux connaissances observées sur le monde naturel", écrit Ehsan Masood dans un article sur Al-Jahiz dans le journal britannique The Guardian.
"Au lieu de cela, ils sont sortis et ont essayé de découvrir des choses par eux-mêmes."
En fin de compte, c'est la quête du savoir qui a entraîné la mort d'Al-Jahiz.
On dit qu'à l'âge de 92 ans, alors qu'il essayait de prendre un livre sur une étagère lourde, il s'est effondré sur lui, tuant le philosophe musulman.
This myth that mystify: East vs. West?  Even Better, South vs. North
Depending on the context, depending on the outcome, choose your paradigm.
Both paradigms ( only one life or cyclical lives) are human constructions. 
They are cultural creations, not natural phenomena.
To understand the business of mythology and what a Chief Belief Officer is supposed to do, you have to hear a story of Ganesha, the elephant-headed god who is the scribe of storytellers, and his brother, the athletic warlord of the gods, Kartikeya.
The two brothers one day decided to go on a race, three times around the world. Kartikeya leapt on his peacock and flew around the continents and the mountains and the oceans. He went around once, he went around twice, he went around thrice.
But his brother, Ganesha, simply walked around his parents once, twice, thrice, and said, "I won."
"How come?" said Kartikeya. And Ganesha said, "You went around 'the world.' I went around 'my world.'"
What matters more?
Devdutt Pattanaik looks at business and modern life through the lens of mythology.
When he was Chief Belief Officer, he helped managers harness the power of myth to understand their employees, their companies and their customers.
He's working to create a Retail Religion, to build deep, lasting ties between customers and brands.
‪ — the myths that mystify. ted.com|By Devdutt Pattanaik
If you understand the difference between 'the world' and 'my world,' you understand the difference between logos and mythos.
'The world' is objective, logical, universal, factual, scientific.  'The world' tells us how the world functions, how the sun rises, how we are born.
'My world' is subjective. It's emotional. It's personal. It's perceptions, thoughts, feelings, dreams. It is the belief system that we carry. It's the myth that we live in. 'My world' tells us why the sun rises, why we were born. 
Every culture is trying to understand itself: "Why do we exist?" And every culture comes up with its own understanding of life, its own customized version of mythology.
Culture is a reaction to nature, and this understanding of our ancestors is transmitted generation from generation in the form of stories, symbols and rituals, which are always indifferent to rationality.
When you study nature, you realize that different people of the world have a different understanding of the world. Different people see things differently — different viewpoints.
There is my world and there is your world, and my world is always better than your world, because my world, you see, is rational and yours is superstition. Yours is faith. Yours is illogical. This is the root of the clash of civilizations.
It took place in 326 B.C. on the banks of a river called the Indus, now in Pakistan. This river lends itself to India's name. India. Indus.
Alexander, a young Macedonian, met there what he called a "gymnosophist," which means "the naked, wise man." We don't know who he was. Perhaps he was a Jain monk, like Bahubali over here, the Gomateshwara Bahubali whose image is not far from Mysore. Or perhaps he was just a yogi who was sitting on a rock, staring at the sky and the sun and the moon.
Alexander asked, "What are you doing?" and the gymnosophist answered, "I'm experiencing nothingness." Then the gymnosophist asked, "What are you doing?" and Alexander said, "I am conquering the world."
And they both laughed. 
Each one thought that the other was a fool. The gymnosophist said, "Why is he conquering the world? It's pointless." And Alexander thought, "Why is he sitting around, doing nothing? What a waste of a life."
To understand this difference in viewpoints, we have to understand the subjective truth of Alexander — his myth, and the mythology that constructed it. 
Alexander's mother, his parents, his teacher Aristotle told him the story of Homer's "Iliad." They told him of a great hero called Achilles, who, when he participated in battle, victory was assured, but when he withdrew from the battle, defeat was inevitable. 
"Achilles was a man who could shape history, a man of destiny, and this is what you should be, Alexander." That's what he heard.
 "What should you Not be? You should not be Sisyphus, who rolls a rock up a mountain all day only to find the boulder rolled down at night. Don't live a life which is monotonous, mediocre, meaningless. Be spectacular! — like the Greek heroes, like Jason, who went across the sea with the Argonauts and fetched the Golden Fleece.
Be spectacular like Theseus, who entered the labyrinth and killed the bull-headed Minotaur. 
When you play in a race, win! — because when you win, the exhilaration of victory is the closest you will come to the ambrosia of the gods."
The Greeks believed you live only once, and when you die, you have to cross the River Styx. And if you have lived an extraordinary life, you will be welcomed to Elysium, or what the French call "Champs-Élysées", the heaven of the heroes.
But these are not the stories that the gymnosophist heard. He heard a very different story. 
He heard of a man called Bharat, after whom India is called Bhārata. Bharat also conquered the world. And then he went to the top-most peak of the greatest mountain of the center of the world called Meru. And he wanted to hoist his flag to say, "I was here first."
When he reached the mountain peak, he found the peak covered with countless flags of world-conquerors before him, each one claiming "'I was here first' … that's what I thought until I came here." And suddenly, in this canvas of infinity, Bharat felt insignificant. This was the mythology of the gymnosophist.
Bharat had heroes, like Ram — Raghupati Ram and Krishna, Govinda Hari. But they were not two characters on two different adventures. They were two lifetimes of the same hero.
When the Ramayana ends the Mahabharata begins. When Ram dies, Krishna is born. When Krishna dies, eventually he will be back as Ram.
The Indians also had a river that separates the land of the living from the land of the dead. But you don't cross it once. You go to and fro endlessly. It was called the Vaitarani. You go again and again and again.
Nothing lasts forever in India, not even death. 
And so, you have these grand rituals where great images of mother goddesses are built and worshiped for 10 days … And what do you do at the end of 10 days? You dunk it in the river. Because it has to end. And next year, she will come back.
What goes around always comes around, and this rule applies not just to man, but also the gods. (But at a lesser energy and power? Like entropy?)
Even the gods have to come back again and again as Ram, as Krishna. Not only do they live infinite lives, but the same life is lived infinite times till you get to the point of it all. "Groundhog Day." (Laughter)
Two different mythologies. Which is right? Two different mythologies, two different ways of looking at the world.
One linear, one cyclical. One believes this is the one and only life. The other believes this is one of many lives.
The denominator of Alexander's life was one. So, the value of his life was the sum total of his achievements. 
The denominator of the gymnosophist life was infinity. So, no matter what he did, it was always zero. 
And I believe it is this mythological paradigm that inspired Indian mathematicians to discover the number zero. Who knows?
That brings us to the mythology of business.
If Alexander's belief influenced his behavior, if the gymnosophist belief influences his behavior, then it was bound to influence the business they were in. 
What is business but the result of how the market behaves and how the organization behaves?
And if you look at cultures around the world, all you have to do is understand the mythology and you will see how they behave and how they do business.
Take a look. If you live only once, in one-life cultures around the world, you will see an obsession with binary logic, absolute truth, standardization, absoluteness, linear patterns in design.
But if you look at cultures which have cyclical and based on infinite lives, you will see a comfort with fuzzy logic, with opinion, with contextual thinking, with everything is relative, sort of mostly. (And what is the mythology of the Chinese? Are they bound to conquer the world as the US evangelists has been doing?)
You look at art. Look at the ballerina, how linear she is in her performance. And then look at the Indian classical dancer, the Kuchipudi dancer, the Bharatanatyam dancer, curvaceous. (Laughter)
And then look at business. Standard business model: vision, mission, values, processes. Sounds very much like the journey through the wilderness to the promised land, with the commandments held by the leader. And if you comply, you will go to heaven.
In India there is no "the promised land". There are many promised lands, depending on your station in society, depending on your stage of life. You see, businesses are not run as institutions, by the idiosyncrasies of individuals. It's always about taste. It's always about my taste. (Is it still true in capitalist India?) 
Indian music, for example, does not have the concept of harmony. There is no orchestra conductor. There is one performer standing there, and everybody follows. 
And you can never replicate that performance twice. It is not about documentation and contract. It's about conversation and faith. 
It's not about compliance. It's about setting, getting the job done, by bending or breaking the rules — just look at your Indian people around here, you'll see them smile; they know what it is. (Laughter) And then look at people who have done business in India, you'll see the exasperation on their faces.
This is what India is today.
The ground reality is based on a cyclical worldview. So, it's rapidly changing, highly diverse, chaotic, ambiguous, unpredictable. And people are okay with it. 
And then globalization is taking place. The demands of modern institutional thinking is coming in. Which is rooted in one-life culture. And a clash is going to take place, like on the banks of the Indus. It is bound to happen.
I have personally experienced it.
I'm trained as a medical doctor. I did not want to study surgery. Don't ask me why. I love mythology too much. I wanted to learn mythology. But there is nowhere you can study. So, I had to teach it to myself. And mythology does not pay, well, until now.
I had to take up a job. And I worked in the pharma industry. And I worked in the healthcare industry. And I worked as a marketing guy, and a sales guy, and a knowledge guy, and a content guy, and a training guy. 
I even was a business consultant, doing strategies and tactics. And I would see the exasperation between my American and European colleagues, when they were dealing with India.
Example: Please tell us the process to invoice hospitals. Step A. Step B. Step C. Mostly. (Laughter) How do you parameterize "mostly"? How do you put it in a nice little software? You can't.
I would give my viewpoints to people. But nobody was interested in listening to it, you see, until I met Kishore Biyani of the Future group. he has established the largest retail chain, called Big Bazaar.
And there are more than 200 formats, across 50 cities and towns of India. 
And he was dealing with diverse and dynamic markets. And he knew very intuitively, that best practices, developed in Japan and China and Europe and America will not work in India.
 He knew that institutional thinking doesn't work in India. Individual thinking does. He had an intuitive understanding of the mythic structure of India.
So, he had asked me to be the Chief Belief Officer, and said, "All I want to do is align belief." 
Sounds so simple. But belief is not measurable. You can't measure it. You can't manage it. So, how do you construct belief? How do you enhance the sensitivity of people to Indian-ness. Even if you are Indian, it is not very explicit, it is not very obvious.
I tried to work on the standard model of culture, which is, develop stories, symbols and rituals. And I will share one of the rituals with you.  it is based on the Hindu ritual of Darshan.
Hindus don't have the concept of commandments. 
So, there is nothing right or wrong in what you do in life. (And the judicial system?)
So, you're not really sure how you stand in front of God. when you go to the temple, all you seek is an audience with God. You want to see God. And you want God to see you, and hence the gods have very large eyes, large unblinking eyes, sometimes made of silver, so they look at you.
Because you don't know whether you're right or wrong, and so all you seek is divine empathy. "Just know where I came from, why I did the Jugaad." (Laughter) "Why did I do the setting, why I don't care for the processes. Just understand me, please."
Based on this, we created a ritual for leaders. 
After a leader completes his training and is about to take over the store, we blindfold him, we surround him with the stakeholders, the customer, his family, his team, his boss. You read out his KRA, his KPI, you give him the keys, and then you remove the blindfold.
And invariably, you see a tear, because the penny has dropped. He realizes that to succeed, he does not have to be a "professional," he does not have to cut out his emotions, he has to include all these people in his world to succeed, to make them happy, to make the boss happy, to make everyone happy.
The customer is happy, because the customer is God.
That sensitivity is what we need. Once this belief enters, behavior will happen, business will happen. And it has. 
So, then we come back to Alexander and to the gymnosophist. And everybody asks me, "Which is the better way, this way or that way?"
And it's a very dangerous question, because it leads you to the path of fundamentalism and violence. So, I will not answer the question. What I will give you is an Indian answer, the Indian head-shake.
Depending on the context, depending on the outcome, choose your paradigm.
And so the next time you meet someone, a stranger, one request: Understand that you live in the subjective truth, and so does he. Understand it. 
And when you understand it you will discover something spectacular. You will discover that within infinite myths lies the eternal truth. 
Who sees it all? Varuna has but a thousand eyes. Indra, a hundred. You and I, only two. Thank you. Namaste.
No more Caches for Fiscal Evaders in selected Islands?
Bye Bye Launderers and white washers of plundered wealth?
Since 2009, many nations were trying to find ways to close loopholes in fiscal laws that permitted the rich people to transfer wealth to foreign caches in order to escape paying their due taxes.
In 2020, Lebanon pseudo State has Not even contemplated preventing the militia/mafia leaders from draining our accounts in banks in hard currencies from vacating our territory.
The financial havoc has generated another capital consequence. in every nation around the world.
All these tiny islands and tiny States that were the havens of offshore companies where money were stashed away to avoid taxes are no longer safe havens.
The safe havens were pressured to enact laws that permit any State government to investigate accounts that were immune under "banking secrecy regulations".
There are five main regions were these safe heavens concentrated their activities.
First, the Caribbean islands of about 14 of them, singly or set of smaller islands, such as: Caicos, Turks, Anguilla, and Montserrat (controlled by Britain), the Virgin Islands (controlled by the USA, the Aruba and Antilles (controlled by the Netherlands), the Bahamas, Caimans, Antigua and Barbuda, Dominic, Sainte Lucie, Saint Vincent and Grenadines, Saint Christopher and Nevis, Grenada, Panama City, and Belize.
Second, in Europe we got the city of Andorra, Austria, Belgium, Isle of Man, Isles of Guernsey and Jersey, Gibraltar, Monaco, Saint Marin, Liechtenstein, Luxemburg, Cyprus, and Switzerland.
Third, in the Far East we have: Tonga, Vanuatu, Cook Islands, Niue, Samoa, Nauru, Marshall Islands, Hong Kong, and Singapore.
Fourth, in the Arab Gulf we have: Dubai and Bahrain.
Fifth, in East Africa we have: Maurice, Seychelles Republic, Maldives, and then Liberia in West Africa.
For example, the Caribbean islands and particularly the Caimans has residency for 70% of hedge funds and manage about $ 2 trillion or 2,000 billions;
Jersey Island is the prime British offshore center and managing 300 billions;
Liechtenstein with 165 billions;
Switzerland with $2 trillions of offshore money or the third of the world's caches and which generate a third of the State's income.
The safe havens in the Virgin Islands are mostly invested by China.
Now most of these safe havens are in the process of regulating their financial activities because most States want the money of their citizens repatriated in order to be taxed.
The problem is that the fiscal laws in most States are so exorbitant and complicated that it is Not worth repatriating any money.
People are just waiting for lenient and simple fiscal laws to be enacted before they get the courage to transfer their money to their home states.
For example, taking into account penalties on bad faith (40%), interests in arrears, tax on revenue, social contribution and other rights and penalties, a French citizen having one million dollars in Switzerland should expect to pay 1,300,000 dollars, far more than what he has saved in the safe haven.
France has evaluated to 20 billions dollars of lost revenue is fiscal fraud, which amount to the total budget for the department of Research and higher Education.
The case of Switzerland banking secrecy laws started in 1934.
In 1932, France confiscated from the Commercial Bank of Bale ten books containing 2000 French clients; the socialist deputy Fabien Albertin divulged the names of the clients representing a wide spectrum of influential personalities from magistrates, to ministers, to deputies, and to bishops.
The State of Switzerland reacted.
Only in 1998 did the wall of banking secrecy fall in Switzerland when the US exercised pressures to recoup 1.25 billions dollars saved by Jewish families during the Nazi period.
There are four criteria to categorize a State as a fiscal paradise:
First, absence or lack of fiscal laws;
second, lack of transparency;
third, the economy cannot support that much funds (basically, a post office State); and
fourth, refusal to exchange judicial and fiscal information.
WikiLeaks documents on Lebanon: What's going on with our pitiful "leaders"?
Posted on March 22, 2011
You won't believe it. Can you imagine a government demanding from the enemy to invade its land, kill its citizens, destroy its infrastructure, and expand the bombing in intensity and duration?
That's what happened in Lebanon:  Not once, but several times since 2005 and since its independence, in pre-emptive attacks by Israel, though tacitly for lack of transparency.
In 2006, Israel launched a devastating war on Lebanon and the government of Lebanon, headed by Seniora PM, demanded from the US that Israel extends its war destruction of Lebanon's infrastructure beyond 33 days, on the guise of finishing off the military power of Hezbollah. (Finally, it was Israel that had to beg Bush Jr. to arrange for a cease fire)
Seniora PM, the current PM Saad Hariri, the defense minister Elias Murr, the ex-president Amine Gemayel, the warlord of the civil war Samir Geagea, the deputies Boutros Harb, Naela Muawad, Walid Jumblatt, Marwan Hamadi…demanded that Israel continue its war on Lebanon until Hezbollah is severely weakened.
Hell, Israel killed over 1,600 Lebanese civilians, injured over 5,000, displaced half a million from south Lebanon, dropped two million cluster bombs (dozens are killed and injured every year from these bombs), all Lebanon's infrastructure was destroyed, the sea polluted after bombing oil tanks…
It took Lebanon billions in foreign aid and six years to reconstruct devastated towns, villages, highways, bridges…just to satisfy short-term interests of midget Lebanese political leaders.
The common people in Lebanon know about these systematic treacheries committed by the successive governments, but now there are documents, black on white.
Hezbollah is assembling a legal file to bring to trial all these traitors of first degree.
These official traitors should be packing now; they should be praying to die before they are brought to justice. (Wrong. these militia/mafia "leaders" are still in total control of Lebanon and brought the State to total bankruptcy at all levels)
The infamy didn't stop after 2006:  It resumed unabashedly.
On May 7, 2007, the official traitors masterminded a civil war against Hezbollah as the best strategy to weaken this party that defended Lebanon's dignity and security from frequent Israeli incursions into Lebanon.
The "official traitors" had a plan that was coordinated with the US and Israel.
Hezbollah was continuing his program of securing land fiber-optic communication lines.  That was the excuse to starting the civil war.  The US Cole was offshore waiting, and Israel intelligence agents were hunkered in many secret places around Beirut.
Hezbollah managed to dismantle the plan within 3 hours and the official traitors had no time to carry on their nasty program.
Seniora governed Lebanon as sole dictator for four years, with a reduced cabinet since the third of the ministered had resigned., meaning 60% of the population was not represented in the government, and sit in around the government palace lasted months under tents.
Seniora was unphased:  He had orders not to seek the opinion of the Lebanese citizens.
Tents were erected around the Prime Minister Palace for three months, but Seniora felt that the US support is good enough to remain in power.
The official traitors want the army to be the sole defender of the Motherland.  How?
Our army didn't have a working single helicopter when battling the terrorists Jund Islam in Nahr Bared camp.  The Muslim Sunni salafists, financed by Saudi Arabia monarchy and via the Lebanese government of Seniora, had far more sophisticated weapons than the Lebanese army.
Funny.  The army is refusing free military hardware from donor States in order Not to antagonize the US Administration!
Are these official traitors serious about defending the fatherland from Israeli incursions?  Most probably, they never considered south Lebanon as part of Lebanon?
In the 2009 Parliamentary election, Saudi Arabia allocated $ One billion to finance the Lebanese election for the benefit of Saad Hariri, a Saudi citizen.  The US presidential election process didn't cost that much!
What kind of an army the defense minister is envisaging?  The WikiLeaks documents stated the following:
First, since the Christian Maronites and Greek Orthodox are not applying to join the army, the best way to encourage them is by establishing special regiments, quasi-independent from army hierarchy, trained to fighting "terrorism" and equipped with assault helicopter.
Yes, Christian youth prefer to join "elite assault brigades".  Why?  That's how the "Christian" defense minister Elias Murr feels.
Second, the Muslim Shia youth, constituting half the population, should have a restricted quota of 25% in the army.  The minister feels proud that he managed to reduce the ratio of Shia soldiers in the army that the official traitors want to fight Israel with.  The Sunni, barely representing 30% of the population have increased their ratio in the army and internal security forces to over 50%.  Do the official traitors want to fight enemies with that kind of obscurantist mentality?
Well, not any longer:  Saad Hariri and company were fired, and a new government representing the enlightened resistance forces should shoulder the difficult problems plaguing our society.
Efficiency of the human cognitive power or mind
Written in March 6, 2006
Cognitively, human is excellent in simple detection tasks or null indicator such as whether a sensation exist or not;.
The mind is fairly good in differentiating the direction of strength of a sensation such as bigger or smaller than a standard, but he is bad in evaluating whether a sensation is twice or three times stronger, and he is worst as a meter for exact measurements.
Human is more accurate in feeling than when relying on his mind. That is why a subject is forced to make a choice between two stimuli rather than responding that the sensation between a standard and a variable stimulus is equally strong.
Man is Not a good observer of complex events;.
Even when viewers are forewarned that they are to see a movie about a crime and that they are to answer questions about details later on, the accuracy of the observers are very low.
The mind is unable to be an objective recorder of the events that transpire because he gets involved in the scene actions.
The mind has a very narrow range of attention and barely can satisfactorily attend to a couple of stimuli.
This observation deficiency is compounded by our sensory differences and illusions. For example, one in sixteen subjects is color blind, many suffer from tone deafness, taste blindness and so on.
The mind does Not think of himself objectively but rather has convictions, feelings, and explanations based on very restricted experiences, hearsays, memories and he tends to generalize and develop a set of beliefs concerning the operation of the mind.
The human usually expects to see and then see what he wants to see and hardly deviates from his beliefs, and sometimes, even when faced with facts.
Many scientists have overlooked obvious data because they clanged to their hypotheses and theories.
Human has to generate an abundance of reliable information and assimilate them before he could eliminate a few systematic biases that he acquired from previous generations and his personal experiences.
This lack of objectivity in human is referred to by the term "common sense".
The fact is common sense ideas change and are undergoing continual revision, mainly because of the results of research and controlled experimentations and paradigm shifts. away from traditional knowledge
For example, common sense says heavy objects cannot fly until airplanes are common realities.
Common sense says that human cannot see in the dark until infrared goggles have been tested.
Common sense says that it is laughable to use earplugs in order to hear people talking in very noisy backgrounds, until it is experimented and proven to be correct.
The fact that your father or forerunners have always done something in a particular way does not prove that this is the best way of doing it.
The fact that famous people purchase a product from the best known firm does not permit the manufacturer to state that there cannot be very much wrong with the product since the famous people have bought it.
Big oil multinationals are comfortable working with Virgin materials:
Is Recycling anathema to profitability for multinationals?
The forecast is generation of Plastic will Triple by 2050?
Plastic cannot be Recycled? How Big oil misled the public?
Are they backtracking under environmental pressures?
None of this plastic, containers, bags, packaging, strawberry containers, yogurt cups… will be turned into new plastic things. All of it is buried.
When Leebrick tried to tell people the truth about burying all the other plastic, she says people didn't want to hear it.
"I remember the first meeting where I actually told a city council that it was costing more to recycle than it was to dispose of the same material as garbage," she says, "and it was like heresy had been spoken in the room: You're lying. This is gold. We take the time to clean it, take the labels off, separate it and put it here. It's gold. This is valuable."
"To me that felt like it was a betrayal of the public trust," she said. "I had been lying to people … unwittingly."
Rogue, like most recycling companies, had been sending plastic trash to China, but when China shut its doors two years ago, Leebrick scoured the U.S. for buyers. She could find only someone who wanted white milk jugs. She sends the soda bottles to the state.
But it's not valuable, and it never has been.
And what's more, the makers of plastic — the nation's largest oil and gas companies — have known this all along, even as they spent millions of dollars telling the American public the opposite.
This story is part of a joint investigation with the PBS series Frontline that includes the documentary Plastic Wars, which aired March 31 on PBS. Watch it online now.
NPR and PBS Frontline spent months digging into internal industry documents and interviewing top former officials. We found that the industry sold the public on an idea it knew wouldn't work — that the majority of plastic could be, and would be, recycled — all while making billions of dollars selling the world new plastic.
The industry's awareness that recycling wouldn't keep plastic out of landfills and the environment dates to the program's earliest days, we found. "There is serious doubt that [recycling plastic] can ever be made viable on an economic basis," one industry insider wrote in a 1974 speech.
Yet the industry spent millions telling people to recycle, because, as one former top industry insider told NPR, selling recycling sold plastic, even if it wasn't true.
"If the public thinks that recycling is working, then they are not going to be as concerned about the environment," Larry Thomas, former president of the Society of the Plastics Industry, known today as the Plastics Industry Association and one of the industry's most powerful trade groups in Washington, D.C., told NPR.
In response, industry representative Steve Russell, until recently the vice president of plastics for the trade group the American Chemistry Council, said the industry has never intentionally misled the public about recycling and is committed to ensuring all plastic is recycled.
"The proof is the dramatic amount of investment that is happening right now," Russell said. "I do understand the skepticism, because it hasn't happened in the past, but I think the pressure, the public commitments and, most important, the availability of technology is going to give us a different outcome."
Here's the basic problem: All used plastic can be turned into new things, but picking it up, sorting it out and melting it down is expensive. Plastic also degrades each time it is reused, meaning it can't be reused more than once or twice.
On the other hand, new plastic is cheap. It's made from oil and gas, and it's almost always less expensive and of better quality to just start fresh.
All of these problems have existed for decades, no matter what new recycling technology or expensive machinery has been developed. In all that time, less than 10 percent of plastic has ever been recycled. But the public has known little about these difficulties.
It could be because that's not what they were told.
Starting in the 1990s, the public saw an increasing number of commercials and messaging about recycling plastic.
"The bottle may look empty, yet it's anything but trash," says one ad from 1990 showing a plastic bottle bouncing out of a garbage truck. "It's full of potential. … We've pioneered the country's largest, most comprehensive plastic recycling program to help plastic fill valuable uses and roles."
These commercials carried a distinct message: Plastic is special, and the consumer should recycle it.
It may have sounded like an environmentalist's message, but the ads were paid for by the plastics industry, made up of companies like Exxon, Chevron, Dow, DuPont and their lobbying and trade organizations in Washington.
Industry companies spent tens of millions of dollars on these ads and ran them for years, promoting the benefits of a product that, for the most part, was buried, was burned or, in some cases, wound up in the ocean.
Documents show industry officials knew this reality about recycling plastic as far back as the 1970s.
Many of the industry's old documents are housed in libraries, such as the one on the grounds of the first DuPont family home in Delaware. Others are with universities, where former industry leaders sent their records.
At Syracuse University, there are boxes of files from a former industry consultant. And inside one of them is a report written in April 1973 by scientists tasked with forecasting possible issues for top industry executives.
Recycling plastic, it told the executives, was unlikely to happen on a broad scale.
"There is no recovery from obsolete products," it says.
It says pointedly: Plastic degrades with each turnover.
"A degradation of resin properties and performance occurs during the initial fabrication, through aging, and in any reclamation process," the report told executives.
Recycling plastic is "costly," it says, and sorting it, the report concludes, is "infeasible."
And there are more documents, echoing decades of this knowledge, including one analysis from a top official at the industry's most powerful trade group. "The costs of separating plastics … are high," he tells colleagues, before noting that the cost of using oil to make plastic is so low that recycling plastic waste "can't yet be justified economically."
Larry Thomas, the former president of the Society of the Plastics Industry, worked side by side with top oil and plastics executives.
He's retired now, on the coast of Florida where he likes to bike, and feels conflicted about the time he worked with the plastics industry.
"I did what the industry wanted me to do, that's for sure," he says. "But my personal views didn't always jibe with the views I had to take as part of my job."
Thomas took over back in the late 1980s, and back then, plastic was in a crisis. There was too much plastic trash. The public was getting upset.
In one document from 1989, Thomas calls executives at Exxon, Chevron, Amoco, Dow, DuPont, Procter & Gamble and others to a private meeting at the Ritz-Carlton in Washington.
"The image of plastics is deteriorating at an alarming rate," he wrote. "We are approaching a point of no return."
He told the executives they needed to act.
The "viability of the industry and the profitability of your company" are at stake.
Thomas remembers now.
"The feeling was the plastics industry was under fire — we got to do what it takes to take the heat off, because we want to continue to make plastic products," he says.
At this time, Thomas had a co-worker named Lew Freeman. He was a vice president of the lobbying group. He remembers many of the meetings like the one in Washington.
"The basic question on the table was, You guys as our trade association in the plastics industry aren't doing enough — we need to do more," Freeman says. "I remember this is one of those exchanges that sticks with me 35 years later or however long it's been … and it was what we need to do is … advertise our way out of it. That was the idea thrown out."
So began the plastics industry's $50 million-a-year ad campaign promoting the benefits of plastic.
"Presenting the possibilities of plastic!" one iconic ad blared, showing kids in bike helmets and plastic bags floating in the air.
"This advertising was motivated first and foremost by legislation and other initiatives that were being introduced in state legislatures and sometimes in Congress," Freeman says, "to ban or curb the use of plastics because of its performance in the waste stream."
At the same time, the industry launched a number of feel-good projects, telling the public to recycle plastic. It funded sorting machines, recycling centers, nonprofits, even expensive benches outside grocery stores made out of plastic bags.
Few of these projects actually turned much plastic into new things.
NPR tracked down almost a dozen projects the industry publicized starting in 1989. All of them shuttered or failed by the mid-1990s. Mobil's Massachusetts recycling facility lasted three years, for example. Amoco's project to recycle plastic in New York schools lasted two. Dow and Huntsman's highly publicized plan to recycle plastic in national parks made it to seven out of 419 parks before the companies cut funding.
None of them was able to get past the economics: Making new plastic out of oil is cheaper and easier than making it out of plastic trash.
Both Freeman and Thomas, the head of the lobbying group, say the executives all knew that.
"There was a lot of discussion about how difficult it was to recycle," Thomas remembers. "They knew that the infrastructure wasn't there to really have recycling amount to a whole lot."
Even as the ads played and the projects got underway, Thomas and Freeman say industry officials wanted to get recycling plastic into people's homes and outside on their curbs with blue bins.
The industry created a special group called the Council for Solid Waste Solutions and brought a man from DuPont, Ron Liesemer, over to run it.
Liesemer's job was to at least try to make recycling work — because there was some hope, he said, however unlikely, that maybe if they could get recycling started, somehow the economics of it all would work itself out.
"I had no staff, but I had money," Liesemer says. "Millions of dollars."
Liesemer took those millions out to Minnesota and other places to start local plastic recycling programs.
But then he ran into the same problem all the industry documents found.
Recycling plastic wasn't making economic sense: There were too many different kinds of plastic, hundreds of them, and they can't be melted down together. They have to be sorted out.
"Yes, it can be done," Liesemer says, "but who's going to pay for it? Because it goes into too many applications, it goes into too many structures that just would not be practical to recycle."
Liesemer says he started as many programs as he could and hoped for the best.
"They were trying to keep their products on the shelves," Liesemer says. "That's what they were focused on. They weren't thinking what lesson should we learn for the next 20 years. No. Solve today's problem."
And Thomas, who led the trade group, says all of these efforts started to have an effect: The message that plastic could be recycled was sinking in.
"I can only say that after a while, the atmosphere seemed to change," he says. "I don't know whether it was because people thought recycling had solved the problem or whether they were so in love with plastic products that they were willing to overlook the environmental concerns that were mounting up."
But as the industry pushed those public strategies to get past the crisis, officials were also quietly launching a broader plan.
In the early 1990s, at a small recycling facility near San Diego, a man named Coy Smith was one of the first to see the industry's new initiative.
Back then, Smith ran a recycling business. His customers were watching the ads and wanted to recycle plastic. So Smith allowed people to put two plastic items in their bins: soda bottles and milk jugs. He lost money on them, he says, but the aluminum, paper and steel from his regular business helped offset the costs.
But then, one day, almost overnight, his customers started putting all kinds of plastic in their bins.
"The symbols start showing up on the containers," he explains.
Smith went out to the piles of plastic and started flipping over the containers. All of them were now stamped with the triangle of arrows — known as the international recycling symbol — with a number in the middle. He knew right away what was happening.
"All of a sudden, the consumer is looking at what's on their soda bottle and they're looking at what's on their yogurt tub, and they say, 'Oh well, they both have a symbol. Oh well, I guess they both go in,' " he says.
The bins were now full of trash he couldn't sell. He called colleagues at recycling facilities all across the country. They reported having the same problem.
Industry documents from this time show that just a couple of years earlier, starting in 1989, oil and plastics executives began a quiet campaign to lobby almost 40 states to mandate that the symbol appear on all plastic — even if there was no way to economically recycle it. Some environmentalists also supported the symbol, thinking it would help separate plastic.
Smith said what it did was make all plastic look recyclable.
"The consumers were confused," Smith says. "It totally undermined our credibility, undermined what we knew was the truth in our community, not the truth from a lobbying group out of D.C."
But the lobbying group in D.C. knew the truth in Smith's community too. A report given to top officials at the Society of the Plastics Industry in 1993 told them about the problems.
"The code is being misused," it says bluntly. "Companies are using it as a 'green' marketing tool."
The code is creating "unrealistic expectations" about how much plastic can actually be recycled, it told them.
Smith and his colleagues launched a national protest, started a working group and fought the industry for years to get the symbol removed or changed. They lost.
"We don't have manpower to compete with this," Smith says. "We just don't. Even though we were all dedicated, it still was like, can we keep fighting a battle like this on and on and on from this massive industry that clearly has no end in sight of what they're able to do and willing to do to keep their image the image they want."
"It's pure manipulation of the consumer," he says.
In response, industry officials told NPR that the code was only ever meant to help recycling facilities sort plastic and was not intended to create any confusion.
Without question, plastic has been critical to the country's success. It's cheap and durable, and it's a chemical marvel.
It's also hugely profitable.
The oil industry makes more than $400 billion a year making plastic, and as demand for oil for cars and trucks declines, the industry is telling shareholders that future profits will increasingly come from plastic.
And if there was a sign of this future, it's a brand-new chemical plant that rises from the flat skyline outside Sweeney, Texas. It's so new that it's still shiny, and inside the facility, the concrete is free from stains.
This plant is Chevron Phillips Chemical's $6 billion investment in new plastic.
"We see a very bright future for our products," says Jim Becker, the vice president of sustainability for Chevron Phillips, inside a pristine new warehouse next to the plant.
"These are products the world needs and continues to need," he says. "We're very optimistic about future growth."
With that growth, though, comes ever more plastic trash. But Becker says Chevron Phillips has a plan: It will recycle 100% of the plastic it makes by 2040.
Becker seems earnest. He tells a story about vacationing with his wife and being devastated by the plastic trash they saw. When asked how Chevron Phillips will recycle 100% of the plastic it makes, he doesn't hesitate.
"Recycling has to get more efficient, more economic," he says. "We've got to do a better job, collecting the waste, sorting it. That's going to be a huge effort."
Fix recycling is the industry's message too, says Steve Russell, the industry's recent spokesman.
"Fixing recycling is an imperative, and we've got to get it right," he says. "I understand there is doubt and cynicism. That's going to exist. But check back in. We're there."
Larry Thomas, Lew Freeman and Ron Liesemer, former industry executives, helped oil companies out of the first plastic crisis by getting people to believe something the industry knew then wasn't true: That most plastic could be and would be recycled.
Russell says this time will be different.
"It didn't get recycled because the system wasn't up to par," he says. "We hadn't invested in the ability to sort it and there hadn't been market signals that companies were willing to buy it, and both of those things exist today."
But plastic today is harder to sort than ever: There are more kinds of plastic, it's cheaper to make plastic out of oil than plastic trash and there is exponentially more of it than 30 years ago.
And during those 30 years, oil and plastic companies made billions of dollars in profit as the public consumed ever more quantities of plastic.
Russell doesn't dispute that.
"And during that time, our members have invested in developing the technologies that have brought us where we are today," he says. "We are going to be able to make all of our new plastic out of existing municipal solid waste in plastic."
Recently, an industry advocacy group funded by the nation's largest oil and plastic companies launched its most expensive effort yet to promote recycling and cleanup of plastic waste. There's even a new ad.
"We have the people that can change the world," it says to soaring music as people pick up plastic trash and as bottles get sorted in a recycling center.
Freeman, the former industry official, recently watched the ad.
"Déjà vu all over again," he says as the ad finishes. "This is the same kind of thinking that ran in the '90s. I don't think this kind of advertising is, is helpful at all."
Larry Thomas said the same.
"I don't think anything has changed," Thomas says. "Sounds exactly the same."
These days as Thomas bikes down by the beach, he says he spends a lot of time thinking about the oceans and what will happen to them in 20 or 50 years, long after he is gone.
And as he thinks back to those years he spent in conference rooms with top executives from oil and plastic companies, what occurs to him now is something he says maybe should have been obvious all along.
He says what he saw was an industry that didn't want recycling to work. Because if the job is to sell as much oil as you possibly can, any amount of recycled plastic is competition.
"You know, they were not interested in putting any real money or effort into recycling because they wanted to sell virgin material," Thomas says.
"Nobody that is producing a virgin product wants something to come along that is going to replace it. Produce more virgin material — that's their business."
And they are. Analysts now expect plastic production to triple by 2050.
Cat Schuknecht contributed to this report.
The next 2 superpowers in this century: China and India?
Currently, India that rely heavily on China for ingredients in its pharmaceutical industry and its major importer, is trying hard to distance itself from reliance on China, and pressured by the USA to go this way.
India and China have even come to military confrontation on a stupid border swath of land.
China and India Empires: Same and Different (April 28, 2009)
Since antiquity, China and India formed vast empires.
They were the wealthiest, the most populous, and the most creative in almost all fields of industries such porcelain, gun powder, paper, vaccines, compass, rudder, the invention of zero, philosophy, art of war and you name it.
Europe relied on the silk, spices, perfume, and luxury items imported from China and India through Persia, Turkey and Egypt.
The Great Wall of China is the only human made construction that can be seen from space.
Three centuries before Portugal put to sea its galleons to circumnavigate oceans, China had fleet of ships 3 times bigger than the biggest that Spain or portugal constructed.
Every society has gone through the same historical development and experienced with feudal systems, caste systems, monarchies, and oligarchies.  The difference between China and India are:
First, China had gone through the harrowing communist period and millions of people suffered from famine, forced labor displacement and indignities under Mao for 2 decades, but it managed to crush the priesthood or sacerdotal castes and feudal foundation of the economy and social fabric.
In India the priesthood castes are as powerful as ever.  There are millions of this "untouchables" caste, the lowest caste of the 5 structured by the Brahma and Hinduism religions.  The "untouchables" are consecrated by religion to remain untouchables.
Gandhi confronted that humiliating condition head on, but no other modern Indian government or political parties dared to revisit this abomination.  In fact, the caste system prevalent in the Middle East was imported from India by the Ottoman Empire as trade with Europe stopped after the occupation of Constantinople.
For over two centuries, Europe was closed to the Ottoman Empire as Turkey was militarily expanding in Europe.  The Ottoman Empire had to rely almost exclusively on India for administrative organization, culture, and trades.
Among the good things, the Ottoman Empire also received (imported) the worst that India could export; it is so enduring that the Middle East societies cannot shake off the plight of caste system that is exacerbated by close knit community structure.
Second, China has the mentality of becoming a superpower at par with the USA.  Everything that China is doing is at a gigantic measure such as the biggest dam with all the subsequent mass transfer of people, traditions, and customs.  The focus on urban centers and industrialization is diverting water from agriculture, the source of its initial prosperity and social stability.  A 7-month dry season in the northern part, the wheat basket region, is sending shivers of forthcoming famine.
The rivers in China are heavily polluted and the western diseases from water and land pollution are harvesting thousands of young lives. Over 25, millions were forced to vacate the urban centers to their remote villages after this financial crisis.
India is progressing at a steadier and less drastic strategy and linking the country with new route infrastructures.  The cheaper car produced by India are supposedly to be sold in India for only $2,000.
Third, China is investing heavily on energy resources and lands oversea, particularly in Africa.  India prefers to cajole the USA and signed a less favorable deal for importing light nuclear rods from the USA and satellites from Israel, though it could produce these advanced technological items.
Fact is that the British Empire held on to India, for 3 centuries, because it realized that the vast Indian population is the hardest working and was adding all the values to the wealth of the British Empire.
During the Soviet Union period of 1917 to 1989, China and India followed the precepts of communism and tight control over private ownership and enterprises.  These two nations experienced famine on large scales, and suffered all kinds of miseries and humiliation.
As soon as the Berlin Wall fell and the capitalist system dominated world economy and finance. And China and India transformed their development accordingly.
In China, tiny Deng Xiaoping ordered restitution of collectivity lands to private cultivators and authorized selling part of the production.  Then the private agriculturists were permitted to select what they wanted to plant and production tripled.  Small enterprises and private shops were granted to be formed and in no time 22 millions small industries were hiring 135 millions employees.
In China, small modifications in freedom of choice, and small increases in production mean gigantic increases in internal production.
In India of 1991, the finance minister Manmohan Singh relaxed certain restrictions on doing business. There were no needs for previous permit for each transaction, for importation, for investment, and for increase in production. The Indian economy took off at great strides.
Currently, the GDP of China has surpassed France, Germany and Japan.  Shanghai alone has more high rises than New York and Los Angeles combined or 5,000 high-rises.  It is no secret that ten years after the disintegration of the Soviet Union, China and India were viewed as the main enemies to the USA and Europe.
China and India are two powers that had the technologies, the know-how, and the resources in raw materials and human potential to rival the economies of western nations.
It is no secret that the hurried frenzy of Bush Junior to invade Iraq unilaterally had the main purpose of dominating oil reserves and blackmailing China and India.
Amine Maalouf wrote in "A World Adrift" that Colin Powell told ex-President Bush Junior "You break it; you own it.  You invade Iraq then you will end up with the responsibility of caring for 25 million Iraqis"  Bush Junior didn't own it alone; the whole world is sharing the price of a financial and economic meltdown.
Iraq alone has more war refugees than most other countries (Somalia, Afghanistan, Yemen…) that experienced civil wars and pre-emptive wars.
In the mean times, China expanded its oil exploration in Africa and built a major pipeline to Russia and Central Asia States.
India built many nuclear reactors and pipelines and are not as affected by energy shortages as Europe that relies on Russia, Algeria, and Libya for gas.
One of the major problems that the world is facing is that in addition to the 50 millions middle class families in the USA and Europe, over 150 millions middle class families in China and India can now afford and demand the same consumer items that the USA and European middle classes enjoyed for a century.
They want their cars, their washing machines, their refrigerators and all the commodities that any human desire to own when he can afford it: They believe under a Capitalist ideology that it is their right and no one can obstruct or make these new middle class desist from their hard earned rights.
If just 50 million families in the USA and Europe almost exhausted earth minerals and energies. then how humanity is going to satisfy the demands of the new added 200 millions "rich families"?
Reminiscing when Beirut was actually a super Movable fairs 
Personal experience when I were a university student: Movable fairs in Beirut: 1971-74
I decided to re-edit my old article "Wonderful early 1970's:  Movable fairs in Beirut" in order to demonstrate to the current generation in Lebanon that it is highly feasible to generate a Mass Upheaval as was done in Tunisia and Egypt.
It is a scream against the total impunity that our politicians, in this semi-State of Lebanon, are enjoying, those militia/mafia "leaders" of our civil war, a war that no one was a victor.
Currently, the State of Lebanon is totally bankrupt at all levels and barely may survive remaining in the UN as a State
Our movable fair lasted 4 years, 3 years behind Paris and Woodstock mass upheaval fairs.
If it were Not for the de facto control of the PLO (Palestinian Liberation Organization) over our political system, which diffused the purpose of the true upheaval of the Lebanese movement, Lebanon would have reformed against all odds.
Woodstock musical fiesta was organized in 1968 and disbanded three days later.
The French students revolt in Paris of 1968, then joined by the working organizations,  ended 2 weeks later.
The French students revolt of 1968 was a big party with deep lucidity:  banners read "Run, comrade, run.  The old world is chasing after you." Youth was taking a reprieve by running joyously, a week of total freedom, running as fast as he could, knowing that the old world will invariably catch up with him.
These students and youth movements crossed to Lebanon in 1970 and lingered for 5 years as movable fairs in Beirut, before the civil war set in, at the instigation of US/Israel.
I witnessed that wonderful and crazy period as a university student, witnessing far more than studying.
By 1970 I was attending university, mainly math, physics, and chemistry courses.   Once the morning courses were taken care of, I roamed Beirut freely and all alone. (Would have been more pleasurable and instructive if I had friends to join me then)
For less than 5 Lebanese pounds ($2 at the time) I could see movies, watch theater pieces, or go to the empty beaches in mid September and October, eat local sandwiches of falafel, shawarma, and freshly pressed fruits.
Most of the days I ended up attending conferences, political party meetings, joining regular demonstrations and marches by university students, sit-ins, hunger strikes on the street in front of the education ministry (I tried once for half a day).
Fleeing police tanks and water hoses, or just walking all around Beirut circulating where the "movable fairs" crossed my path, gathering of people chanting slogans against the sectarian and mercantile political system, the defeatist government, not responding to the frequent bombardment of Israel in south Lebanon...
The citizens (mostly Muslim Chia) in the south flocked to the suburbs of Beirut, mainly in Dahieh, and labelled the "Red belt of poverty" in order to flee the successive incursions of Israel, under all lame excuses.
The Palestinian Liberation Organization, led by Yasser Arafat, and its institutions were firmly established in Beirut and in a dozen Palestinian camps.  Cash in hard currency spent by the PLO and the various resistance movements maintained the Lebanese currency very strong.
In May 1972, Beirut Cinema Club in cooperation with the US Cultural Center projected a series of Orson Welles movies such as "Citizen Kane", "The lady from Shanghai", "Secret report", "Satan's touch", and "Falstaff".  Wells mostly recalls the negative critics: for example, a critic said that Orson shouts like a rhinoceros" when Orson played "Candid" of Bernard Show.
Wells and Charlie Chaplin might be the greatest American directors.  Wells prefers that producers invest massively on many movies, even if one of his films are not marketed.  He said: "Without men there is no art.  Without women, men never become artists"
In May 1973, the film "Red Weddings" by French director Claude Chabrol was projected in El Dorado movie theater. There was a curfew in the previous week:  The Lebanese army tried to enter the Palestinian camp of Dbayeh (mostly Christians).
A few feddayins escaped and fled through the valley of river Nahr Kalb (Dog River); and we provided them shelter for three days in Beit-Chabab and they were to resume the trip to Dhour Shweir.  An ambush by the Phalanges (Kataeb) Party killed several of them on the way.
Chabrol has a particular style and a deterministic view on how events should unfold:  His movies are about illicit love affairs, murder, then punishment by the "bourgeois" legal system:  that genuinely falling in-love is irrelevant and thus must be punished, one way or another.
In June 1974, "The hour of liberation has chimed.. Out colonialists" by the young woman director Heine Srour won a special acclaim in Cannes.  This movie is about the popular revolutionary struggle of the people in Zofar (Oman, Hadramout, and south Yemen) from the British colonial power and archaic monarchic structures.
Heine invested two years in preparation and shot the one-hour movie with the rudiment of equipment and finances.  Heine and three technicians walked hundreds of kilometers with the fighters under scorching sun and the bombing of British jets.
Heine conducted interviews in the local Arabic slang the "Himyari" and projected the essential roles that women shared in that revolution along the fighters.
This movie was one of the first to broach situation in other Arabic States outside of Syria, Egypt, Iraq, or Palestine.  Movies on the Algerian revolution were to be produced shortly after.
In February 1975, director Borhan Awalweyeh showed his movie "Kfar Kassem".  Hundreds of spectators remained in the theater way after midnight discussing the movie.
The film is a retrospective documentary of the genocidal massacre that Israel committed against the Palestinians in the village of Kfar Kassem in 1956 before it invaded Sinai.  Peasants returning from the fields were killed because they could not know about the curfew that the Israeli troops declared in their absence.
This movie was based on the novel of the same name by Assem Jundi.  Issam Mahfouz wrote the dialogue in the Palestinian Arabic slang.
Lebanon of 1974, and particularly the Capital Beirut, experienced extraordinarily cultural, social, and political activities, quantitatively and qualitatively.
First, the number of women writers increased dramatically.  As Georges Rassi wrote: "In the Arab World, every woman writer is worth 100 free minded men".
Second, many famous authors and poets opted to write columns in dailies; a move that brought them in close touch with the people and the daily difficulties.
Third, artists and thinkers from all over the Arab World settled in Beirut.  Most of these intellectuals were fleeing oppression and persecution for free expressions.  The Egyptian intellectuals flocked in great number as President Sadat had decided to connect with Israel and leave the Arab problems and the Palestinian cause way behind.
Fourth, the Lebanese TV witnessed a big jump in quality of local productions thanks to the director Paul Tannous.
Fifth, many cultural clubs were instituted and Arab States organized exhibitions and cultural events.
Most importantly, women became very vocal and active for women rights and drastic reforms in the laws and social awareness.
Late author Mai Ghoussoub was very young then, but she was one of the leaders of "Committees for Free women."
Initially, men were permitted to join in the discussions until they proved to be elements of heckling and disturbances.  The committees of free women decided to meet among women because their cause must be priority in urgent reforms and not a usual side-show tackled by reformist political parties.
Arab movies of quality were being shown such as "Events of red years" by Akhdar Hamina;  "Beirut…O Beirut" by Maroun Baghdadi; "May… The Palestinians" by Rafic Hajjar; "The bird" by Youssef Chaheen; "Al Haram" by Henry Barakat; "Hold on… O Sea" by Khaled Seddik.…
Karl Marx said:  "When history repeats its cycles, the next time around is a farce."  Spring of 68 was a sympathetic and spontaneous farce; it was an innovating and creative revolt with no arms.
Spring in Paris was a movable fair, an all free-invited party.  It was a movable feast for sharing ideas and desires for justice, peace, liberty, and pleasure. There were plenty of generosity and compassion:  Youth was feeling bored of the old world system of unjust order, capitalism, petrified ideologies and dogmas.
It was a humongous fair where affluent lifestyle in the western States of plenty hide the miseries of the lowest classes living in shantytowns.
It was in a period for the third world struggling to emerge from the slavery stage of colonialism.
Spring fairs in the western world spread to most nations where the partying lasted and lasted.
The virus of the movable feast reached countries with old systems destroyed by the colonial powers:  The newer power systems were unstable and mostly haphazard to come chasing after mass movable fairs.
Spring of 68 crossed to Lebanon and lasted 5 years and emerged on a civil war that lasted 13 years and produced 300 thousand casualties (10% of the population!)
Note 1:  Details of this introspection were supplied by Georges Al Rassi in "Stations along the trail of Lebanese and Arab movies"
Note 2: This student movement in Lebanon was mostly let by the students of our public university. The public university, in Choweifat, was mostly controlled by leftist-leaning organizations, including the teaching staff. Most probably, the colonial powers got weary of the growing influence of this university that was spreading to the private universities. The right-wing parties , the president and the army were ready to confront this movement by strong arm tactics.
Note 3:  You may read more details on my next post https://adonis49.wordpress.com/2010/10/19/movable-fairs-beirut-1970-74/