Archive for the 'Events/Cultural/Educational/Arts' Category
Short attention span and serving silver bullet solutions that cure diseases? Who should we blame?
Is It  the culture that pushes for readily packaged success stories?
Mirvat El-Sibai posted on FB. August 28, 2016 
When i was doing my PhD i used to start my day in lab around 10 a.m. and on many days stay till 3 or 4 in the morning with a couple of hours break during the day..
i routinely sat on the microscope 8 hours straight throughout the night till I developed a permanent slouch.. and still couldn't wait to go home to analyze the data..
If I came home early it was to catch up on some papers or to prepare a presentation write a paper or my thesis etc..
We used to work weekend, holidays, and we were always in the business of learning and never questioned our advisors and were happy to pay our dues..
Our students today ask for more grades even if they don't deserve it and i find that lack of self worth very troubling..
it is a sweep under the rug mentality that aims for cheap lazy results…
Students today learn a technique and produce a figure and start asking about publications..
They teach a lab and start asking about a permanent position..
They read a paper and start questioning models..
Ambition is great but humility and patience are paramount to actual learning, particularly in science..
I don't blame it all on our students though..
It is the culture that pushes for readily packaged success stories and quick short attention span, serving silver bullet solutions that cure diseases..
It is also social media…
Note 1: For reasons, Not all of them fully justifiable, the medical students undergo harsh schedule and procedure that punish the students more than other fields of study. For example, focusing on a microscope for hours on would turn me blind. And this habit of waking up earlier than birds, as if everyone of them is going to opt to become a surgeon.
Note 2: I suffered immensely during my PhD program, particularly how to pay the tuition and trying to circumvent a few rules by auditing courses.
You may read my uneasiness in my Autobiography category "Not of a famous person".
In my teaching experience in Lebanon I was very disappointed: I had to invent and change my teaching methods, even during a semester, to excite and give incentives for university students to study, read and do meaningful research. You may discover my methods in my Human Factors in Engineering category on wordpress.com
Note 3: Social platforms may contribute to laziness in students Not motivated in the first place. But these platforms are wonderful resources for reflective minds. This trend of copy/pasting "research papers" that are Not even peer-reviewed, pressured me to demand that all submitted homework be handwritten. Kind at least they had to read something.
Prayer to Beirut by Lebanese Amin Maalouf (French Academy)
The English translation follows
La prière d' Amin Maalouf
De Beyrouth, capitale blessée,
Une prière vers le Ciel,
Quelle que soit la langue dans laquelle on Le prie,
Quel que soit le nom par lequel on L'invoque,
Que Son regard,
Qui embrasse l'univers et toutes les créatures,
Se fixe un peu sur nous.
Depuis trop longtemps nous expions
Les fautes de l'humanité entière,
En plus de nos propres égarements.
Depuis trop longtemps, chaque malheur,
Avant de se propager dans le monde,
Commence par s'acharner sur nous.
De cette ville tant de fois détruite,
Reconstruite, puis détruite à nouveau,
De ce rivage où, selon les légendes,
Un homme libre a su jadis terrasser le dragon,
Une prière vers le Ciel.
Pour que le Liban puisse,
Cette fois encore, se remettre debout,
Et relever ses murs, et panser ses blessures.
Qu'il sache surmonter sa détresse,
Sa douleur et son abattement.
Qu'il sache triompher
De la férocité du monde,
Et aussi de ses propres démons.
De notre havre millénaire devenu, soudain,
Un monument à la folie des hommes
Et le temple de leur colère,
Une prière vers le Ciel.
(
From Beirut, injured capital,
A prayer to heaven,
Whatever language we pray to Him,
Whatever name is called to Him,
That his look,
Who embrace the universe and all creatures,
Fixing a little on us.
For too long we've been expiring
The faults of all humanity,
In addition to our own misguidedness.
For too long, every misfortune,
Before spreading into the world,
Start by trying hard on us.
From this city so many times destroyed,
Rebuilt, then destroyed again,
From this shore where, according to legends,
A free man once knew how to terrass the dragon,
A prayer towards heaven.
So that Lebanon can,
That time again, get back up,
And lift her walls, and dress her wounds.
Let him overcome his distress,
His pain and abatement.
Let him triumph
From the fiercity of the world,
And also of his own demons.
From our millennial haven, suddenly,
A monument to the madness of men
And the temple of their wrath,
A prayer towards heaven.)
Palestinians demand an independent State in Palestine: Cannot buy the alternative
The Trump administration has been working hard to establish Israel as the only viable State in the Middle-East to dialogue with. A few Gulf Emirate States have been coaxed to sign a dubious "peace treaty" with Israel, like Abu Dhabi and Bahrain.
The funny part is that the representatives of these 2 semi-States behaved as totally ignorant on what they are signing with Trump.
Egypt and Jordan had signed a treaty in 1974-75 which resulted in countless wars and civil wars in Lebanon, Syria and Iraq.
'NYT' coverage of Trump peace plan news quotes 5 pro-Israel voices, 0 Palestinians
The New York Times covers phase one of the Trump peace plan, an economic "workshop" in Bahrain next month at which the administration is expected to dangle the money it wants to give Palestinians and states neighboring Israel, so that Palestinians will sacrifice their political demands/rights (among them sovereignty on '67 borders; return of refugees; shared Jerusalem)– a figure said to be $68 billion.
The article quotes No Palestinians. (No Palestinian business person will attend this faked "workshop")
It does include quotes from Aaron David Miller, Jared Kushner, Robert Satloff, Treasury's Steve Mnuchin, and Brookings pundit Tamara Cofman Wittes. Five (Jewish) Americans, all five of them strong supporters of Israel. (Mnuchin's background is here.)
Satloff, Wittes, and Miller are all presented as "critics" of the plan, but they are all Zionist critics of the plan. Just different shades of Zionist.(No, not shade. Stauncher Zionists than most Israelis)
Why? This is racism in journalism before your eyes.
The Times clearly has a structural bias against Palestinians. (As all colonial powers' administrations in the last century)
Even as it demonstrates its higher consciousness in other left zones, the newspaper is stuck in the old paradigm on Israel.
How else could a newspaper publish four justifications of the killings of nonviolent protesters inside of a few months, as it did last year in Gaza?
This would never happen in any other context when a government opens fire on demonstrators.
But the Times columnists offered those justifications, in Shmuel Rosner's case almost a bloodthirsty one, and there was no balance, let alone criticism from the Roger Cohens, David Brookses, and Michelle Goldbergs of the world.
Palestinians simply don't count as full human actors.
The Palestinian Prime Minister released a statement rejecting the economic summit today.
He and his cabinet surely were available yesterday. So was Sam Bahour, who writes that Palestine cannot have an economic future without an independent political future, in which construction workers and university graduates will be able to find employment inside a Palestinian state.
Diana Buttu, Saeb Erekat, Hanan Ashrawi (who has been denied a visa to travel to the U.S.), Omar Barghouti, Mustafa Barghouti, Haider Eid surely would have spoken to the Times, too.
Palestine is truly teeming with sophisticated political actors on a wide range who would have something to say about the implausibility of economic peace.
And if the Times says this was an American politics piece, well, there are Palestinians here, too, who have a lot to say.
The bottom line is obvious and disturbing. Palestinians aren't equals.
"Contracting out low-paid mercenaries hurts our reputation…": Congress on US military operations
Posted in 2012
Yoweri Museveni is Uganda dictator for over 20 years: He mortgaged his citizens and soldiers to serve as low-paid mercenaries in the US Iraq invasion.
Over 20,000 Ugandan mercenary soldiers (called Kyeyo) were paid less than $300 per month in 2009 in order to be at the beck of US security services organizations such as Torres, DynCorp, Triple Canopy, Sabre, and Special Operations Consulting (SOC).
The White mercenaries from South Africa, Israel, England, France, Serbia…are paid about $10,000 per month, not including side benefits.
The mercenaries from the Third Countries Nationals (TCN) have to submit to the arbitrary, indignities at work, humiliating kinds of jobs, and bad treatments at all levels.
For example, the TCN mercenaries need winter gloves, and receive them during the hot season. They need masks for the frequent malefic and infection leaden sandstorms, and the TCN have to cope bare-faced and get aspirin for infections of the nasal and throat diseases…
The TCN wait months before they are issued Chinese second-hand outfits…
The TCN are not paid for the months of training: They are simply fed…
TCN are allowed vacations after a year, but even these unpaid vacation days, are postponed indefinitely…
The kyeyo is paid $300 per month, but the security company is paid $1,700 per head and per month by the Federal government…
And the Ugandan recruiting company is paid $200 per head dispatched in Iraq or Afghanistan
In 2008, the US forces in Iraq was composed of about 150,000 regular soldiers and 70,000 mercenaries TCN (mostly from Uganda, sub-Sahara States, and the sub-Indian continent who can comprehend English).
In 2009, the two components were about equal in numbers: 47,000 regular to 40,000 TCN mercenaries, and this is why the pay dropped from an initial of one thousand to $300 per month, and from ingenious tactics executed by the hiring local companies in Uganda, such as Askar and Dreshak International.
For example, the Ugandan applicant receives two months of "military training" for free and are simply fed.
After the training period, the applicant is sent home to wait for the call. The applicant thinks the call is coming in any day now, and he is spending all his savings, selling his furniture…
Three months later, he is summoned to come and  sign a 22-page contract…in just 15 minutes to read and agree on whatever this mass of "legal" paperwork means…and not even accepted by the US legal system in the US…
The applicant has no choice but to sign and be shipped to Iraq, and later to Afghanistan…
The recruiting company Ashkar is owned by Kellen Kayonga, sister-in-law of General Salim Saleh (a brother of the dictator).
In 2005, Ashkar was recruiting demobilized Ugandan soldiers for the US SOC, a security organization founded in Nevada by two veteran US military officers. The two recruiting companies are expanding their business and opening branches in Afghanistan…
The TCN are necessary for basic maintenance tasks, such as cooking, cleaning, washing, laundry, food serving, health care for the injured…
The TCN maintain 25 US military bases, and the most famous of all Camp Liberty, close to Baghdad and counting about 100,000 military personnel.
The TCN constitute 60% of the effectives in Camp Liberty. The TCN are the "Invisible Army" as Sarah Stillman labelled them in an article to The New Yorker (June 6, 2011)
What's the story?
In 2003, Uganda had managed to disengage from the civil wars plaguing East Africa. The civil war in Sudan was "technically" ending for Uganda. In the east, the civil war of the Great Lakes is officially terminated, and the internal uprising by the Lord Resistance Army was quelled…
Dictator Museveni has to demobilize a big army and has no idea how to win their peace.  Museveni rallied with Bush Jr. preemptive war in Iraq and arranged to ship the surplus demobilized soldiers oversea…
All these security corporations are paid by the Pentagon, and the mercenaries receive no health care or any benefits after the end of the term of their service…
Most of them are shipped back to their country of origin when they fall very sick, handicapped…and their medical records destroyed so that the insurance companies such as AIG won't have to pay no health care benefits or medicines…
US lawyer Tara K. Coughlin, engaged by an US Christian association for helping US soldiers in Iraq, discovered the horrifying conditions or the cases of the Ugandan mercenaries serving in Iraq.
The Multinational insurance corporation AIG hired Tangier International to discredit "repatriated" Ugandan who insist on receiving compensations, and illegally sending them to visit physicians at Tangier sold…
The independent  commission on contracts signed during the Iraq war presented its report to Congress in August 2011. The report states: "The crimes and wrongdoing committed by the security corporations that contracted out "mercenaries" blemish the reputation of the US overseas…"
The US military is "officially" out of Iraq, but 16,000 are employed at the US embassy and four consulates. And who is maintaining and "securing" the US personnel? Over 5,500 Ugandan mercenaries were hired.
The pentagon is spending 10 billion on 8 US private  security companies. Among them Triple Canopy and SOC (that will receive 973 million for providing static security in a 5-year term)
Note: Post inspired from a lengthy report by Alain Vicky to the French monthly Le Monde Diplomatique (May, 2012). The title is: "African mercenaries for US wars"
The Orient Queen was capsized during Beirut port conflagration: My cruise experience
Note: I had posted my experience on the Orient Queen for 3 days cruise to Alanya (Turkey) last September 2019. I expected a good vacation for a dream since it was my first travel by sea.
Actually, the Orient Queen is the only sea ship from all Lebanon ports. If you want to catch a luxury cruise, you need to travel by air to where the cruise is launched. Sounds like a monopoly in this mafia plagued State.
This ship was parked by pier 9, very close to pier 12 where the conflagration originated, and it was Not the regular place to stay until the summer season.  Many crews dove into the sea  during the first explosion. Three crews died and many injured.
I read an ad for 2 cruises to Cyprus on the last week of September. Since I have never been to any sea cruise, I decided to try one, and experience a "5 star hotel on the sea" and check if I get seasick.
It turned out you need paperwork to submit to a visa that cost $60 for a 7-hour landing. It was Not my cup of tea, since I have already visited Cyprus before and I didn't like it that much. (It was during Christmas and Larnaka seemed empty and the hotel to be desired)
Fortunately, the Orient Queen was also going to Turkey (Alanya city) for a 3-day cruise and No visa required, and that clenched the deal.
Sure, as I am single on that cruise I had to caught up $100 more for a room (a total of $450). And I was allocated a room on deck 6, instead of the underground deck 4, where many felt seasick. And with a western-side window that looks on just the vast sea.
The climbing on the cruise was facilitated by the security services and it was quick (should I be suspicious of any wrongdoing?)
Well, the cruise aligned half a dozen girls in Brazilian attire. I can't remember that I saw them again or if they danced in an event that I failed to attend. In any case, here they were lined up with the Captain for the farewell of the port of Beirut.
The food service was done by Egyptian males (sofraji). The front desk was catered by Egyptian males. The casino was handled by a Russian girl and 2 Ukrainian girls. The bars were attended by Indonesians. My section for room service was allocated to a Ukrainian girl and an Indonesian male.
Our passports were hoarded, and when I read in my room that the passport will Not be returned until our room service was paid at the end of the cruise, I got furious.
I recalled all these facts and stories of foreign workers in the Gulf and Saudi Kingdom, and house maid in Lebanon for keeping passport.
And then someone offered me a convincing reason: it is all about Schengen procedure so that no customer will jump ship when landing in Turkey and getting lost.
Though this reason is very convincing, my gut feeling is that the higher echelons in management have a mean spirited streak of humiliating their clients, by anyway they possess. Apparently, a routine they "nailed down" since 2005.
And this gut feeling was supported by the many successive indignities we suffered throughout the experience, this feeling of trying to "milk the ant" for any profit margin that the management was ordered to cash in.
My first decision was to tour the facilities of the ship.
I located a miniature, a hole of (5 by 3 meter) swimming pool. I discarded this fact, wishing to find another larger swimming pool. That's was it, and had to deal with, and all my expectations went downhill since then, and nothing elevated my spirit, no matter how I tried for positive attitudes.
There were 2 sizable Jacuzzi at the other end (tribor, babor, babour…), each welcoming 4 persons and pretty good.
At lunch, I was allocated a table for 5 persons, older people and none with wives on board, and for the entire duration. These persons spent their time in the casino, nothing else for them to waste time on. One of them who patronized this cruise 5 years ago claimed the food was much better. These guys can sense the onset of seasickness and take the appropriate pill.
I told them that I was allocated a cabin with a window on deck 6 because I was found funny. One of them tersely replied: "all cabins on deck 6 have windows".
I cannot recollect having looked out the window more than twice for a few seconds, but the cabin was flooded with natural light in the afternoon, a great setting for leisurely reading in a cool place, though I was denied that luxury the last day, since we were ordered to vacate the cabin at 3 pm.
Once, as I made friends and they invited me to join them at their table, the server said: "Please, please". Kind of not willing to serve an additional client.
Nevertheless, the Egyptians are fine waiters and quick funny. One of the elder on the table was dozing off, waiting for his desert, and the waiter said: "bjeblak battaniyeh?"
I realized that the liquor servers (serving anything liquid), allocated to particular set of tables, were meek and worried that any clients might get totally frustrated and brutal with them for "selling water". Worst, tiny slices of breads were "counted" for each table: no way to demand more bread.
I distributed tips for these liquor servers without ordering anything, just to send them the message: "I feel with your predicament". Actually, I learned to give tips before receiving the service: it works and performance follows.
In the afternoon, the nasty sound of the emergency alarm lasted for a long time. I told myself: "hopefully, they are Not going to make it a habit to test our readiness." And then I heard persistent banging on my door. I was to get out and bring my life-jacket with me and join everybody in the restaurant of deck 6.
On the couch, a saw a scared beautiful young girl, her head all wrapped tight with several layers of veils, and looking at me as if I were a cruise pro. She asked me: "What is going on?". I replied: "Probably, they are going to throw us overboard to test which safety jackets are still functional". Her face turned grey and I resumed: "Maybe not now. They'll go through the routine of describing the safety measures to take when the alarm sounds next time". She was Not convinced.
Her roommate girl was pale and in a phased out attitude. She did bring her safety jacket but didn't wear it. I said to her: "As for you, you failed the test. You didn't wear the jacket. Probably, they'll select you to throw overboard for punishment". It turned out she was already feeling seasick.
Then followed a description of the various tours when we land on Alanya as taken from the photo on my mobile:
Shopping tour, 4.5 hrs, at $15
 Jeep Safari 4 hrs, at $35
Shuttle to Cleopatra Beach, at $20
paragliding experience 3 hrs at $90
Diving experience 3 hrs at $70
Turkish bath 3 hrs at $50
Dolphin show 3 hrs at $40
Most of these activities I had in Sharm al Sheikh and the dolphin show I watched in Disneyland in Orlando. And I set my mind to subscribe to Cleopatra beach.
I asked the front desk for Internet connection on the ship. We had to pay $25 for our mere two days, another harsh let down from how this ship is run. It then that I met the seasick girl at front desk and she told me: "moush merta7a".
The clerk brought her a piece of bread on a platter and said: "Since you vomited, you stomach is empty. eating this bread will improve your state". I was doubtful because I surmised that eating is the nastiest activity for seasick people. I said: "On checking deck 8, I discovered a door marked "Hospital" and I may show her the way". The clerk didn't appreciate my joke.
I put to practice the navy gait, legs spread wide. I wondered "why they promote alcoholic drinks if people are unable to walk straight?"
In the evening I decided to do the best of what's available and got dizzy swimming dozen of times, back and forth, the "lengths" of this miniature pool. People looked at me saying: "That's a wonderful kid, enjoying himself by any means"
Once, I was smoking with a heavy smoker acquaintance on the deck of the pool and he said: "this is a nasty smell". I said "you mean the smell of cigarette?" He replied: "No the burned smell of oil from the turbine exhaust of the ship". It is then that I smelt it and from then on I spent my time on the other side of the ship, where everybody gathered as we were arriving to the port of Beirut.
Actually, it is on this side of the ship on the last hour that I attempted small chats with the gathered people and how they felt about this experience.
People pass-time was to set up arghili (hookah) around this swimming pool for $14.
The Orient Queen arranged for 5 buses to take the customers to various sites in Alanya, one of them to the "famous" Cleopatra beach where it is claimed that Cleopatra did swim long time ago. I have been told this beech stretches for a mile and the sand were imported from South Africa.
I thought of signing up for this trip, but the weather condition changed to rainy day, and I was happy I didn't sign up (I would have lost my money, since there would be no refund).
I was also lucky Not to sign up on time for a meeting with the Captain on deck 7. One of my table companion told me that they take a group photo for $20 for the cruise promotion.
I was the last person to step out of the ship and had the lunch room all for myself.
An experienced woman attendant on front desk filled me with details: most of these sites can be reached cheaply by public transport, and most of them are actually at walking distance.
At 2 pm, I descended the ship and boarded a City Tour "train", kind of a car remorking two children trains at 10 TL or less than $2.
This tour lasted 45 minutes and we passed the Cleopatra beech, the bazaar, the teleferic , and many adjacent main roads. Nothing to it. New ship acquaintances told me they borrowed bicycles and electric motto to tour the city.
Apparently, none of the groups were happy with their guides or the tours: they ended up taking taxis to return to the ship. And it poured cats and dogs for hours until 10 pm, and they arrived totally drenched.
Not only the "tourists" were drenched but the ship was "drenched and leaking" from everywhere.
The employees were exhausted collecting the leaks and disposing dozens of buckets. A few cabins were leaking too.
I had arrived at 4:30 and it was drizzling: I was tired of walking to the bazaar and buying unnecessary clothes to the female members of my clan: we have so many unworn clothes that are taking so much spaces in our closets and cannot get rid of them.
Suffice to say that I bought an "Alanya sherwal", just because the lady was dynamic and wouldn't desist from showing me what her shop held. And I laughing my heart out for her activities, she even shortened one of the 3abaya for mother.
That rainy day and night might have hurt the profit margin of the cruise, since no one could venture outside on the upper deck to "enjoy" an arghili or have a drink… Maybe this is one reason management forced on the customers an additional $10 for room service?
There were no outside exits to have a smoke, but I discovered an exit under a tiny shelter facing the pool. A good looking woman wearing one of the headgear, promoted by "Princess" Mozah of Qatar, wanted to displace the huge sound buffer from under the heavy rain, and the employees were afraid of being electrocuted if they touch the cable, but the cable was long enough to move the buffer under the shelter..
In hindsight, I observed 3 ladies wearing this kind of headgear, in white or black, and I conjectured that maybe a minority "Muslim" sect is using it overseas. Actually, one lady was very "classy" in her behavior, her attire and the soft way she eats and talk on her table. I conjectured that she might be a foreigner. And she turned out to be from Damascus and refused to talk but in "Arabic", though she understood English and appreciated my compliment.
The day of our arrival to Beirut, we were ordered to vacate our cabins at 3 pm in order to prepare the room for the next trip on the same night.
Thus, we were left outside for 5 hours and we were denied swimming towels.
I met people at one of the Jacuzzi and they said it is "fresh water" (thus no need for me to take a shower afterward) and they told me to ask the front desk for towels. Not only the front desk does Not deliver anything, they don't even carry small changes for tips.
But I hoarded a Jacuzzi all for myself for an hour and watched people sweating and totally bored.
I waited for the lines in front desk to dwindle, paying for their room service before getting their passport back.
The main sticky point was why charging $30 instead of $20 as stipulated in writing? One of the lady claimed that she has already paid upfront $30 for room service and she had to wait until this problem is resolved (the clerk said they had no direct commutation with headquarter in Beirut, and I assume the Captain is in charge of all decisions on board?)
I did my best in these long line to dissipate the accumulating anger and was trying to be calm and funny with Ibrahim. I even suggested to him whether I can bring him a sandwich for the long haul (as if this cruise has bread for sandwiches).
I met with my table companions around a table around 5 pm: the casino was closed and they had no idea what to do next. I ordered a large water bottle and a non-alcoholic beer. The barman said that I ordered the last beer and (may be the single such beer he received for his reserves). Actually, not a single bar on the ship ever admitted having beer sh3eer.
I will always be grateful for this barman for showing me the closest of WC, otherwise I would have been in big trouble, for the countless times I used it within 2 hours: beer and swimming keep me busy visiting WC.
Before leaving ship, I passed by the Free Market room to buy a few bottles. And it was closed: al jomrok came and closed it. Why we were Not warned of these khouza3balaat?
It was a mere 2 nights on the cruise and most of the "tourists" I talked to said they cannot count on them for a repeat.
I wonder how the "tourists" handled 7 days on this cruise, touring the Greek islands.
I conjecture that a few committed suicide at landing, out of total disgust: they quit Lebanon for an "honorable" vacation and they received the same kind of crap of indignities and humiliation as the Lebanese State extended to them in the last 3 decades.
Still I had my experiences being confined at sea and how people behave and spend their time, and what is available and what is delivered.
It is doubly satisfying since I executed my dream before the Covid pandemics set in, the total bankruptcy of the State of Lebanon, the scarcity of hard currencies, the inability/difficulties of travelling oversea,  and the instabilities we are experiencing.
Note 1: My note to Pamela , in my first reaction, was how I felt in this cruise:
Hola Pamela. I miss your smile. I wish you stayed in the cruise to observe and feel the indignities, frustration and humiliation of the clients and the service personnel.
I waited till the end of your last cruise to Cyprus to avoid you further exacerbation and headache from overseeing the last cruise.
I write reports of my experiences and impressions and post them on my blog adonis49@wordpress.com. If you care, I might send you a link, in due time.
Ya 3ammi, add upfront what it takes for standard room service charge (supposedly to repay the employees?), all you can drink water and eat bread, and swimming towels.
Ya 3ammi, add extra for non-alcoholic beverages, including non-alcoholic beer sha3eer and save the clients and the service personnel the hassle, the rebuke and humiliation in long waiting lines. And attach the appropriate bracelet around the wrist of clients.
What is the purpose of kicking us out of our cabin at 3 pm when the arrival time is estimated at 8 pm? And denying us swimming towels too? We pay for vacation and Not to submit to more frustration.
I will consider your explanations for my article, specifically what kinds of procedures you intend of "reforming" since 2005.
Note 2: My reply to the note of Hana Abu Mer3i, operating manager
Hi Hana: just quick few replies since I'll be writing an exhaustive article on my experience on this cruise.
In the print it was said $20 service charge per person and not $30. A family of 4 had to caught up $40 additional charges.
I was practically kicked out of my cabin and was Not allowed to retake my swimming towel in order to spend a few hours waiting for arrival
The liquor service people meekly approach our tables at lunch and dinner, sort of worried that someone will pick up a tantrum for selling them water
I doubt that you ever reconsidered your procedures and  rules since 2005.
I was under the impression that there was an underlining mean spirited pleasure to humiliate these "ratesh" paying clients who do Not deserve an honorable and comfortable vacation
It was plainly a succession of various indignities and frustration that added up to a feeling of brutal behavior by the organizers.
In any case, the customer speaks louder: the dozen of clients I talked to were adamant that they will Not be repeat client to Abumer3i cruise.
At least the cabin was decent and plenty of hot water for showers
This myth that mystify: East vs. West?  Even Better, South vs. North
Depending on the context, depending on the outcome, choose your paradigm.
Both paradigms ( only one life or cyclical lives) are human constructions. 
They are cultural creations, not natural phenomena.
To understand the business of mythology and what a Chief Belief Officer is supposed to do, you have to hear a story of Ganesha, the elephant-headed god who is the scribe of storytellers, and his brother, the athletic warlord of the gods, Kartikeya.
The two brothers one day decided to go on a race, three times around the world. Kartikeya leapt on his peacock and flew around the continents and the mountains and the oceans. He went around once, he went around twice, he went around thrice.
But his brother, Ganesha, simply walked around his parents once, twice, thrice, and said, "I won."
"How come?" said Kartikeya. And Ganesha said, "You went around 'the world.' I went around 'my world.'"
What matters more?
Devdutt Pattanaik looks at business and modern life through the lens of mythology.
When he was Chief Belief Officer, he helped managers harness the power of myth to understand their employees, their companies and their customers.
He's working to create a Retail Religion, to build deep, lasting ties between customers and brands.
‪ — the myths that mystify. ted.com|By Devdutt Pattanaik
If you understand the difference between 'the world' and 'my world,' you understand the difference between logos and mythos.
'The world' is objective, logical, universal, factual, scientific.  'The world' tells us how the world functions, how the sun rises, how we are born.
'My world' is subjective. It's emotional. It's personal. It's perceptions, thoughts, feelings, dreams. It is the belief system that we carry. It's the myth that we live in. 'My world' tells us why the sun rises, why we were born. 
Every culture is trying to understand itself: "Why do we exist?" And every culture comes up with its own understanding of life, its own customized version of mythology.
Culture is a reaction to nature, and this understanding of our ancestors is transmitted generation from generation in the form of stories, symbols and rituals, which are always indifferent to rationality.
When you study nature, you realize that different people of the world have a different understanding of the world. Different people see things differently — different viewpoints.
There is my world and there is your world, and my world is always better than your world, because my world, you see, is rational and yours is superstition. Yours is faith. Yours is illogical. This is the root of the clash of civilizations.
It took place in 326 B.C. on the banks of a river called the Indus, now in Pakistan. This river lends itself to India's name. India. Indus.
Alexander, a young Macedonian, met there what he called a "gymnosophist," which means "the naked, wise man." We don't know who he was. Perhaps he was a Jain monk, like Bahubali over here, the Gomateshwara Bahubali whose image is not far from Mysore. Or perhaps he was just a yogi who was sitting on a rock, staring at the sky and the sun and the moon.
Alexander asked, "What are you doing?" and the gymnosophist answered, "I'm experiencing nothingness." Then the gymnosophist asked, "What are you doing?" and Alexander said, "I am conquering the world."
And they both laughed. 
Each one thought that the other was a fool. The gymnosophist said, "Why is he conquering the world? It's pointless." And Alexander thought, "Why is he sitting around, doing nothing? What a waste of a life."
To understand this difference in viewpoints, we have to understand the subjective truth of Alexander — his myth, and the mythology that constructed it. 
Alexander's mother, his parents, his teacher Aristotle told him the story of Homer's "Iliad." They told him of a great hero called Achilles, who, when he participated in battle, victory was assured, but when he withdrew from the battle, defeat was inevitable. 
"Achilles was a man who could shape history, a man of destiny, and this is what you should be, Alexander." That's what he heard.
 "What should you Not be? You should not be Sisyphus, who rolls a rock up a mountain all day only to find the boulder rolled down at night. Don't live a life which is monotonous, mediocre, meaningless. Be spectacular! — like the Greek heroes, like Jason, who went across the sea with the Argonauts and fetched the Golden Fleece.
Be spectacular like Theseus, who entered the labyrinth and killed the bull-headed Minotaur. 
When you play in a race, win! — because when you win, the exhilaration of victory is the closest you will come to the ambrosia of the gods."
The Greeks believed you live only once, and when you die, you have to cross the River Styx. And if you have lived an extraordinary life, you will be welcomed to Elysium, or what the French call "Champs-Élysées", the heaven of the heroes.
But these are not the stories that the gymnosophist heard. He heard a very different story. 
He heard of a man called Bharat, after whom India is called Bhārata. Bharat also conquered the world. And then he went to the top-most peak of the greatest mountain of the center of the world called Meru. And he wanted to hoist his flag to say, "I was here first."
When he reached the mountain peak, he found the peak covered with countless flags of world-conquerors before him, each one claiming "'I was here first' … that's what I thought until I came here." And suddenly, in this canvas of infinity, Bharat felt insignificant. This was the mythology of the gymnosophist.
Bharat had heroes, like Ram — Raghupati Ram and Krishna, Govinda Hari. But they were not two characters on two different adventures. They were two lifetimes of the same hero.
When the Ramayana ends the Mahabharata begins. When Ram dies, Krishna is born. When Krishna dies, eventually he will be back as Ram.
The Indians also had a river that separates the land of the living from the land of the dead. But you don't cross it once. You go to and fro endlessly. It was called the Vaitarani. You go again and again and again.
Nothing lasts forever in India, not even death. 
And so, you have these grand rituals where great images of mother goddesses are built and worshiped for 10 days … And what do you do at the end of 10 days? You dunk it in the river. Because it has to end. And next year, she will come back.
What goes around always comes around, and this rule applies not just to man, but also the gods. (But at a lesser energy and power? Like entropy?)
Even the gods have to come back again and again as Ram, as Krishna. Not only do they live infinite lives, but the same life is lived infinite times till you get to the point of it all. "Groundhog Day." (Laughter)
Two different mythologies. Which is right? Two different mythologies, two different ways of looking at the world.
One linear, one cyclical. One believes this is the one and only life. The other believes this is one of many lives.
The denominator of Alexander's life was one. So, the value of his life was the sum total of his achievements. 
The denominator of the gymnosophist life was infinity. So, no matter what he did, it was always zero. 
And I believe it is this mythological paradigm that inspired Indian mathematicians to discover the number zero. Who knows?
That brings us to the mythology of business.
If Alexander's belief influenced his behavior, if the gymnosophist belief influences his behavior, then it was bound to influence the business they were in. 
What is business but the result of how the market behaves and how the organization behaves?
And if you look at cultures around the world, all you have to do is understand the mythology and you will see how they behave and how they do business.
Take a look. If you live only once, in one-life cultures around the world, you will see an obsession with binary logic, absolute truth, standardization, absoluteness, linear patterns in design.
But if you look at cultures which have cyclical and based on infinite lives, you will see a comfort with fuzzy logic, with opinion, with contextual thinking, with everything is relative, sort of mostly. (And what is the mythology of the Chinese? Are they bound to conquer the world as the US evangelists has been doing?)
You look at art. Look at the ballerina, how linear she is in her performance. And then look at the Indian classical dancer, the Kuchipudi dancer, the Bharatanatyam dancer, curvaceous. (Laughter)
And then look at business. Standard business model: vision, mission, values, processes. Sounds very much like the journey through the wilderness to the promised land, with the commandments held by the leader. And if you comply, you will go to heaven.
In India there is no "the promised land". There are many promised lands, depending on your station in society, depending on your stage of life. You see, businesses are not run as institutions, by the idiosyncrasies of individuals. It's always about taste. It's always about my taste. (Is it still true in capitalist India?) 
Indian music, for example, does not have the concept of harmony. There is no orchestra conductor. There is one performer standing there, and everybody follows. 
And you can never replicate that performance twice. It is not about documentation and contract. It's about conversation and faith. 
It's not about compliance. It's about setting, getting the job done, by bending or breaking the rules — just look at your Indian people around here, you'll see them smile; they know what it is. (Laughter) And then look at people who have done business in India, you'll see the exasperation on their faces.
This is what India is today.
The ground reality is based on a cyclical worldview. So, it's rapidly changing, highly diverse, chaotic, ambiguous, unpredictable. And people are okay with it. 
And then globalization is taking place. The demands of modern institutional thinking is coming in. Which is rooted in one-life culture. And a clash is going to take place, like on the banks of the Indus. It is bound to happen.
I have personally experienced it.
I'm trained as a medical doctor. I did not want to study surgery. Don't ask me why. I love mythology too much. I wanted to learn mythology. But there is nowhere you can study. So, I had to teach it to myself. And mythology does not pay, well, until now.
I had to take up a job. And I worked in the pharma industry. And I worked in the healthcare industry. And I worked as a marketing guy, and a sales guy, and a knowledge guy, and a content guy, and a training guy. 
I even was a business consultant, doing strategies and tactics. And I would see the exasperation between my American and European colleagues, when they were dealing with India.
Example: Please tell us the process to invoice hospitals. Step A. Step B. Step C. Mostly. (Laughter) How do you parameterize "mostly"? How do you put it in a nice little software? You can't.
I would give my viewpoints to people. But nobody was interested in listening to it, you see, until I met Kishore Biyani of the Future group. he has established the largest retail chain, called Big Bazaar.
And there are more than 200 formats, across 50 cities and towns of India. 
And he was dealing with diverse and dynamic markets. And he knew very intuitively, that best practices, developed in Japan and China and Europe and America will not work in India.
 He knew that institutional thinking doesn't work in India. Individual thinking does. He had an intuitive understanding of the mythic structure of India.
So, he had asked me to be the Chief Belief Officer, and said, "All I want to do is align belief." 
Sounds so simple. But belief is not measurable. You can't measure it. You can't manage it. So, how do you construct belief? How do you enhance the sensitivity of people to Indian-ness. Even if you are Indian, it is not very explicit, it is not very obvious.
I tried to work on the standard model of culture, which is, develop stories, symbols and rituals. And I will share one of the rituals with you.  it is based on the Hindu ritual of Darshan.
Hindus don't have the concept of commandments. 
So, there is nothing right or wrong in what you do in life. (And the judicial system?)
So, you're not really sure how you stand in front of God. when you go to the temple, all you seek is an audience with God. You want to see God. And you want God to see you, and hence the gods have very large eyes, large unblinking eyes, sometimes made of silver, so they look at you.
Because you don't know whether you're right or wrong, and so all you seek is divine empathy. "Just know where I came from, why I did the Jugaad." (Laughter) "Why did I do the setting, why I don't care for the processes. Just understand me, please."
Based on this, we created a ritual for leaders. 
After a leader completes his training and is about to take over the store, we blindfold him, we surround him with the stakeholders, the customer, his family, his team, his boss. You read out his KRA, his KPI, you give him the keys, and then you remove the blindfold.
And invariably, you see a tear, because the penny has dropped. He realizes that to succeed, he does not have to be a "professional," he does not have to cut out his emotions, he has to include all these people in his world to succeed, to make them happy, to make the boss happy, to make everyone happy.
The customer is happy, because the customer is God.
That sensitivity is what we need. Once this belief enters, behavior will happen, business will happen. And it has. 
So, then we come back to Alexander and to the gymnosophist. And everybody asks me, "Which is the better way, this way or that way?"
And it's a very dangerous question, because it leads you to the path of fundamentalism and violence. So, I will not answer the question. What I will give you is an Indian answer, the Indian head-shake.
Depending on the context, depending on the outcome, choose your paradigm.
And so the next time you meet someone, a stranger, one request: Understand that you live in the subjective truth, and so does he. Understand it. 
And when you understand it you will discover something spectacular. You will discover that within infinite myths lies the eternal truth. 
Who sees it all? Varuna has but a thousand eyes. Indra, a hundred. You and I, only two. Thank you. Namaste.
No more Caches for Fiscal Evaders in selected Islands?
Bye Bye Launderers and white washers of plundered wealth?
Since 2009, many nations were trying to find ways to close loopholes in fiscal laws that permitted the rich people to transfer wealth to foreign caches in order to escape paying their due taxes.
In 2020, Lebanon pseudo State has Not even contemplated preventing the militia/mafia leaders from draining our accounts in banks in hard currencies from vacating our territory.
The financial havoc has generated another capital consequence. in every nation around the world.
All these tiny islands and tiny States that were the havens of offshore companies where money were stashed away to avoid taxes are no longer safe havens.
The safe havens were pressured to enact laws that permit any State government to investigate accounts that were immune under "banking secrecy regulations".
There are five main regions were these safe heavens concentrated their activities.
First, the Caribbean islands of about 14 of them, singly or set of smaller islands, such as: Caicos, Turks, Anguilla, and Montserrat (controlled by Britain), the Virgin Islands (controlled by the USA, the Aruba and Antilles (controlled by the Netherlands), the Bahamas, Caimans, Antigua and Barbuda, Dominic, Sainte Lucie, Saint Vincent and Grenadines, Saint Christopher and Nevis, Grenada, Panama City, and Belize.
Second, in Europe we got the city of Andorra, Austria, Belgium, Isle of Man, Isles of Guernsey and Jersey, Gibraltar, Monaco, Saint Marin, Liechtenstein, Luxemburg, Cyprus, and Switzerland.
Third, in the Far East we have: Tonga, Vanuatu, Cook Islands, Niue, Samoa, Nauru, Marshall Islands, Hong Kong, and Singapore.
Fourth, in the Arab Gulf we have: Dubai and Bahrain.
Fifth, in East Africa we have: Maurice, Seychelles Republic, Maldives, and then Liberia in West Africa.
For example, the Caribbean islands and particularly the Caimans has residency for 70% of hedge funds and manage about $ 2 trillion or 2,000 billions;
Jersey Island is the prime British offshore center and managing 300 billions;
Liechtenstein with 165 billions;
Switzerland with $2 trillions of offshore money or the third of the world's caches and which generate a third of the State's income.
The safe havens in the Virgin Islands are mostly invested by China.
Now most of these safe havens are in the process of regulating their financial activities because most States want the money of their citizens repatriated in order to be taxed.
The problem is that the fiscal laws in most States are so exorbitant and complicated that it is Not worth repatriating any money.
People are just waiting for lenient and simple fiscal laws to be enacted before they get the courage to transfer their money to their home states.
For example, taking into account penalties on bad faith (40%), interests in arrears, tax on revenue, social contribution and other rights and penalties, a French citizen having one million dollars in Switzerland should expect to pay 1,300,000 dollars, far more than what he has saved in the safe haven.
France has evaluated to 20 billions dollars of lost revenue is fiscal fraud, which amount to the total budget for the department of Research and higher Education.
The case of Switzerland banking secrecy laws started in 1934.
In 1932, France confiscated from the Commercial Bank of Bale ten books containing 2000 French clients; the socialist deputy Fabien Albertin divulged the names of the clients representing a wide spectrum of influential personalities from magistrates, to ministers, to deputies, and to bishops.
The State of Switzerland reacted.
Only in 1998 did the wall of banking secrecy fall in Switzerland when the US exercised pressures to recoup 1.25 billions dollars saved by Jewish families during the Nazi period.
There are four criteria to categorize a State as a fiscal paradise:
First, absence or lack of fiscal laws;
second, lack of transparency;
third, the economy cannot support that much funds (basically, a post office State); and
fourth, refusal to exchange judicial and fiscal information.
WikiLeaks documents on Lebanon: What's going on with our pitiful "leaders"?
Posted on March 22, 2011
You won't believe it. Can you imagine a government demanding from the enemy to invade its land, kill its citizens, destroy its infrastructure, and expand the bombing in intensity and duration?
That's what happened in Lebanon:  Not once, but several times since 2005 and since its independence, in pre-emptive attacks by Israel, though tacitly for lack of transparency.
In 2006, Israel launched a devastating war on Lebanon and the government of Lebanon, headed by Seniora PM, demanded from the US that Israel extends its war destruction of Lebanon's infrastructure beyond 33 days, on the guise of finishing off the military power of Hezbollah. (Finally, it was Israel that had to beg Bush Jr. to arrange for a cease fire)
Seniora PM, the current PM Saad Hariri, the defense minister Elias Murr, the ex-president Amine Gemayel, the warlord of the civil war Samir Geagea, the deputies Boutros Harb, Naela Muawad, Walid Jumblatt, Marwan Hamadi…demanded that Israel continue its war on Lebanon until Hezbollah is severely weakened.
Hell, Israel killed over 1,600 Lebanese civilians, injured over 5,000, displaced half a million from south Lebanon, dropped two million cluster bombs (dozens are killed and injured every year from these bombs), all Lebanon's infrastructure was destroyed, the sea polluted after bombing oil tanks…
It took Lebanon billions in foreign aid and six years to reconstruct devastated towns, villages, highways, bridges…just to satisfy short-term interests of midget Lebanese political leaders.
The common people in Lebanon know about these systematic treacheries committed by the successive governments, but now there are documents, black on white.
Hezbollah is assembling a legal file to bring to trial all these traitors of first degree.
These official traitors should be packing now; they should be praying to die before they are brought to justice. (Wrong. these militia/mafia "leaders" are still in total control of Lebanon and brought the State to total bankruptcy at all levels)
The infamy didn't stop after 2006:  It resumed unabashedly.
On May 7, 2007, the official traitors masterminded a civil war against Hezbollah as the best strategy to weaken this party that defended Lebanon's dignity and security from frequent Israeli incursions into Lebanon.
The "official traitors" had a plan that was coordinated with the US and Israel.
Hezbollah was continuing his program of securing land fiber-optic communication lines.  That was the excuse to starting the civil war.  The US Cole was offshore waiting, and Israel intelligence agents were hunkered in many secret places around Beirut.
Hezbollah managed to dismantle the plan within 3 hours and the official traitors had no time to carry on their nasty program.
Seniora governed Lebanon as sole dictator for four years, with a reduced cabinet since the third of the ministered had resigned., meaning 60% of the population was not represented in the government, and sit in around the government palace lasted months under tents.
Seniora was unphased:  He had orders not to seek the opinion of the Lebanese citizens.
Tents were erected around the Prime Minister Palace for three months, but Seniora felt that the US support is good enough to remain in power.
The official traitors want the army to be the sole defender of the Motherland.  How?
Our army didn't have a working single helicopter when battling the terrorists Jund Islam in Nahr Bared camp.  The Muslim Sunni salafists, financed by Saudi Arabia monarchy and via the Lebanese government of Seniora, had far more sophisticated weapons than the Lebanese army.
Funny.  The army is refusing free military hardware from donor States in order Not to antagonize the US Administration!
Are these official traitors serious about defending the fatherland from Israeli incursions?  Most probably, they never considered south Lebanon as part of Lebanon?
In the 2009 Parliamentary election, Saudi Arabia allocated $ One billion to finance the Lebanese election for the benefit of Saad Hariri, a Saudi citizen.  The US presidential election process didn't cost that much!
What kind of an army the defense minister is envisaging?  The WikiLeaks documents stated the following:
First, since the Christian Maronites and Greek Orthodox are not applying to join the army, the best way to encourage them is by establishing special regiments, quasi-independent from army hierarchy, trained to fighting "terrorism" and equipped with assault helicopter.
Yes, Christian youth prefer to join "elite assault brigades".  Why?  That's how the "Christian" defense minister Elias Murr feels.
Second, the Muslim Shia youth, constituting half the population, should have a restricted quota of 25% in the army.  The minister feels proud that he managed to reduce the ratio of Shia soldiers in the army that the official traitors want to fight Israel with.  The Sunni, barely representing 30% of the population have increased their ratio in the army and internal security forces to over 50%.  Do the official traitors want to fight enemies with that kind of obscurantist mentality?
Well, not any longer:  Saad Hariri and company were fired, and a new government representing the enlightened resistance forces should shoulder the difficult problems plaguing our society.
In memoriam for the slain in Palestinian refugee camp of Sabra and Shatila: Poem
(With a few editing, my style)
Luis Lázaro Tijerina. September 18, 2019
Shostakovich Leningrad Symphony
comes to mind this night, this cold September air
receding into the terrible morning,
As Israel armor and bulldozers
Drive through our lives with impunity,
Death, the talisman of their fury,
They and others kill Palestinians (and downtrodden Lebanese living there)
as if harvesting leaves falling
And burning on an autumn night.
How many sheaves of horror, how many dead
reported at Sabra and Shatila?
We count your heroic dead
as we count the aimless years
of our hypocritical lives.
We the spectators (the Silent Majority)
who did nothing here in America or abroad.
How many dead, how many dead,
Their fingers broken,
The young men's faces slashed
because they refused
to sell-out their lives to the Phalangist thugs,
and their Israeli puppet-masters pulling the strings
In this macabre play of horror,
In the Lebanese night.
Haddad, the butcher, and his Israeli henchmen,
Boastful brutes
Their insidious laughter
coming from their snarled mouths
on a bitter Friday night,
Others in the world slept in self-satisfied beds.
The Shostakovich symphony of disaster echoes
like the rumble of dark thunder,
How many dead, I ask myself.
Hundreds, thousands? Those rivers of blood
spilled across the earthen floor of the camps.
On television screens
We still see the horror
In a tragic mural painted in more blood—
Those butchered, shot,
and thrown into piles of garbage (in a mass burying ground in the Sport Stadium by Israeli bulldozers).
The women raped
And hung, their screams like the screeching of violins
In this Soviet symphony I hear on a night
in loveless September.
The cinder block houses stormed
by dark monsters with machine-guns—
Israeli Uzis, not unlike the Nazi troops
who searched for defenseless, quarry at Leningrad…
Now at Shatila and Sabra,
Old men and women lay
In a shattered sleep—
bullets in their heads
against the walls.
The camps of Shatila and Sabra,
those Goya nightmares— our nightmares
on a September night,
There you are—
families gunned down.
See the smiles
on the Phalangists and Israeli faces?
They never cared about life,
For they feared death.
Cowards against a defenseless people,
The only passion they knew
on a heartless September night.
Sharon, the bloated,
stubby-fingered general,
planned the massacre with glee
in the privacy
of his wobbling, arrogant head.
Cover your dead with our grief,
Those of you who survived the bloodshed,
Remember the Palestinian dead
on this Crystal Night massacre.
The wailing and screaming tears the bitter skies.
Bullet-proof vests, Phalangists in shorts
They scurry like rats from cinder-house
to cinder-house.
At Akka Hospital,
Maimed and wounded, carried away,
Nurses raped and beaten
by Christian militia, professing innocence
in their sordid wet dreams
at Shatila and Sabra.
The refugee streets stink with death
Our lives stink with death.
Hypocrisy, our makeshift plumbing,
in our nightmares.
I hear the horns, the violins, the flutes singing
In the September night wind.
What song do they sing?
We have lived for centuries
of the old denial, the blood-walls of hate.
Identification papers handed-out
At a sport stadium; Zionist troops interrogate
the dead whose skins are pale like manikins,
and then we ask why—
Why so many dead in the streets
at Shatila and Sabra?
Rubble, death, medical wives,
Sisters kissing reporters' arms
Because they want to know
"Who killed my brother?
Where is my father?
When will it all end!"
Shostakovitch symphony comes to its heroic end
on this September morning,
The slumber, my sleep, in our history,
Half-dream, half nightmare,
As the first autumn leaves begin to fall…
The revenge of cymbals, of the militant drums,
I hear in this morning dawn…
The tiers of the stadium wet with blood,
Palestinian blood,
Our hands are caked with their blood,
and the blood of others
We left behind in the gutted street
of retribution.
Note 1: I was in Lebanon at that period and we knew about this monster massacre 3 days later, after Israel allowed journalists and reporters to visit the camp.
Israeli bulldozers unloaded tons of chalk on the dumped bodies, one layers after the next ones.
Israeli troops lighted the sky for 2 nights so that the murderer mercenaries could achieve their macaber task thoroughly.
Note 2: I posted on my blog several articles on that events from various eyewitnesses and reporters.
Note 3: The camp had no fighters or weapons. All the fighters were shipped out of Beirut to Tunisia a few ago back with US guarantees that the helpless Palestinians in camps will be safe and secure. Even the Lebanese army stationed close by failed to intervene.
Luis Lázaro Tijerina, Burlington, Vermont
Do you remember ex-British PM David Cameron?
Why did he visited a Syrian refugee camp in Lebanon in 2015?
Was Cameron trying to save his position as a compassionate leader? 
No, his purpose is to establish the Syrian refugees in Lebanon for the long term.
Actually, the Lebanese didn't receive any foreign aid to care for the refugees, although one third are below the poverty line. The refugees get electricity for free and education for free…while most Lebanese are even denied places in public schools.
I'm at a refugee camp in Lebanon, hearing some heartbreaking stories. British aid is doing so much to help.
The visit was meant to bribe and warn the Lebanese government to elect a President who is willing to sign on the settlement of the Syrian Refugees in Lebanon proper.
More than 1.5 million have already flocked into Lebanon and the number is increasing and represent one third of Lebanon population.
Cameron has aided Lebanon with a mere $50 million (in the last 3 years) to educate the Syrian kids in Lebanon.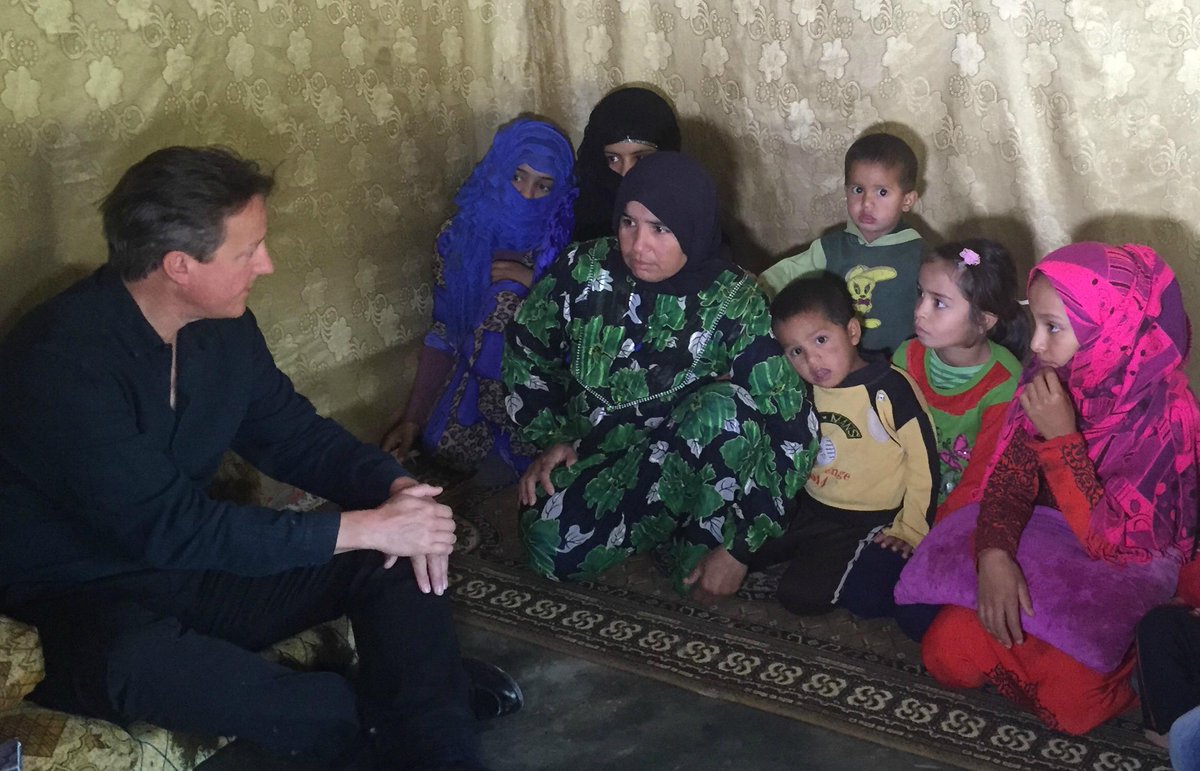 I don't care if you ignore everything I post as long as you watch this interview with a Palestinian mother from the Yarmouk refugee camp in Damascus
"Take my kid to Germany", a mother's plea for her daughter to be taken to safety http://trib.al/wemw2P6
 StepFeed posted
Thanks for the attention bro, but maybe next time you come to the Middle East focus on refugees and not your image back home?
British PM talked a lot of talk – but he was basically just talking to himself and voters back home.
stepfeed.com
|
By 
Jason Lemon
With the mission of "inspecting" the refugee situation, everyone breathed a sigh of relief knowing the British were here to save the day.
Never mind the fact that the UK has pledged to take only a tiny percentage of the millions of refugees.
But when you see these photos of Cameron sitting with refugee children, don't you almost forget that fact?
Doesn't it almost seem like this man cares about their plight despite the fact that he is actively working to keep them out of his country?
Well, friends, don't be fooled by the photos. Its all one big PR stunt.
As the Independent reported, Cameron's visit to a makeshift refugee school was all staged.
Although it was reported that Cameron simply "dropped by" a classroom of students, he actually dropped by a prearranged group of refugee children. The "teacher" wasn't even their teacher.
Of course, Cameron wanted the folks back home – and the world – to see a caring leader, descending to meet the poor refugees face-to-face.
Good show sir, good show indeed!
What's that? You think we're being too harsh?
Sorry for the honesty, but we think he can take it.