Archive for the 'health/medicine' Category
In order to be accredited to move around and visit the world? While the government institutions are free to flaunt all the health directives
Alain Escada, président de Civitas. March 7, 2021
Pas un jour ne passe sans que, matin, midi et soir, les télévisions du système ne répètent les mots d'ordre officiels concernant le Covid :
Portez votre masque, restez chez vous sauf pour aller au supermarché, isolez-vous des autres, attendez avec impatience votre tour pour être vacciné, préparez-vous au passeport vaccinal pour pouvoir faire ce qui vous plaît hors de chez vous, ne réfléchissez pas car c'est signe de complotisme,…
Mais voilà que le Canard enchaîné signale un pataquès dans ce concert multi-télévisuel.
Le 24 février, la police fait une descente dans un restaurant ouvert clandestinement. Il est bientôt minuit et les policiers découvrent une intéressante brochette de convives : des journalistes de BFMTV, mais aussi "des cadors de l'Assistance publique-Hôpitaux de Paris et un gradé de la brigade des sapeurs-pompiers de Paris, tous consultants santé de la chaîne !"
Cela rejoint d'autres informations précédentes sur des restaurants ouverts clandestinement dans lesquels ont été identifiés des magistrats, des gendarmes et des policiers.
Sans oublier les fêtes dans des commissariats dans des conditions interdites au commun des Français.
Mais le cas signalé par le Canard enchaîné est bien plus significatif. Ce n'est plus simplement un privilège que s'accordent des fonctionnaires du régime, de façon très proche de ce qui se passait autrefois en Union Soviétique.
Non, cette fois, c'est vraiment la démonstration que les gens qui se succèdent à la télévision pour nous effrayer ne croient pas aux histoires qu'ils nous racontent.
Comment interpréter autrement ce gueuleton partagé entre des journalistes de BFMTV, des "experts" du monde médical et un gradé des pompiers, tous habitués à nous faire la leçon sur la nécessité de suivre bien docilement les consignes gouvernementales pour échapper à une apocalypse épidémique ?
S'ils croyaient à ce qu'ils disent à la télévision, s'ils croyaient au bien-fondé de mettre les populations en cage, de porter une muselière, de conserver des distances, de laisser les restaurants fermés, s'ils croyaient la vaccination indispensable à toute reprise d'une vie normale, s'ils partageaient la peur qu'ils insufflent parmi la population, ils n'auraient pas pris le risque de participer à un tel dîner clandestin.I
l faut exiger que les noms de ces convives télégéniques, verbalisés par la police, soient rendus publics.
Et surtout, il faut largement partager cette information qui démontre que le plat que nous servent jour après jour les médias est une mascarade.
Une mascarade dont l'objectif réel est de mettre en place l'ensemble des rouages d'une tyrannie mondialiste.
L'heure est à la dissidence. Cassons nos télévisions et brisons nos chaînes ! Insurgeons-nous !
Alain Escada, président de Civitas
Un dîner clandestin entre journalistes et "experts" médicaux qui démontre qu'ils ne croient pas au coronacircus – medias-presse.info


Titbits # 110
The night is much longer than the day. Not just in duration but in exhaustion. Trying to sleep and waking up frequently and filling the void. By day break, you feel that you had done all your mental work
The results are there: People vaccinated with Pfizer can contaminate people in contact with them. Worse, the mutant virus target babies of less than 2 years and pregnant women and is more deadly.
Israel turned a mass lab. for Pfizer vaccine. While the cases in Jordan and Gaza are dropping drastically and fast, the cases doubled in Israel and the mutant virus is more deadly.
Israel locked completely its borders: No one is to go out so that the outside nations fail to discover the new deadly mutant virus harvesting the Israeli society. The election is within a month, but the secret is out and the dailies are confronting this "deadly propaganda decision" of Netanyahu.
US regulators approved the first rapid at-home coronavirus test. It has been developed by California-based Lucira Health, and can be completed from start to finish in one location and in only 30 minutes, without requiring an external laboratory to analyze samples. (I don't trust anymore US health regulators)
Gizadeathstar.com: "The bottom line is: we're still looking at the same Deep State, the same factions, the same players, and the same playbooks. Mafia, CIA, military, and "Texas oil interests", meaning the Hunts, the Murchisons, and – yes – the Bush family. And we're still looking at a banana republic… with Nukes" 57 […]
US/colonial powers commit the assassinations and Israel get free propaganda for her Mossad. Paid mercenaries (Israelis) have to pay the consequences.
Oh Palestinians, Jordanians, Lebanese, Syrians, Iraqis: You should Not cow down to the colonial powers directives that you are living on individual Islands and have to fend individually by yourselves. You are one nation, one people and you have got to think, feel and act accordingly. One for all and all for one against the forces that want you isolated, weak and taken apart in our existential future. Any pre-emptive war on one of the "created" State must be confronted as targeting the entire people in all the other States
The democratic process, allowing the base to vote, has the advantage to open up freedom of opinions, debates and a wider communication among the members. The trustee system (Senate, representative chambers, majles Oumanaa2) might look good logically because of a gathering of educated and experienced members, and might be the best alternative at the beginning, but it usually becomes obsolete to the base and inevitably leads to dictatorship of a certain political class of elders with vested interests.
It is impossible to contemplate the Zionists and US extremist Protestants (Neo Conservatives) still living under this heap of crap of fake knowledge, myths and racist ideology. Israel is surviving under this mound of shit and States are forbidden to publicly criticize Israel apartheid policies .
When those States drop "La Ilaha illa Allah" or "Allah Akbar" from their flags, when they drop from their Constitutions that Shari3at is the foundation of the laws, when they drop that a religious sect is the religion of the State, when they drop the concept that women' brain is half that of men…Then, you may ask me "How do you foresee the future for these people?"
French colonialism did the most harm to the people in the Near-East. French institutions have been suckering to Zionist movements since 1870 and preempting apartheid Israel demands all the way.
All billionaires have shares in pharmaceutical companies, in oil companies, in chemical companies… What is worrying is that, eventually, most future vaccines (covid-19 and others) will be laced with 5G microchips to control and monitor world population by the superpowers. Mind you that Taiwan is the main manufacturer of those microchips.
Do you trust covid-19 vaccine? I don't. Especially when they force it on you. and more horrifying, when the pharmaceutical companies are liability-free if you die or are maimed…(The PERP ACT of Trump administration)
How the "terrorist" activities are processed and conducted? US/colonial powers fund the "terrorist/mercenary" training camps in an "underdeveloped" country. A high officer in the internal security service of a third country (Pakistan for example) manages and run the execution of the activity. If an activity fails or the main officers are uncovered, they are exterminated in order Not to leave evidences. Former Pakistan dictator General Musharraf said: "These are Not terrorist movements, they can be considered as armed NGO"
For every religion, there is a sect that could resolve many difficulties in working out a taxonomy in beliefs. They are the sects/tribes living close to urban surrounding and fertile zones; and yet they adopt nomadic characteristics and have acquired flexible line of thinking, especially abstract concepts
An unexamined life is Not worth living. And after being examined, it turns out Not to be such a bargain
More than 60 million destitute people in northern Nigeria, Somalia and Afghanistan, the lawless and most hard-to-reach places could go unvaccinated, Red Cross chief warns
Peter Maurer, Red Cross chief, December 8, 2020.
Nick Webster. Dec 8, 2020
More than 60 million people in conflict zones and lawless regions could remain unvaccinated against Covid-19, the head of the Red Cross warned.
A global operation to vaccinate billions of people is due to begin.
But millions of the most vulnerable people may never receive a vaccine.
These include about 26 million refugees and tens of millions of internally displaced people.
One of the vaccines must be stored at minus 70°C, creating unique challenges for isolated communities.
"Producers of vaccines must be aware of the special conditions in which hundreds of millions of people are living, who are not close to any cold-chain supply," Peter Maurer, president of the International Committee of the Red Cross, told The National.
Our focus is to negotiate with state authorities so underprivileged groups and displaced people have access to vaccines
"Since the pandemic, we have focused on the very difficult to reach conflict areas, where we are active.
"Our estimate is there are probably more than 60 million people living in areas outside of recognised government control.
"We must continue to negotiate there to prepare the ground for vaccines to be delivered."
Specific requirements of the Pfizer and BioNTech Covid-19 vaccine mean healthcare providers must store it either in dry-ice for shorter periods or in specialised freezers at minus 70°C.
The vaccine has proved to be more than 90% effective in trials and is the leading candidate for viral protection, with several others promising similar efficacy.
Daily distribution in the US requires a carefully choreographed project including 12 trucks, 20 daily flights and specifically designed "pizza box" packaging that will keep vaccines safely stored.
The vaccine developed in the US by Moderna remains stable at a regular freezer temperature of minus 20°C for up to six months. After thawing, it can last for 30 days and can be kept at room temperature for up to 12 hours.
Once approved, several distribution operations are planned for other vaccine manufacturers elsewhere in Europe, Russia and China that will have similar demands on cold-chain logistics.
Conflict zones most vulnerable to vaccine shortfall
Geographical challenges, poor infrastructure and active conflicts will make it particularly difficult for aid workers to reach populations of refugees, asylum seekers and stateless people.
In Nigeria, a decade-long conflict between militias and the government has forced more than two million people to flee their homes. According to the UN, 7 million in the country are reliant on humanitarian aid for survival.
Meanwhile in Somalia, warring factions have displaced close to 3 million and a further million have been displaced in Afghanistan.
The World Health Organisation is working with its partners Gavi, the Vaccine Alliance, and the UN children's fund to ensure that the infrastructure and technical support is in place to safely deliver as many doses to conflict areas as possible.
"Our focus is to negotiate with state authorities so underprivileged groups and displaced people have access to vaccines," said Mr Maurer.
"We cannot have distribution cold chains required for the vaccines in some areas, such as northern Nigeria for example."
Inside conflict zones, poor healthcare centres or a total collapse of services often mean regular vaccination programmes are abandoned. Precarious infrastructure and disputed borders can also make delivery of vaccines extremely difficult and dangerous.
These areas often have limited access to electricity, making the consistent refrigeration required for safe deliver a major issue, particularly in rural areas and warmer climates.
"Some regions never make the headlines and by nature are doubly underprivileged as they never get attention," said Mr Maurer.
"I am worried about the forgotten conflicts in Iraq, Myanmar and Central America, which is very often out of the picture and context. (And Syria, Lebanon and Yemen?)
"Yemen falls into the news and then oblivion. We want to equalise these visibility discrepancies.
"No conflict emerges as more serious than another."
Which vaccines will be delivered?
Many different vaccines are likely to become available in 2021 and the ICRC said it would consider which are available to use on staff and vulnerable populations.
"We are exploring all the vaccines that may be available and will decide which staff who are most at risk before we administer," said Mr Maurer.
"As a default position we will wait for WHO approval on which vaccines are safe. This is a duty of care that is of critical importance.
"We have not taken a decision yet on which one. We should also be talking about testing and medicine.
"There is no reason why we will not use the vaccine that is locally available and considered safe, if it is available in certain places.
"We will not look for a uniform decision for all our operations around the world."
Funding gaps create uncertain 2021 for aid organisations
Serious funding shortfalls during the pandemic threaten to derail some of the supporting work planned by aid organisations next year.
The ICRC, which employs about 20,000 people in more than 80 countries has run up a $139 million deficit.
Cutbacks have been restricted to operations in largely peaceful countries and at the organisation's Geneva headquarters, where 100 staff are expected to lose their jobs.
One of the most publicised service cuts was the closure of a specialist centre in Lebanon to treat people wounded in conflicts in Syria, Iraq and Yemen.
Further spending cuts are planned for 2021, with $94m slashed from food aid and operational budgets in 30 countries.
You cannot shield yourself and your economy by only investing in your own country
The ICRC has made an appeal for 2.3 billion Swiss Francs ($2.6bn) for 2021 to support its work for people affected by conflict.
Mr Maurer called for a more united international co-operation to help the most vulnerable communities.
"In this region, it is inevitable that burden sharing is discussed again in the wake of the pandemic," he said.
"Work is needed by humanitarian organisations, but also by political actors.
"There is a powerful argument to develop that you cannot shield yourself and your economy by only investing in your own country.
"Your economy will be haunted if you do not manage the global pandemic and stabilise the most fragile areas. Pandemics will not stop.
"These are issues that must play out in the dynamics of countries who need to stabilise their own economies but also invest in the global public good, such as fighting the pandemic.
"We hope this will lead to more generous support for humanitarian organisations."Updated: December 8, 2020 11:18 AM
Read More
Red Cross chief: operations in Iraq and Afghanistan are underfunded
Mental Health Day: war and Covid-19 strain leave many in Middle East suffering in silence
Special report: Beirut families of 'the missing' demand answers
Par Jean-Michel Grau. 17/02/2021
Aujourd'hui, c'est un deuxième tribunal de Nuremberg qui se prépare, avec la mise en place d'une «Class Action» sous l'égide de milliers d'avocats mondiaux derrière l'avocat américano-allemand Reiner Fuellmich qui poursuit les responsables du scandale du Covid-19 instrumentalisé par le Forum de Davos.
À ce sujet, il est utile de rappeler que Reiner Fuellmich est l'avocat qui a réussi à condamner le géant de l'automobile Volkswagen dans l'affaire des pots catalytiques trafiqués.
Et c'est ce même avocat qui a réussi à condamner la Deutsche Bank comme entreprise criminelle.
Selon Reiner Fuellmich, toutes les fraudes des entreprises allemandes sont dérisoires comparées aux dommages que la crise du Covid-19 a causés et continue de causer.
Cette crise du Covid-19 doit être rebaptisée «Scandale du Covid-19» et tous les responsables doivent être poursuivis pour dommages civils pour cause de manipulations et de protocoles de tests falsifiés.
C'est pourquoi, un réseau international d'avocats d'affaires plaidera la plus grande affaire de délits civils de tous les temps, le scandale de la fraude Covid-19 qui s'est entre temps transformé en plus grand crime contre l'humanité jamais commis. 
Une commission d'enquête Covid-19 a été ouverte à l'initiative d'un collectif d'avocats allemands dans le but de faire un recours collectif au niveau international en utilisant le droit anglo-saxon.
Voici la traduction résumée de la dernière communication du Dr Fuellmich du 15/02/2021
« Les auditions d'une centaine de scientifiques, médecins, économistes, juristes de renommée internationale qui ont été menées par la commission d'enquête berlinoise sur l'affaire Covid-19 depuis le 10.07.2020, ont entre-temps montré avec une probabilité proche de la certitude que le scandale du Covid-19 n'était à aucun moment une affaire de santé.

Il s'agissait plutôt de bétonner le pouvoir — illégitime, car obtenu par des méthodes criminelles — de la "clique de Davos" corrompue, en transférant la richesse des populations aux membres de la clique de Davos, en détruisant, entre autres, les petites et moyennes entreprises en particulier.

Des plateformes comme Amazon, Google, Uber, etc. pourraient ainsi s'approprier leurs parts de marché et leurs richesses. »
État d'avancement de l'enquête du Comité Covid-19
a. Le Covid-19 comme tactique de diversion par les « élites » corporatistes et politiques dans le but de déplacer les parts de marché et la richesse des petites et moyennes entreprises vers des plateformes mondiales telles qu'Amazon, Google, Uber, etc.
b. Contribution de la taxe sur l'audiovisuel en vue de la reconstruction d'un nouveau paysage médiatique qui offre une véritable information indépendante
c. Sécurisation des structures agricoles régionales
d. Sécurisation d'une monnaie régionale pour éviter qu'une nouvelle monnaie ne vienne « d'en haut » pour être allouée en cas de bonne conduite
e. Considérations psychologiques de la situation : comment en est-on arrivé là ?
Recours en annulation de l'approbation d'une vaccination, déposé contre la Commission européenne, procès à New York du statut des tests PCR, procès allemands, procès canadiens, procès australiens, procès autrichiens, procès à la Cour de Justice Internationale et à la Cour Européenne des Droits de l'Homme.
« Nous avons constaté ce qui a été confirmé à maintes reprises : la dangerosité du virus est à peu près la même que celle de la grippe saisonnière, indépendamment qu'il s'agisse d'un nouveau virus (entièrement ou partiellement fabriqué) ou que nous ayons simplement affaire à une grippe rebaptisée "pandémie Covid-19".

En attendant, les tests PCR de Drosten ne sont même pas capables de nous dire quoi que ce soit sur les infections contagieuses.

Pour aggraver les choses, les dommages sanitaires et économiques causés par les mesures anti covid ont été si dévastateurs qu'il faut parler d'un niveau de destruction historiquement unique. »

« Le fait qu'il n'ait jamais été question de santé est particulièrement évident, sinon que les injections de substances génétiquement expérimentales déguisées en "vaccination" causent maintenant de graves dommages, y compris des conséquences fatales, à une échelle de masse. 

La population mondiale a servi de cobaye à ces injections expérimentales de gènes à la fois progressivement et extrêmement rapidement. 

Afin de plonger la population dans la panique, des mesures de confinement dangereuses et nocives (même selon l'OMS) de port du masque obligatoire, inutile et dangereux, et de distanciation sociale, inutile et contre-productive, ont été introduites. La population était ainsi "prête" pour les injections. »

« En attendant, de plus en plus de personnes, et pas seulement des avocats — à juste titre — exigent, outre l'arrêt immédiat de ces mesures meurtrières, un contrôle juridictionnel par un tribunal international véritablement indépendant, sur le modèle des procès de Nuremberg. 

Un exemple de demande de ce type et un extrait émouvant d'une allocution du médecin anglais Dr Vernon Coleman peut être trouvé dans le lien suivant :(1)

En outre, une interview d'un lanceur d'alerte d'une maison de retraite berlinoise, témoigne que sur 31 personnes vaccinées là-bas, dont certaines par la force, en présence de soldats de la Bundeswehr, et dont le test était négatif avant la vaccination, 8 sont maintenant décédées et 11 sont sujettes à de graves effets secondaires. »(2)
Réunion extraordinaire du Comité Covid de Berlin mercredi 17/02/2021
« Dans ce contexte, une réunion extraordinaire du Comité Covid de Berlin aura lieu le mercredi 17.02.2021 en direct et avec de nombreux invités qui y participeront via Zoom.

À partir de 14 heures, l'état des lieux sera résumé. En outre, il sera question de la manière dont les contributions de la taxe sur la redevance audiovisuelle peuvent être conservées et utilisées pour la reconstruction d'un nouveau paysage médiatique qui serve réellement la liberté d'expression, et comment les contributions déjà versées pour la propagande insensée des 11 derniers mois peuvent être récupérées par le biais d'une mise en demeure.

Il y aura des contributions et des discussions sur la manière dont l'approvisionnement alimentaire peut être assuré, en particulier en renforçant l'agriculture régionale ; mais aussi en créant des monnaies régionales, si nécessaire avec le retour de l'UE à la CEE, sur la manière dont on peut s'assurer que la politique de la "clique de Davos", basée sur l'impression de monnaie à partir de rien, peut être arrêtée et qu'un retour à des monnaies stables peut être réalisé.

Mais surtout, des experts nous expliqueront comment il a pu arriver que nous nous retrouvions dans cette situation de chantage inimaginable il y a encore un an.

Dans la deuxième partie de la session, qui débutera à 19 h, des personnalités de renommée mondiale et de haut niveau commenteront l'état des litiges juridiques internationaux en cours, y compris les différentes actions collectives, comme résumé ci-dessus. 

Mais il sera également question de la manière dont les principaux responsables, en particulier politiques, des crimes contre l'humanité commis ici peuvent et doivent être tenus pour responsables en droit civil et pénal dans le cadre d'une nouvelle Cour internationale de justice qui sera créée conformément aux directives des procès de Nuremberg avec une distribution internationale. »
Le lien vers la session spéciale du Comité Covid annoncée ici sera disponible le 17.02.2021 via le site web du Comité.(3)
Commentaire :
Pour bien comprendre ce qui est en train de se jouer avec ce nouveau tribunal de Nuremberg pour juger la plus grande affaire de délits civils de tous les temps, c'est en tirant sur le fil du mensonge du Dr Drosten pour avoir faussé le protocole des tests PCR pour le compte de la clique de Davos, que tout va venir avec.
Les commanditaires de l'oligarchie financière, Klaus Schwab, le grand architecte de cette gigantesque prise d'otages, les politiques à la tête de l'UE, bras armé de l'exécution des directives de Drosten et de l'OMS qui ont amené tous les gouvernements occidentaux à prendre hier les décisions ravageuses de confinement, de couvre-feu, de port du masque obligatoire et de distanciation sociale et aujourd'hui de vaccins mortifères pour les plus âgés d'entre nous.
« Ce sont ces vérités qui feront tomber les masques des responsables des crimes commis. Aux politiciens qui ont eu foi dans ces personnages corrompus », dit le Dr Fuellmich, « Les faits présentés ici sont la bouée de sauvetage susceptible de les aider à rectifier le tir et à entamer le débat scientifique tant attendu du public, afin d'éviter de couler en même temps que ces charlatans criminels ».
Ensuite, à la lumière de cette dernière communication du Dr Fuellmich, deux propositions de la réunion extraordinaire du Comité Covid de Berlin retiennent l'attention :
Tout d'abord la manière dont l'approvisionnement alimentaire peut être assuré, ce qui apparaît quelque peu surréaliste eu égard à la situation d'aujourd'hui. Si l'on se réfère au planning du Forum de Davos de Klaus Schwab, il n'en est rien. Celui-ci a bel et bien prévu une rupture de la chaîne alimentaire dès la fin du second semestre 2021.(4)
Ensuite, la création de monnaies régionales. Là, il est clair que le Comité Covid de Berlin anticipe déjà le krach boursier mondial qui s'annonce et dont l'oligarchie financière du Forum de Davos à la manœuvre compte bien profiter pour mettre en place la monnaie numérique européenne dans l'attente d'une monnaie mondiale pour créer un crédit social à la chinoise dont deviendra dépendante la classe moyenne de tous les peuples ruinés par la fermeture de leurs commerces, PMI— PME, industries culturelles et touristiques, équipements sportifs, etc.
Rien que ces deux aspects de la prise d'otage 2.0 dont le monde occidental est victime depuis bientôt un an devraient en toute logique être suffisamment motivants pour nous faire comprendre définitivement que nous sommes face à un "populicide" qui ne demande qu'à nous broyer si nous restons inertes, les bras ballants sans rien faire.
C'est pourquoi il convient à chacun d'entre nous de tout mettre en œuvre dès maintenant afin que cette coalition juridique internationale puisse être opérationnelle le plus tôt possible. Pour ce faire, que toutes celles et tous ceux d'entre nous qui souhaitent rejoindre l'action collective des avocats français pour participer à cette reconquête de nos libertés se mettent déjà en contact d'ici le 21 février avec l'action collective(5). 
Notre survie est à ce prix ainsi que l'avenir de nos enfants.
.
How childhood trauma seriously affects health across a lifetime?
Posted on October 29, 2015
In the mid-'90s, the CDC and Kaiser Permanente discovered an exposure that dramatically increased the risk for 7 out of 10 of the leading causes of death in the United States.
In high doses (of childhood trauma ), it affects brain development, the immune system, hormonal systems, and even the way our DNA is read and transcribed.
Folks who are exposed in very high doses have triple the lifetime risk of heart disease and lung cancer and a 20-year difference in life expectancy. Attention Deficit Hyperactivity Disorder is a mere syndrome among the more serious ones.
And yet, doctors today are not trained in routine screening or treatment. 
Now, the exposure I'm talking about is not a pesticide or a packaging chemical. It's childhood trauma.
How childhood trauma affects health across a lifetime?
Childhood trauma isn't something you just get over as you grow up.ted.com|
What kind of trauma am I talking about here? I'm not talking about failing a test or losing a basketball game. I am talking about threats that are so severe or pervasive that they literally get under our skin and change our physiology: things like abuse or neglect, or growing up with a parent who struggles with mental illness or substance dependence.  (Attention Deficit Hyperactivity Disorder)
For a long time, I viewed these things in the way I was trained to view them, either as a social problem — refer to social services — or as a mental health problem — refer to mental health services.
And then something happened to make me rethink my entire approach.
When I finished my residency, I wanted to go someplace where I felt really needed, someplace where I could make a difference. So I came to work for California Pacific Medical Center, one of the best private hospitals in Northern California, and together, we opened a clinic in Bayview-Hunters Point, one of the poorest, most underserved neighborhoods in San Francisco.
Prior to that point, there had been only one pediatrician in all of Bayview to serve more than 10,000 children, so we hung a shingle, and we were able to provide top-quality care regardless of ability to pay. It was so cool.
We targeted the typical health disparities: access to care, immunization rates, asthma hospitalization rates, and we hit all of our numbers. We felt very proud of ourselves.
But then I started noticing a disturbing trend. A lot of kids were being referred to me for ADHD, or Attention Deficit Hyperactivity Disorder, but when I actually did a thorough history and physical, what I found was that for most of my patients, I couldn't make a diagnosis of ADHD.
Most of the kids I was seeing had experienced such severe trauma that it felt like something else was going on. Somehow I was missing something important.
Before I did my residency, I did a master's degree in public health, and one of the things that they teach you in public health school is that if you're a doctor and you see 100 kids that all drink from the same well, and 98 of them develop diarrhea, you can go ahead and write that prescription for dose after dose after dose of antibiotics, or you can walk over and say, "What the hell is in this well?"
So I began reading everything that I could get my hands on about how exposure to adversity affects the developing brains and bodies of children.
And then one day, my colleague walked into my office, and he said, "Dr. Burke, have you seen this?" In his hand was a copy of a research study called the Adverse Childhood Experiences Study.
That day changed my clinical practice and ultimately my career.
The Adverse Childhood Experiences Study is something that everybody needs to know about. It was done by Dr. Vince Felitti at Kaiser and Dr. Bob Anda at the CDC, and together, they asked 17,500 adults about their history of exposure to what they called "adverse childhood experiences," or ACEs.
Those include physical, emotional, or sexual abuse; physical or emotional neglect; parental mental illness, substance dependence, incarceration; parental separation or divorce; or domestic violence.
For every yes, you would get a point on your ACE score. And then what they did was they correlated these ACE scores against health outcomes. What they found was striking.
Two things:
Number one, ACEs are incredibly common. 67%of the population had at least one ACE, and 12.6%, one in eight, had four or more ACEs.
The second thing that they found was that there was a dose-response relationship between ACEs and health outcomes: the higher your ACE score, the worse your health outcomes.
For a person with an ACE score of 4 or more, their relative risk of chronic obstructive pulmonary disease was two and a half times that of someone with an ACE score of zero.
For hepatitis, it was also 2.5 times. 
For depression, it was 4.5 times.
For suicide tendency, it was 12 times.
A person with an ACE score of 7 or more had triple the lifetime risk of lung cancer and 3.5 times the risk of ischemic heart disease, the number one killer in the United States of America.
This makes sense.
Some people looked at this data and they said, "Come on. You have a rough childhood, you're more likely to drink and smoke and do all these things that are going to ruin your health. This isn't science. This is just bad behavior."
It turns out this is exactly where the science comes in.
We now understand better than we ever have before how exposure to early adversity affects the developing brains and bodies of children.
1. It affects areas like the nucleus accumbens, the pleasure and reward center of the brain that is implicated in substance dependence.
2. It inhibits the prefrontal cortex, which is necessary for impulse control and executive function, a critical area for learning.
3. And on MRI scans, we see measurable differences in the amygdala, the brain's fear response center.
So there are real neurologic reasons why folks exposed to high doses of adversity are more likely to engage in high-risk behavior, and that's important to know.
But it turns out that even if you don't engage in any high-risk behavior, you're still more likely to develop heart disease or cancer. 
The reason for this has to do with the hypothalamic–pituitary–adrenal axis, the brain's and body's stress response system that governs our fight-or-flight response.
How does it work? 
Imagine you're walking in the forest and you see a bear. Immediately, your hypothalamus sends a signal to your pituitary, which sends a signal to your adrenal gland that says, "Release stress hormones! Adrenaline! Cortisol!" And so your heart starts to pound, your pupils dilate, your airways open up, and you are ready to either fight that bear or run from the bear.
And that is wonderful if you're in a forest and there's a bear. 
But the problem is what happens when the bear comes home every night, and this system is activated over and over and over again, and it goes from being adaptive, or life-saving, to maladaptive, or health-damaging?
Children are especially sensitive to this repeated stress activation, because their brains and bodies are just developing. High doses of adversity not only affect brain structure and function, they affect the developing immune system, developing hormonal systems, and even the way our DNA is read and transcribed.
For me, this information threw my old training out the window, because when we understand the mechanism of a disease, when we know not only which pathways are disrupted, but how, then as doctors, it is our job to use this science for prevention and treatment. That's what we do.
So in San Francisco, we created the Center for Youth Wellness to prevent, screen and heal the impacts of ACEs and toxic stress.
We started simply with routine screening of every one of our kids at their regular physical, because I know that :
1. if my patient has an ACE score of 4, she's two and a half times as likely to develop hepatitis or COPD, she's four and half times as likely to become depressed, and she's 12 times as likely to attempt to take her own life as my patient with zero ACEs.
2. I know that when she's in my exam room.
For our patients who do screen positive, we have a multidisciplinary treatment team that works to reduce the dose of adversity and treat symptoms using best practices, including home visits, care coordination, mental health care, nutrition, holistic interventions, and yes, medication when necessary.
But we also educate parents about the impacts of ACEs and toxic stress the same way you would for covering electrical outlets, or lead poisoning, and we tailor the care of our asthmatics and our diabetics in a way that recognizes that they may need more aggressive treatment, given the changes to their hormonal and immune systems.
So the other thing that happens when you understand this science is that you want to shout it from the rooftops, because this isn't just an issue for kids in Bayview.
I figured the minute that everybody else heard about this, it would be routine screening, multi-disciplinary treatment teams, and it would be a race to the most effective clinical treatment protocols.
Yeah. That did not happen. And that was a huge learning for me.
What I had thought of as simply best clinical practice I now understand to be a movement.
In the words of Dr. Robert Block, the former President of the American Academy of Pediatrics, "Adverse childhood experiences are the single greatest unaddressed public health threat facing our nation today."
And for a lot of people, that's a terrifying prospect. The scope and scale of the problem seems so large that it feels overwhelming to think about how we might approach it.
But for me, that's actually where the hopes lies, because when we have the right framework, when we recognize this to be a public health crisis, then we can begin to use the right tool kit to come up with solutions.
From tobacco to lead poisoning to HIV/AIDS, the United States actually has quite a strong track record with addressing public health problems, but replicating those successes with ACEs and toxic stress is going to take determination and commitment, and when I look at what our nation's response has been so far, I wonder, why haven't we taken this more seriously?
You know, at first I thought that we marginalized the issue because it doesn't apply to us. That's an issue for those kids in those neighborhoods. Which is weird, because the data doesn't bear that out.
The original ACEs study was done in a population that was 70 percent Caucasian, 70 percent college-educated.
But then, the more I talked to folks, I'm beginning to think that maybe I had it completely backwards. If I were to ask how many people in this room grew up with a family member who suffered from mental illness, I bet a few hands would go up.
And then if I were to ask how many folks had a parent who maybe drank too much, or who really believed that if you spare the rod, you spoil the child, I bet a few more hands would go up.
Even in this room, this is an issue that touches many of us, and I am beginning to believe that we marginalize the issue because it does apply to us. Maybe it's easier to see in other zip codes because we don't want to look at it. We'd rather be sick.
Fortunately, scientific advances and, frankly, economic realities make that option less viable every day. The science is clear: Early adversity dramatically affects health across a lifetime.
Today, we are beginning to understand how to interrupt the progression from early adversity to disease and early death, and 30 years from now, the child who has a high ACE score and whose behavioral symptoms go unrecognized, whose asthma management is not connected, and who goes on to develop high blood pressure and early heart disease or cancer will be just as anomalous as a six-month mortality from HIV/AIDS.
People will look at that situation and say, "What the heck happened there?" This is treatable. 
This is beatable. The single most important thing that we need today is the courage to look this problem in the face and say, this is real and this is all of us. I believe that we are the movement.
Save the Yemeni people from mass genocide in this insane war and for No reasonable cause.
A vicious armed conflict of landmines and airstrikes has devastated the population, triggering a humanitarian crisis like no others, Not even in the Congo, Somalia, Sudan… and for an entire generation.
As of December, 100,000 children under the age of five are so severely malnourished that they could die if they do not receive urgent treatment.
Take a good look at this picture. This 4-year old weighs only 14 pounds. Starving children don't cry.
A picture posted By Avaaz in their pleas for donations
How many pictures of dying children the world community requires to get off their bureaucratic chairs and get moving and active to remedy to this insane war?
A war launched on one of the poorest countries, even before Saudi Kingdom, US, Britain, France, Israel and Emirates decided to eradicate this people and its civilization off the face of the globe?
We have seen such kinds of pictures in many countries in the world and for many decades, children dying of famine, of degraded quality of water, of lack of available medicines… following "civil wars", climate change, and forgotten sustainable projects to give remote people a chance to survive.
How many of these pictures must the colonial powers needs to revise their exploitation programs at the expense of people and the degradation of nature?
The tiny bodies of these wasted children can no longer cry. Instead they use every last calorie to keep their organs pumping. But the mothers cannot stop crying for them, the last of the tears that both of them can shed.
Over 17,000 civilians died from bombs (as accounted by world organizations and US, as well as over 100,000 other children in Yemen who starved to death, unable to get enough food or medical care during the devastating civil war.
There are millions in Yemenis who will Not live to maturity, handicapped, life expectancy drastically reduced… when "humanitarian aids" reached them, at the end of the tunnel.
Half of all medical facilities have been destroyed or forced to close, and 80% of the population needs urgent humanitarian aid — including 12 million children.
A picture posted By Avaaz in their pleas for donations
Medics, volunteers, and humanitarian groups are trying to fill the gaps. Most probably, these groups are Not allowed to enter this war-zone, or even be allowed to bring in what is necessary to alleviate the miseries.
Even as the bombs keep falling, local aid workers and volunteers are going all out to provide for everyone they can — setting up hospitals, delivering emergency food aid, and life-saving surgery on the very frontlines of a most brutal war.
What kinds of aids are needed right now, immediately?
Help fund critical medical facilities in devastated areas of Yemen;
Provide life-saving food aid for thousands of desperate families;
Ensure thousands of people have access to critical medicines and pay for a fleet of ambulances;
Fund mobile clinics and power medical centres with emergency generators.
Tears of grief, tears of joy, basal tears ..
Posted on June 9, 2014
Looking At Tears Under A Microscope
Reveals a few Facts.
One day Rose-Lynn Fisher wondered if her tears of grief would look different from her tears of joy, so she began to explore them up close under a microscope.
She studied 100 different tears and found that basal tears (the ones that our body produces to lubricate our eyes) are drastically different from the tears that happen when we are chopping onions.
The tears that come about from hard laughter aren't even close to the tears of sorrow. 
Like a drop of ocean water each tiny teardrop carries a microcosm of human experience.
Her project is called The Topography of Tears. (How about taxonomy of tears?)
Tears from laughing until crying
Tears of change
Tears of grief
Tears from onions
Joseph Stromberg of the Smithsonian's Collage of Arts and Sciences explained that there are 3 major types of tears: basal, reflex, and psychic (triggered by emotions).
All tears contain organic substances including oils, antibodies, and enzymes and are suspended in salt water.
Different types of tears have distinct molecules. Emotional tears have protein-based hormones including the neurotransmitter leucine enkephalin, which is a natural painkiller that is released when we are stressed.
Tears seen under the microscope are crystallized salt and can lead to different shapes and forms. So even psychic tears with the same chemical composition can look very different.
Fisher said, "There are so many variables—there's the chemistry, the viscosity, the setting, the evaporation rate and the settings of the microscope."
Basal tears
Tears of timeless reunion
Tears of ending and beginning
Tears of momentum, redirected
Tears of release
Tears of possibility and hope
Tears of elation at a liminal moment
Tears of remembrance
Credit: Rose-Lynn Fisher
Like snow flakes and fingerprints, no tears are alike.
Can you practically believe the difference between all these tears if you taste or smell them?
A video by Masaru Emoto on water, consciousness and intent
| | |
| --- | --- |
| | Water, Consciousness & Intent: Dr. Masaru Emoto. He was born in Yokohama, Japan in July 1943 and a graduate of the Yokohama Municipal University's department of humanities and sciences with a focu…YOUTUBE.COM |
Child Labor heavily abused in vegetable oil production
By ROBIN McDOWELL and MARGIE MASON
They are two young girls from two very different worlds, linked by a global industry that exploits an army of children.
Olivia Chaffin, a Girl Scout in rural Tennessee, was a top cookie seller in her troop when she first heard rainforests were being destroyed to make way for ever-expanding palm oil plantations.
Olivia, who earned a badge for selling more than 600 boxes of cookies, had spotted palm oil as an ingredient on the back of one of her packages but was relieved to see a green tree logo next to the words "certified sustainable." She assumed that meant her Thin Mints and Tagalongs weren't harming rainforests, orangutans or those harvesting the orange-red palm fruit.
But later, the whip-smart 11-year-old saw the word "mixed" in all caps on the label and turned to the internet, quickly learning that it meant exactly what she feared: Sustainable palm oil had been blended with oil from unsustainable sources. To her, that meant the cookies she was peddling were tainted.
On one of those plantations a continent away, 10-year-old Ima helped harvest the fruit that makes its way into a dizzying array of products sold by leading Western food and cosmetics brands.
Ima is among the estimated tens of thousands of children working alongside their parents in Indonesia and Malaysia, which supply 85% of the world's most consumed vegetable oil.
An Associated Press investigation found most earn little or no pay and are routinely exposed to toxic chemicals and other dangerous conditions.
Some never go to school or learn to read and write. Others are smuggled across borders and left vulnerable to trafficking or sexual abuse. Many live in limbo with no citizenship and fear being swept up in police raids and thrown into detention.
The AP used U.S. Customs records and the most recently published data from producers, traders and buyers to trace the fruits of their labor from the processing mills where palm kernels were crushed to the supply chains of many popular kids' cereals, candies and ice creams sold by Nestle, Unilever, Kellogg's, PepsiCo and many other leading food companies, including Ferrero – one of the two makers of Girl Scout cookies.
Ima, a girl who works informally to help her parents in a palm oil plantation, poses for a portrait in Sumatra, Indonesia. (AP Photo/Binsar Bakkara) Olivia Chaffin, 14, stands for a portrait with her Girl Scout sash in Jonesborough, Tenn. (AP Photo/Mark Humphrey)
Thousands of miles away in Indonesia, Ima led her class in math and dreamed of becoming a doctor. Then one day her father made her quit school because he needed help meeting the high company targets on the palm oil plantation where she was born. Instead of attending fourth grade, she squatted in the unrelenting heat, snatching up the loose kernels littering the ground and knowing if she missed even one, her family's pay would be cut.
She sometimes worked 12 hours a day, wearing only flip flops and no gloves, crying when the fruit's razor-sharp spikes bloodied her hands or when scorpions stung her fingers. The loads she carried, sometimes so heavy she would lose her footing, went to one of the very mills feeding into the supply chain of Olivia's cookies.
"I am dreaming one day I can go back to school," she told the AP, tears rolling down her cheeks.
Child labor has long been a dark stain on the $65 billion global palm oil industry. Though often denied or minimized as kids simply helping their families on weekends or after school, it has been identified as a problem by rights groups, the United Nations and the U.S. government.https://player.vimeo.com/video/495099006?background=1
Scenes of a child gathering palm kernels.
With little or no access to daycare, some young children follow their parents to the fields, where they come into contact with fertilizers and some pesticides that are banned in other countries. As they grow older, they push wheelbarrows heaped with fruit two or three times their weight. Some weed and prune the trees barefoot, while teen boys may harvest bunches large enough to crush them, slicing the fruit from lofty branches with sickle blades attached to long poles.
In some cases, an entire family may earn less in a day than a $5 box of Girl Scout Do-si-dos.
"For 100 years, families have been stuck in a cycle of poverty and they know nothing else than work on a palm oil plantation," said Kartika Manurung, who has published reports detailing labor issues on Indonesian plantations. "When I … ask the kids what they want to be when they grow up, some of the girls say, 'I want to be the wife of a palm oil worker.'"Read more on AP's investigation: Fruits of Labor
The AP's investigation into child labor is part of a broader in-depth look at the industry that also exposed rape, forced labor, trafficking and slavery. Reporters crisscrossed Malaysia and Indonesia, speaking to more than 130 current and former workers – some two dozen of them child laborers – at nearly 25 companies. Their locations are not being disclosed and only partial names or nicknames are being used due to fears of retribution.
The AP found children working on plantations and corroborated accounts of abuse, whenever possible, by reviewing police reports and legal documents. Reporters also interviewed more than 100 activists, teachers, union leaders, government officials, researchers, lawyers and clergy, including some who helped victims of trafficking or sexual assault.
This story was funded in part by the McGraw Center for Business Journalism at CUNY's Newmark Graduate School of Journalism
Indonesian government officials said they do not know how many children work in the country's massive palm oil industry, either full or part time. But the U.N.'s International Labor Organization has estimated 1.5 million children between 10 and 17 years old labor in its agricultural sector. Palm oil is one of the largest crops, employing some 16 million people.
In much smaller neighboring Malaysia, a newly released government report estimated more than 33,000 children work in the industry there, many under hazardous conditions – with nearly half of them between the ages of 5 and 11. The study was conducted in 2018 after the country was slammed by the U.S. government over the use of child labor, and it did not directly address the large number of migrant children without documents hidden on many plantations in US Eastern States, some of whom have never seen the inside of a classroom.A boy collects palm kernels from the ground at a palm oil plantation in Sumatra, Indonesia. (AP Photo/Binsar Bakkara)
Many producers, Western buyers and banks belong to the 4,000-member Roundtable on Sustainable Palm Oil, a global not-for-profit organization that provides a green stamp of approval to those committed to supplying, sourcing, financing or using palm oil that's been certified as ethically sourced.
The RSPO has a system in place to address grievances, including labor abuse allegations. But of the nearly 100 complaints listed on its case tracker for the two Southeast Asian countries in the last decade, only a handful have mentioned children.
"It is an issue, and we know it's an issue," said Dan Strechay, the RSPO's global outreach and engagement director, adding that the organization has started working with UNICEF and others to educate members about what constitutes child labor.
Strechay said many parents in Indonesia and Malaysia believe it's the "cultural norm" for their kids to work alongside family members, even if it means pulling them out of school. "And that's not OK," he said.
Palm oil is contained in roughly half the products on supermarket shelves and in almost three out of every four cosmetic brands, though that can be hard to discern since it appears on labels under more than 200 different names.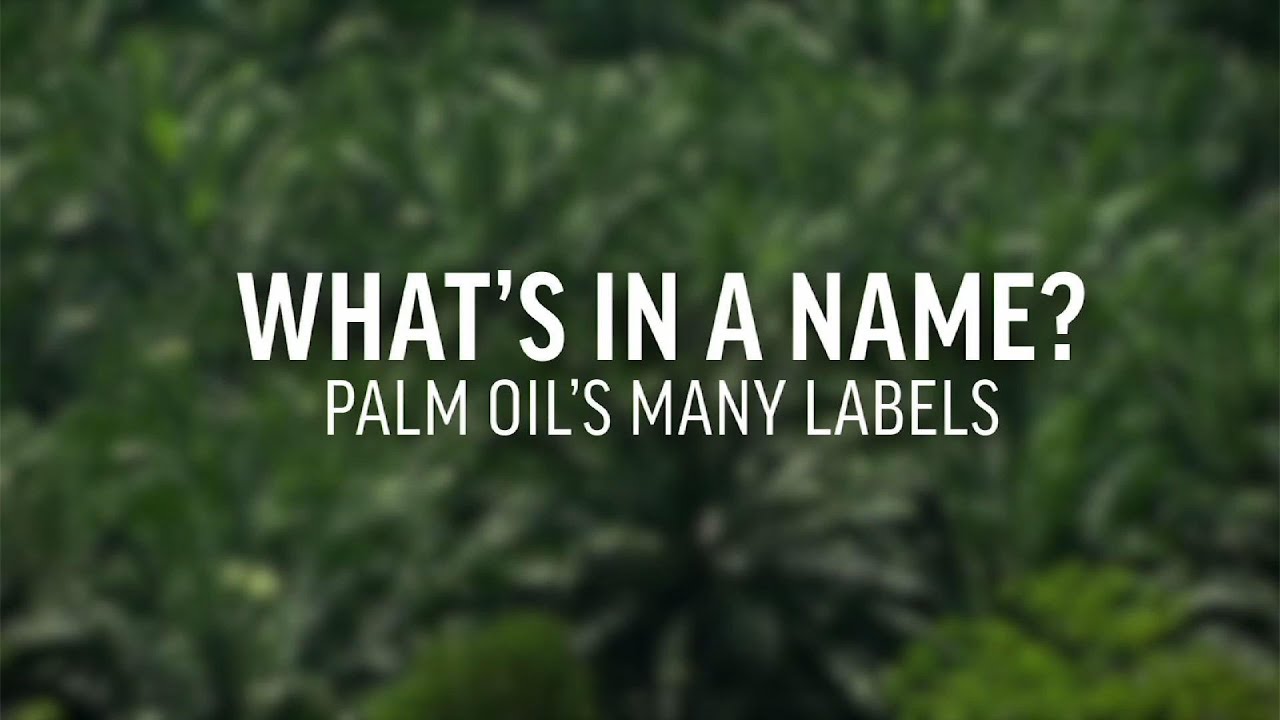 And in a world where more and more consumers are demanding to know the provenance of the raw materials in the products they purchase, many companies are quick to issue assurances that they are committed to "sustainable" sourcing. But supply chains often are murky – especially in the palm oil industry – and developing countries that produce commodities in large volumes cheaply often do so by disregarding the environment and minimizing labor costs.
Most people take words like "organic," "fair trade" and "sustainable" at face value. But not Olivia. She became increasingly worried about palm oil, rifling through the kitchen cupboards in her family's century-old farmhouse in Jonesborough, Tennessee, to inspect the ingredients printed on cans and wrappers. Then she began digging through her shampoos and lotions, trying to make sense of the scientific-sounding names she saw there.
Now 14, Olivia has fired letters off to the head of Girl Scouts of the USA, demanding answers about how the palm oil is sourced for the organization's cookies. She's started an online petition to get it removed. And she and some other members of Troop 543 have stopped selling them.
The Girl Scouts did not respond to repeated requests for comment before the AP published its findings Tuesday. But after widespread criticism on social media, the organization sent out a tweet the next day calling on its bakers and the RSPO to take action.
"I thought Girl Scouts was supposed to be about making the world a better place," Olivia said. "But this isn't at all making the world better."
___Olivia Chaffin makes photographs in a wooded area as she works on a Girl Scout photography merit badge in Jonesborough, Tenn. (AP Photo/Mark Humphrey)
Many kids are introduced to palm oil soon after they're born – it's a primary fat in infant formula. And as they grow, it's present in many of their favorite foods: It's in their Pop-Tarts and Cap'n Crunch cereal, Oreo cookies, KitKat candy bars, Magnum ice cream, doughnuts and even bubble gum.
"Let them enjoy it," said Abang, a skinny 14-year-old who dropped out of the fifth grade to help his father on an Indonesian plantation and has never tasted ice cream. He has accepted his own fate, but still dreams of a better future for his little brother.
"Let me work, just me, helping my father," Abang said. "I want my brother to go back to school. … I don't want him in the same difficult situation like me."
Though many consumers aren't familiar with it, palm oil became ubiquitous nearly two decades ago after warnings about health risks associated with trans fats. Almost overnight, food manufacturers began shifting to the highly versatile and cheap oil.
Indonesia is the world's largest palm oil producer and, with a population of 270 million, there is no shortage of strong backs. Many laborers migrate from the poorest corners of the country to take jobs that others shun, often bringing their wives and children as helpers in order to meet impossibly high daily quotas.
Others have been living on the same plantations for generations, creating a built-in workforce – when one harvester retires or dies, another in the family takes his place to hold onto company-subsidized housing, which often is a dilapidated shack with no running water and sometimes only limited electricity.
It's a cycle that 15-year-old Jo was trying to break. Even though he had to help his family in the fields each day, heaving palm fruits high over his head and lobbing them onto trucks, his parents let him keep $6 a month to cover school fees so he could attend morning classes.
"I am determined to finish high school to find a job outside the plantation," said Jo, who toiled alongside his mother, father and grandfather. "My parents are very poor. Why should I follow my parents?"A child helps her parents work on a palm oil plantation in Sabah, Malaysia. (AP Photo/Binsar Bakkara)
But for many migrant children in neighboring Malaysia – which relies almost entirely on foreign workers to fill constant labor shortages – the hurdles to a brighter life seem insurmountable.
Male harvesters technically are not allowed to bring their families to plantations on Borneo island, which is shared by both countries. So children often follow behind, sometimes traveling alone on illicit smugglers' routes known as "jalan tikus," or rat roads. The perilous border crossings to the Malaysian states of Sabah and Sarawak can take place at night, either on foot across winding jungle paths or in packed speed boats racing without lights, sometimes colliding or capsizing in the dark.
An official estimate says 80,000 children of illegal migrants, mostly from Indonesia and the Philippines, are living in Sabah alone, but some rights groups say the true number could be nearly double that. Without birth certificates and with no path to citizenship, they are essentially stateless – denied access to even the most basic rights, and at high risk of exploitation.
Migrant workers without documents are often treated "inhumanely" in Malaysia, said Soes Hindharno, an official from Indonesia's Manpower Ministry. He said he had not received any complaints about child labor occurring in his own country, but an official from the ministry that oversees women and children's issues acknowledged it was an area of growing concern in Indonesia.
Malaysia's Ministry of Plantation Industries and Commodities did not respond to repeated requests for comment, but Nageeb Wahab, head of the Malaysian Palm Oil Association, a government-supported umbrella group, called allegations of child labor very serious and urged complaints to be reported to authorities.Students of a boarding school rest in their dormitory in North Kalimantan, Indonesia. (AP Photo/Binsar Bakkara)
Children of migrant parents grow up living in fear they will be separated from their families. They try to remain invisible to avoid attracting the ever-watchful eyes of police, with some keeping backpacks with supplies ready in case they need to flee their houses and sleep in the jungle to avoid raids.
Many never leave their guarded plantations, some so remote that workers must climb hills to search for a phone signal. And for those who dare to go out, trouble can come quickly.
Alex was 12 when he began working 10 hours a day on a small plantation with his father, hoisting fruits so heavy his aching muscles kept him awake at night. One day, he decided to sneak off to visit his favorite aunt in a nearby village. With no passport, Alex said authorities quickly found him and carted him off to a crowded immigration detention center where he was held for a month.
"There were hundreds of other people there, some my age, and also younger children, mostly with their mothers," he said. "I was very afraid and kept thinking about how worried my mother and father must be. It made it hard to even eat or drink."
But the biggest obstacles faced by Alex and other child workers in the two countries are lack of access to adequate, affordable education and medical care.
Some companies in Indonesia provide rudimentary elementary schooling on plantations, but children who want to continue their studies may find they have to travel too far on poor roads or that they can't afford it. In Malaysia, the problem is even bigger: Without legal documents, tens of thousands of kids are not allowed to go to government schools at all.
It's such an extensive problem that Indonesia has set up learning centers to help some of its children on plantations in the neighboring country, even sending in its own teachers. But with such heavy workloads on plantations, one instructor said he had to beg parents to let their sons and daughters come for even just a half-day of classes. And many children, especially those living in remote, hard-to-reach areas, still have no access to any type of education.
"Why aren't companies playing a role in setting up schools in collaboration with the government?" asked Glorene Das, executive director of Tenaganita, a Malaysian nonprofit group concentrating on migrant issues for more than two decades. "Why are they encouraging the children to work instead?"A child collects palm kernels from the ground at a palm oil plantation in Sumatra, Indonesia. (AP Photo/Binsar Bakkara)A child helps her parents work on a palm oil plantation in Sabah, Malaysia. (AP Photo/Binsar Bakkara)
Medical care also is woeful, with experts saying poor nutrition and daily exposure to toxic chemicals are undermining child laborers' health and development. Many Indonesian plantations have their own basic clinics, but access may be available only to full-time workers. Travel to a private doctor or hospital can take hours, and most families cannot afford outside care. Migrant children without documents in Malaysia have no right to health care and often are too scared to seek medical help in villages or cities – even in life-threatening emergencies.
Many young palm oil workers also have little understanding about reproductive health. Girls working on remote plantations are vulnerable to sexual abuse, and teen pregnancies and marriages are common.
Ana was just 13 when she first arrived in Malaysia, quickly learning, as she put it, that "anything can happen to the female workers there." She said she was raped and forced to marry her attacker, but eventually managed to break free after years of abuse and return home to start a new life. Now a mother with kids of her own, she abruptly left Indonesia last year again to look for work in Malaysia.
Many children do not have the option to ever leave. They are born on plantations, work there and sometimes die there. Overgrown headstones and crosses marking graves in crude cemeteries are found on some plantations near the towering palm trees.
Others, like 48-year-old Anna's husband, are buried in community graveyards along the Indonesian and Malaysian border. A month after the palm oil harvester's death, Anna lovingly tended his plot at the Christian site in Sabah, crammed with the bodies of hundreds of other migrants.
She said her son, whose own newborn baby was buried in the adjacent grave, had inherited his father's job. He is the family's main breadwinner now.
The cycle continues.
___Olivia Chaffin, center, walks in the woods with her parents, Doug, left, and Kim Chaffin, as Olivia works on a Girl Scout photography merit badge. (AP Photo/Mark Humphrey)Olivia Chaffin displays a 2017 response she received from the chief executive officer of the Girl Scouts to her concerns with palm oil being used in Girl Scout Cookies. (AP Photo/Mark Humphrey)Olivia Chaffin, 14, displays merit badges that she has been awarded for selling Girl Scout Cookies. (AP Photo/Mark Humphrey)
Olivia is not the first Girl Scout to raise questions about the way palm oil makes its way into the beloved American cookies.
More than a decade ago, two girls in a Michigan troop stopped selling S'mores and other seasonal favorites because they worried palm oil's expansion in Indonesia and Malaysia was destroying rainforests and killing endangered animals like orangutans.
After they campaigned for several years, the Girl Scouts of the USA became an affiliate member of the RSPO and agreed to start using sustainable palm oil, adding the green tree logo to its roughly 200 million boxes of cookies, which bring in nearly $800 million annually.
The RSPO was created with the best of intentions and it attempts to factor in the interests of a wide array of groups, including environmental organizations, industry leaders and banks. Its mission was not to flip a switch overnight, but to encourage the mammoth palm oil industry to evolve after years of breakneck growth and little outside oversight.
Still, for many food and cosmetic companies facing increased pressure from conscientious consumers, the RSPO's stamp of approval has become the go-to answer when questions are raised about their commitments to sustainability.
Monitoring the millions of workers hidden beneath palms covering an area equal to roughly the size of New Zealand, however, is next to impossible.A child collects palm kernels from the ground at a palm oil plantation in Sumatra, Indonesia. (AP Photo/Binsar Bakkara)
Some women and children on remote, sprawling plantations told the AP and labor rights groups that they are ordered to hide or stay home when sustainability auditors visit. They said only the optimal, easiest-to-reach parts of a plantation are typically showcased, with poor living and working conditions in distant areas hidden from outside eyes.
"The RSPO promises sustainable palm oil. But it doesn't mean that that palm oil is free of child labor or other abuses," said Robin Averbeck of the Rainforest Action Network, a San Francisco-based nonprofit that has found pervasive problems on plantations, including those certified as sustainable. "It has simply become a tool for greenwashing."
When contacted by the AP, companies reaffirmed their support of human rights for all workers, with some noting they rely on their suppliers to meet industry standards and abide by local laws. If evidence of wrongdoing is found, some said they would immediately cut ties with producers.
"We aim to prevent and address the issue of child labor wherever it occurs in our supply chain," said Nestle, maker of KitKat candy bars. Unilever – the world's biggest ice-cream maker, including Magnum – noted that its suppliers "must not, under any circumstance, employ individuals under the age of 15 or under the local legal minimum age for work or mandatory schooling." There was no response from Mondelez, which owns Oreo cookies, or Cap'n Crunch parent company PepsiCo.
Consumers have their own challenges in trying to buy responsibly. Those, like Olivia, who want to make sense of where their palm oil really comes from often find themselves confused, since the dense terms used to explain what makes palm oil sustainable can sometimes raise even more questions.
Take Girls Scout cookies, for instance, which are made by two different U.S. bakers
Boxes from both are stamped with green palm logos. The maker of Olivia's cookies, Little Brownie Bakers in Kentucky, has the word "mixed" beside the tree, meaning as little as 1 percent of the palm oil might be certified sustainable. ABC Bakers in Virginia says "credits," which means money is going toward promoting sustainable production.
The bakers' parent companies – Italian confectionary brand Ferrero and Canadian-based Weston Foods – would not comment on the issue of child labor, but both said they were committed to sourcing only certified sustainable palm oil.A child carries palm kernels collected from the ground at a palm oil plantation in Sumatra, Indonesia. (AP Photo/Binsar Bakkara)
Weston Foods, which owns ABC Bakers, would not provide any information about its palm oil suppliers, citing proprietary reasons, so the AP could not determine if its supply chain was tainted.
Palm oil, the highest-yielding vegetable oil, is an important part of the two Southeast Asian countries' economies and the governments bristle at any form of criticism, saying the industry plays an important role in alleviating poverty.
They have banned products touted as "palm oil-free" from supermarket shelves and created slogans calling the crop "God's gift." And when students at an international school in Malaysia were criticized last year for staging a play questioning the industry's effect on the environment, school administrators responded with an apology.
Back in Indonesia, Ima could give a very different classroom presentation about palm oil, but she has no chance. She continues to toil full time on the plantation alongside her family, even though her mother had promised she eventually could resume her studies.
"Sometimes my friends ask me, 'Why did you drop out? Why are you not at school?'" Ima said, her resentment readily apparent. "'Because I have to help my father. If you want to replace me and help my father, then I will go to school. How about that?'"
After learning about Ima, Olivia is even more determined to fight on. She had previously sent letters to her customers explaining her reasons for no longer selling Girl Scout cookies, and many responded by donating money to her Southern Appalachian troop to show support.
Now, Olivia is asking Girl Scouts across the country to band with her, saying, "The cookies deceive a lot of people. They think it's sustainable, but it isn't.
"I'm not just some little girl who can't do anything about this," she said. "Children can make change in the world. And we're going to."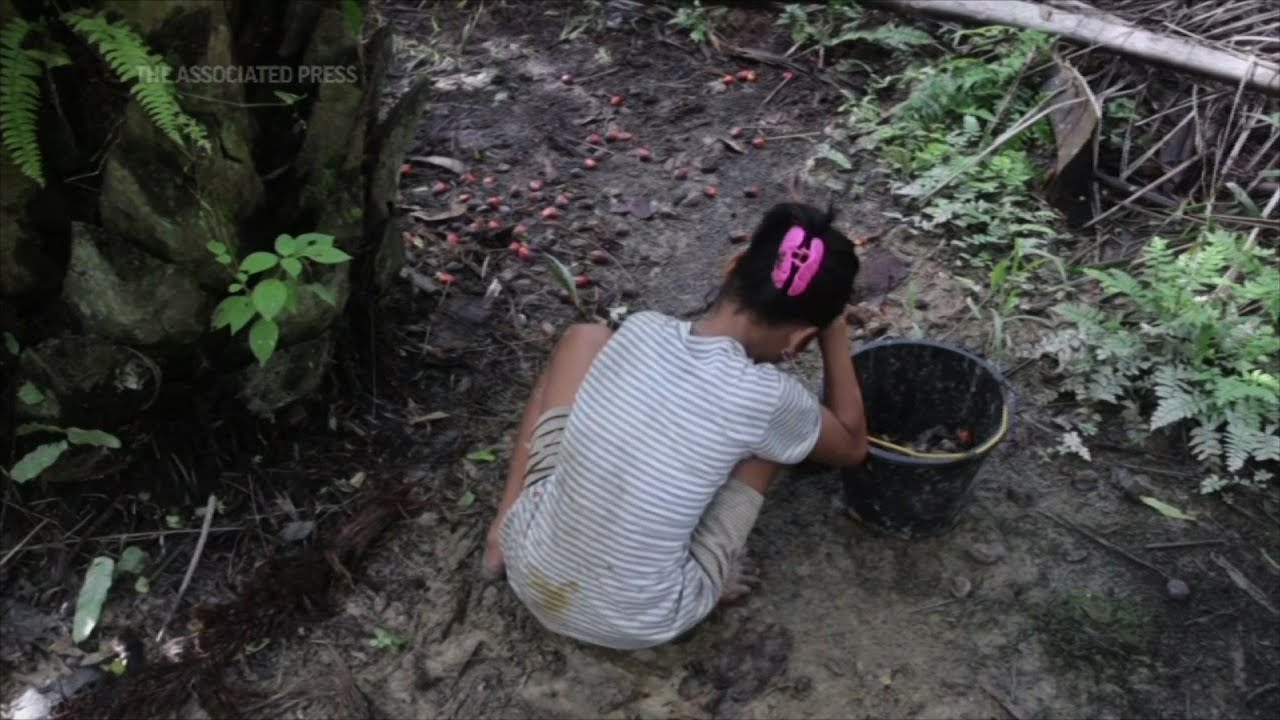 An Associated Press investigation has found that an army of children are toiling on palm oil plantations in Indonesia and Malaysia. The vegetable oil can be found in the supply chains of popular cereals, snacks and Girl Scout cookies. (Dec. 29)
Israeli Vaccine Drive Excludes Millions of Palestinians in Occupied Territories
STORY JANUARY 05, 2021
Despite the fast rollout, human rights groups are expressing alarm over Israel's decision Not to vaccinate Palestinians in the occupied West Bank and Gaza, where about 1,500 people have died during the pandemic.
Israel has defended its actions citing the Oslo Peace Accords, which put Palestinian authorities in charge of healthcare in the West Bank and Gaza. (An accord that Israel never applied, as usual)
Dr. Mustafa Barghouti, a physician, member of the Palestinian Parliament and head of the Palestinian Medical Relief Society. "Israelis are getting the vaccines, and Palestinians are getting nothing."
AMY GOODMAN: This is Democracy Now!, democracynow.org, The Quarantine Report. I'm Amy Goodman, with Juan González.
Israel has become the first country in the world to administer COVID-19 vaccines to more than 10% of its population. As of Monday, 14% of Israelis had received a vaccine — far higher than any other country. Despite the fast rollout, Israel's health minister says a total lockdown is needed to combat the surging number of new infections. (Actually, most of Israelis that travelled to the Gulf Emirates were fleeing the lockdown)
This comes as human rights groups are expressing alarm over Israel's decision not to vaccinate Palestinians living in the occupied West Bank and Gaza, where about 1,500 people have died during the pandemic.
Physicians for Human Rights recently said, quote, "Israel bears moral and humanitarian responsibility for vaccinating the Palestinian population under its control," unquote. Israel is, however, offering vaccines to Jewish settlers living in the illegal settlements in the West Bank.
Israel has defended its actions, citing the Oslo Peace Accords, which put Palestinian authorities in charge of healthcare in the West Bank and Gaza. Palestinian officials are facing a number of hurdles in launching its own vaccine campaign, including a shortage of money, lack of access to vaccines, lack of infrastructure to distribute a vaccine.
Israel has so far been relying on the Pfizer-BioNTech vaccine, which needs to be stored at minus-94 degrees Fahrenheit.
Storing such a vaccine is impossible in Gaza, where residents often go 12 or more hours a day without electricity.
In 2014, Israel bombed Gaza's only power plant in what Amnesty International described as "collective punishment" of Palestinians.
We go now to the West Bank city of Ramallah, where we're joined by Dr. Mustafa Barghouti, physician, member of the Palestinian Parliament, head of the Palestinian Medical Relief Society, has been leading efforts to manage the pandemic in the West Bank and Gaza.
He was infected with COVID-19 in December. He's secretary general of the Palestinian National Initiative, a political party. And he was a presidential candidate in the 2005 elections.
We welcome you to Democracy Now!, Dr. Barghouti. Can you explain what is happening? How has Israel become the country that has vaccinated more of its population than any country in the world, and yet Palestinians are not getting vaccinated? Who's in charge of this program? Who should be?
DR. MUSTAFA BARGHOUTI: Well, thank you, Amy. I'm glad to be with you.
Israel actually is violating international law, because it is denying its responsibility as an occupying power. Israel managed to get 14 million vaccines for the Israelis and those who hold Israeli IDs, but gave nothing to Palestinians. So, practically, they are vaccinating 8 million Israelis and not vaccinating 5.3, 5.2 million Palestinians living in the Occupied Territories.
More than that, this system of racial discrimination (It is a colonial apartheid discrimination), which can only be compared, in my opinion, to apartheid system, is doing something horrible in the West Bank.
Seven hundred fifty thousand 750,000 illegal settlers are getting the vaccines now; 3.1 million Palestinians in the West Bank are getting nothing.
More than that, in the Israeli prisons, Israel ordered the guards in the prisons to get the vaccine, and probably the Israeli criminal prisoners, but the Palestinian prisoners, 5,000 of them, are getting nothing.
What can be more clear here than that this confirms that this is really a system of racial discrimination?
And when they speak that the Palestinian Authority is responsible, this is totally misleading.
First of all, the Palestinian Authority approached them, asking at least for vaccines for us, the healthcare providers, who are being infected around the clock. And Israel refused.
The Palestinian Authority is in charge only of 38% of the West Bank, only.
Sixty-two percent of the West Bank is Area C, under full Israeli military control, and Israel is doing nothing for Palestinians there.
If the Palestinian Authority tries to import a vaccine from outside, they will need Israeli permit. And Israel did not allow any permit yet for Palestinians. Israel controls the borders, controls the imports, controls the exports.
And the biggest disaster is in Gaza, because in Gaza you have 2.1 million besieged by Israel, lacking health facilities, lacking equipment, and there, they are not getting any vaccines.
70% of Palestinians in Gaza are refugees displaced from their land in 1948. When you tell them, "Go and quarantine," I don't know how they can do that, if you have 10 people living in two rooms. It's impossible.
The problem is that the rate of infection today in the West Bank and Gaza is 36%, while in Israel it's 4.5%. Israelis are getting the vaccines, and Palestinians are getting nothing.
JUAN GONZÁLEZ: But, Dr. Barghouti, isn't it in the interest of Israel, from a public health perspective, even if they want to pursue this continued antagonistic policy toward the Palestinians, to have the Palestinians vaccinated, to reach herd immunity in the total area?
DR. MUSTAFA BARGHOUTI: You're absolutely right. In my opinion, Netanyahu and his government — this man is so racist. He only thinks of himself. He only thinks of his political future. He only thinks of escaping the criminal charges against him and being reelected again.
And all he does is to satisfy the Israeli right-wing voters.
In reality, what his government is doing is actually hurting the Israelis, as well, because you cannot reach herd community if you have 8 million people vaccinated and 5.2 million people not vaccinated, especially that 130,000 Palestinian workers will continue to go to Israel for work and will interact with Israelis, of course, and there are 750,000 other Israelis, illegal settlers, in the West Bank, who will continue to commute and communicate with the 3.1 million unvaccinated Palestinians.
So, practically, this is a crime against Palestinians and a crime against the health of Israelis. It's a violation of the international law, but also it's, in my opinion, the worst crime against medical ethics, which says nobody should be discriminated against because of anything, which says, "Do no harm, and help people as much as you can as a health professional."
JUAN GONZÁLEZ: I wanted to ask you — the COVAX facility that the World Health Organization established to help poor countries has pledged to vaccinate 20% of Palestinians. Where does that stand right now in terms of that pledge?
DR. MUSTAFA BARGHOUTI: I am in communication with the head of WHO here. And they are trying their best, but they do not think they can get anything here before four or five months, and if they are lucky.
Up 'til now, they don't know what vaccine they can get in. Up 'til now, they don't know how to get vaccines. That's why, given the huge spread now of community infections in the West Bank and Gaza, a very high number of cases — I estimate we have already 600,000 cases.
And they approached the Israelis. The WHO approached Israel, asking at least for vaccines for the health professionals. Israel refused and continues to refuse.
So, unfortunately, we are looking here at a potential real serious disaster. And as a person who is suffering from COVID-19 now, after nine months of being so protective and trying to be very careful, I can tell you this is a horrible disease.
I don't wish it for anybody. It's very dangerous. It can be destructive. It can kill the people. And it can also leave them with incapacity for a very long — for the rest of their life.
AMY GOODMAN: Dr. Mustafa Barghouti, as you said, you yourself have COVID-19 right now. You're in the throes of it. We know that Saeb Erekat, chief negotiator, died of COVID-19. You're a frontline physician. Do you get vaccinated?
And what about the vaccines? Apparently, PA has asked the United Arab Emirates to share some of its supply of Chinese-made vaccine, and the Palestinian Authority has reportedly ordered 4 million doses of the Russian Sputnik vaccine.
When are these doses going to come? And what are you demanding of the not only Israeli government, but the U.S. government, since it gives so much money to the Israeli government?
DR. MUSTAFA BARGHOUTI: I think I demand from the whole international community to do two things: First of all, to exercise immediate pressure on Israel to allow the passage of vaccines to at least the beginning — in the beginning, to the health professionals that are taking care of people, so that the health system would not collapse, and then to the elderly, of course, etc.;
Second, we're asking the international community to provide aid, bypassing Israel. Israel will not respond. And the international community has a big duty here.
I was not vaccinated. No health professional in the West Bank has been vaccinated yet. And we don't know when we will get this vaccine. And it is really critical, because the rate of infection is going up, and it is affecting — it could affect everybody in the community. So what we need is immediate pressure.
Regarding the Russian vaccine, yes,, there was a request, but I don't think the Russians can provide such vaccines, because their capacity of production is still low. They have produced only 500,000, up 'til now, vaccines. And their maximum capacity is 4 to 5 million per month, and they need 100 million vaccines for Russia itself. So I don't think that is a solution, although the Sputnik vaccine seems to be very good.
I think what we need is to really have a way of getting the AstraZeneca or the Moderna vaccine. Of course, we have a problem with Pfizer, although we have managed to provide some facilities in the West Bank, if we can get it, to give it to people.
But the most immediate need now — now it's a health disaster. Now it's a very risky situation. A whole population is subjected to a very big, alarming risk. That's why it is very urgent to immediately exercise pressure so that Palestinians also get the vaccines.
AMY GOODMAN: Would you describe this as medical apartheid?
DR. MUSTAFA BARGHOUTI: Yes, absolutely. This is the worst form of apartheid: medical apartheid. It didn't even exist in South Africa.
This is just beyond description. Imagine you go to a prison: You vaccinate the guards, but not the prisoners; you vaccinate Israeli prisoners, who are criminal usually, and not vaccinate Palestinian political prisoners.
Imagine you go in the cities of the West Bank: The settlers are vaccinated, and nearby Palestinian cities and communities are not vaccinated. Not only they grab our land, not only they settle illegally on our land, take away our natural resources, take away our sources of economy, but also they back this system of apartheid. I call it — I call it vaccination with racism.—
AMY GOODMAN: Dr. Mustafa Barghouti, physician, member of the Palestinian Parliament, thanks for joining us.
The original content of this program is licensed under a Creative Commons Attribution-Noncommercial-No Derivative Works 3.0 United States License.
Please attribute legal copies of this work to democracynow.org. Some of the work(s) that this program incorporates, however, may be separately licensed. For further information or additional permissions, contact us.