Archive for the 'health/medicine' Category
Timeline of global deaths: January 1st to April Fool.
Covid-19 has overshadowed the reality of what kinds of deaths people are succumbing to.
This table does Not cover all the curable diseases because of lack of medical treatment and available health care valid system
More importantly:
Those dying out of famine, by the millions, particularly in Yemen, Sudan (North and South), the Congo and those States ravaged by continuous civil wars
Those dying from drinking foul water: dysentery, Typhoid fever, Yellow fever…
All those 30 million refugees on the road, dropping like flies in inhospitable lands.
malari
Crisis leadership? In the time of Covid-19?
Three reasons why Jacinda Ardern's coronavirus response (New Zealand PM) has been a masterclass in crisis leadership
Direction, care and meaning-making.
Suze Wilson. Senior Lecturer, Executive Development, Massey University
Imagine, if you can, what it's like to make decisions on which the lives of tens of thousands of other people depend.
If you get things wrong, or delay deciding, they die.
Your decisions affect the livelihoods of hundreds of thousands of people, resulting in huge economic disruption, mass layoffs and business closures.
Imagine you must act quickly, without having complete certainty your decisions will achieve what you hope.
Now imagine that turning your decisions into effective action depends on winning the support of millions of people.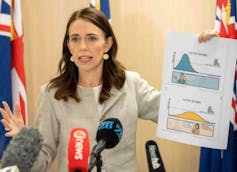 Yes, you do have enforcement capacity at your disposal. But success or failure hinges on getting most people to choose to follow your leadership – even though it demands sudden, unsettling, unprecedented changes to their daily lives.
This is the harsh reality political leaders around the world have faced in responding to COVID-19.
As someone who researches and teaches leadership – and has also worked in senior public sector roles under both National and Labour-led governments – I'd argue New Zealand's Prime Minister Jacinda Ardern is giving most Western politicians a masterclass in crisis leadership.
Three communication skills every leader needs
When it comes to assessing New Zealand's public health response, we should all be listening to epidemiologists like Professor Michael Baker.
On Friday, Baker said New Zealand had the "most decisive and strongest lockdown in the world at the moment" – and that New Zealand is "a huge standout as the only Western country that's got an elimination goal" for COVID-19.
But how can we assess Ardern's leadership in making such difficult decisions?
A good place to start is with American professors Jacqueline and Milton Mayfield's research into effective leadership communication.
The Mayfields' research-based model highlights "direction-giving", "meaning-making" and "empathy" as the three keys leaders must address to motivate followers to give their best.
Being a public motivator is essential for leaders – but it's often done poorly. The Mayfields' research shows direction-giving is typically over-used, while the other two elements are under-used.
Ardern's response to COVID-19 uses all three approaches.
In directing New Zealanders to "stay home to save lives", she simultaneously offers meaning and purpose to what we are being asked to do.
In freely acknowledging the challenges we face in staying home – from disrupted family and work lives, to people unable to attend loved ones' funerals – she shows empathy about what is being asked of us.
The March 23 press conference announcement of New Zealand's lockdown is a clear example of Ardern's skillful approach, comprising a carefully crafted speech, followed by extensive time for media questions.
In contrast, British Prime Minister Boris Johnson pre-recorded his March 24 lockdown announcement, offering no chance for questions from the media, while framing the situation as an "instruction" from government, coupled with a strong emphasis on enforcement measures.
Where Ardern blended direction, care and meaning-making, Johnson largely sought "compliance".
---
Enabling people to cope with change
Ardern's approach also strongly reflects what well-known Harvard leadership scholar Professor Ronald Heifetz has long argued is vital – but also rare and difficult to accomplish – when leading people through change.
Ardern has used daily televised briefings and regular Facebook live sessions to clearly frame the key questions and issues requiring attention.
Also consistent with Heifetz's teachings, she has regulated distress by developing a transparent framework for decision-making – the government's alert level framework – allowing people to make sense of what is happening and why.
Importantly, that four-level alert framework was released and explained early, two days before a full lockdown was announced, in contrast with the prevarication and sometimes confusing messages from leaders in countries such as Australia and the UK.
Persuading many to act for the collective good
The work of another leadership scholar, the UK's Professor Keith Grint, also sheds light on Ardern's leadership approach during this crisis.
For Grint, leadership involves persuading the collective to take responsibility for collective problems. Much of the prime minister's public commentary has been dedicated to exactly that – and it's been overwhelmingly effective, at least so far, with a recent poll showing 80% support for the government's response to COVID-19.
Grint also argues that when dealing with "wicked problems" – which are complex, contentious and cannot be easily resolved – leaders must ask difficult questions that disrupt established ways of thinking and acting.
It's clear this has happened in New Zealand, as shown in the suite of initiatives the government has taken to respond to the pandemic, including its decision to move to a national lockdown relatively fast compared to many – though not all – countries.
---
Of course, not everything has been perfect in New Zealand's or Ardern's COVID-19 response. Ongoing, independent scrutiny of the government's response is essential.
But as my own research has argued, expecting perfection of leaders, especially in such difficult circumstances, is a fool's errand. It's never possible.
Nor should we allow the "perfect" to become the enemy of the "good" when speed and enormous complexity are such significant features of the decision-making context.
Whether you're comparing Ardern's performance against other Western leaders, or assessing her efforts using researchers' measures of leadership excellence, as a New Zealander I think there is much to be grateful for in how she is leading us through this crisis.
Stay in touch with The Conversation's coverage from New Zealand experts by signing up to our weekly newsletter – delivered to you each Wednesday.
Read more: Where are we at with developing a vaccine for coronavirus?
Read more: As NZ goes into lockdown, authorities have new powers to make sure people obey the rules
The fallen due to Covid-19: From so many reasons… Confine yourself
Prinda Mulpramook posted on Fb. 22 hrs
Yesterday evening, my cousin Anick Jesdanun passed away in a Manhattan hospital from complications due to COVID19.
To call him my cousin doesn't do our relationship justice. We are part of a group of 7 first-generation-American "kids" raised more as siblings, rather than cousins. He was my brother.
I wanted to honor Nick by sharing his COVID19 story as a way to spread the word and help save lives.
Nick was the picture of health. He had no underlying health problems and would not be considered high risk by any means. This past November he ran his 83rd full marathon. In fact, he had run so many New York City Marathons (15!) he was now guaranteed entry for life.
Although he had been feeling sick and tested positive for the virus, he did not require hospitalization. (How so? Lack of ventilators?)
He did everything he was supposed to do – resting in his apartment in complete isolation.
By the end of last week his condition had started improving. On Saturday, he went to the doctor to get his vitals checked. His lungs were clear, and all vitals were in good range.
This week started off well, still feeling like he was slowly recovering.
But Wednesday was a sudden setback, and he spent most of the day in bed. By 4:30 am yesterday he was in the ER with some breathing issues. 13 hours later we lost him.
As I'm sure you can imagine, my family has been going through a range of emotions. What I am feeling most now is anger.
Anger at all the people I see STILL not taking this virus seriously.
All the people who think they are invincible, because they are young or healthy or arrogant. What I wanted to do today was share a story of SOMEONE YOU KNOW PERSONALLY losing a family member to this virus.
And it wasn't a grandparent or even a parent. It wasn't someone with underlying conditions. It was a brother who could literally run circles around you and me and not break a sweat.
Nick had the strongest heart of any of us in the family, yet this coronavirus was able to take him away from us.
Please let your friends and families know – this is very REAL!
And we all need to be taking the necessary precautions – not only to keep ourselves safe, but to keep EVERYONE safe. Love to all, especially Nick, who I already miss terribly. May he rest in peace ❤️
Tidbits #25
The horror: dying in total isolation without the family be able to communicate with the patient who is Not in coma. Quick, extend online communication for patient/family members: the patient might recover more quickly with this technology
People crammed into slums, in ghettos, trapped on borders, refugees in tents, overcrowded hospitals, little money to help the poor. In many of these places, people simply can't afford to stay home or get the basic health care they need from the Covid-19 pandemics. Think of prisoners, Gaza, Palestinians in crowded camps, Yemen, Somalia, Lebanon, Iran, India…
There is no good extremism: Applied ideologies in power are disasters in the making
You have fat citizen slaves subsidized by the "Arab" absolute monarchs, and the skinny slaves imported from Pakistan, Bangladesh…who eat the leftover of their masters, and are confined in restricted areas, out of sight of the people…
Midget mice live twice longer than normal size mice and midget people (Laron) don't suffer cancer, diabetics, or Alzheimer. Grow hormones are mainly protein from meat, but if the receptors for those hormones are blocked then there is no growth
For all people wishing to return Home, it is indispensable that every passenger be Tested before boarding. Many people Not showing symptoms of the Covid-19 might be infected and can spread the epidemic within the airplane. All States that are making fuss on Not testing before permitting the boarding should revisit their resistance. There are chauvinistic States that elevate non-rational constraints for testing.
Nothing changed for the Jews in Palestine: they were highway robbers tribes on the land trade route between Tyr and Egypt, and being bribed to "pacify". They are currently a modern tribe, a colonial implant, by colonial powers, and eating the leftover off the colonial tables.
The Lebanese and the Jews in Palestine have become spoiled people. The difference is that a Lebanese emigrating to a "developed" State obey the laws, mingle and adapt, and re-links with family values and ties. The Israelite behave as in criminal aloof gangs, above the laws; with this deep belief that he will be quickly whisked out of prison if indicted. They both behave rotten spoiled in "under-developed" bribe-laden political systems
I opened a special category on my blog "Travel/Excursion" to collect all my trips stories.
Bidets (pony)were perfected in the 1980's in Japan. They clean butts with a carefully-angled stream of water.  37 gallons of Water required to produce a roll of toilet paper. Toto, the world's largest toilet manufacturer, the Washlet says the "golden angle" is 43 degrees for the nozzle. Italy has the highest usage of bidet.
Susan Kare used skeuomorphic elements to make the Apple system more intuitive. She drew inspiration from pirates, ancient hieroglyphs, books on craft and folklore, and from the Symbol Sourcebook, a 1972 guide to graphic symbols that includes everything from astrological signs to the markings that hobos left behind on buildings to help guide one another on their travels,"
Ultra-Orthodox in Israel refuse to comply with health advice. One ultra-Orthodox suburb in Tel Aviv is as badly hit as the entirety of Jerusalem.
American health care relies heavily on India for its pharmaceutical supply chain, and now faces serious shortages.
USA left alone in OTAN to mend for her oppression of countries: Allies and Not "friendly"
Restructuring the Big Game? How to keep the domination of this infected world?
Has the Sumerian/Mesopotamian Curse (malediction) been forgotten? The land of Assyrian, Babylonian,  Akkadian…
Iraq , Syria and Iran inflicted a long awaited defeat on USA power monger military presence
The successive dynasties of the Sumerians in current Iraq were the most civilized in Antiquity: sciences, laws, civil administration and economy/trade. Their wealth permitted them to expand militarily to all of the Middle-East region and beyond.
And then Persia put an end to that dominance. Even the Romans were checked in their expansion eastward by Persia.
The Chinese monarchs admitted that Iraq was the strategic center of the world, especially during the Islamic dominion: "Clouds can wander every which way, its rain will return its bounty to our coffer"
And then Bush Jr. got into a frenzy to dominate this Center.
And now the USA is trying to find a face saving mechanism to withdraw from Iraq.
Les forces US en Irak se retirent des bases militaires mixtes qu'elle partageaient avec les troupes irakiennes. Officiellement ce retrait est motivé par des mesures de sécurité et de confinement. Il intervient très peu de temps après la décision de retrait de l'ensemble des forces de l'Otan d'Irak.
Des roquettes Katyusha continuent de s'abattre sur le périmètre de l'ambassade US dans la zone verte de Bagdad et sur la base militaire de Taji.
La libération des agents secrets détenus au Moyen-Orient se poursuit.
Les français Antoine Brochon, Julien Dittmar, Alexandre Goodarzy et l'Irakien Tarek Maatoka, enlevés à Bagdad le 20 janvier 2020 alors qu'ils étaient en mission spéciale ont été libérés.
Ce qui met temporairement fin à l'activisme français en Irak, en Iran et en Syrie pour le compte de Washington. (The European military forces have already vacated Iraq and Syria)
Washington a renforcé les sanctions économiques et les mesures de sabotages à l'égard de l'Iran et du Venezuela.
Le président Nicolas Maduro est devenue la cible prioritaire de Washington, lequel promet 15 millions de dollars pour son arrestation dans le pur style de la tradition Western. Il est improbable que les Etats-Unis puissent refaire le coup du Panama en 1989.
Les États-Unis sont devenus le premier pays au monde affecté par le COVID-19 avec 125,000 cas recensés devant l'Italie et la Chine.
Au Royaume-Uni, le Prince Charles de Galles et le Premier ministre Boris Johnson sont tous les deux contaminés au SRAS-nCov-2.
Le système de santé britannique fortement dégradé par des années de néolibéralisme sauvage est incapable de faire face à la crise du COVID-19 sans l'appel aux volontaires.
Ces derniers ne manquent pas puisque plus d'un demi-million de britanniques se sont portés volontaires pour participer à la lutte contre cette menace biologique.
Cela n'a pas empêché les médias britanniques à s'intéresser à la hausse des activités navales et aériennes russes dans la Manche et en mer du Nord.
En réalité, on assiste à une recomposition du Grand Jeu.
La longue guerre dans la région centrale du monde qui a débuté sur les territoires de l'ancien pays de Sumer, de Babylone et de Ninive avant de s'étendre en Syrie n'ont rapporté que malheurs et malédiction à un Occident.
La malédiction Mésopotamienne existe.
Du moins selon les grands Rabbins juifs.
Et ses conséquences sont palpables: confinement, tentatives de triage face à la mort sur la base de l'âge, individualisme meurtrier, chute des structures socio-économiques, pestilence, effondrement économique et bientôt un début de disette qui ne dit pas son nom.
La boucle est bouclée.
Note 1: US is deploying fresh nuclear strategic bombers to Europe and landing in Portugal.
Note 2: During the Seljuk and the next Ottoman empires, the people in Iraq and Syria were left to mend for themselves: Even the Silk Route was diverted and Not to cross this region. Trade was to look southward (Egypt) and eastward toward India.
■الصين في قمة العشرين : مستعدون لقيادة نظام عالمي جديد ، هذه خصائصه و هذه شروطنا
في تطور ثوري لسياسة الصين التي تقوم على المقاربة الناعمة للنظام العالمي ، القى الرئيس الصيني شي جين بينغ كلمة أمام القمة الافتراضية الاستثنائية لمجموعة الـ20 بشأن "كوفيد-19" نهار البارحة الخميس
حملت الكلمة اعلانا مدويا عن رؤية الصين لنظام عالمي جديد تقوم به بدور المحرك الرئيس ،
نظام يقدم سياسات الاقتصاد المنتج و الحقيقي على السياسات المالية الافتراضية للولايات المتحدة.
 كشف عن تسع خصائص و أملى اربعة شروط في المقابل في خطوة غير مسبوقة ، تدل على ثقة و يقين بما سيكون .
***خصائص النظام العالمي الجديد :
●1–النظام الجديد سوف يبنى على مبدئين : العمل و الثقة
صرح الرئيس الصيني شي جين بينغ البارحة إنه ينبغي على المجتمع الدولي تعزيز الثقة، والعمل بشكل موحد والعمل معا في استجابة جماعية لمرض كوفيد-19 وسط تفشي المرض في جميع أنحاء العالم.
●2- انها حرب عالمية شاملة
قال شي إن العالم بحاجة إلى أن يستعمل الحزم اثناء خوض حرب عالمية شاملة ضد تفشي "كوفيد-19".
و إن المجتمع الدولي يجب أن يتحرك بسرعة لوقف تفشي الفيروس.
●3-فلسفة النظام العالمي الجديد : المصير المشترك
إن الصين، مسترشدة برؤية بناء مجتمع مصير مشترك للبشرية، ستكون مستعدة بشكل أكبر لمشاطرة ممارساتها الجيدة، وإجراء بحث مشترك وتطوير العقاقير واللقاحات، وتقديم المساعدة حيثما أمكنها، إلى الدول المتضررة من التفشي المتزايد.
●4-مقاربة جديدة للعلاقات الدولية تقوم على الصداقة
شدد الرئيس أن الشعب الصيني يتذكر الصداقة دائما ويعتز بها
وقال إن الصين تلقت مساعدة من الكثير من أعضاء المجتمع الدولي في أصعب لحظة في حربها ضد تفشي "كوفيد-19".
وقال شي "سيتذكر الشعب الصيني هذه التعبيرات عن الصداقة ويعتز بها دائما".
-●5-شبكة عالمية جديدة عابرة للحدود
و في هذا السياق أعلن شي عن بناء أقوى شبكة عالمية للسيطرة على "كوفيد-19" وعلاجه ، قائلا : "الفيروس لا يحترم حدودا" مؤكدا أنه يجب على الجميع العمل معا لبناء أقوى شبكة عالمية للسيطرة والعلاج.
"هذا فيروس لا يحترم الحدود. التفشي الذي نكافحه هو عدونا المشترك"، مشددا على أنه "يجب أن يعمل الجميع معا لبناء أقوى شبكة عالمية للسيطرة والعلاج لم يشهد مثلها العالم على الإطلاق".
●6-انشاء اكبر مركز معلومات الكتروني للتنسيق
أوضح شي أن الصين أقامت مركز معلومات إلكترونيا بشأن "كوفيد-19″، وهو مركز مفتوح لجميع الدول.
●7-سوف يكون لنا منظمات دولية ندعمها
صرح الرئيس شي إن الصين تدعم المنظمات الدولية في الاضطلاع بأدوارها النشطة في مكافحة "كوفيد-19".
وقال إن الصين تدعم منظمة الصحة العالمية في توجيه الجهود العالمية من أجل تطوير إجراءات سيطرة وعلاج بشكل علمي ومناسب وتقليل انتشار الفيروس عبر الحدود.
ودعا شي أعضاء المجموعة إلى تعزيز تشارك المعلومات بشأن مكافحة المرض وتدعيم بروتوكولات سيطرة وعلاج شاملة ومنهجية وفعالة.
ولفت الرئيس إلى أنه سيعقد اجتماع رفيع المستوى بشأن أمن الصحة العام الدولي في الوقت المناسب
●8- اقتصاد عالمي مستقر تقوده الصين يقوم على التقديمات العينية الحقيقية لا النقدية الافتراضية
و لفت شي إن الصين ستسهم في اقتصاد عالمي مستقر من خلال مواصلة دفع الإصلاح والانفتاح، وتوسيع الوصول إلى الأسواق، وتحسين بيئة الأعمال، وتوسيع الواردات والاستثمار الخارجي.
●9-انشاء شبكة حماية عالمية تقوم على المساعدات العينية لا النقدية
قال شي للقمة إن الصين ستزيد من المعروض من المكونات الصيدلانية الفعالة والضروريات اليومية وإمدادات مكافحة المرض وغيرها من الإمدادات، للسوق الدولية.
وأوضح أن الصين ستواصل أيضا اتباع سياسة مالية استباقية وسياسة نقدية حكيمة.
***أما الشروط فقد عددها الرئيس الصيني على الشكل التالي:
●1-تنسيق دولي لسياسات الاقتصاد العالمي مركزه الصين
اذ حث شي على تعزيز التنسيق الدولي لسياسات الاقتصاد الكلي لمنع الاقتصاد العالمي من الانزلاق في ركود.
وفي إشارة إلى أن تفشي المرض أدى إلى تعطيل الإنتاج والطلب في جميع أنحاء العالم، أوضح شي أنه يتعين على الدول الاعتماد على سياساتها الكلية وتنسيقها لمواجهة التأثير السلبي ومنع الاقتصاد العالمي من الانزلاق في ركود.
●2-الاستقلال عن السياسات المالية للولايات المتحدة:
و التي اثبتت فشلها اذ دعا شي الدول إلى تنفيذ سياسات مالية ونقدية قوية وفعالة، والاخذ بالتنظيم المالي الأفضل، والحفاظ على استقرار الصناعة والإمدادات العالمية بشكل مشترك.
-●3- اتخاذ إجراءات جماعية من أجل تعافي الاقتصاد العالمي
داعيا جميع أعضاء مجموعة الـ20 إلى اتخاذ إجراءات جماعية وإرسال إشارة قوية واستعادة الثقة من أجل تعافي الاقتصاد العالمي.
●4-الغاء الرسوم الجمركية و فتح الاسواق:
و في هذا السياق حث شي أعضاء مجموعة الـ20 على خفض التعريفات وإزالة الحواجز وتسهيل التدفق التجاري غير المقيد…
حسن سلمان
Trauma of being isolated and still not in Coma
Soha Bsat Boustani posted on Fb. March 27 at 6:30 PM
Make no mistake. When loved ones are removed from your home by ambulance because the virus has hit them hard, you are not going to be able to follow them there, sit by their hospital bed and hold their hand.
You are not going to be able to pop in at 7.00 pm for visiting hours.
They are going to have no one other than exhausted and brave hospital staff to see them through days or weeks of barely breathing through a ventilator until they either die or recover.
They are not going to be well enough to text you. (They should be able to see and hear you on Skype?)
You are not going to be able to phone the ward to check in on them regularly (staff will be too busy for that).
During that time, they will be completely alone, while you sit at home waiting to hear whether they have made it through.
Imagine that person is someone you love dearly.
Because it's going to be a reality for many in the coming weeks.
And if that person in hospital happens to be you, going through that ordeal completely alone, it would be nothing less than terrifying.
Please stay home and only go out if absolutely necessary.
Social distancing is imperative right now for your family and mine.
(Persevere in Social distancing. Do not break the chain, Not a little, Not for a minute)
Note: Apparently, even those cured will keep serious sekel for the remainder of their life, to their lungs and other vital organs.