Archive for the 'Jews/Israel/Palestine' Category
Tidbits and notes posted on FB and Twitter. Part 212
Note: I take notes of books I read and comment on events and edit sentences that fit my style. I pay attention to researched documentaries and serious links I receive. The page is long and growing like crazy, and the sections I post contains a month-old events that are worth refreshing your memory
The name "Federal Reserve Bank" is totally misleading: It is Not federal, nor is it owned by the government. It is privately owned. Its employees are not in the civil service. Its physical property is held under private deeds, and is subject to local taxation.
And yet, US Federal Reserve Bank controls the times, dictates business, affects Americans' homes and practically everything in which Americans are interested.
US Federal Reserve Bank is an engine that has created private wealth that is unimaginable, even to the most financially sophisticated. It has enabled an imperial elite to manipulate US economy for its own agenda and enlisted the US government itself as its enforcer.
Obama speech in Jerusalem, sucking up to Israeli youth: the Palestinian people's right to self-determination and justice must also be recognized. 
Put yourself in their shoes Obama – look at the world through their eyes. It is not fair that a Palestinian child cannot grow up in a state of his own, and lives with the presence of a foreign army that controls the movements of their parents every single day.
It is not legal when settler violence against Palestinians goes unpunished.  It is not right to prevent Palestinians from farming their lands; to restrict a student's ability to move around the West Bank; or to displace Palestinian families from their home.
Neither occupation nor expulsion is the answer. Just as Israelis built a state, Palestinians have a right to be a free people in their own land.
Question: Since when Palestine was ever a homeland to the Jews from every corner of the world?
Major civilizations built empires and cities along major rivers such as the Nile, Euphrates, Tiger, Indus (Pakistan), Ganges (India), and the Yellow River in China.
The best approach to explain the succession of civilizations and Empires in the Fertile Crescent (Near-East Levant region) is its topography (Rivers, plains and once the mountain chains on its borders are crossed, armies can advance easily)
The hospital in Beit-Chabab (Lebanon) decided to release mother: For 3 days and nights, mother couldn't eat or swallow. And they didn't even attempt to make her walk. Serum is about the best they are willing to provide with acute staff shortage. Mother returned rej3et la min idat wa la min ijrat. As if I am a physician and the house a dispensary to take on the slacks
Since I have no opinion while I'm the one who is taking care of mother full-time, next time anyone claims mother needs to check on a hospital, they'll have to handle the entire problem from A to Z: I am in travel.
ليست المرة الاولى التي تستخدم الرياض سلاح المال كوسيلة لمعاقبة لبنان على خلفيّة سياسته الخارجية. فقبل أن تلغي المملكةُ «الهِبة» المكرّسةَ لتسليح الجيش اللبنانيّ، وقبل وجود تنظيمٍ اسمه «حزبُ الله» (1982)، بل قبل انتصار «الثورة الإسلاميّة» في إيران (1979)، وقبل مشروع «تصدير» الثورة الإسلاميّة إلى «المحيط العربيّ السنّيّ،» قبل ذلك كلّه، قامت جهاتٌ سعوديةٌ مقرّبة من العائلة المالكة بسحوباتٍ ماليّةٍ ضخمةٍ من الجهاز المصرفيّ.
Soltat safakaat bil $milliards, tawato2 ma3 zo3amaa2 militia.
Soltat "faakidad shar3iyyat", wa toz tozzayn. Hal al mashaane2 btestarje3 ba3d el shar3iyyat lel sha3b?
Za7leh Madinati, B3albak Madinati, Beirut Madinati, Saida Madinati… 7erak Madani aw Madinati? Tasgheer Loubnan lal madinat ma byebneh watan
Balwarat khiyaar siyasi 3ala shakelat khodrat al khiyyar? Kanoun nesbi, aktari, taa2ifi, e7tikari… wa kol 7aleef saar 3adou "moufaddal" . Al tabakat al siyasiyyat min azka mann tafalsafat pragmatikiyyan. Rational Western States cannot assimilate our complex political mind.
Ten Myths on Israel being a Democratic State
No, Israel Is Not a Democracy
By lan Pappe
From Ten Myths About Israel, out now from Verso Books.
June 12, 2018 "Information Clearing House" – Israel is not the only democracy in the Middle East. In fact, it's not a democracy at all.
In the eyes of many Israelis and their supporters worldwide — even those who might criticize some of its policies — Israel is, at the end of the day, a benign democratic state, seeking peace with its neighbors, and guaranteeing equality to all its citizens.
Those who do criticize Israel assume that, if anything went wrong in this democracy, then it was due to the 1967 war.
Subjugation of Minorities in Israel Is Not Democratic
The litmus test of any democracy is the level of tolerance it is willing to extend towards the minorities living in it. In this respect, Israel falls far short of being a true democracy.
For example, after the new territorial gains several laws were passed ensuring a superior position for the majority: the laws governing citizenship, the laws concerning land ownership, and most important of all, the law of return.
The latter grants automatic citizenship to every Jew in the world, wherever he or she was born. This law in particular is a flagrantly undemocratic one, for it was accompanied by a total rejection of the Palestinian right of return — recognized internationally by the UN General Assembly Resolution 194 of 1948. This rejection refuses to allow the Palestinian citizens of Israel to unite with their immediate families or with those who were expelled in 1948.
Denying people the right of return to their homeland, and at the same time offering this right to others who have no connection to the land, is a model of undemocratic practice.
Added to this was a further layering of denial of the rights of the Palestinian people. Almost every discrimination against the Palestinian citizens of Israel is justified by the fact that they do not serve in the army.
The association between democratic rights and military duties is better understood if we revisit the formative years in which Israeli policy makers were trying to make up their minds about how to treat one-fifth of the population.
Their assumption was that Palestinian citizens did not want to join the army anyway, and that assumed refusal, in turn, justified the discriminatory policy against them. This was put to the test in 1954 when the Israeli ministry of defense decided to call up those Palestinian citizens eligible for conscription to serve in the army. The secret service assured the government that there would be a widespread rejection of the call-up.
To their great surprise, all those summoned went to the recruiting office, with the blessing of the Communist Party, the biggest and most important political force in the community at the time. The secret service later explained that the main reason was the teenagers' boredom with life in the countryside and their desire for some action and adventure.
Notwithstanding this episode, the ministry of defense continued to peddle a narrative that depicted the Palestinian community as unwilling to serve in the military.
Inevitably, in time, the Palestinians did indeed turn against the Israeli army, who had become their perpetual oppressors, but the government's exploitation of this as a pretext for discrimination casts huge doubt on the state's pretense to being a democracy.
If you are a Palestinian citizen and you did not serve in the army, your rights to government assistance as a worker, student, parent, or as part of a couple, are severely restricted. This affects housing in particular, as well as employment — where 70 percent of all Israeli industry is considered to be security-sensitive and therefore closed to these citizens as a place to find work.
The underlying assumption of the ministry of defense was not only that Palestinians do not wish to serve but that they are potentially an enemy within who cannot be trusted. The problem with this argument is that in all the major wars between Israel and the Arab world the Palestinian minority did not behave as expected. They did not form a fifth column or rise up against the regime.
This, however, did not help them: to this day they are seen as a "demographic" problem that has to be solved. The only consolation is that still today most Israeli politicians do not believe that the way to solve "the problem" is by the transfer or expulsion of the Palestinians (at least not in peacetime).
What were Lebanon economic and social cost for Lebanon in Israel pre-emptive war in 2006?
هلق صحيح بحرب تموز تضررت ٣٤٥ ضيعة، تدمر ٣٠٥٣٩ بيت، تهجر ١.٥ مليون لبناني، هاجر ٢٠٠ ألف غيرن، تدمر ١٥% من المدارس، تدمرت ١٦ مستشفى، تلف ٩٢٦٧٢٠ ألف شجرة، توقف ١٢٠ إلف موظف عن العمل لمدة ٣٣ يوم، تدمر ٩١ جسر، تضرر ٦٢٠ كيلومتر من الطرقات، قتل ٢٠٠٠ لبناني، أصيب ١٠ الاف غيرهن، و خسر الإقتصاد اللبناني ١٥ مليار
Amid the waning of the humanities, Edward Said turned out to be one of the last literary scholars with a public presence.
Udi Greenberg @udi_greenberg. One of Said's students
Teaches at Dartmouth College and is the author of The Weimar Century: German Émigrés and the Ideological Foundations of the Cold War (2015).
Note: wordpress is Not opening new texts on my Samsung Chrome in the last month. Maybe I need a better laptop. Untill then, minimal editing on the saved drafts.
Exiles often have conflicting feelings about their adoptive society, and Edward Said was no exception.
As a Palestinian in the United States, he recognized the country's pervasive racism and violence, but he also knew its educational system made his career as a renowned and prosperous thinker possible.
His life was indeed filled with paradoxes and contradictions. He was one of the twentieth century's most influential anti-colonial writers, who mostly studied his colonizers' literature; a proponent of Palestinian liberation who wrote in English and mostly for English-speaking audiences.
Few statements capture his embrace of such tensions more than his surprising claim in an interview with the Israeli newspaper Ha'aretz that he was now the only heir to the Jewish tradition of radical criticism.
"I'm the last Jewish intellectual," he exclaimed. "You don't know anyone else. All your other Jewish intellectuals are now suburban squires.… I'm the last one."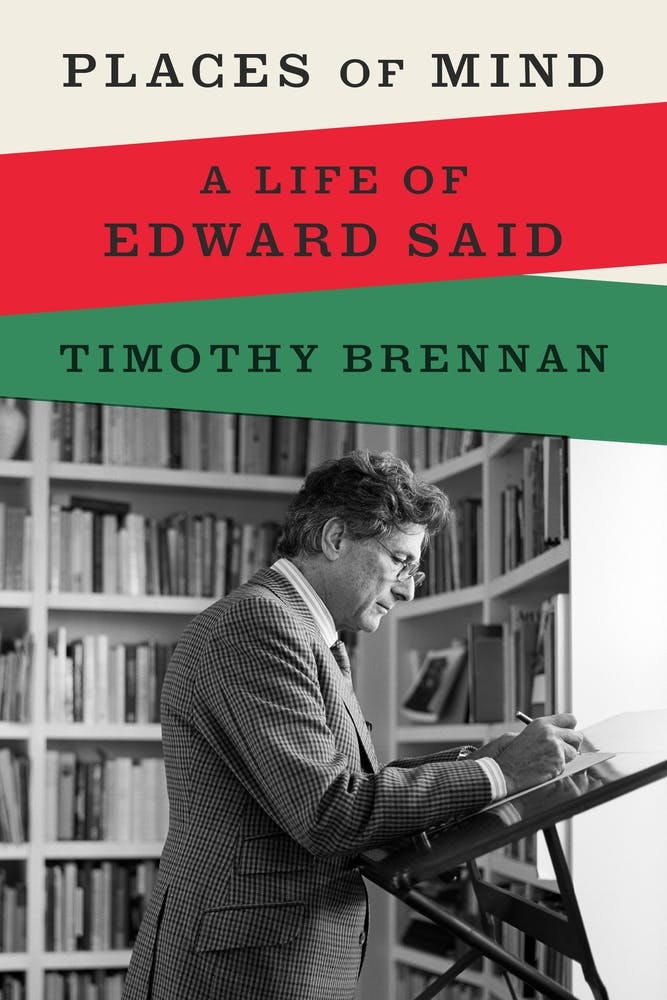 As comical as this statement can seem, Timothy Brennan's new biography, Places of Mind: A Life of Edward Said, suggests it captures Said's unique place in public life: a Middle Eastern exile who provided an original explanation for American imperialism, powerfully condemned it, and successfully reached mass audiences.
By telling Said's life, from his childhood in British-ruled Palestine to his death in New York in 2003, Places of Mind seeks to explain his unique ability to blend intellectual production and public activism.
Impressively researched and powerfully written, it charts Said's many triumphs: his revolutionary scholarly writings, which became classics and are taught decades after their publication; his rise as a media celebrity (an unusual fate for an academic); and his role in making the Palestinian national movement a source of international fascination.
For Brennan, who was Said's student and is an accomplished literary scholar in his own right, his teacher was everything a humanist should be.
By embracing his status as an "outsider"—an exile, a Palestinian, an "Arab"—he successfully infused America's mainstream with new ideas and political visions.
Yet by claiming to be a "Jewish" intellectual, Said was doing more than placing himself in the company of giants like Franz Kafka or Theodor Adorno.
What he recognized, and what Places of Mind sometimes misses, was the tragedy of his career: how by his life's end, the causes for which he fought were ultimately defeated.
The Palestinian liberation movement, whose cause animated so much of Said's writing, was headed toward ruin (a reality that he was among the very few to realize).
(Fateh, the signatory to the Oslo treaty, was displaced by more radical movements in Gaza, and currently a new wave of reactions from every mixed towns and villages in the West Bank)
And the humanities, whose flourishing made his career possible, were entering a downward spiral from which they show no sign of recovery. Reflecting on Said's life is not only a chance to celebrate groundbreaking achievements: It is also an invitation to recognize, soberly, some of our era's heartbreaking misfortunes.
---
Colonialism is a brutal business, and this was certainly true of British rule in the Middle East and mandated France in Syria and Lebanon. Whenever locals protested the empire's authority, as Palestinians did during the so-called "Great Revolt" of 1936 to 1939, British troops responded by demolishing entire neighborhoods, imprisoning thousands of civilians in concentration camps, and putting hundreds to the gallows.
(The British had to dispatch 100,000 troops to squash this civil disobedience movement that had a source the refusal of the British to have municipal elections on the ground that the Jews constituted only 20%)
Like many other colonialists, however, the British also sustained their rule in the region by offering alluring opportunities to some of their subjects. Those willing to cooperate could gain access to British markets, find jobs in the colonial bureaucracy, and send their children to European-run schools. These were the carrots that Europe's "civilizing mission" dangled in front of its subjects' noses: Submit to us, colonialists promised, embrace our language and culture, and maybe, one day, some of you would control your own fate.
This was the duality that made the young Said. Born in British-ruled Jerusalem in 1935, much of his childhood took place in the shadow of the Palestinian national trauma. While his parents, Hilda and Wadie, rarely talked politics at home, other relatives often protested their people's fate. The price of political oppression was even more apparent once British troops were replaced by the armed forces of the Jewish Yishuv, which decimated the Palestinian national movement.
In 1947, Said's parents fled to Cairo, which rapidly became home to many hungry and dispossessed Palestinian refugees. At the same time, colonialism helped cushion the Saids from some of this brutality. Not only were they affluent merchants, but they also benefited from being Anglican, a tiny minority that enjoyed preferential treatment by British authorities. Said's father supplied office materials to the British (which ran the formally independent Egypt), and Said was sent to study in the elite schools of British missionaries.
Nothing demonstrated colonialism's contradictory imprint on his family more than his regal first name, Edward, which his mother chose because she admired the Prince of Wales—a fact that Said bemoaned his entire life. 
When Said's parents sent him to the U.S. at age 15, he would find a similar pattern of simultaneous subjugation and inclusion. In his years as a student, first at an elite prep school in New England and then at Princeton, Said was alienated by the other students' oppressive self-absorption. Almost all white, they were confident in the superiority of their Anglo-Saxon heritage and considered Arab culture primitive.
As he put it in a note uncovered by Brennan, "to be a Levantine" in the U.S. meant "not to be able to create but only to imitate." At the same time, the postwar U.S. system of higher education provided remarkable opportunities. After Princeton, Said enrolled in Harvard's graduate program in European literature, and in 1963, he was hired as a professor at Columbia. Ivy League prestige, as it often does, opened many doors, and Said quickly learned how to prosper in the world of U.S. letters.
He published a book on Joseph Conrad, built ties to the New York literary world, and began contributing essays to magazines like The Nation. For all the whiteness and Euro-centrist ethos of American academia, Said cherished his success in it. To his parents' dismay, he preferred to spend most of his summers in New York, feverishly churning out academic writings.    
These paradoxes of imperial power do not get much attention in Places of Mind, and its first chapters say frustratingly little about the colonial Middle East or the Cold War U.S. This is a missed opportunity, as the similarities between the two systems would later become crucial to Said's intellectual and political agenda. Most important, both the British and Americans elevated certain minorities (Christians in the Middle East, Jews in the U.S.) to justify their subjugation of others (Muslims under British rule, Black people and other people of color under white U.S. hegemony).
The two cultures also similarly viewed their elites' culture as universal, a sacred trust they had to bestow upon humanity. Both British and American elites were therefore eager to demonstrate that "outsiders" like Said, who appreciated the brilliance of Western culture, could join their club, as long as they fully assimilated and "overcame" their non-Western origins. It is likely that these parallels informed Said's later insistence that the U.S. emulated European empires.
And it is clear that his effective navigation in both inspired his later claim that colonialism was not just oppressive but also creative, that hegemonic cultures could possess a certain allure even for their victims.       
---
Said's career up to the mid-1960s was headed in a predictable direction. Groomed by and for WASP institutions, he was on the path to become a footnote in their history, yet another scholar who studied the European canon and reproduced elites in his teaching.
But the convergence of two revolutions, one intellectual and one political, soon upended this trajectory. Harnessing their energies, Said went on to produce one of the twentieth century's most important intellectual events. Be the most
informed person you know:
3 months for $5Subscribe
In its most impressive chapters, Places of Mind reconstructs Said's participation in these two revolutions. The first was post-structuralism. Under the influence of philosopher Jacques Derrida, a group of French scholars launched blistering attacks on Europe's intellectual traditions. Even after the Enlightenment, they claimed, Europe remained obsessed with enshrining hierarchies and binaries (between men and women, "primitive" and "civilized"); the most urgent task was to dismantle those.
While Said is not always associated with this school today, he was among the first to embrace it in the English-speaking world.
He took part in the early conferences on post-structuralism in the U.S. and was one of the first to utilize its concepts in his writings. He borrowed especially from Michel Foucault and his provocative depiction of the link between knowledge and power. Artists and thinkers, Foucault claimed, were rarely individuals who challenged authority. Most of the time, they reproduced and reinforced their society's structures of authority, making them seem natural and even benevolent.
The second project that Said joined, and for which he became especially famous, was the Palestinians' renewed struggle for self-determination. After the shock of the 1967 war, which initiated Israel's military rule over large Palestinian territories, Palestinian activists and leaders sought to make their cause the center of international attention. They appealed to international institutions and launched multiple violent attacks on Israel to keep their struggle in the headlines.
While Said had little personal interest in returning to Palestine (by that point he considered his exile a permanent condition), he joined this campaign and quickly became its most prominent international figure.
He published fiery essays that compared the Palestinian struggle to other anti-colonial struggles in Asia and Africa and helped launch organizations that called for an end to the West's support for Israel. His eloquence and rare status as a Palestinian at the center of U.S. letters made him into an icon. Palestinian politicians and leaders, some of whom he met in person during a prolonged academic stay in Beirut, sought his advice; in 1974, he helped edit and translate Yasser Arafat's historic address to the United Nations, the first by any Palestinian leader in that forum. Three years later, Said became a member of the Palestinian National Council, the coordinating organization of the Palestinian national movement.
Bringing these two projects together was hardly an obvious undertaking. Post-structuralism's philosophical musings, with its notoriously impenetrable jargon, seemed worlds apart from the blood and sweat of daily Palestinian resistance.
Yet in his monumental Orientalism (1978), Said fused these two projects to provide a new understanding of Western attitudes toward the Middle East. Drawing on his own experiences as a beneficiary and victim of colonialism, Said claimed that Europe's colonial domination in the Middle East did not rely merely on military or political might. Rather, it was a vast intellectual project, in which countless scholars and novelists voluntarily rushed to explore, interpret, and explain why Europe had to dominate the "Orient." Said further argued that the Orientalist project was in fact foundational to Europe's own self-understanding. As Europeans sought to define themselves as rational, industrious, and self-controlling, they simultaneously identified the Orient's people as emotional, lazy, and pathologically obsessed with sex.Said, in short, exposed how knowledge and art worked in the service of oppressive power.
This claim about colonialism's centrality to Europe's identity would have been enough to make Orientalism an intellectual bombshell. But Said went even further, using his literary study to explain the aggression of modern American diplomacy. Said argued that the collapse of formal European empires after World War II did little to diminish the orientalist mindset. Rather, orientalism continued to flourish in the U.S., where journalists, artists, and scholars conflated their country with a "civilization" that they contrasted with the Middle East's alleged primitivism and fanaticism.
Indeed, Said maintained that U.S. diplomacy in the region, and especially its unwavering support for Israel, reproduced Europe's earlier racism, arrogance, and myopia. U.S. diplomats and their Israeli allies inherited the view of Arabs as inhuman and thus dismissed their political demands as emotional and even animalistic outbursts. Said's most scorching invective was directed at Middle East specialists like Princeton scholar Bernard Lewis, whom he acidly described as the intellectual foot soldiers of U.S. imperialism. Their writings about the Arabs' supposed fanaticism, he wrote in a related essay, provided "not history, not scholarship, but direct political violence."  
Said, in short, exposed how knowledge and art worked in the service of oppressive power. And in so doing, he forever transformed the meaning of the word orientalist: Rather than a term for a scholar of the Middle East, it now became an adjective describing a racist and paternalist worldview.
---
Orientalism's sweeping claims could hardly leave readers indifferent, and Brennan masterfully traces both the admiration for and backlash to Said's masterwork. Conservative commentators predictably dismissed Said as an ignorant trespasser who failed to understand the West's greatness as he downplayed the orient's failings.
In a lengthy review, Lewis lambasted the book as "insouciant," "outrageous," and "reckless," inaugurating a rhetorical dual with Said that would continue for decades. Even more sympathetic readers highlighted the book's limitations. Scholars like the French historian Maxime Rodinson noted that Orientalism was far too sweeping in approach. The study of the Orient, he noted, was a diverse field, and many of its proponents hated empire.
Other supportive readers questioned the book's focus on ideology and representation. Wasn't colonialism ultimately driven by economic exploitation? The critique that stung the most came from Arab and Pakistani Marxists, who lamented that Said unintentionally strengthened Muslim conservatives. The Syrian philosopher and activist Sadiq Al Azm, for example, argued that by depicting European knowledge as hopelessly tainted, the book "poured cold water" on the effort to popularize Marxist ideas in the Middle East and bolstered lazy anti-Western sentiments. 
These misgivings, however, did little to diminish Orientalism's impact on the international republic of letters. Appearing in 30 languages, it was widely celebrated as a fresh and sophisticated assault on Western arrogance, one equal to anti-colonial classics like Frantz Fanon's Wretched of the Earth (1961). "Here for the first time," Palestinian historian Tarif Khalidi wrote, "was a book by one of us telling the empire basically to go f— itself." In a world reeling from the manifold disasters perpetrated by the U.S. in Vietnam, understanding the connections between Western self-righteousness and violence seemed more urgent than ever.
Said helped inspire the work of countless literary scholars, philosophers, historians, and political scientists who mapped colonialism's intellectual legacies in the present. He was the founding figure of what in the 1980s became known as "postcolonial studies." The impact of this intellectual project spilled beyond academic circles. After Orientalism, theater programs, museum catalogs, and Hollywood films began to adopt less Western-focused perspectives.
According to Brennan, Said in fact infused the humanities with renewed significance. Works like Orientalism and Culture and Imperialism (1993), which expanded its insight to more novels, demonstrated the centrality of literature and art to political discourse. Said turned the traditional Marxist view of culture on its head. He claimed that novels and images were not mere expression of social domination but their very heart; they informed how journalists covered world affairs, how citizens thought about politics, and how politicians enacted policies. Countless students and scholars came to view the study of stories, movies, and representation as political action, and journalists the world over courted Said, endlessly asking for his take on political matters.
Places of Mind's last chapters trace Said's rising prominence to the position of celebrity. As a testament to his triumph, they catalog the mind-numbingly abundant prizes and honors he received, describe his never-ending stream of interviews on radio and TV, and depict his collaborations with many famous artists, such as the conductor Daniel Barenboim. Yet along with the rapid ascent came frustration. Said's publications may have made a splash, but they were unable to materially advance the Palestinian national cause, which suffered defeat after defeat.
---
For Said, stories were essential to the struggle for Palestinian self-determination. If Americans so enthusiastically lavished Israel with weapons and supported its cruel occupation, he claimed, it was not out of some hard-nosed calculation, but because they bought into a particular narrative, one in which persecuted Jews had heroically defeated their evil Arab neighbors.
According to Said, this story was sustained not only by relentlessly pro-Israel politicians, magazines, and TV shows but by the fact that Americans were rarely exposed to Palestinian perspectives. Said noted that this was true even for those who were deeply critical of Israel's actions. Noam Chomsky's Fateful Triangle (1983), for example, condemned U.S. diplomats and Israeli politicians for enabling the horrific massacres of Palestinians in Lebanon, but it, too, relied on Western sources and did not include Palestinian testimonies.
Alongside his campaign against the orientalist tradition, Said therefore launched an effort to open new spaces for Palestinians in the Western imagination. As he wrote in the essay "Permission to Narrate" (1983), the task was to forge "a socially acceptable narrative" that would allow people to empathize with Palestinians and view them as fellow humans. Venturing beyond European literature, Said sought to integrate Arab perspectives into the Western literary canon.
While most of his academic work remained focused on English and French authors, he also began studying Palestinian writers like Mahmoud Darwish and helped facilitate their translation into Western languages. And he collaborated with photographer Jean Mohr on After the Last Sky: Palestinian Lives (1986), a collection of images and short texts that depicted Palestinian people in everyday activities.If Said's words still resonate today, it is because the evils he helped expose are as powerful as ever.
Yet readers largely ignored After the Last Sky and similar projects, and most certainly did not lavish it with the prizes and honors that were showered on Orientalism. They were mostly interested in the analysis of the West's colonialism; oppression's victims were an afterthought. Said was painfully aware that this part of his work had limited impact, and during the 1980s and 1990s he became progressively despairing about the prospects of Palestinian liberation. "The road forward is blocked," he ruefully wrote, "the instruments of the present are insufficient, [and] we can't get back to the past." His gloom only grew after the Palestinian leadership signed a tentative peace agreement with Israel in 1993 (the so-called Oslo Accords), which Said predicted would not lead to statehood but to deepening occupation. By the end of his life, he was politically isolated; his books were even banned in the Palestinian Authority over his criticism of Yasser Arafat's authoritarianism.
Said's high hopes for literary studies—that they would lead the expansion of the world's political options—also proved fleeting. Said's career, in fact, was not only a rare exception but also a product of broad intellectual sources. It emerged from the 1970s and 1980s, when debates about the literary canon roiled institutions of higher learning and figures like Paul de Man and Alan Bloom were famous.
But by the early twenty-first century, the humanities began to decline. Students were beginning to abandon them, a trickle that would soon become a flood. In such a world, Said was quickly becoming a monument for a passing era. He was one of the last literary scholars to gain the public's attention; when he lamented being the "last Jewish intellectual," he in part recognized he was not likely to be followed by others. His increasing alienation from his adoptive country was reflected in the location of his grave. At his request, it stands not in New York, where he spent most of his career, but in Beirut, where he was only an occasional visitor. 
---
If Said's words still resonate today, it is because the evils he helped expose are as powerful as ever. In the two decades since the 2001 attacks, orientalist sentiments have only intensified: Western politicians still treat Muslims and Arabs as fanatical terrorists, and Western media still perpetuate those narratives. As historian Maha Nassar recently noted*, of the thousands of pieces run by The New York Times and The Washington Post on the Israel-Palestinian conflict, barely 1 percent were written by Palestinians.
The grip of orientalism on U.S. knowledge production has in fact only tightened since Said's passing. In 2002, the historian Daniel Pipes, who began his career with a campaign against Orientalism, founded the organization Campus Watch, which has targeted scholars who express sympathy with Palestinians. The case of Fresno State University in California was probably the most on-the-nose expression of Said's lasting relevance. In 2016, the university's leadership posted a job ad for its newly created Edward Said chair in Middle Eastern studies, only to abruptly call off the search by summer of 2017.
Just like his life, Said's legacy is a paradox. His ideas are relevant exactly because their political impact was limited: The vast campaign he launched in scholarship, the media, and political activism could not dislodge orientalist bigotry. Similarly, Said looms so large in the humanities because a career like his is now hard to imagine. Rather than blazing a path for other literary scholars to become influential political commentators, he turned out to be among the last humanists with a public presence. Those who share in his quest for a more equal and humane world still face the question that always vexed him: If one has a humanist story to tell, how to make others listen? 
UK: Ex-minister accuses pro-Israel lobbyists of 'disgusting interference'
Alan Duncan has said that the Conservative Friends of Israel fiercely lobbied to prevent him becoming Middle East minister
By Alex MacDonald Published date: 8 April 2021
A former UK foreign office minister has accused pro-Israel lobbyists of "the most disgusting interference" in British public life, and of negatively influencing the country's foreign policy in the Middle East.
Alan Duncan, a former Conservative MP and government minister until 2019, wrote in his newly published memoir that the Conservative Friends of Israel (CFI) had been responsible for pushing the country to adopt disproportionately anti-Palestinian and pro-Israel policies.
Founded in 1974, the CFI is a parliamentary group and unaffiliated organisation that supports the ruling Conservative Party and advocates for pro-Israel policies.
Former British Minister of State for Europe and the Americas Alan Duncan gestures during a joint press conference with Ecuador's Ambassador Jaime Marchan at Victoria Gardens, Westminster, on 11 April 2019 (AFP)
Speaking to journalist Michael Crick about his diaries for the MailPlus website, Duncan said the CFI had injected a "Netanyahu-type view of Israeli politics into our foreign policy", referring to Israel's right-wing prime minister. He added that it had lobbied to prevent him becoming Middle East minister at the foreign office.
"A lot of things do not happen in foreign policy or in government for fear of offending them because that's the way it's put to them by the CFI," he said.
"It's a sort of buried scandal that has to stop… they will interfere at a high level in British politics in the interests of Israel on the back of donor power in the UK."
He added that ultimately the influence of the CFI came at the expense of the Palestinians, emphasising that the group's leadership would frame pro-Palestinian policies as potentially offending Jewish donors to the Conservative Party.
"Most of the Jewish donors would never want their donations to be used to influence in this way – I just think it's a mess," he said.PETER OBORNE: Duncan's stand on settlements makes him Israeli targetRead More »
Duncan served as minister of state for Europe and the Americas between 2016 and 2019 under then Prime Minister Theresa May. Following her resignation and the ascension of Boris Johnson, he stepped down from his position and did not stand for re-election in the December 2019 parliamentary elections.
Known for his support for pro-Palestinian stances, such as his rejection of illegal Israeli settlement building in the occupied Palestinian territories, Duncan has previously come under fire from pro-Israel circles.
In January 2017, opposition politicians in the UK called for an investigation into comments made by an Israeli embassy official who had talked of plotting to "take down" Duncan because of his public opposition to Israeli settlements.
Shai Masot, who would afterwards be removed from his position, was caught by an undercover reporter discussing with a British civil servant how to discredit Duncan. He would later apologise for his comments.
Crispin Blunt, a Conservative MP and then-chairman of the Commons Foreign Affairs Committee, told Middle East Eye at the time that Britain could not have "Israel acting in the UK with the same impunity it enjoys in Palestine".
"This is clearly interference in another country's politics of the murkiest and most discreditable kind," he said.
In the past, the CFI has claimed that 80 percent of Conservative MPs were members of the organisation. It has organised numerous trips to Israel for politicians.
British and Zionist terror tactics in Palestine in years in the 1930's
Posted on November 4, 2011
In the 1920's, under British mandated power, the Palestinians delivered countless petition to the British administration to conduct democratic elections for municipal and the Parliament, as did the French mandated power in Syria and Lebanon.
The Zionist Jews, in Palestine and their lobbies in England and the USA, blocked any election process, on the ground that since they are in the minority (one Jew to 10 Palestinians), the election would be at their disadvantage.
As England refused to institute democratic laws and representation in Palestine, the Palestinians realized that the mandated power is intent on establishing a Zionist State in part of Palestine.
In Nov. 1935, sheikh Al Qassam and four of his followers moved to the forest of Jenine and started training and preparing for civil resistance.  The British assassinated all of them.
And the "Great Revolt", as labeled by the British, lasted 3 years. 
The British engaged 100,000 troops to quell the civil insurrection by all means of cruelty and brutality.
A British physician on the field, Tom Segev, wrote in his diary: "The brute tactics used by the British forces and the methods of humiliation could be efficiently adopted by Nazi Hitler. Nazi Germany could learn and assimilate the British terror tactics on smooth running of concentration camps..."
The British initiated and trained Jewish colons to participate in the taming of the Palestinian civil disobedience.
David Niv, the official historian of the terrorist Zionist organization, the Irgun, wrote in "The campaign of the National Military Organization 1931-37":
"The violent attacks of the Irgun are not done in reaction of those who perpetrated acts of violence against Jews, and the random violence were not conducted in localities where violent acts were done.  
The principal criteria were:
First, the targets must be accessible, and
Second, the terror attacks must kill the maximum of civilian Palestinians…"
In their National Bulletin, the Irgun displayed their satisfaction of the 3-week-long terror attacks on Palestinians, throwing bombs in crowded markets, Mosques, hand grenades in buses, machine-gunning passing trains…
The 3 weeks spree of random violence killed over 140 Palestinians, a number far greater that the Palestinian resistance movement killed in 18 months…
The leader of the Irgun, the Polish Zionist Vladimir Jabotinsky, wrote in 1923:
"We must develop the colonies behind a "Wall of Steel", backed by a protective force that could not be broken. The Palestinians (labelled Arabs) will never accept any Jewish colony as long as they conserve a slight hope of dislodging it. A voluntary agreement is not thinkable. We have to resume the colonization process without taking into consideration the humors of the indigenous population..."
David Ben Gurion, leader of the Zionist Haganah organization, rallied to that strategy, though he publicly condemned Jabotinsky fascist methods (Jabotinsky was a staunch admirer of Italian dictator Benito Mussolini)
The terrorist Zionist Stern organization, lead by Menahem Begin and Yitzak Shamir, (both later to be elected Prime Ministers in the 80's), merged with the Irgun as Ben Gurion proclaimed unilaterally the establishment of Israel in 1948.
The Stern and Irgun and Haganah conducted terror attacks and genocides in many Palestinian towns and villages, forcing the Palestinians to flee: The Palestinians believed the leave will be of short-term duration, as the UN will negotiate their return…
Actually, the Zionist organizations started collecting intelligence pieces on the villages and towns they planned to transfer by terror tactics since 1939.  
They waited for a war to start to give the green light for the execution of detailed plans in 1947, the year England decided to relinquish its mandated power over Palestine.
Note 1 : Article inspired from a chapter in "A history of Lebanon, 1860-2009" by the British journalist David Hirst. Hirst was the correspondent of the British daily The Guardian in the Middle-East for 43 years. He was kidnapped twice during Lebanon civil war.
Note 2: The British secret services trained French assassins since 1942 during WW2
Note 3: You may read this link on doctoring reports of random violence by Israel establishment http://www.stoptorture.org.il/files/Doctoring%20the%20Evidence%20Ab
Israel Authorizes Organ Harvesting, Weapons-Testing on Palestinian Prisoners: Report IMEMC
Posted on March 24, 2019
"Palestinian spaces are laboratories," Professor Nadera Shalhoub-Kevorkian said in a lecture at Columbia University.
Authorities of the Israeli occupation have permitted large pharmaceutical firms to carry out tests on Palestinian prisoners and has been testing weapons on Palestinian children, a professor with the Israeli Hebrew University said.
RELATED:
Israeli Troops Kill 15-year-old Boy During Gaza Protests
Professor Nadera Shalhoub-Kevorkian, a Palestinian feminist activist and the Lawrence D. Biele Chair in Law, said she collected data while working on a research project for the university.
"Palestinian spaces are laboratories," she said in her lecture titled, 'Disturbing Spaces – Violent Technologies in Palestinian Jerusalem' at Columbia University in New York City.
"The invention of products and services of state-sponsored security corporations are fueled by long-term curfews and Palestinian oppression by the Israeli army."
The Hebrew University of Jerusalem distanced itself from her claims that Israel has been experimenting on Palestinian children with new weapons systems in order to boost the sale of international weapons.
Just weeks ago, Israeli authorities refused to hand over the body of prisoner Fares Baroud, who died in Israeli custody after suffering several illnesses including glaucoma and liver disease.
There are concern and speculation from family and activist site, Palestine Libre, that Baroud was a test subject.
In 2015, the Palestinian ambassador to the United Nations Riyad Mansour accused Israeli security forces of harvesting organs from the bodies of Palestinians killed.
"After returning the seized bodies of Palestinians killed by the occupying forces through October, and following medical examinations, it has been reported that the bodies were returned with missing corneas and other organs," Mansour said
The Israeli ambassador to the United Nations Danny Danon responded by rejecting the allegations, saying that the charges were anti-Semitic.
Danon wrote to the then Secretary-General Ban Ki-moon. "I call on you to repudiate this sinister accusation and to condemn the ongoing incitement by Palestinian leaders."
As far back as 1997, the Israeli newspaper Yedioth Ahronoth reported on the comments of Dalia Itzik, chairwoman of a parliamentary committee, who acknowledged that the Israeli Ministry of Health granted permits to pharmaceutical companies to test their new drugs on prisoners, and noted that 5,000 tests had been carried out, IMEMC reported.
A fourth round of genocide committed on Gaza civilians
Mnd you this article was Posted on August 17, 2014 (and written on July 25, 2014)
Israel/Gaza conflict: Questions and Answers
Smoke rises after an Israeli airstrike in Al Shejaiya (Shuja3iya) neighbourhood in eastern Gaza City during a military operation in eastern Gaza City, 22 July 2014. © EPA1.
What does Amnesty International think of the resolution passed by the UN Human Rights Council on 23 July? What should happen next?
Amnesty International welcomes resolution S-21/1 to establish a commission of inquiry and notes that the wording allows the commission to investigate violations of international law by all parties to the current conflict.
The commission of inquiry represents an important opportunity to break the cycle of persistent impunity for crimes under international law in Israel and the Occupied Palestinian Territories (OPT).
In order to be effective the commission of inquiry must be thorough, independent and impartial, and look into violations by any party to the conflict.
It must be adequately resourced and have unrestricted access to all relevant areas.
Amnesty International urges all states – including all EU member states, who abstained on the resolution – to cooperate with the commission as required.
2. What are the key obligations of the parties to the conflict during the hostilities under international humanitarian law?
During an armed conflict, all parties – whether state or non-state armed forces – must respect international humanitarian law, which aims to protect civilians by regulating the conduct of all sides in hostilities.
States also continue to have an obligation to respect international human rights law during a conflict.
Under international humanitarian law, all sides in an armed conflict must distinguish between military targets and civilians and civilian structures, and direct attacks only at the former.
Deliberate attacks on civilians or civilian objects – such as homes, medical facilities, schools, governmental buildings – that are not being used for military purposes are prohibited and are war crimes.
Indiscriminate and disproportionate attacks (where the likely number of civilian casualties or damage to civilian property outweighs the anticipated military advantage to be gained) are also prohibited.
(Netanyahu told Biden a week ago that he is Not concerned about Palestinian civilians. Hundreds of Palestinians died and were injured for this indiscriminate attacks of Israel planes)
All sides must take necessary precautions in attack to minimize harm to civilians and civilian objects. This includes giving civilians effective warnings ahead of attacks, and cancelling or suspending an attack if it becomes apparent that the target is civilian or that the attack would be disproportionate.
They also must take all feasible precautions to protect civilians under their control from the effects of attacks.
For example, warring parties should avoid endangering civilians by storing ammunition in, and launching attacks from, populated civilian areas.
3. What are the different patterns of violations by Israeli forces in the Gaza Strip that Amnesty International has identified since Israel launched Operation "Protective Edge" on 8 July 2014?
Israeli forces have carried out attacks that have killed hundreds of civilians, using precision weaponry such as drone-fired missiles, as well as munitions such as artillery, which cannot be precisely targeted, on very densely populated residential areas, such as Shuja'iyyeh.
They have also directly attacked thousands of homes. Israel appears to consider the homes of people associated with Hamas to be legitimate military targets, a stance that does not conform to international humanitarian law.
Several medical facilities and non-military governmental buildings across the Gaza Strip have also been destroyed or damaged.
(In this current round, Israel bombed all the roads that lead to the 2 hospitals in Gaza City and north of Gaza. European States funds all the hospitals in Gaza. 35,000 took refuge in the 43 UNRWA schools)
The UN has reported that one of its schools sheltering displaced people in the al-Maghazi refugee camp in central Gaza was shelled by Israeli forces on at least two occasions.
Another such school sheltering displaced families in Beit Hanoun in northern Gaza was struck on 24 July, killing at least 15 civilians and injuring many others, and the UN has called for an immediate investigation.
Although the Israeli authorities claim to be warning civilians in Gaza, a consistent pattern has emerged that their actions do not constitute an "effective warning" under international humanitarian law.
Israeli attacks have also caused mass displacement of Palestinian civilians within the Gaza Strip.
4. What is Amnesty International's position on the firing of indiscriminate rockets and mortars from the Gaza Strip by Palestinian armed groups?
Do other actions of Palestinian armed groups in Gaza since 8 July 2014 violate international humanitarian law?
According to the Israeli army, Hamas' military wing and other Palestinian armed groups fired over 1,700 rockets into Israel from 8 to 18 July, and scores of rockets continue to be fired every day.
(Mind you that in 2014 the rockets were puny and Not precise. Still, Israel attacked by land and totally destroyed Gaza infrastructures)
(Three civilians in Israel have been killed, a few civilian properties in Israel have been damaged, compared to over 1,500 Palestinians killed and 3 fold injured).
International humanitarian law prohibits the use of weapons that are by nature indiscriminate. The rockets fired from Gaza into Israel cannot be aimed exactly at their objective and their use violates international humanitarian law.
The firing of indiscriminate rockets and mortars also endangers Palestinian civilians inside the Gaza Strip and in the West Bank ?.
Statements by some leaders of Palestinian armed groups also indicate that they have no qualms about launching attacks against civilians and that they in fact carry out such attacks intending to kill and injure Israeli civilians.
Attacks that directly target civilians and indiscriminate attacks that kill or injure civilians constitute war crimes.
5. When the Israeli military has warned residents of a specific area in the Gaza Strip to evacuate the area, does that fulfil its obligations to protect civilians under international humanitarian law?
Effective advance warning to civilians is only one of the prescribed precautions in attack aimed at minimizing harm to civilians.
When Israeli forces have given warning in many cases key elements of effective warning have been missing, including timeliness, informing civilians where it is safe to flee, and providing safe passage and sufficient time to flee before an attack.
There also have been reports of lethal strikes launched too soon after a warning to spare civilians.
In any event, issuing a warning does not absolve an attacking force of its obligations to spare civilians, including by taking all other necessary precautions to minimize civilian casualties and damage to civilian structures.
Israel's continuing military blockade on the Gaza Strip and the closure of the Rafah crossing by the Egyptian authorities since the hostilities began mean that civilians in Gaza cannot flee to neighbouring countries.
6. The Israeli authorities claim that Hamas and Palestinian armed groups use Palestinian civilians in Gaza as "human shields". Does Amnesty International have any evidence that this has occurred during the current hostilities?
Amnesty International is monitoring and investigating such reports, but does not have evidence at this point that Palestinian civilians have been intentionally used by Hamas or Palestinian armed groups during the current hostilities to "shield" specific locations or military personnel or equipment from Israeli attacks.
In previous conflicts Amnesty International has documented that Palestinian armed groups have stored munitions in and fired indiscriminate rockets from residential areas in the Gaza Strip in violation of international humanitarian law. Reports have also emerged during the current conflict of Hamas urging residents to ignore Israeli warnings to evacuate.
However, these calls may have been motivated by a desire to minimize panic and displacement, in any case, such statements are not the same as directing specific civilians to remain in their homes as "human shields" for fighters, munitions, or military equipment.
Under international humanitarian law even if "human shields" are being used Israel's obligations to protect these civilians would still apply. (Human shields is what Israel practice at a wide scale)
7. There are reports that Israeli forces have used flechettes in the current military operation in the Gaza Strip. What is Amnesty International's position on the use of flechettes? Has the Israeli military used flechettes in Gaza before?
Flechettes are 3.5cm-long steel darts, sharply pointed at the front, with four fins at the rear. Between 5,000 and 8,000 of these darts are packed into shells which are generally fired from tanks. The shells explode in the air and scatter the flechettes in a conical pattern over an area about 300m by 100m.
Flechettes are designed to be used against massed infantry attacks or squads of troops in the open, and obviously pose a very high risk to civilians when fired in densely populated residential areas.
Local human rights groups have reported cases in which civilians in Gaza have been killed and injured by flechette shells. Amnesty International has not yet been able to verify particular cases during the current hostilities, but has previously documented Israeli forces' use of flechette rounds, for example during Operation "Cast Lead", resulting in the killing of civilians, including children.
Flechettes are not specifically prohibited by international humanitarian law per se, however, they should never be used in densely populated areas.
8. What is Amnesty International calling on the international community to do at this point?
All states (particularly key suppliers, for example USA for Israel) must suspend all transfers of weapons, munitions and other military equipment and technology to all sides until there is no longer a substantial risk that such items will be used for serious violations of international humanitarian law or serious human rights abuses.
The suspension should include all indirect exports via other countries, the transfer of military components and technologies and any brokering, financial or logistical activities that would facilitate such transfers.
States should use the 2009 report of the UN Fact-Finding Mission on the Gaza Conflict and the upcoming report of the commission of inquiry mandated this week by the Human Rights Council as a basis to exercise universal jurisdiction to investigate and prosecute crimes under international law before their national courts.
Flechette shells spraying out thousands of tiny lethal darts.
Posted on January 6, 2018
Israel using flechette shells in Gaza
Palestinian human rights group accuses Israel military of using shells that spray out thousands of tiny and potentially lethal darts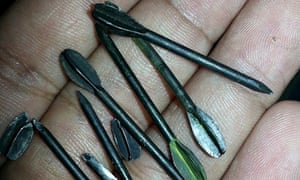 Harriet Sherwood in Jerusalem @harrietsherwood. Sun 20 Jul '14
The Israeli military is using flechette shells, which spray out thousands of tiny and potentially lethal metal darts, in its military operation in Gaza.
Six flechette shells were fired towards the village of Khuza, east of Khan Younis, on 17 July, according to the Palestinian Centre for Human Rights.
Nahla Khalil Najjar, 37, suffered injuries to her chest, it said. PCHR provided a picture of flechettes taken by a fieldworker last week.
The Israel Defence Forces (IDF) did nNot deny using the shells in the conflict.
"As a rule, the IDF only employs weapons that have been determined lawful under international law, and in a manner which fully conforms with the laws of armed conflict," a spokesperson said in response to a request for specific comment on the deployment of flechettes. (Are cluster bombs and phosphorous weapons lawful too?)
B'Tselem, an Israeli human rights organisation, describes a flechette shell as "an anti-personnel weapon that is generally fired from a tank. 
The shell explodes in the air and releases thousands of metal darts 37.5mm in length, which disperse in a conical arch 300 metres long and about 90 metres wide".
The munitions are Not prohibited under international humanitarian law, but according to B'Tselem, "other rules of humanitarian law render their use in the Gaza Strip illegal. One of the most fundamental principles is the obligation to distinguish between those who are involved and those who are not involved in the fighting, and to avoid to the extent possible injury to those who are not involved.
Deriving from this principle is the prohibition of the use of an imprecise weapon which is likely to result in civilian injuries."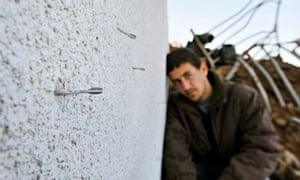 The legality of flechette munitions was upheld by the Israeli supreme court in 2002, and according to an Israeli military source, they are particularly effective against enemy fighters operating in areas covered by vegetation.
The source said a number of armies around the world deploy flechette shells, and that they were intended solely for use against legitimate military targets in accordance with international law.
The IDF has deployed flechette shells in Gaza and Lebanon before. B'Tselem has documented the deaths of nine Palestinians in Gaza from flechettes in 2001 and 2002.
Flechettes have also killed and wounded dozens of civilians, including women and children, in conflicts between Israel and Hezbollah in Lebanon.
The Israeli military deployed artillery shells containing white phosphorous in densely populated areas of Gaza during Operation Cast Lead in 2008 and 2009, causing scores of deaths and extensive burns.
It initially issued a categorical denial of reports of the use of white phosphorous, but later admitted it, saying the weapon was only used to create smokescreens.
Human Rights Watch said its use of the munitions in Operation Cast Lead was indiscriminate and evidence of war crimes.
In response to a legal challenge, the IDF said last year it would "avoid the use in built-up areas of artillery shells containing white phosphorus, with two narrow exceptions." The exceptions were not disclosed.
The Ex-Obama White House chief of staff Rahm Emanuel case: Father Specialized in Bus Bombings of civilians in Palestine
Posted on January 7, 2016
Wayne Madsen Special to Salem-News.com
Wikipedia deleted the page about Rahm Emanuel's father in 2008. Makes you wonder.

Irgun, the army of Rahm Emanuel's father, is short for Irgun Zvai Leumi– "National Military Organization" in Hebrew, was a terrorist Zionist group that operated in Palestine, killing innocent Palestinians and British soldiers; blowing up buildings.
(WASHINGTON D.C.) – Note from Publisher: In an effort to assist our government in keeping information "transparent", we are publishing this important article by Wayne Madsen, on the father of Rahm Emanuel.
You won't find his bio on wikipedia, or any where else easily accessed. It has been deleted.
Former White House Chief of Staff Rahm Emanuel held a top position in our country's leadership and his example of ethics and integrity is of the highest importance.
This is not diminished regardless of his aspirations to leave the national spotlight and become the mayor of Chicago.
But, it seems, some secrets must just be harder to share. This revealing article will leave you with a better understanding of why no one wants to talk about Benjamin Emanuel. And why they should.
– Bonnie King
A
well-placed British source informed WMR that Rahm Emanuel's father, Benjamin Emanuel, specialized in the terrorist bombings of buses carrying British troops and policemen during the British Mandate in Palestine.
British MI-6 files contain information on the elder Emanuel's participation in the terrorist activities of Irgun Zvai Leumi, a Jewish terrorist organization that targeted British forces, UN officials, and Palestinian Arabs in the lead up to Israeli independence in 1948.
Emanuel's father Benjamin was part of
the Israeli assassin team that murdered
Sweden's Count [Folke] Bernadotte in '48.
Bernadotte was the UN envoy in Palestine
who sought to find a solution to the UN
Partition Plan that gave Palestinian land
to Jews from "beyond the pale."
Benjamin Emanuel, a Jew from Russia whose real name was Ezekiel Auerbach, was arrested by British police for terrorist activities in the months prior to Israeli independence.
Many of the British policemen killed by Emanuel and his Irgun colleagues between 1947 and 1948 had been transferred to Palestine upon Indian and Pakistani independence in 1947. Irgun saw the increase of British policemen from the Indian subcontinent as a major threat.
The Jewish terrorist murders of British troops and policemen resulted in massive anti-Jewish riots in London, Liverpool, Glasgow, Manchester, and Cardiff in 1947.
In 1946, Emanuel's Irgun bombed the King David Hotel in Jerusalem, killing 91 people, including 28 British soldiers and policemen.
British intelligence also believed that Benjamin Emanuel may have been related to Vladimir Jabotinsky, a Russian Jew from Odessa who founded Irgun.
Jabotinksy, who was an admirer of Benito Mussolini and who secretly negotiated for the expatriation of Jews to Palestine with the Nazi government in Germany and Admiral Miklos Horthy's pro-Nazi regime in Hungary, died of a heart attack in New York in 1940.
Wikipedia deleted Benjamin Emanuel's entry in 2008*, shortly after Rahm Emanuel was designated as President Obama's chief of staff.
Wikipedia is a favorite device for the perception management goals of Dr. Cass Sunstein, Obama's director of the White House Office of Regulatory Affairs.
With a record of terrorist acts contained in his MI-6 files, Benjamin Emanuel was permitted by U.S. authorities to emigrate to Chicago from Israel in the 1950s, becoming a citizen. Rahm Emanuel was born in 1959.
*See the original (now deleted) Wikipedia page on Benjamin Emanuel, CLICK HERE.
(Previously published in the Wayne Madsen Report. May 13, 2010)