Archive for the 'medicine/medical treatment' Category
Denying the Demonic
By Edward Curtin / April 20th, 2021
In March of last year as the coronavirus panic was starting, I wrote a somewhat flippant article saying that the obsession with buying and hoarding toilet paper was the people's vaccine.
My point was simple: excrement and death have long been associated in cultural history and in the Western imagination with the evil devil, Satan, the Lord of the underworld, the Trickster, the Grand Master who rules the pit of smelly death, the place below where bodies go.
The psychoanalytic literature is full of examples of death anxiety revealed in anal dreams of shit-filled overflowing toilets and people pissing in their pants. 
Ernest Becker put it simply in The Denial of Death:
No mistake – the turd is mankind's real threat because it reminds people of death.
The theological literature is also full of warnings about the devil's wiles.
So too the Western classics from Aeschylus to Melville.
The demonic has an ancient pedigree and has various names. Rational people tend to dismiss all this as superstitious nonsense. This is hubris.
The Furies always exact their revenge when their existence is denied. For they are part of ourselves, not alien beings, as the tragedy of human history has shown us time and again.
Since excremental visions and the fear of death haunt humans – the skull at the banquet as William James put it – the perfect symbol of protection is toilet paper that will keep you safe and clean and free of any reminder of the fear of death running through a panicked world.
It's a magic trick, of course, an unconscious way of thinking you are protecting yourself; a form of self-hypnosis.
One year later, magical thinking has taken a different form and my earlier flippancy has turned darker. You can't hoard today's toilet paper but you can get them: RNA inoculations, misnamed vaccines.
People are lined up for them now as they are being told incessantly to "get your shot."
They are worse than toilet paper. At least toilet paper serves a practical function. Real vaccines, as the word's etymology – Latin, vaccinus, from cows, the cowpox virus vaccine first used by British physician Edward Jenner in 1800 to prevent smallpox – involve the use of a small amount of a virus.
The RNA inoculations are not vaccines. To say they are is bullshit and has nothing to do with cows. To call them vaccines is linguistic mind control.
These experimental inoculations do not prevent the vaccinated from getting infected with the "virus" nor do they prevent transmission of the alleged virus.
When they were approved recently by the FDA that was made clear. The FDA issued Emergency Use Authorizations (EUAs) for these inoculations only under the proviso that they may make an infection less severe. Yet millions have obediently taken a shot that doesn't do what they think it does. What does that tell us?
Hundreds of millions of people have taken an injection that allows a bio-reactive "gene-therapy" molecule to be injected into their bodies because of fear, ignorance, and a refusal to consider that the people who are promoting this are evil and have ulterior motives.
Not that they mean well, but that they are evil and have evil intentions. Does this sound too extreme? Radically evil? Come on!
So what drives the refusal to consider that demonic forces are at work with the corona crisis?
Why do the same people who get vaccinated believe that a PCR test that can't, according to its inventor Kary Mullis, test for this so-called virus, believe in the fake numbers of positive "cases"? Do these people even know if the virus has ever been isolated?
Such credulity is an act of faith, not science or confirmed fact.
Is it just the fear of death that drives such thinking?
Or is it something deeper than ignorance and propaganda that drives this incredulous belief?
If you want facts, I will not provide them here. Despite the good intentions of people who still think facts matter, I don't think most people are persuaded by facts anymore. But such facts are readily available from excellent alternative media publications.
Global Research's Michel Chossudovsky has released, free of charge, his comprehensive E-Book: The 2020-21 Worldwide Corona Crisis: Destroying Civil Society, Engineered Economic Depression, Global Coup D'Etat, and the "Great Reset."
It's a good place to start if facts and analysis are what you are after.
Or go to Robert Kennedy, Jr. Childrens Health Defense, Off-Guardian, Dissident Voice, Global Research, among numerous others.
Perhaps you think these sites are right-wing propaganda because many articles they publish can also be read or heard at some conservative media. If so, you need to start thinking rather than reacting.
The entire mainstream political/media spectrum is right-wing, if you wish to use useless terms such as Left/Right. I have spent my entire life being accused of being a left-wing nut, but now I am being told I am a right-wing nut even though my writing appears in many leftist publications.
Perhaps my accusers don't know which way the screw turns or the nut loosens. Being uptight and frightened doesn't help.
I am interested in asking why so many people can't accept that radical evil is real. Is that a right-wing question? Of course not. It's a human question that has been asked down through the ages.
I do think we are today in the grip of radical evil, demonic forces.
The refusal to see and accept this is not new. As the eminent theologian, David Ray Griffin, has argued, the American Empire, with its quest for world domination and its long and ongoing slaughters at home and abroad, is clearly demonic; it is driven by the forces of death symbolized by Satan.
I have spent many years trying to understand why so many good people have refused to see and accept this and have needed to ply a middle course over many decades. The safe path. Believing in the benevolence of their rulers.  
When I say radical evil, I mean it in the deepest spiritual sense.  A religious sense, if you prefer.  But by religious I don't mean institutional religions since so many of the institutional religions are complicit in the evil.
It has long been easy for Americans to accept the demonic nature of foreign leaders such as Hitler, Stalin, or Mao. Easy, also, to accept the government's attribution of such names as the "new Hitler" to any foreign leader it wishes to kill and overthrow. But to consider their own political leaders as demonic is near impossible.
So let me begin with a few reminders.
The U.S. destruction of Iraq and the mass killings of Iraqis under George W. Bush beginning in 2003. Many will say it was illegal, unjust, carried out under false pretenses, etc. But who will say it was pure evil?
Who will say that Barack Obama's annihilation of Libya was radical evil?
Who will say the atomic destruction of Hiroshima and Nagasaki and the firebombing of Tokyo and so many Japanese cities that killed hundreds of thousands of innocent civilians was radical evil?
Who will say the U.S. war against Syria is demonic evil?
Who will say the killing of millions of Vietnamese was radical evil?
Who will say the insider attacks of September 11, 2001 were demonic evil?
Who will say slavery, the genocide of native people, the secret medical experiments on the vulnerable, the CIA mind control experiments, the coups engineered throughout the world resulting in the mass murder of millions – who will say these are evil in the deepest sense?
Who will say the U.S. security state's assassinations of JFK, Malcolm X, MLK, Jr., Robert Kennedy, Fred Hampton, et al. were radical evil?
Who will say the trillions spent on nuclear weapons and the willingness to use them to annihilate the human race is not the ultimate in radical evil?
This list could extend down the page endlessly. Only someone devoid of all historical sense could conclude that the U.S. has not been in the grip of demonic forces for a long time.
If you can do addition, you will find the totals staggering. They are overwhelming in their implications.
But to accept this history as radically evil in intent and not just in its consequences are two different things.
I think so many find it so hard to admit that their leaders have intentionally done and do demonic deeds for two reasons.
First, to do so implicates those who have supported these people or have not opposed them. It means they have accepted such radical evil and bear responsibility. It elicits feelings of guilt.
Secondly, to believe that one's own leaders are evil is next to impossible for many to accept because it suggests that the rational façade of society is a cover for sinister forces and that they live in a society of lies so vast the best option is to make believe it just isn't so.
Even when one can accept that evil deeds were committed in the past, even some perhaps intentionally, the tendency is to say "that was then, but things are different now."
Grasping the present when you are in it is not only difficult but often disturbing for it involves us.
So if I am correct and most Americans cannot accept that their leaders have intentionally done radically evil things, then it follows that to even consider questioning the intentions of the authorities regarding the current corona crisis needs to be self-censored.
Additionally, as we all know, the authorities have undertaken a vast censorship operation so people cannot hear dissenting voices of those who have now been officially branded as domestic terrorists. The self-censorship and the official work in tandem.
There is so much information available that shows that the authorities at the World Health Organization, the CDC, The World Economic Forum, Big Pharma, governments throughout the world, etc. have gamed this crisis beforehand, have manipulated the numbers, lied, have conducted a massive fear propaganda campaign via their media mouthpieces, have imposed cruel lockdowns that have further enriched the wealthiest and economically and psychologically devastated vast numbers, etc. Little research is needed to see this, to understand that Big Pharma is, as Dr. Peter Gøtzsche documented eight years ago in Deadly Medicines and Organized Crime: How Big Pharma Has Corrupted Healthcare, a world-wide criminal enterprise. It takes but a few minutes to see that the pharmaceutical companies who have been given emergency authorization for these untested experimental non-vaccine "vaccines" have paid out billions of dollars to settle criminal and civil allegations.
It is an open secret that the WHO, the Gates Foundation, the WEF led by Klaus Schwab, and an interlocking international group of conspirators have plans for what they call The Great Reset, a strategy to use the COVID-19 crisis to push their agenda to create a world of cyborgs living in cyberspace where artificial intelligence replaces people and human biology is wedded to technology under the control of the elites. They have made it very clear that there are too many people on this planet and billions must die. Details are readily available of this open conspiracy to create a transhuman world.
Is this not radical evil? Demonic?
Let me end with an analogy. There is another organized crime outfit that can only be called demonic – The Central Intelligence Agency. One of its legendary officers was James Jesus Angleton, chief of Counterintelligence from 1954 until 1975. He was a close associate of Allen Dulles, the longest serving director of the CIA. Both men were deeply involved in many evil deeds, including bringing Nazi doctors and scientists into the U.S. to do the CIA's dirty work, including mind control, bioweapons research, etc. The stuff they did for Hitler. As reported by David Talbot in The Devil's Chessboard: Allen Dulles, the CIA, and the Rise of America's Secret Government, when the staunch Catholic Angleton was on his deathbed, he gave an interviews to visiting journalists, including Joseph Trento. He confessed:
He had not been serving God, after all, when he followed Allen Dulles. He had been on a satanic quest….'Fundamentally, the founding fathers of U.S. intelligence were liars,' he told Trento in an emotionless voice. 'The better you lied and the more you betrayed, the more likely you would be promoted…. Outside this duplicity, the only thing they had in common was a desire for absolute power. I did things that, looking back on my life, I regret. But I was part of it and loved being in it.' He invoked the names of the high eminences who had run the CIA in his day – Dulles, Helms, Wisner. These men were 'the grand masters,' he said. 'If you were in a room with them, you were in a room full of people that you had to believe would deservedly end up in hell.' Angleton took another slow sip from his steaming cup. 'I guess I will see them there soon.'
Until we recognize the demonic nature of the hell we are now in, we too will be lost. We are fighting for our lives and the spiritual salvation of the world. Do not succumb to the siren songs of these fathers of lies.
Resist.
Edward Curtin writes and his work appears widely. He is the author of Seeking Truth in a Country of Lies. Read other articles by Edward, or visit Edward's website.
US investigates second suspected case of mystery 'syndrome' near White House
By Katie Bo Williams, Jeremy Herb and Natasha Bertrand, CNN
Updated May 17, 2021
(CNN)Two White House officials were struck by a mysterious illness late last year — including one who was passing through a gate onto the property — newly revealed details that come as investigators are still struggling to determine who or what is behind these strange incidents.
Multiple sources tell CNN that the episodes affected two officials on the National Security Council in November 2020, one the day after the presidential election and one several weeks later.
The cases are consistent with an inexplicable constellation of sensory experiences and physical symptoms that have sickened more than 100 US diplomats, spies and troops around the globe and have come to be known as "Havana Syndrome."
The intelligence community still isn't sure who is causing the strange array of nervous system symptoms, or if they can be definitively termed "attacks."
Even the technology that might cause such an inconsistent set of symptoms is a matter of debate
The first incident, previously reported by CNN, occurred after the 2020 election as the NSC official was attempting to pass through an unstaffed gate near the Ellipse, according to a source with direct knowledge of the incident. That person suffered only mild symptoms after the encounter, including headaches and sleeplessness, all of which went away after a week.
The second official, whose case has not been previously reported, was struck weeks later near an entrance to the White House grounds, two sources familiar with the matter told CNN.
The second official suffered more serious symptoms and was ill enough to seek immediate medical treatment.
The twin incidents in downtown Washington, along with a previous suspected case in northern Virginia in 2019, have raised concerns that the wave of episodes first seen only among Americans overseas is now occurring in rising numbers on US soil — and maybe even at the President's front door.
Click button to enter email to sign up for CNN's Meanwhile in America newsletter."close Email Capture Inline Zone"
This story is based on interviews with over a dozen current and former officials with knowledge of the US efforts to respond to these mysterious incidents.
For five years now, investigators have struggled to explain the strange experiences reported by US diplomats and other government workers in Cuba, Russia, China and elsewhere — episodes that in some cases have led to chronic headaches and brain injuries.
Victims have reported experiencing sudden vertigo, headaches and head pressure, sometimes accompanying by a "piercing directional noise."
Some reported being able to escape the symptoms simply by moving to another room — and step back into them by returning to their original position.
The number of suspected cases worldwide is increasing, according to a recent statement from the leaders of the Senate Intelligence Committee. There have been more than 130 cases worldwide over the past five years, according to the New York Times, which reported at least one episode taking place overseas in the last two weeks.
There have also been suspected cases in Europe, CNN previously reported, and additional suspected cases are being investigated domestically, according to sources with knowledge of the matter.
'Anomalous health incidents'
Under pressure from lawmakers and victims, the Biden administration has dramatically ramped up its efforts to "identify the cause of these incidents, determine attribution, increase collection efforts, and prevent" what the intelligence community now terms "anomalous health incidents," a spokesman for the Office of the Director of National Intelligence said in a statement on Tuesday.
CIA Director Bill Burns has begun to receive daily briefings on the matter, including some from victims of these strange encounters, according to two sources familiar with the matter.
But even a definitive diagnosis proving any one case is, in fact, "Havana Syndrome," has proven frustratingly difficult, officials say.
Victims suffer a myriad of different symptoms both initially and over time, and scientists, engineers and medical experts are divided over whether all of the cases under investigation can be attributed to a single cause.
The government has successfully identified and fielded a blood test that can point to some markers that may indicate exposure, according to two US officials with direct knowledge of the matter.
That test was among the diagnostic tools used in recent cases of intelligence officers who reported symptoms consistent with Havana Syndrome, and in the case of at least one of the White House victims, according to sources familiar with the matter.
But the test alone is not enough to offer a clear diagnosis.
Multiple agencies are also trying to create or repurpose a type of sensor that could be used to detect anomalous activity and, theoretically, help establish that personnel are being hit, according to two current US officials and one former US official — although sources cautioned such a tool would only be able to detect the activity, not protect from it.
"How do you counter something you don't know is coming?" said one intelligence official.
A March report from the National Academy of Sciences found that "directed, pulsed radiofrequency energy" was the most likely cause of the strange set of symptoms — so-called microwave energy — but officials caution that even that isn't known for sure, and some academics have publicly dismissed the theory as unsupported.
"The whole 'microwave' theory is not because someone has any intelligence to suggest it, or someone saw it happen," said one source familiar with the intelligence on the matter. "This is what's been so maddening. It's based purely on symptoms."
"We have no hard leads — just all circumstantial evidence. And it's circumstantial evidence that could also be something completely different."
A National Security Agency memo made public in 2014 revealed that the agency had intelligence from as recently as 2012 pointing to the possible existence of "a high-powered microwave system weapon … designed to bathe a target's living quarters in microwaves, causing numerous physical effects, including a damaged nervous system."
But the memo did not definitively confirm the existence of such a weapon, or which country may have developed it.
And some officials have questioned how such a weapon might be discreetly powered — especially in crowded downtown Washington — and focused so precisely that it would only cause injury to the target's brain and not the rest of the body.
Equally murky is who might be behind these incidents, if they are indeed attacks.
Some evidence points to Russia as a likely culprit, officials say, but it is largely circumstantial: Russia is one of only a few countries that has dedicated research and development to what some experts believe could be the kind of weapon that could cause symptoms consistent with Havana Syndrome.
Some officials tracking Havana Syndrome suggest that, if a foreign adversary is using some kind of directed energy weapon, the intent may not be to harass or maim US personnel, but rather to collect information from their cell phones.
"I don't know if they stumbled across a collection mechanism that allows it to be used as a weapon system or if they are just trying to collect (data from cell phones) and it (causes) adverse side effects," said one person with direct knowledge of the incidents. "From what I read that the jury's still out on what exactly people thought it was."
'We don't have the smoking gun'
The new incidents, including those in Washington, have sparked growing frustration among lawmakers on Capitol Hill, who say the intelligence community has failed to provide Congress with enough information on what it knows and how it's responding — and has not properly taken care of the victims.
"I'm appalled that many of these individuals who were injured in the line of duty have had to fight to get adequate medical care, to have their injuries even recognize and acknowledge and to receive financial compensation," said Sen. Susan Collins, a Maine Republican on the Senate Intelligence Committee.
Lawmakers on the House and Senate Intelligence and Armed Services committees have been demanding additional details and have urged intelligence officials to declassify information about the attacks.
Lawmakers have praised Burns' stated commitment to the issue, but a recent closed-door Senate Intelligence Committee briefing on the subject was one of the committee's most contentious in recent memory, according to two sources familiar with the briefing.
Congress has also expressed concern that the government has failed to sufficiently coordinate efforts out of multiple agencies — including the Pentagon, intelligence community and State Department — to address the problem.
"There are lots of entities in the government looking at this. We need to have it better coordinated," said Senate Intelligence Chairman Mark Warner. "I think there's a level of seriousness given to this now that frankly was not there until Director Burns came and made this a priority."
The Virginia Democrat said it was frustrating that after five years since these apparent attacks began occurring, there's still difficulty in everything from taking care of those who have been injured to determining who is responsible and even what tools or weapons were used.For some victims of these strange incidents — some of whom are suffering from debilitating ongoing health problems — the government's response has been equally frustrating.
Current and former officials say that during the Trump administration, individuals who reported experiencing these symptoms weren't always believed."
It took awhile for certain people to take it very serious," said one official with direct knowledge of the incidents
Even now, officials who report these symptoms are closely screened to confirm whether their symptoms are physical or psychosomatic."
The problem with the handful (of episodes) that I know have happened here in this country (is) the smoking gun," said the official. "We don't have the smoking gun."
Ready or not, we need to start talking about menopause in the workplace
By Lisa DeShantz-Cook. Senior editor, ThinkHR. May 3, 2021. (Borrowed from Quartz with a few editing)
What is menopause anyway?
Speaking of menopause and its precursor perimenopause aloud can clear a room.
While everyone knows it's something we have to deal with, no one wants to actually talk about it—especially Not in the workplace, and certainly not in mixed company.
But in this era of bringing our whole selves to work (whether that's in the physical presence of our coworkers or from our home workspaces), it's high time we introduced the topic.
Menopause, meet the workplace. Workplace, say hello to menopause.
Employers are okay discussing and making accommodations for pregnancy and breastfeeding, but menopause seems somehow different, a workplace taboo best swept under the proverbial carpet. As a result, they're missing opportunities to support us.
What is menopause?
Menopause isn't just a time when we stop having periods. A whole host of symptoms related to menopause can affect us in our 40s, 50s, and into our 60s.
These symptoms include hot flashes, cognitive changes, sleep issues, depression, anxiety, stress and burnout, to name just a few.
Mind you that Menopause can occur earlier due to certain health conditions, surgery, or chemotherapy.
My own experience with menopause just happened to coincide with a worldwide pandemic. With work travel effectively shut down, I could suffer symptoms over video meetings, where luckily my co-workers were unlikely to notice my pounding heart and shirt-soaking hot flashes.
Experiencing the indignities alone in my home office, and being able to shut off my video camera to run outside, is a luxury many of my friends aren't afforded.
When menopause arrives, we may be at an age where we may have more time to devote to work or other interests now that children may be off to college or grown and gone.
We might also have fewer responsibilities outside of work, so more time to dedicate to work, education, certification, or other interests.
Conversely, menopause can happen when we have even more demands—like caring for older or ill parents or family members—on top of other family stressors.
Menopause can be a cruel twist in a life that might just be hitting its stride or yet another challenge on top of an overfilled plate.
If you're in it, you know. You've probably raced into a meeting and gotten situated at the table, only to be overtaken by the internal fire that signifies an oncoming hot flash—and had to race for the door.
Your co-workers might be confused by your constant fanning, or your need for dressing in umpteen layers and peeling them off at seemingly random times. You might have snapped at someone for little reason or pushed past someone in the hallway in a rush for fresh air.
Worse still is the brain fog.
Routine tasks might get hazy, or you may have forgotten where you were in the middle of a meeting or presentation, or dropped the ball on your part of a team project. These slips can be brutal to your ego, but if you're supported in the workplace, they don't have to derail your career.
How employers can support women going through menopause
Menopause does affect the workforce—recent studies show 20% of the current workforce is experiencing it—so employers should acknowledge it.
Here's how they can begin:
First and foremost, actively work to demystify and destigmatize this very normal life phase.
Encourage open and honest discussion about menopause and its side effects. Acknowledging that symptoms can be both emotionally and physically challenging can go a long way.
Build policies that help us feel supported in all phases of our work life, and facilitate conversations that help co-workers and managers understand when support and understanding is needed.
Create a safe space for us to express our needs to managers and supervisors, such as flexible hours if sleep is being interrupted, access to fresh air during the workday, proximity to bathrooms, or breaks in meetings. Our having to say "I'm having a hot flash and need to step away" shouldn't be met with ridicule, shame, or personal questions.
Make room for menopause in workplace health programs.
Is there a place to get information on menopause for those experiencing it or those wishing to provide support? Does the employee assistance program (EAP) offer guidance? Do health and wellness talks include information about menopause?
Educate managers on menopause, symptoms, accommodations, and appropriate support, and teach them what they can do to keep their employees experiencing menopause symptoms engaged, productive, challenged, and feeling valued.
If those of us experiencing menopause aren't acknowledged and supported by workplace policies and initiatives, we'll feel alienated, invisible, less valued, and may bow out of the workforce well before we're ready, taking with us valuable wisdom and experience.
Support from company leaders, openness and efforts to destigmatize menopause in the workplace, and employer policies and programs that support our health at all ages benefit everyone.
Israeli Vaccine Drive Excludes Millions of Palestinians in Occupied Territories
STORY JANUARY 05, 2021
Despite the fast rollout, human rights groups are expressing alarm over Israel's decision Not to vaccinate Palestinians in the occupied West Bank and Gaza, where about 1,500 people have died during the pandemic.
Israel has defended its actions citing the Oslo Peace Accords, which put Palestinian authorities in charge of healthcare in the West Bank and Gaza. (An accord that Israel never applied, as usual)
Dr. Mustafa Barghouti, a physician, member of the Palestinian Parliament and head of the Palestinian Medical Relief Society. "Israelis are getting the vaccines, and Palestinians are getting nothing."
AMY GOODMAN: This is Democracy Now!, democracynow.org, The Quarantine Report. I'm Amy Goodman, with Juan González.
Israel has become the first country in the world to administer COVID-19 vaccines to more than 10% of its population. As of Monday, 14% of Israelis had received a vaccine — far higher than any other country. Despite the fast rollout, Israel's health minister says a total lockdown is needed to combat the surging number of new infections. (Actually, most of Israelis that travelled to the Gulf Emirates were fleeing the lockdown)
This comes as human rights groups are expressing alarm over Israel's decision not to vaccinate Palestinians living in the occupied West Bank and Gaza, where about 1,500 people have died during the pandemic.
Physicians for Human Rights recently said, quote, "Israel bears moral and humanitarian responsibility for vaccinating the Palestinian population under its control," unquote. Israel is, however, offering vaccines to Jewish settlers living in the illegal settlements in the West Bank.
Israel has defended its actions, citing the Oslo Peace Accords, which put Palestinian authorities in charge of healthcare in the West Bank and Gaza. Palestinian officials are facing a number of hurdles in launching its own vaccine campaign, including a shortage of money, lack of access to vaccines, lack of infrastructure to distribute a vaccine.
Israel has so far been relying on the Pfizer-BioNTech vaccine, which needs to be stored at minus-94 degrees Fahrenheit.
Storing such a vaccine is impossible in Gaza, where residents often go 12 or more hours a day without electricity.
In 2014, Israel bombed Gaza's only power plant in what Amnesty International described as "collective punishment" of Palestinians.
We go now to the West Bank city of Ramallah, where we're joined by Dr. Mustafa Barghouti, physician, member of the Palestinian Parliament, head of the Palestinian Medical Relief Society, has been leading efforts to manage the pandemic in the West Bank and Gaza.
He was infected with COVID-19 in December. He's secretary general of the Palestinian National Initiative, a political party. And he was a presidential candidate in the 2005 elections.
We welcome you to Democracy Now!, Dr. Barghouti. Can you explain what is happening? How has Israel become the country that has vaccinated more of its population than any country in the world, and yet Palestinians are not getting vaccinated? Who's in charge of this program? Who should be?
DR. MUSTAFA BARGHOUTI: Well, thank you, Amy. I'm glad to be with you.
Israel actually is violating international law, because it is denying its responsibility as an occupying power. Israel managed to get 14 million vaccines for the Israelis and those who hold Israeli IDs, but gave nothing to Palestinians. So, practically, they are vaccinating 8 million Israelis and not vaccinating 5.3, 5.2 million Palestinians living in the Occupied Territories.
More than that, this system of racial discrimination (It is a colonial apartheid discrimination), which can only be compared, in my opinion, to apartheid system, is doing something horrible in the West Bank.
Seven hundred fifty thousand 750,000 illegal settlers are getting the vaccines now; 3.1 million Palestinians in the West Bank are getting nothing.
More than that, in the Israeli prisons, Israel ordered the guards in the prisons to get the vaccine, and probably the Israeli criminal prisoners, but the Palestinian prisoners, 5,000 of them, are getting nothing.
What can be more clear here than that this confirms that this is really a system of racial discrimination?
And when they speak that the Palestinian Authority is responsible, this is totally misleading.
First of all, the Palestinian Authority approached them, asking at least for vaccines for us, the healthcare providers, who are being infected around the clock. And Israel refused.
The Palestinian Authority is in charge only of 38% of the West Bank, only.
Sixty-two percent of the West Bank is Area C, under full Israeli military control, and Israel is doing nothing for Palestinians there.
If the Palestinian Authority tries to import a vaccine from outside, they will need Israeli permit. And Israel did not allow any permit yet for Palestinians. Israel controls the borders, controls the imports, controls the exports.
And the biggest disaster is in Gaza, because in Gaza you have 2.1 million besieged by Israel, lacking health facilities, lacking equipment, and there, they are not getting any vaccines.
70% of Palestinians in Gaza are refugees displaced from their land in 1948. When you tell them, "Go and quarantine," I don't know how they can do that, if you have 10 people living in two rooms. It's impossible.
The problem is that the rate of infection today in the West Bank and Gaza is 36%, while in Israel it's 4.5%. Israelis are getting the vaccines, and Palestinians are getting nothing.
JUAN GONZÁLEZ: But, Dr. Barghouti, isn't it in the interest of Israel, from a public health perspective, even if they want to pursue this continued antagonistic policy toward the Palestinians, to have the Palestinians vaccinated, to reach herd immunity in the total area?
DR. MUSTAFA BARGHOUTI: You're absolutely right. In my opinion, Netanyahu and his government — this man is so racist. He only thinks of himself. He only thinks of his political future. He only thinks of escaping the criminal charges against him and being reelected again.
And all he does is to satisfy the Israeli right-wing voters.
In reality, what his government is doing is actually hurting the Israelis, as well, because you cannot reach herd community if you have 8 million people vaccinated and 5.2 million people not vaccinated, especially that 130,000 Palestinian workers will continue to go to Israel for work and will interact with Israelis, of course, and there are 750,000 other Israelis, illegal settlers, in the West Bank, who will continue to commute and communicate with the 3.1 million unvaccinated Palestinians.
So, practically, this is a crime against Palestinians and a crime against the health of Israelis. It's a violation of the international law, but also it's, in my opinion, the worst crime against medical ethics, which says nobody should be discriminated against because of anything, which says, "Do no harm, and help people as much as you can as a health professional."
JUAN GONZÁLEZ: I wanted to ask you — the COVAX facility that the World Health Organization established to help poor countries has pledged to vaccinate 20% of Palestinians. Where does that stand right now in terms of that pledge?
DR. MUSTAFA BARGHOUTI: I am in communication with the head of WHO here. And they are trying their best, but they do not think they can get anything here before four or five months, and if they are lucky.
Up 'til now, they don't know what vaccine they can get in. Up 'til now, they don't know how to get vaccines. That's why, given the huge spread now of community infections in the West Bank and Gaza, a very high number of cases — I estimate we have already 600,000 cases.
And they approached the Israelis. The WHO approached Israel, asking at least for vaccines for the health professionals. Israel refused and continues to refuse.
So, unfortunately, we are looking here at a potential real serious disaster. And as a person who is suffering from COVID-19 now, after nine months of being so protective and trying to be very careful, I can tell you this is a horrible disease.
I don't wish it for anybody. It's very dangerous. It can be destructive. It can kill the people. And it can also leave them with incapacity for a very long — for the rest of their life.
AMY GOODMAN: Dr. Mustafa Barghouti, as you said, you yourself have COVID-19 right now. You're in the throes of it. We know that Saeb Erekat, chief negotiator, died of COVID-19. You're a frontline physician. Do you get vaccinated?
And what about the vaccines? Apparently, PA has asked the United Arab Emirates to share some of its supply of Chinese-made vaccine, and the Palestinian Authority has reportedly ordered 4 million doses of the Russian Sputnik vaccine.
When are these doses going to come? And what are you demanding of the not only Israeli government, but the U.S. government, since it gives so much money to the Israeli government?
DR. MUSTAFA BARGHOUTI: I think I demand from the whole international community to do two things: First of all, to exercise immediate pressure on Israel to allow the passage of vaccines to at least the beginning — in the beginning, to the health professionals that are taking care of people, so that the health system would not collapse, and then to the elderly, of course, etc.;
Second, we're asking the international community to provide aid, bypassing Israel. Israel will not respond. And the international community has a big duty here.
I was not vaccinated. No health professional in the West Bank has been vaccinated yet. And we don't know when we will get this vaccine. And it is really critical, because the rate of infection is going up, and it is affecting — it could affect everybody in the community. So what we need is immediate pressure.
Regarding the Russian vaccine, yes,, there was a request, but I don't think the Russians can provide such vaccines, because their capacity of production is still low. They have produced only 500,000, up 'til now, vaccines. And their maximum capacity is 4 to 5 million per month, and they need 100 million vaccines for Russia itself. So I don't think that is a solution, although the Sputnik vaccine seems to be very good.
I think what we need is to really have a way of getting the AstraZeneca or the Moderna vaccine. Of course, we have a problem with Pfizer, although we have managed to provide some facilities in the West Bank, if we can get it, to give it to people.
But the most immediate need now — now it's a health disaster. Now it's a very risky situation. A whole population is subjected to a very big, alarming risk. That's why it is very urgent to immediately exercise pressure so that Palestinians also get the vaccines.
AMY GOODMAN: Would you describe this as medical apartheid?
DR. MUSTAFA BARGHOUTI: Yes, absolutely. This is the worst form of apartheid: medical apartheid. It didn't even exist in South Africa.
This is just beyond description. Imagine you go to a prison: You vaccinate the guards, but not the prisoners; you vaccinate Israeli prisoners, who are criminal usually, and not vaccinate Palestinian political prisoners.
Imagine you go in the cities of the West Bank: The settlers are vaccinated, and nearby Palestinian cities and communities are not vaccinated. Not only they grab our land, not only they settle illegally on our land, take away our natural resources, take away our sources of economy, but also they back this system of apartheid. I call it — I call it vaccination with racism.—
AMY GOODMAN: Dr. Mustafa Barghouti, physician, member of the Palestinian Parliament, thanks for joining us.
The original content of this program is licensed under a Creative Commons Attribution-Noncommercial-No Derivative Works 3.0 United States License.
Please attribute legal copies of this work to democracynow.org. Some of the work(s) that this program incorporates, however, may be separately licensed. For further information or additional permissions, contact us.
And what are the Brain cells Survival Skills?
Posted on March 4, 2013
Fear beyond the Amygdala
Ranya Bechara posted on Feb. 6, 2013
For decades now, scientists have thought that fear could not be experienced without the amygdala.
This almond-shaped structure located deep in the brain (pictured on the left). The amygdala has been shown to play an important role in fear-related behaviours, emotions, and memories, and patients with damage to the amygdala on both sides of the brain were thought to be incapable of feeling afraid.
However, a recent study in Nature Neuroscience reports that these 'fearless' patients do experience fear if made to inhale carbon dioxide- a procedure that induces feelings of suffocation and panic.
The patients reported being quite surprised at their own fear, and that it was a novel experience for them!
Scientists behind the study have suggested that the way the brain processes fear information depends on the type of stimulus. The results of this study could have important implications for people who suffer from anxiety disorders such as panic attacks and post-traumatic stress disorder (PTSD).
More details can be found here
And how the brain can momentarily react to oxygen deficiency from Strokes?
Can scientists use the brain's inherent survival mechanisms to develop better stroke treatment?
Strokes are a major cause of death and disability worldwide, with 150,000 people affected in the UK every year.
Most strokes happen when a blood vessel that supplies blood to the brain is blocked due to blood clots or fat deposits. Once blood is cut off from an area of the brain, brain cells are starved for oxygen and nutrients and start to die within minutes.
A new study in Nature Medicine, scientists at the University of Oxford reveal a novel way in which the brain protects itself in response to stroke.
Ranya Bechara posted on Feb. 27, 2013 "Stroke Vs Brain: Harnessing the Brain's Survival Skills"
Current treatments for stroke are focussed on breaking up the clots, improving blood flow to the affected area, and ultimately reducing the brain damage caused by the stroke. However, the so called 'clot-busters' are only effective if given within one to two hours of the stroke.
Other ways of protecting the brain against stroke damage are in high demand.
In this study, the research team from Oxford University (in collaboration with other researchers from Greece, Germany, and Canada, and the UK) decided to try a new approach. They investigated a phenomenon that has been known for years: some brain cells have an inherent defence mechanism that allows them to survive when deprived of oxygen.
These cells are located in the part of the brain responsible for forming memories: a pretty sea-horse shaped structure called the hippocampus.
The scientists analysed the proteins produced by these cells and found that the key to their survival is a protein called hamartin. This protein is released by the cells in response to oxygen deprivation, and when its production was suppressed, the cells became more vulnerable to the effects of stroke.
Original article is available here
Photo credit: http://www.vascularinfo.co.uk
Vaccines Don't Mean We'll See the Last of Covid, Experts Warn
Past immunization campaigns suggest the disease may never be fully eradicated
Why this prediction that the Covid virus will never be eradicated? Because there will always be a large proportion of susceptible population in the community who are Not vaccinated..
By John Lauerman and James Paton. December 20, 2020
In record speed, vaccines are here, and more are on their way. 
Less than a year since the coronavirus began ravaging the world, the first shots are raising hopes for wiping the Covid-19 pandemic from the face of the earth.
Today's programs in the U.S. and the U.K. are precursors to immunization campaigns intended to reach the planet's entire population — all 8 billion people in every corner of the globe.
Is there reason for optimism? 
Vaccines are the best way to eliminate infectious disease: Smallpox has been eradicated and polio is on the brink, with just two countries where transmission persists. (How about the countries succumbing to sanctions from receiving vaccines, basic medication and basic food? Like Yemen, Libya, Syria, Palestinians in Gaza and West Bank…?)
But global vaccine campaigns take time — usually decades — suggesting that even with the latest technologies, money and power behind the unprecedented global drive to knock out Covid-19, the disease is unlikely to be eliminated any time soon.
"I would be surprised to see an actual eradication of this virus now that it's all over the world, I'd be shocked, given how contagious it is." said Walter Orenstein, associate director of the Emory Vaccine Center in Atlanta and former head of the U.S. Centers for Disease Control and Prevention's immunization program. "I'd be shocked, given how contagious it is."
Snags in supply and distribution have already arisen in the opening days of the U.S. campaign, and the U.K., the first Western country to begin immunizing, vaccinated just 138,000 people in its first week. Meanwhile, Europe has yet to start inoculations, and probably won't do so until after Christmas.
Concerns are growing over how long it will take to immunize vast swaths of the world beyond a group of wealthy countries that have snapped up early supplies.
A global program called Covax, which aims to deploy Covid vaccines around the globe, has secured deals with developers including Johnson & Johnson and AstraZeneca Plc.
But some of those supplies are expected to come from an experimental inoculation from Sanofi and GlaxoSmithKline Plc that's been delayed and may not be ready until late next year.
"It's really, really complicated to make sure we get those vaccines produced and distributed in an equitable way globally, for both moral and economic reasons," Mark Suzman, chief executive officer of the Bill & Melinda Gates Foundation, told reporters on a Dec. 9 call.
Suzman pointed to research showing that broad access to vaccines could deliver significant economic benefits to all countries and save many lives.
Since wealthy nations will likely have more than enough doses to vaccinate their entire populations, they should consider the reallocation of some supplies to those most in need, he said.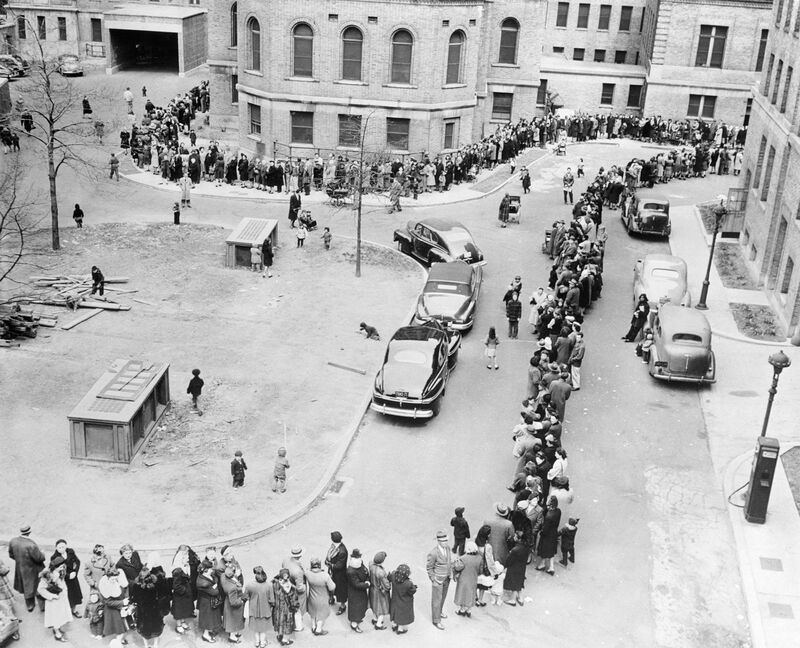 Mass vaccination has been one of the most successful public health interventions in the world and has played an important part raising U.S. life expectancy by more than 50% over the last century.
About a third of U.S. deaths in 1900 occurred in children under age 5, many of them from diseases like smallpox, measles and whooping cough that are now preventable by immunization.
Some new vaccines have also gained quick and widespread use, like shots that prevent pneumococcal infections that can cause severe illness in children and adults. Introduction of the shingles vaccination has offered prevention of the painful disease to millions of people over the past two decades.
A veteran of the World Health Organization effort to eradicate smallpox, Orenstein would often immunize himself in front of entire villages to assuage safety fears.
The agency resolved to try to eradicate the disease in 1959 when it still afflicted many developing countries, but the effort didn't kick into high gear until 1967 when more funds and personnel were committed by the WHO and its members.
The smallpox effort initially targeted entire populations, but that turned out to be impractical, recalled William Schaffner, a Vanderbilt University infectious-disease specialist who has advised the government on vaccination. The turnaround came when the strategy switched to identifying cases and then vaccinating everyone in proximity, sometimes hundreds of households.
This approach of creating a vaccination ring around cases was only possible, however, because smallpox can be a disfiguring disease, making it easy to identify, and spreads relatively slowly.
"It has this reputation of spreading rapidly but it actually spreads rather slowly," Schaffner said. "You also need rather close contact for transmission to occur."
Those features allowed vaccination teams to identify patients just as they were becoming infectious and close off all opportunities for transmission. Even so, it took two decades for the worldwide effort to contain the last outbreak in 1977.
A better comparison to Covid might be polio, an intestinal virus that sometimes causes permanent, severe disease. Polio is similar to Covid in that only a minority of infected people — about one in 100 — become extremely ill.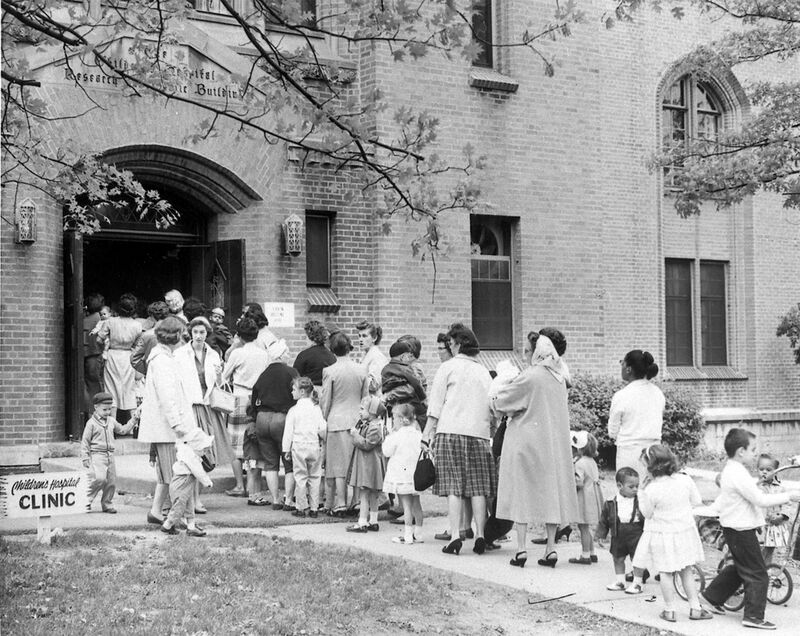 That's created one of the problems anticipated in widespread Covid vaccination: People who don't believe they're vulnerable to the disease may not want to be vaccinated, even though it may benefit others by keeping hospital intensive-care units free and possibly preventing transmission of the disease.
An important difference with polio, however, is that it can cause severe disease in young children, leaving them with lifelong paralysis, Orenstein said. That's unlike Covid, which mainly strikes the elderly and chronically ill. That's left some portions of the public indifferent.
"We're getting more than a death a minute — on some days two deaths a minute," he said. "It's very disturbing to see the lack of concern in other people."
Yet even with the specter of children paralyzed from polio and a vaccine available for some 65 years, global elimination of that disease still hasn't been reached.
Two countries, Afghanistan and Pakistan, continue to have spread because of insufficient vaccination rates,  according to the Global Polio Eradication Initiative.
The latest Covid updates Make sense of the headlines and the outbreak's global response with the Coronavirus Daily.EmailBloomberg may send me offers and promotions.
To defeat Covid, "we've got to convince people to take the vaccine," said Anthony Fauci, the top U.S. government infectious-disease specialist, in an interview.
"If you have a highly effective vaccine and only 50% of the people take it, you're not going to have the impact that you'd need to essentially bring a pandemic down to such a low level that it's no longer threatening society. And that's the goal of a vaccine, the same way we did with measles, the same way we did with polio, the same way the world did with smallpox."
Most standard immunizations provide protection for years to decades.  We still don't know how long Covid vaccines will last, Fauci pointed out.
And it isn't clear whether they prevent transmission along with protection against symptoms, although studies may soon shed light on that.
The logistics and supply-chain challenge the world faces today is "more complicated than usual because for the first time in history we'll be introducing multiple vaccines against the same target at the same time," Rajeev Venkayya, president of Takeda Pharmaceutical Co.'s vaccines business, said in an interview.
That means countries will need databases to track the rollout and ensure people are getting the doses at the right times, as well as systems to monitor potential side effects and share the information with the public, he said.
Early on, countries plan to prioritize the most vulnerable people as well as health-care workers and other critical staff, which will reduce deaths and suffering considerably, said Venkayya, former special assistant for biodefense to U.S. President George W. Bush.
"But transmission won't go down dramatically in the beginning. It's going to take time to get to a sufficient level of vaccine-driven population immunity before we begin to dampen transmission."
Potentially by the middle of next year countries such as the U.K. and U.S. will be able to see a "real dampening of transmission," he said. "That timeline is going to be delayed in many other parts of the world that don't have this kind of early access to vaccines."
Unvaccinated populations always threaten to reintroduce disease into areas where herd immunity appears to have taken over.
Just last year, the annual number of worldwide, reported measles case rose more than six-fold to about 870,000, the most since 1996, as immunization rates flagged. 
The world is likely to see the same level of viral persistence from the coronavirus, said Klaus Stohr, a former Novartis AG vaccine executive and WHO official who championed efforts to prepare for pandemics.
"The prediction is pretty clear: The virus will never be eradicated. Why? Because there will always be a large proportion of susceptible population in the community." said Klaus Stohr
— With assistance by Jason Gale
Question posted on Quartz: The Pfizer and Moderna vaccines are made from mRNA. Does that mean they'll mess with my genetic material, my DNA?
Vaccines based on genetic material may give you pause. But mRNA vaccines, which have been in the works for nearly three decades, never touch our DNA.

As a result they can't interfere with human genes. Instead, they just borrow some of our cellular tools before harmlessly breaking down in a matter of hours.

Specifically, mRNA vaccines for Covid-19 take advantage of our cells' protein-making factories, called ribosomes.

Normally, our ribosomes create proteins based on recipes from our own DNA, which is locked up inside the nucleus, a protective, membrane-covered bubble within our cells.

The vaccine shot delivers a microscopic, fatty package into our cells, carrying a recipe—the mRNA sequence—for a protein that mimics the SARS-CoV-2 virus.

When that mRNA meets up with our ribosomes, our ribosome chefs interpret this new mRNA as if it were a recipe generated from our own DNA, but the DNA inside the cell's nucleus remains untouched.

Question: And if the cell membrane gets punctured, weak and unhealthy… and the mRNA sequence seep through and alter the DNA? What kind of a new human species we end up with?
Damaged Children, after receiving one kind of mandatory vaccines.
by Laurel Austin | Jul 14, 2020
What is every parents dream? To have normal healthy children on that day of their birth.
To teach them and raise them in their faith, their belief and their ideals. Strengthen them and laugh with them as they grow. To watch them grow into loving caring responsible adults who have compassion, integrity and love for their fellow human beings.
To watch them get married and have a family of their own, blessing you with grandchildren. (That is Not a dream. That is series of calamities awaiting newborns)
What happens when that dream is stolen? Not by accident, not by some unfortunate circumstance, but a deliberate intentional assault. (Mandatory all kinds of vaccine schedules)
Today in America and around the world, thanks to the vaccine schedule that we have implemented on our children, this very thing has happened. It has destroyed the lives and future of our children as well as their children or potential children.
It has caused severe and extreme anguish, normal day-to-day functioning, and the ability to express oneself and love each other.
My name is Laurel Austin and I am the mother of six children. My older four children have varying degrees of what is today called autism, but I call it vaccine injury.
My younger two children were never vaccinated, and they are completely typically developed, functioning teenagers.
Right now my teenagers are helping me to care for my 28 and 30-year-old sons Joshua and Jeremy. 
I can tell you all the criteria that I have gathered in order to make this assumption (conjecture?), and it is based on medical evidence as well as parental observation.
It is based on genetic testing that was done that showed no genetic link towards anything that would predispose my children to these symptoms known as autism. They were tested for fragile X, Prader Willi, celiac disease, Rhett syndrome, and it all came back negative.
They were also tested for heavy-metal toxicity and the test came back positive. (Heavy metal contaminations must be obvious, since all equipments and machineries basically need many kinds of heavy metal)
What bewilders me is how doctors will continue to push these vaccines even though their roster of patients who are children continue to become damaged.
And not just damaged with "autism", but also cancer, SIDS, allergies, diabetes, asthma, auto-immune diseases. The list never ends.
We are told we are a conspiracy theorist if we noticed the change following the vaccination and speak up to our doctor.
Pediatricians are firing parents from bringing their children to be seen in the office if they refuse the scheduled vaccines.
We are told to just wait till the next visit and we'll see if things get any better while our children are banging their heads against the wall, losing speech, losing eye contact, losing any semblance of development they had once obtained.
We are shunned by our peers for speaking out that a vaccine harmed our child. Any other injury evokes empathy, sympathy, consideration, and compassion from the community. Except for autism.
And as if all of this wasn't bad enough, when the parents of these harmed, damaged children that they love so much go to seek help and find none through their pediatricians and mainstream medical doctors, when they search out alternatives medicine, they are then attacked four-fold.
Parents are told systematically that their children were born this way and to just accept it, it's genetics.
But these parents know for a fact they had witnessed the change, the loss of acquired skill.
In their hearts they know that this is not how their child was born to be, this was something done to them.
This is what our society has reduced itself to. This is the battle I am fighting right now.
These parents need our help. They need our confirming witness, they need our support, they need us to rise up and defend the right to thrive for all of our children.
The autism rate has gone from one in 10,000 children in the 1990s to a rate of one in 29 children today. This is an epidemic. There is no such thing as a genetic epidemic.
There are remedies and cures out there. There are methods in which you can at the minimum alleviate some of the more severe symptoms that your child has.
The system is currently eliminating these. They want your child on their pharmaceutical drugs. The word pharmaceutical is from the root word PharmaKia, which is sorcery in the Bible.
Bill Gates has come out publicly and said that through healthcare and vaccines we can lower the population by 10 to 12%. (You means Gates knows that many will die from vaccines and degraded current healthcare systems?)
Right now, the world is looking to him to give us a coronavirus vaccine.
It looks like he will have the opportunity to fulfill his goal.
The time to speak out is now.
Note: I am one who doesn't trust this hurried Covid-19 vaccine. And I will desist from taking my annual Flu vaccine as well.
Written by Dyami Millarson
Underlying tooth decay, there is a constant battle between demineralisation and mineralisation.
Dental caries may simply be defined as the cumulative result of the cyclical ebbs and flows of demineralisation and mineralisation.
Remineralisation is the term used for the normal daily process whereby the teeth, namely the enamel and dentin, are repaired from demineralisation.
Enamel is the material that covers the outside layer of the teeth above the crown. It is one of the most mineralised and hardest parts of the human body. Enamel is a composite of both organic and inorganic components, and the same is the case for dentin.
Dentin is the hard dental tissue that is the whole body of the tooth . Alternatively, dentin may be more specifically defined as the dental layer under the enamel which covers the surface of the teeth.
Enamel and dentin are also seemingly contrasted with the latter being defined as a mineralised dental tissue and the former as a mineralised dental structure,
Context is relevant for understanding the definition of mineralisation: Mineralisation in this article deals with tooth decay, it is relevant to specify that biomineralization is meant by this.
In the context of soil science, mineralisation is the process by which organic matter is converted to mineral nutrients, which are easy to absorb for the roots of the plants growing in the thus mineralised soil.
However, biomineralization is the process by which biological organisms produce minerals ), and that is the process we are interested in for understanding tooth decay and we mean biomineralization when we speak of tooth mineralisation.
The science of biomineralization is the study of biologically produced materials, such as human teeth, as well as the study of the biological processes leading to the formation of such organic-inorganic composites ).
As a refresher for the reader who might be inundated with new facts, enamel and dentin are composites of both organic and inorganic components.
The formation of hard dental tissues, such as enamel and dentin, involves the following two processes:
a biological process which includes cell signalling and
a biochemical process where the biomolecules interact for the formation of crystal apatite .
Apatite refers to any member of a series of phosphate minerals and apatite comes from an Ancient Greek word for deceit, as apatite resembles a plethora of other minerals .
Apatite is the most common phosphate mineral, and is the main source of phosphorus required by plants in the soil . Apatite is also relevant for soil mineralisation.
Apatite is not popular as a gemstone because it is too soft, and thus considered too brittle for most jewellery use.
Calcium phosphate, which is another name for apatite, is what the bones and teeth of humans and animals are made of, and the biological apatites, of which the aforementioned human and animal hard tissues are composed, are usually hydroxyapatites, also known as hydroxyapatites without an l in the third syllable .
Apatite found in bone has a unique chemical composition as well as unique geometry and the basic composite structure of bone, as seen from the nanoscale, consists of collagen fibrils densely mineralised with hydroxy(l)apatites.
Collagen is the single most abundant protein in the animal kingdom and may simply be defined as an insoluble, hard, fibrous protein that accounts for one-third of all the protein in the human body.
Although there are 16 types of collagen in total, 80-90% of the collagen which is found in the human body consists of types I, II and III.
The collagen molecules as found in the body pack together and form long thin structures known as fibrils.
Type I collagen, of which the vast majority of the fibril-type collagen in the human body consists, is not only found in the human bones and skin, but also in the connective tissues, tendons and fibrous cartilage .
Cavitation occurs once the enamel and dentin do not have the proper structure anymore for maintaining their mineral framework, and remineralisation may be regarded by the dentist as an insufficient treatment at that point).
Remineralisation is therefore a form of preventative medicine, i.e., the dentist seeks to prevent the formation of cavities by means of dental remineralisation .
However, demineralisation is Not a continuous one-way process, but it is a cyclic event characterised by waves of mineralisation and demineralisation.
Although dental remineralisation may, in practice, be employed by the dentist for the prevention, repair and reversal of dental caries, which is a synonym of tooth decay by the way, there is a definite limit to what mineralisation therapies by the dentist can do, provided that they are not accompanied by proper dental care at home.
It is therefore vital that the following be answered:
what, then, is proper dental care? Here are some dental care tips: brush your teeth no less than twice a day and keep in mind more than twice a day may be desirable,
brush your tongue as well,
flossing is equally important as brushing your teeth and so you should never skip this, floss all of your teeth properly no matter how difficult it may be to reach them and so take the time for a proper flossing routine,
drink plenty of water instead of sugary beverages, and generally avoid foods that contain lots of sugar and carbohydrates as well as foods that have a low pH, i.e., foods that are acidic .
Microbial activity is associated with the onset of dental caries, and when one eats too much sugar, carbohydrates or foods with a low pH, one is feeding those cariogenic bacteria with nutrients that they need for breaking down one's teeth, and so limiting sugar, carbohydrates and low-pH foods is a practical and viable strategy for preventing the onset of tooth decay in the mouth.
Saliva plays an important role in protecting the teeth against damaging microbial activity and natural anti-microbial agents, such as spices, herbs and probiotics, seem effective for controlling cariogenic microbes, i.e., micro-organisms responsible for dental caries
Although my keen interest in phonetics already made me instinctively interested in the mouth, one of the main reasons I was alerted to the importance of oral hygiene was the ageing-related fact that good oral hygiene reduces mortality risk and a good dental care regimen should therefore be taken extremely seriously by those who wish to follow a longevity-promoting lifestyle.
Seeing the link between oral hygiene and longevity is undoubtedly an indispensable health-boosting insight, and I have become much more attentive to dental care ever since I became aware of this fact.
I recall that I watched cartoons as a child about bacteria that were destroying the teeth, and that is when it first dawned upon me that micro-organisms were responsible for tooth decay, which is what made me very concerned about cleaning my teeth and so I never experienced a single cavity until 2020 around my 26th birthday when I had been lax with dental care for a while due to experiencing prolonged heightened levels of stress, which usually makes one vulnerable to developing dental caries.
Natural compounds extracted from the following herbs and spices may be effective against cariogenic bacteria: Bauhinia forficata, Curcuma xanthorrhiza, Licorice Root, Eurycoma longifolia jack, Cinnamomum burmannii, tea tree, Sterculia lychnophora Hance, Melia azedarach L., Tamarix aphylla L., Cinnamon bark, Acacia arabica, Ginger-garlic paste, clove, Acacia catechu, Thuja orientalis, Camellia japonica, Quercus infectoria, Pongamia pinnata, Cymbopogon citratus.
I use a few drops of tea tree oil mixed in a cup of water as my preferred mouthwash product, though one should be careful not to ingest the tea tree oil and therefore one ought to make sure to wash one's mouth thoroughly with water after one has finished gargling with the mix of tea tree and water to rinse one's mouth.
When my gums hurt or if my gums are bleeding, I may apply some tea tree and it usually works; I usually spit it out after 10-15 minutes of holding the tea tree in my mouth with increasing saliva formation, and then I wash my mouth with water.
Micronutrients may be essential for oral health, because research has demonstrated that they reduced oral inflammations, such as gingivitis and periodontitis .
Gingivitis, which is basically an inflammation of the gums, is a commonly occurring, mild form of gum disease . This inflammation may be caused by bacteria and if this inflammation is left untreated, it may develop into periodontitis, which is a much more serious medical condition than gingivitis .
Interspersed with all the factual information, let me add one more personal anecdote to this article: I believe that I may have been experiencing an inflammation of my gums due to bacterial overgrowth this year, and what helped me in my case was having more dishes with lots of pepper.
I noticed already this summer that my gums had receded a little bit, and for this reason, I may look into the topic of regrowing the gum in another blog article.
When it comes to habits preventing the formation of oral cavities, it is best to avoid sugary foods, but in case we do choose to engage in such a guilty pleasure, it is recommend that the sugary foods be eaten with a meal rather than between meals .
Although it may be counterintuitive to have sweets with meals, it is truly the best habit for the teeth, and my mind is instinctively making the following analogy: many vitamin and mineral supplements ought to be taken with meals because this is the best habit for the gut.
(Such instinctive analogies that my mind draws for me usually have a mnemonic function.)
As perceived within the context of the notion that saliva may be important for protecting and repairing the teeth, it might be advisable to include salivation-promoting foods in one's diet: peas, bananas, Brussel sprouts (*31).
Which vitamins and minerals are healthy for teeth?
Vitamins A, B and D, magnesium, iron and not to forget calcium and phosphorus, are relevant for dental and skeletal health
The functions of the following vitamins and minerals are not to be overlooked: vitamin A builds the enamel and keeps the gums healthy, vitamin D deposits calcium in the jawbones that support the teeth and it boosts dental mineral density, phosphorus repairs and protects the enamel, and calcium forties the enamel
While one needs sufficient calcium to fortify one's teeth and bones, one ought to commit to memory that one needs vitamin D for the absorption of calcium
One may obtain vitamin A from dairy products, oily fish and liver products such as beef liver, lamb liver, liver sausage, cod liver oil, king mackerel, salmon, bluefin tuna, goat cheese, butter, cheddar
One may obtain vitamin B from leafy greens, turkey, legumes, sunflower seeds, yoghurt, milk, mussels, trout, salmon, clams, chicken, eggs, oysters, beef
One may obtain vitamin D from red meat, oily fish, egg yolks and liver products
One may obtain magnesium from nuts such as almonds and cashews, seeds such as pumpkin seeds and chia seeds, leafy greens such as spinach, legumes such as black beans and in smaller quantities from fish and meat
One may obtain iron from beans, nuts, dried fruit, red meat and liver products
One may obtain calcium from leafy greens, dairy products and fish where one also consumes the bones such as is the case with sardines (*41).
One may obtain phosphorus from poultry products such as eggs and chicken and turkey, dairy products such as yoghurt, milk and cheese, lentils, nuts such as cashews, pumpkin seeds, seafood such as salmon and scallops, quinoa, beans, amaranth, sunflower seeds, liver products, potatoes, and beef
Some may also recommend bone broth as a way to help the teeth recover from dental decay
Personal note: I clean my teeth by dipping my brush in white vinegar and adding a little bicarbonate of sodium. You save on all these expensive toothpastes. Best to brush before going to bed in order Not to allow bacteria to accumulate during sleep for lack of salivation. Drink water to wash the teeth before brushing the teeth.
How am I spending my confinement?
Note: I am glad that I posted this article on April 26, 2020 to remind myself how I behaved then to the new emerging situation.
Since then, and in the last 2 months, I undertook to focus on "refurbishing" my home after decades of negligence, as my parents were seriously ill Painting all the house, ceiling, walls, doors, window.., repairing doors, windows… remodeling the previous "interior design", adding my own "touch" of what makes me more comfortable and more inclined to think, work, "produce"…
Kind of trying to refresh whatever "passions" I might have bottled up since childhood and snatching my "rights" to have my own corner in the "space"
That would be since last week of February.
Our building is of 3 floors and a ground floor (now split in two for my married nephews). My parents, as most parents in Lebanon and the Near East, think of keeping all their children in one location in the future. Bad idea since it barely works to keep any sense of harmony among adults.
On January 31st, my mother passed away after one week in intensive care and my aunt also passed away 2 weeks later, in coma and in the ICU. 
Sort of most elderly over 90 have no longer any chance to survive any ICU, and that was before the Covid-19 pandemics was revealed.
We order online products from the nearest supermarket. Since I sold my car many years ago, and refrained from borrowing any car, my nephew used to ask me what he could buy me when he drives away. That lasted 2 weeks, and then everyone forgot about me.
The delivered bags are left outside the main building door until each one get out and alcohol spray the external bags and then the inner bags and eventually the inner-inner bags…
We ran out of potable water that we fill our 10 L gallons plastic containers from a running source in the town of Beit Chabab.
My brother-in-law insisted that I join him to help him fill 20 of these gallons.
He is a retired officer from the army, and I guess he receives detailed procedure on how to disinfect everything.
Consequently, Victor spays alcohol around the floor of the water source and I have to carry the filled gallon straight to the car trunk without letting them touch the ground…
A couple of youth came by and washed their faces after jogging, and the disinfection had to restart from scratch.
Before entering the car, I had to stretch my feet outside so that alcohol is sprayed on my shoes.
The funny part is that I had to spray the 4 tires, on the ground that kids play in the parking lot. Go figure.
My sister came from London on the last airplane before closing the airport and she stayed 2 weeks in total confinement on the rooftop.
After her confinement was over, my sister cleaned up her apartment for an entire week, for hours each day ,until she got backache, and then moved down to my apartment to totally clear up all the accumulated junk that my parents, her daughters and herself stored for over 50 years.
Actually, I had cleared up for an entire month loads of junks after mother had a hip surgery 2 years ago.
Although I had hired a helper to clear pathways among the junks on all balconies and in the dining room in order to be able "travel" around, I ended up with a hernia and had to submit to a surgery a few months later.
Yes, I cleared junks just to make pathways in order to move around in the house and the balconies.
I could do that because my brother-in-law (who is responsible for most of the junks and who refrain from throwing out any useless "object"), was oversea visiting one of his daughters.
The worst part is that he goes ramage in the bags on the curve and we end up with many bags in the garden, on the rooftop and on the stairs leading to the rooftop.
The funny part that highly exacerbate me is when he asks me about a junk part that he "needs" and I have to repeat: "Man, you denied me the joy of stepping out into my garden. Go dig deeper into your trash of junks". An open air warehouse of junks.
You have no idea what people accumulate in their lifetime, objects that they never used and still believe they might get around to using them.
In the USA, they throw Yard Sales in summer time. We didn't even got this idea to start with, even once in a lifetime.
Right now, we have 40 extra large bags of fine clothes that have barely been used once, and increasing by the days, with the decision to dispose of them later on, one way or another.
My sister and I reserved my parents sleeping room to "store" these bags.
These bags are deposited on one of the beds and waiting for us to figure out how to dispose of them. Nobody care to pick up clothes, retrieve them and distribute them for the time being, (but conditions will quickly change after the massive atomic explosion in the Port of Beirut).
Actually, my brother-in-law has rented a large warehouse to "sell clothes" after he retired and is still spending more money on this failing "business" than on his family, cars and raising chicken…
He turned out to be just one of those sick persons who hoard stuff and never let go off, Not even selling them. Actually, when a buyer shows up, he raises the price so high so that he doesn't has to relinquish the object.
Yes, there is this old honda car of 1980 that has been parked for years and nobody is willing to drive it anymore. And yet, this person refuses to sell it and is still occasionally spending money on repairing it.
Our garden has turned into an open "warehouse" of total junks and debris and this person wouldn't let us clear the garden to make any good use of it.
Besides the extra large bags of great clothes, we gathered 70 extra large bags of good clothes to be left on the curb for the municipality to take as waste. My sister considers to be shameful to give away these 70 bags.
Since the municipality will Not load in its Friday truck that quantity of bags, we have to deposit on the curve about 6 bags a week. Do the math for how long we need to dispose of these bags.
I spread this joke that my nephews need to take videos of the newly cleared and re-designed house.
The joke was that my comfort style will return the house to its original status, after all this revamping and I will clutter the house according to my style of "comfort zones"
My sister got furious and declared that she will not set foot again. The next day, my sister was back to "finish her job"
What of people who refuse to wear great fashionable clothes on the ground they look Not "A la Mode" and prefer to buy expensive new clothes that are way beneath the quality and beauty of the older-kinds of clothes?
In the meanwhile, my project is to re-edit and update my old articles, verging on the 9,500 posts, on my blog, and recollecting the wonderful trekking and adventures that I joined my nephews and nieces around Lebanon.
Yes, I created a sub-category "Travel/Adventure" for that task.
Note: The first generation relatives opened a net group to share their confinement conditions. A couple days later 3 people "left" and now barely 4 people continue to post "Bonjour/Good morning". I prefer to post "Mar7aba/Saba7 el Khair" when I wake up in the morning.