Archive for the 'politics/finance Today' Category
Warring Syria Goes Hungry: Stick Figures, Stunted Growth…
Posted on April 3, 2014
Rana Obaid began her life less than two years ago in a comfortable house draped with roses, the daughter of a grocer locally famous for his rich homemade yogurt.
War and siege brought hunger so quickly to their town near Damascus that when she died in September, at 19 months, her arms and legs were as thin as broomsticks.
ANNE BARNARD Published this November 2, 2013 on nyt Enlarge This Image
The New York Times
BEIRUT, Lebanon —
Signs in Moadhamiya (Mo3zamieh?) read, "Kneel or starve."
Suspected cases of malnutrition are surfacing from areas held by the rebels and the government.
In a nearby town, a woman with a son suffering from kidney failure makes her children take turns eating on alternate days.
In a village outside Aleppo in northern Syria, people say they are living mainly on wild greens.
Aid workers say that Syrian refugee children are arriving in northern Lebanon thin and stunted, and that suspected malnutrition cases are surfacing from rebel-held areas in northern Syria to government-held suburbs south of Damascus.
A boy, at a Syrian refugee camp near the border with Turkey, waiting in line for a hot meal, looked inside a tent at stacks of bread. Millions in the war-torn nation are suffering from hunger. Lynsey Addario for The New York Times
Across Syria, a country that long prided itself on providing affordable food to its people, international and domestic efforts to ensure basic sustenance amid the chaos of war appear to be failing.
(Actually, one of the main reasons why the colonial powers hated the Syrian people is that Syria didn't owe a dime to any foreign country. Syria was self-sufficient in almost everything. No foreign (sovereign) debt)
Millions are going hungry to varying degrees, and there is growing evidence that acute malnutrition is contributing to relatively small but increasing numbers of deaths, especially among small children, the wounded and the sick, aid workers and nutrition experts say.
The experts warn that if the crisis continues into the winter, deaths from hunger and illness could begin to dwarf deaths from violence, which has already killed well over 100,000 people, (a "civil war" that was induced in 2011) and if the deprivation lasts longer, a generation of Syrians risks stunted development.
"I didn't expect to see that in Syria," said Dr. Annie Sparrow, an assistant professor and pediatrician at Mount Sinai Hospital in New York, who examined Syrian refugee children in Lebanon and was shocked to find many underweight for their height and age.
"It's not accurate to say this is Somalia, but this is a critical situation," she said. "We have a middle-income country that is transforming itself into something a lot more like Somalia."
While the war has prevented a precise accounting of the number of people affected, evidence of hunger abounds.
The government is using siege and starvation as a tactic of war in many areas, according to numerous aid workers and residents, who say that soldiers at checkpoints confiscate food supplies as small as grocery bags, treating the feeding of people in strategic rebel-held areas as a crime.
Rebel groups, too, are blockading some government-held areas and harassing food convoys.
But even for those living in more accessible areas, what aid workers call "food insecurity" is part of Syrians' new baseline.
Inflation has made food unaffordable for many; fuel and flour shortages close some bakeries, while government airstrikes target others; agricultural production has been gutted.
Though the World Food Program says it is providing enough food for 3 million Syrians each month, its officials say they can track only what is delivered to central depots in various cities, not how widely or fairly it is distributed from there.
One aid worker — who, in a sign of the political challenges of delivering aid in Syria, asked that his organization not be identified — said he recently met Syrian health workers who reported a dozen cases of apparent malnutrition in a government-held Damascus suburb.
He suspected that the situation could be far worse in rebel-held areas.
Lack of medical care and clean water exacerbates the problem.
So does the fact that Syrians have little experience diagnosing or treating malnutrition. Particularly troubling, aid workers say, are reports of mothers who stop breast feeding, unaware that it is the best way for even a malnourished mother to keep her child alive.
Some aid groups are trying to train Syrian doctors to use simple tools that measure upper arm circumference to assess malnutrition, as convincing data on its prevalence could help spur a stronger international response.
Aid workers caution against overblown claims that could discredit such efforts.
Some government supporters even dismissed the images of bone-thin children from blockaded areas as propaganda after several thousand civilians were evacuated from the encircled Damascus suburb of Moadhamiya in recent weeks, looking exhausted, shellshocked and thin, but not on the verge of starving to death.
Mohammad Ghannam contributed reporting from Beirut, and an employee of The New York Times from Qudsaya, Syria.
A version of this article appears in print on November 3, 2013, on page A6 of the New York edition with the headline: Stick Figures and Stunted Growth As Warring Syria Goes Hungry.
Multimedia
Photographs. The Historic Scale of Syria's Refugee Crisis
 Video Feature. WATCHING SYRIA'S WAR.Panic After Bombing in Village Near Hama
Note: It is 2021 and the "global war" on the Syrian people is Not over. Turkey occupies a large swath in northern Syria and the Kurdish backed USA militia occupies the oil rich North-Eastern region. Russia and Iran control many strategic centers, airports and seaports
This deal was in preparation and negotiation in the last 5 years.
No, the US was warned of this potential and ready deal between China and Iran.
And Biden dragged his feet into opening serious channels with Iran.
Most probably, the Biden administration is Not at par and ready to deal with the Middle East political conditions.
The second Cold War is advancing steadily between China and USA
Zeinab Awarikah posted March 28, 2021
لماذا سبقت #بكين#واشنطن إلى #طهران كتبت #زينب_عواركه)- وكالة أنباء اسيا
في خطوة أقل ما يقال عنها انها فاجأت الرئيس الأميركي جو بايدن، وأخذت ادارته على حين غفلة، رفعت الصين راية المواجهة مع واشنطن عبر توقيع اتفاقية التفاهم الاستراتيجي مع طهران، متجاوزة كل مخاطر العقوبات الأميركية التي تقاتل بها واشنطن من يحاول فك حصارها لطهران.
يحصل ذلك في ظل قناعة أميركية كانت حتى الأمس تراهن على أن بكين ليست جاهزة بعد لاتباع سياسة مواجهة على الساحة العالمية كون ذلك يهدد مصالحها مع الغرب.
ليس سراً أن الشركات الصينية كانت قد تخلت عن عقودها الضخمة في ايران فور اعلان دونالد ترامب عن الغاء التزام بلاده بالاتفاق النووي في العام ٢٠١٧. ورغم ان الحديث الصيني عن التفاهم الاستراتيجي مع طهران يرجع الى العام ٢٠١٦ الا أن أحدا لم يتوقع أن تبادر الصين الى توقيعه قبل رفع العقوبات الأميركية وكان أداء الصين في تعاملها مع طهران يؤكد خضوعها للشروط الأميركية.
لكن كل ذلك تغير الان، حيث نشهد على لحظة تاريخية عبرت فيها بكين من ضفة المهادنة والتراجع أمام سطوة النفوذ الأميركي الى موقع مختلف تماما يمكن القول أنه بداية الحرب الباردة في نسختها الاميركو صينية.ولعلم الجميع بحجم الضرر الذي يمكن لواشنطن أن تتسبب به للصين يبدو أن الأخيرة تملك معطيات عن أن استهدافها من قبل واشنطن أصبح الخيار الذي لا بد من مواجهته
.بهذا القدر يمكن فهم الخطوة الصينية الايرانية.بات واضحاً أن الصين حسمت أمرها بعد سنوات خمس من تمنعها عن القيام برد مواز لما أعلنته واشنطن في عهدي باراك أوباما ودونالد ترامب من أن الصين هي الخطر الأكبر الذي ينبغي التفرغ لمواجهته.لكن ما الذي تبدل الان بالنسبة لبكين؟ولماذا أقدمت الصين الان على خطوة التحدي في حين تصور الجميع بمن فيهم الايرانيين أنها لن تفعل؟
العداء الأميركي هو السبب، فما تقوم به واشنطن منذ سنوات ليس سياسة عابرة بل هي استعدادات حقيقية لانزال هزيمة بالصين دون حرب عسكرية وفق خارطة طريقة لتطويق قوتها الاقتصادية ولمنعها من التمدد على الساحة الدولية. ولأن لعبة القوة بين الدولتين تميل في قطاع الطاقة لجهة واشنطن فان واحدة من الفرص الحقيقية لضمان تدفق النفط الى الصين دون الارتهان للقرار الأميركي تتمثل بطهران.
ما تعنيه الاتفاقية للصين قبل كل شيء هو ضمان حصولها على النفط الايراني وكل الفوائد الاخرى من التحالف مع طهران تأتي ثانيا لكنها فوائد ذات ابعاد خطيرة على المصالح الأميركية من الخليج الى أسيا الوسطى.ما تخوف منه الأميركيون وما توقعوا أنه سيحصل بعد عقود حصل الان،
فمنذ أختار باراك أوباما عقد اتفاق مع طهران في العام ٢٠١٥ كان من أهم الأسباب في عقل مخططي ادارته انهاء الملفات التي قد تستغلها الصين ضد بلادهم مستقبلا، و ابعاد طهران عن احتمال تحولها الى حليف كامل لبكين.إلا أن حسابات الدولة العميقة في واشنطن تعرضت لضربة كبيرة مع ادارة دونالد ترامب الذي اتخذ قراره فيما يخص طهران دون الألتفات الى العواقب. بل تصرف ترامب بضغط من المحيطين به محققا وعدا قطعه لناخبيه من الانجيليين الذين يهتمون بمصلحة اسرائيل حتى ولو كان ذلك على حساب مصلحتهم الوطنية. سياسة العقوبات القصوى التي كان يفترض الاميركي أنها ستدمر الاقتصاد الايراني كانت هي من عبد طريق
بكين الى طهران مع أنها سياسة بالطبع اَذت الايرانيين بشدة.كان من الممكن أن يصلح الرئيس جو بايدن ما خربه سلفه من فرص عبر العودة السريعة الى الاتفاق النووي. وعبر رفع العقوبات التي يمكنه رفعها دون العودة للكونغرس.لكنه تبنى خيار استغلال ما قام به دونالد ترامب محاولا دفع طهران الى التفاوض مجددا على اتفاق معدل وفقا للشروط الأميركية. خياره ذاك حقق نتيجة عكسية، فبدلا عن التنازل لواشنطن قدمت طهران مصالحها المشتركة مع الصين.
ماذا بعد؟؟ما قبل الاتفاقية الاستراتيجية بين طهران وبكين ليس كما بعدها. الموقف التفاوضي لطهران اصبح أقوى، وكثير مما كانت بحاجة اليه من الاميركيين ستحصل عليه من الصين.ستقدم الصين استثمارات وخبرات وتقنيات في مجالات واسعة جدا تشمل معظم نواحي الاقتصاد الايراني وكذا سيتعاون البلدين في المجالات العلمية والعسكرية. وبالمقابل ستجمع الصين ثمن ما تقدمه لايران من خلال حصولها على امدادات مستقرة من النفط.
عدا عن الاقتصاد، فانخراط الايرانيين في استراتيجية الصين لربط القارات بطرق وموانيء تضمن نقل صادراتها ووارداتها سيعطي بكين نفوذا جيواستراتيجيا على حساب الاميركيين.لكن ذلك لا يعني أن طهران ليست بحاجة للتفاهم مع واشنطن وبالتأكيد لعبة المصالح ستدفع الطرفين للتفاهم مستقبلا.
هل ستفك الصين الحصار المالي والنفطي والاستثماري عن ايران، بحيث ستبدأ حركة انفلات الاقتصاد الايراني من الفك الاميركي المفترس ؟؟بالتأكيد، لكن ما ستقدمه بكين لا يحل مشكلة أساسية لطهران وهي عدم قدرتها على استخدام النظام المالي الدولي الذي تتحكم به البنوك الاميركية.
نحنا لسنا أمام هزيمة أميركية شاملة، وأنما أمام تبدل في شروط الصراع وفي مصادر القوة. و هي فرصة كانت بمتناول واشنطن فسبقتها اليها بكين وصار ثمنها بالنسبة للأميركي أعلى. هو حدث قد يفتح أفاق حل للتوتر بين واشنطن وطهران وقد يسهل العودة الاميركية الى الاتفاق النووي ان أحسنت واشنطن تقدير مصالحها وتخلت عن محاولات اذلال طهران.
أين مصلحة العرب؟؟للأسف، وعلى الرغم من أن مجموع دول الخليج العربية تملك علاقات ممتازة مع الصين الا أن قرارهم السياسي يتأثر جدا بتحالفهم مع واشنطن ما يجعل الصين أكثر ثقة بالتعاون مع طهران كونها على عكس الدول العربية بعيدة عن النفوذ الأميركي. وهو ما يعطي أفضلية لطهران في وزنها السياسي وفي تأثيرها الدولي مقارنة بالعرب الذي تقرر واشنطن ما هو الأفضل لها ثم تجبرهم على تنفيذ ما تريد.
ماذا في تفاصيل الاتفاق؟؟الخارجية الايرانية كما نظيرتها الصينية رفضت الكشف عن مضمون التفاهمات، لكن الصحافة الأميركية كانت قد ذكرت قبل سنوات بأن الصفقة تشمل شراء الصين نفطا ايرانيا مقابل استثمارات صينية تبلغ قيمتها ٤٠٠ مليار دولار.
طهران بحاجة لتجديد بنيتها التحتية وهي بحاجة لتطوير حقول النفط والغاز والصناعات المرتبطة بها كما أنها بحاجة لتقنيات متقدمة ولاستثمارات في قطاعها الزراعي الهائل. والصين يمكنها تحقيق هذا الهدف أيضا.
اعتراضات داخلية في ايرانليس سهلا على السلطة الايرانية أن تخوض تجربة تعاون مع دولة بحجم الصين وهي التي استمدت شرعية نظامها من ثورة شعبية رفعت شعار لا شرقية ولا غربية، فللأمر ايجابيات هائلة لكن سلبياته ليست قليلة أيضا وفي طهران من عارض الاتفاقية منذ طرحت في وسائل الاعلام قبل سنوات.
لكن قرار مؤسسات الحكم الايراني حاسم ويستند الى موافقة المرشد الأعلى السيد علي الخامنئي ما يجعل اي اعتراض داخلي غير ذي قيمة..
Geopolitic evolved from the military (the more powerful armies) to the economic/finance sanctions (Capitalism of the colonial powers hegemony) and to the judicial UN rights among the nations.
Eventually, every business or social institution that thought benefited from capitalism system will be robbed of their saving.
De l'Etat profond au gouvernement mondial – avec Pierre Bergerault – TVL
Par Valérie Bugault. 18 mars 2021
Valérie Bugault, docteur en droit, ancien avocat fiscaliste, reconvertie dans la géopolitique juridique et économique. Vous êtes l'auteur de plusieurs ouvrages "Du nouvel esprit des lois et de la monnaie" co-écrit avec Jean Rémy, "La nouvelle entreprise", "Les raisons cachées du désordre mondial" et "Demain dès l'aube… le renouveau" tous édités chez Sigest.
1) "La géopolitique est conçue comme l'étude des stratégies d'approche, d'attaque et de défense militaire d'un État vis-à-vis d'un ou de plusieurs autres". Cette définition est-elle toujours de mise ?
Cette notion, la « géopolitque », a évolué deux fois au cours des dernières décennies sans d'ailleurs que les analystes en soient toujours clairement conscients :
– A partir de la seconde GM et en particulier à partir de la signature des accords de Bretton Woods, le terrain de la « géopolitique » s'est déplacé du champ de bataille militaire vers le champ de bataille économique et monétaire et
– Depuis quelques mois, nous assistons à une seconde évolution de la « géopolitique ».
Le terrain économique et financier est en effet en cours de déplacement vers le terrain juridique. Le « droit » existait auparavant mais il n'était pas perçu comme enjeu majeur. Il était perçu comme un simple moyen d'action car les finalités du droit n'étaient plus discutées depuis trop longtemps.
On arrive aujourd'hui à un moment particulier de l'Histoire où le droit va devenir, il faudrait dire « redevenir », le véritable champ de bataille, supplantant le domaine monétaire et économique, pour devenir le véritable enjeu de la géopolitique moderne.
En effet, outre sa fonction d'être un moyen d'action politique, le « Droit » en tant que « système » véhicule une culture, une conception du monde et de la vie en commun. Les décennies qui viennent verront la confrontation des systèmes de droit en raison du nécessaire renouveau politique.
Le « droit anglo-saxon » et le « droit continental » véhiculent une conception antagoniste de la vie en Société.
Le droit britannique est, depuis le XVIème siècle, conçu comme une arme réglementaire au profit des puissants tandis que le droit continental traditionnel s'est développé, jusqu'à l'avènement du Code civil de 1804, comme un art politique : l'art d'améliorer la vie du groupe (c'est-à-dire de la Société), le moyen de pacifier les relations interpersonnelles en imposant aux « hommes de l'art » la recherche de justice.
Alors que le droit civil est le seul « Droit » à véhiculer le concept de justice, de vie en commun et in fine de civilisation, ce dernier est, malheureusement, en voie de fusion-absorption par le système britannique commercialiste.
Pour la France, et par extension pour le monde, l'enjeu majeur des prochaines décennies sera de réinitialiser notre droit civil en tant que « droit commun », lui-même développé autour du droit naturel.
2) "De façon subreptice et sournoise depuis le XVIIIème siècle, nous sommes collectivement entrés dans une ère qui interdit le libre arbitre humain au profit exclusif des puissances financières qui se sont emparées réellement et anonymement du pouvoir". Comment ce changement de paradigme s'est-il opéré ?
Ce changement de paradigme s'est opéré par la double prise de contrôle monétaire et politique par les puissances d'argent.
La prise de contrôle monétaire s'est faite de façon directe par la centralisation de la gestion monétaire dans les mains des banquiers au moyen de la création de « banques centrales ».
La prise de contrôle politique fut plus sournoise ; elle s'est réalisée par l'avènement et la généralisation d'un système politique axé autour du parlementarisme représentatif et d'une pseudo séparation des pouvoirs (qui est en réalité une disparition du pouvoir politique), dans lequel la vie politique a été captée par les « partis politiques ». Or, les partis obéissent à ceux qui les financent, ce qui a permis d'établir :
L'omnipotence hégémonique et anonyme des puissances financières et
La disparition des contre-pouvoirs internes, qui devraient normalement structurer la vie politique.
3) Le contrôle de l'or opéré par les banquiers changeurs du Moyen-âge se terminera, dites-vous par un gouvernement mondial dictatorial de nature technocratique entièrement dirigé par les puissances financières dominantes. Que répondre à ceux qui voient là une vision simpliste, affirmant que toutes les nations n'ont pas intérêt à se fondre dans une structure mondiale ? 
Aucun peuple, aucune Nation, n'a « intérêt » à se fondre dans une structure globale dominée par les financiers. La volonté populaire n'entre pas en ligne de compte car tout est organisé de façon opaque, par le biais du mensonge, on fait passer des choses en prétendant qu'elles sont l'inverse… Ce pouvoir hégémonique s'est toujours imposé sans demander l'avis des peuples, par la corruption, l'illusionnisme et le mensonge !
A partir du moment où la vie politique est captée par les puissances financières – ce qui est vrai de la très grande majorité des pays du monde – l'intérêt commun des dirigeants à se fondre dans une structure mondiale dominée par les financiers est de facto, par principe, établi. Seuls des incidents mineurs lié à l'existence d'intérêt personnel des uns ou des autres doivent être contournés par les globalistes afin d'établir leur projet de gouvernement mondial totalitaire.
4) Au-delà d'imposer leur empire politico-financier, vous affirmez que les tenants d'un Nouvel Ordre Mondial souhaitent édicter une religion mondiale. Quels en seraient les dogmes ?
Je ne suis pas spécialiste des religions mais il me semble que cette religion existe déjà en filigrane : culte de l'argent, concurrence de tous contre tous, métissage de tous les monothéismes en un seul magma synthétique (sur le modèle des produits financiers).
La laïcité aura été un moyen de détruire le pouvoir spirituel en Europe et non, comme on pourrait le croire, un moyen de neutralité bienveillant. Or, faire disparaître le pouvoir spirituel a eu en réalité à la fois pour cause et pour conséquence de faire disparaître tout contrepouvoir politique à la toute-puissance des financiers.
Un autre moyen de destruction du pouvoir spirituel aura été l'exacerbation des antagonismes entre les trois monothéismes. La « religion mondiale » aura été imposée par la manipulation à l'extrême des anciens monothéismes en montant les uns contre les autres. Les dominants financiers ont utilisé, une fois de plus (on ne change pas une méthode qui marche), le principe de bonne politique consistant à « diviser pour mieux régner ».
En montant les religions les unes contre les autres, ils réussissent à créer un vide spirituel dans lequel ils vont engouffrer leurs propres croyances, qu'à vrai dire je ne suis pas sûre qu'il faille appeler « religion ». En effet, lesdites croyances ressemblent plus à la domination du mal absolu qu'à une quelconque spiritualité véhiculant des principes de « vie en commun » que les religions traditionnelles portent en elles. Peut-on appeler « religion » une croyance de quelques hommes qui consiste à :
– Estimer que la population mondiale ne doit pas dépasser 500 millions d'âmes (Georgia Guidestones) ;
– Pirater le fonctionnement intime (génétique) du vivant (Trans humanisme) pour permettre la vie éternelle à ceux qui resteront sur cette terre ?
Alors même que toutes les religions ont, jusqu'à ce jour, respecté le droit naturel supérieur, une croyance en la toute-puissance de l'homme, censé devenir éternel, ne me semble, après réflexion, pas devoir être désigné du terme de « religion ». Cela ressemble davantage à une secte sataniste qu'à une religion stricto sensu.
5) Pourquoi voyez-vous dans le droit anglo-saxon et la City de Londres l'alpha et l'oméga de cette volonté mondialiste ?
L'émancipation en 1531 de la papauté par le roi Henri VIII d'Angleterre au moyen de la création de l'église réformé (à mi-chemin entre protestantisme et catholicisme) sous la houlette de l'archevêque de Cantorbéry, nommé par le Roi, a modifié fondamentalement la façon de concevoir le droit en Angleterre.
Le droit anglais est devenu l'apanage du seul pouvoir temporel (cf. pour le catholicisme l'équivalent de 1531 est 1929 et les Accords du Latran), autrement dit, un simple instrument de puissance dans les mains du détenteur du pouvoir temporel, d'abord identifié par le Roi puis par les puissances financières.
Le développement des visées impériales britanniques, cristallisées sous Cromwell (1599-1658) par l'établissement d'un « Commonwealth républicain » [Cf. https://fr.wikipedia.org/wiki/Oliver_Cromwell], a acté la suprématie du pouvoir économique et monétaire sur le pouvoir politique.
La puissance financière est à l'origine du développement de l'empire britannique et le droit fut son arme de domination. C'est précisément cette conception, très affairiste et utilitariste, du « droit » qui s'est imposée sur la scène internationale tout au long des XIXème et surtout XXème siècles. Nous sommes ici dans un contresens par rapport à ce que signifie traditionnellement la notion de « Droit », ce type de normes est un « droit » qui n'est ni « droit » ni du « Droit ».
6) Vous dites que le droit anglo-saxon aurait pris le pas sur notre droit continental mais en quoi ce droit continental est-il différent du droit anglo-saxon ?
Tous les développements juridiques sur la personne, les rapports de l'individu au groupe, à la puissance et à l'autorité ont été formalisés, conceptualisés par les grands légistes de droit canon (penseurs catholiques) tout au long du Moyen-âge et en particulier au haut Moyen-Âge avec Saint-Augustin, puis, à partir du XIème siècle avec  l'évêque Fulbert (1006 – 1028), le Décret de Gratien 1140, Saint Thomas d'Aquin (1225 – 1274) au XIIIème siècle… 
[Cf. https://www.cairn.info/la-formation-de-la-pensee-juridique-moderne–9782130619833-page-132.htm ; https://cours.unjf.fr/repository/coursefilearea/file.php/154/Cours/04_item/indexI0.htm ; https://books.openedition.org/pus/8858?lang=fr ; https://www.jstor.org/stable/43840366?seq=1#metadata_info_tab_contents].
Le droit canon ou, plus précisément, son métissage avec les apports structurels du droit romain, est à l'origine du développement de « la civilisation européenne ».
Or, le droit britannique s'est, à partir de 1531, émancipé des apports du droit développé sur le modèle ci-dessus décrit pour se fonder sur la suprématie maritime et commerciale propre à servir le développement impérial et les intérêts financiers dominants qui le supportait.
A la même époque, le droit continental est, tout au contraire, resté fondé sur un droit commun de nature civile issu de l'équilibre des forces entre pouvoir temporel et pouvoir spirituel. Les choses ont commencé à changer sur le continent européen à partir de la Révolution française – qui a beaucoup affaibli l'Église catholique – jusqu'à 1929, date des accords du Latran, qui correspond, en Europe et pour le monde catholique, à ce que fut l'année 1531 pour l'Angleterre : la soumission définitive et radicale du pouvoir spirituel, via Mussolini, au pouvoir financier mené par la City.
Tout au long des XIXème et XXème siècles, la puissance de l'empire britannique n'a fait que croître pour finalement se transférer dans l'empire américain, lequel a utilisé les mêmes armes monétaire, économique et juridique en les déployant partout dans le monde grâce à sa puissance de frappe militaire et financière.
C'est la raison pour laquelle toutes les institutions internationales ou supranationales nées au cours du siècle passé – parées pour la façade et très hypocritement de vertus humanistes ou d'une prétendue pacification du monde – n'auront finalement été que des appendices, des projections mondiales, de la puissance financière des banquiers globalistes apatrides (BRI, FMI, banque mondiale, OCDE, ONU, Union européenne, OMC, OMS…).
7) Comment se traduit concrètement cette soumission du droit continental au droit anglo-saxon ?
Cette soumission s'est réalisée, au fur et à mesure du temps, en quatre grandes étapes, qui furent des attaques en règles contre le Droit continental traditionnel :
– La première attaque est d'ordre institutionnel, elle concerne la méthodologie du droit avec l'instauration d'un parlement dont la seule mission est de "créer" du droit, ce qui va à l'encontre de la mission traditionnelle du droit continental, qui comportait des règles simples et peu nombreuses.
– La 2ème attaque est d'ordre conceptuel : avènement de la théorie pure du droit d'Hans Kelsen (1881 – 1973) qui impose un droit positif émancipé des principes du droit naturel [Cf. https://fr.wikipedia.org/wiki/Hans_Kelsen].
– La 3ème attaque est à nouveau d'ordre institutionnel : avènement des institutions européennes, dominées par le « principe réglementaire » issu des multinationales et véhiculé (ne l'oublions pas !) par les pouvoirs exécutifs des principales puissances économiques de l'Union. Ce système aggrave considérablement et à dessein la confusion des genres entre « règlementation professionnelle » et « Droit ».
– La 4ème et dernière attaque est à nouveau d'ordre conceptuel : il s'agit de « moderniser le droit français », c'est-à-dire qu'il s'agit de transformer le droit civil en droit commercial (sur le modèle du droit de propriété économique) de façon à le rendre compatible avec le droit anglo-saxon, d'essence commercialiste. Il s'agit aussi de financiariser et opacifier ce nouveau « droit commun commercial ».
Ce qui se traduit en termes de droit positif par toujours plus :
– d'anonymat capitalistique et contractuel,
– d'irresponsabilité juridique des dirigeants et décideurs réels,
– de disparition de la corrélation entre responsabilité et pouvoir,
– d'accaparement,
La disparition « de fait » (de facto) des libertés, inhérente à la domination économique, deviendra, par un glissement appelé (par les partisans du globalisme) « réalisme juridique », une disparition « de droit » (de jure).
C'est ainsi que l'hégémonie financière se traduira fatalement, tôt ou tard, en droit positif par la suppression :
– de la liberté d'expression,
– de la propriété privée.
8) Vous évoquez l'intrusion de la fiducie en droit français à la fin des années 2000 grâce à une pression sur les élus de la République… En quoi consiste l'opération de la fiducie ?
Il s'est agi de permettre sur le territoire français des opérations patrimoniales faisant intervenir trois personnes différentes : le constituant, le fiduciaire et le bénéficiaire.
Techniquement, l'intervention d'une tierce personne gestionnaire, appelée trustee ou fiduciaire, permet de rendre discrètement anonyme le nom du bénéficiaire réel des opérations réalisées sous fiducie.
La fiducie introduit une dose supplémentaire de confusion dans la responsabilité juridique qui incombe aux décideurs économiques. Le droit français était beaucoup plus clair sur les responsabilités lorsque les parties à un contrat d'organisation patrimoniale étaient identifiées clairement comme cédant et cessionnaire d'un bien ou d'un droit, ou comme bénéficiaire et débiteur d'une sûreté. 
La fiducie introduit un degré d'opacité dans la responsabilité juridique en matière de gestion patrimoniale. Ce n'est pas un hasard si les dominants financiers ont utilisé le trust et non le droit civil français pour organiser le contrôle et la circulation des capitaux dans le monde entier.
Politiquement cette intrusion répondait aux besoins de la liberté de circulation des capitaux imposée par l'ordre économique mondial, c'est-à-dire par les tenanciers des paradis fiscaux anglo-saxons. L'opération s'inscrivant, rappelons-le, dans le contexte de la disparition des paradis fiscaux à comptes numérotés, qui étaient des « corsaires juridiques » sous contrôle de certains États, au profit des paradis terrestres hébergeant des trusts anonymes.
Pour être tout à fait claire, on identifie ici un plan organisé et prémédité, que l'on pourrait appeler « complot », puisque l'intervention de la fiducie, en France en 2007, a précédé les grandes manœuvres géopolitiques lancées par l'OCDE en 2009, avec Nicolas Sarkozy en tête de pont, tendant à liquider les paradis fiscaux fondés sur les comptes numérotés. « L'a-France » est, très souvent, dans le wagon de tête des félonies politico-juridiques ; mais elle n'est pas la locomotive de ces manœuvres.
L'intervention de la fiducie par la loi Marini du 19 février 2007, qui est une modification législative majeure, s'inscrit dans le contexte de la vague scélérate de « modernisation du droit français » consistant à rendre le droit civil compatible avec le droit anglo-saxon d'essence commercialiste.
Enfin, il faut remarquer la concomitance historique entre la trahison juridique que fut l'introduction, le 19 février 2007, de la « fiducie » en droit français et la trahison politique que fut la signature, le 13 décembre de la même année, du Traité de Lisbonne par les chefs d'État ou de gouvernement des 27 États membres de l'Union Européenne.
Rappelons que cette Trahison politique fut actée par les parlementaires français en 2009, lesquels ont ratifié ce traité signé en 2007 alors même que le peuple français avait rejeté, en mai 2005, la Constitution européenne, version initiale quasi identique dudit Traité. Nous avons ici, soit dit en passant, une magnifique application – un cas d'école – du fait que le principe du parlement dit représentatif existe à la seule fin de domestiquer la volonté populaire (ce que dénonçait déjà en son temps Jean-Jacques Rousseau !).
La trahison juridique n'est jamais très éloignée de la trahison politique ; ces deux « félonies » fonctionnent en osmose.
9) Drôle de découverte : La République française est, selon "société.com", site web d'informations légales sur les entreprises françaises, enregistrée à l'INSEE d'une façon similaire à une entreprise commerciale. Qu'est-ce que cela signifie ? (un numéro SIREN (100000017), numéro SIRET, réservé aux entreprises (10000001700010), un numéro de TVA intracommunautaire (FR15100000017))
Cela signifie que nous sommes anglo-saxonnisés !
Cela signifie que nos institutions civiles et politiques ont vocation à devenir, sur le modèle britannique, des institutions commerciales, ce qu'elles n'ont historiquement, politiquement et philosophiquement JAMAIS été ni dans notre pays, ni sur le continent européen, ni dans tous les pays ayant adopté notre système de droit continental.
A cet égard, je voudrais rappeler que la dénonciation, à grands cris, par le milieu des affaires, de « l'extraterritorialité du droit américain » qui veut mettre la main sur les multinationales dites françaises et le mutisme intégral de ce même milieu face à la colonisation forcée de notre droit par le droit anglo-saxon a quelque chose de grotesque qui s'apparente aux « Précieuses ridicules » de Molières.
Ce deux poids deux mesures des milieux des affaires, qui poussent des cris d'orfraie et appellent dans un cas au « patriotisme économique » alors que, dans l'autre cas, ils s'écrasent littéralement pour ne pas dire qu'ils rampent en pratiquant même la surenchère des mesures, est finalement assez comique à observer !
Les acteurs économiques, qui ont eux-mêmes trahi et vendu leur « système de droit », appellent ce dernier à la rescousse dès qu'ils sentent, sur eux-mêmes, les premiers effets de leur trahison ! Rappelons que « Dieu se rit des hommes qui déplorent les effets dont ils chérissent les causes ».
L'hypocrisie endémique, liée à l'esprit de collaboration, traditionnellement très prisée des « dirigeants français », a définitivement condamné les milieux juridiques français à finir, sauf improbable sursaut, dans les poubelles de l'histoire…
10) "Les puissances financières anonymes ont juridiquement développé un système économique mondial de type monopolistique qui leur permet de capter et contrôler toutes les technologies ; technologies qui deviennent, dans leurs mains, des armes employées contre les peuples". Au-delà de la censure qu'utilisent les GAFAM, jusqu'où ces armes peuvent être utilisées ?
Levons une ambiguïté : ce système est couramment appelé, à tort, capitaliste. A tort car il ne s'agit pas, et ne s'est jamais agi, d'une idéologie mais d'une volonté d'hégémonie politique des banquiers, ce qui est très différent.
Le terme « capitalisme » organise une confusion volontaire en parant une volonté bancaire hégémonique d'oripeaux intellectuels qui a permis de justifier :
– le développement de l'anonymisation des décideurs ;
– le développement subséquent de la déresponsabilisation juridique des décideurs ;
– le développement de la dérégulation, c'est-à-dire de la disparition du « droit » remplacé par de la simple « règlementation » adossée à l'idéologie de la « liberté du Commerce ». Une fois encore la liberté du commerce ne signifie qu'une seule chose : la mise en esclavage des petites entités économiques par les grosses ;
– la création d'énormes conglomérats économiques appuyés sur les banques et dont la seule vocation est l'accaparement des richesses ;
Le terme même de « capitalisme » est une escroquerie destinée à justifier intellectuellement, c'est-à-dire à cacher aux yeux de tous par de savantes constructions fondées sur des postulats erronés ou biaisés, l'accaparement opéré par les puissances financières. OR, l'accaparement est incompatible avec la civilisation.
Toutes les civilisations de l'Histoire humaine ont lutté contre l'accaparement. Et justement, le « capitalisme » a rendu l'accaparement légal et légitime !
On se situe avec le prétendu « capitalisme » qualifié de « liberté » dans le même rapport d'illusionnisme et de domination qu'avec le « parlementarisme représentatif » qualifié de « démocratie » : une imposture pure et simple !
11) Les dominants financiers, dites-vous, n'ont jamais caché leur volonté et motivation génocidaires. Volonté que vous désignez sous l'appellation de "dette de sang". Expliquez-nous ?
Plus exactement, j'ai dit que, depuis l'avènement du Club de Rome, les dominants financiers ne cachent plus leur volonté génocidaire.
Par ailleurs, il faut se souvenir qu'au-delà du génocide, il est surtout question du lien indéfectible entre développement des puissances financières et esclavagisme des masses. A titre d'exemple : l'État du Delaware aux États-Unis n'a accepté (et il fut le dernier État à le faire) de renoncer à l'esclavage que pour devenir un « paradis fiscal ». La dette est un puissant moyen de domination car, comme l'a si bien dit Napoléon : « La main qui donne est au-dessus de celle qui reçoit ».
Une fois que vous êtes englués dans les liens de la dette, vous ne pouvez plus rien refuser à votre/vos créancier(s), surtout si ce dernier s'est arrangé pour contrôler le pouvoir législatif de façon à organiser son anonymat !
Tout cela n'a pu se produire que parce que le concept de « personne morale » (sic), organisée sur le modèle capitaliste Britannico-hollandais (en opposition au modèle de la participation ou de la cogestion), est intervenu pour cacher le nom véritable des quelques personnes physiques qui contrôlaient in fine ce système organisé par le « droit » dans un ballet très structuré de clair/obscur.
12) Pourquoi dites-vous qu'il est inutile de dénoncer un "gouvernement des juges" ? (sous la dépendance du pouvoir en place, en l'occurrence le pouvoir financier)
Car c'est en réalité l'intégralité de l'appareil d'État qui est au service, via le partis politiques, du pouvoir financier ! Le prétendu pouvoir des juges fait partie intégrante du pouvoir exécutif et donc de l'appareil d'État. Parler de « gouvernement des juges » c'est vraiment l'arbre qui cache la forêt ! L'imposture politique élevée au niveau de « grand art », du pur illusionnisme !
13) Pour vous, la contestation de l'actuel pouvoir français, illégitime, dictatorial et outrancier, est nécessaire et même indispensable. Que pensez-vous de la gestion gouvernementale du covid ?
Plus précisément, je dis que l'intégralité de l'appareil d'État est aux mains des puissances financières. Nos institutions politique ont organisé consciencieusement, bien que discrètement, la disparition de tout contrepouvoir interne.
L'absence de contrepouvoir interne, initiale et consubstantielle à nos institutions, a été mise en évidence par la disparition du contrepouvoir politique externe que constituait l'existence d'un « bloc de l'Est ». IL FAUT maintenant LE CONSTATER.
Or, une organisation politique sans contrepouvoir est antinomique non seulement avec une quelconque démocratie, avec la liberté individuelle et collective mais aussi et surtout avec le concept même de CIVILISATION.
Les mesures législatives et règlementaires prises, à l'occasion de la crise covidique, par les « autorités chargées de la gestion du territoire français » (il ne s'agit pas à proprement parler de personnel politique puisque les « gouvernements » ne sont plus des « entités politiques ») s'inscrivent évidemment dans cette tendance lourde de la toute puissance financière.
14) Vous jugez la contestation du pouvoir nécessaire pour ne pas nous voir imposer le fameux Great Reset ? Quelle définition donnez-vous à ce projet d'agenda proposé par le président du Forum économique mondial, Klaus Schwab ? (projet monétaro-politique).
Pour faire face à cette Grande Réinitialisation, à ce gouvernement mondial, vous proposez de remettre les institutions politiques et étatiques au service de la population, vaste programme. Mais avant cela, comment amener cette population à prendre conscience de sa servitude ? (Modèle financière contre modèle politique)
Le forum de Davos via son directeur Klaus Schwab, lequel s'est récemment fait l'écho officiel (à grand renfort médiatique) du « Great Reset », est le dernier avatar de la prise de pouvoir mondiale par les puissances financières globalistes. Cette prise de pouvoir, qui s'inscrit dans une dimension historique pluri-centenaire, arrive aujourd'hui à maturité.
Dans ce contexte, le seul moyen pour les peuples, de s'opposer à l'inéluctabilité de leur mise en esclavage, est de reprendre le contrôle de leurs institutions, lesquelles sont aujourd'hui fondées sur l'imposture politique. Retrouver des institutions politiques signifie mettre fin à l'hégémonie mondiale des puissances financières. C'est aussi simple que cela. Mais pour y arriver, il faut avoir une vision claire des forces en présences et des enjeux civilisationnels qui en découlent.
Les gens doivent prendre l'habitude de raisonner par eux-mêmes, de confronter leurs intérêts et ne plus se laisser manipuler par l'avalanche de « mots » dépourvus de sens que les dominants financiers leur imposent, générant volontairement une variété infinie de « maux » politiques et sociaux.
Lorsque les politiques, médias ou « sachants » universitaires et autres experts de plateaux parlent de « liberté », il faut aujourd'hui comprendre « servitude ». La liberté, lorsqu'elle existe, n'a pas besoin d'être mentionnée à tout bout de champ. On ne parle des choses que lorsqu'elles ont disparu !
Il est temps d'instaurer une organisation sociétale dans laquelle tous les intérêts catégoriels traversant la Société seront politiquement représentés. Ce qui signifie qu'il est temps de se séparer de nos systèmes politiques actuels, pures impostures politiques, dans lesquels les seuls intérêts politiquement représentés sont, via les partis politiques, les intérêts financiers supérieurs.
Je renvoie les auditeurs intéressés à mes travaux sur la rénovation institutionnelle (voir mon site internet et mes différents ouvrages), c'est-à-dire à ma proposition de réinitialisation de l'État telle qu'elle figure sur mon site et telle qu'elle est décrite dans mes différents articles.
15 et 16) Vous avez récemment lancé sur votre blog un cercle de réflexion que vous avez appelé "Révoludroit" pour "un droit au service des humains". Qu'est-ce que c'est ? Vous dites qu'il faut réactualiser les fondamentaux du Droit, avec une réforme du droit civil (contrat, responsabilité, famille, respect du vivant), économique (droit de l'entreprise à nouveau compris comme une institution et réhabilitation de la monnaie) et pénal. Quelle forme devra prendre cette réforme ?
L'ambition à terme est de faire de RévoluDroit une école de droit alternative. Cette initiative a également pour vocation de préparer l'avenir institutionnel et juridique.
RévoluDroit s'adresse principalement aux juristes afin de rétablir un système de droit digne de ce nom, fondé sur un droit commun (le droit commun est civil ou n'est pas !) adossé au droit naturel, lequel doit être réévalué à l'aune de nos connaissances, scientifiques et humaines, actuelles.
Mais RévoluDroit s'adresse également à toute personne qui pourrait organiser des débats, physiques ou dématérialisés, afin de diffuser dans le public la réforme des institutions et de l'entreprise que j'ai élaborées et que je préconise hautement de mettre en œuvre. L'enjeu de cette mise en œuvre est, n'ayons pas peur de le dire, la survie de l'humanité.
Les auditeurs pourront trouver sur mon site internet, en première page, le schéma de la nécessaire réforme institutionnelle.
Quant à la, non moins nécessaire, réforme de l'entreprise, elle correspond à mon travail de thèse, vulgarisé dans mon livre « La nouvelle entreprise ». Il s'agit, in fine, de mettre en musique juridique le concept de « participation » qui, rappelons-le, trouve sa première manifestation dans la doctrine sociale de l'Église élaborée au XIXème siècle.
Cette réforme est tout à fait fondamentale car elle seule permettra de rétablir l'équilibre entre les rapports de force, équilibre que l'imposture du « capitalisme » a volontairement rompu à la seule fin – et les français doivent enfin le comprendre – d'hégémonie politique des puissances financières.
Il n'y a que des perdants à ce jeu de dupe que les puissances financières dominantes appellent fallacieusement « capitalisme » et qui ne sert qu'à monter une partie de la population (ceux qui détiennent un peu d'argent) contre l'autre (ceux qui ne détiennent que leur force de travail).
Finalement tout le monde appartient forcément, à un moment ou à un autre, à la catégorie des perdants du « capitalisme », y compris, et peut-être en premier lieu, les grands capitaines d'industrie qui se sont tous plus ou moins fait vampiriser par le jeu de la haute finance prédatrice.
Ce jeu, appelé « capitalisme » est un jeu de dupe pour plusieurs raisons :
Il habille d'honorabilité des pratiques de pures prédations non seulement économiques mais aussi et surtout humaines avec le brevetage et la commercialisation du vivant ;
Il fait passer pour « la liberté », ce qui n'est que la « liberté du commerce », qui se traduit par la simple loi du plus fort dans la savane capitalistique et financière ;
Il est instable par nature: les règles du jeu sont toujours susceptibles de changer brutalement en fonction du seul intérêt, bien compris, des seules puissances financières dominantes.
Les partisans des petites crypto-monnaies privées risquent, bientôt, de le découvrir à leur dépens. Car lorsque les dominants financiers décideront de mettre fin à ce qu'il faut considérer comme une expérimentation grandeur nature, toute l'armada juridique de répression de l'émission de fausse monnaie est prête à être mis en œuvre.
A minima, ces crypto monnaies ne pourront plus être converties en monnaies légales. Ce qui, d'ailleurs, peut s'avérer être à double tranchant pour le pouvoir actuel. Néanmoins, le pouvoir en place aura, fatalement, le dernier mot car il contrôle, politiquement et militairement, l'émission énergétique nécessaire au concept de cryptomonnaie.
En conclusion, j'insiste lourdement sur le fait que toutes les catégories – y compris les chefs d'entreprises (petites et moyennes) et les gens ayant fait des « économies » (plans d'épargnes, assurances-vie…) – ayant cru bénéficier de ce jeu fallacieusement appelé « capitalisme » se retrouveront immanquablement flouées à un moment où à un autre. Il est temps de le comprendre !
Il est surtout temps de changer de paradigme socio-politique, de passer de l'imposture à la réalité, de passer de la domination à la protection du vivant, de passer de l'excès de division à la réinitialisation de la vie en commun, c'est-à-dire de « retrouver le chemin de la civilisation ». Rejoignez RévoluDroit pour préparer la suite…
Woodstock and May 68 (France): Any links?
Posted on October 8, 2010
Woodstock turned out to be the free musical event of the century and gathered a million of youth and young parents with their kids for three days:  It was organized in a nation of plenty and economic growth and a savage, genocidal war in Vietnam.  
The US was training astronauts to land on the moon and the war in Vietnam was harvesting 200 US soldiers every day.  
The youth in France, and particularly in Paris, took to the streets and occupied schools, universities, manufactures for an entire week.  France was in a State of plenty; and "Law and Order" policy was firmly established.  Transparency of the power system in both countries was lacking.
Youth and the newer generations were worried of carrying on their life as their parents did:  It seemed pretty boring and pointless to working for just acquiring consumers goods.  
Youth needed an alternative for their future and a way out of what to do of these internal conditions of plenty and security.  
In both events, youth motto was: "Love is everything.  We need to be free to love and be loved.  Yes for peace and no for war"  
In a sense, morality and law and order to the youth were no longer necessary.  They want to be liberated of  the shackles of the moral "value set" that society was chaining them in. That's how they perceived the political and social situation then, and their feeling was on target:  Change and reforms were not being felt as technology was.
(Actually, the Beat generation a decade ago set the stage for this new phase)
Men, lawyers and investors, organized Woodstock; but it was the women who ran the show and kept the peace; marijuana and a few other drugs helped.
It was not supposed to rain in that summer event but it poured; people enjoyed sliding in the muddy inclines.  Many soldiers returning from the front in bad mental and physical conditions joined the party:  They were in states of shock and diminished as individuals. 
The mood at war was different from the mood of fraternity, compassion, respect for the other during the musical event:  They experienced extremes in mood swings.
People who purchased tickets, before the event turned free, could gather in front of the large stage. Most attending visitors parked on the hills surrounding the show:  They saw little ants singing and bouncing on the stage but they had their own music in the caravans and vans and tents.
They had their own supply of drugs and favorite music.  They could feel at peace alone even among million.  Masses were no longer of any threat; they could deal with their own internal demons in a gathering of like-minded association.
I lack statistics on the casualties during Woodstock such as injuries, sicknesses…but it is amazing that the event went on for three days in relative peace and very few official policing.  
Most of the youth had no plans of action for their future; they had not the slightest idea where the next location will be or how their life will unfold.  
Many converged to San Francisco, particularly to Ashbury Heights.  The young women had a better grasp of how their individual social stand could transform and empower family and community.
Transparency of the democratic system and reforms were very much in the mind of the newer generation but the detailed programs and future activities were not planned.  It was the real step forward in mankind history instead of the so-called "giant step" of Armstrong on the moon.
In the Paris revolt of May 68, women were the most vocal and most active in the organization and demonstrations:  They were revolting for serious freedom to womanhood in the customs and traditions of society.  Laws were to be more specific on gender equality in duties, rights, and responsibilities and opportunities in the workplace and be effectively applied.
At that age of seemingly confused plan of actions, many claimed that joining for music sake and this impulse of being there in the gathering of crowds was a show of unity of youth spirit around the world.
Youth refuses to miss a togetherness event.  It is this power of gathering that worried the power-to-be: The various interpretations of the meaning of these demonstrations were beside the point.
It was a big party with deep lucidity:  banners read "Run, comrade, run.  The old world is chasing after you."  
Youth was taking a reprieve by running joyously, a week of total freedom, running as fast as he could, knowing that the old world will invariably catch up with him.   Karl Marx said:  "When history repeats its cycles, the next time around is a farce."  
Spring of 68 was a sympathetic and spontaneous farce; it was an innovating and creative revolt with no arms.
It was a spring of movable fair, an all free-invited party.  It was a movable feast for sharing ideas and desires for justice, peace, liberty, and pleasure.
There were plenty of generosity and compassion:  Youth was feeling bored of the old world system of unjust order, capitalism, petrified ideologies and dogmas.  It was a humongous fair where affluent lifestyle in the western States of plenty hide the miseries of the lowest classes living in shantytowns.
It was in a period for the third world struggling to emerge from the slavery stage of colonialism.  Spring fairs in the western world spread to most nations where the partying lasted and lasted.
The virus of the movable feast reached countries with old systems destroyed by the colonial powers:  The newer power systems were unstable and mostly haphazard to come chasing after mass movable fairs. 
Spring of 68 crossed to Lebanon and lasted 5 years and emerged on a civil war that lasted 13 years and produced 300 thousand casualties (10% of the population!)
You don' t need to have a unified purpose to ge together; just youth assembling.  
Large assembling of wolves is good enough a show of force to giving the best impulse to political parties for figuring out the major problems in the political structure ideology.  
The awareness of the problems, after the show of "peaceful force", can make a difference even if the demonstration was not united behind a clear banner of intent for specific reforms.  
Invariably, a few reforms are imposed.  Getting on the streets beats sitting in isolation, eating our hearts out in bitterness and confusion.
The next phase of modernity began after this successful big party.  Moral values were reviewed and adapted to new realities because ancient fears changed qualitatively:  Laws of pure obedience were submitted to a new reflecting generation. 
Ethics of giving more weight to values than laws was supposed to be the normal extension to morality. The foundations were set for the remaining of this most violent century.
Though the trend for launching pre-emptive wars around the world were in the planning and executed with determination: Let blood reach the knees in the nascent underdeveloped States and south America.
How can working parents confront the issue of Child-Care situation?
By Catarina Saraiva, Reade Pickert, and Olivia Rockeman January 29, 2021, 
When the pandemic broke out, significant help arrived quickly for working parents in many rich countries, with one notable exception: the United States.
Now, nearly a year later, President Joe Biden aims to address what has become one of the most daunting obstacles to a full economic recovery, with policy proposals such as more money for child care and families.
"If people don't have care, then they can't get to work," said Heather Boushey, a member of Biden's Council of Economic Advisers, in an interview.
Bigger changes to the system "are urgent," she said, to help families during the pandemic and beyond. "They are core to how we need to be thinking about the economic recovery."
Biden's fix may come too late.
The pandemic crippled the already fragile U.S. child-care system, exacerbating inequalities for women and the poor that economists warn will hold back the world's largest economy.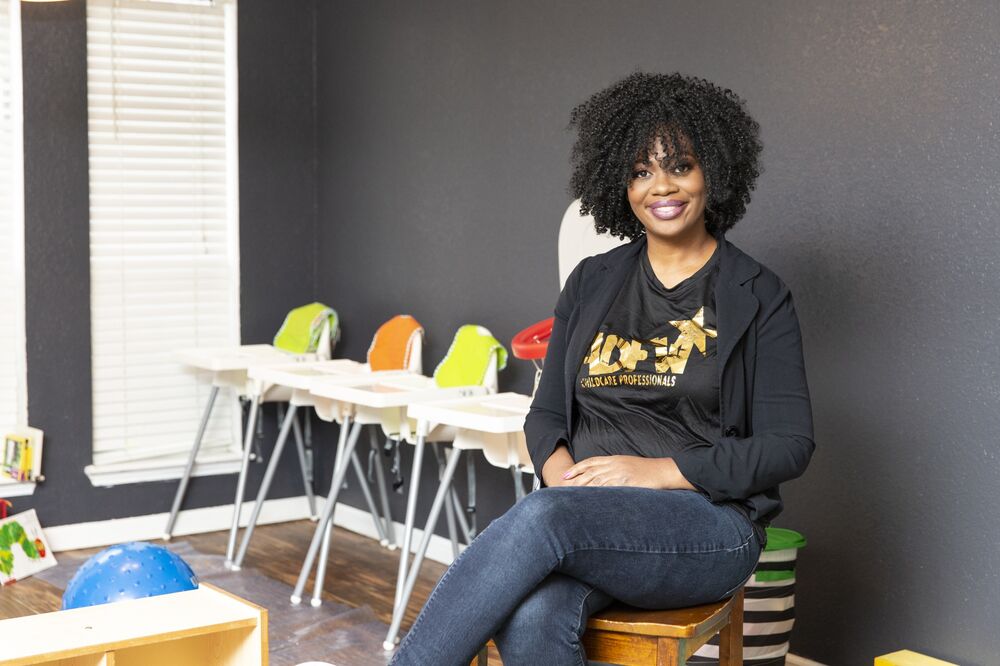 The pandemic is crippling America's already fragile child-care system. Jerletha McDonald has no kids enrolled at her daycare in Arlington, Texas. Photographer: Laura Buckman/Bloomberg
Child Care Woes
Women have left the labor force to care for their children amid Covid-19
https://www.bloomberg.com/toaster/v2/charts/98723c85c60949f281bc46139ff2e4a2.html?brand=business&webTheme=default&web=true&hideTitles=true
Source: Bureau of Labor Statistics
More than 2 million women have dropped out of the workforce since the virus hit. More than one-third of parents — mostly women — have yet to return to jobs they lost, largely because there's no one to look after their kids, according to a December report by the U.S. Chamber of Commerce Foundation.
Lawmakers provided some help for the problem last year in two rounds of stimulus.
Biden's plan goes further but faces a divided Congress. His massive $1.9 trillion stimulus plan includes billions of dollars to help reopen schools and provide additional paid leave to struggling parents.
The day's biggest stories Get caught up with the Evening Briefing. EmailSign UpBloomberg may send me offers and promotions. By submitting my information, I agree to the Privacy Policy and Terms of Service.
He wants an additional $25 billion to help stabilize the industry and also aims to expand tax credits to help families cover child-care costs, which, with other changes, could help cut child poverty in half, according to Columbia University. That's separate from broader reforms he campaigned on, such as universal pre-school and better pay for early educators, which face even more political hurdles.
Unlike the U.S., governments in Australia and across Europe were quick to provide robust aid to address the problems posed by schools and day-care closures shortly after the pandemic broke out.
There's evidence it helped.
Women in U.S. Leave Jobs to Care for Kids
Change since January 2020 in male-female labor-force participation gap https://www.bloomberg.com/toaster/v2/charts/81621ad1c3254129ab1896a387cbc476.html?brand=business&webTheme=default&web=true&hideTitles=true
Source: Peterson Institute for International Economics, using a 3-month moving average for each country.
Australia provided free care and funding to child-care centers, and since then female labor-force participation has come back stronger than it has for men, according to a study by the Peterson Institute for International Economics.
The gender gap also narrowed in the U.K. and Norway, where leave or other programs were swiftly implemented, the report found.
"Anything that negatively affects workforce participation — and productivity of workers — has a huge effect on our global competitiveness," said Robert Kaplan, president of the Federal Reserve Bank of Dallas, in an interview earlier this month. "We need to find ways to grow faster."
Susan Cano, a 32-year-old single mom, tried everything to keep her job at a bank when her daughters' schools closed. She flew her mother out to her California home, relied on her teenager to home-school her then-six-year-old, used vacation days and took advantage of a government leave program that quickly expired.
"It was just overwhelming," Cano said. "I was struggling, then I was depending on my 13-year-old to basically become an instructor for the younger one."
She eventually quit her job and moved to Texas to be closer to family. It took her three months and more than 50 applications to land a new job.
Payrolls Plummet
Only half of the child care jobs lost to the pandemic have returned so far
https://www.bloomberg.com/toaster/v2/charts/03603d01c6a745bfbb7e7978616e6d83.html?brand=business&webTheme=default&web=true&hideTitles=true
Source: Bureau of Labor Statistics
Economists call the pandemic's disproportionate impact on women the first female recession. Making it even worse is the child-care industry itself — a patchwork of private centers, smaller in-home operations, after-school programs, nannies and the friends, neighbors and grandparents who pitch in — is unraveling.
One out of three child-care jobs, held mostly by women, disappeared by mid-April, and only half of those jobs have returned, according to government data. Most care is offered by small businesses — some 700,000 of them — a majority of which are also female-owned.
Even at Bright Horizons Family Solutions Inc., one of the largest chains, enrollment is averaging 35% to 40% at centers that are open.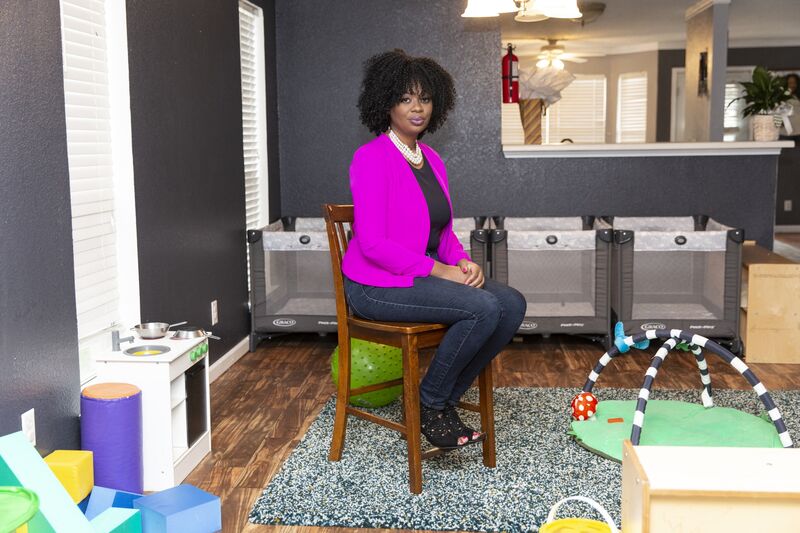 There's not one kid enrolled at the day care Jerletha McDonald, 41, runs out of her house in Arlington, Texas. She's got space for 12. She said parents aren't sending their kids because they're scared they might get sick; others can't afford it right now.
"It's really, really rough right now for a lot of providers," said McDonald, who can stay open because she has other income sources. "Where is the essential funding for this essential work that we do?"
The cost of child care is overwhelmingly borne by parents — and, at a price for infant care that in 21 states exceeds 20% of the median household income — it's not cheap.
Sacrifices and Uncertainty
A November survey of child care providers paints a bleak picture of the industry https://www.bloomberg.com/toaster/v2/charts/43ac9d00290d4df19e10bc675c5782c2.html?brand=business&webTheme=default&web=true&hideTitles=true
Source: National Association for the Education of Young Children
Note: Survey completed Nov. 13-29
Care also isn't guaranteed in most of the U.S., unlike in other rich countries, for kids who aren't school-aged. Many Americans live in child-care deserts, primarily in low-income and rural areas, where demand far exceeds capacity. For others, school closures during the pandemic removed a system of both education and care.
Lawmakers implemented some changes last year that have helped, including $10 billion in subsidies to the industry. Parents and providers are also counting on the Covid-19 vaccine. In some places, teachers are already being inoculated.
Covid has opened the eyes of corporate America to the need for more parental support. Bank of America Corp. is reimbursing employees for some costs. Intel Corp. and Cisco Systems Inc. are providing some financial support for back-up care. Google and Facebook Inc. have extended paid leave programs.
Economists say more permanent changes are still needed. Better pay is one thing that could help: Early educators, two out of every five of which are women of color, earn just $12.12 an hour on average, and about half rely on public assistance, according to the Center for the Study of Child Care Employment at the University of California, Berkeley.
"We did not have a robust child-care system coming into this crisis, and it has really just been upended," said Lea Austin, the center's director. It's "harming working mothers, it's harming the women who are doing this work and really, potentially, causing everyone all around to face greater economic hardship."
— With assistance by Ian King
What Black Swan Theory has to do with Arab Spring uprising?
Posted on June 13, 2012
I have posted several articles on the Black Swan Theory and this link is in response to its application to Lebanon political/social structure https://adonis49.wordpress.com/2011/06/03/is-lebanon-political-system-immune-to-radical-non-violent-revolts-think-again/
Zaher Yahya posted on Huffington Post an article (with slight editing) that is a general "refresher" post on the topic:
"The Arab Spring has been described and associated with a variety of symbolic designations.
At times, the term describes the series of protests that have swept across the MENA (Middle East and North Africa) region. It may also indicate a person's political position on the wide and highly polarized spectrum.
The term 'Arab Spring' has even been criticized by some who support the pro-democracy (or anti-regime) protests, citing this description as being Orientalist and therefore inappropriate.
The 'Arab Spring'  (protests and upheaval), which started on December 2010, has become a brand for the region, and has motivated and catalyzed many popular protest movements around the world.
International media generally refers to the term as a unified concept, largely citing its contagious aspects as well as the key links between the countries involved.
We now know that the Arab Spring will not be an easy ride for the countries that it has affected, though it cannot be denied that the region has been marked by a political paradigm shift.
People in the MENA region have:
1. Denounced the long-accepted principle that unelected officials and family dynasties can cling to power for decades without consequence.
2. People have broken the long-standing barriers of fear regarding corruption and intimidation,
3. People are adjusting to the ideological diversity of their societies (though many still have much to learn on this front).
For these reasons, I tend to be optimistic about the Arab Spring despite much rhetoric about it becoming an Arab "Winter."
Having lived through the global financial crisis that has affected people of all walks of life, I view the Arab Spring as being related to these events that shook the world economy in 2007.
Are you surprised that I find a relation may exist between these two events, both vast and far-reaching, but seemingly distinct? It may appear a tad philosophical, but the answer lies with Nassim Taleb.
Nassim Taleb (see note 2) lays the foundations  in his two books Randomness (2001) and Black Swan (2007) for his theories about uncertainty, randomness and Black Swan events.
Black Swan theory describes unpredicted major-impact events that effectively appear sensible in hindsight.
Taleb theory is framed in a financial context, (many experts contend that Taleb forecasted the financial meltdown of 2007), and describes the biggest financial crisis since the Great Depression of the 1930s as one of these Black Swan moments.
Black Swan moments are characterized as being rare, high-impact and paradoxically unpredictable occurrences at the time of their occurrence. Most of us would assume black swans don't exist, simply because we were only accustomed to seeing white swans in pictures and videos…
In the terms of the financial crisis, speculators assumed there is only one way for the markets to go; asset values would rise indefinitely with no limit to the amount of debt people could incur.
It has become clear afterward that the reality on the ground was different of what was written on their balance sheets and portfolios bottom lines.
The impact of the debt crisis was colossal and wide-spread that no expert envisaged at the time, with many talking about the failure of capitalism as a result. This global crash has really shattered the image and ultimate authority of the dictators of the finance sector (i.e. investment banks and hedge funds).
The Arab spring proved as difficult to predict as the financial meltdown showing economists, intelligence agencies, policy makers and analysts clueless about their own business, simply because they have never considered a Black Swan moment for the MENA region.
The Arab Spring was triggered by what could initially have been interpreted as an isolated event, spread surprisingly fast over a vast region, and led to major and unexpected developments.
In the same way, norms of the banking system that was held for generations collapsed with stunning speed and magnitude, the image and privilege of Arab dictators were shattered by popular revolts in a movement that took the world by surprise.
A Black Swan moment was never considered in the experts' minds to apply to the Arab States: many Arab dictators held a seemingly unshakable iron grip on power and ruled undeterred for up to four decades, all while preparing their sons to someday take the reins after them, unshaken by popular and economic conditions in their country.
So the public witnessed only their moukhabarat (secret service agents) running the show, as well as the brutal backstage of the regime if you were unlucky enough to pay them a visit.
Years of tradition made this construction of power a social norm, a backbone of society so persevering it was often assumed (and reasonable at the time) to be unshakable.
And this is exactly what Nassim Taleb focuses on, exactly on the things we don't know rather than the things we think we do.
A small exception to a rule (events in the tails of the normal graph) in the future can have the ability to trigger large-scale change and dismantle norms, theories and paradigms that have been accepted for years.
The colossal impact of the Arab Spring across the region was beyond anyone's realm of expectations – either idealistic or highly calculated.
In the world of risk management, this event appeared highly unlikely: The probability of such events spreading across such a vast region were not on the minds of political forecasters, in the same way so many bankers did not fathom their long-standing stability could be shattered so suddenly.
In hindsight, the Arab Spring may now appear to have been predictable.
How could we have assumed that despite torture, censorship, abuse, brutality, corruption, unemployment and poverty, regimes would remain sustainable?
Whatever your opinion of the Arab Spring, and whatever term you choose to designate it, what started in December 2010 has proven itself a Black Swan moment of the Middle East and North Africa, one that is far from over, and whose impact will perhaps take years to fully assess.
Note 1: Michelle Ghoussoub, Blogger at Lebanon Spring, edited Yahya article. Follow Zaher Yahya on Twitter: www.twitter.com/TheZako
Note 2: Nassim Taleb is a renowned Lebanese-American statistician, best-selling author and former Wall Street trader. His books Fooled by Randomness (2001) and Black Swan (2007) brought him to fame, with the latter described by The Sunday Times as "one of the twelve most influential books since World War II".
Note 3: Opinion experts would like us to believe that the uprising were not expected by the US. Evidences are pointing that what was unexpected is the development, steadfastness and far-reaching movement of the Arab people to get away with their long established indignities and humiliation by usurping oligarchies.
Note 4: What is of most importance is to study how the colonial powers and Saudi Kingdom, and monarchic regimes went about taming this mass upheaval and re-instituting dictators power in the MENA region. Only the fomenting of the extremist religious movements were the major barriers in resuming these mass upheaval.
Late Oriana Fallaci visions are as senile as those of John's
Posted on June 21, 2010
Note: I decided to abridge a previous article denouncing the rambling of late Oriana Fallaci against Muslims and comparing the new extremist factions behavior as resembling St. John's apocalyptic vision.
Oriana Fallaci is an Italian journalist turned writer; she was dying of cancer when she published her last book "Fallaci interviews Fallaci" followed by "Apocalypse". 
Fallaci was a very liberal personality most of her life, defending the oppressed, until she turned sour and dissatisfied with the state of affairs perpetrated by the slaughtering of foreign hostages by Muslim extremists in Russia, Iraq and Afghanistan. 
Yes, Fallaci was furious that most of the recent terrorist activities in Europe such as in Spain, Italy, France, Holland and Russia were perpetrated by Muslims. (Until the far-right movements in these countries took over the terrorist activities)
Fallaci practiced selective amnesia in this book to avoid mentioning the genocides and terrorist activities in former Yugoslavia that were perpetrated by Christians, Catholics and Orthodox, and the daily terrorism in Iraq among the Muslims sects of Sunni and Shia.  
Fallaci went as far as supporting anyone, even Nazis or fascists, as long that the political program was to stop Muslim' immigration to Europe and to never provide them with the legitimacy of a European citizenship. 
Fallaci ended her career by lashing out at legislations that permit homosexuals and lesbians to officially marry and adopt children "because it is a sin" and contrary to human procreation process. 
Oriana Fallaci had made up her mind that there are no moderate Muslims, lest they are Muslims by birth but are no longer practicing  believers: simply because the Koran is the Koran and there is no way to interpret the Sourates to coincide with civil laws in the western nations. 
The vehement attitude of Fallaci toward Islam stems from two premises:
First, all of the terrorist attacks in the World are perpetrated by Muslims, and
Second, the practices of Muslims' behavior in the Western World are based on the teaching of the Koran which cannot be reconciled with the rational civil laws in the western countries they live in.
 I have responded on these two premises in my previous article and will focus on the alternative apocalyptic versions.
Fallacy used St. John's apocalyptic vision to offer her version of Islam as the Monster and enliven her ejaculations and substantiate her stand, as if a flawed concept can be clarified by a more obscure premise. 
In St. John's apocalyptic version a Monster with seven heads and ten horns would emerge from the sea and the Beast on land would execute all the Monster's orders until the an angel descend from heaven and lock the Monster and punish the Beasts.
Thus, the Monster is Islam and the Beast is represented by the European liberals and leaders who are trying to appease Muslims and exhorting them to moderation by dangling carrots instead of raising the heavy sticks.
The Monster is to emerge from the sea, though the Muslim World is mostly a vast desert until now.  Either the 100-years old St. John was completely dehydrated, and thus seeing mirages, or he had a vision of another Ice Age period and thus, wet continents have exchanged climatic states, or Fallaci was getting out of whack and delving into uncharted territories.
For the time being, the USA is the only superpower located smack between the Pacific and the Atlantic.
The USA has waged two World Wars and invaded Asia and Europe and the only superpower to have landed troops in all continents and are still present, even after the end of the last "hot" world war more than 60 years ago.
The USA has many heads in finance, economy, technology, sciences, mass media, music and movie production, agriculture, and a military supremacy with extra three horns in space exploration, maritime hegemony, and genetic experimentation. 
The Beast can be represented by the world States leaders executing the US Administrations orders, then the intelligencia and educated people interpreting favorably the misinformation that the successive US administrations are propagating to spread democracy by pre-emptive wars.
Many leaders are emulating the Beast, either out of fear of economic embargo, sanctions, military reprisals, ordered terrorist activities, or because of local politics, or allegiance to the neo-conservative program. 
So far, many nations have joined the Bush Junior war on Iraq without the UN approval , and most of them have ended up retrieving their troops after seeing the light or their leaders failing in elections. 
The three main Beasts to shoulder this pre-emptive war were Blair of Britain, Saudi Kingdom and Israel. 
I will only focus on the Saudi Monarchy/Theocracy Beast.
Wolfowitz has said after the US troops entered Iraq: "Now, we can get our troops out of Saudi Arabia, after twenty years, without fear of destabilizing the region." 
There is no doubt that Saudi Kingdom not only encouraged the US with its plan to invade Iraq but also financed this campaign directly and indirectly. 
The Saudi Wahhabi sect caste was first, getting revenge on the Iraqis for giving their supremacy over the other castes in Saudi Arabia, the scare of their life in 1993: Saddam  invaded Kuwait and approached the Saudi Kingdom and
Second, the Wahhabi caste was encouraging the US to get its troops out of Saudi Arabia because Bin Laden was recruiting heavily on the basis of the "infidel Christians" spreading their impurity in the land,
Third, because the Saudi Monarchy and Wahhabi caste are completely reliant on the US to maintain their social structure, and
Fourth to keep communist China influence out of the Iraq, Iran, and Syria.
The Monster can be named; it is the neo-conservatives, Evangelical "Christians" in the USA.  They are an amalgam of dozens of Baptist and Protestant sects with the single main belief in the process of how the Second Coming of their Messiah is going to happen.
The neo-conservatives are clamoring that all the Jews should be relocated in Israel and then, after the Jews re-build their famous Temple in Jerusalem, they will launch a targeted crusade toward Israel, with the intention of Christianizing the new heretics of Jews; this campaign would be effective and completed and only then the Messiah would feel comfortable to come back!
The odds are the neo-conservatives would repeat Titus' feat of destroying the newly erected Temple and scatter the Jews all over the world. If the Jews believe that the support of the USA is free of charge then they are under the spell of the demon; the Jews will have to pay back everything with high interest too.
 Fallaci had a most striking interpretation of why the intelligent Oussama Ben Laden decided to televise an appearance a couple of days before the second Presidential US election of Bush Junior.  Ben Laden warned the Americans that if they re-elect Bush then he will have no option but to repeat another deadly strike. 
Bin Laden knew that his speech will galvanize the arrogant US citizens into shedding their apathy for voting and move in mass to voting heavily for Bush against the favorite Kerry. 
The Bush Administration needed Bin Laden alive to sustain their propaganda against Islam and linger a while longer in Iraq.  Bin Laden needed Bush in power to recruit heavily among the anti-American Muslims.
This is the ultimate deal between the staunchest extremist Beasts to wreak havoc in the world and create a definite cultural clash between the Christian West and the Islamic World.
The current generally rigid Islam is a major factor to the prevention of effective communication between the West and the Muslim World but it is not the only main factor. 
Most of the Muslim World is organized in Caste Systems (closed religious autonomous sects) due to the influence of India and the domination of the successive Mongol Empires to the whole region for over ten centuries. 
The most effective venue is not to lambaste mercilessly Islam but to aid our region to gradually break out of our caste structures so that we may communicate internally as a society and then open up to the West later on as people free to speak and publish our opinions without undue internal harassments.
This gradual change is not meant to impose democracy by pre-emptive wars but to allow our societies to invent alternative open systems that work in each Middle East States.
Currently, a substitute Beast will be propagandized: China.
I could not help but write a short poem related to the same theme. Worst, I could not help but sharing it with you; it is titled "Redundant Prophets":
Tormented youths, hearing voices, experiencing apocalyptic nightmares,
Seeking desperately a corner in a desert,
Preferably when available nearby,
In desolate locations, in complete isolation,
To exorcise their dark dreams,
Their oppressive loneliness, the demons in their soul,
And to find peace of mind.
Archangel Gabriel materialized to a few of them,
Talking to them in a centaur voice,
Vast and reaching the skies,
Or plainly in a human form, surrounded with blinding light.
Gabriel would not let them in peace,
He would harass them during their wretched life,
Urging them to fear the Unique God,
And pray and glorify God's name, and proselytize in God's name.
Most were not as lucky in fame,
And have never seen a divine apparition;
They did pass that critical phase in life, in good mental stability,
And reduced level of exacerbated anxiousness.
The difference between Prophets and young crazies
Can be traced to the genetic laziness of Gabriel;
Or most likely to the current glut in redundant prophets.
Revolution will not be funded: NGO-ization of Palestine, Ford Foundation
Posted November 22, 2013
While NGO-ization is a more recent phenomenon, it is part of a legacy of outside interests attempting to shape a liberation struggle in a way that support imperial forces rather than the Palestinian people.
While many organizations have responded to such pressures by abandoning their principles for expediency's sake, INCITE! instead responded in two ways:
1. it engaged in a revision of its fundraising strategies, looking for more grassroots sources rather than foundations; and
2. it organized an anthology of essays by activists and organizers that addresses the "deleterious effects foundations can have on radical social justice movements."
The essays are collected and published under the title, The Revolution Will Not be Funded: Beyond the Non-Profit Industrial Complex.
YAMAN  posted in Kabobfest this JANUARY 21, 2010
The NGOization of Palestine
In 2004, INCITE! Women of Color Against Violence received an e-mail from the Ford Foundation.
In the e-mail, the foundation rescinded a $100,000 grant it had awarded the group, explaining "that it had reversed its decision because of the organization's statement of support for the Palestinian liberation struggle."
The collection is a rigorous analysis and interrogation of the non-profit 501(c)(3) model of organizing. The political costs associated with such forms of incorporation and the loss of accountability associated with a duty towards large donors rather than the constituencies that organizers purport to care about.
The essays study how large foundations — like the Ford Foundation, which was funded in part by the CIA [Edit: To clarify the foundation itself was not funded by the CIA but some of its grants were. Moreover there was extensive collaboration between CIA and Ford Foundation during the Cold War.]– control social justice movements through the power of the purse.
The essays are an important and thought provoking read for all US-based activist concerned with social justice, and even those on the verge of graduation who believe that non-profit work is the most progressive route for change.
Having attended the Al Fakhoora Student Conference in Doha last weekend, I am posting an excerpt of the chapter The NGOization of Palestine, which includes interviews with Professor Hatem Bazian of American Muslims for Palestine, Professor Zeina Zaatari of the Global Fund for Women, and Atef Said an Egyptian human rights lawyer.
Having attended, I thought it worthwhile to consider the issues raised in these interviews and by the book in general.
How have non-profits impacted Palestinian and other Arab liberation struggles?
Hatem Bazian: NGOs control the purse strings. Through this funding or through the staff they hire, they assert their political agenda. For example, the largest coalition of organizations that work on Palestine do not insist on US divestment from Israel or devote organizing resources into achieving this agenda.
But look at the solidarity movements that developed around apartheid South Africa and Central America: they made divestment central to their struggle.
These movements recognized that economic sanctions and pressure are central to change a government's policies. When it comes to Palestine, NGOs do not want to offend certain segments of the liberal Zionist community.
So they shift their focus to changing Israel's mind without making Israel suffer. This kind of strategy was dismissed as ineffectual in the South African and Central American solidarity movements.
The Palestinian struggle (which does not differentiate between land stolen from Palestinians in 1948 and land stolen in 1967) has demanded the right of return for all Palestinian refugees and calls for Palestine to be a complete whole.
(Mind you the UN decision in 1947 divided Palestine into 2 States. While the Jews were barely 40%, they were given 57% of the land)
But today, almost all NGOs and foundations call for a "two-state solution" that insists Israel, as it's currently constructed, must exist as is, and that Palestinians must learn to accept colonization and occupation.
The two-state solution defends Israel's "right" to define itself on racially exclusivity criteria, and hence exist as a racially apartheid state.  
By proposing that Palestine exist as a divided, demilitarized state whose resources are fully controlled by Israel, this approach effectively eliminates the possibility of Palestinians having a real state that encompasses their historical and international rights. In other words, this "solution" would essentially dispense with the 6 million Palestinian refugees.
In other solidarity movements, there is often the understanding that they exist to support liberation struggles, not to dictate the terms of those struggles. However, when it comes to Palestine, NGOs feel they have the right to tell Palestinians what to do.
In their framework, the problem is Not Israeli colonization and occupation; the problem is that Palestinians need to be trained to develop "civil society" and learn to cooperate with Israel.
Consequently, funding is often focused on developing joint "Israeli-Palestinian" ventures and projects rather than address the issue of occupation.
The NGOization of the solidarity movement in the US has been so thorough that anyone who criticizes this position is silenced and marginalized.
(For instance, in the Bay Area there used to be an annual demonstration for Peace, Jobs, and Justice throughout the 1980s, and No speakers on Palestine were allowed to speak , Nor they supported the two-state solution.)
Without exception, every foundation that funds work on Palestine (from the most conservative to the most "progressive") does so from the understanding that Israel, as it currently exists, should stay intact, and the solution is to change Palestinians aso that they will adapt to their colonial situation.
For instance, the [Open Society Institute] wants to bring Palestinian intellectuals to the US to "train them." Train them to do what?
Train them to see the situation in the way the US does and facilitate the continued colonization of Palestine?
Zeina Zaatari: Organizations that are able to operate and function and have enough resources to hire staff–these organizations are careful and strategic about what they say. There are lines they do not cross, or else they are penalized.
United for Peace and Justice (UFPJ) has more foundation support than Act Now to Stop War and End Racism (ANSWER), although both coalition efforts organize against war.
A big  difference is that ANSWER includes Arab organizations with a clear political view, groups UPFJ doesn't invite into its leadership.
Basically, it is not okay for organizations to address Zionism or historic Palestine. You can talk about occupation, but you cannot talk about discrimination within the Israeli state or the right to return.
For instance, San Francisco Women Against Rape lost funding when it started to address the issue of Zionism in its organization. On the issue of Lebanon, it is okay to send money for support services, but it is not okay to talk about liberation.
If you talk about violence, you must denounce the liberation movement in Lebanon; you cannot focus on the violence perpetrated by Israel. 
Follow the money track, and it's clear that foundations are driving these and other political agendas.
For another example of how deeply foundation funding impacts this movement, compare the American Arab Anti-Discrimination Committee (ADC) with the National Council of Arab Americans.
The ADC works with the FBI, supports US interventions in Afghanistan, does not take clear stands on Palestine, and works with US government officials (such as Colin Powell and Madeleine Albright) who are responsible for killing our people. Its focus is to make Arabs acceptable to the mainstream US, not grassroots organizing.
Meanwhile, The National Council of Arab Americans calls for an end to the colonization of Palestine, addresses Zionism, and does not support the two-state solution. Consequently, it has a much more difficult time getting funding. Additionally, as a result of the Patriot Act, even individuals are afraid to support Arab liberation organizations because they are targeted by the US government.
Atef Said: In Egypt, NGOization often competes with grassroots organizing work. or instance, in labor organizing, NGOs encourage workers not to clash with business owners, thus pacifying labor struggles.
Sadly, most NGO leaders were previously involved in the country's Left movements, but were seduced into the NGO world  because they can be funded (including personal benefits like travel and luxury hotel accommodations) and incur less trouble with the establishment.
A significant problem with this model, of course, is that NGOs depend on foundations for their resources, not the people.
Thus, they spend little if any time organizing and are instead accountable only to their funders. For example, since NGOs err dependent on foundation support, directors of NGOs focus on quantity rather than quality of work (that is publish more reports in less time).
In 1997 and 1998, I started to observe from my work in these human rights NGOs that they are a bit isolated, and while they claim to defend people's human rights, they are not invested in the question of social change and social justice.
For instance, if we look at the case of workers who are fired or o n strike–a labor organizer would work with them to continue their activism and organization. But the NGO legal aid staffer would ask to be authorized legally to sue the employer on the worker's behalf. In other words, the NGO asks the worker to stop her/his activism: "Go home and just authorize me to sue him."
After 1998, I continued to work in these NGOs with no big hope that they will really do genuine human rights work. I started to work voluntarily with labor as well as the Palestine solidarity movement, and it became clear that my work for human rights NGOs was just a paid job.
On the positive side, because of growing social movement that are not NGOized, particularly those in support of Palestine, some NGOs are focusing more on grassroots work, even if it impacts their funding.
Historically, how has the NGOization of the Palestinian struggle developed?
Hatem Bazian: Beginning in the 18th century, Christian missionary workers emerged in the middle East and set about influencing policy through education. Banking institutions also developed that became involved with Christian elites.
European countries, in turn, often claimed themselves as the protectors of Christians in the area to justify political intervention in the region. Using educational exchange programs, England, France, and later, the US aspired to create an elite within the region that would support their interests.
After Israel was created in 1948, the Palestinian liberation movement was often shaped by Arab states. They tried to control the movement and its interaction with Israel so that it would not negatively impact their diplomatic relations with Western countries.
The PLO, which was constructed from outside Palestine,  mirrored the authoritarian structure and corruption of the neo-colonial Arab states. However, since the uprising of the 1980s, the shaping of this movement has shifted from outside Palestine to inside of it.
It is now less susceptible to being co-opted into the Arab state structure and can assert a different vision for struggle. This vision, of course, is fluid and the movement has diverse sectors.
After the 1970s, NGOs emerged as key shapers of the movement. But they too attempted to influence the movement in ways that accorded with US and Western interests.
So, while NGOization is a more recent phenomenon, it is part of a legacy of outside interests attempting to shape a liberation struggle in a way that support imperial forces rather than the Palestinian people.
Zeina Zaatari: Oslo helped set the framework for what is and is not acceptable. Pre-Oslo, or during the first intifada, political movements were still strong, organizing within Palestine, and, to a lesser extent, in refugee camps outside Palestine.
But Oslo isolated the Palestinian issue as unrelated to larger Arab-Israeli conflicts, and transformed the movement by shifting its focus from liberation to statehood  and from decolonization to peace.
Funders supported the Oslo agenda by rewarding projects concerned with mutual coexistence, and forced the collaboration between Israeli and Palestinian groups.
Within Palestine, organizations previously concerned with a broader vision for justice — such as freedom for historic Palestine ,the right of return, and the land — turned their attention to smaller issues such as social services and other structures necessary for statehood, representational politics, and constitutional development.
Donors put much money behind this kind of work, and the work of liberation became much more compartmentalized: for instance, the issue of refugees became separated from the larger liberation struggle, its emphasis redirected in the post-Oslo political and funding climate from the right of return to humanitarian relief.
Le Deep State français. Saturday 16 janvier 2021
Note: there are plenty of evidence of a close network of global multinationals that are interconnected with vast ramifications in economy, finance and political meddling around the world. The pharmaceutical and chemical industries are no exceptions. It is no brainer to accept the conjecture that they are linked to a Central Body for planning and executing policies that affect the global consequences. Most billionaires have shares in all these multinationals and control many aspect of world conditions
"Pour savoir qui vous dirige vraiment, il suffit de regarder ceux que vous ne pouvez pas critiquer." Voltaire
On avait parlé du président des riches à propos de Nicolas Sarkozy.
Maintenant avec Emmanuel Macron, on a le président du CAC 40, dont l'unique préoccupation est la protection des intérêts financiers de ses maîtres comme en témoignent les nombreuses cajoleries (pensons au 900 millions offerts l'année dernière), mais aussi de veiller à la réalisation du plan Illuminati en obéissant aux directives de Bruxelles.

Les Français ont du mal à s'en apercevoir, mais la France est l'otage de l'aristocratie financière européenne (instrument du Deep State Européen).

La mise en scène lors de son intronisation au Louvre n'en est que la preuve flagrante : la France est sous le contrôle du Nouvel Ordre Mondial Illuminati.
Contrairement à ce qu'il serine à longueur de journée, le président français ne s'est pas fait tout seul. Derrière lui, dans l'ombre, se tient une élite qui l'a programmé, et ce dès son enfance.
La nuit du 4 août 1789 est d'actualité !
Les nouvelles fusent comme une traînée de poudre : ce n'est plus un secret pour personne.
Où sont les canons ? Le peuple !
Veillons à l'abolition des privilèges.
Tout le monde le sait : la caste financière préserve ses privilèges et englobe le monde politique.
Vous le savez, l'esprit français est d'essence monarchique.
Contrairement à ce qu'il serine à longueur de journée, le président français ne s'est pas fait tout seul. Derrière lui, dans l'ombre, se tient une élite qui l'a programmé, et ce dès son enfance.
Mû par son désir d'être roi, il a couru les colloques, les réseaux, les connivences, les complicités en profitant du système des très riches.
Fils spirituel du baron français Rothschild à qui il a voué allégeance et servilité, 24ème degré maçon et 2ème degré Illuminati, il poursuit la politique attendue par la banque Atlantiste et Mondialiste.
Derrière Macron se lève une cohorte de personnes du même cercle :
–  Le comte Henry de La Croix de Castries (mondialiste, président du Comité de direction du réputé groupe Bilderberg, président du très influent think tank ultra libéral Institut Montaigne, et ancien PDG du premier assureur mondial AXA de 2000 à 2016, sponsor d'une étude mondiale centrée sur « la culture inclusive pour les collaborateurs LGBT »).

–  Invité au Groupe Bilderberg qui se tient à Copenhague (29 mai – 1er juin 2014), dont le comte est le président, il voit en lui un homme capable de contrer les syndicats et d'infléchir la politique économique et industrielle de la France afin de servir les intérêts mondialistes du Deep State Européen.

Emmanuel Macron est recruté puis propulsé dans les arcanes du pouvoir jupitérien : dans un premier temps, on le nomme conseiller économique de l'Élysée, puis dans un deuxième temps, on lui octroie le portefeuille du ministère de l'Économie, de l'Industrie et du Numérique en août 2014, en remplacement d'Arnaud Montebourg, jugé « trop français ».

Afin qu'il puisse servir au mieux la cause de la Cabale, il est décidé le 21 mars 2016, à Francfort, de l'épauler au mieux dans sa course présidentielle.  Le soutiennent: le comte de Castries, Alain Minc, Pierre Gattaz, Mario Draghi, Vincent Bolloré, Patrick Drahi, Pierre Bergé, et d'autres.
–  
Alain Minc, homme de l'ombre et « visiteur du soir » de l'Elysée, responsable de plusieurs think tank libéraux qui veille au grain.
– Pierre Gattaz (président du MEDEF défendant les intérêts du grand patronat français).
– Mario Draghi (président de la BCE qui inflige une politique de rigueur libérale à l'ensemble des pays européens).
– Patricia Barbizet qui dirige le portefeuille de la famille Pinault et présidente du club Le Siècle, membre de Bilderberg et de la Commission Trilatérale.
– Laurent Bigorgne qui hébergea à son domicile le mouvement En Marche à son lancement et également membre de Bilderberg.
– Bertrand Collomb, ancien PDG de Lafarge et membre de Bilderberg et de la Commission Trilatérale.
– Anne Lauvergeon, ancienne présidente d'Areva et de la Commission Trilatérale.
– Michel Pébereau, ancien PDG de BNP Paribas et ancien du think tank Institut Aspen France.
– Jean-Pierre Jouyet, des Bernardins, centre d'influence et de pouvoir, où se retrouve la célèbre promotion Voltaire où étaient élèves à l'ENA aussi bien François Hollande, Ségolène Royale, Michel Sapin, Dominique de Villepin, etc.
C'est lui qui fait entrer Macron à l'Elysée via Jacques Attali.
– Henry Hermand, ancien directeur du Trésor Public et directeur de la banque Barclays, qui finança la deuxième gauche sociale-libérale pendant des décennies.
Son épouse n'est autre que la richissme héritière de la famille Taittinger qui siège au conseil d'administration de Suez, de HSBC France, de Fnac-Darty et du Centre Pompidou.
On compte aussi son ami, Xavier Niel, 10ème fortune du pays, 159ème fortune mondiale (propriétaire de Le Monde, Télérama, Courrier International, La Vie, Le Monde diplomatique, le Huffington Post, l'Obs), qui lui offre une visibilité médiatique parfaite avec 64 unes de Paris Match pour le mettre en avant comme jeune, talentueux et glamour.
Cette publicité mensongère n'a qu'une finalité : un paravent prétendu démocratique et légal pour le compte des intérêts de la finance internationale.
On lui apporte tous les soutiens financiers nécessaires pour créer un rassemblement qui deviendra par la suite un parti politique.
Le 6 avril 2016 La République en marche est crée, la course à la présidentielle est lancée.
Soutenu par le gratin financier et les patrons de presse, les élites dirigeantes, Emmanuel Macron finit par devenir Président et lancer toute une politique au service des ultra-riches.
En France, les liens entre finance, pouvoir et médias sont intimement liés et forment le petit Paris, aux manettes d'une Démocratie usurpée.
La compagne de Xavier Niel, Delphine Arnault (fille de Bernard Arnault), directrice générale adjointe de Louis Vuitton, conseillère de la première dame, sa copine, qui pour ses tenues lui fournit des robes à 15000 €.
Son ami, Bernard Arnault, chez qui les Macron dînent « presque toutes les semaines », qui avec ses 73 milliards d'euros est l'homme le plus riche de France, 4ème fortune mondiale, un super riche, propriétaire de LVMH, propriétaire du Parisien, des Echos, principal actionnaire de Carrefour, financeur de L'Opinion, et de l'Institut de sondage Odoxa.
J'ai peut-être pas été assez clair : 73 milliards d'euros ! En comparaison, même le 500ème homme le plus riche de France avec ses 140 millions d'euros est 521 fois plus pauvre que l'homme le plus riche de France avec ses 73 milliards d'euros.
Imaginez vous, même si vous aviez un patrimoine de 250 000 euros vous êtes 521 fois plus pauvre que le 500ème homme riche de France.
Alors imaginez en comparaison d'un smicard…Le contraste est saisissant…
N'oublions pas, Madame Macron.
Elle-même héritière de la famille Trogneux, qui a formaté l'esprit du jeune Emmanuel à l'exercice du pouvoir dès son adolescence, pour l'introduire dans la haute sphère des puissants. Son conditionnement relève des techniques MK de la branche anglaise.
Brigitte Macron, en sa qualité de prêtresse initiée (membre de la section française de la secte sataniste de la »Golden Dawn » fondée au 20ème siècle par Samuel Liddel MacGregor Mathers (qui a fait un travail de synthèse de tous les ésotérismes méditerranéens et occidentaux).
Tous les mouvements ésotériques depuis 1880 lui doivent une paternité (sauf la lignée Austin Osman Spare – Andrew Chumbley qui sont des initiés de sorcellerie traditionnelle).
Le grand prêtre satanist Aleister Crowley, disait de Spare que c'était son « frère noir » (il l'a éjecté des Argentum Astrum son ordre magique restreint).
Crowley a généré un néo-satanisme en remplaçant le monothéisme solaire de la Golden Dawn par une inversion égotique en satanisme solaire de la bête 666 : un complexe de gamin richissime martyrisé par le puritanisme de ses parents). 
Brigitte, l'éminence grise, la « sorcière », guide Emmanuel dans toutes ses prises de position. Il est intéressant de noter qu'Emmanuel Macron déclarera qu'il n'est rien sans elle.
Que de beau monde dans son entourage !
Ce « petit Paris » compte les 7 familles les plus riches de France qui possèdent à elles seules 66% du patrimoine des 100 plus riches !
Ajoutons :
– Vincent Bolloré, a la tête de tout un empire médiatique (détenteur de Canal+, C8, Cstar, Cnews, Marianne, et des journaux gratuits Direct Matin et Direct Soir, et la direction des instituts de sondage CSA). Lui-même deuxième soutien d'Emmanuel, après la famille Rothschild.
– Martin Bouygues, propriétaire de TF1 et LCI. Rappelons qu'avec le sacrifice d'Alstom à General Electric, une véritable catastrophe industrielle pour la France, Bouygues a pu engranger 1,6 milliard d'euros.
Quel cadeau ! Encore une gâterie.
– Pascal Houzelot, entremetteur du PAF et ancien bras droit d'Étienne Mougeotte à TF1 (une chaîne du câble gay-friendly avec TF1, M6, Canal+ et Lagardère comme actionnaires).
– Arnaud Lagardère, grand héritier, et au cœur de tous les conseils d'administration de tous les médias, mais aussi propriétaire d'Europe 1, Paris Match, Elle, Le Journal du Dimanche.
– Patrick Drahi, propriétaire de BFM, RMC, L'Express, Libération, qui façonne lui aussi la pensée des Français jour après jour, pour le bien d'Israël.
En somme, 10 milliardaires qui se partagent 90 % des quotidiens, 55 % des chaînes de télévision et de radio.
De quoi influencer l'opinion générale.
Toute la noblesse d'État était là pour adopter et coopter Macron sur les marches du pouvoir.
Parrainé de toute part et lié aux hautes sphères du pouvoir financier, bardé d'or de chez Rothschild, l'Élysée lui est tombé dessus comme un hochet.
Dans ce petit monde d'intimes, Emmanuel Macron dispose entre ses mains d'une quinte royale. Il est le jockey des super riches, qui eux possèdent les écuries.
Plus que ça, il n'est qu'une marionnette dont les fils sont agités par l'aristocratie financière.
Ce petit cercle des intimes a produit et propulsé notre cher cameloquet au service de sa caste pour démolir les derniers remparts de la République française fondé sur la Liberté, l'Égalité et la Fraternité.
Ainsi s'est mis en place sous nos yeux la fin de nos principes fondamentaux d'une Démocratie au service du peuple, pour le peuple et par le peuple.
En 1789, la révolution française considérée comme une Révolution bourgeoisie, à opéré le passage du pouvoir politique détenu par la Monarchie au pouvoir économique c'est à dire la bourgeoisie florissante.
Que manquait-il aujourd'hui à l'oligarchie financière ? La République.
Qu'elle a obtenu aux grands renforts de manipulations médiatiques, ce qui s'apparente à un coup d'État.
Sous la présidence Sarkozy, déjà nommé le président des riches, toute la sphère millionnaire du spectacle et des médias à obtenu gain de cause. Il a réussi a gagner la confiance des plus riches artistes (par sa mesure clef, le bouclier fiscal, pour obtenir la confiance des plus fortunés de France).
Il a initié le mouvement de gouvernement pour les riches et non pour le peuple.
Sous la présidence Hollande, prétendue socialiste, le mouvement n'a fait que s'amplifier pour servir au mieux la cause du CAC 40 (mesures fiscales inégalitaires, scandales du crédit CICE et de la taxe TICPE, loi travail El Khomri et autres mesures en faveur des très riches) qui a mis les Français dans la rue, en raison de la trahison d'un électorat de gauche.

A cette époque Emmanuel Macron était déjà l'argentier du pouvoir Hollande.
Avec Emmanuel Macron, le mouvement touche à son apogée puisque l'oligarchie financière aux commandes achève son œuvre de destruction de la démocratie.
En supprimant l'ISF, alors que ce n'était pas annoncé dans sa campagne (évidemment, ça lui aurait fait perdre l'élection), Macron donne sa couronne de lauriers aux riches.
Il n'y a plus de contre pouvoir : plus de syndicat (seul 7% de la population active est syndiqué), plus de parti politique d'opposition (seuls restent les extrêmes), plus de médias contestataires (les médias à la botte du pouvoir). Et même plus le droit de rigoler des excès de la Macronie en témoigne la fin des Guignols de l'info.
La finance a gagné son pari. Et la moindre révolte est vouée à l'échec (même les Gilets Jaunes par manque de structure politique ne parviennent pas à s'imposer comme une alternative politique crédible).
La situation actuelle ouvre un boulevard à l'opposition démocratique, mais il n'y a pas d'opposants.
La finance peut s'engraisser librement, elle ne connaît aucune menace à sa main mise sur le pouvoir.
Dans notre pays, règne une crise majeure des institutions, dont le fossoyeur n'est autre que le président Macron.

La révolte du peuple précipitera sa chute avec le soutien de ces mêmes institutions.
Par mégalomanie, et même en ayant de son côté les membres les plus influents du pouvoir français, Emmanuel Macron a raté le 'plan' qui lui était attribué.

En l'appliquant brutalement en un an au lieu de le faire en 5 ans comme prévu par ses maîtres, il a manqué à sa mission et à la place il a provoqué une révolte populaire qui a embrasé le pays. Cela lui sera fatal.
Depuis la fin de l'année 2018, les uns après les autres le quittent et créent une béance du pouvoir. Sa déstabilisation se lit sur son visage inquiet.
Il est conscient malgré lui que sa chute est programmée par ceux-là même qui l'ont placé au pouvoir.
Dans la poursuite du plan Illuminati de délitement de la France consistant à détruire la classe moyenne : il est temps de changer de marionnette.

La classe moyenne représente le socle des valeurs républicaines et gardienne des valeurs françaises et patriotes assurant la sauvegarde des valeurs morales et laïques que le pouvoir réel des élites veut abolir.

Comment ? Par le dévoiement et la subversion de toute culture nationale, par le délitement des liens familiaux, par la criminalisation des français et des immigrés de culture musulmane, ainsi que par toute tentative de submersion des forces étrangères, introduisant racket et paupérisation de la classe moyenne et dénonciation des pauvres et des chômeurs, bafoués de leurs droits.

Avec la paupérisation de la société française, avec la désindustrialisation de l'économie française, avec l'anomie de la moralité et l'instillation de la décadence, avec la mise en index de l'intelligence, tout est mis en œuvre pour accueillir le Nouvel Ordre Mondial de ces élites lucifériennes.
Il est temps pour eux d'installer un nouveau soldat à leurs bottes pour la sauvegarde de leur plan maléfique.

Et cela de toute urgence.
En témoignent :
« Les secrets d'enfance d'Emmanuel Macron et Najat Vallaud-Belkacem » par Claude Askolovitch (Vanity Fair, février 2017)
« Au lycée Henri-IV, les infortunes du jeune Macron » par Vanessa Schneider (Le Monde, 2 mars 2018)
« Emmanuel Macron, un intellectuel en politique ? » par Nicolas Truong (Le Monde, 1er septembre 2016)
« Henry Hermand – Emmanuel Macron, le vieil homme et le futur président » par Vanessa Schneider (Le Monde, 9 novembre 2018)
« Bernard Mourad, le banquier qui n'épargne rien à Emmanuel Macron » par Sophie Des Déserts (Vanity Fair, décembre 2018)
« Les années Rothschild d'Emmanuel Macron » par Isabelle Chaperon (Le Monde, 10 mai 2017)
« La conquête de Paris d'Emmanuel Macron » par Pascale Neville (Le Monde, 2 juin 2017) « Emmanuel Macron, itinéraire d'un enfant gâté » par Cédric Pietralunga et David Revault d'Allonnes (Le Monde, 31 août 2016)
« Le président des ultra-riches » de Michel Pinçon et Monique Pinçon-Charlot (La découverte, 2019)
« L'ambigu Monsieur Macron » de Marc Endeweld (Flammarion, 2015)
« Emmanuel Macron, le banquier qui voulait être roi » de François-Xavier Bourmaud (L'archipel, 2016)
« La caste » de Laurent Mauduit (La découverte, 2018)
« Ce pays que tu ne connais pas » de François Ruffin (Les Arènes, Paris 2019)
« Macron et son crépuscule » par Juan Branco (Mars 2019, mais l'ouvrage téléchargeable en français en ligne : http://branco.blog.lemonde.fr/files/2019/01/Macron-et-son-Crepuscule.pdf, et en anglais pour le diffuser : https://archive.org/download/MacronAndHisTwilightV1.02EN)
« Contre Macron' par Juan Branco (Divergences)
http://clearlook.unblog.fr/2019/03/29/le-deep-state-francais/
Keystone XL pipeline halted as Biden revokes permit
ROB GILLIES, Associated Press Jan. 20, 2021
TORONTO (AP) — Construction on the long disputed Keystone XL oil pipeline halted Wednesday as incoming U.S. President Joe Biden revoked its permit on his first day in office.
The 1,700-mile (2,735-kilometer) pipeline was planned to carry roughly 800,000 barrels of oil a day from Alberta to the Texas Gulf Coast, passing through Montana, South Dakota, Nebraska, Kansas and Oklahoma.
https://c0b9aa9f1fa81078b47fd1744557b182.safeframe.googlesyndication.com/safeframe/1-0-37/html/container.html
"The Permit is hereby revoked," Biden's executive order says. "Leaving the Keystone XL pipeline permit in place would not be consistent with my Administration's economic and climate imperatives."
Keystone XL President Richard Pryor said over 1,000 jobs, the majority unionized, will be eliminated in the coming weeks. "We will begin a safe and orderly shutdown of construction," he said.
First proposed in 2008, the pipeline has become emblematic of the tensions between economic development and curbing the fossil fuel emissions that are causing climate change.
The Obama administration rejected it, but President Donald Trump revived it and has been a strong supporter.
The premier of the oil-rich Canadian province of Alberta called Biden's decision an "insult" and said the federal Canadian government should impose trade sanctions if it is not reversed. Canadian Prime Minister Justin Trudeau took a conciliatory tone.
"We are disappointed but acknowledge the President's decision to fulfil his election campaign promise on Keystone XL," Trudeau said in a statement.
White House press secretary Jen Psaki said Biden will call Trudeau on Friday, the first call with a foreign leader after Biden took the oath of office. Psaki said the pipeline will be discussed.
Trudeau raised Keystone XL as a top priority when he spoke with Biden in a phone call in November.
The project is meant to expand critical oil exports for Canada, which has the third-largest oil reserves in the world and is America's number one source of foreign oil.
Trudeau and Biden are politically aligned and there are expectations for a return to normal relations after four years of Trump, but the pipeline is an early irritant as Biden has long said he would cancel it.
"Despite President Biden's decision on the project, we would like to welcome other executive orders made today, including the decisions to rejoin the Paris Agreement and the World Health Organization, to place a temporary moratorium on all oil and natural gas leasing activities in the Arctic National Wildlife Refuge, and to reverse the travel ban on several Muslim-majority countries," Trudeau said in his statement.
Alberta Premier Jason Kenney said Biden's decision is a gut punch for his province, which has a stake in the project.
"It is a insult directed at the United States most important ally and trading partner on day one of a new administration," Kenney said.
"The leader of our closest ally retroactively vetoed approval for a pipeline that exists and which is co-owned by Canadian government, directly attacking by far the largest part of the Canada U.S. trade relationship, which is our energy industry and exports."
Critics of the Alberta oil sands say the growing operations increase greenhouse gas emissions and threaten Alberta's rivers and forests.
But Marty Durbin, president of the U.S. Chamber of Commerce's Global Energy Institute, said Biden's decision is not grounded in science and will put thousands of Americans out of work,
"The pipeline — the most studied infrastructure project in American history — is already under construction and has cleared countless legal and environmental hurdles,"
Durbin said in a statement. "Halting construction will also impede the safe and efficient transport of oil, and unfairly single out production from one of our closest and most important allies."
Environmental groups applauded Biden's move.
"Killing the Keystone XL pipeline once and for all is a clear indication that climate action is a priority for the White House," said Dale Marshall, national climate program manager for Canada's Environmental Defence.