Archive for the 'professional articles' Category
The effects of whaling and its end.
"Whales are the canaries of the ocean," says Philip Hoare, "the measure of all that is healthy, and all that is sick on earth."
An epic struggle for survival is unfolding in the pristine Arctic – as the planet gets warmer, the ice is melting and instead of governments finding a plan to save it, the US is allowing Shell to go in and drill for oil. It is insane, but this week, one woman can stop it, and it's up to us to make sure that she does just that.
Lisa Jackson, Environmental Protection Agency head can right now withdraw the permit because Shell has violated the conditions and last week the company lost control of one of its rigs, narrowly avoiding disaster off Alaska. Environmental activists are raising the alarm, but unless we make it a global scandal, Shell — the biggest company in the world — will get their way and others will soon follow the charge.
Lisa Jackson stood up to Big Oil before, but Shell has invested billions and won't be easily turned back. Let's make this decision the line in the sand that protects this great wilderness from becoming an oil field. Click below to send Lisa Jackson a message and share this with everyone — let's flood her with global encouragement to save the Arctic:  
http://www.avaaz.org/en/save_the_arctic_a/?bFAfecb&v=16546
The Arctic is melting faster than even most scientists predicted. Climate change is driving dangerous temperature rises — just last week, a chunk of a glacier nearly 40 kilometres long broke off Greenland. Some estimates predict that in just 4 years, the arctic will be completely free of ice in the summer months, soaring temperatures even higher and leading to the melting the Greenland ice sheet which would raise sea levels by 6 metres.

Yet for some this planetary disaster is the 21st century gold rush. Companies and countries who hope to make billions are lining up to frantically grab their share of oil, gas, and minerals. To them the Arctic is not a home to whales and polar bears, it is a new frontier, and it's one of the reasons why nations like the USA, Canada and Russia have spent years blocking global climate treaties.

This is a simple decision: the people and planet's future or increasing Big Oil's profits with a 40% possibility of a catastrophic oil spill. If Lisa Jackson gives Shell the permit now then Exxon, Chevron and the rest of Big Oil will cover these beautiful icy wastelands with dirty rigs, pumps and pipes. Let's now urge Lisa Jackson to stop Shell before it's too late. Click now to send a message and share this with everyone:
http://www.avaaz.org/en/save_the_arctic_a/?bFAfecb&v=16546
Arctic drilling has already been condemned by the British government, Insurance companies, the US Coast Guard, and in the last week, Greenpeace and others have been taking to the streets. But to stop this madness we all need to join together to target the one person that can stop it. Let's ensure that the Arctic is saved from the danger of drilling and instead protected as a global treasure.
With hope,
Iain, Alice, Sam, David, Aldine, Diego, Ricken and the rest of the Avaaz team

Ten Myths on Israel being a Democratic State
No, Israel Is Not a Democracy
By lan Pappe
From Ten Myths About Israel, out now from Verso Books.
June 12, 2018 "Information Clearing House" – Israel is not the only democracy in the Middle East. In fact, it's not a democracy at all.
In the eyes of many Israelis and their supporters worldwide — even those who might criticize some of its policies — Israel is, at the end of the day, a benign democratic state, seeking peace with its neighbors, and guaranteeing equality to all its citizens.
Those who do criticize Israel assume that, if anything went wrong in this democracy, then it was due to the 1967 war.
Subjugation of Minorities in Israel Is Not Democratic
The litmus test of any democracy is the level of tolerance it is willing to extend towards the minorities living in it. In this respect, Israel falls far short of being a true democracy.
For example, after the new territorial gains several laws were passed ensuring a superior position for the majority: the laws governing citizenship, the laws concerning land ownership, and most important of all, the law of return.
The latter grants automatic citizenship to every Jew in the world, wherever he or she was born. This law in particular is a flagrantly undemocratic one, for it was accompanied by a total rejection of the Palestinian right of return — recognized internationally by the UN General Assembly Resolution 194 of 1948. This rejection refuses to allow the Palestinian citizens of Israel to unite with their immediate families or with those who were expelled in 1948.
Denying people the right of return to their homeland, and at the same time offering this right to others who have no connection to the land, is a model of undemocratic practice.
Added to this was a further layering of denial of the rights of the Palestinian people. Almost every discrimination against the Palestinian citizens of Israel is justified by the fact that they do not serve in the army.
The association between democratic rights and military duties is better understood if we revisit the formative years in which Israeli policy makers were trying to make up their minds about how to treat one-fifth of the population.
Their assumption was that Palestinian citizens did not want to join the army anyway, and that assumed refusal, in turn, justified the discriminatory policy against them. This was put to the test in 1954 when the Israeli ministry of defense decided to call up those Palestinian citizens eligible for conscription to serve in the army. The secret service assured the government that there would be a widespread rejection of the call-up.
To their great surprise, all those summoned went to the recruiting office, with the blessing of the Communist Party, the biggest and most important political force in the community at the time. The secret service later explained that the main reason was the teenagers' boredom with life in the countryside and their desire for some action and adventure.
Notwithstanding this episode, the ministry of defense continued to peddle a narrative that depicted the Palestinian community as unwilling to serve in the military.
Inevitably, in time, the Palestinians did indeed turn against the Israeli army, who had become their perpetual oppressors, but the government's exploitation of this as a pretext for discrimination casts huge doubt on the state's pretense to being a democracy.
If you are a Palestinian citizen and you did not serve in the army, your rights to government assistance as a worker, student, parent, or as part of a couple, are severely restricted. This affects housing in particular, as well as employment — where 70 percent of all Israeli industry is considered to be security-sensitive and therefore closed to these citizens as a place to find work.
The underlying assumption of the ministry of defense was not only that Palestinians do not wish to serve but that they are potentially an enemy within who cannot be trusted. The problem with this argument is that in all the major wars between Israel and the Arab world the Palestinian minority did not behave as expected. They did not form a fifth column or rise up against the regime.
This, however, did not help them: to this day they are seen as a "demographic" problem that has to be solved. The only consolation is that still today most Israeli politicians do not believe that the way to solve "the problem" is by the transfer or expulsion of the Palestinians (at least not in peacetime).
What are your positions and opinions on Literature/Culture?
من كتاب الصراع الفكري في الأدب السوري
طريق الأدب السوري
بهذا الاتجاه الجديد يمكن أن يترافق الأدب والحياة، فيكون لنا أدب جديد لحياة جديدة، فيها فهم جديد للوجود الإنساني وقضاياه التي نجد فيها الفرد والمجتمع وعلاقاتهما ومُثُلهما العليا كما تراها النظرة الجديدة الأصلية إلى الحياة والكون والفن. إن الأدب الصحيح يجب أن يكون الواسطة المثلى لنقل الفكر والشعور الجديدين، الصادرين عن النظرة الجديدة، إلى إحساس المجموع وإدراكه، وإلى سمع العالم وبصره فيصير أدبًا قوميًّا وعالميًّا ، لأنه يرفع الأمة إلى مستوى النظرة الجديدة، ويضيء طريقها إليه، ويحمل، في الوقت عينه، ثروة نفسية أصلية في الفكر والشعور وألوانهما إلى العالم.
لا يمكن أن ينهض الأدب عندنا، ولا أن يصير لنا أدب عالميٌّ يسترعي اهتمام العالم، وتكون له قيمة عالمية باقية، إلا بهذه الطريقة، ولنفترض أنه يمكن إنشاء أدب جديد، أو إحداث «تجديد» في الأدب، من غير هذا الاتصال الوثيق بينه وبين النظرة الجديدة إلى الحياة والكون والفن، فما هي الغاية أو الفائدة منه وهو شيء غريب بعيد عن نفس الجماعة وقضاياها الفكرية والشعورية، أو عن قضايا الإنسانية، كما تمثل ضمن حياة الجماعة المعينة وحيز فكرها وشعورها، في أرقى ما يمكن أن يصل إليه هذان العاملان النفسيان؟
إن الأدب الذي له قيمة في حياة الأمة، وفي العالم، هو الأدب الذي يُعنى بقضايا الفكر والشعور الكبرى، في نظرة إلى الحياة والكون والفن عالية أصلية، ممتازة، لها خصائص شخصيتها. فإذا نشأت هذه النظرة الجديدة إلى الحياة والكون والفن أَوْجَدَتْ فهمًا جديدًا للقضايا الإنسانية، كقضية الفرد والمجتمع، وقضية الحرية، وقضية الواجب، وقضية النظام، وقضية القوة، وقضية الحق وغيرها. وبعض هذه القضايا يكون قديمًا فيتجدد بحصول النظرة الجديدة إلى الحياة، وبعضها ينشأ بنشوء هذه النظرة. فالحرية، مثلًا، كانت تُفْهَمُ قبل النظرة الجديدة إلى الحياة في أشكال واعتقادات لا وضوح ولا صلاح لها في النظرة الجديدة، فلما جاءت النظرة الجديدة إلى الحياة والكون والفن، التي نشأت بسببها الحركة السورية القومية الاجتماعية، وقرنت الحرية بالواجب والنظام والقوة، وفَصَّلَت الحرية ضمن المجتمع وتجاه المجتمعات الأخرى هذا التفصيل الواضح الظاهر في تعاليمها، نشأت قضية جديدة للحرية ذات عناصر جديدة يبيِّنها فهم جديد، يتناول أشكال الحياة كما تراها النهضة القومية الاجتماعية، وفعل الحرية وشأنها ضمن هذه الأشكال.
والحب كان قضية شهوات جسدية ملتهبة، لها شكل مادي يظهر في العيون الرامية سهامًا، وفي خمر الرضاب، وفي ارتجاف الضلاع، وتَثَنِّي القدود، فصار قضية جمال الحياة كلها، واشتراك النفوس في هذا الجمال. عُرِضَ علي، مرة، سجل أمثال وأقوال، فرأيت فيه قولًا مفاده أن الصداقة أجمل ما في الحياة، فكتبت في صفحة منه: «الصداقة هي تعزية الحياة، أما الحب فهو الدافع نحو المثال الأعلى.» ومهما يكن من أمر رأيي في الصداقة، فرأيي في الحب يدخل في قضية الحب الجديدة، فالمثال الأعلى هو ما تراه نظرة إلى الحياة والكون والفن واضحة، معينة، والحب الواعي هذه النظرة يتجه دائمًا نحو مثالها الأعلى، ويرمي إلى الاقتراب منه، في كل اختلاجة من اختلاجاته. إن قضية كون الوصال غاية المطالب العليا النفسية هي قضية قد ماتت للنظرة الجديدة إلى الحياة والكون والفن، وحلت محلها قضية كون الحب اتحاد فكر وشعور، واشتراك نفوس في فهم جمال الحياة، وتحقيق مطالبها العليا.
لقد نشأت نظرة إلى الحياة والكون والفن جديدة في سورية، ونتج عنها مجرى حياة جديد لتيارات النفس السورية، التي كانت مكبوتة ومحجوزة. فهل يتنبه لهذه الحقيقة أدباء سورية، وخصوصًا شعراؤها، ويُلَبُّون هاتف الدعوة، ويشتركون في رفع الشعب السوري إلى مستوى النظرة الجديدة ومُثُلها العليا، ويوجِدون هذا الأدب الغني بالقضايا الفكرية والشعورية، التي كانت كامنة في باطن نفسيتنا، حتى ظهرت في النظرة الجديدة إلى الحياة؟
لا شك عندي في أن هذا ما يحدث الآن عند جميع الأدباء، الذين اتصلوا بالنظرة الجديدة إلى الحياة والكون والفن، وفهموا قضاياها الكبرى في الحقوق والسياسة والاقتصاد والاجتماع، وفي الأخلاق والمناقب والمثل العليا، وإني موقن بأن هذا ما سيحدث لجميع الناشئين على اتصال وامتزاج بهذه النظرة المحيية، ولكني أشك في أمر الأدباء الذين نشئوا قبل ظهور النظرة الجديدة إلى الحياة، وظلوا بعيدين عن مراميها وقضاياها الكبرى، وغير متصلين بمجرى الحياة الجديد، الذي وَلَّدَتْهُ هذه النظرة، أو الذين، مع إحساسهم بمجرى الحياة الجديد، لم يجدوا في نفوسهم قوًى كافية لنقلهم من حيز نظرة إلى حيز نظرة أخرى، ومن اتجاه مجرًى إلى اتجاه مجرى آخر.
بعض العلل المانعة لهؤلاء الأدباء من الأخذ بالنظرة الجديدة إلى الحياة والكون والفن، واضحٌ في النزعة الفردية التي دللت عليها في كتاب السيد يوسف المعلوف إلى نسيبه الشاعر، شفيق معلوف، إذ يقول له: «اعتن في مؤلفاتك المقبلة أن تكون مبتكرًا فيما تنزع إليه، سواء كان بالفكر أو بالعمل، وأن تكون مقلَّدًا لا مقلِّدًا في سائر أعمالك؛ لأن على هذه القاعدة الأساسية تتوقف شهرة المرء في الحياة.» وقد بينتُ في صدر الدرس غلط هذا التفكير الذي يجعل الشهرة الشخصية غاية الفكر والعمل في الحياة. وأَزِيدُ هنا أن العمل بهذه «القاعدة الأساسية» التي وضعها عم الشاعر المذكور يئول إلى هدم الحقائق الأساسية التي يجب أن تكون بُغْيَةَ كل تفكير تعميري وكل شعور حي، جميل، لأنه متى صار كل نابه يسعى ليكون مقلدًا، فكم تكون التفرقة والفوضى عظيمتين بين المتزاحمين على «الابتكار» بقصد الشهرة والاستعلاء على زملائهم، الذين يصيرون أندادًا؟ ألا يبلغ بهم التزاحم والمناقضة حد العداوة والبغضاء والحسد المستورة بظواهر شفافة من الرياء والتدجيل في المظاهر والمطالب؟
قلت في ما تقدم: إن شفيق معلوف قَبِلَ القاعدة الفردية التي وضعها عمه، ولكنه لم يتقيد بها كل التقيد؛ لأنه احتاج إلى تبرير مجاراته سواه في شعره فقال: «ولئن طرقت بابًا ولجه سواي فهل في كل ما تتناوله القرائح ما يطرق الناس بابه؟» وقلت أيضًا إن شفيق معلوف كاد يصل، من هذه الناحية، إلى طَرْق باب ينفتح عن أفق تنبلج فيه أنوار فجر تفكير أصلي جديد، ولا يقصر إلا خطوة، أو قفزة واحدة ليلج هذا الباب. فما هي هذه الخطوة أو القفزة، وكيف تكون؟
سبق لي القول: إن الخطوة المطلوبة تفصل بين عالمين، وقد تحتاج لعكاز؛ ذلك لأنها تنقل صاحبها من نفسية إلى نفسية، ومن نظرة إلى نظرة، فيصير لها عالم جديد بأشكاله وألوانه وغاياته ومُثُله. الخطوة أو القفزة المطلوبة تكون باستعمال جميع القوى النفسية لِرُقِيِّ عالم النزعة الفردية والغايات المادية، وترك جعل حب إبراز الشهرة الفردية غاية أخيرة للفرد، والقفز إلى عالم ابتغاء الحقيقة الأساسية الكبرى، التي يستقر عليها الفكر، ويطمئن إليها الشعور، واتباعها حين توجد، سواء أوجدت بالاهتداء الذاتي أم بهدي هاد، هي حقيقة الفرد والمجتمع، وحقيقة النفسية السامية التي انتصرت على قيود المادية المجلجلة في الحضيض، وحلقت إلى السماء — السماء، التي لا تخلو من ألم وعذاب، ولكن ألمها وعذابها ليسا من أجل الشهوة المتلظية في المهج، بل من أجل ما هو أسمى من ذلك بكثير — من أجل ما لو أُطفئ لظى الشهوة الجسدية، وقضت النزعة البيولوجية وطرها لَظَلَّ لظاه يلذع النفوس ويعذبها حتى تجد له تحقيقًا — من أجل خذل الأقبح والأسفل والأرذل والأذل، ورفع الأجمل والأسمى والأنبل والأعز، فلا تكون هنالك اختلاجات حب إلا ضمن دائرة هذا الوعي، الذي يرفع قيمة الإنسانية طبقات جوية فوق القناعة براحة النزعة البيولوجية ذات الارتباط المادي، الغافلة عن المطالب النفسية الجميلة في نظرة شاملة الحياة والكون والفن.
القاعدة الذهبية، التي لا يصلح غيرها للنهوض بالحياة والأدب، هي هذه القاعدة: طلب الحقيقة الأساسية الكبرى لحياة أَجْوَدَ في عالم أجمل وقيم أعلى. لا فرق بين أن تكون هذه الحقيقة ابتكارك، أو ابتكاري، أو ابتكارَ غيرك وغيري، ولا فرق بين أن يكون بزوغ هذه الحقيقة من شخص وجيه اجتماعيًّا ذي مال ونفوذ، وأن يكون انبثاقها من فرد هو واحد من الناس؛ لأن الغرض يجب أن يكون الحقيقة الأساسية المذكورة، وليس الاتجاه السلبي الذي تقرره الرغائب الفردية، الخصوصية، الاستبدادية.
وقد قرب شفيق معلوف كثيرًا من هذه القاعدة في جوابه إلى عمه، ولكنه وقف خطوة دونها، فإذا هو خطاها تم له هذا الانتقال الفاصل من عالم إلى عالم، واستغنى عن نصائح عمه، التي تحتاج لغربلة متكررة، وعن إرشادات أمين الريحاني الغامضة، الخاوية، التائهة، وعن تَخَبُّط الأدباء السوريين والمصريين في «التجديد» وكيف يكون.
أعتقد أن لشفيق معلوف هذا الاستعداد العقلي-الروحي، لإدراك القاعدة المذكورة آنفًا، والغاية النفسية التي يقوم عليها أدب خالد. فهو قد وقف قريبًا جدًّا من هذا الإدراك الذي وقف معظم شعراء سورية ومصر وأدبائهما بعيدين جدًّا عنه. وهو الإدراك الوحيد الذي يمكن أن يجد مستقرًّا في النفوس وفي الأجيال. وكان اقتراب شفيق معلوف واضحًا في قوله: «إذ ليس الشاعر، في عرفي، من ضج له الجيل الواحد، حتى إذا تبدلت الأوضاع واختلفت الأحوال تناسته من بعده الأجيال.» وهذه منزلة لا يمكن بلوغها إلا بالاتصال بنظرة جديدة إلى الحياة والكون والفن، مشتملة على حقيقة أساسية صالحة لإنشاء عالم جديد من الفكر والشعور، إذا لم يكن هو العالم الأخير، الأسمى على الإطلاق، عند المشككين، فهو عالم فوق العوالم الماضية، ودرجة لا بد منها لاطراد ارتقاء الإنسانية النفسي؛ ولذلك هو عالم خالد، لأن ما سيأتي بعده في الآباد البعيدة سيصدر عنه ويثبت نفسه عليه، أو، على الأقل، ستكون النفوس التي ارتقت إلى هذا العالم الجديد مستعدة لاقتبال عالم أَجَدَّ، إذا كشفت مخبآت الأبد إنه سيكون ممكنًا إحداث ذلك العالم، الذي لا يمكننا، الآن وإلى أمد بعيد، تصور موجباته وحقائقه وقضاياه، ولكننا نتصور، بموجب مبدأ الاستمرار والاطراد الفلسفي، الذي أضعه نصب عيني في فهمي الوجود الإنساني، أنه لا بد من أن يكون ذا اتصال وثيق بعالم نظرتنا الجديدة وحقائقه وقضاياه، كما أننا نرى، بموجب هذه النظرة، أن عالمها ليس شيئًا حادثًا من غير أصل، بل شيئًا غير ممكن بدون أصل جوهريٍّ تتصل حقائقه بحقائقه، فتكون الحقائق الجديدة صادرة عن الحقائق الأصلية القديمة بفهم جديد للحياة وقضاياها والكون وإمكانياته والفن ومراميه.
ها قد بلغتُ غايةَ ما أردت توجيه فكر أدباء سورية وشعورهم إليه، في هذا الدرس المستعجل المقاطع مرارًا عديدة في سياقه، ورجائي إليهم أن لا يظنوا أن ما دفعني إليه هو محبة سبقهم إلى «الابتكار» أو رغبة في أن أكون «مقلدًا». إن ما دفعني إليه هو محبة الحقيقة الأساسية، التي وصل إليها تفكيري ودرسي، وأوصلني إليها فهمي، الذي أنا مديون به كله لأمتي وحقيقتها النفسية، وشعرت بالواجب يدعوني لوضعها أمام مفكِّري أمتي وأدبائها، وأمام أمتي بأجمعها، من أجل ما هو أبقى وأفضل وأسمى لحقيقة الأمة، وهي حقيقة تساعد كل مفكر وأديب على تثبيت شخصيته ضمنها والبقاء فيها، وتمكن الأمة من أن يكون لها أدب عالمي تبقى فيه شخصيتها وتخلد.
انطون سعادة
All kinds of Human trafficking: Forced child labor, sweatshop factories, immigrants, house helpers, sex slavery…
Human trafficking is the use of force, fraud or coercion to compel another person's labor.
By Noy Thrupkaew http://www.ted.com
About 10 years ago, I went through a little bit of a hard time. So I decided to go see a therapist.
I had been seeing her for a few months, and one day she asked: "Who actually raised you until you were three?" Seemed like a weird question.
I said, "My parents." And she said, "I don't think that's actually the case; because if it were, we'd be dealing with things that are far more complicated than just this."
It sounded like the setup to a joke, but I knew she was serious. When I first started seeing her, I was trying to be the funniest person in the room. And I would try and crack these jokes, but she caught on to me really quickly, and whenever I tried to make a joke, she would look at me and say, "That is actually really sad."
I knew I had to be serious, and I asked my parents who had actually raised me until I was three? And to my surprise, they said my primary caregiver had been a distant relative of the family. I had called her my auntie.
I remember my auntie so clearly, it felt like she had been part of my life when I was much older.
I remember the thick, straight hair, and how it would come around me like a curtain when she bent to pick me up; her soft, southern Thai accent; the way I would cling to her, even if she just wanted to go to the bathroom or get something to eat.
I loved her, but [with] the ferocity that a child has sometimes before she understands that love also requires letting go.
But my clearest and sharpest memory of my auntie, is also one of my first memories of life at all. I remember her being beaten and slapped by another member of my family.
I remember screaming hysterically and wanting it to stop, as I did every single time it happened, for things as minor as wanting to go out with her friends, or being a little late. I became so hysterical over her treatment, that eventually, she was just beaten behind closed doors.
Things got so bad for her that eventually she ran away.
As an adult, I learned later that she had been just 19 when she was brought over from Thailand to the States to care for me, on a tourist visa. She wound up working in Illinois for a time, before eventually returning to Thailand, which is where I ran into her again, at a political rally in Bangkok.
I clung to her again, as I had when I was a child, and I let go, and then I promised that I would call. I never did, though: I was afraid if I said everything that she meant to me — that I owed perhaps the best parts of who I became to her care, and that the words "I'm sorry" were like a thimble to bail out all the guilt and shame and rage I felt over everything she had endured to care for me for as long as she had.
I thought if I said those words to her, I would never stop crying again. Because she had saved me. And I had not saved her.
I'm a journalist, and I've been writing and researching human trafficking for the past 8 years, and even so, I never put together this personal story with my professional life until pretty recently.
I think this profound disconnect actually symbolizes most of our understanding about human trafficking. 
Human trafficking is far more prevalent, complex and close to home than most of us realize.
I spent time in jails and brothels, interviewed hundreds of survivors and law enforcement, NGO workers. And when I think about what we've done about human trafficking, I am hugely disappointed. Partly because we don't even talk about the problem right at all.
When I say "human trafficking," most of you probably don't think about someone like my auntie. You probably think about a young girl or woman, who's been brutally forced into prostitution by a violent pimp. That is real suffering, and that is a real story. That story makes me angry for far more than just the reality of that situation, though.
As a journalist, I really care about how we relate to each other through language, and the way we tell that story, with all the gory, violent detail, the salacious aspects — I call that "look at her scars" journalism.
We use that story to convince ourselves that human trafficking is a bad man doing a bad thing to an innocent girl. That story lets us off the hook: "I am Not a bad person. It shouldn't be my problem"…
It takes away all the societal context that we might be indicted for, for the structural inequality, or the poverty, or the barriers to migration.
We let ourselves think that human trafficking is only about forced prostitution, when in reality, human trafficking is embedded in our everyday lives.
Forced prostitution accounts for 22% of human trafficking. 10% is in "state- imposed forced labor" and 68 % is for the purpose of creating the goods and delivering the services that most of us rely on every day, in sectors like agricultural work, domestic work and construction.
That is food and care and shelter. And somehow, these most essential workers are also among the world's most underpaid and exploited today. Human trafficking is the use of force, fraud or coercion to compel another person's labor.
And it's found in cotton fields, and coltan mines, and even car washes in Norway and England. It's found in U.S. military bases in Iraq and Afghanistan.
It's found in Thailand's fishing industry. That country has become the largest exporter of shrimp in the world. But what are the circumstances behind all that cheap and plentiful shrimp?
Thai military were caught selling Burmese and Cambodian migrants onto fishing boats. Those fishing boats were taken out, the men put to work, and they were thrown overboard if they made the mistake of falling sick, or trying to resist their treatment.
Those fish were then used to feed shrimp, The shrimp were then sold to 4 major global retailers: Costco, Tesco, Walmart and Carrefour.
Human trafficking is found in places you would never even imagine.
Traffickers have forced young people to drive ice cream trucks, or to sing in touring boys' choirs. Trafficking has even been found in a hair braiding salon in New Jersey.
The scheme in that case was incredible. The traffickers found young families who were from Ghana and Togo, and they told these families that "your daughters are going to get a fine education in the United States."
They then located winners of the green card lottery, and they told them, "We'll help you out. We'll get you a plane ticket. We'll pay your fees. All you have to do is take this young girl with you, say that she's your sister or your spouse. 
Once everyone arrived in New Jersey, the young girls were taken away, and put to work for 14-hour days, 7 days a week, for five years. They made their traffickers nearly 4 million dollars.
hat have we done about it? We've mostly turned to the criminal justice system. But keep in mind, most victims of human trafficking are poor and marginalized. They're migrants, people of color. Sometimes they're in the sex trade.
And for populations like these, the criminal justice system is too often part of the problem, rather than the solution.
In study after study, in countries ranging from Bangladesh to the United States, between 20 and 60% of the people in the sex trade who were surveyed said that they had been raped or assaulted by the police in the past year alone.
People in prostitution, including people who have been trafficked into it, regularly receive multiple convictions for prostitution. Having that criminal record makes it so much more difficult to leave poverty, leave abuse, or leave prostitution, if that person so desires.
Workers outside of the sex sector — if they try and resist their treatment, they risk deportation.
In case after case I've studied, employers have no problem calling on law enforcement to try and threaten or deport their striking trafficked workers. If those workers run away, they risk becoming part of the great mass of undocumented workers who are also subject to the whims of law enforcement if they're caught.
Law enforcement is supposed to identify victims and prosecute traffickers. But out of an estimated 21 million victims of human trafficking in the world, they have helped and identified fewer than 50,000 people.
That's like comparing the population of the world to the population of Los Angeles, proportionally speaking. As for convictions, out of an estimated 5,700 convictions in 2013, fewer than 500 were for labor trafficking.
Keep in mind that labor trafficking accounts for 68 percent of all trafficking, but fewer than 10 percent of the convictions.
10:13 I've heard one expert say that trafficking happens where need meets greed.
I'd like to add one more element to that. Trafficking happens in sectors where workers are excluded from protections, and denied the right to organize.
Trafficking doesn't happen in a vacuum. It happens in systematically degraded work environments.
You might be thinking, oh, she's talking about failed states, or war-torn states, or — I'm actually talking about the United States. Let me tell you what that looks like.
I spent many months researching a trafficking case called Global Horizons, involving hundreds of Thai farm workers. They were sent all over the States, to work in Hawaii pineapple plantations, and Washington apple orchards, and anywhere the work was needed.
They were promised three years of solid agricultural work. So they made a calculated risk. They sold their land, they sold their wives' jewelry, to make thousands in recruitment fees for this company, Global Horizons. 
But once they were brought over, their passports were confiscated. Some of the men were beaten and held at gunpoint. They worked so hard they fainted in the fields. This case hit me so hard.
After I came back home, I was wandering through the grocery store, and I froze in the produce department. I was remembering the over-the-top meals the Global Horizons survivors would make for me every time I showed up to interview them. 
They finished one meal with this plate of perfect, long-stemmed strawberries, and as they handed them to me, they said, "Aren't these the kind of strawberries you eat with somebody special in the States? And don't they taste so much better when you know the people whose hands picked them for you?"
As I stood in that grocery store weeks later, I realized I had no idea of who to thank for this plenty, and no idea of how they were being treated.
So, like the journalist I am, I started digging into the agricultural sector. And I found there are too many fields, and too few labor inspectors.
I found multiple layers of plausible deniability between grower and distributor and processor, and God knows who else.
The Global Horizons survivors had been brought to the States on a temporary guest worker program. That guest worker program ties a person's legal status to his or her employer, and denies that worker the right to organize. 
Mind you, none of what I am describing about this agricultural sector or the guest worker program is actually human trafficking. It is merely what we find legally tolerable. And I would argue this is fertile ground for exploitation. And all of this had been hidden to me, before I had tried to understand it. (No different of what's happening in Qatar, Saudi Arabia and the Arab Emirates)
I wasn't the only person grappling with these issues. Pierre Omidyar, founder of eBay, is one of the biggest anti-trafficking philanthropists in the world. And even he wound up accidentally investing nearly 10 million dollars in the pineapple plantation cited as having the worst working conditions in that Global Horizons case.
When Omidyar found out, he and his wife were shocked and horrified, and they wound up writing an op-ed for a newspaper, saying that it was up to all of us to learn everything we can about the labor and supply chains of the products that we support. I totally agree.
13:52 What would happen if each one of us decided that we are no longer going to support companies if they don't eliminate exploitation from their labor and supply chains?
If we demanded laws calling for the same? If all the CEOs out there decided that they were going to go through their businesses and say, "no more"?
If we ended recruitment fees for migrant workers?
If we decided that guest workers should have the right to organize without fear of retaliation?
These would be decisions heard around the world. This isn't a matter of buying a fair-trade peach and calling it a day, buying a guilt-free zone with your money. That's not how it works.
This is the decision to change a system that is broken, and that we have unwittingly but willingly allowed ourselves to profit from and benefit from for too long.
We often dwell on human trafficking survivors' victimization. But that is not my experience of them.
Over all the years that I've been talking to them, they have taught me that we are more than our worst days. Each one of us is more than what we have lived through. Especially trafficking survivors.
These people were the most resourceful and resilient and responsible in their communities. They were the people that you would take a gamble on. You'd say, I'm gong to sell my rings, because I have the chance to send you off to a better future. They were the emissaries of hope.
15:28 These survivors don't need saving. They need solidarity, because they're behind some of the most exciting social justice movements out there today.
The nannies and housekeepers who marched with their families and their employers' families — their activism got us an international treaty on domestic workers' rights.
The Nepali women who were trafficked into the sex trade — they came together, and they decided that they were going to make the world's first anti-trafficking organization actually headed and run by trafficking survivors themselves.
These Indian shipyard workers were trafficked to do post-Hurricane Katrina reconstruction. They were threatened with deportation, but they broke out of their work compound and they marched from New Orleans to Washington, D.C., to protest labor exploitation. 
They cofounded an organization called the National Guest Worker Alliance, and through this organization, they have wound up helping other workers bring to light exploitation and abuses in supply chains in Walmart and Hershey's factories.
And although the Department of Justice declined to take their case, a team of civil rights lawyers won the first of a dozen civil suits this February, and got their clients 14 million dollars.
16:49 These survivors are fighting for people they don't even know yet, other workers, and for the possibility of a just world for all of us. This is our chance to do the same.
This is our chance to make the decision that tells us who we are, as a people and as a society; that our prosperity is no longer prosperity, as long as it is pinned to other people's pain; that our lives are inextricably woven together; and that we have the power to make a different choice.
17:25 I was so reluctant to share my story of my auntie with you. Before I started this TED process and climbed up on this stage, I had told literally a handful of people about it, because, like many a journalist, I am far more interested in learning about your stories than sharing much, if anything, about my own.
I also haven't done my journalistic due diligence on this. I haven't issued my mountains of document requests, and interviewed everyone and their mother, and I haven't found my auntie yet. I don't know her story of what happened, and of her life now.
The story as I've told it to you is messy and unfinished. But I think it mirrors the messy and unfinished situation we're all in, when it comes to human trafficking.
We are all implicated in this problem. But that means we are all also part of its solution.
Figuring out how to build a more just world is our work to do, and our story to tell. So let us tell it the way we should have done, from the very beginning.
Let us tell this story together.Romy Assouad shared this link from Shahd AlShehail
"This is our chance to make the decision that tells us who we are, as a people and as a society; that our prosperity is no longer prosperity, as long as it is pinned to other people's pain; that our lives are inextricably woven together; and that we have the power to make a different choice."
A powerful dose of reality
Human trafficking is all around you. This is how it works Behind the everyday bargains we all love — the $10 manicure, the unlimited shrimp buffet — is a hidden world of forced labor to keep those prices at rock bottom. Noy…http://www.ted.com|By Noy Thrupkaew
Amid the waning of the humanities, Edward Said turned out to be one of the last literary scholars with a public presence.
Udi Greenberg @udi_greenberg. One of Said's students
Teaches at Dartmouth College and is the author of The Weimar Century: German Émigrés and the Ideological Foundations of the Cold War (2015).
Note: wordpress is Not opening new texts on my Samsung Chrome in the last month. Maybe I need a better laptop. Untill then, minimal editing on the saved drafts.
Exiles often have conflicting feelings about their adoptive society, and Edward Said was no exception.
As a Palestinian in the United States, he recognized the country's pervasive racism and violence, but he also knew its educational system made his career as a renowned and prosperous thinker possible.
His life was indeed filled with paradoxes and contradictions. He was one of the twentieth century's most influential anti-colonial writers, who mostly studied his colonizers' literature; a proponent of Palestinian liberation who wrote in English and mostly for English-speaking audiences.
Few statements capture his embrace of such tensions more than his surprising claim in an interview with the Israeli newspaper Ha'aretz that he was now the only heir to the Jewish tradition of radical criticism.
"I'm the last Jewish intellectual," he exclaimed. "You don't know anyone else. All your other Jewish intellectuals are now suburban squires.… I'm the last one."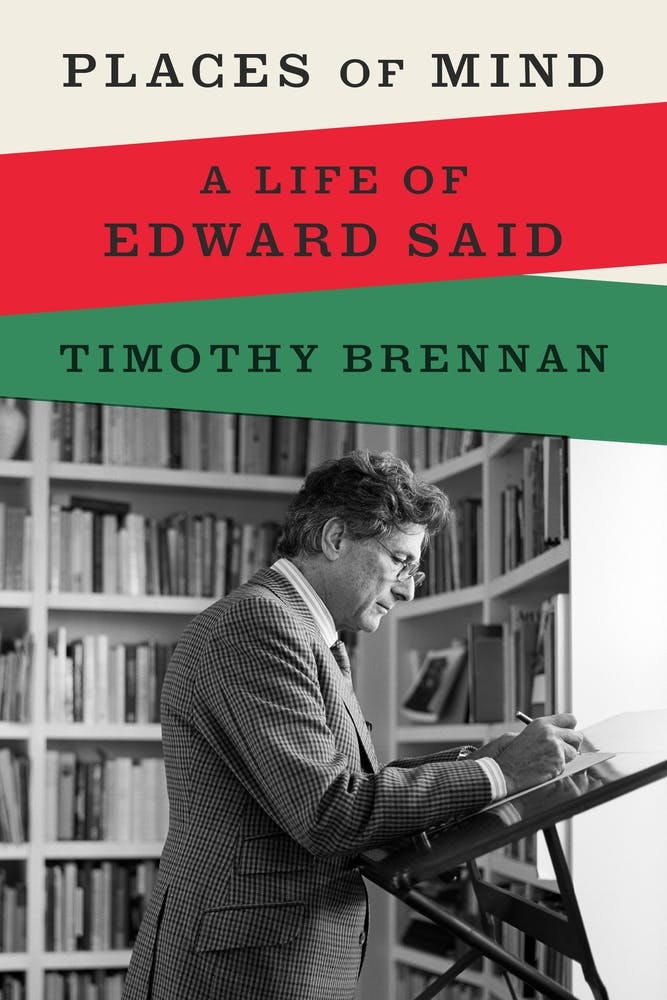 As comical as this statement can seem, Timothy Brennan's new biography, Places of Mind: A Life of Edward Said, suggests it captures Said's unique place in public life: a Middle Eastern exile who provided an original explanation for American imperialism, powerfully condemned it, and successfully reached mass audiences.
By telling Said's life, from his childhood in British-ruled Palestine to his death in New York in 2003, Places of Mind seeks to explain his unique ability to blend intellectual production and public activism.
Impressively researched and powerfully written, it charts Said's many triumphs: his revolutionary scholarly writings, which became classics and are taught decades after their publication; his rise as a media celebrity (an unusual fate for an academic); and his role in making the Palestinian national movement a source of international fascination.
For Brennan, who was Said's student and is an accomplished literary scholar in his own right, his teacher was everything a humanist should be.
By embracing his status as an "outsider"—an exile, a Palestinian, an "Arab"—he successfully infused America's mainstream with new ideas and political visions.
Yet by claiming to be a "Jewish" intellectual, Said was doing more than placing himself in the company of giants like Franz Kafka or Theodor Adorno.
What he recognized, and what Places of Mind sometimes misses, was the tragedy of his career: how by his life's end, the causes for which he fought were ultimately defeated.
The Palestinian liberation movement, whose cause animated so much of Said's writing, was headed toward ruin (a reality that he was among the very few to realize).
(Fateh, the signatory to the Oslo treaty, was displaced by more radical movements in Gaza, and currently a new wave of reactions from every mixed towns and villages in the West Bank)
And the humanities, whose flourishing made his career possible, were entering a downward spiral from which they show no sign of recovery. Reflecting on Said's life is not only a chance to celebrate groundbreaking achievements: It is also an invitation to recognize, soberly, some of our era's heartbreaking misfortunes.
---
Colonialism is a brutal business, and this was certainly true of British rule in the Middle East and mandated France in Syria and Lebanon. Whenever locals protested the empire's authority, as Palestinians did during the so-called "Great Revolt" of 1936 to 1939, British troops responded by demolishing entire neighborhoods, imprisoning thousands of civilians in concentration camps, and putting hundreds to the gallows.
(The British had to dispatch 100,000 troops to squash this civil disobedience movement that had a source the refusal of the British to have municipal elections on the ground that the Jews constituted only 20%)
Like many other colonialists, however, the British also sustained their rule in the region by offering alluring opportunities to some of their subjects. Those willing to cooperate could gain access to British markets, find jobs in the colonial bureaucracy, and send their children to European-run schools. These were the carrots that Europe's "civilizing mission" dangled in front of its subjects' noses: Submit to us, colonialists promised, embrace our language and culture, and maybe, one day, some of you would control your own fate.
This was the duality that made the young Said. Born in British-ruled Jerusalem in 1935, much of his childhood took place in the shadow of the Palestinian national trauma. While his parents, Hilda and Wadie, rarely talked politics at home, other relatives often protested their people's fate. The price of political oppression was even more apparent once British troops were replaced by the armed forces of the Jewish Yishuv, which decimated the Palestinian national movement.
In 1947, Said's parents fled to Cairo, which rapidly became home to many hungry and dispossessed Palestinian refugees. At the same time, colonialism helped cushion the Saids from some of this brutality. Not only were they affluent merchants, but they also benefited from being Anglican, a tiny minority that enjoyed preferential treatment by British authorities. Said's father supplied office materials to the British (which ran the formally independent Egypt), and Said was sent to study in the elite schools of British missionaries.
Nothing demonstrated colonialism's contradictory imprint on his family more than his regal first name, Edward, which his mother chose because she admired the Prince of Wales—a fact that Said bemoaned his entire life. 
When Said's parents sent him to the U.S. at age 15, he would find a similar pattern of simultaneous subjugation and inclusion. In his years as a student, first at an elite prep school in New England and then at Princeton, Said was alienated by the other students' oppressive self-absorption. Almost all white, they were confident in the superiority of their Anglo-Saxon heritage and considered Arab culture primitive.
As he put it in a note uncovered by Brennan, "to be a Levantine" in the U.S. meant "not to be able to create but only to imitate." At the same time, the postwar U.S. system of higher education provided remarkable opportunities. After Princeton, Said enrolled in Harvard's graduate program in European literature, and in 1963, he was hired as a professor at Columbia. Ivy League prestige, as it often does, opened many doors, and Said quickly learned how to prosper in the world of U.S. letters.
He published a book on Joseph Conrad, built ties to the New York literary world, and began contributing essays to magazines like The Nation. For all the whiteness and Euro-centrist ethos of American academia, Said cherished his success in it. To his parents' dismay, he preferred to spend most of his summers in New York, feverishly churning out academic writings.    
These paradoxes of imperial power do not get much attention in Places of Mind, and its first chapters say frustratingly little about the colonial Middle East or the Cold War U.S. This is a missed opportunity, as the similarities between the two systems would later become crucial to Said's intellectual and political agenda. Most important, both the British and Americans elevated certain minorities (Christians in the Middle East, Jews in the U.S.) to justify their subjugation of others (Muslims under British rule, Black people and other people of color under white U.S. hegemony).
The two cultures also similarly viewed their elites' culture as universal, a sacred trust they had to bestow upon humanity. Both British and American elites were therefore eager to demonstrate that "outsiders" like Said, who appreciated the brilliance of Western culture, could join their club, as long as they fully assimilated and "overcame" their non-Western origins. It is likely that these parallels informed Said's later insistence that the U.S. emulated European empires.
And it is clear that his effective navigation in both inspired his later claim that colonialism was not just oppressive but also creative, that hegemonic cultures could possess a certain allure even for their victims.       
---
Said's career up to the mid-1960s was headed in a predictable direction. Groomed by and for WASP institutions, he was on the path to become a footnote in their history, yet another scholar who studied the European canon and reproduced elites in his teaching.
But the convergence of two revolutions, one intellectual and one political, soon upended this trajectory. Harnessing their energies, Said went on to produce one of the twentieth century's most important intellectual events. Be the most
informed person you know:
3 months for $5Subscribe
In its most impressive chapters, Places of Mind reconstructs Said's participation in these two revolutions. The first was post-structuralism. Under the influence of philosopher Jacques Derrida, a group of French scholars launched blistering attacks on Europe's intellectual traditions. Even after the Enlightenment, they claimed, Europe remained obsessed with enshrining hierarchies and binaries (between men and women, "primitive" and "civilized"); the most urgent task was to dismantle those.
While Said is not always associated with this school today, he was among the first to embrace it in the English-speaking world.
He took part in the early conferences on post-structuralism in the U.S. and was one of the first to utilize its concepts in his writings. He borrowed especially from Michel Foucault and his provocative depiction of the link between knowledge and power. Artists and thinkers, Foucault claimed, were rarely individuals who challenged authority. Most of the time, they reproduced and reinforced their society's structures of authority, making them seem natural and even benevolent.
The second project that Said joined, and for which he became especially famous, was the Palestinians' renewed struggle for self-determination. After the shock of the 1967 war, which initiated Israel's military rule over large Palestinian territories, Palestinian activists and leaders sought to make their cause the center of international attention. They appealed to international institutions and launched multiple violent attacks on Israel to keep their struggle in the headlines.
While Said had little personal interest in returning to Palestine (by that point he considered his exile a permanent condition), he joined this campaign and quickly became its most prominent international figure.
He published fiery essays that compared the Palestinian struggle to other anti-colonial struggles in Asia and Africa and helped launch organizations that called for an end to the West's support for Israel. His eloquence and rare status as a Palestinian at the center of U.S. letters made him into an icon. Palestinian politicians and leaders, some of whom he met in person during a prolonged academic stay in Beirut, sought his advice; in 1974, he helped edit and translate Yasser Arafat's historic address to the United Nations, the first by any Palestinian leader in that forum. Three years later, Said became a member of the Palestinian National Council, the coordinating organization of the Palestinian national movement.
Bringing these two projects together was hardly an obvious undertaking. Post-structuralism's philosophical musings, with its notoriously impenetrable jargon, seemed worlds apart from the blood and sweat of daily Palestinian resistance.
Yet in his monumental Orientalism (1978), Said fused these two projects to provide a new understanding of Western attitudes toward the Middle East. Drawing on his own experiences as a beneficiary and victim of colonialism, Said claimed that Europe's colonial domination in the Middle East did not rely merely on military or political might. Rather, it was a vast intellectual project, in which countless scholars and novelists voluntarily rushed to explore, interpret, and explain why Europe had to dominate the "Orient." Said further argued that the Orientalist project was in fact foundational to Europe's own self-understanding. As Europeans sought to define themselves as rational, industrious, and self-controlling, they simultaneously identified the Orient's people as emotional, lazy, and pathologically obsessed with sex.Said, in short, exposed how knowledge and art worked in the service of oppressive power.
This claim about colonialism's centrality to Europe's identity would have been enough to make Orientalism an intellectual bombshell. But Said went even further, using his literary study to explain the aggression of modern American diplomacy. Said argued that the collapse of formal European empires after World War II did little to diminish the orientalist mindset. Rather, orientalism continued to flourish in the U.S., where journalists, artists, and scholars conflated their country with a "civilization" that they contrasted with the Middle East's alleged primitivism and fanaticism.
Indeed, Said maintained that U.S. diplomacy in the region, and especially its unwavering support for Israel, reproduced Europe's earlier racism, arrogance, and myopia. U.S. diplomats and their Israeli allies inherited the view of Arabs as inhuman and thus dismissed their political demands as emotional and even animalistic outbursts. Said's most scorching invective was directed at Middle East specialists like Princeton scholar Bernard Lewis, whom he acidly described as the intellectual foot soldiers of U.S. imperialism. Their writings about the Arabs' supposed fanaticism, he wrote in a related essay, provided "not history, not scholarship, but direct political violence."  
Said, in short, exposed how knowledge and art worked in the service of oppressive power. And in so doing, he forever transformed the meaning of the word orientalist: Rather than a term for a scholar of the Middle East, it now became an adjective describing a racist and paternalist worldview.
---
Orientalism's sweeping claims could hardly leave readers indifferent, and Brennan masterfully traces both the admiration for and backlash to Said's masterwork. Conservative commentators predictably dismissed Said as an ignorant trespasser who failed to understand the West's greatness as he downplayed the orient's failings.
In a lengthy review, Lewis lambasted the book as "insouciant," "outrageous," and "reckless," inaugurating a rhetorical dual with Said that would continue for decades. Even more sympathetic readers highlighted the book's limitations. Scholars like the French historian Maxime Rodinson noted that Orientalism was far too sweeping in approach. The study of the Orient, he noted, was a diverse field, and many of its proponents hated empire.
Other supportive readers questioned the book's focus on ideology and representation. Wasn't colonialism ultimately driven by economic exploitation? The critique that stung the most came from Arab and Pakistani Marxists, who lamented that Said unintentionally strengthened Muslim conservatives. The Syrian philosopher and activist Sadiq Al Azm, for example, argued that by depicting European knowledge as hopelessly tainted, the book "poured cold water" on the effort to popularize Marxist ideas in the Middle East and bolstered lazy anti-Western sentiments. 
These misgivings, however, did little to diminish Orientalism's impact on the international republic of letters. Appearing in 30 languages, it was widely celebrated as a fresh and sophisticated assault on Western arrogance, one equal to anti-colonial classics like Frantz Fanon's Wretched of the Earth (1961). "Here for the first time," Palestinian historian Tarif Khalidi wrote, "was a book by one of us telling the empire basically to go f— itself." In a world reeling from the manifold disasters perpetrated by the U.S. in Vietnam, understanding the connections between Western self-righteousness and violence seemed more urgent than ever.
Said helped inspire the work of countless literary scholars, philosophers, historians, and political scientists who mapped colonialism's intellectual legacies in the present. He was the founding figure of what in the 1980s became known as "postcolonial studies." The impact of this intellectual project spilled beyond academic circles. After Orientalism, theater programs, museum catalogs, and Hollywood films began to adopt less Western-focused perspectives.
According to Brennan, Said in fact infused the humanities with renewed significance. Works like Orientalism and Culture and Imperialism (1993), which expanded its insight to more novels, demonstrated the centrality of literature and art to political discourse. Said turned the traditional Marxist view of culture on its head. He claimed that novels and images were not mere expression of social domination but their very heart; they informed how journalists covered world affairs, how citizens thought about politics, and how politicians enacted policies. Countless students and scholars came to view the study of stories, movies, and representation as political action, and journalists the world over courted Said, endlessly asking for his take on political matters.
Places of Mind's last chapters trace Said's rising prominence to the position of celebrity. As a testament to his triumph, they catalog the mind-numbingly abundant prizes and honors he received, describe his never-ending stream of interviews on radio and TV, and depict his collaborations with many famous artists, such as the conductor Daniel Barenboim. Yet along with the rapid ascent came frustration. Said's publications may have made a splash, but they were unable to materially advance the Palestinian national cause, which suffered defeat after defeat.
---
For Said, stories were essential to the struggle for Palestinian self-determination. If Americans so enthusiastically lavished Israel with weapons and supported its cruel occupation, he claimed, it was not out of some hard-nosed calculation, but because they bought into a particular narrative, one in which persecuted Jews had heroically defeated their evil Arab neighbors.
According to Said, this story was sustained not only by relentlessly pro-Israel politicians, magazines, and TV shows but by the fact that Americans were rarely exposed to Palestinian perspectives. Said noted that this was true even for those who were deeply critical of Israel's actions. Noam Chomsky's Fateful Triangle (1983), for example, condemned U.S. diplomats and Israeli politicians for enabling the horrific massacres of Palestinians in Lebanon, but it, too, relied on Western sources and did not include Palestinian testimonies.
Alongside his campaign against the orientalist tradition, Said therefore launched an effort to open new spaces for Palestinians in the Western imagination. As he wrote in the essay "Permission to Narrate" (1983), the task was to forge "a socially acceptable narrative" that would allow people to empathize with Palestinians and view them as fellow humans. Venturing beyond European literature, Said sought to integrate Arab perspectives into the Western literary canon.
While most of his academic work remained focused on English and French authors, he also began studying Palestinian writers like Mahmoud Darwish and helped facilitate their translation into Western languages. And he collaborated with photographer Jean Mohr on After the Last Sky: Palestinian Lives (1986), a collection of images and short texts that depicted Palestinian people in everyday activities.If Said's words still resonate today, it is because the evils he helped expose are as powerful as ever.
Yet readers largely ignored After the Last Sky and similar projects, and most certainly did not lavish it with the prizes and honors that were showered on Orientalism. They were mostly interested in the analysis of the West's colonialism; oppression's victims were an afterthought. Said was painfully aware that this part of his work had limited impact, and during the 1980s and 1990s he became progressively despairing about the prospects of Palestinian liberation. "The road forward is blocked," he ruefully wrote, "the instruments of the present are insufficient, [and] we can't get back to the past." His gloom only grew after the Palestinian leadership signed a tentative peace agreement with Israel in 1993 (the so-called Oslo Accords), which Said predicted would not lead to statehood but to deepening occupation. By the end of his life, he was politically isolated; his books were even banned in the Palestinian Authority over his criticism of Yasser Arafat's authoritarianism.
Said's high hopes for literary studies—that they would lead the expansion of the world's political options—also proved fleeting. Said's career, in fact, was not only a rare exception but also a product of broad intellectual sources. It emerged from the 1970s and 1980s, when debates about the literary canon roiled institutions of higher learning and figures like Paul de Man and Alan Bloom were famous.
But by the early twenty-first century, the humanities began to decline. Students were beginning to abandon them, a trickle that would soon become a flood. In such a world, Said was quickly becoming a monument for a passing era. He was one of the last literary scholars to gain the public's attention; when he lamented being the "last Jewish intellectual," he in part recognized he was not likely to be followed by others. His increasing alienation from his adoptive country was reflected in the location of his grave. At his request, it stands not in New York, where he spent most of his career, but in Beirut, where he was only an occasional visitor. 
---
If Said's words still resonate today, it is because the evils he helped expose are as powerful as ever. In the two decades since the 2001 attacks, orientalist sentiments have only intensified: Western politicians still treat Muslims and Arabs as fanatical terrorists, and Western media still perpetuate those narratives. As historian Maha Nassar recently noted*, of the thousands of pieces run by The New York Times and The Washington Post on the Israel-Palestinian conflict, barely 1 percent were written by Palestinians.
The grip of orientalism on U.S. knowledge production has in fact only tightened since Said's passing. In 2002, the historian Daniel Pipes, who began his career with a campaign against Orientalism, founded the organization Campus Watch, which has targeted scholars who express sympathy with Palestinians. The case of Fresno State University in California was probably the most on-the-nose expression of Said's lasting relevance. In 2016, the university's leadership posted a job ad for its newly created Edward Said chair in Middle Eastern studies, only to abruptly call off the search by summer of 2017.
Just like his life, Said's legacy is a paradox. His ideas are relevant exactly because their political impact was limited: The vast campaign he launched in scholarship, the media, and political activism could not dislodge orientalist bigotry. Similarly, Said looms so large in the humanities because a career like his is now hard to imagine. Rather than blazing a path for other literary scholars to become influential political commentators, he turned out to be among the last humanists with a public presence. Those who share in his quest for a more equal and humane world still face the question that always vexed him: If one has a humanist story to tell, how to make others listen? 
For regaining confidence in Capitalism and sustainable growth: What is "Gold-paper currencies"?
Posted on December 1, 2008
I have this gut feeling that, if one major superpower does not adopt for a period gold currency, then confidence in paper money or investment gimmicks is No longer going to fly.
In these uncertain financial crisis and economical deflation, I suggest a psychological incentive for people to recover some sense of value to their currencies.
My idea is to issue hard currencies that are an alloy containing the quantity of gold commensurate to the large denominations. This currency would be almost as thinner than paper money and more durable, and could not be forged, unless the amount of gold is Not the same as the officially issued currencies.
This project should be feasible: Gold can be made as thin as needed, and if we find a cheap metal or plastic that can add resistance and flexibility to the currency to be folded, and handled as paper money then everybody would be satisfied.
At first, the gold paper-like money could be distributed at a rate of say 1% higher over its real value to recover the upfront expenses, in addition to the increase in market value of gold, averaged once a week.
These extra expenses would not discourage the use of paper money for those who could not afford the extra cost of gold currencies.
The higher denomination currencies would be larger in order to keep the same thickness as the other smaller denominations. As the value of gold would certainly keep increasing, the government would, at interval, retrieve the older currencies from the market and replace them with smaller size currencies containing the market value of the amount of gold in the alloy.
This idea is logical because the gold-paper currencies would require less gold as its value increases.
Travelers could then exchange their State own gold-paper money abroad and register them at any bank for Interpol investigations in case of thefts and get exactly the same money value of the respective States.
Obviously, all governments that signed in to this system would have to submit to international control when issuing gold-paper money for credibility and quality reasons.
I believe that with real gold-paper money then the businesses of currency speculations and rate of exchanges should wane and quickly disappear.
What might remain is currency trade or the accumulation of gold in rich sovereign funds.
The governments would quickly learn to issue enough gold-paper currency to satisfy internal commerce.
The superpowers and regional powers would exercise political and military "incentives" on weaker and unstable States to issue more gold-paper currency than needed for inner commerce, but then they would have to deliver real gold and good value products to retrieve the surpluses.
The US Administrations do not have real value money or real value economy to hoard gold and will not be able to do so for many decades to come. Only China, India and the rich oil-producing States with small populations would be the major players in currency trade of gold-paper money.
There are several policies that governments would revisit to manage this new system.
Governments might issues a composite weight of the amount of gold-paper and regular paper money that should satisfy internal commerce. 
Either the gold-paper money would concentrate in the hands of the rich and thus reducing commerce to regular money, with industries specialized in high quality and luxury products for the rich and industries focusing on lower quality and basic products for the masses.
Or the little people would not desist from the gold-paper and use them as personal saving account in their homes and thus deflation would hit the economy due to the lack of currency circulation.
Consequently, governments would have choices to either limit the amount of gold-paper in circulation to encourage circulation of money or eliminate regular paper currencies to force the masses into liberating their hoarded gold-paper.
The same pitfalls and recurrences of the present monetary system would be exhibited, but the remedies would be more straightforward to comprehend by the common people.
An interesting phenomenon will emerge: cultures where mostly little people horde the gold-papers and cultures where gold-papers are concentrated in the class of the rich.
Well, if there is civilization clashes then this division between the two types of cultures would set the foundations for a new sociology science where the manipulation of hard money is the first principle.
This system would require many fine tuning but the advantages must far exceed the disadvantages for smaller and weaker States.
Countries with real value-added economies would not be affected by any mischievous financial embezzlement schemes in destabilizing their financial status because the middle classes would have re-learned the value of hard money and desist from speculative schemes for some times.
This re-learning process of the value of real hard money is the fundamental benefit of the new system so that financial history would repeat its cycle of development for the century.
In any case a genuine International Monetary Control and Management Fund would be instituted to focus on the circulation of money within and among States and help in the synchronization of real commerce.
The crux of this gold-paper currency system is to stabilize growth to a sustainable level for human kind.
Since gold is limited on Earth and its production has reached a limit, wild GNP rate of increases would slow down; redundant and irrelevant consumer products would make room for basic products essentials for the survival of mankind.
The new economical strategies would focus on cutting cost, cutting waste, re-cycling and vigorously researching for substitute renewable energies for the benefit of all States.
Lebanon and Palestine: Same and Different(Part 1)
Posted on April 29, 2009
Brief ancient history:
Lebanon is a recognized State by the UN in 1943. The Lebanese State got its fictitious "independence" from France who withdrew its troops in 1946 (2 years before the State of Israel was recognized by the UN).
Palestine was partitioned in 1947 between Palestinians and the minority Jews (barely 40% but allocated 55% of the land of Palestine).
Currently, all of Palestine is under occupation by this Zionist State called Israel.
Lebanon and Palestine were throughout antiquity under the domination of neighboring Empires such as in Egypt, Turkey, Iran, and Iraq (Mesopotamia). 
The people in the two tiny stretches of coastal lands on the Eastern shores of the Mediterranean Sea were mainly mariners, traders, middlemen among Empires, and skilled artisans. (They were united under the Seleucid dynasty, an officer of Alexander army)
Under the nominal or explicit domination of Empires, Lebanon and Palestine had autonomous administration of their society as City-States that were highly democratic within the city limits as Athens emulated in the 7th century BC.
The famous City-States from north to south are Ugarite, Tripoli, Jubail (Byblos), Saida, Sour (Tyr), Akka (Acre and Haifa), and Askelan.
The City-State of Jubail (inventors of the alphabet) built Saida; Saida built Sour and dominated the sea routes; and Sour built Akka and relayed Saida in sea domination and expanding the trading posts to Spain. 
These City-States were the masters of the sea and traded with all Empires, and build trading towns: they have resisted many overwhelming sieges, sometimes for years, and occasionally managed Not to be entered and devastated.
Every empire that conquered Syria resumed its drive by dominating Lebanon and Palestine. 
In general, when more than one empire co-existed at the same period and when the empire in Egypt was powerful enough then it governed the southern half of Palestine while the other empire governed the upper half, including Lebanon. 
The strip of Gaza to Yafa was mostly under Egyptian cultural influence.
The coastal strip from north actual Syria to the Sinai was called Canaan. Then, the upper stretch to Akka was called Phoenicia or even Saida (in reference for the main City-State).
The Sea People, called Philistines and probably coming from the Adriatic Sea, destroyed Greece fleet, devastated many coastal cities, and conquered Egypt before they were driven out and settle in Gaza and the southern part of Canaan, called Palestine ever since.
Moses (this mythical story) arrived with an amalgam of nomadic tribes and his successors attempted to occupy part of south Palestine.  These tribes worshiped Yahweh/Yahwa, thus, yahoud and Jews for the Latin people. 
These tribes under Moses reverted to worshiping the all encompassing God of the Land called El., except a few tribes such as Judea and Benjamin.  During the Roman Empire, and most of the empires that dominated Syria, the district of Tyr administered the upper half of Palestine, including Galilee.
Modern History:
 In the beginning of the 20th century, the military in Turkey deposed the Sultan of the Ottoman Empire and started policies focused on Turk Nationhood.  Many in Lebanon, Syria, and Palestine immigrated to Egypt. 
During the First World War famine fell on Lebanon along with a devastating wave of locust; they immigrated to the USA, Brazil, Latin America, and many were dropped in Africa by unethical ship captains who claimed that they reached the Americas.
After the defeat of the Ottoman Empire in the First World War, Britain had mandate over Palestine and Iraq; France had mandate over Lebanon and Syria.
Consequently, the bilingual Palestinians spoke English, and their counterpart in Lebanon spoke French.
In 1930, Haifa grabbed the center of trades and many Lebanese flocked to Haifa and Palestine.  The reverse wave occurred when the State of Israel was recognized by a majority of one vote at the UN in 1948.  Lebanon received Palestinian refugees who were installed in camps on the ground that their stay is temporary! and will return under the UN resolution 194
In one chapter of "World Adrift" Amine Maaluf said "The western powers are now paying the price for failing to apply their values in the colonies" 
The European colonial powers of Britain, France, Germany, and the  Netherlands had no intentions of spreading their moral values to those they considered Not worthy of their pearls and gems.
The indigents were to be enslaved, exploited, and humiliated;
The indigents who adopted the western values of equality, liberty, and democracy were persecuted and harassed and imprisoned;
The colonial administrators negotiated with the conservative conformists who were ready to strike deals and cohabit with lesser human rights. 
Dictators in Europe maybe abhorred after their defeat, but the colonial powers readily accept dictators in underdeveloped States to facilitate the embezzling businesses.
Human values had different quality and flavors according to the whims and interest of the exploiting colonial powers. 
Britain used astute diplomatic policies to subjugate their colonies more frequently than France did; but France of the French Revolution had No patience negotiating and communicating with their colonial people and never skipped an occasion to stat its true purpose for domination.and exhibiting arrogant military posturing.
 The colonial powers installed infrastructures that were appropriate for exploitation of the colonies; they established the required administrations for smooth and efficient exploitation.
The other administrative offices for legislation and justices were carbon copies of the ones in their homeland, but these codes could be disposed off and trampled at the first occasion that short sighted interest called for swift and immediate actions.
Contemporary history:
Current Lebanon was created by France during its mandate period and cut out from Syria; it is now a recognized State by the UN since 1943.  Palestine was divided but the Zionist movement conquered the allocated portion for the Palestinians by the UN in 1948. through a detailed pre-planned attack drawn in 1935. 
The Palestinians are now located in the West Bank of the Jordan River and in Gaza where Israel has built 150 Jewish-only colonies and increasing every year.
The Palestinians who fled their towns and villages in the State of Israel are refugees in Jordan, Lebanon, and Syria.  And they spread throughout the 5 continents. The UN resolution 193 demands the repatriation of these Palestinians to their hometowns but Israel has been rebuffing that resolution since 1948.
Lebanon suffered many civil wars and calamities for Not being capable or unwilling of absorbing the Palestinian refugees.
Israel has waged four devastating wars against the State of Lebanon on flimsy pretexts based on the Palestinian resistance trying to regain their rights for a homeland.
And three more pre-emptive wars against after the withdrawal of the PLO in 1982.
Note: More detailed facts of the daily business trades between Lebanon and Palestine in Part 2. The implantation of Israel was mainly meant to break down daily trades, and One market, and prevent daily communication among the One people in One Nation: Syria.
Dawn of Philo-Ethics, and eco-philosophy
Posted on January 29, 2010
In the previous post "Twilight for love of knowledge or philosophy", I explored the theme that philosophy is reaching an end.
Before the 16th century, sciences in Europe were towed by philosophy until Galileo enforced the notion of empirical experimentation and measuring what was Not previously measured.
By the time of Descartes, philosophy started to limp and relied on religion as crutch to survive.
Sciences have taken over: they can extend answers to what can be answered.
Sciences are far more efficient than philosophy: faulty answers go unnoticed very effectively. 
There are very few practiced scientists, and every man is a philosopher: man can feel what's wrong with a philosophical system but he does refrains to claim knowledge in sciences.
Knowledge is acquired by reasoning on the alternative options formed by perception of man and universe.  When we investigate our opinions and feelings, we ultimately want to open up alternatives for the mind to discovering the immutable elements in the relationships.
The brain is the field where perceived senses and reasoning procedures or processes interacts: without these interactions there are no perceptions, no actions, and no survival of any species.
It is not necessary to be a practicing scientist to have a scientific critical mind. Otherwise, not many people would feel comfortable believing that they are endowed with sensible rational and empirical thinking.
When I claim that we need to think philosophically, I mean that we need to combine the ethical component to whatever scientific thinking we undertake. The ethical mind should be the guiding rod to solutions or resolutions of any question.
For example, (it might sound a simple interrogation, but it might carry complex implicit ramifications), suppose that I stirred my Nescafe cup with a spoon.  My Nescafe includes No sugar or milk; just plain hot filtered water added to Nescafe.  I got into wondering: should I rinse the spoon in tank supplied water (many germs) or just let the spoon dry when removed from the cup? 
The idiosyncratic reaction is to rinse the spoon no matter what, isn't it?
If I discover that the accumulated potent germs on a dried spoon are far less than the rinsed one then what would be your behavior? 
The whole exercise is that we generally extend ready behaviors to our answers; we do not take a deep breath to wonder whether there are implicit reasons in the questions.
Philo-ethics (a new term that I invented) is to work on a set of stringent ethical reasoning that you feel are right.
The purpose is that you feel you have the right to state your ethics because you applied them. 
The other advantage is that you won't feel obligated to impose your ethics on people you like their company: you are in a position to be lenient and to compromise because relationships are more important than strict rules and regulations.
What can be the immutable norms that distinguish right from wrong?
What kinds of realities are eternal?
Cannibalism is not an immutable norm since many tribes still eat man in this century.
Anyway, mankind is a carnivore and has been eating his own kind with various aspects of ceremonies such as eating the flesh, heart, liver, and brain boiled, raw, or roasted. 
Thus, we need to be more attuned to ethnological studies and observations of the remaining tribes living separate from urban centers.
We need to comprehend the behavior, customs, and traditions of primitive tribes since they resembled ours before we opted for urban life style, within mostly a fast developing virtual civilization.
Arne Naess disseminated the eco-philosophy which stated that western paradigm line of thinking is taking the wrong direction for a sustainable earth: Man is not in the upper chain of evolution and he has no right to destroy the other living creatures for his perceived universe.
We are in a period of technological development that feed on itself and proliferates pretty much independently of any other sciences; technology feels confident that it does not need validation or control by third parties.
Fact is we need to have better understanding of the effects of our behaviors: mankind is on the same boat and everyone is asked to think that he is the captain of the boat.
Things are changing. 
The world can be felt as reduced to a Town Square: instant audio-visual communications around the world is discouraging people to move out and investigate "his universe".  Mind you that the Renaissance man had to travel on horses for long distances to educate his curiosity and talents.
The new wave of occultism, New Age, alternative lifestyle, mysticism, spiritualism, healing, astrology, clairvoyance, and telepathy are consequences of collecting mass "coincidental" happenings among the billions of people and which are relayed instantly on the Internet. 
These coincidences can be explained rationally, especially if we believe in the power of the subconscious for erratic behaviors.
The worst part is that millions are still brandishing old Books/Bibles …claiming every word for "truth"; as if we are in the Dark Ages. 
Sciences and technologies have done serious empirical attempts to answer most of the dialectical problems in philosophy, such as how the universe was started, how knowledge developed and progressed.
What is outside the realm of sciences is in the domain of faith, which should not be confounded with religious philosophical belief systems.
A few facts can now be settled that set the stage for the dawn of philo-ethics or for questions related to the dignity of man for freedom, liberty, free opinion, shelter, clean water, health, safety, food, clean air, voting rights, anti-discrimination attitudes relative to color, religion, gender, and country of origin.
The hardship that you subjected yourself to is to keep sensible relationship working: a climate of genuine compassion to human frailty gives incentives to overcome shortcomings that may be surmounted.
Ziad Abi Chaker wants to replacing stolen metal drain covers with recycled materials that last longer and cost less (and do Not entice the robbers to resume their beneficial enterprises?)
Saving Lebanon's streets: the engineer with a sustainable fix
Using recycled single-use plastic, the industrial and environmental engineer applies a technique known as extrusion to melt the raw material and form it into the required shape.
In this case, Mr Abi Chaker repurposes plastic waste to make drain covers to replace stolen ones.
Where other people see rubbish, he sees opportunity.
"I'm an industrial engineer, so my job is to find resources for manufacturing," But I'm also an environmental engineer, so I find these resources among discarded, recyclable material." Mr Abi Chaker told The National
Mr Abi Chaker makes use of all single-use plastic, such as plastic bags, plastic bottles, food packaging and more, and turns them into long-term sources of raw material to give them a new life.
His line of thinking offers a creative solution to a mounting problem in Lebanon.
Metal theft is becoming increasingly common as the country's economic situation continues to deteriorate.
The stolen materials are being sold for scrap in US dollars as people grow increasingly desperate to generate income in a country with scarce jobs and a depreciating currency.
Lebanon's Internal Security Forces confirmed the increase in these crimes to The National, with at least one person arrested for stealing a drain cover off the streets.
Other recent thefts included steel wires and pylons from power stations, plunging Lebanon further into darkness in March.
Eleven metal graveyard doors were also stolen from a small Lebanese town in Bekaa on April 4, prompting protests against sanctity violation.
Yasa, a Lebanese NGO for road safety, warned of the dangers of missing drain covers after a car got stuck in an uncovered manhole in Jnah, Beirut in April.
But with his simple and sustainable approach, Mr Abi Chaker is saving the environment and the streets.
So far, the engineer has been able to manufacture three manhole covers, with 20 more in the works, out of his own pocket.
Capable of supporting 100 kilogrammes, up to 400kg, they are fit for human and road traffic. He is also producing a cover able to carry up to 800kg.
The first manhole was set to replace a missing lid in the south of Lebanon, while the two others were placed near Beirut River.
According to Mr Abi Chaker, the plastic covers are much more cost-effective than metal ones.
"The human traffic covers are between $20 and $30, while the vehicular ones cost between $40 and $60," he told The National. "They're 50 per cent cheaper than steel covers."
The plastic drain covers are also faster to make, taking two to three days to complete each piece, which is "a record compared to casting iron".
Although the plastic covers are a highly efficient quick fix, Mr Abi Chaker cannot carry the cost burden on his own.
He is on the lookout for contributions from supporters of the project in the Lebanese community. "It's the best way to go," he said.
Beirut Mayor Jamal Itani showed interest in the project, telling The National he is open to receiving a proposal from Mr Abi Chaker team on the details of the initiative to study potential collaboration and methods of implementation.
"Of course we're interested in an alternative, replacing the metal covers with new metal ones costs a fortune," he said.
But Mr Abi Chaker would rather secure funds independently from the municipality owing to the urgency of the matter and lack of faith in Lebanon's officials – a sentiment shared by many who took to the streets in October 2019 against political corruption and mismanagement.
Mr Abi Chaker is working with lawyers to pursue legal action against the municipality for "failing to properly and hastily respond to an imminent danger affecting vehicles and pedestrians of the city".
Manholes in Lebanon have been coverless for some time after the thefts began during the first quarter of 2021.
Despite the huge risk to pedestrians and vehicles, authorities have yet to take action. The open drains join a long list of malfunctioning public properties, alongside failing traffic lights and low-grade infrastructure.
The manhole covers are not the first initiative by Mr Abi Chaker to take the country by storm.
One of his projects, the Green Glass Recycling Initiative Lebanon, was ranked eighth out of 10 most innovative companies in 2021 for the Europe/Mena region after recycling 125 tonnes of discarded glass after the Beirut port blast.
The August 4 explosion killed more than 200 people, injured more than 7,000 and destroyed large parts of the city, leaving huge piles of shattered glass in the streets.
Instead of discarding the glass in Lebanon's overrun landfills, the initiative collected the material and provided it to the few remaining glass packaging factories in the northern city of Tripoli, supporting the country's glass industry and one of the poorest cities in the Middle East.
When asked why he continues to give to a country that does not give back, Mr Abi Chaker said: "When you love someone, do you give up on them in their time of need?
"Our country is afflicted with a disease of the ruling class, and I won't give up on it now. Even though I was tempted by numerous offers to do the work I do over the world, I love being here, I love the work I do here, I love the impact we make here, I love the people and places here, and this is why I won't leave."
READ MORE
German firms unveil $7.2bn proposal to revamp Beirut port
Explained: Why Lebanon has an ongoing trash problem
Why Nadine Labaki believes Beirut blast marks the 'birth' of a new world: 'There's a revolution inside us'
How Monetary Currency instituted mendicancy?
Posted on November 9, 2010
Since mankind shifted from a barter economy to dealing with currencies, societies turned steadily and consistently away from production to a specie of mendicants.
In the barter trade, every individual in the tribe, clan, women, men, and children had a special task to support the survival of the tribe. 
Once a member is entirely incapacitated to be a productive entity in the order of the small community, or unable to get moving at a regular pace with the tribe to better seasonal greener pastures then, the member was relocated to a shady place near a source of water to tend to his peaceful death a "paradise for the old spirits".
Most probably, a core of compassionate individuals delegated their services to aiding these old spirits as best they could. They extracted from these elders oral stories of myths and traditional laws of conduct.
Transmitters of oral teaching and education are called "marabout" or "grios" in Africa: They have been transmitting the oral spiritual traditions of communities around bonfires.
A few of them decided to institute religions, based on the captured myths told about the creation of the universe and what happen to the souls after death; until the written languages codified the sacred religious knowledge within the sacerdotal classes.
Currently, old people are still Not that scared of death: Just fearing a state of lack of liquid currency, lest they are forced to beg to staying alive.
They are Not afraid of dying of hunger:  Just apprehensive that no aides will come, unless they have to beg.
After years of toils and unconditional disposition to raise a family, sending them to universities, marrying their offspring, and distributing properties to their married children, old parents are dragging their arthritic feet as best they can and feeling ashamed to ask for small money.
I am witnessing a grandmother, wrecked with arthritis, barely able to shift its body during sleep, and having to do dishes, sweep, do laundry, preparing jams for the winter season, and even cook for her married daughter with six children, many of these children are way over 25 years of age.
I am witnessing a grandfather, having difficulty getting in a car and thus, deciding to stay home, dragging his feet three flats up in order to replenish water in the water tanks on the roof:  He had plenty of reasons not to trust automatic systems and the damage they did when they failed.
Old people are worried that their children will not make it in this new harsh world: They were not adequately trained to fending for their survival.
Old people without any social covering are waiting to die in pain and hopelessness.
Old people of the middle and upper classes, with health coverage, are willing to undergo heart surgery at the age of 80, only to survive three lousy months in pain and suffering.
I am pretty sure they were warned by surgeons of the humiliating conditions they will suffer, but sacrifice is forgotten at a senile age.
We beg for food and pocket-money, though we are entitled to vote, to drive expensive cars, to join armies, and to kill for "motherland".
We beg for better grades; we beg for jobs; we beg for a raise; we lick asses to keep our jobs; we forget morality and ethical conducts and obey the boss; we claim that we are skilled survivors.
There was a time, still as valid now as ever, when materially fallen noblemen, had priority over the most disinherited people for the money collected in churches.
Poor Noblemen had to be secured first, lest the social structure disintegrates and chaos reign supreme.
Multinational financial institutions have to get first help: They worked so hard to bilk people out of their earned money.
Multinational do Not beg: They demand their rights as knights and barons of the establishment.
The verb to "beg" was created for the poor people and it does not apply to the rich barons of industries who demand their rights to financial aids:  They invented the social and economic structure for the begging citizens.
We are effective beggars: we keep the mask of revolting against mendicant behaviors.
Wild animals and pets search for a shady and isolated place to die when the time approach: They refuse further unnecessary suffering and pain.
They leave the company of the tribe: They cannot expect the community to feed them; this is contrary to the nature of the specie. Mankind is willing to beg mercilessly and assiduously to the last moment.
Millions of kids faking work, selling chewing gum on streets for a loaf of bread.  
Millions playing the meditative game, so that their collective spirits in prayers will bring about world peace, in exchange of one daily meal.
Billion of people are producing nothing.
They are the ones who cannot teach art but expose the results of art.
They cannot teach how to make shoes, but display instead varieties of shoes for you to select from.
The shopkeepers, working a lifetime in a box, collaborating with wholesalers, quickly turning over products in warehouses.
Engineers, supposedly trained to design products and services and ending up working salesperson.
Engineers  are hired to selling products and services, thinking that they can extend the illusion to consumers that they know something about the product or engineering practices.
It never crosses the mind of this engineer to make the effort of "re-designing" the product/system he is selling.
Sales people selling whatever there is to sell, uttering big technical terminologies: they have no ideas what these words mean.
Lawyers, shuffling papers and documents, bilking people, communicating with the lawyer of the other party, hammering out settlements, because they were Not trained or lack the talent to defend clients in courts.
Teams upon teams of "hygiene engineers" cleaning offices, gathering trash, vacuuming, and then collecting garbage.
The lower middle class, learning technical skills, working around conveyor belts, assembling consumer products and canned food.
Now and then, facilitating modern lifestyle by updating plumbing and electrical systems:  running water, ready electrical power, and automatic appliances that were meant to liberating essential time for a real productive life, but falling short on target.
Who are the producers?
They are the peasants in remote areas, no one paying them a visit, except wholesalers at harvest time.
Millions working in sweat shop factories: the modern sacrificial lambs targeted to die at young age for disastrous workplace conditions.
Millions working in underground tunnels, extracting raw materials, trapped in worse conditions than taupe.
Millions working in open grounds, extracting raw materials, dying young, in polluted environment, for their daily meals.
If those are the people producing something then, how come so many trillions of dollar-kind money have been accumulated?
Trillions being talk about like we are meaning billions of dollars.
The world is currently posting $60 trillion GNP per year; $15 trillion are saved by the "poorer" developing States so that multinational financial institutions move the surplus to the "powerful" States to maintain their higher standards of living.
The financial institutions cut out their commissions for facilitating the transfer of money from the poor people to the "richer" people maintaining high State indebtedness.
Last century, people were producing.  
In this century, worthless paper money are being printed, shifted, transacted, and transferred around as valuable earning: Fictitious wealth backed by the power of aircraft carriers and lethal killing equipment.
Millions of "men of war" in 200 official armies, begging for their daily meals in exchange for killing their own kinds, fighting for the "fatherland".
Millions of men of war enlisted in militia organizations fighting for the honor of the tribe, the trampled dignity of a local leader, a religious cleric.
There was a long period in mankind history, tribes going on razzias expeditions against richer tribes and rounding up livestock.  Tribes expected razzias: They were meant for survival purposes under harsh conditions.
In the last three centuries, razzias on grand scale, are directed for pure greed.
Mankind: a specie of mendicants, with no dignity and no shame.
A specie that convinced itself that life is precious, even if they are totally worthless to producing anything spiritual.
Compassion is meant to help the abler body.
A specie toiling a lifetime not producing a dime's worth; unable to write an article, even an illegible one.
A specie no longer worth surviving.