Archive for the 'Uncategorized' Category
Amid the waning of the humanities, Edward Said turned out to be one of the last literary scholars with a public presence.
Udi Greenberg @udi_greenberg. One of Said's students
Teaches at Dartmouth College and is the author of The Weimar Century: German Émigrés and the Ideological Foundations of the Cold War (2015).
Note: wordpress is Not opening new texts on my Samsung Chrome in the last month. Maybe I need a better laptop. Untill then, minimal editing on the saved drafts.
Exiles often have conflicting feelings about their adoptive society, and Edward Said was no exception.
As a Palestinian in the United States, he recognized the country's pervasive racism and violence, but he also knew its educational system made his career as a renowned and prosperous thinker possible.
His life was indeed filled with paradoxes and contradictions. He was one of the twentieth century's most influential anti-colonial writers, who mostly studied his colonizers' literature; a proponent of Palestinian liberation who wrote in English and mostly for English-speaking audiences.
Few statements capture his embrace of such tensions more than his surprising claim in an interview with the Israeli newspaper Ha'aretz that he was now the only heir to the Jewish tradition of radical criticism.
"I'm the last Jewish intellectual," he exclaimed. "You don't know anyone else. All your other Jewish intellectuals are now suburban squires.… I'm the last one."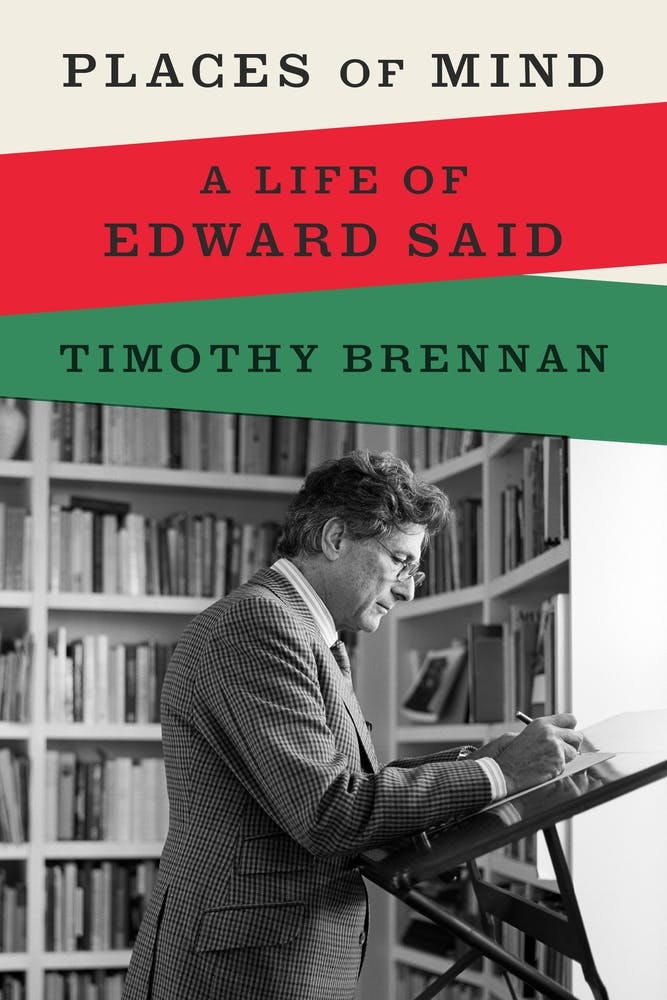 As comical as this statement can seem, Timothy Brennan's new biography, Places of Mind: A Life of Edward Said, suggests it captures Said's unique place in public life: a Middle Eastern exile who provided an original explanation for American imperialism, powerfully condemned it, and successfully reached mass audiences.
By telling Said's life, from his childhood in British-ruled Palestine to his death in New York in 2003, Places of Mind seeks to explain his unique ability to blend intellectual production and public activism.
Impressively researched and powerfully written, it charts Said's many triumphs: his revolutionary scholarly writings, which became classics and are taught decades after their publication; his rise as a media celebrity (an unusual fate for an academic); and his role in making the Palestinian national movement a source of international fascination.
For Brennan, who was Said's student and is an accomplished literary scholar in his own right, his teacher was everything a humanist should be.
By embracing his status as an "outsider"—an exile, a Palestinian, an "Arab"—he successfully infused America's mainstream with new ideas and political visions.
Yet by claiming to be a "Jewish" intellectual, Said was doing more than placing himself in the company of giants like Franz Kafka or Theodor Adorno.
What he recognized, and what Places of Mind sometimes misses, was the tragedy of his career: how by his life's end, the causes for which he fought were ultimately defeated.
The Palestinian liberation movement, whose cause animated so much of Said's writing, was headed toward ruin (a reality that he was among the very few to realize).
(Fateh, the signatory to the Oslo treaty, was displaced by more radical movements in Gaza, and currently a new wave of reactions from every mixed towns and villages in the West Bank)
And the humanities, whose flourishing made his career possible, were entering a downward spiral from which they show no sign of recovery. Reflecting on Said's life is not only a chance to celebrate groundbreaking achievements: It is also an invitation to recognize, soberly, some of our era's heartbreaking misfortunes.
---
Colonialism is a brutal business, and this was certainly true of British rule in the Middle East and mandated France in Syria and Lebanon. Whenever locals protested the empire's authority, as Palestinians did during the so-called "Great Revolt" of 1936 to 1939, British troops responded by demolishing entire neighborhoods, imprisoning thousands of civilians in concentration camps, and putting hundreds to the gallows.
(The British had to dispatch 100,000 troops to squash this civil disobedience movement that had a source the refusal of the British to have municipal elections on the ground that the Jews constituted only 20%)
Like many other colonialists, however, the British also sustained their rule in the region by offering alluring opportunities to some of their subjects. Those willing to cooperate could gain access to British markets, find jobs in the colonial bureaucracy, and send their children to European-run schools. These were the carrots that Europe's "civilizing mission" dangled in front of its subjects' noses: Submit to us, colonialists promised, embrace our language and culture, and maybe, one day, some of you would control your own fate.
This was the duality that made the young Said. Born in British-ruled Jerusalem in 1935, much of his childhood took place in the shadow of the Palestinian national trauma. While his parents, Hilda and Wadie, rarely talked politics at home, other relatives often protested their people's fate. The price of political oppression was even more apparent once British troops were replaced by the armed forces of the Jewish Yishuv, which decimated the Palestinian national movement.
In 1947, Said's parents fled to Cairo, which rapidly became home to many hungry and dispossessed Palestinian refugees. At the same time, colonialism helped cushion the Saids from some of this brutality. Not only were they affluent merchants, but they also benefited from being Anglican, a tiny minority that enjoyed preferential treatment by British authorities. Said's father supplied office materials to the British (which ran the formally independent Egypt), and Said was sent to study in the elite schools of British missionaries.
Nothing demonstrated colonialism's contradictory imprint on his family more than his regal first name, Edward, which his mother chose because she admired the Prince of Wales—a fact that Said bemoaned his entire life. 
When Said's parents sent him to the U.S. at age 15, he would find a similar pattern of simultaneous subjugation and inclusion. In his years as a student, first at an elite prep school in New England and then at Princeton, Said was alienated by the other students' oppressive self-absorption. Almost all white, they were confident in the superiority of their Anglo-Saxon heritage and considered Arab culture primitive.
As he put it in a note uncovered by Brennan, "to be a Levantine" in the U.S. meant "not to be able to create but only to imitate." At the same time, the postwar U.S. system of higher education provided remarkable opportunities. After Princeton, Said enrolled in Harvard's graduate program in European literature, and in 1963, he was hired as a professor at Columbia. Ivy League prestige, as it often does, opened many doors, and Said quickly learned how to prosper in the world of U.S. letters.
He published a book on Joseph Conrad, built ties to the New York literary world, and began contributing essays to magazines like The Nation. For all the whiteness and Euro-centrist ethos of American academia, Said cherished his success in it. To his parents' dismay, he preferred to spend most of his summers in New York, feverishly churning out academic writings.    
These paradoxes of imperial power do not get much attention in Places of Mind, and its first chapters say frustratingly little about the colonial Middle East or the Cold War U.S. This is a missed opportunity, as the similarities between the two systems would later become crucial to Said's intellectual and political agenda. Most important, both the British and Americans elevated certain minorities (Christians in the Middle East, Jews in the U.S.) to justify their subjugation of others (Muslims under British rule, Black people and other people of color under white U.S. hegemony).
The two cultures also similarly viewed their elites' culture as universal, a sacred trust they had to bestow upon humanity. Both British and American elites were therefore eager to demonstrate that "outsiders" like Said, who appreciated the brilliance of Western culture, could join their club, as long as they fully assimilated and "overcame" their non-Western origins. It is likely that these parallels informed Said's later insistence that the U.S. emulated European empires.
And it is clear that his effective navigation in both inspired his later claim that colonialism was not just oppressive but also creative, that hegemonic cultures could possess a certain allure even for their victims.       
---
Said's career up to the mid-1960s was headed in a predictable direction. Groomed by and for WASP institutions, he was on the path to become a footnote in their history, yet another scholar who studied the European canon and reproduced elites in his teaching.
But the convergence of two revolutions, one intellectual and one political, soon upended this trajectory. Harnessing their energies, Said went on to produce one of the twentieth century's most important intellectual events. Be the most
informed person you know:
3 months for $5Subscribe
In its most impressive chapters, Places of Mind reconstructs Said's participation in these two revolutions. The first was post-structuralism. Under the influence of philosopher Jacques Derrida, a group of French scholars launched blistering attacks on Europe's intellectual traditions. Even after the Enlightenment, they claimed, Europe remained obsessed with enshrining hierarchies and binaries (between men and women, "primitive" and "civilized"); the most urgent task was to dismantle those.
While Said is not always associated with this school today, he was among the first to embrace it in the English-speaking world.
He took part in the early conferences on post-structuralism in the U.S. and was one of the first to utilize its concepts in his writings. He borrowed especially from Michel Foucault and his provocative depiction of the link between knowledge and power. Artists and thinkers, Foucault claimed, were rarely individuals who challenged authority. Most of the time, they reproduced and reinforced their society's structures of authority, making them seem natural and even benevolent.
The second project that Said joined, and for which he became especially famous, was the Palestinians' renewed struggle for self-determination. After the shock of the 1967 war, which initiated Israel's military rule over large Palestinian territories, Palestinian activists and leaders sought to make their cause the center of international attention. They appealed to international institutions and launched multiple violent attacks on Israel to keep their struggle in the headlines.
While Said had little personal interest in returning to Palestine (by that point he considered his exile a permanent condition), he joined this campaign and quickly became its most prominent international figure.
He published fiery essays that compared the Palestinian struggle to other anti-colonial struggles in Asia and Africa and helped launch organizations that called for an end to the West's support for Israel. His eloquence and rare status as a Palestinian at the center of U.S. letters made him into an icon. Palestinian politicians and leaders, some of whom he met in person during a prolonged academic stay in Beirut, sought his advice; in 1974, he helped edit and translate Yasser Arafat's historic address to the United Nations, the first by any Palestinian leader in that forum. Three years later, Said became a member of the Palestinian National Council, the coordinating organization of the Palestinian national movement.
Bringing these two projects together was hardly an obvious undertaking. Post-structuralism's philosophical musings, with its notoriously impenetrable jargon, seemed worlds apart from the blood and sweat of daily Palestinian resistance.
Yet in his monumental Orientalism (1978), Said fused these two projects to provide a new understanding of Western attitudes toward the Middle East. Drawing on his own experiences as a beneficiary and victim of colonialism, Said claimed that Europe's colonial domination in the Middle East did not rely merely on military or political might. Rather, it was a vast intellectual project, in which countless scholars and novelists voluntarily rushed to explore, interpret, and explain why Europe had to dominate the "Orient." Said further argued that the Orientalist project was in fact foundational to Europe's own self-understanding. As Europeans sought to define themselves as rational, industrious, and self-controlling, they simultaneously identified the Orient's people as emotional, lazy, and pathologically obsessed with sex.Said, in short, exposed how knowledge and art worked in the service of oppressive power.
This claim about colonialism's centrality to Europe's identity would have been enough to make Orientalism an intellectual bombshell. But Said went even further, using his literary study to explain the aggression of modern American diplomacy. Said argued that the collapse of formal European empires after World War II did little to diminish the orientalist mindset. Rather, orientalism continued to flourish in the U.S., where journalists, artists, and scholars conflated their country with a "civilization" that they contrasted with the Middle East's alleged primitivism and fanaticism.
Indeed, Said maintained that U.S. diplomacy in the region, and especially its unwavering support for Israel, reproduced Europe's earlier racism, arrogance, and myopia. U.S. diplomats and their Israeli allies inherited the view of Arabs as inhuman and thus dismissed their political demands as emotional and even animalistic outbursts. Said's most scorching invective was directed at Middle East specialists like Princeton scholar Bernard Lewis, whom he acidly described as the intellectual foot soldiers of U.S. imperialism. Their writings about the Arabs' supposed fanaticism, he wrote in a related essay, provided "not history, not scholarship, but direct political violence."  
Said, in short, exposed how knowledge and art worked in the service of oppressive power. And in so doing, he forever transformed the meaning of the word orientalist: Rather than a term for a scholar of the Middle East, it now became an adjective describing a racist and paternalist worldview.
---
Orientalism's sweeping claims could hardly leave readers indifferent, and Brennan masterfully traces both the admiration for and backlash to Said's masterwork. Conservative commentators predictably dismissed Said as an ignorant trespasser who failed to understand the West's greatness as he downplayed the orient's failings.
In a lengthy review, Lewis lambasted the book as "insouciant," "outrageous," and "reckless," inaugurating a rhetorical dual with Said that would continue for decades. Even more sympathetic readers highlighted the book's limitations. Scholars like the French historian Maxime Rodinson noted that Orientalism was far too sweeping in approach. The study of the Orient, he noted, was a diverse field, and many of its proponents hated empire.
Other supportive readers questioned the book's focus on ideology and representation. Wasn't colonialism ultimately driven by economic exploitation? The critique that stung the most came from Arab and Pakistani Marxists, who lamented that Said unintentionally strengthened Muslim conservatives. The Syrian philosopher and activist Sadiq Al Azm, for example, argued that by depicting European knowledge as hopelessly tainted, the book "poured cold water" on the effort to popularize Marxist ideas in the Middle East and bolstered lazy anti-Western sentiments. 
These misgivings, however, did little to diminish Orientalism's impact on the international republic of letters. Appearing in 30 languages, it was widely celebrated as a fresh and sophisticated assault on Western arrogance, one equal to anti-colonial classics like Frantz Fanon's Wretched of the Earth (1961). "Here for the first time," Palestinian historian Tarif Khalidi wrote, "was a book by one of us telling the empire basically to go f— itself." In a world reeling from the manifold disasters perpetrated by the U.S. in Vietnam, understanding the connections between Western self-righteousness and violence seemed more urgent than ever.
Said helped inspire the work of countless literary scholars, philosophers, historians, and political scientists who mapped colonialism's intellectual legacies in the present. He was the founding figure of what in the 1980s became known as "postcolonial studies." The impact of this intellectual project spilled beyond academic circles. After Orientalism, theater programs, museum catalogs, and Hollywood films began to adopt less Western-focused perspectives.
According to Brennan, Said in fact infused the humanities with renewed significance. Works like Orientalism and Culture and Imperialism (1993), which expanded its insight to more novels, demonstrated the centrality of literature and art to political discourse. Said turned the traditional Marxist view of culture on its head. He claimed that novels and images were not mere expression of social domination but their very heart; they informed how journalists covered world affairs, how citizens thought about politics, and how politicians enacted policies. Countless students and scholars came to view the study of stories, movies, and representation as political action, and journalists the world over courted Said, endlessly asking for his take on political matters.
Places of Mind's last chapters trace Said's rising prominence to the position of celebrity. As a testament to his triumph, they catalog the mind-numbingly abundant prizes and honors he received, describe his never-ending stream of interviews on radio and TV, and depict his collaborations with many famous artists, such as the conductor Daniel Barenboim. Yet along with the rapid ascent came frustration. Said's publications may have made a splash, but they were unable to materially advance the Palestinian national cause, which suffered defeat after defeat.
---
For Said, stories were essential to the struggle for Palestinian self-determination. If Americans so enthusiastically lavished Israel with weapons and supported its cruel occupation, he claimed, it was not out of some hard-nosed calculation, but because they bought into a particular narrative, one in which persecuted Jews had heroically defeated their evil Arab neighbors.
According to Said, this story was sustained not only by relentlessly pro-Israel politicians, magazines, and TV shows but by the fact that Americans were rarely exposed to Palestinian perspectives. Said noted that this was true even for those who were deeply critical of Israel's actions. Noam Chomsky's Fateful Triangle (1983), for example, condemned U.S. diplomats and Israeli politicians for enabling the horrific massacres of Palestinians in Lebanon, but it, too, relied on Western sources and did not include Palestinian testimonies.
Alongside his campaign against the orientalist tradition, Said therefore launched an effort to open new spaces for Palestinians in the Western imagination. As he wrote in the essay "Permission to Narrate" (1983), the task was to forge "a socially acceptable narrative" that would allow people to empathize with Palestinians and view them as fellow humans. Venturing beyond European literature, Said sought to integrate Arab perspectives into the Western literary canon.
While most of his academic work remained focused on English and French authors, he also began studying Palestinian writers like Mahmoud Darwish and helped facilitate their translation into Western languages. And he collaborated with photographer Jean Mohr on After the Last Sky: Palestinian Lives (1986), a collection of images and short texts that depicted Palestinian people in everyday activities.If Said's words still resonate today, it is because the evils he helped expose are as powerful as ever.
Yet readers largely ignored After the Last Sky and similar projects, and most certainly did not lavish it with the prizes and honors that were showered on Orientalism. They were mostly interested in the analysis of the West's colonialism; oppression's victims were an afterthought. Said was painfully aware that this part of his work had limited impact, and during the 1980s and 1990s he became progressively despairing about the prospects of Palestinian liberation. "The road forward is blocked," he ruefully wrote, "the instruments of the present are insufficient, [and] we can't get back to the past." His gloom only grew after the Palestinian leadership signed a tentative peace agreement with Israel in 1993 (the so-called Oslo Accords), which Said predicted would not lead to statehood but to deepening occupation. By the end of his life, he was politically isolated; his books were even banned in the Palestinian Authority over his criticism of Yasser Arafat's authoritarianism.
Said's high hopes for literary studies—that they would lead the expansion of the world's political options—also proved fleeting. Said's career, in fact, was not only a rare exception but also a product of broad intellectual sources. It emerged from the 1970s and 1980s, when debates about the literary canon roiled institutions of higher learning and figures like Paul de Man and Alan Bloom were famous.
But by the early twenty-first century, the humanities began to decline. Students were beginning to abandon them, a trickle that would soon become a flood. In such a world, Said was quickly becoming a monument for a passing era. He was one of the last literary scholars to gain the public's attention; when he lamented being the "last Jewish intellectual," he in part recognized he was not likely to be followed by others. His increasing alienation from his adoptive country was reflected in the location of his grave. At his request, it stands not in New York, where he spent most of his career, but in Beirut, where he was only an occasional visitor. 
---
If Said's words still resonate today, it is because the evils he helped expose are as powerful as ever. In the two decades since the 2001 attacks, orientalist sentiments have only intensified: Western politicians still treat Muslims and Arabs as fanatical terrorists, and Western media still perpetuate those narratives. As historian Maha Nassar recently noted*, of the thousands of pieces run by The New York Times and The Washington Post on the Israel-Palestinian conflict, barely 1 percent were written by Palestinians.
The grip of orientalism on U.S. knowledge production has in fact only tightened since Said's passing. In 2002, the historian Daniel Pipes, who began his career with a campaign against Orientalism, founded the organization Campus Watch, which has targeted scholars who express sympathy with Palestinians. The case of Fresno State University in California was probably the most on-the-nose expression of Said's lasting relevance. In 2016, the university's leadership posted a job ad for its newly created Edward Said chair in Middle Eastern studies, only to abruptly call off the search by summer of 2017.
Just like his life, Said's legacy is a paradox. His ideas are relevant exactly because their political impact was limited: The vast campaign he launched in scholarship, the media, and political activism could not dislodge orientalist bigotry. Similarly, Said looms so large in the humanities because a career like his is now hard to imagine. Rather than blazing a path for other literary scholars to become influential political commentators, he turned out to be among the last humanists with a public presence. Those who share in his quest for a more equal and humane world still face the question that always vexed him: If one has a humanist story to tell, how to make others listen? 
UK: Ex-minister accuses pro-Israel lobbyists of 'disgusting interference'
Alan Duncan has said that the Conservative Friends of Israel fiercely lobbied to prevent him becoming Middle East minister
By Alex MacDonald Published date: 8 April 2021
A former UK foreign office minister has accused pro-Israel lobbyists of "the most disgusting interference" in British public life, and of negatively influencing the country's foreign policy in the Middle East.
Alan Duncan, a former Conservative MP and government minister until 2019, wrote in his newly published memoir that the Conservative Friends of Israel (CFI) had been responsible for pushing the country to adopt disproportionately anti-Palestinian and pro-Israel policies.
Founded in 1974, the CFI is a parliamentary group and unaffiliated organisation that supports the ruling Conservative Party and advocates for pro-Israel policies.
Former British Minister of State for Europe and the Americas Alan Duncan gestures during a joint press conference with Ecuador's Ambassador Jaime Marchan at Victoria Gardens, Westminster, on 11 April 2019 (AFP)
Speaking to journalist Michael Crick about his diaries for the MailPlus website, Duncan said the CFI had injected a "Netanyahu-type view of Israeli politics into our foreign policy", referring to Israel's right-wing prime minister. He added that it had lobbied to prevent him becoming Middle East minister at the foreign office.
"A lot of things do not happen in foreign policy or in government for fear of offending them because that's the way it's put to them by the CFI," he said.
"It's a sort of buried scandal that has to stop… they will interfere at a high level in British politics in the interests of Israel on the back of donor power in the UK."
He added that ultimately the influence of the CFI came at the expense of the Palestinians, emphasising that the group's leadership would frame pro-Palestinian policies as potentially offending Jewish donors to the Conservative Party.
"Most of the Jewish donors would never want their donations to be used to influence in this way – I just think it's a mess," he said.PETER OBORNE: Duncan's stand on settlements makes him Israeli targetRead More »
Duncan served as minister of state for Europe and the Americas between 2016 and 2019 under then Prime Minister Theresa May. Following her resignation and the ascension of Boris Johnson, he stepped down from his position and did not stand for re-election in the December 2019 parliamentary elections.
Known for his support for pro-Palestinian stances, such as his rejection of illegal Israeli settlement building in the occupied Palestinian territories, Duncan has previously come under fire from pro-Israel circles.
In January 2017, opposition politicians in the UK called for an investigation into comments made by an Israeli embassy official who had talked of plotting to "take down" Duncan because of his public opposition to Israeli settlements.
Shai Masot, who would afterwards be removed from his position, was caught by an undercover reporter discussing with a British civil servant how to discredit Duncan. He would later apologise for his comments.
Crispin Blunt, a Conservative MP and then-chairman of the Commons Foreign Affairs Committee, told Middle East Eye at the time that Britain could not have "Israel acting in the UK with the same impunity it enjoys in Palestine".
"This is clearly interference in another country's politics of the murkiest and most discreditable kind," he said.
In the past, the CFI has claimed that 80 percent of Conservative MPs were members of the organisation. It has organised numerous trips to Israel for politicians.
Lebanon and Palestine: Same and Different(Part 1)
Posted on April 29, 2009
Brief ancient history:
Lebanon is a recognized State by the UN in 1943. The Lebanese State got its fictitious "independence" from France who withdrew its troops in 1946 (2 years before the State of Israel was recognized by the UN).
Palestine was partitioned in 1947 between Palestinians and the minority Jews (barely 40% but allocated 55% of the land of Palestine).
Currently, all of Palestine is under occupation by this Zionist State called Israel.
Lebanon and Palestine were throughout antiquity under the domination of neighboring Empires such as in Egypt, Turkey, Iran, and Iraq (Mesopotamia). 
The people in the two tiny stretches of coastal lands on the Eastern shores of the Mediterranean Sea were mainly mariners, traders, middlemen among Empires, and skilled artisans. (They were united under the Seleucid dynasty, an officer of Alexander army)
Under the nominal or explicit domination of Empires, Lebanon and Palestine had autonomous administration of their society as City-States that were highly democratic within the city limits as Athens emulated in the 7th century BC.
The famous City-States from north to south are Ugarite, Tripoli, Jubail (Byblos), Saida, Sour (Tyr), Akka (Acre and Haifa), and Askelan.
The City-State of Jubail (inventors of the alphabet) built Saida; Saida built Sour and dominated the sea routes; and Sour built Akka and relayed Saida in sea domination and expanding the trading posts to Spain. 
These City-States were the masters of the sea and traded with all Empires, and build trading towns: they have resisted many overwhelming sieges, sometimes for years, and occasionally managed Not to be entered and devastated.
Every empire that conquered Syria resumed its drive by dominating Lebanon and Palestine. 
In general, when more than one empire co-existed at the same period and when the empire in Egypt was powerful enough then it governed the southern half of Palestine while the other empire governed the upper half, including Lebanon. 
The strip of Gaza to Yafa was mostly under Egyptian cultural influence.
The coastal strip from north actual Syria to the Sinai was called Canaan. Then, the upper stretch to Akka was called Phoenicia or even Saida (in reference for the main City-State).
The Sea People, called Philistines and probably coming from the Adriatic Sea, destroyed Greece fleet, devastated many coastal cities, and conquered Egypt before they were driven out and settle in Gaza and the southern part of Canaan, called Palestine ever since.
Moses (this mythical story) arrived with an amalgam of nomadic tribes and his successors attempted to occupy part of south Palestine.  These tribes worshiped Yahweh/Yahwa, thus, yahoud and Jews for the Latin people. 
These tribes under Moses reverted to worshiping the all encompassing God of the Land called El., except a few tribes such as Judea and Benjamin.  During the Roman Empire, and most of the empires that dominated Syria, the district of Tyr administered the upper half of Palestine, including Galilee.
Modern History:
 In the beginning of the 20th century, the military in Turkey deposed the Sultan of the Ottoman Empire and started policies focused on Turk Nationhood.  Many in Lebanon, Syria, and Palestine immigrated to Egypt. 
During the First World War famine fell on Lebanon along with a devastating wave of locust; they immigrated to the USA, Brazil, Latin America, and many were dropped in Africa by unethical ship captains who claimed that they reached the Americas.
After the defeat of the Ottoman Empire in the First World War, Britain had mandate over Palestine and Iraq; France had mandate over Lebanon and Syria.
Consequently, the bilingual Palestinians spoke English, and their counterpart in Lebanon spoke French.
In 1930, Haifa grabbed the center of trades and many Lebanese flocked to Haifa and Palestine.  The reverse wave occurred when the State of Israel was recognized by a majority of one vote at the UN in 1948.  Lebanon received Palestinian refugees who were installed in camps on the ground that their stay is temporary! and will return under the UN resolution 194
In one chapter of "World Adrift" Amine Maaluf said "The western powers are now paying the price for failing to apply their values in the colonies" 
The European colonial powers of Britain, France, Germany, and the  Netherlands had no intentions of spreading their moral values to those they considered Not worthy of their pearls and gems.
The indigents were to be enslaved, exploited, and humiliated;
The indigents who adopted the western values of equality, liberty, and democracy were persecuted and harassed and imprisoned;
The colonial administrators negotiated with the conservative conformists who were ready to strike deals and cohabit with lesser human rights. 
Dictators in Europe maybe abhorred after their defeat, but the colonial powers readily accept dictators in underdeveloped States to facilitate the embezzling businesses.
Human values had different quality and flavors according to the whims and interest of the exploiting colonial powers. 
Britain used astute diplomatic policies to subjugate their colonies more frequently than France did; but France of the French Revolution had No patience negotiating and communicating with their colonial people and never skipped an occasion to stat its true purpose for domination.and exhibiting arrogant military posturing.
 The colonial powers installed infrastructures that were appropriate for exploitation of the colonies; they established the required administrations for smooth and efficient exploitation.
The other administrative offices for legislation and justices were carbon copies of the ones in their homeland, but these codes could be disposed off and trampled at the first occasion that short sighted interest called for swift and immediate actions.
Contemporary history:
Current Lebanon was created by France during its mandate period and cut out from Syria; it is now a recognized State by the UN since 1943.  Palestine was divided but the Zionist movement conquered the allocated portion for the Palestinians by the UN in 1948. through a detailed pre-planned attack drawn in 1935. 
The Palestinians are now located in the West Bank of the Jordan River and in Gaza where Israel has built 150 Jewish-only colonies and increasing every year.
The Palestinians who fled their towns and villages in the State of Israel are refugees in Jordan, Lebanon, and Syria.  And they spread throughout the 5 continents. The UN resolution 193 demands the repatriation of these Palestinians to their hometowns but Israel has been rebuffing that resolution since 1948.
Lebanon suffered many civil wars and calamities for Not being capable or unwilling of absorbing the Palestinian refugees.
Israel has waged four devastating wars against the State of Lebanon on flimsy pretexts based on the Palestinian resistance trying to regain their rights for a homeland.
And three more pre-emptive wars against after the withdrawal of the PLO in 1982.
Note: More detailed facts of the daily business trades between Lebanon and Palestine in Part 2. The implantation of Israel was mainly meant to break down daily trades, and One market, and prevent daily communication among the One people in One Nation: Syria.
The Jewish community excommunicates Jews who support Palestinian freedom and rights
"And I also made my choice: if excommunication is the cost of supporting Palestinian rights, bring it on. And to the extent Jewishness is important to me, which it still is, I am proud to have an outlaw Jewish community of friends".
When you are Jewish and come out as an anti-Zionist, you get excommunicated.
That is how the Jewish community works to support Israel. The Jewish community says directly, "You may choose your community or what you call your sense of ethics".
And if you persist, forget about your community, because Jewish life as we know it is committed to supporting Israel, the miraculous achievement of the Jewish people in the 20th century in the wake of the extermination.
REFORM JEWISH LEADER RICK JACOBS SPEAKING TO JEWISH VOICE FOR PEACE MEMBERS AT THE PRESBYTERIAN CONVENTION IN 2014 DURING DEBATE OVER DIVESTMENT.
PHOTO: CHRISTOPHER HAZOU VIA @LIZAVETA9 ON TWITTER.
As an optimist, I keep declaring that this "herem" — or ban/excommunication– is softening.
That young Jews who believe in justice are slowly taking over the community and an apartheid state is becoming impossible to defend.
But I'm inside the anti-Zionist bubble, not the community, and an interview published last week gives me pause. It is with a friend, Rabbi Alissa Wise, who lately stepped down as deputy director of Jewish Voice for Peace.
Wise has played a big role in growing that organization into a political force, as an openly anti-Zionist organization that supports BDS of Israeli settlers products in the West Bank.
In the interview, Wise says in so many words, I've had enough for now. I've battled my community for 20 years and now I am going to be a member of that community and take a less political role, for the sake of my children being Jewish.
The interview was published in the Jewish Currents newsletter. Editor Arielle Angel reached out to Wise because of a speech Wise gave at her Reconstructionist synagogue in West Philadelphia on March 12, to celebrate her departure from JVP.
Alissa Wise spoke of the pride of building an anti-Zionist bloc among American Jews. "Our numbers have exploded in the past decade."
But that achievement came at an "excruciating" personal cost, Wise said, alienation from her family and community.
Wise has strong family connections to organized Jewry, and her first shock came in 2002, when her efforts to bring a group of Israeli draft resisters to the U.S. was rejected by every "liberal" Brooklyn synagogue she went to.
It was truly painful to see so plainly how the Jewish community I had been raised to trust was in fact so closed. Sure, looking back I was being totally naive, but I recall just feeling genuinely crushed that the community who taught me Judaism, which led me to understand that I have a responsibility to stand with Palestinians, would refuse to hear the voices of young Jewish Israelis because they were challenging the occupation.
Wise developed a "tough skin" under the hail of hate mail, but she fears the spiritual consequences.
[T]he most vitriolic hatred directed towards me comes from the Jewish community. It has come between me and my family. Over the past ten years, I have regularly received death threats, sexually threatening emails, voicemails and even letters delivered to my home.

I have been barred from traveling to Israel. I almost was kicked out of rabbinical school. I have been called a kapo more times than I can count. I have developed a thick skin. One has to in order to keep doing this work.

I always maintained it didn't seep in. But did it? Does it?…
She concluded that riding over the feeling of being trampled on by the community was actually hurtful. It prevented her from attaining her "full power."
I think I was negligent when taking care of those feelings for myself, and I think that is a part of how I ended up needing to take a break 10 years in, when in all honesty I had imagined myself at JVP until JVP was not needed anymore.

We don't want to let our skin be so tough that we don't recognize the pain that is there. Let's feel our pain AND feel our power…
Arielle Angel then drew Wise out in a Q-and-A. And my interpretation of Wise's comments is: Jewishness is a core value, and she doesn't want to be in an oppositional frame so as to allow her children to grow up with a healthy relationship to Jewishness and life.
Some excerpts. Wise says we're in a "closed" period of Jewish history Not so different from the insular intolerance of religious Jews in the eastern European ghettos before the enlightenment.
"We've been in a closed period again, because of the hegemonic power of Zionism in the Jewish community. The vision I have is one of openness."
But she can't bring about that openness personally. She's been scarred by the exclusions, notably when she was barred from getting on a plane to Israel and Palestine.
"[T]hat was the beginning of the end for me…I really felt like I'd been trampled on. I reached a point where the thick skin turned from being protective to being corrosive. There's only so much that one can bounce back from. I'm not leaving the Palestinian rights movement, but I am attentive to where I am emotionally and how that affects my ability to lead this organization….
Wise recognized that membership in the Jewish community is central to her.
[T]he future of Judaism and Jewishness still matters to me and is the centerpiece of my life.

My kid is in second grade, and she was in her Torah school class on Zoom last week… The teacher introduced the concept of l'dor v'dor, from generation to generation, because they were going to be talking to an elder. She asked the class, "What do you want to pass down to the next generation?"—which is a very tender thing to ask eight-year-olds. One little girl said, "I want to pass down being Jewish." I started crying in the other room, because that's what I want. I have this sacred, intimate responsibility to caretake Judaism in my lifetime…
Wise says she has banged her head against the wall for 20 years trying to get the Jewish community to change its views of Palestine, and it worked. "Now there are anti-Zionist Jews all over rabbinical school!"
But the political approach can be overwhelming, for instance when every Torah portion has to be interpreted in an anti-Zionist manner. That's one reason she is leaving JVP.
"I felt clearly how my relationship to Judaism was going to compromise my children's relationship to it, and I wasn't willing to have that."
Alissa Wise imagines an open Jewish community in which everyone is not judged either for being a Zionist or an anti-Zionist.
One principle I emphasized to [JVP staffers] was pluralism: No matter how much we want to interpret a Torah text or a holiday cycle or a historical event in a way that brings people into solidarity with Palestinians, we need to leave room for other ways to be Jewish. Obviously, I want there not to be apartheid in Israel. I don't want Palestinians to be living under occupation. But that's different from how we live our Jewish cultural and spiritual lives. Our vision isn't that everybody be anti-Zionist, or for that to be the centerpiece of everybody's Jewish lives. It needs to be bigger than just an expression of a particular politics
And she believes her next job will be in Jewish life.
I decided to dedicate my life to the Jewish people, and I'm going to pursue that and trust that the work I've been a part of has created enough space for another Jewish home for me.
I respect Wise's choices. I like pluralism, I'm Not a litmus test person. But having done this work for some time now and been subject to the same invective and ostracization, with the same initial emotional shock that Wise experienced, I've lost my romance about the Jewish community.
It made a clear choice to cancel us. And I also made my choice: if excommunication is the cost of supporting Palestinian rights, bring it on.
And to the extent Jewishness is important to me, which it still is, I am proud to have an outlaw Jewish community of friends.
Wise's word "hegemonic" is helpful. So is her admission that her own family is divided. The official Jewish community has decided again and again in recent years that it is going to close rank around Zionism and muster the astounding historical unity of Jews to enforce orthodoxy in the face of apartheid.
"[Studies have noted that the overwhelming majority of British Jews support Israel," says a British Jewish group in enforcing the line. Anti-Zionist Jews are "as deeply opposed to Jewish interests as many of our community's enemies," a leading Zionist writer told a leading liberal NY Jewish institution.
Another leading Zionist writer said that 97% of Jews worldwide support Zionism and that anti-Zionist Jews are as marginal as black people who voted for Trump.
The line here is clear. If you support BDS targeting Israel, you are not welcome. We will not invite you to the synagogue or even the J Street conference.
We will say you are antisemitic, or "you have Jewish parents" (as former Israeli prison guard Jeffrey Goldberg once laid down the law to redline me and others).
The young Jewish group IfNotNow is still on the community side of the line. It is careful in its criticism of Israel; not taking an anti-Zionist position.
That's why it continues to be welcome in the Jewish community. Even if the US Campaign for Palestinian Rights is pushing it to go further, it hasn't done so yet, presumably because it values its communal position. 
Jewish Currents is in a similar position. In that interview Angel notes that attacks from inside the Jewish community for the publication's new investigative fund to look into the Israel lobby's hold inside U.S. Jewish institutions, have been "exhausting" and "demoralizing."
I assume both IfNotNow and Jewish Currents will continue to move left.
Jewish Voice for Peace has been a leader, and over the line. It supports BDS. It is not welcome inside the Jewish community, except at outsider congregations, because it insists on the truth about Israel and Palestine: a tale of oppression. All the rest is just commentary.
h/t Abushalom.
Note: Israel was created by the USA and the colonial powers, including the Soviet Union of Stalin, to dismember the Middle East and eliminate daily trade among the peuple. There would have been many more Jews confronting Zionist, racism and apartheid if Not for the total support of the colonial powers institutions.
Titbits #104
Notes and tidbits on FB and Twitter. Part 62
Posted on September 16, 2017
Un camarade en cachot (1.10*1.50 m) tenait bon, rigolait et se trouvait en forme. Il imaginait des troupeaux d'éléphants errant irrésistiblement á travers les grands espaces ouverts de l'Afrique "Le temps de l'orgueille est fini. Il est temps de nous tourner avec humilité vers les autres animaux"
Il est temps de nous rassurer que nous sommes capables de préserver cette liberté géante des troupeaux d'animaux qui vit encore á nos cotés (Les éléphants et gros mammifères, on land and seas).
La semaine derniére j'ai eu mes ragnagnas (puberté)
Est-il possible que seul notre quartier soit saturé de tensions et de violence, alors que le reste de la ville était radieux et bienveillant?
Cette fois-ci, sa crise de folie était de Bonheur: son ancient amant, il y avait longtemps á cela, avait produit un receuille de poêms et signait sur la premiére page une dédicace a elle.
Saudi Kingdom and the "Gulf" Emirate States have no shrines, religious or otherwise. The Wahhabi sect made sure none of that nonsense should exist. They were about to destroy the Kaaba in Mecca, after demolishing the Prophet tomb in Medina, but King Saud was pressured to recognize its great economical and political worth: Britain ordered him to militarily crush the early extremist Wahhabi leaders (Al Okhouwan) who brought him to power. The same process with Hitler when he came to power.
It was the British who consistently supported with finance and weapons the Wahhabi tribes since the 19th century. Egypt Mohammad Ali and his son Ibrahim crushed this Wahhabi insurgency that disturbed all the neighboring tribes, Iraq and Syria. And Mecca was looted and the Wahhabi fighters assassinated everyone in their path, as today ISIS.
The British rearmed and financed the Wahhabi again after Ibrahim Pasha devastated their home city, after Ibrahim retreated his troops.
As long as Palestinian youths in Lebanese refugee camps are forbidden to work in their disciplines or included in the Lebanese army, they'll always be the best and easiest resource for extremist movements to lure them in with a handful ready cash.
The British were occupied by the Vikings who occupied the Normandie in France who reconquered England… What specificity the British want to preserve out of the EU? Even Obama was clear: "Get off our back and join the EU. We can no longer afford to support you financially"
Rationality set aside, long-term projects confuse me: No girl ever approached me and told me: "Cool it down Adonis. Don't you worry. This long-term stuff, I take care of it"
Les hommes politiques de premier plan rallient le marxisme par générosité d'âme au mépris de leurs intérêts évidents. Les ratés rejoignent, faute d'avoir été appréciés ailleurs.
France 1913: les filles arrivant au Collège étaient harassés: elles donnaient des répétitions et corrigaient des copies pour des salaires de famine
France 1913: les filles prévoyaient leur échec probable á l'agrégation qui les rejettaient dans le prolétariat des institutions d' établissement privés (Louise Weiss)
Camstoll Group? A US institution funded by Emirate States and Israel to downgrade the reputation of Qatar since 2014.
Israel is against funding Hamas, and UAE against subsidizing Muslim Brotherhoods in Egypt, Turkey and Syria
After suicide terrorist attacks in Iran, Iran had to decide on priority: Yemen or Bahrain? Wise Iran is Not about to let 2 wars in her strategic sea, Not so with crazy Saudi Kingdom and backed by USA
Nothing like a courageous night dream to produce a happy zesty day. So is a glorious morning bowel movement.
The young generations want young leaders: They need to retain this hope of a young tomorrow
Ma fille, les hommes ont horreur des femmes qui les aiment et aussi qui ne les aiment pas. Débrouille-toi
Je ne vis pas dans la misère: c'est le doute qui me rend miséreux
C'est énervant: L'autre est toujours en majorité. Quand trouverais-je un moment de relax?
Faire le voeux de quelque chose est un jeu d'enfant
Le ritual nous libére de la necéssité de nous exprimer
En premier temps, on ne choisit pas sa foi. Et le temps second n'arrive que pour les idiots
Quoi Qu'il advienne, la vie continue? De quelle vie parle-t-on? Toute personne ayant droit á l'éducation a aussi le droit de ne pas lire certain livres
La tolérance est de s'accommoder de la contradiction intellectuelle. La tolérance est la meilleure attitude révolutionnaire de tout moment
La tolérance est une activité morale et de premier ordre
Toute personne qui a droit de monter á l'échafaud a aussi le droit á monter á la tribune
Toute personne qui a droit á porter les armes doit avoir le droit de voter
Toute personne ayant la responsabilité de payer des impots a la responsabilité de critiquer les decisions financiéres
Toute personne ayant le droit d'adhérer á une religion, doit avoir le droit de s'opposer aux clerges
Fear of success as for failure goes hand in hand: Changes are around the bend
The US is having a field day since 2011, hearing these free false propaganda heaping on it, all the intelligence and potency to affecting the Spring Revolutions in Arab World. US doesn't know zilch about us and is impotent in changing anything.
L'argent est un ciment: il consolide, renforce et répart. Sinon, il est utilisé pour faire les guerres. Ne l'accumule pas
Notes and titbits on FB and Twitter.
Posted on September 5, 2017
Toutes les espéces vivantes sur terre se transformeront pour accommoder la qualité de l'air qu'on a engendrer. Bientot, on pourrait survivre sur d'autres planétes qu'on croyait invivable.
Les mots "de chose" qui sous-entend l'eau, comme caractéristique essentiel , constituent la majeur partie de n'importe quel dictionnaire.
I was having a dream of activities and conversation and the movie froze, picture and sound. Kind my dream-mind wanted to freeze. Exactly as movies freeze on TV. I woke up and realized I was having my siesta/nap and the quota of sleep was over.
It is an experience that can be remembered. In this dream I was having a ride by a young man in the evening and we were driving on a road under repair and he was asking me a question and the dream froze. The car was like parked on a road side and the question in suspension. In vain, my lucid dream was trying to restart the conversation, but the movie was definitely frozen
There's a little club of countries in the world that offer no national paid leave to new mothers. Care to guess who they are? The first 8 make up eight million in total population. They are Papua New Guinea, Suriname and the tiny island nations of Micronesia, Marshall Islands, Nauru, Niue, Palau and Tonga. Number nine is the United States of America, with 320 million people Onward, fellow humans.
Can We Let Capitalism Die and Move On? How many more calamities, financial crisis, occupations, pre-emptive wars, famine, climate change, indignities… can our existence sustain?
Le jour de l'armnistice, tous ceux prêt á etre fusillés, sont-ils épargnés? Pour ce jour de célébration? On célebre le jour de l'armistice, pas la fin de la guerre: les gens ne sont pas si idiots, quand même.
Les armistice successives en Syrie ont sont la preuve. Une journée sans violence d'armes est une victoire.
Le récitant du conte raconte ce que le hero eut aimé qu'on racontât.
Dans la société capitaliste, les gens de capital n'ont que des destins, et qui nuisent a tout le monde. Des destins d'illusion d'un progres qui doit être instantané, ou rien ne vaille.
Les actes, les emotions, les idées s'installent chez moi, y font briévement leurs nids, et puis me quittent successivement avec des délais. Je constate, mais ne peut affirmer que je les subit: Ils sont malins et ne s'imposent pas tous á la fois. Il serait illusoire de ma part d'assigner de lois á leurs apparitions ou disparitions
Tant qu'il reste une rue, un café, une maison, un cimetiére…que tu n'a pas exploré dans cette ville, tu ne doit pas dire que "tu ne l'a pas trouvé"
Le progres a des niveaux de myths idolatres. Les financial multinationals ont élevés l'illusion du "Progrés Idole" au plus haut degree. Ils savent tout instantanément, decident instantanément, et transférent des milliars instantanément.
Les hommes font l'histoire? Plutot, des histoires á n'en plus finir
Occupe toi de ta santé: le Bonheur tombe par hazard. Pas de grâce de la joie sans santé. C'est une autre histoire.
"Toutes les famille heureuses se ressemblent, Les familles malheureuses (sont différents), malheureuses á leur facon"
"Les enfants que je n'ai pas eus ne savent pas ce qu'ils me doivent" Cioran
If this is Death, I don't think much of it. Neither life, for some balance to my rational pessimism.
Le plaisir, s'il sent agreable et sans soucis, est meilleur qu'un devoir sans grâce et sans concentration.
De ce que j'ai senti en ma vie, sentiments pauvres et sec, je crois que la vie est supportable. Poutant, my experimental mind exige une vie alternative: Une jeunesse fougeuse et bréve.
"If you say, I think the occupation of Palestine is fucked up on forty different levels, people are like, you're the devil, we're going to get your tenure taken away, we're going to destroy you. You can say almost anything else. You could be like, 'I eat humans,' and they'll be like bien, bien." Junot Diaz
Any man-made system must necessarily be fraught with errors, faults and limitations on its intended usage.
Any man-made system (product, service, administrative, management, political, control…) is doomed to fail when designed to cater for complex tasks and objectives. It will end up tying up many teams targeted for training, maintenance, redesigning…
"A short history of nearly everything" by Bill Bryson (written on September 25, 2007)
To make the protein called "collagen" you need to arrange 1,055 amino acids in precisely the right sequence which means you need 1,055 spinning wheels with 20 symbols in each wheel to coincide exactly for the jackpot! Thus, the odd that any protein was formed by hazard is nil.
Any protein cannot reproduce itself and it needs DNA, which is a whiz in replicating itself.
DNA can do nothing but replicate proteins. And proteins are useless without DNA. Are we to assume that these two organisms arose simultaneously with the purpose of supporting each other?
No atom or molecule has achieved life independently; it needs some sort of membrane to contain them so that they come together within the nurturing refuge of a cell.
Without the chemicals, the cell has no purpose.
It is little wonder that we call it the miracle of life.
Forming amino acids is Not the problem because if we expose water to ammonia, hydrogen sulphide and methane gases and introduce some electrical sparks, as a stand-in for lighting, then within days you will have amino acids, fatty acids, sugar and other organic compounds.
What was needed is a process of a few of these amino acids to procreate and then cluster to discover some additional improvement.
What do we know about cells so far?
A single cell splits to become two and after 47 doublings you have 10 thousand trillion cells and ready to spring forth as a human being. Each cell carries a copy of the complete genetic code, the instruction manual for your body, and it knows far more about you that you do, and is devoted in some intensively specific way to your overall well-being.
The human body has at least a few hundred types of cells and they vary in shape, size, and longevity; we have nerve cells, red blood cells, photocells, liver cells that can survive for years, brain cells that last as long as we live and they don't increase from the day we are born but 500 die every single hour, and so forth. The components within a cell are constantly renewed so that everything in us is completely renewed every nine years.
The outer casing of a cell is made up of lipid or light grade of machine oil but on the molecular level it is as strong as iron, then the nucleus wherein resides the genetic information and the busy space called cytoplasm. The cell contains about a thousand power plants or mitochondria that convert processed food and oxygen into ATP molecules or battery packs.
A cell would use up one billion ATP molecules in two minutes or half the body weight every day. The electrical energy activities in a cell is about 0.1 volts traveling distances in the nanometers; or when this number is scale up it is the equivalent of 20 million volts per meter or the amount of what a thunderstorm is charged.
Each strand of DNA is damaged 10,000 times a day and swiftly repaired, if the cell is not to perish by a command received from a hormone. When a cell receives the order to die then it quietly devour its components. For example, nitric oxide is a formidable toxin in nature but cells are tremendous manufacturers of this substance which control blood flow, the energy level in cells, attacking cancerous cells, regulating the sense of smell, and penile erection among other things.
Our body contains 200,000 different types of protein and we barely understand a tiny fraction of them.
Enzymes are a type of protein with tasks to rebuild molecules and marking the damaged pieces and other protein for processing.
A cell might contain 20,000 different types of protein.
In the 1860s, Louis Pasteur showed that life cannot arise spontaneously, but come from pre-existing cells.
State of Lebanon: (Part 2)
Posted on December 24, 2008
Mind you this essay was posted in 2008. Read the footnotes for current development   
Under the leadership of Hezbollah, the Shias in the south and the Bekaa Valley are basically the main religious caste shouldering the heavy burden of defending Lebanon from the frequent aggressions of Israel. 
Without the Shiaa, south Lebanon would have long been swallowed by Israel and Lebanon divided and scraped from the number of independent States. 
It is the Shiaa who forced Israel to withdraw unconditionally from the south in May 24, 2000.  It is the Shiaa who foiled the strategy of Israel of reconquering the south of Lebanon in July 2006 and installing a Pax Americana in the Greater Middle East.  
Hezbollah split from the main "Amal" Shia movement around 1983 and adopted an ideology tightly linked to the Khomeini hardliners in Iran and is made responsible for the suicide attacks against the US and French headquarters in Beirut. 
Hezbollah was the only resistance movement allowed by Syria to operate against Israel's occupation in the south of Lebanon since 1991, when the US Administration permitted Syria mandate over Lebanon for over 15 years. 
Syria had prohibited all the other Lebanese nationalistic and progressive parties to resume their liberation resistance during its occupation of Lebanon. 
After the assassination of Rafic Hariri PM in 2005 and the withdrawal of the Syrian troops from Lebanon we have been experiencing a serious void in the legitimacy of the current government. 
The entente between the Tayyar political party of Michel Aoun (Free Patriotic Movement for Reform and Change) and Hezbollah has allayed the perception that schemes for a recurring civil war in under planning. 
The patient non-violence strategy of Hezbollah in internal affair,s in the conduct of non-cooperation activities of the civil war militia/mafia "leaders" against an unjust and usurping government, has permitted the Lebanese population to gain the assurance and relief that another civil war is not feasible.  
This Seniora PM government and its allies have been plundering the public treasury for the past three years (and Not registering the $11 billions in financial aid and grants from the Gulf Emirates in the ministry of finance) and for the last 15 years under Rafic Hariri.
This continuous regime has been spreading poverty and deepening the indebtedness and ineptness of Lebanon, with the explicit support of the Bush administration, under the guise of empty rhetoric of democracy, security and independence from Syria's indirect involvement in Lebanon.
Consequently, the Shiaa have proven to be the legitimate sons of an independent Lebanon and have paid the prices of martyrdom, suffering, sacrifice and pain in order to be the guarantor for the emergence of a Nation against all odds. 
It is the sacrifices of the Shia sect and their patience to suffer for the benefit of all Lebanese that is providing them with the leverage of flexibility, intent to change, learn from experience and improve.  The successive unilateral withdrawals of Israel from Lebanon since 1982 without any preconditions have given the Lebanese citizen grounds to standing tall. 
Our main problem is that the International requirements of Lebanon and our local politics are at odds.  The USA, Europe and Saudi Arabia would like to settle the Palestinian refugees as Lebanese citizens with full rights and thus avoiding the corny problem of their legitimate rights to be repatriated to Israel as stated in the UN resolution of 194. 
The Monarchy in Saudi Kingdom has been viewing the Palestinian question as a major liability since the extremist party of Hamas has taken power in Gaza: supposedly, Saudi kingdom is exhausted of paying the bills every time Israel destroys the infra-structure of Lebanon and covering some of the expenses of the Palestinian refugees and would like an end to this conflict that is hampering the internal stability of the Wahhabi Saudi regime.
Israel pre-emptive six invasions of Lebanon and its genocide tactics against the Palestinians are done at the urging of the USA 
The two main local movements of the Future Party and Hezbollah are more than content for this unconstitutional political dilemma which suits their short-term interests. 
The Future is satisfied with its dominance among the Sunni sect in Beirut and the North and thus, giving the Palestinian refugees citizenship might create an unknown variable that could disrupt the majority of the Sunni allegiance to the Al Moustakbal. 
Consequently, the Hariri clan cannot disobey the Saudi orders but it cannot shoot itself in the foot. 
Externally, the Hariri clan is pro Saudi but in reality it is very cozy with the Syrian position on the Palestinian refugee status as its strongest card during the negotiations with the USA and afterward. 
The unstable constitutional political system in Lebanon may delay indefinitely any serious pressures from Saudi Arabia and the USA to resolving the Palestinian refugees' question. 
Hezbollah is weary of having to deal with a constitutional government and negotiate returning its arms to the Lebanese army.  Thus, the two main parties in Lebanon are supporting each other pragmatically and just playing the game of opposing forces.
The US of Bush Jr. has decided after the fiasco of the July war in 2006 that no more investment in time on Lebanon is appropriate at this junction.  We have to wait for a new US administration to decide whether it is willing to re-open the file of the Near East problems.
The allies to the two main parties are side shows: they know it and they cannot change camps with the deep mistrust for the other side pledges and dependent policies to foreign powers. 
Thanks to the vehement rhetoric against Syria or its allies in Lebanon by Walid Jumblatt and Samir Geagea, the Future party has been able to give the impression that it is against the Syrian regime while practically it agrees with the Syrian positions and would like to keep the present status quo in Lebanon's political system of the Taef Constitutional amendments.  
General Michel Aoun has realized that he has been taken by the sweet tender offers of Hezbollah but he cannot shift allegiance or form a third alliance since non resolution of the situation is the name of the game until further agreement among the main Arab states and the main superpowers.
Recently, General Aoun has demonstrated his independence by visiting Syria for 5 days amid a popular welcome to re-establish entente between the two people, if not the regimes.
So far, the polemics among the government's allies and the opposition political parties are not shy of harboring sectarian allegiances in their charged speeches but somehow they failed to discuss the actual caste, or closed religious system in our social structure, which is the fundamental problem toward a modern state of governance.
I do not believe that any fair and representative electoral law is of utility unless the basic caste system is recognized as a sin and altered accordingly to represent an alternative for the citizen joining a united and free status under one State. 
The first step is to institute a voluntary State marriage law and letting the situation unfold into a more liberal understanding of the need of the people. 
The road is very long and arduous before the beginning of a semblance of trust among the Lebanese is established.  However, I feel that the Shia under the leadership of a wise and disciplined Hezbollah and their corresponding Christian Free Patriotic movement are leading the way for a semi-autonomous Lebanon, at least in its internal restructuring. 
I believe that the necessities of survival would loosen up many stiff ideological and caste roadblocks toward a reformed political system and the institution of a governing body that abide in integrity, accountability and justice for all.
It is a fact that extremist Sunni "salafist" ideology is gaining quickly in all the Arab and Muslim World, out of desperation and the widespread illiteracy and lack of job openings. (See note 3).  Maybe our mix of all kinds of sects might be a rampart to our moderate liberal tendencies.
The spirit of Statehood is coming from an unforeseen quarter; mainly the Shia caste freshly arriving in the social and political scene around 1970. 
This disinherited caste was already a majority when the civil war of 1975 broke out and it suffered from the total ignorance of the central government for infrastructure and social services and had also to suffer the humiliation and atrocities of frequent Israeli air raids and land attacks and bombing of their villages under the disguise of dislodging the Palestinian guerillas.  
The Shia caste is opening up to almost all sects and managed to ally with large sections of many other castes.  This extending arm might be considered as necessary out of the realization that they are a majority in Lebanon and a real minority in the neighboring States of Syria, Jordan, and Egypt.
This necessity is a blessing to Lebanon because the main major caste is encouraging unity against foreign invaders. 
In the event that Hezbollah maintains its strength then it can be forecasted that the economic strategy of Lebanon will shift from tourism and third sector (the Hariri's clan strategy) into more emphasis on agriculture and small and medium industries, many of it geared toward guerilla warfare. 
This is how the future looks like to me if no overall peace treaty with Israel is realized any time soon.
I used the term "Statehood" for Lebanon in a general sense to convey that a form of unity is developing in the conscious of the Lebanese but this notion of Nation is far from appropriate to Lebanon, simply because experiences since independence could not provide any evidence to a unified people under legitimate and responsible central governments. 
Lebanon is fundamentally an amalgamation of castes that enjoy self-autonomy.  I still believe that the Syrians, Lebanese, Palestinians, and Jordanians naturally form a One Nation and One people and they should generate a common market with separate recognized States.
I am convinced the Taef Constitution was meant to have total entente among the various main three religious castes in Lebanon before starting to elect a new president to the Republic.
The entente should involve everything from election law, to the constitution of the government and other priorities.  This fact translates into agreement among the main "Arab" States and the main superpowers on how Lebanon should be governed during six years. 
Unless the Lebanese leaders and political parties get together to review the Taef Constitution and be willing to pay the price of deciding to have a mind of their own, then Lebanon is de facto under the UN protectorate.
Note 1: the current Dawha agreement translated the spirit of Taef in its temporary execution until the Parliamentary election takes place.
Note 2:  The Future movement of the Hariri clan (Saad Hariri is a Saudi citizen) is practically pro-Syrian but it cannot overtly open up to the Syrian regime as long as Saudi Kingdom is not currently in good term with President Bashar Assad.
Note 3:  The Sunni "salafist" movement expressed its strong arm tendencies in the Palestinian camp of Nahr Al Bared.The Lebanese army managed to destroyed the camp after 6 months of arduous battles, along with the extremist Sunni group and the ramifications are not over in our internal strife.
Note 4:  The social/political structure is held by 19 recognized religious castes or columns that grow at different paces in demography.  Thus, the top of our Temple must be very flexible and changeable when foreign powers decide to destabilize the tacit agreement among the caste political feudal leaders.
Notes 5: In 2020, the State of Lebanon is totally bankrupt, politically, financially and economically. There is no light at the end of the tunnel in 2021.
What? Teach all religions in schools to generate Informed citizenship? Or to prove their discrimination among social classes?
Posted on February 23, 2016 and written in 2006
Dan Dennett argues that human consciousness and "free will" are the result of physical processes.
His latest book is "Intuition Pumps and Other Tools for Thinking," Full bio
Philosopher Dan Dennett calls for religions — all religion — to be taught in schools, so we can understand its nature as a natural phenomenon. Then he takes on The Purpose-Driven Life, disputing its claim that, to be moral, one must deny evolution
You must be wondering, "What on earth? Have they put up the wrong slide?" No, no. Look at this magnificent beast, and ask the question: Who designed it?
This is TED; this is Technology, Entertainment, Design, and there's a dairy cow. It's a quite wonderfully designed animal.
Religions have become domesticated, and human beings have been redesigning their religions for thousands of years. (Not sure how religious sects have been domesticated: they are the ultimate rebels for any change in society, and they act extremely well to preserve their privileges)
And I was thinking, how do I introduce this? And I thought maybe that old doggerel by Joyce Kilmer, you know: "Poems are made by fools like me, but only God can make a tree." And you might say, "Well, God designed the cow."
But, of course, God got a lot of help. This is the ancestor of cattle. This is the aurochs. And it was designed by natural selection, the process of natural selection, over many millions of years.
And then it became domesticated, thousands of years ago. And human beings became its stewards, and, without even knowing what they were doing, they gradually redesigned it and redesigned it and redesigned it.
And then more recently, they really began to do reverse engineering on this beast and figure out just what the parts were, how they worked and how they might be optimized — how they might be made better.
Now, why am I talking about cows?
Because I want to say that much the same thing is true of religions.
Religions are natural phenomena — they're just as natural as cows. They have evolved over millennia. They have a biological base, just like the aurochs.
Religions have become domesticated, and human beings have been redesigning their religions for thousands of years. 
This is TED, and I want to talk about design.
Because what I've been doing for the last four years, some of you saw me at TED when I was talking about religion — and in the last four years, I've been working just about non-stop on this topic. And you might say it's about the reverse engineering of religions.
Now that very idea, I think, strikes terror in many people, or anger, or anxiety of one sort or another. And that is the spell that I want to break.  (Extremists in any religious sect have redesigned their religions backward, away from social coexistence)
I want to say, no, religions are an important natural phenomenon. We should study them with the same intensity that we study all the other important natural phenomena, like global warming, as we heard so eloquently last night from Al Gore.
Today's religions are brilliantly designed: They are immensely powerful social institutions and many of their features can be traced back to earlier features that we can really make sense of by reverse engineering.
And, as with the cow, there's a mixture of evolutionary design — designed by natural selection itself — and intelligent design — more or less intelligent design — and redesigned by human beings who are trying to redesign their religions.
You don't do book talks at TED, but I'm going to have just one slide about my book, because there is one message in it which I think this group really needs to hear. And I would be very interested to get your responses to this.
It's the one policy proposal that I make in the book, at this time, when I claim not to know enough about religion to know what other policy proposals to make. And it's one that echoes remarks that you've heard already today.
Here's my proposal: Educate people on world religions for all of our children — in primary school, in high school, in public schools, in private schools and in home schooling.
So what I'm proposing is, just as we require reading, writing, arithmetic, American history, so we should have a curriculum on facts about all the religions of the world — about their history, about their creeds, about their texts, their music, their symbolisms, their prohibitions, their requirements. (The context, historical and political facts)
And this should be presented factually, straightforwardly, with no particular spin, to all of the children in the country. And as long as you teach them that, you can teach them anything else you like. (Keep the children away from these "religious facts" and various spins: let them master some writing and calculus skills)
That is maximal tolerance for religious freedom.
As long as you inform your children about other religions, then you may — and as early as you like and whatever you like — teach them whatever creed you want them to learn. But also let them know about other religions. (So that religion does Not become a political tool to established institutions? Religion is the ultimate in political upbringing)
Why do I say that? Because democracy depends on an informed citizenship.
Informed consent is the very bedrock of our understanding of democracy. Misinformed consent is not worth it. It's like a coin flip; it doesn't count, really.
Democracy depends on informed consent. This is the way we treat people as responsible adults. Now, children below the age of consent are a special case (Really?)
Parents are stewards of their children. They don't own them. You can't own your children. You have a responsibility to the world, to the state, to them, to take care of them right. 
You may teach them whatever creed you think is most important, but I say you have a responsibility to let them be informed about all the other creeds in the world, too. (So drop "educating" religion to children until they can form their mind. Actually, studies have proven that children who were Not educated of any kind of religion developed to be broad minded and tolerant)
The reason I've taken this time is I've been fascinated to hear some of the reactions to this. One reviewer for a Roman Catholic newspaper called it "totalitarian." It strikes me as practically libertarian. Is it totalitarian to require reading, writing and arithmetic? I don't think so.
All I'm saying is — and facts, facts only; no values, just facts — about all the world's religions. (Including making sense of irrational myths?)
Another reviewer called it "hilarious." Well, I'm really bothered by the fact that anybody would think that was hilarious. It seems to me to be such a plausible, natural extension of the democratic principles we already have that I'm shocked to think anybody would find that just ridiculous.
I know many religions are so anxious about preserving the purity of their faith among their children that they are intent on keeping their children ignorant of other faiths. I don't think that's defensible. But I'd really be pleased to get your answers on that — any reactions to that — later.
Back to the cow. This picture, which I pulled off the web — the fellow on the left is really an important part of this picture. That's the steward. Cows couldn't live without human stewards — they're domesticated. They're a sort of ectosymbiont. They depend on us for their survival. (So does people)
And Pastor Rick was just talking about sheep. I'm going to talk about sheep, too. There's a lot of serendipitous convergence here. How clever it was of sheep to acquire shepherds!
Think of what this got them. They could outsource all their problems: protection from predators, food-finding …  health maintenance.
The only cost in most flocks — not even this — a loss of free mating. What a deal! (A big deal for the chimpanzees and the bonobo kinds)
"How clever of sheep!" you might say. Except, of course, it wasn't the sheep's cleverness. 
We all know sheep are not exactly rocket scientists — they're not very smart. It wasn't the cleverness of the sheep at all. They were clueless. But it was a very clever move. Whose clever move was it? It was the clever move of natural selection itself. (What? the cows realized that they are better off to be controlled by humans?)
Francis Crick, the co-discoverer of the structure of DNA with Jim Watson, once joked about what he called Orgel's Second Rule.
Leslie Orgel is a molecular biologist, brilliant guy, and Orgel's Second Rule is: 
"Evolution is cleverer than you are"
That is not Intelligent Design — not from Francis Crick.  Evolution is cleverer than you are. If you understand Orgel's Second Rule, then you understand why the Intelligent Design movement is basically a hoax.
The designs discovered by the process of natural selection are brilliant, unbelievably brilliant. (A big qualification from someone whose understanding of evolution is related to religion)
Again and again biologists are fascinated with the brilliance of what's discovered. But the process itself is without purpose, without foresight, without design.
When I was here four years ago, I told the story about an ant climbing a blade of grass. And why the ant was doing it was because its brain had been infected with a lancet fluke that was needed to get into the belly of a sheep or a cow in order to reproduce. So it was sort of a spooky story.
And I think some people may have misunderstood. Lancet flukes aren't smart. I submit that the intelligence of a lancet fluke is down there, somewhere between petunia and carrot. They're not really bright. They don't have to be. The lesson we learn from this is: you don't have to have a mind to be a beneficiary.
The design is there in nature, but it's not in anybody's head. It doesn't have to be. That's the way evolution works. Question: Was domestication good for sheep? It was great for their genetic fitness. (Looking slender when sheared?)
And here I want to remind you of a wonderful point that Paul MacCready made at TED three years ago. Here's what he said: "Ten thousand years ago, at the dawn of agriculture, human population, plus livestock and pets, was approximately a tenth of one percent of the terrestrial vertebrate landmass."
That was just 10,000 years ago. Yesterday, in biological terms. What is it today? Does anybody remember what he told us? 98 percent. That is what we have done on this planet.
I talked to Paul afterwards — I wanted to check to find out how he'd calculated this, and get the sources and so forth — and he also gave me a paper that he had written on this. And there was a passage in it which he did not present here and I think it is so good, I'm going to read it to you:
"Over billions of years on a unique sphere, chance has painted a thin covering of life: complex, improbable, wonderful and fragile. Suddenly, we humans — a recently arrived species no longer subject to the checks and balances inherent in nature — have grown in population, technology and intelligence to a position of terrible power. We now wield the paintbrush."
We heard about the atmosphere as a thin layer of varnish. Life itself is just a thin coat of paint on this planet. And we're the ones that hold the paintbrush. And how can we do that?
The key to our domination of the planet is culture (the culture of greed and exploitation?)
And the key to culture is religion. Suppose Martian scientists came to Earth. They would be puzzled by many things. Anybody know what this is? I'll tell you what it is. This is a million people gathering on the banks of the Ganges in 2001, perhaps the largest single gathering of human beings ever, as seen from satellite photograph. Here's a big crowd. Here's another crowd in Mecca. Martians would be amazed by this. (Maybe their amazement is why this crowd is Not bigger? With all that ignorance that religions spread in population)
They'd want to know how it originated, what it was for and how it perpetuates itself.
Actually, I'm going to pass over this. The ant isn't alone. There's all sorts of wonderful cases of species which — in that case — A parasite gets into a mouse and needs to get into the belly of a cat. 
And it turns the mouse into Mighty Mouse, makes it fearless, so it runs out in the open, where it'll be eaten by a cat. True story.
In other words, we have these hijackers — you've seen this slide before, from four years ago — a parasite that infects the brain and induces even suicidal behavior, on behalf of a cause other than one's own genetic fitness.
Does that ever happen to us? Yes, it does — quite wonderfully.
The Arabic word "Islam" means "submission." It means "surrender of self-interest to the will of Allah." But I'm not just talking about Islam. I'm talking also about Christianity. 
This is a parchment music page that I found in a Paris bookstall 50 years ago. And on it, it says, in Latin: "Semen est verbum Dei. Sator autem Christus." The word of God is the seed and the sower of the seed is Christ. Same idea. Well, not quite. But in fact, Christians, too … glory in the fact that they have surrendered to God.
I'll give you a few quotes. "The heart of worship is surrender. Surrendered people obey God's words, even if it doesn't make sense." Those words are by Rick Warren. Those are from "The Purpose Driven Life." (And who really heard a God pronounce a word to note it down?
And I want to turn now, briefly, to talk about that book, which I've read. You've all got a copy, and you've just heard the man. And what I want to do now is say a bit about this book from the design standpoint, because I think it's actually a brilliant book.
First of all, the goal is to bring purpose to the lives of millions, and he has succeeded. Is it a good goal? In itself, I'm sure we all agree, it is a wonderful goal. He's absolutely right. (Purpose of surrendering to nonsense?)
There are lots of people out there who don't have purpose in their life, and bringing purpose to their life is a wonderful goal. I give him an A+ on this.
Is the goal achieved? Yes. Thirty million copies of this book. (If these books were Not distributed for free, you think people would be roaming without any purpose? And how many actually read a chapter of this book?) Al Gore, eat your heart out.  
This is a fantastic achievement. And the means — how does he do it?
It's a brilliant redesign of traditional religious themes — updating them, quietly dropping obsolete features, putting new interpretations on other features. This is the evolution of religion that's been going on for thousands of years, and he's just the latest brilliant practitioner of it.
I don't have to tell you this; you just heard the man (which man, again?) 
Excellent insights into human psychology, wise advice on every page. Moreover, he invites us to look under the hood. (Turned out to be a large void?) I really appreciated that. For instance, he has an appendix where he explains his choice of translations of different Bible verses.
The book is clear, vivid, accessible, beautifully formatted. Just enough repetition. That's really important. 
Every time you read it or say it, you make another copy in your brain. (That is crowding an already empty brain. Even these stories of killing everybody after ransacking a town?)
And now we come to my problem. Because I'm absolutely sincere in my appreciation of all that I said about this book. But I wish it were better. I have some problems with the book.  (Good. At least there is a few problems. Brilliant requires a few problems too)
And it would just be insincere of me not to address those problems. I wish he could do this with a revision, a Mark 2 version of his book. "The truth will set you free." That's what it says in the Bible, and it's something that I want to live by, too.
My problem is, some of the bits in it I don't think are true.
Now some of this is a difference of opinion. And that's not my main complaint, that's worth mentioning. 
Here's a passage  "If there was no God we would all be accidents, the result of astronomical random chance in the Universe. You could stop reading this book because life would have no purpose or meaning or significance. There would be no right or wrong and no hope beyond your brief years on Earth."
I just do not believe that. By the way, I find — Homer Groening film presented a beautiful alternative to that very claim. 
Yes, there is meaning and a reason for right or wrong. We don't need a belief in God to be good or to have meaning in us. But that, as I said, is just a difference of opinion. That's not what I'm really worried about. (Excellent. Agreed with you. Close that damned book and learn to do science and experiment)
How about this: "God designed this planet's environment just so we could live in it." (Thus, if humans are destroying this environment, we should start listening to Al Gore instead)
I'm afraid that a lot of people take that sentiment to mean that we don't have to do the sorts of things that Al Gore is trying so hard to get us to do. I am not happy with that sentiment at all.
And then I find this:
"All the evidence available in the biological sciences supports the core proposition that the cosmos is a specially designed whole with life and mankind as its fundamental goal and purpose, a whole in which all facets of reality have their meaning and explanation in this central fact." 
Well, that's Michael Denton. He's a creationist. And here, I think, "Wait a minute." I read this again. I read it three or four times and I think, "Is he really endorsing Intelligent Design? Is he endorsing creationism here?" And you can't tell. So I'm sort of thinking, "Well, I don't know, I don't know if I want to get upset with this yet." (You can repeat "I don't know" ad nauseum and it will not make a dent)
But then I read on, and I read this: "First, Noah had never seen rain, because prior to the Flood, God irrigated the earth from the ground up." I wish that sentence weren't in there, because I think it is false. (Now starting to get funny)
And I think that thinking this way about the history of the planet, after we've just been hearing about the history of the planet over millions of years, discourages people from scientific understanding. Now, Rick Warren uses scientific terms and scientific factoids and information in a very interesting way. (How about you repeat: "I don't know"?)
Here's one: "God deliberately shaped and formed you to serve him in a way that makes your ministry unique. He carefully mixed the DNA cocktail that created you." I think that's false. Now, maybe we want to treat it as metaphorical.
Here's another one: "For instance, your brain can store 100 trillion facts. Your mind can handle 15,000 decisions a second." Well, it would be interesting to find the interpretation where I would accept that. There might be some way of treating that as true. 
"Anthropologists have noted that worship is a universal urge, hardwired by God into the very fiber of our being — an inbuilt need to connect with God." Well, the sense of which I agree with him, except I think it has an evolutionary explanation.
And what I find deeply troubling in this book is that he seems to be arguing that if you want to be moral, if you want to have meaning in your life, you have to be an Intelligent Designer, you have to deny the theory of evolution by natural selection. And I think, on the contrary, that it is very important to solving the world's problems that we take evolutionary biology seriously.
Whose truth are we going to listen to? Well, this is from "The Purpose Driven Life": "The Bible must become the authoritative standard for my life: the compass I rely on for direction, the counsel I listen to for making wise decisions, and the benchmark I use for evaluating everything." 
Well maybe, OK, but what's going to follow from this?
And here's one that does concern me. Remember I quoted him before with this line: "Surrendered people obey God's word, even if it doesn't make sense." And that's a problem.
"Don't ever argue with the Devil. He's better at arguing than you are, having had thousands of years to practice." Now, Rick Warren didn't invent this clever move. It's an old move. It's a very clever adaptation of religions. It's a wild card for disarming any reasonable criticism.
"You don't like my interpretation? You've got a reasonable objection to it? Don't listen, don't listen! That's the Devil speaking." This discourages the sort of reasoning citizenship it seems to me that we want to have.
I've got one more problem, then I'm through. And I'd really like to get a response if Rick is able to do it. 
"In the Great Commission, Jesus said, 'Go to all people of all nations and make them my disciples. Baptize them in the name of the Father, the Son and the Holy Spirit, and teach them to do everything I've told you.'" 
The Bible says Jesus is the only one who can save the world. We've seen many wonderful maps of the world in the last day or so. Here's one, not as beautiful as the others; it simply shows the religions of the world. Here's one that shows the sort of current breakdown of the different religions.
Do we really want to commit ourselves to engulfing all the other religions, when their holy books are telling them, "Don't listen to the other side, that's just Satan talking!"? 
It seems to me that that's a very problematic ship to get on for the future. I found this sign as I was driving to Maine recently, in front of a church: "Good without God becomes zero." Sort of cute.
A very clever little meme. I don't believe it and I think this idea, popular as it is — not in this guise, but in general — is itself one of the main problems that we face.
If you are like me, you know many wonderful, committed, engaged atheists, agnostics, who are being very good without God. 
And you also know many religious people who hide behind their sanctity instead of doing good works. So, I wish we could drop this meme. I wish this meme would go extinct.
Note: This talk didn't have to take a convoluted argument like educating kids on all religion, just to tell us the kind of insane meme religions recklessly drop on sane people.
Global Resolutions of World problems; (June 28, 2009)
Mind you that this essay was posted 11 years ago. Do you see any improvement and changes in the resolution of any of the world problems?
This essay intends to offer viable global resolutions to the global problems that I posted previously.  I developed on the 8 main global problems:
Fact one: Climate and environment quickly deteriorating.
Fact two:  Birth control is not efficient in the most under-developed States
Fact three:  Potable quality water and clean water for irrigation are dwindling fast.
Fact four:  The middle classes in China and India are expanding alarmingly, surpassing the US and Europe combined.
Fact five:  The world economy is experiencing serious deflationary period. (Which is good for the poorer classes, as long as constant "growth" does Not ruin the world resources)
Fact six:  The world is going through frequent deep financial crisis and recession.
Fact seven:  Effective military spending should decrease but it didn't.Military budgets are the only item that increase continuously, for pre-emptive wars and selling weapons in premeditated civil wars
Fact eight:  The identity crisis around the world is destabilizing order and security. (Still, the terms order and security are monopolized by governments to maintain the status quo for the elite classes)
It is appropriate to add the frequent health viruses pandemics and lack of new research into antibiotics to counter resilient and mutating bacteria
At this junction of human development, the global problems we have to face attest to the successes and accomplishments of man, his mental scientific genius, his legitimate ambitions for acquiring what he can afford to, his quest for liberty and the reward for a comfortable life after a hard day work. 
The global problems we have to resolve attest to man ethical and moral failures to catching up to his mental and emotional agility.
Man has proven his individual instinct capability for survival in a sustainable earth; man has now to prove that he developed enough collective instinct to survive an earth on the way to depletion.
The eight main problems cannot be solved separately. And Not a single problem can be solved by one supernation nation. 
The interactions among these problems mesh tightly and resolutions should be studied and analyzed as an entity, a complete package, by a world forum, meeting regularly, and then assigned to a central executive power. 
The United Nation is firmly established and has a wide database, current and on global scale. 
The first step would reasonably be to re-organize the UN with fresh competence, specialized departments, and actual executive power, but the State superpowers are not showing signs of investing time on re-structuring the UN potentials.
Veto power by a single State (one of the G5) to shut down resolutions by the other over 194 States is troubling.  More States are entitled politically and economically to be assigned permanent seats so that political decisions results from equitable economic balance in power. 
In all Parliaments there are committees for specific issues; I don't see why State representatives in the UN are not allocated in committees so that the world community feels that it has a share in the well being of earth's citizens.
 Globalization after the fall of the Berlin Wall exacerbated many of these problems and added a few more serious problems:
It belittled culture and replaced serious reflections with information
It pressured many States to organize into economic blocks to face up to a unipolar world power;
It generated identity issues and radicalization of religious extremism under the guise of autonomous and independent tiny States; and
It eradicated local based civilizations and traditions that had power to participate effectively in social progress and management. 
The new ideologies of civilization clash, the death of history, the only valid political system of conservative capitalism, and the dominance of the American language and way of life were meant to confirm the new unipolar political system. 
The world was to become a village governed by a central power and the financial crisis proved the danger of globalization "US style" or State ideology circumventing and crushing other viable ideologies.
The US Defense Minister Rumsfeld went as far as cursing Europe as "senile old Europe" because it adhered to legitimate ethical standards.
Environmental re-habilitation and climate management and control are political in essence. 
This problem is linked to increased urbanization and over-production and competition on world market in order to boost GNPs and secure higher political ranking among the G20. 
Containing CO2 emissions and stabilizing them to current levels is feasible at the expense of erecting nuclear power plants because the "clean" alternatives of elonian and hydraulic power generations are limited in production commensurate to the exorbitant cost. 
China and India must convert any new car put on the highway into much cleaner energy efficient vehicles or any solution for stabilization of CO2 production will fail.
The major worry is the emission of methane gas, worse 20 times than CO2 for the warming up process, which oceans have started to spew as the permafrost is being exposed after the melting of glaciers in the poles.
Earth regeneration is a slow process and for the Arctic to recover is not foreseeable in the medium term.  Reforestation is also feasible but younger trees are no supplement to efficient old trees that are dying and decomposing. 
Until the tropical forests resume their natural function of absorbing more CO2 than emitting, then earth environment is in serious trouble.
Birth rate control is plagued by superstition, ignorance, oligarchy systems, and extremism in many societies; these deficiencies are increasing and worsening in under-developed States. 
Birth control must be a decentralized enterprise and tailored made to customs and traditions to be successful in the long term. 
Only higher rate in education, exposure to other civilizations, active dissemination of female rights and enforcing them, and increased local facilities to generating job opportunities can stabilize birth rate to manageable level.
World finance currency has to be stabilized in order to avoid desastrous fluctuations not based on sound economic output and real trade exchange. I suggest the following steps:
First, the developed States have to agree on another tangible standard for currencies.  Gold would not do because the US has abolished it in 1967 because all the gold in the world could not sustain the huge amount of paper dollars circulating or intended to circulate around the world. 
Gold extraction, even if practically depleted on ground of economic feasibility, can always be re-used and circulated but has not many industrial value. 
The alternative is a basket of depleting minerals that are essentials for manufacturing and production.  The processed minerals do not have to be rare but very essentials for development.  The US can agree to this idea since it has huge reserves in many important minerals.
Second, all the States that can account for at least 3% of all currency circulation should join an "International Money Printing Council" with tight control and monitoring criteria. 
The first States in ranking with combined shares of over 50% of cash money in circulation on the global market should have a veto power.
There are serious dangers that can wreak havoc to any global resolutions if politics succumb to one of Three Global Temptations.  
It is appropriate to consider the example of a team of rock climbers.  The team has the appropriate equipments that are tested scientifically and the members have the proper physical training.  There are three main risks for the team to fail in his mission of reaching the top.
The first temptation is that a member of the team going berserk and taking a dive: this member can carry down the rest of the team with him. A few people have this urgent temptation to dive, and when available, they would try dangerous acrobatics. 
Luckily, the two populous nations of China and India have taken off; they have the tools, the technology, and the means to care for their over 2 billion citizens. The main worry is that they are trying to catch up in a few decades what took centuries for the USA, Europe, and Japan to reach in stable governments, and legitimate desires for comfort.
The accelerated trends in China and India for over production are a dangerous temptation that needs to be tampered by political sharing at an equal footing.  
There are many more millions who have been humiliated for centuries and robbed of their basic dignity; they have not gone berserk because of poverty in means for survival as individual: They are dangerous because of a collective sense of insignificance and desperation toward the policies of the colonial powers of resuming this process of humiliation and denying them even diplomatic respect as recognized States. 
Not all Muslim States feel this desperation: Iran, Indonesia, Malaysia, and Turkey have taken their destinies in their hand.  What the European Union and the USA have to focus on, right now, is to salvage the remnant of dignity among the "Arab" populations.
The second temptation facing the team of climbers is the wall, the rock face. Most team members might have the techniques of sheltering from falling rocks, slippery sections, brittle portions, and blowing winds.  Human kind has learned to take shelter until the danger passes over. 
Most of us have developed the instinct of prudence, such as not interference and keeping low levels. We are at a junction where danger is not to pass over on its own volition and no sheltering behavior can protect us for survival.
Human kind has to move as a team of bold activists and turn out heavily to put their words and opinions at work. 
If we hold to our tribal customs, our illusory identities, our comfortable lifestyles, our chimerical convictions… then all is lost. 
The team has to support the weakest member as difficulties surge and be confronted collectively.  The best means is to include the weakest members in the resolution programs so that they acquire the ropes, skills, and confidence to share in the task.
The third temptation braving the team is deciding on the target of the mission and it has to be a collective goal. There are no tops to reach in human progress but there are defining phases. 
We are at the dawn of Prehistory and a new kind of history has to be achieved and written. Tribal history has done its function but it is of no use for our current global problems.
National wars, religious wars disguised as ethical values, ideological wars, cultural wars, or war of "civilization" have been tried and they all failed to bring reprieve and salvation.
A new adventure for human kind is facing us boldly and we have to invent a new kind of history more appropriate to our survival. The new history should be focused on resuming our medical successes, eliminating pain and diseases, eradicating weapons of mass destruction, keeping us functional in old age, overcoming illiteracy, investing on continuing education, creating opportunities for various skills, desires, and achievements, preserving local languages and literature, managing human rights, and salvaging the dignity of every human being.
Frankly, The European Union is actually the main laboratory for confirming that "Tribal History" is exhaling its last breath.
That human dignity is not measured by fictitious apartheid scales based on color, religious affiliation or ethnic origins.
That humiliating man is not a point of view or can generate any temporary benefit. If God has been angry for millennia then man has an opportunity to prove that he can harness collective instinct for survival to reverse that anger and make God feels proud of his Creation.
Note: Donald Trump and his administration have opposed the UN trend into global cooperation, and explicitly showed the ugly "hegemony" of US financial system established after WW2, through blatant financial sanctions for $ money transfer, and imposing high taxes of economic trade goods that disturb its internal market, lavished lands that it does Not own…