Posts Tagged 'allocate resources on economic development-focused initiatives'
Refugee crises: Moving on beyond 'old models' of response
A few aid groups have welcomed the United Kingdom's recent decision to allocate part of its funding for the Syrian crisis at long-term initiatives aimed at benefiting both refugees and host communities in Lebanon.
But such actions remain more the exception than the rule in a country where tensions between both sectors are near a boiling point.
Jenny Lei Ravelo, staff writer for Devex, posted this July 15, 2013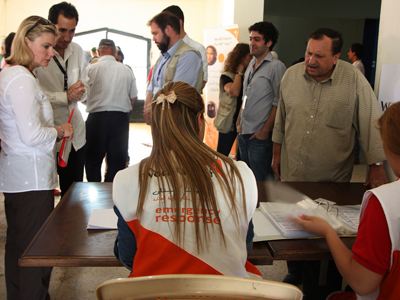 U.K. Secretary of State for International Development, Justine Greening (far left), at a food voucher distribution center operated by the World Vision under the World Food Program for Syrian refugees in Lebanon. Greening warned that the increasing number Syrian refugees in the Lebanon could heighten regional tensions. Photo by: Foreign & Commonwealth Office / CC BY-NC-SA
The impact of the Syrian crisis is already overwhelming many Lebanese.
World Vision, in a new report published on Monday, notes that many Lebanese hosts feel their economic space and opportunities shrinking with the constant influx of Syrian refugees, who, like them, also need access to basic necessities such as shelter, food, education and employment.
Unlike for instance in Jordan, refugees do not live in camps.
Most of the refugees in Lebanon pay rent, and use the same facilities and services as locals. But while local businesses see this as an opportunity to earn more, other Lebanese, particularly those who are living close to the poverty line, see refugees as competition for scarce resources.
A case study of a struggling Lebanese family included in the report illustrates how some Lebanese are feeling the heat: "At first, we were sympathetic, but now it has changed. We used to get assistance, food parcels, assistance with school fees, food parcels, diesel fuel, and other aid, but we get nothing at all now."
A recurrent problem
The increasing resentment by many Lebanese against refugees is worrying, and could potentially worsen if host communities continue to be left out in donors and organizations' aid responses, said Sara Pantuliano, head of the Humanitarian Policy Group at the Overseas Development Institute.
"This is a problem that is recurrent in many refugee and internal displacement crises. This is what we continue to see, a recurrence of old models when it comes to responding to crises of this magnitude," she told Devex.
Most aid groups, Pantuliano argued, continue to employ camp-focused responses even in urban environments "where you can't single out the refugees." In addition, far too many donors base their response on refugee numbers, leaving out host communities.
"Unfortunately, even though we see some improvement in donor responses, in some agencies' response, they continue to be the exception in many ways," she noted.
The food voucher program spearheaded by the World Food Program, and implemented by iNGOs such as World Vision, has been seen as a project that while fraught with challenges, have been helping local shops in Lebanon's Bekaa Valley, where there's high concentration of Syrian refugees.
A change in response
Several aid groups have been underscoring the need to introduce programs benefitting host communities.
In its report, World Vision suggests donors to allocate resources on economic development-focused initiatives, integrate short-term solutions with development programs that benefit both sectors, prioritize funding to organizations that are "able to demonstrate strong understanding of the needs of local communities," and hire more humanitarian consultants in Lebanon to better coordinate the response on the ground.
Coordination is key in almost all humanitarian crises, but this has been reportedly weak if not lacking among agencies and donors responding to the crisis in Lebanon.
The United Kingdom recently hosted a meeting to discuss how to better coordinate response with regard to the Syrian crisis, but it is unclear what specific solutions were hashed out.
Pantuliano, meanwhile, encouraged agencies to come up with more creative solutions and make use of a variety of tools available, including technology, and to overcome the humanitarian-development divide.
"It's a matter of leadership as well. We see in both Lebanon and Jordan that the humanitarian response continues to be so incredibly camp-focused, whereas development agencies have been called upon to lead the response for the community," she argued.
'Impossible to cope'
There are now close to a million refugees in Lebanon, a quarter of the country's population.
"These are staggering numbers. They are creating profound cleavages within Lebanese communities because it's just impossible for people to cope with such an influx," said Pantuliano.
The European Commission, one of the top donors to the Syrian crisis, have spent some €64.5 million in humanitarian assistance inside Lebanon. Johannes Luchner, the commission's chief humanitarian expert on Syria, told Devex this money is supporting all sectors of the population affected by the Syrian crisis: Syrians, Palestinians, returnees and host communities.
But he admits that "the gap between the needs and the response continues to widen at alarming rate," and underscored the need for donors to look at measures — immediate and long term — to support host communities.
"We advocate for a long-term strategy in all the neighbouring countries affected by the crisis, especially Lebanon, to cope with the humanitarian needs, prevent further destabilization of the region, increasing internal tensions and conflict spill-over," said Luchner. He adds the commission continues to support "improved coordination of the response to the plight of refugees."
Read more development aid news online, and subscribe to The Development Newswire to receive top international development headlines from the world's leading donors, news sources and opinion leaders — emailed to you FREE every business day.
Jenny Lei Ravelo is a staff writer for Devex. She covers breaking international development news in the Middle East, North Africa, Asia and the Pacific for the Development Newswire, often focusing on aid worker security. Jenny is also a regular contributor to the GDB and other Devex publications.