Posts Tagged 'Alon Aviram'
Integral Partner in the looting of Lebanese depositors: Central Bank Chief Riad Salami
Investigation finds that Lebanon's Governor moved millions abroad, including into Bristol.
In the wake of the devastating blast in Beirut and as Lebanese people rally against government corruption, Riad Salami, the governor of the bank of Lebanon, has been blamed by many for his handling of the country's financial crisis.
Now an investigation by the Organised Crime and Corruption Reporting Project (OCCRP) and its Lebanese partner Daraj.com has revealed that offshore companies owned by the governor invested in overseas assets worth over £75.5 million, including a large office building in Bristol, home to Boeing Defence UK.
630 Bristol Business Park in Stoke Gifford was bought in 2013 for £10.5 million by Fulwood Invest, a company registered in the tax haven of Luxembourg.
Until recently, company documents only showed that the son of the Governor, Nady Salami, and his nephew, Marwan Issa El Khoury, directed the company.
But in 2019, the list of beneficial owners of Luxembourg companies was released to comply with EU transparency regulations. With the shroud of secrecy lifted, Fulwood Invest and several other investment companies are now known to be owned by Riad Salami.
While the wealthy governor of the cash-strapped country encouraged others to invest in Lebanon, he had lavishly invested abroad.
In July 2020, the governor was formally accused by a group of Lebanese lawyers of embezzling central bank assets and mismanaging public funds.
A judge ordered a protective freeze on Salame's assets, including his properties, ahead of a hearing this October.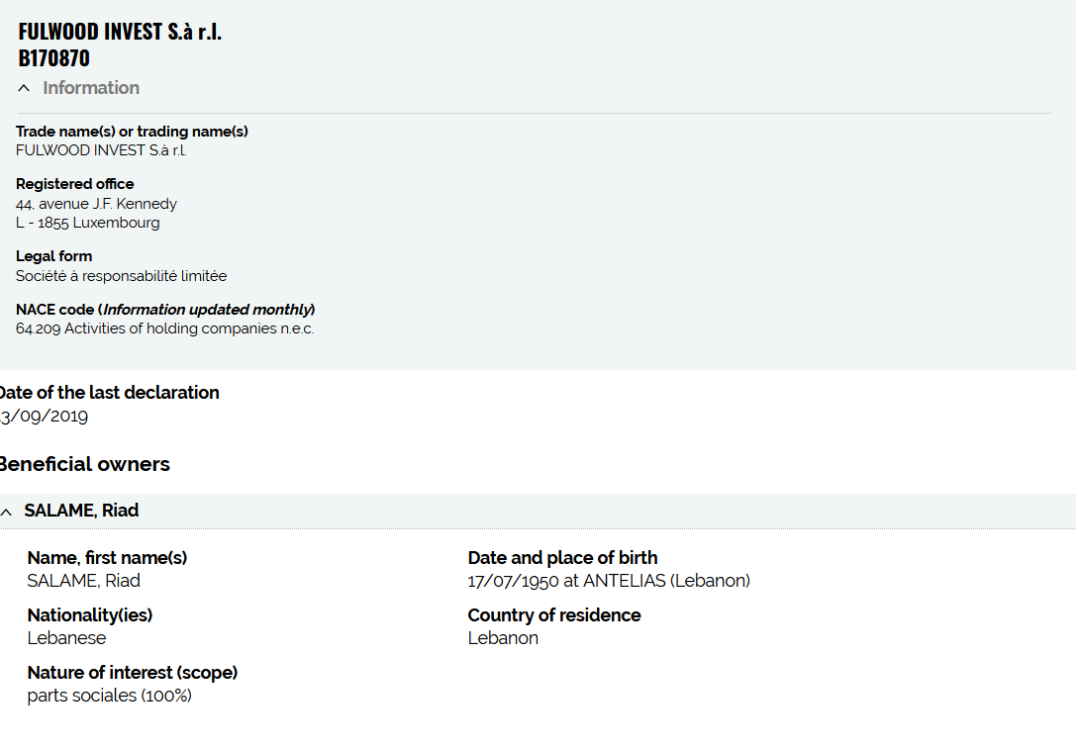 Bristol Offshore
Far from just plush London townhouses and offices being scooped up by offshore companies, residential and commercial properties across the UK have also been bought, as previously reported by the Cable.
A total of 721 properties are owned by overseas companies in Bristol.
Many, but not all, of these are registered to secretive jurisdictions and tax havens. As well as being a vehicle for tax avoidance and washing dirty money, the influx of investment in property from overseas companies can also inflate local property markets.
And although registered offshore, the owners of these properties can be UK-based.
These jurisdictions often offer clients secrecy and schemes that allow income and profits to be rerouted from one place to another for tax avoidance purposes.
Salami 33,000 sq. ft office in north Bristol is leased to aerospace and weapons manufacturer, Thales, and under-let to Boeing Defence UK which engineers military aircrafts.
Over recent years, the governor's son and nephew invested more than £30.8 million in UK commercial property through Fulwood Invest, the OCCRP found. They bought Fulwood House, an office building in central London for £5.9 million, a 7-story commercial property in Leeds for just over £10 million, and an office block in Birmingham for £5.45 million.
Steve Goodrich, senior research manager at Transparency International, told the Cable: "The UK is a hot destination for dirty money, with suspect wealth invested in high-end real estate from Surrey to the South West and Scotland."
"Turning a blind eye to illicit investments is to allow corruption onto your doorstep. The UK must increase its efforts to clamp down on corrupt wealth," he added.
"Opaque legal entities enable corrupt individuals to steal millions, sometimes billions, of public funds with relative impunity – money that should be spent on healthcare, education and other essential services. Ending corporate secrecy is crucial to tackling abuses of power and major barriers to global development."
Riad Salami told the OCCRP he had broken no laws and amassed "significant private wealth" before he joined the central bank in 1993, and that "nothing prevents me from investing it".
Note: Official looters of the citizens hide and take advantage of laws tailor-made for the "Elite Classes"
Ten Years to grow an Olive Tree: Israel destroyed 500,000 Palestinian trees since 2001…
Some 80,000 Palestinians families depend on the annual olive harvest for their livelihoods. This year alone, settlers, with the backing of the army, have destroyed or damaged thousands of olive trees, threatening both a major source of income and an age-old agricultural custom.
Dry shrubs and a mishmash of makeshift tarpaulin shelters cover parts of this parched valley in the South Hebron Hills.
The carcass of a car rests in the bottom of a cistern. According to Breaking the Silence, (an organization of veteran combatants that works to expose to the Israeli public to the realities of the occupation), the rusty car had been placed there by local settlers in order to contaminate collected rainwater with rust.
Alon Aviram published under "The war on the Palestinian olive harvest":
This is the village of Susya al-Qadima. There is an absence of local infrastructure, as Israeli civil authorities repeatedly deny building permits, and the entire village has been issued pending demolition orders. Unlike the much younger neighboring Jewish settlement of Susya, it doesn't get much more arid and inaccessible in the West Bank than here.
Last Saturday, Israeli Border Police declared an area belonging to Susya al-Qadima a closed military zone, effective immediately. An officer waved papers at us and stated that he was legally warranted to force everyone out of the valley. We noticed that the orders were outdated, unsigned, and dictated that only Israelis were prohibited from entering the specified site. This did not stop the temporary expulsion of Palestinian locals.
An activist beside me from Taayush, (an Israeli and Palestinian organization which uses non-violent direct action to try to end the occupation), was detained as he argued against the authority's actions. He was handcuffed and marched to the army pillbox overlooking the valley.
The Border Police prohibited locals from farming their own land, manhandled us, and threatened anyone who remained in the area with arrest. Instead of harvesting, the families gathered outside the closed military zone, overlooking their unpicked olive grove from a distance. Just another day in the South Hebron Hills.
Year after year, West Bank farmers experience multiple types of restrictions and physical attacks.
In the first week of this year's olive harvest, more than 870 olive trees were vandalized or destroyed by settlers, according to the United Nations. Hundreds more are reported to have since been damaged or destroyed across the West Bank.
A total of some 7,500 olive trees belonging to Palestinians were destroyed or damaged by settlers between January and mid October 2012, according to a recent report by the UN Office for the Coordination of Humanitarian Affairs.
Since 2001, half a million olive trees have reportedly been uprooted in the Occupied Palestinian Territories (West Bank). It takes an average of ten years before newly planted olive trees can begin producing fruit. Consequently, the ramifications of this widespread vandalism are felt long-term.
The olive industry in the Occupied Palestinian Territories supports 80,000 families, and accounts for 14% of the OPT economy's agricultural income. The inability of farmers to cultivate or harvest their crops due to security-related pretexts or the physical destruction of trees undermines the fragile Palestinian economy and makes arable subsistence for communities less feasible.
With water shortages, restrictions to land access, and the expropriation of land by settlements and the separation barrier, total agricultural output has been seriously damaged. The proportion of GDP earned from agriculture fell from 28 percent to 5.6 percent in the past 20 years.
The Israeli army has rejected claims that it has neglected its legal obligation under international law as the occupying power to protect Palestinian civilians and property. It has repeatedly stated that it works to protect Palestinians and their crops during harvest.
"The army, the Civil Administration and other relevant organizations are taking every possible effort to secure the olive harvest," Israeli army spokesman Eytan Buchman told The Media Line. Facts on the ground and in the courts suggest otherwise.
The Israeli NGO Yesh Din has reported that out of the 162 complaints they have lodged about settler attacks on Palestinian trees since 2005, only one suspect has been indicted. The recurrent high levels of violence directed at both Palestinian farmers and their crops is indicative of a pervasive culture of impunity; perpetrators have reason to believe that the Israeli state will not charge them.
The destruction of olive trees is not only economically burdensome for the West Bank economy and its people, but also represents an affront symbolically and culturally. The age-old Palestinian family tradition of harvesting olives and maintaining the trees for the next generations is desecrated annually.
While the olive tree has become a symbol of Palestinian steadfastness, the Israeli occupation has in turn become characterized by its destruction.
Later that same day, a Jeep full of soldiers waited alongside us as we picked olives in another grove not too far from Susya. Under the tree, a middle-aged man shook his head as he looked at the soldiers. He pointed at the olive trees and explained which ones are owned by and depended on by which families. "They planted so we can eat, and we must plant so they can eat," he explained.
This old way of life is alien to the average city dweller but it is a vital lifeline for many people in the West Bank. Due to Israeli political policy, which seems intent on unofficially annexing Area C of the West Bank, in which Susya is located, this means of subsistence is fast disappearing.
Alon Aviram is graduate of Sussex University with a degree in international relations, and is currently an intern with +972 Magazine.
Related:
WATCH: Olive trees destroyed by settlers in South Hebron Hills
Photos: Three arrested as settlers, soldiers disrupt Hebron olive harvest
Tags:
adonis49
,
Alon Aviram
,
apartheid
,
Border Police
,
Breaking the Silence
,
closed military zone
,
israel
,
NGO Yesh Din
,
occupied palestinian territories
,
olive harvest
,
Palestinian olive trees destroyed
,
palestinian organization
,
palestinians
,
politics
,
South Hebron Hills
,
Susya al-Qadima
,
Taayush
,
UN Office for Coordination of Humanitarian Affairs
,
witing