Posts Tagged 'Celina Molina'
Monsanto's mega-plant blocked.  Any Progress on Climate Change?
These are No small time victories for worthy issues.
There's a lot that's depressing in the world today, but scroll down and see what our future could look like if we just stick together.
 World issues on climate change, Monsanto, our oceans, the internet, democracy, free speech,  basic human rights, preemptive wars… have to be tackled vigourously.
After the March — Real Progress on Climate Change!! From Europe, the US, and China!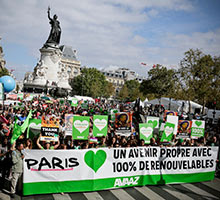 One of our 2,600 climate marches!
We desperately needed Europe to kick off a global round of ambitious climate commitments at a recent summit in Brussels, so I felt deflated when I was told by insiders there was "no way" the EU would stand up to big oil and coal to cut carbon emissions by "at least" 40% by 2030. But we didn't back down, and they did it!
Here's how we got from "no way" to a big win:
Drove the

largest climate mobilisation in history

with 675,000 people in the streets in 162 countries!
Got the UN Secretary General, 18 cabinet ministers, and countless politicians to join the march.
Delivered a

2.2 million strong petition

calling for 100% clean energy to world leaders including French President Hollande.
Held advocacy meetings with the climate and energy ministers of France, Germany, Brazil and the UK.
Lobbied Poland, a key blocker on climate action, with an

ad campaign

that got news coverage throughout Poland and phone calls from Polish Avaazers.
Commissioned opinion polls in Germany, France, Poland and the UK right before the decision.
30,000 marchers in Melbourne!
The climate march was a game changer, cited by president after president in their UN summit speeches. While hundreds of organisations contributed to the march and the win in Europe, our role was crucial. The BBC said: "The marches brought more people on to the streets than ever before, partly thanks to the organizational power of the e-campaign group Avaaz." And Germany's Environment minister said: "I would like to thank the millions of people who have joined Avaaz…Without public support it will be impossible to stop climate change."
US President Obama also responded to the climate march, saying: "Our citizens keep marching. We cannot pretend we do not hear them."
Following the momentum building win in Europe, Obama met with Chinese President Xi Jinping this week – Obama promised reasonable-sized cuts in emissions, and China promised cuts as well, for the first time ever!
The momentum we desperately needed has begun…
After big oil and coal, what's the next worst soulless corporate lobby? Yep, Monsanto. And that's the next big victory that our community has helped win.
Monsanto's mega-plant blocked!
Protesting Monsanto's seed factory.
When Monsanto tried to extend its grip over the global food chain with a massive new seed factory in Argentina, Avaaz members stood side by side with a local movement and stopped Latin America's largest GM seed plant from being built this year.
Monsanto is a $60 billion mega-corporation that plays dirty. Here's how we helped stop them:
Launched a

1 million strong petition

and flooded the inboxes of decision makers with thousands of messages.
Worked with top lawyers on a briefing that showed Monsanto's Environmental Assessment was illegal, making

a splash in the media.

Released a poll showing that 2/3rds of town residents opposed the plant.
Supported local residents to build their power and a winning strategy.
Local grassroots leader Celina Molina said: "After more than a million Avaaz members stood with the people of Malvinas Argentinas, we won an important battle in the fight against Monsanto! From gaining access to documents previously denied to us by the authorities to running a game changing opinion poll, Avaaz was important for preventing the largest transgenic seed plant from being built in our backyard."
Plus Big Wins on Saving our Oceans, the Internet, and Democracy
'Nothing to hide!' protest, Brasilia.
Thanks to several thousand Avaazers who donate monthly to sustain our small team, we can work on several issues at once. Here are some other big wins in recent weeks:
The Largest Marine Sanctuary in the World Created! – To support this critical reserve, over 1 million of us called on the US government, we commissioned an opinion poll in Hawaii, and more. And in the end, President Obama stood up to the big fishing lobbies and protected an area of the Pacific almost the size of South Africa!
Internet Neutrality Protected in Europe and the US! – 1.1 million of us lobbied the EU parliament to protect the free and open internet with strong rules on net neutrality.
And against all the efforts of the big telecoms companies, we helped get the win! In the US, Obama just followed suit and took a strong position to protect net neutrality that "stunned" the telecoms companies.
Brazilian Congress Ends Secret Voting! – After several months of steady campaigning with call-ins, activist stunts, media attention and more, Avaazers in Brazil (now 7 million strong!) pressed the Congress to almost completely end the shady practice of "secret voting." It's a huge victory for one of the world's largest democracies.