Posts Tagged 'Dena Shunra'
Meet the spies injecting Israeli propaganda into your news feed
When Sima Vaknin-Gil took over as director-general of Israel's Ministry of Strategic Affairs at the start of 2016, a crucial fact went largely unnoticed.
For years, she had been a high-ranking officer with an Israeli spy agency.
This means that for the last two years a former intelligence officer has been running Israel's global war against BDS, the boycott, divestment and sanctions movement.
Her ministerial boss is Gilad Erdan, a key ally of Prime Minister Benjamin Netanyahu.
They were last month revealed to have spent huge sums creating anti-BDS propaganda targeting social media and news media.
It should be a big wake up call to all defenders of free speech and human rights when a peaceful civil society campaign is targeted by spy agencies responsible for hacking, torture, kidnapping and murder in Palestine and around the world.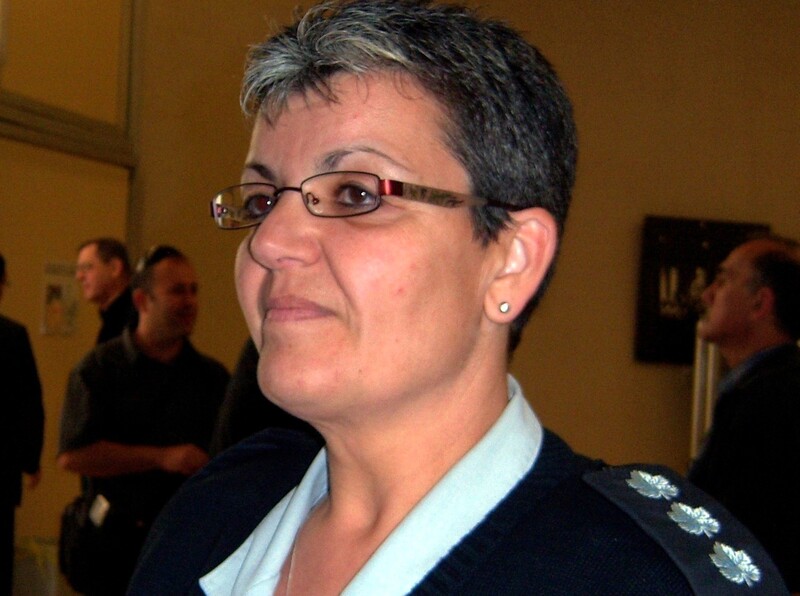 Sima Vaknin-Gil, now in charge of running Israel's anti-BDS ministry, was once chief military censor. (Wikipedia)
Military intelligence
While hardly a secret, Vaknin-Gil's background was barely remarked upon in the media coverage following her appointment, which focused on her previous role as Israel's chief censor.
An extensive search turned up just one article – a December 2015 interview with arms industry magazine Israel Defense – discussing her career in intelligence.
That interview was on the eve of her appointment as the top civil servant in what is effectively Israel's anti-BDS ministry. It revealed she had spent more than 20 years as a spy in Israeli air force intelligence, rising to the rank of brigadier general – a position she still holds as a reservist.
During that time, the magazine stated, she worked "closely with US officials and the highest ranking officers of Israeli intelligence."
In 2005, she started her decade-long run as chief military censor, a role that required regular coordination with Israel's top spies and military leaders, including the head of military intelligence, the chief of Mossad and the chief of the army's general staff.
"Flood the internet"
"I want to create a community of fighters," Vaknin-Gil said soon after her appointment to the strategic affairs ministry.
She said she planned to "flood the internet" with Israeli propaganda that would be publicly distanced from the government.
More recently, at a Jerusalem Post conference, she announced in passing that she came "from the intelligence in the IDF," the Israeli military.
Streamed live on YouTube, the December 2017 panel was a debate on how best to combat BDS. (Sanctioning Israel)
Vaknin-Gil conceded that BDS activists' human rights arguments are so compelling at the grassroots in Europe and the US that "over there, unless we will do something, we will lose."
She credited supporters of Palestinian rights with "acting very, very smartly."
Palestine solidarity activists "are fighting for the hearts and minds of grassroots," she said, and asserted, "we just woke up [to BDS] and we have to do it very fast."
BDS movement co-founder Omar Barghouti told The Electronic Intifada that Israel had failed to win "the battle for hearts and minds at the grassroots level."
According to Barghouti, Israel is "desperately trying to suppress the enormous growth of the BDS movement for Palestinian rights into the mainstream by passing draconian measures of repression and exporting them through its lobby groups to Western governments."
Ministry's deep spy links
Strategic affairs minister Gilad Erdan's official diary for 2016, obtained by Israeli activists and translated by The Electronic Intifada, confirms his department's intimate links with the country's spy agencies.
The diary lists a 17 January meeting with the head of the Shin Bet – Israel's domestic secret police. The agency has a long history of harassing, kidnapping, torturing and murdering Palestinian activists.
The diary also shows that on 16 February 2016, Erdan had lunch with the head of Mossad, Israel's overseas agency for spying and assassination.

And on 20 March, Erdan apparently met with the "head of 8200" – a reference to Unit 8200, the Israeli spies responsible for leading cyberwarfare efforts.
According to veterans of Unit 8200, its activities include eavesdropping on the communications of Palestinian civilians living under Israeli occupation for political persecution or to find embarrassing personal or sexual information that could be used to blackmail them into collaborating.
Buying-off the press
Vaknin-Gil's plan to "flood the internet" mirrors previous covert efforts to spread pro-Israel propaganda.
In 2014, The Electronic Intifada uncovered a plot by tech site Israel21c to plant its puff pieces online and in media using deceptive methods.
Under Vaknin-Gil – an expert in censoring the press – the ministry is instead trying to buy off editors.
Israeli media watchdog The Seventh Eye reported last month that the ministry she runs paid the publisher of Israel's best-selling daily newspaper $100,000 to publish articles and videos attacking BDS as "anti-Semitic."
Published in both Hebrew and English by Yediot Ahronot and its website Ynet, the articles did not explicitly disclose that they were paid content.
One English article vaguely stated it was the result of the ministry and the publisher "joining forces," while two such Hebrew articles stated they were "in collaboration" with the ministry.
Propaganda war
The Seventh Eye explained that this propaganda was "meant to influence readers to support a campaign Israel is waging against its critics."
As well as Yediot, the ministry also bought faux journalism aiming to enlist support from a global audience, including from the Times of Israel and The Jerusalem Post.
The 2016 Erdan diary aligns with this, listing an 18 July "meeting with the editor of The Jerusalem Post newspaper, Yaakov Katz." The entry does not record the subject of the meeting.
The paid articles were part of a wider strategic affairs ministry campaign, which included a $740,000 budget "to promote content on social media and search engines, including Google, Twitter, Facebook and Instagram," The Seventh Eye reported.
Another $570,000 was spent on building Act.il, an anti-BDS app, and producing videos supporters were encouraged to spread online.
One of the "missions" assigned to Israel's propaganda foot soldiers using the Act.il app last November, according to The Jewish Daily Forward, "was to comment on a specific post on the Facebook page of the pro-Palestinian website Electronic Intifada."
Israel's PR operatives wanted to counter the impact of The Electronic Intifada's reporting on the Dutch government's support for a promotion by settlement-profiteering Israeli supermarket chain Shufersal.
The Act.il app was funded largely by casino billionaire Sheldon Adelson – a major donor to anti-Palestinian causes and to Donald Trump's presidential campaign.
The strategic affairs ministry was forced to disclose the funding information to The Seventh Eye under Israeli freedom of information laws.
But the revelation could be one of the last such disclosures if the ministry gets its way.
Secretive ministry
Israel's parliament in July gave preliminary approval to a bill exempting the strategic affairs ministry from the freedom of information law.
Erdan argued for the bill, which his ministry drafted, claiming that BDS was a "battlefront like any other" and there was a need to keep "our methods of action secret."
A 7 November entry in the 2016 Erdan diary suggests that former spy Vaknin-Gil was directly involved in drafting Israeli laws against BDS.
With the subject "BDS law," the entry reads, "A meeting with Liat and Sima on legislation amendments to the Boycott Law." (Erdan's staff at the ministry are referred to throughout the diary by their first names.)
If the law is passed, it will put Erdan's ministry in the same category as Mossad and Shin Bet, which are also exempt from freedom of information.
With Erdan's ministry increasingly being run like a globally focused spy agency rather than a conventional government department, perhaps this should come as little surprise.
Haaretz has described the ministry as "a place whose internal terminology comes from the world of espionage and security; its leading figures appear to see themselves as the heads of a public affairs commando unit engaged in multiple fronts."
As well as being led by one, the ministry is largely staffed by former spies.
Vaknin-Gil's predecessor as director-general was Ram Ben Barak, formerly a deputy head of Mossad.
As The Electronic Intifada revealed last year, the director of the ministry's "intelligence" section is Shai Har-Zvi, a lieutenant-colonel in the Israeli army and likely another former spook.
Without giving names, veteran Israeli intelligence journalist Yossi Melman had previously reported that the position was once held by "a former investigator in the security system."
"Covert sources," illegal activities
Melman – who confirmed The Electronic Intifada's exposure of Har-Zvi's name – wrote that his section's role "is to collect information and data on BDS and its activists from both open and covert sources."
Melman also wrote that the ministry hired 25 employees "mostly former officers in Israel's intelligence community" whose names are classified.
What are these "covert sources" that Erdan's network of spies are drawing on? Do they involve illegal activities? And are they breaking the laws of other countries they operate in?
"We want most of the ministry's work to be classified," Vaknin-Gil told Israel's parliament in September 2016, when she acknowledged that "a major part of what we do stays under the radar."
Erdan has also admitted his ministry's use of international front groups – historically a tool of Israeli spy agencies. "Most of the ministry's actions are not of the ministry, but through bodies around the world who do not want to expose their connection with the state," he said last year.
A rival government ministry in 2016 accused Erdan and his fiefdom of "operating British Jewish organizations behind the [Israeli] embassy's back in a way that could put them in violation of British law."
And Melman revealed in 2016 that the ministry is involved in "black ops" against the movement for justice in Palestine.
It was also reported by Haaretz that the ministry was establishing a "tarnishing unit" to spread lies about BDS activists.
Death threats and hacking
In an article for the Hebrew newspaper Maariv, Melman pointed to attacks on the websites of Palestine's BDS National Committee and other human rights groups, suggesting the attacks could be linked to Erdan's ministry.
He also noted death threats targeting Nada Kiswanson, a lawyer with the human rights group Al-Haq, who had been working in The Hague to collect evidence of Israeli war crimes for the International Criminal Court.
The threats are being investigated by Dutch authorities. Melman implied these too could be tied to the ministry.
As well as harassment and sabotage, Palestinian groups have been attacked with smear campaigns aimed at undermining their political and financial support.
Al-Haq and Al Mezan, another Palestinian human rights group that has helped gather evidence of war crimes, have over the past two years faced a sustained campaign of defamation.
These have come both publicly by Israeli officials, and in whispering campaigns, fake statements put out in their names and death threats and other harassment against their staff.
Israel's covert war also appears to be targeting solidarity activists from Western countries.
Dropping the mask
In July, members of an interfaith delegation to Palestine were barred from flights by Lufthansa staff acting on Israeli orders.
Jewish Voice for Peace's Rabbi Alissa Wise told The Electronic Intifada that airline staff read out names of activists who were never publicly announced to go on the delegation and did not have tickets. She said this proved Lufthansa had been given a list of persons obtained by Israeli surveillance of activists' communications.
While Israel's covert campaign aims to suppress negative information about its violations of Palestinian rights, the campaign itself only further tarnishes its battered image.
With its repressive measures against Palestine solidarity, BDS co-founder Omar Barghouti said, Israel is "dropping the mask of democracy and liberalism and revealing its true face as a regime of occupation and apartheid."
"Israel is allocating hundreds of millions of dollars, dedicating an entire government ministry, using its intelligence services and flexing its political muscle around the world to fight the movement," Barghouti added. "But this is a steep uphill battle that Israel cannot but lose."
With translation and research by Dena Shunra.
The French telecommunication multinational Orange joined the battle front with Israeli units bombing Gaza people 
Orange, previously France Telecom,  with its Israeli subsidiary Partner Communications Ltd, has been directly aiding Israeli military units for a decade now.
Orange participated in providing all the necessary advanced telecommunication equipment and subsidising Israeli soldiers under the adoption project "Ametz Lohem" for the tank division EZUZ since  2005 and the division for Shachar since 2008.
During Israel  savage preemptive war on Gaza in the summer of 2014, Orange was on the battle front, particularly with the tank division Ezuz and commanded by Aryeh Berger, and provided all the facilities and communication batteries needed to resume the bombing of Gaza for an entire month. Free of charge.
Israel dropped what amounted to an atomic bomb during these 51 days of horror and total genocide tactics. Tanks were ordered to cross over gardens, cultivated lands and houses as training learning sessions.
Orange is an important mobile and internet supplier in Europe, Africa, the Middle-East, including Jordan and Egypt (Mobinil)
If the International Penal Court for war crimes and crimes against humanity is serious in investigating and prosecuting the calamities in Gaza, all it has to do is subpoena Orange for all the direct videos and communication that were taken during the war.
The Israeli affiliate of Orange, the French multinational telecom company, provided direct material support to Israeli soldiers who participated in the deadly assault on Gaza last summer.
The firm has also sponsored two Israeli military units for several years, evidence of its deep complicity in Israeli military occupation and human rights abuses.
One of these units, the "Ezuz" tank company, took part in last summer's attack on Gaza and was active in specific locations where hundreds of Palestinian civilians were killed.
Orange, previously known as France Telecom, is a major provider of mobile phone, land line and Internet services in Europe, Africa and the Middle East, including in Jordan and Egypt (through its subsidiary Mobinil). In the UK, Orange operates as part of a joint venture called EE, and in Belgium it owns a big stake of Mobistar.
In Israel, Orange makes its profits by licensing its brand to an independently owned Israeli company called Partner Communications Ltd. and selling equipment and other services to it.
Helping the attack on Gaza
Israeli warplanes and artillery dropped the equivalent of an atomic bomb on Gaza during 51 days last July and August, killing more than 2,200 Palestinians, among them more than 500 children, and destroying vast areas.
According to Amnesty International, Israeli forces operated with "callous indifference to the carnage caused" by their attacks.
Entire families were wiped out as Israeli forces systematically and deliberately targeted civilian homes.
Throughout this horror, which Israel dubbed "Operation Protective Edge," Orange was on the front lines providing material support and boosting the morale of those carrying out the assault.
Orange waived service fees for soldiers "located in the area around Gaza" during the attack, Israel Hayom reported.
Every day during the assault, Orange sent "three mobile units to the soldiers' gathering spots around Gaza," the website Frumline reported in a 22 July 2014 article headlined "Orange in action on the border due to Operation Protective Edge."
"The mobile units are equipped with generators, chargers for all types of devices, hundreds of fully charged batteries, and cellular devices, to allow soldiers to be in contact with their homes," Frumline stated.
In Gaza, Palestinians who survived the assault have told of Israeli soldiers executing their relatives in cold blood.
Meanwhile in Israel, dozens of Orange employees fanned out across the country, visiting Israeli soldiers "and distributing tablet computers, to make their time in the hospital more pleasant."
"Adopt a soldier"
Orange's support for the Israeli military long predates last summer's attack on Gaza.
"Our ongoing association with the soldier population began with the establishment of the Adopt A Soldier project by the Association for the Wellbeing of Israel's Soldiers," Orange says on the "corporate responsibility" page of its Israel website.
As part of this project, the company has "adopted" two units: the "Ezuz" armored company, since 2005 and, since 2008, the "Shachar" search and rescue unit.
Dozens of firms, the vast majority Israeli, take part in the Adopt A Soldier project – "Ametz Lohem" in Hebrew. Among the more well-known internationally are the Israeli airline El Al and Strauss, the maker of Sabra brand hummus.
The participation of a multinational like Orange stands out – the only other readily recognizable international firm is the business services company Ernst & Young, which sponsors a drone unit.
According to the Orange website, the "adoption" consists of "joint activities of the soldiers with employees of the company, such as: sports, use of company facilities for training and conferences, support for lone soldiers, accompanying discharged soldiers on their pathway to civilian life and financing battalion-wide entertainment activities: hikes, athletics days, awards ceremonies for outstanding soldiers, and more."
Ezuz in the attack on Gaza
shiryon.jpg
An article in Shiryon (Armor) glorifies the role of the Orange-sponsored "Ezuz" armored brigade in the summer 2014 assault on Gaza.
An article in the November 2014 edition of the Israeli military magazine Shiryon (Hebrew for "Armor") reveals that the Ezuz unit directly participated in the attack on Gaza and was present at times and places where hundreds of civilians were killed and thousands of homes destroyed.
Unit commander Lt. Colonel Aryeh Berger tells Shiryon that Ezuz was part of a force that invaded Deir al-Balah in central Gaza. There, he says that his men "attacked homes of Hamas activists" and "purified" buildings.
Human Rights Watch condemned Israel's deliberate targeting of homes, merely under the pretext that they allegedly belonged to the families of persons associated with Hamas or other armed resistance organizations, as "unlawful."
Berger also reveals that his unit was active in the area of Khan Younis in southern Gaza at the same time that an Israeli soldier, Hadar Goldin of the Givati brigade, was reported captured near the city of Rafah, to the south. That capture occurred on 1 August 2014.
This places the Ezuz unit in two specific areas where mass killings took place.
In the Khan Younis area, Berger says his forces were tasked to "isolate" a village – which he does not name. Once the report of Goldin's capture came, Berger says "we had to leave our task urgently and reinforce the Givati brigade, and we got there within three hours."
050814_yq_00_15.jpg
Palestinians search through rubble of their destroyed houses hit by Israeli strikes in Khuzaa, east of Khan Younis, in the Gaza Strip, 5 August 2014.
The Palestinian Centre for Human Rights reported that dozens of civilians were killed in and around Khan Younis by airstrikes and shelling from tanks and gunboats.
On 1 August, during a short-lived "humanitarian ceasefire," medical crews, journalists and residents entered the village of Khuzaa, east of Khan Younis, which had been besieged by Israeli forces. They found the bodies of dozens of dead civilians.
Some had been killed while trying to leave, waving white flags. Others died as their homes were destroyed on top of them.
The UK's Channel 4 documented scenes of destruction and carnage as people entered the village on 1 August:
The harrowing effects of the broken Gaza ceasefire | Channel 4 News
In Rafah – presumably where Ezuz redeployed to reinforce the Givati brigade following the reported capture of Goldin – Israeli forces implemented the so-called "Hannibal Directive": they carpet bombed the town by land, sea and air, killing more than two hundred civilians and destroying more than 2,500 homes.
There were so many dead that local hospitals were forced to store corpses and body parts in ice cream coolers.
While in Gaza, Ezuz commander Berger says he ordered his men not to drive on roads or through intersections.
When tank commanders asked where they should drive, Berger replied "Everywhere else!"
He saw the assault on Gaza as a rare training opportunity:
"I assigned one of my company commanders to document some of this by video, so we can illustrate it in training, show them for example how a tank drives through a grove of trees, because they don't believe this is possible, or how the tank shoots in different situations. Because in training we don't have planted grove areas we can keep running over, or a variety of 'live' houses to shoot at."
This is the unit Orange has sponsored for a decade.
"Corporate social responsibility"
Orange says it has a comprehensive global program on "corporate social responsibility."
The company claims that "our commitment to corporate citizenship means that everything we do is for a single purpose: using digital technologies to speed up progress for society."
But by supporting the Israeli army through its Israeli affiliate, Orange has been helping to speed up the destruction of Palestinian society and to kill and injure thousands of people.
Although Orange does not own Partner Communications Ltd., it remains responsible and liable for Partner's activities done in its name and with its brand.
Orange directly derives profits from Partner's activities through its royalty agreement, supplies Partner with equipment and is responsible for the stewardship and reputation of the Orange brand worldwide.
Brand Israel
The parent company, moreover, appears to be fully complicit in helping Israel whitewash its reputation. In May 2014, its Orange Institute think-tank sponsored a conference in Tel Aviv and Jerusalem called "How Israel became a Tech Lab for the World."
The promotional material says that in 2014 "the brand of 'Israel as Startup Nation' is shining even more brightly than when Orange Institute first visited in 2011."
"From this small country of eight million people," Orange Institute gushes, "we continue to see oversized returns."
The conference promoted such topics as "civilian drone use" and "cyber-security innovations within the Israeli cyber ecosystem."
Orange wants to claim credit for initiatives "supporting digital literacy" and promoting "eco-friendly solutions."
It should also be held accountable for its complicity in Israel's war crimes in Gaza. Consumers might do that by refusing to be Orange customers.
Orange has already come under pressure from French civil society over its Israeli affiliate's complicity in Israeli colonization of the occupied West Bank and Syria's Golan Heights.
A statement signed by dozens of French groups calls on Orange to end its deal with Partner Communications Ltd. over the latter's operations on occupied lands.
Last year, the French government warned French businesses of the risks of doing business in Israeli settlements in occupied territories that are illegal under international law.
But there is also the possibility that Palestinian individuals or human rights groups could seek to hold Orange accountable for providing material support to war crimes – including in the form of equipment it supplies to Partner – under the emerging doctrine of corporate liability for gross human rights abuses.
Orange's press office at its headquarters in Paris did not respond to repeated requests for comment.
With thanks to Dena Shunra for providing research and translation
Orange fournissant un service gratuit aux soldats israéliens déployés près de Gaza pendant l'attaque qui a tué plus de 2200 Palestiniens l'été dernier.
La filiale israélienne de la compagnie de télécommunications française a « adopté » une…
Tags:
adonis49
,
adoption project
,
Ametz Lohem
,
Aryeh Berger
,
atomic bomb
,
crimes against humanity
,
Deir al-Balah
,
Dena Shunra
,
Electronic Intifada
,
Hannibal Directive
,
International Penal Court
,
Khan Younis
,
Mobinil
,
multinational
,
Orange
,
Partner Communications Ltd
,
telecommunication
,
war crimes
,
Yasser Qudih