Posts Tagged 'Emma Ruby-Sachs'

Emma Ruby-Sachs – Avaaz
Unsubscribe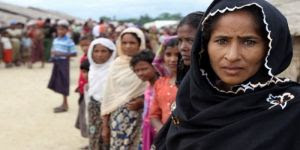 In a few days India plans to delete up to 7 million Muslims from its list of citizens and later throw them in prison camps. This is how genocides begin.
But nearly nobody knows about it! If enough of us raise the alarm now we can get the United Nations and key countries to weigh in and stop it. Join now:
In a few days, India will delete as many as 7 million Muslims in Assam State from its master list of "citizens" because they speak the wrong language and worship the wrong God.Husbands, wives, and children could be torn apart and left to rot in prison camps.

This is how genocides begin – how the nightmare of the Rohingya began.
But it's all unfolding quietly — if we raise a massive alarm calling for the UN Secretary-General and key governments to intervene – we can stop this horror before it starts:
The Assam government has already begun quietly building another new prison camp and deploying troops. 
Like the Burmese regime that attacked the Rohingya, the government claims they're acting against illegal immigrants from Bangladesh.
But the vast majority of the people targeted are just poor, illiterate Muslim citizens without "proper" documentation. They've never needed it before!
António Guterres, the Secretary General of the UN, has pledged to fight on behalf of those who can't: "I will raise my voice. I will take action. I will use my rights to stand up for your rights." We need to hold him to those words because right now the Bengali Muslims in India have no one to speak for them on the global stage — except us. Sign the petition below and together we can stop a road to genocide in Assam:
The rise of virulent Hindu nationalism in India is behind this aggressive move to render millions of Muslims stateless and vulnerable. History teaches us that these movements know no limits except the ones citizens set for them.
Let's draw a line in Assam, and send a message to governments everywhere – we're watching.
With hope and determination,
Emma, Nate, Ricken, Antonia, Flora, Alice, Wissam, Danny and the entire Avaaz team
More information:
More than 7 million people, including 2.9 million married women, asked to prove citizenship as part of massive exercise (Al Jazeera)
https://www.aljazeera.com/indepth/features/assam-counts-citizens-muslims-fear-left-180530080633948.html
Stateless in Assam (The Indian Express)
https://indianexpress.com/article/opinion/national-register-of-citizens-5030603/
Assam CM: No fundamental rights for those failing NRC tests (Times of India)
https://timesofindia.indiatimes.com/india/assam-cm-no-fundamental-rights-for-those-failing-nrc-test/articleshow/62344296.cms?from=mdr
The dark side of humanity and legality: A glimpse inside Assam's detention centres for 'foreigners' (Scroll.in)
https://scroll.in/article/883936/assam-citizens-register-detention-centres-for-foreigners-offer-a-glimpse-of-the-looming-tragedy
With final NRC draft to be released in 20 days, Assam witnessing rise in suicides (NewsClick)
https://newsclick.in/final-nrc-draft-be-released-20-days-assam-witnessing-rise-suicides
Assam seeks 150 companies of central forces ahead of next NRC publication (The Economic Times)
https://economictimes.indiatimes.com/news/politics-and-nation/assam-seeks-150-companies-of-central-forces-ahead-of-next-nrc-publication/articleshow/64394147.cms
Trapped and dying in Qatar: Foreign slave workers
Forced to work under the desert's scorching sun, denied food, drinking water, and barred from escaping home, thousands of men in Qatar are modern day slaves. And we can help free them.
Emma Ruby-Sachs – Avaaz posted this Feb. 27, 2015
Last year, one person died every other day building a billion dollar mega-project for Qatar's 2022 World Cup.
A major part of the project is managed by an American company with a CEO who lives in a quiet part of Colorado.
If more than 1 million of us stand together for freedom, we can confront her with our voices every time she leaves her house to go to work, or to ski, until she takes action.
This same tactic pushed Hilton Hotels to protect women against sex trafficking in days — join the urgent call to help free Qatar's modern slaves:
Qatar's "guest worker" program is at the root of the problem.
It lures people from Nepal and Sri Lanka with promises of good jobs, but when they arrive their employers confiscate their passports and force them to work long hours in 50 degree heat with no chance of escape.
The US company, CH2M Hill, say the local contractors and government laws are to blame, but CH2M Hill is the public face of World Cup construction.
Their CEO can and must take a lead role in ensuring we don't see seven more years of worker deaths. She could even threaten to take their business elsewhere unless this system is changed.
CH2M Hill has a responsibility to help stop this modern day slavery. Our call now could persuade CH2M Hill to speak out and then lead other companies to weigh in until every single worker has the freedom to return home.
Direct your complaints to CH2M Hill CEO Jacqueline Hinman again, and again and again:
One big global outcry at the right time can save thousands of lives.
When Hilton Hotels wasn't doing enough to protect women and girls from sex trafficking at their hotels, Avaaz staff brought our call to the CEO's front door and the policy was changed in days. Let's do it again
Emma, Nell, Mais, Ricken, Alice and the whole Avaaz team
Sources:
Death toll among Qatar's 2022 World Cup workers revealed (The Guardian)
http://www.theguardian.com/world/2014/dec/23/qatar-nepal-workers-world-cup-2022-death-toll-doha
India systematic raping customs? The Final Straw?
What's her name? I see a picture of her. Many demonstrations AND outraged condemnations, but no name. Why? A taboo?
Is this raped girl must die incognito in order to preserve whose dignity, whose safety?
She was 23
Her fault she boarded the wrong bus
And SHE WAS A GIRL
Six men raped her, indian file, and used an iron rod to tear her vagina-
Small intestine and large intestine came out
They left her to die on the road
Naked!
Wounded!
Exposed!
Devastated
What's more is that no one even turned to look at her
No one even bothered to throw a shawl on the ill-clad
ill-fated girl
She can never live a normal married life again
She Went into coma five times since 16th December
She was unconscious
Critical and hasn't been able to stop crying
But don't worry
She wasn't your sister
She wasn't your daughter
But she could be.
The brutality has to stop right here guys
These people deserve serious punishment for their cruel,
Perverted act
She died yesterday Saturday 29th
December 2012
Rest in Peace♥
Raping doesn't only happen in India..
But in every country around the world..
Is this how we treat our women?
It Makes me ashamed to even live on this planet today
If her death Touches u and you are against RAPE
"Write RIP"
If u Support RAPE
"IGNORE"
Emma Ruby-Sachs – of Avaaz.org wrote:
A Join massive protests in India, and call on the government to strengthen laws and launch a major public education campaign to challenge and shame the grotesque attitudes that led to this violence:
She was a physical therapy student who boarded a bus in Delhi last month. Six men locked the door, and savagely raped her for hours, including with a metal rod.
The ringleader of the woman's rapists coldly says she deserved itbecause she dared to stand up to him.
They dumped her naked in the street, and after bravely fighting for her life, she died last weekend.
Across India, people are responding in massive protests to say enough is enough.
In India a woman is raped every 22 minutes, and few see justice.
Globally, a staggering 7 in 10 women will be physically or sexually abused in their lifetime.
This horror in Delhi is the last straw — it's 2013, and the brutal, venal, global war on women must stop. We can start by drawing the line in India.
The government is accepting public comments for the next 24 hours.
We urgently need both stronger law enforcement and a massive public education program to change the grotesque but common male attitudes that permit violence against women.
If 1 million of us join the call for action, we can help make this young woman's horror the last straw, and the beginning of a new hope:
http://www.avaaz.org/en/end_indias_war_on_women/?bFAfecb&v=20715
Blaming the victim and other outrageous attitudes are found across society, including in the police system who continually fail to investigate rape.
Such views repress women and corrupt men everywhere.
Massively funded public education campaigns have radically shifted social behaviour on drunk driving and smoking, and can impact the treatment of women.
Tackling the root causes of India's rape epidemic is vital, alongside better laws and faster legal processes.
Advertising in India is relatively cheap, so a significant funding commitment could blanket airwaves in multiple media markets for a sustained period of time.
The ads should target male subcultures where conservative misogyny thrives, directly challenging and shaming those attitudes, ideally using messengers like popular sports figures that carry authority with the audience.
We have just 1 day to influence the official Commission set up to find ways to crack down on India's wave of sexual violence. If we can show real success in shifting attitudes in India, the model can be applied to other countries.
The money spent will more than pay for itself by reducing poverty and promoting development, since treatment and empowerment of women has been identified as one of the greatest single drivers of social and economic progress. Click to send a message directly to the Indian government:
http://www.avaaz.org/en/end_indias_war_on_women/?bFAfecb&v=20715
From opposing the stoning of women in Iran, to supporting the reproductive rights of women in Morocco, Uzbekistan and Honduras, to lobbying for real action to counter the growing 'rape trade' in trafficked women and girls, our community has been on the front lines of the fight to end the war on women. This new year begins with new resolve in India.
With hope and determination,
Emma, Ricken, Luis, Meredith, Iain, Ian, Marie, Michelle, Alaphia, Allison and the rest of the Avaaz team
Read MORE 
India gang-rape: Five suspects charged in Delhi (BBC)
http://www.bbc.co.uk/news/world-asia-india-20896031
Verma committee flooded with suggestions on rape (News One India)
http://news.oneindia.in/2012/12/26/verma-committee-flooded-with-suggestions-on-rape-1120658.html
India's 'rape culture' can be changed: women authors (Hindustan Times)
http://www.hindustantimes.com/Books/Chunk-HT-UI-BooksSectionPage-LiteraryBuzz/India-s-rape-culture-can-be-changed-Women-authors/Article1-984318.aspx
Activists woe low conviction rate, long trials (Times of India)
http://timesofindia.indiatimes.com/city/delhi/Activists-woe-low-conviction-rate-long-trials/articleshow/17657522.cms 
Delhi Gang-Rape Underscores Rising Sexual Violence Against Indian Women (IB Times)
http://www.ibtimes.com/delhi-gang-rape-underscores-rising-sexual-violence-against-indian-women-944030 
Rise in rapes across India (ZeeNews)
http://zeenews.india.com/news/nation/rapes-in-india-rise-by-873-percent-from-1953_817894.html
70% of women experience physical or sexual violence in their lifetime (UN report)
http://www.un.org/en/women/endviolence/pdf/apromiseisapromise.pdf