Posts Tagged 'gaza'
Israel is an 'apartheid' regime
By JOSEPH KRAUSS January 12, 2021
A leading Israeli human rights group has begun describing both Israel and its control of the Palestinian territories as a single "apartheid" regime, using an explosive term that the country's leaders and their supporters vehemently reject.
In a report released Tuesday, B'Tselem says that while Palestinians live under different forms of Israeli control in the occupied West Bank, blockaded Gaza, annexed east Jerusalem and within Israel itself, they have fewer rights than Jews in the entire area between the Mediterranean Sea and the Jordan River.
"One of the key points in our analysis is that this is a single geopolitical area ruled by one government," said B'Tselem director Hagai El-Ad.
"This is Not democracy plus occupation. This is apartheid between the river and the sea."
That a respected Israeli organization is adopting a term long seen as taboo even by many critics of Israel points to a broader shift in the debate as its half-century occupation of war-won lands drags on and hopes for a two-state solution fade.
Peter Beinart, a prominent Jewish-American critic of Israel, caused a similar stir last year when he came out in favor of a single binational state with equal rights for Jews and Palestinians. B'Tselem does not take a position on whether there should be one state or two. (And why Not taking a position?)
Israel has long presented itself as a thriving democracy in which Palestinian citizens, who make up about 20% of its population of 9.2 million, have equal rights.
Israel seized East Jerusalem, the West Bank and the Gaza Strip in the 1967 war — lands that are home to nearly 5 million Palestinians and which the Palestinians want for a future state. (Gaza is 80% of it transferred Palestinians since 1948)
Israel withdrew troops and settlers from Gaza in 2005 but imposed a blockade after the militant Hamas group seized power there two years later. (Not after Hamas took control, but because it was no longer a tenable occupation).
This apartheid regime of Israel considers the West Bank "disputed" territory whose fate should be determined in peace talks. (Israel flaunted all "peace negotiations" with the Palestinians, even in the Oslo Accords. Israel just want "security" management deals)
Israel annexed East Jerusalem in 1967 in a move not recognized internationally and considers the entire city its unified capital. Most (you mean a few?) Palestinians in east Jerusalem are Israeli "residents," but not citizens with voting rights.
B'Tselem argues that by dividing up the territories and using different means of control (about 250 checkpoints), Israel masks the underlying reality — that roughly 7 million Jews and 7 million Palestinians live under a single system with vastly unequal rights. (Palestinian youths are detained administratively , with no charges, every night)
"We are not saying that the degree of discrimination that a Palestinian has to endure is the same if one is a citizen of the state of Israel or if one is besieged in Gaza," El-Ad said. "The point is that there isn't a single square inch between the river and the sea in which a Palestinian and a Jew are equal."
Israel's harshest critics have used the term "apartheid" for decades, evoking the system of white rule and racial segregation in South Africa that was brought to an end in 1994. (What about the White racial divide in the US, which is still being demonstrated today?)
The International Criminal Court defines apartheid as an "institutionalized regime of systematic oppression and domination by one racial group." (Actually, there is No racial reasons, just a colonial rule to rob the Palestinians of their wealth and lands)
"There is no country in the world that is clearer in its apartheid policies than Israel," said Nabil Shaath, a senior adviser to Palestinian President Mahmoud Abbas.
"It is a state based on racist decisions aimed at confiscating land, expelling indigenous people, demolishing homes and entire towns to establishing settlements."
In recent years, as Israel has further entrenched its rule over the West Bank, Israeli writers, disillusioned former generals and politicians opposed to its right-wing government have increasingly adopted the term.
But until now B'Tselem, which was established in 1989, had only used it in specific contexts.
Israel adamantly rejects the term, saying the restrictions it imposes in Gaza and the West Bank are temporary measures needed for security.
Most Palestinians in the West Bank live in areas governed by the Palestinian Authority, but those areas are surrounded by Israeli checkpoints and Israeli soldiers can enter at any time. Israel has full control over 60% of the West Bank.
Itay Milner, a spokesman for Israel's consulate general in New York, dismissed the B'Tselem report as "another tool for them to promote their political agenda, based on a distorted ideological view." He pointed out that "Arab" citizens of Israel are represented across the government, including the diplomatic corps.
Eugene Kontorovich, director of international law at the Jerusalem-based Kohelet Policy Forum, says the fact that the Palestinians have their own government makes any talk of apartheid "inapplicable," calling the B'Tselem report "shockingly weak, dishonest and misleading."
Kontorovich said the use of the word "apartheid" was instead aimed at demonizing Israel in a way that "resonates with racial sensitivities and debates in America and the West."
Alon Pinkas, a former Israeli consul general in New York, rejects the term. "Occupation, yes. Apartheid, absolutely not."
But he acknowledged that critics of Israel who had refrained from using the term, or who had used it and been attacked, "will now conveniently say, 'Hey, you know, Israelis are saying it themselves.'"
Rabbi Rick Jacobs, head of the Union for Reform Judaism, which estimates its reach at more than 1.5 million people in 850 congregations across North America, says the situation in the West Bank and Gaza is a "moral blight" and an "occupation but Not apartheid, which is an existential critique")
El-Ad points to two recent developments that altered B'Tselem's thinking.
The first development was a contentious law passed in 2018 that defines Israel as the "nation-state of the Jewish people." Critics say it downgraded Israel's Palestinian minority to second-class citizenship and formalized the widespread discrimination they have faced since Israel's founding in 1948. Supporters say it merely recognized Israel's Jewish character and that similar laws can be found in many Western countries.
The second development was Israel's announcement in 2019 of its intention to annex up to a third of the occupied West Bank, including all of its Jewish settlements, which are home to nearly 500,000 Israelis. Those plans were put on hold as part a normalization agreement reached with the United Arab Emirates last year, but Israel has said the pause is only temporary.
B'Tselem and other rights groups argue that the boundaries separating Israel and the West Bank vanished long ago — at least for Israeli settlers, who can freely travel back and forth, while their Palestinian neighbors require permits to enter Israel.
There have been no substantive peace talks in more than a decade. The occupation, which critics have long warned is unsustainable, has endured for 53 years.
"Fifty years plus, that's not enough to understand the permanence of Israeli control of the occupied territories?" El-Ad said. "We think that people need to wake up to reality, and stop talking in future terms about something that has already happened."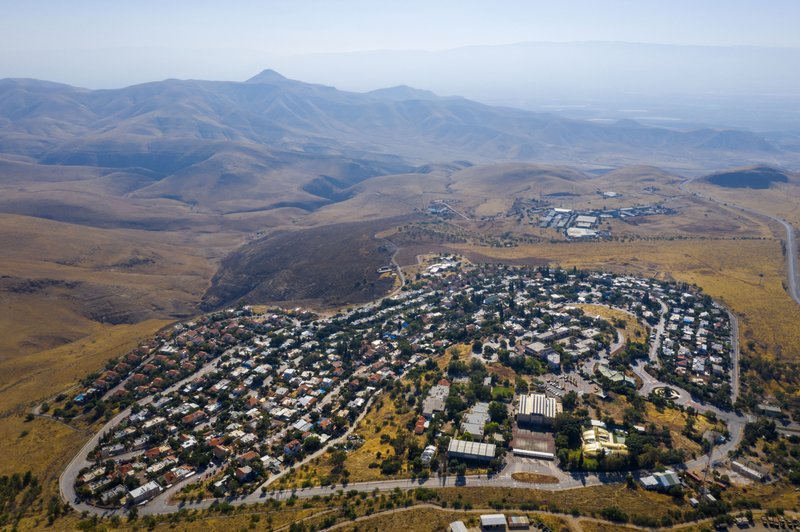 1 of 7 FILE – In this Tuesday, June 30, 2020, file photo, a view of the West Bank Jewish settlement of Ma'ale Efrayim in the Jordan Valley. Israel's premi
Author of The Color Purple Not invited over Israel comments?
Posted on December 27, 2016
Alice Walker disinvited from University of Michigan over 'Israel comments'
Submitted by Ali Abunimah on Thu, 08/15/2013
World-renowned American author Alice Walker has been disinvited from giving a speech at the University of Michigan because a donor objects to her views on Israel, the agent negotiating the contract was told.
Walker, the Pulitzer Prize winning author of The Color Purple, posted on her blog an excerpt of a letter from the agent informing her that the invitation to keynote the 50th anniversary celebration of the Center for the Education of Women at the University of Michigan had been withdrawn.
The agent wrote:
I'm saddened to write this because I'm a proponent of free speech and have been brought up to allow everyone to have their say. But I also realize that there are other considerations that institutions are faced with.

This afternoon I was contacted by the University of Michigan instructing me to withdraw their invitation due to the removal of funding from the donors, because of their interpretation of Ms. Walker's comments regarding Israel.

They are Not willing to fund this program and the university/Women's center do not have the resources to finance this on their own.

They are deeply regretful but I wanted to let you know immediately either way. I hope you can appreciate the fact that I'm uncomfortable even having to send this email in the first place. Hopefully we can work together again down the road. Thanks for understanding. I wish things had turned out differently
110617-alice-walker.jpg
Alice Walker speaks in the occupied West Bank city of Ramallah.
(Lazar Simeonov / TEDxRamallah)
Calling the withdrawn invitation "Censorship by Purse String," Walker wrote:
"Such behavior, as evidenced by the donors, teaches us our weakness, which should eventually (and soon) show us our strength: women must be in control of our own finances. Not just in the family, but in the schools, work force, and everywhere else. Until we control this part of our lives, our very choices, in any and every area, can be denied us."
Walker is listed as one of the speakers represented by the American Program Bureau agency.
Alice Walker not "optimum choice"
Gloria D. Thomas, director of the Center for the Education of Women, acknowledged that Walker had been disinvited, but said that the matter was a "misunderstanding."
In an email to The Electronic Intifada, Thomas wrote:
The [Walker's] blog was a result of an unfortunate misunderstanding. As director of the Center for the Education of Women (CEW), I decided to withdraw our invitation because I didn't think Ms. Walker would be our optimum choice for our 50th anniversary.

Our 50th anniversary funding is assured. All donations, for this and other events, are accepted with no provisos or prohibitions regarding free speech.

In fact, in a conversation with one of Ms. Walker's friends/representatives, I indicated that I would be willing to speak with other units around campus to serve as a possible co-sponsor for a lecture by Ms. Walker in the near future.
Asked if a speaker had been chosen to replace Walker, Thomas wrote, "No contract has been signed yet. This information will be made available on our website once the contract is confirmed."
Walker: supporter of Palestinian rights
In recent years, Walker has become increasingly outspoken in her support of Palestinian rights, sometimes likening Israel's abuses to the Jim Crow racist system she grew up with in the southern United States.
Walker has written about her visit to Gaza, and participated in the June 2011 solidarity flotilla that attempted to reach the territory besieged by Israel, which led to her being demonized by the Israeli army.
Her position on boycott has also been deliberately distorted by Israeli media.
Walker has campaigned for other artists, most recently Alicia Keys, to respect the Palestinian call for boycott, divestment and sanctions (BDS).
In her letter to Keys, Walker wrote:
I have written over the years that explain why a cultural boycott of Israel and Israeli institutions (not individuals) is the only option left to artists who cannot bear the unconscionable harm Israel inflicts every day on the people of Palestine, whose major "crime" is that they exist in their own land, land that Israel wants to control as its own.
Could Walker, one of the most celebrated figures in American letters, now be paying the price of refusing to be silent about Palestine?
Rafah, Gaza. Dead children kept in vegetable refrigerators
Posted on August 3, 2014
Note: Before this butchery, Rafah witnessed a prior butchery in 1956 as Israel participated in the invasion of the Suez canal. Israel army crossed Rafah and committed crimes against humanity: over 60 civilians were exterminated.
As Gaza stranglehold tightens, full morgues have forced people to store dead bodies in refrigerators
Corpses of the dead stored in a vegetable refrigerator in Rafah (Twitter / @FoolowGaza)
Mohammed Omer posted this Saturday 2 August 2014
Abu Taha, a farmer in Rafah, opened the refrigerator he normally keeps his potatoes and carrots in.
In it were the corpses of children, young men and women lying on top of one another, soaked in blood.
Many were impossible to identify and only a few have been placed in white burial shrouds.
Such was the savagery of Israel's bombardment in Rafah, such was the quantity of dead bodies, that there was simply no other option but to use vegetable refrigerators as makeshift morgues.
The closure of hospitals which came under bombardment led to a cascade of corpses. It started when medical staff were forced to abandon Rafah's main hospital Abu Yousef al-Najjar which came under constant bombardment by artillery shelling from the east of the city.
They evacuated the injured to Kuwaiti Hospital, a facility totally ill-equipped to deal with major trauma injuries from the extended battlefield that the Gaza Strip has become.
Even so, several bodies were left lying on the roads, bleeding for hours without any ambulance crew arriving to rescue them.
Meanwhile, three ambulance crew members have been killed, their bodies were unidentifiable after they were hit by an Israeli tank shell directed at their ambulance.
Several of the cases close to the hospital gate were not reachable by rescue teams, says Abu Ahmed, an ambulance driver. 
"Each time I drive through, tank shells are fired nearby," he says while he is a couple of hundred meters from tens of victims bleeding on the road.
Most cases of those killed in Rafah are civilians slain by canon shells that wiped several homes in Hay al-Junina area.
Meanwhile, Israeli warplanes fired missiles on several homes in Rafah targeting homes of Abu Suliman, Zorb, Alshaer, and Abu Suliman. 
The death toll in Rafah in the past 24 hours is now 110 killed and hundreds injured.  Medics say there are more bodies they could not reach.
The corpses were taken into vegetables refrigerators in Rafah, which have their own electricity generators. 
Even burying the dead was full of hazard, as the cemeteries in the east of the city have also been under Israeli artillery shelling over the past 24 days.
"We had no option but to put the bodies of tens killed in the refrigerators," Subhi Radwan, mayor of Rafah told MEE.
Al-Nujjar hospital has only enough beds for a few dozen patients, but evacuation has meant nowhere else to go for victims of the attack.
Radwan says, the war on Rafah is not over, and his staff members are unable to offer any facilities to people on the ground, that includes water and electricity lines which were destroyed by strikes.
"We appeal to the international organizations to step in and help us evacuate injured people lying in the east of Rafah," he says.
Meanwhile, international groups have tried to help evacuate victims, but to no avail.
Survivors of the 24-hour bombardment said they had seen nothing like it in their lives. They were bombed from the air, sea and ground simultaneously.
"It is terrifying, the Israeli military has gone out of control, they bombed a building of families fleeing and killed 23 innocents," says Abdelraouf Ayyad, a 33-year old whose home he fled in Hay al-Junina when bombing started 24 hours ago.
"No one is safe; no home, no hospital, no shelter" he says as he runs into Tal al-Sultan to seek shelter at his cousin's house.
Twenty three (23) family members have been killed by Israeli F16 missile, mostly from families that fled bombing in east of the city to the West of Rafah.
Radwan says, there is no other hospital, and now even the Kuwaiti hospital is under canonfire—journalists and rescue teams were forced to leave the area under gunfire.
Ashraf Al Qudra of health ministry appeals to the international community to allow ambulances to evacuate injured people from roads of East of Rafah and Kuwaiti hospital.
"We need safe routes for ambulance to evacuate victims into other hospitals in Khan Younis."
Israeli tanks could be seen in the east, overlooking Rafah, home of 180,000 inhabitants in the far south border with Egypt.
"There are tens of cases of people bleeding and the hospital is unable to deal with massive number of victims"
Rafah's massacre occurred two hours into the 72-hour humanitarian ceasefire announced yesterday.
Hamas and Israel exchanged accusations of breaking the ceasefire. However, Israel insisted on carrying out a military ground operation on the eastern border, despite the truce.
Israel announced one missing soldier during its ground invasion, while Hamas's al-Qassam Brigades say they lost communication with some of their members who were in combat with Israeli troops before the ceasefire started.
Qassam Brigades said in a statement that the Israeli soldier was probably killed during in ambush along with Qassam Brigades members.
The death toll across the Gaza strip is 1680 dead and 8500 injured since the war began 27 days ago – the majority are civilians according to the UN.
Meanwhile, 3 civilians and 50 Israeli soldiers have been killed during the ground attack in Gaza.
Palestinian factions and Israel were expected to travel to Cairo for talks with Egyptian on a long-lasting truce, but the presence of Israeli tanks around the Rafah Crossing point will make this unlikely to happen anytime soon.
– See more at: http://www.middleeasteye.net/news/gazans-forced-keep-dead-bodies-vegetable-refrigerators-1006544969#sthash.7DTcuIEy.dpuf
Israeli proposal to flatten Beirut in 2016: Done this August 4, 2020
At 6 pm, two conflagrations shook Beirut and demolished all of the port installations, neighboring streets 2 miles away, all buildings…
Half of public institutions located in the area, the central Electricity building, the Foreign minister., the hospitals around, about 5 of them., the sturdy wheat silos crumbled., newspaper dailies (Al Nahar), all the newly expensive and luxury high rises on this sea front..
So far, over 170 deaths and increasing and more than 6,000 injured and patients dispatched outside of Beirut for overflowing and for the poisonous environment due to the burning of 2, 750 tons of nitrate ammonium and other kinds of chemicals stored in the port hangard #12.
The latest news are that these highly flammable and detonating chemicals were stacked in the port since 2014 after requisitioning a Turkish ship that was transferring these chemicals from Georgia and was meant to stop in Beirut port and be discharged.
Why Beirut instead of Mozambique as the manifest declared?
Mind you that it was the US that built this nitrate of ammonium plant in Georgia.
Mind you that Hillary Clinton admitted that the US was highly involved in creating ISIS (Daesh) to occupy Mosul in Iraq. And all these Syrian insurgent factions since 2011 needed plenty of explosives.
A tsunami-kind of conflagration, red colored (color of depleted uranium/miniature atomic bomb detonation), that mushroomed in the sky like a small atomic bomb and advanced instantaneously inland and toward the sea at the speed of 750 m a second.
The hole that this conflagration left was 65 m deep. And generated a 4.3 earthquake scale.
A wide area of total devastation that remind people of picture of Dresden, Hiroshima, Nagasaki…
People vacating Beirut to higher and far regions in order Not to be affected by the dangerous chemical inhalation.
How Israel would have reacted if the port of Haifa experienced the same devastation? I bet more than half the injured Israelis would have died for lack of individual zeal to come to the rescue.
In Lebanon, minutes after the conflagration people were busy transferring the injured to the hospitals. 5 of the hospitals close to the seafront were totally devastated and the injured had to be transferred and hundreds were welcomed in Damascus.
Israel refuse to admit that it attacked the port with depleted uranium missiles, though Israel knew very well of these stored chemicals: Netanyahu mentioned two years ago that hangard #12 contained Hezbollah missiles, in preparation for this attack
Trump declared that Beirut was attacked, but was not precise. (Just the message that he doesn't give a damn of Beirut and the Lebanese pseudo-citizens)
So far, most countries are proposing "humanitarian" and clinical aids to Lebanon and movable hospitals.
The question is: And what afterward?
The government resigned because more than 7 ministers sided with their sectarian militia leaders.
As usual, Lebanon is bound Not to have a working government.
What kinds of help and aid to this totally bankrupt pseudo State that treated the Lebanese as pseudo-citizens since "independence" in 1943?
Currently, the Lebanese high security command ordered the army to take full control of Beirut for 2 weeks.
I have seen a video of 10 bodies flying in the air after the second conflagration: they were the first fire fighters who arrived to the scene.
And this clean-handed government could Not confront the militia/mafia clan and had to resign.
Amitai Etzioni, supposedly a prominent American professor, and who teaches at renowned universities, says Israel may have no choice but to destroy Lebanon — again and flatten Beirut
Ben Norton Friday, Feb 19, 2016
A prominent American scholar who teaches international relations at George Washington University has publicly proposed that Israel "flatten Beirut" — a city with around 1 million people — in order to destroy the missiles of Lebanon-based militant group Hezbollah.
Professor Amitai Etzioni — who has taught at a variety of prestigious U.S. universities, including Columbia, Harvard and Berkeley, and who served as a senior advisor in President Jimmy Carter's administration — made this proposal in an op-ed in Haaretz, the leading English-language Israeli newspaper, known as "The New York Times of Israel." Haaretz represents the liberal wing of Israel's increasingly far-right politics.
Etzioni's op-ed was first published on Feb. 15 with the headline "Can Israel Obliterate Hezbollah's Growing Missile Threat Without Massive Civilian Casualties?" (the answer he suggests in response to this question is "likely no").
Topics: News, Politics News
Enlarge
"Should Israel Flatten Beirut to Destroy Hezbollah's Missiles?" was the next, much more blunt title, chosen sometime on or before Feb. 16.
As of Feb. 18, the headline is "Should Israel Consider Using Devastating Weapons Against Hezbollah Missiles?"
Etzioni served in the Haganah — the terrorist army that formed Israel after violently expelling three-quarters of the indigenous Palestinian population — from 1946 to 1948, and then served in the Israeli military from 1948 to 1950. He mentions his military service in both the article and his bio.
(If a Palestinian or any "Arab" was discovered to have joined any military group, would he be teaching in the USA?)
In the piece, Etzioni cites an anonymous Israeli official who estimates that Hezbollah has 100,000 missiles in Lebanon.
In January, the U.S. government put that figure at 80,000 rockets. The anonymous official also says the Israeli government considers these weapons to be its second greatest security threat — after Iran.
Etzioni furthermore cites Israel's chief of staff, who claims that most of Hezbollah's missiles are in private homes. Whether this allegation is true is questionable. Israel frequently accuses militant groups of hiding weapons in civilian areas in order to justify its attacks.
On numerous occasions, it has been proven that there were no weapons in the civilian areas Israel bombed in Gaza. But that was beside the point for Israel.
Assuming it is true, the American scholar argues, if Israeli soldiers were to try to take the missiles out of these homes one at a time, it "would very likely result in many Israeli casualties."
In order to avoid Israeli casualties, Etzioni writes: "I asked two American military officers what other options Israel has. They both pointed to Fuel-Air Explosives (FAE).
These are bombs that disperse an aerosol cloud of fuel which is ignited by a detonator, producing massive explosions.
The resulting rapidly expanding wave flattens all buildings within a considerable range."
"Such weapons obviously would be used only after the population was given a chance to evacuate the area. Still, as we saw in Gaza, there are going to be civilian casualties," Etzioni adds.
"The time to raise this issue is long before Israel may be forced to use FAEs." (As people in Gaza were given 5 minutes to vacate an area and succumb to the shrapnel?)
Etzioni concludes his piece implying Israel has no other option but to bomb the city of Beirut. "In this way, one hopes, that there be a greater understanding, if not outright acceptance, of the use of these powerful weapons, given that nothing else will do," he writes. (How about desist from the preemptive wars strategies and abide by UN resolutions?)
Lebanese journalists and activists have expressed outrage at the article.
Kareem Chehayeb, a Lebanese journalist and founder and editor of the website Beirut Syndrome, said in response to the piece "Should Israel kill me, my family, and over a million other people to destroy Hezbollah's missiles? How about that for a headline?"
Chehayeb told Salon Etzioni's argument is "absolutely absurd" and reeks of hypocrisy. "If some writer said the only way to solve the Israeli-Palestinian conflict is just to bomb Israel," he said, "people would go up in arms about it."
He called it "ludicrous" that a prominent American professor "can just calmly say the solution is to flatten this entire city of 1 million people."
"I'm just speechless. It sounds ISIS-like, just eradicating an entire community of people," Chehayeb added.
Salon called Etzioni's office at George Washington University's Institute for Communitarian Policy Studies several times with a request for comment, but no one answered.
After this article was published, Etzioni emailed Salon a statement. "I agree with you that any suggestion to bomb or 'flatten' Beirut (or any other city) would be beyond horrible and outrageous," he said. He said Haaretz had changed and then later corrected his headline.
"Ethics aside — Beirut is not where the missiles are housed," Etzioni added. "The issue though stands how is a nation to respond if another nation or non-state actor rains thousands of missiles on its civilian population?"
Salon also reached out to the university. Jason Shevrin, a spokesperson, told Salon "the George Washington University is committed to academic freedom and encourages efforts to foster an environment welcoming to many different viewpoints. Dr. Etzioni is a faculty member who is expressing his personal views." The spokesperson did not comment any further.
Etzioni is by no means an unknown scholar. He notes on his George Washington University faculty page that, in 2001, he was among the 100 most-cited American intellectuals. He has also served as the president of the American Sociological Association.
Israel has already flattened Beirut before
Writer Belén Fernández, an author and contributing editor at Jacobin magazine, published a piece in TeleSur responding to Etzioni op-ed, titled "No, Israel Should Not Flatten Beirut."
Fernández points out "that Israel has already flattened large sections of Lebanon, in Beirut and beyond."
She recalls visiting a young man in a south Lebanon village near the Israeli border who "described the pain in 2006 of encountering detached heads and other body parts belonging to former neighbors, blasted apart by bombs or crushed in collapsed homes."
Note 1: Hezbollah General Secretary, Hassan Nasrallah, replied: All we need is to launch a couple of missiles on the Ammonium plant in Haifa. The conflagration is as powerful as an atomic bomb.
Israel executed this idea and stored an amount of ammonium nitrate in the port of Beirut and let it be forgotten.
Apparently most of these tons of nitrate of ammonium were sold, transferred and whisked away to Syrian insurgent factions. Possibly, from the extent of the conflagration, only about 300 tons remained in the port
Note 2: Who still believes that this calamity is a simple matter of laziness of every responsible during the last 6 years?
Who is still unable to believe that Israel is Not able to prepare for a long-term catastrophe and that hangar #12 was being prepared and targeted for a timely decision to flatten Beirut?
The next article will try to answer the why and how Israel/US wanted Beirut flattened.
No Palestinian babies?
The peace makers with Israel are Egyptians, Jordanians, or Moroccans.
Their "leaders" are: dictators, absolute monarchs….
Who cares if they are dictators or absolute monarchs…
Who cares for the opinions of masses?
One of their leaders, the Egyptian dictator Sadat, was awarded
A joint Nobel peace laureate with the famous assassin Begin.
Menachem Begin, this prime minister and a staunch Jewish Jihadist, the precursor of Bin Laden.
Assassinated British soldiers and UN chief Bernadote…
That is beside the point.
The enemies of Israel are "Arabs", not their leaders.
We have high hope in the people.
The criminals of the Oklahoma City bombing
Should have been Arabs.
Exceptions do occur.  Human nature you know.
Sirhan Sirhan assassinated Robert Kennedy.  He is a Palestinian of dual citizenship.
No motives:  Just bad "Arabs attitude".
Not that Robert promised exclusive support for Israel in his election campaign.
If push comes to shove, if a motive is needed,
Why, Sirhan is a hatemonger of the defenders of Civil Rights!
The most famous heart surgeon, Michael Debakey,
The poet of "The Prophet" and much more, Gebran Khalil Gebran,
The founder of St. Jude hospital for children with cancer, Danny Thomas,
Said they are Arabs from Lebanon.  The media beg to differ:
They are all, at best, of Lebanese descendants.
The bombers of the World Trade Tower are the Arabs, Not from Saudi Kingdom.
The perpetrators of the Achilles Loro are the Arabs.
Literature Nobel prize winner, Naguib Mahfouz,
Says he is Arab.  Ask him.
The media insist that he is just Egyptian.
Those who shoot down commercial airplanes are Arabs.
Israel strikes Arab/Palestinian refugee camps.
Israel retaliates for Arab suicide bombings.
Israel lodges a cannon shell, inadvertently, on a UN compound in Qana of South Lebanon.
About one hundred "Arabs", mostly Lebanese civilians, died.  Give or take fifty Arabs.
Apology to the UN.
Arabs/Palestinians/Lebaneses were massacred in the camps of Sabra and Shatila in Beirut.
Arabs killing Arabs.  Israel could care less.
How dare you blame Israel Defense Force!
They just happened to be there;
Completely cordoning off the Palestinian camps of civilians.
Freeing Lebanon by devastation, crimes against humanity and highway robberies.
No, there are no Arab babies.  There are no Arab youths.
Just Arabs.  Bad.  Arabs.
Definitely there are no Palestinians to bad mouth the people of Palestine.
Note:  Since I wrote this poem in 1998, many atrocities came alive.
The attack on the Twin Towers, the preemptive wars on Afghanistan and Iraq, the Israeli genocide in the Palestinian camp of Jenine, the barbaric preemptive war on Lebanon in 2006 that lasted 33 days, the genocide war on Gaza, the embargo on Gaza, the building of the Wall of Shame in Israel…
A gift of grace: First line in a poem
Note: Re-edit of "Today Lucubration (January 5, 2009)"
We may spare the ground floor, wide open to winds and nature, bare of walls, doors, and windows.
We may spread on the dirt floor a carpet of dry leaves, dry nuts, and dry hay, straw, and chaff; a couple of buckets of fresh water in corners.
The neighboring animals have the tendency to pray a lot in a shelter; most of their prayers are for the kindred spirits.
Animal have acute subconscious: a caged canary sings for the hunter to remind him of its hopeless and unnatural conditions to be ended.
The first line in a poem should be the gift of grace; the remaining lines a proof of skills: only skills are materially rewarded.
Details, describing living details are the art of writers; only when he feels the approach of death should the writer focus on distilling the honey of wisdom.
A liked poem has already conveyed an act of resistance for capturing human dignity.
I read an article on wordpress.com where the roles are reversed between the Palestinians in Gaza and the Zionist State: how the world community and the US and the European Union would respond to a 3-month siege of famine and air strikes if the Palestinians of Gaza had cut off Israel from the world.
In what terms the war would be labeled (genocide, war crime, holocaust…) and how quickly the US would have maneuvered to end the war?
Note:  The death toll of the Palestinians in Gaza, after 13 days of Israel savage genocide, climbed to 700 and 4000 seriously injured.
If we discontinue the martyrs of the first day of bombing on all the Palestinian police posts, then the ratio of babies and children is over 60% of the total number of casualties.
This genocide is mainly targeting the next generations of Palestinians and the Bush Junior excuses are beside the point.
Einstein Warns Of Zionist Fascism In Israel: Open letter to NYT in 1948
Note: A re-edit of 2014 post
Einstein was a staunch Zionist since 1920 and contributed hugely to the establishment of the State of Israel.
However, before and after the creation of Israel with a single vote majority in the UN, Einstein realized the ideological nature of Zionism and refused to serve in any official status.
Einstein lambasted the terrorist Zionist organizations against the British mandated power and against the civilian Palestinians.
Those terrorist leaders became later Israel Prime Ministers like Menachem Begin, Shamir, Sharon….
Israel refuses to release the documents written by Einstein after the establishment of Israel.
Einstein Letter Warning Of Zionist Fascism In Israel
Letter That Albert Einstein Sent to the New York Times December 4, 1948
Protesting the Visit of Menachem Begin
Among the most disturbing political phenomena of our times is the emergence in the newly created state of Israel of the "Freedom Party" (Tnuat Haherut), a political party closely akin in its organization, methods, political philosophy and social appeal to the Nazi and Fascist parties.
It was formed out of the membership and following of the former Irgun Zvai Leumi, a terrorist, right-wing, chauvinist organization in Palestine. 
The current visit of Menachem Begin, leader of this party, to the United States is obviously calculated to give the impression of American support for his party in the coming Israeli elections, and to cement political ties with conservative Zionist elements in the United States.
Several Americans of national repute have lent their names to welcome his visit. It is inconceivable that those who oppose fascism throughout the world, if correctly informed as to Mr. Begin's political record and perspectives, could add their names and support to the movement he represents.
Before irreparable damage is done by way of financial contributions, public manifestations in Begin's behalf, and the creation in Palestine of the impression that a large segment of America supports Fascist elements in Israel, the American public must be informed as to the record and objectives of Mr. Begin and his movement.
The public avowals of Begin's party are no guide whatever to its actual character. 
Today they speak of freedom, democracy and anti-imperialism, whereas until recently they openly preached the doctrine of the Fascist state. It is in its actions that the terrorist party betrays its real character; from its past actions we can judge what it may be expected to do in the future.
Attack on Arab (Palestinian) Village
A shocking example was their behavior in the Arab village of Deir Yassin.This village, off the main roads and surrounded by Jewish lands, had taken no part in the war, and had even fought off Arab bands who wanted to use the village as their base.
On April 9 (THE NEW YORK TIMES), terrorist bands attacked this peaceful village, which was not a military objective in the fighting, killed most of its inhabitants: 240 men, women, and children – and kept a few of them alive to parade as captives through the streets of Jerusalem.
Most of the Jewish community was horrified at the deed, and the Jewish Agency sent a telegram of apology to King Abdullah of Trans-Jordan.
But the terrorists, far from being ashamed of their act, were proud of this massacre, publicized it widely, and invited all the foreign correspondents present in the country to view the heaped corpses and the general havoc at Deir Yassin.
The Deir Yassin incident exemplifies the character and actions of the Freedom Party. Within the Jewish community they have preached an admixture of ultranationalism, religious mysticism, and racial superiority.
Like other Fascist parties they have been used to break strikes, and have themselves pressed for the destruction of free trade unions.  In their stead they have proposed corporate unions on the Italian Fascist model.
During the last years of sporadic anti-British violence, the IZL and Stern groups inaugurated a reign of terror in the Palestine Jewish community.
Teachers were beaten up for speaking against them, adults were shot for not letting their children join them.
By gangster methods, beatings, window-smashing, and wide-spread robberies, the terrorists intimidated the population and exacted a heavy tribute.
The people of the Freedom Party have had no part in the constructive achievements in Palestine. They have reclaimed no land, built no settlements, and only detracted from the Jewish defense activity.
Their much-publicized immigration endeavors were minute, and devoted mainly to bringing in Fascist compatriots.
Discrepancies Seen
The discrepancies between the bold claims now being made by Begin and his party, and their record of past performance in Palestine bear the imprint of no ordinary political party.
This is the unmistakable stamp of a Fascist party for whom terrorism (against Jews, Arabs, and British alike), and misrepresentation are means, and a "Leader State" is the goal.
In the light of the foregoing considerations, it is imperative that the truth about Mr. Begin and his movement be made known in this country. It is all the more tragic that the top leadership of American Zionism has refused to campaign against Begin's efforts, or even to expose to its own constituents the dangers to Israel from support to Begin.
The undersigned therefore take this means of publicly presenting a few salient facts concerning Begin and his party; and of urging all concerned not to support this latest manifestation of fascism
.ISIDORE ABRAMOWITZ,, HANNAH ARENDT, ABRAHAM BRICKRABBI ,JESSURUN CARDOZO,ALBERT EINSTEIN, HERMAN EISEN, M.D.HAYIM FINEMANM. GALLEN, M.D.H.H. HARRIS ZELIG S. HARRIS, SIDNEY HOOK, FRED KARUSH,  BRURIA KAUFMAN, IRMA L. LINDHEIM, NACHMAN MAISEL, SEYMOUR MELMAN, MYER D. MENDELSON, M.D., HARRY M. OSLINSKY, SAMUEL PITLICKFRITZ ROHRLICH, LOUIS P. ROCKER, RUTH SAGIS, ITZHAK SANKOWSKY, I.J. SHOENBERG, SAMUEL SHUMAN, M. SINGER, IRMA WOLF, ESTEFAN WOLF.
Note: All the massacres against the Palestinians in villages and towns immediately after the declaration of Israel, as an independent state, were planned, agreed upon and with the blessings of Ben Gurion, first PM and leader of Hagana. 
Actually the genocide rampages  were planned since 1937 in its minute details, the specific villages, the zones and the timing..And with the cooperation of the British mandated power.
More than 400 villages were erased from the map and new names given to them after rebuilding with Jewish settlers. All the Palestinian refugees to Lebanon and Jordan were promised to Return by the UN. They still refugees around the world.
Gaza people is marching every Friday, March for Return,  to the borders and Israel snipers  kill and maim them with live bullets and the world community is refusing to broadcast these events.
Political Propaganda Handbooks: Israel's Hasbara, USA Peaceful Upheaval, Soft War handbook…?
Note: A re-edit of 2014 post "Israel (Zionism) propaganda (Hasbara) Handbook"
Hasbara (explanation) is not breaking news, most of our readers are already familiar with Israeli Hasbara .
If you patronize Facebook or Twitter and you posts anything remotely related to pro-Palestine, or work in the media in general, you are probably all too familiar with the persistent Hasbara that floods the comments of every post about Palestine.
It's a force to be reckoned with: It attempts to control message and kill credibility of articles or commentary that reveal anything negative about Israel.
Wikipedia defines Hasbara as "Public diplomacy in Israel" and refers to it as "public relations efforts to disseminate abroad positive information about Israel."
That's true enough but in reality Hasbara is a manipulative propaganda machine.
Students are paid to spread pro-Israel messages online and have been slaving away in the Hasbara War Room to sell the Gaza war in social media.
According to the Hasbara Handbook – their main target audience is USA.
The Israeli Project's 2009 Global Language Dictionary was originally leaked by Newsweek Online.
The link to the document in their original article now leads to a 404-page but you can read the 116 page PDF here.
It's probably been updated since but the 2009 version is more than enough to understand how it works.
Are you persuadable?
According to the Hasbara Handbook Conservative Republicans and religious fundamentalists in USA are generally easiest to persuade or are already on board with team Israel.

This page has an interesting footnote that their "most favorable audience is white and male voters."

The Handbook refers to religious fundamentalists as Israel's "Amen Choir" and claims they are "Israel's strongest friends in the world."

In general US conservative Republicans and/or religious fundamentalists don't seem to be a primary target audience for Hasbara, however they dedicate an entire chapter on talking to the American left which appears to be their greatest challenge.

Hasbara propagandists are directed to use empathy – and this word is stressed – as an important factor to use as a tool of persuasion to build credibility.

If you are among the stubborn leftists they may tell you a story to appeal to your sense of empathy.

Hasbara also may target women for persuasion campaigns more than men as their charts seemed to indicate that women were less aware of "the facts" after Operation Cast Lead (pre-emptive war on Gaza that killed over, 2,000 Palestinians and injured many more thousands and destroyed Gaza infrastructure in 2014).

Each chapter of the Hasbara Handbook has helpful boxes outlining the "Words that Work".

There is even a section praising Obama's notorious public speaking skills that states:

"President Obama's language is so similar to what we have recommended for years that he could easily be stealing straight from our playbook."

Posters that Work

Appendix IV of the Hasbara Handbook is dedicated to "Posters that Work" and lays out a style guide to follow when designing pro-Israel propaganda posters.

Apparently posters featuring Ahmadinejad as Hitler and babies strapped to bombs were epic fails, so now they aim to use "factually based" graphics to spread a positive impression of Israel.

The examples above are from several years ago but we've seen this same style of posters circulating during Operation Protective Edge.

Hasbara has it's own team of graphic artists called the Interactive Media Team from Israel Under Fire which has been hard at work designing high quality, branded graphics to sell the assault on Gaza to western audiences.

The current Hasbara poster campaign features slick graphics, contrasting red and green colors that pop off pro-photographed backgrounds and bold fonts with key words like "rockets" or "tunnels" emphasized for impact. This is a 100% professionally branded media campaign.

The lexicon of the Hasbara Handbook is really impressive as far as manipulation standards go. If you have time to read the whole handbook we definitely recommend it.

Propaganda exists all over the world and perhaps other countries also have official "playbooks" like Israel, but the Israeli Hasbara has mastered the art of persuasion, at least on western audiences.

Note 2: You might have heard of the CIA financed handbook for Peaceful mass upheaval? The USA spread the propaganda that the "Arab Spring" mass demonstrations in Tunisia and Egypt adopted and practiced the principles of that handbook (pure myth). The USA was totally taken aback but managed to exploit these upheavals to appoint their dictators.

Note 3: You might have heard of the US new Soft War handbook, meant to impose severe economic sanctions until most people experience hunger and scarcity in medicine and energy and kneel in their negotiations with US diktat.

Sources:
Israeli Project's 2009 Global Language Dictionary
Electronic Intifada – Israel student union sets up "war room" to sell Gaza massacre on Facebook
The Independent – Israel-Gaza conflict: The secret report that helps Israelis to hide facts
Israel Under Fire
Tidbits and notes. Part 427
Europe was wracked with terror attacks for 2 decades in the 1960's.
The world was wracked with terror attacks for 3 decades after 1980, before Da3esh (ISIS) was established.
Africa was wracked with the most violent of attacks by enrolling children in their armies and forcing them to kill their parents as sign of allegiance.The USA was mainly behind all these crimes against humanity
Singling Da3esh (ISIS) is a strong message that the USA is sticking to its strategy of destabilizing the Middle-East.
The death toll in Gaza surged. According to Palestinian officials, a family of 8 was killed in Israeli airstrikes, bringing the total number of deaths to 32 since both sides started exchanging fire on Nov. 12, following a targeted killing in Gaza. There have been (officially) no Israeli deaths so far.
Actually, every Friday in the last year, Palestinians in Gaza have been marching to the borders as their UN rights to Return home. Israel has been sniping and had killed hundred so far and many thousands have been injured and crippled.
US government regulates everyday consumer products more tightly than it does the nation's voting systems.
"Operation Blackout", simulating an election process in USA, pitted ethical hackers against participants from the FBI, Secret Service, Department of Homeland Security, and Virginia police, presenting real-world possibilities pushed to an extreme. The game-play, which forbade any actual hacking, was strategic, not technical, and a team of cybersecurity professionals, monitored by US government observers, decided the outcome. The exercise ended in abject chaos
"America is totally unprepared for what is coming in (election interference) because it will be like nothing we've seen before. Everyone is vulnerable, and everyone will be affected." And the number of people needed to influence an election is surprisingly small,
Most useful decision: Coming to term with "how we wish to die"
Decision to die in own bed is best definition of extreme laziness.
If you die before you decide how to die, that's tough luck
If you die differently, that's recklessness.
Les deux puissance au monde, le sabre et l'esprit, ont ete' vaincus en Libye et en Somalie (there are no States in these 2 countries)
All curves for reforms and changes intersect a focal point: the points of perceived chaos, and the poorer classes are demanded to pay the heavy price.
Palestinians' "day of rage." In the West Bank and Gaza, demonstrators protest against the Trump administration's reversal of longstanding US policy on Israeli settlements, which are considered illegal under international law. The Arab League formally rejected the US position yesterday.
A Moroccan rapper was imprisoned for a song about corruption. Mohamed Mounir, or "Gnawi," was found guilty of insulting police in the track "Long Live the People."
In the 2017 election, the MRP poll from YouGov made the surprising prediction—eventually proven correct—that the UK Conservative Party would lose a majority. The 2019 poll relies on 50,000 people, rather than the usual 1,000-people survey.
The intense pressure to succeed in South Korea comes in many forms, including economic, social, cosmetic, and educational, writes Isabella Steger. But as unhappiness mounts at society's intolerance of failure—perhaps manifested most clearly in the country's persistently high suicide rate—the government is stepping in to encourage more acceptance of second chances. (How to learn to embrace failure?)
Demonstrating against a hike in fuel prices, some 200,000 people set alight 731 banks and 140 government sites, according to the country's interior minister. Iran hiking of fuel prices was meant to discourage transferring fuel across borders by illegal dealers.
Golden plaques on streets testifying these Jews fled, "transferred themselves" to Palestine
I read an article written in "Arabic" and posted on FB. I felt the urge to translate the gist of it.
An "Arab" was walking streets in Germany and noticed golden plaques on the streets, with name and destinations. He asked a German person to enlighten him on these plaques and their stories.
The German told him these plaques are in commemoration of Jews who lived in this bloc and were "forced" to leave during the Nazi regime.
Many of these plaques mentioned Palestine. This "Arabic" person asked: "what that means?". "Well, these Jews went to Palestine".
"And where is Palestine? I searched Google and there is no location of Palestine".
"Well, it is now called Israel"
" Were these fleeing Jews welcomed and treated with civility in Palestine?" "Yes, we heard no complaints from them"
"Are you telling me that my grandparents welcomed the fleeing Jews and now the parents and children of these Jews have chased us out of our land?"
"Well, this world is Not just" said the German citizens.
The Palestinians are intent on returning Home, Not because of the UN resolution of 193 for their right to return, but because it their just right: the right to return Home.
For over 6 months, every Friday, peaceful Palestinians in Gaza flock by the thousands to the "demarcation line". And every Friday, Israeli snipers kill and injure Palestinians by the dozens, children, youth, women, journalists, paramedics…
Hundreds were killed and thousands handicapped and injured, and the world community is behaving as if it is helpless to control this apartheid colonial State of Israel.