Posts Tagged 'Hindu nationalism'

Emma Ruby-Sachs – Avaaz
Unsubscribe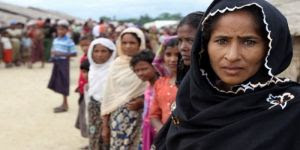 In a few days India plans to delete up to 7 million Muslims from its list of citizens and later throw them in prison camps. This is how genocides begin.
But nearly nobody knows about it! If enough of us raise the alarm now we can get the United Nations and key countries to weigh in and stop it. Join now:
In a few days, India will delete as many as 7 million Muslims in Assam State from its master list of "citizens" because they speak the wrong language and worship the wrong God.Husbands, wives, and children could be torn apart and left to rot in prison camps.

This is how genocides begin – how the nightmare of the Rohingya began.
But it's all unfolding quietly — if we raise a massive alarm calling for the UN Secretary-General and key governments to intervene – we can stop this horror before it starts:
The Assam government has already begun quietly building another new prison camp and deploying troops. 
Like the Burmese regime that attacked the Rohingya, the government claims they're acting against illegal immigrants from Bangladesh.
But the vast majority of the people targeted are just poor, illiterate Muslim citizens without "proper" documentation. They've never needed it before!
António Guterres, the Secretary General of the UN, has pledged to fight on behalf of those who can't: "I will raise my voice. I will take action. I will use my rights to stand up for your rights." We need to hold him to those words because right now the Bengali Muslims in India have no one to speak for them on the global stage — except us. Sign the petition below and together we can stop a road to genocide in Assam:
The rise of virulent Hindu nationalism in India is behind this aggressive move to render millions of Muslims stateless and vulnerable. History teaches us that these movements know no limits except the ones citizens set for them.
Let's draw a line in Assam, and send a message to governments everywhere – we're watching.
With hope and determination,
Emma, Nate, Ricken, Antonia, Flora, Alice, Wissam, Danny and the entire Avaaz team
More information:
More than 7 million people, including 2.9 million married women, asked to prove citizenship as part of massive exercise (Al Jazeera)
https://www.aljazeera.com/indepth/features/assam-counts-citizens-muslims-fear-left-180530080633948.html
Stateless in Assam (The Indian Express)
https://indianexpress.com/article/opinion/national-register-of-citizens-5030603/
Assam CM: No fundamental rights for those failing NRC tests (Times of India)
https://timesofindia.indiatimes.com/india/assam-cm-no-fundamental-rights-for-those-failing-nrc-test/articleshow/62344296.cms?from=mdr
The dark side of humanity and legality: A glimpse inside Assam's detention centres for 'foreigners' (Scroll.in)
https://scroll.in/article/883936/assam-citizens-register-detention-centres-for-foreigners-offer-a-glimpse-of-the-looming-tragedy
With final NRC draft to be released in 20 days, Assam witnessing rise in suicides (NewsClick)
https://newsclick.in/final-nrc-draft-be-released-20-days-assam-witnessing-rise-suicides
Assam seeks 150 companies of central forces ahead of next NRC publication (The Economic Times)
https://economictimes.indiatimes.com/news/politics-and-nation/assam-seeks-150-companies-of-central-forces-ahead-of-next-nrc-publication/articleshow/64394147.cms
Badge of honor to Foremost Indian "seditionist": Arundhati Roy
Arundhati Roy has published in 1996 "God of the little nothing people"; it was translated in 40 language and earned the Booker Price.
The following book was "The End of Imagination" after India tested its first atomic bomb in 1998.  Arundhati Roy is now labeled "rajdroh" or the seditionist by both the State and opposition party medias.  The Hindu word droh means hostility and raj the monarch; and thus, Arundhati must be viewed as the hostile leader to the current Indian political trend. Why?
Arundhati got too bold to demanding the independence of Cashmere: it does not historically belong to India.
Cashmere is this naturally beautiful cold northern region, with vast majority of Moslems, that both Pakistan and India want as territory and is currently partitioned.  Cashmere witnessed the worst flood of the Indus River last years that crosses Pakistan; over 3 million people were displaced and international aides were shy and delayed. As if poor overpopulated areas deserve the fate of frequent displacement and transfer and the life under tents and unhealthy living conditions.
Arundhati Roy got involved in approaching the sticky and major problems in India, such as construction of gigantic hydro-electric dams, expropriation of lands for extraction of raw materials, savage industrialization, privatization of essential public utilities, counter-terrorism tactics, Hindu nationalism, the newer US imperialism meddling in internal India affairs, the Maoist or communist rebellion of the poorer tribes in the southern provinces who have been forgotten by the central government.
In October, 150 women from the Indian nationalist party BJP attacked Arundhati's house.  Fact is India is experiencing a dangerous, close minded, feverish nationalist period.
Sedition allegations were leveled by colonial England against Mahatma Gandhi several times
In 1922, Gandhi wrote in "Young India":  "I must say to the British court why I admit encouraging deliberate seditions against a government established in India by law.  The penal code in paragraph 124 is prime among the laws that tends to suppress citizens' liberty.  We have no affection or sympathy for this penal code or the British government and I must be free to express my disaffection forcefully, as long as my conducts are non violent.  Many popular Indian leaders were accused under the sedition paragraph and I consider myself honored for the same accusation."
Is Independent India about to bring up colonial penal codes for accusing India intellectuals, authors, and activist journalists?
Has the Indian government accused the Nobel committee for extending prizes to the Turkish/Kurdish Orhan Pamuk, the Iranian woman lawyer Shirin Ebadi, or the Chinese dissident Liu Xiaobo?