Posts Tagged 'israel'
Israel Self-defense excuses are paralyzing the livelihood and security of Palestinians
Maureen Clare Murphy Rights and Accountability 8 January 2021
The Israeli military cleared itself of wrongdoing in the shooting and grave injury of a Palestinian man in the southern West Bank last week, claiming soldiers acted in self-defense.
The "perfunctory investigation" that closed less than a week later exemplifies the culture of impunity long decried by human rights organizations seeking war crimes investigations at the International Criminal Court.
The military claimed that the man who was shot, Harun Abu Aram, was "hit by a stray bullet fired when a Palestinian tried to seize a commander's weapon," as the Tel Aviv daily Haaretz reported.
Abu Aram, 24, is paralyzed from the neck down as a result of his injury.
He was shot while he and others were trying to take back a generator that soldiers had confiscated from a family living in an area declared a military firing zone by Israel.
Palestinians residing in that area, a collection of rural hamlets known as Masafer Yatta, are forbidden from building or improving their dwellings.
The incident in Masafer Yatta was recorded on video:
https://platform.twitter.com/embed/index.html?dnt=false&embedId=twitter-widget-0&frame=false&hideCard=false&hideThread=false&id=1345745628660428803&lang=en&origin=https%3A%2F%2Felectronicintifada.net%2Fblogs%2Fmaureen-clare-murphy%2Fisrael-claims-self-defense-after-paralyzing-palestinian&siteScreenName=intifada&siteUserId=6721522&theme=light&widgetsVersion=ed20a2b%3A1601588405575&width=550px
Language
The Israeli military described unarmed Palestinians defending the Masafer Yatta residence raided by heavily armed soldiers as "a violent riot … where [Israeli] forces were attacked."
The language used to justify Abu Aram's shooting at close range echoes that used by Israel regarding the use of live fire against protesters in Gaza.
More than 200 Palestinians were killed during regular mass protests dubbed the Great March of Return beginning in March 2018 until their suspension at the end of 2019.
Thousands more were injured by Israeli sniper fire, many of them permanently. The snipers got later orders to refrain from killing and instead to target legs in order that the Palestinians refrain from joining the marches. Many children and youths were on purpose targeted.
Only one soldier has been indicted over the use of lethal force against protesters.
The military repeatedly referred to Palestinian protesters as "rioters" in its argument to the Israeli high court regarding its "rules of engagement."
Such language is intended to obscure the fact that Palestinians had mobilized to call for specific demands.
In the case of the Great March of Return, Palestinians were demanding to exercise their right to return to the lands from which their families were expelled in 1948. (Mind you that 80% of Palestinians in Gaza are transferred Palestinians from the West Bank).
Context of oppression
The "law and order" language (the language used by Nixon and the dictators) is used to obscure decades of injustice in the West Bank as well.
The Israeli military refers to Abu Aram as a "rioter" to avoid addressing the context in which the young man was permanently injured.
Abu Aram and the other "rioters" with him belong to a community that has been subjected to forcible transfer, multiple home demolitions and continuous harassment by soldiers and settlers. (I have already posted an article on the harassment that Palestinians in Yatta are subjected to)
This broader context of oppression is not helpful to Israel's reputation.
And so Israel says that Abu Aram and those with him "sought to obstruct [Israeli military] enforcement activity" – never mind that this "enforcement activity" is part of a coercive environment created by Israel to push Palestinians off of their land.
As the United Nations has made clear, "individual or mass forcible transfer or deportation" of the population of an occupied territory, like the West Bank, is a grave breach of the Geneva Convention "and is also considered a war crime."
The imposition of a coercive environment, like that endured by Palestinians in Masafer Yatta, is a form of forcible transfer.
While Israel may use the language of "law and order," characterizing its military's behavior as "enforcement activity," occupation forces are, in fact, carrying out violations of international law.
System of oppression
Whether it's forcible transfer or the use of lethal force against Gaza protesters, Israel's high court rubber-stamps these policies intended to pacify all Palestinian resistance to the occupation.
In Masafer Yatta, that resistance was about retaining an electricity generator used by a family who are not allowed the basic infrastructure provided to Israelis living in nearby settlements built in violation of international law.
It is not surprising that Israel's system of oppression and injustice would clear itself of wrongdoing in the shooting of Abu Aram.
As human rights groups stated this week, Israelis responsible for war crimes against Palestinians "have not been subject to any independent legal investigation in Israel."
The Israeli military's self-investigation system "is empirically and conclusively evidenced to be unwilling or unable to genuinely carry out investigations and prosecutions," the Palestinian groups added.
The four groups – Al-Haq, Al Mezan, Al-Dameer and the Palestinian Center for Human Rights – noted Israeli courts' complicity in the legitimization of war crimes and crimes against humanity.
"It is beyond time for a formal investigation" by the International Criminal Court, the groups said.
In late 2019, the court's chief prosecutor concluded a five-year preliminary examination, stating that requirements to launch a full investigation into suspected war crimes in the West Bank and Gaza had been met.
More than a year later, an investigation has yet to be opened.
The absence of accountability, the Palestinian human rights groups observe, has only allowed for the "consolidated, ongoing and internationalized assault on the right of the Palestinian people to dignity and to self-determination."
Israel is an 'apartheid' regime
By JOSEPH KRAUSS January 12, 2021
A leading Israeli human rights group has begun describing both Israel and its control of the Palestinian territories as a single "apartheid" regime, using an explosive term that the country's leaders and their supporters vehemently reject.
In a report released Tuesday, B'Tselem says that while Palestinians live under different forms of Israeli control in the occupied West Bank, blockaded Gaza, annexed east Jerusalem and within Israel itself, they have fewer rights than Jews in the entire area between the Mediterranean Sea and the Jordan River.
"One of the key points in our analysis is that this is a single geopolitical area ruled by one government," said B'Tselem director Hagai El-Ad.
"This is Not democracy plus occupation. This is apartheid between the river and the sea."
That a respected Israeli organization is adopting a term long seen as taboo even by many critics of Israel points to a broader shift in the debate as its half-century occupation of war-won lands drags on and hopes for a two-state solution fade.
Peter Beinart, a prominent Jewish-American critic of Israel, caused a similar stir last year when he came out in favor of a single binational state with equal rights for Jews and Palestinians. B'Tselem does not take a position on whether there should be one state or two. (And why Not taking a position?)
Israel has long presented itself as a thriving democracy in which Palestinian citizens, who make up about 20% of its population of 9.2 million, have equal rights.
Israel seized East Jerusalem, the West Bank and the Gaza Strip in the 1967 war — lands that are home to nearly 5 million Palestinians and which the Palestinians want for a future state. (Gaza is 80% of it transferred Palestinians since 1948)
Israel withdrew troops and settlers from Gaza in 2005 but imposed a blockade after the militant Hamas group seized power there two years later. (Not after Hamas took control, but because it was no longer a tenable occupation).
This apartheid regime of Israel considers the West Bank "disputed" territory whose fate should be determined in peace talks. (Israel flaunted all "peace negotiations" with the Palestinians, even in the Oslo Accords. Israel just want "security" management deals)
Israel annexed East Jerusalem in 1967 in a move not recognized internationally and considers the entire city its unified capital. Most (you mean a few?) Palestinians in east Jerusalem are Israeli "residents," but not citizens with voting rights.
B'Tselem argues that by dividing up the territories and using different means of control (about 250 checkpoints), Israel masks the underlying reality — that roughly 7 million Jews and 7 million Palestinians live under a single system with vastly unequal rights. (Palestinian youths are detained administratively , with no charges, every night)
"We are not saying that the degree of discrimination that a Palestinian has to endure is the same if one is a citizen of the state of Israel or if one is besieged in Gaza," El-Ad said. "The point is that there isn't a single square inch between the river and the sea in which a Palestinian and a Jew are equal."
Israel's harshest critics have used the term "apartheid" for decades, evoking the system of white rule and racial segregation in South Africa that was brought to an end in 1994. (What about the White racial divide in the US, which is still being demonstrated today?)
The International Criminal Court defines apartheid as an "institutionalized regime of systematic oppression and domination by one racial group." (Actually, there is No racial reasons, just a colonial rule to rob the Palestinians of their wealth and lands)
"There is no country in the world that is clearer in its apartheid policies than Israel," said Nabil Shaath, a senior adviser to Palestinian President Mahmoud Abbas.
"It is a state based on racist decisions aimed at confiscating land, expelling indigenous people, demolishing homes and entire towns to establishing settlements."
In recent years, as Israel has further entrenched its rule over the West Bank, Israeli writers, disillusioned former generals and politicians opposed to its right-wing government have increasingly adopted the term.
But until now B'Tselem, which was established in 1989, had only used it in specific contexts.
Israel adamantly rejects the term, saying the restrictions it imposes in Gaza and the West Bank are temporary measures needed for security.
Most Palestinians in the West Bank live in areas governed by the Palestinian Authority, but those areas are surrounded by Israeli checkpoints and Israeli soldiers can enter at any time. Israel has full control over 60% of the West Bank.
Itay Milner, a spokesman for Israel's consulate general in New York, dismissed the B'Tselem report as "another tool for them to promote their political agenda, based on a distorted ideological view." He pointed out that "Arab" citizens of Israel are represented across the government, including the diplomatic corps.
Eugene Kontorovich, director of international law at the Jerusalem-based Kohelet Policy Forum, says the fact that the Palestinians have their own government makes any talk of apartheid "inapplicable," calling the B'Tselem report "shockingly weak, dishonest and misleading."
Kontorovich said the use of the word "apartheid" was instead aimed at demonizing Israel in a way that "resonates with racial sensitivities and debates in America and the West."
Alon Pinkas, a former Israeli consul general in New York, rejects the term. "Occupation, yes. Apartheid, absolutely not."
But he acknowledged that critics of Israel who had refrained from using the term, or who had used it and been attacked, "will now conveniently say, 'Hey, you know, Israelis are saying it themselves.'"
Rabbi Rick Jacobs, head of the Union for Reform Judaism, which estimates its reach at more than 1.5 million people in 850 congregations across North America, says the situation in the West Bank and Gaza is a "moral blight" and an "occupation but Not apartheid, which is an existential critique")
El-Ad points to two recent developments that altered B'Tselem's thinking.
The first development was a contentious law passed in 2018 that defines Israel as the "nation-state of the Jewish people." Critics say it downgraded Israel's Palestinian minority to second-class citizenship and formalized the widespread discrimination they have faced since Israel's founding in 1948. Supporters say it merely recognized Israel's Jewish character and that similar laws can be found in many Western countries.
The second development was Israel's announcement in 2019 of its intention to annex up to a third of the occupied West Bank, including all of its Jewish settlements, which are home to nearly 500,000 Israelis. Those plans were put on hold as part a normalization agreement reached with the United Arab Emirates last year, but Israel has said the pause is only temporary.
B'Tselem and other rights groups argue that the boundaries separating Israel and the West Bank vanished long ago — at least for Israeli settlers, who can freely travel back and forth, while their Palestinian neighbors require permits to enter Israel.
There have been no substantive peace talks in more than a decade. The occupation, which critics have long warned is unsustainable, has endured for 53 years.
"Fifty years plus, that's not enough to understand the permanence of Israeli control of the occupied territories?" El-Ad said. "We think that people need to wake up to reality, and stop talking in future terms about something that has already happened."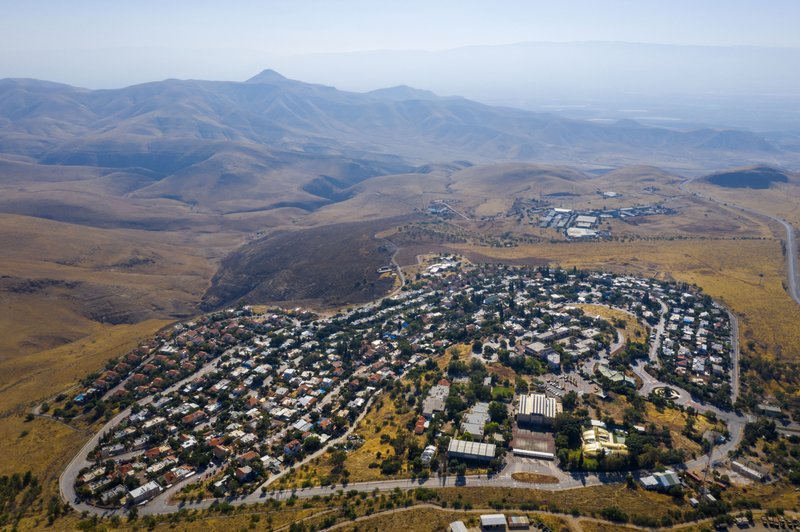 1 of 7 FILE – In this Tuesday, June 30, 2020, file photo, a view of the West Bank Jewish settlement of Ma'ale Efrayim in the Jordan Valley. Israel's premi
Israeli Vaccine Drive Excludes Millions of Palestinians in Occupied Territories
STORY JANUARY 05, 2021
Despite the fast rollout, human rights groups are expressing alarm over Israel's decision Not to vaccinate Palestinians in the occupied West Bank and Gaza, where about 1,500 people have died during the pandemic.
Israel has defended its actions citing the Oslo Peace Accords, which put Palestinian authorities in charge of healthcare in the West Bank and Gaza. (An accord that Israel never applied, as usual)
Dr. Mustafa Barghouti, a physician, member of the Palestinian Parliament and head of the Palestinian Medical Relief Society. "Israelis are getting the vaccines, and Palestinians are getting nothing."
AMY GOODMAN: This is Democracy Now!, democracynow.org, The Quarantine Report. I'm Amy Goodman, with Juan González.
Israel has become the first country in the world to administer COVID-19 vaccines to more than 10% of its population. As of Monday, 14% of Israelis had received a vaccine — far higher than any other country. Despite the fast rollout, Israel's health minister says a total lockdown is needed to combat the surging number of new infections. (Actually, most of Israelis that travelled to the Gulf Emirates were fleeing the lockdown)
This comes as human rights groups are expressing alarm over Israel's decision not to vaccinate Palestinians living in the occupied West Bank and Gaza, where about 1,500 people have died during the pandemic.
Physicians for Human Rights recently said, quote, "Israel bears moral and humanitarian responsibility for vaccinating the Palestinian population under its control," unquote. Israel is, however, offering vaccines to Jewish settlers living in the illegal settlements in the West Bank.
Israel has defended its actions, citing the Oslo Peace Accords, which put Palestinian authorities in charge of healthcare in the West Bank and Gaza. Palestinian officials are facing a number of hurdles in launching its own vaccine campaign, including a shortage of money, lack of access to vaccines, lack of infrastructure to distribute a vaccine.
Israel has so far been relying on the Pfizer-BioNTech vaccine, which needs to be stored at minus-94 degrees Fahrenheit.
Storing such a vaccine is impossible in Gaza, where residents often go 12 or more hours a day without electricity.
In 2014, Israel bombed Gaza's only power plant in what Amnesty International described as "collective punishment" of Palestinians.
We go now to the West Bank city of Ramallah, where we're joined by Dr. Mustafa Barghouti, physician, member of the Palestinian Parliament, head of the Palestinian Medical Relief Society, has been leading efforts to manage the pandemic in the West Bank and Gaza.
He was infected with COVID-19 in December. He's secretary general of the Palestinian National Initiative, a political party. And he was a presidential candidate in the 2005 elections.
We welcome you to Democracy Now!, Dr. Barghouti. Can you explain what is happening? How has Israel become the country that has vaccinated more of its population than any country in the world, and yet Palestinians are not getting vaccinated? Who's in charge of this program? Who should be?
DR. MUSTAFA BARGHOUTI: Well, thank you, Amy. I'm glad to be with you.
Israel actually is violating international law, because it is denying its responsibility as an occupying power. Israel managed to get 14 million vaccines for the Israelis and those who hold Israeli IDs, but gave nothing to Palestinians. So, practically, they are vaccinating 8 million Israelis and not vaccinating 5.3, 5.2 million Palestinians living in the Occupied Territories.
More than that, this system of racial discrimination (It is a colonial apartheid discrimination), which can only be compared, in my opinion, to apartheid system, is doing something horrible in the West Bank.
Seven hundred fifty thousand 750,000 illegal settlers are getting the vaccines now; 3.1 million Palestinians in the West Bank are getting nothing.
More than that, in the Israeli prisons, Israel ordered the guards in the prisons to get the vaccine, and probably the Israeli criminal prisoners, but the Palestinian prisoners, 5,000 of them, are getting nothing.
What can be more clear here than that this confirms that this is really a system of racial discrimination?
And when they speak that the Palestinian Authority is responsible, this is totally misleading.
First of all, the Palestinian Authority approached them, asking at least for vaccines for us, the healthcare providers, who are being infected around the clock. And Israel refused.
The Palestinian Authority is in charge only of 38% of the West Bank, only.
Sixty-two percent of the West Bank is Area C, under full Israeli military control, and Israel is doing nothing for Palestinians there.
If the Palestinian Authority tries to import a vaccine from outside, they will need Israeli permit. And Israel did not allow any permit yet for Palestinians. Israel controls the borders, controls the imports, controls the exports.
And the biggest disaster is in Gaza, because in Gaza you have 2.1 million besieged by Israel, lacking health facilities, lacking equipment, and there, they are not getting any vaccines.
70% of Palestinians in Gaza are refugees displaced from their land in 1948. When you tell them, "Go and quarantine," I don't know how they can do that, if you have 10 people living in two rooms. It's impossible.
The problem is that the rate of infection today in the West Bank and Gaza is 36%, while in Israel it's 4.5%. Israelis are getting the vaccines, and Palestinians are getting nothing.
JUAN GONZÁLEZ: But, Dr. Barghouti, isn't it in the interest of Israel, from a public health perspective, even if they want to pursue this continued antagonistic policy toward the Palestinians, to have the Palestinians vaccinated, to reach herd immunity in the total area?
DR. MUSTAFA BARGHOUTI: You're absolutely right. In my opinion, Netanyahu and his government — this man is so racist. He only thinks of himself. He only thinks of his political future. He only thinks of escaping the criminal charges against him and being reelected again.
And all he does is to satisfy the Israeli right-wing voters.
In reality, what his government is doing is actually hurting the Israelis, as well, because you cannot reach herd community if you have 8 million people vaccinated and 5.2 million people not vaccinated, especially that 130,000 Palestinian workers will continue to go to Israel for work and will interact with Israelis, of course, and there are 750,000 other Israelis, illegal settlers, in the West Bank, who will continue to commute and communicate with the 3.1 million unvaccinated Palestinians.
So, practically, this is a crime against Palestinians and a crime against the health of Israelis. It's a violation of the international law, but also it's, in my opinion, the worst crime against medical ethics, which says nobody should be discriminated against because of anything, which says, "Do no harm, and help people as much as you can as a health professional."
JUAN GONZÁLEZ: I wanted to ask you — the COVAX facility that the World Health Organization established to help poor countries has pledged to vaccinate 20% of Palestinians. Where does that stand right now in terms of that pledge?
DR. MUSTAFA BARGHOUTI: I am in communication with the head of WHO here. And they are trying their best, but they do not think they can get anything here before four or five months, and if they are lucky.
Up 'til now, they don't know what vaccine they can get in. Up 'til now, they don't know how to get vaccines. That's why, given the huge spread now of community infections in the West Bank and Gaza, a very high number of cases — I estimate we have already 600,000 cases.
And they approached the Israelis. The WHO approached Israel, asking at least for vaccines for the health professionals. Israel refused and continues to refuse.
So, unfortunately, we are looking here at a potential real serious disaster. And as a person who is suffering from COVID-19 now, after nine months of being so protective and trying to be very careful, I can tell you this is a horrible disease.
I don't wish it for anybody. It's very dangerous. It can be destructive. It can kill the people. And it can also leave them with incapacity for a very long — for the rest of their life.
AMY GOODMAN: Dr. Mustafa Barghouti, as you said, you yourself have COVID-19 right now. You're in the throes of it. We know that Saeb Erekat, chief negotiator, died of COVID-19. You're a frontline physician. Do you get vaccinated?
And what about the vaccines? Apparently, PA has asked the United Arab Emirates to share some of its supply of Chinese-made vaccine, and the Palestinian Authority has reportedly ordered 4 million doses of the Russian Sputnik vaccine.
When are these doses going to come? And what are you demanding of the not only Israeli government, but the U.S. government, since it gives so much money to the Israeli government?
DR. MUSTAFA BARGHOUTI: I think I demand from the whole international community to do two things: First of all, to exercise immediate pressure on Israel to allow the passage of vaccines to at least the beginning — in the beginning, to the health professionals that are taking care of people, so that the health system would not collapse, and then to the elderly, of course, etc.;
Second, we're asking the international community to provide aid, bypassing Israel. Israel will not respond. And the international community has a big duty here.
I was not vaccinated. No health professional in the West Bank has been vaccinated yet. And we don't know when we will get this vaccine. And it is really critical, because the rate of infection is going up, and it is affecting — it could affect everybody in the community. So what we need is immediate pressure.
Regarding the Russian vaccine, yes,, there was a request, but I don't think the Russians can provide such vaccines, because their capacity of production is still low. They have produced only 500,000, up 'til now, vaccines. And their maximum capacity is 4 to 5 million per month, and they need 100 million vaccines for Russia itself. So I don't think that is a solution, although the Sputnik vaccine seems to be very good.
I think what we need is to really have a way of getting the AstraZeneca or the Moderna vaccine. Of course, we have a problem with Pfizer, although we have managed to provide some facilities in the West Bank, if we can get it, to give it to people.
But the most immediate need now — now it's a health disaster. Now it's a very risky situation. A whole population is subjected to a very big, alarming risk. That's why it is very urgent to immediately exercise pressure so that Palestinians also get the vaccines.
AMY GOODMAN: Would you describe this as medical apartheid?
DR. MUSTAFA BARGHOUTI: Yes, absolutely. This is the worst form of apartheid: medical apartheid. It didn't even exist in South Africa.
This is just beyond description. Imagine you go to a prison: You vaccinate the guards, but not the prisoners; you vaccinate Israeli prisoners, who are criminal usually, and not vaccinate Palestinian political prisoners.
Imagine you go in the cities of the West Bank: The settlers are vaccinated, and nearby Palestinian cities and communities are not vaccinated. Not only they grab our land, not only they settle illegally on our land, take away our natural resources, take away our sources of economy, but also they back this system of apartheid. I call it — I call it vaccination with racism.—
AMY GOODMAN: Dr. Mustafa Barghouti, physician, member of the Palestinian Parliament, thanks for joining us.
The original content of this program is licensed under a Creative Commons Attribution-Noncommercial-No Derivative Works 3.0 United States License.
Please attribute legal copies of this work to democracynow.org. Some of the work(s) that this program incorporates, however, may be separately licensed. For further information or additional permissions, contact us.
Of what kind of Israel are you talking about?
Posted on August 10, 2014
Note: lately, there is a flurry of Trump administration pressuring "Arabic" States to signing "peaceful deals" with Israel. The Gulf Emirates, Bahrain, Sudan, Oman and Morocco… are under the illusion that if the US remove them from the list of rogue States, sanctions, $ transfer, harassment… then these States will feel safe and secure…That Israel/US will share with them essential intelligence pieces to allow them "staying power"
Jordan and Egypt had already signed deals in the late 70's after the 1973 war.
Actually, these deals are made with monarchs, Emirs and dictators: the people know they will get no benefits by antagonizing regional States.
I keep hearing this mantra: accept the existence of the State of Israel if you want peace. What does that actually mean?
To accept the State of Israel as a Jewish State?
To accept the borders, and which borders?  (Israel has No Constitution and never presented to the UN its borders)
To say that we won't throw the Jewish Israelis into the sea?
People need to speak with greater clarity.
If the reference is to the acceptance of Israel as a Jewish State, then No.
No, because any state that gives greater rights to members of one group (in this case, a religion) over another cannot be democratic.
No, because any state that deems a group of people living within its borders (Palestinian citizens of Israel) and a people living under occupation (Palestinians in the West Bank and Gaza) as a "demographic threat" cannot be peaceful. So, No.
Just as people rejected the existence of Apartheid South Africa and rejected the "state of the South" in the US as slave-holders, No to the existence of the State of Israel as a Jewish State.
If the reference is to accept the borders by the use of military occupation, then No
And which borders is Israel willing to agree on? Is Israel ready to relinquish the Syrian Golan Heights, the lands of Lebanon in Shaba and Kfar Shuba…
Does Israel willing to agree on the existence of a sovereign, contiguous Palestinian State and the return of the Palestinian Refugees to their villages, as of the UN resolution of 193?
As to throwing the Jewish Israelis into the sea — is that what is meant by rejecting the State of Israel? – then, of course not, I don't call for that.
However, it is exactly what so many members of the Israeli Knesset, Israeli press, and a growing number of the Israeli public are asking to do to the Palestinians: ethnic cleansing of Palestinians, transferring of Palestinians, denamitating Palestinian house, uprooting olive trees, incarcerating Palestinian youths under detentive laws without trials…
Rafah, Gaza. Dead children kept in vegetable refrigerators
Posted on August 3, 2014
Note: Before this butchery, Rafah witnessed a prior butchery in 1956 as Israel participated in the invasion of the Suez canal. Israel army crossed Rafah and committed crimes against humanity: over 60 civilians were exterminated.
As Gaza stranglehold tightens, full morgues have forced people to store dead bodies in refrigerators
Corpses of the dead stored in a vegetable refrigerator in Rafah (Twitter / @FoolowGaza)
Mohammed Omer posted this Saturday 2 August 2014
Abu Taha, a farmer in Rafah, opened the refrigerator he normally keeps his potatoes and carrots in.
In it were the corpses of children, young men and women lying on top of one another, soaked in blood.
Many were impossible to identify and only a few have been placed in white burial shrouds.
Such was the savagery of Israel's bombardment in Rafah, such was the quantity of dead bodies, that there was simply no other option but to use vegetable refrigerators as makeshift morgues.
The closure of hospitals which came under bombardment led to a cascade of corpses. It started when medical staff were forced to abandon Rafah's main hospital Abu Yousef al-Najjar which came under constant bombardment by artillery shelling from the east of the city.
They evacuated the injured to Kuwaiti Hospital, a facility totally ill-equipped to deal with major trauma injuries from the extended battlefield that the Gaza Strip has become.
Even so, several bodies were left lying on the roads, bleeding for hours without any ambulance crew arriving to rescue them.
Meanwhile, three ambulance crew members have been killed, their bodies were unidentifiable after they were hit by an Israeli tank shell directed at their ambulance.
Several of the cases close to the hospital gate were not reachable by rescue teams, says Abu Ahmed, an ambulance driver. 
"Each time I drive through, tank shells are fired nearby," he says while he is a couple of hundred meters from tens of victims bleeding on the road.
Most cases of those killed in Rafah are civilians slain by canon shells that wiped several homes in Hay al-Junina area.
Meanwhile, Israeli warplanes fired missiles on several homes in Rafah targeting homes of Abu Suliman, Zorb, Alshaer, and Abu Suliman. 
The death toll in Rafah in the past 24 hours is now 110 killed and hundreds injured.  Medics say there are more bodies they could not reach.
The corpses were taken into vegetables refrigerators in Rafah, which have their own electricity generators. 
Even burying the dead was full of hazard, as the cemeteries in the east of the city have also been under Israeli artillery shelling over the past 24 days.
"We had no option but to put the bodies of tens killed in the refrigerators," Subhi Radwan, mayor of Rafah told MEE.
Al-Nujjar hospital has only enough beds for a few dozen patients, but evacuation has meant nowhere else to go for victims of the attack.
Radwan says, the war on Rafah is not over, and his staff members are unable to offer any facilities to people on the ground, that includes water and electricity lines which were destroyed by strikes.
"We appeal to the international organizations to step in and help us evacuate injured people lying in the east of Rafah," he says.
Meanwhile, international groups have tried to help evacuate victims, but to no avail.
Survivors of the 24-hour bombardment said they had seen nothing like it in their lives. They were bombed from the air, sea and ground simultaneously.
"It is terrifying, the Israeli military has gone out of control, they bombed a building of families fleeing and killed 23 innocents," says Abdelraouf Ayyad, a 33-year old whose home he fled in Hay al-Junina when bombing started 24 hours ago.
"No one is safe; no home, no hospital, no shelter" he says as he runs into Tal al-Sultan to seek shelter at his cousin's house.
Twenty three (23) family members have been killed by Israeli F16 missile, mostly from families that fled bombing in east of the city to the West of Rafah.
Radwan says, there is no other hospital, and now even the Kuwaiti hospital is under canonfire—journalists and rescue teams were forced to leave the area under gunfire.
Ashraf Al Qudra of health ministry appeals to the international community to allow ambulances to evacuate injured people from roads of East of Rafah and Kuwaiti hospital.
"We need safe routes for ambulance to evacuate victims into other hospitals in Khan Younis."
Israeli tanks could be seen in the east, overlooking Rafah, home of 180,000 inhabitants in the far south border with Egypt.
"There are tens of cases of people bleeding and the hospital is unable to deal with massive number of victims"
Rafah's massacre occurred two hours into the 72-hour humanitarian ceasefire announced yesterday.
Hamas and Israel exchanged accusations of breaking the ceasefire. However, Israel insisted on carrying out a military ground operation on the eastern border, despite the truce.
Israel announced one missing soldier during its ground invasion, while Hamas's al-Qassam Brigades say they lost communication with some of their members who were in combat with Israeli troops before the ceasefire started.
Qassam Brigades said in a statement that the Israeli soldier was probably killed during in ambush along with Qassam Brigades members.
The death toll across the Gaza strip is 1680 dead and 8500 injured since the war began 27 days ago – the majority are civilians according to the UN.
Meanwhile, 3 civilians and 50 Israeli soldiers have been killed during the ground attack in Gaza.
Palestinian factions and Israel were expected to travel to Cairo for talks with Egyptian on a long-lasting truce, but the presence of Israeli tanks around the Rafah Crossing point will make this unlikely to happen anytime soon.
– See more at: http://www.middleeasteye.net/news/gazans-forced-keep-dead-bodies-vegetable-refrigerators-1006544969#sthash.7DTcuIEy.dpuf
This confusing business of spreading institutional propaganda?
Western media in the "confused business": Writing Iran when meaning Saudi Kingdom?
Mind you that this article was posted in 2012
The Olympic game charter prohibits States to discriminate between genders  in at least two clauses. And yet, Saudi Arabia will not let women participate in sports, while Iran do send sport-women to games…
Suppose Iran was discriminating, wouldn't international outcry be deafening us? But nobody is willing to make waves when Saudi Arabia is the culprit…
Saudi Arabia Wahhabi, theocratic and absolute monarchic State has executed 76 people in 2011, such as women condemned for witchcraft, non-noble class homosexuals, sodomizers, adulterous women, drug traffickers, apostasy…and cutting hands of robbers…But the UN is not interested in what's going on in Saudi Arabia.
Except the UN High Commissariat for human rights, no international institutions bring up these violations in Saudi Kingdom…
Neither the UN Council, nor the G20 (that met this year in the Kingdom), nor the International Monetary Fund (IMF)…care of what's going on in Saudi Arabia.
Saudi Kingdom is practically untouched and never blamed (the same as this colonial apartheid implant of Israel)…
For example, in 2008, French Sarkozy declared: "Under the vigorous impulse of his Majesty Abdullah, Saudi Arabia is developing a civilized policy…" (Coming from Sarkozy under justice investigation in France and the instigator of the civil war in Libya)
Saudi Arabia impulse is still in funding and supporting the most obscurantist Islamic extremists in Tunisia, Morocco, Mauritania, Algeria, Egypt, Yemen, Syria, Iraq, Lebanon, Mali…
They are funding TV cables channels dedicated to Islamic salafism, erecting Mosques in every street, sending free million of Korans (Wahhabi version), and million of books on "How to subjugate wives and daughters in obeying patriarchal systems…"
Saudi Arabia is lethally crushing youth demonstrations under the banner of "New form of terrorism", killing peaceful Shia demonstrators in the Eastern region, jailing over 20,000 each year for freedom of expression charges, and has sent military reinforcement into Bahrain to crush the civil uprising, and is supporting the Al Qaeda in Yemen and Somalia…
The irony is that Saudi Arabia is the refuge for all dictators, Tunisia Ben Ali, Egypt, Uganda Idi Amin, many African dictators… And current Tunisia Hamadi Jebali PM visited Saudi Arabia and lauded the good deeds of this archaic monarchy, and refrained from demanding the extradition of Tunisia dictator, or the return of the stolen billion…
Saudi Kingdom would want everyone to believe that the main nemesis is Shia Iran, as Israel would want everyone to believe this strategy…
As  if peaceful nuclear energy program is the enemy to human rights, democracy, freedom of expression…
And it is the Iranian people who are to suffer from economic and financial sanctions, while Saudi Arabia fund and sustain terrorism everywhere in Islamic States…
Western media are persisting in the "confused business" of not politically discussing the current US policies in the Arab World: Are they Writing Iran when meaning Saudi Arabia?
The big picture can be described as follows:
1. China keeps the US economy afloat with "fresh money" in buying government bonds
2. Saudi Kingdom keeps the US Federal budget afloat by cyclically infusing funds, particularly in crisis situations such as preemptive military operations, changing "rogue" regimes, enforcing oil embargoes…(And lately, succumbing to Trump blackmails to eliminate hundreds of $billion loans and buying useless weapons Not under the control of the Kingdom military…)
3. The US cyclically rectifies Israel endemic budget deficits, using Saudi Kingdom largess. Can't we claim that Saudi Arabia is the main funder of the theocratic and apartheid Zionist State?
Is the US cowing to Saudi Arabia strategy of reducing all States in the Middle-East to theocratic Sunni Wahhabi salafism and archaic regimes and encouraging Israel to be a carbon copy of the surrounding States?
Note: Since 2012, Qatar, Bahrain and Gulf Emirates have shared in US order to fund the terrorist movements participating in Syria "civil war", destabilizing Tunisia, Algeria, Iraq, Somalia, and many African States.
Why and how Israel decided to flatten Beirut?
Is it Out of Spite, Israel/US decided to bypass their totally impotent and greedy Lebanese leaders' allies?
Hezbollah has plenty of serious grievances against these militia/mafia leaders who have totally sided with US/Israel for many decades, and many of them who supported the Zionist movement before the creation of this colonial implanted colony Israel in our midst.
In fact, the Maronite Phalange Party, created by the French colonial mandated power in 1936, and headed by Pierre Gemayel, totally supported the Zionist movement and the creation of Israel as a counter-power against the predominantly Muslim population in lebanon.
The successive pre-emptive wars of Israel on Lebanon were supported by these "agent" leaders since 1948.
1) Actually, those who were elected in the parliament are the ones who sold their properties and lands in Palestine to the Zionist movement in order to run for election
2) In the first 3 decades of the "Independence" of this pseudo-State of Lebanon, the Southern region and its people were totally ignored in the successive budgets for any worthy infrastructure, schools and hospital.
And that indignity included the Akkar region in the north and the Bekaa Valley people.
3) The Iranian Ayatollah Khomeini dispatched his cleric Moussa Sader to Lebanon in the late 1960 in order to rally the Chia sect around a leader that was Not a feudal and landlord conventional "leader" or za3eem.
Moussa Sader did a great job and his "Disinherited Movement" called Amal grabbed the attention of the conventional Lebanese leaders in power for all that period and this movement became a force to negotiate with.
Hezbollah General Secretary, Hassan Nasrallah, in a speech declared that "All we need is to launch a couple of missiles on the Ammonium plant in Haifa. The conflagration is as powerful as an atomic bomb".
It turned out that Israel actually executed this idea and stored an amount of ammonium nitrate in the port of Beirut and let it be forgotten
Who still believes that this calamity is a simple matter of laziness of every responsible during the last 6 years?
Who is still unable to believe that Israel is Not able to prepare for a long-term catastrophe and hangar #12 was being prepared and targeted for a timely decision to flatten Beirut?
Who still believe this conflagration was Not triggered by an electromagnetic pulse bomb, planted in the hangar?
World Zionist Congress is meeting.
You might have the impression that 'world Zionism' is an antisemitic organization.
Or you have succumbed to the conspiracy theory…
While the World Zionist Congress is in session, with 720 delegates from over 30 countries.
by Alison Weir October 23, 2020
Menifee, CA (IAK) — I'm sometimes astounded at the fact that a major political movement over a century old is so little known among Americans – especially since it has had a momentous impact on the world in general and on the U.S. in particular, causing multiple wars, vast population displacement, and global instability.
In my travels around the US, I've found that most Americans know extremely little about Zionism.
I would guess that the vast majority of Americans could not define the term (that was certainly my situation for most of my life), and that a great many may Not have even heard of it.
And among those who have heard the term, many may think it refers to some antisemitic conspiracy theory.
The fact is that Zionism – according to the dictionary, "a worldwide Jewish movement that resulted in the establishment and development of the state of Israel and that now supports the state of Israel as a Jewish homeland" – is both very real and extremely significant.
Zionism succeeded in establishing the state of Israel in 1948 after decades of open and frequent covert efforts.
It promoted a successful, and extremely false, slogan – "a land without a people for a people without a land" – and succeeded in perpetrating one of the major hoaxes of the 20th century, in which victims (indigenous Palestinians) were designated aggressors while the aggressors (Zionist colonists) were portrayed as victims.
This hoax was documented by diverse authors, and perpetrated through the silencing of others.
And today this movement contains numerous powerful international entities (see the list below), while remaining largely invisible to millions of citizens of the country that gives Israel massive amounts of money, shields Israel apartheid system internationally, and has fought at many pre-emptive wars on Israel's behalf of Israel, in Iraq, Lebanon, Syria, Somalia and Yemen. (The rationale is to secure the existence of the State of Israel and its dominance on the region)
The dictionary definition captures only the simplest meaning of the word, but not its deep impact: how Israel was established and what supporting Israel today enables.
As numerous historians have documented, Israel was established through a war of ethnic cleansing, in the words of a major Israeli historian, in which approximately 750,000 men, women, and children were violently expelled. Hundreds of villages were destroyed and much of the indigenous population was displaced, their ancestral homes and land confiscated and the former owners made into penniless refugees.
Today, in its pursuit of the Jewish identity mentioned in the definition, Israel continues to confiscate Palestinian land, discriminates against the remnants of the non-Jewish population that remain in the area, and holds the four and a half million people in the remaining portion of their land (the West Bank and Gaza), in two virtual prisons, their ability to leave and to return to their homes controlled by Israel.
Palestinian villages are invaded daily, people terrorized and abducted, homes and crops are regularly destroyed, youth administratively detained to "security reasons.".
For over a year there was a weekly mass demonstration during which Israeli forces shot with live bullets unarmed demonstrators every week. More than a thousand Palestinians were handicapped from the snipers children, women, nurses, journalists…(To see these actions go here.)
Zionist movement in the US – a century of activism
As I describe in my book, the Zionist movement in the U.S. began in the late 1800s and played a significant role in the events that led to the establishment of Israel.
Today the pro-Israel lobby is probably the most powerful and pervasive special interest group in the U.S. Its members have diverse views and sometimes sharply disagree with one another on aspects of the issue, but all share one goal: support for Israel.
Israel partisans have become extremely influential in both political parties and have obtained numerous US policies of support for Israel.
Most recently, they are promoting bills to expend $19 million per day on behalf of Israel.
Altogether, 90 bills for Israel have been introduced in the current Congress alone.
In addition, there is also considerable evidence that Israel partisans were central in pushing the US into invading Iraq, and that many are similarly active in demonizing Iran. (See this, this, this, and this.)
Conspiracy theory?
Since little of the above is known by the general American public (U.S. media rarely report any of this), some Americans are under the impression that even suggesting there is a "world zionist movement" is an antisemitic conspiracy theory.
(In fact, even discussing the Israel lobby in the U.S. can be dangerous to reputations and careers.
For example, respected professors John Mearsheimer and Stephen Walt were attacked as "antisemitic" for their scholarly work in detailing the power of the Israel lobby.)
Fact is that the World Zionist Organization has been in existence since the late 1800s, and this is just one of a number of international organizations that work on behalf of Israel.
All of these are very public – if one knows where to look.
Currently, the World Zionist Organization is holding its 38th Congress in an online format from Israel. The Congress is convened every five years.
World Zionist Organization
While US mainstream media have largely failed to even mention this organization and event, it has been big news in the Israeli and Jewish-American press, with numerous stories leading up to the event.
Below is an image from an article in the Jewish News of Northern California entitled "Your vote in Israel: Here are the Bay Area Jews running for the World Zionist Congress."
The World Zionist Organization (WZO) was founded in 1897. It has an elaborate structure, including a World Zionist Congress, a Zionist General Council, a Zionist Executive, and a Zionist Supreme Court.
It also has a department devoted to "repatriation" – encouraging Jews to leave their birth countries and move to Israel – and lists numerous affiliates and partners around the world.
Currently, the WZO convened its 38th Congress, with 720 delegates and observers from over 30 countries participating in a 3-day conference.
Based in Israel as usual, this year's event is being held online because of the pandemic, and sessions are being synchronized with time zones in Israel, North America, Latin America, Europe, Australia, and South Africa.
The World Zionist Congress allocates about a billion dollars a year to various projects and is popularly known as the "parliament of the Jewish people."
The Israeli Jerusalem Post newspaper reports that during the Congress "elections will take place for the leadership positions of the National Institutions – the World Zionist Organization, Keren Kayemeth Le'Israel (Jewish National Fund-JNF), and Keren Hayesod [aka United Israel Appeal:  
"the preeminent worldwide fundraising organization for Israel, which was established in London in 1920, to serve as the fundraising arm of the Jewish People and the Zionist Movement]. Current issues on the world Jewish agenda will be deliberated…"
Among the issues to be deliberated will be how to "allocate nearly $5 billion to Jewish organizations and programs in Israel and around the world."
The event is being live-streamed and can be viewed here.
Additional Zionist organizations:
The WZO is far from the only organization with "Zionist" in its title.
Among the others are:
Women's International Zionist Organization (WIZO): founded in 1902, it currently has 250,000 members around the world.
Mizrachi, the global Religious Zionist movement: "Mizrachi is the global Religious Zionist movement, spreading Torat Eretz Yisrael across the world and strengthening the bond between the international Jewish community and the State of Israel."
It was founded in 1902, is based in Jerusalem and has branches across the globe. It opposes the international movement supporting Palestinian rights known as BDS. It says the Mizrachi Global Summit was held on October 18th.
Zionist Organization of America: "Founded in 1897, the Zionist Organization of America ("ZOA") is the oldest pro-Israel organization in the United States." It has 25,000 members and chapters throughout the U.S.
Hadassah, the Women's Zionist Organization of America: Over a century old, it says its vision is to "strengthen a connection to Israel." It says it is "the largest women's Zionist membership organization in the United States. It inspires a passion for and a commitment to its partnership with the land and the People of Israel."  (Ruth Bader Ginsburg was a lifelong member.)
American Zionist Movement: "AZM works to promote and defend Zionism in the United States; to deepen and expand the active relationship of the American Jewish Community to Zionism in a contemporary context; to facilitate dialogue and collaboration among Zionist organizations through and with the AZM; and to be the central hub for Zionist resources in America."
(An interesting bit of history is that "Zion" was one of the names Zionist leaders considered in 1948 for the new state, before they finally settled on the name "Israel."
(Israel means the Land of God El, the Canaan all encompassing God in Palestine, Lebanon and Syria and whom Jew considered their God too. The bedouin Jews created Jehovah as their God of war as Canaan hired them as mercenaries to fight along them. )
Still more Zionist organizations
There are also a number of other major international organizations that work for Israel. Virtually all of these organizations have large staffs, elaborate structures, and multi-million dollar budgets.
Their websites provide an abundance of information about their global reach and diverse activities. Many openly state that they work to oppose the international movement to boycott Israel, which has been organized because of Israel's long documented human rights abuses.
Known as "BDS" (Boycott, Divestment, and Sanctions), the movement "upholds the simple principle that Palestinians are entitled to the same rights as the rest of humanity."
(BDS is demanding that countries boycott the product generated in the occupied land of West Bank by illegal settlers and settlements)
Below is a partial list:
• World Jewish Congress (WJC) is another international congress that supports Israel. According to its website, the WJC "represents Jewish communities and organizations in 100 countries around the world. It advocates on their behalf towards governments, parliaments, international organizations and other faiths."
The WJC represents significant global wealth. Its annual gala held in New York last year was, as I wrote in a detailed article, attended by billionaires, Russian oligarchs, Ukrainian ambassadors, international financiers, the Rothschilds, and assorted other glitterati.
• World Holocaust Forum is another international entity that supports Israel. It is held in Israel and was founded and run by Russian-Israeli oligarch Viatcheslav Moshe Kantor.
Last year, at least 45 world leaders attended his fifth event. Israel's Ha'aretz newspaper called it "an airlift of presidents, prime ministers and royalty from around the world." Kantor, a billionaire known for unscrupulous business practices, is president of the European Jewish Congress and heads up a network of pro-Israel international entities.
In an interview for a Zionist publication, Kantor was asked: "Why are you so interested in Holocaust education and in creating big events to memorialize the Holocaust?" Kantor answered:
The Holocaust was an essential tool used to bring about the establishment of the State of Israel. In 2006, it is the most effective tool we have to fight against anti-Semitism and to protect Israel."
• Jewish Agency for Israel has been in existence for 90 years, has branches around the world, and encourages people to move to Israel. It has a branch in the US where donations to it can be deducted from U.S. taxes. It states that it works to oppose BDS.
• B'nai B'rith International has been in existence for 175 years and had a connection to Israel from the state's earliest years. Like many of the organizations, it periodically works to prevent events supporting Palestinian rights.
• Maccabi World Union, headquartered in Israel, spans five continents, is in 80 countries, has 450 clubs, and 450,000 members. Its website says it's "a Zionist organization that utilizes sports as a means to bring Jewish people of all ages closer to Judaism and Israel."
It has a multitude of programs focused on Israel and works to "fight BDS."
• Jewish National Fund was founded in 1901 and played a major role in transferring Palestinian land to Israel. It is holding its national conference right now (video here).
Like many of these entities, it has a presence in the U.S. and has acquired tax deductible status.
• American Jewish Committee (AJC), despite its name, is yet another international organization. It has 30 offices around the world in Europe, Africa, Latin America, Asia-Pacifiic, and Israel. It also has numerous regional offices throughout the US.
Note: I posted many articles on How the State of Israel was established and which colonial powers and personalities actively worked toward that plan
Why Israel and the US consider Armenia as the enemy?
L'état hébreu dans les coulisses du conflit Azerbaïdjan-Arménie.
Since early October, Israel was shipping by air drones and missiles to Azerbaijan. Israel has been training this State security institution.
By Dominique Delawarde.
Les médias mainstream occidentaux ont beaucoup insisté sur le rôle majeur et indéniable de la Turquie dans la crise opposant l'Arménie à l'Azerbaïdjan, mais ils sont restés extrêmement et étonnamment discrets, voire silencieux sur le rôle tout aussi important, joué, en coulisse, par Israël, et sur son positionnement dans cette affaire.
Ce rôle n'a pourtant pas pu échapper à un géopoliticien ou à un observateur averti
Il y a les discrètes navettes aériennes entre Tel Aviv et Bakou qui, au début d'octobre transportaient de l'armement sophistiqué (notamment des drones et des missiles).
Une part non négligeable de l'armement azéri est d'origine israélienne.
Il faut rappeler que l'Azerbaïdjan est le premier pourvoyeur de pétrole d'Israël et lui fournit 40% de ses besoins.
Ceci suffirait presque à expliquer l'alliance de fait, entre les deux pays, alliance basée sur une sorte d'échange « pétrole contre armement ».
Il y a la relative discrétion des chancelleries et des médias occidentaux – dont on sait qui les contrôle – sur l'ingérence ouverte de la Turquie, pays membre de l'OTAN, contre l'Arménie, pays membre de l'OTSC (Organisation du Traité de Sécurité Collective) aux côtés de la Russie.
La coalition occidentale a bien protesté du bout des lèvres: elle a bien appelé « à la retenue » et au « cessez le feu », mais elle a laissé faire la Turquie sans vraiment dénoncer son impérialisme islamiste, désormais tous azimuts (Syrie, Irak, Libye, Méditerranée orientale, Caucase).
Il y a encore la prise de position officielle de Zelenski, premier président juif d'Ukraine, en faveur de l'Azerbaïdjan, et contre l'Arménie.
Il y a enfin cette déclaration de Georges Malbrunot, grand reporter au Figaro qui nous apprend dans un tweet :
Conflit au Nagorny-Karabakh : au-delà de la station du Mossad basée en Azerbaïdjan pour espionner l'Iran et de la livraison de matériels militaires à Bakou, Israël entraîne les forces de sécurité azéris, confie un diplomate européen, qui fut basé en Azerbaïdjan.
Mais pourquoi l'État hébreu se distingue-t-il aujourd'hui, par sa présence et son action dans cette région du monde aux côtés de la Turquie, de l'Azerbaïdjan et du djihadisme islamiste ?
Il faut se rappeler que l'activisme d'Israël sur la scène internationale n'est pas que régional, mais mondial. Il peut être direct ou indirect.
Son empreinte est souvent perceptible et parfaitement identifiable dans la politique étrangère des grands pays occidentaux (USA, UK, FR, Canada, Australie), mais elle l'est aussi dans presque tous les grands événements qui ont affecté l'évolution géopolitique mondiale des dernières décennies: (guerres au Proche et Moyen-Orient, révolutions colorées et/ou changement de pouvoir (ou tentatives) notamment en Amérique du Sud (Brésil, Bolivie, Venezuela, Colombie, Équateur) mais aussi en Europe (Maïdan …) et en Afrique du Nord (printemps arabes, hirak algérien).
À noter aussi l'ingérence plus ou moins ouverte dans les élections des grands pays de la coalition occidentale (USA, FR, UK, Canada, Australie) par des financements généreux de sa diaspora visant à promouvoir les candidats qui lui sont favorables et à détruire ceux qui ne le sont pas.
Cet activisme pro-israélien s'exerce par le biais d'une diaspora riche, puissante et organisée.
Cette diaspora  collectionne les postes d'influence et de pouvoir, plus ou moins « achetés » au fil du temps et des circonstances, au sein des appareils d'État, au sein des médias mainstream, au sein des institutions financières et des GAFAM qu'elle contrôle.
Le Mossad n'est pas en reste et fonde l'efficacité de son action sur le système des sayanims, parfaitement décrit par Jacob Cohen dans sa conférence de Lyon.
L'action de ces relais et soutiens vise à défendre et à promouvoir les intérêts directs et indirects de l'État hébreu sur la planète entière et à élargir le cercle des pays et des gouvernances qui le soutiennent.
Elle vise aussi à affaiblir celles et ceux qui lui sont opposés. Elle est tenace, efficace et s'inscrit dans la durée.
Pour gagner, l'État hébreu, comme le fait aussi très bien l'OTAN, n'hésite jamais à faire des alliances de circonstance, limitées dans l'espace et dans le temps, avec tel ou tel de ses adversaires (Turquie et djihadistes en Syrie par exemple).
Ses actions sont souvent « préméditées », « concoctées » et « coordonnées » avec ses correspondants « néoconservateurs » de Washington. Comme partout ailleurs le mensonge d'État et la duplicité sont monnaies courantes…
Pourquoi susciter et/ou mettre de l'huile sur le feu dans un conflit entre l'Azerbaïdjan et l'Arménie et pourquoi maintenant ?
Trois grands pays de la région, la Russie, la Turquie et l'Iran, sont directement concernés par ce conflit et par ses conséquences potentielles, parce qu'ils sont frontaliers avec l'une des deux parties en conflit, et parfois les deux.
Israël, pour sa part, n'est qu'indirectement concerné, mais l'est tout de même.
Cette région du Caucase est également une «zone de friction» entre des alliances qui ne s'apprécient pas vraiment: La coalition occidentale et l'OTAN dont la Turquie et Israël jouent la partition, l'OTSC (Organisation du Traité de Sécurité Collective) dont la Russie et l'Arménie sont membres, et l'OCS (Organisation de Coopération de Shangaï) à laquelle la Russie et l'Iran sont liés (pour l'Iran, comme membre observateur et aspirant candidat depuis 15 ans).
Pour compliquer le tout, le premier ministre arménien en fonction, Nikol Pashinyan, a cru bon de devoir afficher sa préférence pour l'Occident dès sa prise de fonction et de prendre ses distances avec Moscou, ce qui met son pays en position délicate pour réclamer aujourd'hui l'aide de la Russie.
Le déclenchement de la crise actuelle est une opération qui dépasse largement le cadre étroit d'un conflit territorial entre l'Azerbaïdjan et l'Arménie.
Il s'agit d'une opération de plus – après Maïdan en Ukraine, après la tentative de révolution colorée en Biélorussie et après les affaires Skripal et Navalny – visant à mettre la pression sur la Russie, mais aussi sur l'Iran, en les mettant dans l'embarras, voire, en les poussant à la faute.
Il est clair que toute intervention rapide et musclée de la Russie dans ce conflit aurait été immédiatement condamnée par la « communauté internationale autoproclamée » – c'est à dire par l'OTAN – et suivie de l'habituel train de sanctions anti-russes, par les USA, servilement suivis par ses vassaux européens. 
Il ne faut pas oublier qu'aujourd'hui, mettre un terme au gazoduc North Stream II reste un objectif majeur pour les USA…
L'absence d'une ferme réaction des occidentaux dans la crise du Caucase est, en elle- même, révélatrice sur quatre points :
1 – La défense de l'Arménie n'est pas une priorité pour la coalition occidentale. Monsieur Nikol Pashinyan, premier ministre arménien, s'est donc trompé de cheval en misant sur l'Occident pour la défense de son pays. La coalition occidentale laisse souvent tomber ses alliés de circonstance comme ils l'ont fait pour les Kurdes en Syrie…
2 – En atermoyant et en laissant venir une réaction russe qu'elle espère pouvoir sanctionner en mettant définitivement fin au North Stream II, la coalition occidentale montre, une fois de plus, sa duplicité et son cynisme. Peu lui importe l'Arménie…
3 – En créant un foyer d'infection djihadiste aux frontières de la Russie et de l'Iran, la coalition israélo-occidentale montre, une fois de plus, qu'elle est prête à pactiser avec le diable et à l'instrumentaliser pour parvenir à ses fins, en l'occurrence l'affaiblissement de ses adversaires russes et iraniens.
4 – En laissant agir la Turquie et Israël sans réaction, la coalition occidentale reconnaît implicitement, derrière des discours trompeurs, que ces deux pays agissent à son profit.
Le quotidien israélien « The Jerusalem Post » a abordé dans un article récent les affrontements entre l'Azerbaïdjan et l'Arménie non sans laisser éclater la joie israélienne de voir le Caucase devenir un nouveau foyer de crise potentiellement susceptible d'avoir un impact considérable sur le Moyen-Orient.
L'impact recherché par Israël est toujours le même : alléger les pressions et les actions iraniennes et russes sur le théâtre syrien en ouvrant un « nouveau front de préoccupations » aux frontières de ces deux pays.
En conclusion, quatre points méritent d'être soulignés, à ce stade de la crise,
1 – Monsieur Pashinyan, premier ministre arménien, a fait une erreur d'appréciation en misant sur un camp occidental qui s'avère moins fiable que prévu pour défendre l'intérêt de son pays. Il devra, peut être, in fine, faire des concessions douloureuses et pourrait bien y perdre son emploi lors des prochaines élections.
2 – Monsieur Aliyev, président de l'Azerbaïdjan majoritairement chiite, regrettera peut être un jour d'avoir introduit sur son sol des djihadistes sunnites pour combattre l'Arménie. I
l regrettera peut-être aussi l'instrumentalisation dont il est l'objet par la Turquie et Israël, chevaux de Troie de l'OTAN. Ses voisins russes et iraniens ne  lui pardonneront pas facilement…
3 – La Russie, dont la gouvernance et la diplomatie ne sont pas nées de la dernière pluie, n'est toujours pas tombée, tête baissée, dans le piège de l'intervention immédiate et musclée qui pourrait, après la tragi-comédie « Navalny », sonner le glas du North Stream II.
Elle interviendra, tôt ou tard, lorsque le bon moment sera venu. Les différents protagonistes directs et indirects ne perdront rien pour attendre.
4 – Israël et l'Occident otanien auront-ils gagné quelque chose à poursuivre leurs actions de harcèlement aux frontières de la Russie et de l'Iran en instrumentalisant l'Azerbaïdjan et en cherchant à détacher l'Arménie de l'OTSC dans le cadre de la stratégie d'extension à l'Est qu'ils poursuivent depuis trente ans ? Rien n'est moins sûr. L'avenir nous le dira.
Quant à la solution du problème territorial, source du conflit déclenché par l'Azerbaïdjan-contre l'Arménie, elle réside probablement dans l'application de l'article 8 du Décalogue de l'Acte final d'Helsinki voté le 1e août 1975 qui régit les relations internationales entre les états participants. Cet article évoque clairement « le droit des peuples à disposer d'eux-mêmes ».
Lorsqu'une volonté de quitter un ensemble étatique est validé par un, voire plusieurs référendums à plus de 90%, et lorsque cette sécession a été effective durant 34 ans, sans conflit majeur – ce qui est le cas pour la république d'Artsakh (Haut-Karabakh)-, il semble légitime que la communauté internationale puisse prendre en compte la volonté des peuples et d'accepter de reconnaître ce fait en dotant ces nouveaux états d'une structure juridique particulière leur garantissant une paix sous protection internationale.
On me rétorquera que l'article 3 du même décalogue d'Helsinki rappelle l'intangibilité des frontières.
Il s'agira pour la communauté internationale, de déterminer si le droit des peuples à disposer d'eux même doit primer, ou non, sur l'intangibilité des frontières, après 34 ans de séparation totale et effective de vie commune entre deux parties d'un même état.
Cette décision, lorsqu'elle sera prise, ne devrait pas être sans conséquences jurisprudentielles sur le futur du Kosovo, de la Crimée, ou de la Palestine occupée…
Pour ceux qui souhaitent élargir et diversifier leurs connaissances sur ce sujet sensible, je suggère la lecture de deux articles intéressants :
– un article de Jean Pierre Arrignon, historien byzantiniste et spécialiste de la Russie
– un éditorial de Eric Denécé, patron du CF2R (Centre Français de Recherche sur le Renseignement sous le titre : « Le conflit Arménie/Azerbaïdjan au Haut-Karabakh relancé par la Turquie ».
– Un article de source azérie permettant de mieux comprendre la place du mouvement sioniste en Azerbaïdjan:
– Un autre article de DD (février 2017) expliquant les relations croisées entre la Russie, les USA et Israël et susceptible d'éclairer le sujet d'aujourd'hui:
Palestinians demand an independent State in Palestine: Cannot buy the alternative
The Trump administration has been working hard to establish Israel as the only viable State in the Middle-East to dialogue with. A few Gulf Emirate States have been coaxed to sign a dubious "peace treaty" with Israel, like Abu Dhabi and Bahrain.
The funny part is that the representatives of these 2 semi-States behaved as totally ignorant on what they are signing with Trump.
Egypt and Jordan had signed a treaty in 1974-75 which resulted in countless wars and civil wars in Lebanon, Syria and Iraq.
'NYT' coverage of Trump peace plan news quotes 5 pro-Israel voices, 0 Palestinians
The New York Times covers phase one of the Trump peace plan, an economic "workshop" in Bahrain next month at which the administration is expected to dangle the money it wants to give Palestinians and states neighboring Israel, so that Palestinians will sacrifice their political demands/rights (among them sovereignty on '67 borders; return of refugees; shared Jerusalem)– a figure said to be $68 billion.
The article quotes No Palestinians. (No Palestinian business person will attend this faked "workshop")
It does include quotes from Aaron David Miller, Jared Kushner, Robert Satloff, Treasury's Steve Mnuchin, and Brookings pundit Tamara Cofman Wittes. Five (Jewish) Americans, all five of them strong supporters of Israel. (Mnuchin's background is here.)
Satloff, Wittes, and Miller are all presented as "critics" of the plan, but they are all Zionist critics of the plan. Just different shades of Zionist.(No, not shade. Stauncher Zionists than most Israelis)
Why? This is racism in journalism before your eyes.
The Times clearly has a structural bias against Palestinians. (As all colonial powers' administrations in the last century)
Even as it demonstrates its higher consciousness in other left zones, the newspaper is stuck in the old paradigm on Israel.
How else could a newspaper publish four justifications of the killings of nonviolent protesters inside of a few months, as it did last year in Gaza?
This would never happen in any other context when a government opens fire on demonstrators.
But the Times columnists offered those justifications, in Shmuel Rosner's case almost a bloodthirsty one, and there was no balance, let alone criticism from the Roger Cohens, David Brookses, and Michelle Goldbergs of the world.
Palestinians simply don't count as full human actors.
The Palestinian Prime Minister released a statement rejecting the economic summit today.
He and his cabinet surely were available yesterday. So was Sam Bahour, who writes that Palestine cannot have an economic future without an independent political future, in which construction workers and university graduates will be able to find employment inside a Palestinian state.
Diana Buttu, Saeb Erekat, Hanan Ashrawi (who has been denied a visa to travel to the U.S.), Omar Barghouti, Mustafa Barghouti, Haider Eid surely would have spoken to the Times, too.
Palestine is truly teeming with sophisticated political actors on a wide range who would have something to say about the implausibility of economic peace.
And if the Times says this was an American politics piece, well, there are Palestinians here, too, who have a lot to say.
The bottom line is obvious and disturbing. Palestinians aren't equals.