Posts Tagged 'israel'
Solidarity and a sting: How one complaint to the ICC against Israel got off the ground?
By Joe Gill, Mustafa Abu Sneineh Published date: 21 March 2021
A recent Zoom event hosted from New York to discuss the International Criminal Court (ICC) investigation into alleged Israeli war crimes was hacked by supporters of Israel, who did their best to shut down the public meeting. 
"It was hacked to the extent that participants' names were taken – I don't know how they do it – and then they started yelling out obscenities, that we're all antisemitic and so forth," said French-American lawyer Frank Romano, who was the guest speaker at the meeting. 
ICC rules it has jurisdiction to probe alleged war crimes by Israel and Hamas. Read More »
Romano, who brought a legal case against Israel to the ICC in late 2019, was there to discuss the impact of the court's recent decision to investigate possible war crimes by Israel and Palestinian factions since 2014. 
Family members of one of the four children from the Bakr family who were killed in an Israeli attack on a beach during the 2014 Israeli-Palestinian conflict visit their graves in Gaza on 7 February
As a veteran solidarity activist, Frank had been to Israel and Palestine many times, been arrested and detained, and was last deported from Israel in 2018. Verbal and physical abuse and online attacks are par the course.
"You get people spitting at you, throwing things at you, trying to get the police to arrest you. I'm talking about being in Hebron, and Qalandiya, at checkpoints, in those kind of central conflict areas."
As a citizen of France and the US, as well as being a veteran of anti-occupation protests in the Israeli-controlled West Bank, Romano knows the risks he took aren't comparable to those faced by Palestinians who try to resist occupation. Thousands are in prison. Many have been killed.
Romano, a member of the California and French bars, and a law professor at the University of Paris, never set out to use his training as an international lawyer to bring a case that could ultimately see Israeli leaders and military commanders potentially facing war crimes charges in the Hague.
On the run
Romano's own submission to the case followed a period of research in Ramallah under the auspices of the Palestinian Authority (PA) in 2018, where he began drafting a legal case of war crimes while himself a fugitive from the Israeli authorities.
Romano had been arrested in September 2018 after standing in front of an Israeli bulldozer that was about to demolish the homes of Bedouin Palestinians in the village of Khan al-Ahmar in the occupied West Bank. 
Israel to deport French-US professor arrested at Khan al-Ahmar protest. Read More »
The community on the eastern slopes of Jerusalem in Israeli-controlled Area C has long been a site of protests against repeated demolitions of structures belonging to the Jahalin tribe, a Bedouin family expelled from the Naqab desert, also known as the Negev, during the 1948 Arab-Israeli war.
"On 14 September 2018, I was taken to Moscovia," said Romano, referring to the notorious Israeli police compound in West Jerusalem used mainly for interrogating Palestinians.
"Inside the prison was very tough. I was placed in a cell with a group of crazy prisoners." He had asked to be placed with Palestinians, but he was refused by guards because, they said, he was a foreigner.
When the prisoners, whom the lawyer understood to be Jewish, asked why he was there, they grew angry. "They were saying: 'You must work with al-Qaeda, you must hate Jews.' Four of them attacked me, one of them stabbed me with a sharp object. I pushed away and yelled at the guards."
Romano was placed in solitary confinement and eventually moved again. "I was supposed to go court [in Jerusalem]; instead I was taken to the airport, and they got me in a military facility, where I was presented with two charges from a military court."
Military court
Israeli military courts are usually reserved for Palestinian prisoners, while others are tried in civilian courts.
At the airport, a fellow prisoner who had managed to smuggle in a phone let Romano call his lawyer. "My lawyer was standing in front of the judge in Jerusalem. They wanted to deport me."
The police had told the judge that Romano had been released, and that he was on his way to court. In fact, he was still at the airport.
'I knew they were never going to let me back into Palestine, so I decided to go underground'

– Frank Romano
"The judge was livid, and ordered the police to bring me to Jerusalem within one hour," Romano said, adding that the judge was so upset about his beating that she acquitted him almost immediately.
Romano was told to leave the country within 10 days. But he had other plans.
"I had my plane ticket, I was supposed to return to France to start teaching. The police when they finally released me told me I could never go back to Khan al-Ahmar.
"I knew they were never going to let me back into Palestine, so I decided to go underground in Ramallah just to continue working with the Palestinians."
Hired by the PA
After his release by the Israeli police, he fled to Ramallah in the occupied West Bank. With time on his hands, he offered his services to the PA to begin work on legal complaints over Israel's rights violations in Khan al-Ahmar.
"Since I couldn't do much for the very first time, I started working on the legal side. I'm an international lawyer, and I teach at the University of Paris, but first of all I'm an-in-the-streets, in-your-face activist.
Middle East Eye understands Romano was paid for his work at the PA public prosecutor's office on the Khan al-Ahmar case, on recommendation from the PA's attorney general.
He was also advised on the framework for a legal brief for an ICC war crimes case against Israel. However, the ICC brief was in the hands of the foreign ministry, which had its own team of lawyers working on war crimes complaints.
The PA had filed its initial complaint against Israel in 2015, a year after the Palestinian Authority had joined the ICC in the wake of the 2014 Gaza war that killed around 2,200 Palestinians, including 551 children. Many other organisations were also filing complaints with the ICC against Israel.
The court's prolonged initial investigation raised serious doubts that it would actually pursue the case against Israel. "The [ICC] investigations took a whole four years. That's a long preliminary investigation. There were a lot of complaints that the prosecutor was delaying things," said Romano.
Still, on his own initiative, he continued to write the petition, staying in Ramallah for four months. Then he received a phone call from someone claiming to be a well-known journalist.
Ambushed
"I get a WhatsApp call from a very famous French journalist, Olivier Peronnet from Le Monde, and this journalist has written a lot of articles about the occupation," Romano recalled. "He said that he wanted to interview me in front of Khan al-Ahmar.
"I said I can't return there, I'm underground. If I go there it's the Israeli section, I will be arrested again… He convinced me to go from Ramallah back into Area C… I don't know how he got my number," Romano said.
"I spent the night with my Bedouin friends in Khan al-Ahmar and the next morning arrived at the rendezvous point. It looked legit – I saw his limousine on the other side of the highway, I walked over there.
Lo and behold it was a set up – he was not the famous Le Monde journalist, he was a member of Mossad or somebody. Within five minutes of this so-called interview, five police cars surrounded me."
A pro-Israel group in France, Ligue Defense Juive (Jewish Defence League), later claimed it had carried out the sting on Romano. Following the set-up, Romano was arrested and deported to France.
There, he was able to finish the ICC legal brief for war crimes, naming certain Israeli officials, in particular Prime Minister Benjamin Netanyahu, and Avigdor Lieberman, the Israeli former defence minister.
ICC complaint
Romano sent the brief to the legal human rights NGO Al-Haq in Ramallah, the Palestinian affiliate of the International Commission of Jurists in Geneva.
Al Haq confirmed to MEE that it had read the brief but "did not provide any input, commentary or materials for the communication". It also "declined his offer of assistance".Harris reaffirms US opposition to ICC probe of Israel in call to Netanyahu. Read More »
Al Haq head of legal research and advocacy, Susan Power, explained that the war crimes case was the result of the collective efforts of many organisations, academics and lawyers over several years.
"The decision of the prosecutor was made after almost five years of preliminary examination, and during this time the Office received over a hundred communications.
"The decision was the result of collective efforts by civil society, academics and lawyers who laboured intensively over the five years to submit comprehensive and detailed legal communications demonstrating a reasonable basis to believe that war crimes and crimes against humanity have been committed in the Occupied Palestinian Territory, ie the West Bank, including East Jerusalem, and the Gaza Strip."
Romano's legal brief was formally acknowledged by the ICC in January 2020. It formed part of the documentation of the ICC's "Situation in Palestine" investigation in court papers released in March 2020.
A month earlier, Mark P Dillon, head of the information and evidence unit of the ICC, wrote to Romano, saying: "It appears that your communication relates to a situation already under preliminary examination by the Office of the Prosecutor. Accordingly, your communication will be analysed in this context, with the assistance of other related communications and other available information."
ICC prosecutor Fatou Bensouda announced a preliminary finding in December 2019 that there was a reasonable case to bring prosecutions for Israeli crimes. Israel contested the court's jurisdiction, with the full support of the Trump administration, which swiftly revoked Bensouda's visa and, later, imposed sanctions on her and another ICC official.
Then, last month, the prosecutor announced that the court was proceeding with a probe into possible abuses committed in the Palestinian territories since 2014.
"The Court's territorial jurisdiction in the situation in Palestine… extends to the territories occupied by Israel since 1967, namely Gaza and the West Bank, including East Jerusalem," Bensouda said on 5 February.
The investigation will cover alleged war crimes both by Israeli forces and Palestinian factions such as Hamas during the conflict in Gaza and Israel's settlement activity in the West Bank, including East Jerusalem.
For Romano, this is an important moment of accountability for Palestinians after decades of settlement building, ethnic cleansing, and attacks and killings by Israeli forces in the occupied West Bank and Gaza.
And Israel is not happy about it, with Netanyahu claiming that the investigation is "pure antisemitism".
"This 'antisemitism' thing is getting old now," said Romano, who has Jewish roots. "Come on, the gig is up. This is not about antisemitism."
'A combination of things are leading me to believe they [Israel] are taking this seriously'

– Frank Romano
He believes that sufficient evidence is already in the possession of the court to issue summons for suspects to appear before the court in The Hague. "A combination of things are leading me to believe they [Israel] are taking this seriously."
But he admits it is hard to know if the court will get to the stage of issuing arrest warrants. "It's gonna be a long struggle."
Bensouda is stepping down in June, to be replaced by a British judge, Karim Khan, and he will not necessarily hold the same course. Several judges are also retiring from the ICC in June, which could change the way the Palestine case is dealt with.
Al Haq's Power said the timing of Bensouda's announcement was linked to her stepping down.
"Undoubtedly, a key factor in the timing of the prosecutor's decision to move to close the preliminary examination was the ending of her term as prosecutor, and her public commitment, expressed at the 2019 Assembly of States Parties [prior to the closure of the Palestine preliminary examination], that she would make a final decision on every preliminary examination file before her office, before the end of her term. In this regard, we were very much some expecting news."
Israeli pressure
Given the immense weight of the proceedings, political pressure will be brought to bear against the ICC, Romano predicted.
"The members of the court are going to be subject to attack. We're going to have a new set of judges as well. Are they going to be strong enough to withstand the tremendous pressure they will be subjected to, like Goldstone?"
Richard Goldstone headed the UN investigation into alleged war crimes in Israel's 2008-9 war on Gaza and concluded that "actions amounting to war crimes and possibly, in some respects, crimes against humanity, were committed by the Israel Defence Forces".
However, after coming under intense pressure from Israel and its allies, the South African judge retracted his findings two years later in 2011, although his fellow judges rejected his recantation, insisting the initial report was valid.
Still, if senior Israeli officials are eventually arrested for war crimes, it will be quite a turnaround, a moment of justice shared by thousands of Palestinians who have suffered at the occupation's hands over the decades.
Note: It is the colonial powers that are the most afraid to be brought to the ICC. Even if the complaints fail, just being confronted with crimes they never contemplated will be held in court is traumatic for their faked claims of justice, liberty, human rights and democratic system superiority after WWII.
Diary of a war in 2006 
Posted on October 21, 2008
My niece Joanna returned home around 11 p.m. and I will tell her a piece of my thoughts since she considers herself a sensible and an intelligent creature.  
 She has to drive at least 40 minutes on a deserted road and with one million refugees, people hungry and out of jobs and in dire need of gas, the possibilities for unusual behaviors might be understandable in this frustrating time.
Israel did a major incursion toward the town of Marjehyoun with a long file of tanks early this morning; two of its top commanders were killed.  By 10:30 the Israeli armed forces were retreating from the town.  There are indications that Israel is no longer serious about reaching the Litany River but it is attempting a few scary tactics for the last minutes political gains at the UN.  There are also indications that the Lebanese government has no other choices but to hold on to its program agreed at by consensus.
Israel targeted the Lebanese TV antenna in Amchit, near Byblos, and the old lighthouse near Koraytem, Al Manara, in Beirut and we should expect rockets raining on Tel Aviv if Nasr Allah decides to confirm his promises according to Hezbollah's rules of the war.
Around noon, there was breaking news of an attempted attack on the London airport of Heathrow.  Britain and the USA are under Red Alert or the danger of imminent "terrorist" attacks.  No liquids of any kind are permitted on flights within the respective countries. The US minister of the interior is connecting these attacks to the "Al Qaeda" of Bin Laden.  Israel PM   Olmert has suspended the major land incursion pending the so called diplomatic outcomes.
In the afternoon, I dressed up and drove my mother to the funeral of one of our local poet Khalil Rasheed Fakhoury who composed the anthem of our internal security forces. My plan was to offer my condolence to the bereaved family members of the poet but I could not find a place to park along the road for half a mile. So I turned back, deposited my mom by the church and then resumed my trip to the gym.
While at the gym I have been hearing the Israeli jets flying over Beirut and suspected that they might target the suburbs of Shiyah and Burj Barajni as their flyers were warning the citizens.  This time the jets did not hurl their bombs on the suburb of Beirut but they targeted many more bridges and roads in the south and the Bekaa Valley.
Hezbollah launched more than 150 rockets on northern Israel and targeted Haifa as well.  Israel continued to evacuate the town of Kiryat Shemouna.
I came back home late after 9:45 p.m. on account that Joanna has the habit of not abiding by any closing time. I found my mother furious.  She claimed that I said that I will be back soon, which I didn't, and she had to wait at my aunt Montaha's home. 
Montaha was getting sleepy and my mom had to visit a neighbor's of Montaha to give her a lift.  After super I intended to join my nephews and Michael (don't recall who is this Michael) for a game of poker but the electricity went off, public and private.  I lighted a few candles and went to bed.  It appears that the public electricity came back soon while asleep and my nephews played different games and some of them went to bed at 6.
Note: A couple of days before the certain cease fire by the UN, Israel committed 2 major crimes against humanity.
First, Israel spread over a million cluster bombs in the south (received from Scotland on order of Britain PM Blair. Lebanon and teams of the UN peacekeeping contingents are still demining this large region in 2020 that harvested dozens of citizens and maimed scores of them.
Second, totally destroyed a half-mile radius of very dense Dahiyat in Beirut, using depleted uranium
The assassination of Luqman Slim underlines that the scope for dissent in Lebanon is rapidly narrowing.(More like widening with the increase of calamities that are Not resolved by any institution)
The killing of Luqman Slim is another bad omen for Lebanon. Luqman was not just any activist. (Very few Lebanese have heard of him, mostly the embassies were dealing with him and funding his institution Umam)
He was a vocal critic of Hezbollah (for over 25 years and he visited Israel too), who chose to continue living in his family's home in Haret Hreik in the southern suburbs of Beirut, an area controlled by those whom he criticized harshly. (And lived in security and safety)
I met Luqman in 2004 with the late journalist Samir Kassir and Samir's wife Giselle Khoury. (Late Kassir was assassinated by the Druse civil war leader Walid Jumblatt, as a matter of female jealousy )
Luqman, with his wife Monika Borgmann, had invited us to watch a private screening of a movie they had produced on the Sabra and Shatila massacres of 1982.
The debate that ensued was as harrowing as it was enlightening. It was the first of many interactions over the subsequent two years around the memory of the civil war, questions of accountability, and commemoration of the victims, and their importance for Lebanon's future. These debates dissipated after Samir's assassination on June 2, 2005.
Luqman was also a harsh critic of Lebanon's political class, of the repression of the uprising in Syria, of Iran's regional involvement, and of much else. (What about US invasion of Iraq? Of Israel successive pre-emptive wars on Lebanon…)
But he was also more than that. With Monika, Luqman went on to establish the UMAM documentation and research center in his family home. UMAM aims to inform the future (generation?) by addressing past atrocities.
Since 2005, the center has been collecting information and establishing a database for all those killed, or who disappeared, during the fifteen-year Lebanese civil war. It has also made documentaries and organized discussions on some of the most painful episodes of that conflict.
Their work is critical if Lebanon is to come to terms with the war's legacy and is essential in determining accountability for the crimes committed during that time. (The Lebanese parliament decided to absolve all the civil war leaders and those who committed crimes against humanity. And these "leaders" are still controlling and ruling Lebanon since 1992)
This work carried out by Luqman and Monika was vital in a country where the political leadership is largely made up of those who fought during the war. Lebanon's conflict ended with the mantra of "no victor and no vanquished."
In 1991, parliament passed an amnesty law covering most of the crimes committed during the conflict. Militia leaders moved from the streets into government to occupy the state and its institutions. The history of the civil war was never integrated into school curriculums. Knowledge of the war has largely been defined by individual points of view, not by a collective Lebanese effort to remember the war to better transcend it.
To understand the killing of Luqman one must also look at Lebanon's broader context.
Since October 2019, when the Lebanese took to the streets to protest against the corruption of their political parties and leaders, the country has been facing an economic collapse that has impoverished more than half the population and decimated the middle class. (Bankrupt State at all levels, politically, economically and financially)
Rather than addressing the sources of discontent, the leadership has remained unwilling to implement the reforms needed to unlock international financial aid, for fear that this would undermine their influence over their constituencies.
Lockdown measures associated with Covid-19 have only hastened this economic breakdown. Without outside financial support Lebanon will continue to sink into the abyss.
Ironically, by protecting their system and continuing with a business-as-usual approach the political parties have also signed its death warrant. That may not be a bad thing, but in the meantime millions of Lebanese will suffer terribly.
The catastrophic (electromagnetic pulse bomb) explosion in the port of Beirut last August 4 further increased the anger of the Lebanese and their vocal criticism of the political leadership.
Six months later, no one has been held accountable for what happened and the official investigation is going nowhere. For many Lebanese there was no question as to who was responsible, when protestors hanged effigies of their political leaders on gallows set up at a demonstration in Martyrs' Square last year.
Luqman's killing underlines that the space for dissent is closing fast in Lebanon. Over the past year or so, the political leadership's tolerance for criticism has been decreasing as more and more journalists and critics have been taken into custody by the authorities.
Yet Luqman's killing went much further. It heralded a return to political assassinations as a means of silencing those in opposition.
The crime has sent shock waves across Lebanon and beyond, especially among opposition groups and, more so, among most of the 19 officially recognized religious sects.
For many this brought back memories of 2005 and the years that followed, when Samir Kassir, Gebran Tueni, (Communist secretary general Georges Hawi, Mohamad Chatah, Pierre Jr. Gemayel, and many security officials… Pierre Jr. Gemayel was assassinated by agents who were dispatched from the US embassy and returned to the embassy. And why was Pierre Jr. assassinated? Because he expressed his opinion during the government meeting of valuing Hezbollah resistance during the 33 days pre-emptive Israel/US in 2006)
One wonders whether Luqman Slim would have been killed had Kassir and Tueni killers been brought to justice. (Lebanon never brought to trial Israel, US, France, England… perpetrator of assassinations, Not even lesser States such as Jordan, Saudi Kingdom or the Emirate..)
That is why we should have serious doubts as to whether those who assassinated Luqman will themselves be brought to justice.
Titbits #99
Posted on November 22, 2018
Note: My previous large file titled "Tidbits and notes" has vanished after I pressed Leave instead of Cancel. WordPress,com support system was of No help. If you know how I can retrieve the file, I'll be very appreciative.
Dans ma jeunesse, j'etais trop timide et plutot passif: peut-être que les conversations autour de moi, dans la famille, etaient inexistentes ou plutot sans interet? Je ne savais pas comment jouer le jeu des petites conversations (small chatting) , un calin ou compliment. Plus tard, les gens crurent que j'étais un snob: J''hibernais dans ma peau d'enfance.
An invariant in Israel politics: When Israel claims it is negotiating a peace treaty or a cease fire, it means that it is ready to launch a pre-emptive war. Israel establishment and weapon industrial complex believes that it cannot sustain a long period of peace, and actually never tried it. Pre-emptive wars on Lebanon is No longer feasible as Hezbollah managed to counter with a deterrence force
Le Chevalier? This representative of French President Macron visited Israel and relayed to Lebanon that Israel is preparing a pre-emptive war on Lebanon? The test in Gaza is Not encouraging Israel for another try on Lebanon. However, the plan of USA/Israel is to start another round of civil war in Lebanon. And Lebanon is fooling itself that it learned the lesson, but it learned nothing much but sinking its head deeper in the sand. And without funding, the army will be unable to maintain its cohesion. But with Hezbollah ready and able, there is no fear for another war with this implanted apartheid colonial State.
Stupid France still think that it can foment civil war in Syria and keep Lebanon intact from the flame roaring around it: The Trump administration is so out of touch and is planning for another round of civil war in Lebanon.
The idea of creating Israel by England around 1907, with the instigation of the US Evangelical sects, was when England realized that it needed a buffer zone to protect its interests in India through Egypt by eliminating any kind of unification of the One Near-Eastern people in the foreseeable future ( Current Syria, Lebanon, Palestine, Jordan…)
An old man in the psych group said: "The assassin is serving a life sentence. And it is still Not a comfort for me" And what if this prisoner would be let free within 20 years? Instead of sorrow and anger, most probably fear will set in?
The world's billionaires made more money in 2017 than in any year in recorded history. (2020 was even more mind boggling. A UBS report says billionaires become 20% richer last year. (Mind you that their number is increasing crazily since China and India billionaires are closing the gap with the colonial powers of USA and Europe combined)
It is a Universal truth that mothers will Not "betray" their children to the police under any basis of ethics, moral or "this is the law": They have enough loads in issues and activities to control and administer in the household that they don't care to add a bigger problem.
If you want to learn how to express your opinions, read, take notes, reflect and write. If you want to learn the wide range of boasting and cursing ("shata2em" and "bahwaraat"), plug-in to "Arabic" and Trump-like social medias.
The EU turns its clocks back by one hour on Sunday. It may be the last time the bloc uses Daylight Saving Time, after citizens voted to abolish it earlier this year.
A lack of frequent, helpful feedback is among the top reasons people quit their jobs. Studies show that more communicative, honest cultures drive increased productivity, innovation, and employee satisfaction.
"Is Feedback a social threat"? And like any threat, it's accompanied by physiological and cognitive responses, including an increase in heart rate and blood pressure and feelings of anger, anxiety, and fear.
Making matters worse, humans are biased towards negativity—a tendency to over-index negative interactions relative to neutral or positive ones. These physiological responses can inhibit us from effectively processing any feedback that we perceive as threatening to our identities, happiness, and jobs. (Ed Batista)
readwiththegringa.com
Israel Self-defense excuses are paralyzing the livelihood and security of Palestinians
Maureen Clare Murphy Rights and Accountability 8 January 2021
The Israeli military cleared itself of wrongdoing in the shooting and grave injury of a Palestinian man in the southern West Bank last week, claiming soldiers acted in self-defense.
The "perfunctory investigation" that closed less than a week later exemplifies the culture of impunity long decried by human rights organizations seeking war crimes investigations at the International Criminal Court.
The military claimed that the man who was shot, Harun Abu Aram, was "hit by a stray bullet fired when a Palestinian tried to seize a commander's weapon," as the Tel Aviv daily Haaretz reported.
Abu Aram, 24, is paralyzed from the neck down as a result of his injury.
He was shot while he and others were trying to take back a generator that soldiers had confiscated from a family living in an area declared a military firing zone by Israel.
Palestinians residing in that area, a collection of rural hamlets known as Masafer Yatta, are forbidden from building or improving their dwellings.
The incident in Masafer Yatta was recorded on video:
https://platform.twitter.com/embed/index.html?dnt=false&embedId=twitter-widget-0&frame=false&hideCard=false&hideThread=false&id=1345745628660428803&lang=en&origin=https%3A%2F%2Felectronicintifada.net%2Fblogs%2Fmaureen-clare-murphy%2Fisrael-claims-self-defense-after-paralyzing-palestinian&siteScreenName=intifada&siteUserId=6721522&theme=light&widgetsVersion=ed20a2b%3A1601588405575&width=550px
Language
The Israeli military described unarmed Palestinians defending the Masafer Yatta residence raided by heavily armed soldiers as "a violent riot … where [Israeli] forces were attacked."
The language used to justify Abu Aram's shooting at close range echoes that used by Israel regarding the use of live fire against protesters in Gaza.
More than 200 Palestinians were killed during regular mass protests dubbed the Great March of Return beginning in March 2018 until their suspension at the end of 2019.
Thousands more were injured by Israeli sniper fire, many of them permanently. The snipers got later orders to refrain from killing and instead to target legs in order that the Palestinians refrain from joining the marches. Many children and youths were on purpose targeted.
Only one soldier has been indicted over the use of lethal force against protesters.
The military repeatedly referred to Palestinian protesters as "rioters" in its argument to the Israeli high court regarding its "rules of engagement."
Such language is intended to obscure the fact that Palestinians had mobilized to call for specific demands.
In the case of the Great March of Return, Palestinians were demanding to exercise their right to return to the lands from which their families were expelled in 1948. (Mind you that 80% of Palestinians in Gaza are transferred Palestinians from the West Bank).
Context of oppression
The "law and order" language (the language used by Nixon and the dictators) is used to obscure decades of injustice in the West Bank as well.
The Israeli military refers to Abu Aram as a "rioter" to avoid addressing the context in which the young man was permanently injured.
Abu Aram and the other "rioters" with him belong to a community that has been subjected to forcible transfer, multiple home demolitions and continuous harassment by soldiers and settlers. (I have already posted an article on the harassment that Palestinians in Yatta are subjected to)
This broader context of oppression is not helpful to Israel's reputation.
And so Israel says that Abu Aram and those with him "sought to obstruct [Israeli military] enforcement activity" – never mind that this "enforcement activity" is part of a coercive environment created by Israel to push Palestinians off of their land.
As the United Nations has made clear, "individual or mass forcible transfer or deportation" of the population of an occupied territory, like the West Bank, is a grave breach of the Geneva Convention "and is also considered a war crime."
The imposition of a coercive environment, like that endured by Palestinians in Masafer Yatta, is a form of forcible transfer.
While Israel may use the language of "law and order," characterizing its military's behavior as "enforcement activity," occupation forces are, in fact, carrying out violations of international law.
System of oppression
Whether it's forcible transfer or the use of lethal force against Gaza protesters, Israel's high court rubber-stamps these policies intended to pacify all Palestinian resistance to the occupation.
In Masafer Yatta, that resistance was about retaining an electricity generator used by a family who are not allowed the basic infrastructure provided to Israelis living in nearby settlements built in violation of international law.
It is not surprising that Israel's system of oppression and injustice would clear itself of wrongdoing in the shooting of Abu Aram.
As human rights groups stated this week, Israelis responsible for war crimes against Palestinians "have not been subject to any independent legal investigation in Israel."
The Israeli military's self-investigation system "is empirically and conclusively evidenced to be unwilling or unable to genuinely carry out investigations and prosecutions," the Palestinian groups added.
The four groups – Al-Haq, Al Mezan, Al-Dameer and the Palestinian Center for Human Rights – noted Israeli courts' complicity in the legitimization of war crimes and crimes against humanity.
"It is beyond time for a formal investigation" by the International Criminal Court, the groups said.
In late 2019, the court's chief prosecutor concluded a five-year preliminary examination, stating that requirements to launch a full investigation into suspected war crimes in the West Bank and Gaza had been met.
More than a year later, an investigation has yet to be opened.
The absence of accountability, the Palestinian human rights groups observe, has only allowed for the "consolidated, ongoing and internationalized assault on the right of the Palestinian people to dignity and to self-determination."
Israel is an 'apartheid' regime
By JOSEPH KRAUSS January 12, 2021
A leading Israeli human rights group has begun describing both Israel and its control of the Palestinian territories as a single "apartheid" regime, using an explosive term that the country's leaders and their supporters vehemently reject.
In a report released Tuesday, B'Tselem says that while Palestinians live under different forms of Israeli control in the occupied West Bank, blockaded Gaza, annexed east Jerusalem and within Israel itself, they have fewer rights than Jews in the entire area between the Mediterranean Sea and the Jordan River.
"One of the key points in our analysis is that this is a single geopolitical area ruled by one government," said B'Tselem director Hagai El-Ad.
"This is Not democracy plus occupation. This is apartheid between the river and the sea."
That a respected Israeli organization is adopting a term long seen as taboo even by many critics of Israel points to a broader shift in the debate as its half-century occupation of war-won lands drags on and hopes for a two-state solution fade.
Peter Beinart, a prominent Jewish-American critic of Israel, caused a similar stir last year when he came out in favor of a single binational state with equal rights for Jews and Palestinians. B'Tselem does not take a position on whether there should be one state or two. (And why Not taking a position?)
Israel has long presented itself as a thriving democracy in which Palestinian citizens, who make up about 20% of its population of 9.2 million, have equal rights.
Israel seized East Jerusalem, the West Bank and the Gaza Strip in the 1967 war — lands that are home to nearly 5 million Palestinians and which the Palestinians want for a future state. (Gaza is 80% of it transferred Palestinians since 1948)
Israel withdrew troops and settlers from Gaza in 2005 but imposed a blockade after the militant Hamas group seized power there two years later. (Not after Hamas took control, but because it was no longer a tenable occupation).
This apartheid regime of Israel considers the West Bank "disputed" territory whose fate should be determined in peace talks. (Israel flaunted all "peace negotiations" with the Palestinians, even in the Oslo Accords. Israel just want "security" management deals)
Israel annexed East Jerusalem in 1967 in a move not recognized internationally and considers the entire city its unified capital. Most (you mean a few?) Palestinians in east Jerusalem are Israeli "residents," but not citizens with voting rights.
B'Tselem argues that by dividing up the territories and using different means of control (about 250 checkpoints), Israel masks the underlying reality — that roughly 7 million Jews and 7 million Palestinians live under a single system with vastly unequal rights. (Palestinian youths are detained administratively , with no charges, every night)
"We are not saying that the degree of discrimination that a Palestinian has to endure is the same if one is a citizen of the state of Israel or if one is besieged in Gaza," El-Ad said. "The point is that there isn't a single square inch between the river and the sea in which a Palestinian and a Jew are equal."
Israel's harshest critics have used the term "apartheid" for decades, evoking the system of white rule and racial segregation in South Africa that was brought to an end in 1994. (What about the White racial divide in the US, which is still being demonstrated today?)
The International Criminal Court defines apartheid as an "institutionalized regime of systematic oppression and domination by one racial group." (Actually, there is No racial reasons, just a colonial rule to rob the Palestinians of their wealth and lands)
"There is no country in the world that is clearer in its apartheid policies than Israel," said Nabil Shaath, a senior adviser to Palestinian President Mahmoud Abbas.
"It is a state based on racist decisions aimed at confiscating land, expelling indigenous people, demolishing homes and entire towns to establishing settlements."
In recent years, as Israel has further entrenched its rule over the West Bank, Israeli writers, disillusioned former generals and politicians opposed to its right-wing government have increasingly adopted the term.
But until now B'Tselem, which was established in 1989, had only used it in specific contexts.
Israel adamantly rejects the term, saying the restrictions it imposes in Gaza and the West Bank are temporary measures needed for security.
Most Palestinians in the West Bank live in areas governed by the Palestinian Authority, but those areas are surrounded by Israeli checkpoints and Israeli soldiers can enter at any time. Israel has full control over 60% of the West Bank.
Itay Milner, a spokesman for Israel's consulate general in New York, dismissed the B'Tselem report as "another tool for them to promote their political agenda, based on a distorted ideological view." He pointed out that "Arab" citizens of Israel are represented across the government, including the diplomatic corps.
Eugene Kontorovich, director of international law at the Jerusalem-based Kohelet Policy Forum, says the fact that the Palestinians have their own government makes any talk of apartheid "inapplicable," calling the B'Tselem report "shockingly weak, dishonest and misleading."
Kontorovich said the use of the word "apartheid" was instead aimed at demonizing Israel in a way that "resonates with racial sensitivities and debates in America and the West."
Alon Pinkas, a former Israeli consul general in New York, rejects the term. "Occupation, yes. Apartheid, absolutely not."
But he acknowledged that critics of Israel who had refrained from using the term, or who had used it and been attacked, "will now conveniently say, 'Hey, you know, Israelis are saying it themselves.'"
Rabbi Rick Jacobs, head of the Union for Reform Judaism, which estimates its reach at more than 1.5 million people in 850 congregations across North America, says the situation in the West Bank and Gaza is a "moral blight" and an "occupation but Not apartheid, which is an existential critique")
El-Ad points to two recent developments that altered B'Tselem's thinking.
The first development was a contentious law passed in 2018 that defines Israel as the "nation-state of the Jewish people." Critics say it downgraded Israel's Palestinian minority to second-class citizenship and formalized the widespread discrimination they have faced since Israel's founding in 1948. Supporters say it merely recognized Israel's Jewish character and that similar laws can be found in many Western countries.
The second development was Israel's announcement in 2019 of its intention to annex up to a third of the occupied West Bank, including all of its Jewish settlements, which are home to nearly 500,000 Israelis. Those plans were put on hold as part a normalization agreement reached with the United Arab Emirates last year, but Israel has said the pause is only temporary.
B'Tselem and other rights groups argue that the boundaries separating Israel and the West Bank vanished long ago — at least for Israeli settlers, who can freely travel back and forth, while their Palestinian neighbors require permits to enter Israel.
There have been no substantive peace talks in more than a decade. The occupation, which critics have long warned is unsustainable, has endured for 53 years.
"Fifty years plus, that's not enough to understand the permanence of Israeli control of the occupied territories?" El-Ad said. "We think that people need to wake up to reality, and stop talking in future terms about something that has already happened."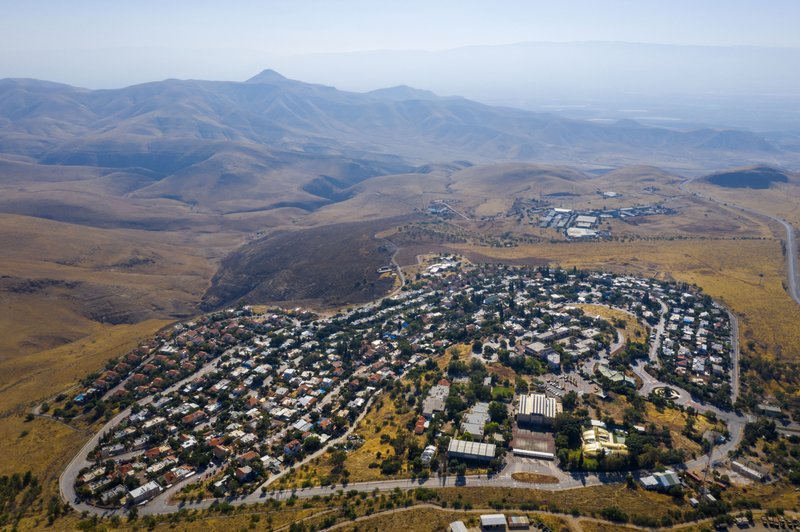 1 of 7 FILE – In this Tuesday, June 30, 2020, file photo, a view of the West Bank Jewish settlement of Ma'ale Efrayim in the Jordan Valley. Israel's premi
Israeli Vaccine Drive Excludes Millions of Palestinians in Occupied Territories
STORY JANUARY 05, 2021
Despite the fast rollout, human rights groups are expressing alarm over Israel's decision Not to vaccinate Palestinians in the occupied West Bank and Gaza, where about 1,500 people have died during the pandemic.
Israel has defended its actions citing the Oslo Peace Accords, which put Palestinian authorities in charge of healthcare in the West Bank and Gaza. (An accord that Israel never applied, as usual)
Dr. Mustafa Barghouti, a physician, member of the Palestinian Parliament and head of the Palestinian Medical Relief Society. "Israelis are getting the vaccines, and Palestinians are getting nothing."
AMY GOODMAN: This is Democracy Now!, democracynow.org, The Quarantine Report. I'm Amy Goodman, with Juan González.
Israel has become the first country in the world to administer COVID-19 vaccines to more than 10% of its population. As of Monday, 14% of Israelis had received a vaccine — far higher than any other country. Despite the fast rollout, Israel's health minister says a total lockdown is needed to combat the surging number of new infections. (Actually, most of Israelis that travelled to the Gulf Emirates were fleeing the lockdown)
This comes as human rights groups are expressing alarm over Israel's decision not to vaccinate Palestinians living in the occupied West Bank and Gaza, where about 1,500 people have died during the pandemic.
Physicians for Human Rights recently said, quote, "Israel bears moral and humanitarian responsibility for vaccinating the Palestinian population under its control," unquote. Israel is, however, offering vaccines to Jewish settlers living in the illegal settlements in the West Bank.
Israel has defended its actions, citing the Oslo Peace Accords, which put Palestinian authorities in charge of healthcare in the West Bank and Gaza. Palestinian officials are facing a number of hurdles in launching its own vaccine campaign, including a shortage of money, lack of access to vaccines, lack of infrastructure to distribute a vaccine.
Israel has so far been relying on the Pfizer-BioNTech vaccine, which needs to be stored at minus-94 degrees Fahrenheit.
Storing such a vaccine is impossible in Gaza, where residents often go 12 or more hours a day without electricity.
In 2014, Israel bombed Gaza's only power plant in what Amnesty International described as "collective punishment" of Palestinians.
We go now to the West Bank city of Ramallah, where we're joined by Dr. Mustafa Barghouti, physician, member of the Palestinian Parliament, head of the Palestinian Medical Relief Society, has been leading efforts to manage the pandemic in the West Bank and Gaza.
He was infected with COVID-19 in December. He's secretary general of the Palestinian National Initiative, a political party. And he was a presidential candidate in the 2005 elections.
We welcome you to Democracy Now!, Dr. Barghouti. Can you explain what is happening? How has Israel become the country that has vaccinated more of its population than any country in the world, and yet Palestinians are not getting vaccinated? Who's in charge of this program? Who should be?
DR. MUSTAFA BARGHOUTI: Well, thank you, Amy. I'm glad to be with you.
Israel actually is violating international law, because it is denying its responsibility as an occupying power. Israel managed to get 14 million vaccines for the Israelis and those who hold Israeli IDs, but gave nothing to Palestinians. So, practically, they are vaccinating 8 million Israelis and not vaccinating 5.3, 5.2 million Palestinians living in the Occupied Territories.
More than that, this system of racial discrimination (It is a colonial apartheid discrimination), which can only be compared, in my opinion, to apartheid system, is doing something horrible in the West Bank.
Seven hundred fifty thousand 750,000 illegal settlers are getting the vaccines now; 3.1 million Palestinians in the West Bank are getting nothing.
More than that, in the Israeli prisons, Israel ordered the guards in the prisons to get the vaccine, and probably the Israeli criminal prisoners, but the Palestinian prisoners, 5,000 of them, are getting nothing.
What can be more clear here than that this confirms that this is really a system of racial discrimination?
And when they speak that the Palestinian Authority is responsible, this is totally misleading.
First of all, the Palestinian Authority approached them, asking at least for vaccines for us, the healthcare providers, who are being infected around the clock. And Israel refused.
The Palestinian Authority is in charge only of 38% of the West Bank, only.
Sixty-two percent of the West Bank is Area C, under full Israeli military control, and Israel is doing nothing for Palestinians there.
If the Palestinian Authority tries to import a vaccine from outside, they will need Israeli permit. And Israel did not allow any permit yet for Palestinians. Israel controls the borders, controls the imports, controls the exports.
And the biggest disaster is in Gaza, because in Gaza you have 2.1 million besieged by Israel, lacking health facilities, lacking equipment, and there, they are not getting any vaccines.
70% of Palestinians in Gaza are refugees displaced from their land in 1948. When you tell them, "Go and quarantine," I don't know how they can do that, if you have 10 people living in two rooms. It's impossible.
The problem is that the rate of infection today in the West Bank and Gaza is 36%, while in Israel it's 4.5%. Israelis are getting the vaccines, and Palestinians are getting nothing.
JUAN GONZÁLEZ: But, Dr. Barghouti, isn't it in the interest of Israel, from a public health perspective, even if they want to pursue this continued antagonistic policy toward the Palestinians, to have the Palestinians vaccinated, to reach herd immunity in the total area?
DR. MUSTAFA BARGHOUTI: You're absolutely right. In my opinion, Netanyahu and his government — this man is so racist. He only thinks of himself. He only thinks of his political future. He only thinks of escaping the criminal charges against him and being reelected again.
And all he does is to satisfy the Israeli right-wing voters.
In reality, what his government is doing is actually hurting the Israelis, as well, because you cannot reach herd community if you have 8 million people vaccinated and 5.2 million people not vaccinated, especially that 130,000 Palestinian workers will continue to go to Israel for work and will interact with Israelis, of course, and there are 750,000 other Israelis, illegal settlers, in the West Bank, who will continue to commute and communicate with the 3.1 million unvaccinated Palestinians.
So, practically, this is a crime against Palestinians and a crime against the health of Israelis. It's a violation of the international law, but also it's, in my opinion, the worst crime against medical ethics, which says nobody should be discriminated against because of anything, which says, "Do no harm, and help people as much as you can as a health professional."
JUAN GONZÁLEZ: I wanted to ask you — the COVAX facility that the World Health Organization established to help poor countries has pledged to vaccinate 20% of Palestinians. Where does that stand right now in terms of that pledge?
DR. MUSTAFA BARGHOUTI: I am in communication with the head of WHO here. And they are trying their best, but they do not think they can get anything here before four or five months, and if they are lucky.
Up 'til now, they don't know what vaccine they can get in. Up 'til now, they don't know how to get vaccines. That's why, given the huge spread now of community infections in the West Bank and Gaza, a very high number of cases — I estimate we have already 600,000 cases.
And they approached the Israelis. The WHO approached Israel, asking at least for vaccines for the health professionals. Israel refused and continues to refuse.
So, unfortunately, we are looking here at a potential real serious disaster. And as a person who is suffering from COVID-19 now, after nine months of being so protective and trying to be very careful, I can tell you this is a horrible disease.
I don't wish it for anybody. It's very dangerous. It can be destructive. It can kill the people. And it can also leave them with incapacity for a very long — for the rest of their life.
AMY GOODMAN: Dr. Mustafa Barghouti, as you said, you yourself have COVID-19 right now. You're in the throes of it. We know that Saeb Erekat, chief negotiator, died of COVID-19. You're a frontline physician. Do you get vaccinated?
And what about the vaccines? Apparently, PA has asked the United Arab Emirates to share some of its supply of Chinese-made vaccine, and the Palestinian Authority has reportedly ordered 4 million doses of the Russian Sputnik vaccine.
When are these doses going to come? And what are you demanding of the not only Israeli government, but the U.S. government, since it gives so much money to the Israeli government?
DR. MUSTAFA BARGHOUTI: I think I demand from the whole international community to do two things: First of all, to exercise immediate pressure on Israel to allow the passage of vaccines to at least the beginning — in the beginning, to the health professionals that are taking care of people, so that the health system would not collapse, and then to the elderly, of course, etc.;
Second, we're asking the international community to provide aid, bypassing Israel. Israel will not respond. And the international community has a big duty here.
I was not vaccinated. No health professional in the West Bank has been vaccinated yet. And we don't know when we will get this vaccine. And it is really critical, because the rate of infection is going up, and it is affecting — it could affect everybody in the community. So what we need is immediate pressure.
Regarding the Russian vaccine, yes,, there was a request, but I don't think the Russians can provide such vaccines, because their capacity of production is still low. They have produced only 500,000, up 'til now, vaccines. And their maximum capacity is 4 to 5 million per month, and they need 100 million vaccines for Russia itself. So I don't think that is a solution, although the Sputnik vaccine seems to be very good.
I think what we need is to really have a way of getting the AstraZeneca or the Moderna vaccine. Of course, we have a problem with Pfizer, although we have managed to provide some facilities in the West Bank, if we can get it, to give it to people.
But the most immediate need now — now it's a health disaster. Now it's a very risky situation. A whole population is subjected to a very big, alarming risk. That's why it is very urgent to immediately exercise pressure so that Palestinians also get the vaccines.
AMY GOODMAN: Would you describe this as medical apartheid?
DR. MUSTAFA BARGHOUTI: Yes, absolutely. This is the worst form of apartheid: medical apartheid. It didn't even exist in South Africa.
This is just beyond description. Imagine you go to a prison: You vaccinate the guards, but not the prisoners; you vaccinate Israeli prisoners, who are criminal usually, and not vaccinate Palestinian political prisoners.
Imagine you go in the cities of the West Bank: The settlers are vaccinated, and nearby Palestinian cities and communities are not vaccinated. Not only they grab our land, not only they settle illegally on our land, take away our natural resources, take away our sources of economy, but also they back this system of apartheid. I call it — I call it vaccination with racism.—
AMY GOODMAN: Dr. Mustafa Barghouti, physician, member of the Palestinian Parliament, thanks for joining us.
The original content of this program is licensed under a Creative Commons Attribution-Noncommercial-No Derivative Works 3.0 United States License.
Please attribute legal copies of this work to democracynow.org. Some of the work(s) that this program incorporates, however, may be separately licensed. For further information or additional permissions, contact us.
Of what kind of Israel are you talking about?
Posted on August 10, 2014
Note: lately, there is a flurry of Trump administration pressuring "Arabic" States to signing "peaceful deals" with Israel. The Gulf Emirates, Bahrain, Sudan, Oman and Morocco… are under the illusion that if the US remove them from the list of rogue States, sanctions, $ transfer, harassment… then these States will feel safe and secure…That Israel/US will share with them essential intelligence pieces to allow them "staying power"
Jordan and Egypt had already signed deals in the late 70's after the 1973 war.
Actually, these deals are made with monarchs, Emirs and dictators: the people know they will get no benefits by antagonizing regional States.
I keep hearing this mantra: accept the existence of the State of Israel if you want peace. What does that actually mean?
To accept the State of Israel as a Jewish State?
To accept the borders, and which borders?  (Israel has No Constitution and never presented to the UN its borders)
To say that we won't throw the Jewish Israelis into the sea?
People need to speak with greater clarity.
If the reference is to the acceptance of Israel as a Jewish State, then No.
No, because any state that gives greater rights to members of one group (in this case, a religion) over another cannot be democratic.
No, because any state that deems a group of people living within its borders (Palestinian citizens of Israel) and a people living under occupation (Palestinians in the West Bank and Gaza) as a "demographic threat" cannot be peaceful. So, No.
Just as people rejected the existence of Apartheid South Africa and rejected the "state of the South" in the US as slave-holders, No to the existence of the State of Israel as a Jewish State.
If the reference is to accept the borders by the use of military occupation, then No
And which borders is Israel willing to agree on? Is Israel ready to relinquish the Syrian Golan Heights, the lands of Lebanon in Shaba and Kfar Shuba…
Does Israel willing to agree on the existence of a sovereign, contiguous Palestinian State and the return of the Palestinian Refugees to their villages, as of the UN resolution of 193?
As to throwing the Jewish Israelis into the sea — is that what is meant by rejecting the State of Israel? – then, of course not, I don't call for that.
However, it is exactly what so many members of the Israeli Knesset, Israeli press, and a growing number of the Israeli public are asking to do to the Palestinians: ethnic cleansing of Palestinians, transferring of Palestinians, denamitating Palestinian house, uprooting olive trees, incarcerating Palestinian youths under detentive laws without trials…
Rafah, Gaza. Dead children kept in vegetable refrigerators
Posted on August 3, 2014
Note: Before this butchery, Rafah witnessed a prior butchery in 1956 as Israel participated in the invasion of the Suez canal. Israel army crossed Rafah and committed crimes against humanity: over 60 civilians were exterminated.
As Gaza stranglehold tightens, full morgues have forced people to store dead bodies in refrigerators
Corpses of the dead stored in a vegetable refrigerator in Rafah (Twitter / @FoolowGaza)
Mohammed Omer posted this Saturday 2 August 2014
Abu Taha, a farmer in Rafah, opened the refrigerator he normally keeps his potatoes and carrots in.
In it were the corpses of children, young men and women lying on top of one another, soaked in blood.
Many were impossible to identify and only a few have been placed in white burial shrouds.
Such was the savagery of Israel's bombardment in Rafah, such was the quantity of dead bodies, that there was simply no other option but to use vegetable refrigerators as makeshift morgues.
The closure of hospitals which came under bombardment led to a cascade of corpses. It started when medical staff were forced to abandon Rafah's main hospital Abu Yousef al-Najjar which came under constant bombardment by artillery shelling from the east of the city.
They evacuated the injured to Kuwaiti Hospital, a facility totally ill-equipped to deal with major trauma injuries from the extended battlefield that the Gaza Strip has become.
Even so, several bodies were left lying on the roads, bleeding for hours without any ambulance crew arriving to rescue them.
Meanwhile, three ambulance crew members have been killed, their bodies were unidentifiable after they were hit by an Israeli tank shell directed at their ambulance.
Several of the cases close to the hospital gate were not reachable by rescue teams, says Abu Ahmed, an ambulance driver. 
"Each time I drive through, tank shells are fired nearby," he says while he is a couple of hundred meters from tens of victims bleeding on the road.
Most cases of those killed in Rafah are civilians slain by canon shells that wiped several homes in Hay al-Junina area.
Meanwhile, Israeli warplanes fired missiles on several homes in Rafah targeting homes of Abu Suliman, Zorb, Alshaer, and Abu Suliman. 
The death toll in Rafah in the past 24 hours is now 110 killed and hundreds injured.  Medics say there are more bodies they could not reach.
The corpses were taken into vegetables refrigerators in Rafah, which have their own electricity generators. 
Even burying the dead was full of hazard, as the cemeteries in the east of the city have also been under Israeli artillery shelling over the past 24 days.
"We had no option but to put the bodies of tens killed in the refrigerators," Subhi Radwan, mayor of Rafah told MEE.
Al-Nujjar hospital has only enough beds for a few dozen patients, but evacuation has meant nowhere else to go for victims of the attack.
Radwan says, the war on Rafah is not over, and his staff members are unable to offer any facilities to people on the ground, that includes water and electricity lines which were destroyed by strikes.
"We appeal to the international organizations to step in and help us evacuate injured people lying in the east of Rafah," he says.
Meanwhile, international groups have tried to help evacuate victims, but to no avail.
Survivors of the 24-hour bombardment said they had seen nothing like it in their lives. They were bombed from the air, sea and ground simultaneously.
"It is terrifying, the Israeli military has gone out of control, they bombed a building of families fleeing and killed 23 innocents," says Abdelraouf Ayyad, a 33-year old whose home he fled in Hay al-Junina when bombing started 24 hours ago.
"No one is safe; no home, no hospital, no shelter" he says as he runs into Tal al-Sultan to seek shelter at his cousin's house.
Twenty three (23) family members have been killed by Israeli F16 missile, mostly from families that fled bombing in east of the city to the West of Rafah.
Radwan says, there is no other hospital, and now even the Kuwaiti hospital is under canonfire—journalists and rescue teams were forced to leave the area under gunfire.
Ashraf Al Qudra of health ministry appeals to the international community to allow ambulances to evacuate injured people from roads of East of Rafah and Kuwaiti hospital.
"We need safe routes for ambulance to evacuate victims into other hospitals in Khan Younis."
Israeli tanks could be seen in the east, overlooking Rafah, home of 180,000 inhabitants in the far south border with Egypt.
"There are tens of cases of people bleeding and the hospital is unable to deal with massive number of victims"
Rafah's massacre occurred two hours into the 72-hour humanitarian ceasefire announced yesterday.
Hamas and Israel exchanged accusations of breaking the ceasefire. However, Israel insisted on carrying out a military ground operation on the eastern border, despite the truce.
Israel announced one missing soldier during its ground invasion, while Hamas's al-Qassam Brigades say they lost communication with some of their members who were in combat with Israeli troops before the ceasefire started.
Qassam Brigades said in a statement that the Israeli soldier was probably killed during in ambush along with Qassam Brigades members.
The death toll across the Gaza strip is 1680 dead and 8500 injured since the war began 27 days ago – the majority are civilians according to the UN.
Meanwhile, 3 civilians and 50 Israeli soldiers have been killed during the ground attack in Gaza.
Palestinian factions and Israel were expected to travel to Cairo for talks with Egyptian on a long-lasting truce, but the presence of Israeli tanks around the Rafah Crossing point will make this unlikely to happen anytime soon.
– See more at: http://www.middleeasteye.net/news/gazans-forced-keep-dead-bodies-vegetable-refrigerators-1006544969#sthash.7DTcuIEy.dpuf
This confusing business of spreading institutional propaganda?
Western media in the "confused business": Writing Iran when meaning Saudi Kingdom?
Mind you that this article was posted in 2012
The Olympic game charter prohibits States to discriminate between genders  in at least two clauses. And yet, Saudi Arabia will not let women participate in sports, while Iran do send sport-women to games…
Suppose Iran was discriminating, wouldn't international outcry be deafening us? But nobody is willing to make waves when Saudi Arabia is the culprit…
Saudi Arabia Wahhabi, theocratic and absolute monarchic State has executed 76 people in 2011, such as women condemned for witchcraft, non-noble class homosexuals, sodomizers, adulterous women, drug traffickers, apostasy…and cutting hands of robbers…But the UN is not interested in what's going on in Saudi Arabia.
Except the UN High Commissariat for human rights, no international institutions bring up these violations in Saudi Kingdom…
Neither the UN Council, nor the G20 (that met this year in the Kingdom), nor the International Monetary Fund (IMF)…care of what's going on in Saudi Arabia.
Saudi Kingdom is practically untouched and never blamed (the same as this colonial apartheid implant of Israel)…
For example, in 2008, French Sarkozy declared: "Under the vigorous impulse of his Majesty Abdullah, Saudi Arabia is developing a civilized policy…" (Coming from Sarkozy under justice investigation in France and the instigator of the civil war in Libya)
Saudi Arabia impulse is still in funding and supporting the most obscurantist Islamic extremists in Tunisia, Morocco, Mauritania, Algeria, Egypt, Yemen, Syria, Iraq, Lebanon, Mali…
They are funding TV cables channels dedicated to Islamic salafism, erecting Mosques in every street, sending free million of Korans (Wahhabi version), and million of books on "How to subjugate wives and daughters in obeying patriarchal systems…"
Saudi Arabia is lethally crushing youth demonstrations under the banner of "New form of terrorism", killing peaceful Shia demonstrators in the Eastern region, jailing over 20,000 each year for freedom of expression charges, and has sent military reinforcement into Bahrain to crush the civil uprising, and is supporting the Al Qaeda in Yemen and Somalia…
The irony is that Saudi Arabia is the refuge for all dictators, Tunisia Ben Ali, Egypt, Uganda Idi Amin, many African dictators… And current Tunisia Hamadi Jebali PM visited Saudi Arabia and lauded the good deeds of this archaic monarchy, and refrained from demanding the extradition of Tunisia dictator, or the return of the stolen billion…
Saudi Kingdom would want everyone to believe that the main nemesis is Shia Iran, as Israel would want everyone to believe this strategy…
As  if peaceful nuclear energy program is the enemy to human rights, democracy, freedom of expression…
And it is the Iranian people who are to suffer from economic and financial sanctions, while Saudi Arabia fund and sustain terrorism everywhere in Islamic States…
Western media are persisting in the "confused business" of not politically discussing the current US policies in the Arab World: Are they Writing Iran when meaning Saudi Arabia?
The big picture can be described as follows:
1. China keeps the US economy afloat with "fresh money" in buying government bonds
2. Saudi Kingdom keeps the US Federal budget afloat by cyclically infusing funds, particularly in crisis situations such as preemptive military operations, changing "rogue" regimes, enforcing oil embargoes…(And lately, succumbing to Trump blackmails to eliminate hundreds of $billion loans and buying useless weapons Not under the control of the Kingdom military…)
3. The US cyclically rectifies Israel endemic budget deficits, using Saudi Kingdom largess. Can't we claim that Saudi Arabia is the main funder of the theocratic and apartheid Zionist State?
Is the US cowing to Saudi Arabia strategy of reducing all States in the Middle-East to theocratic Sunni Wahhabi salafism and archaic regimes and encouraging Israel to be a carbon copy of the surrounding States?
Note: Since 2012, Qatar, Bahrain and Gulf Emirates have shared in US order to fund the terrorist movements participating in Syria "civil war", destabilizing Tunisia, Algeria, Iraq, Somalia, and many African States.