Posts Tagged 'lebanon'

How Lebanon maritime seashore were grabbed by private companies?
Not a stretch in Lebanon seashore from North to South is public anymore. We cannot swim or picnic on our seashore without paying dearly for private companies to enter and enjoy a fine day.
And all these private stealing of our seashore are illegal and still all successive government refrain from recovering the citizen rights and do Not receive any significant taxes from these illegal "properties"
Defending marine public property workshop
Priorities may change with the different circumstances the country is going through. But the needs and rights remain the same.
We learned from our history that when people are busy searching for safety (because of wars, civil wars, absence of government…), the corrupt steal our rights, our land, and our livelihoods.
We must always be ready to defend our rights at all times.
We must have general and contingency plans to respond to all attempts at all times.
Public space has always been coveted by many.
At a time when people are preoccupied with the COVID-19 pandemic, and suffer from financial problems, many work to try to get hold of what remains of our public property under the pretext of solving financial or other crises.
This is exactly what happened after the civil war, when Beirut was stolen from us, using the Solidere company of late Rafic Hariri.
As such, we are inviting you to participate in a workshop on advocacy, aimed at preparing activists with the competence and skills necessary to bring about change in their communities, and to work with us to develop a strategy to restore the maritime public domain and preserve what remains.
1- If you are interested in participating in this workshop
2- If you want to gain advocacy skills and play a leading and influential role in what is happening around you
3- If you have the time and are interested in contributing to your community
4- If you are interested in defending public spaces
Fill out this application:
https://docs.google.com/…/1FAIpQLScForAySA3oJgqy5…/viewform…
Application deadline: 30 October 2020
Workshop date: 6,7 November 2020
(Follow-up meetings to be held during weekdays or according to the group)
for more information: info@nahnoo.org
Note: It is important that citizens be knowledgeable on their rights to free access to their seashore and who were behind stealing our rights for free enjoyment of our seashore.
Highest positions in Lebanon were Not monopoly to any religious sect, during mandated France from 1919 to 1943. Though it is France that instituted sectarian division in Lebanon.
الاستعمار الداخلي
ليس لائقا أن يمر هذا اليوم مرور الكرام ففي مثله من عام ١٩٩٢ أنعم الله على الوطن والأمة بشارلمان لبنان الأستاذ نبيه بري كما تكّرم علينا بمنظومة سياسية كجبل لا تهزه ريح .
اللافت انه منذ نهاية الإستعمار الفرنسي وبدل أن نتحرر ونبني دولة نموذجية لجأنا لإستعمار أنفسنا طائفيا ومذهبيا في عهد الاستعمار كان الرئيس الأول لمجلس النواب اللبناني المرحوم داوود عمون عام ١٩٢٢ وتلاه نعوم لبكي وشارل دباس وخالد شهاب ومحمد الجسر من مختلف الطوائف الكريمة حتى بعد الاستقلال كان اول رئيس مجلس نواب حبيب ابو شهلا حتى ١٩٤٧ وبعد الاستقلال عادت حليمة وتكرست المذهبية أكثر وخاصة مع السيطرة السورية وعام ٩٢ مع
انتخاب رجل الدولة المحترم حسين الحسيني رئيسا للمجلس استقال من رئاسة حركة أمل وقال ( لا يجوز أن يكون رئيس مجلس نواب يمثل كل الشعب رئيسا لفئة من الشعب) وخلفه بالحركة الأستاذ عاكف حيدر وإثر تباين مع السوريين تم اختيار نبيه بري بعد خدمات للأشقاء ولم يزل الأفضل
.ان ما كتبته عن مجلس النواب ينطبق على رئاسة الجمهورية والحكومات حيث تناوب من عام ١٩٢٦ شارل دباس وغيره كبترو طراد والفرد نقاش وايوب ثابت وصولا لإميل اده وليسوا جميعا من الطائفة المارونية الكريمة، والكلام عينه ينطبق على الحكومات بدءا ببشارة الخوري مرورا بالفرد نقاش و الأحدب ولم تصبح حكرا على الطائفة السنية الكريمة إلا بعد أن تحررنا من الاستعمار مع رياض الصلح
ولعشرات السنين ما زلنا نرزخ تحت حكم مستعمري الداخل من أعلى السلّم لأسفله حتى وزراء ونواب سئمنا و( زهقنا ) منهم صوت وصورة منذ ٤٠ عام.
أيها الأصدقاء أن النضال من الداخل ضمن هذه المنظومة السياسية هي نكتة لأن هذا النوع من النضال هو ديمقراطي ونتيجته الخائبة محسومة أي نضال واذا اتفق ٤ رؤوس فقط ينهون النضال
.فخامة الرئيس ٢٧ و الثنائي مع توابعهم حوالي ٤٠ والشيخ سعد ٢٠ومجموع ٨٧ من ١٢٠ فمرحبا بهيك معارضة .والاجدى بهم أن يعودوا للشعب وإيقاف معزوفة كلهن ونصهن وربعهن حيث لم يشهد التاريخ انتفاضة أو ثورة ضد نص السلطة أو ربعها وبعدها يعيد الشعب الشرفاء منهم ونحن لا ننكر وجود العديد من الشرفاء ونظيفي الكف والأوادم في هذه المنظومة ولكن مكانهم
مع الشعب وليس مع هذه الطبقة السياسية الفاسدة والفاشلة .واخيرا لقد أثبت معظم شعب لبنان رغم التضييق والكورونا في ذكرى ١٧ تشرين انه ما زال توّاقا للتغيير وعلى الثورة وكوادرها أن تكون على مستوى آمال الشعب لأن منظومة اليوم تحمل بذور نهايتها الحتمية .
Lebanon: An improbable Statehood in the making
Mind you this article was posted in February 20, 2008, 12 years before the total bankruptcy of the State of Lebanon, politically, economically and financially.  
Under the leadership of Hezbollah, the Shias in the south and the Bekaa Valley are basically and currently the main caste shouldering the heavy burden of defending Lebanon from the frequent aggressions of Israel. 
Before Hezbollah, Lebanon had many secular political parties confronting Israel aggressions (The Communists and the Syria National Social parties), especially during Israel invasion of Lebanon in 1982 until 1989, when mandated Syria gave Hezbollah the "monopoly to conduct the resistance.
Without the Shiaa, south Lebanon would have long been swallowed by Israel and Lebanon divided and scraped from the number of independent States. 
It is the Shiaa who forced Israel to withdraw unconditionally from the south in May 24, 2000. 
It is the Shiaa who foiled the strategy of Israel of reconquering the south of Lebanon in July 2006 and installing a Pax Americana in the Greater Middle East.  
Hezbollah split from the main "Amal" Shia movement (of Mousa sader) around 1983 and adopted an ideology tightly linked to the Khomeini hardliners in Iran and is made responsible for the suicide attacks against the US and French headquarters in Beirut. 
Hezbollah was the only resistance movement allowed by Syria to operate against Israel's occupation in the south of Lebanon since 1989 when the US Administration permitted Syria mandate over Lebanon for over 15 years. 
Syria had prohibited all the other Lebanese nationalistic and progressive parties to resume their liberation resistance during its occupation of Lebanon. 
After the assassination of Rafic Hariri PM in 2005 and the withdrawal of the Syrian troops from Lebanon we have been experiencing a serious void in the legitimacy of the current government. 
The signed entente between the Tayyar political party of Michel Aoun (Free Patriotic Movement for Reform and Change) and Hezbollah has allayed the perception that schemes for a recurring civil war in under planning. 
The patient internally non-violence strategy of Hezbollah in conducting non-cooperation activities against an unjust and and mafia control of the government has permitted the Lebanese population to gain the assurance and relief that another civil war is not feasible.  
This Seniora's government and its allies have been plundering the public treasury for the past three years (since 2005) and for the last 15 years under Rafic Hariri.
This feudal/sectarian/contractor continuous regime, establishing a Ponzi scheme for our financial system, has been spreading poverty and deepening the indebtedness and ineptness of Lebanon, with the explicit support of the Bush administration, and under the guise of empty rhetoric of democracy, security and independence from Syria's indirect involvement in Lebanon.
Consequently, the Shia have proven to be the legitimate sons of an independent Lebanon and have paid the prices of martyrdom, suffering, sacrifice and pain in order to be the guarantor for the emergence of a Nation against all odds. 
It is the sacrifices of the Shia and their patience to suffer for the benefit of all Lebanese that is providing them with the leverage of flexibility, intent to change, learn from experience and improve. 
The successive unilateral withdrawals of Israel from Lebanon in 2000, an occupation that lasted since 1982, without any preconditions have given the Lebanese citizen grounds to standing tall. 
Our main problem is that the International requirements of Lebanon and our local politics are at odds. 
The USA, Europe and Saudi Kingdom would like to settle the Palestinian refugees as Lebanese citizens with full rights and thus avoiding the corny problem of their legitimate rights to be repatriated to Israel as stated in the UN resolution of 194. 
The Monarchy in Saudi Kingdom has been viewing the Palestinian question as a major liability since the extremist party of Hamas has taken power in Gaza.
Saudi Kingdom is exhausted of paying the bills every time Israel destroys the infrastructure of Lebanon and covering some of the expenses of the Palestinian refugees and would like an end to this conflict that is hampering the internal stability of the Wahhabi Saudi regime.
Israel invasions of Lebanon and its genocide tactics against the Palestinians are done at the urging of the USA 
The two main local movements of the Future Party (Hariri clan) and Hezbollah are more than content for this unconstitutional political dilemma which suits their short-term interests. 
The Future is satisfied with its dominance among the Sunnis in Beirut and the North and thus, giving the Palestinian refugees citizenship might create an unknown variable that could disrupt the majority of the Sunni allegiance to the Al Moustakbal. 
Consequently, the Hariri clan cannot disobey the Saudi orders but it cannot shoot itself in the foot. 
Externally, the Hariri clan is pro Saudi but in reality it is very cozy with the Syrian position on the Palestinian refugee status as its strongest card during the negotiations with the USA and afterward. 
The unstable constitutional political system in Lebanon may delay indefinitely any serious pressures from Saudi Kingdom and the USA to resolving the Palestinian refugees' question. 
Hezbollah is weary of having to deal with a constitutional government and negotiate returning its arms to the Lebanese army. 
Thus, the two main parties in Lebanon are supporting each other practically and just playing the game of opposing forces.
Furthermore, The USA has decided after the fiasco of the July war in 2006 that no more investment in time on Lebanon is appropriate at this junction.  We have to wait for a new US administration to decide whether it is willing to re-open the file of the Near East problems.
The allies to the two main parties are side shows: they know it and they cannot change camps with the deep mistrust for the other side pledges and dependent policies to foreign powers. 
Thanks to the vehement rhetoric against Syria or its allies in Lebanon by Walid Jumblatt and Samir Geagea, the Future party has been able to give the impression that it is against the Syrian regime while practically it agrees with the Syrian positions and would like to keep the present status quo in Lebanon's political system of the Taef Constitutional amendments.  
General Michel Aoun has realized that he has been taken by the sweet tender offers of Hezbollah but he cannot shift allegiance or form a third alliance since non resolution of the situation is the name of the game until further agreement among the main Arab states and the main superpowers.
Recently, General Aoun has demonstrated his independence by visiting Syria for 5 days amid a popular welcome to re-establish entente between the two people, if not the regimes.
So far, the polemics among the government's allies and the opposition political parties are not shy of harboring sectarian allegiances in their charged speeches, but somehow they failed to discuss the actual caste, or closed religious system in our social structure, which is the fundamental problem toward a modern state of governance.
I do not believe that any fair and representative electoral law is of utility unless the basic caste system is recognized as a sin and altered accordingly to represent an alternative for the citizen joining a united and free status under one State. 
The first step is to instituting a voluntary State marriage law and letting the situation unfold into a more liberal understanding of the need of the people. 
The road is very long and arduous before the beginning of a semblance of trust among the Lebanese is established. 
However, I feel that the Shia under the leadership of a wise and disciplined Hezbollah and their corresponding Christian Free Patriotic movement are leading the way for a semi-autonomous Lebanon, at least in its internal restructuring. 
I believe that the necessities of survival would loosen up many stiff ideological and caste roadblocks toward a reformed political system and the institution of a governing body that abide in integrity, accountability and justice for all.
It is a fact that extremist Sunni "salafist" ideology is gaining quickly in all the Arab and Moslem World, out of desperation and the widespread illiteracy and lack of job openings. (See note 3). 
Maybe our mix of all kinds of sects might be a rampart to our moderate liberal tendencies.
The spirit of Statehood is coming from an unforeseen quarter. Mainly the Shia caste freshly arriving in the social and political scene around 1970. 
This disinherited caste was already a majority when the civil war of 1975 broke out and it suffered from the total ignorance of the central government for infrastructure and social services and had also to suffer the humiliation and atrocities of frequent Israeli air raids and land attacks and bombing of their villages under the disguise of dislodging the Palestinian guerillas.  
The Shia caste is opening up to almost all sects and managed to ally with large sections of many other castes. 
This extending arm might be considered as necessary out of the realization that they are a majority in Lebanon and a real minority in the neighboring States of Syria, Jordan, and Egypt.
This necessity is a blessing to Lebanon because the main major caste is encouraging unity against foreign invaders. 
In the event that Hezbollah maintains its strength, then it can be forecasted that the economic strategy of Lebanon will shift from tourism and third sector (the Hariri's clan strategy) into more emphasis on agriculture and small and medium industries, many of it geared toward guerilla warfare. 
This is how the future looks like to me if no overall peace treaty with Israel is realized any time soon.
I used the term "Statehood" for Lebanon in a general sense to convey that a form of unity is developing in the conscious of the Lebanese, but this notion of Nation is far from appropriate to Lebanon simply because experiences since independence could not provide any evidence to a unified people under legitimate and responsible central governments. 
Lebanon is fundamentally an amalgamation of castes that enjoy self-autonomy. 
I still believe that the Syrians, Lebanese, Palestinians, and Jordanians naturally form a Nation and they should generate a common market with separate recognized States.
I am convinced the Taef Constitution was meant to have total entente among the various main three religious castes in Lebanon before starting to elect a new president to the Republic.
The entente should involve everything from election law, to the constitution of the government and other priorities. 
This fact translates into agreement among the main Arab States and the main superpowers on how Lebanon should be governed during six years. 
Unless the Lebanese leaders and political parties get together to review the Taef Constitution and be willing to pay the price of deciding to have a mind of their own, then Lebanon is de facto under the UN protectorate.
Note 1: the current Dawha agreement, after Hezbollah destroyed Israel communication control in 2008, translated the spirit of Taef in its temporary execution until the Parliamentary election takes place.
Note 2:  The Future movement of the Hariri clan (Saad Hariri is a Saudi citizen) is practically pro-Syrian but it cannot overtly open up to the Syrian regime as long as Saudi Kingdom is not currently in good term with President Bashar Assad.
Note 3:  The Sunni "salafist" movement expressed its strong arm tendencies in the Palestinian camp of Nahr Al Bared. The Lebanese army destroyed the camp along with the extremist Sunni groups and the ramifications are not over in our internal strife.
Note 4:  The social/political structure is held by 19 recognized religious castes that grow at different paces in demography.  Thus, the top of our Temple must be very flexible and changeable when foreign powers decide to destabilize the tacit agreement among the caste political feudal leaders.
Tidbits #75
Most experts agree that temperature checks are a form of theater, a performance intended to put our minds at ease. But the theater is partially the point. When someone steps into a restaurant or hotel, they're still taking a risk. These thermometers help to remind all of us to continue taking the pandemic seriously.
Never dig deeper in to your origine: Every community that survived had participated in a massacre. La takol asli wa fasli abadan, ennama aslou al fata ma yassalahou.
Des aéroports commencent à tester le « passeport COVID » qui indiquera si une personne a été vaccinée avant le voyage — Les Maîtres du Monde — Sott.net. So travel for me is out of the question: I refuse to be vaccinated for Covid. Though I get the flu vaccine every year
The conventional-minded say that they don't want to shut down the discussion of all ideas, just the bad ones. There are two reasons why we need to be able to discuss even "bad" ideas.
The first is that any process for deciding which ideas to ban is bound to make mistakes. ...
The second reason it's dangerous to ban the discussion of ideas is that ideas are more closely related than they look.
More novels were written about the cheating business among couples. The novel is made big by using the moral and ethical standard of a general society as a Filler. The crux of the matter is a local state of mind of the individual. Should he abide by the idiosyncrasies of the community or should he grab the opportunity to experience an all encompassing passion?
La mécanique tranquille des abattoires, tout est blanc et propre, sauf les cris des cochons suspendus par une chaîne: c' est l' enfer déguisé' qui fait peur. Nazi Germany inherited US mechanics.
Natural product Is Not even every citizen' asset. National debt is every person's liability, excluding the elite classes.
The 10 biggest Lebanese banks had amassed $180 bn in accounts and they could afford to face any temporary rush on October 17.
By Closing their doors these Lebanese banks on October 18, 2019, it was Not a flawed in judgement: the board members of the banks were following orders from US/Israel to destabilize Lebanon, and they should be investigated and tried in criminal justice.
One day, an astronomer will discover a new star where a Black Hole was supposed to be. And the scientists will find a new job: explaining the process of Black Holes exploding into many stars.
The spirit of humanism of Charles Dickens failed to reach the USA, even today.
Nothing is resolved in the USA about owning sub-machine gun. Why? Because the Constitution allowed the White colonials to own and shout at colored people (Black, Red, and Yellow) who trespass their plantations
Many nations had a civilization of high level of tolerance, until warrior nations, and lately colonial powers, inflicted on them their close-minded and racist Law and Order systems
Avant le péché on était un diamant, et après on est devenu un charbon? Alons, le temps qu'on apprenne ce qu'est le vrai péché qui nous ronge la vie. Il faut apprendre a conqueror les petits péchés pour faire face et confronter le plus vilain des peches. On joue a l'alchimiste: traiter le charbon tout au long de notre vie pour obtenir un petit diamant: Ca vaut-il la peine?
If you are lucky to start the third phase of your life, you better transfer what was a shamble in your head to your body and be proud of it.
Only the governments in Syria and Israel follow the events and a few details in Lebanon. All the other States never cross their mind that Lebanon is a worthy subject matter. Only Lebanon local news media try hard to inflate this croaking animal "nafekh hal Dafda3at"
What of those Lebanese children that their parents prefer them to immigrate?
My parents sent 3 of their children to Lebanon boarding schools in order to save them from the multitude of incurable diseases in Africa (or lack of medicines), in the mid 1950's
With a few editing
Mon fils, ne t'en va pas. Pas maintenant. Pas quand nous sommes fâchés.
Fais comme si rien ne s'était passé.
Attends que la poussière retombe.

La veille, quand tu es rentré après cette longue absence,
Dans ma poitrine, j'avais le cœur qui dansait. Au fond de moi, c'était, comme qui dirait, une explosion.

Quand tu n'es pas là, je perds mes mots, je me fourvoie et,
Pour que j'avance, il me faut désormais marcher dans tes pas.
Certaines nuits, quand le vent siffle trop fort, j'oubliais jusqu'à ton prénom.
Et puis ce souffle qui s'est levé, venant du port. (Reminiscing of the conflagration of the Port of Beirut?)
Ce souffle de verre, cette hécatombe de vies brisées en étoile.
Le sang coulait à flots et on ne savait où donner du regard.
Dans les rues, jusqu'à l'aube, tu as erré haggard.
Oublie ce que tu as vu.
Notre ville, souvent assassinée, demolie, devastee'.
Notre ville comme un millefeuille où passe en accéléré le temps qui, ailleurs, met des plombes.
C'est de mourir cent fois que nous sommes si vivants et chaque instant volé a le goût de l'éternité.

Mon fils, pourquoi t'es-tu figé ?
D'où vient cette pesanteur ?
Cette mort avant l'heure, est-elle la fois de trop ?

Qu'il est dur ce moment où, suspendu dans le vide, l'homme s'arrête de marcher.
Cette ville dévastée en un battement de cil, c'est le mauvais œil, les dieux qui sont jaloux.

Il est des fêlures qu'on ne peut ressouder, des plaies qui suintent comme des stigmates.
Avec le temps, nous avons appris à sceller un pacte.
La destinée n'a pas prise sur notre survie
Hier, en fermant les volets, le souffle de la montagne est monté jusqu'à moi.
Egrenés en lacets, les villages alentour palpitent comme des flammes.
Dans le ciel, l'étoile du berger s'est levée comme avant.
Ce soir, la lune est pleine et fait du bruit en marchant.

Chaque vie est une victoire, chaque jour une bénédiction et la mort d'Adonis, une affaire de saison.
Au jardin de ton père, les amandes sont ouvertes et la figue que tu cueilles est perlée de lait.
Qu'importe que l'on rase l'herbe que tu as foulée, que l'on fauche ta ville et déterre tes morts.
Nous sommes la chandelle qu'on ne peut pas moucher, la moule accrochée à son rocher.
Nous sommes le peuple qui danse sur la bouche du volcan. (Si on avait un volcan au Liban, ce serait chouette)
Même si, depuis toujours, tu es tourné vers la mer…

Condamné à porter le Liban en bandoulière, en escarbille au cœur.
Condamné à bâtir le pays des autres.
Ici, il nous faut construire sur le sable. (Même si notre terre est plutôt un vaste rocher)
Mais tant que la lumière se lève de notre côté, rien ne pourra nous arriver. (Esperont toujours)
Note: Only the governments in Syria and Israel follow the events and a few details in Lebanon. All the others never cross their mind that lebanon is a worthy subject matter.
Only Lebanon local news media try hard to inflate this croaking grenouille "nafekh hal Dafda3at"
No more Caches for Fiscal Evaders in selected Islands?
Bye Bye Launderers and white washers of plundered wealth?
Since 2009, many nations were trying to find ways to close loopholes in fiscal laws that permitted the rich people to transfer wealth to foreign caches in order to escape paying their due taxes.
In 2020, Lebanon pseudo State has Not even contemplated preventing the militia/mafia leaders from draining our accounts in banks in hard currencies from vacating our territory.
The financial havoc has generated another capital consequence. in every nation around the world.
All these tiny islands and tiny States that were the havens of offshore companies where money were stashed away to avoid taxes are no longer safe havens.
The safe havens were pressured to enact laws that permit any State government to investigate accounts that were immune under "banking secrecy regulations".
There are five main regions were these safe heavens concentrated their activities.
First, the Caribbean islands of about 14 of them, singly or set of smaller islands, such as: Caicos, Turks, Anguilla, and Montserrat (controlled by Britain), the Virgin Islands (controlled by the USA, the Aruba and Antilles (controlled by the Netherlands), the Bahamas, Caimans, Antigua and Barbuda, Dominic, Sainte Lucie, Saint Vincent and Grenadines, Saint Christopher and Nevis, Grenada, Panama City, and Belize.
Second, in Europe we got the city of Andorra, Austria, Belgium, Isle of Man, Isles of Guernsey and Jersey, Gibraltar, Monaco, Saint Marin, Liechtenstein, Luxemburg, Cyprus, and Switzerland.
Third, in the Far East we have: Tonga, Vanuatu, Cook Islands, Niue, Samoa, Nauru, Marshall Islands, Hong Kong, and Singapore.
Fourth, in the Arab Gulf we have: Dubai and Bahrain.
Fifth, in East Africa we have: Maurice, Seychelles Republic, Maldives, and then Liberia in West Africa.
For example, the Caribbean islands and particularly the Caimans has residency for 70% of hedge funds and manage about $ 2 trillion or 2,000 billions;
Jersey Island is the prime British offshore center and managing 300 billions;
Liechtenstein with 165 billions;
Switzerland with $2 trillions of offshore money or the third of the world's caches and which generate a third of the State's income.
The safe havens in the Virgin Islands are mostly invested by China.
Now most of these safe havens are in the process of regulating their financial activities because most States want the money of their citizens repatriated in order to be taxed.
The problem is that the fiscal laws in most States are so exorbitant and complicated that it is Not worth repatriating any money.
People are just waiting for lenient and simple fiscal laws to be enacted before they get the courage to transfer their money to their home states.
For example, taking into account penalties on bad faith (40%), interests in arrears, tax on revenue, social contribution and other rights and penalties, a French citizen having one million dollars in Switzerland should expect to pay 1,300,000 dollars, far more than what he has saved in the safe haven.
France has evaluated to 20 billions dollars of lost revenue is fiscal fraud, which amount to the total budget for the department of Research and higher Education.
The case of Switzerland banking secrecy laws started in 1934.
In 1932, France confiscated from the Commercial Bank of Bale ten books containing 2000 French clients; the socialist deputy Fabien Albertin divulged the names of the clients representing a wide spectrum of influential personalities from magistrates, to ministers, to deputies, and to bishops.
The State of Switzerland reacted.
Only in 1998 did the wall of banking secrecy fall in Switzerland when the US exercised pressures to recoup 1.25 billions dollars saved by Jewish families during the Nazi period.
There are four criteria to categorize a State as a fiscal paradise:
First, absence or lack of fiscal laws;
second, lack of transparency;
third, the economy cannot support that much funds (basically, a post office State); and
fourth, refusal to exchange judicial and fiscal information.
WikiLeaks documents on Lebanon: What's going on with our pitiful "leaders"?
Posted on March 22, 2011
You won't believe it. Can you imagine a government demanding from the enemy to invade its land, kill its citizens, destroy its infrastructure, and expand the bombing in intensity and duration?
That's what happened in Lebanon:  Not once, but several times since 2005 and since its independence, in pre-emptive attacks by Israel, though tacitly for lack of transparency.
In 2006, Israel launched a devastating war on Lebanon and the government of Lebanon, headed by Seniora PM, demanded from the US that Israel extends its war destruction of Lebanon's infrastructure beyond 33 days, on the guise of finishing off the military power of Hezbollah. (Finally, it was Israel that had to beg Bush Jr. to arrange for a cease fire)
Seniora PM, the current PM Saad Hariri, the defense minister Elias Murr, the ex-president Amine Gemayel, the warlord of the civil war Samir Geagea, the deputies Boutros Harb, Naela Muawad, Walid Jumblatt, Marwan Hamadi…demanded that Israel continue its war on Lebanon until Hezbollah is severely weakened.
Hell, Israel killed over 1,600 Lebanese civilians, injured over 5,000, displaced half a million from south Lebanon, dropped two million cluster bombs (dozens are killed and injured every year from these bombs), all Lebanon's infrastructure was destroyed, the sea polluted after bombing oil tanks…
It took Lebanon billions in foreign aid and six years to reconstruct devastated towns, villages, highways, bridges…just to satisfy short-term interests of midget Lebanese political leaders.
The common people in Lebanon know about these systematic treacheries committed by the successive governments, but now there are documents, black on white.
Hezbollah is assembling a legal file to bring to trial all these traitors of first degree.
These official traitors should be packing now; they should be praying to die before they are brought to justice. (Wrong. these militia/mafia "leaders" are still in total control of Lebanon and brought the State to total bankruptcy at all levels)
The infamy didn't stop after 2006:  It resumed unabashedly.
On May 7, 2007, the official traitors masterminded a civil war against Hezbollah as the best strategy to weaken this party that defended Lebanon's dignity and security from frequent Israeli incursions into Lebanon.
The "official traitors" had a plan that was coordinated with the US and Israel.
Hezbollah was continuing his program of securing land fiber-optic communication lines.  That was the excuse to starting the civil war.  The US Cole was offshore waiting, and Israel intelligence agents were hunkered in many secret places around Beirut.
Hezbollah managed to dismantle the plan within 3 hours and the official traitors had no time to carry on their nasty program.
Seniora governed Lebanon as sole dictator for four years, with a reduced cabinet since the third of the ministered had resigned., meaning 60% of the population was not represented in the government, and sit in around the government palace lasted months under tents.
Seniora was unphased:  He had orders not to seek the opinion of the Lebanese citizens.
Tents were erected around the Prime Minister Palace for three months, but Seniora felt that the US support is good enough to remain in power.
The official traitors want the army to be the sole defender of the Motherland.  How?
Our army didn't have a working single helicopter when battling the terrorists Jund Islam in Nahr Bared camp.  The Muslim Sunni salafists, financed by Saudi Arabia monarchy and via the Lebanese government of Seniora, had far more sophisticated weapons than the Lebanese army.
Funny.  The army is refusing free military hardware from donor States in order Not to antagonize the US Administration!
Are these official traitors serious about defending the fatherland from Israeli incursions?  Most probably, they never considered south Lebanon as part of Lebanon?
In the 2009 Parliamentary election, Saudi Arabia allocated $ One billion to finance the Lebanese election for the benefit of Saad Hariri, a Saudi citizen.  The US presidential election process didn't cost that much!
What kind of an army the defense minister is envisaging?  The WikiLeaks documents stated the following:
First, since the Christian Maronites and Greek Orthodox are not applying to join the army, the best way to encourage them is by establishing special regiments, quasi-independent from army hierarchy, trained to fighting "terrorism" and equipped with assault helicopter.
Yes, Christian youth prefer to join "elite assault brigades".  Why?  That's how the "Christian" defense minister Elias Murr feels.
Second, the Muslim Shia youth, constituting half the population, should have a restricted quota of 25% in the army.  The minister feels proud that he managed to reduce the ratio of Shia soldiers in the army that the official traitors want to fight Israel with.  The Sunni, barely representing 30% of the population have increased their ratio in the army and internal security forces to over 50%.  Do the official traitors want to fight enemies with that kind of obscurantist mentality?
Well, not any longer:  Saad Hariri and company were fired, and a new government representing the enlightened resistance forces should shoulder the difficult problems plaguing our society.
Do you remember ex-British PM David Cameron?
Why did he visited a Syrian refugee camp in Lebanon in 2015?
Was Cameron trying to save his position as a compassionate leader? 
No, his purpose is to establish the Syrian refugees in Lebanon for the long term.
Actually, the Lebanese didn't receive any foreign aid to care for the refugees, although one third are below the poverty line. The refugees get electricity for free and education for free…while most Lebanese are even denied places in public schools.
I'm at a refugee camp in Lebanon, hearing some heartbreaking stories. British aid is doing so much to help.
The visit was meant to bribe and warn the Lebanese government to elect a President who is willing to sign on the settlement of the Syrian Refugees in Lebanon proper.
More than 1.5 million have already flocked into Lebanon and the number is increasing and represent one third of Lebanon population.
Cameron has aided Lebanon with a mere $50 million (in the last 3 years) to educate the Syrian kids in Lebanon.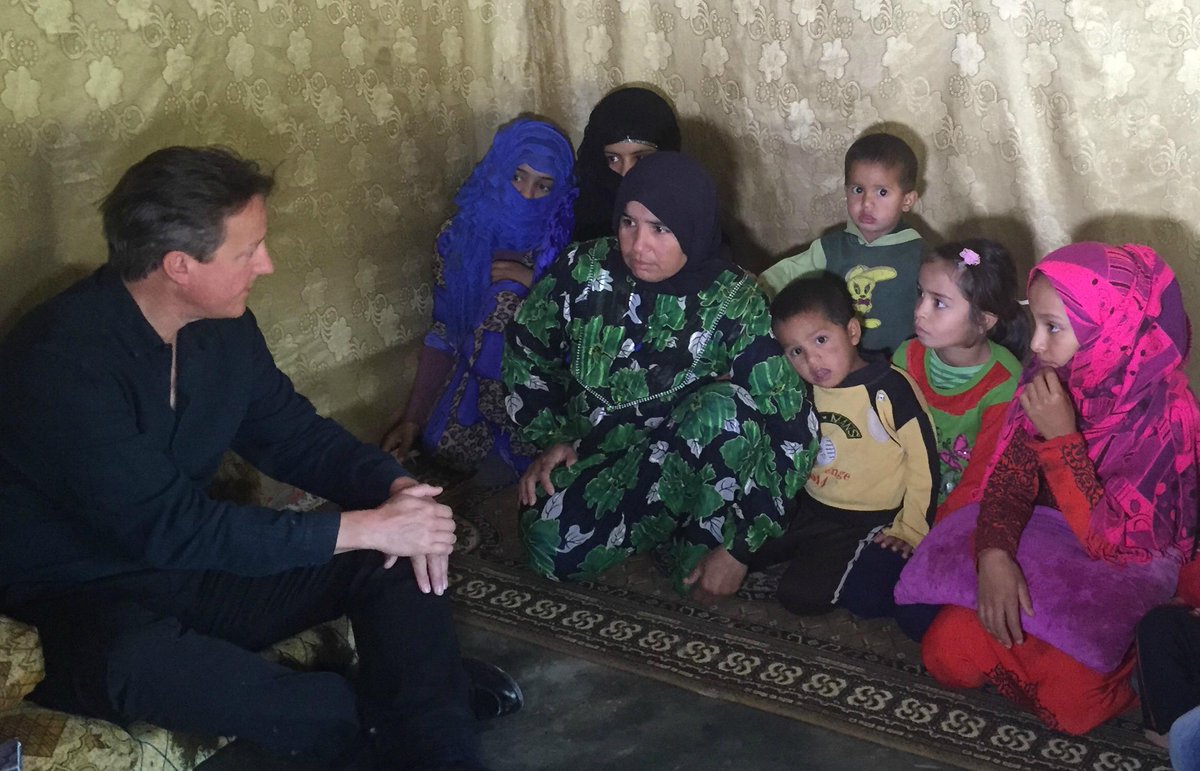 I don't care if you ignore everything I post as long as you watch this interview with a Palestinian mother from the Yarmouk refugee camp in Damascus
"Take my kid to Germany", a mother's plea for her daughter to be taken to safety http://trib.al/wemw2P6
 StepFeed posted
Thanks for the attention bro, but maybe next time you come to the Middle East focus on refugees and not your image back home?
British PM talked a lot of talk – but he was basically just talking to himself and voters back home.
stepfeed.com
|
By 
Jason Lemon
With the mission of "inspecting" the refugee situation, everyone breathed a sigh of relief knowing the British were here to save the day.
Never mind the fact that the UK has pledged to take only a tiny percentage of the millions of refugees.
But when you see these photos of Cameron sitting with refugee children, don't you almost forget that fact?
Doesn't it almost seem like this man cares about their plight despite the fact that he is actively working to keep them out of his country?
Well, friends, don't be fooled by the photos. Its all one big PR stunt.
As the Independent reported, Cameron's visit to a makeshift refugee school was all staged.
Although it was reported that Cameron simply "dropped by" a classroom of students, he actually dropped by a prearranged group of refugee children. The "teacher" wasn't even their teacher.
Of course, Cameron wanted the folks back home – and the world – to see a caring leader, descending to meet the poor refugees face-to-face.
Good show sir, good show indeed!
What's that? You think we're being too harsh?
Sorry for the honesty, but we think he can take it.
Reminiscing when Beirut was actually a super Movable fairs 
Personal experience when I were a university student: Movable fairs in Beirut: 1971-74
I decided to re-edit my old article "Wonderful early 1970's:  Movable fairs in Beirut" in order to demonstrate to the current generation in Lebanon that it is highly feasible to generate a Mass Upheaval as was done in Tunisia and Egypt.
It is a scream against the total impunity that our politicians, in this semi-State of Lebanon, are enjoying, those militia/mafia "leaders" of our civil war, a war that no one was a victor.
Currently, the State of Lebanon is totally bankrupt at all levels and barely may survive remaining in the UN as a State
Our movable fair lasted 4 years, 3 years behind Paris and Woodstock mass upheaval fairs.
If it were Not for the de facto control of the PLO (Palestinian Liberation Organization) over our political system, which diffused the purpose of the true upheaval of the Lebanese movement, Lebanon would have reformed against all odds.
Woodstock musical fiesta was organized in 1968 and disbanded three days later.
The French students revolt in Paris of 1968, then joined by the working organizations,  ended 2 weeks later.
The French students revolt of 1968 was a big party with deep lucidity:  banners read "Run, comrade, run.  The old world is chasing after you." Youth was taking a reprieve by running joyously, a week of total freedom, running as fast as he could, knowing that the old world will invariably catch up with him.
These students and youth movements crossed to Lebanon in 1970 and lingered for 5 years as movable fairs in Beirut, before the civil war set in, at the instigation of US/Israel.
I witnessed that wonderful and crazy period as a university student, witnessing far more than studying.
By 1970 I was attending university, mainly math, physics, and chemistry courses.   Once the morning courses were taken care of, I roamed Beirut freely and all alone. (Would have been more pleasurable and instructive if I had friends to join me then)
For less than 5 Lebanese pounds ($2 at the time) I could see movies, watch theater pieces, or go to the empty beaches in mid September and October, eat local sandwiches of falafel, shawarma, and freshly pressed fruits.
Most of the days I ended up attending conferences, political party meetings, joining regular demonstrations and marches by university students, sit-ins, hunger strikes on the street in front of the education ministry (I tried once for half a day).
Fleeing police tanks and water hoses, or just walking all around Beirut circulating where the "movable fairs" crossed my path, gathering of people chanting slogans against the sectarian and mercantile political system, the defeatist government, not responding to the frequent bombardment of Israel in south Lebanon...
The citizens (mostly Muslim Chia) in the south flocked to the suburbs of Beirut, mainly in Dahieh, and labelled the "Red belt of poverty" in order to flee the successive incursions of Israel, under all lame excuses.
The Palestinian Liberation Organization, led by Yasser Arafat, and its institutions were firmly established in Beirut and in a dozen Palestinian camps.  Cash in hard currency spent by the PLO and the various resistance movements maintained the Lebanese currency very strong.
In May 1972, Beirut Cinema Club in cooperation with the US Cultural Center projected a series of Orson Welles movies such as "Citizen Kane", "The lady from Shanghai", "Secret report", "Satan's touch", and "Falstaff".  Wells mostly recalls the negative critics: for example, a critic said that Orson shouts like a rhinoceros" when Orson played "Candid" of Bernard Show.
Wells and Charlie Chaplin might be the greatest American directors.  Wells prefers that producers invest massively on many movies, even if one of his films are not marketed.  He said: "Without men there is no art.  Without women, men never become artists"
In May 1973, the film "Red Weddings" by French director Claude Chabrol was projected in El Dorado movie theater. There was a curfew in the previous week:  The Lebanese army tried to enter the Palestinian camp of Dbayeh (mostly Christians).
A few feddayins escaped and fled through the valley of river Nahr Kalb (Dog River); and we provided them shelter for three days in Beit-Chabab and they were to resume the trip to Dhour Shweir.  An ambush by the Phalanges (Kataeb) Party killed several of them on the way.
Chabrol has a particular style and a deterministic view on how events should unfold:  His movies are about illicit love affairs, murder, then punishment by the "bourgeois" legal system:  that genuinely falling in-love is irrelevant and thus must be punished, one way or another.
In June 1974, "The hour of liberation has chimed.. Out colonialists" by the young woman director Heine Srour won a special acclaim in Cannes.  This movie is about the popular revolutionary struggle of the people in Zofar (Oman, Hadramout, and south Yemen) from the British colonial power and archaic monarchic structures.
Heine invested two years in preparation and shot the one-hour movie with the rudiment of equipment and finances.  Heine and three technicians walked hundreds of kilometers with the fighters under scorching sun and the bombing of British jets.
Heine conducted interviews in the local Arabic slang the "Himyari" and projected the essential roles that women shared in that revolution along the fighters.
This movie was one of the first to broach situation in other Arabic States outside of Syria, Egypt, Iraq, or Palestine.  Movies on the Algerian revolution were to be produced shortly after.
In February 1975, director Borhan Awalweyeh showed his movie "Kfar Kassem".  Hundreds of spectators remained in the theater way after midnight discussing the movie.
The film is a retrospective documentary of the genocidal massacre that Israel committed against the Palestinians in the village of Kfar Kassem in 1956 before it invaded Sinai.  Peasants returning from the fields were killed because they could not know about the curfew that the Israeli troops declared in their absence.
This movie was based on the novel of the same name by Assem Jundi.  Issam Mahfouz wrote the dialogue in the Palestinian Arabic slang.
Lebanon of 1974, and particularly the Capital Beirut, experienced extraordinarily cultural, social, and political activities, quantitatively and qualitatively.
First, the number of women writers increased dramatically.  As Georges Rassi wrote: "In the Arab World, every woman writer is worth 100 free minded men".
Second, many famous authors and poets opted to write columns in dailies; a move that brought them in close touch with the people and the daily difficulties.
Third, artists and thinkers from all over the Arab World settled in Beirut.  Most of these intellectuals were fleeing oppression and persecution for free expressions.  The Egyptian intellectuals flocked in great number as President Sadat had decided to connect with Israel and leave the Arab problems and the Palestinian cause way behind.
Fourth, the Lebanese TV witnessed a big jump in quality of local productions thanks to the director Paul Tannous.
Fifth, many cultural clubs were instituted and Arab States organized exhibitions and cultural events.
Most importantly, women became very vocal and active for women rights and drastic reforms in the laws and social awareness.
Late author Mai Ghoussoub was very young then, but she was one of the leaders of "Committees for Free women."
Initially, men were permitted to join in the discussions until they proved to be elements of heckling and disturbances.  The committees of free women decided to meet among women because their cause must be priority in urgent reforms and not a usual side-show tackled by reformist political parties.
Arab movies of quality were being shown such as "Events of red years" by Akhdar Hamina;  "Beirut…O Beirut" by Maroun Baghdadi; "May… The Palestinians" by Rafic Hajjar; "The bird" by Youssef Chaheen; "Al Haram" by Henry Barakat; "Hold on… O Sea" by Khaled Seddik.…
Karl Marx said:  "When history repeats its cycles, the next time around is a farce."  Spring of 68 was a sympathetic and spontaneous farce; it was an innovating and creative revolt with no arms.
Spring in Paris was a movable fair, an all free-invited party.  It was a movable feast for sharing ideas and desires for justice, peace, liberty, and pleasure. There were plenty of generosity and compassion:  Youth was feeling bored of the old world system of unjust order, capitalism, petrified ideologies and dogmas.
It was a humongous fair where affluent lifestyle in the western States of plenty hide the miseries of the lowest classes living in shantytowns.
It was in a period for the third world struggling to emerge from the slavery stage of colonialism.
Spring fairs in the western world spread to most nations where the partying lasted and lasted.
The virus of the movable feast reached countries with old systems destroyed by the colonial powers:  The newer power systems were unstable and mostly haphazard to come chasing after mass movable fairs.
Spring of 68 crossed to Lebanon and lasted 5 years and emerged on a civil war that lasted 13 years and produced 300 thousand casualties (10% of the population!)
Note 1:  Details of this introspection were supplied by Georges Al Rassi in "Stations along the trail of Lebanese and Arab movies"
Note 2: This student movement in Lebanon was mostly let by the students of our public university. The public university, in Choweifat, was mostly controlled by leftist-leaning organizations, including the teaching staff. Most probably, the colonial powers got weary of the growing influence of this university that was spreading to the private universities. The right-wing parties , the president and the army were ready to confront this movement by strong arm tactics.
Note 3:  You may read more details on my next post https://adonis49.wordpress.com/2010/10/19/movable-fairs-beirut-1970-74/
This town of traditional pottery in Lebanon: Beit Chabab
Last potter in Beit Chabab?
Who is Fawzi Fakhoury?
BEIT CHABAB, Lebanon: Fawzi Fakhoury hands are calloused and brown. Hours  of shaping tough clay and standing in front of a burning wood oven have stained  them shades darker than the rest of his body and toughened them so they are like  leather.
He is rather short, with salt and pepper hair and bushy eyebrows, and dressed  in simple, mud-stained clothes.
His weathered hands stand testimony to the  thousands of pots he has created for the better part of his life.
I have posted many articles on Lebanon, and Michelle  Ghoussoub has this latest.
Michelle  Ghoussoub published in The Daily Star, this June 20, 2013: "Meet  the last potter in Beit Shabab"
Fakhoury is the last working potter in Beit Shabab.
Fakhoury, left, works with his brother Assad, who helps out occasionally in the shop. (The Daily Star/Mohammad Azakir)
The scenic village is nestled in Lebanon's mountains just outside of Beirut.
Sixty years ago, dozens of Beit Shabab  families produced traditional  pottery, and the heat from 40 burning ovens could be felt on the streets during  the summer, Fawzi explains.
The town's name was synonymous with pottery, and people came from around the  country to purchase the artisanal clay pots, used for storing everything from  arak to grains, olive oil and wine.
Now, he is the only one left.
Fakhoury's workshop resembles a hermit's cave.
Though dark and dusty, it  remains well used and loved. Perched precariously on the edge of a small but  steep ravine, Fakhoury working space has a crumbling old stone facade nestled  into the mountain itself.
An elegant stone archway frames the entrance, with rusted scrap metal and  broken pieces of mortar piled on top to prevent rainwater from flooding the  small room. Bits and pieces of fragmented pots are piled haphazardly in a back  corner.
A traditional stove, or babour, Arabic for kerosene burner, commands the  center of the room. It doubles as the only heat source during the winter months, as nighttime temperatures can drop below freezing.
An old television set crackles in the background, the colors and shapes on  the screen disfigured by poor reception. A fine, white film of dust covers every  surface, and it puffs out of antique pillows on the faded couch when it is sat  upon.
No one knows or remembers exactly how long the workshop has been running.
Fakhoury believes the family folklore and says that Roman potters trained his  forefathers when they came to construct the ancient, colonnaded citadel of  Baalbek in Lebanon's Bekaa Valley around 300 B.C.
When the Romans left, his ancestors searched for the purest clay in the  country, and eventually settled in Beit Shabab to be close to the best natural  source: a small and muddy lake in the forest beneath the village (the mawsel).
Fakhoury's creased wrinkles deepen and his brown face cracks into a crooked  smile as he recalls a childhood of running among the clay pots. He's worked as a  potter for 60 years. His father, grandfather, great-grandfather, and  great-great-grandfather all worked in this same space before him.
At no moment in his life did Fakhoury, now 66, wish for an alternative career  path. He loves this job, he says.
Years of hard labor have given him a worn appearance and demeanor, but they  have also kept him strong and tough. Toiling in the workshop where he was  raised, he cuts the figure of a surviving Chinese terra-cotta warrior, stained  by the mud that has defined his livelihood for half a century.
Fakhoury left the village temporarily during the Lebanese Civil War and  worked in trade in West Africa. He always dreamt of returning to his workshop to  continue his family's legacy.
"I lived there, but I dreamed in Lebanon," he says with a smile.
Fakhoury returned to find a wall of the workshop blown out by a bomb, but his  tools intact. He wasted no time in repairing the room and reopening his  business.
His wife and he have three daughters, all of whom are married and have long  since left the house. Women don't do pottery, he says, at least in Beit Shabab.
His face falls, however, when he reveals that he has no heir to continue Beit  Shabab's trademark industry when he retires.
"This workshop has been running for hundreds, maybe thousands of years, and  when I go, it may all have been for nothing," he lamented, looking wistfully  around the chamber.
Though customers used to flock from across the country to hand pick his pots,  the advent of plastic containers has slashed demand massively.
Nowadays, customers are often decorators seeking a rustic look, or tourists  looking for authentic Lebanese craftsmanship.
He still ships a couple of hundred pots every year to a Jordanian arak  producer, who uses them to store the anise-flavored liquor.
Producing pottery is like cultivating a crop, he muses. The clay is collected  in the spring when it has the right consistency, then handspun into pots using a  potter's wheel.
The kiln, an oven designed especially for pottery, is fired up  in August, the hottest month of the year, to accelerate the baking.
During these scorching weeks, Fakhoury stays up throughout the night to  monitor the ovens and rotate the pots, making sure that months of intensive  craftsmanship and exertion do not go up in flames.
The work is hard, and the fruit of his arduous labor much less plentiful than  it once was. While his father would light the oven seven or eight times in one  summer, he now only produces one batch of pots a year.
A pottery festival and exhibition in Normandy, France, once invited Fakhoury  to learn different pottery techniques.
He says it was an honor to be recognized,  but that he found himself underwhelmed by the developed industrial techniques of  French potters. Having made thousands of pots in his life, he says he prefers to  stick to what his father and grandfather taught him as a child.
Nassar Fakhoury, Fawzi's neighbor and former landlord, shares his surname but  is not sure exactly how they are related. Family lineages and histories go so  far back in the village that they are sometimes impossible to keep track of or  untangle.
"Fawzi is a part of this village in the same way that these streets are. He's  always in his workshop and his family has always been there. The children call  him 'the pottery man.' There's just no other way to describe him," Nassar  says.
When asked what has changed about the business since he began over half a  century ago, Fawzi's answer is simple: "Nothing. I still do business the way my  father and grandfather did."
It's a legacy that may end without an apprentice or heir devoted to following  in his forefathers' footsteps.
It is almost impossible to picture the village without its main attraction,  and for now, Fakhoury will continue to fill that role. He says he cannot imagine  himself anywhere else.
"My grandfather and father died here, and one day, I will join them," he  says. "What I want is to die here."
Note 1: In my childhood, I visited and was acquainted with three families of potters in the lower part of Beit-Chabab. The entire family members participated in the production, especially in summer time. Traditional pottery is vanishing quickly in Lebanon, and not even replaced by mass production facilities. There are is few potters in Rashaya Fokhar, and are closing shop for no family members replacing the older ones.
Note 2: A couple centuries ago, pottery was started in the upper quarters of Beit Chabab, but the clay was whitish. The potters in the lower part of Beit Chabab had the reddish and better clay to use, and they supplanted the upper families in that art and industry.
Note 3: A  version of this article appeared in the print edition of The Daily Star on June  20, 2013, on page 2.
Read more:  http://www.dailystar.com.lb/Culture/Lifestyle/2013/Jun-20/220923-meet-the-last-potter-in-beit-shabab.ashx#ixzz2WpopbDU6 (The Daily Star :: Lebanon News ::  http://www.dailystar.com.lb)