Posts Tagged 'lockdown'
Tidbits #30
Le temps du Purgatoire est une longue préparation à la souveraineté humaine contre la nature et les animaux?
The most stupid of all wars is WWI. European countries infrastructure were linked with one another, and you could hop on the Orient Express and reach Istanbul from any city. The infrastructural union was established, but racist and chauvinistic behavior were rooted in those colonial powers
I can claim that I walked/drove almost every street in these cities: Beirut, San Francisco, Houston, Washington DC, Montgomery County.
California is letting some prison inmates out early and release of 3,500 people who are serving sentences for nonviolent crime and were already due to be released in the next 60 days.
My conjecture is that after the resignation of Nixon, the USA has gradually shifted into a Dictatorship of the Executive institutions. The Supreme Court, the Senate and Congress have turned "shadow powers" just to blind the Silent Majority that USA is a "democratic system with 3 independent powers check" 
Wars, pre-emptive wars: Uncanny direct connections to defaulting States on Sovereign public debts with weak military nations
"Qu'un sang impur abreuve nos sillons"? c'est la meme chanson de tous les hymnes coloniaux.
Asymptomatic cases? As lockdown are lifted, officials in China are releasing the concerns that people going back to their routines and Not knowing they carry the coronavirus. The number was previously classified.
A statistical model by the University of Washington shows that the highest number of daily deaths could happen on April 16?
In 2014, the USA created the Biological Technological Office. This agency announced that biology joins basic sciences to produce an "augmented soldier" since robots by themselves are Not capable to win in the battle fields. Apparently, USA created Covid-19 to win a worldwide battle?
Covid-19 has shut down parts of the hyper-consolidated US meat industry. Employees are getting sick, and with just a handful of facilities churning out an outsized amount of the meat supply, disruption at a single plant can have a big ripple effect.
Facts on Covid-19: the highest rates of victims are in dense cities, dense prisons and Blacks in USA. Only standard masks and social distancing can reduce contaminations. Degraded air quality is the major cause for reduced pulmonary immune system.
Funny. New bioweapons? A Florida man faces federal bioweapons charges after allegedly spitting at a cop. 
Remdesivir? Not having FDA approval. The US military has secured a possible coronavirus drug. Gilead Sciences will provide personnel with remdesivir at no cost. Though the antiviral drug is considered one of the most promising Covid-19 treatments, it doesn't have FDA approval.
33%: Share of people who survived a stay in an ICU on a respirator (Not ventilator) who later showed symptoms of post-traumatic stress disorder (PTSD), in a Johns Hopkins study of acute lung injuries
Crisis leadership? In the time of Covid-19?
Three reasons why Jacinda Ardern's coronavirus response (New Zealand PM) has been a masterclass in crisis leadership
Direction, care and meaning-making.
Suze Wilson. Senior Lecturer, Executive Development, Massey University
Imagine, if you can, what it's like to make decisions on which the lives of tens of thousands of other people depend.
If you get things wrong, or delay deciding, they die.
Your decisions affect the livelihoods of hundreds of thousands of people, resulting in huge economic disruption, mass layoffs and business closures.
Imagine you must act quickly, without having complete certainty your decisions will achieve what you hope.
Now imagine that turning your decisions into effective action depends on winning the support of millions of people.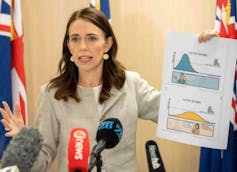 Yes, you do have enforcement capacity at your disposal. But success or failure hinges on getting most people to choose to follow your leadership – even though it demands sudden, unsettling, unprecedented changes to their daily lives.
This is the harsh reality political leaders around the world have faced in responding to COVID-19.
As someone who researches and teaches leadership – and has also worked in senior public sector roles under both National and Labour-led governments – I'd argue New Zealand's Prime Minister Jacinda Ardern is giving most Western politicians a masterclass in crisis leadership.
Three communication skills every leader needs
When it comes to assessing New Zealand's public health response, we should all be listening to epidemiologists like Professor Michael Baker.
On Friday, Baker said New Zealand had the "most decisive and strongest lockdown in the world at the moment" – and that New Zealand is "a huge standout as the only Western country that's got an elimination goal" for COVID-19.
But how can we assess Ardern's leadership in making such difficult decisions?
A good place to start is with American professors Jacqueline and Milton Mayfield's research into effective leadership communication.
The Mayfields' research-based model highlights "direction-giving", "meaning-making" and "empathy" as the three keys leaders must address to motivate followers to give their best.
Being a public motivator is essential for leaders – but it's often done poorly. The Mayfields' research shows direction-giving is typically over-used, while the other two elements are under-used.
Ardern's response to COVID-19 uses all three approaches.
In directing New Zealanders to "stay home to save lives", she simultaneously offers meaning and purpose to what we are being asked to do.
In freely acknowledging the challenges we face in staying home – from disrupted family and work lives, to people unable to attend loved ones' funerals – she shows empathy about what is being asked of us.
The March 23 press conference announcement of New Zealand's lockdown is a clear example of Ardern's skillful approach, comprising a carefully crafted speech, followed by extensive time for media questions.
In contrast, British Prime Minister Boris Johnson pre-recorded his March 24 lockdown announcement, offering no chance for questions from the media, while framing the situation as an "instruction" from government, coupled with a strong emphasis on enforcement measures.
Where Ardern blended direction, care and meaning-making, Johnson largely sought "compliance".
---
Enabling people to cope with change
Ardern's approach also strongly reflects what well-known Harvard leadership scholar Professor Ronald Heifetz has long argued is vital – but also rare and difficult to accomplish – when leading people through change.
Ardern has used daily televised briefings and regular Facebook live sessions to clearly frame the key questions and issues requiring attention.
Also consistent with Heifetz's teachings, she has regulated distress by developing a transparent framework for decision-making – the government's alert level framework – allowing people to make sense of what is happening and why.
Importantly, that four-level alert framework was released and explained early, two days before a full lockdown was announced, in contrast with the prevarication and sometimes confusing messages from leaders in countries such as Australia and the UK.
Persuading many to act for the collective good
The work of another leadership scholar, the UK's Professor Keith Grint, also sheds light on Ardern's leadership approach during this crisis.
For Grint, leadership involves persuading the collective to take responsibility for collective problems. Much of the prime minister's public commentary has been dedicated to exactly that – and it's been overwhelmingly effective, at least so far, with a recent poll showing 80% support for the government's response to COVID-19.
Grint also argues that when dealing with "wicked problems" – which are complex, contentious and cannot be easily resolved – leaders must ask difficult questions that disrupt established ways of thinking and acting.
It's clear this has happened in New Zealand, as shown in the suite of initiatives the government has taken to respond to the pandemic, including its decision to move to a national lockdown relatively fast compared to many – though not all – countries.
---
Of course, not everything has been perfect in New Zealand's or Ardern's COVID-19 response. Ongoing, independent scrutiny of the government's response is essential.
But as my own research has argued, expecting perfection of leaders, especially in such difficult circumstances, is a fool's errand. It's never possible.
Nor should we allow the "perfect" to become the enemy of the "good" when speed and enormous complexity are such significant features of the decision-making context.
Whether you're comparing Ardern's performance against other Western leaders, or assessing her efforts using researchers' measures of leadership excellence, as a New Zealander I think there is much to be grateful for in how she is leading us through this crisis.
Stay in touch with The Conversation's coverage from New Zealand experts by signing up to our weekly newsletter – delivered to you each Wednesday.
Read more: Where are we at with developing a vaccine for coronavirus?
Read more: As NZ goes into lockdown, authorities have new powers to make sure people obey the rules
Tidbits #19
By the time Corona pandemics subsides, it will dawn on humanity that the developed Far-Eastern States are more fit to survive calamities than the western colonial powers.
Permafrost—landscapes of frozen soil and rock—begins to thaw. And when it does, microbes consume organic matter, releasing CO2 and methane into the atmosphere, leading to more warming, more thawing, and even more carbon emissions
If Schengen survives this calamity, EU will emerge more determined and stronger
And what will happens to all those refugees, if all borders are closed to "strangers"? How will they survive on the borders?
England wants to have nothing to do with containment of Corona: every transportation is functioning as normal. England is so poor that it cannot afford the luxury of the massive expenses of containing Corona. Boris PM made it clear: " We expect many cherished members in families will die from the Corona…"
Canada shut its borders to everyone but US citizens? Stupid: USA is the hotbed for future mass victims! Recent news: Decisions reversed and borders closed.
Two-thirds of Covid-19 infections could be spread by people who show no symptoms. Thus, Behave like you have coronavirus
Coronavirus protection is for the rich. It is much easier to isolate if you're an accountant rather than a bus driver, especially in capitalist States where the social safety, health and cooperation networks are Not valid for crisis.
 A new Covid-19 open dataset has made 24,000 papers available in one place. Coronavirus is a boon for scientific collaboration.
I saw ugly pictures of Cholera, plague/peste and smallpox deaths. I saw deaths from Ebola on TV. I saw pictures of people dying from famine and yet Didn't see a single death from Corona. I sense that dying from Corona is Not as bad as previous cases
7,000 Newborns die every day globally.  In 1941, close to half of all infants died before their first birthday. All roads seemed to lead back to the first 24 hours of life, when infants were either being sent home with undiagnosed health conditions and dying shortly after, or, if they had trouble breathing, were often being labeled as stillborn and left to die.
An updated version of the APGAR score is used in nearly every hospital in the world to evaluate the health of newborn babies. It's easy to learn, cheap to implement, and highly effective. The APGAR score— both its inventor's name Dr. Virginia Apgar and an acronym—measures an infant's appearance (skin color), pulse (heart rate), grimace (reflex irritability), activity (muscle tone), and respiration one minute and five minutes after birth. Each component is assigned a score of 0, 1, or 2, adding up to a maximum score of 10. If an infant's score is below 7, they will be re-tested four times or until they score 7 or more twice in a row.
LetsGetChecked is an at-home testing kit that will give you intel into STDs, hormones, cancer, fertility, and just plain old general wellness?
With the Coronavirus lockdown, elevate the ScArt (part science/part art) of Idleness to new peaks and share the wisdom that there is more to life than increasing its speed.
Let's do a trade-off: Consider that air and water pollution decreased by 50% during this Corona period, due mainly by drastic car circulation, airplanes, cruses and oil consumption. Recall the number of drastic decrease in traffic accidents , especially the handicapped cases, and cancer causing particles in the air. Then how many Corona victims are you willing for this trade-off?
If India can manage a lockdown, any other State can do it. Populous India should be the hardest hit country , economically and socially, in State stoppage of work and confinement.
"Economic time has stopped, but financial time has not been stopped." Time for multinational financial companies to abuse investors with faked financial "legal papers"
My hypothesis why the Universe is Expanding: The void spaces are made of only Higgs fields, a field that let matter acquire weight. Thus, any tiny matter is attracted by these fields to gain weight and the universe is constantly expanding.
Even after birth, Indian baby girls are left to die of famine and negligence.
The new coronavirus causes little more than a cough if it stays in the nose and throat, which it does for the majority of people unlucky enough to be infected. Danger starts when it reaches the lungs.
"Facts are stubborn things…whatever may be our wishes, our inclinations, or the dictates of our passions." ⁠Future president John Adams.
About time that I take this Corona seriously: Can't see people around me going "silly clean" and thinking they are just crazy.