Posts Tagged 'Mark Lennihan'
How would you spot a Terrorist? TSA's Secret Behavior Checklist
"Since its introduction in 2007, the SPOT program has attracted controversy for the lack of science supporting it.
In 2013, the Government Accountability Office found that there was no evidence to back up the idea that "behavioral indicators … can be used to identify persons who may pose a risk to aviation security."

Fidgeting, whistling, sweaty palms. These are just a few of the suspicious signs that the Transportation Security Administration directs its officers to…
Fidgeting, whistling, sweaty palms. Add one point each.
Arrogance, a cold penetrating stare, and rigid posture, two points.
These are just a few of the suspicious signs that the Transportation Security Administration directs its officers to look out for — and score — in airport travelers, according to a confidential TSA document obtained exclusively byThe Intercept.
The checklist is part of TSA's controversial program to identify potential terrorists based on behaviors that it thinks indicate stress or deception — known as the Screening of Passengers by Observation Techniques, or SPOT.
The program employs specially trained officers, known as Behavior Detection Officers, to watch and interact with passengers going through screening.
The document listing the criteria, known as the "Spot Referral Report," is not classified, but it has been closely held by TSA and has not been previously released. 
A copy was provided to The Intercept by a source concerned about the quality of the program.
The checklist ranges from the mind-numbingly obvious, like "appears to be in disguise," which is worth three points, to the downright dubious, like a bobbing Adam's apple.
Many indicators, like "trembling" and "arriving late for flight," appear to confirm allegations that the program picks out signs and emotions that are common to many people who fly.
A TSA spokesperson declined to comment on the criteria obtained by The Intercept.
"Behavior detection, which is just one element of the Transportation Security Administration's (TSA) efforts to mitigate threats against the traveling public, is vital to TSA's layered approach to deter, detect and disrupt individuals who pose a threat to aviation," a spokesperson said in an emailed statement.
Since its introduction in 2007, the SPOT program has attracted controversy for the lack of science supporting it.
In 2013, the Government Accountability Office found that there was no evidence to back up the idea that "behavioral indicators … can be used to identify persons who may pose a risk to aviation security." After analyzing hundreds of scientific studies, the GAO concluded that "the human ability to accurately identify deceptive behavior based on behavioral indicators is the same as or slightly better than chance." (The question is: how much better than chance probability?)
The inspector general of the Department of Homeland Security found in 2013 that TSA had failed to evaluate SPOT, and "cannot ensure that passengers at United States airports are screened objectively, show that the program is cost-effective, or reasonably justify the program's expansion."
Despite those concerns, TSA has trained and deployed thousands of Behavior Detection Officers, and the program has cost more than $900 million since it began in 2007, according to the GAO.
The 92-point checklist listed in the "Spot Referral Report" is divided into various categories with a point score for each. Those categories include a preliminary "observation and behavior analysis," and then those passengers pulled over for additional inspection are scored based on two more categories: whether they have "unusual items," like almanacs and "numerous prepaid calling cards or cell phones," and a final category for "signs of deception," which include "covers mouth with hand when speaking" and "fast eye blink rate.
Points can also be deducted from someone's score based on observations about the traveler that make him or her less likely, in TSA's eyes, to be a terrorist. For example, "apparent" married couples, if both people are over 55, have two points deducted off their score. Women over the age of 55 have one pointed deducted; for men, the point deduction doesn't come until they reach 65.
Last week, the ACLU sued TSA to obtain records related to its behavior detection programs, alleging that they lead to racial profiling. The lawsuit is based on a Freedom of Information Act request the ACLU filed last November asking for numerous documents related to the program, including the scientific justification for the program, changes to the list of behavior indicators, materials used to train officers and screen passengers, and what happens to the information collected on travelers.
"The TSA has insisted on keeping documents about SPOT secret, but the agency can't hide the fact that there's no evidence the program works," said Hugh Handeyside, staff attorney with the ACLU National Security Project, in a statement announcing the lawsuit.
Being on the lookout for suspicious behavior is a "common sense approach" that is used by law enforcement, according to TSA. "No single behavior alone will cause a traveler to be referred to additional screening or will result in a call to a law enforcement officer (LEO)," the agency said in its emailed statement. "Officers are trained and audited to ensure referrals for additional screening are based only on observable behaviors and not race or ethnicity."
One former Behavior Detection Officer manager, who asked not to be identified, said that SPOT indicators are used by law enforcement to justify pulling aside anyone officers find suspicious, rather than acting as an actual checklist for specific indicators. "The SPOT sheet was designed in such a way that virtually every passenger will exhibit multiple 'behaviors' that can be assigned a SPOT sheet value," the former manager said.
The signs of deception and fear "are ridiculous," the source continued. "These are just 'catch all' behaviors to justify BDO interaction with a passenger. A license to harass."
The observations of a TSA screener or a Behavior Detection Officer shouldn't be the basis for referring someone to law enforcement.
"The program is flawed and unnecessarily delays and harasses travelers. Taxpayer dollars would be better spent funding real police at TSA checkpoints," the former manager said.
A second former Behavior Detection Officer manager, who also asked not to be identified, told The Intercept that the program suffers from lack of science and simple inconsistency, with every airport training its officers differently. "The SPOT program is bullshit," the manager told The Intercept. "Complete bullshit."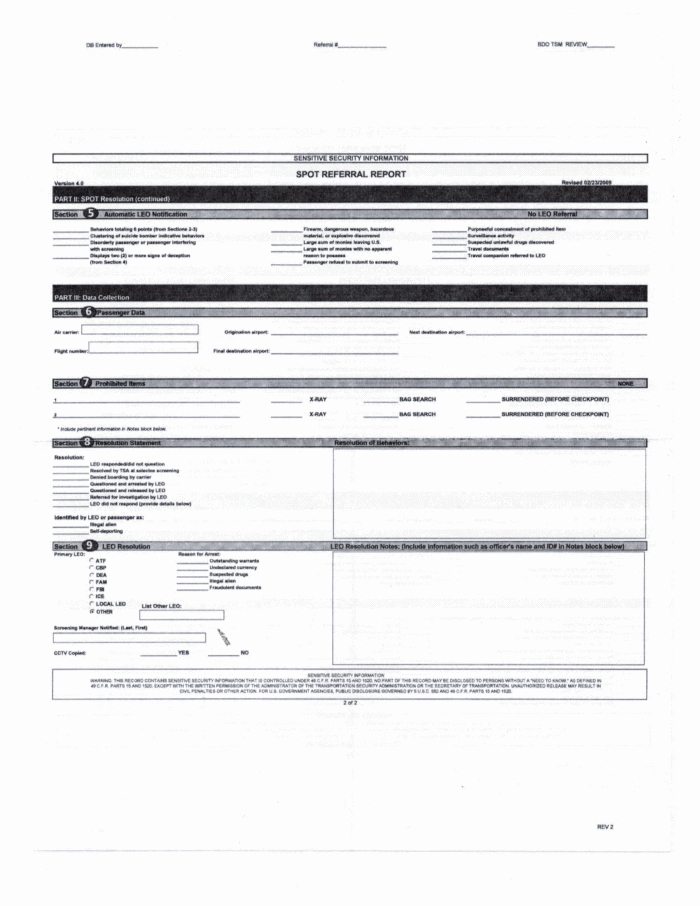 Photo: Mark Lennihan/AP
A few of the "45 Most powerful pictures" in BuzzFeed for 2012
1. A boy in Nepal being evicted from his home
A boy cries as he holds his sister in his lap after a confrontation with squatters and police personnel in Kathmandu, Nepal.
Image by Stringer / Reuters
2. A couple discovering their family records survived Hurricane Sandy
Rosemary McDermott and her husband opened a safe containing a family genealogy in the Breezy Point section of Queens.
They salvaged the safe from the basement of Rosemary's mother's home after Superstorm Sandy.
Image by Mark Lennihan / AP
3. Mars
Thanks to Curiosity, this is one of the clearest images of Mars ever taken.
4. Felix Baumgartner's 24-mile free-fall from space
Image by Red Bull Stratos/Jay Nemeth / AP
5. A man being pepper-sprayed directly in the face
Israeli border police officers use pepper spray as they detain an injured Palestinian protester during clashes on Land Day in March.
Security forces fired rubber bullets, tear gas, and stun grenades to break up groups of Palestinian stone-throwers as annual Land Day rallies turned violent.
Image by Ammar Awad /LANDOV / Reuters
6. The man who set himself on fire for Tibet
A Tibetan exile runs through a street during a protest against the upcoming visit of Chinese President Hu Jintao.
Image by STRINGER / INDIA / Reuters
7. A Bolivian woman taking on a group of riot police
Thousands of people with crutches and in wheelchairs protested against the government of Bolivia in February. They were protesting what they believe to be an inadequate welfare system.
Image by David Mercado /LANDOV / Reuters
8. The Waldo Canyon fire
The Waldo Canyon fire burns an entire neighborhood near the foothills of Colorado Springs, Colorado.
In June, Colorado endured nearly a week of 100-plus-degree days and low humidity, creating a devastating formula for volatile wildfires across the state.
Image by Helen H. Richardson/The Denver Post / AP
9. Outside the Century 16 movie theater in Aurora, Colorado
Storm clouds gather above a memorial for the victims in the shooting across the street from the Century 16 movie theater in Aurora, Colorado, in July.
Image by Ed Andrieski / AP
10. Anti-gay hate crimes in Ukraine
Unidentified people beat Svyatoslav Sheremet, head of Gay-Forum of Ukraine, in May.
Sheremet was attacked after meeting with members of the media to inform them that a scheduled gay parade was canceled due to threats of violence from neo-Nazis and other hate groups.
The attackers ran off when they realized members of the media were documenting the attack.
Image by Anatolii Stepanov / Reuters
11. People who lost family members during the uprising in Egypt react to Hosni Mubarak's prison sentence
Relatives of people who died during Egypt's revolution react after a court sentenced President Hosni Mubarak to life in prison in June.
Image by Suhaib Salem / Reuters
12. Kicking riot police in Greece
A man in Greece kicks riot police back.
Image by ARIS MESSINIS / Getty Images
13. Family being forced to go back to Myanmar
Mohammad Rafique, a Rohingya Muslim from Myanmar, begs a Bangladeshi coast guard official not to send his family back to Myanmar.
Image by Saurabh Das / AP
14. Nik Wallenda tightroping over Niagara Falls
Nik Wallenda tightroped over Niagara Falls on a 2-inch-wide wire. He's the first person to ever cross directly over the falls from the U.S. into Canada.
Image by Frank Gunn / AP
15. The father saving his daughter's life in Syria
A Syrian man carries his wounded daughter outside a hospital in the northern city of Aleppo in September. Syrian troops shelled several districts in Aleppo and clashed with rebels.
Image by MARCO LONGARI / Getty Images
16. Manhattan without lights
Before and after shots of Manhattan after Hurricane Sandy. Nearly 200,000 people lost power in downtown Manhattan for about a week.
Image by Edwardo Munoz / Reuters
17. A little Palestinian girl vs. an Israeli soldier
A Palestinian girl tries to punch an Israeli soldier during a protest against the expansion of the nearby Jewish settlement of Halamish.
Image by Majdi Mohammed / AP
18. The Space Shuttle Enterprise flying above New York City
Image by Handout / Getty Images
19. The wedding held during a monsoon in Manila
Ramoncito Campo kisses his wife Hernelie Ruazol Campo on a flooded street during a southwest monsoon that battered Manila, Philippines, in August.
The newlywed couple pushed through with their scheduled wedding despite severe flooding that inundated wide areas of the capital and nine nearby provinces.
Image by Ramoncito Campo / Reuters
Tags:
adonis49
,
Ammar Awad
,
Anatolii Stepanov
,
Anti-gay hate crimes
,
ARIS MESSINIS
,
boy and dog
,
BuzzFeed
,
Curiosity rover
,
David Mercado
,
Edwardo Munoz
,
face pepper-sprayed
,
Felix Baumgartner
,
Helen H. Richardson
,
Hernelie Ruazol Campo
,
Hurricane Sandy
,
Israeli soldier
,
jay Nemeth
,
Land Day
,
Majdi Mohammed
,
Manhattan without lights
,
Manila monsoon wedding
,
MARCO LONGARI
,
Mark Lennihan
,
Mars
,
Mohammad Rafique
,
movie theater in Aurora
,
Myanmar
,
Nepal
,
Nik Wallenda
,
Palestinian
,
pictures
,
Ramoncito Campo
,
Rosemary McDermott
,
Saurabh Das
,
Sheremet
,
Space Shuttle Enterprise
,
stories in pictures
,
Suhaib Salem
,
Tibet
,
Waldo Canyon fire