Posts Tagged 'Masafer yatta'
Palestine : le mirage d'une démocratie sous occupation
Par Ramzy Baroud
De nombreux intellectuels et analystes politiques Palestiniens se retrouvent dans la position peu enviable d'avoir à se prononcer sur le fait de soutenir ou non les prochaines élections palestiniennes qui sont prévues les 22 mai et 30 juillet. Mais il n'y a pas de réponse aisée.
Le décret tant attendu du chef de l'Autorité palestinienne Mahmoud Abbas en janvier dernier pour la tenue d'élections législatives et présidentielles dans les prochains mois, a été largement salué, non pas comme un succès pour la démocratie mais comme le premier résultat positif et tangible du dialogue entre les organisations palestiniennes rivales, principalement le Fatah [le parti d'Abbas] et le mouvement Hamas [la résistance islamique].
Concernant le dialogue interne palestinien, les élections, si elles se déroulent sans obstruction, pourraient laisser espérer que les Palestiniens des territoires occupés bénéficieront enfin d'un certain degré de représentation démocratique, un premier pas vers une représentation plus complète qui pourrait inclure les millions de Palestiniens vivant hors des territoires occupés.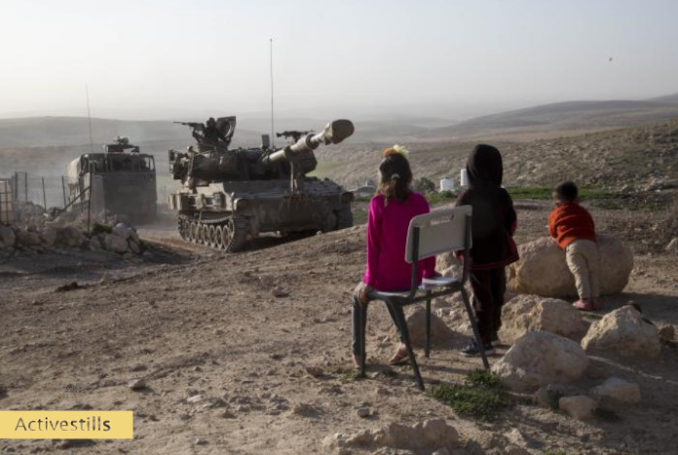 Les forces israéliennes ont mené un exercice d'entraînement à proximité et à l'intérieur des villages de la région de Masafer Yatta, Cisjordanie, le 3 février 2021.
L'activité militaire a causé des dommages aux infrastructures, aux terres agricoles et aux structures résidentielles, et a eu lieu dans une zone qu'Israël désigne comme zone de tir, bien qu'elle soit peuplée de nombreuses communautés, qu'il tente d'expulser depuis plus de 20 ans.
Les habitants disent que son intention est de faire pression sur la Haute Cour israélienne pour qu'elle sanctionne l'expulsion des communautés de leurs terres – Photo : Keren Manor/ActiveStills
Mais une attente même aussi minimaliste est assortie de nombreuses conditions :
* que les organisations palestiniennes honorent leurs engagements fixés dans l'Accord d'Istanbul du 24 septembre
* qu'Israël autorise les Palestiniens, y compris les habitants de Jérusalem, à voter sans entrave et s'abstienne d'emprisonner des candidats palestiniens
* que la communauté internationale dirigée par les États-Unis accepte le résultat des élections démocratiques sans punir les partis et les candidats victorieux [qui ne lui plairont pas]
(Generally, Democratic results that do Not match the desires of colonial powers are considered null and void)

* que les élections législatives et présidentielles soient suivies d'élections plus substantielles au Conseil national palestinien (PNC), le Parlement palestinien en exil – etc…
Il suffit que l'une de ces conditions ne soit pas remplie pour les élections de mai n'amènent aucun résultat pratique, à part donner à Abbas et à ses rivaux un vernis de légitimité, leur permettant de gagner du temps et d'obtenir encore plus de fonds auprès de leurs bienfaiteurs financiers.
Lire également : Élections palestiniennes : la démocratie pour personne
Tout cela nous oblige à nous poser la question suivante : la démocratie est-elle possible sous occupation militaire ?
Presque immédiatement après les dernières élections législatives palestiniennes – sous surveillance internationale et tenues en 2006 – dont le résultat a déplu à Israël, 62 ministres palestiniens et membres du nouveau parlement ont été jetés en prison, et beaucoup d'entre eux y sont toujours.
L'histoire se répète puisque Israël a déjà lancé ses campagnes d'arrestation des dirigeants et des membres du Hamas en Cisjordanie.
Le 22 février, plus de 20 militants palestiniens, dont des responsables du Hamas, ont été kidnappés [par les forces d'occupation], ce qui équivaut à un message très clair aux Palestiniens qu'Israël ne tient aucun compte de leur dialogue, leurs accords d'unité ou leur démocratie.
Deux jours plus tard, le dirigeant du Hamas, âgé de 67 ans, Omar Barghouti, a été convoqué par les services de renseignements militaires israéliens en Cisjordanie occupée et a été mis en garde contre une candidature aux prochaines élections.
« L'officier israélien m'a prévenu de ne pas me présenter aux prochaines élections et m'a menacé d'emprisonnement si je passais outre », a narré Barghouti à Al-Monitor.
La loi fondamentale palestinienne autorise les prisonniers à se présenter aux élections, qu'elles soient législatives ou présidentielles, simplement du fait que les plus populaires parmi les dirigeants palestiniens sont souvent derrière les barreaux. Marwan Barghouti est l'un d'entre eux.
Emprisonné depuis 2002, Barghouti reste le dirigeant le plus populaire du Fatah, plus apprécié des jeunes cadres du mouvement par opposition à la vieille garde d'Abbas.
Ce dernier groupe a énormément bénéficié du système corrompu de favoritisme politique sur lequel le « président » de 85 ans a construit son pouvoir.
Pour maintenir en place ce système vénal, Abbas et ses seconds-couteaux ont fait leur maximum pour marginaliser Barghouti, ce qui amène à suggérer que l'emprisonnement par Israël de ce dirigeant populaire du Fatah sert les intérêts de l'actuel chef de l'Autorité palestinienne [AP].
Lire également : Des élections en Palestine ne résoudront pas l'absence de stratégie pour une libération nationale
Cette idée a beaucoup de pertinence, non seulement parce qu'Abbas n'a guère fait pression sur Israël pour une libération de Barghouti, mais aussi parce que tous les sondages d'opinion dignes de foi démontrent que Barghouti est largement plus populaire parmi les partisans du Fatah – et tous les Palestiniens – qu'Abbas.
Le 11 février, Abbas a dépêché Hussein al-Sheikh, ministre des Affaires civiles et membre du Comité central du Fatah, pour dissuader Barghouti de se présenter aux prochaines élections présidentielles.
Le meilleur scénario pour le chef de l'AP serait de profiter de la popularité de Barghouti en faisant en sorte qu'il dirige la liste du Fatah aux élections pour le Conseil législatif palestinien (CLP). Ainsi, Abbas pourrait assurer une forte participation des partisans du Fatah, tout en se garantissant le poste de président.
Barghouti a rejeté sans équivoque la requête d'Abbas, représentant ainsi un défi inattendu pour Abbas, qui risque à présent de voir se diviser les voix du Fatah, de perdre à nouveau les élections au CLP au profit du mouvement Hamas, et de perdre les élections présidentielles face à Barghouti.
Entre les raids toutes les nuits par l'armée israélienne et les intrigues politiques au sein du Fatah, on se demande si les élections – si elles ont lieu – permettront enfin aux Palestiniens de mettre en place un front uni dans la lutte contre l'occupation israélienne et pour la liberté des Palestiniens.
Il y a également la question de la position qu'adoptera la dite « communauté internationale » face au résultat des élections.
Les reportages parlent des efforts déployés par le Hamas pour obtenir des garanties du Qatar et de l'Égypte «pour s'assurer qu'Israël ne fera pas la chasse à ses représentants et candidats aux prochaines élections», comme le rapporte Al-Monitor.
Mais quel genre de garanties les pays arabes peuvent-ils obtenir de Tel-Aviv, et quelle influence peuvent bien avoir Doha et Le Caire alors qu'Israël continue de ne pas tenir compte des Nations Unies, du droit international, de la Cour pénale internationale, pour ne citer qu'eux
Néanmoins, la démocratie palestinienne peut-elle se permettre de rester dans un tel état d'inertie ?
Le mandat d'Abbas en tant que président a expiré en 2009, le mandat du CLP a expiré en 2010, et l'Autorité palestinienne n'a été créée qu'en tant qu'organe politique intérimaire dont la fonction aurait dû cesser en 1999.
Depuis lors, la «direction palestinienne» n'a plus de légitimité aux yeux des Palestiniens et son existence ne dépend que du bon vouloir de ses bienfaiteurs, pour lesquels la démocratie en Palestine est le cadet des soucis.
Le seul aspect positif de cette affaire est que le Fatah et le Hamas se sont également mis d'accord sur la restructuration de l'Organisation de libération de la Palestine (OLP), aujourd'hui largement monopolisée par le Fatah d'Abbas.
Que la refonte démocratique de l'OLP se fasse ou non, dépend en grande partie du résultat des élections de mai et juillet.
La Palestine, comme d'autres pays du Moyen-Orient et parmi eux Israël, connaît une crise de légitimité politique.
Étant donné que la Palestine est une terre occupée avec peu ou pas de liberté du tout, il est légitime de soutenir qu'une réelle démocratie dans d'aussi terribles conditions reste une chimère.

* Ramzy Baroud est journaliste, auteur et rédacteur en chef de Palestine Chronicle. Son dernier livre est «These Chains Will Be Broken: Palestinian Stories of Struggle and Defiance in Israeli Prisons» (Pluto Press). Baroud a un doctorat en études de la Palestine de l'Université d'Exeter et est chercheur associé au Centre Orfalea d'études mondiales et internationales, Université de Californie. Visitez son site web: www.ramzybaroud.net.
10 mars 2021 – RamzyBaroud.net – Traduction : Chronique de Palestine – Lotfallah
Israel Self-defense excuses are paralyzing the livelihood and security of Palestinians
Maureen Clare Murphy Rights and Accountability 8 January 2021
The Israeli military cleared itself of wrongdoing in the shooting and grave injury of a Palestinian man in the southern West Bank last week, claiming soldiers acted in self-defense.
The "perfunctory investigation" that closed less than a week later exemplifies the culture of impunity long decried by human rights organizations seeking war crimes investigations at the International Criminal Court.
The military claimed that the man who was shot, Harun Abu Aram, was "hit by a stray bullet fired when a Palestinian tried to seize a commander's weapon," as the Tel Aviv daily Haaretz reported.
Abu Aram, 24, is paralyzed from the neck down as a result of his injury.
He was shot while he and others were trying to take back a generator that soldiers had confiscated from a family living in an area declared a military firing zone by Israel.
Palestinians residing in that area, a collection of rural hamlets known as Masafer Yatta, are forbidden from building or improving their dwellings.
The incident in Masafer Yatta was recorded on video:
https://platform.twitter.com/embed/index.html?dnt=false&embedId=twitter-widget-0&frame=false&hideCard=false&hideThread=false&id=1345745628660428803&lang=en&origin=https%3A%2F%2Felectronicintifada.net%2Fblogs%2Fmaureen-clare-murphy%2Fisrael-claims-self-defense-after-paralyzing-palestinian&siteScreenName=intifada&siteUserId=6721522&theme=light&widgetsVersion=ed20a2b%3A1601588405575&width=550px
Language
The Israeli military described unarmed Palestinians defending the Masafer Yatta residence raided by heavily armed soldiers as "a violent riot … where [Israeli] forces were attacked."
The language used to justify Abu Aram's shooting at close range echoes that used by Israel regarding the use of live fire against protesters in Gaza.
More than 200 Palestinians were killed during regular mass protests dubbed the Great March of Return beginning in March 2018 until their suspension at the end of 2019.
Thousands more were injured by Israeli sniper fire, many of them permanently. The snipers got later orders to refrain from killing and instead to target legs in order that the Palestinians refrain from joining the marches. Many children and youths were on purpose targeted.
Only one soldier has been indicted over the use of lethal force against protesters.
The military repeatedly referred to Palestinian protesters as "rioters" in its argument to the Israeli high court regarding its "rules of engagement."
Such language is intended to obscure the fact that Palestinians had mobilized to call for specific demands.
In the case of the Great March of Return, Palestinians were demanding to exercise their right to return to the lands from which their families were expelled in 1948. (Mind you that 80% of Palestinians in Gaza are transferred Palestinians from the West Bank).
Context of oppression
The "law and order" language (the language used by Nixon and the dictators) is used to obscure decades of injustice in the West Bank as well.
The Israeli military refers to Abu Aram as a "rioter" to avoid addressing the context in which the young man was permanently injured.
Abu Aram and the other "rioters" with him belong to a community that has been subjected to forcible transfer, multiple home demolitions and continuous harassment by soldiers and settlers. (I have already posted an article on the harassment that Palestinians in Yatta are subjected to)
This broader context of oppression is not helpful to Israel's reputation.
And so Israel says that Abu Aram and those with him "sought to obstruct [Israeli military] enforcement activity" – never mind that this "enforcement activity" is part of a coercive environment created by Israel to push Palestinians off of their land.
As the United Nations has made clear, "individual or mass forcible transfer or deportation" of the population of an occupied territory, like the West Bank, is a grave breach of the Geneva Convention "and is also considered a war crime."
The imposition of a coercive environment, like that endured by Palestinians in Masafer Yatta, is a form of forcible transfer.
While Israel may use the language of "law and order," characterizing its military's behavior as "enforcement activity," occupation forces are, in fact, carrying out violations of international law.
System of oppression
Whether it's forcible transfer or the use of lethal force against Gaza protesters, Israel's high court rubber-stamps these policies intended to pacify all Palestinian resistance to the occupation.
In Masafer Yatta, that resistance was about retaining an electricity generator used by a family who are not allowed the basic infrastructure provided to Israelis living in nearby settlements built in violation of international law.
It is not surprising that Israel's system of oppression and injustice would clear itself of wrongdoing in the shooting of Abu Aram.
As human rights groups stated this week, Israelis responsible for war crimes against Palestinians "have not been subject to any independent legal investigation in Israel."
The Israeli military's self-investigation system "is empirically and conclusively evidenced to be unwilling or unable to genuinely carry out investigations and prosecutions," the Palestinian groups added.
The four groups – Al-Haq, Al Mezan, Al-Dameer and the Palestinian Center for Human Rights – noted Israeli courts' complicity in the legitimization of war crimes and crimes against humanity.
"It is beyond time for a formal investigation" by the International Criminal Court, the groups said.
In late 2019, the court's chief prosecutor concluded a five-year preliminary examination, stating that requirements to launch a full investigation into suspected war crimes in the West Bank and Gaza had been met.
More than a year later, an investigation has yet to be opened.
The absence of accountability, the Palestinian human rights groups observe, has only allowed for the "consolidated, ongoing and internationalized assault on the right of the Palestinian people to dignity and to self-determination."