Posts Tagged 'Palestinian refugee'
Is the Palestinian refugee in Lebanon still in Lebanon politics?
You feel that there are no serious institutions in Lebanon: No serious statistics about all the various refugees in Lebanon. It all depends on perspective and political short-term exigencies: Palestinian refugee numbers can oscillate between 200,000 to 500,000.
Syrian refugees numbers vary from one million to 2 million: a matter of perspective and what the UN wants us to consider as accurate.
In 1948, as the colonial powers created the colonial Israel, 400,000 Palestinians were forced to be evacuated toward Lebanon at the demand of the UN: this transfer was supposed to be very temporary. 70 years later, the Palestinian refugees are still in Lebanon with very restricted array to work. Every now and then, terrorist factions find a great opportunity to hire the dispossed Palestinian youth.
Zaafer al Khatib posted on Fb:
الميدان الشعبي الفلسطيني
بقلم ظافر الخطيب
ربما لم يعر الفلسطيني ادنى اهتمامٍ لتشكيل الحكومة اللبنانية، كما أنه لم يصغ السمع لمنصة مجلس النواب اللبناني، وهي تستعرض المهارات الخطابية للنواب من مختلف الكتل النيابية، ربما يكون ذلك عائداً لقناعته الراسخة أن الوجود الفلسطيني في لبنان يحظى بنتيجة صفر اهتمام ايجابي، اللهم فيما عدا تلك الجملة التي تقال خارج سياق البيان الوزاري، في الخطابات والمؤتمرات عن دعم القضية الفلسطينية و رفض التوطين و حق العودة.
فالفلسطيني المبحر في التيه، هو مجرد رقم فائض عن الحاجة، او هو عبء يثقل الديمغرافيا، وعليه فإنه لن يجد احداً في مجلس النواب يتحدث عن الحاجة الى تعديل البند المتعلق بواجب الحكومة تجاه هذه الفئة من السكان، حتى اولئك المحسوبين في دائرة الاصدقاء المبدئيين والتاريخيين وهم يعادلون نصف او اقل قليلاً من النواب اللبنانيين،
لم ينطقوا بحرف فوق النص، ربما كان ذلك مرده الى أن الموضوع الفلسطيني هو موضوع جدالي يثير شهية ردود الأفعال خاصة و أن هناك من يتربص الكلام الايجابي و يمتلك حافزية الاستعراض و تسجيل العلامات من الجيب الفلسطيني.
للك لم يكن مستغرباً ان لا يتسمر الفلسطيني امام شاشة التلفزيون لمعرفة مقدار الإهتمام الذي تحظى به قضاياه،فهو ازاء الاولويات اللبنانية على هامش الهوامش،
ويكون محظوظا جداً لو حظي حتى بهذا الموقع، و أما العناوين الرئيسية التي تعنيه، كالسياسات المتحيزة ضده سلباً، و الفقر و البطالة وانعدام الفرص،و تغول التهجير، وتشوه البنية الاجتماعية، فكلها قضايا ليست تهم احداً اخر، او هي مرّحلة الى المسؤولية الدولية (الانروا وشقيقاتها).
المستغرب في الامر هو ضآلة الحركة السياسية الفلسطينية المستغرقة بمسالة المصلحة الفلسطينية العليا، والكلام هنا يتعلق بالمصلحة الفلسطينية العليا في لبنان،
اين نقف نحن الفلسطينيون في لبنان ، ماذا نريد نحن الفلسطينيون في لبنان، و كيف نصل الى ما نريد نحن الفلسطينيون في لبنان ؟ وهل سنبقى نعيش حالة انخطافٍ لا بل حال ارتهان للحالتين الفلسطينية واللبنانية (معادلاتها وازماتها)، وفي الخلفية لا بأس ان نضع في الحسبان صفقة القرن و ازمة المنطقة و ضغط التحالفات الاقليمية ومخططاتها.
وفي معرض استثمار المناخ السياسي اللبناني على وقع تشكيل الحكومة و جلسات المجلس النيابي، و التي خلقت دينامية ايجابية بنكهة لبنانية لها ما لها وعليها ما عليها، فإن المطلوب هو خلق دينامية ايجابية بنكهة فلسطينية محركها توافق فلسطيني على المصلحة الفلسطينية العليا يجيب على الاسئلة اعلاه، وهي مسؤولية المرجعيات السياسية التي يجب عليها أن تخرج من حالة العجز والشلل، وكذلك مسؤولية المجتمع المدني الفلسطيني وكل الفئات الاجتماعية وفاعلياتها الشعبية والمهنية .
ان الدخول في حوار حقيقي، عميق وجدي ، فلسطيني فلسطيني ، وفلسطيني لبناني، بمشاركة كل الفاعلين الحقيقيين هو حجر الزاوية التي يمكن الانطلاق منها، على أن ذلك ينقصه مبادرين طليعيين وقوى دافعة،و الخيارات متاحة وممكنة اذا ما خلصت النوايا وتمت الاستفادة من ميزة خصوصية الوجود الفلسطيني في لبنان
ومن موقع التشكيك بتوفر ارداة فلسطينية جدية و حقيقية قادرة على تشكيل اندفاعات فلسطينية داخلية وعلى مستوى العلاقة مع الدولة اللبنانية، فإن غياب تلك الإرادة لا يعني باي حال تغييب القدرة على تشكيل ديناميات محفزة ومساعدة لا بديلة، و التحدي ملقى على عاتق المجتمع المدني الفلسطيني هذا في حال استطاع الخروج من اسر الحالة السياسية الفلسطينية والخوف منها،
غير أنه كذلك ملقى على عاتق الفئات الشعبية الفلسطينية المتضرر الاول من استمرار حالة اللاتوازن، فالميدان الشعبي الفلسطيني يختزن امكانات تغيير هائلة ينبغي الان تفعيلها و اختبار جديتها.
What cost, this Israel…?
Much had been argued about the creation of Israel and the ensuing 1948 ethnic cleansing of non-Jewish Palestinians.
Most had become a desensitised academic debate. A lifeless abstract portrayal failing to depict what it really meant for one to be a refugee without a country.
On this 68th commemoration of the Nakba (catastrophe), I wanted to show what it meant to one Palestinian refugee.
On May 15, 1948, Zionist Jews danced and firecrackers burst over the streets of New York celebrating the founding of Israel. About the same time, and on the other side of the world, Zionist terrorists' mortar exploded in the middle of Jebal Al Luz (mountains of almonds) burning homes and forcing civilians to flee their village.
In the middle of the night, Abu Musa carried his physically disabled blind mother on his shoulders. His wife, Um Musa picked up their infant baby Musa and joined a throng of refugees escaping for their lives.
Abu Musa's family hid in a ditch on the outskirts of their village. The morning sun exposed the scattered refugees hiding in nearby bushes and under trees.
Sorties after sorties, Zionist planes strafed the area pushing the villagers further north towards Lebanon. Under heavy gun fire, panicking civilians ran in all directions.
Abu Musa picked up his newborn son and ran for his life. Um Musa followed in his footsteps. Panting for air an hour later, Abu Musa realised he had left his blind mother behind.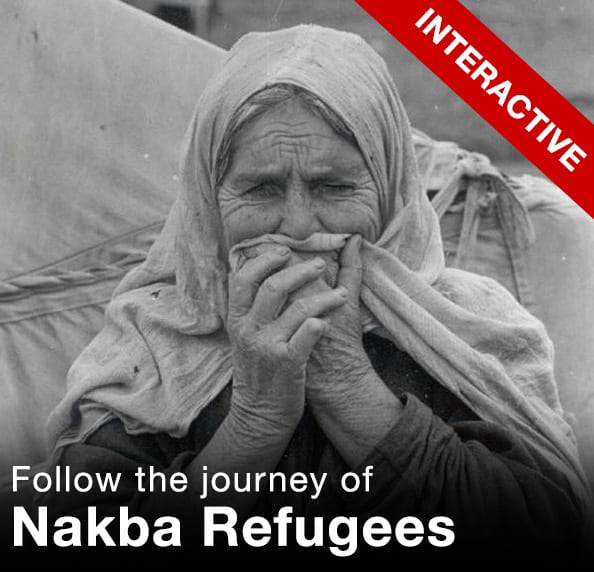 Zionist forces continued to bomb from air and ground. Abu Musa attempted to go back, but all was in vain. The next day and during a lull in the Zionist terrorist bombardment, Abu Musa went looking for his mother. But she was nowhere to be found.
He came across local villagers who returned to check on their properties. They told him they had just buried the remains of what had appeared to be an elderly woman. Her body ripped apart by animals.
"Was my mother eaten alive by wild animals? Or had she been murdered by Zionists?" Those questions haunted Abu Musa all his life. The loss of his country and mother were just the start of his lugubrious life until his death in the mid-1990s.
Abu Musa ended up settling in the same camp as my parents. In addition to baby Musa, he had three more children in the camp, two boys and a girl.
Musa, who had left Palestine as an infant, joined the revolution in the early 1970s and returned to Palestine. He was murdered by the Israeli army and was buried in an unmarked grave. Abu Musa, who did not see his mother's corpse, was unable to see or bury his eldest son either.
A short time after losing Musa, Abu Musa became disabled. I made it a point to call on him whenever I visited the camp. It broke my heart during the last visit before his death as I watched him crawling out of the bathroom like a little baby. I knelt down and kissed him; he kissed me back and then asked, "Who are you, my son?"
Calamity was a continuum to this one refugee.
In the early 1990s, his youngest son Kamal was murdered while he was on his way to school in Tripoli, Lebanon. He was butchered in the year he would have graduated from high school.
For Israel, Abu Musa and the other Palestinian refugees like my parents were dispensable nuisances.
In a 1948 foreign ministry study, Israel predicted the refugees "… will waste away. Some will die but most will turn into human debris and social outcasts … in the Arab countries."
To Israel's chagrin, the grandchildren from Abu Musa's surviving son and daughter did not turn to "human debris."
Sixty-eight years later, Abu Musa's progenies are more determined to find and bury their great-grandmother's remains, in their original village
Mr Kanj (www.jamalkanj.com) writes regular newspaper column and publishes on several websites on Arab world issues.
He is the author of "Children of Catastrophe," Journey from a Palestinian Refugee Camp to America. A version of this article was first published by the Gulf Daily News newspaper.
A letter from a Palestinian refugee to the new Syrian refugee
The tent will be hugely uncomfortable the first night. And still uncomfortable the next year.
As the years go by, your tent will become very familiar and part of you.
Beware not to fall in love with your tent, as we Palestinians got accustomed to.
Beware: Don't feel happy as a makeshift school or dispensary are erected in the camp. These are not a funny and good omen events: plans are made to keep you where you are settled.
And stop demanding the building of small houses  instead of temporary looking tents: You are sending the strong message that you are getting to like your precarious conditions. You are already doomed as you start increasing these stupid demands. And here is where you'll eventually be buried.
Never train your kids to be patient: Patience is the worst of tactics adopted by the impotent. You'll soon discover that you are being sold as chattel.
Selling you out is the favorite hobby of politicians.
And people all over the world will empathize with your situation and verbally support you. Supporting the refugees is one of the best slogans used by politicians at election periods. And you'll be their highway to heaven and God.
During Ramadan, Christmas… people will remember your condition and come to your rescue for the "Holy" holidays and a reminder to charity.
Your famished kids in tattered cloths will be the target to heart-wrenching photo shoots. And the journalists attempt to vying for recognition, acknowledgment and prizes.
Refrain from taking pictures with the appointed good-will personalities.
You don't have to complain of pebbles in your bread, the suffocating heat, the freezing cold nights…
Never reclaim a better and newer accommodating tent.
No tent is better than the homeland tent.
Never holler for the "Arab" leaders to come to the rescue: Dead people are totally helpless in your case.
Note: One fourth of Lebanon's population is constituted of Syrian refugees.
More than 3 million Syrian refugees have flocked to Lebanon, Jordan, Iraq and Turkey. And the Western nations barely welcomed 20,000 Syrians on temporary basis.
Over 5 million Syrians have fled their home towns and transferred to other parts of Syria.
A Palestinian woman threatening an Israeli soldier with her shoe during the Palestinian "Land Day"
a must read Zaatari refugee camp in Jordan story!
"To be or not to be"
Syrian children at a refugee camp in Jordan performed Shakespeare's "King Lear," a production that briefly took their minds off their own troubles.
The New York Times
|
By Ben Hubbard
Tags:
"Arab" leaders
,
adonis49
,
Ben Hubbard
,
good-will personalities
,
highway to heaven
,
Khadige Elkhechen
,
Land Day
,
makeshift school
,
Palestinian
,
Palestinian refugee
,
pebbles in your bread
,
photo shoots
,
precarious conditions
,
reminder to charity
,
sold as chattel
,
Syrian refugee
,
Syrian refugees
,
Western Nations
,
Zaatari refugee camp