Posts Tagged 'palestinians'
Debunking the myths
Jerome Slater's new "Mythologies Without End" is an indispensable, compelling guide to the truths behind the myths in Israel, Palestine and the Mideast.
BY JAMES NORTH.
MYTHOLOGIES WITHOUT END
The U.S., Israel, and the Arab-Israeli Conflict
By Jerome Slater
495 pp. Oxford University Press. $29.95
Professor Jerry Slater is 85 years old, has taught truths about Israel and Palestine for 50 years, and set himself a monumental task in this book.
He does not just cover the Israel-Palestine conflict, but takes on myths about Israel's relations with the surrounding Arab states, and the role of the United States. The result is a masterpiece, the successful work of a lifetime.
Slater presents his own personal and intellectual odyssey, in a brief but compelling Prologue: 
Like almost all Jews of my generation, coming of age in America in the 1940s, immediately after the Holocaust and with Anti-Semitism still alive in this country I thought of myself as a passionate Zionist and rejoiced over the establishment of the state of Israel and its 1948 and 1967 victories over its Arab enemies.
He started changing his mind after the 1967 Six-Day War.
And now he has made an extraordinary contribution to the global movement for justice in Israel, Palestine, and the Mideast generally, a readable and encyclopedic work that will be invaluable for years to come.
Slater chose the perfect title, "Mythologies Without End."
First he outlines the received wisdom about an element or feature of the region's history. Then he coolly looks at the record, and punctures the myths. He points out:
. . . among both Israelis and Americans there has been no other conflict that has been so badly understood, so impervious to the ever-growing and overwhelming historical evidence, and in which the mythology has had such devastating consequences.
Nothing is too farfetched for Slater to calmly examine. He even goes back 2000 years, to start with the prevalent Israeli "Myth of Original Homeland, Exile and Expulsion."
He notes that after the Jewish rebellion against Rome in 66-70 CE, "Zionist mythology holds that 'the Romans may have laid the entire nation waste between AD 70 and 135, slaughtering as many as 600,000 Jews, and carrying off half that number in bondage.'" He notes dryly, "This myth is no longer taken seriously by informed historians," and clearly provides the evidence that refutes the claim.
Then, 1948.
The story goes that a fragile Israel declared independence — and then the four neighboring Arab states invaded.
Slater writes: "In the Israeli mythology, the Arab attack was huge, closely coordinated, and because it was motivated by pure anti-Semitism, there was no chance the war could have been avoided."
Once again, he looks meticulously at the actual record, and relying on, among others, Israel's New Historians, points out that "the Arab invasion was small, uncoordinated, riven with conflicting aims, and in all probability could have been avoided if the Israeli leaders were willing to negotiate fair compromises."
Even those of us with familiarity with the myths may be surprised at some of Slater's findings.
It turns out that the "every major Zionist leaders" from Theodore Herzl onward openly supported "transfer" — a euphemism for expelling the original Palestinian Arab inhabitants.
In short, the Nakba, when 700,000 Palestinians fled or were driven away during the 1948 war and were not allowed to return, was not partly the accidental by-product of the conflict, but had been the intention all along of David Ben-Gurion and Israel's other founders. 
This exhaustive debunking of historical myths continues. Slater covers it all: the 1956 British/French/Israel invasion of Egypt to seize the Suez Canal; the Six-Day War in 1967; the 1973 Israeli-Egyptian War. At every stage, he shows that the world has been given distorted versions of the events or outright falsehoods. 
His account is particularly important when he reaches the 1993 Oslo Accords and developments since then, because he presents what is probably so far the most comprehensive account of this recent period.
He warns that the Accords were not truly a breakthrough for peace, that in fact they "did more to preserve the Israeli occupation [of Palestine] than to end it." He explains that Israel's leaders undermined the weak agreement right from the start, partly because they knew Israeli voters would punish them otherwise. And the number of Israeli "settlers" continued to jump:
At the outset of the Clinton presidency, there were 3,000 Israeli settlers in Gaza and 117,000 in the West Bank; when he left office at the end of 2000 there were 6,700 settlers in Gaza and 200,000 in the West Bank.
Then, Slater analyzes the 2000 Camp David talks, hosted by Bill Clinton.
He presents the myth: Israeli Prime Minister Ehud Barak offered Yasser Arafat and the Palestine Liberation Organization a generous peace agreement, but the Palestinians ". . . refused to make compromises of their own, made no counteroffers to the Israeli proposals, and then launched a new violent and often terrorist intifada, demonstrating that they had no interest in peace but rather still sought to destroy Israel and take over all of historic Palestine."
Slater responds, "As with the many other mythologies in the Arab-Israeli conflict, this bears little resemblance to reality. . ."
That false explanation for the failure at Camp David was only another instance of a central dishonesty over many decades: the Israeli/Zionist claim that "the Arabs" will not negotiate, a false view captured in the famous 1973 statement by the Israeli foreign minister, Abba Eban: "The Arabs never miss an opportunity to miss an opportunity."
Such a view does not survive Jerry Slater's wrecking ball:
The historical record proves that this myth has it backward: it is Israel, far more than its Arab adversaries, that has been primarily responsible for the many lost opportunities, from 1947 through the present, to end the Arab-Israeli and Israeli-Palestinian conflicts.

At one time or another, all the important Arab states and the most important Palestinian leaders — including Yasser Arafat — have been ready to agree to attainable and fair compromise settlements of all the central issues: Israeli security, its legitimate territory and borders, the creation of a Palestinian state, the status of Jerusalem, and the Palestinian refugee issue.
In lesser hands, this 495-page debunking might have bogged down, but Jerry Slater is such a skilled wordsmith that your interest does not flag. Instead, the cumulative power of his de-mythologizing increases as the book moves smartly along.
Slater has moral and intellectual courage, rigorous research standards — and a clear writing style that keeps you engaged with this long, thorough book.
He brings "Mythologies Without End" completely up to date, with a sharp look at how Benjamin Netanyahu has no interest in an agreement with the Palestinians and with a refutation of the 2020 Trump "peace plan." But he points out that Israel's occupation of Palestine has marched on, and that Netanyahu couldn't settle with the Palestinians even if he wanted to.
He says that if Netanyahu
had been willing to order a withdrawal of the settlers and military forces from the occupied territories and agree to a viable Palestinian state, with sovereignty over East Jerusalem, he would have faced a revolt, quite possibly a violent revolt, from the settlers and their supporters.

Indeed, a number of Israeli analysts feared that even the armed forces, in which settlers and right-wing religious forces were becoming increasingly strong, would refuse to obey such orders.
You won't read anything that brutally realistic and honest in the mainstream U.S. press — or in funding appeals from liberal Zionist organizations.
You finish this long work with a tremendous sense of admiration for its author, and for his successful life's work. Let us give him the last word.
Here's the book's final sentence:
If there is ever to be an at least minimally just solution to the Israeli-Palestinian conflict, whether it takes the form of some kind of two-state settlement or a binational democratic single state, the most important prerequisite, indeed the sine qua non, must be an Israeli recognition that their historical narrative of the conflict is largely mythological and that they have incurred an overwhelming moral obligation and an enlightened national self-interest to reach a peace settlement with the Palestinian people.
With no roadmap for peace, Israel risks being compared to the old South Africa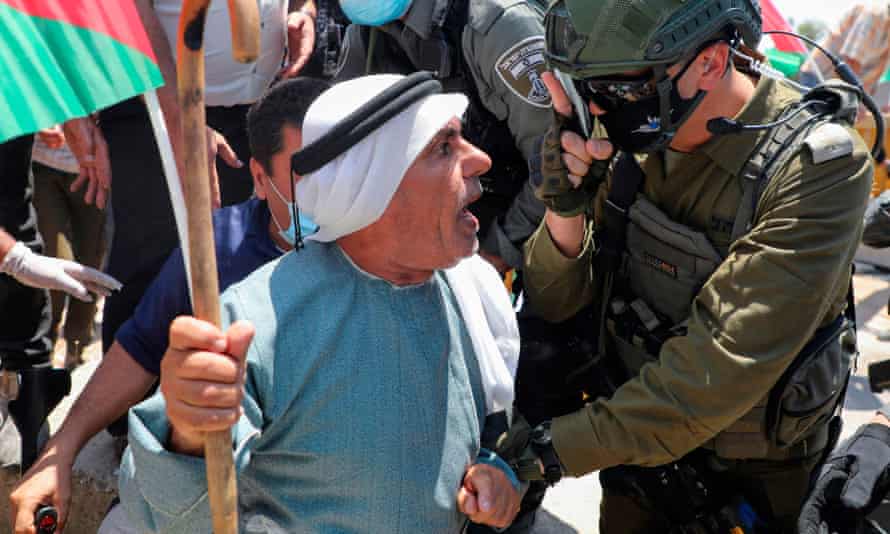 'There is a serious argument about injustices to be had.' An Israeli border guard gestures at a Palestinian protester in July 2020. Photograph: Jaafar Ashtiyeh/AFP/Getty Images
It was a deliberate provocation by B'Tselem, Israel's largest human rights group, to describe the Palestinians in the Holy Land as living under an apartheid regime.
Many Israelis detest the idea that their country, one they see as a "democracy" (that excludes the occupied people from voting and restricted rights) that rose from a genocidal pyre, could be compared to the old racist Afrikaner regime.
Yet figures such as Desmond Tutu and Jimmy Carter have done so. (And thousands other political figures and organizations)
There is a serious argument about injustices to be had. Palestinians – unlike Israeli Jews – live under a fragmented mosaic of laws, often discriminatory, and public authorities which seem indifferent to their plight.
Apartheid is a crime against humanity.
It is a charge that should Not be lightly made, for else it can be shrugged off. Some might agree with the use of such incendiary language, but many will recoil.
The crime of apartheid has been defined as "inhumane acts committed in the context of a regime of systematic oppression and domination by one racial group over any other racial group or groups with the intention of maintaining that regime". (Definition that applies entirely to how Israel laws treats Palestinians)
There are nearly 5 million Palestinians in the West Bank and Gaza, all without Israeli citizenship.
In the West Bank, Palestinians are bereft of civil rights, while Israelis in the occupied territory enjoy the full support of the state.
Hamas won Gaza's election in 2006, but the blockade that Israel imposes means it is in charge.
Egypt has sealed its border, but nothing and nobody can get in or out without Israeli permission.
Meeting the needs of Gaza's growing population, say relief agencies, is at the whim of Israel. About 300,000 Palestinians in the areas formally annexed in 1967 – East Jerusalem and surrounding villages – do not have full citizenship and equal rights.
Last year, the Israeli NGO Yesh Din found that Israeli officials were culpable of the crime of apartheid in the West Bank. Such a finding can only be a tragedy for all, including this newspaper, who wish the state of Israel well.
B'Tselem argues that Palestinians are afforded various levels of rights depending on where they live, but always below Jewish people. The group says it is becoming impossible to insulate Israel from its prolonged occupation project, leading it to run an apartheid regime not just outside its sovereign territory but inside it.
There are about 2 million Palestinian citizens of Israel, a minority under pressure not to antagonise the Jewish majority. Within Israel, discriminatory policies are not difficult to find.
National security is invoked to justify often racist citizenship laws. Jewish-only communities have admission committees that can legally reject Palestinians on the grounds of "cultural incompatibility". A web of land and planning laws squeeze Palestinians into a shrinking space. There are Israeli Arabs whose prominence in society belies the poverty of the majority.
Israel has a problem of historic discrimination. But under Benjamin Netanyahu's government there has been the enactment of the nation state law that constitutionally enshrines Jewish supremacy and a plan to formally annex parts of the West Bank.
Some prominent Jewish intellectuals, such as the writer Peter Beinart, have given up on the idea of a Jewish state. No government formed after the forthcoming election will support genuine Palestinian statehood or have a viable peace plan.
This begs B'Tselem heretical question: what if there is only, in reality, one regime between the Jordan River and the Mediterranean Sea, rather than one political power that controls the territory in which there are distinct regimes? (What is the difference in an apartheid regime and extremist right wing political reality?)
A system of separate and unequal law and systemic discrimination against Palestinians has been justified because it was meant to be temporary.
But decades have passed and the situation worsens. If this is a twilight for democracy and equality in the Holy Land, one can only hope that the night will be short.
Israel's Leaders Are Trying to Cancel the Debate Because They Know They're Losing
The International Holocaust Remembrance Alliance (IHRA) "working definition of anti-Semitism" has become a hot political topic, from Britain to the United States.
Though the IHRA's Committee on Antisemitism and Holocaust Denial has described it as "non-legally binding," the working definition is being used by governments, civil society groups, and political institutions as part of a concerted effort to suppress criticism of Israel.
The German parliament has recently passed a resolution condemning the BDS campaign as antisemitic and cutting off funding from any organization that supports it.
In the UK, the secretary of education has threatened universities — already reeling under the impact of the COVID-19 pandemic — with funding cuts unless they adopt the IHRA definition.
Though such measures are facing increasing public scrutiny and challenge, they have had a chilling effect on those who seek justice for the Palestinians — and with good reason.
The IHRA definition does in fact actively constrain advocacy for Palestinian rights and criticism of Israel. The man who originally drafted it, Kenneth Stern, has even said as much and has argued against its adoption by the incoming Biden administration.
I recently participated in drafting a letter with other Palestinian and Arab writers and intellectuals, published in the Guardian, that shows exactly why the IHRA definition is a flawed tool for tackling rising antisemitism and should be discarded.
In what follows, I will set out the logic of the letter on the IHRA and the question of Palestine, and then examine what is behind Israel's ideological assault on free speech.
Why is it so vicious, and why is it being imposed in a top-down fashion through institutions of state power?
Shutting Down Debate
Israel is silencing speech rather than engaging in argument because it has become extremely hard for that state and its backers to win the political argument in public. It is more and more difficult to conceal some basic facts.
It is clear to anyone who looks directly that the occupation has actually deepened and worsened during the period of the so-called peace process.
They can see that there is a huge power imbalance between Israel and the Palestinians — a nuclear power, armed to the teeth with the most advanced technology, facing a defenseless, occupied people who can barely muster primitive rockets — and that, as every human rights report shows, Israel is the one violating the rights of the Palestinians and denying them freedom — not the reverse.
If you don't want to rectify any of these facts, the only alternative is to cover them up. Israel bullies and criminalizes those who draw attention to such uncomfortable realities, accusing them of antisemitism and supporting terror. The intention is to weaken, confuse, and disorganize opposition to its ongoing colonial plans.
Does it work? If what happened in the British Labour Party — the ousting of a pro-Palestinian leadership — is representative of a broader trend, then it clearly does.
In the grand scheme of things, this silencing tactic keeps on delaying justice for the Palestinians.
Fundamental Questions
Before considering this political context in more detail, I want to say a couple of things about the Guardian letter, which also appeared in equally prominent venues in Arabic (al-Quds daily), Hebrew (Haaretz), and in newspapers in Germany and France.
Its signatories, who include many of the world's most prominent Arab writers, took a robust public stance against growing antisemitism and voiced their support for teaching the lessons of the Holocaust and other genocides (many slave people and minorities) — including in the Arab world.
The spirit of the letter was universal, critical of exclusionary nationalism, and committed to international law and human rights as the best way to fight racism and oppression.
It called for an acknowledgement of the political realities of Israeli aggression, Israel's national dispossession of the Palestinians, and its ongoing occupation, while at the same time affirming the right of both Israelis and Palestinians to live in security and safety.
It also advanced an understanding of self-determination as a form of non-domination over others — as the route to justice and peace for both peoples.
On the question of antisemitism, more specifically, the letter accepted the definition of antisemitism adopted by the IHRA "as hatred toward Jews." But it objected to the examples that the IHRA provides as potential evidence for such hatred.
The key issue here is about whether you can state any or all of the following things (some of which are simply facts) without being accused of antisemitism.The strongest and most consistent trend in Britain has been the rise in support for the Palestinians: from 28 percent in 2003 to 35% in 2013.
First, Are you free to say that Israel as it actually exists is a racist state — that the state of Israel (not a hypothetical state of Israel, as the wording of the IHRA example has it) was founded on ethnic exclusivity, expulsion, (ethnic cleansing, mass transfer of Palestinians since 1948) and military conquest against the wishes of the majority who then lived in Palestine?
Second, And can you say that those it expelled have a right of return to their homeland?
Third, is it acceptable to describe Israel as a state whose laws and practices since its foundation have been structured to benefit Jews over its non-Jewish citizens, which now constitute 20 percent of the population? Fourth, And to describe it as a state that allocates core rights based on ethnicity rather than citizenship?
Fifth, What else is the Nation-State Law in Israel today, if not the latest codification of Jewish supremacy in Israeli law?
Sixth, Other key issues are whether you can criticize Israel's daily aggression against the millions of Palestinians it occupies, whether you can say that Israel's wars and occupation contravene international law, violate Palestinian human rights, and deny Palestinians their internationally recognized right of self-determination…
Seventh, and whether Palestinians can engage in any of the forms of resistance (Intifada or disobedience resistance) explicitly granted to an occupied people by the UN — including nonviolent forms like BDS — without having their actions branded as antisemitic.
Israel and World Opinion
The IHRA examples conflate criticism of Israel with anti-Semitism, preventing us from posing such elementary questions. Drawing attention to some obvious facts can bring you with the accusation of being antisemitic.
The advocates of the definition have in fact mobilized it by weaponizing, exploiting, and abusing the concept of antisemitism in order to protect Israeli state power.
They brand anti-Zionism (which is a long tradition in the Jewish community) as antisemitic, and target progressives around the world, who call for peaceful forms of action to end the occupation. They seek to exempt Israel — with great success thus far — from criticism or sanctions for its illegal conduct.
Why are Israel and its supporters employing this aggressive strategy?
It is essential here to fill in the political context.
Since the invasion of Lebanon (in six pre-emptive wars) and the first intifada in the 1980s, Israel has steadily escalated its military attacks on Palestinians and has been losing popular support around the world as a result.
Its image has changed from that of a victim state to that of an intransigent, occupying power.
This shift in perception has been most dramatic since the Second Intifada that began in 2000. (Actually, the First Intifada took place during the British mandate period in 1936 because they refused to hold municipal election, on account that the Jews constituted only 20% of the population. this Intifada lasted till 1939 and England had to dispatch 100,000 soldiers to quell this mass disobedience)
In a BBC World Service poll conducted in 2013, Israel ranked as one of the world's least popular countries, at the bottom of the scale with Pakistan, Iran, and North Korea, with 52% of respondents declaring its influence in world affairs to be negative. The equivalent figure for North Korea was 54 percent.
Another important example comes from the Pew Research Center and its Global Opinion Survey the same year:
The US is the only country surveyed where a majority expresses positive views of Israel: 57% of Americans have a favorable opinion and 27% have an unfavorable view of one of their country's closest allies in the Middle East …

In predominantly Muslim countries, as well as in France, Germany, Britain and China, majorities or pluralities express negative opinions in Israel …

In Lebanon (99%), Jordan (96%), the Palestinian territories (94%), Egypt (92%), Turkey (86%), and Tunisia (86%) offer unfavorable views …

Majorities in China (66%), France (65%) and Germany (62%) also express negative opinions of Israel, as does a 44%-plurality in Britain.
The British case is important to note because of what has been happening in that country's politics recently.
In answer to the question: "Now thinking about the dispute between Israel and the Palestinians, which side do you sympathize with more, Israel or the Palestinians?", sympathy for Israel has consistently hovered around the level of 20 percent, with ups and downs in different years.
But the strongest and most consistent trend in Britain has been the rise in support for the Palestinians: from 28 percent in 2003 to 35 percent in 2013. There was also an increase in such support in France from 36 to 44%, although the percentage of those sympathetic to Israel rose in the same period there as well.
The Failure of Hasbara
Another worrying fact for Israel has been the declining support for it among Jews in the United States. Israel's ongoing occupation jars (anger) with liberal Jewish views and support for human rights.
There is an increasing trend of totally disengaging from Israel or being neutral about the conflict. Take, for example, a 2018 survey of the Jewish population in the San Francisco Bay Area in 2018:
While far more (43 percent) said they sympathized with Israelis than those citing the Palestinians (8 percent), almost half said they either sympathized with both sides, neither or were not sure.
Most troubling for Israel are the views among the new generation of Jews: "Among 18-to-34-year-olds, only 11 percent described themselves as very attached to Israel, [and only] 37 percent said they felt the existence of a Jewish state was very important."Weaponizing charges of antisemitism is part and parcel of Israel's efforts to hold on to the occupied territories and obstruct Palestinian statehood.
For a state that spends so much money and effort on public relations and hasbara, such results make stark reading.
Increasingly, key populations and core constituencies around the world are either neutral or have negative views of Israel, and strong sympathies with the Palestinians.
If you combine these statistics with the hard political facts that an overwhelming majority of states in the UN still support the right of Palestinian self-determination, Israel has a serious diplomatic and political problem on its hands.
It is Israel's loss of prestige and public sympathy that ultimately explains the aggressive efforts to silence discussion of its conduct. Weaponizing charges of antisemitism is part and parcel of Israel's efforts to hold on to the occupied territories and obstruct Palestinian statehood.
Invocations of antisemitism also perform another ideological role: they obscure the realities of the conflict and allow Israel to present itself as a victim of discrimination — as the injured party that is only trying to protect its fearful people from attack by supporters of terrorism and spreaders of hate.
Netanyahu's Rhetoric of Victimhood
In 2016, in response to comments from the UN Secretary General Ban Ki-moon that presented Palestinian violence as an expression of despair at their long experience of occupation and oppression, Benjamin Netanyahu accused him of "stoking terror" and claimed:
The Palestinian terrorists don't want to build a state; they want to destroy a state, and they say that proudly. They want to murder Jews everywhere and they state that proudly. They don't murder for peace and they don't murder for human rights.
Once again, Israel's leaders claim that their state is merely defending itself against terrorists who want to destroy it. Once again, they erase from history the fact that the PLO had already recognized Israel as far back as 1988, and that its rival Hamas has de facto accepted a two-state solution for well over a decade now, having won an election on the strength of this new political moderation in 2006.
Netanyahu totally inverts the reality that it is Israel that is blocking statehood for the Palestinians and denying them basic human rights.
Netanyahu does not care about Viktor Orbán's antisemitic demonization of George Soros, or the Polish government's denial of any Polish responsibility for the fate of the Jews during World War II.
What matters is the support of these governments for his right-wing, expansionist policies.
For Netanyahu, resistance to the Israeli occupation in the West Bank and Gaza is the same as antisemitic terror attacks in countries like France. They are simply two varieties of Islamic, antisemitic terrorism.
The message is repeated endlessly: we in Israel are just like you in the West, fighting the supposedly murderous hatred of Islam.
In January 2015, for example, Netanyahu said the following:
Israel is being attacked by the very same forces that attack Europe … they might have different names — ISIS, Boko Haram, Hamas, Al Shabab, Al Qaeda, Hezbollah — but all of them are driven by the same hatred and bloodthirsty fanaticism.
While Netanyahu bandies these false and deeply Islamophobic conflations around, he is forging alliances with well-known antisemites like the rulers of Hungary and Poland.
Israel's main historian of European nationalism, Zeev Sternhell, has attacked Netanyahu for this and stated that Israel now "sees itself as an integral part of this anti-liberal bloc led by nativist xenophobes who traffic in anti-Semitic conspiracy theories."
This is all part of Netanyahu's strategy to divide the EU in its stance toward Israel's occupation.
. As far as Netanyahu is concerned, what is good for Israel is by definition good for Jews everywhere.
The controversy over the IHRA definition is another reminder that this is not the case. Progressives should oppose antisemitism everywhere it appears as well as taking a stand against Israel's oppression of the Palestinians.
Far from being in contradiction with each other, these stances should go hand in hand. And no state should be insulated from criticism for its abuses of human rights.
Israel is an 'apartheid' regime
By JOSEPH KRAUSS January 12, 2021
A leading Israeli human rights group has begun describing both Israel and its control of the Palestinian territories as a single "apartheid" regime, using an explosive term that the country's leaders and their supporters vehemently reject.
In a report released Tuesday, B'Tselem says that while Palestinians live under different forms of Israeli control in the occupied West Bank, blockaded Gaza, annexed east Jerusalem and within Israel itself, they have fewer rights than Jews in the entire area between the Mediterranean Sea and the Jordan River.
"One of the key points in our analysis is that this is a single geopolitical area ruled by one government," said B'Tselem director Hagai El-Ad.
"This is Not democracy plus occupation. This is apartheid between the river and the sea."
That a respected Israeli organization is adopting a term long seen as taboo even by many critics of Israel points to a broader shift in the debate as its half-century occupation of war-won lands drags on and hopes for a two-state solution fade.
Peter Beinart, a prominent Jewish-American critic of Israel, caused a similar stir last year when he came out in favor of a single binational state with equal rights for Jews and Palestinians. B'Tselem does not take a position on whether there should be one state or two. (And why Not taking a position?)
Israel has long presented itself as a thriving democracy in which Palestinian citizens, who make up about 20% of its population of 9.2 million, have equal rights.
Israel seized East Jerusalem, the West Bank and the Gaza Strip in the 1967 war — lands that are home to nearly 5 million Palestinians and which the Palestinians want for a future state. (Gaza is 80% of it transferred Palestinians since 1948)
Israel withdrew troops and settlers from Gaza in 2005 but imposed a blockade after the militant Hamas group seized power there two years later. (Not after Hamas took control, but because it was no longer a tenable occupation).
This apartheid regime of Israel considers the West Bank "disputed" territory whose fate should be determined in peace talks. (Israel flaunted all "peace negotiations" with the Palestinians, even in the Oslo Accords. Israel just want "security" management deals)
Israel annexed East Jerusalem in 1967 in a move not recognized internationally and considers the entire city its unified capital. Most (you mean a few?) Palestinians in east Jerusalem are Israeli "residents," but not citizens with voting rights.
B'Tselem argues that by dividing up the territories and using different means of control (about 250 checkpoints), Israel masks the underlying reality — that roughly 7 million Jews and 7 million Palestinians live under a single system with vastly unequal rights. (Palestinian youths are detained administratively , with no charges, every night)
"We are not saying that the degree of discrimination that a Palestinian has to endure is the same if one is a citizen of the state of Israel or if one is besieged in Gaza," El-Ad said. "The point is that there isn't a single square inch between the river and the sea in which a Palestinian and a Jew are equal."
Israel's harshest critics have used the term "apartheid" for decades, evoking the system of white rule and racial segregation in South Africa that was brought to an end in 1994. (What about the White racial divide in the US, which is still being demonstrated today?)
The International Criminal Court defines apartheid as an "institutionalized regime of systematic oppression and domination by one racial group." (Actually, there is No racial reasons, just a colonial rule to rob the Palestinians of their wealth and lands)
"There is no country in the world that is clearer in its apartheid policies than Israel," said Nabil Shaath, a senior adviser to Palestinian President Mahmoud Abbas.
"It is a state based on racist decisions aimed at confiscating land, expelling indigenous people, demolishing homes and entire towns to establishing settlements."
In recent years, as Israel has further entrenched its rule over the West Bank, Israeli writers, disillusioned former generals and politicians opposed to its right-wing government have increasingly adopted the term.
But until now B'Tselem, which was established in 1989, had only used it in specific contexts.
Israel adamantly rejects the term, saying the restrictions it imposes in Gaza and the West Bank are temporary measures needed for security.
Most Palestinians in the West Bank live in areas governed by the Palestinian Authority, but those areas are surrounded by Israeli checkpoints and Israeli soldiers can enter at any time. Israel has full control over 60% of the West Bank.
Itay Milner, a spokesman for Israel's consulate general in New York, dismissed the B'Tselem report as "another tool for them to promote their political agenda, based on a distorted ideological view." He pointed out that "Arab" citizens of Israel are represented across the government, including the diplomatic corps.
Eugene Kontorovich, director of international law at the Jerusalem-based Kohelet Policy Forum, says the fact that the Palestinians have their own government makes any talk of apartheid "inapplicable," calling the B'Tselem report "shockingly weak, dishonest and misleading."
Kontorovich said the use of the word "apartheid" was instead aimed at demonizing Israel in a way that "resonates with racial sensitivities and debates in America and the West."
Alon Pinkas, a former Israeli consul general in New York, rejects the term. "Occupation, yes. Apartheid, absolutely not."
But he acknowledged that critics of Israel who had refrained from using the term, or who had used it and been attacked, "will now conveniently say, 'Hey, you know, Israelis are saying it themselves.'"
Rabbi Rick Jacobs, head of the Union for Reform Judaism, which estimates its reach at more than 1.5 million people in 850 congregations across North America, says the situation in the West Bank and Gaza is a "moral blight" and an "occupation but Not apartheid, which is an existential critique")
El-Ad points to two recent developments that altered B'Tselem's thinking.
The first development was a contentious law passed in 2018 that defines Israel as the "nation-state of the Jewish people." Critics say it downgraded Israel's Palestinian minority to second-class citizenship and formalized the widespread discrimination they have faced since Israel's founding in 1948. Supporters say it merely recognized Israel's Jewish character and that similar laws can be found in many Western countries.
The second development was Israel's announcement in 2019 of its intention to annex up to a third of the occupied West Bank, including all of its Jewish settlements, which are home to nearly 500,000 Israelis. Those plans were put on hold as part a normalization agreement reached with the United Arab Emirates last year, but Israel has said the pause is only temporary.
B'Tselem and other rights groups argue that the boundaries separating Israel and the West Bank vanished long ago — at least for Israeli settlers, who can freely travel back and forth, while their Palestinian neighbors require permits to enter Israel.
There have been no substantive peace talks in more than a decade. The occupation, which critics have long warned is unsustainable, has endured for 53 years.
"Fifty years plus, that's not enough to understand the permanence of Israeli control of the occupied territories?" El-Ad said. "We think that people need to wake up to reality, and stop talking in future terms about something that has already happened."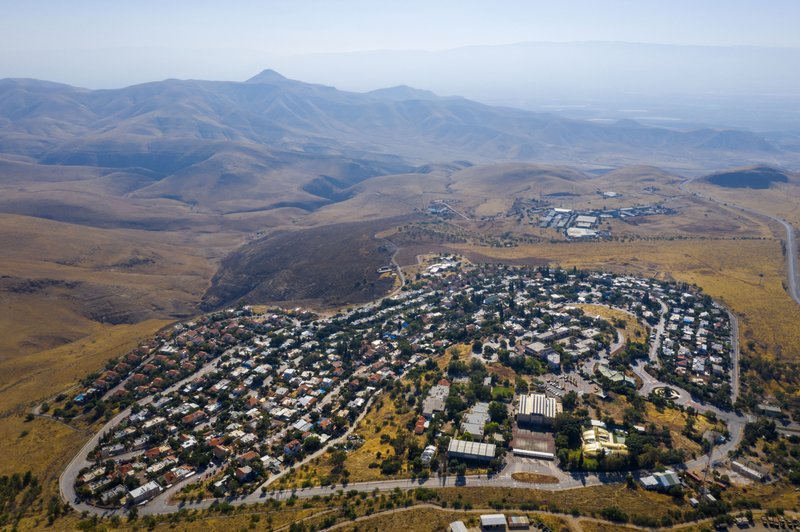 1 of 7 FILE – In this Tuesday, June 30, 2020, file photo, a view of the West Bank Jewish settlement of Ma'ale Efrayim in the Jordan Valley. Israel's premi
Israeli Vaccine Drive Excludes Millions of Palestinians in Occupied Territories
STORY JANUARY 05, 2021
Despite the fast rollout, human rights groups are expressing alarm over Israel's decision Not to vaccinate Palestinians in the occupied West Bank and Gaza, where about 1,500 people have died during the pandemic.
Israel has defended its actions citing the Oslo Peace Accords, which put Palestinian authorities in charge of healthcare in the West Bank and Gaza. (An accord that Israel never applied, as usual)
Dr. Mustafa Barghouti, a physician, member of the Palestinian Parliament and head of the Palestinian Medical Relief Society. "Israelis are getting the vaccines, and Palestinians are getting nothing."
AMY GOODMAN: This is Democracy Now!, democracynow.org, The Quarantine Report. I'm Amy Goodman, with Juan González.
Israel has become the first country in the world to administer COVID-19 vaccines to more than 10% of its population. As of Monday, 14% of Israelis had received a vaccine — far higher than any other country. Despite the fast rollout, Israel's health minister says a total lockdown is needed to combat the surging number of new infections. (Actually, most of Israelis that travelled to the Gulf Emirates were fleeing the lockdown)
This comes as human rights groups are expressing alarm over Israel's decision not to vaccinate Palestinians living in the occupied West Bank and Gaza, where about 1,500 people have died during the pandemic.
Physicians for Human Rights recently said, quote, "Israel bears moral and humanitarian responsibility for vaccinating the Palestinian population under its control," unquote. Israel is, however, offering vaccines to Jewish settlers living in the illegal settlements in the West Bank.
Israel has defended its actions, citing the Oslo Peace Accords, which put Palestinian authorities in charge of healthcare in the West Bank and Gaza. Palestinian officials are facing a number of hurdles in launching its own vaccine campaign, including a shortage of money, lack of access to vaccines, lack of infrastructure to distribute a vaccine.
Israel has so far been relying on the Pfizer-BioNTech vaccine, which needs to be stored at minus-94 degrees Fahrenheit.
Storing such a vaccine is impossible in Gaza, where residents often go 12 or more hours a day without electricity.
In 2014, Israel bombed Gaza's only power plant in what Amnesty International described as "collective punishment" of Palestinians.
We go now to the West Bank city of Ramallah, where we're joined by Dr. Mustafa Barghouti, physician, member of the Palestinian Parliament, head of the Palestinian Medical Relief Society, has been leading efforts to manage the pandemic in the West Bank and Gaza.
He was infected with COVID-19 in December. He's secretary general of the Palestinian National Initiative, a political party. And he was a presidential candidate in the 2005 elections.
We welcome you to Democracy Now!, Dr. Barghouti. Can you explain what is happening? How has Israel become the country that has vaccinated more of its population than any country in the world, and yet Palestinians are not getting vaccinated? Who's in charge of this program? Who should be?
DR. MUSTAFA BARGHOUTI: Well, thank you, Amy. I'm glad to be with you.
Israel actually is violating international law, because it is denying its responsibility as an occupying power. Israel managed to get 14 million vaccines for the Israelis and those who hold Israeli IDs, but gave nothing to Palestinians. So, practically, they are vaccinating 8 million Israelis and not vaccinating 5.3, 5.2 million Palestinians living in the Occupied Territories.
More than that, this system of racial discrimination (It is a colonial apartheid discrimination), which can only be compared, in my opinion, to apartheid system, is doing something horrible in the West Bank.
Seven hundred fifty thousand 750,000 illegal settlers are getting the vaccines now; 3.1 million Palestinians in the West Bank are getting nothing.
More than that, in the Israeli prisons, Israel ordered the guards in the prisons to get the vaccine, and probably the Israeli criminal prisoners, but the Palestinian prisoners, 5,000 of them, are getting nothing.
What can be more clear here than that this confirms that this is really a system of racial discrimination?
And when they speak that the Palestinian Authority is responsible, this is totally misleading.
First of all, the Palestinian Authority approached them, asking at least for vaccines for us, the healthcare providers, who are being infected around the clock. And Israel refused.
The Palestinian Authority is in charge only of 38% of the West Bank, only.
Sixty-two percent of the West Bank is Area C, under full Israeli military control, and Israel is doing nothing for Palestinians there.
If the Palestinian Authority tries to import a vaccine from outside, they will need Israeli permit. And Israel did not allow any permit yet for Palestinians. Israel controls the borders, controls the imports, controls the exports.
And the biggest disaster is in Gaza, because in Gaza you have 2.1 million besieged by Israel, lacking health facilities, lacking equipment, and there, they are not getting any vaccines.
70% of Palestinians in Gaza are refugees displaced from their land in 1948. When you tell them, "Go and quarantine," I don't know how they can do that, if you have 10 people living in two rooms. It's impossible.
The problem is that the rate of infection today in the West Bank and Gaza is 36%, while in Israel it's 4.5%. Israelis are getting the vaccines, and Palestinians are getting nothing.
JUAN GONZÁLEZ: But, Dr. Barghouti, isn't it in the interest of Israel, from a public health perspective, even if they want to pursue this continued antagonistic policy toward the Palestinians, to have the Palestinians vaccinated, to reach herd immunity in the total area?
DR. MUSTAFA BARGHOUTI: You're absolutely right. In my opinion, Netanyahu and his government — this man is so racist. He only thinks of himself. He only thinks of his political future. He only thinks of escaping the criminal charges against him and being reelected again.
And all he does is to satisfy the Israeli right-wing voters.
In reality, what his government is doing is actually hurting the Israelis, as well, because you cannot reach herd community if you have 8 million people vaccinated and 5.2 million people not vaccinated, especially that 130,000 Palestinian workers will continue to go to Israel for work and will interact with Israelis, of course, and there are 750,000 other Israelis, illegal settlers, in the West Bank, who will continue to commute and communicate with the 3.1 million unvaccinated Palestinians.
So, practically, this is a crime against Palestinians and a crime against the health of Israelis. It's a violation of the international law, but also it's, in my opinion, the worst crime against medical ethics, which says nobody should be discriminated against because of anything, which says, "Do no harm, and help people as much as you can as a health professional."
JUAN GONZÁLEZ: I wanted to ask you — the COVAX facility that the World Health Organization established to help poor countries has pledged to vaccinate 20% of Palestinians. Where does that stand right now in terms of that pledge?
DR. MUSTAFA BARGHOUTI: I am in communication with the head of WHO here. And they are trying their best, but they do not think they can get anything here before four or five months, and if they are lucky.
Up 'til now, they don't know what vaccine they can get in. Up 'til now, they don't know how to get vaccines. That's why, given the huge spread now of community infections in the West Bank and Gaza, a very high number of cases — I estimate we have already 600,000 cases.
And they approached the Israelis. The WHO approached Israel, asking at least for vaccines for the health professionals. Israel refused and continues to refuse.
So, unfortunately, we are looking here at a potential real serious disaster. And as a person who is suffering from COVID-19 now, after nine months of being so protective and trying to be very careful, I can tell you this is a horrible disease.
I don't wish it for anybody. It's very dangerous. It can be destructive. It can kill the people. And it can also leave them with incapacity for a very long — for the rest of their life.
AMY GOODMAN: Dr. Mustafa Barghouti, as you said, you yourself have COVID-19 right now. You're in the throes of it. We know that Saeb Erekat, chief negotiator, died of COVID-19. You're a frontline physician. Do you get vaccinated?
And what about the vaccines? Apparently, PA has asked the United Arab Emirates to share some of its supply of Chinese-made vaccine, and the Palestinian Authority has reportedly ordered 4 million doses of the Russian Sputnik vaccine.
When are these doses going to come? And what are you demanding of the not only Israeli government, but the U.S. government, since it gives so much money to the Israeli government?
DR. MUSTAFA BARGHOUTI: I think I demand from the whole international community to do two things: First of all, to exercise immediate pressure on Israel to allow the passage of vaccines to at least the beginning — in the beginning, to the health professionals that are taking care of people, so that the health system would not collapse, and then to the elderly, of course, etc.;
Second, we're asking the international community to provide aid, bypassing Israel. Israel will not respond. And the international community has a big duty here.
I was not vaccinated. No health professional in the West Bank has been vaccinated yet. And we don't know when we will get this vaccine. And it is really critical, because the rate of infection is going up, and it is affecting — it could affect everybody in the community. So what we need is immediate pressure.
Regarding the Russian vaccine, yes,, there was a request, but I don't think the Russians can provide such vaccines, because their capacity of production is still low. They have produced only 500,000, up 'til now, vaccines. And their maximum capacity is 4 to 5 million per month, and they need 100 million vaccines for Russia itself. So I don't think that is a solution, although the Sputnik vaccine seems to be very good.
I think what we need is to really have a way of getting the AstraZeneca or the Moderna vaccine. Of course, we have a problem with Pfizer, although we have managed to provide some facilities in the West Bank, if we can get it, to give it to people.
But the most immediate need now — now it's a health disaster. Now it's a very risky situation. A whole population is subjected to a very big, alarming risk. That's why it is very urgent to immediately exercise pressure so that Palestinians also get the vaccines.
AMY GOODMAN: Would you describe this as medical apartheid?
DR. MUSTAFA BARGHOUTI: Yes, absolutely. This is the worst form of apartheid: medical apartheid. It didn't even exist in South Africa.
This is just beyond description. Imagine you go to a prison: You vaccinate the guards, but not the prisoners; you vaccinate Israeli prisoners, who are criminal usually, and not vaccinate Palestinian political prisoners.
Imagine you go in the cities of the West Bank: The settlers are vaccinated, and nearby Palestinian cities and communities are not vaccinated. Not only they grab our land, not only they settle illegally on our land, take away our natural resources, take away our sources of economy, but also they back this system of apartheid. I call it — I call it vaccination with racism.—
AMY GOODMAN: Dr. Mustafa Barghouti, physician, member of the Palestinian Parliament, thanks for joining us.
The original content of this program is licensed under a Creative Commons Attribution-Noncommercial-No Derivative Works 3.0 United States License.
Please attribute legal copies of this work to democracynow.org. Some of the work(s) that this program incorporates, however, may be separately licensed. For further information or additional permissions, contact us.
2020 worst for homeless Palestinians in Israel
Tamara Nassar Rights and Accountability 5 January 2021
While people around the world were told to stay home due to the pandemic, Israel made more Palestinians homeless in 2020 than it has in years.
Israel demolished and confiscated more than 850 Palestinian structures throughout the year, displacing 1,000 people. More than half of those displaced were children.
Israel targeted almost any kind of structure Palestinians need for sustainable life, including homes, agricultural buildings, infrastructure and water sanitation facilities.
The number of demolitions last year was also the highest annual total since United Nations monitoring group OCHA began keeping records in 2009 – with the exception of 2016.
These figures do not include some 5,000 Palestinians whose livelihood was affected by demolitions and seizures throughout the year without being displaced.
Israeli forces demolish a Palestinian home east of Yatta, near the West Bank city of Hebron, on 29 December. Mosab Shawer APA images
In 2020, the number of Palestinians who had to demolish their own homes in occupied East Jerusalem under Israeli orders also increased. The irony s that Palestinians are coerced to do this to avoid having to pay for Israeli wrecking crews.
Area C
The vast majority of demolitions and seizures took place in occupied East Jerusalem and Area C, the 60% of the occupied West Bank that remains under complete Israeli military rule.
Most of Area C was supposed to be gradually transferred to Palestinian Authority control following the signing of the Oslo accords in the 1990s. But that never happened.
Israel controls all planning and construction in the area under an openly discriminatory regime.
Palestinians are subjected to Israeli military orders that regulate every aspect of their lives, while Israeli settlers living in Jewish-only colonies built illegally in occupied territory are subject to Israeli civil law.
Israel forbids virtually all Palestinian construction in Area C.
"Palestinians are allowed to build in less than 1% of Area C and in only about 15% of East Jerusalem," OCHA recently stated.
This forces Palestinians to build on their own land without Israeli permits and live in constant fear that Israeli occupation forces may seize or destroy their property.
"This system works primarily to demolish structures," Israeli human rights group B'Tselem stated, and is part of Israel's long-term efforts to change the demographics in the area and ensure a Jewish majority in preparation for annexation.
Palestinians are also denied access to basic infrastructure, such as water and electricity, in those areas. Many rely on donor-funded solar panels for electricity and water storage.
But even donated structures are not safe from Israeli destruction.
In 2020, Israel demolished or confiscated about $350,000 worth of donor-funded structures, many provided by the European Union.
Apart from muted statements and photo opportunities at sites threatened with demolition, the EU has done nothing to hold Israel accountable for destroying tens of millions of dollars of projects funded by European taxpayers over the years.
Largest demolition in years
In November alone, Israeli forces demolished and confiscated more Palestinian structures in a single month on record since 2009, according to OCHA.
November also witnessed the largest single demolition in occupied territory in years, when Israel leveled most of the occupied West Bank community of Khirbet Humsa.
Israeli forces arrived in Khirbet Humsa on 3 November and demolished 76 structures. More than 70 Palestinians were made homeless, including 41 children – totaling 11 families.
Minnesota Congresswoman Ilhan Omar called the demolition "a grave crime" at the time and asserted that "the United States of America should not be bankrolling ethnic cleansing.
In the first week of 2021, Israel has already demolished 12 structures and displaced three Palestinians.
Note: The first Palestinian Intifada (civil disobedience/resistance) was done in 1936-39 because the mandated British power refused to hold municipal elections on account that the Jews represented only 20% of the population.
The View from Israel's Occupation policies: hasbara (propaganda)
Among the numerous ideological affinities and governing styles shared by Trump and Israeli Prime Minister Benjamin Netanyahu is a commitment to the rhetoric of 'fake news.'
In the last year, Netanyahu has increasingly borrowed this Trump formulation in an attempt to quell dissent and undercut critical Israeli and international media scrutiny.
Netanyahu is not unique in this regard.
Over the course of the last year, authoritarian regimes across the globe – have adopted the fake news script to silence detractors and critics, frequently in response to the charge of human rights violations.
But while the global scale of this accusation may be unprecedented, charges of fake news have a long history and preceding the Trump era.
In Israel, the accusation of fraudulence, employed against political critics and foes, can be traced to the onset of the Zionist settler-national project.
As post-colonial studies show, the repudiation of indigenous claims (to history, land, humanity and so on) was a foundational logic of colonial projects, enabling the violence of colonialism in its various forms.
This formulation was also at work in the history of Zionism and has had a lasting hold on dominant Israeli ideology.
Over the course of the last two decades, amidst the ascendance of nationalist extremism in Israel, the fraudulence charge has grown ever stronger among the Jewish right-wing public as a popular means of indicting critics and undercutting Palestinian claims, particularly where Israel's military occupation is concerned.
Mohammed al-Dura
Video footage of Israeli state violence against Palestinians has been a favorite target of this accusation – footage shot by international journalists and human rights workers, and increasingly as cameras have proliferated in the West Bank, by the cameras of Palestinians living under occupation.
It was in the language of fake news that Israelis famously responded to the killing of 12-year-old Mohammad al-Dura by the Israeli security services in 2000, in the early days of the second Intifada.[1]
His killing was filmed by French television and was replayed around the world in the aftermath of the event, becoming no less than a viral global icon of the Israeli military.
What ensued was an organized campaign by the Israeli right wing, and their international supporters, to debunk the images as fake.
Netanyahu convened an Israeli government committee of inquiry in 2012 to investigate the incident, (12 years later?) and the committee eventually endorsed the popular discourse of fakery, blaming manipulative editing for falsely producing the damning images.
The state committee did more than exonerate the Israeli security services in al-Dura's death; indeed, they argued that he was Not actually dead.
Right-wing Israeli newspapers put it succinctly in their headlines: "Mohammed al-Dura: The Boy Who Wasn't Really Killed." 
Pleas by the al-Dura family to exhume the boy's body were declined.
Despite the Israeli response to the al-Dura affair in 2000, it would take nearly two decades for this argument about Palestinian fakery to become commonplace where video evidence of Israeli state violence is concerned.
By 2014, amidst the ascendance of far-right politics in Israel, and the threatening spread of cameras among Palestinians living under occupation, the argument finally gained a mainstream foothold.
Footage from Bitunya
For example, the charge of fake news would predominate in Israel following the killing of 2 Palestinian youths in the West Bank town of Bitunya in 2014, fatally shot by the Israeli security services during an annual demonstration commemorating the Nakba (the transfer of 700,000 Palestinians in 1948).
The military denied responsibility, claiming that their forces had only used non-lethal rubber bullets that day, in compliance with regulations governing engagement in protest contexts.[2] 
But the scene had been filmed by numerous on-site cameras, including four security cameras, and those of CNN and a Palestinian photojournalist.
The Israeli human rights organization B'Tselem took on the case, believing that the unusually high volume of associated footage conclusively established military responsibility for the deaths.
Mainstream Israelis felt differently, and the volume of footage from Bitunya did little to persuade them of the military's responsibility.
To the contrary, the videographic evidence fueled a widespread repudiation campaign.
State actors and institutions were among the first to join the fake news chorus, including the defense minister, the foreign minister and official military spokesmen.
All argued that "the film was edited and did not reflect the reality of the day in question."
Their assertions were parroted by the national media, who insisted that the shootings were "staged and faked."
That accusation was then picked up by right-wing Israelis and supporters internationally.
Some focused on the image of the falling body, arguing for its self-evident theatricality (Palestinian "Pallywood", Hollywood-like industry in manufactured images of Palestinian victims).
Others claimed there was a lack of adequate blood in the footage, proof that the victim had not been killed.
Most proponents of the fraudulent charge did not dispute the deaths themselves, as they had in the al-Dura case, but focused on exonerating the IDF through a re-reading of the footage, arguing that the bullets had come from other sources.
The charge of fraudulence haunted the case as it wound its way through the Israeli legal system.
The Bitunya case established the fake news charge as a default Israeli script for responding to video-graphic evidence of state violence against Palestinians.
A few months hence, during another violent Israeli military incursion into the Gaza Strip, Prime Minister Netanyahu would famously rehearse a variant of this discourse when he accused people in Gaza of performing their deaths for the media: "They want to pile up as many civilian dead as they can. They use telegenically dead Palestinians for their cause."
The language of "fake news" had moved from the margins of the conspiratorial blogosphere to become the language of state – presaging a dynamic that we would watch unfold in the US in the Trump era, a few years hence.
High Stakes
For Israelis who support the fake news accusation, the stakes are considerable – just as they are in Trump's America for those who parrot this rhetoric.
In the Israeli context, these accusations aim to protect the image of Israel by stripping Palestinian victims and Israeli perpetrators from the videographic scene of the alleged crime.
And to do so in a way that removes all traces of repressive Israeli military rule and its histories.
The charges of fraudulence, forgery or Palestinian theatrics are an attempt to correct the record, to right the wrongs done by a libelous Palestinian public that is intent on Israel's defamation by means of fictive image-making – or so many believe.
In this way, the discourse of fake news is just another tool in the Israeli struggle against the so-called existential threat.
[This article was originally published in Middle East Report (Issue 283).]
[1] Adi Kuntsman and I explore this in more detail here.
[2] For a more detailed discussion of this case, see Stein, "GoPro Occupation: Networked Cameras, Israeli Military Rule, and the Digital Promise," Current Anthropology 58/S15 (February 2017).
World Zionist Congress is meeting.
You might have the impression that 'world Zionism' is an antisemitic organization.
Or you have succumbed to the conspiracy theory…
While the World Zionist Congress is in session, with 720 delegates from over 30 countries.
by Alison Weir October 23, 2020
Menifee, CA (IAK) — I'm sometimes astounded at the fact that a major political movement over a century old is so little known among Americans – especially since it has had a momentous impact on the world in general and on the U.S. in particular, causing multiple wars, vast population displacement, and global instability.
In my travels around the US, I've found that most Americans know extremely little about Zionism.
I would guess that the vast majority of Americans could not define the term (that was certainly my situation for most of my life), and that a great many may Not have even heard of it.
And among those who have heard the term, many may think it refers to some antisemitic conspiracy theory.
The fact is that Zionism – according to the dictionary, "a worldwide Jewish movement that resulted in the establishment and development of the state of Israel and that now supports the state of Israel as a Jewish homeland" – is both very real and extremely significant.
Zionism succeeded in establishing the state of Israel in 1948 after decades of open and frequent covert efforts.
It promoted a successful, and extremely false, slogan – "a land without a people for a people without a land" – and succeeded in perpetrating one of the major hoaxes of the 20th century, in which victims (indigenous Palestinians) were designated aggressors while the aggressors (Zionist colonists) were portrayed as victims.
This hoax was documented by diverse authors, and perpetrated through the silencing of others.
And today this movement contains numerous powerful international entities (see the list below), while remaining largely invisible to millions of citizens of the country that gives Israel massive amounts of money, shields Israel apartheid system internationally, and has fought at many pre-emptive wars on Israel's behalf of Israel, in Iraq, Lebanon, Syria, Somalia and Yemen. (The rationale is to secure the existence of the State of Israel and its dominance on the region)
The dictionary definition captures only the simplest meaning of the word, but not its deep impact: how Israel was established and what supporting Israel today enables.
As numerous historians have documented, Israel was established through a war of ethnic cleansing, in the words of a major Israeli historian, in which approximately 750,000 men, women, and children were violently expelled. Hundreds of villages were destroyed and much of the indigenous population was displaced, their ancestral homes and land confiscated and the former owners made into penniless refugees.
Today, in its pursuit of the Jewish identity mentioned in the definition, Israel continues to confiscate Palestinian land, discriminates against the remnants of the non-Jewish population that remain in the area, and holds the four and a half million people in the remaining portion of their land (the West Bank and Gaza), in two virtual prisons, their ability to leave and to return to their homes controlled by Israel.
Palestinian villages are invaded daily, people terrorized and abducted, homes and crops are regularly destroyed, youth administratively detained to "security reasons.".
For over a year there was a weekly mass demonstration during which Israeli forces shot with live bullets unarmed demonstrators every week. More than a thousand Palestinians were handicapped from the snipers children, women, nurses, journalists…(To see these actions go here.)
Zionist movement in the US – a century of activism
As I describe in my book, the Zionist movement in the U.S. began in the late 1800s and played a significant role in the events that led to the establishment of Israel.
Today the pro-Israel lobby is probably the most powerful and pervasive special interest group in the U.S. Its members have diverse views and sometimes sharply disagree with one another on aspects of the issue, but all share one goal: support for Israel.
Israel partisans have become extremely influential in both political parties and have obtained numerous US policies of support for Israel.
Most recently, they are promoting bills to expend $19 million per day on behalf of Israel.
Altogether, 90 bills for Israel have been introduced in the current Congress alone.
In addition, there is also considerable evidence that Israel partisans were central in pushing the US into invading Iraq, and that many are similarly active in demonizing Iran. (See this, this, this, and this.)
Conspiracy theory?
Since little of the above is known by the general American public (U.S. media rarely report any of this), some Americans are under the impression that even suggesting there is a "world zionist movement" is an antisemitic conspiracy theory.
(In fact, even discussing the Israel lobby in the U.S. can be dangerous to reputations and careers.
For example, respected professors John Mearsheimer and Stephen Walt were attacked as "antisemitic" for their scholarly work in detailing the power of the Israel lobby.)
Fact is that the World Zionist Organization has been in existence since the late 1800s, and this is just one of a number of international organizations that work on behalf of Israel.
All of these are very public – if one knows where to look.
Currently, the World Zionist Organization is holding its 38th Congress in an online format from Israel. The Congress is convened every five years.
World Zionist Organization
While US mainstream media have largely failed to even mention this organization and event, it has been big news in the Israeli and Jewish-American press, with numerous stories leading up to the event.
Below is an image from an article in the Jewish News of Northern California entitled "Your vote in Israel: Here are the Bay Area Jews running for the World Zionist Congress."
The World Zionist Organization (WZO) was founded in 1897. It has an elaborate structure, including a World Zionist Congress, a Zionist General Council, a Zionist Executive, and a Zionist Supreme Court.
It also has a department devoted to "repatriation" – encouraging Jews to leave their birth countries and move to Israel – and lists numerous affiliates and partners around the world.
Currently, the WZO convened its 38th Congress, with 720 delegates and observers from over 30 countries participating in a 3-day conference.
Based in Israel as usual, this year's event is being held online because of the pandemic, and sessions are being synchronized with time zones in Israel, North America, Latin America, Europe, Australia, and South Africa.
The World Zionist Congress allocates about a billion dollars a year to various projects and is popularly known as the "parliament of the Jewish people."
The Israeli Jerusalem Post newspaper reports that during the Congress "elections will take place for the leadership positions of the National Institutions – the World Zionist Organization, Keren Kayemeth Le'Israel (Jewish National Fund-JNF), and Keren Hayesod [aka United Israel Appeal:  
"the preeminent worldwide fundraising organization for Israel, which was established in London in 1920, to serve as the fundraising arm of the Jewish People and the Zionist Movement]. Current issues on the world Jewish agenda will be deliberated…"
Among the issues to be deliberated will be how to "allocate nearly $5 billion to Jewish organizations and programs in Israel and around the world."
The event is being live-streamed and can be viewed here.
Additional Zionist organizations:
The WZO is far from the only organization with "Zionist" in its title.
Among the others are:
Women's International Zionist Organization (WIZO): founded in 1902, it currently has 250,000 members around the world.
Mizrachi, the global Religious Zionist movement: "Mizrachi is the global Religious Zionist movement, spreading Torat Eretz Yisrael across the world and strengthening the bond between the international Jewish community and the State of Israel."
It was founded in 1902, is based in Jerusalem and has branches across the globe. It opposes the international movement supporting Palestinian rights known as BDS. It says the Mizrachi Global Summit was held on October 18th.
Zionist Organization of America: "Founded in 1897, the Zionist Organization of America ("ZOA") is the oldest pro-Israel organization in the United States." It has 25,000 members and chapters throughout the U.S.
Hadassah, the Women's Zionist Organization of America: Over a century old, it says its vision is to "strengthen a connection to Israel." It says it is "the largest women's Zionist membership organization in the United States. It inspires a passion for and a commitment to its partnership with the land and the People of Israel."  (Ruth Bader Ginsburg was a lifelong member.)
American Zionist Movement: "AZM works to promote and defend Zionism in the United States; to deepen and expand the active relationship of the American Jewish Community to Zionism in a contemporary context; to facilitate dialogue and collaboration among Zionist organizations through and with the AZM; and to be the central hub for Zionist resources in America."
(An interesting bit of history is that "Zion" was one of the names Zionist leaders considered in 1948 for the new state, before they finally settled on the name "Israel."
(Israel means the Land of God El, the Canaan all encompassing God in Palestine, Lebanon and Syria and whom Jew considered their God too. The bedouin Jews created Jehovah as their God of war as Canaan hired them as mercenaries to fight along them. )
Still more Zionist organizations
There are also a number of other major international organizations that work for Israel. Virtually all of these organizations have large staffs, elaborate structures, and multi-million dollar budgets.
Their websites provide an abundance of information about their global reach and diverse activities. Many openly state that they work to oppose the international movement to boycott Israel, which has been organized because of Israel's long documented human rights abuses.
Known as "BDS" (Boycott, Divestment, and Sanctions), the movement "upholds the simple principle that Palestinians are entitled to the same rights as the rest of humanity."
(BDS is demanding that countries boycott the product generated in the occupied land of West Bank by illegal settlers and settlements)
Below is a partial list:
• World Jewish Congress (WJC) is another international congress that supports Israel. According to its website, the WJC "represents Jewish communities and organizations in 100 countries around the world. It advocates on their behalf towards governments, parliaments, international organizations and other faiths."
The WJC represents significant global wealth. Its annual gala held in New York last year was, as I wrote in a detailed article, attended by billionaires, Russian oligarchs, Ukrainian ambassadors, international financiers, the Rothschilds, and assorted other glitterati.
• World Holocaust Forum is another international entity that supports Israel. It is held in Israel and was founded and run by Russian-Israeli oligarch Viatcheslav Moshe Kantor.
Last year, at least 45 world leaders attended his fifth event. Israel's Ha'aretz newspaper called it "an airlift of presidents, prime ministers and royalty from around the world." Kantor, a billionaire known for unscrupulous business practices, is president of the European Jewish Congress and heads up a network of pro-Israel international entities.
In an interview for a Zionist publication, Kantor was asked: "Why are you so interested in Holocaust education and in creating big events to memorialize the Holocaust?" Kantor answered:
The Holocaust was an essential tool used to bring about the establishment of the State of Israel. In 2006, it is the most effective tool we have to fight against anti-Semitism and to protect Israel."
• Jewish Agency for Israel has been in existence for 90 years, has branches around the world, and encourages people to move to Israel. It has a branch in the US where donations to it can be deducted from U.S. taxes. It states that it works to oppose BDS.
• B'nai B'rith International has been in existence for 175 years and had a connection to Israel from the state's earliest years. Like many of the organizations, it periodically works to prevent events supporting Palestinian rights.
• Maccabi World Union, headquartered in Israel, spans five continents, is in 80 countries, has 450 clubs, and 450,000 members. Its website says it's "a Zionist organization that utilizes sports as a means to bring Jewish people of all ages closer to Judaism and Israel."
It has a multitude of programs focused on Israel and works to "fight BDS."
• Jewish National Fund was founded in 1901 and played a major role in transferring Palestinian land to Israel. It is holding its national conference right now (video here).
Like many of these entities, it has a presence in the U.S. and has acquired tax deductible status.
• American Jewish Committee (AJC), despite its name, is yet another international organization. It has 30 offices around the world in Europe, Africa, Latin America, Asia-Pacifiic, and Israel. It also has numerous regional offices throughout the US.
Note: I posted many articles on How the State of Israel was established and which colonial powers and personalities actively worked toward that plan
Israel immediately started its ethnic cleansing planned in 1935: After the UN unfair partitioned land of Palestine in 1947
Posted on December 3, 2015
Israel immediately started its ethnic cleansing planned in 1935:
After the UN unfair partitioned land of Palestine in 1947
U.N. voted to partition Palestine 68 years ago
In an unfair plan made even worse by Israel's ethnic cleansing
Palestinians were 2/3rds of the population but were offered only 43% of land.
Then, Israel ethnically cleansed it and kept occupying more of the land
Ben Norton , Nov 30, 2015
Enlarge (Credit: United Nations)
68 years ago yesterday, the United Nations voted to partition Palestine, with General Assembly Resolution 181.
The front page of the November 29, 1947 edition of the New York Times read "[General] Assembly Votes Palestine Partition;
Margin Is 33 to 13; Arabs Walk Out; Aranha Hails Work as Session Ends." 
(Do Not confuse with UN resolution to recognize Israel in 1948, by a single vote majority when most States were colonies and Not independent at the time)
(Credit: New York Times)
Why were the Palestinians angry?
Because, for the indigenous Palestinians, the deal was a thoroughly bad one. Palestinians comprised approximately two-thirds of the population, yet were offered just 43% of their land in the deal.
Osvaldo Aranha, a Brazilian diplomat was president of the U.N. General Assembly. Aranha lobbied strongly on behalf of the Zionist movement (a settler colonialist Jewish nationalist political movement that called for the creation of the state of Israel).
He delayed the vote on resolution 181 by two days in order to give the U.S. and other pro-Israel countries more time to pressure U.N. member states to vote for the plan.
Scholar Fred Khouri writes that, in these two days:
"The United States and Zionists led the lobbying efforts of the pro-partition forces. The delegates, as well as the home governments, of Haiti, Liberia, Ethiopia, China, the Philippines, and Greece were swamped with telegrams, telephone calls, letters, and visitations from many sources, including the White House, congressmen, business corporations, and other fields of endeavor. 

As a result of these tremendous official and nonofficial pressures, Haiti, Liberia, and the Philippines finally agreed to vote for partition."
These last-minute changes ensured that resolution 181 would have the two-thirds majority vote needed to pass.
The following is the U.N.'s map of the proposed partition.
The blue areas comprising roughly 57 percent of the land were to be allotted to Jews; orange areas were to be allotted to Palestinians.
Jerusalem was to be left under the governance of the international community, because of its historical and religious importance for numerous religions and cultures.
religious importance for numerous religions and cultures.
(Credit: United Nations)
The Partition Plan was never implemented, however. The very next day after it was voted on, the 1947-1948 war broke out.
In this war, Zionist militias systematically ethnically cleansed large portions of historic Palestine, sacking hundreds of Palestinian villages and expelling more than 750,000 people — around two-thirds of the indigenous Arab population.
Prominent Israeli historian Ilan Pappé notes that, in Israel's Plan Dalet (also known simply as Plan D), "veteran Zionist leaders" created "a plan for the ethnic cleansing of Palestine." They dispatched military orders in March 1948, Pappé explains:
"The orders came with a detailed description of the methods to be employed to forcibly evict the people: large-scale intimidation; laying siege to and bombarding villages and population centres; setting fire to homes, properties and goods; expulsion; demolition

Aand, finally, planting mines among the rubble to prevent any of the expelled inhabitants from returning."
Plan D "spelled it out clearly and unambiguously: the Palestinians had to go," writes Pappé.
"The aim of the plan was in fact the destruction of both the rural and urban areas of Palestine and contain[ed] a repertoire of cleansing methods that one by one fit the means the U.N. describes in its definition of ethnic cleansing."
Palestinians demand an independent State in Palestine: Cannot buy the alternative
The Trump administration has been working hard to establish Israel as the only viable State in the Middle-East to dialogue with. A few Gulf Emirate States have been coaxed to sign a dubious "peace treaty" with Israel, like Abu Dhabi and Bahrain.
The funny part is that the representatives of these 2 semi-States behaved as totally ignorant on what they are signing with Trump.
Egypt and Jordan had signed a treaty in 1974-75 which resulted in countless wars and civil wars in Lebanon, Syria and Iraq.
'NYT' coverage of Trump peace plan news quotes 5 pro-Israel voices, 0 Palestinians
The New York Times covers phase one of the Trump peace plan, an economic "workshop" in Bahrain next month at which the administration is expected to dangle the money it wants to give Palestinians and states neighboring Israel, so that Palestinians will sacrifice their political demands/rights (among them sovereignty on '67 borders; return of refugees; shared Jerusalem)– a figure said to be $68 billion.
The article quotes No Palestinians. (No Palestinian business person will attend this faked "workshop")
It does include quotes from Aaron David Miller, Jared Kushner, Robert Satloff, Treasury's Steve Mnuchin, and Brookings pundit Tamara Cofman Wittes. Five (Jewish) Americans, all five of them strong supporters of Israel. (Mnuchin's background is here.)
Satloff, Wittes, and Miller are all presented as "critics" of the plan, but they are all Zionist critics of the plan. Just different shades of Zionist.(No, not shade. Stauncher Zionists than most Israelis)
Why? This is racism in journalism before your eyes.
The Times clearly has a structural bias against Palestinians. (As all colonial powers' administrations in the last century)
Even as it demonstrates its higher consciousness in other left zones, the newspaper is stuck in the old paradigm on Israel.
How else could a newspaper publish four justifications of the killings of nonviolent protesters inside of a few months, as it did last year in Gaza?
This would never happen in any other context when a government opens fire on demonstrators.
But the Times columnists offered those justifications, in Shmuel Rosner's case almost a bloodthirsty one, and there was no balance, let alone criticism from the Roger Cohens, David Brookses, and Michelle Goldbergs of the world.
Palestinians simply don't count as full human actors.
The Palestinian Prime Minister released a statement rejecting the economic summit today.
He and his cabinet surely were available yesterday. So was Sam Bahour, who writes that Palestine cannot have an economic future without an independent political future, in which construction workers and university graduates will be able to find employment inside a Palestinian state.
Diana Buttu, Saeb Erekat, Hanan Ashrawi (who has been denied a visa to travel to the U.S.), Omar Barghouti, Mustafa Barghouti, Haider Eid surely would have spoken to the Times, too.
Palestine is truly teeming with sophisticated political actors on a wide range who would have something to say about the implausibility of economic peace.
And if the Times says this was an American politics piece, well, there are Palestinians here, too, who have a lot to say.
The bottom line is obvious and disturbing. Palestinians aren't equals.