Posts Tagged 'psychological barriers'
With no roadmap for peace, Israel risks being compared to the old South Africa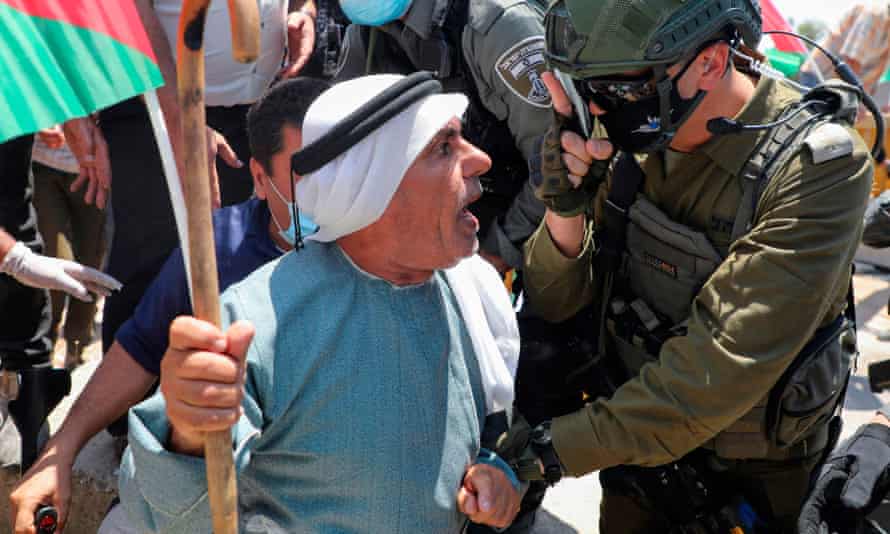 'There is a serious argument about injustices to be had.' An Israeli border guard gestures at a Palestinian protester in July 2020. Photograph: Jaafar Ashtiyeh/AFP/Getty Images
It was a deliberate provocation by B'Tselem, Israel's largest human rights group, to describe the Palestinians in the Holy Land as living under an apartheid regime.
Many Israelis detest the idea that their country, one they see as a "democracy" (that excludes the occupied people from voting and restricted rights) that rose from a genocidal pyre, could be compared to the old racist Afrikaner regime.
Yet figures such as Desmond Tutu and Jimmy Carter have done so. (And thousands other political figures and organizations)
There is a serious argument about injustices to be had. Palestinians – unlike Israeli Jews – live under a fragmented mosaic of laws, often discriminatory, and public authorities which seem indifferent to their plight.
Apartheid is a crime against humanity.
It is a charge that should Not be lightly made, for else it can be shrugged off. Some might agree with the use of such incendiary language, but many will recoil.
The crime of apartheid has been defined as "inhumane acts committed in the context of a regime of systematic oppression and domination by one racial group over any other racial group or groups with the intention of maintaining that regime". (Definition that applies entirely to how Israel laws treats Palestinians)
There are nearly 5 million Palestinians in the West Bank and Gaza, all without Israeli citizenship.
In the West Bank, Palestinians are bereft of civil rights, while Israelis in the occupied territory enjoy the full support of the state.
Hamas won Gaza's election in 2006, but the blockade that Israel imposes means it is in charge.
Egypt has sealed its border, but nothing and nobody can get in or out without Israeli permission.
Meeting the needs of Gaza's growing population, say relief agencies, is at the whim of Israel. About 300,000 Palestinians in the areas formally annexed in 1967 – East Jerusalem and surrounding villages – do not have full citizenship and equal rights.
Last year, the Israeli NGO Yesh Din found that Israeli officials were culpable of the crime of apartheid in the West Bank. Such a finding can only be a tragedy for all, including this newspaper, who wish the state of Israel well.
B'Tselem argues that Palestinians are afforded various levels of rights depending on where they live, but always below Jewish people. The group says it is becoming impossible to insulate Israel from its prolonged occupation project, leading it to run an apartheid regime not just outside its sovereign territory but inside it.
There are about 2 million Palestinian citizens of Israel, a minority under pressure not to antagonise the Jewish majority. Within Israel, discriminatory policies are not difficult to find.
National security is invoked to justify often racist citizenship laws. Jewish-only communities have admission committees that can legally reject Palestinians on the grounds of "cultural incompatibility". A web of land and planning laws squeeze Palestinians into a shrinking space. There are Israeli Arabs whose prominence in society belies the poverty of the majority.
Israel has a problem of historic discrimination. But under Benjamin Netanyahu's government there has been the enactment of the nation state law that constitutionally enshrines Jewish supremacy and a plan to formally annex parts of the West Bank.
Some prominent Jewish intellectuals, such as the writer Peter Beinart, have given up on the idea of a Jewish state. No government formed after the forthcoming election will support genuine Palestinian statehood or have a viable peace plan.
This begs B'Tselem heretical question: what if there is only, in reality, one regime between the Jordan River and the Mediterranean Sea, rather than one political power that controls the territory in which there are distinct regimes? (What is the difference in an apartheid regime and extremist right wing political reality?)
A system of separate and unequal law and systemic discrimination against Palestinians has been justified because it was meant to be temporary.
But decades have passed and the situation worsens. If this is a twilight for democracy and equality in the Holy Land, one can only hope that the night will be short.
Bi-weekly report (4) on Lebanon
Posted on December 12, 2008
Mind you that this article was posted in 2008. Boy, I am so glad that I used to write my diaries since 2005.
A niece of mine emailed me what Natalia Antelava from BBC News in Beirut published on the repercussions of the US financial crisis on Lebanon.  
Antelava summarized the effects "The world maybe in meltdown but Beirut is booming. The country best known for wars, turmoil and instability has not just survived the global financial crisis; it seems to be thriving because of it."
She goes on:
Lebanon's Central bank treasury vaults are full. Cash has been flowing in like never before, Lebanese banks are posting record deposits and bankers say this is the best year in Lebanon's financial history.
Lebanon was prepared. "I saw the crisis coming and I told the commercial banks in 2007 to get out of all international investments related to the international markets", says Riad Salameh, the governor of Lebanon's Central Bank.
Lebanese Banks weren't allowed to take on too much debt and they had to have at least 30% of their assets in cash. They were not allowed to speculate in risky packages of bundled up debts.
And weak banks were forced to merge with bigger ones before they got into trouble. "
"You could have thought they had a crystal ball. It was very wise of the Lebanese regulators not to get involved in all these risky international investments that turned out to be the doom of many banking systems," says Edward Gardner of the International Monetary Fund.
"The system we created has been tested against wars, against instability, against political assassinations. And our sector would be much more developed if Lebanon did not have political and security risks, but it has also induced us to have a conservative reflex because we were always getting ready for the worst case scenario," says Mr Salameh.
But the tight reign on borrowing does not apply to the government.  (A condition that brought the state of Lebanon to total bankruptcy in 2020)
Over the years, Lebanon has taken on loan after loan for post war reconstruction. Today, per capita, Lebanon owes more than any other country in the world.  
On paper this makes it vulnerable, but the political realities of the Middle East mean that danger is unlikely ever to materialize.
"This level of public debt has created serious problems for other countries, but the difference is that there is a perception that Lebanon has friends with very deep pockets who will not let it go down financially," says Edward Gardner of the IMF.
"This was demonstrated in 2006 war with Israel, when both Kuwait and Saudi Arabia were very quick to deposit large sums of money into the Central Bank to help it to remain stable," Mr Gardner added.
But Lebanon could still feel the aftershocks of the credit crunch.  
Every year, thousands of highly educated young people from Lebanon go to work abroad.
With some 12 million Lebanese overseas and only 3.5 million in the country, remittances make up a vital third of the economy. (Currently, there are over 16 millions overseas and above 6 millions in the country and more than 1.5 million Syrian refugees)
The rest of the world is now being forced to sober up after the wild excesses of the global markets, but in Lebanon the party's on.
The Lebanese are a nation of survivors, who have paid a heavy price for the fortunes they are reaping now. (What fortune? Lebanon is Not generating wealth and has no raw materials to export and import most of everything…)
Through their troubles they have learned how to party as if tomorrow will never come, but also, against the odds, how to bank for their future. 
My niece might have felt a displaced pride of that content of the article and I had to reply to her.
I said: "I heard all that since the crisis.  It means only the banks are stable because it mainly loans to the bankrupt Lebanese government at high interest loans. Why our banks would care to speculate any further? (Lebanon has so far borrowed over $65 billions, (that in 2008) or at least four times its NGP, since 1994; a ratio that is still less than the US indebtedness). 
The Dawha (Qatar) political agreement among the Lebanese civil war militia sectarian caste leaders was forced by the rich Arab States, which helped Lebanon's reconstruction after the July war of 2006, to safeguard their investments.  
I doubt that the people/pseudo citizens have experienced any results:
The prices are their highest when all over the world prices have dropped sharply.  We used to have Aspicot (aspirin for children) manufactured in Lebanon; for two months we have no Aspicot; everything is exported to the Arab States.  
The wholesalers import at low prices and sell at prices before the crisis because no prices have ever declined in Lebanon once they increase on rumors only.
I am not fooled and no Lebanese citizen is fooled.  What fortune are the little people reaping?
On the political front, Deputy and General Michel Aoun ended five days of an official trip to Syria.  
The Syrian people welcomed him enthusiastically and he was considered as the civilian Patriarch, not only of the Maronites but also of all the Christians in the Middle East.  
The two people have finally repaired the psychological barriers, (Funny. this term is also used by the western media to describe our enmities with the colonial apartheid implant of Israel) that divided them after 15 years of Syrian mandate in Lebanon.
Most of the inconsequential sectarian leaders in Lebanon felt very small after this courageous openness of Aoun and kept lambasting him even before his visit (they are the mouthpieces of Saudi Arabia).  
The truth is that the March 14 "alliance" does not dare criticize President Michel Suleiman and thus they target Aoun instead.
Former US President Carter is in Lebanon in order to ask for permission to monitor the coming election; he has met with most political party leaders.  Hezbollah did not accord him a private meeting.
President Suleiman is visiting Jordan.  The mouth pieces of Syria have been attacking the Druze leader Walid Jumblatt and claiming that he is getting into one of his lunatic phases and he is no longer a viable entity as a leader of the Druze. (Nothing changed of this description even in 2021)