Posts Tagged 'Rohingya'

Emma Ruby-Sachs – Avaaz
Unsubscribe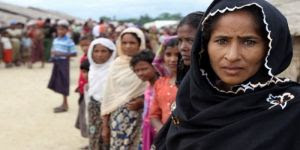 In a few days India plans to delete up to 7 million Muslims from its list of citizens and later throw them in prison camps. This is how genocides begin.
But nearly nobody knows about it! If enough of us raise the alarm now we can get the United Nations and key countries to weigh in and stop it. Join now:
In a few days, India will delete as many as 7 million Muslims in Assam State from its master list of "citizens" because they speak the wrong language and worship the wrong God.Husbands, wives, and children could be torn apart and left to rot in prison camps.

This is how genocides begin – how the nightmare of the Rohingya began.
But it's all unfolding quietly — if we raise a massive alarm calling for the UN Secretary-General and key governments to intervene – we can stop this horror before it starts:
The Assam government has already begun quietly building another new prison camp and deploying troops. 
Like the Burmese regime that attacked the Rohingya, the government claims they're acting against illegal immigrants from Bangladesh.
But the vast majority of the people targeted are just poor, illiterate Muslim citizens without "proper" documentation. They've never needed it before!
António Guterres, the Secretary General of the UN, has pledged to fight on behalf of those who can't: "I will raise my voice. I will take action. I will use my rights to stand up for your rights." We need to hold him to those words because right now the Bengali Muslims in India have no one to speak for them on the global stage — except us. Sign the petition below and together we can stop a road to genocide in Assam:
The rise of virulent Hindu nationalism in India is behind this aggressive move to render millions of Muslims stateless and vulnerable. History teaches us that these movements know no limits except the ones citizens set for them.
Let's draw a line in Assam, and send a message to governments everywhere – we're watching.
With hope and determination,
Emma, Nate, Ricken, Antonia, Flora, Alice, Wissam, Danny and the entire Avaaz team
More information:
More than 7 million people, including 2.9 million married women, asked to prove citizenship as part of massive exercise (Al Jazeera)
https://www.aljazeera.com/indepth/features/assam-counts-citizens-muslims-fear-left-180530080633948.html
Stateless in Assam (The Indian Express)
https://indianexpress.com/article/opinion/national-register-of-citizens-5030603/
Assam CM: No fundamental rights for those failing NRC tests (Times of India)
https://timesofindia.indiatimes.com/india/assam-cm-no-fundamental-rights-for-those-failing-nrc-test/articleshow/62344296.cms?from=mdr
The dark side of humanity and legality: A glimpse inside Assam's detention centres for 'foreigners' (Scroll.in)
https://scroll.in/article/883936/assam-citizens-register-detention-centres-for-foreigners-offer-a-glimpse-of-the-looming-tragedy
With final NRC draft to be released in 20 days, Assam witnessing rise in suicides (NewsClick)
https://newsclick.in/final-nrc-draft-be-released-20-days-assam-witnessing-rise-suicides
Assam seeks 150 companies of central forces ahead of next NRC publication (The Economic Times)
https://economictimes.indiatimes.com/news/politics-and-nation/assam-seeks-150-companies-of-central-forces-ahead-of-next-nrc-publication/articleshow/64394147.cms
Rohingya women face violence, rape by Myanmar troops
50% of refugees to Bangladesh are children
By Shweta Bajaj. 2017-11-18
Rohingya women and girls have faced brutalities, rape and violence at the hands of the Myanmar army as part of a campaign of ethnic cleansing, Human Rights Watch said on Thursday in a report.
Three days prior, on Monday, Myanmar's army released a report denying any allegations of rape and violence by the security forces. However, the women in the refugee camps tell stories of gang rapes, assaults and unimaginable violence.
Rohingya camps are full of young women. According to some estimates, the female refugee population is over 50 percent, with many young men being killed in Myanmar, leaving many women widowed.
Sahera Khatun, 18, is in the final month of her pregnancy. She said, in August, when she was six months pregnant, she was raped by the Myanmar military in the same room as other girls.
"Soldiers entered and shut the door. They first took our ornaments and then raped us. We shouted for a very long time and then girls from our neighborhood came out to save us and then the military fled," she said.
The rape left her seriously injured. She wasn't sure if her child was still alive. Her husband and his friend carried her on a stretcher made of bamboo for 13 days to reach Bangladesh from Myanmar.
"We cannot even fathom the horrors," Khatun said,
New refugees wait for a space to be allocated in the camp. /CGTN Photo
A clinic run by a local Bangladeshi NGO in a refugee camp has just opened. But the doctor here has a tough task; the queue is long, mostly women.
A patient enters and says she was beaten up by the military – her story is not rare.
There are many like her and women face acute health issues. Over the past few months, they've witnessed horrors and suffered physical abuse.
"They are living in unhygienic conditions, taking not enough nutrients," said Sushant Maula Chowdhury, senior medical officer.
"Their psychological and social [conditions] there is very big imbalance and when there is some heart problem with the mental side, the body also follows it."
Dr. Sushant Maula Chowdhury sees a patient. /CGTN Photo
Nuree Begum, 55, lost all her family members in the chaos of the violence – her husband, children and grandchildren.
She walked through forests and swam through a river to reach Bangladesh three months ago and has given up hope of finding them.
"Military was coming from all sides," Begum said, "and there was noise of shooting and bombing."
A doctor who saw Begum said she is a classic case of depression, but she's not alone. She and thousands of other women are suffering from depression and have no will to live.
But for these women, who have lived through injustices, reports and governments are neither important nor relevant.
A look at them makes it clear that recovery for the Rohingya women is a distant dream, and being alive is a miracle.
Note: Just heard that China is stepping in to find a resolution to that human catastrophe. Hoping China will step in in Yemen too
Stranded Rohingya migrants: Moslems fleeing from persecution in Myanmar are not rescued in sea by Indonesia and Malaysia
Finally, after intensive pressures from the world community,
Malaysia and Indonesia have agreed to take in the stranded Rohingya, but need urgent support for financial resources.
We're been witnessing a pattern right now — people around the globe are fleeing persecution with nothing on their backs except hope, only to be abandoned at sea.
Right now thousands of Rohingya muslims could die at sea, but if enough of us ask them to, Gulf leaders can help get them to safety by providing financial resources for rescue missions. Sign the petition urging them to act quickly, then forward this to everyone:
Rewan Al-Haddad – Avaaz

Unsubscribe
Thousands of Rohingya muslims are stranded at sea right now — no food, no water, nothing except hope for survival.
With each wave that rocks the boat, mothers cling tighter to their children, wondering what will happen next. If we act quickly, we can help save them.
Gulf leaders can shine a light into this darkness. (Why? is the liquidity concentrated in these princedoms?)
Malaysia could rescue the stranded Rohingya, but it's costly to run these ships and then provide for thousands of refugees. The Gulf has strong ties with Malaysia, and have the financial resources, while also being committed to protecting muslims worldwide.
With every minute that goes by, families inch closer and closer to death.
In order to escape horrific conditions in Buddhist Myanmar, the Rohingya have been fleeing to Malaysia, Indonesia and Thailand, only to be turned back to sea immediately. With nowhere to go and dwindling supplies, they are stranded and facing their final days.
Many neighbours are reluctant to help the Rohingya, worried about long-term consequences.
But instead of doing this alone, if we get the Gulf countries involved they can share the cost of bringing the families to safety and work together to pressure Myanmar to stop the cruel crackdown on Rohingya, which is the root of the problem.
Malaysia could deploy aid immediately, but they may only move if key allies support them. With hefty investments from the UAE, and having just joined Saudi's military coalition — the Gulf has strong influence over Malaysia. Let's now make sure together they bring hope to thousands of muslims.
This isn't just a plea for muslims to help other muslims. It's a call for humans to help humans. A plea for leaders to use their power and resources to save thousands of innocent people who need our support.
Our community in this region has a unique chance to not just witness this catastrophe unfold, but save lives and hold those who can help accountable. Time is running out.
We're seeing a pattern right now — people around the globe are fleeing persecution with nothing on their backs except hope, only to be abandoned at sea.
We can't sit back and let this happen, and our community was built exactly for challenges like this.