Posts Tagged 'Sherwal'
Le temps retrouvé. Recovering our lost time.
OLJ / Par Georges BOUSTANY, le 09 janvier 2021
Lorsque Samer est né quelques petites années après cette photo, il était déjà trop tard : ce décor avait déjà été détruit, et toute la vieille ville de Beyrouth avec.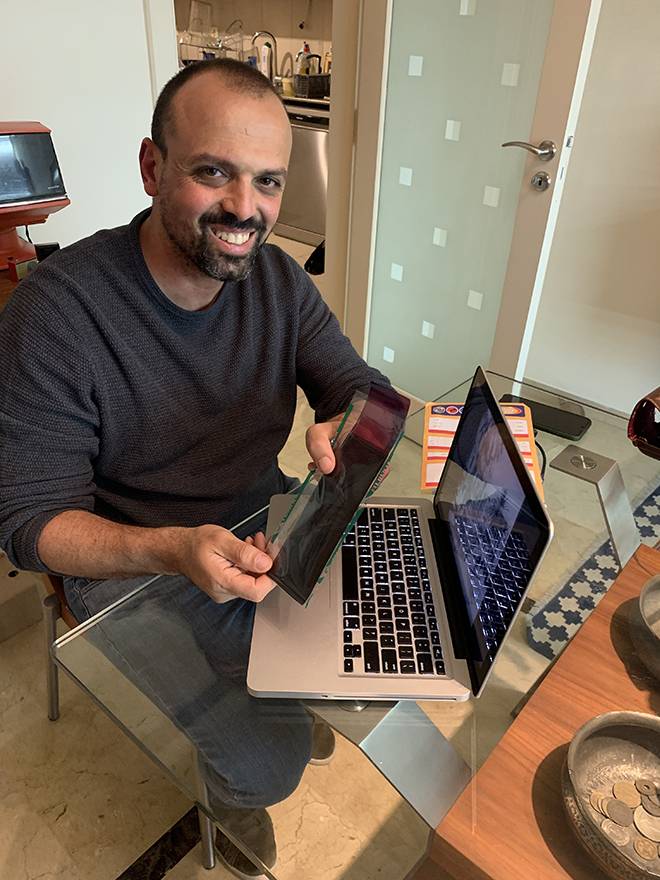 Samer Halwany montrant le négatif rougi par le temps. Collection Samer Halwany
En 2006, il découvre sa première caméra dans un marché du Luxembourg et tombe amoureux de l'esthétique surannée, mais surtout de la mécanique.
Alors que le monde est déjà entré de plain-pied dans l'ère de la photographie numérique, Samer effectue un parcours à l'envers et part à la collecte de ces vieux objets obsolètes qu'il apprend à manier sur YouTube avant de suivre des cours de haut niveau.
En un peu moins de quinze ans, il va récolter 700 objets, et cela va du gigantesque appareil de studio pour plaques de collodion aux petits briquets dissimulant des caméras minuscules utilisées par les espions durant la guerre froide.
L'appartement de Samer est devenu un véritable musée de la photographie : ce n'est pas lui qui a investi cet univers, c'est cet univers qui l'a absorbé corps et biens, et Samer est aujourd'hui un photographe professionnel expérimenté qui forme ses propres étudiants.
Regardez bien cette photographie : elle n'aurait jamais dû exister. Regardez ces personnages saisis sur le vif : n'était la passion d'un jeune collectionneur de caméras vintage nommé Samer Halwany, ils auraient disparu sans laisser de traces, comme tant d'anonymes, balayés par ce qu'on appelle pudiquement les événements.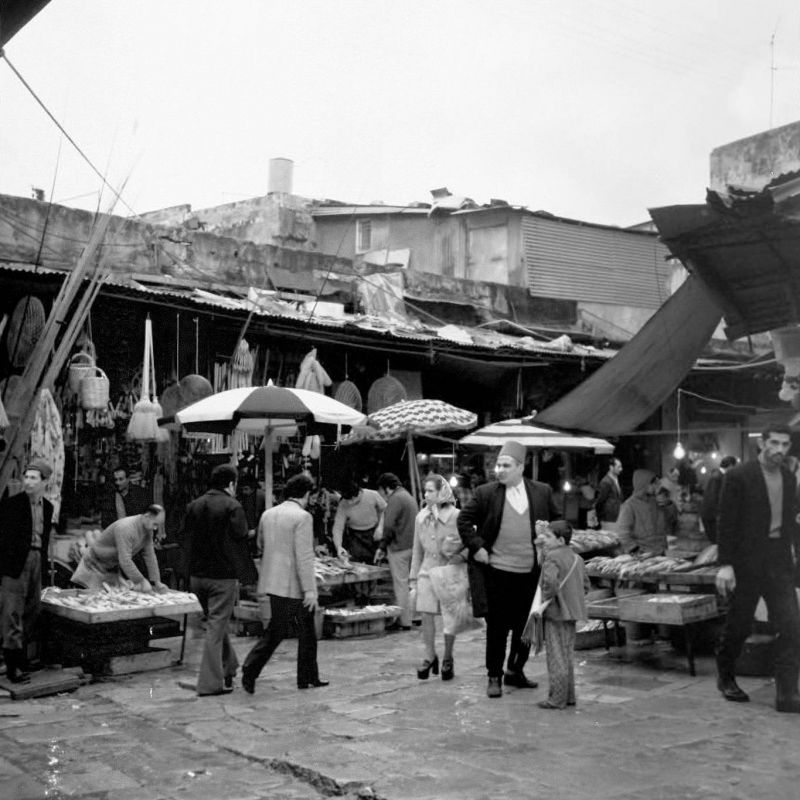 Souk el-Nourieh, hiver 1974-75. Collection Samer Halwany
Tout collectionneur a des anecdotes à raconter, et celle-ci vaut le détour :
Un jour, Samer achète une Rolleiflex T, une des meilleures caméras de son époque, réservée à une élite de professionnels et de connaisseurs. Il remarque que le compteur indique 12 poses. Bingo, il y a un film exposé, mais non développé à l'intérieur !
Ce n'est pas la première fois que cela arrive, mais jamais Samer n'a pu récupérer des images exploitables. Cette fois-ci, il obtient un rouleau négatif comportant douze poses. Un miracle ! Samer croit reconnaître Beyrouth, et en effet, une fois annulée la couleur rouge due à la mauvaise conservation, les photos apparaissent très nettes en noir et blanc.
Elles ont été prises à la place des Martyrs et dans les souks environnants. Le ciel est gris, il fait froid, humide, le sol est encore détrempé de pluie. L'odeur traditionnelle des souks, habituellement composée de poussière, de sueur, de vieux bois et d'objets hétéroclites, est ici rendue encore plus prégnante par l'humidité omniprésente, sur les vieilles pierres, les tissus des tentures, des rideaux, des parasols et sur les vêtements mouillés.
C'est cela Beyrouth : ici se retrouve un peuple bigarré venu des quatre coins du pays.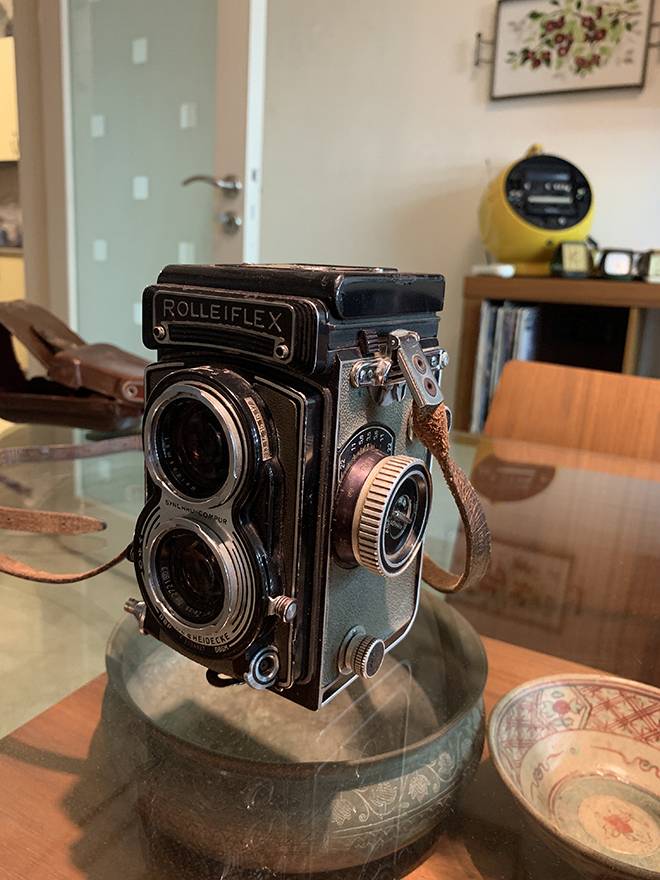 La Rolleiflex dans laquelle le film a été retrouvé. Collection Samer Halwany
Dernier hiver avant le cataclysme
Le photographe inconnu, dont Samer ignore pratiquement tout sinon que la caméra a été vendue par une dame âgée, se tient à une intersection dans les souks.
Nous sommes probablement à Souk el-Nourieh, non loin de la place des Martyrs : ici, l'on vend les traditionnels objets domestiques allant des balais et gants de toilette aux paniers en bambou en passant par les accessoires de cuisine.
Mais aussi du poisson, présenté sur des étals sans échoppe. Les passants sont chaudement habillés, et ces vêtements, on va les retrouver dans les photos des civils sous la mitraille durant la guerre des deux ans (1975-76).
Et pour cause : nous sommes à la veille du cataclysme. Voici, grâce à Samer Halwany, l'ultime hiver du centre-ville de Beyrouth avant quinze ans de guerre : pantalons pattes d'eph, talons hauts pour les hommes, chaussures massives pour les femmes, moustaches latino, favoris interminables, ce sont les derniers moments de normalité avant l'infernal printemps de la bosta qui va, semble-t-il, balayer jusqu'au propriétaire de cette caméra puisque le film ne sera jamais développé.
La luminosité est au diapason de cette ambiance crépusculaire : le ciel est délavé, les ampoules illuminées percent une pénombre sinistre, les regards paraissent inquiets, l'ombre du drame à venir semble déjà s'étendre sur la scène.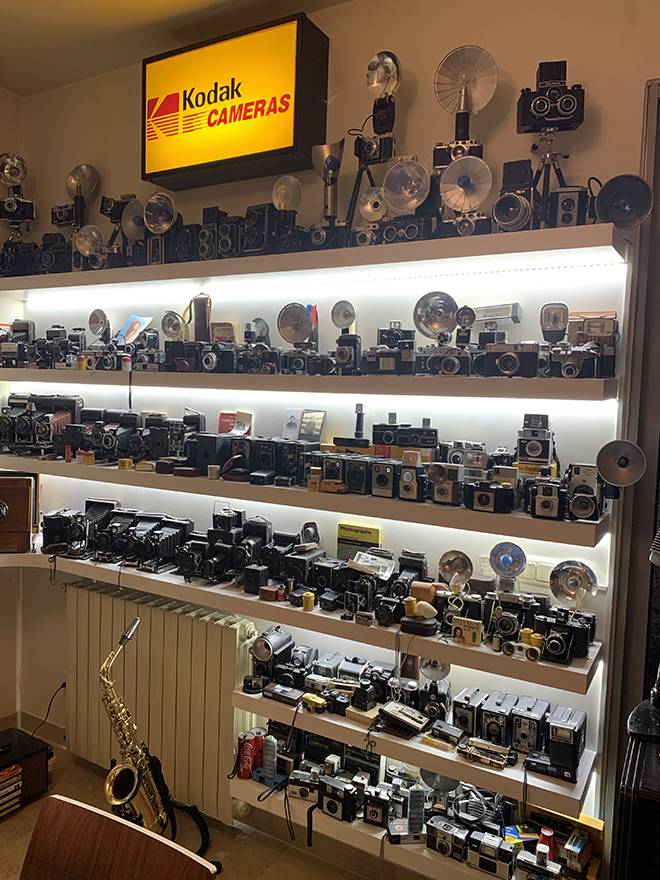 Une partie de la collection de Samer Halwany. Collection Samer Halwany
Qu'a voulu montrer le photographe ?
Une ambiance exotique, peut-être, mais le sujet principal de la photo est probablement le tarbouche.
En 1975, il en restait quelques-uns et celui-ci est curieusement porté par un homme relativement jeune ; le reste de sa mise indiquant une origine rurale. Une dame avec un fichu passe à l'arrière : c'est la seule.
Le reste des acteurs de cette scène d'outre-tombe ne sont que des hommes : ici, le marchand de poissons arrange la présentation de sa marchandise, là se négocie la pêche du jour. Et puis quelque chose a attiré l'attention de quelques-uns, quelque événement se produit à la gauche de la scène, mais nous ne saurons jamais de quoi il s'agit. Peut-être une altercation, ou plus simplement une belle qui passe ?
Dans la même rubrique La filature aux quarante roues
Le reste du décor est un spicilège de décrépitude : les murs sont, au mieux, détériorés, branlants au pire. Les toitures sont faites de la même tôle ondulée que les bidonvilles de banlieue, tout est pauvre, vieillot et décati.
L'on comprend aisément que le projet était de déménager ce souk dans un local moderne sous la place des Martyrs, et pourquoi les combats vont finalement ne faire qu'une bouchée de ce boyau.
Lorsque je lui demande ce qu'elle lui inspire, Samer observe la photo dans un silence réservé. Puis les adjectifs viennent ; ce sont d'abord quelques gouttes et puis une ondée de grêle :
« C'est une ville que je n'ai pas connue. Une ville qui avait une culture et des traditions que nous aurions pu préserver ; il y avait de la vie, il y avait un style de vie, un mélange des peuples. Aujourd'hui, Beyrouth semble aller en marche arrière, tout est désert, tout est devenu superficiel. »
Qu'un jeune homme qui n'a jamais connu cette époque-là en conçoive de la nostalgie, que ce soit lui qui sauve, préserve et diffuse cette photo vouée à disparaître, cela suscite tout de même un certain espoir.
Comme dans les grandes familles déchues, il reste chez nos enfants une petite lumière qu'ils transportent où qu'ils aillent, et qui leur permettra un jour de construire le pays dont nous avons rêvé.
Tarbouch, Gunbaz, and Sherwal municipal election in Lebanon; (May 4, 2010)
Part 2: Municipal election in Lebanon
This article is a follow-up on "Paved decrepit path: Half-cooked literates trailing feudal process" (link in note) describing the current Lebanese municipal election.  The results are in.  I'll report the election results shortly: The results are the least interesting part in the story.
I contend that it is the process of planning, conducting, and following up an election that reflects accurately the mentality behind the political exercises and not the ideology or political inclinations.
For example, a candidate to a municipal election started four months prior to election date to spread his intention to run on a change and reform platform and he ended up following a feudal process.
After four months of preparation, a candidate who explicitly proclaims to be anti-feudalism but implicitly relishes the feudal process and applies feudal attitudes in his practices, can he but perpetuate the feudal political structure? How should you expect the municipal council to function if he is elected?
Feudal process cannot be broken unless a democratic spirit runs the election process of meeting with voters, public assemblies, and asking for input: It is an educational process for people to gain confidence in their individual potentials and be encouraged to offer opinions, suggestions, and determination to participate.
So far, municipal election in Lebanon is trailing exactly the feudal process, either out of ignorance of the mechanisms to running campaigns differently or, most likely, because of a deep-rooted traditional sets of behaviors that economic and political structures were designed to enhance archaic processes.
The two reasons go hand in hand since they are intrinsically linked to blocking meaningful changes in social political behaviors. Ideas do not change political systems; incremental and patient practices to changing individual behaviors do.
Briefly, a few candidates come forward as "leaders" to form lists of candidates to the council from among the various families or clans by projecting a feudal image; you get this feeling that if they wore the tarbouch, the sherwal,  and the gunbaz (outdated traditional attires of  respectively hat, XXXL loose pants, and robe) then you are transplanted into the 19th century.
One of my cousins is a supposed leader of a list; he didn't deem it appropriate to pay me a visit and expose his intentions or ask for my opinions.
Actually, no one of the other three lists of candidates contacted me by any medium. You might think that they are respecting my seclusion or recluse life style (a mile away from hometown) but that is not correct.
The real reason is they all believed that I am in the "bag" of one list on clannish affiliation and that in a feudal system I am not supposed to be a reflecting individual who may change his mind.
In the mind of this "tarbouch" cousin, election is mainly technical exercises of "pointage" (voters in the bag and voters definitely opposite) and selecting half-cooked literates, similar to his mentality: Intellectuals are considered nuisance.
In the mind of this tarbouch cousin, intellectuals are just good to extend flatulent suggestions with no zeal to back opinions up on the field. My tarbouch cousin has a mindset that he is an expert psychologist and can judge people from the first glance:  you are either an ass-moving helper or just a vote in the bag due to clan affiliation.
I'll label the three lists of candidates with feudal images; list of the Tayyar is the Tarbouch list, the list of the Kataeb the Sherwal list; and the list of the current and former mayor that is supported by Deputy Michel Murr as Gunbaz list.
The head of candidates in the Gunbaz list obtained 1,375 votes with a median of 1,050; the head of the Tarbouch list got 1025 votes with a median of 850; the head of the Sherwal list snatched around 850 with a median around 625.
Rumors are circulating that the four operators or keys or (mafateeh) in the Sherwal list were sold out to the Gunbaz list: they called up the troops of clans waiting for the last moment to vote as prices for the clan increased.
Rumors are spreading that about $600,000 were spent by the Gunbaz list on this election, mainly buying votes in the afternoon.
One female candidate in the Tarbouch managed a breakthrough (khara2t el lista).  It is evident that at least four candidates in the Tarbouch could have made it if they focused on the election campaign and luring voters instead of throwing early Victory celebrations a week ahead of Election Day.
Feudal system is a dangerous trap that most educated and highly cultured people fall in the process, simply by moving with the tide of clannish affiliations.
One of these cultured individuals did exactly what feudal mentality demands.  I had spread the news that I am not voting and had refrained to giving ride to my folks to the voting booths early morning. The Tarbouch strategy was to coax all its supporters to vote early morning in order to "saving their souls" from being purchased by the other deeper pockets lists.
By 3 pm, the cultured friend called me up and asked the favor of voting for at least his brother and one of his friend candidates. He said that I should do it by principle.
Paradoxically, I am the one to put forward this term "by principle" because the two candidates never contacted me and had considered me a non-reflecting person not worth talking to.  In the mind of my cultured friend, "by principle" meant obeying the clannish custom "I am with my brother against the others no matter what".
Sadly, it never came to my cultured friend's mind to ask the reasons for my reluctance and, worse, he didn't care: His response felt like a kind of blackmail of either vote for my friend or consider 55 years of friendship as erased!
If I was not a stubborn guy who never misses his right of voting, I would have decided to decline voting altogether.
In Election Day, voters should be left to their conscience to vote; campaigning is done before Election Day.
Calling at 3 pm on Election Day on someone to vote is unseemly, and very displaced; this behavior should be left to feudal practices buying voters as the "price is right".
I did vote and I included also the six women running on the three lists just to even out the odds.  I am glad to announce that three women are in the council this time around.
Another funny fact.
My brother-in-law heard my mother saying that I am not going to vote. He got hot and lectured me on the necessity of voting as my most undeniable and valuable rights.  After coming from church, he brought with him a pamphlet that the Bishop was distributing urging Christians to vote; he insisted that I read the pamphlet as confirmation of his position; neither I nor his eldest son paid much attention to the leaflet.
The new "global internet cultured" generation are focusing on issues of civil marriage, lowering voting rights to the 18 year-old, safe driving, and an ecological Lebanon. Basically, the most needed fundamental reforms.
Most candidates want change wearing the attitudes, posturing, and practices of the Tarbouch feudal.   I am in the dark as to why this municipal campaign was necessary: it was not a political campaign in my hometown; it was not even a campaign, period.
The entire exercise was that one list wore a tarbouch and the other one a gunbaz.
The result is the same in performance in the municipal council for either winners.
I had to be harsh:  I can no longer suffer this farce to be prolonged indefinitely.  Someone has to come down and do investigative reporting to clarify issues, which are as if they are the best kept secrets.
Everything can happen in Lebanon; even election on Constitutional date this time around.
Note: You may read Part 1 https://adonis49.wordpress.com/2010/05/02/paved-decrepit-path-half-cooked-literates-trailing-feudal-process/
Tags:
"tarbouch" cousin
,
adonis49
,
ass-moving helper
,
change and reform platform
,
democratic spirit
,
Election Day
,
farce dragged on
,
Gunbaz
,
Half-cooked literates
,
Half-cooked literates trailing feudal process
,
Human Factors
,
humor
,
khara2t el lista
,
mafateeh
,
municipal election in Lebanon
,
Paved decrepit path
,
perpetuate the feudal political structure
,
pointage
,
price is righ
,
reflecting individual
,
Sherwal
,
Tarbouch
,
This farce has dragged on too long
,
Victory celebrations
,
writing