Posts Tagged 'Syrian refugee camp'
Do you remember ex-British PM David Cameron?
Why did he visited a Syrian refugee camp in Lebanon in 2015?
Was Cameron trying to save his position as a compassionate leader? 
No, his purpose is to establish the Syrian refugees in Lebanon for the long term.
Actually, the Lebanese didn't receive any foreign aid to care for the refugees, although one third are below the poverty line. The refugees get electricity for free and education for free…while most Lebanese are even denied places in public schools.
I'm at a refugee camp in Lebanon, hearing some heartbreaking stories. British aid is doing so much to help.
The visit was meant to bribe and warn the Lebanese government to elect a President who is willing to sign on the settlement of the Syrian Refugees in Lebanon proper.
More than 1.5 million have already flocked into Lebanon and the number is increasing and represent one third of Lebanon population.
Cameron has aided Lebanon with a mere $50 million (in the last 3 years) to educate the Syrian kids in Lebanon.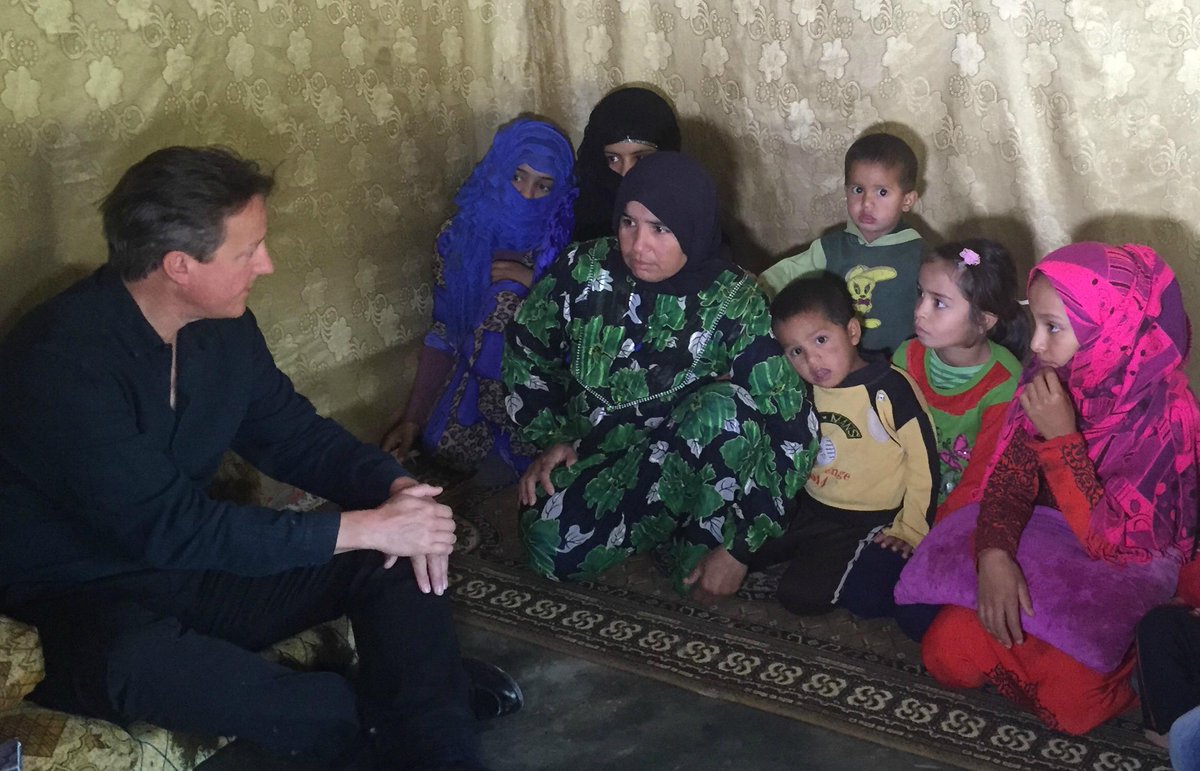 I don't care if you ignore everything I post as long as you watch this interview with a Palestinian mother from the Yarmouk refugee camp in Damascus
"Take my kid to Germany", a mother's plea for her daughter to be taken to safety http://trib.al/wemw2P6
 StepFeed posted
Thanks for the attention bro, but maybe next time you come to the Middle East focus on refugees and not your image back home?
British PM talked a lot of talk – but he was basically just talking to himself and voters back home.
stepfeed.com
|
By 
Jason Lemon
With the mission of "inspecting" the refugee situation, everyone breathed a sigh of relief knowing the British were here to save the day.
Never mind the fact that the UK has pledged to take only a tiny percentage of the millions of refugees.
But when you see these photos of Cameron sitting with refugee children, don't you almost forget that fact?
Doesn't it almost seem like this man cares about their plight despite the fact that he is actively working to keep them out of his country?
Well, friends, don't be fooled by the photos. Its all one big PR stunt.
As the Independent reported, Cameron's visit to a makeshift refugee school was all staged.
Although it was reported that Cameron simply "dropped by" a classroom of students, he actually dropped by a prearranged group of refugee children. The "teacher" wasn't even their teacher.
Of course, Cameron wanted the folks back home – and the world – to see a caring leader, descending to meet the poor refugees face-to-face.
Good show sir, good show indeed!
What's that? You think we're being too harsh?
Sorry for the honesty, but we think he can take it.