Posts Tagged 'Syrian refugees'
So many essential reforms to be done in Lebanon. Where to start?
I can't wait for the new generation of artists, performers, directors to start producing work that tackle our current problems and challenges in this country.
I understand that civil war is something one cannot just forget (after 33 years), it's traumatic, it's loosing your loved ones, and having to kill to save them. It's living in fear, and it's being alive today by pure chance.
That said, we're facing different problems and challenges today. Here's a list of what I feel we should talk about, instead of war:
The garbage crisis to start with. (Never solved or resolved and becoming a calamity)
The fact that the whole country is becoming a city. Antelias was actually a village not long ago. My village, which is pretty far from Beirut, is now a city (and I still call it my village
How much kids are spoiled these days. How little time parents spend with their children, thanks to the underpaid domestic migrant workers.
Domestic migrant workers, oh… that's a whole world of problems and challenges. (Suicide, assassinating family members, fleeing to bordellos…)
Political corruption. Homophobia. Patriarchy, where in our most progressive societies, women are still expected to prepare dinner to their husbands although they both have day jobs.
Christians and Muslims still referring to each other as us and them.
Syrian being still looked down upon: we have banners in some villages announcing the illegality of migrant workers to walk on the streets after 7pm.
Public transport. Sexual harassment in public transport.
Unprofessional behaviors. Mediocrity (this one should be on top of the list for me). And mendicant little kids
Homelessness, something we almost didn't see in Beirut a couple of years back.
Overpopulation. Traffic. Pollution. The lack of urban planing.
The stigma of divorce. The stigma of mental sickness. Backwardness.
The normalization of plastic looking women. The pathetic standard of local series…
There you go. My list of subjects, other than war, that I would like to see addressed in a play, dance performance, movie, exhibition, book.
And that's not even an exhaustive list.
Other people commented
Lebanese women not being able to travel alone with their children without the father's permission.
Lebanese women not able to pass on their nationality to their children.
Lebanese women not getting custody for their children after divorce.
Personal status laws for different sects instead of one civil law that gives us all the same rights.
You forgot the new set of taxes that still adopt Stamps (Mireh), high level of indirect taxes, our currency linked to the $ and hampering our economy, the sustained increase of our sovereign debt in order to make banks richer at our expense by transacting T-Bills, tradition of finding someone in the village to pay allegiance to and be servile in our behaviors…
The financial banks in Lebanon want the 2 million Syrian refugees to stay for as long as it is possible: the foreign financial aids keep the currency "stable".
This linkage to the $ is costing us an arm and a leg and hampering our economy.
Note: All our militia leaders during the civil war are in power and in charge of our "destiny", and they claim there were no Victors.
This flatulent young Saudi prince wants Syrian refugees to remain in Lebanon
Otherwise, Lebanese in Saudi Arabia and the Gulf will be expulsed?
Mohammed ben Salmane menace le Liban
Le prince héritier d'Arabie saoudite a menacé les dirigeants libanais d'expulser des milliers de Libanais résidant des pays littoraux du golfe Persique.
Selon Fars News, Mohammed ben Salmane prince héritier d'Arabie saoudite a averti que si le gouvernement libanais essayait de faciliter le retour de réfugiés syriens dans leur pays, Riyad expulserait des milliers de Libanais résidant à l'étranger.
Pour ce dernier, la non expulsion de réfugiés syriens du Liban est à l'origine de l'absence de tout conflit interne au Liban, d'autant plus qu'il y a toutes les raisons pour une telle guerre et que certaines parties du gouvernement libanais sont directement impliquées dans des conflits à l'extérieur du Liban.
Ben Salmane a envoyé, via le Premier ministre Saad Hariri, un message au président de la République Michel Aoun et au président du Parlement Nabih Berri, dans lequel il a menacé qu'en cas d'expulsion de réfugiés syriens,  les Libanais dont le nombre s'élevait à un million, seraient renvoyés des Émirats arabes du golfe Persique.
« Si cet un million de Libanais se voient expulsés des pays du golfe Persique, qu'est-ce que vous allez faire avec ces gens qui ont de la rancune envers vos politiques ? », a dit ben Salmane à Saad Hariri.
Il a également prétendu que Beyrouth n'avait dépensé aucun sou pour les réfugiés syriens et que tous les frais de leur éducation, alimentation et résidence avaient été assurés par des institutions caritatives de l'ONU.  (And why Saudi Kingdom refused to aid financially? Or even accept Syrian refugees?)
Cette information a été publiée alors qu'en vertu d'un accord de cessez-le-feu entre le Hezbollah et le Front al-Nosra (rebaptisé Front Fatah al-Cham), quelque 9, 000 hommes armés et réfugiés syriens devraient se déplacer, ce mercredi 2 août, à Idlib, dans le nord de la Syrie.
One village in Lebanon is hosting more Syrian refugees than the entire United States
KETERMAYA, Lebanon — There is a small village in the mountains of Lebanon that is hosting more Syrian refugees than all 50 US states combined.
Situated at the southern end of the Mount Lebanon range, Ketermaya is a quiet little place surrounded by patches of farmland. Much of the traffic in the area goes to and from a nearby cement factory.
It isn't a particularly wealthy town, but the residents here have taken in thousands of refugees fleeing the war in Syria.
"We have a history of welcoming refugees," says Ali Tafesh, a local business owner. "In 2006 we did the same," he adds, referring to the displacement of people caused by Israel's invasion of southern Lebanon that year.
Tafesh has done more than most. When Syrian families started to arrive in the town in the early days of the civil war, he arranged housing for them. When there were no more places left to stay he offered up his own land.
"We built the first tent for two families. Then more people came and we built a second, and then it just kept growing," he says.
The International Organization for Migration (IOM) says more than 350,000 migrants were detected at the EU's borders between January and August of this year, compared with 280,000 for the whole of 2014. The organization says that many more went in undetected.
European leaders have struggled to find a coherent solution to a worsening refugee crisis within its borders. Germany has led the way, promising to take in half a million refugees annually over several years. Hungary, meanwhile, is in the process of introducing harsh new laws that would target migrants and rushing to build an anti-migrant fence on its southern border.
The US has resettled 1,500 Syrian refugees since war broke out in 2011 (the small village of Ketermaya hit this number in July 2014), and aims for that number to reach 5,000 by the end of the year. President Barack Obama announced on Thursday that he had ordered his administration to prepare for double that number in 2016.
Aid agencies have said this is not enough: Oxfam America had been calling for the US to resettle 70,000 Syrian refugees.
But compared to the crisis facing Lebanon, the numbers reaching Europe are a drop in the ocean.
A warm welcome
There are currently more than one million registered Syrian refugees in Lebanon (the actual number of refugees is thought to be much higher). If you include the estimated number of unregistered refugees, Syrians now account for more than a quarter of the country's population. The Chouf region, where Ketermaya is located, is hosting nearly 60,000 refugees.
In some areas, the influx has put a strain on the local population as they now have to compete for jobs and resources with a greater number of people.
There are no official refugee camps in Lebanon. Instead, refugees are scattered across the country and make their home on whatever land they can find. Some make arrangements with landowners before building their shelters. Others build and then wait for their landlords to arrive, asking for rent.
Tafesh hosts 330 Syrians on his one-acre plot — a stony patch of land on the side of a hill, with olive trees scattered in between makeshift tents. At his own expense, he built a toilet and installed running water into the camp.
He doesn't charge the residents of this camp, but people like him are in the minority. Most refugees pay rent to landowners, even when their accommodation is little more than a wooden shack.
"I wasn't using my land for business purposes so I could afford to let people stay here. Others are not so lucky," says Tafesh.
The crisis is visible all over Lebanon. Mothers beg on the streets of Beirut with their children in tow; others sell their wares by the side of the road. In the north and east of the country settlements are built by the side of the road.
Most of these settlements exist at the mercy of the elements. In the winter they are bashed around and sometimes destroyed by storms, and in the summer they are often too hot to bear staying inside.
https://instagram.com/p/7aW3aNyEc9/embed/captioned/?v=4
'No other choice'
While some Syrians are making the journey to Europe, others do not have the money or other means to get there. Many of those who fled to Lebanon did so because it was the only option open to them.
Sihan left her hometown of Qusayr with her husband and four children in 2013, after their house was destroyed in a government airstrike. She pulls back the hair of her young son Muhammad to reveal a small scar on the side of his head made by the explosion.
"We have no other choice but to be here," she says. "We are sitting here with nothing. My husband is not working so we have no money for rent. It's hard in the winter and in the summer."
More from GlobalPost: The refugee from Homs who can't afford to feed his family 
The UN is currently facing a funding shortfall that means refugees here barely have enough to survive on. Sihan and her family receive $13 per person per month from the UN for food, and often it won't last two weeks.
"Thank God we have this tent," says Sihan. "Lebanon is not able to look after its own people, how are they going to look after Syrians as well?"
Despite the miserable living conditions for refugees in Lebanon, not everyone wants to go to Europe.
Ahmed, an Arabic literature graduate, came to Lebanon from Damascus suburb of Ghouta three years ago, bringing his wife and two children.  He and a few other camp residents built a school among the tents and now he teaches the children in the camp.
"I don't want to go to Europe," he says. Even if someone says I can go I don't want to."
He says that going to Europe would make it less likely he would return to Syria one day.
"Everyone loves their country. If the bombing stopped I would go back home. I am here because I want my children to be safe."
Employment prospects are dim for the camp's residents. Sihan's husband Ibrahim can earn $20 a day working in construction, but the work is irregular.
Save the Children was running a school in the area which recently ran out of funding. It is to reopen soon, providing full time education for children up to the age of 12.
A dangerous journey
Sihan and Ibrahim say they have thought about going elsewhere, but wonder where they would get the money to move.
When asked if Gulf countries should do more to help Syrian refugees, Ibrahim replies: "In Kuwait, they have big parties with fireworks. The amount they spend on that could feed the Syrian population."
The couple would like to go to Europe, but they fear the journey is too dangerous.
"We would go if we thought it was safe. We don't want to get thrown out of a boat," says Ibrahim.
The whole family is weary from their ordeal. They entered the country illegally by traversing the anti-Lebanon mountains on the border with Syria.
Sihan, it seems, would like to wait a little while longer before making another arduous journey.
"We came over a mountain to get here. We are not ready to do it again."
More from GlobalPost: A harsh winter for Syrian refugees in Lebanon 
Taking Jewellery From Syrian Refugees
Denmark vows to strip refugees of their valuables to help pay for the cost of resettlement. Weddings rings are off limits.
As if refugees needed yet another reason not to want to resettle in Denmark after the country placed "Don't come here" ads in Arabic newspapers over the summer, now the country warns it will strip immigrants of their valuables.Barbie Latza Nadeau published:

The latest anti-refugee sentiment came closer to reality on Sunday when Denmark's parliament debated a measure that would allow border police to strip incoming refugees of all valuables and cash worth over €300 to help offset costs of resettlement, according to Swedish STV television.

After some discussion, the Danish government apparently decided that refugees could keep their wedding rings, cellphones, and laptops in the measure that will eventually go up for a vote.

At least one Danish parliamentarian reportedly insisted that wedding rings with a diamond over a certain carat weight should also be confiscated.

Sören Pind, Denmark's immigration minister, told Danish television that the plan was the only way the country could afford to house the refugees seeking asylum.

"I'm talking about a situation in which there are personal items of significant value but no sentimental worth,"

"I'm talking about a situation in which a man comes along with a case full of diamonds and asks for protection in Denmark. That's only fair."

Fair, perhaps, in that strange world in which theft is OK.

The measure, whether it eventually passes or not, raises the question of whether certain European countries really think it is OK to repeat the Nazi approach to immigration, during which the confiscation of valuables was the practice.

Apparently that's the playbook Denmark is using.

"It is unacceptable for Danish taxpayers to pay for asylum seekers who brought wealth with them," Naser Khader, the Danish Conservative Party's integration commissioner, said, according to local press reports.

(Anything over 300 Euros is considered wealth?)

If the unthinkable measure really does pass, it remains uncertain just how the Danes would implement it and who would determine whether refugees passing the borders were wearing real or knock-off jewelry.

In an op-ed piece about the plan, one Danish journalist questioned the sanity of the ruling class.

"Having armed men indiscriminately seize refugees' personal belongings doesn't strike me as the best representation of a free society," wrote someone using the pseudonym Soverign Man. "Not that this matters anymore."

Denmark has promised that any of the 13,000 asylum seekers who are eventually granted a right to stay will be forced to live in segregated tent camps erected in two tent cities and that they will defy European standards and triple the normal waiting period for family reunification as a further deterrent.

Not all Danes agree with the government plan.

Writing on his Facebook page, Green Party leader Uffe Elbaek said that wealthy refugees probably wouldn't be knocking on Denmark's door.

"If you have a suitcase full of diamonds, you would choose a better form of transport than across the Mediterranean, putting your life at risk," he wrote. "Refugees bring nothing more than the few personal belongings they can. Are these really the things we want to take from refugees in Denmark? I don't know whether to laugh or cry."

Note: I share the opinion that "The measure, whether it eventually passes or not, raises the question of whether certain European countries really think it is OK to repeat the Nazi approach to immigration, during which the confiscation of valuables was the practice."
Another Without Borders association: Clowning for the refugee children around the globe
Sabine Choucair shared this link
Tim Cunningham is running some more barefoot marathons to support the powerful work of Clowns Without Borders.
" This race is last minute, this fund raiser is last minute, the fact that thousands of families are having to pack their belongings, last minute, and leave their homes in Syria to survive a senselsess war is beyond comprehensible".
Clowns Without Borders-USA is sending a team of clowns ( Molly Rose, Clay Mazing, Luz Gaxiola and myself) to perform for Syrian refugees as they await transport from Greece to a safe place.
We stand in solidarity with them.
Donate Believe in Laughter!
You can be a meaningful part of our work by supporting us financially.
We are funded almost entirely by individual donations.
Participating artists all volunteer their time.
They do the majority of the fundraising for project…
Visited Lebanon, to save self, not refugees: David Cameron
I'm at a refugee camp in Lebanon, hearing some heartbreaking stories. British aid is doing so much to help.
The visit was meant to bribe and warn the Lebanese government to elect a President who is willing to sign on the settlement of the Syrian Refugees in Lebanon proper. More than 1.5 million have already flocked into Lebanon and the number is increasing
Cameron has aided Lebanon with $50 million (in the last 3 years) to educate the Syrian kids in Lebanon.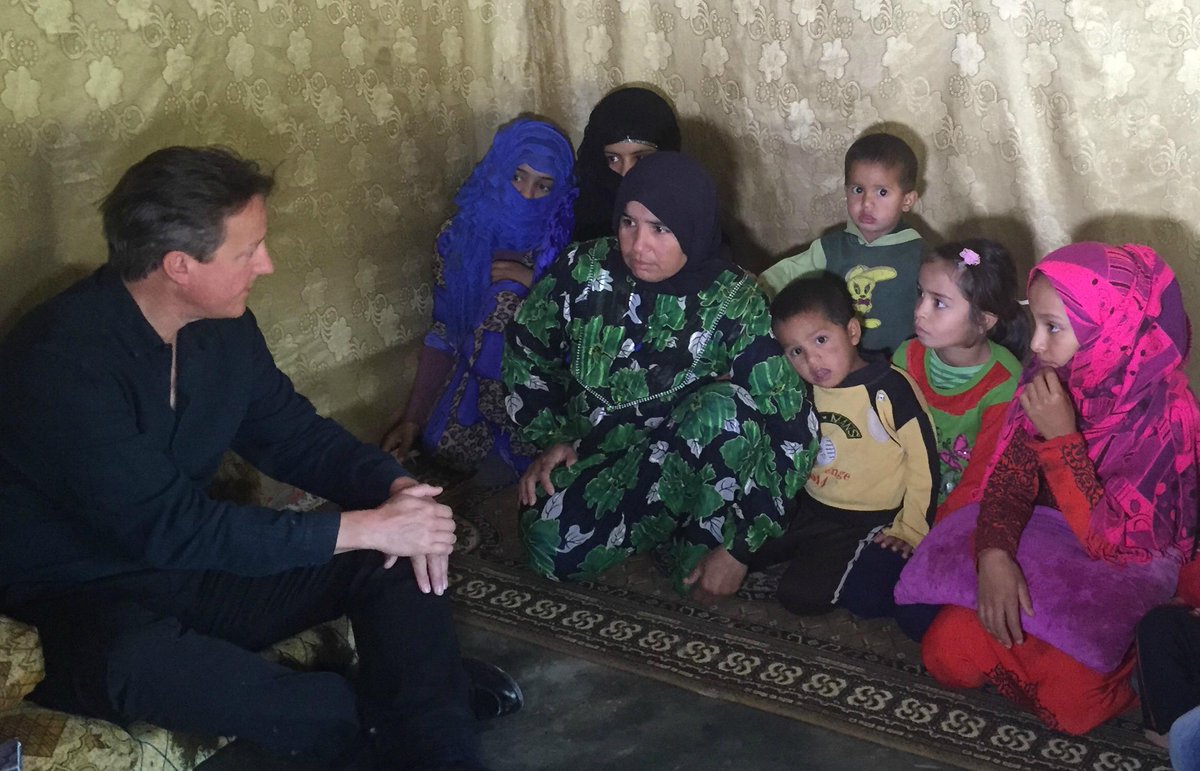 I don't care if you ignore everything I post as long as you watch this interview with a Palestinian mother from the Yarmouk refugee camp in Damascus
"Take my kid to Germany", a mother's plea for her daughter to be taken to safety http://trib.al/wemw2P6
 StepFeed posted
Thanks for the attention bro, but maybe next time you come to the Middle East focus on refugees and not your image back home?
British PM talked a lot of talk – but he was basically just talking to himself and voters back home.
stepfeed.com
|
By
Jason Lemon
With the mission of "inspecting" the refugee situation, everyone breathed a sigh of relief knowing the British were here to save the day.
Never mind the fact that the UK has pledged to take only a tiny percentage of the millions of refugees.
But when you see these photos of Cameron sitting with refugee children, don't you almost forget that fact?
Doesn't it almost seem like this man cares about their plight despite the fact that he is actively working to keep them out of his country?
Well, friends, don't be fooled by the photos. Its all one big PR stunt.
As the Independent reported, Cameron's visit to a makeshift refugee school was all staged.
Although it was reported that Cameron simply "dropped by" a classroom of students, he actually dropped by a prearranged group of refugee children. The "teacher" wasn't even their teacher.
Of course, Cameron wanted the folks back home – and the world – to see a caring leader, descending to meet the poor refugees face-to-face.
Good show sir, good show indeed!
What's that? You think we're being too harsh?
Sorry for the honesty, but we think he can take it.
Illustrated stories of women refugees from Syria
Stories and images of Syrian refugees from Concern Worldwide. Amazing illustrations.
Thank you Hanane Kai and Masha Hamilton.
Support Concern's Syria Response: Donate Now.
In 2014, Concern traveled to northern Lebanon to hear the stories of Syrian women who fled their homes for…
In 2014, Concern traveled to northern Lebanon to hear the stories of Syrian women who fled their homes for safety. While we conducted lengthy interviews, Lebanese artist Hanane Kai illustrated the harrowing tales of six women refugees currently receiving support from Concern.
According to the latest numbers from the United Nations High Commissioner for Refugees, 50.5 percent of refugees from Syria are women or girls. Like the men, they fled their homes under extreme pressure, having witnessed or experienced violence. Often,  they were responsible for small children, or even newborns.
The six women whose stories are below were ripped from stable families and full lives. Carrying little beyond their memories, they made unthinkably long and treacherous journeys for refuge that was neither promised nor certain.
Fedaa
Fedaa is a divorced artist and mother of two girls.
While most refugees arrived in Lebanon with nothing save the clothes on her back, she brought a number of her drawings and diaries, as well as an empty package of Kent cigarettes. The pack had belonged to her brother, Mustafa.
The two were extremely close from childhood on. Together, they chased chickens and played games, and later he later taught her to smoke. He was part of a group that rescued people from buildings bombed by the regime.
He was killed in a mortar attack. She's never been able to visit his graveside, as it is located in an area that was too dangerous for her to visit. She showed visitors the cigarette pack and said she continues to imagine he will appear one day at her door.
Amina
Amina had just given birth by C-section a few days earlier when it was announced from the village mosque that everyone should flee immediately because the village, thought to be a center for "rebels," would be bombed.
Most of the men had already fled to avoid arrest. Amina watched the women trudging into the hills with their children, but she didn't know how she could make the trip with disabled Taghrid, a newborn, and four other small ones. She began to hit herself, telling herself to think harder.
Then she realized, she had to save who she could. She had to leave Taghrid behind. She pulled her baby into her chest, told the four others to follow close, and said goodbye to Taghrid. She began to leave. And then she realized she couldn't. She returned home, carried Taghrid onto the lawn that had once been a place of childhood games, and sank down to cry, sure she and her children would die that night.
Luckily the village was not bombed overnight, and the next morning, her brother arrived to help the family escape.
Farah
Farah's husband had already fled to Lebanon but she didn't want to leave Syria; she loved her homeland and didn't want to be a refugee.
However, after she argued with a soldier who shot one of her cows, soldiers began routinely entering her home, turning over furniture, throwing dishes on the floor and generally harassing her. Finally, her daughter, so frozen by fear, stopped speaking at all, so she decided to make the trip.
She came from a well-to-do background; she set out at 4 a.m. one morning in low heels and a nice dress, her daughter clinging to her back and her son at her side. She didn't realize she would have to walk all the way. She didn't get to Lebanon until 25 hours later. She was exhausted, her shoes long gone, her dress in shreds.
Her daughter spoke her first words in a week on the trip; when they saw a soldier, the girl said, "If you are going to shoot my mama, shoot me."
Alaa
After her village began to be bombed, Alaa's husband and the other men decided to dig caves into the mountains and move their families there: forty women and children per cave, spending most of their hours within its confines.
Even the children bit back the impulse to play in the fresh air — especially when they heard planes overhead. Her kids — all the kids, in fact — began talking about nothing save weapons and war. They screamed and threw themselves onto the ground at the mere sound of an airplane.
At first, the men brought their families cracked wheat and water for sustenance, but then the food began to run out. Alaa and her children began to eat grass to survive.
Eventually they sold everything they had and raised the $2,000 needed to pay their way across the border.
Fadwa
Fawda, born crippled, lost her leg to gangrene as a schoolgirl. But her parents taught her to never to feel sorry for herself. She never imagined she would marry so she made sure she was well educated and got a good job.
Then she did meet someone at her cousin's wedding. They talked by Internet for a couple years as good friends, and he proposed. Now she has two children.
She decided she had to have the strength to leave Syria, leaving her beloved parents behind, after her home was shelled; her daughter's room was hit but the girl was fine. She stressed that being disabled—like being a refugee—is more a state of mind than a physical state.
Asia
Asia and her husband ran a market from home, and Asia was a guiding light in her community on issues of childcare and cooking. One Friday in March, with two feet of snow on the ground, Asia was boiling ten gallons of milk to make yogurt when a loudspeaker warned villagers they would be shelled before two hours had passed.
"We didn't even lock our front door," Asia said. "We ran out within 15 minutes. People were like ants, walking in the snow." That night, the family slept in a mosque about seven miles away —but not far enough to be out of the range of the shelling, which they heard.
After the fourth night in the mosque, she decided to go look once more at their home, though they'd been warned more shelling was likely. It was a difficult visit. Theirs had been a two-story home, spacious and comfortable. Now nearly everything stood destroyed.
The only item she found intact was a wall clock that a relative had given them as a wedding gift years—a lifetime—earlier. She tucked it under her arm, never looking back. Now it hangs in her refugee shelter.
*Names have been changed for the safety of those interviewed.