Posts Tagged 'World Vision'
I don't think: I suspect
I don't reflect: I am Haunted
Adult have no idea how they managed to learn anything in childhood. And yet, they barely apply the best ways to learn and understand, the ways kids learn.
Fiction or the real false stories and events precedes our comprehension of reality: Fiction stories allow us to access reality.
Even the literary genres labelled "real stories" or autobiography are mostly fiction and the protagonists must have said: "What? In my wildest imagination I never contemplated that this will happen to me..."
Sleep dreams might have the job of "recomputing" the default values in your world vision.
Reading different literary genres preempt you to understand reality, and accept that you are a potential "Statistics", a term that drives people to the wall and make them furious "What? I am not that special?"
But it is writing, drawing, painting, composing, playing musical instruments… that restructure and fine-tune your world view. Acts that don't involve the fingers to record the acts are not registered properly in the brain archives.
Children doodle and draw before they they learn to write.
They listen to stories, memorize stories and write characters before they learn to read. The world vision of children is etched in graphics and colors before content in books are appreciated.
What we assimilated in artistic vision reflects the way we see nature. The more artistic our mind is developed the more structured and complex our vision of nature are. Otherwise, nature and the environment are a bundle of colors and shapes left for the subconscious to navigate us through.
Art is never imitating nature: The artist is representing what he is looking at inside his world vision.
The mind first "see" before the eyes register what the mind has seen.
We see how our accumulated world view see the world, nature and reality  And yet, we have no idea what is our world view. We might fathom what we "see" through observing and analyzing our actions and behaviors.
The content in articles, of political and scientific nature, is essential to get engaged with eyes wide open, assuming that the context has been clearly developed. Without context, articles can be classified as "general", regardless of how much you develop on the opinion and fake to provide details.
An opinion not backed by the context, even personal experience, is not worth publishing.
An opinion devoid of context smack of ignorance and the regurgitation of what the "common literature" is disseminated.
In all other topics, it is the form of the written style that grabs me most. A single sentence can open up deeply hidden emotions that an entire volume will fail to do.
After all, everything has been said, if we can read in many languages (old and new) and read enough to last several life times.
I find myself furiously editing repost of articles so that the form matches my own style. I even edit "quotations" to suit my writing style. Why?
Eventually, I might have to re-read what I have posted, and I want to enjoy what I'm reading.
For example, I loath the journalistic style of splitting a quotation in order to insert "He said", "sic","the author resumed"… The sentence should flow smoothly to convey the emotion of the quoted person. Any insertion is a rational gimmick to preserve a semblance of objectivity, authenticity, neutrality…
I have no qualm in editing what the other have published, and the heck of what they say, and how their frustrated ego is mishandled… as long as the reader can access the original text and can do his due diligence…
Very often I read "I don't know", "I'm not sure"… and I wonder: these expressions are excellent in verbal conversations, but they don't fit in the written text. Make sure you know before addressing your reader, otherwise, keep your opinions in your notebook until they germinate into a viable position…
Send me a valid post within context in the preamble or in an after-note, and I'll repost it: The audience of readers is varied and with multiple interests
Tags:
access reality
,
adonis49
,
Art is never imitating nature
,
form of the written style
,
I am Haunted
,
I don't think:
,
I suspect
,
job of "recomputing" the default values
,
mind first "see"
,
potential "Statistics"
,
real false
,
ways kids learn
,
World Vision
,
world vision of children is etched in graphics
Meditate in full Consciousness: In 25 Lessons?
I say: "Truth is what I experienced and fits nicely in my Life World Vision; for a duration, the longer the more trustworthy" (adonis49 saying)
A few of the best selling books of Christophe Andre are "Imperfect, free and happy" and "The states of the spirits"
Five basic exercises:
1. Follow your respiration (12 min)
2. Take conscious of your body (13 min)
3. Absorb the sounds (11 min)
4. Detach from your thoughts (12 min)
5. Open up to the experience of the moment (15 min)
Why these numbers exactly? To fit an hour of exercise?
Four advanced meditation techniques:
1. The body in pain (14 min)
2. The painful emotions (14 min)
3. Full consciousness of pain and happiness (15 min(
4. Meditate on love and relationship (15 min)
And a single lengthy meditation session: Open Consciousness (30 min)
And how's that is done?
1. Regular practices require efforts
2. Stop, sit, and close the eyes: Receive and observe what the body and spirit capture
3. Start in quiet locations. Afterward, you can meditate anywhere you are.
4. Learn to just feel instead of reflecting: Be instead of doing
5. Stay focused on your experience: Do not worry if occasionally you feel uneasy and uncomfortable
6. Any moment is good for meditation. Better to begin your day with a few exercises.
I say: "
Truth Beckons
Refugee crises: Moving on beyond 'old models' of response
A few aid groups have welcomed the United Kingdom's recent decision to allocate part of its funding for the Syrian crisis at long-term initiatives aimed at benefiting both refugees and host communities in Lebanon.
But such actions remain more the exception than the rule in a country where tensions between both sectors are near a boiling point.
Jenny Lei Ravelo, staff writer for Devex, posted this July 15, 2013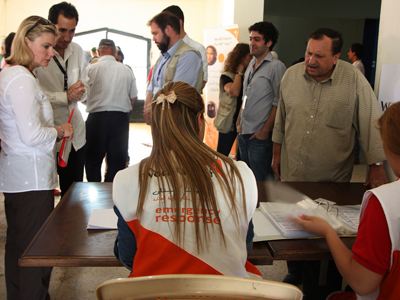 U.K. Secretary of State for International Development, Justine Greening (far left), at a food voucher distribution center operated by the World Vision under the World Food Program for Syrian refugees in Lebanon. Greening warned that the increasing number Syrian refugees in the Lebanon could heighten regional tensions. Photo by: Foreign & Commonwealth Office / CC BY-NC-SA
The impact of the Syrian crisis is already overwhelming many Lebanese.
World Vision, in a new report published on Monday, notes that many Lebanese hosts feel their economic space and opportunities shrinking with the constant influx of Syrian refugees, who, like them, also need access to basic necessities such as shelter, food, education and employment.
Unlike for instance in Jordan, refugees do not live in camps.
Most of the refugees in Lebanon pay rent, and use the same facilities and services as locals. But while local businesses see this as an opportunity to earn more, other Lebanese, particularly those who are living close to the poverty line, see refugees as competition for scarce resources.
A case study of a struggling Lebanese family included in the report illustrates how some Lebanese are feeling the heat: "At first, we were sympathetic, but now it has changed. We used to get assistance, food parcels, assistance with school fees, food parcels, diesel fuel, and other aid, but we get nothing at all now."
A recurrent problem
The increasing resentment by many Lebanese against refugees is worrying, and could potentially worsen if host communities continue to be left out in donors and organizations' aid responses, said Sara Pantuliano, head of the Humanitarian Policy Group at the Overseas Development Institute.
"This is a problem that is recurrent in many refugee and internal displacement crises. This is what we continue to see, a recurrence of old models when it comes to responding to crises of this magnitude," she told Devex.
Most aid groups, Pantuliano argued, continue to employ camp-focused responses even in urban environments "where you can't single out the refugees." In addition, far too many donors base their response on refugee numbers, leaving out host communities.
"Unfortunately, even though we see some improvement in donor responses, in some agencies' response, they continue to be the exception in many ways," she noted.
The food voucher program spearheaded by the World Food Program, and implemented by iNGOs such as World Vision, has been seen as a project that while fraught with challenges, have been helping local shops in Lebanon's Bekaa Valley, where there's high concentration of Syrian refugees.
A change in response
Several aid groups have been underscoring the need to introduce programs benefitting host communities.
In its report, World Vision suggests donors to allocate resources on economic development-focused initiatives, integrate short-term solutions with development programs that benefit both sectors, prioritize funding to organizations that are "able to demonstrate strong understanding of the needs of local communities," and hire more humanitarian consultants in Lebanon to better coordinate the response on the ground.
Coordination is key in almost all humanitarian crises, but this has been reportedly weak if not lacking among agencies and donors responding to the crisis in Lebanon.
The United Kingdom recently hosted a meeting to discuss how to better coordinate response with regard to the Syrian crisis, but it is unclear what specific solutions were hashed out.
Pantuliano, meanwhile, encouraged agencies to come up with more creative solutions and make use of a variety of tools available, including technology, and to overcome the humanitarian-development divide.
"It's a matter of leadership as well. We see in both Lebanon and Jordan that the humanitarian response continues to be so incredibly camp-focused, whereas development agencies have been called upon to lead the response for the community," she argued.
'Impossible to cope'
There are now close to a million refugees in Lebanon, a quarter of the country's population.
"These are staggering numbers. They are creating profound cleavages within Lebanese communities because it's just impossible for people to cope with such an influx," said Pantuliano.
The European Commission, one of the top donors to the Syrian crisis, have spent some €64.5 million in humanitarian assistance inside Lebanon. Johannes Luchner, the commission's chief humanitarian expert on Syria, told Devex this money is supporting all sectors of the population affected by the Syrian crisis: Syrians, Palestinians, returnees and host communities.
But he admits that "the gap between the needs and the response continues to widen at alarming rate," and underscored the need for donors to look at measures — immediate and long term — to support host communities.
"We advocate for a long-term strategy in all the neighbouring countries affected by the crisis, especially Lebanon, to cope with the humanitarian needs, prevent further destabilization of the region, increasing internal tensions and conflict spill-over," said Luchner. He adds the commission continues to support "improved coordination of the response to the plight of refugees."
Read more development aid news online, and subscribe to The Development Newswire to receive top international development headlines from the world's leading donors, news sources and opinion leaders — emailed to you FREE every business day.
Jenny Lei Ravelo is a staff writer for Devex. She covers breaking international development news in the Middle East, North Africa, Asia and the Pacific for the Development Newswire, often focusing on aid worker security. Jenny is also a regular contributor to the GDB and other Devex publications.