Posts Tagged 'Artificial Intelligence'
What Is Natural Language Processing And What Is It Used For?
Artificial intelligence (AI) is changing the way we look at the world. AI "robots" are everywhere. (Mostly in Japan and China)
From our phones to devices like Amazon's Alexa, we live in a world surrounded by machine learning.
Google, Netflix, data companies, video games and more, all use AI to comb through large amounts of data. The end result is insights and analysis that would otherwise either be impossible or take far too long.
It's no surprise that businesses of all sizes are taking note of large companies' success with AI and jumping on board. Not all AI is created equal in the business world, though. Some forms of artificial intelligence are more useful than others.
Today, I'm touching on something called natural language processing (NLP).
It's a form of artificial intelligence that focuses on analyzing the human language to draw insights, create advertisements, help you text (yes, really) and more. (And what of body language?)
But Why Natural Language Processing?
NLP is an emerging technology that drives many forms of AI you're used to seeing.
The reason I've chosen to focus on this technology instead of say, AI for math-based analysis, is the increasingly large application for NLP.
Think about it this way.
Every day, humans say thousands of words that other humans interpret to do countless things. At its core, it's simple communication, but we all know words run much deeper than that. (That's the function of slang in community)
There's a context that we derive from everything someone says. Whether they imply something with their body language or in how often they mention something.
While NLP doesn't focus on voice inflection, it does draw on contextual patterns. (Meaning: currently it doesn't care about the emotions?)
This is where it gains its value (As if in communication people lay out the context first?).
Let's use an example to show just how powerful NLP is when used in a practical situation. When you're typing on an iPhone, like many of us do every day, you'll see word suggestions based on what you type and what you're currently typing. That's natural language processing in action.
It's such a little thing that most of us take for granted, and have been taking for granted for years, but that's why NLP becomes so important. Now let's translate that to the business world.
Some company is trying to decide how best to advertise to their users. They can use Google to find common search terms that their users type when searching for their product. (In a nutshell, that's the most urgent usage of NLP?)
NLP then allows for a quick compilation of the data into terms obviously related to their brand and those that they might not expect. Capitalizing on the uncommon terms could give the company the ability to advertise in new ways.
So How Does NLP Work?
As mentioned above, natural language processing is a form of artificial intelligence that analyzes the human language. It takes many forms, but at its core, the technology helps machine understand, and even communicate with, human speech.
But understanding NLP isn't the easiest thing. It's a very advanced form of AI that's only recently become viable. That means that not only are we still learning about NLP but also that it's difficult to grasp.
I've decided to break down NLP in layman's term. I might not touch on every technical definition, but what follows is the easiest way to understand how natural language processing works.
The first step in NLP depends on the application of the system. Voice-based systems like Alexa or Google Assistant need to translate your words into text. That's done (usually) using the Hidden Markov Models system (HMM).
The HMM uses math models to determine what you've said and translate that into text usable by the NLP system. Put in the simplest way, the HMM listens to 10- to 20-millisecond clips of your speech and looks for phonemes (the smallest unit of speech) to compare with pre-recorded speech.
Next is the actual understanding of the language and context. Each NLP system uses slightly different techniques, but on the whole, they're fairly similar. The systems try to break each word down into its part of speech (noun, verb, etc.).
This happens through a series of coded grammar rules that rely on algorithms that incorporate statistical machine learning to help determine the context of what you said.
If we're not talking about speech-to-text NLP, the system just skips the first step and moves directly into analyzing the words using the algorithms and grammar rules.
The end result is the ability to categorize what is said in many different ways. Depending on the underlying focus of the NLP software, the results get used in different ways.
For instance, an SEO application could use the decoded text to pull keywords associated with a certain product.
Semantic Analysis
When explaining NLP, it's also important to break down semantic analysis. It's closely related to NLP and one could even argue that semantic analysis helps form the backbone of natural language processing.
Semantic analysis is how NLP AI interprets human sentences logically. When the HMM method breaks sentences down into their basic structure, semantic analysis helps the process add content.
For instance, if an NLP program looks at the word "dummy" it needs context to determine if the text refers to calling someone a "dummy" or if it's referring to something like a car crash "dummy."
If the HMM method breaks down text and NLP allows for human-to-computer communication, then semantic analysis allows everything to make sense contextually.
Without semantic analysts, we wouldn't have nearly the level of AI that we enjoy. As the process develops further, we can only expect NLP to benefit.
NLP And More
As NLP develops we can expect to see even better human to AI interaction. Devices like Google's Assistant and Amazon's Alexa, which are now making their way into our homes and even cars, are showing that AI is here to stay.
The next few years should see AI technology increase even more, with the global AI market expected to push $60 billion by 2025 (registration required). Needless to say, you should keep an eye on AI.
Cost of Lemonade stand, Artificial Intelligence program,
Three decades ago, I audited an Artificial Intelligence programming course. The professor never programmed one, but it was the rage.
The prof. was candid and said: "The only way to learn these kinds of programming is by doing it.  The engine was there to logically arrange the "If this ,then do that" questions in order to answer a technical problem. Nothing to it.
I failed even to try a very simple program: I had a heavy workload and didn't have the passion for any engineering project at the time.
I cannot say that I know Artificial Intelligence, regardless of the many fancy technical and theoretical books I read on the subject
Studying entrepreneurship without doing it is like studying the appreciation of music without listening to it.
(Actually, I did study so many subject matters, and the ones supposed to be of the practical ones, but failed to do or practice any skills. My intention was to stay away from theoretical subjects and ended up sticking to the theories. For example, I enrolled in Industrial Engineering, thinking it was mostly of the hand-on discipline. Wrong: it was mostly theoretical simply because the university lacked labs. and technical staff and machineries)
The cost of setting up a lemonade stand (or whatever metaphorical equivalent you dream up) is almost 100% internal. Until you confront the fear and discomfort of being in the world and saying, "here, I made this," it's impossible to understand anything at all about what it means to be a entrepreneur. Or an artist.
Never enough
There's never enough time to be as patient as we need to be.
Not enough slack to focus on the long-term, too much urgency in the now to take the time and to plan ahead.
That urgent sign post just ahead demands all of our intention (and attention), and we decide to invest in, "down the road," down the road.
It's not only more urgent, but it's easier to run to the urgent meeting than it is to sit down with a colleague and figure out the truth of what matters and the why of what's before us.
And there's never enough money to easily make the investments that matter.
Not enough surplus in the budget to take care of those that need our help, too much on our plate to be generous right now.
The short term bills make it easy to ignore the long-term opportunities.
Of course, the organizations that get around the universal and insurmountable problems of not enough time and not enough money are able to create innovations, find resources to be generous and prepare for a tomorrow that's better than today. It's not easy, not at all, but probably (okay, certainly) worth it.
We're going to spend our entire future living in tomorrow—investing now, when it's difficult, is the single best moment.
How fast are Robotics and Artificial Intelligence progressing?
Close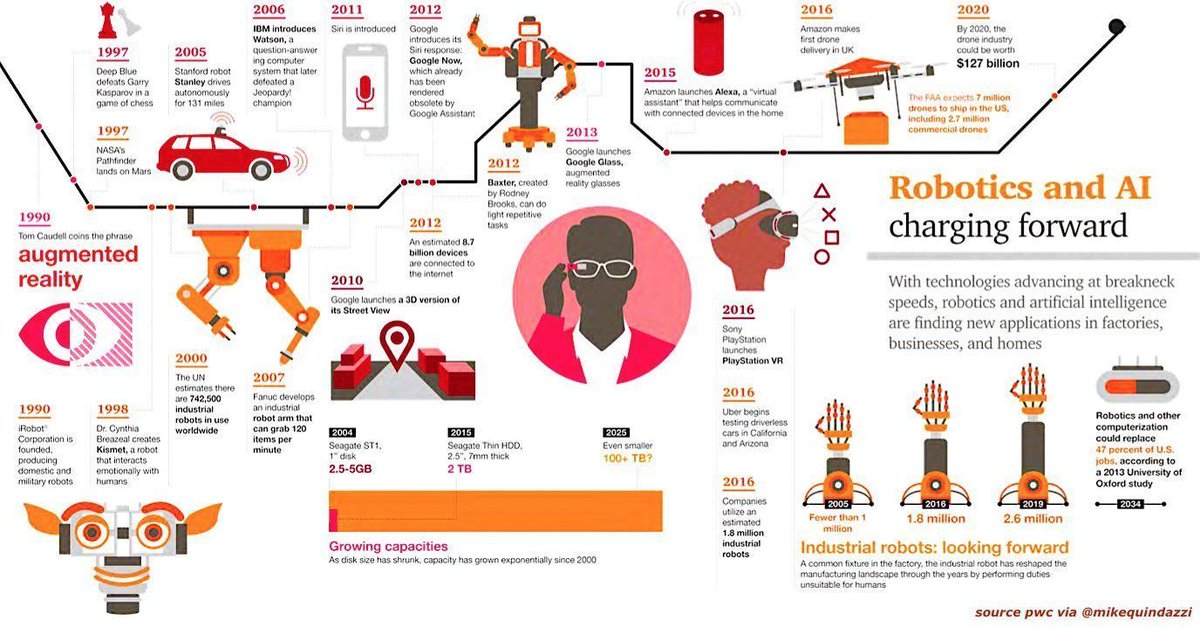 Google launched an initiative to improve how users work with artificial intelligence
The research initiative will involve collaborations with people in multiple Google product groups, as well as professors from Harvard and MIT.
More informative explanations of recommendations could result from the research over time.
Justin Sullivan | Getty Images
Alphabet on Monday said it has kicked off a new research initiative aimed at improving human interaction with artificial intelligence systems.
The People + AI Research (PAIR) program currently encompasses a dozen people who will collaborate with Googlers in various product groups — as well as outsiders like Harvard University professor Brendan Meade and Massachusetts Institute of Technology professor Hal Abelson.
The research could eventually lead to refinements in the interfaces of the smarter components of some of the world's most popular apps. And Google's efforts here could inspire other companies to adjust their software, too.
"One of the things we're going to be looking into is this notion of explanation — what might be a useful on-time, on-demand explanation about why a recommendation system did something it did," Google Brain senior staff research scientist Fernanda Viegas told CNBC in an interview.
The PAIR program takes inspiration from the concept of design thinking, which highly prioritizes the needs of people who will use the products being developed.
While end users — such as YouTube's 1.5 billion monthly users — can be the target of that, the research is also meant to improve the experience of working with AI systems for AI researchers, software engineers and domain experts as well, Google Brain senior staff research scientist Martin Wattenberg told CNBC.
The new initiative fits in well with Google's increasing focus on AI.
Google CEO Sundar Pichai has repeatedly said the world is transitioning from being mobile-first to AI-first, and the company has been taking many steps around that thesis.
Recently, for example, Google formed a venture capital group to invest in AI start-ups.
Meanwhile Amazon, Apple, Facebook and Microsoft have been active in AI in the past few years as well.
The company implemented a redesign for several of its apps in 2011 and in more recent years has been sprucing up many of its properties with its material design principles.
in 2016 John Maeda, then the design partner at Kleiner Perkins Caufield & Byers, pointed out in his annual report on design in technology that Google had been perceived as improving the most in design.
What is new is that Googlers are trying to figure out how to improve design specifically for AI components. And that's important because AI is used in a whole lot of places around Google apps, even if you might not always realize it.
Video recommendations in YouTube, translations in Google Translate, article suggestions in the Google mobile app and even Google search results are all enhanced with AI.
Note: with no specific examples to understand what Justin is talking about, consider this article as free propaganda to Google
Can a Robot emulate human emotions? That should not be the question…
A robot programmed with an artificial intelligence that can learn how to love and express emotions is feasible, and highly welcomed.
A child robot David can acquire and follow the various stages of kids emotional development, all the way to adulthood.
The question is why scientists should invest time and energy creating robot that would exacerbate the current calamities experienced and witnessed of human emotions and love consequences and trials?
Have we not gotten enough of negative jealousy that generates serious pains, frustrations, beating, castration, killing…?
It is getting evident that parents will no longer enjoy the adequate quality time and opportunities to caring full-time for nurturing the kids.
A kid nurturing robot at home will be the best invention for the stability and healthy emotional development of isolated kids in the future…
If robots have to convey emotions and feeling, they had better extend proper nurturing examples that kids at home may emulate…
Robots must learn to listen to the kids, ask questions, circumvent human shortcomings in failure to communicate, overcome the tendency of kids in building negative fictitious myths and role played empathy projected in relationship…
The movie "AI" of Steven Spielberg investigated the limits of man and machines confronted at the ineluctable problems:
1. The child separation from family members, particularly the mother early emotional attachment…The moment we discover that our mother is Not perfect and our father is a coward…
2. The moment it dawn on the child that we are Not unique, perfect, really loved…as we wished it should be…
2. The moment we realize that we are no longer the center of the universe and that community is too busy to care for our future…
4. The moment we accept that we are "All alone" and we have to fend for our health, safety, mental sanity…
5. The moment we feel that we were left bare and unprepared to face the desolate world around us…
Should the kid robot replace the myth of the "Blue Fairy?"  This fairy supposed to:
1. Heal the torn parts in the separation with family members…
2. Render possible what we came to learn as irreversible, irreparable, and almost unfeasible…?
3. Convince us that there is always a person out there who will love us, be a true friend for life…
4. Bring our way this person who suffered and felt wounded as we are…
5. Keep at bay those cannibals, ever ready to sacrifice man and animal under the pretense of "celebrating life"
A child robot with unconditional devotion, soft-spoken, cultured, patient, and willing to listen to our lucubrations…
The happy ending that teaches us to grasp and grab on the fleeting moments of rich happiness, to taste the powerful instants of tenderness…
Freed at last from illusion, myths and these comfortable peaceful world views we thought we had acquired in childhood…
We do live on the assumption of recovering what we had lost, learning that what we lost "Never existed" in the first place…
At least, a compassionate kid robot would extend, now and then, at critical difficult moments, a glimpse of our childhood innocent belief system, of a world of goodness, sensibility, and wonder…
Little robot David should learn how and when to inject a healthy dose of emotional adrenaline to keep us sane, and ready to face the real world with more courage, more determination to disseminate what is good in us, the compassion needed to sustain and maintain our hope in a better future…
Note: This post was inspired from an article in the monthly Lebanese magazine Sante/Beaute #21. The article was not signed, but the source maybewww.shaomi blog.net
Can we Not lose control over Artificial Intelligence?
Scared of super-intelligent AI? You should be, says neuroscientist and philosopher Sam Harris — and not just in some theoretical way.
We're going to build superhuman machines, says Harris, but we haven't yet grappled with the problems associated with creating something that may treat us the way we treat ants
Sam Harris. Neuroscientist, philosopher. Full bio
I'm going to talk about a failure of intuition that many of us suffer from. It's really a failure to detect a certain kind of danger.
I'm going to describe a scenario that I think is both terrifying and likely to occur, and that's not a good combination, as it turns out. And yet rather than be scared, most of you will feel that what I'm talking about is kind of cool.
0:36 I'm going to describe how the gains we make in artificial intelligence could ultimately destroy us. And in fact, I think it's very difficult to see how they won't destroy us or inspire us to destroy ourselves.
And yet if you're anything like me, you'll find that it's fun to think about these things. That response is part of the problem. OK?
That response should worry you. And if I were to convince you in this talk that we were likely to suffer a global famine, either because of climate change or some other catastrophe, and that your grandchildren, or their grandchildren, are very likely to live like this, you wouldn't think, "Interesting. I like this TED Talk."
Famine isn't fun. Death by science fiction, on the other hand, is fun, and one of the things that worries me most about the development of AI at this point is that we seem unable to marshal an appropriate emotional response to the dangers that lie ahead.
I am unable to marshal this response, and I'm giving this talk.
It's as though we stand before two doors.
Behind door number one,
we stop making progress in building intelligent machines.
Our computer hardware and software just stops getting better for some reason.
Now take a moment to consider why this might happen.
I mean, given how valuable intelligence and automation are,
we will continue to improve our technology if we are at all able to.
What could stop us from doing this?
A full-scale nuclear war?
A global pandemic?
An asteroid impact?
Justin Bieber becoming president of the United States?
The point is, something would have to destroy civilization as we know it. You have to imagine how bad it would have to be to prevent us from making improvements in our technology permanently, generation after generation.
Almost by definition, this is the worst thing that's ever happened in human history.
the only alternative, and this is what lies behind door number two, is that we continue to improve our intelligent machines year after year after year. At a certain point, we will build machines that are smarter than we are, and once we have machines that are smarter than we are, they will begin to improve themselves.
And we risk what the mathematician IJ Good called an "intelligence explosion," that the process could get away from us.
this is often caricatured, as I have here, as a fear that armies of malicious robots will attack us. But that isn't the most likely scenario.
It's not that our machines will become spontaneously malevolent. The concern is really that we will build machines that are so much more competent than we are that the slightest divergence between their goals and our own could destroy us.
Just think about how we relate to ants. We don't hate them. We don't go out of our way to harm them. In fact, sometimes we take pains not to harm them. We step over them on the sidewalk.
But whenever their presence seriously conflicts with one of our goals, let's say when constructing a building like this one, we annihilate them without a qualm. The concern is that we will one day build machines that, whether they're conscious or not, could treat us with similar disregard.
I suspect this seems far-fetched to many of you. I bet there are those of you who doubt that superintelligent AI is possible, much less inevitable. But then you must find something wrong with one of the following assumptions. And there are only three of them.
Intelligence is a matter of information processing in physical systems. Actually, this is a little bit more than an assumption. We have already built narrow intelligence into our machines, and many of these machines perform at a level of superhuman intelligence already.
And we know that mere matter can give rise to what is called "general intelligence," an ability to think flexibly across multiple domains, because our brains have managed it. Right?
I mean, there's just atoms in here, and as long as we continue to build systems of atoms that display more and more intelligent behavior, we will eventually, unless we are interrupted, we will eventually build general intelligence into our machines.
It's crucial to realize that the rate of progress doesn't matter, because any progress is enough to get us into the end zone. We don't need Moore's law to continue. We don't need exponential progress. We just need to keep going.
The second assumption is that we will keep going. We will continue to improve our intelligent machines. And given the value of intelligence — I mean, intelligence is either the source of everything we value or we need it to safeguard everything we value.
It is our most valuable resource. So we want to do this. We have problems that we desperately need to solve. We want to cure diseases like Alzheimer's and cancer.
We want to understand economic systems. We want to improve our climate science.
So we will do this, if we can. The train is already out of the station, and there's no brake to pull.
Finally, we don't stand on a peak of intelligence, or anywhere near it, likely. And this really is the crucial insight. This is what makes our situation so precarious, and this is what makes our intuitions about risk so unreliable.
just consider the smartest person who has ever lived. On almost everyone's shortlist here is John von Neumann.
I mean, the impression that von Neumann made on the people around him, and this included the greatest mathematicians and physicists of his time, is fairly well-documented. If only half the stories about him are half true, there's no question he's one of the smartest people who has ever lived.
So consider the spectrum of intelligence. Here we have John von Neumann. And then we have you and me. And then we have a chicken.
There's no reason for me to make this talk more depressing than it needs to be.
It seems overwhelmingly likely, however, that the spectrum of intelligence extends much further than we currently conceive, and if we build machines that are more intelligent than we are, they will very likely explore this spectrum in ways that we can't imagine, and exceed us in ways that we can't imagine.
And it's important to recognize that this is true by virtue of speed alone. Right?
So imagine if we just built a superintelligent AI that was no smarter than your average team of researchers at Stanford or MIT.
Well, electronic circuits function about a million times faster than biochemical ones, so this machine should think about a million times faster than the minds that built it.
you set it running for a week, and it will perform 20,000 years of human-level intellectual work, week after week after week. How could we even understand, much less constrain, a mind making this sort of progress?
The other thing that's worrying, frankly, is that, imagine the best case scenario. So imagine we hit upon a design of superintelligent AI that has no safety concerns. We have the perfect design the first time around.
It's as though we've been handed an oracle that behaves exactly as intended. Well, this machine would be the perfect labor-saving device. It can design the machine that can build the machine that can do any physical work, powered by sunlight, more or less for the cost of raw materials. So we're talking about the end of human drudgery. We're also talking about the end of most intellectual work.
what would apes like ourselves do in this circumstance? Well, we'd be free to play Frisbee and give each other massages. Add some LSD and some questionable wardrobe choices, and the whole world could be like Burning Man.
 that might sound pretty good, but ask yourself what would happen under our current economic and political order?
It seems likely that we would witness a level of wealth inequality and unemployment that we have never seen before. Absent a willingness to immediately put this new wealth to the service of all humanity, a few trillionaires could grace the covers of our business magazines while the rest of the world would be free to starve.
And what would the Russians or the Chinese do if they heard that some company in Silicon Valley was about to deploy a superintelligent AI? This machine would be capable of waging war, whether terrestrial or cyber, with unprecedented power.
This is a winner-take-all scenario. To be six months ahead of the competition here is to be 500,000 years ahead, at a minimum. So it seems that even mere rumors of this kind of breakthrough could cause our species to go berserk.
one of the most frightening things, in my view, at this moment, are the kinds of things that AI researchers say when they want to be reassuring. And the most common reason we're told not to worry is time.
This is all a long way off, don't you know. This is probably 50 or 100 years away. One researcher has said, "Worrying about AI safety is like worrying about overpopulation on Mars." This is the Silicon Valley version of "don't worry your pretty little head about it."
No one seems to notice that referencing the time horizon is a total non sequitur. If intelligence is just a matter of information processing, and we continue to improve our machines, we will produce some form of superintelligence.
And we have no idea how long it will take us to create the conditions to do that safely. Let me say that again. We have no idea how long it will take us to create the conditions to do that safely.
 if you haven't noticed, 50 years is not what it used to be. This is 50 years in months. This is how long we've had the iPhone. This is how long "The Simpsons" has been on television. Fifty years is not that much time to meet one of the greatest challenges our species will ever face.
Once again, we seem to be failing to have an appropriate emotional response to what we have every reason to believe is coming.
The computer scientist Stuart Russell has a nice analogy here. He said, imagine that we received a message from an alien civilization, which read: "People of Earth, we will arrive on your planet in 50 years. Get ready." And now we're just counting down the months until the mothership lands? We would feel a little more urgency than we do.
Another reason we're told not to worry is that these machines can't help but share our values because they will be literally extensions of ourselves.
They'll be grafted onto our brains, and we'll essentially become their limbic systems. Now take a moment to consider that the safest and only prudent path forward, recommended, is to implant this technology directly into our brains.
this may in fact be the safest and only prudent path forward, but usually one's safety concerns about a technology have to be pretty much worked out before you stick it inside your head.
The deeper problem is that building superintelligent AI on its own seems likely to be easier than building superintelligent AI and having the completed neuroscience that allows us to seamlessly integrate our minds with it.
And given that the companies and governments doing this work are likely to perceive themselves as being in a race against all others, given that to win this race is to win the world, provided you don't destroy it in the next moment, then it seems likely that whatever is easier to do will get done first.
I don't have a solution to this problem, apart from recommending that more of us think about it. I think we need something like a Manhattan Project on the topic of artificial intelligence.
Not to build it, because I think we'll inevitably do that, but to understand how to avoid an arms race and to build it in a way that is aligned with our interests. When you're talking about superintelligent AI that can make changes to itself, it seems that we only have one chance to get the initial conditions right, and even then we will need to absorb the economic and political consequences of getting them right.
13:44 But the moment we admit that information processing is the source of intelligence, that some appropriate computational system is what the basis of intelligence is, and we admit that we will improve these systems continuously, and we admit that the horizon of cognition very likely far exceeds what we currently know, then we have to admit that we are in the process of building some sort of a God. Now would be a good time to make sure it's a god we can live with.
A system that can read your hidden excitement, happiness, anger, or sadness. With or without your cooperation?
It's called "EQ-Radio," and it's the creation of MIT's Computer Science and Artificial Intelligence Laboratory (CSAIL).
September 23, 2016 by Robby Berman
They claim it's accurate 87% of the time. It reads your feelings by bouncing ordinary WiFi signals off of you that can track your heart rate. There are no on-skin sensors involved with EQ-Radio.
How EQ-Radio Works
WiFi is a two-way form of communication: Your router carries internet data to your laptop, which then transmits data back to the router en route to the internet.
An EQ-Radio measures the speed at which data completes a round trip to its target — for example, you — and analyzes fluctuations in that speed to measure your heart rate. It's your heart rate that gives away your emotional state. (Is there Not a wide array of emotions?)
The correlation of heartbeat to emotion in each person is unique to some extent, but MIT says they can accurately assess the emotional state even of people they've never before studied 70% of the time.
Mingmin Zhao, on the MIT team, told MIT News, "Just by knowing how people breathe and how their hearts beat in different emotional states, we can look at a random person's heartbeat and reliably detect their emotions."
One of the challenges the team faced was filtering out extraneous "noise" such as breath sounds to clearly detect the heart rate.
Bear in mind that it's not audio that EQ-Radio has to analyze, but instead data that reflects the speed of the WiFi bounceback.
So "noise" refers to irrelevant data, not the actual sound of, say, your breath. That they're able to measure heart rate with about a .3% margin of error is remarkable. That's as good as an ECG monitor.
The EQ-Radio software is based on previous work the lab has done using WiFi to detect human movement. The goal of the earlier work was to use WiFi in smart homes that could do things like control heat and lighting based on your location, and detect if an elderly person has fallen. (It's also seen as having potential use for animation motion-capture in films.)
The junction of that earlier project and EQ-Radio was the exploration of more-accurate health-tracking wearable devices.
The Possible Uses of EQ-Radio
There are a number of obvious applications for EQ-Radio, such as:
Far more accurate test screenings and focus groups for ad agencies and film studios
Smart homes that can adjust lighting and environmental controls to match, or help you out of, your mood
Smart hotels that could continually customize a guest's environment according to mood
Non-invasive healthcare and psychiatric monitoring, with office or home-installed systems
Directed advertising based on an assessment of a target's mood
Interrogations
Hopefully, EQ-Radio won't turn up in personal devices that let you "read" the emotions of people around you.
(And after all these emotional diagnosis? How are our health to be treated? By EQ-Radio also? Can the people receive any feedback? Is this a one-way technique to accumulate meta data for ad. agencies?)
EQ-Radio and Privacy
When EQ-Radio moves beyond its current laboratory setting, there'll be obvious privacy concerns: Do you have the right to keep your feelings to yourself? (Are you kidding?)
If you're in a public place — say, a hospital or theater — where an EQ-Radio system is in operation, will a signed release from you be required before your emotional state can be tracked?
Would you have to give a police department permission to monitor your feelings during an investigation, or could you refuse as you can a polygraph test?
Could an authoritarian government "read" its citizenry at will?
Will this become a standard tool to anti-terrorism authorities?
It may be that the right to private emotion is the next personal freedom. It remains to be seen whether we'll be asked to surrender it.
(Again. Welcome to this absurd future).