Archive for the 'social articles' Category
Tidbits #72
Neil Armstrong: I am not an emotional person. I didn't cry when my cat died, or when my dad passed away, or when I left home, or when I got the job at NASA, or when I stepped on the Moon. When I looked at earth and couldn't see any borders and wondered why all these wars, I couldn't help but cry hard and even wondered why I should plant the US flag…
Female scientists in this Covid pandemics face more caregiving duties than their male counterparts, impairing their ability to work from home.
Most experts agree that temperature checks for the Covid are a form of theater, a performance intended to put our minds at ease. But the theater is partially the point. When someone steps into a restaurant or hotel, they're still taking a risk. These thermometers help to remind all of us to continue taking the pandemic seriously.
The conventional-minded say that they don't want to shut down the discussion of all ideas, just the bad ones. There are two reasons why we need to be able to discuss even "bad" ideas. The first is that any process for deciding which ideas to ban is bound to make mistakes. ... The second reason it's dangerous to ban the discussion of ideas is that ideas are more closely related than they look.
More novels were written about the cheating business among couples. The novel is made big by using the moral and ethical standard of a general society as a Filler. The crux of the matter is a local state of mind of the individual. Should he abide by the idiosyncrasies of the community or should he grab the opportunity to experience an all encompassing passion?
La mécanique tranquille des abattoires, tout est blanc et propre, sauf les cris des cochons suspendus par une chaîne: c' est l' enfer déguisé' qui fait peur. Nazi Germany inherited US mechanics.
Natural product Is Not even every citizen' asset. National debt is every person's liability, excluding the elite classes.
The 10 biggest Lebanese banks had amassed $180 bn in accounts and they could afford to face any temporary rush on October 17. Closing their doors was Not a flawed in judgement: the board members of the banks were following orders from US/Israel to destabilize Lebanon, and they should be investigated and tried in criminal justice.
One day, an astronomer will discover a new star where a Black Hole was supposed to be. And the scientists will find a new job: explaining the process of Black Holes exploding into many stars.
The spirit of humanism of Charles Dickens failed to reach the USA, even today.
Nothing is resolved in the USA about owning submachine gun. Why? Because the Constitution allowed the White colonials to own weapons and shout at colored people (Black, Red, and Yellow) who trespass their plantations
Many nations had a civilization of high level of tolerance, until warrior nations, and lately colonial powers, inflicted on them their close-minded and racist Law and Order systems
Avant le péché on était un diamant, et après on est devenu un charbon? Alons, le temps qu'on apprenne ce qu'est le vrai péché qui nous ronge la vie. Il faut apprendre a conqueror les petits péchés pour faire face et confronter le plus vilain des peches. On joue a l'alchimiste: traiter le charbon tout au long de notre vie pour obtenir un petit diamant: Ca vaut-il la peine?
If you are lucky to start the third phase of your life, you better transfer what was a shamble in your head to your body and be proud of it.
Only the governments in Syria and Israel follow the events and a few details in Lebanon. All the others never cross their mind that lebanon is a worthy subject matter. Only Lebanon local news media try hard to inflate this croaking animal "nafekh hal Dafda3at"
What of those Lebanese children that their parents prefer them to immigrate?
My parents sent 3 of their children to Lebanon boarding schools in order to save them from the multitude of incurable diseases in Africa (or lack of medicines), in the mid 1950's
With a few editing
Mon fils, ne t'en va pas. Pas maintenant. Pas quand nous sommes fâchés.
Fais comme si rien ne s'était passé.
Attends que la poussière retombe.

La veille, quand tu es rentré après cette longue absence,
Dans ma poitrine, j'avais le cœur qui dansait. Au fond de moi, c'était, comme qui dirait, une explosion.

Quand tu n'es pas là, je perds mes mots, je me fourvoie et,
Pour que j'avance, il me faut désormais marcher dans tes pas.
Certaines nuits, quand le vent siffle trop fort, j'oubliais jusqu'à ton prénom.
Et puis ce souffle qui s'est levé, venant du port. (Reminiscing of the conflagration of the Port of Beirut?)
Ce souffle de verre, cette hécatombe de vies brisées en étoile.
Le sang coulait à flots et on ne savait où donner du regard.
Dans les rues, jusqu'à l'aube, tu as erré haggard.
Oublie ce que tu as vu.
Notre ville, souvent assassinée, demolie, devastee'.
Notre ville comme un millefeuille où passe en accéléré le temps qui, ailleurs, met des plombes.
C'est de mourir cent fois que nous sommes si vivants et chaque instant volé a le goût de l'éternité.

Mon fils, pourquoi t'es-tu figé ?
D'où vient cette pesanteur ?
Cette mort avant l'heure, est-elle la fois de trop ?

Qu'il est dur ce moment où, suspendu dans le vide, l'homme s'arrête de marcher.
Cette ville dévastée en un battement de cil, c'est le mauvais œil, les dieux qui sont jaloux.

Il est des fêlures qu'on ne peut ressouder, des plaies qui suintent comme des stigmates.
Avec le temps, nous avons appris à sceller un pacte.
La destinée n'a pas prise sur notre survie
Hier, en fermant les volets, le souffle de la montagne est monté jusqu'à moi.
Egrenés en lacets, les villages alentour palpitent comme des flammes.
Dans le ciel, l'étoile du berger s'est levée comme avant.
Ce soir, la lune est pleine et fait du bruit en marchant.

Chaque vie est une victoire, chaque jour une bénédiction et la mort d'Adonis, une affaire de saison.
Au jardin de ton père, les amandes sont ouvertes et la figue que tu cueilles est perlée de lait.
Qu'importe que l'on rase l'herbe que tu as foulée, que l'on fauche ta ville et déterre tes morts.
Nous sommes la chandelle qu'on ne peut pas moucher, la moule accrochée à son rocher.
Nous sommes le peuple qui danse sur la bouche du volcan. (Si on avait un volcan au Liban, ce serait chouette)
Même si, depuis toujours, tu es tourné vers la mer…

Condamné à porter le Liban en bandoulière, en escarbille au cœur.
Condamné à bâtir le pays des autres.
Ici, il nous faut construire sur le sable. (Même si notre terre est plutôt un vaste rocher)
Mais tant que la lumière se lève de notre côté, rien ne pourra nous arriver. (Esperont toujours)
Note: Only the governments in Syria and Israel follow the events and a few details in Lebanon. All the others never cross their mind that lebanon is a worthy subject matter.
Only Lebanon local news media try hard to inflate this croaking grenouille "nafekh hal Dafda3at"
Stories during my high school period
How Einstein mathematically suggested his famous equation E=MC2?
In my year of Matheleme (Terminal, last year of high-school), the physic teacher, an old Friar, tall and still robust, solved on the blackboard the double integration for the classical equation of movement. Instead of just integrating for Space as the only variable, Einstein integrated also Time as a second variable.
I covered two large pages on my notebook for the entire integration. The teacher was also very convincing on resolving the constant C to be the speed of light.
It was an eye-opening session of how mathematics can predict phenomenon Not yet subjected to experimentation. I had lost my notebook and feels angry. Anyone who can share with me these integrations, this person will make my day.
In university, the course that I loved most was Nuclear physics because we used the straightforward Einstein/Relativity equation for conservation of energy and momentum of the particles. Nothing to it and no graphs as in classical tedious resolution…
For years, we resolved the classical equations for energy and momentum that drove me to the wall and stabbed every fiber of my patience.
In class of 7eme (Certificat), I was relocated from the boarding school in Beit-Chabab to a French catholic school in Furn el Chebbak.
I had completely forgotten my French during the last 6 years and had to start all over. By the end of the year I was doing better than the French students in their language.
I remember that my late aunt Therese spent 2 hours to make me memorize 2 sentences of "Bayard, le chevalier sans peur et sans reproche…" Thérèse invested countless hours exercising me on French dictation.
Therese lived with us for 3 years before she got married and she is the one who initiated me to read books.
She bought for me the pink collection then the green collection and I ended up reading big volumes for Stendhal, Victor Hugo, Dumas (father and son)…
As soon I came home, I started reading for hours: No one complained as long as quietness was maintained.
One teacher,  Anselm, was a sadistic person (et il louchait) and used to hit students on their hands with a ruler and make them kneel in a corner. on pebbles
Once my hands got blue and he got scared shit: he never again attempted to touch me. I used to wake up at 4 am, go to school and walk the yard for hours to revise my lessons.
Once I walked to school at 3 am and got very tired walking the yard.
In the 6eme, the French teacher paid my parents a visit to ask them Not to help me in my French essays.
He was flabbergasted when he realized that my parents could barely write in French. I remember that the essay I submitted was on our feeling for returning to school.
My essay covered 5 pages, and I wrote it in one setting, and it was excellent. Also, this booklets was misplaced to my chagrin.
Soft skills? Broad learning skills: Bye bye STEM skills?
Google finds STEM skills aren't the most important skills



Lou Glazer is President and co-founder of Michigan Future, Inc., a non-partisan, non-profit organization. Michigan Future's mission is to be a source of new ideas on how Michigan can succeed as a world class community in a knowledge-driven economy. Its work is funded by Michigan foundations.
A Washington Post column on research done by Google on the skills that matter most to its 
employees success. Big surprise: it wasn't STEM. The Post writes:
Sergey Brin and Larry Page, both brilliant computer scientists, founded their company on the conviction that only technologists can understand technology.

Google originally set its hiring algorithms to sort for computer science students with top grades from elite science universities.

In 2013, Google decided to test its hiring hypothesis by crunching every bit and byte of hiring, firing, and promotion data accumulated since the company's incorporation in 1998.

Project Oxygen shocked everyone by concluding that, among the 8 most important qualities of Google's top employees, STEM expertise comes in dead last.

The 7 top characteristics of success at Google are all soft skills:

Like being a good coach; communicating and listening well; possessing insights into others (including others different values and points of view); having empathy toward and being supportive of one's colleagues; being a good critical thinker and problem solver; and being able to make connections across complex ideas.

Those traits sound more like what one gains as an English or theater major than as a programmer.

Could it be that top Google employees were succeeding despite their technical training, not because of it?

After bringing in anthropologists and ethnographers to dive even deeper into the data, the company enlarged its previous hiring practices to include humanities majors, artists, and even the MBAs that, initially, Brin and Page viewed with disdain.
This is consistent with the findings of the employer-led Partnership for 21st Century Learning who describe the foundation skills for worker success as the 4Cs: collaboration, communication, critical thinking and creativity.
And the book Becoming Brilliant which adds to those four content and confidence for the 6Cs.
And consistent with the work on the value of a liberal arts degree of journalist George Anders laid out in his book You Can Do Anything and in a Forbes article entitled That Useless Liberal Arts Degree Has Become Tech's Hottest Ticket.
It's far past time that Michigan policymakers and business leaders stop telling our kids if they don't get a STEM related degree they are better off not getting a four-year degree. It simply is not accurate.
(Not to mention that many of their kids are getting non-STEM related four-year degrees.)
And instead begin to tell all kids what is accurate that the foundation skills––as Google found out––are Not narrow occupation-specific skills, but rather are broad skills related to the ability to work with others, think critically and be a lifelong learner.
The kind of skills that are best built with a broad liberal arts education.
The Post concludes:
No student should be prevented from majoring in an area they love based on a false idea of what they need to succeed.

Broad learning skills are the key to long-term, satisfying, productive careers.

What helps you thrive in a changing world isn't rocket science. It may just well be social science, and, yes, even the humanities and the arts that contribute to making you not just workforce ready but world ready.

Note: About time students takes seriously the importance of general knowledge in everything they undertake. Most important of all is to learn designing experiments, developing the experimental mind that does Not come naturally, but with training.
Short attention span and serving silver bullet solutions that cure diseases? Who should we blame?
Is It  the culture that pushes for readily packaged success stories?
Mirvat El-Sibai posted on FB. August 28, 2016 
When i was doing my PhD i used to start my day in lab around 10 a.m. and on many days stay till 3 or 4 in the morning with a couple of hours break during the day..
i routinely sat on the microscope 8 hours straight throughout the night till I developed a permanent slouch.. and still couldn't wait to go home to analyze the data..
If I came home early it was to catch up on some papers or to prepare a presentation write a paper or my thesis etc..
We used to work weekend, holidays, and we were always in the business of learning and never questioned our advisors and were happy to pay our dues..
Our students today ask for more grades even if they don't deserve it and i find that lack of self worth very troubling..
it is a sweep under the rug mentality that aims for cheap lazy results…
Students today learn a technique and produce a figure and start asking about publications..
They teach a lab and start asking about a permanent position..
They read a paper and start questioning models..
Ambition is great but humility and patience are paramount to actual learning, particularly in science..
I don't blame it all on our students though..
It is the culture that pushes for readily packaged success stories and quick short attention span, serving silver bullet solutions that cure diseases..
It is also social media…
Note 1: For reasons, Not all of them fully justifiable, the medical students undergo harsh schedule and procedure that punish the students more than other fields of study. For example, focusing on a microscope for hours on would turn me blind. And this habit of waking up earlier than birds, as if everyone of them is going to opt to become a surgeon.
Note 2: I suffered immensely during my PhD program, particularly how to pay the tuition and trying to circumvent a few rules by auditing courses.
You may read my uneasiness in my Autobiography category "Not of a famous person".
In my teaching experience in Lebanon I was very disappointed: I had to invent and change my teaching methods, even during a semester, to excite and give incentives for university students to study, read and do meaningful research. You may discover my methods in my Human Factors in Engineering category on wordpress.com
Note 3: Social platforms may contribute to laziness in students Not motivated in the first place. But these platforms are wonderful resources for reflective minds. This trend of copy/pasting "research papers" that are Not even peer-reviewed, pressured me to demand that all submitted homework be handwritten. Kind at least they had to read something.
Prayer to Beirut by Lebanese Amin Maalouf (French Academy)
The English translation follows
La prière d' Amin Maalouf
De Beyrouth, capitale blessée,
Une prière vers le Ciel,
Quelle que soit la langue dans laquelle on Le prie,
Quel que soit le nom par lequel on L'invoque,
Que Son regard,
Qui embrasse l'univers et toutes les créatures,
Se fixe un peu sur nous.
Depuis trop longtemps nous expions
Les fautes de l'humanité entière,
En plus de nos propres égarements.
Depuis trop longtemps, chaque malheur,
Avant de se propager dans le monde,
Commence par s'acharner sur nous.
De cette ville tant de fois détruite,
Reconstruite, puis détruite à nouveau,
De ce rivage où, selon les légendes,
Un homme libre a su jadis terrasser le dragon,
Une prière vers le Ciel.
Pour que le Liban puisse,
Cette fois encore, se remettre debout,
Et relever ses murs, et panser ses blessures.
Qu'il sache surmonter sa détresse,
Sa douleur et son abattement.
Qu'il sache triompher
De la férocité du monde,
Et aussi de ses propres démons.
De notre havre millénaire devenu, soudain,
Un monument à la folie des hommes
Et le temple de leur colère,
Une prière vers le Ciel.
(
From Beirut, injured capital,
A prayer to heaven,
Whatever language we pray to Him,
Whatever name is called to Him,
That his look,
Who embrace the universe and all creatures,
Fixing a little on us.
For too long we've been expiring
The faults of all humanity,
In addition to our own misguidedness.
For too long, every misfortune,
Before spreading into the world,
Start by trying hard on us.
From this city so many times destroyed,
Rebuilt, then destroyed again,
From this shore where, according to legends,
A free man once knew how to terrass the dragon,
A prayer towards heaven.
So that Lebanon can,
That time again, get back up,
And lift her walls, and dress her wounds.
Let him overcome his distress,
His pain and abatement.
Let him triumph
From the fiercity of the world,
And also of his own demons.
From our millennial haven, suddenly,
A monument to the madness of men
And the temple of their wrath,
A prayer towards heaven.)
Palestinians demand an independent State in Palestine: Cannot buy the alternative
The Trump administration has been working hard to establish Israel as the only viable State in the Middle-East to dialogue with. A few Gulf Emirate States have been coaxed to sign a dubious "peace treaty" with Israel, like Abu Dhabi and Bahrain.
The funny part is that the representatives of these 2 semi-States behaved as totally ignorant on what they are signing with Trump.
Egypt and Jordan had signed a treaty in 1974-75 which resulted in countless wars and civil wars in Lebanon, Syria and Iraq.
'NYT' coverage of Trump peace plan news quotes 5 pro-Israel voices, 0 Palestinians
The New York Times covers phase one of the Trump peace plan, an economic "workshop" in Bahrain next month at which the administration is expected to dangle the money it wants to give Palestinians and states neighboring Israel, so that Palestinians will sacrifice their political demands/rights (among them sovereignty on '67 borders; return of refugees; shared Jerusalem)– a figure said to be $68 billion.
The article quotes No Palestinians. (No Palestinian business person will attend this faked "workshop")
It does include quotes from Aaron David Miller, Jared Kushner, Robert Satloff, Treasury's Steve Mnuchin, and Brookings pundit Tamara Cofman Wittes. Five (Jewish) Americans, all five of them strong supporters of Israel. (Mnuchin's background is here.)
Satloff, Wittes, and Miller are all presented as "critics" of the plan, but they are all Zionist critics of the plan. Just different shades of Zionist.(No, not shade. Stauncher Zionists than most Israelis)
Why? This is racism in journalism before your eyes.
The Times clearly has a structural bias against Palestinians. (As all colonial powers' administrations in the last century)
Even as it demonstrates its higher consciousness in other left zones, the newspaper is stuck in the old paradigm on Israel.
How else could a newspaper publish four justifications of the killings of nonviolent protesters inside of a few months, as it did last year in Gaza?
This would never happen in any other context when a government opens fire on demonstrators.
But the Times columnists offered those justifications, in Shmuel Rosner's case almost a bloodthirsty one, and there was no balance, let alone criticism from the Roger Cohens, David Brookses, and Michelle Goldbergs of the world.
Palestinians simply don't count as full human actors.
The Palestinian Prime Minister released a statement rejecting the economic summit today.
He and his cabinet surely were available yesterday. So was Sam Bahour, who writes that Palestine cannot have an economic future without an independent political future, in which construction workers and university graduates will be able to find employment inside a Palestinian state.
Diana Buttu, Saeb Erekat, Hanan Ashrawi (who has been denied a visa to travel to the U.S.), Omar Barghouti, Mustafa Barghouti, Haider Eid surely would have spoken to the Times, too.
Palestine is truly teeming with sophisticated political actors on a wide range who would have something to say about the implausibility of economic peace.
And if the Times says this was an American politics piece, well, there are Palestinians here, too, who have a lot to say.
The bottom line is obvious and disturbing. Palestinians aren't equals.
Evolution theory was known long time before Darwin.
Darwin collected data before coming forward with his knowledge.
The same case with Euler who had Not a shadow of doubt that planet trajectories were elliptical. He still plugged in for years to gather the necessary data to come forward with his proof.
Many scientists start with an intuition and end up retaining the data that match their hypothesis. The common people have to wait for other kinds of scientists to analyse all the data and start a paradigm shift that discard the traditional knowledge.
Un érudit musulman a eu l'idée de l'évolution 1000 ans avant Darwin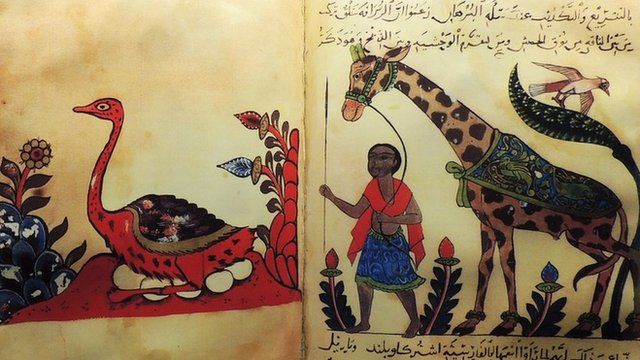 Charles Darwin est le père de la théorie de l'évolution, mais avez-vous entendu parler du scientifique irakien Al-Jahiz ?
L'histoire de la théorie de l'évolution remonte loin dans le monde musulman.
La théorie de l'évolution du scientifique britannique Charles Darwin est l'une des pierres angulaires de la science moderne.
L'idée que les espèces changent progressivement au fil du temps grâce à un mécanisme appelé sélection naturelle (adapting to the environment) a révolutionné notre compréhension du monde vivant.
Dans son livre de 1859, De l'origine des espèces, Darwin définit l'évolution comme une "descente avec modification", démontrant comment différentes espèces émergent d'un ancêtre commun.
Mais il semble que la théorie de l'évolution elle-même ait aussi un ancêtre dans le monde islamique.
La sélection naturelle
Environ 1000 ans avant que Charles Darwin n'écrive un livre sur la façon dont les animaux changent par un processus qu'il appelait "sélection naturelle", un philosophe musulman vivant en Irak, qui s'appelait Al-Jahiz l'avait déjà précédé.
De son vrai nom Abu Usman Amr Bahr Bahr Alkanani al-Basri, l'histoire se souvient de lui par son surnom, Al-Jahiz, qui signifie quelqu'un dont les yeux semblent sortir de leur orbite.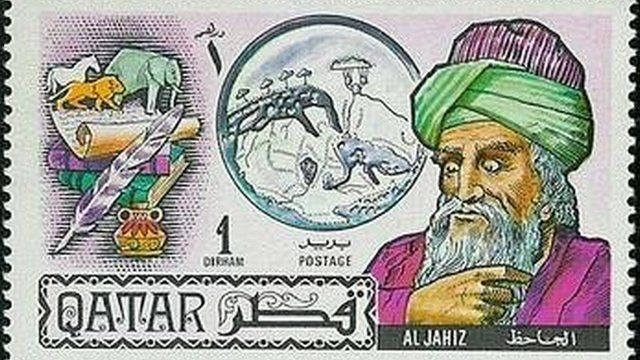 Ce n'est pas la façon la plus gentille d'appeler quelqu'un, mais la renommée d'Al-Jahiz perdure grâce à son livre fondateur, Kitab al-Hayawan (Le Livre des animaux).
Il est né en 776 après J.-C. dans la ville de Bassorah, au sud de l'Irak, à l'époque où le mouvement Mutazilah, (Mo3tazalat) une école de pensée théologique qui prônait l'exercice de la raison humaine, gagnait du terrain dans la région.
C'était le sommet de la domination abbasside.
Des travaux de savants ont été traduits du grec à l'arabe et de puissants débats sur la religion, la science et la philosophie ont eu lieu à Bassorah, façonnant l'esprit d'Al-Jahiz et l'aidant à formuler ses idées.
Le papier a été introduit en Irak par des commerçants chinois, ce qui a stimulé la diffusion des idées et le jeune Al-Jahiz a commencé à écrire sur une variété de sujets.
Ses intérêts couvraient de nombreux domaines académiques, y compris la science, la géographie, la philosophie, la grammaire arabe et la littérature.
On pense qu'il a produit 200 livres au cours de sa vie, mais seulement un tiers d'entre eux ont survécu jusqu'à notre époque.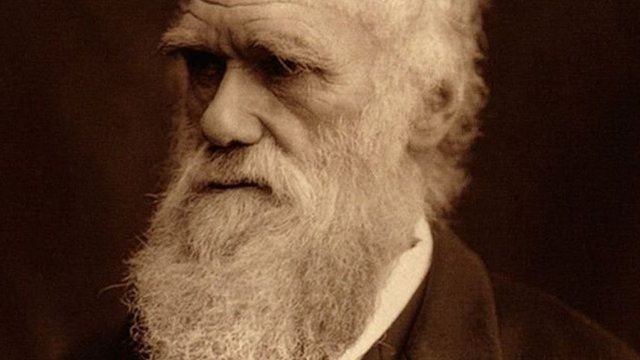 Le Livre des Animaux
Son œuvre la plus célèbre, The Book of Animals, est conçue comme une encyclopédie présentant 350 animaux, dans laquelle Al-Jahiz présente des idées qui ont une ressemblance frappante avec la théorie de Darwin sur l'évolution.
"Les animaux s'engagent dans une lutte pour l'existence et pour les ressources, pour éviter d'être mangés et pour se reproduire", écrit Al-Jahiz, "les facteurs environnementaux influencent les organismes à développer de nouvelles caractéristiques pour assurer leur survie, les transformant ainsi en de nouvelles espèces".
Il ajoute : "Les animaux qui survivent pour se reproduire peuvent transmettre leurs caractéristiques à leur progéniture."
Il était clair pour Al-Jahiz que le monde vivant était en lutte constante pour sa survie et qu'une espèce était toujours plus forte qu'une autre.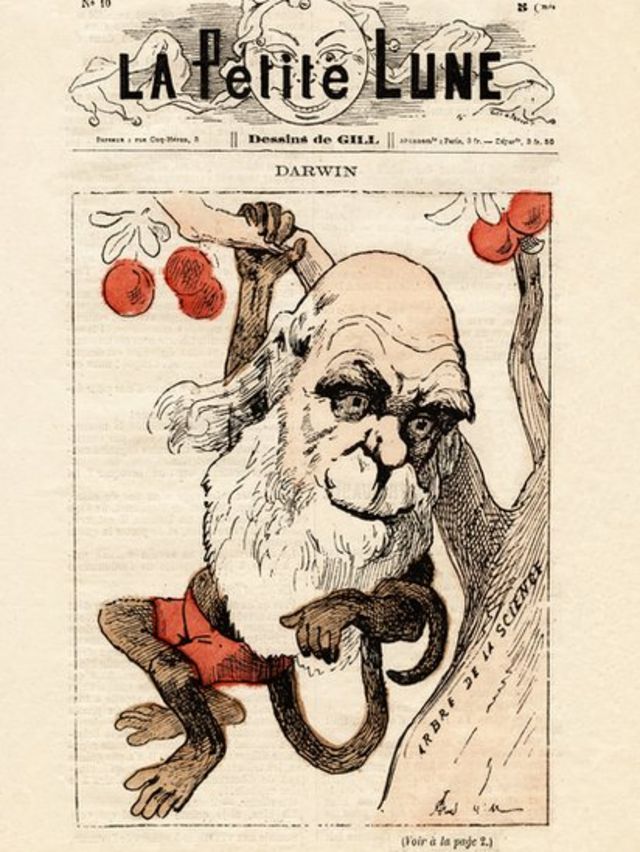 Pour survivre, les animaux devaient avoir des caractéristiques compétitives pour trouver de la nourriture, éviter de devenir eux-mêmes la nourriture de quelqu'un d'autre et se reproduire.
Cela les a forcés à changer de génération en génération.
Les idées d'Al-Jahiz ont influencé d'autres penseurs musulmans qui lui ont emboîté le pas.
Son travail a été lu par des gens comme Al-Farabi, Al-Arabi, Al-Biruni et Ibn Khaldoun.
Le "Père spirituel" du Pakistan, Muhammad Iqbal, également connu sous le nom d'Allama Iqbal, observe l'importance d'Al-Jahiz dans son recueil de conférences publié en 1930, écrivant que "c'est Al-Jahiz qui a souligné les changements dans la vie des animaux à cause des migrations et des changements environnementaux".
Théorie mahométane (Muslim theory)
La contribution du monde musulman à l'idée d'évolution n'était pas un secret pour l'intellectuel du XIXe siècle en Europe.
En effet, un contemporain de Charles Darwin, le scientifique William Draper, parlait en 1878 de la "théorie mahométane de l'évolution".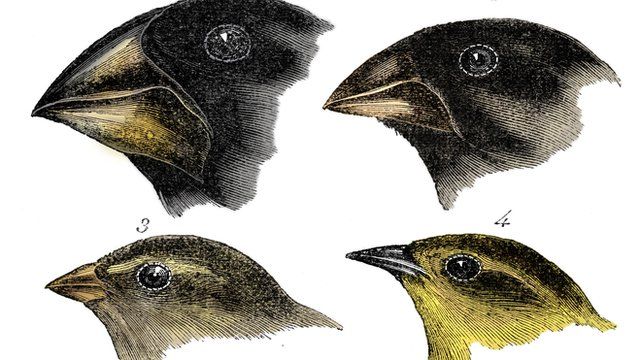 Le naturaliste britannique mérite à juste titre sa réputation de scientifique qui a passé des années à voyager et à observer le monde naturel, et qui a fondé sa théorie avec une précision et une clarté sans précédent pour transformer notre façon de voir le monde.
Mais le journaliste scientifique Ehsan Masood, qui a réalisé une série de documentaires pour la BBC intitulée "Islam et Science", dit qu'il est important de se souvenir de ceux qui ont contribué à l'histoire de la pensée évolutionnaire.
Créationnisme
Il note également que le créationnisme ne semble pas exister en tant que mouvement significatif pendant le IXe siècle en Irak, lorsque Bagdad et Bassora étaient les principaux centres d'enseignement supérieur de la civilisation islamique.
"Les scientifiques n'ont pas passé des heures à examiner des passages de la révélation pour voir s'ils se comparent aux connaissances observées sur le monde naturel", écrit Ehsan Masood dans un article sur Al-Jahiz dans le journal britannique The Guardian.
"Au lieu de cela, ils sont sortis et ont essayé de découvrir des choses par eux-mêmes."
En fin de compte, c'est la quête du savoir qui a entraîné la mort d'Al-Jahiz.
On dit qu'à l'âge de 92 ans, alors qu'il essayait de prendre un livre sur une étagère lourde, il s'est effondré sur lui, tuant le philosophe musulman.
"Contracting out low-paid mercenaries hurts our reputation…": Congress on US military operations
Posted in 2012
Yoweri Museveni is Uganda dictator for over 20 years: He mortgaged his citizens and soldiers to serve as low-paid mercenaries in the US Iraq invasion.
Over 20,000 Ugandan mercenary soldiers (called Kyeyo) were paid less than $300 per month in 2009 in order to be at the beck of US security services organizations such as Torres, DynCorp, Triple Canopy, Sabre, and Special Operations Consulting (SOC).
The White mercenaries from South Africa, Israel, England, France, Serbia…are paid about $10,000 per month, not including side benefits.
The mercenaries from the Third Countries Nationals (TCN) have to submit to the arbitrary, indignities at work, humiliating kinds of jobs, and bad treatments at all levels.
For example, the TCN mercenaries need winter gloves, and receive them during the hot season. They need masks for the frequent malefic and infection leaden sandstorms, and the TCN have to cope bare-faced and get aspirin for infections of the nasal and throat diseases…
The TCN wait months before they are issued Chinese second-hand outfits…
The TCN are not paid for the months of training: They are simply fed…
TCN are allowed vacations after a year, but even these unpaid vacation days, are postponed indefinitely…
The kyeyo is paid $300 per month, but the security company is paid $1,700 per head and per month by the Federal government…
And the Ugandan recruiting company is paid $200 per head dispatched in Iraq or Afghanistan
In 2008, the US forces in Iraq was composed of about 150,000 regular soldiers and 70,000 mercenaries TCN (mostly from Uganda, sub-Sahara States, and the sub-Indian continent who can comprehend English).
In 2009, the two components were about equal in numbers: 47,000 regular to 40,000 TCN mercenaries, and this is why the pay dropped from an initial of one thousand to $300 per month, and from ingenious tactics executed by the hiring local companies in Uganda, such as Askar and Dreshak International.
For example, the Ugandan applicant receives two months of "military training" for free and are simply fed.
After the training period, the applicant is sent home to wait for the call. The applicant thinks the call is coming in any day now, and he is spending all his savings, selling his furniture…
Three months later, he is summoned to come and  sign a 22-page contract…in just 15 minutes to read and agree on whatever this mass of "legal" paperwork means…and not even accepted by the US legal system in the US…
The applicant has no choice but to sign and be shipped to Iraq, and later to Afghanistan…
The recruiting company Ashkar is owned by Kellen Kayonga, sister-in-law of General Salim Saleh (a brother of the dictator).
In 2005, Ashkar was recruiting demobilized Ugandan soldiers for the US SOC, a security organization founded in Nevada by two veteran US military officers. The two recruiting companies are expanding their business and opening branches in Afghanistan…
The TCN are necessary for basic maintenance tasks, such as cooking, cleaning, washing, laundry, food serving, health care for the injured…
The TCN maintain 25 US military bases, and the most famous of all Camp Liberty, close to Baghdad and counting about 100,000 military personnel.
The TCN constitute 60% of the effectives in Camp Liberty. The TCN are the "Invisible Army" as Sarah Stillman labelled them in an article to The New Yorker (June 6, 2011)
What's the story?
In 2003, Uganda had managed to disengage from the civil wars plaguing East Africa. The civil war in Sudan was "technically" ending for Uganda. In the east, the civil war of the Great Lakes is officially terminated, and the internal uprising by the Lord Resistance Army was quelled…
Dictator Museveni has to demobilize a big army and has no idea how to win their peace.  Museveni rallied with Bush Jr. preemptive war in Iraq and arranged to ship the surplus demobilized soldiers oversea…
All these security corporations are paid by the Pentagon, and the mercenaries receive no health care or any benefits after the end of the term of their service…
Most of them are shipped back to their country of origin when they fall very sick, handicapped…and their medical records destroyed so that the insurance companies such as AIG won't have to pay no health care benefits or medicines…
US lawyer Tara K. Coughlin, engaged by an US Christian association for helping US soldiers in Iraq, discovered the horrifying conditions or the cases of the Ugandan mercenaries serving in Iraq.
The Multinational insurance corporation AIG hired Tangier International to discredit "repatriated" Ugandan who insist on receiving compensations, and illegally sending them to visit physicians at Tangier sold…
The independent  commission on contracts signed during the Iraq war presented its report to Congress in August 2011. The report states: "The crimes and wrongdoing committed by the security corporations that contracted out "mercenaries" blemish the reputation of the US overseas…"
The US military is "officially" out of Iraq, but 16,000 are employed at the US embassy and four consulates. And who is maintaining and "securing" the US personnel? Over 5,500 Ugandan mercenaries were hired.
The pentagon is spending 10 billion on 8 US private  security companies. Among them Triple Canopy and SOC (that will receive 973 million for providing static security in a 5-year term)
Note: Post inspired from a lengthy report by Alain Vicky to the French monthly Le Monde Diplomatique (May, 2012). The title is: "African mercenaries for US wars"
He said, what I heard, what he might have meant...
Another of those summary tables in communication between genders.
Do you have a similar table where the roles are reversed? She said, he heard…?
I doubt it: Males are Not into that kind of complicated interpretations. They prefer dealing with taxonomy tables related to anything but the emotional kinds.
Mouth mush intelligence?
I'll give you some examples of this phenomenon in my life with a table.
| | | |
| --- | --- | --- |
| What He Said | What I Heard | What He Meant |
| "You didn't even tell me you were graduating cum laude today; that's great. Why wasn't it summa cum laude?" my Dad | Hehe. Summa cum. Latin is dirty. You should have worked harder. A stunning display of mediocre effort. That's really going to impress someone considering you for a job. | I'm proud of you, but I know you are smart enough to have graduated with highest honors. |
| Slap! (On the butt while I was picking up toys on Valentine's Day, 5 months postpartum). "Your ass is getting smaller!" my husband | I find you disgusting. Keep working on it. | You are losing weight and I'm attracted to you right now. Let's get naked. |
| "You can't be a slave to your kid's schedule. They need to fit into your life." my oldest brother | You really let your niece down by not coming to her cheerleading competition. Your baby is no excuse. | Don't miss out on important events in your niece's life because of a nap schedule. |
| "When you wear your hair down, it makes you look 10 pounds lighter instantly." my step-Dad | The way you wear your hair every day makes you look fat. | Your hair looks good down. Until it turns into a squirrel tail when it dries. |
| "When have you ever killed a spider in this house?" my husband | You don't read my blog much and I try not to get my feelings hurt about that because I understand, but when you do this random comment is the one you're focused on, and you're calling me a liar? I kill them when you aren't here. Good enough? | I'm joking about spiders. Yes, I hate them, but you don't kill them for me while I stand on a table. Can I have my balls back? |
I won't go into much more detail, I think these examples are enough for you to relate to them, and hopefully add your own in the comments section.