Archive for the 'social articles' Category
The Jewish community excommunicates Jews who support Palestinian freedom and rights
"And I also made my choice: if excommunication is the cost of supporting Palestinian rights, bring it on. And to the extent Jewishness is important to me, which it still is, I am proud to have an outlaw Jewish community of friends".
When you are Jewish and come out as an anti-Zionist, you get excommunicated.
That is how the Jewish community works to support Israel. The Jewish community says directly, "You may choose your community or what you call your sense of ethics".
And if you persist, forget about your community, because Jewish life as we know it is committed to supporting Israel, the miraculous achievement of the Jewish people in the 20th century in the wake of the extermination.
REFORM JEWISH LEADER RICK JACOBS SPEAKING TO JEWISH VOICE FOR PEACE MEMBERS AT THE PRESBYTERIAN CONVENTION IN 2014 DURING DEBATE OVER DIVESTMENT.
PHOTO: CHRISTOPHER HAZOU VIA @LIZAVETA9 ON TWITTER.
As an optimist, I keep declaring that this "herem" — or ban/excommunication– is softening.
That young Jews who believe in justice are slowly taking over the community and an apartheid state is becoming impossible to defend.
But I'm inside the anti-Zionist bubble, not the community, and an interview published last week gives me pause. It is with a friend, Rabbi Alissa Wise, who lately stepped down as deputy director of Jewish Voice for Peace.
Wise has played a big role in growing that organization into a political force, as an openly anti-Zionist organization that supports BDS of Israeli settlers products in the West Bank.
In the interview, Wise says in so many words, I've had enough for now. I've battled my community for 20 years and now I am going to be a member of that community and take a less political role, for the sake of my children being Jewish.
The interview was published in the Jewish Currents newsletter. Editor Arielle Angel reached out to Wise because of a speech Wise gave at her Reconstructionist synagogue in West Philadelphia on March 12, to celebrate her departure from JVP.
Alissa Wise spoke of the pride of building an anti-Zionist bloc among American Jews. "Our numbers have exploded in the past decade."
But that achievement came at an "excruciating" personal cost, Wise said, alienation from her family and community.
Wise has strong family connections to organized Jewry, and her first shock came in 2002, when her efforts to bring a group of Israeli draft resisters to the U.S. was rejected by every "liberal" Brooklyn synagogue she went to.
It was truly painful to see so plainly how the Jewish community I had been raised to trust was in fact so closed. Sure, looking back I was being totally naive, but I recall just feeling genuinely crushed that the community who taught me Judaism, which led me to understand that I have a responsibility to stand with Palestinians, would refuse to hear the voices of young Jewish Israelis because they were challenging the occupation.
Wise developed a "tough skin" under the hail of hate mail, but she fears the spiritual consequences.
[T]he most vitriolic hatred directed towards me comes from the Jewish community. It has come between me and my family. Over the past ten years, I have regularly received death threats, sexually threatening emails, voicemails and even letters delivered to my home.

I have been barred from traveling to Israel. I almost was kicked out of rabbinical school. I have been called a kapo more times than I can count. I have developed a thick skin. One has to in order to keep doing this work.

I always maintained it didn't seep in. But did it? Does it?…
She concluded that riding over the feeling of being trampled on by the community was actually hurtful. It prevented her from attaining her "full power."
I think I was negligent when taking care of those feelings for myself, and I think that is a part of how I ended up needing to take a break 10 years in, when in all honesty I had imagined myself at JVP until JVP was not needed anymore.

We don't want to let our skin be so tough that we don't recognize the pain that is there. Let's feel our pain AND feel our power…
Arielle Angel then drew Wise out in a Q-and-A. And my interpretation of Wise's comments is: Jewishness is a core value, and she doesn't want to be in an oppositional frame so as to allow her children to grow up with a healthy relationship to Jewishness and life.
Some excerpts. Wise says we're in a "closed" period of Jewish history Not so different from the insular intolerance of religious Jews in the eastern European ghettos before the enlightenment.
"We've been in a closed period again, because of the hegemonic power of Zionism in the Jewish community. The vision I have is one of openness."
But she can't bring about that openness personally. She's been scarred by the exclusions, notably when she was barred from getting on a plane to Israel and Palestine.
"[T]hat was the beginning of the end for me…I really felt like I'd been trampled on. I reached a point where the thick skin turned from being protective to being corrosive. There's only so much that one can bounce back from. I'm not leaving the Palestinian rights movement, but I am attentive to where I am emotionally and how that affects my ability to lead this organization….
Wise recognized that membership in the Jewish community is central to her.
[T]he future of Judaism and Jewishness still matters to me and is the centerpiece of my life.

My kid is in second grade, and she was in her Torah school class on Zoom last week… The teacher introduced the concept of l'dor v'dor, from generation to generation, because they were going to be talking to an elder. She asked the class, "What do you want to pass down to the next generation?"—which is a very tender thing to ask eight-year-olds. One little girl said, "I want to pass down being Jewish." I started crying in the other room, because that's what I want. I have this sacred, intimate responsibility to caretake Judaism in my lifetime…
Wise says she has banged her head against the wall for 20 years trying to get the Jewish community to change its views of Palestine, and it worked. "Now there are anti-Zionist Jews all over rabbinical school!"
But the political approach can be overwhelming, for instance when every Torah portion has to be interpreted in an anti-Zionist manner. That's one reason she is leaving JVP.
"I felt clearly how my relationship to Judaism was going to compromise my children's relationship to it, and I wasn't willing to have that."
Alissa Wise imagines an open Jewish community in which everyone is not judged either for being a Zionist or an anti-Zionist.
One principle I emphasized to [JVP staffers] was pluralism: No matter how much we want to interpret a Torah text or a holiday cycle or a historical event in a way that brings people into solidarity with Palestinians, we need to leave room for other ways to be Jewish. Obviously, I want there not to be apartheid in Israel. I don't want Palestinians to be living under occupation. But that's different from how we live our Jewish cultural and spiritual lives. Our vision isn't that everybody be anti-Zionist, or for that to be the centerpiece of everybody's Jewish lives. It needs to be bigger than just an expression of a particular politics
And she believes her next job will be in Jewish life.
I decided to dedicate my life to the Jewish people, and I'm going to pursue that and trust that the work I've been a part of has created enough space for another Jewish home for me.
I respect Wise's choices. I like pluralism, I'm Not a litmus test person. But having done this work for some time now and been subject to the same invective and ostracization, with the same initial emotional shock that Wise experienced, I've lost my romance about the Jewish community.
It made a clear choice to cancel us. And I also made my choice: if excommunication is the cost of supporting Palestinian rights, bring it on.
And to the extent Jewishness is important to me, which it still is, I am proud to have an outlaw Jewish community of friends.
Wise's word "hegemonic" is helpful. So is her admission that her own family is divided. The official Jewish community has decided again and again in recent years that it is going to close rank around Zionism and muster the astounding historical unity of Jews to enforce orthodoxy in the face of apartheid.
"[Studies have noted that the overwhelming majority of British Jews support Israel," says a British Jewish group in enforcing the line. Anti-Zionist Jews are "as deeply opposed to Jewish interests as many of our community's enemies," a leading Zionist writer told a leading liberal NY Jewish institution.
Another leading Zionist writer said that 97% of Jews worldwide support Zionism and that anti-Zionist Jews are as marginal as black people who voted for Trump.
The line here is clear. If you support BDS targeting Israel, you are not welcome. We will not invite you to the synagogue or even the J Street conference.
We will say you are antisemitic, or "you have Jewish parents" (as former Israeli prison guard Jeffrey Goldberg once laid down the law to redline me and others).
The young Jewish group IfNotNow is still on the community side of the line. It is careful in its criticism of Israel; not taking an anti-Zionist position.
That's why it continues to be welcome in the Jewish community. Even if the US Campaign for Palestinian Rights is pushing it to go further, it hasn't done so yet, presumably because it values its communal position. 
Jewish Currents is in a similar position. In that interview Angel notes that attacks from inside the Jewish community for the publication's new investigative fund to look into the Israel lobby's hold inside U.S. Jewish institutions, have been "exhausting" and "demoralizing."
I assume both IfNotNow and Jewish Currents will continue to move left.
Jewish Voice for Peace has been a leader, and over the line. It supports BDS. It is not welcome inside the Jewish community, except at outsider congregations, because it insists on the truth about Israel and Palestine: a tale of oppression. All the rest is just commentary.
h/t Abushalom.
Note: Israel was created by the USA and the colonial powers, including the Soviet Union of Stalin, to dismember the Middle East and eliminate daily trade among the peuple. There would have been many more Jews confronting Zionist, racism and apartheid if Not for the total support of the colonial powers institutions.
Is your child "A Third Culture Kid"? And 31 Signs you're a TCK
Posted on July 7, 2013
Rega Jha posted on BuzzFeed this July 2, 2013:
Source: Ssuaphotos / via: shutterstock.com
1. You can curse convincingly in at least five different languages.
Source: GraphJam / via: cheezburger.com
2. To everyone's confusion, your accent changes depending on who you're talking to.
Via: reactiongifs.com
3. And you often slip foreign slang into your English by mistake, which makes you unintelligible to most people.
Via: suplainey.tumblr.com
4. You're really good at calculating time differences, because you have to do it every time you call your parents.
Via: reddit.com
5. But you also have your computer programmed to help you out when your math fails.
Image by Rega Jha/Buzzfeed
6. You start getting birthday wishes several hours before your birthday, from your friends farther east than you.
Via: lets-sail-away-love.tumblr.com
7. Your passport looks like it's been through hell and back.
Or, more likely, your passports*, in the plural.Source: Charles Taylor / via: shutterstock.com
8. You have a love-hate relationship with the question "Where are you from?"
You have both a short and long answer ready, and you pick one depending on who's asking.Source: Miramax Films/Paramount Vantage
9. You run into your elementary school friends in unlikely countries at unlikely times.
Via: orgazaynn.tumblr.com
10. You've spent an absurd and probably unhealthy amount of time on airplanes.
Source: Paramount Pictures
11. And you definitely know your way around jet-lag recovery.
Via: gifloop.tumblr.com
12. Your list of significant others' nationalities reads like a soccer World Cup bracket.
In Arabic: UhebekVia: catwomanlovesyou2.tumblr.com
13. And your circle of best friends is as politically, racially, and religiously diverse as the United Nations.
14. Which is great, except that you "hang out" more online than in real life.
15. So when you do see your best friends, you lose it a little.
Via: green-grass-of-the-shire.tumblr.com
16. You've had the most rigorous sensitivity training of all: real life.
Always take your shoes off in a Thai household, but never show the soles of your feet to an Arab.Via: vh1.tumblr.com
17. You get nervous whenever a form needs you to enter a "permanent address."
18. You know that McDonald's tastes drastically different from country to country.
And you can rank them from best to worst.Via: edition.cnn.com
19. You're a food snob because you've sampled the best and most authentic of every possible cuisine.
Via: adriftingintokyo.tumblr.com
20. You convert any price to two different currencies before making significant purchases.
Source: CVM / via: shutterstock.com
21. You don't call it "home." You call it "passport country."
22. You often find yourself singing along to songs in languages you don't speak or understand.
Via: shakpl.tumblr.com
23. You miss BBM, but Viber and WhatsApp will do for now.
24. You're the token exotic friend in your non-TCK crew.
Via: littlefairylights.tumblr.com
25. Love it or hate it, you have a strong and well-informed opinion on the I.B. system.
Via: ib-people-problems.tumblr.com
26. The end of the school year was always bittersweet because so many people moved away.
27. And, no matter how many you say, good-byes never get easier.
28. But the constant flow of new friends more than made up for it.
Via: piinkwinemakesmeslutty.tumblr.com
29. Now you feel incredibly lucky to have loved ones and memories scattered all over the globe.
Via: veemoreno.tumblr.com
30. You know better than anyone else that "home" isn't a place, it's the people in it.
Via: weheartit.com
31. And you can't wait to see where your life adventure takes you next.
Wet-Nurse city of laws: Beirut of Lebanon. Part 2
Posted on August 4, 2010
Between 150 and 551 AC, the city of Beirut (Beryte) was the official Roman State law center and this recognition extended to the Byzantium Empire.
Beirut had the preferred law school for law students and professors flocking from the four corners of the Empire. Beirut was called "Mother of laws" and "The most magnificent city" during the Roman Empire.
Emperor Justinian I (527-566) attributed to Beirut the title of "wet-nurse of laws".
In the 5th century, Beirut law school started teaching law in both Latin and Greek languages. Paradoxically, the main language of the common people was the written Syriac language/Aramaic,  the language spoken by Jesus.
Another demonstration that written languages are the domain of the elite classes used as coded language for administrations and government of people. Common people had to suffer the consequences of not knowing the language of their dominating Masters; in this case either Latin or Greek.
In the second and third century, Beirut produced the 5 most famous and illustrious classical Jurists who had written the "Digeste", "Institutes", Rules, Sentences, and Constitutions.
They are:  
Gaius (110-180),
Papinian (142-212) and assassinated for his stands, 
Paulus,
Ulpian (170-228) and assassinated for his positions, and 
Herennius Modestinus. 
They were called the "Oracles of Roman laws" because judges had to decide cases based on the opinions of these  five justices.  If there is equality in opposing opinions then it was the opinion of Papinian to be the definitive resolution.
The third century generated the State professors Gregorius, Hermogenius, Marcian, Scaevola, and Tryphoninus.
The fourth century produced the professors Domninus, Scylacius, and Sebastianus.
The fifth century, called the most brilliant for the law school of Beirut, generated the state professors Euxon, Sabinus, Cyril the elder, Patricius, Demostenes, Domninus, Eudoxius, Amblichus, and Leontius. 
Most of the illustrious law professors were born in Lebanon and Syria and reached the highest positions in the Roman and Byzantine Empires.
In the sixth century, Beirut school of law had the professors Dorotheus, Anatolius, Julien, Thalelee, Isidore, Stephane, and Thereupon.
Rome fell in 476 and Western Europe had to wait until the Crusader's campaigns (1096-1291) for the Justinian civil code of laws the "Digeste" to be found and rediscovered and then applied in Europe starting in the 12th century.
In 551, an earthquake demolished the city of Beirut. The law school was temporarily moved to Sidon.
In 560, as the professors returned to Beirut then a huge fire burned the city again. Beirut was still in ruin by 600.
As Islam Arab conquered the Near East region in 635, Beirut recaptured its previous status as a law center, but without the brilliance of previous periods.
Beirut was compiling Islamic laws according to "Charia".  
During the last 7 Omayyad caliphs and the first two Abbasid caliphs (690 to 770) the Lebanese theologians (ulema) and judges (fakihs and cadis) were the cornerstones for the nascent Islamic jurisprudence.
Imam El Uzahi (707-774) from Baalbek and who studied in Beirut and lived was the most brilliant and most sought after fakih in his life. His doctrine was applied in Lebanon, Palestine, and Syria for 200 years.
Then, the doctrines of Hanafi (Syria), the Chafii (Egypt), the Maliki (Andalusia and Northern Africa) took the ascendancy.
In 1877 was founded the first modern law school in Beirut bu Bishop Youssef el Debs. 
The law school of the Wisdom (La Sagesse) had the professors Nicolas Naccache and Boulos Effendi Zein who compiled the Ottoman civil law (Medjellet) in 16 books of 1851 law articles grouped in six subjects.  
Current Beirut has the law schools of the french Jesuits founded in 1913 by Paul Huvelin.
The State Lebanese school was established in 1959; the Arab University under the patronage of the University of Alexandria and instituted in 1960; the Byblos law school linked to the Maronite Order of Kaslik Holy Spirit University; and the Islamic Chiaa faculty instituted in 1994 by Imam Chamseddine.
Beirut and Lebanon were ruined by mankind during the civil war that started in 1975 and lasted 15 years.  Beirut is being rebuilt with modern high rises that lack its original spirit
Note 1:  The American University of Beirut has not yet opened a law faculty.  If we know that most of the members in the Lebanese Parliament are lawyers and barely anyone of them master the English language then, whatever deal the US government had with France for the monopoly of jurisprudence philosophy and procedure must be outdated.
Note 2:  Topic taken from the book "Beryte School of law" by Joy Tabet (67 pages)
Warring Syria Goes Hungry: Stick Figures, Stunted Growth…
Posted on April 3, 2014
Rana Obaid began her life less than two years ago in a comfortable house draped with roses, the daughter of a grocer locally famous for his rich homemade yogurt.
War and siege brought hunger so quickly to their town near Damascus that when she died in September, at 19 months, her arms and legs were as thin as broomsticks.
ANNE BARNARD Published this November 2, 2013 on nyt Enlarge This Image
The New York Times
BEIRUT, Lebanon —
Signs in Moadhamiya (Mo3zamieh?) read, "Kneel or starve."
Suspected cases of malnutrition are surfacing from areas held by the rebels and the government.
In a nearby town, a woman with a son suffering from kidney failure makes her children take turns eating on alternate days.
In a village outside Aleppo in northern Syria, people say they are living mainly on wild greens.
Aid workers say that Syrian refugee children are arriving in northern Lebanon thin and stunted, and that suspected malnutrition cases are surfacing from rebel-held areas in northern Syria to government-held suburbs south of Damascus.
A boy, at a Syrian refugee camp near the border with Turkey, waiting in line for a hot meal, looked inside a tent at stacks of bread. Millions in the war-torn nation are suffering from hunger. Lynsey Addario for The New York Times
Across Syria, a country that long prided itself on providing affordable food to its people, international and domestic efforts to ensure basic sustenance amid the chaos of war appear to be failing.
(Actually, one of the main reasons why the colonial powers hated the Syrian people is that Syria didn't owe a dime to any foreign country. Syria was self-sufficient in almost everything. No foreign (sovereign) debt)
Millions are going hungry to varying degrees, and there is growing evidence that acute malnutrition is contributing to relatively small but increasing numbers of deaths, especially among small children, the wounded and the sick, aid workers and nutrition experts say.
The experts warn that if the crisis continues into the winter, deaths from hunger and illness could begin to dwarf deaths from violence, which has already killed well over 100,000 people, (a "civil war" that was induced in 2011) and if the deprivation lasts longer, a generation of Syrians risks stunted development.
"I didn't expect to see that in Syria," said Dr. Annie Sparrow, an assistant professor and pediatrician at Mount Sinai Hospital in New York, who examined Syrian refugee children in Lebanon and was shocked to find many underweight for their height and age.
"It's not accurate to say this is Somalia, but this is a critical situation," she said. "We have a middle-income country that is transforming itself into something a lot more like Somalia."
While the war has prevented a precise accounting of the number of people affected, evidence of hunger abounds.
The government is using siege and starvation as a tactic of war in many areas, according to numerous aid workers and residents, who say that soldiers at checkpoints confiscate food supplies as small as grocery bags, treating the feeding of people in strategic rebel-held areas as a crime.
Rebel groups, too, are blockading some government-held areas and harassing food convoys.
But even for those living in more accessible areas, what aid workers call "food insecurity" is part of Syrians' new baseline.
Inflation has made food unaffordable for many; fuel and flour shortages close some bakeries, while government airstrikes target others; agricultural production has been gutted.
Though the World Food Program says it is providing enough food for 3 million Syrians each month, its officials say they can track only what is delivered to central depots in various cities, not how widely or fairly it is distributed from there.
One aid worker — who, in a sign of the political challenges of delivering aid in Syria, asked that his organization not be identified — said he recently met Syrian health workers who reported a dozen cases of apparent malnutrition in a government-held Damascus suburb.
He suspected that the situation could be far worse in rebel-held areas.
Lack of medical care and clean water exacerbates the problem.
So does the fact that Syrians have little experience diagnosing or treating malnutrition. Particularly troubling, aid workers say, are reports of mothers who stop breast feeding, unaware that it is the best way for even a malnourished mother to keep her child alive.
Some aid groups are trying to train Syrian doctors to use simple tools that measure upper arm circumference to assess malnutrition, as convincing data on its prevalence could help spur a stronger international response.
Aid workers caution against overblown claims that could discredit such efforts.
Some government supporters even dismissed the images of bone-thin children from blockaded areas as propaganda after several thousand civilians were evacuated from the encircled Damascus suburb of Moadhamiya in recent weeks, looking exhausted, shellshocked and thin, but not on the verge of starving to death.
Mohammad Ghannam contributed reporting from Beirut, and an employee of The New York Times from Qudsaya, Syria.
A version of this article appears in print on November 3, 2013, on page A6 of the New York edition with the headline: Stick Figures and Stunted Growth As Warring Syria Goes Hungry.
Multimedia
Photographs. The Historic Scale of Syria's Refugee Crisis
 Video Feature. WATCHING SYRIA'S WAR.Panic After Bombing in Village Near Hama
Note: It is 2021 and the "global war" on the Syrian people is Not over. Turkey occupies a large swath in northern Syria and the Kurdish backed USA militia occupies the oil rich North-Eastern region. Russia and Iran control many strategic centers, airports and seaports
Beirut: Wet Nurse of laws during Roman Empire. Part 1
Posted on  August 4, 2010
A brief history:  Between 150 and 551 AC, the city of Beirut (Beryte) was the official Roman State law center and this recognition extended to the Byzantine Empire.
Beirut had the preferred law school for law students and the professors flocked from the four corners of the Empire.  
There were 6 other law centers such as the ones in Rome, Constantinople, Athens, Alexandria, Caesar of Cappadocia, and Caesar of Palestine, but Beirut kept her highest standing over four centuries as the main official law center.
Beirut was called "Mother of laws" and "The most magnificent city" during the Roman Empire.  Emperor Justinian I (527-566) attributed to Beirut the title of "wet-nurse of laws"
Between 150 and 551, Beirut was the official location for posting law articles and saving the Constitutions and compilations of laws.
Comparative law studies is the immediate successor of the roman laws that was initiated and updated in Beirut.  In the 5th century, Beirut law school started to teach in both languages of Latin and Greek.
Paradoxically, the main language of the common people was the written language Syriac (Aramaic,  the language spoken by Jesus).  
Another demonstration that written languages are the domain of the elite classes, and used as coded language for administrations and government of people.
The Common people had to suffer the consequences of not knowing the language of their dominating Masters; in this case either Latin or Greek.
Rome fell in 476 and Western Europe had to wait until the Crusader's campaigns (1096-1291) for the Justinian civil code of laws the "Digeste" to be rediscovered and then applied in Europe starting in the 12th century.
In 551, an earthquake demolished the city of Beirut.  T
he law school was temporarily moved to Sidon. In 560, as the professors returned to Beirut then a huge fire burned the city again.  Beirut was still in ruin by 600.
As Islamic "Arabs" conquered the Near-East region in 635 (through the strong backing and support of the Syrian people), Beirut recaptured its previous status as a law center but without the brilliance of previous periods.
Beirut was compiling Islamic laws according to "Charia".
During the last 7 Omayyad caliphs and the first two Abbasid caliphs (690 to 770) the Lebanese theologians (ulema) and judges (fakihs and cadis) were the cornerstones for the nascent Islamic jurisprudence.  
Imam El Uzahi (707-774) from Baalbek and who studied in Beirut and lived was the most brilliant and most sought after fakih in his life.  His doctrine was applied in Lebanon, Palestine, and Syria for 200 years.
Then, the doctrines of Hanafi (Syria), the Chafii (Egypt), the Maliki (Andalusia and Northern Africa  took the ascendency.
Note 1: The next chapters will give details on the most famous law professors in ancient Beirut and a few current updates.
Note 2: Review of the book of Joy Tabet
Palestine : le mirage d'une démocratie sous occupation
Par Ramzy Baroud
De nombreux intellectuels et analystes politiques Palestiniens se retrouvent dans la position peu enviable d'avoir à se prononcer sur le fait de soutenir ou non les prochaines élections palestiniennes qui sont prévues les 22 mai et 30 juillet. Mais il n'y a pas de réponse aisée.
Le décret tant attendu du chef de l'Autorité palestinienne Mahmoud Abbas en janvier dernier pour la tenue d'élections législatives et présidentielles dans les prochains mois, a été largement salué, non pas comme un succès pour la démocratie mais comme le premier résultat positif et tangible du dialogue entre les organisations palestiniennes rivales, principalement le Fatah [le parti d'Abbas] et le mouvement Hamas [la résistance islamique].
Concernant le dialogue interne palestinien, les élections, si elles se déroulent sans obstruction, pourraient laisser espérer que les Palestiniens des territoires occupés bénéficieront enfin d'un certain degré de représentation démocratique, un premier pas vers une représentation plus complète qui pourrait inclure les millions de Palestiniens vivant hors des territoires occupés.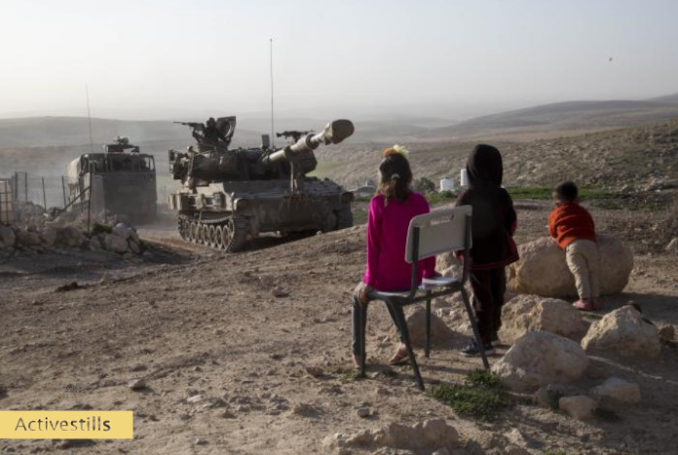 Les forces israéliennes ont mené un exercice d'entraînement à proximité et à l'intérieur des villages de la région de Masafer Yatta, Cisjordanie, le 3 février 2021.
L'activité militaire a causé des dommages aux infrastructures, aux terres agricoles et aux structures résidentielles, et a eu lieu dans une zone qu'Israël désigne comme zone de tir, bien qu'elle soit peuplée de nombreuses communautés, qu'il tente d'expulser depuis plus de 20 ans.
Les habitants disent que son intention est de faire pression sur la Haute Cour israélienne pour qu'elle sanctionne l'expulsion des communautés de leurs terres – Photo : Keren Manor/ActiveStills
Mais une attente même aussi minimaliste est assortie de nombreuses conditions :
* que les organisations palestiniennes honorent leurs engagements fixés dans l'Accord d'Istanbul du 24 septembre
* qu'Israël autorise les Palestiniens, y compris les habitants de Jérusalem, à voter sans entrave et s'abstienne d'emprisonner des candidats palestiniens
* que la communauté internationale dirigée par les États-Unis accepte le résultat des élections démocratiques sans punir les partis et les candidats victorieux [qui ne lui plairont pas]
(Generally, Democratic results that do Not match the desires of colonial powers are considered null and void)

* que les élections législatives et présidentielles soient suivies d'élections plus substantielles au Conseil national palestinien (PNC), le Parlement palestinien en exil – etc…
Il suffit que l'une de ces conditions ne soit pas remplie pour les élections de mai n'amènent aucun résultat pratique, à part donner à Abbas et à ses rivaux un vernis de légitimité, leur permettant de gagner du temps et d'obtenir encore plus de fonds auprès de leurs bienfaiteurs financiers.
Lire également : Élections palestiniennes : la démocratie pour personne
Tout cela nous oblige à nous poser la question suivante : la démocratie est-elle possible sous occupation militaire ?
Presque immédiatement après les dernières élections législatives palestiniennes – sous surveillance internationale et tenues en 2006 – dont le résultat a déplu à Israël, 62 ministres palestiniens et membres du nouveau parlement ont été jetés en prison, et beaucoup d'entre eux y sont toujours.
L'histoire se répète puisque Israël a déjà lancé ses campagnes d'arrestation des dirigeants et des membres du Hamas en Cisjordanie.
Le 22 février, plus de 20 militants palestiniens, dont des responsables du Hamas, ont été kidnappés [par les forces d'occupation], ce qui équivaut à un message très clair aux Palestiniens qu'Israël ne tient aucun compte de leur dialogue, leurs accords d'unité ou leur démocratie.
Deux jours plus tard, le dirigeant du Hamas, âgé de 67 ans, Omar Barghouti, a été convoqué par les services de renseignements militaires israéliens en Cisjordanie occupée et a été mis en garde contre une candidature aux prochaines élections.
« L'officier israélien m'a prévenu de ne pas me présenter aux prochaines élections et m'a menacé d'emprisonnement si je passais outre », a narré Barghouti à Al-Monitor.
La loi fondamentale palestinienne autorise les prisonniers à se présenter aux élections, qu'elles soient législatives ou présidentielles, simplement du fait que les plus populaires parmi les dirigeants palestiniens sont souvent derrière les barreaux. Marwan Barghouti est l'un d'entre eux.
Emprisonné depuis 2002, Barghouti reste le dirigeant le plus populaire du Fatah, plus apprécié des jeunes cadres du mouvement par opposition à la vieille garde d'Abbas.
Ce dernier groupe a énormément bénéficié du système corrompu de favoritisme politique sur lequel le « président » de 85 ans a construit son pouvoir.
Pour maintenir en place ce système vénal, Abbas et ses seconds-couteaux ont fait leur maximum pour marginaliser Barghouti, ce qui amène à suggérer que l'emprisonnement par Israël de ce dirigeant populaire du Fatah sert les intérêts de l'actuel chef de l'Autorité palestinienne [AP].
Lire également : Des élections en Palestine ne résoudront pas l'absence de stratégie pour une libération nationale
Cette idée a beaucoup de pertinence, non seulement parce qu'Abbas n'a guère fait pression sur Israël pour une libération de Barghouti, mais aussi parce que tous les sondages d'opinion dignes de foi démontrent que Barghouti est largement plus populaire parmi les partisans du Fatah – et tous les Palestiniens – qu'Abbas.
Le 11 février, Abbas a dépêché Hussein al-Sheikh, ministre des Affaires civiles et membre du Comité central du Fatah, pour dissuader Barghouti de se présenter aux prochaines élections présidentielles.
Le meilleur scénario pour le chef de l'AP serait de profiter de la popularité de Barghouti en faisant en sorte qu'il dirige la liste du Fatah aux élections pour le Conseil législatif palestinien (CLP). Ainsi, Abbas pourrait assurer une forte participation des partisans du Fatah, tout en se garantissant le poste de président.
Barghouti a rejeté sans équivoque la requête d'Abbas, représentant ainsi un défi inattendu pour Abbas, qui risque à présent de voir se diviser les voix du Fatah, de perdre à nouveau les élections au CLP au profit du mouvement Hamas, et de perdre les élections présidentielles face à Barghouti.
Entre les raids toutes les nuits par l'armée israélienne et les intrigues politiques au sein du Fatah, on se demande si les élections – si elles ont lieu – permettront enfin aux Palestiniens de mettre en place un front uni dans la lutte contre l'occupation israélienne et pour la liberté des Palestiniens.
Il y a également la question de la position qu'adoptera la dite « communauté internationale » face au résultat des élections.
Les reportages parlent des efforts déployés par le Hamas pour obtenir des garanties du Qatar et de l'Égypte «pour s'assurer qu'Israël ne fera pas la chasse à ses représentants et candidats aux prochaines élections», comme le rapporte Al-Monitor.
Mais quel genre de garanties les pays arabes peuvent-ils obtenir de Tel-Aviv, et quelle influence peuvent bien avoir Doha et Le Caire alors qu'Israël continue de ne pas tenir compte des Nations Unies, du droit international, de la Cour pénale internationale, pour ne citer qu'eux
Néanmoins, la démocratie palestinienne peut-elle se permettre de rester dans un tel état d'inertie ?
Le mandat d'Abbas en tant que président a expiré en 2009, le mandat du CLP a expiré en 2010, et l'Autorité palestinienne n'a été créée qu'en tant qu'organe politique intérimaire dont la fonction aurait dû cesser en 1999.
Depuis lors, la «direction palestinienne» n'a plus de légitimité aux yeux des Palestiniens et son existence ne dépend que du bon vouloir de ses bienfaiteurs, pour lesquels la démocratie en Palestine est le cadet des soucis.
Le seul aspect positif de cette affaire est que le Fatah et le Hamas se sont également mis d'accord sur la restructuration de l'Organisation de libération de la Palestine (OLP), aujourd'hui largement monopolisée par le Fatah d'Abbas.
Que la refonte démocratique de l'OLP se fasse ou non, dépend en grande partie du résultat des élections de mai et juillet.
La Palestine, comme d'autres pays du Moyen-Orient et parmi eux Israël, connaît une crise de légitimité politique.
Étant donné que la Palestine est une terre occupée avec peu ou pas de liberté du tout, il est légitime de soutenir qu'une réelle démocratie dans d'aussi terribles conditions reste une chimère.

* Ramzy Baroud est journaliste, auteur et rédacteur en chef de Palestine Chronicle. Son dernier livre est «These Chains Will Be Broken: Palestinian Stories of Struggle and Defiance in Israeli Prisons» (Pluto Press). Baroud a un doctorat en études de la Palestine de l'Université d'Exeter et est chercheur associé au Centre Orfalea d'études mondiales et internationales, Université de Californie. Visitez son site web: www.ramzybaroud.net.
10 mars 2021 – RamzyBaroud.net – Traduction : Chronique de Palestine – Lotfallah
Lebanon justice system can no longer reclaim any even theoretical "constitutional" independence status
The USA and European banking systems can published all the list of Lebanon rotten leaders who bankrupted the entire State, the political leaders won't mind a bit on whatever they stole blatantly: there is no justice system (powerful and integral judges) to go after them, Not even a slap on the hand.

القضاء اللبناني قضى على نفسه.. من زمان
نصري الصايغ   Nasri Sayegh Posted on 
لندخل في صلب الموضوع مباشرة. فلنتوقف عن تسمية الأشياء بغير أسمائها والقضايا بغير معانيها.
لغتنا تكذب بشكل تلقائي. علينا أن نتجرأ بحذف حاسم وبصوت مرتفع وبتجرؤ حاد. كفى.
فلنطرق لغتنا اللبنانية، ثم العربية، بمطرقة قاسية وطاحنة. كفى مرة أخرى.
ندخل في صلب الموضوع. فلنحذف من لغتنا مفردات سيئة الاستعمال. فليكن الظلم رديفاً للعدالة. العدالة لم تزرنا مرة. استضعفنا الظلم وسميناه عدالة. منذ أكثر من مئة عام، ولبنان مضاد للعدالة. لم نبرهن أبداً على أنها دخلت قصور العدل أو دواوين المساءلة.
فلنتوقف أيضاً عن التحدث والمطالبة بالمساءلة. هذا معيب بحق الذكاء والبصيرة.
المساءلة لم تجد طريقها إلينا. منعناها. نفينا عنا المحاسبة، إننا لا نشبه السؤال ولا نعرف الامساك بالمطرقة. ممنوع دخول العدل الأراضي اللبنانية. إنها محفوظة في مكان معتم. لا تتعبوا أنفسكم. إن بحثتم لن تجدوها. لا في دولة أو حكومة أو مؤسسات أو مرجعيات دينية وسياسية ومالية. هذا البلد على صداقة متينة مع الزعبرة والاحتيال والنفاق.
هل هذا ما أريد أن أقوله؟
لم أكن أقصد هذه المقدمة. قلبي مفطور ومدمى على الرابع من آب. لم أنسَ. لا أنسى. كيف أنسى. جريمة الجرائم. أفدح الفدائح. بيروت عاصمة الجراح والقتلى والدمار. حتى الآن، لم نعرف حقاً، ولن نعرف. لذا، من حق كل قطيع أن يسمي "المجرمين"، ولكن من دون عقاب.
أيضاً، ليس هذا ما أريد أن أكتبه.
عذراً. إنما، ولأننا فتحنا أبواب الممتنع، فلنكمل سيرنا الواعي والمستيقظ والمستفَز (بفتح الفاء)، طريقنا إلى المفردات المفقودة.
وعليها إذا، فلنكف عن المطالبة بدولة. لبنان ليس دولة ولا مشروع دولة. إنه مكان إقامة الشاذين سياسيا وأخلاقيا، أبناء الطوائفيات التي أقامت عروشها في مقامات السلطة وأقبيتها.
لا دولة في لبنان. هي ملطش سياسي. ولا دستور. الدستور ليس حبراً على ورق. إنه كذلك هنا. لم يجد الدستور من ينقذه أو من يحرسه. حرام، يكاد يمحي أو يذوب أو يصاب بالرمد والعمى. إياكم وترداد دولة القانون. حذار. هذا خطأ جسيم. نحن مكان لملتقى عصابات متنافسة في الارتكاب.
علينا تنقية لغتنا من الديموقراطية. رجاء استعيدوا هذه القيمة العليا. هذا فوق طاقة لبنان. أقنعوا أنفسهم بفتوى فاسدة وبلقاء وعاهرة: الديموقراطية التوافقية.
وما لنا، هو لنا، وما لكم هو لنا ولكم…
احذروا التغيير. هدا من تاسع المستحيلات لبنان تتغير فيه القشور. اللب العفن هو الذي يبعث رسله إلى البرلمان. أما لفظة المؤسسات فلا تقربوها سوق ماريكا أنقى منه وأكثر إفادة والتذاذا.
المؤسسات هي عقر دار الآفات والارتكابات والجرائم… أما عن الحكم فلا تسأل. رئاسة الجمهورية كاريكاتور سيء الخطوط. كل رئيس "موديلو شكل".
الرئاسة مصابة بالرئيس والرؤساء مصابون بالرئاسة. فالصو. الخواء ذو ضجيج كلامي. مطحنة بلا طحين. لا تتوقعوا حكومة أو حكومات فقط ركزوا على الأموال والصفقات وضرب الكم والسرقة المفضوحة.
هؤلاء، عباقرة لبنان. النواب نماذج لخدم الراعي الذي يسوق قطعانه بالأمر، والترغيب والترهيب والمكافآت. النائب، كلما اتضع كلما انتفخ سيده، وصار لا مفر منه. إن غاب، غربت شمس البلاد… حافظوا على الأسوأ دائماً السيء مغفورة له خطاياه الآثمة.
هل هذا ما كنت أريد قوله؟ طبعاً لا.
لكن الحالة اللبنانية جذابة. لكنني سأتوقف عند هذا الحد. لن آتي على معاناة اللبنانيين. إنما اسمحوا لي، بأن أهين مجموعات لبنانية، قررت أن تسير على ركبتيها وتزحف على جباهها.
تباً. نصف شعبنا بلا جبهات عالية. إنهم يشبهون أنصاف نعل الأحذية. هل هذه إهانات؟ طبعا لا. هذا ترسيم لواقع قائم.
فلنقفل الكلام على ما تبقى. ولندخل في صلب الموضوع. ولو متأخرا كثيراً.
الموضوع هو تفجير أو إنفجار المرفأ، والعسّ القضائي، والنفاق السياسي، والتوظيف الطائفي، والموضوع، هو الهروب الكبير من الفضيحة الكبرى والجريمة العظمى.
ماذا أريد أن أقول لهؤلاء؟ لا شيء عندي أقدمه للسادة القضاة، للأهالي المظلومين، للشهداء الأحياء، للأحياء شهادة ونبلاً. عندي حكاية أرويها، تعود إلى الأزمنة الإغريقية.
يا إلهي كم كانوا بشرا؟ كم كانوا عدلا؟ كم كانوا عقوبة؟ كم كانوا جرأة. كم كانوا يرون السكان بشراً وأحراراً… نحن لسنا كذلك،
إن حكامنا الحقيرين جداً، ينظرون إلى أبريائنا نظرة احتقار… ملاحظة، مسموح أن تتوقف عن القراءة وتتلو شتائمك بصوت مرتفع، ومراراً. خذ نفساً عميقاً وارفع صوتك يا أخي..
لندخل أخيراً في صلب الموضوع.
الارتكاب في لبنان خاضع لعفو سري دائم.
مئات آلاف القتلى في الحرب اللبنانية تمت خيانتهم. عفو رسمي مبرم عن كل القتلة والمجرمين، مع جائزة تنصيبهم وزراء ونواباً وزعماء. لبنان مدرسة في العفو عن القتلة.
مئات الآلاف هُجّروا ولم يعودوا. مبروك. لبنان يحتفل بالمصالحات التي تتم من فوق. انظروا إليهم، كأنهم شركاء في الفضيلة والحكمة. عيب. إنهم ملوثون. الدماء لا تمحى من الذاكرة.
إنه العفو. لبنان يعفو عن المرتكبين.
ماذا عن تفجير أو إنفجار الرابع من آب. القضاء ذو سمعة سيئة. لم يعاقب مرتكباً. لا يقوى إلا على الغلابى. لا نصدق أن العدالة اللبنانية ستستيقظ اليوم أو غدا، ونقبض على القتلة، بسبب الإهمال أو بأسباب جليلة. لبنان فريد عصور الأرض جميعاً.
حدث ذات حقبة إغريقية أن مارست السلطة سياسة قضائية مثالية. لم يتورع القضاة من محاكمة المنتصرين الأبطال في المعركة، لأنهم أهملوا واجب إنقاذ رفاقهم في الحرب… نعثر في كتابات زينوفون على ما يلي، بتاريخ 406 قبل الميلاد.
أولا: انخرط المواطنون الإغريق في صنع القرار الإتهامي وصياغة العقوبات
ثانيا: السبب في إنزال العقوبة، هو انتصار بحري أثيني شهير أفضى إلى موت عدد كبير من بحارتهم، في معركة منتصرة.
ثالثاً: اتهم الجنرالات المنتصرون والمسؤولون عن الحملة بترك رجال في قوارب محطمة عرضة للغرق.
هناك، في إغريقيا وطبعاً ليس في لبنان، أقدم الشعب على خلع الجنرالات بإستثناء كونون، من مناصبهم. خاف إثنان من الجنرالات العقوبة. فهربا ولم يعودا إلى أثينا. وهما جنرالان منتصران. الجنرالات الستة الآخرون أُخضعوا للمحاكمة. أدلى الجنرالات بحججهم. فهم حاولوا إنقاذ الآخرين، لكن الإعصار حرمهم هذا الإنجاز. هم حاولوا والعاصفة العاتية صدت جهودهم. هم غير مسؤولين عن موتهم.
لن يقتنع القائد تيموكراتيس واقترح نقل الجنرالات إلى السجن، ثم عرضهم على الجمعية العامة، فوافقت الجمعية على الإعتقالات. وانعقدت المحكمة للاستماع.
يريد الشعب تفسيراً لعدم قيامهم بإنقاذ الرجال الذين تحطمت سفنهم. دافع كل جنرال عن نفسه. قالوا: "إنهم أوكلوا إنقاذ السفن المحطمة إلى بعض القباطنة، وهم جنرالات خدموا في ما مضى… الإخفاق في عملية الإنقاذ ليس من مسؤوليتهم بل من مسؤولية أولئك الذين كلفوا بالمهمة…
" ثم أردف الجنرالات بدليل براءة: " إننا نزعم أن عنف الإعصار هو الذي جعل الإنقاذ مستحيلاً". وقدموا شهوداً ليؤكدوا على عنف الإعصار.
عدد كبير من المواطنين هبوا واقفين عارضين إقالتهم. إلا أن المجلس اقترح على أن يصار الإتفاق أولا، على نوع المحاكمة التي تنظر في القضية.
من هم المتهمون؟ أسماؤهم تدل على مكانتهم: بريكليس (ابن بريكليس الشهير)، ديوميدون، لبسباس، أريسوكراتيس، تراسيليوس وايراسينيدس. وهؤلاء ليسوا فقط قادة، بل عمالقة السياسة والقتال. وفي مراتب مرموقة.
ومع ذلك، الحق يعلو ولا يُعلى عليه. سيخضعون للمحاكمة. تلاقى آباء القتلى والمفقودين وأسرهم، واقترحوا أن يحضر الرجال، أقارب القتلى ومن حقهم الإستماع وإبداء الرأي. الشعب مصدر السلطات. هاجموا الجنرالات وانقسمت الآراء. فاقترح كالكسينوس اللجوء إلى عملية اقتراع.
كل ما يتعين على الأثينيين فعله، لا يصدر كونه دعوة إلى الإقتراع عبر تخصيص جرتين (صندوقين) لكل دائرة، وتعيين مباشر يدعو أولئك الذين يرون الجنرالات مذنبين، لأنهم أخفقوا في إنقاذ زملائهم القادة الذين حققوا الإنتصار، وضع أصواتهم في الجرة، والذين يرون العكس إلى وضع أصواتهم في الجرة الثانية، إذا ما تقرر أنهم مذنبون يجب إعدامهم وتسليم جثثهم إلى مجلس منتخب بالقرعة.
تناوب الجنرالات والشهود. منهم من إتهم ومنهم من دافع، ووضع المسؤولية على عنف الأمواج العاتية. وقد وقف الدفاع عن الجنرالات خطيب مشهور (يوديبتوليموس) وألقى خطابا مقنعاً، ولكن…
دافع الجنرالات عن أنفسهم في محاكمة مستقلة. اقترح أحد الحكماء إعطاء فرصة للدفاع وفرصة للإتهام، بمحاكمة مستقلة منفصلة لكل واحد منهم. الذين أخطأوا سيعاقبون أشد العقاب، والأبرياء سيتم إطلاق سراحهم، بقرار من الشعب. قال الحكيم: "يا رجال أثينا، إن لم يخطئوا لن يعدموا. ستبقون حريصين على مراعاة إملاءات الورع وشروط قسمكم حين توفرون لهم محاكمة قانونية.,"
هناك من حاول تضليل الشعب. عوقبوا عقابا شديداً. جرى التصويت على الجنرالات الثمانية الذين شاركوا في المعركة. كان التصويت لغير صالحهم. والستة الموجودون في أثينا أعدموا… ورفعت دعوى ضد أربعة آخرين وتم احتجازهم، ثم هربوا قبل أن يحاكموا.
فيما بعد، عاد كاليكسينوس إلى المدينة، ولكن الجميع نبذوه، وقد مات جوعاً، لأنه حاول أن ينحاز إلى فريق ضد فريق.
هذه هي أثينا. الشعب مصدر السلطات. الشعب مصدر القرارات. الشعب يوافق على الأحكام أو لا يوافق. يقترع. القضاء يصفي وينقب ويأخذ القرارات علنا. إن أخطأ القضاء عوقب بالنفي.
ماذا عندنا؟
إلى قضائنا اللبناني سؤال بسيط: هل أنت قضاء عن جد. إن كنت، فدلنا عليك. لم نجدك بعد.
منذ قرن ولم نلمس أي حراك. أنت أيها القضاء، قوي على الضعفاء البائسين، وغفور رحيم للمرتكبين. لكم آذان تسمع حفيف النمل، ولا تصغون إلى أصوات الذين حرموا أبناءهم في إنفجار بيروت…
ماذا بعد؟
لا سؤال إلا لواحد أحد:
أيها اليأس، هل من أمل؟
دمعت عيناه ومضى.
Courage in researching a people history and keeping up to date to warmongering decisions and antagonistic political positions…
Paul Craig Roberts. March 16, 2021
I Have Outlived My Country 
I was born in the spring of 1939.  I was a few days shy of 5 months old when Germany invaded Poland on September 1.  The British and French governments responded to the invasion by declaring war on Germany, thus initiating World War II.  
Germany always gets the blame.  
Germany's invasion of Poland is always said to be the event that triggered World War II, but never that the British and French declared war on Germany.  This is because the victors write the history.
The British, French, and Americans were victors only because the Soviet Red Army defeated the Wehrmacht, possibly the finest army ever in existence.  
The Soviets prevailed through sheer numbers and in weapons production capability far beyond Germany's capability.
After reading Viktor Suvorov book, The Real Culprit, I don't believe Stalin had any need of war supplies from the West.
The Normandy invasion did not take place until June 6, 1944, after the Red Army had been fighting the Wehrmacht for three years since June 1941. 
Hitler was putting Germany back together from its dismemberment by the Versailles Treaty.  
Only the German people and territory under Polish rule remained to be returned.  For reasons that make no sense, the British government interfered in the German-Polish negotiations and caused the Polish military government to break off the negotiations.  
The result was the Molotov-Ribbentrop Pact that divided Poland between Germany and the Soviet Union. Hitler had a claim to German territory.  The Soviets had no claim to the Polish territory seized by the Red Army, but the British and French limited their objection to the invasion of Poland by Germany.
It was the mindless British "guarantee" to Poland that caused World War II.  In its absence the Polish government would have come to terms with Germany.  
Hitler did not want war with Britain and France, much less with the US. These were events forced on Germany.  After the swift  German  defeat of the British and French armies, Hitler offered Britain peace with German military guarantees to protect the British Empire, but Churchill kept the peace offer secret and refused.
Churchill continued to refuse German offers of peace, and some historians concluded that the reason Hitler attacked the Soviet Union was because of Hitler's belief that Churchill was holding out with the expectation that Russia would come into the war on the British and French side.  
Therefore, Hitler decided that he would remove that British hope by overrunning Russia.
Suvorov says Hitler knew that Stalin was about to attack Germany, but David Irving's histories have not uncovered  evidence to support Suvorov's claim that Hitler knew of a planned Soviet attack. Neither side seemed to know of the other side's intention.
Had it not been for an early Russian winter, Hitler might have succeeded in knocking out the Soviet Union. The early winter stopped the German advance and gave the Red Army time to recover and organize.
I am writing this as background to the world I grew up in.  
World War II did not harm the US.  It did America well. The war brought the US out of the decade-long economic depression and left the US as the world power with the reserve currency. 
US military deaths from both fronts—Japan and Germany—totalled 416,000, a number almost matched by Britain, a much smaller country and population, and exceeded by tiny Yugoslavia with 446,000 military deaths.  
In contrast, German military deaths totaled 4,300,000 plus an underestimate of 500,000 civilian war deaths from the British and American policy of targeting German civilian populations with bombing raids on residential areas.
The defeat of Germany was achieved by the Soviet Union with a minimum of 10,000,000 military deaths and between 24,000,000 and 26,000,000 civilian and military deaths. 
I grew up in halcyon days in Atlanta. In those days a person did not have to be brilliant or have ruling class connections in order to succeed.  This fact seperated America from the rest of the world in popular opinion. Americans lived in a land of opportunity. And it was true, not make believe. 
In Atlanta, Georgia, 5-year olds could walk alone or with neighborhood classmates a mile to school and a mile to home without being molested or kidnapped.  
Boys could have fights on the playground without being arrested. Parents together with teachers dealt with problems, which were few. Teachers were outstanding.  
There was no such thing as education degrees. Teachers had degrees in English or other languages, mathematics, chemistry, physics, history. They were people who loved their subjects and conveyed that to students.  
Misbehavior, which was rare, was dealt with a note home that had to be signed by a parent and returned the next day. The last thing any of us wanted was a note home. There was no CPS we could call to complain of being punished for our misdeeds.
We got along well with black Americans.  They were part of even lower middle class white households.
In those days labor saving machines were unknown.  Clothes were washed by hand and hung on clothes lines to dry. Meals were cooked from scratch with real ingredients.
If mother was not present, Carrie (black home servant) was the boss, not us "white privileged."  Carrie dined with us at the table, and if Carrie encountered a financial problem she couldn't handle, my parents and her other day employers would pool our scant resources to help her. 
I grew up in Atlanta, Georgia, with no fear or hatred of black Americans. This is no longer the case in Atlanta. Many white Atlantans are fleeing the city.
It is not only the relations between the races that have deteriorated.  Everything has.  
America today bears no relationship to the American world that I grew up in.  
Of course, today the reply will be that I grew up in "white privilege." But actually, I grew up in a community in which people and genders had different roles, and a person was judged by performance.  Performance included moral behavior.  If you were a moral person who did a good job and your word was true, you were respected.  Period.
Today if you aren't a "woke" person who objects to gender pronouns and you don't believe that the white working class are "systemic racists," you are deplatformed and cancelled.
White people are now demonized by other white people, and the demonized are not permitted to object. Any "person of color" can destroy any boss, fellow employee, university professor or dean by claiming to be "offended."
In America today there are very few free people.  Only those not dependent on employment and media approval are free.  
Even the few free Americans are in jeopardy as the expression of dissent is being defined by the Biden regime as domestic terrorism. (Are you a believer in the Prophet Donald Trump?)
The media speaks with one voice, and the voice is one of denunciation of all who challenge the ruling narratives.  (It has been this way since Nixon)
In America today, media protect the mistakes and avariciousness of medical bureaucrats allied with Big Pharma, and the media shield Establishment narratives from scientific experts who are silenced by being denied a forum.
Consequently, the public is informed only by self-serving propaganda that enriches material interests and increases government power over citizens.
The consequences are varied and disastrous.  With Covid there have been needless lockdowns that have destroyed businesses and individuals.  (Too general. Got to develop on that issue)
In foreign policy, antagonisms have been created that could lead to disastrous wars with Iran, China, and Russia.  The focus of the Biden regime on defining Trump supporters, all 90 million American voters, as domestic terrorists implies a civil war. (Sanctions on entire people are still in place, and Biden talks but does Not deliver on removing sanctions)
What I find most discouraging about America is that after all the proven deceptions Americans  have endured—the assassination of President John F. Kennedy, the assassination of Robert Kennedy, the assassination of Martin Luther King, the assassination of foreign leaders who refused to toe Washington' line, the Vietnam War, 9/11, Saddam Hussein's weapons of mass deception, Assad use of chemical weapons, Iranian nukes, Russiagate, Russian invasion of Ukraine, the 2020 election, Trump insurrection at the Capitol…
The list goes on forever and (Not listing all the pre-emptive wars and countless military coups on undervelopped new States…)— And Americans continue to sit in front of CNN and the rest,  listen to NPR, and read the New York Times or Washington Post…
And continue to accommodate the ruling Establishment by consenting to being brainwashed. (That was the trend for decades, especially in US total support of Israel racist and apartheid policies and demonizing the Middle-East people)
A people this insouciant has no possibility of survival.
A bainwashed America, a brainwashed Western World, are not homes for freedom.
On this website, I attempt to make you aware.  
In contrast to the media, I give you good information about the subjects I explain.  Go back and compare what I told you compared with what the media told you. 
Consider, for example, my Covid reporting. I told you how to protect yourself. I told you what the cures are if you are infected with a serious case. I told you the masks are not protective unless they are rated N95.
This is valuable information.  This website is valuable for everyone. Every person on earth is unique.  
We should respect everyone until they give us reason not to respect them.  The people in Western governments seem to be the least respectable.  They lie the most, and the presstitutes cover for them. Only those who speak truth are attacked.
Think about your sources of information. I mean real information, not that which agrees with your biases. Do you have better sources than this website?
Does it keep you informed?  Does it make you think?
Note 1: Stalin did Not reduced drastically the ever increased demand of Nazi Germany for oil and gas. Russia and the US were the main importers of Germany goods. Hitler could have delayed another 6 months his invasion and destroyed all of England airports and seaports and forced Churchill to howl Uncle. Launching 2 wars in the same time has never been a good strategic decision.
Note 2: It was England that prompted WWI because Germany was the second trade giant behind the USA and its navy was at a par with British marine fleet.
Mar Sassine is depicted in pictures as a long white bearded angry specimen, holding a broad sharp sword, slaying a "heretic infidel". An early version of Christian Daeshis?
Posted on September 3, 2018
Mon cher Ado,( Part 9)

Autrefois, à Mar Sassine, (Saint Sassine church) les femmes occupaient les rangées de gauche et les hommes ceux de droite. Aujourd'hui on se mélange , tout est embrouillé .
Le dimanche et les jours de fête , tout le monde était joliment habillé . Les femmes et les jeunes filles étaient chapeautées ou bien se couvraient la tête avec de belles écharpes .
Les hommes quant à eux ils devaient se décoiffer dès qu'ils franchissaient le porche de l'église . La plupart étaient costumés avec des chemises blanches. Certains d'entre eux s'habillaient encore à l'ancienne avec une chemise blanche sans col , et un serwal (sherwal), et un fez indispensable (tarboush) qui les rehaussait de quelques centimètres et leur donnait l'air vainqueurs .
J'ai toujours en mémoire quelques uns de la génération de mon grand-père qui n'arrivaient pas à se débarrasser de leurs habits folkloriques .
Le temps s'est chargé de les retirer , les uns après les autres , du tableau de mon enfance .
A l'église, ma grand-mère , Farfoura, et ses copines , Olga Boudalha et Marie Farah , occupaient les premiers rangs de gauche . La messe finie, et après avoir offert leurs prières à Mar Sessine afin qu'il intercède pour elles auprès de Dieu qui devrait exaucer leurs vœux , elles se retrouvaient chez l'une ou l'autre pour siroter un de ces bons café qu'elle savaient si bien préparer à feu doux .
Marie Farah était d'une gentillesse à nulle autre pareille ! Quand j'arrivais parfois chez elle pour voir mon copain Charlot, elle m'accueillait avec son sourire Angélique et tenait toujours à m' offrir une douceur qu'elle avait préparée et qu'elle gardait dans une boîte au fond du buffet .
Tout cela est du passé, même la maison a changé de look , ce n'est plus la belle maison de mon enfance avec son jardin fleuri et le néflier qui nous accueillait à bras ouvert quand il était chargé de ses fruits succulents .
………….
Il faut savoir que l'église de Mar Sassine est celle de la famille Bejjani, car chaque famille dans notre village à son église , de la sorte qu'on a à Beit-Chabab 16 églises .
Les branches de notre famille sont nombreuses : il y a les Boudebs , les Farah, les Bou-Hanna, les Gebraiel , les Jabr , les Tohme , (les Bouhatab?) et d'autres encore …
A l'église, tout en écoutant la messe, nous observions les jeunes filles aussi belles les unes que les autres!

De ma vie , mon cher Ado, je n'ai rencontré d'aussi belles ! (Miopia might have set in, or definitely I was indifferent then).
Serait ce le fait de l'adolescence ? Ne tarde pas à me rassurer que je ne divague pas ? (Que sais-je? Peut-etre les deux?)
Ce qui m'impressionnait au cours de la messe, c'était lorsque bouna Liés  (Elias), le père de celui qui officie aujourd'hui , car bouna Liés , l'ancien , était marié et avait plus de 10 enfants . (Elias I, Elias II, Elias III…?)
Et bien c'était lorsqu'il entonnait ses prières avec sa voix de ténor , une voix filtrée par barbe blanche qui lui couvrait toute la poitrine et même une partie du ventre , alors que Fares Boudebs faisait la quête avec son panier à la main, précédé de son ventre qu'il avait développé aux cours de ses années passées en Afrique .
Aujourd'hui , c'est son neveu , Josèphe Boudebs qui se charge de faire la quête , à croire que cette charge est allouée aux Boudebs , demain ce sera un des enfants de ma tante Rose qui a eu la belle idée d'épouser un jeune homme de la famille Boudebs. J'attends de voir qui sera le suivant?
Ça m'étonne que Said se charge de cette besogne , encore moins Jean-Pierre , il est donc fort probable que ce sera Farouk ! (Or the wife of one of them?)
(Probablement ce sera une fille des Boudebs? Ca vaudra le sacrifice pour agrandir la quete pour les expenses récente de l'amélioration de l'église. Bernard Gsoub a contribué' à l'embellissement).
Note: Aunt Marie Farah was the sister of my grandfather Tanios (Antony). Her husband was an elected Mokhtar, someone who knows all the citizens in his quarter and signs on many official transactions. Marie would prohibit her husband to pocket his money dues on the transactions I submitted to him.
What's that concept of Human factors in Design?
Posted on September 20, 2008 (written from 2003-2006)
 What is this Human Factors profession?
 Summary of Articles numbers                                                                                              
1. "What is your job?"
2. "Sorry, you said Human Factors in Engineering?"
3. "So, you want systems to fit people?"
4. "The rights of the beast of burden; like a donkey?"
5. "Who could afford to hire Human Factors engineers?"
6. "In peace time, why and how often are Human Factors hired?
7. "What message should the Human Factors profession transmit?"
8. "What do you design again?"
9. "Besides displays and controls, what other interfaces do you design?"
10. "How Human Factors gets involved in the Safety and Health of end users?"
11. "What kind of methods will I have to manipulate and start worrying about?"
12. "What are the error taxonomies in Human Factors?"
13. "What are the task taxonomies and how basic are they in HF?"
14. "How useful are taxonomies of methods?"
15. "Are occupational safety and health standards and regulations of any concern for the HF professionals?"
16. "Are there any major cross over between HF and safety engineering?"
17. "Tell us about a few of your teaching methods and anecdotes"
18. "What this general course in Human Factors covers?"
19. "Could one general course in Human Factors make a dent in a career behavior?"
20. "How would you like to fit Human Factors in the engineering curriculum?"
21. "How to restructure engineering curriculum to respond to end users demands?"
22. "How can a class assimilate a course material of 1000 pages?"
23. "What undergraduate students care about university courses?"
24. "Students' feedback on my teaching method"
25. "My pet project for undergraduate engineering curriculum"
26. "Guess what my job is"
27. "Do you know what your folk's jobs are?"
28. "How do you perceive the inspection job to mean?"
29. "How objective and scientific is a research?"
30. "How objective and scientific are experiments?"
31. "A seminar on a multidisciplinary view of design"
32. "Consumer Product Liability Engineering"
33. "How could you tell long and good stories from HF graphs?"
34. "What message has the Human Factors profession been sending?"
35. "Who should be in charge of workspace design?"
36. "Efficiency of the human body structure and mind"
37. "Psycho-physical method"
38. "Human factors performance criteria"
39. "Fundamentals of controlled experimentation methods"
40. "Experimentation: natural sciences versus people's behavior sciences"
41. "What do Human Factors measure?"
42. "New semester, new approach to teaching the course"
43. "Controlled experimentation versus Evaluation and Testing methods"
44. "Phases in the process of system/mission analyses"
45. "Main errors and mistakes in controlled experimentations"
46. "Human Factors versus Industrial, Computer, and traditional engineering"
47. "How Human Factors are considered at the NASA jet propulsion laboratory"
48. "Efficiency of the human cognitive power or mind"
49. "Human Factors versus Artificial Intelligence"
50. Computational Rationality in Artificial Intelligence
51. "Basic Engineering and Physics Problems Transformed Mathematically"
52. Mathematics: a unifying abstraction for Engineering and Physics
53. How to optimize human potentials in businesses for profit