Archive for the 'economy/finance' Category
What Black Swan Theory has to do with Arab Spring uprising?
Posted on June 13, 2012
I have posted several articles on the Black Swan Theory and this link is in response to its application to Lebanon political/social structure https://adonis49.wordpress.com/2011/06/03/is-lebanon-political-system-immune-to-radical-non-violent-revolts-think-again/
Zaher Yahya posted on Huffington Post an article (with slight editing) that is a general "refresher" post on the topic:
"The Arab Spring has been described and associated with a variety of symbolic designations.
At times, the term describes the series of protests that have swept across the MENA (Middle East and North Africa) region. It may also indicate a person's political position on the wide and highly polarized spectrum.
The term 'Arab Spring' has even been criticized by some who support the pro-democracy (or anti-regime) protests, citing this description as being Orientalist and therefore inappropriate.
The 'Arab Spring'  (protests and upheaval), which started on December 2010, has become a brand for the region, and has motivated and catalyzed many popular protest movements around the world.
International media generally refers to the term as a unified concept, largely citing its contagious aspects as well as the key links between the countries involved.
We now know that the Arab Spring will not be an easy ride for the countries that it has affected, though it cannot be denied that the region has been marked by a political paradigm shift.
People in the MENA region have:
1. Denounced the long-accepted principle that unelected officials and family dynasties can cling to power for decades without consequence.
2. People have broken the long-standing barriers of fear regarding corruption and intimidation,
3. People are adjusting to the ideological diversity of their societies (though many still have much to learn on this front).
For these reasons, I tend to be optimistic about the Arab Spring despite much rhetoric about it becoming an Arab "Winter."
Having lived through the global financial crisis that has affected people of all walks of life, I view the Arab Spring as being related to these events that shook the world economy in 2007.
Are you surprised that I find a relation may exist between these two events, both vast and far-reaching, but seemingly distinct? It may appear a tad philosophical, but the answer lies with Nassim Taleb.
Nassim Taleb (see note 2) lays the foundations  in his two books Randomness (2001) and Black Swan (2007) for his theories about uncertainty, randomness and Black Swan events.
Black Swan theory describes unpredicted major-impact events that effectively appear sensible in hindsight.
Taleb theory is framed in a financial context, (many experts contend that Taleb forecasted the financial meltdown of 2007), and describes the biggest financial crisis since the Great Depression of the 1930s as one of these Black Swan moments.
Black Swan moments are characterized as being rare, high-impact and paradoxically unpredictable occurrences at the time of their occurrence. Most of us would assume black swans don't exist, simply because we were only accustomed to seeing white swans in pictures and videos…
In the terms of the financial crisis, speculators assumed there is only one way for the markets to go; asset values would rise indefinitely with no limit to the amount of debt people could incur.
It has become clear afterward that the reality on the ground was different of what was written on their balance sheets and portfolios bottom lines.
The impact of the debt crisis was colossal and wide-spread that no expert envisaged at the time, with many talking about the failure of capitalism as a result. This global crash has really shattered the image and ultimate authority of the dictators of the finance sector (i.e. investment banks and hedge funds).
The Arab spring proved as difficult to predict as the financial meltdown showing economists, intelligence agencies, policy makers and analysts clueless about their own business, simply because they have never considered a Black Swan moment for the MENA region.
The Arab Spring was triggered by what could initially have been interpreted as an isolated event, spread surprisingly fast over a vast region, and led to major and unexpected developments.
In the same way, norms of the banking system that was held for generations collapsed with stunning speed and magnitude, the image and privilege of Arab dictators were shattered by popular revolts in a movement that took the world by surprise.
A Black Swan moment was never considered in the experts' minds to apply to the Arab States: many Arab dictators held a seemingly unshakable iron grip on power and ruled undeterred for up to four decades, all while preparing their sons to someday take the reins after them, unshaken by popular and economic conditions in their country.
So the public witnessed only their moukhabarat (secret service agents) running the show, as well as the brutal backstage of the regime if you were unlucky enough to pay them a visit.
Years of tradition made this construction of power a social norm, a backbone of society so persevering it was often assumed (and reasonable at the time) to be unshakable.
And this is exactly what Nassim Taleb focuses on, exactly on the things we don't know rather than the things we think we do.
A small exception to a rule (events in the tails of the normal graph) in the future can have the ability to trigger large-scale change and dismantle norms, theories and paradigms that have been accepted for years.
The colossal impact of the Arab Spring across the region was beyond anyone's realm of expectations – either idealistic or highly calculated.
In the world of risk management, this event appeared highly unlikely: The probability of such events spreading across such a vast region were not on the minds of political forecasters, in the same way so many bankers did not fathom their long-standing stability could be shattered so suddenly.
In hindsight, the Arab Spring may now appear to have been predictable.
How could we have assumed that despite torture, censorship, abuse, brutality, corruption, unemployment and poverty, regimes would remain sustainable?
Whatever your opinion of the Arab Spring, and whatever term you choose to designate it, what started in December 2010 has proven itself a Black Swan moment of the Middle East and North Africa, one that is far from over, and whose impact will perhaps take years to fully assess.
Note 1: Michelle Ghoussoub, Blogger at Lebanon Spring, edited Yahya article. Follow Zaher Yahya on Twitter: www.twitter.com/TheZako
Note 2: Nassim Taleb is a renowned Lebanese-American statistician, best-selling author and former Wall Street trader. His books Fooled by Randomness (2001) and Black Swan (2007) brought him to fame, with the latter described by The Sunday Times as "one of the twelve most influential books since World War II".
Note 3: Opinion experts would like us to believe that the uprising were not expected by the US. Evidences are pointing that what was unexpected is the development, steadfastness and far-reaching movement of the Arab people to get away with their long established indignities and humiliation by usurping oligarchies.
Note 4: What is of most importance is to study how the colonial powers and Saudi Kingdom, and monarchic regimes went about taming this mass upheaval and re-instituting dictators power in the MENA region. Only the fomenting of the extremist religious movements were the major barriers in resuming these mass upheaval.
More than 60 million destitute people in northern Nigeria, Somalia and Afghanistan, the lawless and most hard-to-reach places could go unvaccinated, Red Cross chief warns
Peter Maurer, Red Cross chief, December 8, 2020.
Nick Webster. Dec 8, 2020
More than 60 million people in conflict zones and lawless regions could remain unvaccinated against Covid-19, the head of the Red Cross warned.
A global operation to vaccinate billions of people is due to begin.
But millions of the most vulnerable people may never receive a vaccine.
These include about 26 million refugees and tens of millions of internally displaced people.
One of the vaccines must be stored at minus 70°C, creating unique challenges for isolated communities.
"Producers of vaccines must be aware of the special conditions in which hundreds of millions of people are living, who are not close to any cold-chain supply," Peter Maurer, president of the International Committee of the Red Cross, told The National.
Our focus is to negotiate with state authorities so underprivileged groups and displaced people have access to vaccines
"Since the pandemic, we have focused on the very difficult to reach conflict areas, where we are active.
"Our estimate is there are probably more than 60 million people living in areas outside of recognised government control.
"We must continue to negotiate there to prepare the ground for vaccines to be delivered."
Specific requirements of the Pfizer and BioNTech Covid-19 vaccine mean healthcare providers must store it either in dry-ice for shorter periods or in specialised freezers at minus 70°C.
The vaccine has proved to be more than 90% effective in trials and is the leading candidate for viral protection, with several others promising similar efficacy.
Daily distribution in the US requires a carefully choreographed project including 12 trucks, 20 daily flights and specifically designed "pizza box" packaging that will keep vaccines safely stored.
The vaccine developed in the US by Moderna remains stable at a regular freezer temperature of minus 20°C for up to six months. After thawing, it can last for 30 days and can be kept at room temperature for up to 12 hours.
Once approved, several distribution operations are planned for other vaccine manufacturers elsewhere in Europe, Russia and China that will have similar demands on cold-chain logistics.
Conflict zones most vulnerable to vaccine shortfall
Geographical challenges, poor infrastructure and active conflicts will make it particularly difficult for aid workers to reach populations of refugees, asylum seekers and stateless people.
In Nigeria, a decade-long conflict between militias and the government has forced more than two million people to flee their homes. According to the UN, 7 million in the country are reliant on humanitarian aid for survival.
Meanwhile in Somalia, warring factions have displaced close to 3 million and a further million have been displaced in Afghanistan.
The World Health Organisation is working with its partners Gavi, the Vaccine Alliance, and the UN children's fund to ensure that the infrastructure and technical support is in place to safely deliver as many doses to conflict areas as possible.
"Our focus is to negotiate with state authorities so underprivileged groups and displaced people have access to vaccines," said Mr Maurer.
"We cannot have distribution cold chains required for the vaccines in some areas, such as northern Nigeria for example."
Inside conflict zones, poor healthcare centres or a total collapse of services often mean regular vaccination programmes are abandoned. Precarious infrastructure and disputed borders can also make delivery of vaccines extremely difficult and dangerous.
These areas often have limited access to electricity, making the consistent refrigeration required for safe deliver a major issue, particularly in rural areas and warmer climates.
"Some regions never make the headlines and by nature are doubly underprivileged as they never get attention," said Mr Maurer.
"I am worried about the forgotten conflicts in Iraq, Myanmar and Central America, which is very often out of the picture and context. (And Syria, Lebanon and Yemen?)
"Yemen falls into the news and then oblivion. We want to equalise these visibility discrepancies.
"No conflict emerges as more serious than another."
Which vaccines will be delivered?
Many different vaccines are likely to become available in 2021 and the ICRC said it would consider which are available to use on staff and vulnerable populations.
"We are exploring all the vaccines that may be available and will decide which staff who are most at risk before we administer," said Mr Maurer.
"As a default position we will wait for WHO approval on which vaccines are safe. This is a duty of care that is of critical importance.
"We have not taken a decision yet on which one. We should also be talking about testing and medicine.
"There is no reason why we will not use the vaccine that is locally available and considered safe, if it is available in certain places.
"We will not look for a uniform decision for all our operations around the world."
Funding gaps create uncertain 2021 for aid organisations
Serious funding shortfalls during the pandemic threaten to derail some of the supporting work planned by aid organisations next year.
The ICRC, which employs about 20,000 people in more than 80 countries has run up a $139 million deficit.
Cutbacks have been restricted to operations in largely peaceful countries and at the organisation's Geneva headquarters, where 100 staff are expected to lose their jobs.
One of the most publicised service cuts was the closure of a specialist centre in Lebanon to treat people wounded in conflicts in Syria, Iraq and Yemen.
Further spending cuts are planned for 2021, with $94m slashed from food aid and operational budgets in 30 countries.
You cannot shield yourself and your economy by only investing in your own country
The ICRC has made an appeal for 2.3 billion Swiss Francs ($2.6bn) for 2021 to support its work for people affected by conflict.
Mr Maurer called for a more united international co-operation to help the most vulnerable communities.
"In this region, it is inevitable that burden sharing is discussed again in the wake of the pandemic," he said.
"Work is needed by humanitarian organisations, but also by political actors.
"There is a powerful argument to develop that you cannot shield yourself and your economy by only investing in your own country.
"Your economy will be haunted if you do not manage the global pandemic and stabilise the most fragile areas. Pandemics will not stop.
"These are issues that must play out in the dynamics of countries who need to stabilise their own economies but also invest in the global public good, such as fighting the pandemic.
"We hope this will lead to more generous support for humanitarian organisations."Updated: December 8, 2020 11:18 AM
Read More
Red Cross chief: operations in Iraq and Afghanistan are underfunded
Mental Health Day: war and Covid-19 strain leave many in Middle East suffering in silence
Special report: Beirut families of 'the missing' demand answers
Par Jean-Michel Grau. 17/02/2021
Aujourd'hui, c'est un deuxième tribunal de Nuremberg qui se prépare, avec la mise en place d'une «Class Action» sous l'égide de milliers d'avocats mondiaux derrière l'avocat américano-allemand Reiner Fuellmich qui poursuit les responsables du scandale du Covid-19 instrumentalisé par le Forum de Davos.
À ce sujet, il est utile de rappeler que Reiner Fuellmich est l'avocat qui a réussi à condamner le géant de l'automobile Volkswagen dans l'affaire des pots catalytiques trafiqués.
Et c'est ce même avocat qui a réussi à condamner la Deutsche Bank comme entreprise criminelle.
Selon Reiner Fuellmich, toutes les fraudes des entreprises allemandes sont dérisoires comparées aux dommages que la crise du Covid-19 a causés et continue de causer.
Cette crise du Covid-19 doit être rebaptisée «Scandale du Covid-19» et tous les responsables doivent être poursuivis pour dommages civils pour cause de manipulations et de protocoles de tests falsifiés.
C'est pourquoi, un réseau international d'avocats d'affaires plaidera la plus grande affaire de délits civils de tous les temps, le scandale de la fraude Covid-19 qui s'est entre temps transformé en plus grand crime contre l'humanité jamais commis. 
Une commission d'enquête Covid-19 a été ouverte à l'initiative d'un collectif d'avocats allemands dans le but de faire un recours collectif au niveau international en utilisant le droit anglo-saxon.
Voici la traduction résumée de la dernière communication du Dr Fuellmich du 15/02/2021
« Les auditions d'une centaine de scientifiques, médecins, économistes, juristes de renommée internationale qui ont été menées par la commission d'enquête berlinoise sur l'affaire Covid-19 depuis le 10.07.2020, ont entre-temps montré avec une probabilité proche de la certitude que le scandale du Covid-19 n'était à aucun moment une affaire de santé.

Il s'agissait plutôt de bétonner le pouvoir — illégitime, car obtenu par des méthodes criminelles — de la "clique de Davos" corrompue, en transférant la richesse des populations aux membres de la clique de Davos, en détruisant, entre autres, les petites et moyennes entreprises en particulier.

Des plateformes comme Amazon, Google, Uber, etc. pourraient ainsi s'approprier leurs parts de marché et leurs richesses. »
État d'avancement de l'enquête du Comité Covid-19
a. Le Covid-19 comme tactique de diversion par les « élites » corporatistes et politiques dans le but de déplacer les parts de marché et la richesse des petites et moyennes entreprises vers des plateformes mondiales telles qu'Amazon, Google, Uber, etc.
b. Contribution de la taxe sur l'audiovisuel en vue de la reconstruction d'un nouveau paysage médiatique qui offre une véritable information indépendante
c. Sécurisation des structures agricoles régionales
d. Sécurisation d'une monnaie régionale pour éviter qu'une nouvelle monnaie ne vienne « d'en haut » pour être allouée en cas de bonne conduite
e. Considérations psychologiques de la situation : comment en est-on arrivé là ?
Recours en annulation de l'approbation d'une vaccination, déposé contre la Commission européenne, procès à New York du statut des tests PCR, procès allemands, procès canadiens, procès australiens, procès autrichiens, procès à la Cour de Justice Internationale et à la Cour Européenne des Droits de l'Homme.
« Nous avons constaté ce qui a été confirmé à maintes reprises : la dangerosité du virus est à peu près la même que celle de la grippe saisonnière, indépendamment qu'il s'agisse d'un nouveau virus (entièrement ou partiellement fabriqué) ou que nous ayons simplement affaire à une grippe rebaptisée "pandémie Covid-19".

En attendant, les tests PCR de Drosten ne sont même pas capables de nous dire quoi que ce soit sur les infections contagieuses.

Pour aggraver les choses, les dommages sanitaires et économiques causés par les mesures anti covid ont été si dévastateurs qu'il faut parler d'un niveau de destruction historiquement unique. »

« Le fait qu'il n'ait jamais été question de santé est particulièrement évident, sinon que les injections de substances génétiquement expérimentales déguisées en "vaccination" causent maintenant de graves dommages, y compris des conséquences fatales, à une échelle de masse. 

La population mondiale a servi de cobaye à ces injections expérimentales de gènes à la fois progressivement et extrêmement rapidement. 

Afin de plonger la population dans la panique, des mesures de confinement dangereuses et nocives (même selon l'OMS) de port du masque obligatoire, inutile et dangereux, et de distanciation sociale, inutile et contre-productive, ont été introduites. La population était ainsi "prête" pour les injections. »

« En attendant, de plus en plus de personnes, et pas seulement des avocats — à juste titre — exigent, outre l'arrêt immédiat de ces mesures meurtrières, un contrôle juridictionnel par un tribunal international véritablement indépendant, sur le modèle des procès de Nuremberg. 

Un exemple de demande de ce type et un extrait émouvant d'une allocution du médecin anglais Dr Vernon Coleman peut être trouvé dans le lien suivant :(1)

En outre, une interview d'un lanceur d'alerte d'une maison de retraite berlinoise, témoigne que sur 31 personnes vaccinées là-bas, dont certaines par la force, en présence de soldats de la Bundeswehr, et dont le test était négatif avant la vaccination, 8 sont maintenant décédées et 11 sont sujettes à de graves effets secondaires. »(2)
Réunion extraordinaire du Comité Covid de Berlin mercredi 17/02/2021
« Dans ce contexte, une réunion extraordinaire du Comité Covid de Berlin aura lieu le mercredi 17.02.2021 en direct et avec de nombreux invités qui y participeront via Zoom.

À partir de 14 heures, l'état des lieux sera résumé. En outre, il sera question de la manière dont les contributions de la taxe sur la redevance audiovisuelle peuvent être conservées et utilisées pour la reconstruction d'un nouveau paysage médiatique qui serve réellement la liberté d'expression, et comment les contributions déjà versées pour la propagande insensée des 11 derniers mois peuvent être récupérées par le biais d'une mise en demeure.

Il y aura des contributions et des discussions sur la manière dont l'approvisionnement alimentaire peut être assuré, en particulier en renforçant l'agriculture régionale ; mais aussi en créant des monnaies régionales, si nécessaire avec le retour de l'UE à la CEE, sur la manière dont on peut s'assurer que la politique de la "clique de Davos", basée sur l'impression de monnaie à partir de rien, peut être arrêtée et qu'un retour à des monnaies stables peut être réalisé.

Mais surtout, des experts nous expliqueront comment il a pu arriver que nous nous retrouvions dans cette situation de chantage inimaginable il y a encore un an.

Dans la deuxième partie de la session, qui débutera à 19 h, des personnalités de renommée mondiale et de haut niveau commenteront l'état des litiges juridiques internationaux en cours, y compris les différentes actions collectives, comme résumé ci-dessus. 

Mais il sera également question de la manière dont les principaux responsables, en particulier politiques, des crimes contre l'humanité commis ici peuvent et doivent être tenus pour responsables en droit civil et pénal dans le cadre d'une nouvelle Cour internationale de justice qui sera créée conformément aux directives des procès de Nuremberg avec une distribution internationale. »
Le lien vers la session spéciale du Comité Covid annoncée ici sera disponible le 17.02.2021 via le site web du Comité.(3)
Commentaire :
Pour bien comprendre ce qui est en train de se jouer avec ce nouveau tribunal de Nuremberg pour juger la plus grande affaire de délits civils de tous les temps, c'est en tirant sur le fil du mensonge du Dr Drosten pour avoir faussé le protocole des tests PCR pour le compte de la clique de Davos, que tout va venir avec.
Les commanditaires de l'oligarchie financière, Klaus Schwab, le grand architecte de cette gigantesque prise d'otages, les politiques à la tête de l'UE, bras armé de l'exécution des directives de Drosten et de l'OMS qui ont amené tous les gouvernements occidentaux à prendre hier les décisions ravageuses de confinement, de couvre-feu, de port du masque obligatoire et de distanciation sociale et aujourd'hui de vaccins mortifères pour les plus âgés d'entre nous.
« Ce sont ces vérités qui feront tomber les masques des responsables des crimes commis. Aux politiciens qui ont eu foi dans ces personnages corrompus », dit le Dr Fuellmich, « Les faits présentés ici sont la bouée de sauvetage susceptible de les aider à rectifier le tir et à entamer le débat scientifique tant attendu du public, afin d'éviter de couler en même temps que ces charlatans criminels ».
Ensuite, à la lumière de cette dernière communication du Dr Fuellmich, deux propositions de la réunion extraordinaire du Comité Covid de Berlin retiennent l'attention :
Tout d'abord la manière dont l'approvisionnement alimentaire peut être assuré, ce qui apparaît quelque peu surréaliste eu égard à la situation d'aujourd'hui. Si l'on se réfère au planning du Forum de Davos de Klaus Schwab, il n'en est rien. Celui-ci a bel et bien prévu une rupture de la chaîne alimentaire dès la fin du second semestre 2021.(4)
Ensuite, la création de monnaies régionales. Là, il est clair que le Comité Covid de Berlin anticipe déjà le krach boursier mondial qui s'annonce et dont l'oligarchie financière du Forum de Davos à la manœuvre compte bien profiter pour mettre en place la monnaie numérique européenne dans l'attente d'une monnaie mondiale pour créer un crédit social à la chinoise dont deviendra dépendante la classe moyenne de tous les peuples ruinés par la fermeture de leurs commerces, PMI— PME, industries culturelles et touristiques, équipements sportifs, etc.
Rien que ces deux aspects de la prise d'otage 2.0 dont le monde occidental est victime depuis bientôt un an devraient en toute logique être suffisamment motivants pour nous faire comprendre définitivement que nous sommes face à un "populicide" qui ne demande qu'à nous broyer si nous restons inertes, les bras ballants sans rien faire.
C'est pourquoi il convient à chacun d'entre nous de tout mettre en œuvre dès maintenant afin que cette coalition juridique internationale puisse être opérationnelle le plus tôt possible. Pour ce faire, que toutes celles et tous ceux d'entre nous qui souhaitent rejoindre l'action collective des avocats français pour participer à cette reconquête de nos libertés se mettent déjà en contact d'ici le 21 février avec l'action collective(5). 
Notre survie est à ce prix ainsi que l'avenir de nos enfants.
.
Power: Not a Point of View. Power is the level and quality of education, an education targeting the needs of the population and neighboring markets.
Posted on March 10, 2009
Iran is planning to build 20 atomic power sites to generate electricity.  Russia has aided finish the first power station for a cost exceeding one $ billion dollars.
Iran is not only the fourth exporter of oil but has also huge reserves in oil and gas. And yet, Iran spends enormous amount of hard cash money to import oil products and gasoline from overseas refineries.
The Iranians are building a second atomic power generator, almost alone and strong with the expertise they acquired.  The Iranian officials said that oil is a precious commodity that should not be wasted to generate dirty power. 
The developed nations have oil reserves but prefer to purchase oil at a reduced price in order to save their oil resources for their chemical and pharmaceutical industries for later generations. (Actually, chemical industries, the most dirty for earth and the climate, rely almost exclusively on oil products.)
The Emirate Gulf States have established "sovereign funds" for the next generations, but they all have vanished during the latest economic and financial recession.  What is left are highways and built stones.
I am exaggerating on purpose.
This piece is meant to be a wake-up call. It is time to invest on the human potentials, social institutions, and political reforms.
Lebanon used to export electricity to Syria and Jordan in the 30's during the French mandate. Presently, and 80 years later, and 65 years after its "independence", Lebanon import electricity from Syria, Jordan, and Egypt.
The populations of all these States have quadrupled in 80 years while Lebanon barely doubled, due to massive immigration, and we could not even double our power production. 
Our neighboring States have reached sort of power sufficiency and exporting surplus electricity to Lebanon. Lebanon has plenty of water and rivers but we failed to invest properly on our natural resources and hydraulic potentials.
Not only we have not enough electricity, and none of it is hydraulically generated, but we have no running water. We receive water twice a week for a few hours and we have to filtrate and purify what we receive.
The Lebanese family has to pay twice for electrical power and for water by supplementing their needs from the scalpers of private providers.
The main culprits are those "Christian" Maronite political parties who claimed that the power of Lebanon resides in its military weakness.  Implicitly, those sectarian political parties meant that Lebanon should not challenge the dicta of Israel regarding our planning of our water resources.
Mind you that Israel purpose is to divert all our rivers toward its own Zionist State.
Electricity is a kind of power and oil and gas are essentials for locomotion and mechanization and industries.  Nevertheless, nations are judged developed according to the level of their research institutions. 
You might start the "egg or chicken" priority of security and stability first, but this is not the case. When States invest on almost everything except knowledge base and research institutions, then you should not hope for stability and security.
Developed nations respect States that focus their energies and resources on knowledge, literacy, and technologies and are willing to protect them from neighboring bullies.
Developed nations respect States that generate highly educated and well trained citizens regardless of size, origin, and natural resources.
Power is the level and quality of education, an education targeting the needs of the population and neighboring markets.
Power is no longer a point of view.
Le Deep State français. Saturday 16 janvier 2021
Note: there are plenty of evidence of a close network of global multinationals that are interconnected with vast ramifications in economy, finance and political meddling around the world. The pharmaceutical and chemical industries are no exceptions. It is no brainer to accept the conjecture that they are linked to a Central Body for planning and executing policies that affect the global consequences. Most billionaires have shares in all these multinationals and control many aspect of world conditions
"Pour savoir qui vous dirige vraiment, il suffit de regarder ceux que vous ne pouvez pas critiquer." Voltaire
On avait parlé du président des riches à propos de Nicolas Sarkozy.
Maintenant avec Emmanuel Macron, on a le président du CAC 40, dont l'unique préoccupation est la protection des intérêts financiers de ses maîtres comme en témoignent les nombreuses cajoleries (pensons au 900 millions offerts l'année dernière), mais aussi de veiller à la réalisation du plan Illuminati en obéissant aux directives de Bruxelles.

Les Français ont du mal à s'en apercevoir, mais la France est l'otage de l'aristocratie financière européenne (instrument du Deep State Européen).

La mise en scène lors de son intronisation au Louvre n'en est que la preuve flagrante : la France est sous le contrôle du Nouvel Ordre Mondial Illuminati.
Contrairement à ce qu'il serine à longueur de journée, le président français ne s'est pas fait tout seul. Derrière lui, dans l'ombre, se tient une élite qui l'a programmé, et ce dès son enfance.
La nuit du 4 août 1789 est d'actualité !
Les nouvelles fusent comme une traînée de poudre : ce n'est plus un secret pour personne.
Où sont les canons ? Le peuple !
Veillons à l'abolition des privilèges.
Tout le monde le sait : la caste financière préserve ses privilèges et englobe le monde politique.
Vous le savez, l'esprit français est d'essence monarchique.
Contrairement à ce qu'il serine à longueur de journée, le président français ne s'est pas fait tout seul. Derrière lui, dans l'ombre, se tient une élite qui l'a programmé, et ce dès son enfance.
Mû par son désir d'être roi, il a couru les colloques, les réseaux, les connivences, les complicités en profitant du système des très riches.
Fils spirituel du baron français Rothschild à qui il a voué allégeance et servilité, 24ème degré maçon et 2ème degré Illuminati, il poursuit la politique attendue par la banque Atlantiste et Mondialiste.
Derrière Macron se lève une cohorte de personnes du même cercle :
–  Le comte Henry de La Croix de Castries (mondialiste, président du Comité de direction du réputé groupe Bilderberg, président du très influent think tank ultra libéral Institut Montaigne, et ancien PDG du premier assureur mondial AXA de 2000 à 2016, sponsor d'une étude mondiale centrée sur « la culture inclusive pour les collaborateurs LGBT »).

–  Invité au Groupe Bilderberg qui se tient à Copenhague (29 mai – 1er juin 2014), dont le comte est le président, il voit en lui un homme capable de contrer les syndicats et d'infléchir la politique économique et industrielle de la France afin de servir les intérêts mondialistes du Deep State Européen.

Emmanuel Macron est recruté puis propulsé dans les arcanes du pouvoir jupitérien : dans un premier temps, on le nomme conseiller économique de l'Élysée, puis dans un deuxième temps, on lui octroie le portefeuille du ministère de l'Économie, de l'Industrie et du Numérique en août 2014, en remplacement d'Arnaud Montebourg, jugé « trop français ».

Afin qu'il puisse servir au mieux la cause de la Cabale, il est décidé le 21 mars 2016, à Francfort, de l'épauler au mieux dans sa course présidentielle.  Le soutiennent: le comte de Castries, Alain Minc, Pierre Gattaz, Mario Draghi, Vincent Bolloré, Patrick Drahi, Pierre Bergé, et d'autres.
–  
Alain Minc, homme de l'ombre et « visiteur du soir » de l'Elysée, responsable de plusieurs think tank libéraux qui veille au grain.
– Pierre Gattaz (président du MEDEF défendant les intérêts du grand patronat français).
– Mario Draghi (président de la BCE qui inflige une politique de rigueur libérale à l'ensemble des pays européens).
– Patricia Barbizet qui dirige le portefeuille de la famille Pinault et présidente du club Le Siècle, membre de Bilderberg et de la Commission Trilatérale.
– Laurent Bigorgne qui hébergea à son domicile le mouvement En Marche à son lancement et également membre de Bilderberg.
– Bertrand Collomb, ancien PDG de Lafarge et membre de Bilderberg et de la Commission Trilatérale.
– Anne Lauvergeon, ancienne présidente d'Areva et de la Commission Trilatérale.
– Michel Pébereau, ancien PDG de BNP Paribas et ancien du think tank Institut Aspen France.
– Jean-Pierre Jouyet, des Bernardins, centre d'influence et de pouvoir, où se retrouve la célèbre promotion Voltaire où étaient élèves à l'ENA aussi bien François Hollande, Ségolène Royale, Michel Sapin, Dominique de Villepin, etc.
C'est lui qui fait entrer Macron à l'Elysée via Jacques Attali.
– Henry Hermand, ancien directeur du Trésor Public et directeur de la banque Barclays, qui finança la deuxième gauche sociale-libérale pendant des décennies.
Son épouse n'est autre que la richissme héritière de la famille Taittinger qui siège au conseil d'administration de Suez, de HSBC France, de Fnac-Darty et du Centre Pompidou.
On compte aussi son ami, Xavier Niel, 10ème fortune du pays, 159ème fortune mondiale (propriétaire de Le Monde, Télérama, Courrier International, La Vie, Le Monde diplomatique, le Huffington Post, l'Obs), qui lui offre une visibilité médiatique parfaite avec 64 unes de Paris Match pour le mettre en avant comme jeune, talentueux et glamour.
Cette publicité mensongère n'a qu'une finalité : un paravent prétendu démocratique et légal pour le compte des intérêts de la finance internationale.
On lui apporte tous les soutiens financiers nécessaires pour créer un rassemblement qui deviendra par la suite un parti politique.
Le 6 avril 2016 La République en marche est crée, la course à la présidentielle est lancée.
Soutenu par le gratin financier et les patrons de presse, les élites dirigeantes, Emmanuel Macron finit par devenir Président et lancer toute une politique au service des ultra-riches.
En France, les liens entre finance, pouvoir et médias sont intimement liés et forment le petit Paris, aux manettes d'une Démocratie usurpée.
La compagne de Xavier Niel, Delphine Arnault (fille de Bernard Arnault), directrice générale adjointe de Louis Vuitton, conseillère de la première dame, sa copine, qui pour ses tenues lui fournit des robes à 15000 €.
Son ami, Bernard Arnault, chez qui les Macron dînent « presque toutes les semaines », qui avec ses 73 milliards d'euros est l'homme le plus riche de France, 4ème fortune mondiale, un super riche, propriétaire de LVMH, propriétaire du Parisien, des Echos, principal actionnaire de Carrefour, financeur de L'Opinion, et de l'Institut de sondage Odoxa.
J'ai peut-être pas été assez clair : 73 milliards d'euros ! En comparaison, même le 500ème homme le plus riche de France avec ses 140 millions d'euros est 521 fois plus pauvre que l'homme le plus riche de France avec ses 73 milliards d'euros.
Imaginez vous, même si vous aviez un patrimoine de 250 000 euros vous êtes 521 fois plus pauvre que le 500ème homme riche de France.
Alors imaginez en comparaison d'un smicard…Le contraste est saisissant…
N'oublions pas, Madame Macron.
Elle-même héritière de la famille Trogneux, qui a formaté l'esprit du jeune Emmanuel à l'exercice du pouvoir dès son adolescence, pour l'introduire dans la haute sphère des puissants. Son conditionnement relève des techniques MK de la branche anglaise.
Brigitte Macron, en sa qualité de prêtresse initiée (membre de la section française de la secte sataniste de la »Golden Dawn » fondée au 20ème siècle par Samuel Liddel MacGregor Mathers (qui a fait un travail de synthèse de tous les ésotérismes méditerranéens et occidentaux).
Tous les mouvements ésotériques depuis 1880 lui doivent une paternité (sauf la lignée Austin Osman Spare – Andrew Chumbley qui sont des initiés de sorcellerie traditionnelle).
Le grand prêtre satanist Aleister Crowley, disait de Spare que c'était son « frère noir » (il l'a éjecté des Argentum Astrum son ordre magique restreint).
Crowley a généré un néo-satanisme en remplaçant le monothéisme solaire de la Golden Dawn par une inversion égotique en satanisme solaire de la bête 666 : un complexe de gamin richissime martyrisé par le puritanisme de ses parents). 
Brigitte, l'éminence grise, la « sorcière », guide Emmanuel dans toutes ses prises de position. Il est intéressant de noter qu'Emmanuel Macron déclarera qu'il n'est rien sans elle.
Que de beau monde dans son entourage !
Ce « petit Paris » compte les 7 familles les plus riches de France qui possèdent à elles seules 66% du patrimoine des 100 plus riches !
Ajoutons :
– Vincent Bolloré, a la tête de tout un empire médiatique (détenteur de Canal+, C8, Cstar, Cnews, Marianne, et des journaux gratuits Direct Matin et Direct Soir, et la direction des instituts de sondage CSA). Lui-même deuxième soutien d'Emmanuel, après la famille Rothschild.
– Martin Bouygues, propriétaire de TF1 et LCI. Rappelons qu'avec le sacrifice d'Alstom à General Electric, une véritable catastrophe industrielle pour la France, Bouygues a pu engranger 1,6 milliard d'euros.
Quel cadeau ! Encore une gâterie.
– Pascal Houzelot, entremetteur du PAF et ancien bras droit d'Étienne Mougeotte à TF1 (une chaîne du câble gay-friendly avec TF1, M6, Canal+ et Lagardère comme actionnaires).
– Arnaud Lagardère, grand héritier, et au cœur de tous les conseils d'administration de tous les médias, mais aussi propriétaire d'Europe 1, Paris Match, Elle, Le Journal du Dimanche.
– Patrick Drahi, propriétaire de BFM, RMC, L'Express, Libération, qui façonne lui aussi la pensée des Français jour après jour, pour le bien d'Israël.
En somme, 10 milliardaires qui se partagent 90 % des quotidiens, 55 % des chaînes de télévision et de radio.
De quoi influencer l'opinion générale.
Toute la noblesse d'État était là pour adopter et coopter Macron sur les marches du pouvoir.
Parrainé de toute part et lié aux hautes sphères du pouvoir financier, bardé d'or de chez Rothschild, l'Élysée lui est tombé dessus comme un hochet.
Dans ce petit monde d'intimes, Emmanuel Macron dispose entre ses mains d'une quinte royale. Il est le jockey des super riches, qui eux possèdent les écuries.
Plus que ça, il n'est qu'une marionnette dont les fils sont agités par l'aristocratie financière.
Ce petit cercle des intimes a produit et propulsé notre cher cameloquet au service de sa caste pour démolir les derniers remparts de la République française fondé sur la Liberté, l'Égalité et la Fraternité.
Ainsi s'est mis en place sous nos yeux la fin de nos principes fondamentaux d'une Démocratie au service du peuple, pour le peuple et par le peuple.
En 1789, la révolution française considérée comme une Révolution bourgeoisie, à opéré le passage du pouvoir politique détenu par la Monarchie au pouvoir économique c'est à dire la bourgeoisie florissante.
Que manquait-il aujourd'hui à l'oligarchie financière ? La République.
Qu'elle a obtenu aux grands renforts de manipulations médiatiques, ce qui s'apparente à un coup d'État.
Sous la présidence Sarkozy, déjà nommé le président des riches, toute la sphère millionnaire du spectacle et des médias à obtenu gain de cause. Il a réussi a gagner la confiance des plus riches artistes (par sa mesure clef, le bouclier fiscal, pour obtenir la confiance des plus fortunés de France).
Il a initié le mouvement de gouvernement pour les riches et non pour le peuple.
Sous la présidence Hollande, prétendue socialiste, le mouvement n'a fait que s'amplifier pour servir au mieux la cause du CAC 40 (mesures fiscales inégalitaires, scandales du crédit CICE et de la taxe TICPE, loi travail El Khomri et autres mesures en faveur des très riches) qui a mis les Français dans la rue, en raison de la trahison d'un électorat de gauche.

A cette époque Emmanuel Macron était déjà l'argentier du pouvoir Hollande.
Avec Emmanuel Macron, le mouvement touche à son apogée puisque l'oligarchie financière aux commandes achève son œuvre de destruction de la démocratie.
En supprimant l'ISF, alors que ce n'était pas annoncé dans sa campagne (évidemment, ça lui aurait fait perdre l'élection), Macron donne sa couronne de lauriers aux riches.
Il n'y a plus de contre pouvoir : plus de syndicat (seul 7% de la population active est syndiqué), plus de parti politique d'opposition (seuls restent les extrêmes), plus de médias contestataires (les médias à la botte du pouvoir). Et même plus le droit de rigoler des excès de la Macronie en témoigne la fin des Guignols de l'info.
La finance a gagné son pari. Et la moindre révolte est vouée à l'échec (même les Gilets Jaunes par manque de structure politique ne parviennent pas à s'imposer comme une alternative politique crédible).
La situation actuelle ouvre un boulevard à l'opposition démocratique, mais il n'y a pas d'opposants.
La finance peut s'engraisser librement, elle ne connaît aucune menace à sa main mise sur le pouvoir.
Dans notre pays, règne une crise majeure des institutions, dont le fossoyeur n'est autre que le président Macron.

La révolte du peuple précipitera sa chute avec le soutien de ces mêmes institutions.
Par mégalomanie, et même en ayant de son côté les membres les plus influents du pouvoir français, Emmanuel Macron a raté le 'plan' qui lui était attribué.

En l'appliquant brutalement en un an au lieu de le faire en 5 ans comme prévu par ses maîtres, il a manqué à sa mission et à la place il a provoqué une révolte populaire qui a embrasé le pays. Cela lui sera fatal.
Depuis la fin de l'année 2018, les uns après les autres le quittent et créent une béance du pouvoir. Sa déstabilisation se lit sur son visage inquiet.
Il est conscient malgré lui que sa chute est programmée par ceux-là même qui l'ont placé au pouvoir.
Dans la poursuite du plan Illuminati de délitement de la France consistant à détruire la classe moyenne : il est temps de changer de marionnette.

La classe moyenne représente le socle des valeurs républicaines et gardienne des valeurs françaises et patriotes assurant la sauvegarde des valeurs morales et laïques que le pouvoir réel des élites veut abolir.

Comment ? Par le dévoiement et la subversion de toute culture nationale, par le délitement des liens familiaux, par la criminalisation des français et des immigrés de culture musulmane, ainsi que par toute tentative de submersion des forces étrangères, introduisant racket et paupérisation de la classe moyenne et dénonciation des pauvres et des chômeurs, bafoués de leurs droits.

Avec la paupérisation de la société française, avec la désindustrialisation de l'économie française, avec l'anomie de la moralité et l'instillation de la décadence, avec la mise en index de l'intelligence, tout est mis en œuvre pour accueillir le Nouvel Ordre Mondial de ces élites lucifériennes.
Il est temps pour eux d'installer un nouveau soldat à leurs bottes pour la sauvegarde de leur plan maléfique.

Et cela de toute urgence.
En témoignent :
« Les secrets d'enfance d'Emmanuel Macron et Najat Vallaud-Belkacem » par Claude Askolovitch (Vanity Fair, février 2017)
« Au lycée Henri-IV, les infortunes du jeune Macron » par Vanessa Schneider (Le Monde, 2 mars 2018)
« Emmanuel Macron, un intellectuel en politique ? » par Nicolas Truong (Le Monde, 1er septembre 2016)
« Henry Hermand – Emmanuel Macron, le vieil homme et le futur président » par Vanessa Schneider (Le Monde, 9 novembre 2018)
« Bernard Mourad, le banquier qui n'épargne rien à Emmanuel Macron » par Sophie Des Déserts (Vanity Fair, décembre 2018)
« Les années Rothschild d'Emmanuel Macron » par Isabelle Chaperon (Le Monde, 10 mai 2017)
« La conquête de Paris d'Emmanuel Macron » par Pascale Neville (Le Monde, 2 juin 2017) « Emmanuel Macron, itinéraire d'un enfant gâté » par Cédric Pietralunga et David Revault d'Allonnes (Le Monde, 31 août 2016)
« Le président des ultra-riches » de Michel Pinçon et Monique Pinçon-Charlot (La découverte, 2019)
« L'ambigu Monsieur Macron » de Marc Endeweld (Flammarion, 2015)
« Emmanuel Macron, le banquier qui voulait être roi » de François-Xavier Bourmaud (L'archipel, 2016)
« La caste » de Laurent Mauduit (La découverte, 2018)
« Ce pays que tu ne connais pas » de François Ruffin (Les Arènes, Paris 2019)
« Macron et son crépuscule » par Juan Branco (Mars 2019, mais l'ouvrage téléchargeable en français en ligne : http://branco.blog.lemonde.fr/files/2019/01/Macron-et-son-Crepuscule.pdf, et en anglais pour le diffuser : https://archive.org/download/MacronAndHisTwilightV1.02EN)
« Contre Macron' par Juan Branco (Divergences)
http://clearlook.unblog.fr/2019/03/29/le-deep-state-francais/
The pseudo-citizen motto: " I don't give a damn of politics anymore, just leave me alone"
Lebanon has over a 70,000 "strong" army that is mainly playing the role of internal security tasks. If we measure this army by its density on a square mile, the army of Lebanon is the largest army in the world, of current and ancient empires.
And its weapon is to be desired: this courageous army barely managed to quell an Islamic extremist faction revolt in a Palestinian camp of Nahr Bared, after 6 months of siege.
And the Internal security institution, which is as large as the army in "human" effectifs? What is its function?
This institution has been transformed into a "security guard" for the totally useless people in this pseudo-state.
This institution is meant to extend "guards" to the deputy and extended family members of the deputies and the extended families of the ex, ex-deputies since the independence of Lebanon, even those that "passed away" long, long time ago.
Not just guarding the safety of these useless people, but also accompanying the household members to carry their shopping bags…
And these ex-deputies and their family members receive monthly checks for "services rendered", even after they had died, long, long time ago
This institution provide guards to the ministers and their extended family members, and the ex, ex-ministers families since independence
This institution is to offer guards to the clergies of the 19 officially recognized religious sects, and secure their travels and trips with motor cars, to clear the Path, in the ever congested traffics.
Religious institutions that don't pay taxes on anything, and even on important products. Religious institutions that own 50% of Lebanon lands and manage the individual personal status of its members, from birth to death
The internal security institution is asked to guard the members of all the embassies in the pseudo-state of Lebanon, whose main job is to "collect intelligence pieces" for everyone ready to pay for their services.
And what is this pseudo-State in reality?
Lebanon is divided into two "autonomous" States. The State of Hezbollah that stretches to half the territory of tiny Lebanon (the southern districts, the Bekaa and half of Beirut…) Lebanon is about 10,000 square km in total.
And the other Lebanon, recognized by the UN, to be an independent State since 1943, but has never been that independent by any stretch of the imagination, and Not even enjoying any sort of valuable autonomy.
Not only Hezbollah has its territory that it controls much better than this pseudo-state, but it also is represented in the "legislative, executive and justice" branches of the official State of Lebanon.
The pseudo-citizen enjoy being issued an identity card to vote and a puny passport that only half a dozen countries do Not require an expensive visa to visit.
This "je m'en fou" pseudo citizen is very flexible and doesn't care an iota if there is a budget and how the government wasted the people wealth with no infrastructure to show, or public education or public health. facilities
"You don't want to provide us with 24/24 public electricity?" No sweat. We will manage to get power from private providers and steal from government electrified lignes, even if we are to pay 3 times the expenses. "Just stay clear from governing us, administer and try to control us"
"You don't want to provide us with quality potable water at home?" No sweat, we'll manage to acquire "potable water" from third private company parties at 4 times the standard cost. "Just stay clear from governing us and try to control us"
And the list of infamies grow, at nauseam. And the civil war mafia leaders are still in control of the people, chattel succumbing to these sectarian/feudal looters and legally owning all the economic monopolies
And finally, the State is totally bankrupt at all levels: State, Central Bank and private banks.
And it does Not stop there: Trump/Israel disintegrated Beirut maritime port with an electrictro magnetic pulse bomb. Heavily dense districts were blown away in 2 miles radius.
Over 6,000 serious injuries, 200 dead and 50,000 people taking refuge outside their homes, waiting for some repairs to be done.
And it does Not stop there: 60% of the population are already under poverty line and the year 2021 is going to be worse, with Covid contamination surpassing 10,000 per day, the highest density in the entire world.
Keystone XL pipeline halted as Biden revokes permit
ROB GILLIES, Associated Press Jan. 20, 2021
TORONTO (AP) — Construction on the long disputed Keystone XL oil pipeline halted Wednesday as incoming U.S. President Joe Biden revoked its permit on his first day in office.
The 1,700-mile (2,735-kilometer) pipeline was planned to carry roughly 800,000 barrels of oil a day from Alberta to the Texas Gulf Coast, passing through Montana, South Dakota, Nebraska, Kansas and Oklahoma.
https://c0b9aa9f1fa81078b47fd1744557b182.safeframe.googlesyndication.com/safeframe/1-0-37/html/container.html
"The Permit is hereby revoked," Biden's executive order says. "Leaving the Keystone XL pipeline permit in place would not be consistent with my Administration's economic and climate imperatives."
Keystone XL President Richard Pryor said over 1,000 jobs, the majority unionized, will be eliminated in the coming weeks. "We will begin a safe and orderly shutdown of construction," he said.
First proposed in 2008, the pipeline has become emblematic of the tensions between economic development and curbing the fossil fuel emissions that are causing climate change.
The Obama administration rejected it, but President Donald Trump revived it and has been a strong supporter.
The premier of the oil-rich Canadian province of Alberta called Biden's decision an "insult" and said the federal Canadian government should impose trade sanctions if it is not reversed. Canadian Prime Minister Justin Trudeau took a conciliatory tone.
"We are disappointed but acknowledge the President's decision to fulfil his election campaign promise on Keystone XL," Trudeau said in a statement.
White House press secretary Jen Psaki said Biden will call Trudeau on Friday, the first call with a foreign leader after Biden took the oath of office. Psaki said the pipeline will be discussed.
Trudeau raised Keystone XL as a top priority when he spoke with Biden in a phone call in November.
The project is meant to expand critical oil exports for Canada, which has the third-largest oil reserves in the world and is America's number one source of foreign oil.
Trudeau and Biden are politically aligned and there are expectations for a return to normal relations after four years of Trump, but the pipeline is an early irritant as Biden has long said he would cancel it.
"Despite President Biden's decision on the project, we would like to welcome other executive orders made today, including the decisions to rejoin the Paris Agreement and the World Health Organization, to place a temporary moratorium on all oil and natural gas leasing activities in the Arctic National Wildlife Refuge, and to reverse the travel ban on several Muslim-majority countries," Trudeau said in his statement.
Alberta Premier Jason Kenney said Biden's decision is a gut punch for his province, which has a stake in the project.
"It is a insult directed at the United States most important ally and trading partner on day one of a new administration," Kenney said.
"The leader of our closest ally retroactively vetoed approval for a pipeline that exists and which is co-owned by Canadian government, directly attacking by far the largest part of the Canada U.S. trade relationship, which is our energy industry and exports."
Critics of the Alberta oil sands say the growing operations increase greenhouse gas emissions and threaten Alberta's rivers and forests.
But Marty Durbin, president of the U.S. Chamber of Commerce's Global Energy Institute, said Biden's decision is not grounded in science and will put thousands of Americans out of work,
"The pipeline — the most studied infrastructure project in American history — is already under construction and has cleared countless legal and environmental hurdles,"
Durbin said in a statement. "Halting construction will also impede the safe and efficient transport of oil, and unfairly single out production from one of our closest and most important allies."
Environmental groups applauded Biden's move.
"Killing the Keystone XL pipeline once and for all is a clear indication that climate action is a priority for the White House," said Dale Marshall, national climate program manager for Canada's Environmental Defence.
Striking for their first substantial raise in decades. Palestinian workers at the Yamit factory Nitzanei Shalom in a West Bank settlement near the city of Tulkarm
Danny Zaken Jan 14, 2021
The story of Israeli factories in the legally ambiguous West Bank industrial zones is one of economics and politics, and the coronavirus crisis has thrown its dynamics into stark relief as Palestinian laborers fight for the same salaries as their Israeli counterparts.
Israel Supreme Court ruled in 2007 that Israeli law applies to Palestinian laborers employed in Israel and in West Bank settlements.
Nine judges decided unanimously that the nationality of the workers could not be used as an excuse for employers to offer them working conditions that differ from those afforded to their Israeli counterparts.
The ruling applies to all Palestinian laborers working in Israel and in the settlements. Excepting:
It does not apply to the Nitzanei Shalom industrial park, built in the 1990s, soon after the signing of the Oslo Accords, near the Palestinian city of Tulkarm and along the separation fence.
The Yamit plant, which manufactures water filters for agriculture and home use, is located in this industrial zone and therefore not subject to the ruling or Israeli law in general.
Some 80,000 Palestinian workers enter Israel every day.
According to data provided by the Israeli Civil Administration, a branch of the Ministry of Defense that serves as a liaison between the Palestinians and the Israeli authorities, the workers earn an average of 6,000 shekels a month ($1,800).
While this amount is roughly the minimum wage for Israeli workers, it is about four times the average wage in the Palestinian territories.
Another 30,000 Palestinians work in the West Bank, mainly in industrial zones adjacent to Israeli settlements. A few more thousand work in construction.
According to the Civil Administration, the salaries of these working in West Bank settlements are only slightly lower than those of Palestinians working in Israel proper, averaging about 5,500 shekels ($1,750) per month. They are also eligible for the conditions and benefits provided by Israeli law such as pensions, sick pay and paid vacation time.
 Palestinian workers wearing masks against COVID-19 line up for a security check at the entrance to Israel's Mishor Adumim industrial zone near the Maale Adumim settlement in the West Bank east of Jerusalem, on July 1, 2020. Photo by MENAHEM KAHANA/AFP via Getty Images.
A senior Civil Administration official told Al-Monitor that the income of these 120,000 workers amounts to more than a quarter of the total income in the West Bank in 2019.
That figure is even higher this year because of the pandemic, which has devastated the Palestinian economy. As Israel relies heavily on Palestinian laborers, particularly at construction sites, even at the height of infection waves, workers who would otherwise be in lockdown were allowed to enter Israel.
Never miss another story
The factory employs 80 Palestinians who earn between 5,000 and 6,000 shekels ($1,600 and $1,900) per month. Some of those workers have been at the factory for two decades or more and now that they have considerable professional experience, they want raises. They even organized as a union with the Israeli labor organization Maan.
Negotiations with the factory began last year, but they dragged on for months because of the coronavirus. Finally, the factory's owner Ofer Talmi informed them that he could not meet their demands because of the economic crisis resulting from COVID-19. But the workers refused to concede.
On Dec. 31, 2020, they declared a strike. Surprised, Talmi sent an angry email to the head of Maan, Assaf Adiv, saying that he meets all the legal obligations to his workers. Then he added, "The Land of Israel belongs to the Jewish people. As a result, I am unwilling to have Palestinian workers with any connection to the state of Israel whatsoever."
Furious about his response, the striking workers released the email to the Palestinian and Israeli media.
Halil Shihab, one of the striking workers, said, "We've been working for years for minimum wage. We are professionals and we get minimum wage. Now he says that he doesn't want to give his employees basic conditions because they are Arabs — not because he can't afford it."
Realizing the magnitude of his mistake, Talmi released a letter in Arabic apologizing to his workers and warning that if the strike continues, he will be forced to close the factory. He promised them 1,000 shekels ($320) each if they returned to work and said that he would renew negotiations over pay.
"I want to apologize and take back what I wrote in my previous email about the right to the Land of Israel. It was written in a moment of extreme duress. … It is very hard for me to see the gates of our factory closed, since this could have serious implications on all of our livelihoods. We are in a difficult period and the strike hurts all of us. It threatens our very existence."
According to the factory's management, Adiv shared the first letter with anti-Israel organizations like the Boycott, Divestment and Sanctions movement, which has used it to attack Israel.
His motives, they say, were entirely political. Meanwhile, the factory's owner told Al-Monitor, "Yamit has employed Palestinian workers for over 35 years now. It operates according to the law and grants them all sorts of rights and benefits, including better pay, pensions, sick pay and worker's compensation.
Assaf Adiv of Maan is making cynical use of this difficult time, knowing that Yamit is contending with enormous difficulties because of the coronavirus, like so many other factories and industries in Israel and around the world. This attempt to interfere, supposedly on behalf of some ideology or other, causes enormous damage to the otherwise healthy working relations and genuine coexistence that has been a hallmark of this factory for years. "
Adiv denied the accusation. In a conversation with Al-Monitor he said that all he wanted was to obtain better working conditions for experienced professionals.
If Talmi had just declared his willingness to raise their salaries once the crisis was over, the whole situation would have been resolved. Adiv also claimed that by never contributing to the workers' pension fund, Talmi has saved millions over the years.
Ali, another worker at the factory, spoke to Al-Monitor about the conflict. Asking that his full name not be used, he said, "I am willing to forgive Ofer Talmi, but he needs to realize that we deserve more. If he really supports coexistence, let him show us that he is prepared for it. We would then help him get the factory through this crisis."
If that happens, the industrial zone model could survive. If not, it may be in serious danger.
Read more: https://www.al-monitor.com/pulse/originals/2021/01/israel-palestinians-west-bank-nitzanei-shalom-oslo-accords.html#ixzz6jplOHHcN
Colonial powers assignment for the "Arab" States leaders? And the people pay the price
Posted on June 3, 2010
During the "Cold War" period, the US administrations would select the main dish to cook and prepare the ingredients; Russia would then set the fire under the pan; Europe would cool off  the plate; Israel would eat the main course.  
The "Arab" States had the role of washing the dishes for the next feast of horrors and defeats.
During US global hegemony after the Fall of the Berlin Wall, all these haphazard "Independent States" sprouted in the continents to become markets for the US-based international conglomerates in transferring/shuffling "financial" paper money, with multiple financial crisis.
Two decades after after the Fall of the Berlin Wall, it is China selecting the strategic regions to exploit; then it is the turn of the US to bring in the matches; the European Union reaps the problems and extends grants to developing States and sends in the Blue Helmets to keep the peace.
India, Brazil, Russia , and Turkey waited to capture the investments of surplus money.
This time around, Israel is teaming up with "Moderate Arab States" to wash the dishes.  
Iran refuses to wash dishes: it contributes soap and detergents to whom is willing to scrap, wash and clean the mess.
After WW2, the US was master of seas and oceans; it nuked Japan twice to accelerate Japan's surrender: Stalin of the Soviet Union had already entered Manchuria and was progressing to conquer all of Korea.
The US got hold of Japan and South Korea; Russia got North Korea.
In 1949, Mao of China conquered Tibet (source of all major rivers in India, China, and South-East Asia); the US failed to obstruct China's expansion and Stalin got upset of US alignment with China. Stalin decided to capture all of Korea.  The US resisted and paid the tab in soldiers, weapons, and money for many years to save South Korea.  Finally, China is controlling North Korea via figure heads.
After WW2, the US launched many pre-emptive wars around the globe under the pretext of "containing the spread of communism" and grabbed all the European colonies.
The Soviet Union backed "national resistance" to imperialism with inexpensive weapons.  
The "underdeveloped" third world States got independence and Russia won their hearts and mind, but not their stomachs:  Russia was unable to extend finances to these famished new independent States.
The US made it a policy to destabilize all these new States with military coups and braking any economic and social development.
During the reign of the Soviet Union, there were many "progressist" movements siding with either Russia, China, or other communist systems against the common enemy "emperialist capitalist America".
The US and Russia divided the spoil of the world after burning the lands, forests, and people of the third world States.
After the fall of Berlin Wall, China is masterfully juggling with capitalism, socialism, and communism ideologies as tools for economic hegemony.
The US is impotent in regulating and controlling the havoc resulting from the unruly multinational financial institutions.  
The EU is paying the tabs as usual.  
India, Brazil, Russia, and Turkey are enjoying the roles of mediators, negotiators, and recipients in the G20 group.  All other states are paid minimum wages for cleaning up this global mess.
Note: After US Bush Jr. invasion of Iraq in 2003 and the upheaval of a few people in the "Arab" States like Tunisia, Egypt and Libya… world geopolitical conditions changed, but the "Arab" States got worse, politically, economically and socially.
Mind you that major wars are conducted on weaker nation Lands. It is the people that have to endure the calamities.
Child Labor heavily abused in vegetable oil production
By ROBIN McDOWELL and MARGIE MASON
They are two young girls from two very different worlds, linked by a global industry that exploits an army of children.
Olivia Chaffin, a Girl Scout in rural Tennessee, was a top cookie seller in her troop when she first heard rainforests were being destroyed to make way for ever-expanding palm oil plantations.
Olivia, who earned a badge for selling more than 600 boxes of cookies, had spotted palm oil as an ingredient on the back of one of her packages but was relieved to see a green tree logo next to the words "certified sustainable." She assumed that meant her Thin Mints and Tagalongs weren't harming rainforests, orangutans or those harvesting the orange-red palm fruit.
But later, the whip-smart 11-year-old saw the word "mixed" in all caps on the label and turned to the internet, quickly learning that it meant exactly what she feared: Sustainable palm oil had been blended with oil from unsustainable sources. To her, that meant the cookies she was peddling were tainted.
On one of those plantations a continent away, 10-year-old Ima helped harvest the fruit that makes its way into a dizzying array of products sold by leading Western food and cosmetics brands.
Ima is among the estimated tens of thousands of children working alongside their parents in Indonesia and Malaysia, which supply 85% of the world's most consumed vegetable oil.
An Associated Press investigation found most earn little or no pay and are routinely exposed to toxic chemicals and other dangerous conditions.
Some never go to school or learn to read and write. Others are smuggled across borders and left vulnerable to trafficking or sexual abuse. Many live in limbo with no citizenship and fear being swept up in police raids and thrown into detention.
The AP used U.S. Customs records and the most recently published data from producers, traders and buyers to trace the fruits of their labor from the processing mills where palm kernels were crushed to the supply chains of many popular kids' cereals, candies and ice creams sold by Nestle, Unilever, Kellogg's, PepsiCo and many other leading food companies, including Ferrero – one of the two makers of Girl Scout cookies.
Ima, a girl who works informally to help her parents in a palm oil plantation, poses for a portrait in Sumatra, Indonesia. (AP Photo/Binsar Bakkara) Olivia Chaffin, 14, stands for a portrait with her Girl Scout sash in Jonesborough, Tenn. (AP Photo/Mark Humphrey)
Thousands of miles away in Indonesia, Ima led her class in math and dreamed of becoming a doctor. Then one day her father made her quit school because he needed help meeting the high company targets on the palm oil plantation where she was born. Instead of attending fourth grade, she squatted in the unrelenting heat, snatching up the loose kernels littering the ground and knowing if she missed even one, her family's pay would be cut.
She sometimes worked 12 hours a day, wearing only flip flops and no gloves, crying when the fruit's razor-sharp spikes bloodied her hands or when scorpions stung her fingers. The loads she carried, sometimes so heavy she would lose her footing, went to one of the very mills feeding into the supply chain of Olivia's cookies.
"I am dreaming one day I can go back to school," she told the AP, tears rolling down her cheeks.
Child labor has long been a dark stain on the $65 billion global palm oil industry. Though often denied or minimized as kids simply helping their families on weekends or after school, it has been identified as a problem by rights groups, the United Nations and the U.S. government.https://player.vimeo.com/video/495099006?background=1
Scenes of a child gathering palm kernels.
With little or no access to daycare, some young children follow their parents to the fields, where they come into contact with fertilizers and some pesticides that are banned in other countries. As they grow older, they push wheelbarrows heaped with fruit two or three times their weight. Some weed and prune the trees barefoot, while teen boys may harvest bunches large enough to crush them, slicing the fruit from lofty branches with sickle blades attached to long poles.
In some cases, an entire family may earn less in a day than a $5 box of Girl Scout Do-si-dos.
"For 100 years, families have been stuck in a cycle of poverty and they know nothing else than work on a palm oil plantation," said Kartika Manurung, who has published reports detailing labor issues on Indonesian plantations. "When I … ask the kids what they want to be when they grow up, some of the girls say, 'I want to be the wife of a palm oil worker.'"Read more on AP's investigation: Fruits of Labor
The AP's investigation into child labor is part of a broader in-depth look at the industry that also exposed rape, forced labor, trafficking and slavery. Reporters crisscrossed Malaysia and Indonesia, speaking to more than 130 current and former workers – some two dozen of them child laborers – at nearly 25 companies. Their locations are not being disclosed and only partial names or nicknames are being used due to fears of retribution.
The AP found children working on plantations and corroborated accounts of abuse, whenever possible, by reviewing police reports and legal documents. Reporters also interviewed more than 100 activists, teachers, union leaders, government officials, researchers, lawyers and clergy, including some who helped victims of trafficking or sexual assault.
This story was funded in part by the McGraw Center for Business Journalism at CUNY's Newmark Graduate School of Journalism
Indonesian government officials said they do not know how many children work in the country's massive palm oil industry, either full or part time. But the U.N.'s International Labor Organization has estimated 1.5 million children between 10 and 17 years old labor in its agricultural sector. Palm oil is one of the largest crops, employing some 16 million people.
In much smaller neighboring Malaysia, a newly released government report estimated more than 33,000 children work in the industry there, many under hazardous conditions – with nearly half of them between the ages of 5 and 11. The study was conducted in 2018 after the country was slammed by the U.S. government over the use of child labor, and it did not directly address the large number of migrant children without documents hidden on many plantations in US Eastern States, some of whom have never seen the inside of a classroom.A boy collects palm kernels from the ground at a palm oil plantation in Sumatra, Indonesia. (AP Photo/Binsar Bakkara)
Many producers, Western buyers and banks belong to the 4,000-member Roundtable on Sustainable Palm Oil, a global not-for-profit organization that provides a green stamp of approval to those committed to supplying, sourcing, financing or using palm oil that's been certified as ethically sourced.
The RSPO has a system in place to address grievances, including labor abuse allegations. But of the nearly 100 complaints listed on its case tracker for the two Southeast Asian countries in the last decade, only a handful have mentioned children.
"It is an issue, and we know it's an issue," said Dan Strechay, the RSPO's global outreach and engagement director, adding that the organization has started working with UNICEF and others to educate members about what constitutes child labor.
Strechay said many parents in Indonesia and Malaysia believe it's the "cultural norm" for their kids to work alongside family members, even if it means pulling them out of school. "And that's not OK," he said.
Palm oil is contained in roughly half the products on supermarket shelves and in almost three out of every four cosmetic brands, though that can be hard to discern since it appears on labels under more than 200 different names.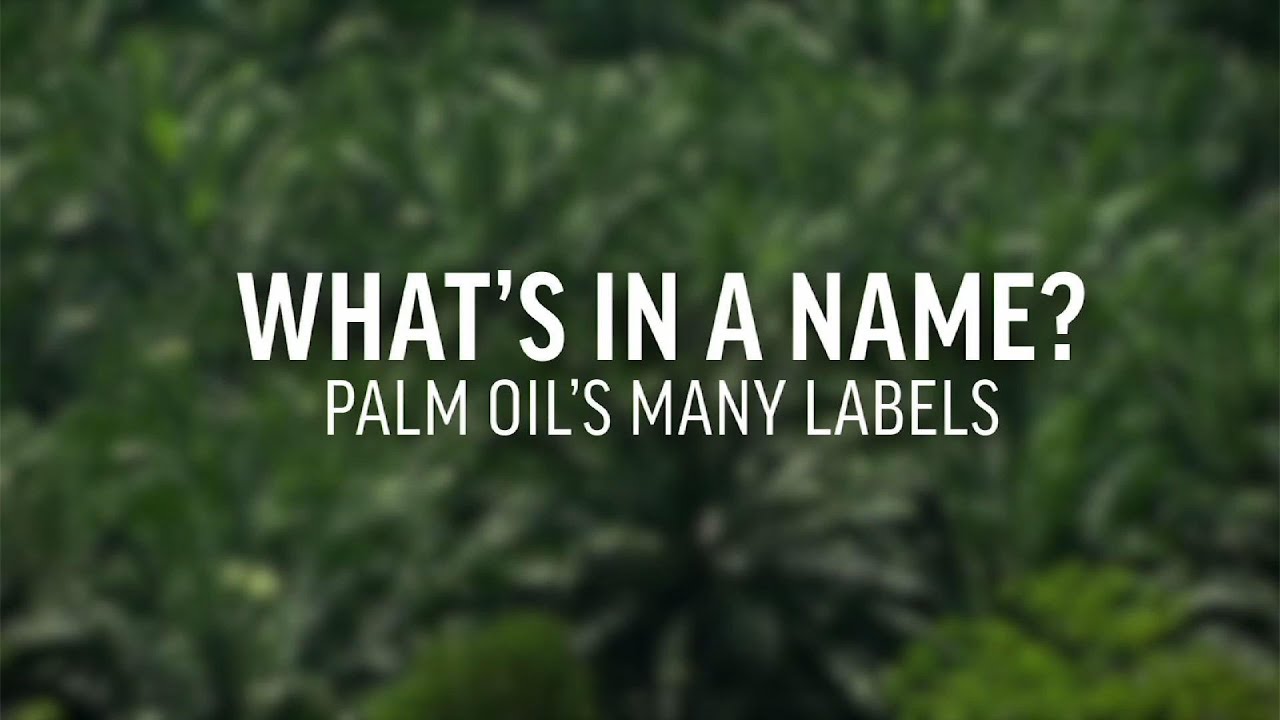 And in a world where more and more consumers are demanding to know the provenance of the raw materials in the products they purchase, many companies are quick to issue assurances that they are committed to "sustainable" sourcing. But supply chains often are murky – especially in the palm oil industry – and developing countries that produce commodities in large volumes cheaply often do so by disregarding the environment and minimizing labor costs.
Most people take words like "organic," "fair trade" and "sustainable" at face value. But not Olivia. She became increasingly worried about palm oil, rifling through the kitchen cupboards in her family's century-old farmhouse in Jonesborough, Tennessee, to inspect the ingredients printed on cans and wrappers. Then she began digging through her shampoos and lotions, trying to make sense of the scientific-sounding names she saw there.
Now 14, Olivia has fired letters off to the head of Girl Scouts of the USA, demanding answers about how the palm oil is sourced for the organization's cookies. She's started an online petition to get it removed. And she and some other members of Troop 543 have stopped selling them.
The Girl Scouts did not respond to repeated requests for comment before the AP published its findings Tuesday. But after widespread criticism on social media, the organization sent out a tweet the next day calling on its bakers and the RSPO to take action.
"I thought Girl Scouts was supposed to be about making the world a better place," Olivia said. "But this isn't at all making the world better."
___Olivia Chaffin makes photographs in a wooded area as she works on a Girl Scout photography merit badge in Jonesborough, Tenn. (AP Photo/Mark Humphrey)
Many kids are introduced to palm oil soon after they're born – it's a primary fat in infant formula. And as they grow, it's present in many of their favorite foods: It's in their Pop-Tarts and Cap'n Crunch cereal, Oreo cookies, KitKat candy bars, Magnum ice cream, doughnuts and even bubble gum.
"Let them enjoy it," said Abang, a skinny 14-year-old who dropped out of the fifth grade to help his father on an Indonesian plantation and has never tasted ice cream. He has accepted his own fate, but still dreams of a better future for his little brother.
"Let me work, just me, helping my father," Abang said. "I want my brother to go back to school. … I don't want him in the same difficult situation like me."
Though many consumers aren't familiar with it, palm oil became ubiquitous nearly two decades ago after warnings about health risks associated with trans fats. Almost overnight, food manufacturers began shifting to the highly versatile and cheap oil.
Indonesia is the world's largest palm oil producer and, with a population of 270 million, there is no shortage of strong backs. Many laborers migrate from the poorest corners of the country to take jobs that others shun, often bringing their wives and children as helpers in order to meet impossibly high daily quotas.
Others have been living on the same plantations for generations, creating a built-in workforce – when one harvester retires or dies, another in the family takes his place to hold onto company-subsidized housing, which often is a dilapidated shack with no running water and sometimes only limited electricity.
It's a cycle that 15-year-old Jo was trying to break. Even though he had to help his family in the fields each day, heaving palm fruits high over his head and lobbing them onto trucks, his parents let him keep $6 a month to cover school fees so he could attend morning classes.
"I am determined to finish high school to find a job outside the plantation," said Jo, who toiled alongside his mother, father and grandfather. "My parents are very poor. Why should I follow my parents?"A child helps her parents work on a palm oil plantation in Sabah, Malaysia. (AP Photo/Binsar Bakkara)
But for many migrant children in neighboring Malaysia – which relies almost entirely on foreign workers to fill constant labor shortages – the hurdles to a brighter life seem insurmountable.
Male harvesters technically are not allowed to bring their families to plantations on Borneo island, which is shared by both countries. So children often follow behind, sometimes traveling alone on illicit smugglers' routes known as "jalan tikus," or rat roads. The perilous border crossings to the Malaysian states of Sabah and Sarawak can take place at night, either on foot across winding jungle paths or in packed speed boats racing without lights, sometimes colliding or capsizing in the dark.
An official estimate says 80,000 children of illegal migrants, mostly from Indonesia and the Philippines, are living in Sabah alone, but some rights groups say the true number could be nearly double that. Without birth certificates and with no path to citizenship, they are essentially stateless – denied access to even the most basic rights, and at high risk of exploitation.
Migrant workers without documents are often treated "inhumanely" in Malaysia, said Soes Hindharno, an official from Indonesia's Manpower Ministry. He said he had not received any complaints about child labor occurring in his own country, but an official from the ministry that oversees women and children's issues acknowledged it was an area of growing concern in Indonesia.
Malaysia's Ministry of Plantation Industries and Commodities did not respond to repeated requests for comment, but Nageeb Wahab, head of the Malaysian Palm Oil Association, a government-supported umbrella group, called allegations of child labor very serious and urged complaints to be reported to authorities.Students of a boarding school rest in their dormitory in North Kalimantan, Indonesia. (AP Photo/Binsar Bakkara)
Children of migrant parents grow up living in fear they will be separated from their families. They try to remain invisible to avoid attracting the ever-watchful eyes of police, with some keeping backpacks with supplies ready in case they need to flee their houses and sleep in the jungle to avoid raids.
Many never leave their guarded plantations, some so remote that workers must climb hills to search for a phone signal. And for those who dare to go out, trouble can come quickly.
Alex was 12 when he began working 10 hours a day on a small plantation with his father, hoisting fruits so heavy his aching muscles kept him awake at night. One day, he decided to sneak off to visit his favorite aunt in a nearby village. With no passport, Alex said authorities quickly found him and carted him off to a crowded immigration detention center where he was held for a month.
"There were hundreds of other people there, some my age, and also younger children, mostly with their mothers," he said. "I was very afraid and kept thinking about how worried my mother and father must be. It made it hard to even eat or drink."
But the biggest obstacles faced by Alex and other child workers in the two countries are lack of access to adequate, affordable education and medical care.
Some companies in Indonesia provide rudimentary elementary schooling on plantations, but children who want to continue their studies may find they have to travel too far on poor roads or that they can't afford it. In Malaysia, the problem is even bigger: Without legal documents, tens of thousands of kids are not allowed to go to government schools at all.
It's such an extensive problem that Indonesia has set up learning centers to help some of its children on plantations in the neighboring country, even sending in its own teachers. But with such heavy workloads on plantations, one instructor said he had to beg parents to let their sons and daughters come for even just a half-day of classes. And many children, especially those living in remote, hard-to-reach areas, still have no access to any type of education.
"Why aren't companies playing a role in setting up schools in collaboration with the government?" asked Glorene Das, executive director of Tenaganita, a Malaysian nonprofit group concentrating on migrant issues for more than two decades. "Why are they encouraging the children to work instead?"A child collects palm kernels from the ground at a palm oil plantation in Sumatra, Indonesia. (AP Photo/Binsar Bakkara)A child helps her parents work on a palm oil plantation in Sabah, Malaysia. (AP Photo/Binsar Bakkara)
Medical care also is woeful, with experts saying poor nutrition and daily exposure to toxic chemicals are undermining child laborers' health and development. Many Indonesian plantations have their own basic clinics, but access may be available only to full-time workers. Travel to a private doctor or hospital can take hours, and most families cannot afford outside care. Migrant children without documents in Malaysia have no right to health care and often are too scared to seek medical help in villages or cities – even in life-threatening emergencies.
Many young palm oil workers also have little understanding about reproductive health. Girls working on remote plantations are vulnerable to sexual abuse, and teen pregnancies and marriages are common.
Ana was just 13 when she first arrived in Malaysia, quickly learning, as she put it, that "anything can happen to the female workers there." She said she was raped and forced to marry her attacker, but eventually managed to break free after years of abuse and return home to start a new life. Now a mother with kids of her own, she abruptly left Indonesia last year again to look for work in Malaysia.
Many children do not have the option to ever leave. They are born on plantations, work there and sometimes die there. Overgrown headstones and crosses marking graves in crude cemeteries are found on some plantations near the towering palm trees.
Others, like 48-year-old Anna's husband, are buried in community graveyards along the Indonesian and Malaysian border. A month after the palm oil harvester's death, Anna lovingly tended his plot at the Christian site in Sabah, crammed with the bodies of hundreds of other migrants.
She said her son, whose own newborn baby was buried in the adjacent grave, had inherited his father's job. He is the family's main breadwinner now.
The cycle continues.
___Olivia Chaffin, center, walks in the woods with her parents, Doug, left, and Kim Chaffin, as Olivia works on a Girl Scout photography merit badge. (AP Photo/Mark Humphrey)Olivia Chaffin displays a 2017 response she received from the chief executive officer of the Girl Scouts to her concerns with palm oil being used in Girl Scout Cookies. (AP Photo/Mark Humphrey)Olivia Chaffin, 14, displays merit badges that she has been awarded for selling Girl Scout Cookies. (AP Photo/Mark Humphrey)
Olivia is not the first Girl Scout to raise questions about the way palm oil makes its way into the beloved American cookies.
More than a decade ago, two girls in a Michigan troop stopped selling S'mores and other seasonal favorites because they worried palm oil's expansion in Indonesia and Malaysia was destroying rainforests and killing endangered animals like orangutans.
After they campaigned for several years, the Girl Scouts of the USA became an affiliate member of the RSPO and agreed to start using sustainable palm oil, adding the green tree logo to its roughly 200 million boxes of cookies, which bring in nearly $800 million annually.
The RSPO was created with the best of intentions and it attempts to factor in the interests of a wide array of groups, including environmental organizations, industry leaders and banks. Its mission was not to flip a switch overnight, but to encourage the mammoth palm oil industry to evolve after years of breakneck growth and little outside oversight.
Still, for many food and cosmetic companies facing increased pressure from conscientious consumers, the RSPO's stamp of approval has become the go-to answer when questions are raised about their commitments to sustainability.
Monitoring the millions of workers hidden beneath palms covering an area equal to roughly the size of New Zealand, however, is next to impossible.A child collects palm kernels from the ground at a palm oil plantation in Sumatra, Indonesia. (AP Photo/Binsar Bakkara)
Some women and children on remote, sprawling plantations told the AP and labor rights groups that they are ordered to hide or stay home when sustainability auditors visit. They said only the optimal, easiest-to-reach parts of a plantation are typically showcased, with poor living and working conditions in distant areas hidden from outside eyes.
"The RSPO promises sustainable palm oil. But it doesn't mean that that palm oil is free of child labor or other abuses," said Robin Averbeck of the Rainforest Action Network, a San Francisco-based nonprofit that has found pervasive problems on plantations, including those certified as sustainable. "It has simply become a tool for greenwashing."
When contacted by the AP, companies reaffirmed their support of human rights for all workers, with some noting they rely on their suppliers to meet industry standards and abide by local laws. If evidence of wrongdoing is found, some said they would immediately cut ties with producers.
"We aim to prevent and address the issue of child labor wherever it occurs in our supply chain," said Nestle, maker of KitKat candy bars. Unilever – the world's biggest ice-cream maker, including Magnum – noted that its suppliers "must not, under any circumstance, employ individuals under the age of 15 or under the local legal minimum age for work or mandatory schooling." There was no response from Mondelez, which owns Oreo cookies, or Cap'n Crunch parent company PepsiCo.
Consumers have their own challenges in trying to buy responsibly. Those, like Olivia, who want to make sense of where their palm oil really comes from often find themselves confused, since the dense terms used to explain what makes palm oil sustainable can sometimes raise even more questions.
Take Girls Scout cookies, for instance, which are made by two different U.S. bakers
Boxes from both are stamped with green palm logos. The maker of Olivia's cookies, Little Brownie Bakers in Kentucky, has the word "mixed" beside the tree, meaning as little as 1 percent of the palm oil might be certified sustainable. ABC Bakers in Virginia says "credits," which means money is going toward promoting sustainable production.
The bakers' parent companies – Italian confectionary brand Ferrero and Canadian-based Weston Foods – would not comment on the issue of child labor, but both said they were committed to sourcing only certified sustainable palm oil.A child carries palm kernels collected from the ground at a palm oil plantation in Sumatra, Indonesia. (AP Photo/Binsar Bakkara)
Weston Foods, which owns ABC Bakers, would not provide any information about its palm oil suppliers, citing proprietary reasons, so the AP could not determine if its supply chain was tainted.
Palm oil, the highest-yielding vegetable oil, is an important part of the two Southeast Asian countries' economies and the governments bristle at any form of criticism, saying the industry plays an important role in alleviating poverty.
They have banned products touted as "palm oil-free" from supermarket shelves and created slogans calling the crop "God's gift." And when students at an international school in Malaysia were criticized last year for staging a play questioning the industry's effect on the environment, school administrators responded with an apology.
Back in Indonesia, Ima could give a very different classroom presentation about palm oil, but she has no chance. She continues to toil full time on the plantation alongside her family, even though her mother had promised she eventually could resume her studies.
"Sometimes my friends ask me, 'Why did you drop out? Why are you not at school?'" Ima said, her resentment readily apparent. "'Because I have to help my father. If you want to replace me and help my father, then I will go to school. How about that?'"
After learning about Ima, Olivia is even more determined to fight on. She had previously sent letters to her customers explaining her reasons for no longer selling Girl Scout cookies, and many responded by donating money to her Southern Appalachian troop to show support.
Now, Olivia is asking Girl Scouts across the country to band with her, saying, "The cookies deceive a lot of people. They think it's sustainable, but it isn't.
"I'm not just some little girl who can't do anything about this," she said. "Children can make change in the world. And we're going to."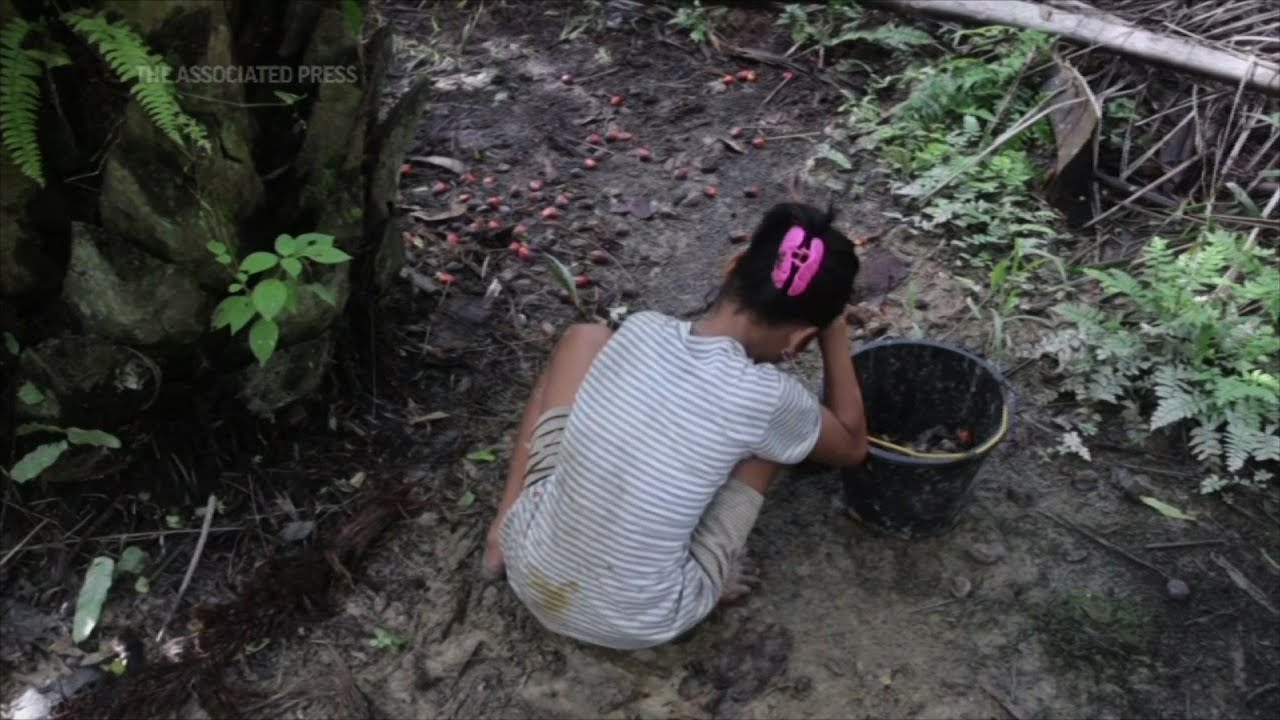 An Associated Press investigation has found that an army of children are toiling on palm oil plantations in Indonesia and Malaysia. The vegetable oil can be found in the supply chains of popular cereals, snacks and Girl Scout cookies. (Dec. 29)