Archive for the 'Time for Outrage' Category
Israel Authorizes Organ Harvesting, Weapons-Testing on Palestinian Prisoners: Report IMEMC
Posted on March 24, 2019
"Palestinian spaces are laboratories," Professor Nadera Shalhoub-Kevorkian said in a lecture at Columbia University.
Authorities of the Israeli occupation have permitted large pharmaceutical firms to carry out tests on Palestinian prisoners and has been testing weapons on Palestinian children, a professor with the Israeli Hebrew University said.
RELATED:
Israeli Troops Kill 15-year-old Boy During Gaza Protests
Professor Nadera Shalhoub-Kevorkian, a Palestinian feminist activist and the Lawrence D. Biele Chair in Law, said she collected data while working on a research project for the university.
"Palestinian spaces are laboratories," she said in her lecture titled, 'Disturbing Spaces – Violent Technologies in Palestinian Jerusalem' at Columbia University in New York City.
"The invention of products and services of state-sponsored security corporations are fueled by long-term curfews and Palestinian oppression by the Israeli army."
The Hebrew University of Jerusalem distanced itself from her claims that Israel has been experimenting on Palestinian children with new weapons systems in order to boost the sale of international weapons.
Just weeks ago, Israeli authorities refused to hand over the body of prisoner Fares Baroud, who died in Israeli custody after suffering several illnesses including glaucoma and liver disease.
There are concern and speculation from family and activist site, Palestine Libre, that Baroud was a test subject.
In 2015, the Palestinian ambassador to the United Nations Riyad Mansour accused Israeli security forces of harvesting organs from the bodies of Palestinians killed.
"After returning the seized bodies of Palestinians killed by the occupying forces through October, and following medical examinations, it has been reported that the bodies were returned with missing corneas and other organs," Mansour said
The Israeli ambassador to the United Nations Danny Danon responded by rejecting the allegations, saying that the charges were anti-Semitic.
Danon wrote to the then Secretary-General Ban Ki-moon. "I call on you to repudiate this sinister accusation and to condemn the ongoing incitement by Palestinian leaders."
As far back as 1997, the Israeli newspaper Yedioth Ahronoth reported on the comments of Dalia Itzik, chairwoman of a parliamentary committee, who acknowledged that the Israeli Ministry of Health granted permits to pharmaceutical companies to test their new drugs on prisoners, and noted that 5,000 tests had been carried out, IMEMC reported.
A fourth round of genocide committed on Gaza civilians
Mnd you this article was Posted on August 17, 2014 (and written on July 25, 2014)
Israel/Gaza conflict: Questions and Answers
Smoke rises after an Israeli airstrike in Al Shejaiya (Shuja3iya) neighbourhood in eastern Gaza City during a military operation in eastern Gaza City, 22 July 2014. © EPA1.
What does Amnesty International think of the resolution passed by the UN Human Rights Council on 23 July? What should happen next?
Amnesty International welcomes resolution S-21/1 to establish a commission of inquiry and notes that the wording allows the commission to investigate violations of international law by all parties to the current conflict.
The commission of inquiry represents an important opportunity to break the cycle of persistent impunity for crimes under international law in Israel and the Occupied Palestinian Territories (OPT).
In order to be effective the commission of inquiry must be thorough, independent and impartial, and look into violations by any party to the conflict.
It must be adequately resourced and have unrestricted access to all relevant areas.
Amnesty International urges all states – including all EU member states, who abstained on the resolution – to cooperate with the commission as required.
2. What are the key obligations of the parties to the conflict during the hostilities under international humanitarian law?
During an armed conflict, all parties – whether state or non-state armed forces – must respect international humanitarian law, which aims to protect civilians by regulating the conduct of all sides in hostilities.
States also continue to have an obligation to respect international human rights law during a conflict.
Under international humanitarian law, all sides in an armed conflict must distinguish between military targets and civilians and civilian structures, and direct attacks only at the former.
Deliberate attacks on civilians or civilian objects – such as homes, medical facilities, schools, governmental buildings – that are not being used for military purposes are prohibited and are war crimes.
Indiscriminate and disproportionate attacks (where the likely number of civilian casualties or damage to civilian property outweighs the anticipated military advantage to be gained) are also prohibited.
(Netanyahu told Biden a week ago that he is Not concerned about Palestinian civilians. Hundreds of Palestinians died and were injured for this indiscriminate attacks of Israel planes)
All sides must take necessary precautions in attack to minimize harm to civilians and civilian objects. This includes giving civilians effective warnings ahead of attacks, and cancelling or suspending an attack if it becomes apparent that the target is civilian or that the attack would be disproportionate.
They also must take all feasible precautions to protect civilians under their control from the effects of attacks.
For example, warring parties should avoid endangering civilians by storing ammunition in, and launching attacks from, populated civilian areas.
3. What are the different patterns of violations by Israeli forces in the Gaza Strip that Amnesty International has identified since Israel launched Operation "Protective Edge" on 8 July 2014?
Israeli forces have carried out attacks that have killed hundreds of civilians, using precision weaponry such as drone-fired missiles, as well as munitions such as artillery, which cannot be precisely targeted, on very densely populated residential areas, such as Shuja'iyyeh.
They have also directly attacked thousands of homes. Israel appears to consider the homes of people associated with Hamas to be legitimate military targets, a stance that does not conform to international humanitarian law.
Several medical facilities and non-military governmental buildings across the Gaza Strip have also been destroyed or damaged.
(In this current round, Israel bombed all the roads that lead to the 2 hospitals in Gaza City and north of Gaza. European States funds all the hospitals in Gaza. 35,000 took refuge in the 43 UNRWA schools)
The UN has reported that one of its schools sheltering displaced people in the al-Maghazi refugee camp in central Gaza was shelled by Israeli forces on at least two occasions.
Another such school sheltering displaced families in Beit Hanoun in northern Gaza was struck on 24 July, killing at least 15 civilians and injuring many others, and the UN has called for an immediate investigation.
Although the Israeli authorities claim to be warning civilians in Gaza, a consistent pattern has emerged that their actions do not constitute an "effective warning" under international humanitarian law.
Israeli attacks have also caused mass displacement of Palestinian civilians within the Gaza Strip.
4. What is Amnesty International's position on the firing of indiscriminate rockets and mortars from the Gaza Strip by Palestinian armed groups?
Do other actions of Palestinian armed groups in Gaza since 8 July 2014 violate international humanitarian law?
According to the Israeli army, Hamas' military wing and other Palestinian armed groups fired over 1,700 rockets into Israel from 8 to 18 July, and scores of rockets continue to be fired every day.
(Mind you that in 2014 the rockets were puny and Not precise. Still, Israel attacked by land and totally destroyed Gaza infrastructures)
(Three civilians in Israel have been killed, a few civilian properties in Israel have been damaged, compared to over 1,500 Palestinians killed and 3 fold injured).
International humanitarian law prohibits the use of weapons that are by nature indiscriminate. The rockets fired from Gaza into Israel cannot be aimed exactly at their objective and their use violates international humanitarian law.
The firing of indiscriminate rockets and mortars also endangers Palestinian civilians inside the Gaza Strip and in the West Bank ?.
Statements by some leaders of Palestinian armed groups also indicate that they have no qualms about launching attacks against civilians and that they in fact carry out such attacks intending to kill and injure Israeli civilians.
Attacks that directly target civilians and indiscriminate attacks that kill or injure civilians constitute war crimes.
5. When the Israeli military has warned residents of a specific area in the Gaza Strip to evacuate the area, does that fulfil its obligations to protect civilians under international humanitarian law?
Effective advance warning to civilians is only one of the prescribed precautions in attack aimed at minimizing harm to civilians.
When Israeli forces have given warning in many cases key elements of effective warning have been missing, including timeliness, informing civilians where it is safe to flee, and providing safe passage and sufficient time to flee before an attack.
There also have been reports of lethal strikes launched too soon after a warning to spare civilians.
In any event, issuing a warning does not absolve an attacking force of its obligations to spare civilians, including by taking all other necessary precautions to minimize civilian casualties and damage to civilian structures.
Israel's continuing military blockade on the Gaza Strip and the closure of the Rafah crossing by the Egyptian authorities since the hostilities began mean that civilians in Gaza cannot flee to neighbouring countries.
6. The Israeli authorities claim that Hamas and Palestinian armed groups use Palestinian civilians in Gaza as "human shields". Does Amnesty International have any evidence that this has occurred during the current hostilities?
Amnesty International is monitoring and investigating such reports, but does not have evidence at this point that Palestinian civilians have been intentionally used by Hamas or Palestinian armed groups during the current hostilities to "shield" specific locations or military personnel or equipment from Israeli attacks.
In previous conflicts Amnesty International has documented that Palestinian armed groups have stored munitions in and fired indiscriminate rockets from residential areas in the Gaza Strip in violation of international humanitarian law. Reports have also emerged during the current conflict of Hamas urging residents to ignore Israeli warnings to evacuate.
However, these calls may have been motivated by a desire to minimize panic and displacement, in any case, such statements are not the same as directing specific civilians to remain in their homes as "human shields" for fighters, munitions, or military equipment.
Under international humanitarian law even if "human shields" are being used Israel's obligations to protect these civilians would still apply. (Human shields is what Israel practice at a wide scale)
7. There are reports that Israeli forces have used flechettes in the current military operation in the Gaza Strip. What is Amnesty International's position on the use of flechettes? Has the Israeli military used flechettes in Gaza before?
Flechettes are 3.5cm-long steel darts, sharply pointed at the front, with four fins at the rear. Between 5,000 and 8,000 of these darts are packed into shells which are generally fired from tanks. The shells explode in the air and scatter the flechettes in a conical pattern over an area about 300m by 100m.
Flechettes are designed to be used against massed infantry attacks or squads of troops in the open, and obviously pose a very high risk to civilians when fired in densely populated residential areas.
Local human rights groups have reported cases in which civilians in Gaza have been killed and injured by flechette shells. Amnesty International has not yet been able to verify particular cases during the current hostilities, but has previously documented Israeli forces' use of flechette rounds, for example during Operation "Cast Lead", resulting in the killing of civilians, including children.
Flechettes are not specifically prohibited by international humanitarian law per se, however, they should never be used in densely populated areas.
8. What is Amnesty International calling on the international community to do at this point?
All states (particularly key suppliers, for example USA for Israel) must suspend all transfers of weapons, munitions and other military equipment and technology to all sides until there is no longer a substantial risk that such items will be used for serious violations of international humanitarian law or serious human rights abuses.
The suspension should include all indirect exports via other countries, the transfer of military components and technologies and any brokering, financial or logistical activities that would facilitate such transfers.
States should use the 2009 report of the UN Fact-Finding Mission on the Gaza Conflict and the upcoming report of the commission of inquiry mandated this week by the Human Rights Council as a basis to exercise universal jurisdiction to investigate and prosecute crimes under international law before their national courts.
Flechette shells spraying out thousands of tiny lethal darts.
Posted on January 6, 2018
Israel using flechette shells in Gaza
Palestinian human rights group accuses Israel military of using shells that spray out thousands of tiny and potentially lethal darts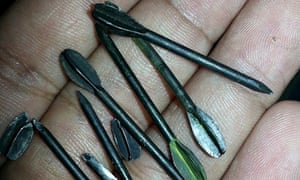 Harriet Sherwood in Jerusalem @harrietsherwood. Sun 20 Jul '14
The Israeli military is using flechette shells, which spray out thousands of tiny and potentially lethal metal darts, in its military operation in Gaza.
Six flechette shells were fired towards the village of Khuza, east of Khan Younis, on 17 July, according to the Palestinian Centre for Human Rights.
Nahla Khalil Najjar, 37, suffered injuries to her chest, it said. PCHR provided a picture of flechettes taken by a fieldworker last week.
The Israel Defence Forces (IDF) did nNot deny using the shells in the conflict.
"As a rule, the IDF only employs weapons that have been determined lawful under international law, and in a manner which fully conforms with the laws of armed conflict," a spokesperson said in response to a request for specific comment on the deployment of flechettes. (Are cluster bombs and phosphorous weapons lawful too?)
B'Tselem, an Israeli human rights organisation, describes a flechette shell as "an anti-personnel weapon that is generally fired from a tank. 
The shell explodes in the air and releases thousands of metal darts 37.5mm in length, which disperse in a conical arch 300 metres long and about 90 metres wide".
The munitions are Not prohibited under international humanitarian law, but according to B'Tselem, "other rules of humanitarian law render their use in the Gaza Strip illegal. One of the most fundamental principles is the obligation to distinguish between those who are involved and those who are not involved in the fighting, and to avoid to the extent possible injury to those who are not involved.
Deriving from this principle is the prohibition of the use of an imprecise weapon which is likely to result in civilian injuries."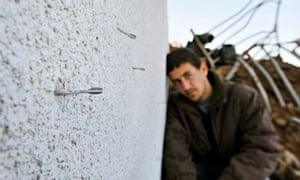 The legality of flechette munitions was upheld by the Israeli supreme court in 2002, and according to an Israeli military source, they are particularly effective against enemy fighters operating in areas covered by vegetation.
The source said a number of armies around the world deploy flechette shells, and that they were intended solely for use against legitimate military targets in accordance with international law.
The IDF has deployed flechette shells in Gaza and Lebanon before. B'Tselem has documented the deaths of nine Palestinians in Gaza from flechettes in 2001 and 2002.
Flechettes have also killed and wounded dozens of civilians, including women and children, in conflicts between Israel and Hezbollah in Lebanon.
The Israeli military deployed artillery shells containing white phosphorous in densely populated areas of Gaza during Operation Cast Lead in 2008 and 2009, causing scores of deaths and extensive burns.
It initially issued a categorical denial of reports of the use of white phosphorous, but later admitted it, saying the weapon was only used to create smokescreens.
Human Rights Watch said its use of the munitions in Operation Cast Lead was indiscriminate and evidence of war crimes.
In response to a legal challenge, the IDF said last year it would "avoid the use in built-up areas of artillery shells containing white phosphorus, with two narrow exceptions." The exceptions were not disclosed.
The Ex-Obama White House chief of staff Rahm Emanuel case: Father Specialized in Bus Bombings of civilians in Palestine
Posted on January 7, 2016
Wayne Madsen Special to Salem-News.com
Wikipedia deleted the page about Rahm Emanuel's father in 2008. Makes you wonder.

Irgun, the army of Rahm Emanuel's father, is short for Irgun Zvai Leumi– "National Military Organization" in Hebrew, was a terrorist Zionist group that operated in Palestine, killing innocent Palestinians and British soldiers; blowing up buildings.
(WASHINGTON D.C.) – Note from Publisher: In an effort to assist our government in keeping information "transparent", we are publishing this important article by Wayne Madsen, on the father of Rahm Emanuel.
You won't find his bio on wikipedia, or any where else easily accessed. It has been deleted.
Former White House Chief of Staff Rahm Emanuel held a top position in our country's leadership and his example of ethics and integrity is of the highest importance.
This is not diminished regardless of his aspirations to leave the national spotlight and become the mayor of Chicago.
But, it seems, some secrets must just be harder to share. This revealing article will leave you with a better understanding of why no one wants to talk about Benjamin Emanuel. And why they should.
– Bonnie King
A
well-placed British source informed WMR that Rahm Emanuel's father, Benjamin Emanuel, specialized in the terrorist bombings of buses carrying British troops and policemen during the British Mandate in Palestine.
British MI-6 files contain information on the elder Emanuel's participation in the terrorist activities of Irgun Zvai Leumi, a Jewish terrorist organization that targeted British forces, UN officials, and Palestinian Arabs in the lead up to Israeli independence in 1948.
Emanuel's father Benjamin was part of
the Israeli assassin team that murdered
Sweden's Count [Folke] Bernadotte in '48.
Bernadotte was the UN envoy in Palestine
who sought to find a solution to the UN
Partition Plan that gave Palestinian land
to Jews from "beyond the pale."
Benjamin Emanuel, a Jew from Russia whose real name was Ezekiel Auerbach, was arrested by British police for terrorist activities in the months prior to Israeli independence.
Many of the British policemen killed by Emanuel and his Irgun colleagues between 1947 and 1948 had been transferred to Palestine upon Indian and Pakistani independence in 1947. Irgun saw the increase of British policemen from the Indian subcontinent as a major threat.
The Jewish terrorist murders of British troops and policemen resulted in massive anti-Jewish riots in London, Liverpool, Glasgow, Manchester, and Cardiff in 1947.
In 1946, Emanuel's Irgun bombed the King David Hotel in Jerusalem, killing 91 people, including 28 British soldiers and policemen.
British intelligence also believed that Benjamin Emanuel may have been related to Vladimir Jabotinsky, a Russian Jew from Odessa who founded Irgun.
Jabotinksy, who was an admirer of Benito Mussolini and who secretly negotiated for the expatriation of Jews to Palestine with the Nazi government in Germany and Admiral Miklos Horthy's pro-Nazi regime in Hungary, died of a heart attack in New York in 1940.
Wikipedia deleted Benjamin Emanuel's entry in 2008*, shortly after Rahm Emanuel was designated as President Obama's chief of staff.
Wikipedia is a favorite device for the perception management goals of Dr. Cass Sunstein, Obama's director of the White House Office of Regulatory Affairs.
With a record of terrorist acts contained in his MI-6 files, Benjamin Emanuel was permitted by U.S. authorities to emigrate to Chicago from Israel in the 1950s, becoming a citizen. Rahm Emanuel was born in 1959.
*See the original (now deleted) Wikipedia page on Benjamin Emanuel, CLICK HERE.
(Previously published in the Wayne Madsen Report. May 13, 2010)
Most powerful USA/Israel bombs raining on Gaza
I am writing to you from Palestine with a broken heart. Children are being killed. 
I just watched one of them being brought to the hospital. His name is Hamza Nassar. He was just 11 years old.
This vicious spiral of oppression and violence must end.
Our strategy must be to make the economic cost of this conflict too high to bear. It worked to end apartheid in South Africa, and it can end Israeli apartheid in Palestine. Join the call for sanctions on Israel — stand up for freedom and justice.
For many of us reading, Hamza will become a statistic. A number that passes in the news cycle.
(No coverage of colonial powers media on the murder and suffering of the "Palestinian" kids in Gaza and the West Bank)

But Hamza is not a number, he is someone's son. A brother. A grandchild. A classmate. He was a beautiful dream of a brighter future. And now he is gone, forever. 

This spiral of oppression and violence must end. The only way to stop Israel forcing Palestinians from their lands, the collective punishment of innocent families, Israel bombing Gaza is to make the economic cost of this conflict too high to bear.

This strategy was key to ending Apartheid in South Africa, and it will be key to finally achieving peace in the Middle East. But it won't succeed unless there's a massive global movement behind it — and that's where every one of our voices counts.

When this is huge, we'll take it directly to members of the UN Security Council demanding sanctions on Israel until it puts an end to the military occupation.

Add your name now, and let's make sure Hamza's death is not in vain and no more dreams are vanished.
End the spiral of violence: Sanction Israel Now.

Currently, the Israeli government and extremist settlers make BILLIONS of dollars from the oppression of Palestinians. The settlers stealing the homes of Palestinians are often funded and supported by the Israeli government and USA taxpayers, which allows them to live a subsidized life on land they steal.

The Israeli government steals water and other natural resources from the Palestinian territories it occupies, while many Palestinians are forced to become cheap labour.

Before selling weapons and surveillance technologies to violent regimes, such as the military in Myanmar and dictatorship in Saudi Arabia, Israel often experiments with them on Palestinian communities.

To make freedom and peace viable, we need to shift this broken system that makes crimes against humanity a for-profit endeavor. 

Israel currently occupies, colonises, bombs, raids, and controls the water, trade and the borders of Palestine — a legally free nation that has been recognised by the United Nations.

In Gaza, Israel has created the largest open-air prison in the world, and then blockaded it. Now as bombs fall, the families have no way to escape.

These are war crimes and we wouldn't accept them anywhere else.

The Israeli government, occupying settlers AND extremists and corrupt leaders benefit from the status quo, and for too long the international community has ignored Palestinian suffering.

To bring peace to the Middle East, that must change. And now is the moment to change it. This must end. 

Israel's power and wealth dwarfs that of Palestine, and if it refuses to end its illegal occupation, the world must act to make the cost unbearable.

Calling for sanctions on Israel is the most potent non-violent strategy to ensure sustainable peace for Israelis and achieve Palestinian freedom and justice. 


With hope and determination,

Fadi, Marie, Christoph, Mo, Nax, John, Risalat, and the entire Avaaz team.
For more information:
.

Human Rights Watch Report: Israel committing crime of apartheid

Israel's actions in East Jerusalem are a human rights test for Biden (Vox)

Israeli police storm al-Aqsa mosque ahead of Jerusalem Day march (The Guardian)

What is happening in occupied East Jerusalem's Sheikh Jarrah? (Al Jazeera English)

Hamas fires rockets into Israel after clash at Al-Aqsa Mosque; 20 reported dead in Gaza from Israeli airstrikes (Associated Press)
Lebanon and Palestine: Same and Different(Part 1)
Posted on April 29, 2009
Brief ancient history:
Lebanon is a recognized State by the UN in 1943. The Lebanese State got its fictitious "independence" from France who withdrew its troops in 1946 (2 years before the State of Israel was recognized by the UN).
Palestine was partitioned in 1947 between Palestinians and the minority Jews (barely 40% but allocated 55% of the land of Palestine).
Currently, all of Palestine is under occupation by this Zionist State called Israel.
Lebanon and Palestine were throughout antiquity under the domination of neighboring Empires such as in Egypt, Turkey, Iran, and Iraq (Mesopotamia). 
The people in the two tiny stretches of coastal lands on the Eastern shores of the Mediterranean Sea were mainly mariners, traders, middlemen among Empires, and skilled artisans. (They were united under the Seleucid dynasty, an officer of Alexander army)
Under the nominal or explicit domination of Empires, Lebanon and Palestine had autonomous administration of their society as City-States that were highly democratic within the city limits as Athens emulated in the 7th century BC.
The famous City-States from north to south are Ugarite, Tripoli, Jubail (Byblos), Saida, Sour (Tyr), Akka (Acre and Haifa), and Askelan.
The City-State of Jubail (inventors of the alphabet) built Saida; Saida built Sour and dominated the sea routes; and Sour built Akka and relayed Saida in sea domination and expanding the trading posts to Spain. 
These City-States were the masters of the sea and traded with all Empires, and build trading towns: they have resisted many overwhelming sieges, sometimes for years, and occasionally managed Not to be entered and devastated.
Every empire that conquered Syria resumed its drive by dominating Lebanon and Palestine. 
In general, when more than one empire co-existed at the same period and when the empire in Egypt was powerful enough then it governed the southern half of Palestine while the other empire governed the upper half, including Lebanon. 
The strip of Gaza to Yafa was mostly under Egyptian cultural influence.
The coastal strip from north actual Syria to the Sinai was called Canaan. Then, the upper stretch to Akka was called Phoenicia or even Saida (in reference for the main City-State).
The Sea People, called Philistines and probably coming from the Adriatic Sea, destroyed Greece fleet, devastated many coastal cities, and conquered Egypt before they were driven out and settle in Gaza and the southern part of Canaan, called Palestine ever since.
Moses (this mythical story) arrived with an amalgam of nomadic tribes and his successors attempted to occupy part of south Palestine.  These tribes worshiped Yahweh/Yahwa, thus, yahoud and Jews for the Latin people. 
These tribes under Moses reverted to worshiping the all encompassing God of the Land called El., except a few tribes such as Judea and Benjamin.  During the Roman Empire, and most of the empires that dominated Syria, the district of Tyr administered the upper half of Palestine, including Galilee.
Modern History:
 In the beginning of the 20th century, the military in Turkey deposed the Sultan of the Ottoman Empire and started policies focused on Turk Nationhood.  Many in Lebanon, Syria, and Palestine immigrated to Egypt. 
During the First World War famine fell on Lebanon along with a devastating wave of locust; they immigrated to the USA, Brazil, Latin America, and many were dropped in Africa by unethical ship captains who claimed that they reached the Americas.
After the defeat of the Ottoman Empire in the First World War, Britain had mandate over Palestine and Iraq; France had mandate over Lebanon and Syria.
Consequently, the bilingual Palestinians spoke English, and their counterpart in Lebanon spoke French.
In 1930, Haifa grabbed the center of trades and many Lebanese flocked to Haifa and Palestine.  The reverse wave occurred when the State of Israel was recognized by a majority of one vote at the UN in 1948.  Lebanon received Palestinian refugees who were installed in camps on the ground that their stay is temporary! and will return under the UN resolution 194
In one chapter of "World Adrift" Amine Maaluf said "The western powers are now paying the price for failing to apply their values in the colonies" 
The European colonial powers of Britain, France, Germany, and the  Netherlands had no intentions of spreading their moral values to those they considered Not worthy of their pearls and gems.
The indigents were to be enslaved, exploited, and humiliated;
The indigents who adopted the western values of equality, liberty, and democracy were persecuted and harassed and imprisoned;
The colonial administrators negotiated with the conservative conformists who were ready to strike deals and cohabit with lesser human rights. 
Dictators in Europe maybe abhorred after their defeat, but the colonial powers readily accept dictators in underdeveloped States to facilitate the embezzling businesses.
Human values had different quality and flavors according to the whims and interest of the exploiting colonial powers. 
Britain used astute diplomatic policies to subjugate their colonies more frequently than France did; but France of the French Revolution had No patience negotiating and communicating with their colonial people and never skipped an occasion to stat its true purpose for domination.and exhibiting arrogant military posturing.
 The colonial powers installed infrastructures that were appropriate for exploitation of the colonies; they established the required administrations for smooth and efficient exploitation.
The other administrative offices for legislation and justices were carbon copies of the ones in their homeland, but these codes could be disposed off and trampled at the first occasion that short sighted interest called for swift and immediate actions.
Contemporary history:
Current Lebanon was created by France during its mandate period and cut out from Syria; it is now a recognized State by the UN since 1943.  Palestine was divided but the Zionist movement conquered the allocated portion for the Palestinians by the UN in 1948. through a detailed pre-planned attack drawn in 1935. 
The Palestinians are now located in the West Bank of the Jordan River and in Gaza where Israel has built 150 Jewish-only colonies and increasing every year.
The Palestinians who fled their towns and villages in the State of Israel are refugees in Jordan, Lebanon, and Syria.  And they spread throughout the 5 continents. The UN resolution 193 demands the repatriation of these Palestinians to their hometowns but Israel has been rebuffing that resolution since 1948.
Lebanon suffered many civil wars and calamities for Not being capable or unwilling of absorbing the Palestinian refugees.
Israel has waged four devastating wars against the State of Lebanon on flimsy pretexts based on the Palestinian resistance trying to regain their rights for a homeland.
And three more pre-emptive wars against after the withdrawal of the PLO in 1982.
Note: More detailed facts of the daily business trades between Lebanon and Palestine in Part 2. The implantation of Israel was mainly meant to break down daily trades, and One market, and prevent daily communication among the One people in One Nation: Syria.
"Orientalism" with a twist
Posted on December 13, 2012
Note: Currently, Lebanon is bankrupt: State, Banks , Central Bank and public institutions. The port of Beirut was blown down by an electromagnetic pulse missiles that only the superpower own.
For much of its contemporary history, Beirut has been characterized as the Paris of the Middle East, a cosmopolitan metropolis that misfortune has placed in the middle of a region hostile to the civilized pleasures of material excess, free-flowing alcohol and exposed female skin.
(Kind of the adjacent States, including Israel, refuse to agree for Lebanon to be like a neutral Switzerland!)
Beirut's Parisian charm has tended to become less apparent during periods of mass sectarian slaughter during the 13 years of civil war that displaced mixed religious people in towns into cantons of similar religious sects.
In the introduction to his Orientalism, the late US/Palestinian author Edward Said notes repercussions of civil conflict in Lebanon on the European consciousness:
"On a visit to Beirut during the terrible civil war of 1975-1976 a French journalist wrote regretfully of the gutted downtown area that 'it had once seemed to belong to the Orient of Chateaubriand and Nerval [18th- and 19th-century French Romantic writers] '.

This journalist was right about the place, especially so far as a European was concerned. The Orient was almost a European invention, and had been since antiquity a place of romance, exotic beings, haunting memories and landscapes, remarkable experiences." (See link in note 2)
Belen Fernandez published in AlJazeera on Nov. 6, 2012 "Orientalism with a surgical twist: Beirut"

The 'New York Times' advertised Beirut as number 1 out of 44 ideal travel destinations in 2009 [Reuters]Can the representation of Beirut as a "Middle Eastern Paris brimming with wealth" function on behalf of imperialism?
"The civil war may indeed have upset a regional landscape constructed over time by European scholars, poets, travelers and other self-appointed authorities, who, as late Edward Said argues, helped institutionalize Eurocentric prejudice, deny agency to the actual inhabitants of the romanticized exotic lands and thus facilitate imperial and colonial conquest.

The civil war did not, however, halt Orientalist traditions – made quite clear in manuscripts like From Beirut to Jerusalem, unleashed to wide acclaim in 1989 by former New York Times Beirut bureau chief Thomas Friedman.

According to Friedman's account, civil war-era Lebanon was populated by "buxom, Cleopatra-eyed Lebanese girls", whose presence threw invading Israeli soldiers for a loop:"

This was not the Sinai, filled with cross-eyed Bedouins and shoeless Egyptian soldiers".

That such caricatures were permitted to pass as insight, exposes the delusional nature of Friedman's subsequent complaint that "a toxic political correctness infected the academic field of Middle Eastern studies".

Paris revisited In recent years, Beirut has reclaimed its image as the Paris of the Middle East, outfitted with expanded shopping opportunities and a spiffy new downtown erected on the former dividing line between the Muslim and Christian halves of the city.

A spate of Times articles about Beirut's various amenities offers such trivia as that "In a city of many faiths – Christian, Sunni, Shia, Druze – at least one religion is universally practiced: sun worship".

The New York Times has dutifully taken on the role of PR firm for the resurgent Lebanese capital, advertising it as number 1 out of 44 ideal travel destinations in 2009.

Given that the specified temples of worship are high-end beach clubs where "hordes of heliophiles absorb ultraviolet rays and cultivate their bronzed exteriors", it would seem that said religion is Not so universal after all– either from an economic perspective or one that recognises the incompatibility of certain prominent faiths with public bronzed exterior cultivation.

On the new Zaitunay Bay waterfront promenade, a "luxury playground" where "tablecloths gleam white and bottles of wine sweat in silver coolers", the Times observes that the boardwalk planks, "a nod to maritime authenticity, present a design flaw perhaps foreseeable in this city:

Women with Louis Vuitton handbags are forever extracting their spike heels from the cracks".

Additional sights at Zaitunay Bay, itself described as "Lebanon's latest effort to recapture the prewar 1960s – when Brigitte Bardot was a regular and Beirut was a fashionable port of call", include an Iraqi immigrant in "leather miniskirt, thigh-high boots and a fur vest and whose fire-engine-red lipstick and long yellow hair" would have appeared out-of-place in her native land but "were right at home in Beirut".

In other Beirut-centric dispatches, the Times raves about gay nightlife and restaurants offering beef and duck flown in from France.

The point of taking issue with such idealised odes to money and fashion is Not to deny the affluence that exists in the city or the comparatively liberal nature of its society.

However, the marketing of a Beirut brand of "joie de vivre", so blatantly equated with material wealth becomes morally problematic when we acknowledge the glaring economic disparity in the country, visible in the capital itself.

Consider, for example, the aesthetic differences between the refurbished downtown and the overcrowded and neglected Palestinian refugee camps and primarily Shia southern suburbs.

In these areas, recent infrastructure projects have included the rampant flattening of apartment blocks by the Israeli air force in 2006.

Needless to say, less sanitary aspects of life in Lebanon – such as the enslaved status of many migrants employed in the domestic help sector – have no place in the portrait of Beirut as a paradise of wealth, where tantalising opportunities await foreign visitors and their pocketbooks.

Cleopatra on Botox Three decades after Thomas Friedman discovered buxom Cleopatra in Lebanon, another Western voyager by the name of David J Constable has confirmed that the women still "look like Cleopatra", and that they have acquired new methods for enhancing their appearances – becoming in the process veritable ambulatory showcases for "tucks, lifts, firming, lipo, implants, grafting, tightening, otoplasty, mammoplasty, rhinoplasty and many other physical manipulations".

A member of the Royal Geographical Society, Constable approaches his anthropological subjects with Orientalist vigour, compiling his findings in a Huffington Post report entitled "Boobs, Botox, and the Babes of Beirut".

Constable dispatch begins with the curious hypothesis:"For a largely "Arab "country it's a bizarre thing that in Lebanon (Beirut specifically), women care more about their appearance than men. Males lead a rather sullied existence, priming their closely cut mini-beards and, from my own observations, eating rather a lot.

The formula in Lebanon's capital for women is fashion-forward, from their choice of cloth to the decisions they make surgically."

Non-experts on Arab grooming habits might of course be surprised to deduce that men usually spend hours preening in front of the mirror while women mope about in filth.

Undeterred, Constable rumbles on: "Muslim, Christian and Druze women in Beirut dress surprisingly skimpy. There are vests and silks and bikinis and cashmere and come-hither off-the-shoulder numbers.

Constable warns of occasional inauspicious outcomes among operated females: "Some look as if a drunken Picasso has drawn a face on to a balloon".

In the very least, Picasso's inebriated doodles attest to the European role in literally shaping the Orient.

Indeed, in 2006, the Israelis were presumably just as pleased as they'd been in 1982:  They discovered that not all Arabs were cross-eyed Bedouins, and Lebanon is still inhabited by bikini-clad plastic surgery recipients (and their slovenly overeating menfolk).

Field notes The Orient's existence as a spectacle for the Westerner to behold and interpret is meanwhile made especially clear during Constable's expedition to a nightclub "to witness the dolls and their dates myself".

A power outage interrupts the exotic display but is fortunately resolved:"The lights slowly raise and the permafixed smiles return.

The waxed, toned limbs of party women begin to pop and gyrate again.They're back on show, electrified so their surgical enhancements, botoxed-brows and designer names can bounce off my eyes, competing in a variety of silk-cut blouses, Louboutin heels and over-night handbags.

At another rooftop bar, Constable surmises that "there are benefits to marrying/dating/having sex with a plastic surgeon, since surely No one can afford to spend that much of their own cash on reconstructive surgery and blow-me-up operations". Case closed.

As with the New York Times' fixation with Beirut glamour, the effect of essays like Constable's is to reduce the Lebanese to a superficial existence in which personal concerns are limited to inflating one's lips and breasts and not getting one's designer heels stuck in boardwalk planks.

Never mind that many Lebanese are faced with more pressing preoccupations, such as a southern neighbour with a penchant for massacring civilians, upending infrastructure and saturating portions of the country with unexploded cluster bombs to serve as post-conflict population control.

Some may argue that the Times Constable approach is less detrimental than other reductionist portrayals of the country, such as Lebanon equals terrorist den.

These reductionist statements helps propagate an ethnic stereotype that has been exploited to justify more than one imperial project in the Arab/Muslim world.

The representation of Beirut as a Middle Eastern Paris brimming with wealth and cleavage – a place the West can relate to on account of its fervent materialism – can also function on behalf of imperialism, eliminating as it does all context legitimizing other aspects of Lebanon's identity, like resistance to Israeli regional designs.

Note 1: Belen Fernandez is the author of The Imperial Messenger: Thomas Friedman at Work, released by Verso in 2011.She is a member of the Jacobin Magazine editorial board, and her articles have appeared in the London Review of Books blog, Al Akhbar English and many other publications.The views expressed in this article are the author's own and do not necessarily reflect Al Jazeera's editorial policy.

Note 2: https://adonis49.wordpress.com/2008/10/12/culture-and-resistance-by-edward-w-said/

Note 3: I think Miss Lebanon of 2012 is the one on the far left, the tall blonde one?
Ziad Abi Chaker wants to replacing stolen metal drain covers with recycled materials that last longer and cost less (and do Not entice the robbers to resume their beneficial enterprises?)
Saving Lebanon's streets: the engineer with a sustainable fix
Using recycled single-use plastic, the industrial and environmental engineer applies a technique known as extrusion to melt the raw material and form it into the required shape.
In this case, Mr Abi Chaker repurposes plastic waste to make drain covers to replace stolen ones.
Where other people see rubbish, he sees opportunity.
"I'm an industrial engineer, so my job is to find resources for manufacturing," But I'm also an environmental engineer, so I find these resources among discarded, recyclable material." Mr Abi Chaker told The National
Mr Abi Chaker makes use of all single-use plastic, such as plastic bags, plastic bottles, food packaging and more, and turns them into long-term sources of raw material to give them a new life.
His line of thinking offers a creative solution to a mounting problem in Lebanon.
Metal theft is becoming increasingly common as the country's economic situation continues to deteriorate.
The stolen materials are being sold for scrap in US dollars as people grow increasingly desperate to generate income in a country with scarce jobs and a depreciating currency.
Lebanon's Internal Security Forces confirmed the increase in these crimes to The National, with at least one person arrested for stealing a drain cover off the streets.
Other recent thefts included steel wires and pylons from power stations, plunging Lebanon further into darkness in March.
Eleven metal graveyard doors were also stolen from a small Lebanese town in Bekaa on April 4, prompting protests against sanctity violation.
Yasa, a Lebanese NGO for road safety, warned of the dangers of missing drain covers after a car got stuck in an uncovered manhole in Jnah, Beirut in April.
But with his simple and sustainable approach, Mr Abi Chaker is saving the environment and the streets.
So far, the engineer has been able to manufacture three manhole covers, with 20 more in the works, out of his own pocket.
Capable of supporting 100 kilogrammes, up to 400kg, they are fit for human and road traffic. He is also producing a cover able to carry up to 800kg.
The first manhole was set to replace a missing lid in the south of Lebanon, while the two others were placed near Beirut River.
According to Mr Abi Chaker, the plastic covers are much more cost-effective than metal ones.
"The human traffic covers are between $20 and $30, while the vehicular ones cost between $40 and $60," he told The National. "They're 50 per cent cheaper than steel covers."
The plastic drain covers are also faster to make, taking two to three days to complete each piece, which is "a record compared to casting iron".
Although the plastic covers are a highly efficient quick fix, Mr Abi Chaker cannot carry the cost burden on his own.
He is on the lookout for contributions from supporters of the project in the Lebanese community. "It's the best way to go," he said.
Beirut Mayor Jamal Itani showed interest in the project, telling The National he is open to receiving a proposal from Mr Abi Chaker team on the details of the initiative to study potential collaboration and methods of implementation.
"Of course we're interested in an alternative, replacing the metal covers with new metal ones costs a fortune," he said.
But Mr Abi Chaker would rather secure funds independently from the municipality owing to the urgency of the matter and lack of faith in Lebanon's officials – a sentiment shared by many who took to the streets in October 2019 against political corruption and mismanagement.
Mr Abi Chaker is working with lawyers to pursue legal action against the municipality for "failing to properly and hastily respond to an imminent danger affecting vehicles and pedestrians of the city".
Manholes in Lebanon have been coverless for some time after the thefts began during the first quarter of 2021.
Despite the huge risk to pedestrians and vehicles, authorities have yet to take action. The open drains join a long list of malfunctioning public properties, alongside failing traffic lights and low-grade infrastructure.
The manhole covers are not the first initiative by Mr Abi Chaker to take the country by storm.
One of his projects, the Green Glass Recycling Initiative Lebanon, was ranked eighth out of 10 most innovative companies in 2021 for the Europe/Mena region after recycling 125 tonnes of discarded glass after the Beirut port blast.
The August 4 explosion killed more than 200 people, injured more than 7,000 and destroyed large parts of the city, leaving huge piles of shattered glass in the streets.
Instead of discarding the glass in Lebanon's overrun landfills, the initiative collected the material and provided it to the few remaining glass packaging factories in the northern city of Tripoli, supporting the country's glass industry and one of the poorest cities in the Middle East.
When asked why he continues to give to a country that does not give back, Mr Abi Chaker said: "When you love someone, do you give up on them in their time of need?
"Our country is afflicted with a disease of the ruling class, and I won't give up on it now. Even though I was tempted by numerous offers to do the work I do over the world, I love being here, I love the work I do here, I love the impact we make here, I love the people and places here, and this is why I won't leave."
READ MORE
German firms unveil $7.2bn proposal to revamp Beirut port
Explained: Why Lebanon has an ongoing trash problem
Why Nadine Labaki believes Beirut blast marks the 'birth' of a new world: 'There's a revolution inside us'
How Monetary Currency instituted mendicancy?
Posted on November 9, 2010
Since mankind shifted from a barter economy to dealing with currencies, societies turned steadily and consistently away from production to a specie of mendicants.
In the barter trade, every individual in the tribe, clan, women, men, and children had a special task to support the survival of the tribe. 
Once a member is entirely incapacitated to be a productive entity in the order of the small community, or unable to get moving at a regular pace with the tribe to better seasonal greener pastures then, the member was relocated to a shady place near a source of water to tend to his peaceful death a "paradise for the old spirits".
Most probably, a core of compassionate individuals delegated their services to aiding these old spirits as best they could. They extracted from these elders oral stories of myths and traditional laws of conduct.
Transmitters of oral teaching and education are called "marabout" or "grios" in Africa: They have been transmitting the oral spiritual traditions of communities around bonfires.
A few of them decided to institute religions, based on the captured myths told about the creation of the universe and what happen to the souls after death; until the written languages codified the sacred religious knowledge within the sacerdotal classes.
Currently, old people are still Not that scared of death: Just fearing a state of lack of liquid currency, lest they are forced to beg to staying alive.
They are Not afraid of dying of hunger:  Just apprehensive that no aides will come, unless they have to beg.
After years of toils and unconditional disposition to raise a family, sending them to universities, marrying their offspring, and distributing properties to their married children, old parents are dragging their arthritic feet as best they can and feeling ashamed to ask for small money.
I am witnessing a grandmother, wrecked with arthritis, barely able to shift its body during sleep, and having to do dishes, sweep, do laundry, preparing jams for the winter season, and even cook for her married daughter with six children, many of these children are way over 25 years of age.
I am witnessing a grandfather, having difficulty getting in a car and thus, deciding to stay home, dragging his feet three flats up in order to replenish water in the water tanks on the roof:  He had plenty of reasons not to trust automatic systems and the damage they did when they failed.
Old people are worried that their children will not make it in this new harsh world: They were not adequately trained to fending for their survival.
Old people without any social covering are waiting to die in pain and hopelessness.
Old people of the middle and upper classes, with health coverage, are willing to undergo heart surgery at the age of 80, only to survive three lousy months in pain and suffering.
I am pretty sure they were warned by surgeons of the humiliating conditions they will suffer, but sacrifice is forgotten at a senile age.
We beg for food and pocket-money, though we are entitled to vote, to drive expensive cars, to join armies, and to kill for "motherland".
We beg for better grades; we beg for jobs; we beg for a raise; we lick asses to keep our jobs; we forget morality and ethical conducts and obey the boss; we claim that we are skilled survivors.
There was a time, still as valid now as ever, when materially fallen noblemen, had priority over the most disinherited people for the money collected in churches.
Poor Noblemen had to be secured first, lest the social structure disintegrates and chaos reign supreme.
Multinational financial institutions have to get first help: They worked so hard to bilk people out of their earned money.
Multinational do Not beg: They demand their rights as knights and barons of the establishment.
The verb to "beg" was created for the poor people and it does not apply to the rich barons of industries who demand their rights to financial aids:  They invented the social and economic structure for the begging citizens.
We are effective beggars: we keep the mask of revolting against mendicant behaviors.
Wild animals and pets search for a shady and isolated place to die when the time approach: They refuse further unnecessary suffering and pain.
They leave the company of the tribe: They cannot expect the community to feed them; this is contrary to the nature of the specie. Mankind is willing to beg mercilessly and assiduously to the last moment.
Millions of kids faking work, selling chewing gum on streets for a loaf of bread.  
Millions playing the meditative game, so that their collective spirits in prayers will bring about world peace, in exchange of one daily meal.
Billion of people are producing nothing.
They are the ones who cannot teach art but expose the results of art.
They cannot teach how to make shoes, but display instead varieties of shoes for you to select from.
The shopkeepers, working a lifetime in a box, collaborating with wholesalers, quickly turning over products in warehouses.
Engineers, supposedly trained to design products and services and ending up working salesperson.
Engineers  are hired to selling products and services, thinking that they can extend the illusion to consumers that they know something about the product or engineering practices.
It never crosses the mind of this engineer to make the effort of "re-designing" the product/system he is selling.
Sales people selling whatever there is to sell, uttering big technical terminologies: they have no ideas what these words mean.
Lawyers, shuffling papers and documents, bilking people, communicating with the lawyer of the other party, hammering out settlements, because they were Not trained or lack the talent to defend clients in courts.
Teams upon teams of "hygiene engineers" cleaning offices, gathering trash, vacuuming, and then collecting garbage.
The lower middle class, learning technical skills, working around conveyor belts, assembling consumer products and canned food.
Now and then, facilitating modern lifestyle by updating plumbing and electrical systems:  running water, ready electrical power, and automatic appliances that were meant to liberating essential time for a real productive life, but falling short on target.
Who are the producers?
They are the peasants in remote areas, no one paying them a visit, except wholesalers at harvest time.
Millions working in sweat shop factories: the modern sacrificial lambs targeted to die at young age for disastrous workplace conditions.
Millions working in underground tunnels, extracting raw materials, trapped in worse conditions than taupe.
Millions working in open grounds, extracting raw materials, dying young, in polluted environment, for their daily meals.
If those are the people producing something then, how come so many trillions of dollar-kind money have been accumulated?
Trillions being talk about like we are meaning billions of dollars.
The world is currently posting $60 trillion GNP per year; $15 trillion are saved by the "poorer" developing States so that multinational financial institutions move the surplus to the "powerful" States to maintain their higher standards of living.
The financial institutions cut out their commissions for facilitating the transfer of money from the poor people to the "richer" people maintaining high State indebtedness.
Last century, people were producing.  
In this century, worthless paper money are being printed, shifted, transacted, and transferred around as valuable earning: Fictitious wealth backed by the power of aircraft carriers and lethal killing equipment.
Millions of "men of war" in 200 official armies, begging for their daily meals in exchange for killing their own kinds, fighting for the "fatherland".
Millions of men of war enlisted in militia organizations fighting for the honor of the tribe, the trampled dignity of a local leader, a religious cleric.
There was a long period in mankind history, tribes going on razzias expeditions against richer tribes and rounding up livestock.  Tribes expected razzias: They were meant for survival purposes under harsh conditions.
In the last three centuries, razzias on grand scale, are directed for pure greed.
Mankind: a specie of mendicants, with no dignity and no shame.
A specie that convinced itself that life is precious, even if they are totally worthless to producing anything spiritual.
Compassion is meant to help the abler body.
A specie toiling a lifetime not producing a dime's worth; unable to write an article, even an illegible one.
A specie no longer worth surviving.
Denying the Demonic
by Edward Curtin / April 20th, 2021
As reported by David Talbot in The Devil's Chessboard: Allen Dulles, the CIA, and the Rise of America's Secret Government, when the staunch Catholic James Jesus Angleton was on his deathbed, he gave an interviews to visiting journalists, including Joseph Trento.
James Jesus Angleton confessed:
He had not been serving God, after all, when he followed Allen Dulles.  He had been on a satanic quest….'Fundamentally, the founding fathers of U.S. intelligence were liars,' he told Trento in an emotionless voice.  'The better you lied and the more you betrayed, the more likely you would be promoted…. Outside this duplicity, the only thing they had in common was a desire for absolute power.  I did things that, looking back on my life, I regret.  But I was part of it and loved being in it.' 

James invoked the names of the high eminences who had run the CIA in his day – Dulles, Helms, Wisner. 

These men were 'the grand masters,' he said.  'If you were in a room with them, you were in a room full of people that you had to believe would deservedly end up in hell.'  Angleton took another slow sip from his steaming cup.  'I guess I will see them there soon.'
by Edward Curtin / April 20th, 2021
In March of last year as the coronavirus panic was starting, I wrote a somewhat flippant article saying that the obsession with buying and hoarding toilet paper was the people's vaccine. 
My point was simple: excrement and death have long been associated in cultural history and in the Western imagination with the evil devil, Satan, the Lord of the underworld, the Trickster, the Grand Master who rules the pit of smelly death, the place below where bodies go.
The psychoanalytic literature is full of examples of death anxiety revealed in anal dreams of shit-filled overflowing toilets and people pissing in their pants.  Ernest Becker put it simply in The Denial of Death:
No mistake – the turd is mankind's real threat because it reminds people of death.
The theological literature is also full of warnings about the devil's wiles.  So too the Western classics from Aeschylus to Melville. The demonic has an ancient pedigree and has various names. Rational people tend to dismiss all this as superstitious nonsense.  This is hubris. 
The Furies always exact their revenge when their existence is denied.  For they are part of ourselves, not alien beings, as the tragedy of human history has shown us time and again.
Since excremental visions and the fear of death haunt humans – the skull at the banquet as William James put it – the perfect symbol of protection is toilet paper that will keep you safe and clean and free of any reminder of the fear of death running through a panicked world. 
It's a magic trick, of course, an unconscious way of thinking you are protecting yourself; a form of self-hypnosis.
One year later, magical thinking has taken a different form and my earlier flippancy has turned darker. You can't hoard today's toilet paper but you can get them: RNA inoculations, misnamed vaccines.
People are lined up for them now as they are being told incessantly to "get your shot."  (Mass pressures work on almost all people)
They are worse than toilet paper. At least toilet paper serves a practical function.  Real vaccines, as the word's etymology – Latin, vaccinus, from cows, the cowpox virus vaccine first used by British physician Edward Jenner in 1800 to prevent smallpox – involve the use of a small amount of a virus. 
The RNA inoculations are not vaccines.  To say they are is bullshit and has nothing to do with cows. To call them vaccines is linguistic mind control.
These experimental inoculations do not prevent the vaccinated from getting infected with the "virus" Nor do they prevent transmission of the alleged virus.
When they were approved recently by the FDA that was made clear.  The FDA issued Emergency Use Authorizations (EUAs) for these inoculations only under the proviso that they may make an infection less severe. 
Yet millions have obediently taken a shot that doesn't do what they think it does.  What does that tell us?
Hundreds of millions of people have taken an injection that allows a bio-reactive "gene-therapy" molecule to be injected into their bodies because of fear, ignorance, and a refusal to consider that the people who are promoting this are evil and have ulterior motives. 
Not that they mean well, but that they are evil and have evil intentions.  Does this sound too extreme?  Radically evil?  Come on!
So what drives the refusal to consider that demonic forces are at work with the corona crisis?
Why do the same people who get vaccinated believe that a PCR test that can't, according to its inventor Kary Mullis, test for this so-called virus, believe in the fake numbers of positive "cases"?  Do these people even know if the virus has ever been isolated?
Such credulity is an act of faith, not science or confirmed fact.
Is it just the fear of death that drives such thinking?
Or is it something deeper than ignorance and propaganda that drives this incredulous belief?
If you want facts, I will not provide them here.
Despite the good intentions of people who still think facts matter, I don't think most people are persuaded by facts anymore.
But such facts are readily available from excellent alternative media publications.  Global Research's Michel Chossudovsky has released, free of charge, his comprehensive E-Book: The 2020-21 Worldwide Corona Crisis: Destroying Civil Society, Engineered Economic Depression, Global Coup D'Etat, and the "Great Reset." 
 It's a good place to start if facts and analysis are what you are after.
Or go to Robert Kennedy, Jr. Childrens Health Defense, Off-Guardian, Dissident Voice, Global Research, among numerous others.
Perhaps you think these sites are right-wing propaganda because many articles they publish can also be read or heard at some conservative media. If so, you need to start thinking rather than reacting.
The entire mainstream political/media spectrum is right-wing, if you wish to use useless terms such as Left/Right. 
I have spent my entire life being accused of being a left-wing nut, but now I am being told I am a right-wing nut, even though my writing appears in many leftist publications.
Perhaps my accusers don't know which way the screw turns or the nut loosens.  Being uptight and frightened doesn't help.
I am interested in asking why so many people can't accept that radical evil is real. Is that a right-wing question? Of course not. It's a human question that has been asked down through the ages.
I do think we are today in the grip of radical evil, demonic forces. The refusal to see and accept this is not new. 
As the eminent theologian, David Ray Griffin, has argued, the American Empire, with its quest for world domination and its long and ongoing slaughters at home and abroad, is clearly demonic; it is driven by the forces of death symbolized by Satan.
I have spent many years trying to understand why so many good people have refused to see and accept this and have needed to ply a middle course over many decades.
The safe path.
Believing in the benevolence of their rulers.  When I say radical evil, I mean it in the deepest spiritual sense.  A religious sense, if you prefer. 
But by religious I don't mean institutional religions since so many of the institutional religions are complicit in the evil.
It has long been easy for Americans to accept the demonic nature of foreign leaders such as Hitler, Stalin, or Mao.  Easy, also, to accept the government's attribution of such names as the "new Hitler" to any foreign leader it wishes to kill and overthrow.  But to consider their own political leaders as demonic is near impossible.
So let me begin with a few reminders.
The U.S. destruction of Iraq and the mass killings of Iraqis under George W. Bush beginning in 2003.  Many will say it was illegal, unjust, carried out under false pretenses, etc.  But who will say it was pure evil?
Who will say that Barack Obama's annihilation of Libya was radical evil?
Who will say the atomic destruction of Hiroshima and Nagasaki and the firebombing of Tokyo and so many Japanese cities that killed hundreds of thousands of innocent civilians was radical evil?
Who will say the U.S. war against Syria is demonic evil?
Who will say the killing of millions of Vietnamese was radical evil?
Who will say the insider attacks of September 11, 2001 were demonic evil?
Who will say slavery, the genocide of native people, the secret medical experiments on the vulnerable, the CIA mind control experiments, the coups engineered throughout the world resulting in the mass murder of millions – who will say these are evil in the deepest sense?
Who will say the U.S. security state's assassinations of JFK, Malcolm X, MLK, Jr., Robert Kennedy, Fred Hampton, et al. were radical evil?
Who will say the $trillions spent on nuclear weapons and the willingness to use them to annihilate the human race is not the ultimate in radical evil?
This list could extend down the page endlessly. 
Only someone devoid of all historical sense could conclude that the U.S. has not been in the grip of demonic forces for a long time.
If you can do addition, you will find the totals staggering. They are overwhelming in their implications.
But to accept this history as radically evil in intent and Not just in its consequences are two different things. 
I think so many find it so hard to admit that their leaders have intentionally done and do demonic deeds for two reasons. 
First, to do so implicates those who have supported these people or have not opposed them. It means they have accepted such radical evil and bear responsibility. 
It elicits feelings of guilt.
Secondly, to believe that one's own leaders are evil is next to impossible for many to accept because it suggests that the rational façade of society is a cover for sinister forces and that they live in a society of lies so vast the best option is to make believe it just isn't so. 
Even when one can accept that evil deeds were committed in the past, even some perhaps intentionally, the tendency is to say "that was then, but things are different now."
Grasping the present when you are in it is Not only difficult but often disturbing for it involves us.
So if I am correct and most Americans cannot accept that their leaders have intentionally done radically evil things, then it follows that to even consider questioning the intentions of the authorities regarding the current corona crisis needs to be self-censored. 
Additionally, as we all know, the authorities have undertaken a vast censorship operation so people cannot hear dissenting voices of those who have now been officially branded as domestic terrorists. The self-censorship and the official work in tandem.
There is so much information available that shows that the authorities at the World Health Organization, the CDC, The World Economic Forum, Big Pharma, governments throughout the world, etc. have gamed this crisis beforehand, have manipulated the numbers, lied, have conducted a massive fear propaganda campaign via their media mouthpieces, have imposed cruel lockdowns that have further enriched the wealthiest and economically and psychologically devastated vast numbers, etc. 
Little research is needed to see this, to understand that Big Pharma is, as Dr. Peter Gøtzsche documented eight years ago in Deadly Medicines and Organized Crime: How Big Pharma Has Corrupted Healthcare, a world-wide criminal enterprise. 
It takes but a few minutes to see that the pharmaceutical companies who have been given emergency authorization for these untested experimental non-vaccine "vaccines" have paid out billions of dollars to settle criminal and civil allegations.
It is an open secret that the WHO, the Gates Foundation, the WEF led by Klaus Schwab, and an interlocking international group of conspirators have plans for what they call The Great Reset, a strategy to use  the COVID-19 crisis to push their agenda to create a world of cyborgs living in cyberspace where artificial intelligence replaces people and human biology is wedded to technology under the control of the elites. 
They have made it very clear that there are too many people on this planet and billions must die.  Details are readily available of this open conspiracy to create a transhuman world.
Is this not radical evil? Demonic?
Let me end with an analogy. 
There is another organized crime outfit that can only be called demonic – The Central Intelligence Agency. 
One of its legendary officers was James Jesus Angleton, chief of Counterintelligence from 1954 until 1975.  He was a close associate of Allen Dulles, the longest serving director of the CIA. 
Both men were deeply involved in many evil deeds, including bringing Nazi doctors and scientists into the U.S. to do the CIA's dirty work, including mind control, bioweapons research, etc.  The stuff they did for Hitler. 
Until we recognize the demonic nature of the hell we are now in, we too will be lost.  We are fighting for our lives and the spiritual salvation of the world. 
Do not succumb to the siren songs of these fathers of lies.
Resist.