Archive for the 'Lebanon/Middle East/Near East/Levant' Category
Note: The Lebanese-based Syria National Social party was founded in 1936 by Antoun Saadi, during the French colonial mandate over Lebanon and Syria. It is a secular party that practice the separation of religion from civil law systems and has been spreading to current Syria, Palestine, Jordan and Iraq.
This party is at a total odd with the concept of ethnic identity and race of the Nazi and Fascist ideologies, and does Not even recognize Language as a basis for National identity or kinds of religions.
The foundation of a National people is the daily trades among the communities and their customs and traditions.
This party had the unfortunate luck to be instituted as the Nazi and Fascist parties got roots in Europe. And the name also included National Social too.
This party was adopting the symbol of the Land that resembled the Nazi Swastika and in color too.
The so-called secular leftist parties in the Near East, which at the time bowed to Stalin communist policies and directives, labelled the Party as Nazist without reading any of its books and daily articles on all the political and cultural issues of the period.
Besides the secular Communist and Syria National Social parties, all the other parties were created on a sectarian affiliation basis, and they still dominating the political systems landscape in the Near East.
هو ضحية «زوبعته»
كان صديقي الأستاذ الجامعي يستمزج آراء الحاضرين عن عناوين لكتب يمكن أن يرسلها لصديق له في الولايات المتحدة
طلب منه نصيحته وتزويده بكتب تتحدث عن المجتمعات العربية وتاريخ تطورها وأزماتها في المنطقة. وبعدما تطوّع البعض بالإشارة إلى بعض العناوين، قمت بدوري بتذكيره بعدم نسيان أنطون سعادة وكتبه.
كانت ردة فعل صديقي الأستاذ الجامعي فورية من دون أي تلكؤ، فقال: «لا لا لا يمكن أن أروّج للفكر النازي».
كانت المفاجأة كبيرة بالنسبة إليّ بما أن الحكم على فكر سعدة جاء من قِبل أستاذ جامعي يُفترض أن لا يكون عنده تحيّز تجاه أيّ أفكار، طالما أن المسألة بالنسبة لطالب الكتب في الولايات المتحدة تتعلق بالبحث والدراسة، وبالتالي لا مجال لأخذ موقف ايديولوجي تجاه الأفكار طالما أنها تتعلق بالأبحاث.
المفارقة الثانية كانت في موقف صديقنا الأستاذ الجامعي أنّه حكم على فكر سعادة بأنه جزء من الفكر النازي. من خلال الحكم بالنازية على فكر سعادة، تأكّدت أن صديقنا لم يقرأ، بل لم يطلع بتاتاً على فكر سعادة.
عندما سألته كيف يحكم وهو بالأكيد لم يقرأ سعادة، أجاب: «لا داعي لقراءته فالموضوع واضح من عنوانه. كل مظاهر حزبه وشعاراته كانت نازية». مع هذا الجواب، تأكّد لي ما كنت قد لاحظته من خلال عملية تقييم تاريخية فكرية وسياسية وتنظيمية وحتى أمنية لمسار الحزب السوري القومي الاجتماعي في تاريخ سابق أوصلتني إلى بعض الملاحظات، لا مجال لذكر جميعها هنا، لكن نقطة مهمة جديرة بالذكر والبحث والتمحيص.


في المحكمة العسكرية 8 تموز
1949
هذه الملاحظة كانت تتعلق بشعارات الحزب من رايته التي تتوسطها الزوبعة مع اللونين الأحمر والأسود، مما كان يعطي شبه تطابق مع ألوان العلم النازي.
إذا أضفنا إلى ذلك الملابس والتحية وبعض الظواهر الأخرى التي كان يتمظهر بها الحزب النازي، لوجدنا شبه تطابق. ومع إضافة كلمة القومي الاجتماعي، يصبح الأمر كأنه نسخة معدلة للحزب النازي.
لا أخفي أنني في شبابي كنت ضحية لهذا الخلط في المظاهر قبل أن أطّلع على فكر سعادة. لكن بعد الاطلاع على فكره، وجدت المفارقات الكبيرة الصادمة.
أولاً، فكر سعادة هو فكر غاص في التاريخ والجغرافيا السورية وفي المجتمع السوري بشكل عميق ودقيق ولم يكن ناقلاً لمجرد أفكار قومية كانت تتداول في تلك المرحلة التاريخية.
ثانياً، إنّ سعادة لم يرتكز في مقولاته القومية إلى أيّ نظرية عنصرية تتعلق بنوع من البشر، لا بالعلاقة الجينية ولا بالتفوق العرقي ولا بالخصوصية البيضاء، ولا حتى بالجذور الأصولية لتاريخ مكونات المجتمع السوري. كان سعادة خارج كل هذه المواضيع، بل كان عالماً اجتماعياً سياسياً بامتياز. درس ما يمكن أن أسمّيه جيولوجيا الطبقات المتراكمة للحضارة السورية عبر التاريخ. ضم فيها النشاط الاجتماعي الحضاري لكل من سكن وأقام، أو حتى مرّ مرور الكرام وأثّر بنهضة الحضارة السورية. هذا العلم ينطبق على كل الحضارات المتلاقحة والمتتابعة التي تشكل صيروة الحضارة الإنسانية.
ثالثاً، قومية سعادة لم ترتبط بعرق ولا حتى بلغة. فاللغات تتابعت وتلاحقت على مدى امتداد الحضارة السورية والمجتمع السوري. فالسريانية كما الآرامية كانت مستقبلة ومتلاقحة مع اللغة العربية، ورغم أنها سبقتها حضوراً في المجتمع السوري، إلا أنها أغنتها، وما زالت آثارها حتى اليوم.
خامساً، كان سعادة ينظر إلى القومية كحركة إنسانية ارتقائية ومحكوم عليها للبقاء أن تكون حرة أولاً وغير مستعمرة أو مستتبعة. وبالتالي نشر فكر الاستقلال والحرية في مجتمعه مقاومةً للاستعمار، كما نشر فكر التغيير والانتفاض على الواقع المتحجر أو الرجعي والقيام بالعمل الثوري الضروري للتغيير، فاستنهض القوة فينا التي لو فعلت لغيّرت وجه التاريخ.

سادساً، يسجل لسعادة «الزعيم» أنه كان من الرواد الأوائل لتفصيل والتحذير من الخطر الصهيوني، وحرض على أهمية التصدي له قبل أن يستفحل في السيطرة على المنطقة، وتنبه بفكر وقّاد ويقظ واستشرافي لمن سماهم يهود الداخل.
وكم كانت هناك أحداث لاحقة صادقة وساطعة من خلال تعاون قوى عديدة في الجغرافيا السورية وفي محيطها بالتعامل علناً أو سراً مع العدو، حتى إنّ البعض قاتل معه ومن أجله ضد مجتمعه وأمته.
سابعاً، يسجّل لسعادة أنه قارب المسألة الطائفية بشكل دقيق وشخّص مخاطر هذا المرض، في حين أنّ أحزاباً علمانية كانت تدّعي امتلاك النظرية العلمية، اكتفت بنقل المرويات والنظريات الغربية المتعلقة بالصراع الطبقي، التي قد تكون صحيحة في مجتمعات صناعية لا تنخرها الطائفية، لكنّها تناست خصوصية منطقتنا وابتلاءها بهذا المرض، ألا وهو الطائفية.
ثامناً، يسجّل لسعادة أنه استحضر مقولات غابت عن كبار علماء الدين الذين كانوا وما زالوا غارقين بالتبشير ليس لدينهم بل أيضاً لمذهبهم، فطرح نظرية الإسلام برسالتيه، المحمدية والمسيحية، وهي نظرية قرآنية ابراهيمية، غابت عن منظور وعن خطاب العديد من علماء الدين، فأعاد بذلك الوحدة والألفة بين الديانتين بالإشارة إلى جذورهما المشتركة.
تاسعاً وهي بنظري من أهم ما تفرد به سعادة وخاصة في عصرنا الحالي، بفضل العلوم الحديثة والفوارق بين المادة والطاقة، بين ما هو صلب وملموس وما هو في حيز الأنوار، بفضل علوم الفيزياء الكونتية، فتحدث سعادة عن «المدرحيات» وشدد على أهمية الجمع بين الروحانيات والماديات بحيث يبقى التوازن الفكري والعقائدي عند الإنسان.
أمام عظمة هذا المفكر،
نجد أن المظهريات من شعارت ولباس ورايات وشعائر كانت أولاً العائق الأساسي لحكم البعض وممن لم يقرأوه أن يحكموا عليه بأنه فكر نازي.
سعادة أغنى الفكر ليس فقط السوري، بل العالمي أيضاً بنظريات جديرة.
Is Lebanon political system immune to radical non-violent revolts?
Posted on June 24, 2011
Has anyone seen a swan (baja3) physically? In the flesh, or even flying or walking? 
If you are asked "what is the color of a swan?"  I bet your answer is "White, obviously". 
Actually, a black swan was identified a few years ago.  Is it possible to eventually identify a multicolored swan?
You might say that finding a black swan, or even a tribe of black swans, or a mixture of black and white swans stand to reason, but is it feasible to have a green, blue… swan? You might respond that genetic engineering can produce whatever colored swan you desire as a pet…
Why do you think all of us believed that a swan must be white, and nothing but white?  Most of us have not seen a swan, except in pictures, movies or documentaries; we might not even be able to identify a swan from a duck if the bird is not named…
Even nature, which changes slowly and its trends can be mostly predicted, has the potential of surprising us with rare events, a few of them catastrophic.  
We got in the habit of expecting frequent disasters from man-designed and man-made systems, within a few years of their applications and usage by people…
The variability in living creatures and the behaviors of users are a thousand folds more numerous than variability in nature.  Wouldn't you be appalled in total disbelief to hear any designer of systems claiming that the product is definitely designed and manufactured to be entirely controlled and managed according to users' satisfaction, safety, and health?
The teams of designers of many professions such as scientists, engineers, psychologist, legal professionals… are aware of two things:
First, there will be frequent minor malfunctions to the system in terms of financial loss, safety and health causalities, but these malfunctions can be controlled and fixed.
Second, any system contains rare catastrophic malfunctions that will eventually occur (doud al khal minho wa fih) and predicting these rare events is very challenging and out of control and management. 
When you hear of economic-safety analysis trade-off of a system, bear in mind that the study concerns the number of casualties and the financial cost that owners (more frequently the State or the tax payers) will have to set aside for these calamitous eventualities.
The funny part is that:
First, no money is ever set aside by the private shareholders for these catastrophes and the States or tax-payers will eventually cover up the expenses.
Second, transparency and full disclosure to the general public is never disseminated widely, if ever published.
Third, the public and communities in most countries have No Say in the design and decision-making processes of vast man-made systems.
Fourth, no man-made system has instituted an independent specialized and dedicated team responsible of gathering data and analysing statistics of the various malfunctions. Most malfunctions are barely reported and serious hazardous events are dusted-off under the carpet: No read, never happened!
Do you know that the UN agency for health is forbidden to collect and report statistics on nuclear disaster consequences? That the atomic UN agency is not to share statistics with other UN agencies concerned with health and safety of world population?
Nassim Nicholas Taleb, a mathematician by formation wrote  "The Black Swan:  The power of the unpredictable" and "Savage hazard". 
Taleb was initially trying to explain the financial crisis since he is in the financial business.  The theory is fine and explains many fluctuations in man-made designs, for example the international financial system.
The problem emerges when Taleb ventures to extend his theory to the current "Arab" revolts and Arab political systems. The is no doubt that political structures are essentially man-made designs and that the current acceptable varieties as within the realm of "How a democratic political system satisfies the criteria of the Western system democratic types."
Taleb contends that since governments in Lebanon take turn, for example representing "opposition alliances", as in Italy, the inherent and natural fluctuations in the system instability are resolved naturally.
Basically and literally, Taleb claimed that Lebanon political structure is immune to drastic revolts , on the ground that dictator regimes fall badly because the system try hard to control minor legitimate discontents, and consequently, the system is fragile when any major revolt strikes unexpectedly.
Either Taleb (Lebanese of origine) is using selective memory, or he is faking not to be that familiar with the history of Lebanon's political structure.
I suspect that Taleb confused catalysts with causes in the case of Lebanon, a confusion he frequently warned against, in analyzing the cases of the "Arab Spring" revolts and the financial crisis.
First, since independence in 1943, Lebanon officially recognized two failed internal coup d'etats, one in 1949 and another in 1961 (both done by the Lebanese-based Syria National Social party).  Lately, Lebanon witnessed a minor failed coup d'etat at the ministry of communication, because a private interest wanted to conserve its mobile communication business.
Second, Lebanon witnessed two officially recognized civil wars, one in 1958 and another one in 1975 that lasted 17 years.
Since the end of the civil war in 1991, Lebanon experienced a major military coup d'etat in 2008 that started in the Palestinian camp of Nahr el Bared around Tripoli: The army needed 11 months to overcome the uprising of the Islamist salafists Jund al Sham, and hundreds of fallen martyrs and handicapped soldiers.
Beirut experienced a quick military coup in 2007 by Hezbollah, as the government attempted to control land communication lines.
The war of 2006 against Israel was actually a military coup perpetrated by the Lebanese government to control Hezbollah's military might.
Third, Italy has true political parties with programs and policies. The election laws in Italy are among the fairest and most equitable in the western States. Frequent changes in governments didn't prevent Italy to continue being among the leading economic powers in the world.
Italy is very generous in investing in the poorer nations and its grants are relied upon in most States around the Mediterranean Sea basin. Italy has many contingents in the various UN peace-keeping forces…
Where as, for example, Lebanon is practically a Non-State country or a pseudo-State since its independence. The 18 religious sects represent the main de-facto powers and also by law to exercising political influence. Civil status of every "citizen" is run and administered by the officially recognized religious sects that own more than 50% of the land. Every religious sect is backed by over three confessional "political parties".
The two historically secular political parties, the Communist and the Syrian National Social parties, were denied participation in the Parliament via biased and tailored-made election laws and procedures.
The Syrian National Social party was recently permitted to enter the parliament, carried on the shoulders of other main confessional parties. 
The multi-theocratic system, backed by the financial institutions that lend Lebanon governments to cover budget deficit, have vested interests in prohibiting the constitution of any viable and sustainable modern State governing system.
Fourth, Lebanon lacks sustainable public institutions and any long-term programs and policies. The only benefit the citizen enjoys is a mere passport. There exist no serious governance for the people to march against and demand reforms.
Was Taleb aware of the actual conditions and situation in Lebanon for him to categorize Lebanon as falling in line within the "stable" political systems and immune to radical revolts as Italy?
The hot season has started in the northern hemisphere, and the Spring Revolt might cool off a bit. In Lebanon, we missed the spring upheavals that swept the "Arab" world, but we planted the seed of a fresh drastic non-violent revolt for the next spring season.
The youth in Lebanon organized five marches in various cities in Lebanon demanding change in the confessional political structure.
Next Spring, the revolt will still be non-violent, but the target and purpose of the revolt will not be a matter of a reform here and another there. The traditional "leaders" have demonstrated that they refuse to establish a functioning State for all "citizens": Lebanon has been run by Non-State governments, or care-taker governments.
The Youth Movement for Change must be ready for the dawn of the next spring season: It must start doing serious due diligence. For example,
1. Specialized teams have to dig-up and dust-off the policies and programs stored in the basements of ministries. The goal of reviewing and revising already studied programs is: "A political system from the people to the people".
2. The Lebanese have to feel they are true citizens with equal rights under the law.
3. The Lebanese have to enjoy fair and equitable election laws that allow common people to accede to decision-making positions.
4. Laws have to be revised for citizens, regardless of genders, race, or religious affiliation, to have fair opportunities to all political positions and job opportunities in the public and private institutions and enterprises.
5. The Constitution has to be re-written to separate religion from civil power and responsibility…
Radical changes are possible: There are no other alternatives to patching up a rotten political and social structure.
It is not feasible to move on with small incremental reforms under the power of the ferocious religious and financial oligarchies that have been dominating our lives and subjugating us to constant instability and indignities.
We have grown up to be mature and responsible adult "citizens". Lebanon is Not immune to drastic revolts, and the next revolution will be successful!
Note 1: Nassim Taleb, a mathematician, was a trader and worked for 20 years as consultant to large investment banks in New York and London. He created Empirica LLC for trading.  He is engineering professor at the polytechnic institute at the University of New York.
Note 2: This article was posted 9 years ago. Currently, Lebanon is under a total bankruptcy at all levels: State, banks, Central Bank, financial and economy. Lebanon is going through drastic calamities: the electric-magnetic atomic pulse devastation of the Port of Beirut, and a lingering Covid-19 pandemics. 75% of the Lebanese are poor and no government is to be agreed upon.
A chapter in this book
Note: This piece was posted on Fb and the name of the author is indeterminate, just "Levantin". Actually, I had posted a novel on WordPress.com in 2008, related to the Near East and Mount Lebanon titled "Rainbow over the Levant" and set in the 15th century during the Mamluk empire. The name of the main hero is named Antoun: is it a coincidence?
Un nouvel extrait de mon "Levantin", où l'on voit Antoine Catafago invité à la chasse au faucon de l'émir Bachir Chehab II, dans les montagnes du Chouf (Mont-Liban) entourant le palais de Beiteddine…
"Le lendemain, l'émir avait invité tous ses convives à se joindre à son passe-temps favori, la chasse au faucon. C'était son privilège et celui des cheikhs féodaux qui l'accompagnaient, soit une cinquantaine de cavaliers juchés sur leurs montures magnifiquement harnachées.
Tous les seigneurs, druzes et maronites, étaient là à la tête de leurs suites, accourus des quatre coins du Mont-Liban pour faire allégeance à l'émir.
Les Nakad et les Joumblatt du Chouf, les Abillama du Metn, les Khazen du Kesrouan, chaque clan caracolait fièrement, oriflammes claquant au vent et rank gravés sur les boucliers.
Plus d'un millier de paysans des deux confessions avaient en outre été requis pour l'occasion et postés sur les hauteurs, autour du point où Bachir avait pris position.
Position est d'ailleurs un grand mot. En fait, il était allongé sur un divan recouvert de tissus précieux, fumant la pipe qui ne le quittait jamais, entouré de serviteurs surveillant la douzaine de magnifiques faucons alignés sur un perchoir, lui-même s'occupant de celui dressé sur son poing droit protégé par un épais gant de cuir.
La battue pouvait commencer. Sur un signal du maître de chasse, les paysans resserrent progressivement le cercle en battant les broussailles afin de faire lever le gibier.
Chaque fois qu'une perdrix s'envolait, l'émir lançait un faucon à ses trousses et il était rare qu'il revint bredouille, à la grande satisfaction de son maître.
La bête était aussitôt saignée et sa cervelle donnée en récompense au rapace.
La chasse avait duré une bonne partie de la journée jusqu'à ce que Bachir, las, ordonne le retour au palais. Plus de cent cinquante perdrix avaient été prises et distribuées aux invités de l'émir, à ses féodaux et aux gens du palais.
Antoine y avait passé une autre nuit, avant de prendre congé de son illustre hôte et de s'en retourner à Saïda. Certes, il avait été impressionné par ce qu'il avait vu et devait admettre que le spectacle de la cour de Bachir se pavanant dans les altières montagnes du Chouf avait quelque chose de grandiose.
Mais Antoine ne pouvait s'empêcher de se demander si la puissance affichée par l'émir n'avait pas pour but de dissimuler le fait que, désormais, il ne devait son pouvoir au Liban qu'au bon vouloir de Muhammad Ali. "
The assassination of Luqman Slim underlines that the scope for dissent in Lebanon is rapidly narrowing.(More like widening with the increase of calamities that are Not resolved by any institution)
The killing of Luqman Slim is another bad omen for Lebanon. Luqman was not just any activist. (Very few Lebanese have heard of him, mostly the embassies were dealing with him and funding his institution Umam)
He was a vocal critic of Hezbollah (for over 25 years and he visited Israel too), who chose to continue living in his family's home in Haret Hreik in the southern suburbs of Beirut, an area controlled by those whom he criticized harshly. (And lived in security and safety)
I met Luqman in 2004 with the late journalist Samir Kassir and Samir's wife Giselle Khoury. (Late Kassir was assassinated by the Druse civil war leader Walid Jumblatt, as a matter of female jealousy )
Luqman, with his wife Monika Borgmann, had invited us to watch a private screening of a movie they had produced on the Sabra and Shatila massacres of 1982.
The debate that ensued was as harrowing as it was enlightening. It was the first of many interactions over the subsequent two years around the memory of the civil war, questions of accountability, and commemoration of the victims, and their importance for Lebanon's future. These debates dissipated after Samir's assassination on June 2, 2005.
Luqman was also a harsh critic of Lebanon's political class, of the repression of the uprising in Syria, of Iran's regional involvement, and of much else. (What about US invasion of Iraq? Of Israel successive pre-emptive wars on Lebanon…)
But he was also more than that. With Monika, Luqman went on to establish the UMAM documentation and research center in his family home. UMAM aims to inform the future (generation?) by addressing past atrocities.
Since 2005, the center has been collecting information and establishing a database for all those killed, or who disappeared, during the fifteen-year Lebanese civil war. It has also made documentaries and organized discussions on some of the most painful episodes of that conflict.
Their work is critical if Lebanon is to come to terms with the war's legacy and is essential in determining accountability for the crimes committed during that time. (The Lebanese parliament decided to absolve all the civil war leaders and those who committed crimes against humanity. And these "leaders" are still controlling and ruling Lebanon since 1992)
This work carried out by Luqman and Monika was vital in a country where the political leadership is largely made up of those who fought during the war. Lebanon's conflict ended with the mantra of "no victor and no vanquished."
In 1991, parliament passed an amnesty law covering most of the crimes committed during the conflict. Militia leaders moved from the streets into government to occupy the state and its institutions. The history of the civil war was never integrated into school curriculums. Knowledge of the war has largely been defined by individual points of view, not by a collective Lebanese effort to remember the war to better transcend it.
To understand the killing of Luqman one must also look at Lebanon's broader context.
Since October 2019, when the Lebanese took to the streets to protest against the corruption of their political parties and leaders, the country has been facing an economic collapse that has impoverished more than half the population and decimated the middle class. (Bankrupt State at all levels, politically, economically and financially)
Rather than addressing the sources of discontent, the leadership has remained unwilling to implement the reforms needed to unlock international financial aid, for fear that this would undermine their influence over their constituencies.
Lockdown measures associated with Covid-19 have only hastened this economic breakdown. Without outside financial support Lebanon will continue to sink into the abyss.
Ironically, by protecting their system and continuing with a business-as-usual approach the political parties have also signed its death warrant. That may not be a bad thing, but in the meantime millions of Lebanese will suffer terribly.
The catastrophic (electromagnetic pulse bomb) explosion in the port of Beirut last August 4 further increased the anger of the Lebanese and their vocal criticism of the political leadership.
Six months later, no one has been held accountable for what happened and the official investigation is going nowhere. For many Lebanese there was no question as to who was responsible, when protestors hanged effigies of their political leaders on gallows set up at a demonstration in Martyrs' Square last year.
Luqman's killing underlines that the space for dissent is closing fast in Lebanon. Over the past year or so, the political leadership's tolerance for criticism has been decreasing as more and more journalists and critics have been taken into custody by the authorities.
Yet Luqman's killing went much further. It heralded a return to political assassinations as a means of silencing those in opposition.
The crime has sent shock waves across Lebanon and beyond, especially among opposition groups and, more so, among most of the 19 officially recognized religious sects.
For many this brought back memories of 2005 and the years that followed, when Samir Kassir, Gebran Tueni, (Communist secretary general Georges Hawi, Mohamad Chatah, Pierre Jr. Gemayel, and many security officials… Pierre Jr. Gemayel was assassinated by agents who were dispatched from the US embassy and returned to the embassy. And why was Pierre Jr. assassinated? Because he expressed his opinion during the government meeting of valuing Hezbollah resistance during the 33 days pre-emptive Israel/US in 2006)
One wonders whether Luqman Slim would have been killed had Kassir and Tueni killers been brought to justice. (Lebanon never brought to trial Israel, US, France, England… perpetrator of assassinations, Not even lesser States such as Jordan, Saudi Kingdom or the Emirate..)
That is why we should have serious doubts as to whether those who assassinated Luqman will themselves be brought to justice.
There is no hope for most Lebanese who are Not from the "elite class"
By Adib Y Tohme
There is no hope for this generation, born before the war and who spent his life pretending that everything is going well in a country where everything went wrong.
The generation of the 50 year-old, who thought they had lived in the shade of false peace and finds themselves forced to do everything back to survive.
There is no hope for this generation whose only hope is to expatriate to compete with the generation of their children in markets where the experience, maturity, expertise they have gained for decades have become heavy weight to manage.
There is no hope, but in fact who still dares to speak of hope among this disillusioned, desperate generation that finds itself overnight at the end of the roll, lost, lazy not to understand what's happening to him in order not to sink ..
Who still dares to talk about hope when trust is no longer viable?
No trust in bankers who were very busy to attract Dollars deposits in return for high interest rate on to replace their own money transferred abroad, and for losing on investments oversea.
No confidence in the central bank governor Riad Salami, supposed to build a climate of confidence in the banking system, and who is charged with money laundering by Swiss justice.
No confidence in the head of the house Nabih Berri, who by playing a small unmovable dictator in his chamber of deputies, has transformed parliament into a museum of political dinosaurs and where every deputy was allocated a monopoly on a section of the economy.
No confidence in the former head of government Saad Hariri, who resigned promptly when everything was going to collapse and failing to deliver on promises and grants, wants to come back when everything really collapsed and failing to constitute a government, after months of being designated to quickly form a government, as he announced.
No trust in the President of the Republic Michel Aoun, who negotiated his election with the same sectarian/feudal, civil war leaders , and failed to transform any hope for change and reform into politics of managing with the same leaders of the failed system: helpless and unable to move forward on any reforms.
No confidence in the Secretary General of Hezbollah who, as a true guide to the republic, is driving a torn country from collapse to marginalization under the heavy sanctions of the US to our financial system.
No trust in any political parties, journalists, judges, public officials, all those who gravitate around people of power in organized corruption networks.
Everyone who knew but couldn't do anything before the drama and claim it's always too late to act.
No trust in the people.
This people submissive when they believed they had everything, and can't become free or less enslaved when they realize they have nothing left.
What to do? What can be done? To where from here and now?
Try, try again, try to shake consciousness, scare to try to create a click, fail again, fail better, swallow even more to disappear.
Note: Public optimism is the opium for the downtrodden.
Ask Master Trump on how he is going to make America Great. Ask Stalin, Mao, Hitler…
Swapping Punishment and counter Revenge at the expense of people in Lebanon, including the refugees, Palestinians and Syrians)
Note: This idea came to me in a flash and made plenty of sense given the many concording evidences, months and years after the events that happened in Lebanon. This conjecture is Never approached in articles and news, on the ground that the "active" feuds between Israel and US administration should be taboos.
The US embassy in Lebanon does Not need many secret agents: It receive intelligence pieces directly from the sources: ministers, deputies, Central Bank, private banks, and all its institutions.
The employees "agents" in every Lebanese institution are trained to recognize the kinds of fresh information that the US desire to obtain for the control of Lebanon "politics"
Most of the other embassies, with a few exceptions, receive the intelligence that the US wants to share with them, and in return they also share their intelligence with the US embassy.
Lebanon is ideal carrefour for collecting and swapping intelligence pieces in Lebanon and mostly of the "Arabic' and Islamic States. That is why this pseudo-State is Not to erased from among the UN States.
Actually, most Lebanese "politicians" and in high level positions prefer to play double and triple agents, which is fine if they "register" as such with the US embassy, as long as they have "no direct contact" with the other agents without the approval for certain events and for a period.
Occasionally, and for local politics in Israel, Israel likes to forget that it is a tiny State and totally dependent on the US and has to plan a priori with the US in Lebanon politics.
In these circumstances, when Israel decide to play the strong partner in Lebanon or the adjacent States without the approval of the US, Israel is punished for tarnishing the "standing" of the US in this strategic turntable of intelligence swapping for the entire Middle-East, once Israel activities turn sour and it is the US that has to pay the dear price in the region.
Israel had deliberately targeted the US Liberty intelligence ship during the 1967 war, for 3 hours and killed 33 navy men. The US buried this bloody "accident" to the public, but I conjecture that is why the US didn't build or sold any warships to Israel. It is the job of Germany to fund Israel war ships and submarine and built in France.
The US never forgot the heavy casualties it suffered in 1983 to its marines for the blowing of their headquarter close to Lebanon airport. Israel reneged on the deal to vacate Beirut and most of the occupied territories, and to quickly withdraw to the stretch of land in the south, a land that it occupied for 23 years.
The US responded by allowing Syria to get a mandated power over Lebanon politics in order to clip Israel control over many politicians.
And the resistance against Israel forces was launched that ended in Israel withdrawal in 2000 without any explicit pre-conditions.
The pre-emptive war in 2006 that lasted for 33 days is another tragic events.
I conjecture that the US was Not ready to launch this war on Hezbollah and Lebanon at this time, but Israel, for local politics, lied that it can destroy Hezbollah military forces.
A week into the war, Israel discovered that the morale of its army was Not at par with the goal of the war. Israel wanted to stop the war, but the US was outraged for being lead/dragged to this war and pressured Israel to resume the war, against all odds.
Israel ended up begging the US to quickly demand a cease fire.
In retaliation for this fiasco, the US got its revenge in 2008 by leaking the "safe havens" of Israel Mossad locations in Beirut to Hezbollah.
Within 3 days, Hezbollah had "closed" all of Israel spy networks in Lebanon and pressured the dual Lebanese political agents to desist from direct contact with Israel. And the US regained some of its standing with easy direct intelligence from Lebanon institutions.
Feeling safe, the nonchalance of the US control of Lebanon lead to the total bankruptcy of the State of Lebanon at all levels: US policies encouraged Lebanon civil war "leaders" to loot the wealth of Lebanon and its budgets since 2008.
Note: Israel is at odd with US policies in Lebanon. Israel has decided that "No more military pre-emptive wars on Lebanon, Not even on a smaller scale". Israel desires a "stable" Hezbollah. Otherwise, Israel will be sucked into successive nightwares.
A reminder of the period after the assassination of Rafic Hariri and the withdrawal of the Syrian troops in 2005
La mémoire libanaise de Lokman Slim: Umam? Like Nations?
Après l'assassinat de l'intellectuel chiite, sa femme, Monika Borgmann, souhaite continuer la mission que le couple s'était fixée.
OLJ / Par Lyana ALAMEDDINE, le 11 février 2021
Note 1: Monika Borgmann, wife of Slim, wrote that The "Hangar" was a political decision in order to counter Hezbollah "monopoly" on the kinds of arts and culture prevalent in Al Dahiyat.
Chloé Kattar added: By opening up the quarter of Haret Hreik (dominated by Hezbollah culture), we responded to the wishes of the local people to varieties of artistic offering, an alternative to these marginalized people with limited access to different cultural orientations…
My question is: What Offering alternative "debouche" for culture and arts should translate into supporting our existential enemy of Israel? And making it a purpose to antagonize every achievement of Hezbollah in securing Lebanon autonomy and becoming a counter-balance military force to Israel successive pre-emptive wars on Lebanon?
Note 2: Lokman was born and lived in Haret Hreik and lambasted against Hezbollah for 25 years, and he was mainly protected by Hezbollah. Thus, which political parties and States decided to get rid of Lokman and why? Has he been a liability to a few embassies with no worthy return for his meager intelligence pieces?
« Vous devriez discuter, vous êtes tous les deux intéressés par les choses morbides. »
C'est cette petite phrase, lancée par l'un de leurs amis en commun, qui est à l'origine de la première rencontre entre Monika Borgmann et Lokman Slim en 2001, au Zico House à Hamra.
Entre la journaliste allemande arabophone et l'intellectuel libanais, « cela a tout de suite été le coup de foudre », confie Monika dans le bureau de son époux, en plein cœur de la banlieue sud, dans la maison patricienne des Slim.
C'est là, dans la villa blanche aux fenêtres et portes vert pastel, « qui a vu passer cinq générations », que le couple a donné naissance à Umam en 2004, une association de documentation et de recherches visant à reconstituer et réconcilier les mémoires libanaises.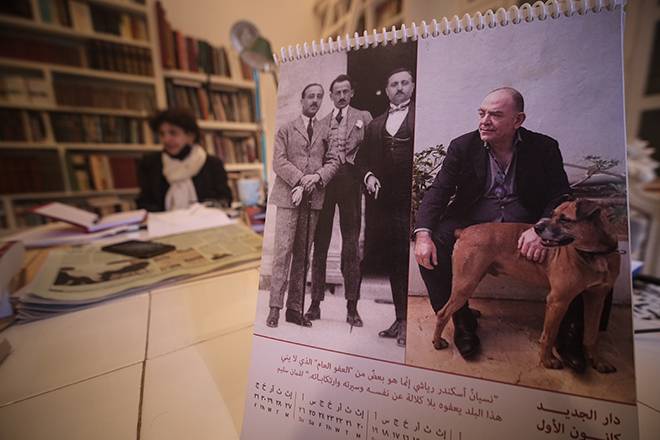 Dans les locaux d'Umam, une affiche montrant Lokman Slim. A l'arrière-plan, sa soeur Rasha el-Amir. Photo João Sousa
Umam, c'est avant tout l'histoire de leur rencontre. Celle de deux individus passionnés par la nature humaine, dans ce qu'elle a de meilleur et (surtout) de pire, et par les blessures et les traumas du passé.
« Tout a été très vite entre nous. Nous avons commencé à travailler ensemble, puis nous nous sommes installés ensemble », raconte la cofondatrice de l'association, entourée des livres, objets et cartons qui remplissent la pièce, laissant à peine transparaître les murs.
Dès 2001, le couple se lance dans son premier grand projet, un documentaire sur les massacres de Sabra et Chatila en 1982, racontés par 6 des bourreaux de l'époque. (I published several articles on this camp genocide of civil Palestinians/Lebanese without weapons and by Israeli investigators and foreign journalists)
"Massacre", coproduction libanaise, suisse et allemande, sort en 2005 et remporte plusieurs prix internationaux dont le Fipresci Award Berlin 2005.
« Cette expérience (commencée en 2001) a été le déclic pour créer Umam », explique la journaliste. « Comme le massacre est extrêmement politique, il fallait vérifier toutes les informations venant des tueurs. Dans un pays normal, nous les aurions puisées dans les archives nationales, mais au Liban, nous ne pouvons pas y accéder », poursuit-elle.
C'est là qu' Umam entre en scène, pour combler un manque lié à l'absence d'institutions publiques dignes de ce nom. L'association est à la fois un outil et un espace de réflexion sur la guerre et la « banalité du mal » qui lui est intrinsèque.
« Nous voulions comprendre cette violence collective : comment en sont-ils arrivés à commettre des actes si inhumains ? » Confronter le passé pour ne plus répéter les mêmes erreurs. « Je fais partie d'une génération qui a grandi avec la mémoire de la Shoah », dit Monika Borgmann.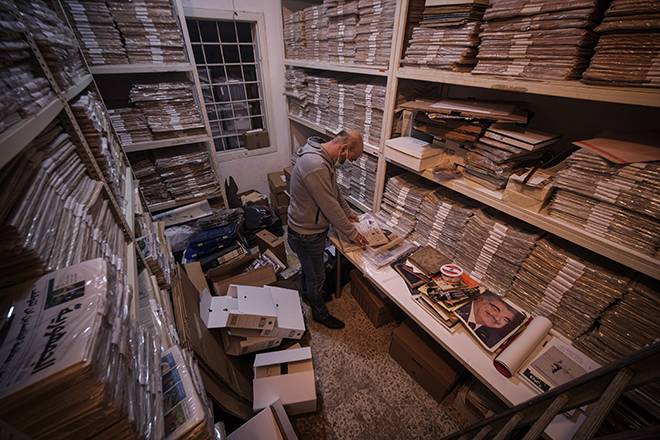 L'un des objectifs d'Umam : créer des archives accessibles à tous. Photo João Sousa
« Plus nous creusons, moins nous comprenons »
Au départ, deux objectifs : créer des archives accessibles à tous et sensibiliser le public au Liban via des événements culturels pour provoquer des discussions difficiles mais nécessaires.
Au fil des événements (guerre de 2006, affrontements de mai 2008, soulèvement du 17 octobre 2019), Umam endosse un rôle politique et se donne la mission de traiter de sujets d'actualité tout en les liant au passé. « Ce travail de mémoire a montré la complexité de ce pays. Plus nous creusons, moins nous comprenons », analyse Monika Borgmann.
En 2005, le couple fonde le Hangar, un lieu de discussion et de rencontre poussant des gens de tous les milieux à venir dans la banlieue sud pour assister à des tables rondes, expositions, ateliers ou projections.
« Une fois, lors d'un événement, il y avait un cheikh qui faisait sa prière dans une cabine en vitre près de personnes qui buvaient du vin », se souvient Nathalie, assistante chercheuse depuis trois ans à Umam.
« Le Hangar, c'était une décision politique, une façon de dire "Ne donnons pas Dahyé uniquement au Hezbollah" », raconte Monika.
« En ouvrant à Haret Hreik cet espace culturel qui parle d'arts, qui fait des nuits cinéma et des mini expositions, ils ont répondu à un besoin dans ces régions marginalisées où l'accès à la culture est limité ou monolithique à cause du parti politique dominant. Ils ont offert une alternative », commente Chloé Kattar, qui effectue un doctorat à l'université de Cambridge sur la guerre civile libanaise.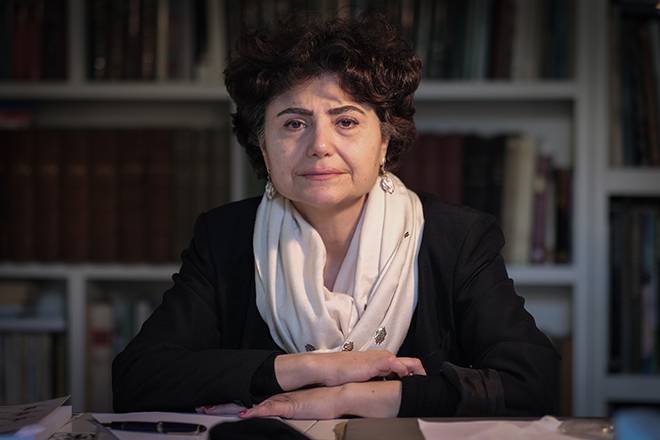 Rasha el-Amir, la sœur de Lokman Slim. Photo João Sousa
« Le travail d'archives force à se poser des questions, enclencher des échanges et des réflexions », explique Nathalie, qui travaille sur les archives en lien avec le Studio Baalbeck, ancien cinéma fondé par un Palestinien et ayant fait l'objet d'une exposition dans le Hangar.
En 2010, alors que le bâtiment du cinéma est sur le point d'être démoli, le matériel cinématographique est donné à Umam. Les dizaines de milliers de documents d'archives sont rangés par thématique et ordre chronologique, organisés par l'équipe qui vérifie les pages manquantes, les rangent mais aussi les numérisent partiellement pour les ajouter à la base de données.
Un véritable travail de fourmi qui témoigne de l'exigence dont faisait preuve Lokman Slim. « Je lui demandais "qu'est-ce que tu veux ?" il me répondait "tout" », se remémore une collègue ayant requis l'anonymat.
Cet amour des archives lui vient de sa famille qui collectait depuis toujours des journaux, des brochures, des tracts ou encore des posters.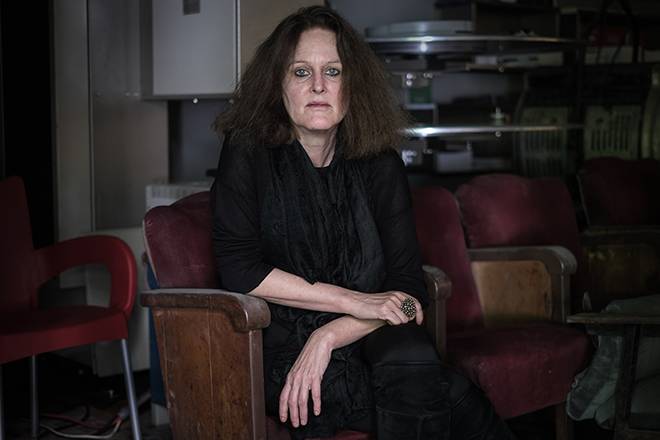 Monika Borgmann, la femme de Lokman Slim. Photo João Sousa
« Umam était sa défense »
Dans un pays encore marqué par les blessures de la guerre et qui n'est pas allé au bout du processus de réconciliation des mémoires entre les différentes communautés, la tâche du couple était herculéenne. « Ils ont effectué un travail artisanal pour collecter les archives », estime la collègue précité.
Ces archives ne sont pas que des livres, mais aussi des brochures, des interviews, des journaux, des objets tous rangés dans les locaux et ouverts au grand public.
« À la fin de la guerre, il y avait une amnésie collective, conséquence directe de la loi d'amnistie : pas de justice, de tribunaux, de dialogue ou d'initiative publique ou privée, et surtout pas de travail institutionnel de la part de l'État, ce qui a empêché une sorte de catharsis. Aujourd'hui, le travail se fait de façon dispersée et éclatée entre différents acteurs », explique Chloé Kattar.
« Le travail de Lokman est fondateur pour reconstruire une histoire orale. Construire une mémoire, c'est se mettre à la place de l'autre pour mieux se pardonner et avancer », résume l'essayiste Mona Fayad. Lire aussi L'assassinat de Lokman Slim réveille le spectre des liquidations politiques
À partir de 2008, l'association prend une nouvelle envergure. « Nous avons lancé une série d'ateliers sur la justice transitionnelle sur une durée de deux ans, accompagnés d'expositions ouvertes au public sur les disparus de la guerre civile. Nous avions commencé avec 25/30 personnes, puis fini avec 80. C'est là que nous avons commencé à gagner en visibilité », raconte Monika Borgmann.
Esprit libre et téméraire, personnage parfois provocateur, Lokman Slim incarnait une sorte de contre-miroir du Hezbollah, qu'il n'hésitait pas à critiquer sur la scène publique et depuis la banlieue sud.
Présenté comme un « chiite des ambassades » par les organes de propagande du parti, qui l'accuse d'être un agent à la solde de « l'ennemi américano-israélien », l'écrivain est menacé de mort à plusieurs reprises, avant d'être assassiné le jeudi 4 février dans le caza de Zahrani.
« Umam était sa défense », explique sa sœur, l'écrivaine Rasha el-Amir. « Sa seule arme était la mémoire. Les archives sont une manière de résister contre l'amnésie. On étudie, on réfléchit, on se remémore puis on continue. » Et maintenant ? Comment l'association peut-elle survivre sans celui qui en était incontestablement le cœur ?
« Personne n'est comme Lokman, il comprenait la valeur de toutes ces archives, même d'une simple note, grâce à ses connaissances », estime Monika Borgmann. Elle refuse toutefois de renoncer à la mission qu'ils s'étaient fixée.
« Partir ? Jamais. Encore moins après son exécution… Nous croyons en Umam, nous avons un impact… C'est ma vie, c'est vingt ans de travail. Je me le dois. Je le dois à Lokman. Ma place est ici. »
Un rassemblement aura lieu aujourd'hui dans la demeure familiale en mémoire de Lokman Slim. Il sera à son image, cosmopolite : « Des prêtres de toutes les confessions feront une prière pendant trente minutes, il y aura également une sorte de micro ouvert pour permettre aux gens de dire quelques mots sur Lokman, et une séance Zoom pour se connecter à l'étranger, notamment à la Sorbonne, établissement où a étudié Lokman… » explique son épouse.
Sur France Culture en 2019, l'écrivain ne doutait pas du fait que son travail lui survivrait.
« C'est un travail infini. Nous sommes tout à fait conscients que, finalement, peut-être qu'il va nous survivre, mais, sûrement, nous n'allons pas lui survivre. »
Note 3: Monika Borgmann stated « Je fais partie d'une génération qui a grandi avec la mémoire de la Shoah ». And I am wondering what the memory of the Shoah has to do with supporting this implanted colonial apartheid State of Israel? I would be interested in reading a few of Borgmann articles on how she views Israel policies and what are her opinions and positions on the Return of the Palestinians to their Homeland.
Note 4: US ambassador Shea started to whine and complaints and participated in the burial ceremony. And I wonder: Why No US ambassador participated in the burial of the civilians blown by Daesh and the Lebanese soldiers shot in cold blood by the Muslim extremists more many years?
Bi-Weekly Report (#21) on the Middle East and Lebanon (May 9, 2009)
The US Administration keeps flopping between the policy of a peace treaty (Israel/ Syria) first, or a Palestinian homeland in the Near East. 
So far, the US Administration has changed priority more than once in a single month and the US delegates are cruising the regions for a hint and a suggestion while carrying all kinds of tentative projects. 
The energumen Israeli foreign affairs minister, investigated for criminal activities by the Israeli police, is visiting a few European States to confirm his opposition for a Palestinian State. 
Thus, the US is pleasuring Israel by shifting its priority to (Israel/Syria) peace treaty first.
Anyone of these projects to take off there need to satisfy conditions of a few powerful regional powers.  This is no longer a State to State treaty but a regional status of dignity that no usurper is to enjoy advantages by military forces.
For Syria there are Iran and Turkey that should cooperate fully and sign their agreements. 
Iran would First pressure the US, to handle the nuclear arm policy equitably, since Israel owns one too many nuclear arms; since the sixties', and Second, that the treaty preserves unconditionally the sovereignty of Syria in the Golan Heights.
Turkey would insists that France drops her veto to a potential attachment of Turkey to the European Union. Otherwise, why Turkey would go at such length and effort to get re-immersed in regional quagmires?  (It is Not probable that Turkey would desist from expanding its political strategy, even if promised integrated to EU)
The other condition of Turkey is that Muslim Syria is not pressured into "losing face" and thus, exacerbates the sense of humiliation and desperation that the Arab World has been subjugated to for centuries.
One policy that the US Administration has decided on and is executing with the support of the Pakistani army and government is to defeating the military power of the Taliban style ideology in northern Pakistan. 
Pakistan is the main source of instability in order to re-arrange the Greater Middle East stability. 
I hope that the Barack Administration has already extended its military policy in Pakistan into including the social and economic stability and viability of the Pakistani State.  Pakistan is worth heavy investment in money and time until the Taliban (Wahhabi sect) ideology prevalent in Saudi Kingdom is contained and controlled.
For the Palestinian homestate to take off there are Egypt and Saudi Kingdom to be satisfied, assuming that Syria has signed a peace treaty with Israel (Not a chance in the foreseeable future). 
Egypt would First insist that its enjoys the status of the most preferred nation in Gaza, kind of practical mandate if not diplomatically; and
Second, that Israel relinquishes any kinds of controls in the Palestinian State that Egypt might be denied, and
Third, (during the Mubarak dictatorship) that Hamas is not to be the most powerful faction in the Palestinian government and Parliament: Mubarak understands that the "Muslim Brotherhood" party in Egypt has more legitimacy among the population than his regime.
Saudi Kingdom would insists that the clerics to the Mosques that it invested in building or maintaining in Palestine be hired by the Wahhabi sect and answering directly to the "fatwas" emanating from the Capital Riad.
The President of Lebanon, Michel Suleiman, has declared yesterday that after the Parliamentary election in June 7 the Dawha agreement will have been satisfied and the Taef Constitution will be applied: The winning coalition in the parliament will govern and the losers will oppose. 
The leader General Michel Aoun of the Tayyar al Horr (Change and Reform Party), and currently the dominant "Christian" representative in the parliament, has been promoting the advent of the Third Republic to replace the governing system imposed on Lebanon since 1993 during the Syrian mandate and after the withdrawal of the Syrian troops in 2005. 
The polls favor the opposition (Tayyar, Hezbollah, and Shia Amal of Nabih Berri) to gain 65 deputies out of 120. 
Michel Aoun has decided to run in the district of Jezzine (a Christian enclave) with his list of 3 candidates when all the attempts for an agreement with Berri failed. 
Berri is the Chairman of the Parliament and the leader of the Shia Amal Party that represented the Shia during the civil war but was supplanted by Hezbollah. 
Berri understands that his weight and standing in the political structure are solely based on heading the parliament and all his machinations are to securing this post that he chaired for over 20 years now.
Regardless of the winning coalition, the Taif Agreement will be re-applied in its entirety with various success and time span.
For example, a second confessional Parliament of the 19 official religious sects will be formed so that the popular Parliament will be elected devoid of sectarianism and hopefully according to a new law based on relative percentages (nisbia) and not on majority.
If the Tayyar returns with additional gains into the Parliament then the application of Taef Constitution will accelerate with modification after substantial lapse of time such as providing the President of Republic additional leverage and imposing time constraint on the government (mainly the Prime Minister) to ratifying decision as it is imposed on the President.
In case the Tayyar loses then a dangerous cycle await Lebanon with end results of sharing power not on the basis of 50/50 between the Muslim sects and the Christian sects, but on the basis of three major sects, the Shia (the most populous), the Sunni, and a combination of the Maronite and Christian Orthodox.
Lebanon is a precarious State depending on many foreign interests in the Middle East and not specifically for the sake of Lebanon.   
In any case, a stable Lebanon is connected with a stable Syria that is satisfied with Lebanon's foreign administration of relations. The fundamental interests of Syria cannot be circumvented and supersede the USA if Lebanon is to enjoy security and stability.
Power: Not a Point of View. Power is the level and quality of education, an education targeting the needs of the population and neighboring markets.
Posted on March 10, 2009
Iran is planning to build 20 atomic power sites to generate electricity.  Russia has aided finish the first power station for a cost exceeding one $ billion dollars.
Iran is not only the fourth exporter of oil but has also huge reserves in oil and gas. And yet, Iran spends enormous amount of hard cash money to import oil products and gasoline from overseas refineries.
The Iranians are building a second atomic power generator, almost alone and strong with the expertise they acquired.  The Iranian officials said that oil is a precious commodity that should not be wasted to generate dirty power. 
The developed nations have oil reserves but prefer to purchase oil at a reduced price in order to save their oil resources for their chemical and pharmaceutical industries for later generations. (Actually, chemical industries, the most dirty for earth and the climate, rely almost exclusively on oil products.)
The Emirate Gulf States have established "sovereign funds" for the next generations, but they all have vanished during the latest economic and financial recession.  What is left are highways and built stones.
I am exaggerating on purpose.
This piece is meant to be a wake-up call. It is time to invest on the human potentials, social institutions, and political reforms.
Lebanon used to export electricity to Syria and Jordan in the 30's during the French mandate. Presently, and 80 years later, and 65 years after its "independence", Lebanon import electricity from Syria, Jordan, and Egypt.
The populations of all these States have quadrupled in 80 years while Lebanon barely doubled, due to massive immigration, and we could not even double our power production. 
Our neighboring States have reached sort of power sufficiency and exporting surplus electricity to Lebanon. Lebanon has plenty of water and rivers but we failed to invest properly on our natural resources and hydraulic potentials.
Not only we have not enough electricity, and none of it is hydraulically generated, but we have no running water. We receive water twice a week for a few hours and we have to filtrate and purify what we receive.
The Lebanese family has to pay twice for electrical power and for water by supplementing their needs from the scalpers of private providers.
The main culprits are those "Christian" Maronite political parties who claimed that the power of Lebanon resides in its military weakness.  Implicitly, those sectarian political parties meant that Lebanon should not challenge the dicta of Israel regarding our planning of our water resources.
Mind you that Israel purpose is to divert all our rivers toward its own Zionist State.
Electricity is a kind of power and oil and gas are essentials for locomotion and mechanization and industries.  Nevertheless, nations are judged developed according to the level of their research institutions. 
You might start the "egg or chicken" priority of security and stability first, but this is not the case. When States invest on almost everything except knowledge base and research institutions, then you should not hope for stability and security.
Developed nations respect States that focus their energies and resources on knowledge, literacy, and technologies and are willing to protect them from neighboring bullies.
Developed nations respect States that generate highly educated and well trained citizens regardless of size, origin, and natural resources.
Power is the level and quality of education, an education targeting the needs of the population and neighboring markets.
Power is no longer a point of view.
Bi-Weekly Report (#24) on the Middle East and Lebanon (May 28, 2009)
The weekly French "Courrier International" failed to do its job on analyzing Syria's policies. 
Instead of investigating and doing leg works it opted to rely on the Washington Post and Now Lebanon, totally biased against anything related to Syria, for spreading its nonsense. 
This weekly publishing is repeating the old regurgitated stories of what the successive US Administrations want from Syria with respect to facilitating the job of US military presence in Iraq.
As usual, the catchy "Damascus does Not get it" and "Could we have confidence in President Bashar Assad? " summarizes the topic. As if the job and responsibilities of President Assad is to cajole and obey the US dicta for nothing in return, such as the Golan Heights that was captured by Israel since 1973.
The Washington Post and supposed "reporter" Karen De Young would like us to believe that the increase of "terrorist activities" in Iraq and in Mossoul last month can be linked to the laxity of Syria's border patrols. 
It seems that Al Qaeda has been active shipping "martyr terrorists" from northern African Arab States and Saudi Kingdom to blow up Iraq Shia sect citizens.
What about the other sects, such as the minority Christian sects?
The report stated that the Iraqi border patrols cannot do effectively their jobs because of lack of carburant. The Iraqi government has a depleted budget because of low oil prices on the international market and thus the border patrols drive along the vast borders with Syria, 15 days out of 30. Thus, Syria is to be blamed for the US insufficient funding for borders control.
The monthly "Le Monde Diplomatique" did its job concerning Albania and Kosovo. The US Administration is pushing to finish quickly the fast highway linking Pristina (the Capital of Kosovo) to the Adriatic Sea at the Albanian seaport of Durres.
Apparently, the NATO (OTAN) needs this strategic highway so that the 5th fleet could discharge military hardware and soldiers. 
Close to the highway in Kosovo there is the largest US Camp Bondsteel military base by the town of Urosevac. 
Close to the highway in the town of Kukes in Albania the US has finished a functional airport used by military cargo and denied access to civilian use and at the expense of the Albanian tax payers. 
The story boils down to a Greek bank Alpha lent the Albanian government 300 millions Euros (guaranteed by the US) to build the super highway. The trick is that 65% of the Albanian budget is reserved for the infrastructure ministry and 75% of the budget of this ministry is allocated to this super highway, which means about 50% of the total budget of the ministry is allocated to this highway, just to satisfy US military logistics. 
The bombshell is that the US  Bechtel multinational will reap 44% profit on the cost of this super highway.
The newly "independent" States of Kosovo, Montenegro, and Macedonia are quickly becoming the dumping ground for the NATO and the European Union economic, military, and environmental policies.
I watched the highly informative interview of retired General Jamil Al Sayyed with Maggie Farah on the OTV channel.  Jameel Al Sayyed was released recently from 4 years of detention with No formal court cases after the International Tribunal judged his imprisonment illegal and ordered him out, along with 3 other security high level officers.
General Al Sayyed returned two day ago from France after resuming his depositions on Millis' fabricated climate for Al Sayyed unjustified detention. Millis is the former investigator to the assassination of Rafic Hariri) and Johnny Abdou, former retired Lebanon military intelligence chief, participated in that fabricated story.  
Al Sayyed will also work out the courts in Germany with respect to Millis.  Al Sayyed is a highly interesting character and a well spoken intelligent and honest personality.
Al Sayyed said that it was the Lebanese officials who drew the Syrian counterparts into suspect transactions and corruptions.  Although every political leader in Lebanon has dealing with foreign States, Al Sayyed lambasted Saad Hariri and Samir Geagea for their incapacity in using proper "valves" that can shut down foreign interests into destabilizing Lebanon.
 The German daily Der Spiegel reported excerpts from internet blogs posted by Syrian dissidents six months ago claiming that a special team of Hezbollah masterminded the assassination of late Lebanon Rafic Hariri PM. 
The timing of that report, which the International Tribunal denied any knowledge, was evidence that the real perpetrators were scared shit of the victory of the opposition in Lebanon at the next Parliamentary election on June 7.  It meant that the opposition is not about to let the assassination case linger any longer and will pursue its own investigation or force the International Tribunal to move swiftly and close the doors to further political manipulations of that case.
What exacerbated the political climate is that Lebanon has started dismantling systematically Israel's spy webs and dangerous intelligence pieces are accumulating relative to Israel involvement in many of the string of assassination cases in Lebanon since the murder of Rafic Hariri.in 2005. 
The US Vice President Biden visited Lebanon for 6 hours before the publishing of the report and met with the leaders of the government alliances.  Lebanon has to expect the worst every time a US official pay us visit to give orders that Lebanon cannot satisfy.
Thanks to Walid Jumblatt, one of the principal allies to the government, he quickly and adamantly lambasted this chimerical and fabricated report and proclaimed that the report was intended to draw Lebanon into another civil war between the Shia and the Sunni Muslim sects. 
Saad Hariri (leader of the Future movement) and Seniora PM were forced into suspect silence; proof that they were aware of the plan that backfired on them, a plan that is backed by Saudi Arabia, Egypt, Israel, and the USA.